Woman Complains That She Makes More at Her Serving Job Than She Ever Made Using Her Degree
A recent TikTok video by @fitnesswithalison has gone viral. In the clip, Alison explains her immense frustration with America and getting a job after graduating from college.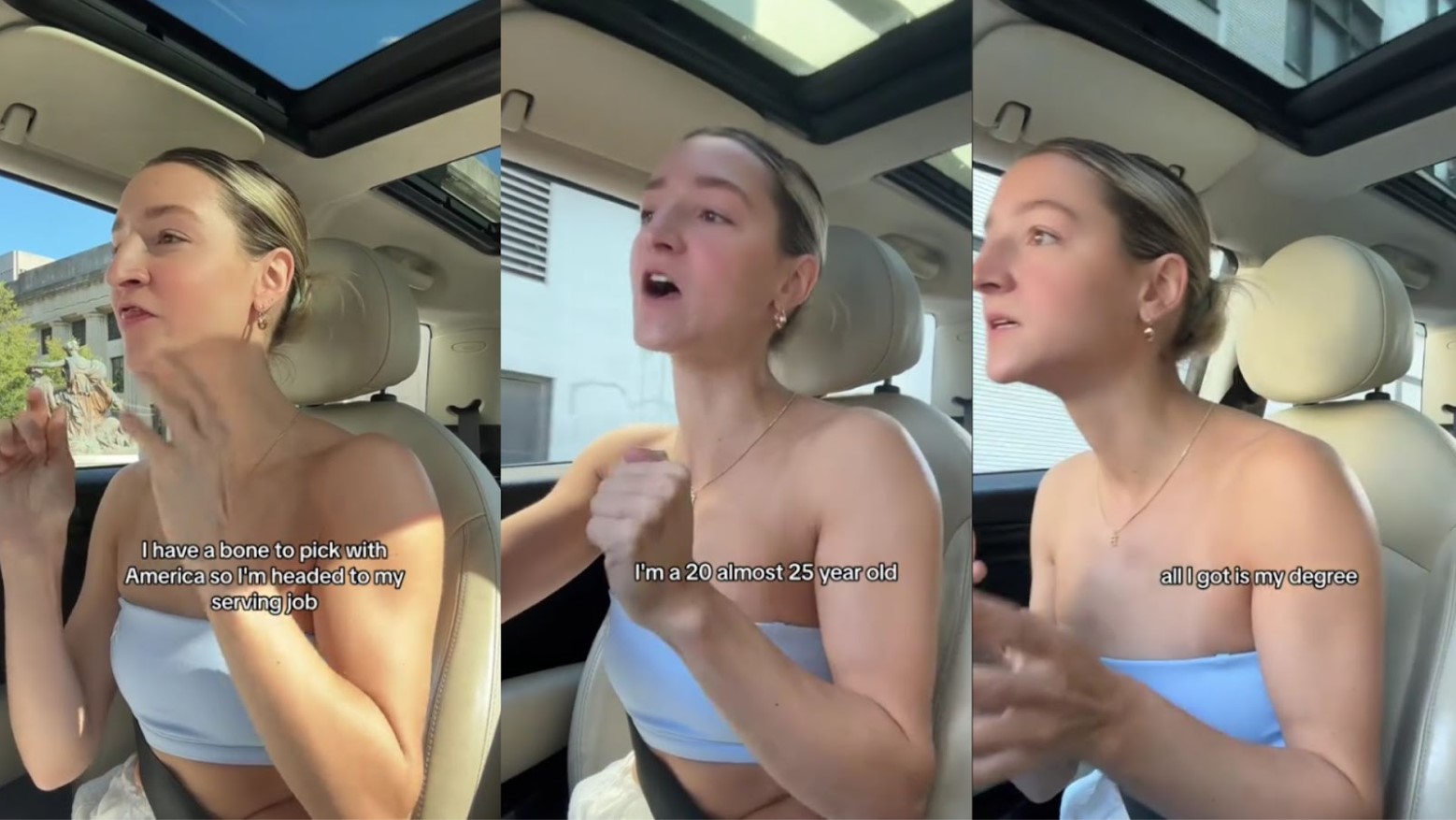 While many TikTokers agree with Alison's assessment of the system, others say that the young woman is being unrealistic in her job search. 
What Exactly Does Alison Say in the Video?
Alison starts her rant while sitting in her car on the way to her serving job in a restaurant.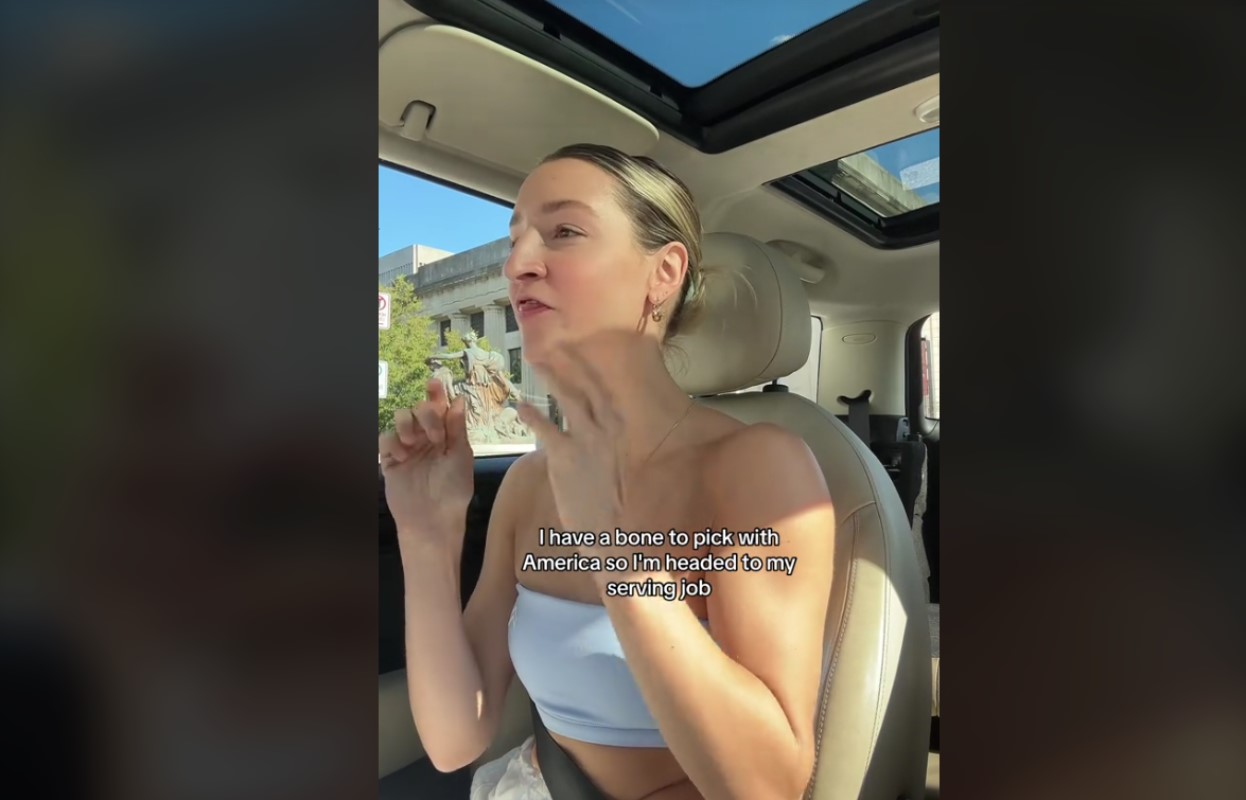 She tells her followers, "I have a bone to pick with America," and continues to tell her story and why she believes the system is broken.
Alison Has a Business Marketing Degree
Alison explains that she has a college degree in business marketing that "put [her] $80,000 in debt."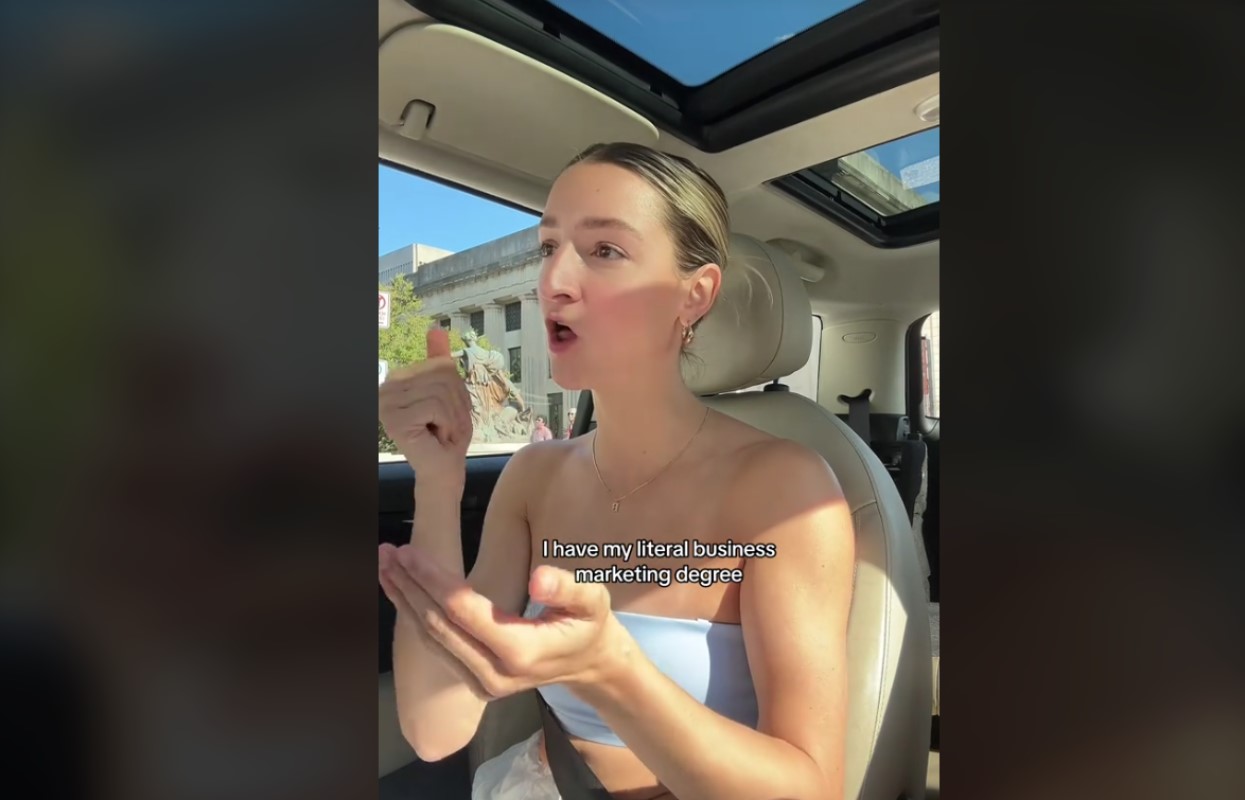 However, she's working as a waitress in a sushi restaurant because she apparently cannot find a job in her field. 
Alison's Biggest Issue with the Job Hunt Is the Compensation
Essentially, she explains that while there are entry-level jobs in the marketing field, they all offer what she considers to be extremely low compensation.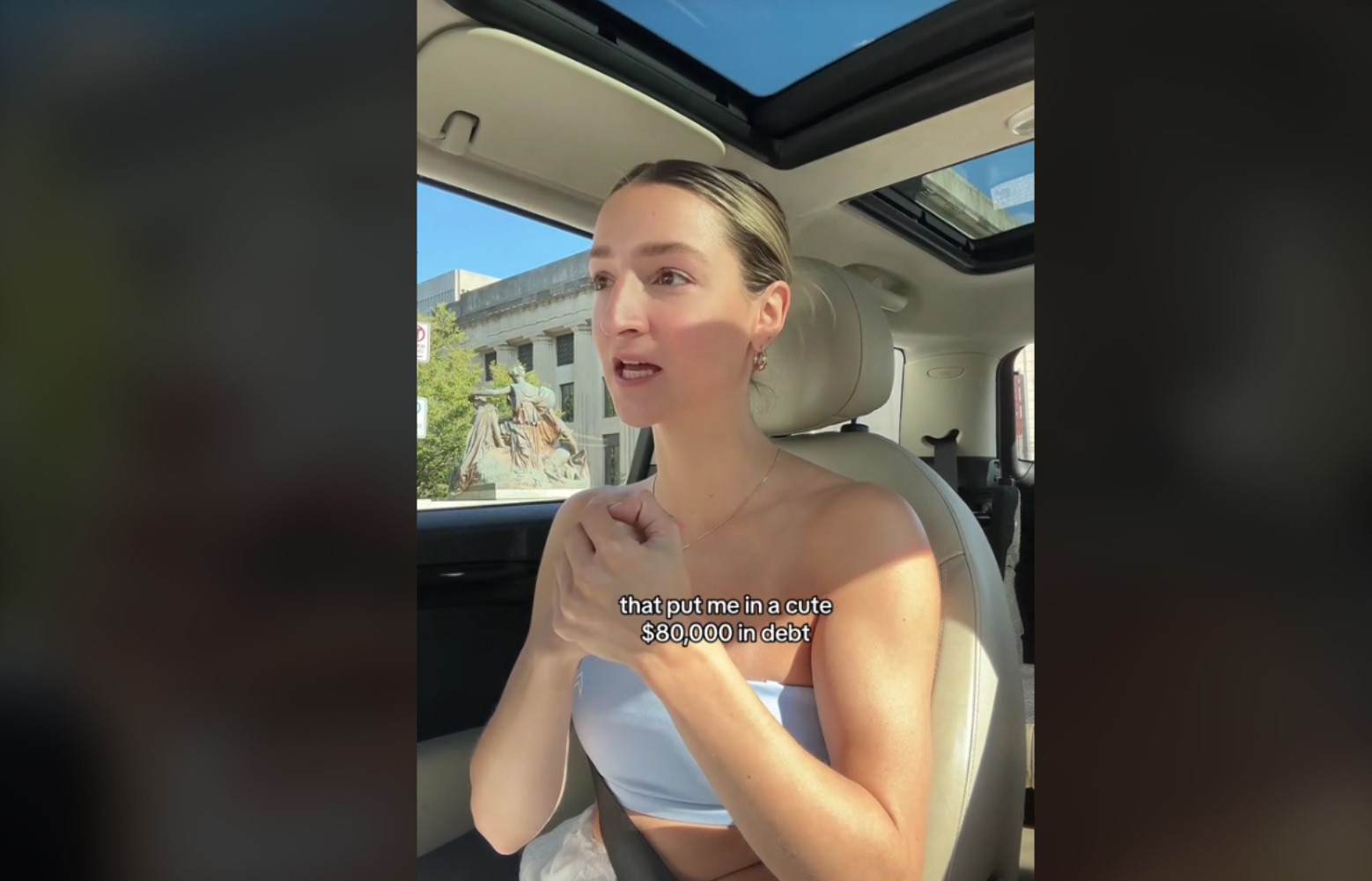 According to the video, she will make far more money serving tables than taking one of these positions, which Alison argues is not only frustrating but also unfair. 
A Degree Isn't Enough to Get the Job She Wants
She goes on to explain that someone like her with a degree should be able to get a job in their career and make as much money as they would working at a restaurant.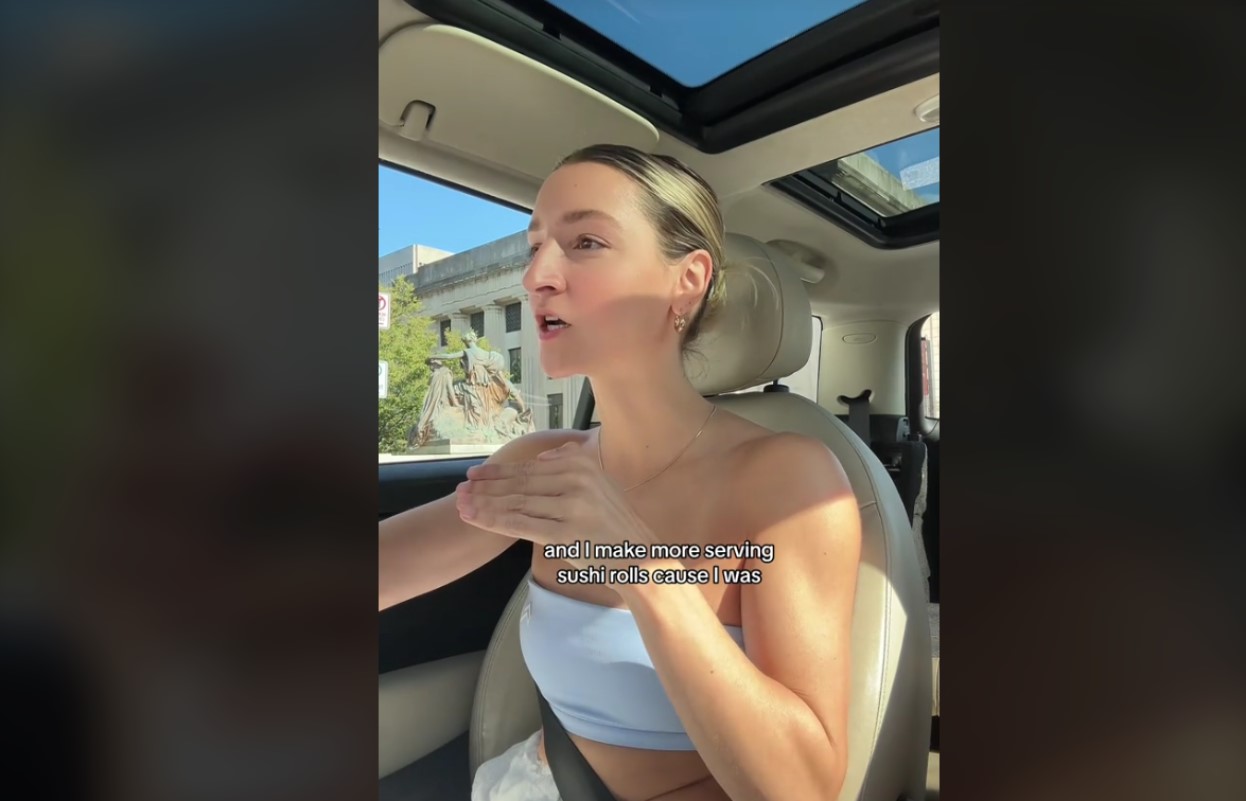 And that the system is completely broken if spending tens of thousands of dollars to earn a degree doesn't lead to at least a decent-paying position. 
There Are Jobs Available With a Higher Salary
Alison explains that "the pay cut is insane" for the entry level positions. However, there are upper level marketing positions that pay $150,000 to $200,000 a year.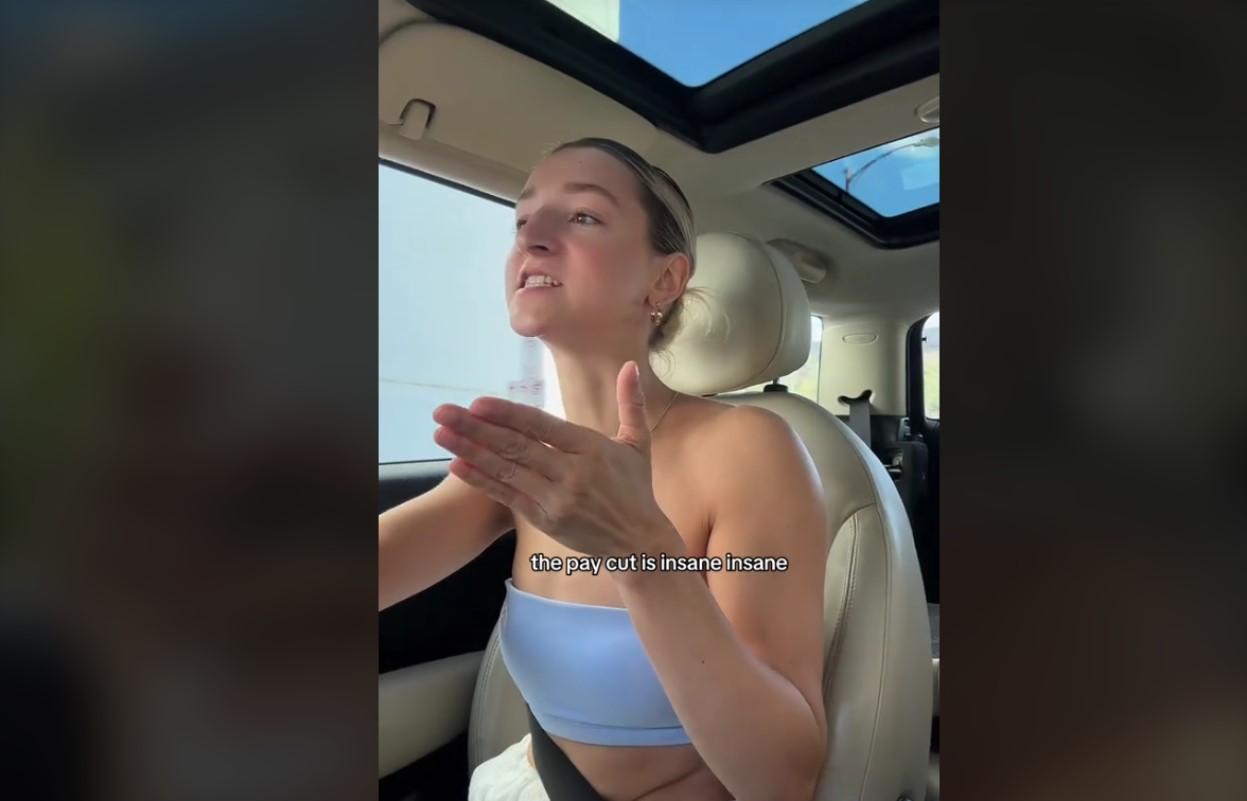 Though, those jobs are unavailable to her because she doesn't have experience in her field. 
You Need Experience to Get Experience
Basically, Alison's biggest complaint is that you need to have experience to get the jobs that offer enough to pay her bills.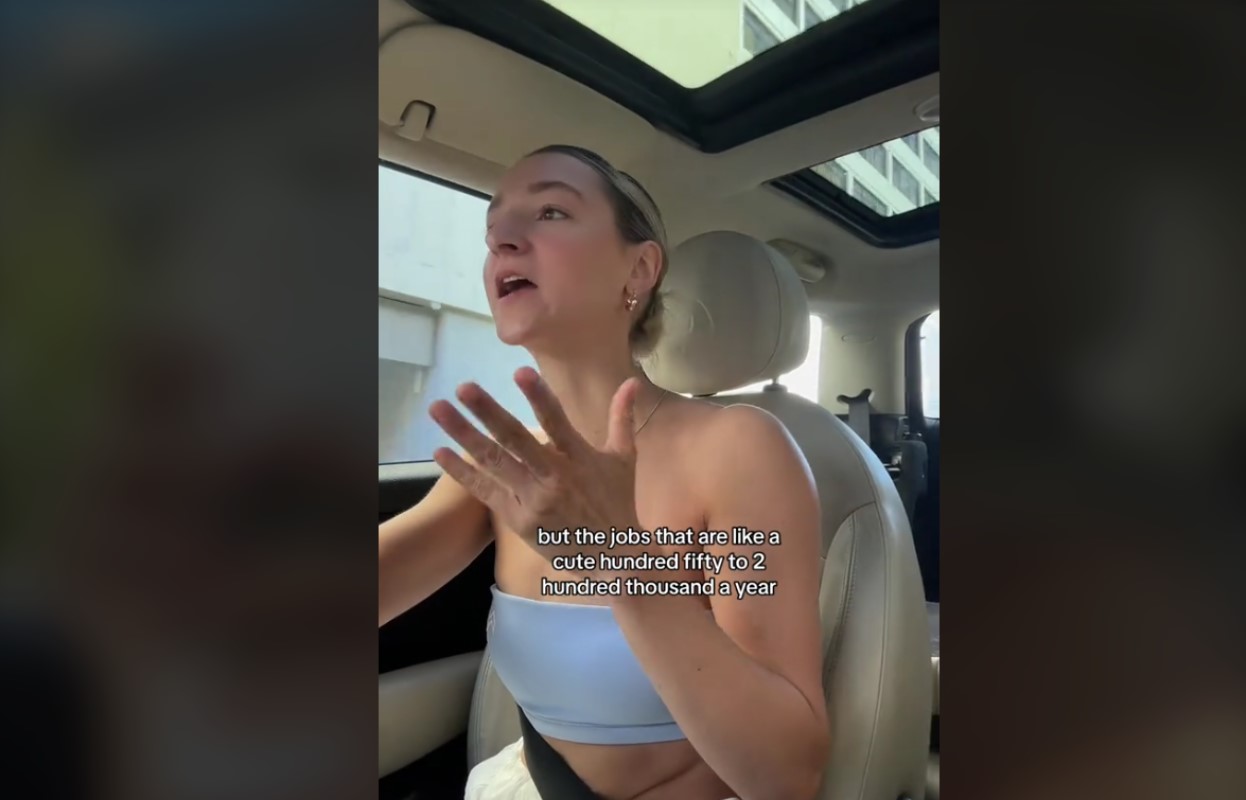 But she can't get the experience required as they do not pay enough. Her final argument is that getting her degree in marketing should be counted as "experience" when applying to positions within the industry. 
Getting Your Degree Doesn't Count as Experience for Most Companies
It's important to note that Alison is correct in her assessment that most companies do not consider getting a degree tangible experience in the industry.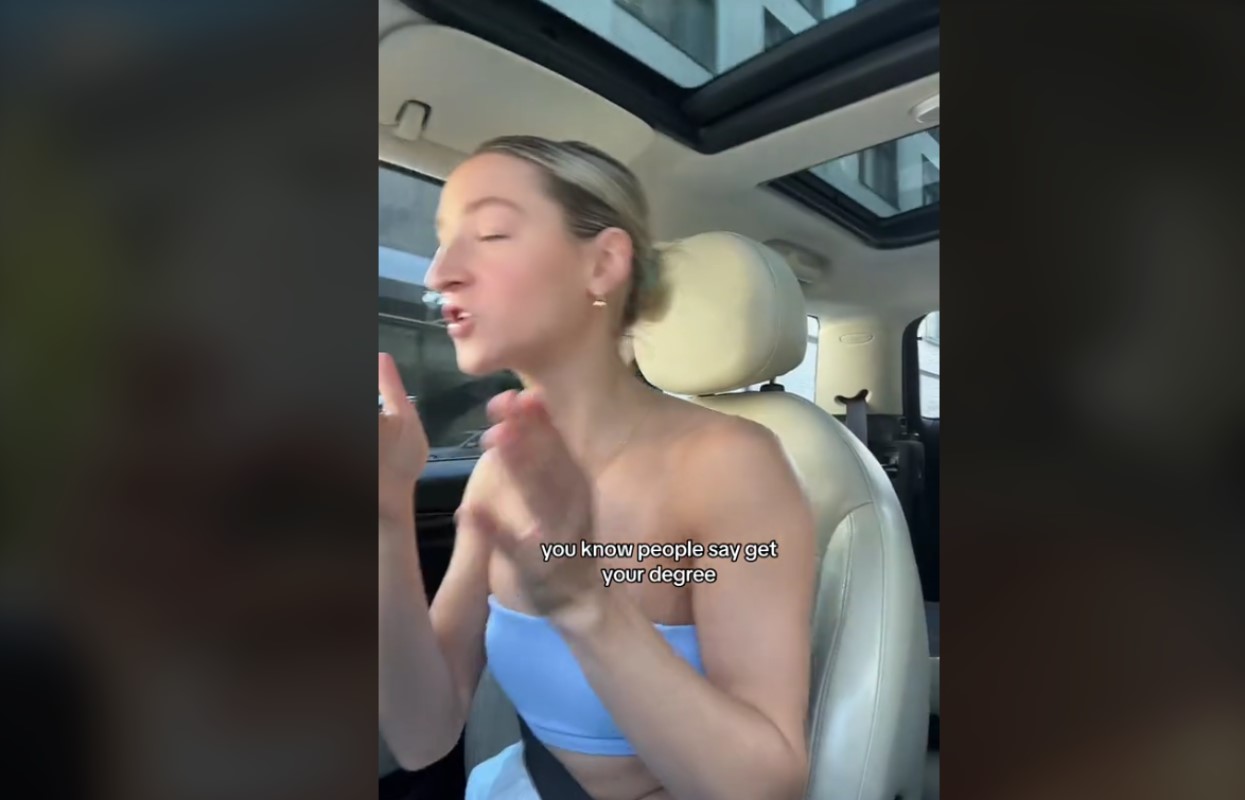 A college degree is simply considered a requirement for many corporate companies to prove that the applicant knows about the business. But they are still required to start at the entry level.
Alison Claims the Degree Was the Experience
Alison is arguing that the "degree was the experience," and therefore, she should not have to start at the bottom of the food chain.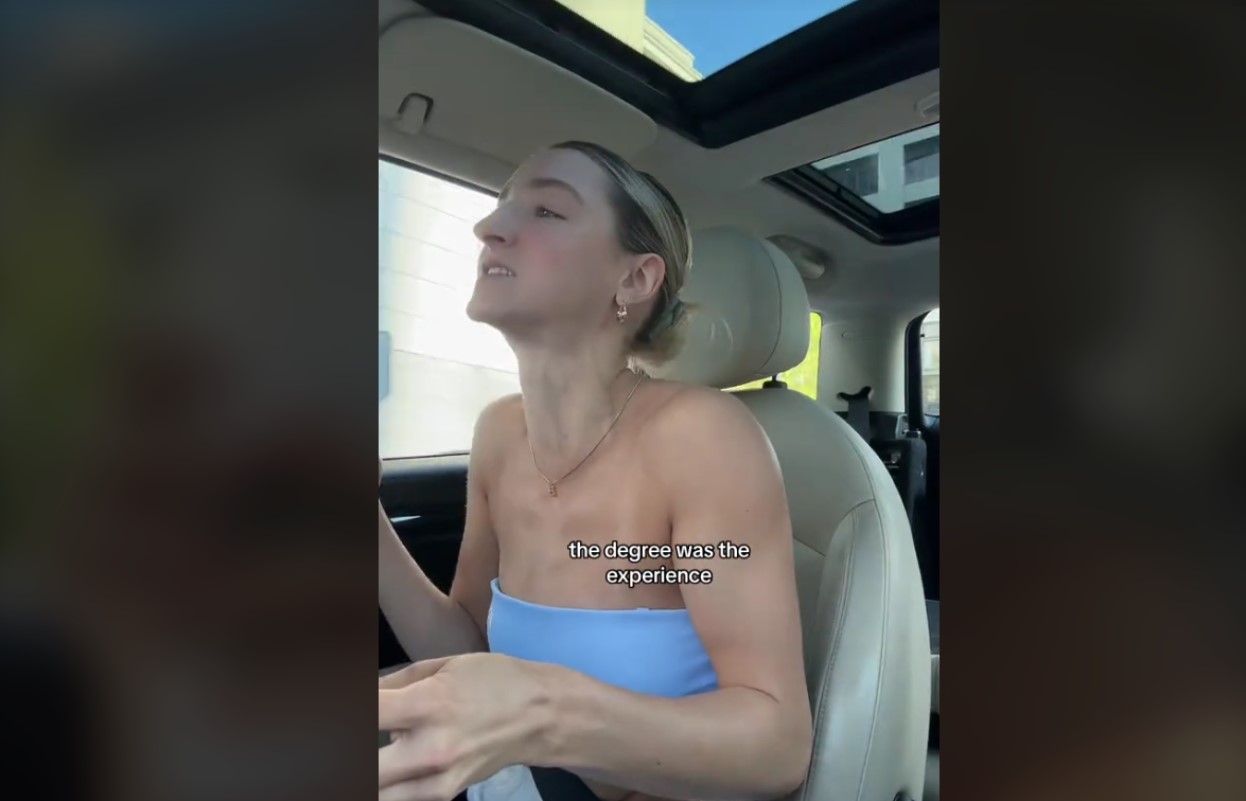 However, within the thousands of comments on the video, many people disagree with Alison's assessment. 
Everyone Starts at the Bottom
Although there are some who show Alison support for her frustrations, the majority of TikTok subscribers don't see it the same way.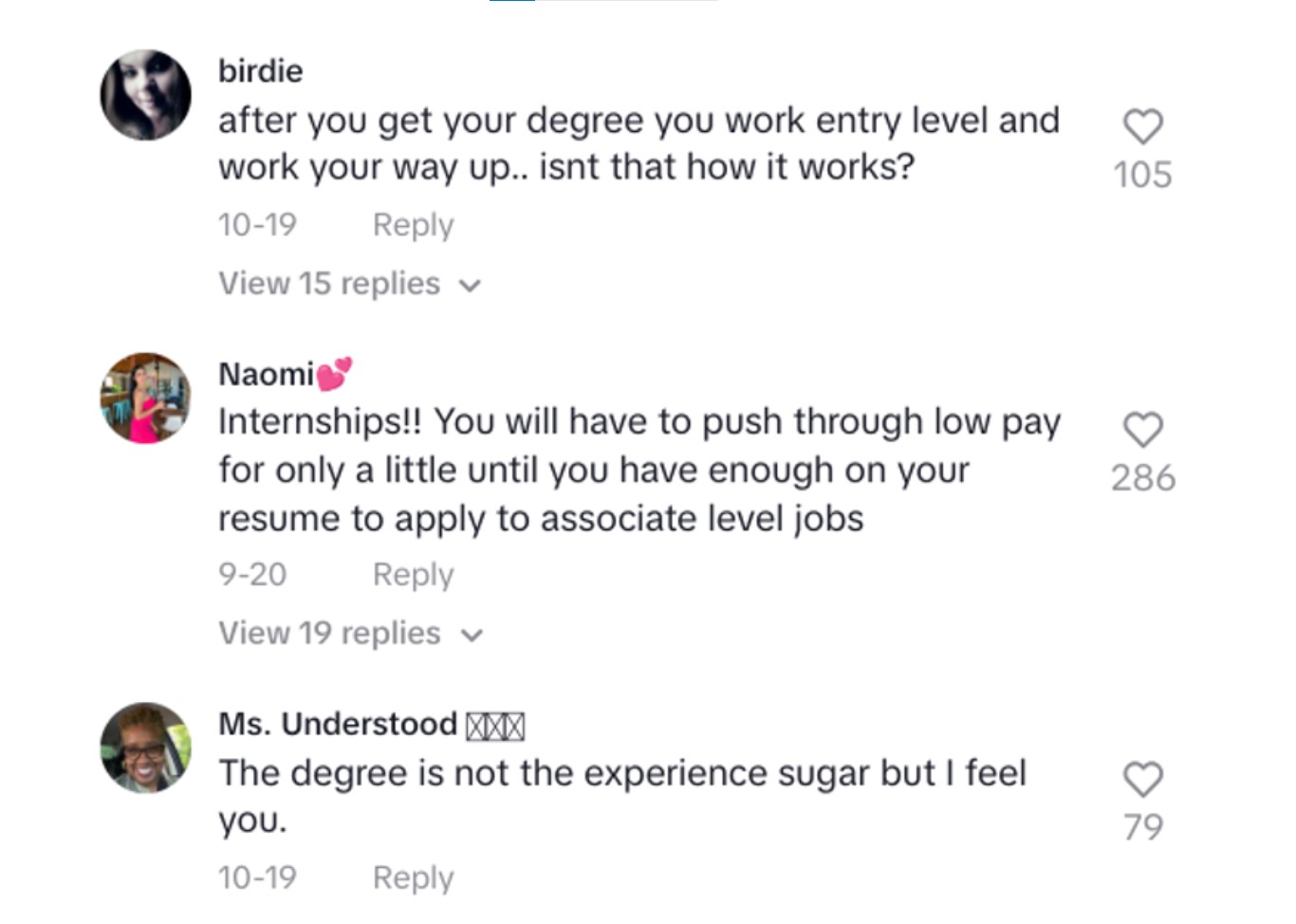 One user wrote, "after you get your degree you work entry level and work your way up.. isnt that how it works?" And another wrote, "You will have to push through low pay for only a little until you have enough on your resume to apply to associate level jobs."
The Clip Portrays an Ongoing Debate in America
Realistically, while Alison is just one person, this clip portrays an ongoing debate in America.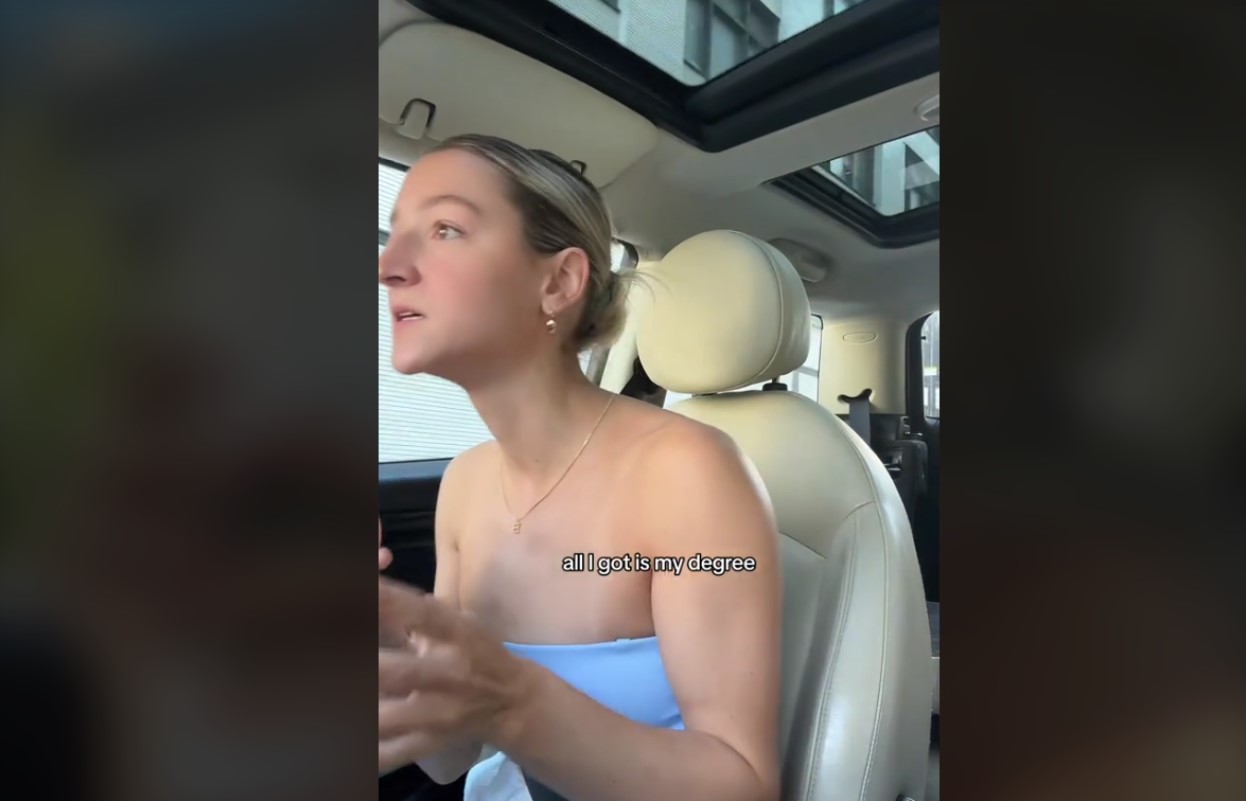 One side of the debate essentially says that the younger generation, known as Gen Z, does not have the work ethic that previous generations had. The other argues that Gen Zers are simply not willing to give up a work-life balance like their parents did. 
Should Entry Level Positions Pay More?
The debate as to whether or not the younger generation is lazy or smart will absolutely continue. However, others claim that entry level salaries absolutely must increase for 20-somethings to be able to afford to live in an increasingly expensive America.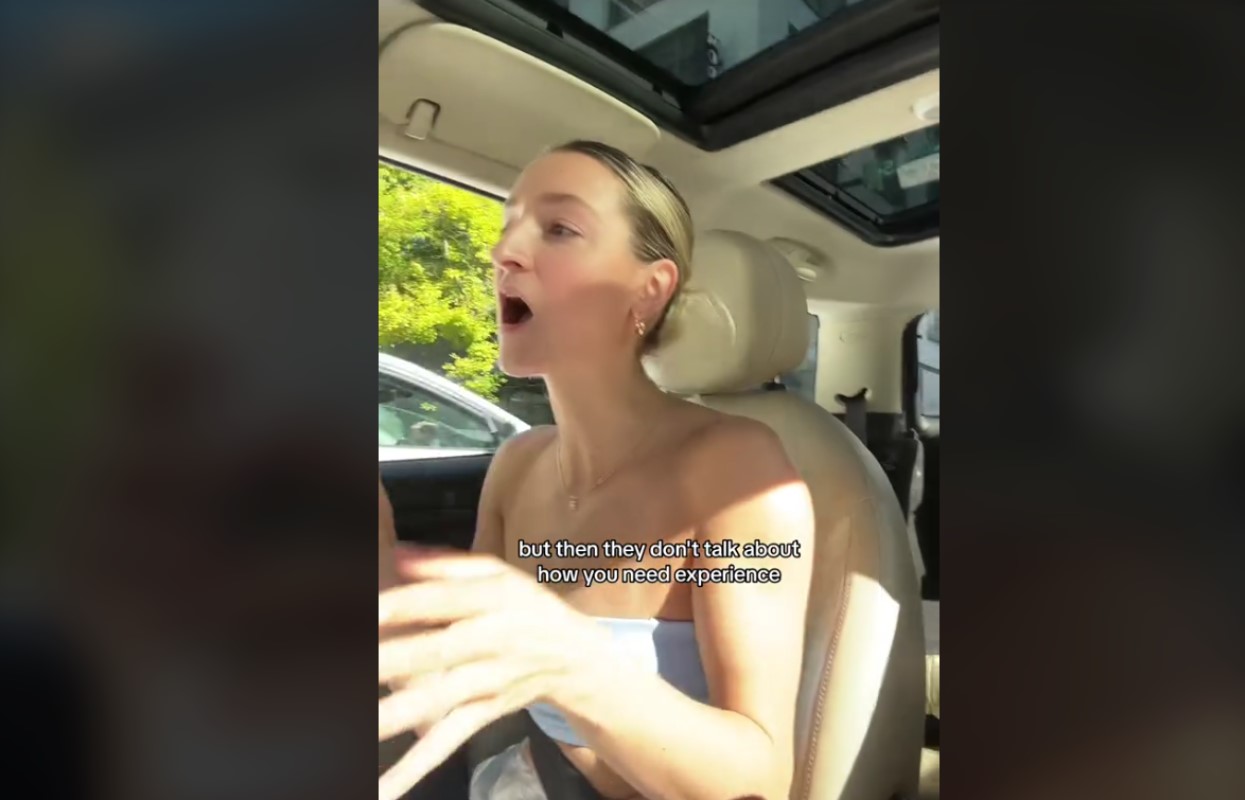 So, while Alison's video is just a clip of her sitting in her car, it really has sparked a much larger conversation as to what will happen next for corporate America and the next generation.