20 Outfits Worn By NFL Fans That Are Unbelievable
When it comes to sports, the National Football League (NFL) has a lot of loyal fans who show their support on game day. They cheer on their preferred team and wear several costumes representing the team they love.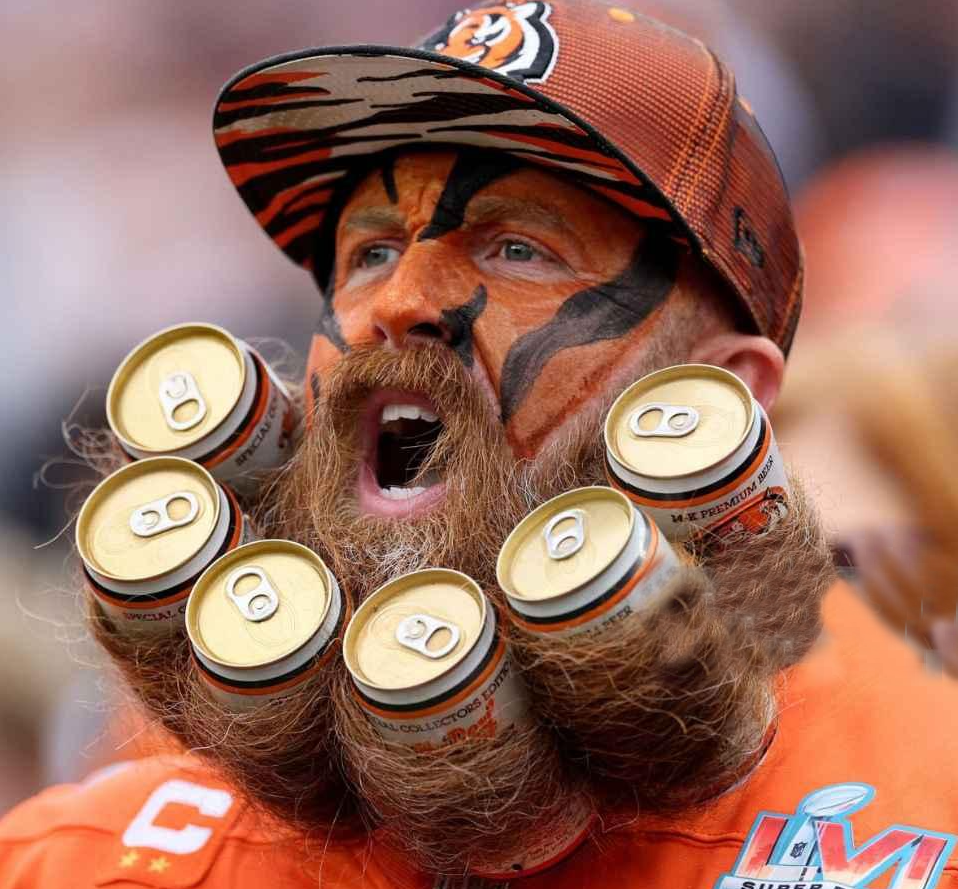 These costumes range from simple to extreme, some with face paints and even full-body outfits. Here are the top 20 craziest outfits worn by fans on game day.
A Minnesota Vikings Fan in Cheer Mode
The Minnesota Vikings are based in Minneapolis, and their characteristic colors are purple, white, and yellow. This full-body outfit shows just how passionate Vikings fans can be, especially when they're playing the Green Bay Packers.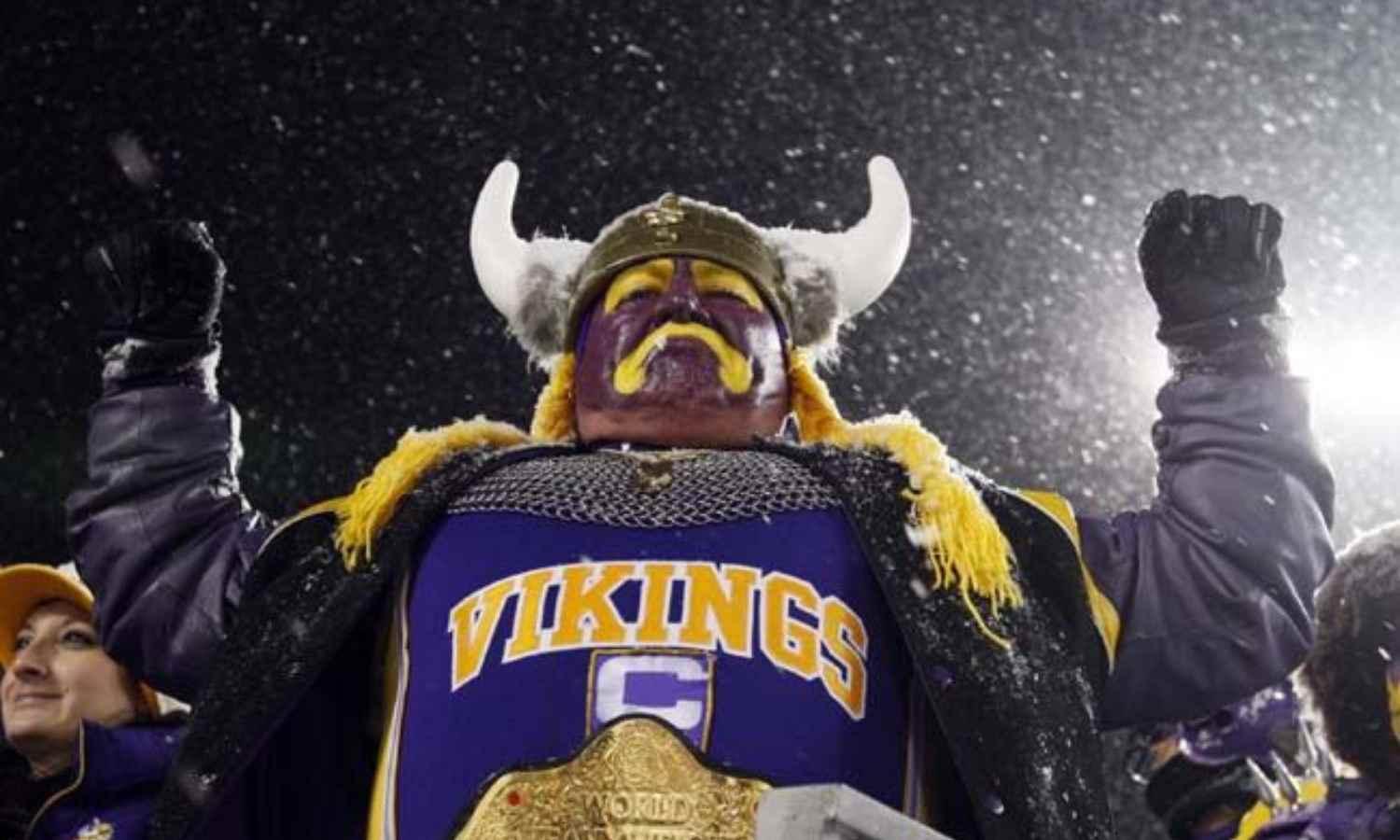 The Viking fan can be seen raising hands in support and wearing the colors purple and yellow, which is synonymous with this Midwest-based team.
A Carolina Panthers Fan Beings Feline Flair
The Carolina Panthers are the NFL professional team based in Charlotte, North Carolina. They signify strength, power, and stealth, just like a panther. This Carolina Panthers fan is known as "The Catman."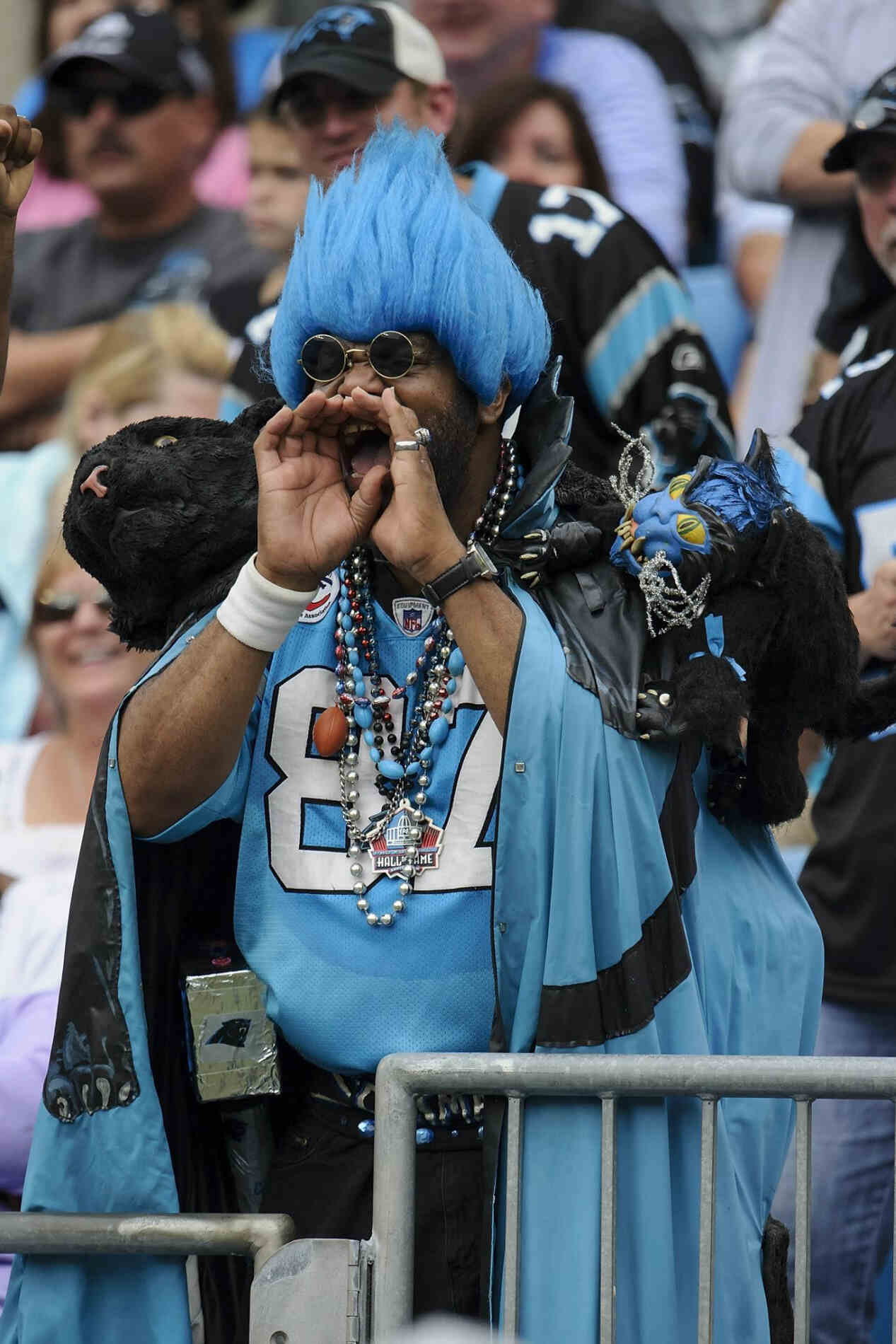 He's known for the stuffed cat that sits around his shoulders and bright blue hair.
This Green Bay Packers Fan Is Extra Cheesy
The Green Bay Packers are a team in Green Bay, Wisconsin, and their fans are considered some of the most loyal NFL fans out there. They are also often called "cheese heads," hence the triangular cheese hats you'll see all over the stadium when the Packers are playing.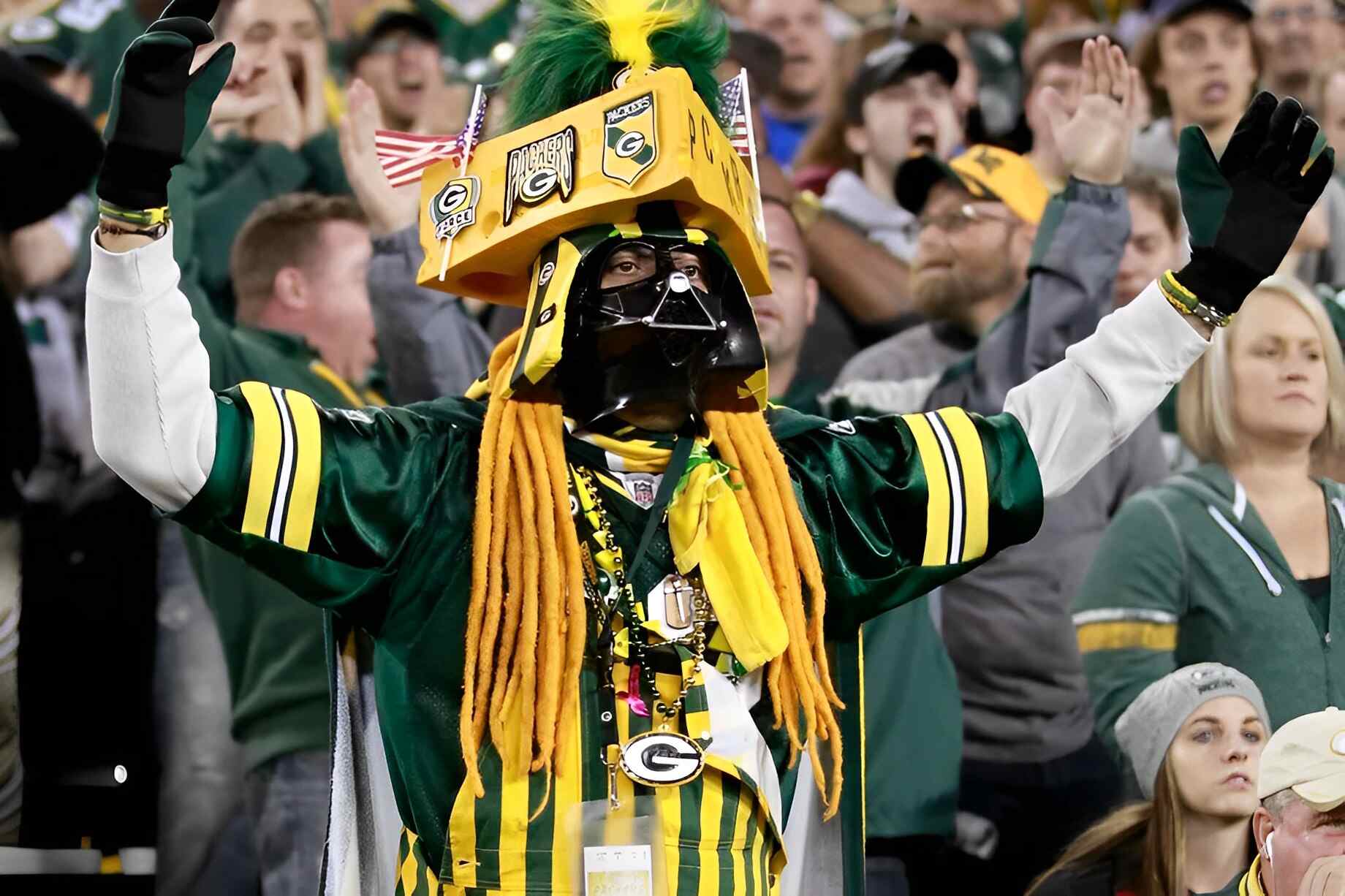 This Green Bay Packers fan was captured with a Darth Vader mask, an embellished cheese hat, and cheese-colored dreads while he cheered on the team against the Arizona Cardinals on game day at the University of Phoenix Stadium.
Green Bay Packers Fans with The Iconic Cheese Hat
As stated before, Green Bay Packers fans are known to hold up the cheese as a symbol of support for the team. Bright orange cheese is used in costumes during games to cheer on the Green Bay Packers team.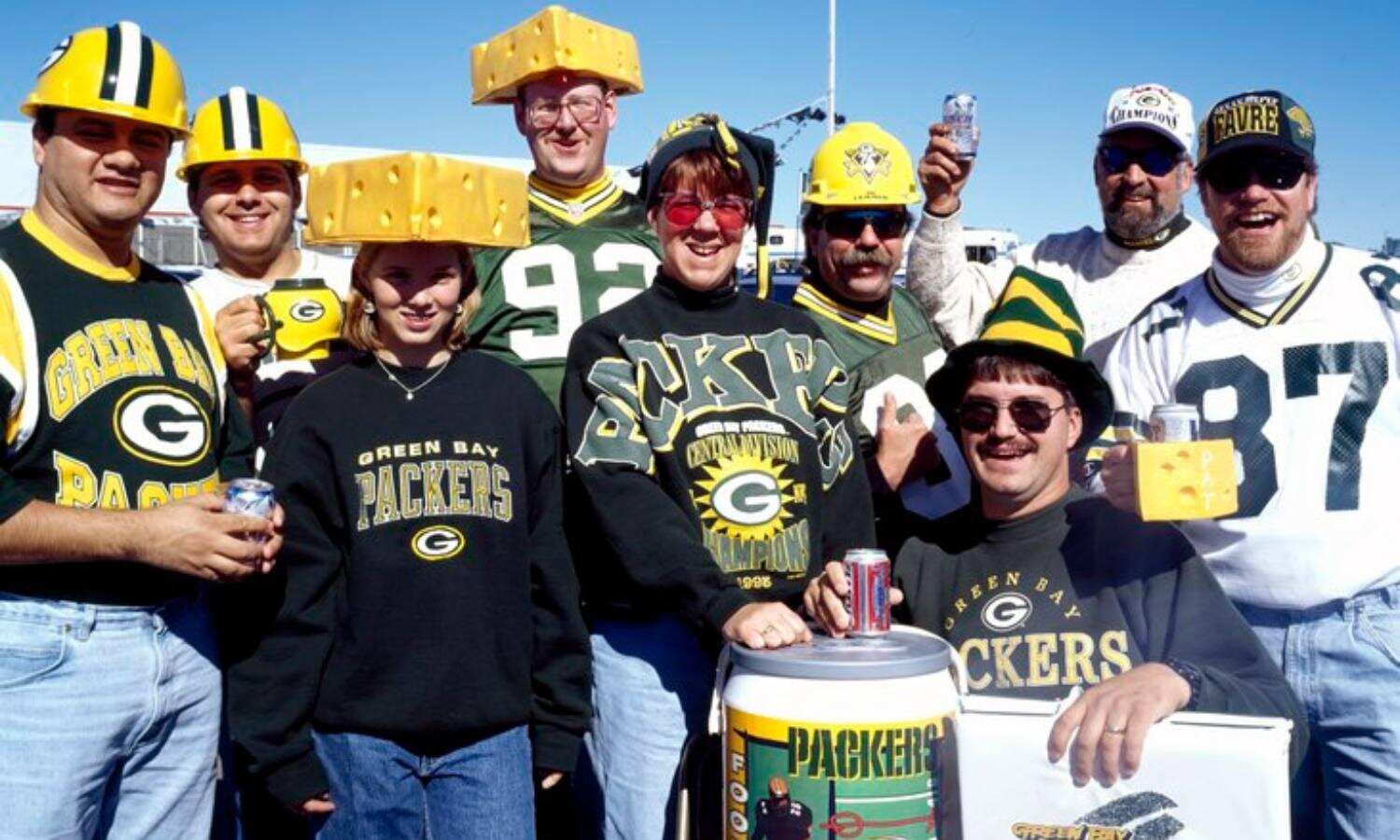 The nickname "cheese head" was first conceived as an insult but later became a symbol of pride and was widely embraced by the fans. These fans are seen proudly wearing their cheese hats while tailgating before the game.
New Orleans Saints Fans In Superhero Costumes
The New Orleans Saints are an NFL team based in New Orleans. Their team colors are black, gold, and white. These colors have remained the same since the inception of the team.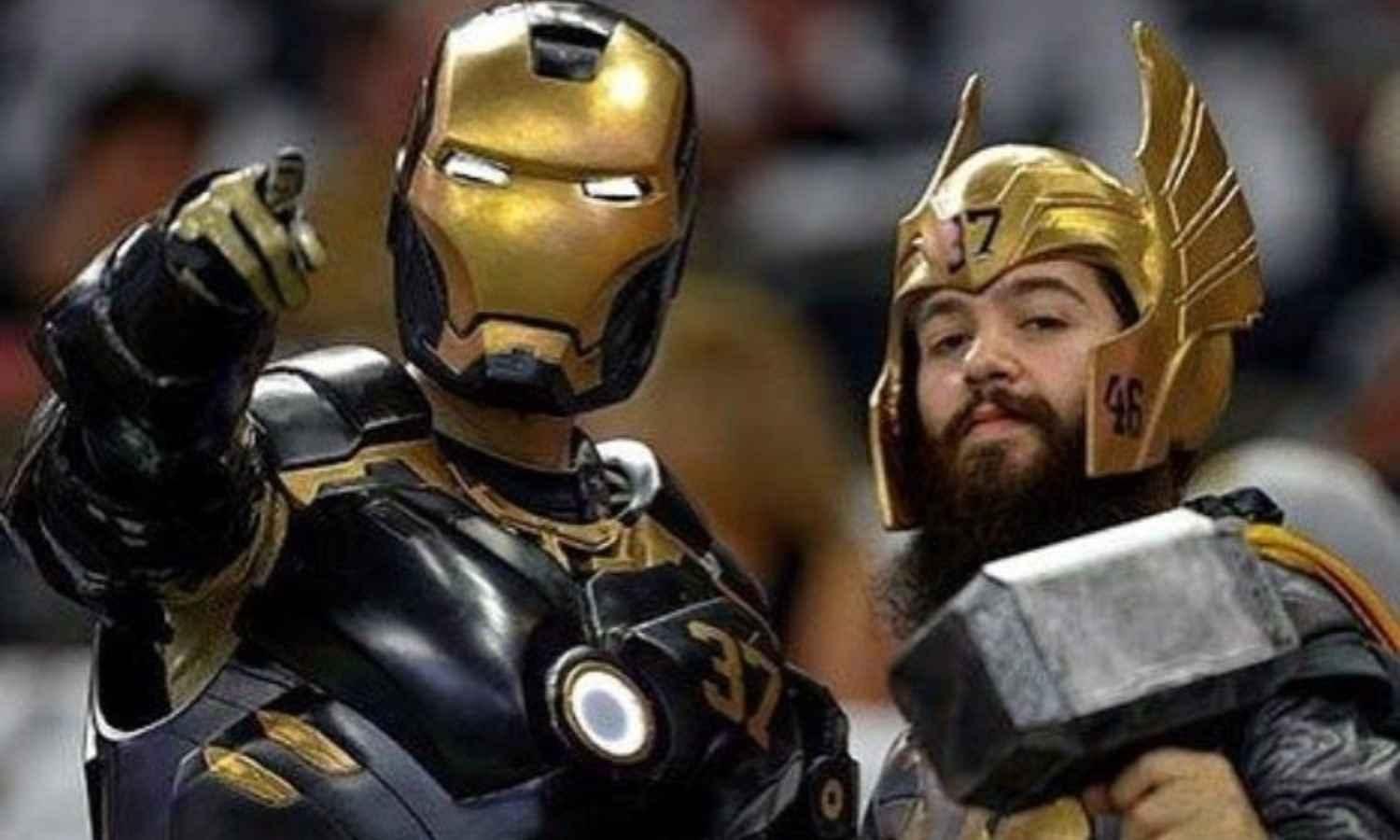 These fans can be seen in bold superhero-looking costumes as they cheer on their team. Their costumes are similar to Marvel superheroes Ironman and Thor.
Fans Of The Pittsburgh Steelers Steal The Show
The Pittsburgh Steelers is an NFL team based in Pittsburgh and the seventh oldest franchise in the NFL. Their colors are bright canary-like yellow, gold, white and black. The fans captured in this image are seen wearing colors representative of the Steelers.
Their faces are also fully painted in these symbolic colors as they cheer their team on against the New York Jets.
A Baltimore Ravens Fan Shows Off Raven Mask
The Baltimore Ravens are an NFL team based in Baltimore, USA, established in 1996. Their colors are purple, black, gold, and white, with purple being the dominant color.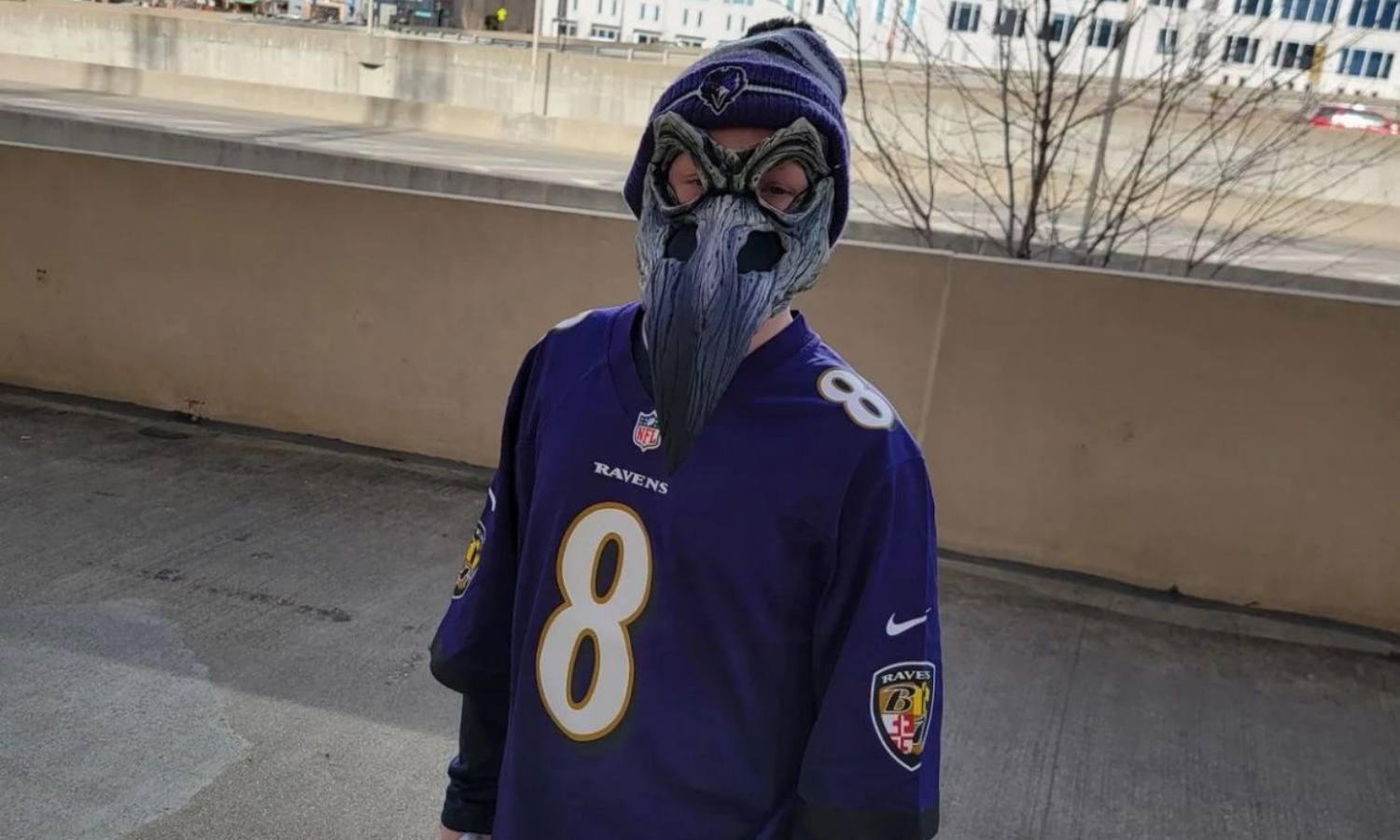 This fan can be seen wearing a raven face mask and purple jersey outfit as he gets ready to cheer on in support of his team against the Tennessee Titans.
A Buffalo Bills Fans Cheering Loudly In Buffalo Head Costume
The Buffalo Bills are an NFL team based in the Buffalo Metropolitan area. Its symbolic colors are primarily blue, white, and red. It also comes features a charging bull logo on the jersey.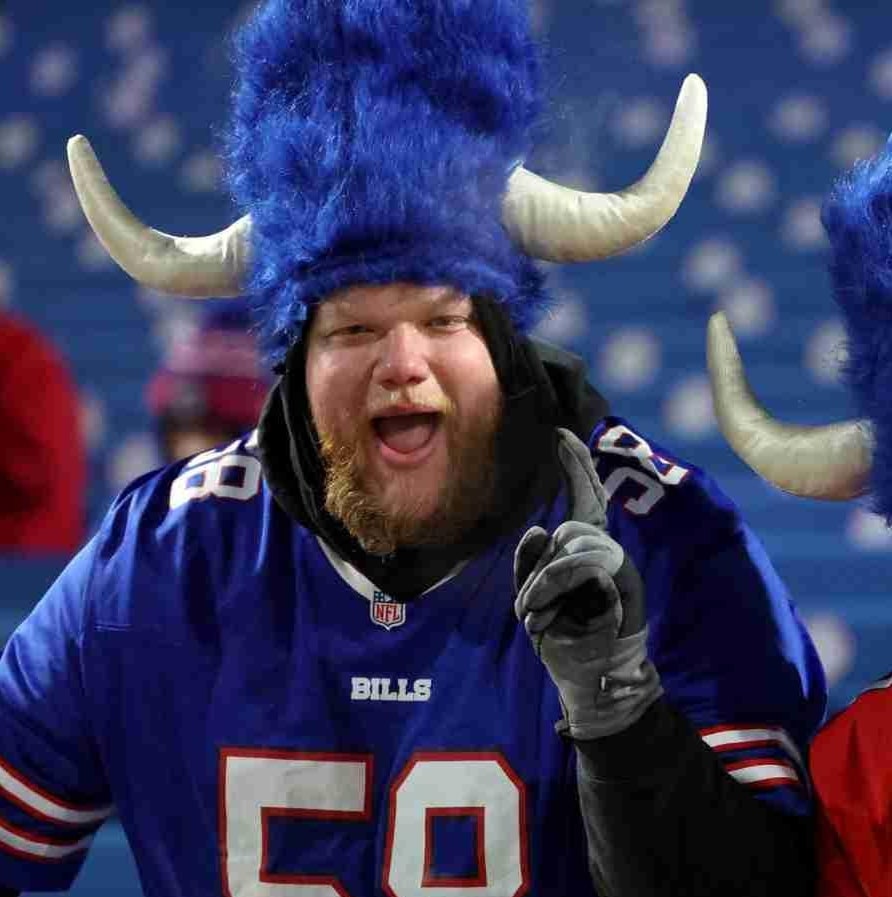 These fans are seen wearing blue and red jerseys, respectively. They are also wearing crazy headgear made to represent buffalo horns as they cheer to show support for the Buffalo Bills team while they play.
An Oakland Raiders Fan in a Goth-Looking Costume
The Oakland Raiders, now presently known as the Las Vegas Raiders, are an NFL team that was based in Oakland before relocating to Las Vegas.  Their fans are known to go the extra mile when it comes to putting together exciting and unique costumes for game day.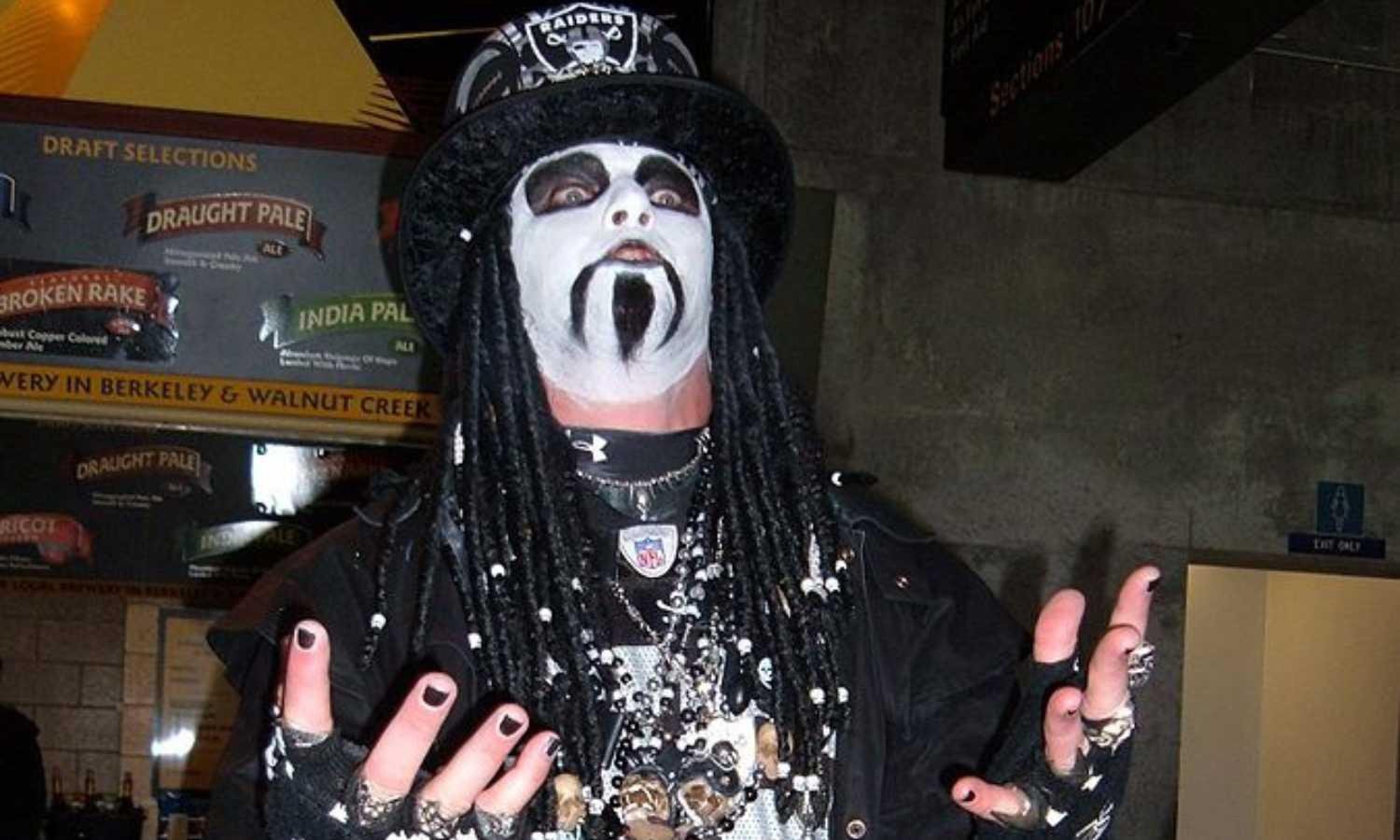 The team colors are black and silver. This fan was captured in a goth-inspired look as he cheers his team on while they play against the Atlanta Falcons.
A Cincinnati Bengals Fan Cheering in Canned Beard Costume
The Cincinnati Bengals is an NFL team based in Cincinnati. The franchise was established in 1965 with home games in Cincinnati at Paycor Stadium. The Cincinnati Bengal's colors are similar to a Tiger's, with orange, black, and white as their jersey colors.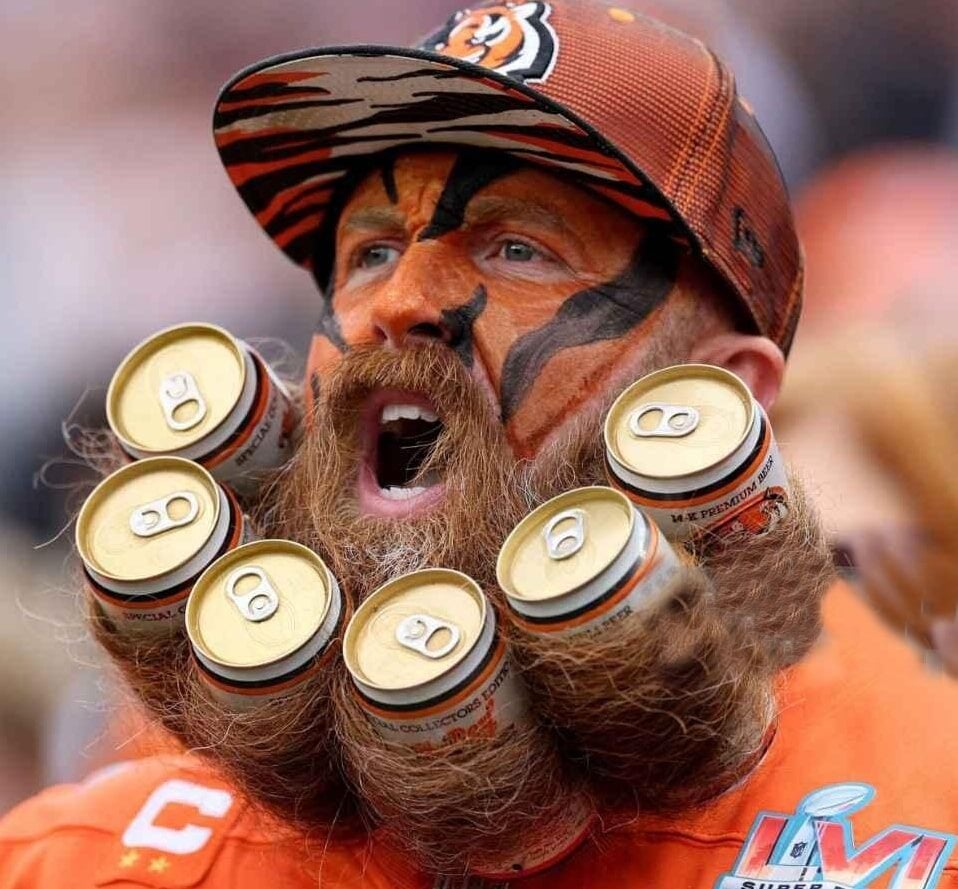 This fan is captured going all out in full face paint and cans of beer rolled from one side of his cheeks to the other during a game at Paycor stadium.
A Cincinnati Bengals Fan in Complete Game-Face Costume
The Cincinnati Bengals are known for their symbolic Bengal tiger colors. A Cincinnati fan was captured in a full-face painting of a tiger and orange and black colored cowboy hat while wearing a Bengal jersey.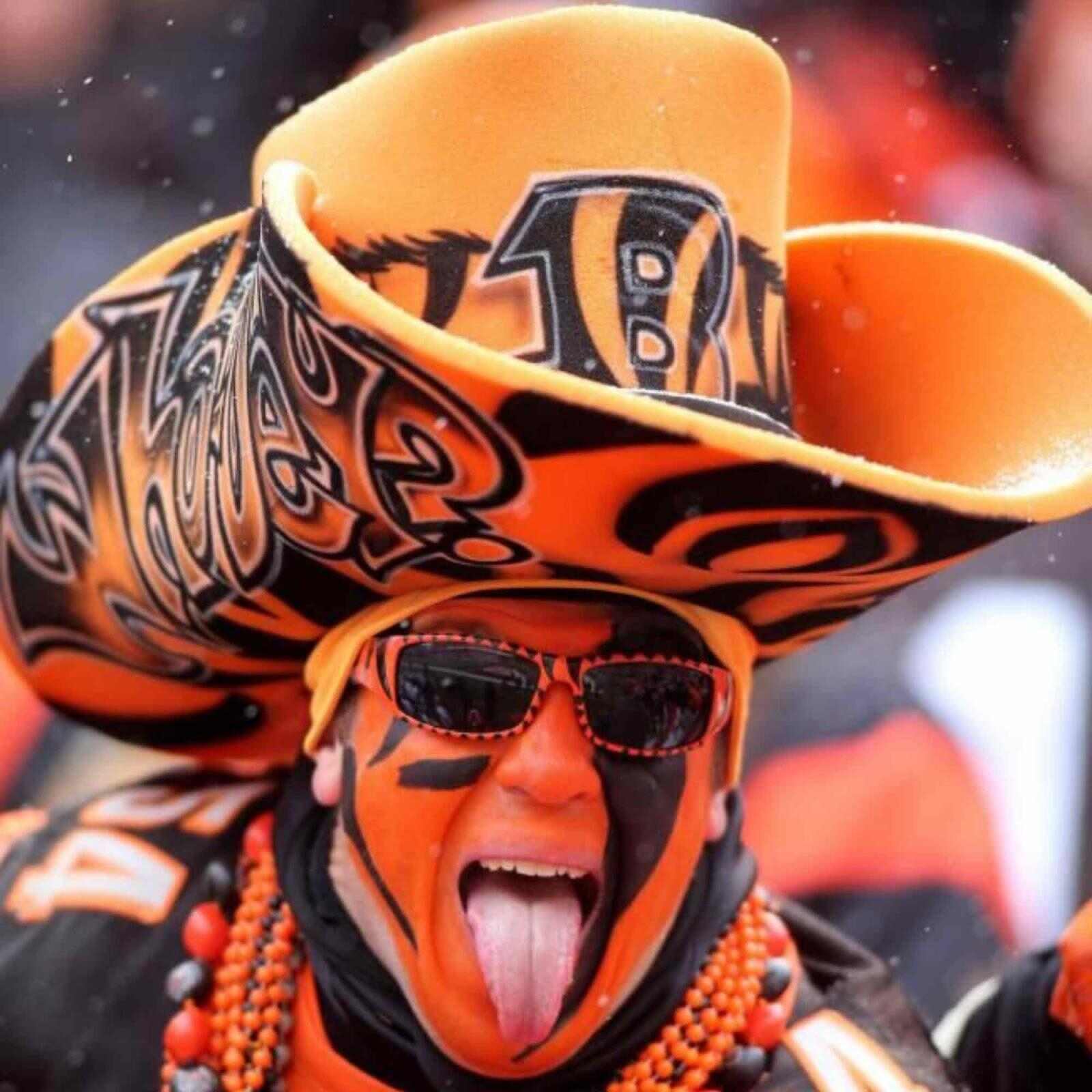 He is seen cheering excitedly as the Cincinnati Team plays against the Pittsburgh Steelers. This costume is totally depicting a fan with total love and loyalty to his supported team.
A Buffalo Bills Fan Goes To The Limits In this Costume
A buffalo bills fan is seen draped in a completely symbolic buffalo bill-colored costume.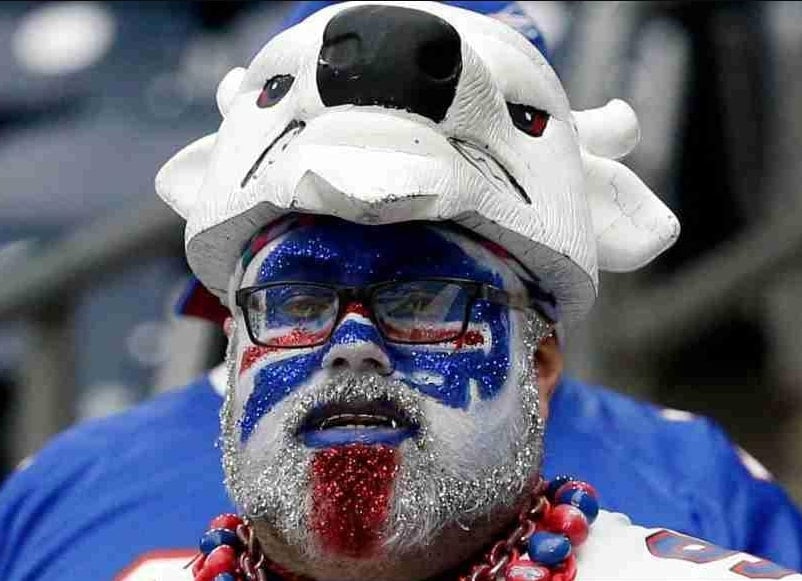 The fan is captured in incredible full face paint in silver, blue, and red color, a horned buffalo headgear, and a white colored jersey at a game. The image was captured during warm-ups against the Houston Texans in Houston, Texas.
A Chicago Bears Fan Goes All Out
The Chicago Bears are an NFL team based in Chicago. They have cumulatively won nine NFL championships and are second to the Green Bay Packers. Their colors are orange, navy, and white.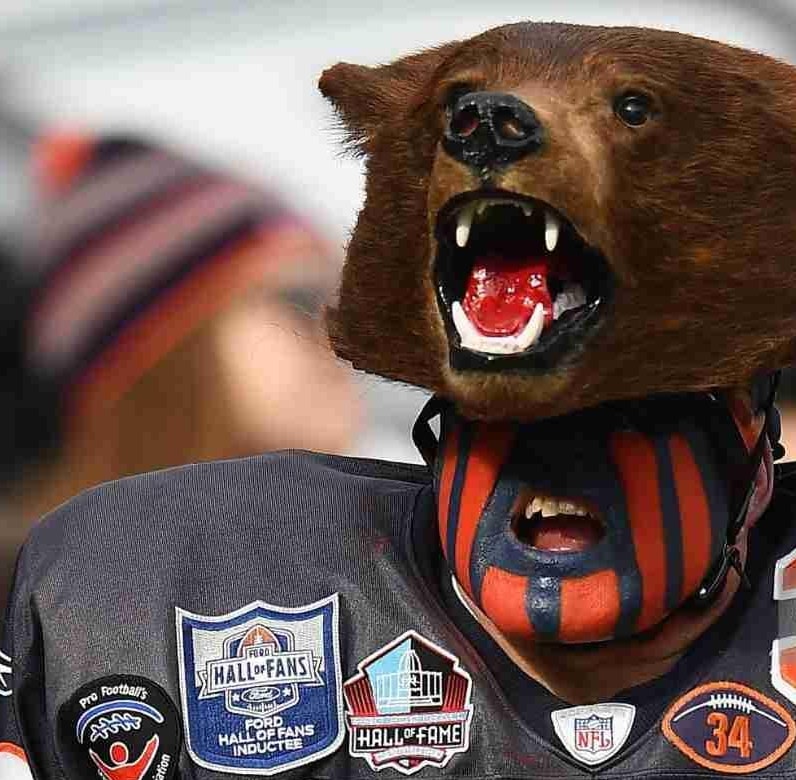 This fan was captured with an extraordinary bear costume during the game while cheering on the Chicago Bears. The grizzly bear costume is worn over an oversized jersey showing total commitment to game day.
Miami Dolphins Fans in Full Furry Costumes
The Miami Dolphins are an NFL team based in Miami. They utilize the colors marine blue, white, orange, and aqua. These fans are wearing full ape costumes and dolphin logo shirts while gearing up to cheer their team.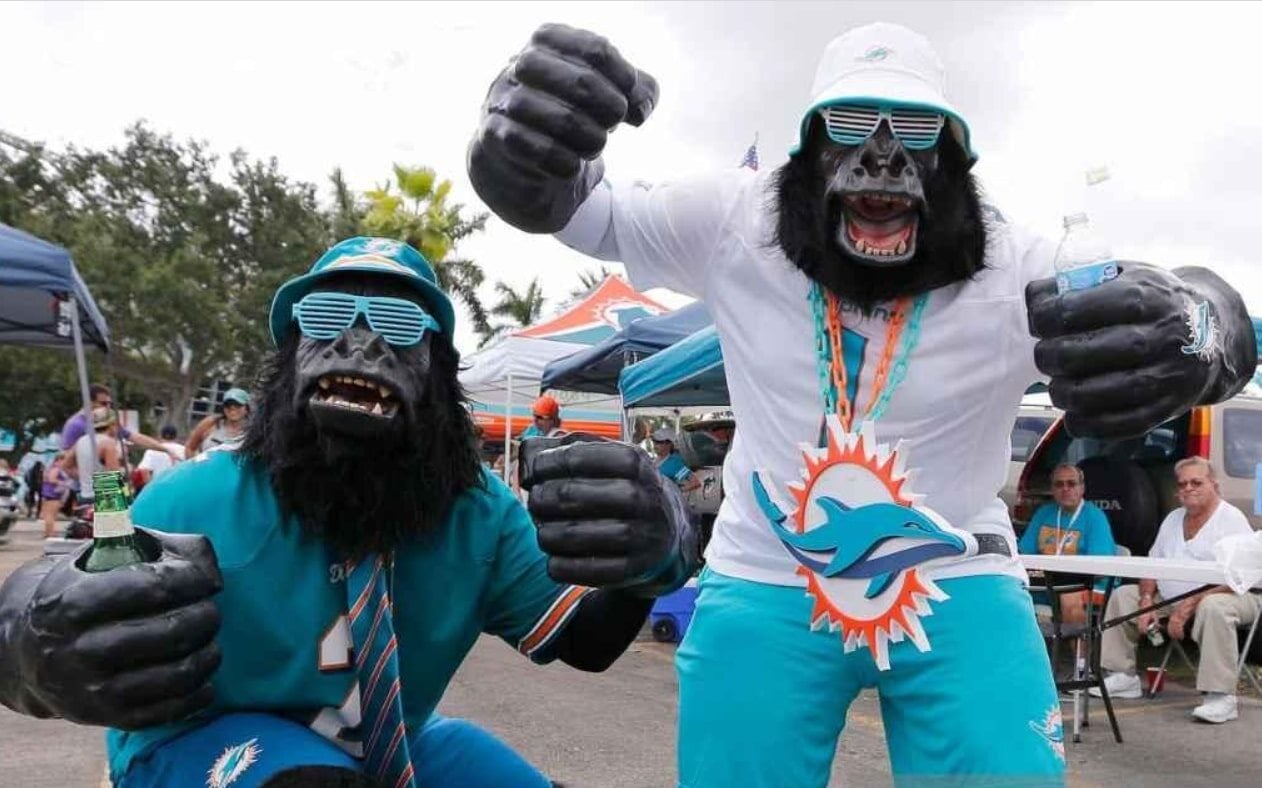 This costume is particularly crazy and shows the commitment these fans have when it comes to supporting their favorite team.
An Oakland Raiders Fan in an Over-The-Top Skull Costume
The Oakland Raiders are well known to go the extra mile when gearing up for a game. This fan is captured dressed head to toe in a skull costume from head to toe in a show of support for the Raiders as they charge against the Minnesota Vikings In Oakland, California.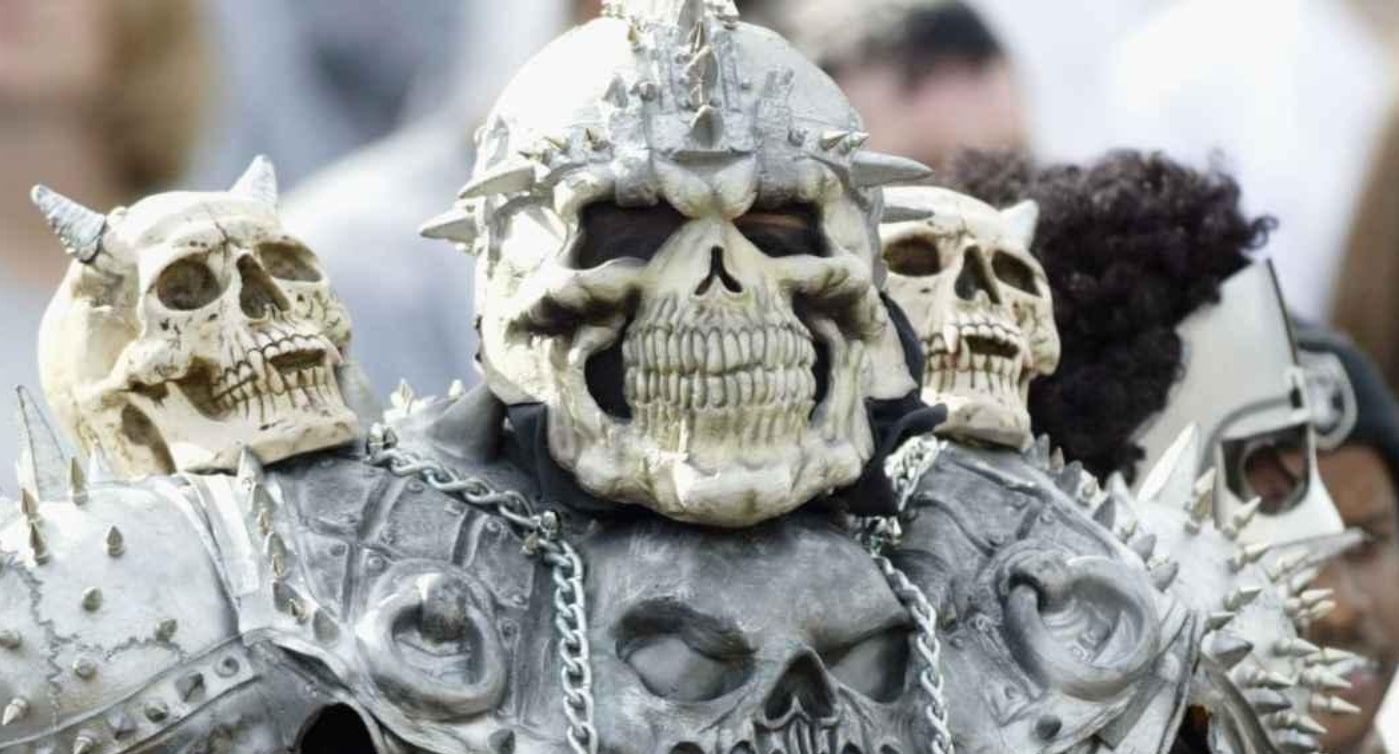 This tough-looking costume spared no expense and will definitely gain attention from onlookers.
An Oakland Raiders Pirate
This Oakland Raider fan is seen in a pirate outfit during a game against the Tennessee Titans. He was captured cheering while decked out in silver and black-colored face paint, a black jersey, and a swashbuckler costume with skulls on the shoulders.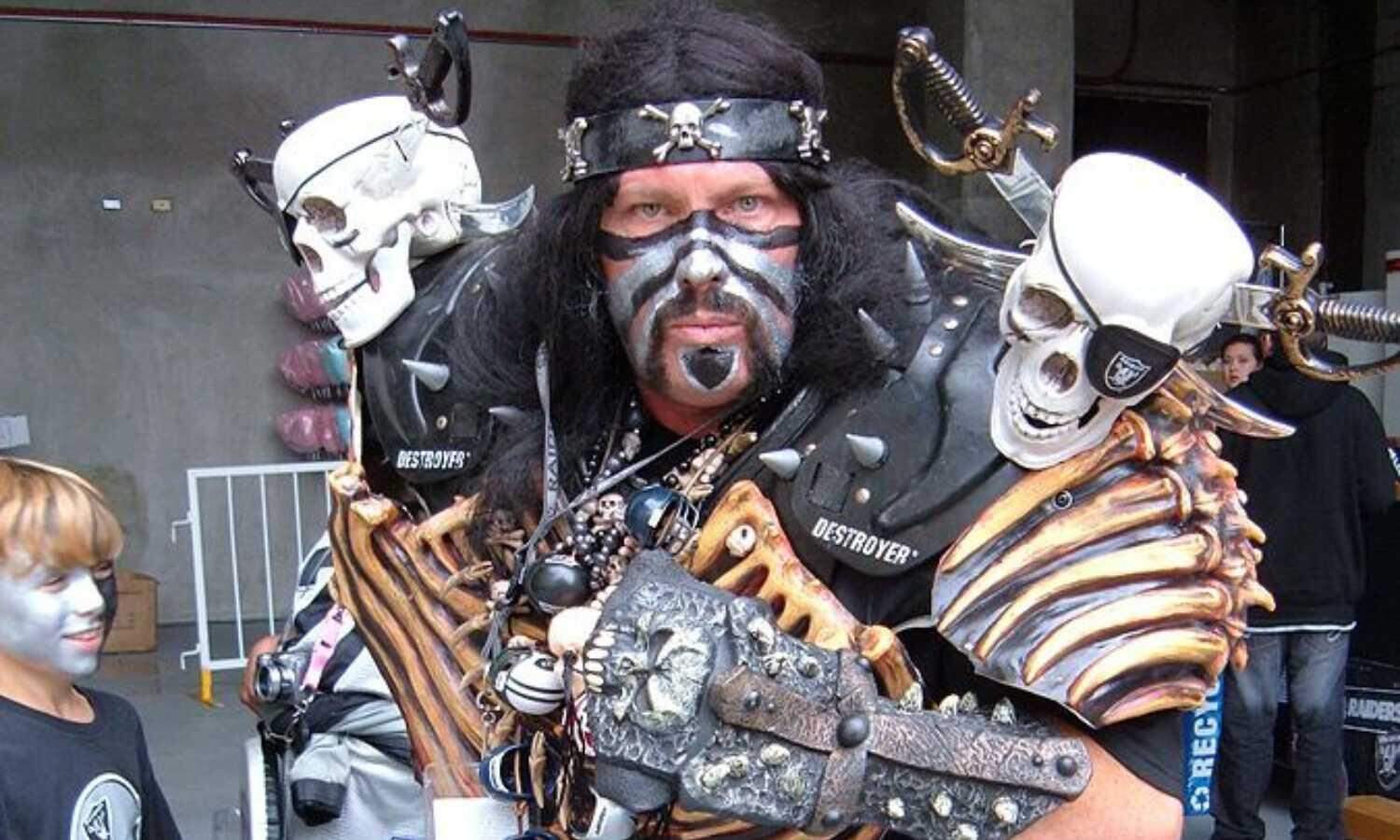 This outfit certainly showed a lot of dedication in curating such an amazing look for game day.
A Green Bay Packers Fan in Frozen Tundra Costume
The number four spot goes to this chilly Packers fan, who was captured in a frozen tundra costume. Lambeau Field, where the Packers play, is nicknamed "The Frozen Tundra" after a game between the Packers and Dallas Cowboys in 1967 during temperatures of −15 °F.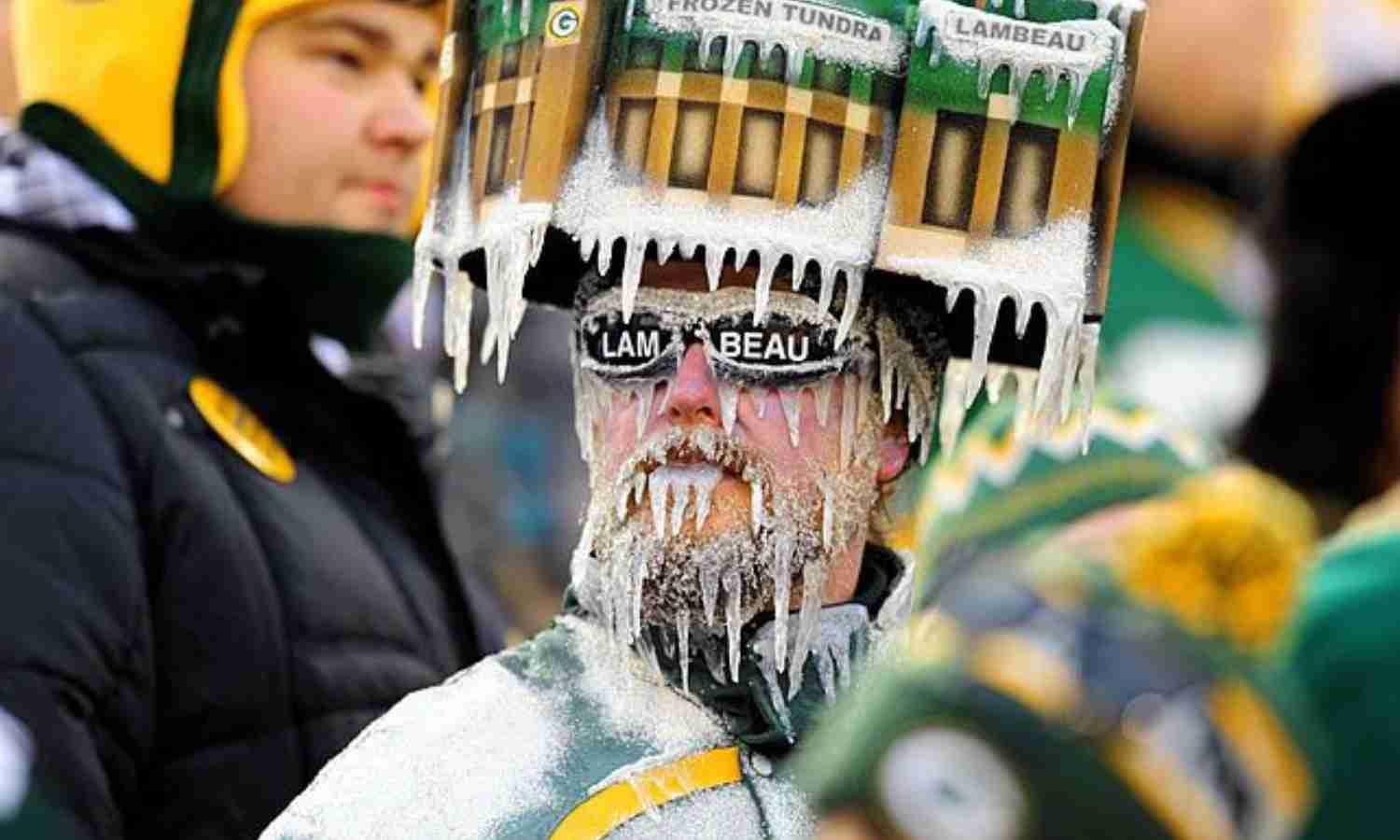 This fan was fully dressed in a frozen tundra costume to show support while watching a game in Green Bay, Wisconsin.
A Denver Broncos Fan in a Colorful "Star Wars" Costume
The Denver Broncos is an NFL team based in Denver, Colorado, that was first established in 1970. Their team colors are orange, white, and black, and their logo is of a bucking horse.
This Broncos fan has earned the number three spot. He was captured dressed in an orange Darth Vader costume as he stands and cheers his team on during a game between the Denver Broncos and the Oakland Raiders.
A Las Vegas Raiders Fan in a Spikey Darth Vader Costume
The Las Vegas Raiders fan Charles Ybarra is number two on this list. He is seen decked out in a Darth Vader costume as he cheers on his team during a game between the Las Vegas Raiders and the Houston Texans in Las Vegas, Nevada.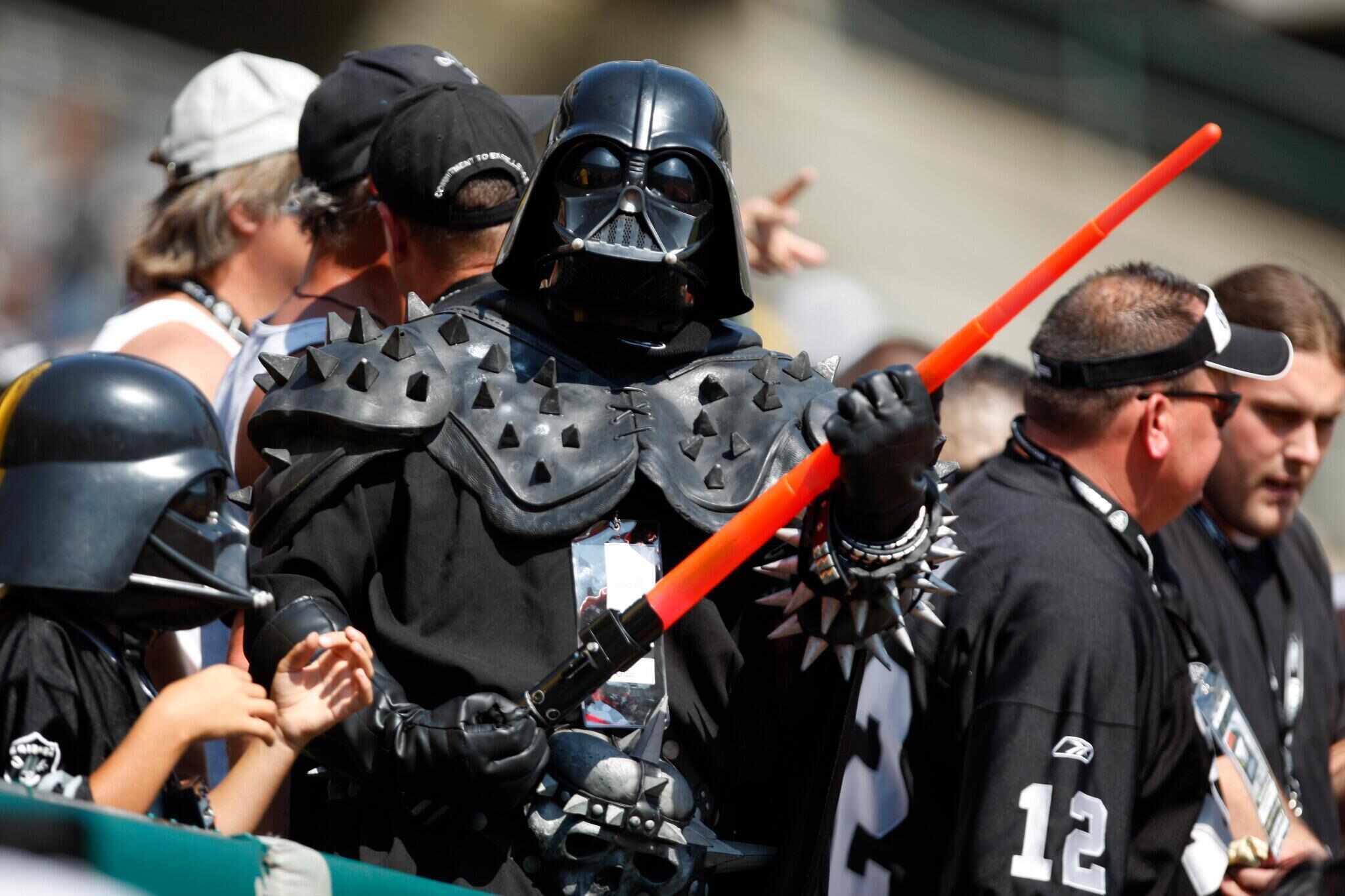 The costume also refers to the Raiders' colors: silver and black.
The Las Vegas Raiders vs. Miami Dolphins
This Raiders fan's "Game of Thrones" costume is at the top of the charts on this list. Raiders fans truly do not relent when it comes to showing off their dedication to costumes.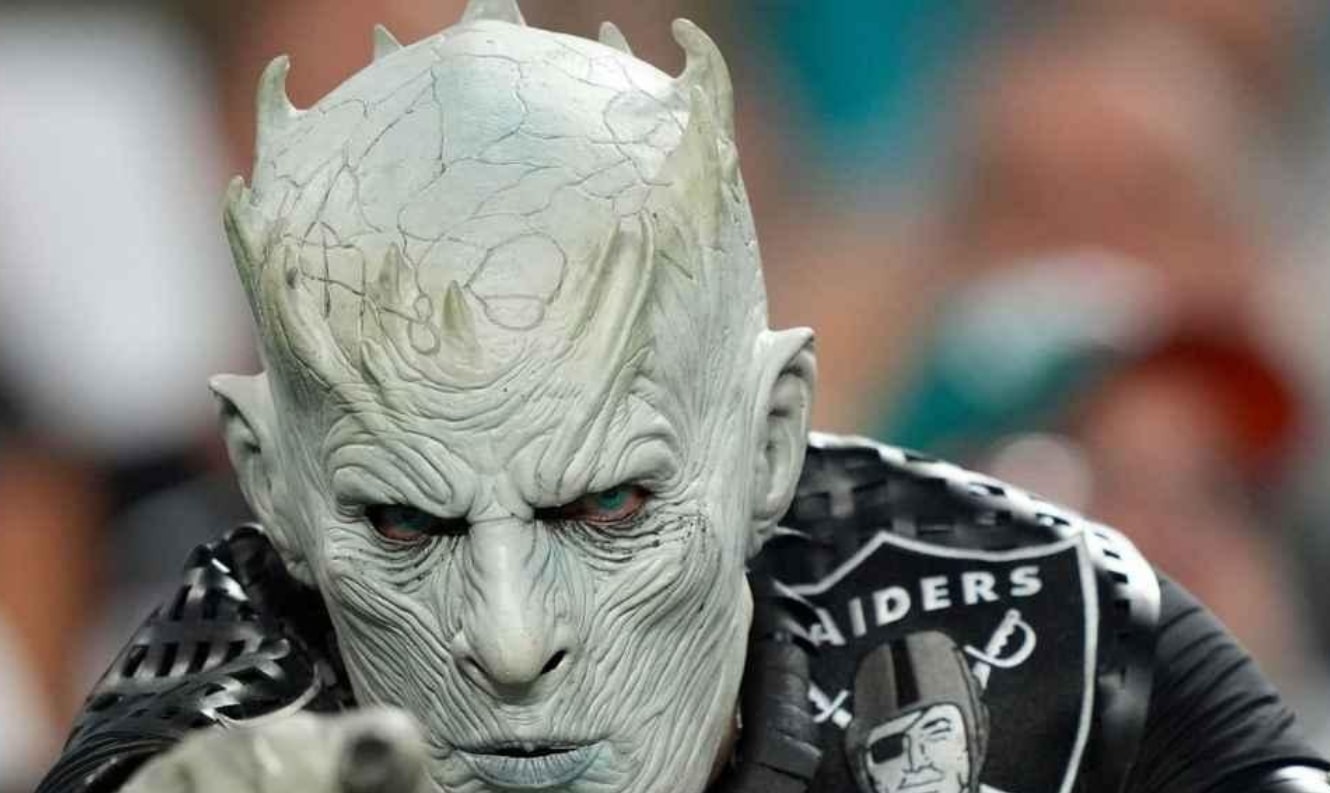 This costume resembles the Night King villain from the "Game of Thrones" series. The fan was captured cheering while his team played against the Miami Dolphins in Florida.