Thriving in Chaos: A Look Back on the Legendary Life of David Crosby of Crosby, Stills, Nash & Young
David Crosby was a pioneering musician and songwriter who played a crucial role in shaping the sound of rock and roll in the 1960s and 1970s. As a member of The Byrds, Crosby helped to popularize the use of folk-rock and country-rock elements in popular music, and his songwriting and vocal harmonies were integral to the band's success.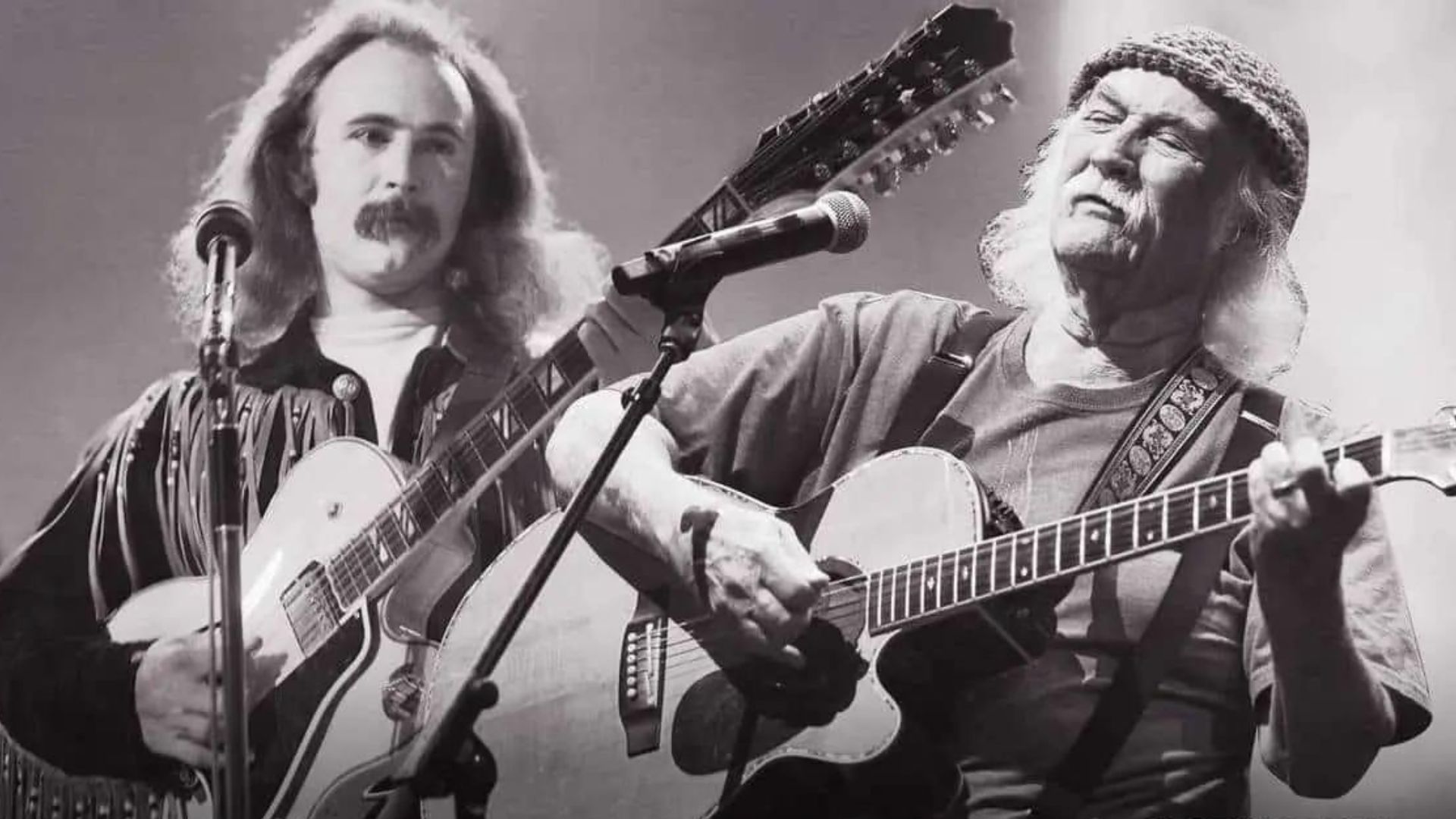 In addition, as a co-founder of the supergroup Crosby, Stills, Nash & Young, Crosby helped to define the sound of folk-influenced rock music, and the band's albums are widely considered among the greatest of all time. His innovative and unique approach to music-making has been an inspiration to many other musicians, and his influence can still be felt in the music scene today.
A Unique Personality in Music
Known for his contentious personality, Crosby achieved great success as a musician, singer, and songwriter during his time with The Byrds, a pioneering folk-rock band from Los Angeles. The Byrds were known for their innovative blend of guitar-driven rock music with poetic melodies, and Crosby's contributions as a singer, guitarist, and songwriter were crucial to the band's unique sound.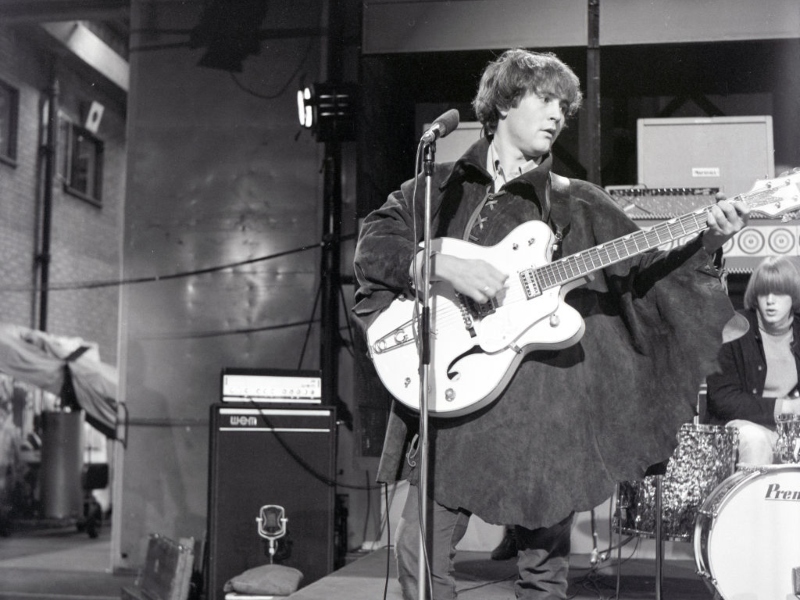 Crosby's work with The Byrds helped to usher in a new era of popular music, as the band's blend of folk and rock influences influenced many other musicians and helped to pave the way for other artists to experiment with similar sounds.
He Released a String of Hit Songs
During his time with the band, Crosby made significant contributions as a singer and songwriter, lending his voice and talents to many of the band's most popular and enduring hits.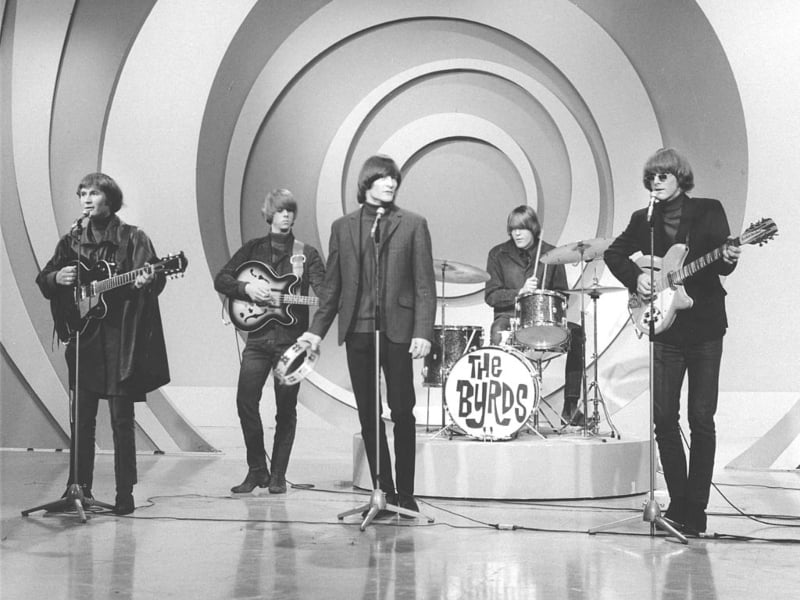 Some of his most notable contributions include singing on the chart-topping covers of "Mr. Tambourine Man" and "Turn! Turn! Turn!," which were also the titles of The Byrds' first two LPs. "Mr. Tambourine Man" was particularly successful, reaching the top 10 in the US charts. His contributions to the band were essential to their success and helped them to establish a unique and influential sound that continues to be celebrated and admired today.
A Pillar in the Industry
Believe it or not, Crosby played a vital role in the success of The Byrds, not only as a singer but also as a songwriter. The Byrds were a major force in the burgeoning L.A. folk-rock scene in the 1960s, and their innovative blend of folk and rock influences helped to feed the country-rock genre.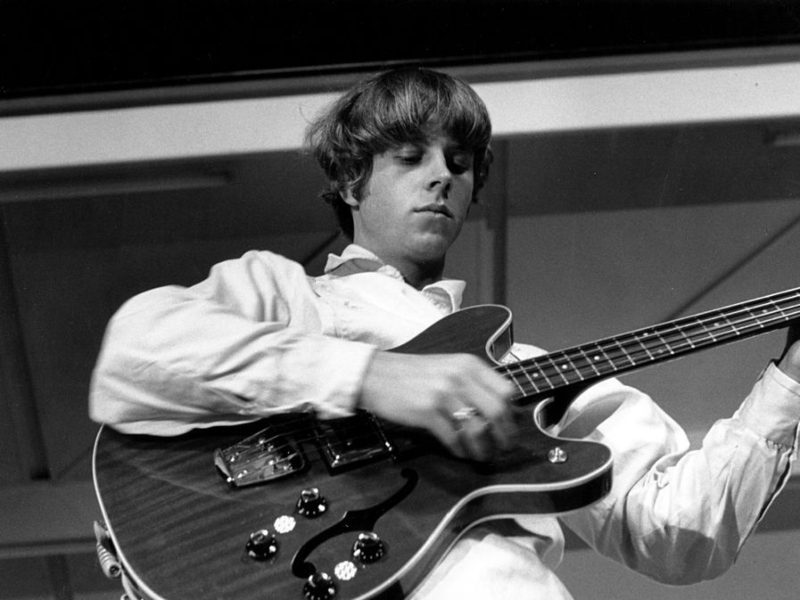 Many other musicians and bands, such as the Eagles and The Flying Burrito Brothers, were heavily influenced by The Byrds' sound, particularly the Laurel Canyon acts of the late 1960s and early 1970s. Chris Hillman, a former member of The Byrds, went on to play in The Flying Burrito Brothers and helped to shape the sound of that band as well.
Some Tension in the Group
David Crosby's tenure with The Byrds came to an end due to his challenging personality. Despite his undeniable talents as a musician and songwriter, Crosby's behavior often caused tension within the band. These tensions came to a head at the 1967 Monterey Pop Festival, where Crosby's between-song monologues and diatribes during The Byrds' set caused friction among the band members.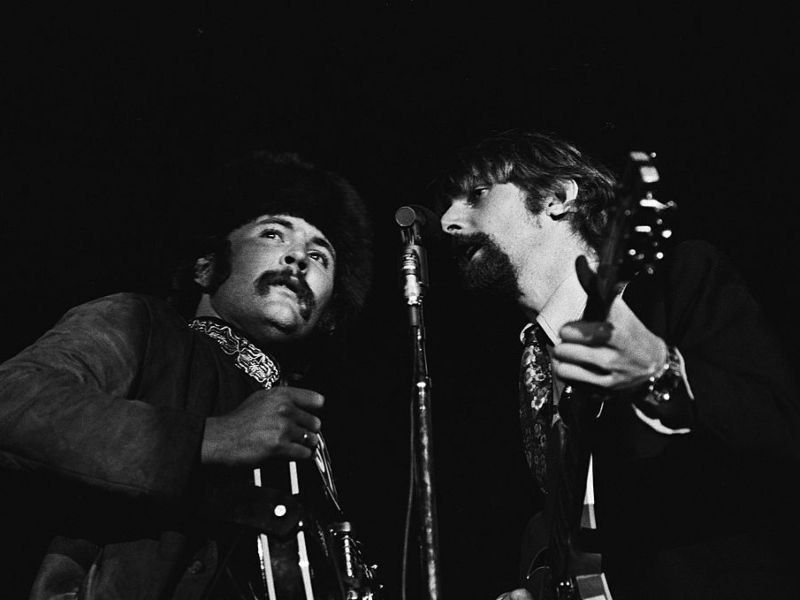 This was further exacerbated when he filled in for Neil Young during a rival L.A. band, Buffalo Springfield's set, which was seen as a betrayal to his own band. These events ultimately led to his dismissal from the band and marked the end of his time with The Byrds.
Making it Big in the Industry
After his dismissal from The Byrds, David Crosby went on to find even greater commercial success with his next musical endeavor. He teamed up with fellow Laurel Canyon residents Stephen Stills and Graham Nash to form the band Crosby, Stills & Nash (CSN).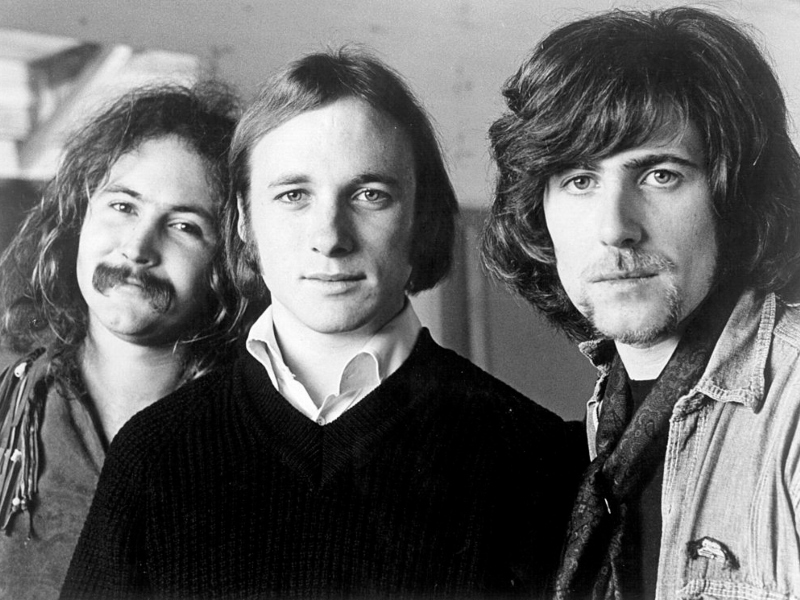 The band was known for their unique vocal harmonies, and Crosby's signature long hair, bushy mustache, and dissenting views helped to contribute to the band's iconic image. After, their eponymous debut album was released in 1969, and it was an immediate commercial success. It went to the Top 10 of the album charts, and it was certified as a gold record within the first month of its release.
One Hit After Another
The album featured hit songs such as "Suite: Judy Blue Eyes" and "Marrakesh Express," which helped to establish the band as one of the most popular and influential groups of their time. The band's distinctive sound and innovative approach to songwriting helped to pave the way for many other musicians and bands, and Crosby's contributions as a singer and songwriter were essential to the band's success.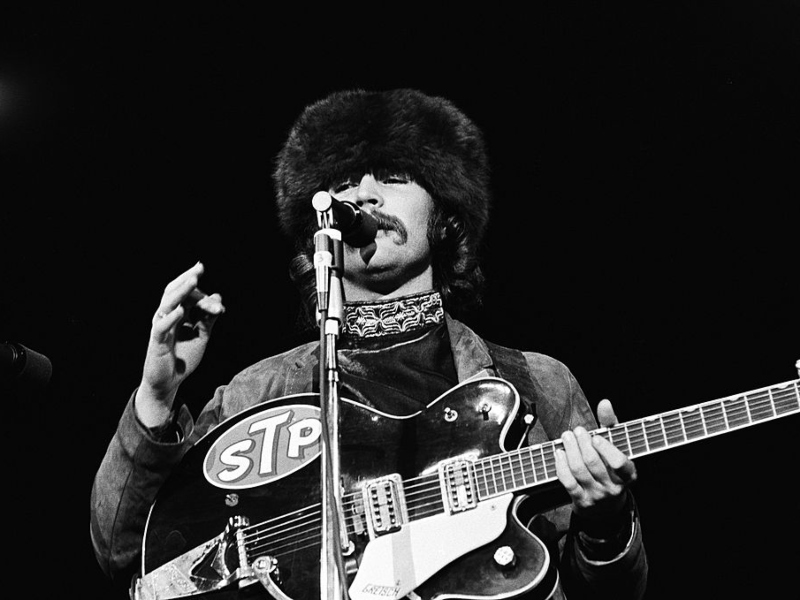 On top of that, the album was nominated for Album of the Year at the Grammys and had dazzling, otherworldly harmonies that helped it secure a quadruple platinum status!
Earning Accolades for His Work
Crosby, Stills & Nash (CSN) were recognized for their talents and contributions to the music industry early on in their career. Their album was released in 1969, and in 1970, the group won the Grammy award for Best New Artist. It was a significant achievement for the band, and it marked David Crosby's first and only win among the ten career nominations he received.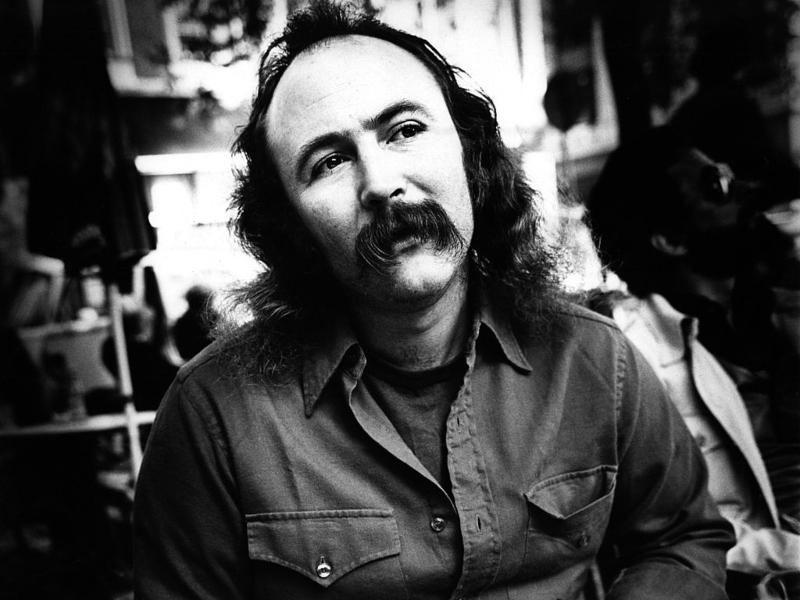 This Grammy win was a recognition of the band's success and influence in the music industry, and it helped to solidify their status as one of the most popular and respected bands of their time.
Doing More Songwriting Projects
Crosby, while being a part of the new group, dedicated himself to improving his songwriting skills. He was able to accomplish this by writing two of the album's most popular tracks, "Guinnevere" and "Long Time Gone." Additionally, he collaborated with Stills and Paul Kantner of Jefferson Airplane to co-write the hit song "Wooden Ships." Furthermore, Crosby sang lead vocals on all three of these songs.
It's amazing to think how Crosby can do almost anything he sets his mind to, so it's no wonder why he's getting all the accolades and recognition. No one deserves it more than Crosby!
A New Face Comes Along
In 1970, Crosby's group was joined by Canadian musician and former member of Buffalo Springfield, Neil Young. With Young's addition, the group became a quartet and achieved great success, releasing three consecutive No. 1 albums: Déjà Vu (1970), 4-Way Street (1971), and So Far (1974).
Déjà Vu, the group's debut album, was nominated for the Grammy award for Album of the Year and is still highly regarded as one of the most treasured rock albums of all time. It featured many classic songs such as "Teach Your Children," "Helpless," "Carry On," "Our House," the Crosby-penned title track "Déjà Vu," and a cover of Joni Mitchell's "Woodstock." Mitchell also opened for the group during their first concert tour.
Tension Was Rising in the Group
Sadly, band members often had tense relationships with one another, as in the case of Cosby's dynamic group. Due to varying reasons, the multitalented ensemble would eventually break up. It was genuinely a sad moment for the fans, considering they never thought this day would come.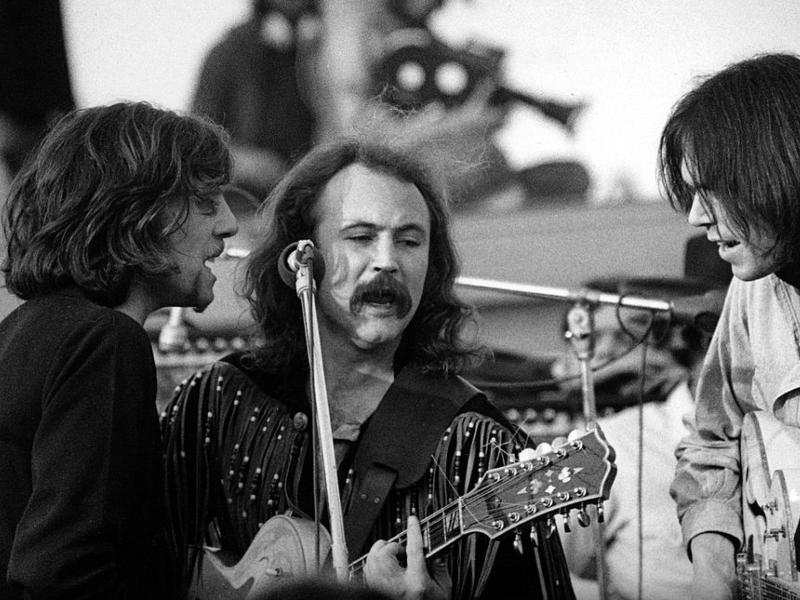 Nevertheless, the members would reunite in various combinations for decades to come. It's safe to say that despite what happened, the folks are still on good terms. Now, that's an unbreakable bond brought about by music.
Going on a Solo Adventure
In 1971, David Crosby set sail on a solo journey, releasing his debut album "If Only I Could Remember My Name," which soared to the heights of No. 12 on the Billboard 200 charts. As his fellow bandmates of CSN&Y embarked on their own individual paths, Crosby joined forces with the melodic genius, Graham Nash, to form the dynamic duo "Graham Nash/David Crosby."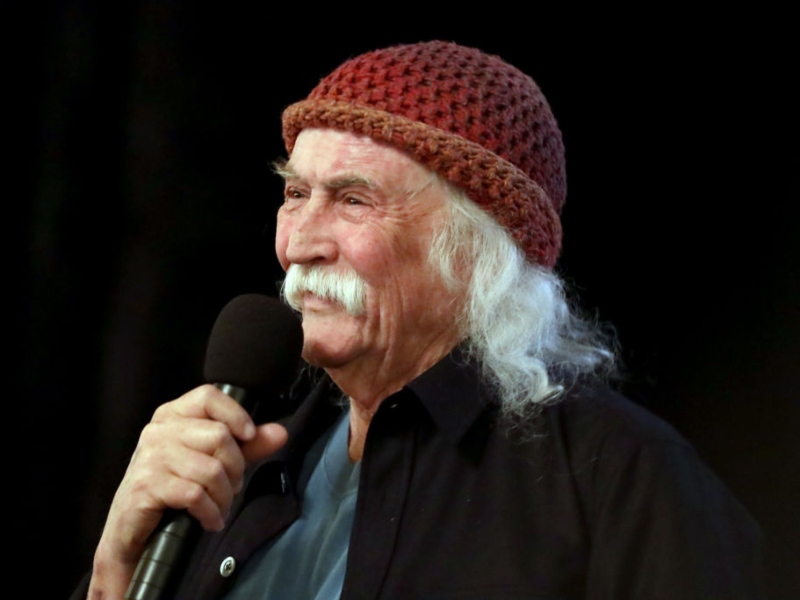 Together they created a pair of albums that hit the Top 10 in 1972 and 1975, with their 1976 release "Whistling Down the Wire" making a splash in the Top 30.
Reuniting for the Second Time Around
Harmonious trio Crosby, Stills, and Nash reunited in 1977 to record the album CSN. Their first Top 10 success, "Just a Song Before I Go," was generated by this musical gem, which spent four weeks at No. 2 on the charts. The album did well commercially, earning quadruple-platinum status.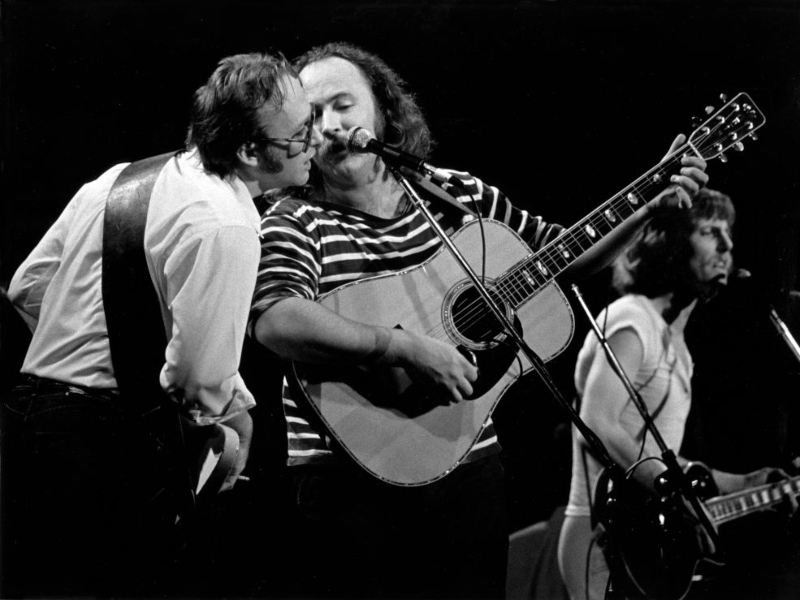 Despite the moderate success of their follow-up album, 1982's "Daylight Again," which followed the less than stellar "Replay," marked the band's triumphant return. With their second Top 10 success, "Wasted on the Way," and the Top 20 melodic masterpiece "Southern Cross," on which Stills' voice sparkled, this album helped reintroduce them to the audience and propel them back into the spotlight.
Court Battles Keep on Coming
The group continued to create music with the release of "Allies" in 1983; however, the mid-80s were not kind to Crosby. He faced multiple legal battles, including weapons and drug charges, resulting in a 9-month stay at a Texas state prison in 1985.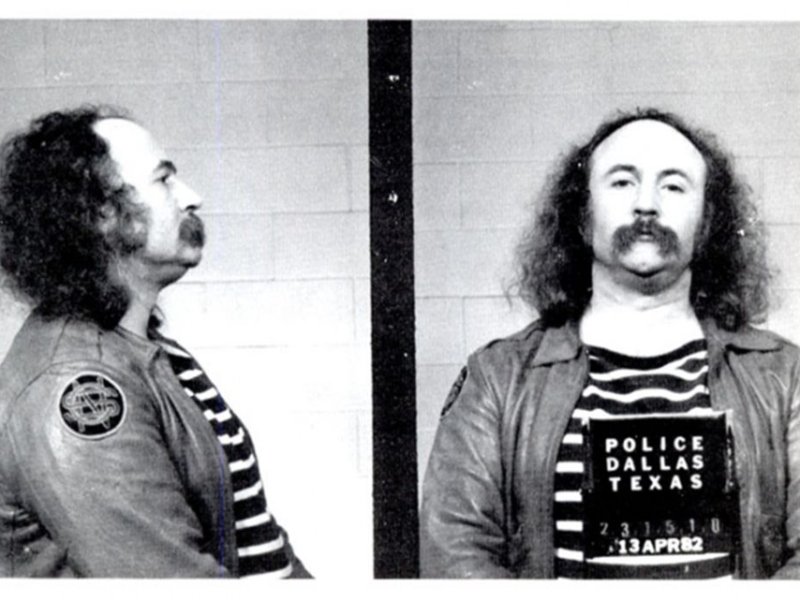 Unfortunately, that same year, Crosby faced yet another arrest for DUI, hit and run, and other charges. It was just one of many brushes with the law Crosby would meet throughout his years. Some might say that's just the celebrity way of life, but it's not always the case.
Rising Above All Issues
Interestingly, the legendary band CSN&Y would rise again like a phoenix in 1988 with the release of American Dream. This album propelled them back into the spotlight, with the title track climbing to the top 5 on Billboard's Mainstream Rock chart. Their follow-up single, "Got It Made," held the throne for an impressive two weeks on the same chart.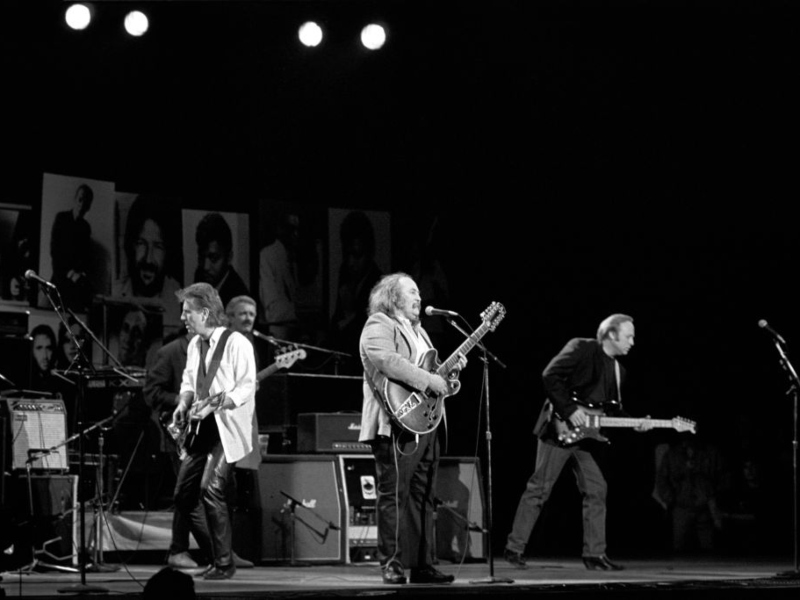 Everyone thought they'd never see CSN&Y create music together again, but here they were, doing what they were born to do. It was as if all was right in the world.
Reuniting Like the Good Old Days
As the years passed, the core members of the band couldn't help but come together once more. In the 90s, CSN released three albums, and in 1999, Young rejoined them for "Looking Forward." Then in 2006, the band came back together for the "Freedom of Speech" concert tour in support of Young's solo album "Living with War."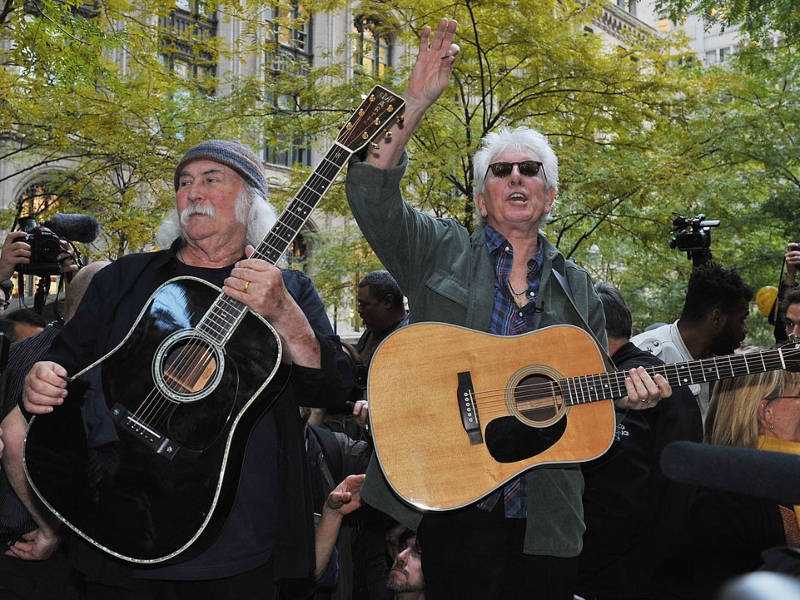 It was a reunion of music, memories, and friendship for the ages. What's incredible is how they could quickly get back on the horse and make beautiful music together—as if they never stopped in the first place.
Some Politics Came into the Mix
As the politically charged Living with War album and concert tour approached, the bandmates, known for their left-leaning views, amped up the political undertones. The tour leading up to the U.S. midterm elections was met with mixed reactions.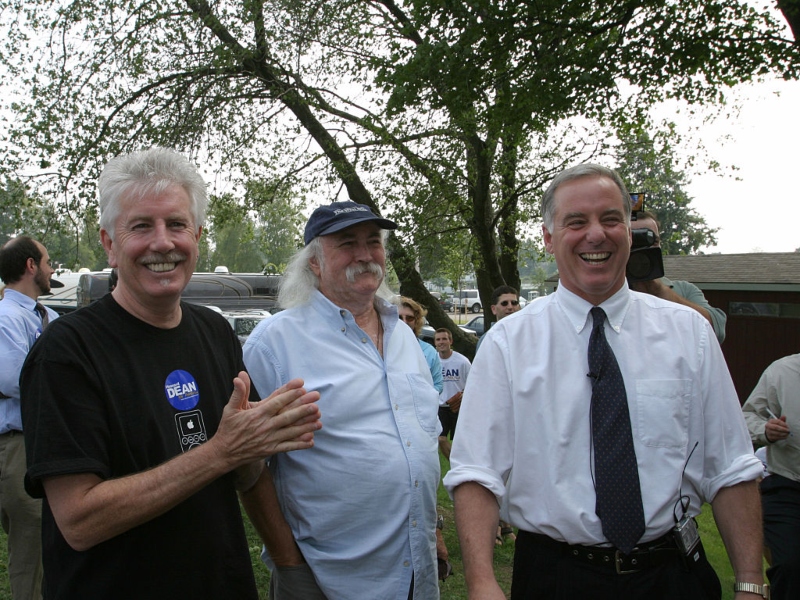 One stop in California's Orange County drew boos and jeers from some members of the crowd as the band fearlessly shared their political beliefs. Back in the day, it was pretty standard for musicians to use their events as platforms to share their ideals. Yet, that doesn't mean it should be done this way.
He Had Quite the Temper
Born in the City of Angels on August 14, 1941, David Crosby was a rebellious soul with a penchant for upsetting the status quo. It was Crosby's inclination to be a "jerk" that ultimately led to his removal from the Byrds, as he revealed in the 2018 documentary "Echo in the Canyon."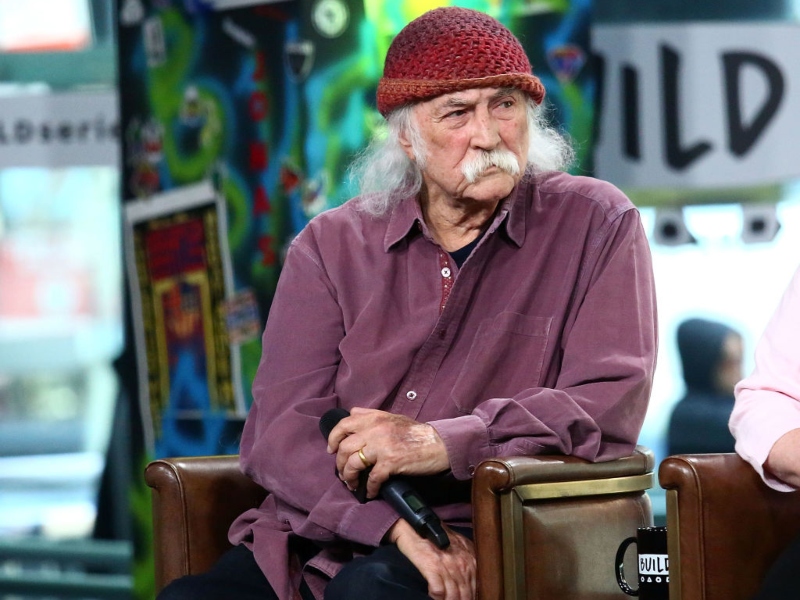 It's worth noting, though, that Crosby had no problem taking responsibility for his good and bad deeds alike. In a way, one can say it's an impressive trait; after all, Crosby's a rock star with an attitude.
More Awards Under His Belt
Despite the tumultuous times, in 1991, Crosby became the inaugural recipient of the prestigious MusiCares Person of the Year award. This honor, which recognizes not only artistic achievements but also philanthropic endeavors, has been bestowed upon some of the greatest names in music, such as Neil Young, Joni Mitchell, Quincy Jones, Paul McCartney, Aretha Franklin, Stevie Wonder, Bruce Springsteen, Tom Petty, Carole King, and Fleetwood Mac, among others.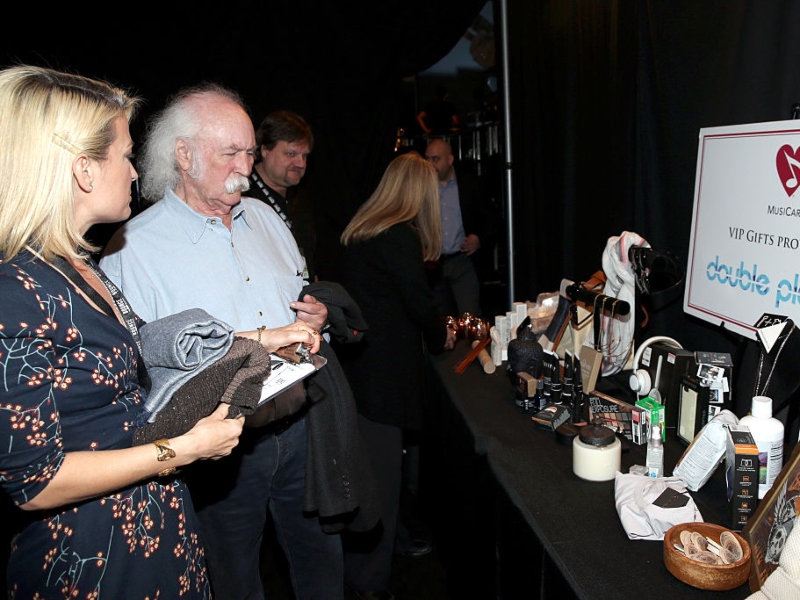 It was a momentous occasion for Crosby and a testament to his impact on the music industry and the world at large.
Another Album Hits the Stands
Throughout the years, Crosby embarked on several solo ventures, beginning his journey with the release of "If I Could Only Remember My Name" in 1971. He took an 18-year hiatus before releasing his next solo album, Oh Yes I Can, in 1989, followed by Thousand Roads in 1993.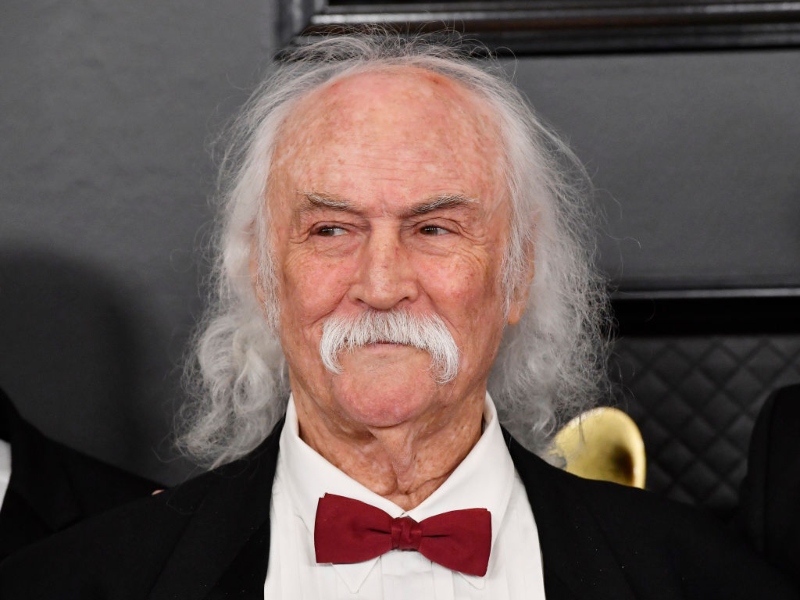 He then came back with a solo album, Croz, in 2014 and continued to release albums in 2016, 2017, 2018, and 2021. His solo endeavors were a testament to his enduring talent and artistic vision.
Dipping His Toes in Tinseltown
Apart from singing, Crosby starred in a documentary on his life, David Crosby: Remember My Name, directed by Cameron Crowe and released in 2019. Sony Pictures Classics won a bidding war to acquire the rights to distribute the film after it opened at Sundance. The video was a brutally honest portrait of a guy whose retirement plans included anything but relaxing.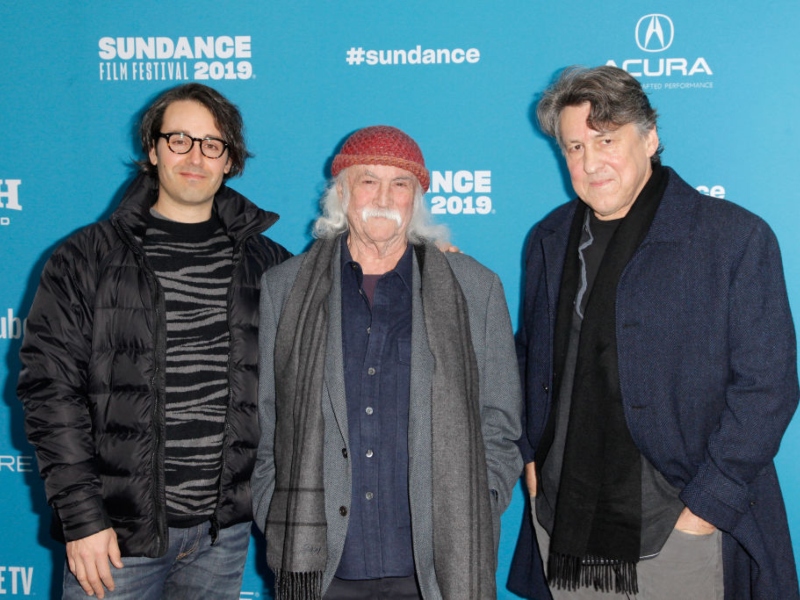 It was the introspective work of a musical legend who, at age 77, was on the prowl for new inspiration. With Remember My Name, Crosby lets us in on his deepest feelings, including his sorrows, worries, joys, faith in loved ones, and belief in the transformative power of music.
Gone Too Soon
There are always going to be surprises in life, some pleasant and some negative. The tragic news of David Crosby's demise is especially relevant here. David (Croz) Crosby, affectionately accompanied by his wife and soulmate Jan and son Django, passed peacefully, according to his wife Jan announced in a statement, after a protracted illness.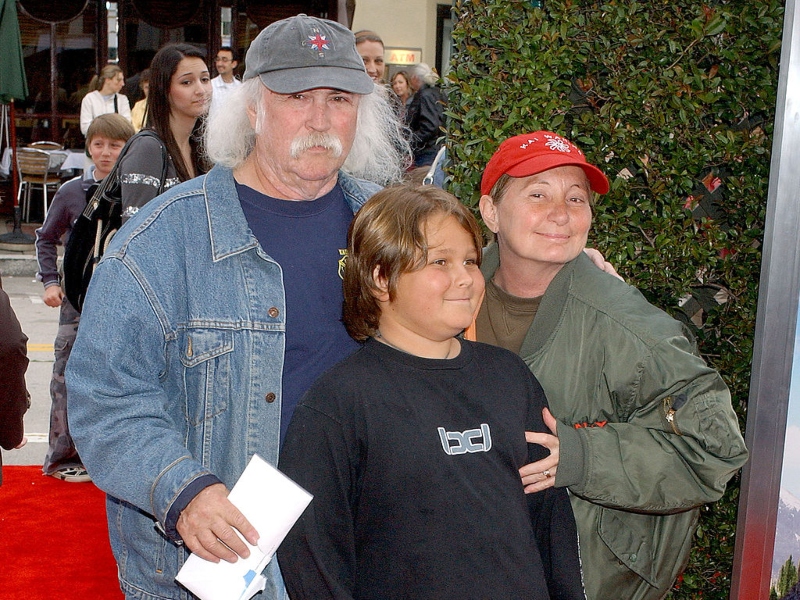 Even if Crosby is no longer physically present among us, his humanity and kind spirit will forever serve as an inspiration and guidance. His well-known songs will ensure his legacy will never die.
Making an Impact on Everyone's Lives
David Crosby was a man whose life was filled with peace, love, and harmony that he shared and spread to everyone who knew him. His death has left an overwhelming absence for family, friends, and fans alike; the entire world mourns this tragic loss.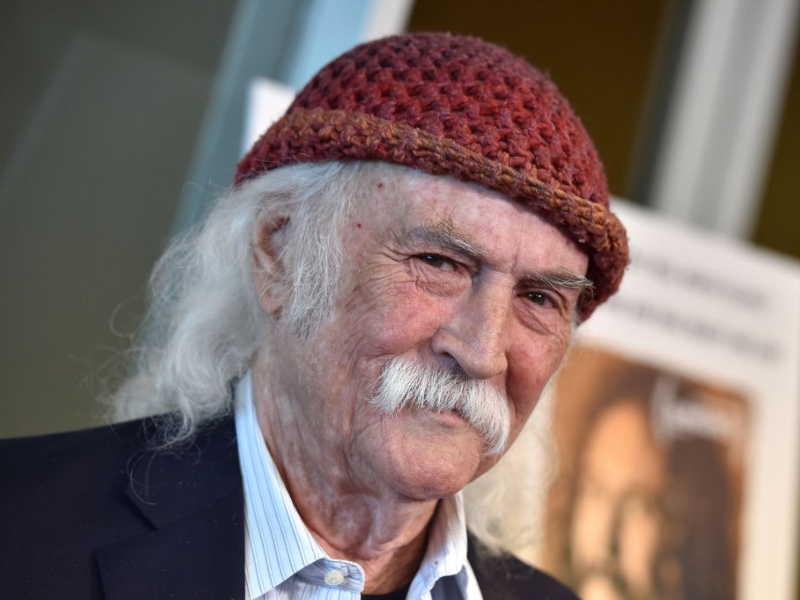 The family is asking for privacy as they grieve over their beloved one, and those close to them seek solace in their warm sentiments and tears. They wholeheartedly thank all the supporters of David Crosby, whose love gave him courage throughout his lifetime and has now been returned in the form of comfort during these difficult times.
A Legacy Lost to an Illness
As the news of David Crosby's passing cascaded across social media, it was instantly apparent that a legend had departed the scene. Not only were those who knew him personally left in shock, but so were the many generations of music fans who'd been touched by his extraordinary sound.
As an integral part of iconic bands like The Byrds and Crosby, Stills & Nash, David had left an indelible mark on popular music. He was an incredible man with a great vision, indeed.
Friends Until the End
Graham Nash, who was both bandmate and very occasionally adversarial friend to David, brought perspective to the outpouring of emotion as he noted that beneath even their spikier moments, pure joy could be found in their shared love for creating music.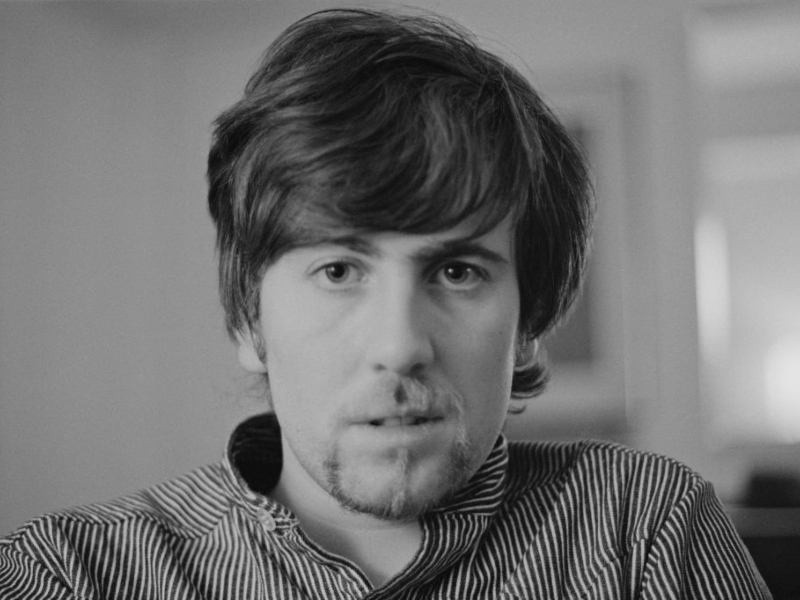 It seemed this effect had been felt far broader than just within their little coterie since millions have loved and revered the beautiful sounds crafted by David over many years – and will continue to do so for many more to come.
Losing a Friend is Hard
Stephen Stills and David Crosby will forever be remembered as two halves of the groundbreaking folk-rock supergroup Crosby, Stills, Nash & Young. Sadly, one-half of this iconic duo is now gone.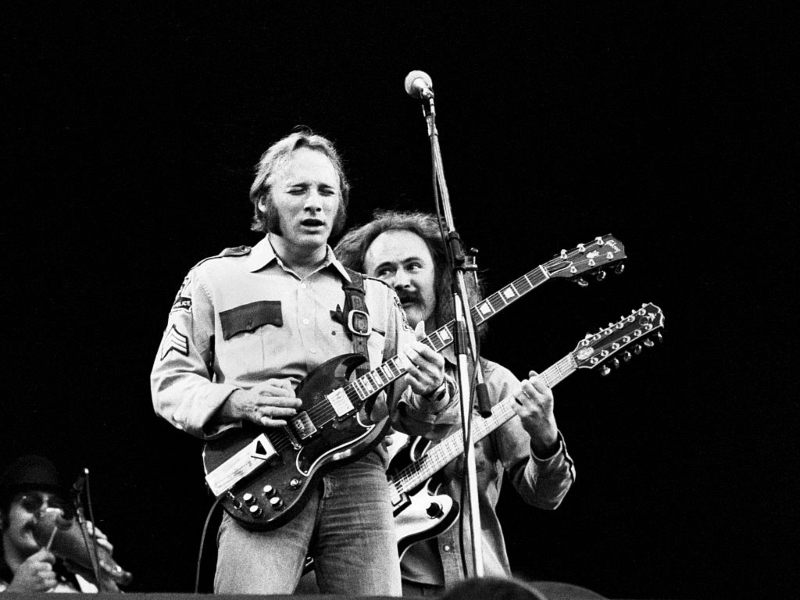 Following the loss of his friend and fellow musician, Stills reminisced on many aspects of Crosby's vibrant life; his talent and unbridled passion for creating music, his intense personality, and free spirit, and most importantly, his impactful relationships with loved ones like his wife Jan and beloved son Django.
Let Bygones Be Bygones
Although there were disagreements at times between Stills and Crosby, the savored peace found in the end meant so much to them both, moments of tenderness that feel all too bittersweet after such an untimely departure from Earth.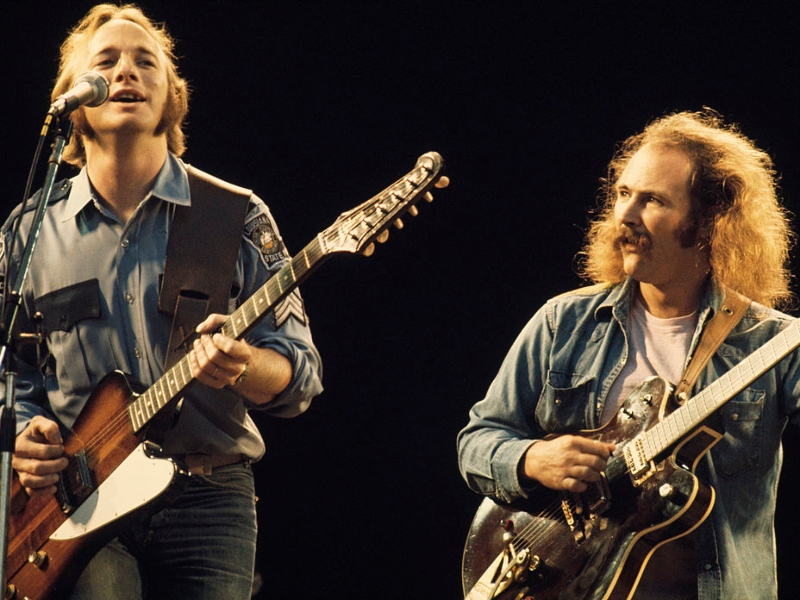 However, one thing that has never wavered has been their profound respect for each other and their shared love of music and its ability to bring people together. Indeed, it's impossible not to mourn such a massive loss, but in some ways, the legacy he has left us will remain more immortal than life itself.
Remembering an Excellent Musician
Melissa Etheridge, a folk-rocker, also has fond memories of Crosby since he agreed to be the father of her children in the 1990s. Etheridge expressed her sadness on the passing of David, the biological father of her children Beckett and Bailey, in an Instagram post.
His generosity allowed Etheridge to start a family. According to her, Etheridge owes Crosby, his son Django, and his wife Jan an enormous debt of gratitude. His songs and body of work will continue to move people for years to come. Truly, Crosby is a priceless gem.
Honoring A Fellow Musician
An eclectic mix of music legends gathered recently to celebrate the life and career of iconic singer-songwriter David Crosby. Brian Wilson from the Beach Boys, Jason Isbell, Rosanne Cash, Smashing Pumpkins' Billy Corgan, and Lalah Hathaway headline a list of other famous friends and fans that showed their admiration for one of rock's most remarkable figures with heartfelt tributes.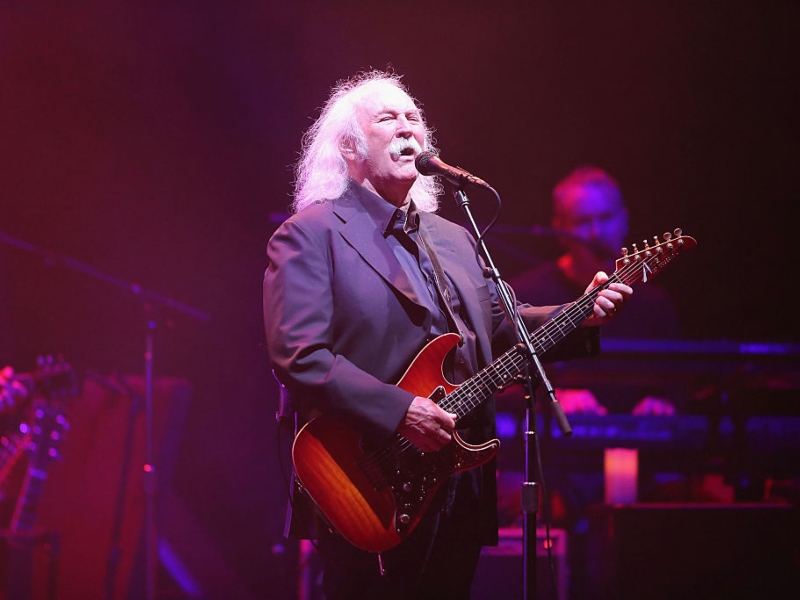 Alongside these illustrious names were newer stars such as Brandi Carlile and Jackson Browne, who were inspired by Crosby to write some of their own most classic music. The evening was packed with sparking anecdotes about experiences shared by all in attendance as together they proved that even after decades in the spotlight, Crosby still stands strong today.
Forever in Our Hearts
As a member of The Byrds and Crosby, Stills, Nash & Young, David Crosby established himself as a talented musician and composer. His contributions to the development of folk-rock music throughout his career were significant and will be remembered for years to come.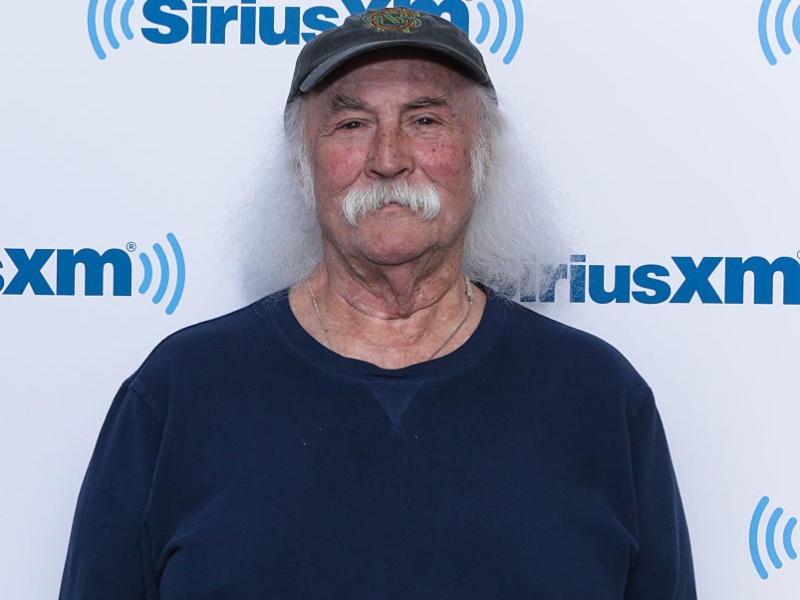 Countless musicians found inspiration in Crosby's music, and his impact will be felt for decades to come. The music Crosby created, and the experiences he left behind will keep his memory alive long after he is gone. Sure enough, Crosby's contribution to music is one of the most significant in the development of contemporary music.