This Seal Was Eager To Communicate An Important Message To A Diver
If you've always wanted to leave the mundane world behind and enter a mesmerizing new realm, scuba diving might be for you. If you're lucky, you might just stumble upon some of the most captivating creatures that call the deep blue waters their home.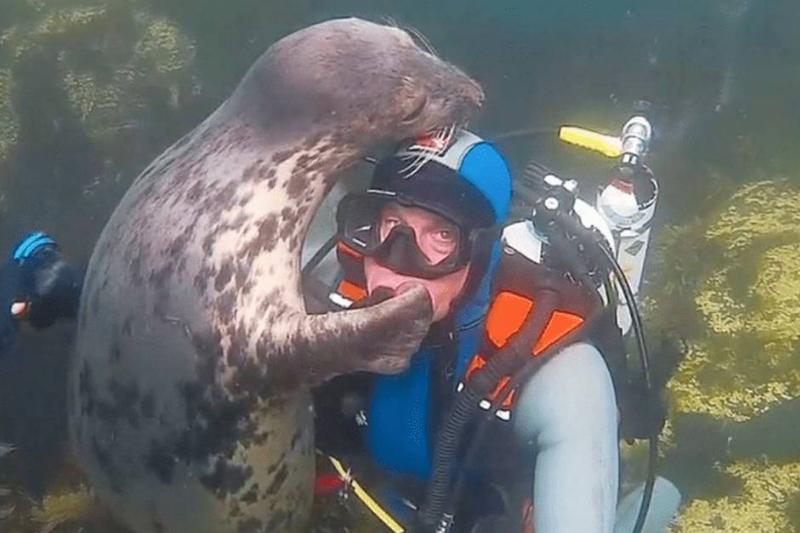 Recently, an experienced diver and his companion got lucky enough to experience such a moment. The following story is quite remarkable.
Going Into The Depth Of Scilly's Isles
Tucked away off the coast of Cornwall is an enchanting archipelago, which has more to offer than just its picturesque fields of cut flowers. Though its economy may thrive on its blooming daffodils, the real gem lies beneath the waves.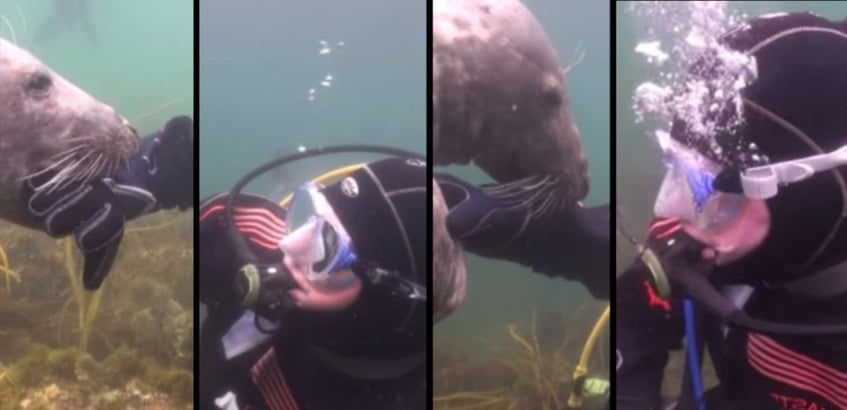 When two daring scuba divers dove into the icy waters surrounding the Isles of Scilly, they didn't know the surprise waiting for them. It would be more than vibrant coral reefs and schools of exotic fish—they were about to encounter a world beyond comparison.
What Lies Beneath The Waters?
Gary Grayson, a thrill-seeking scuba diver from Worsley, England, invited his friend to the Isles of Scilly. Little did they know what was in store. The islands have a reputation as one of the UK's top go-to spots for diving, and they were eager to experience it firsthand.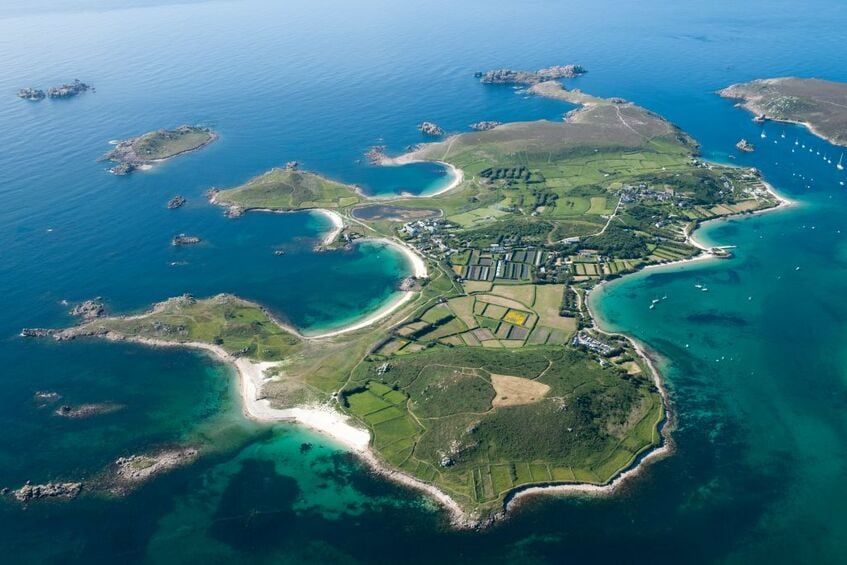 The Isles are known to have treacherous shorelines and a history of shipwrecks. Despite this, many find the area alluring. That being said, diving here is not for the faint of heart. But, for those brave enough to take the plunge, the rewards are endless. 
Playful Sea Buddies
As Grayson and his diving partner plunged into the ocean depths, they were expecting to uncover long-lost treasures. But, what they discovered was even more mesmerizing. It wasn't the rusted hull of an ancient ship that captured their attention. Something else made them gasp in disbelief.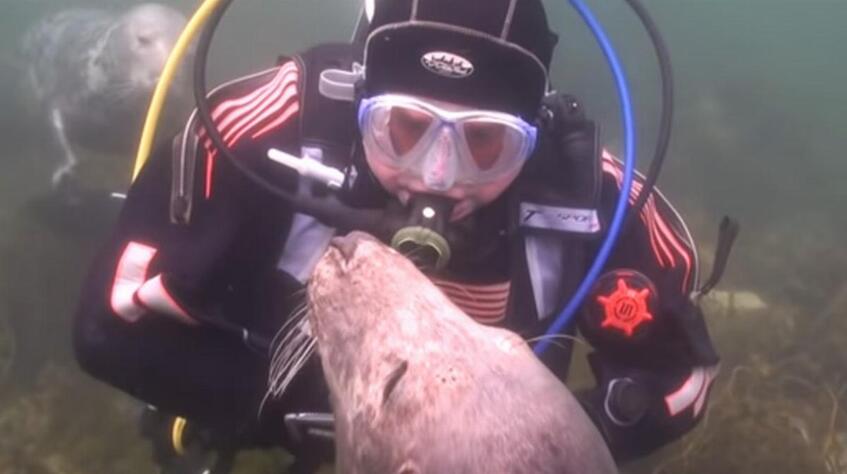 Grayson and his adventurous buddy were greeted by two unexpected visitors—majestic Atlantic grey seals. It was a moment that could've made anyone's heart skip a beat, as these creatures are known to be unpredictable and territorial. But, Grayson and his partner were prepared. 
Panicking Is Prohibited
Grayson and his partner knew they were merely visitors in a realm ruled by magnificent creatures. They were aware of the importance of maintaining a respectful distance from the animals they encountered, as doing so was critical for their safety and the preservation of the ecosystem.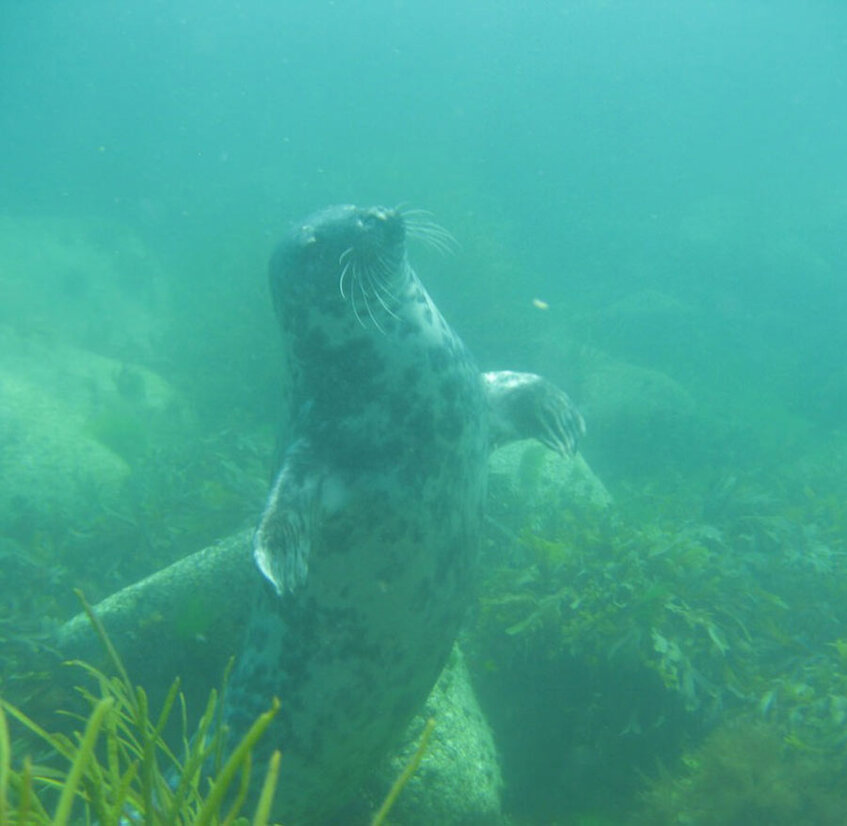 When the majestic seals suddenly appeared, they kept their cool. Seals that roamed these waters were known for their curiosity and playful nature. But, under certain circumstances, they could become aggressive. He had to avoid any behavior that seals could interpret as a threat. 
Capturing The Moment
As the seals came closer, the divers knew this was a once-in-a-lifetime opportunity they couldn't miss. Using a steady hand, they slowly but carefully took out their camera and began to capture the surreal experience. Fortunately, the seals swam around them with playful energy.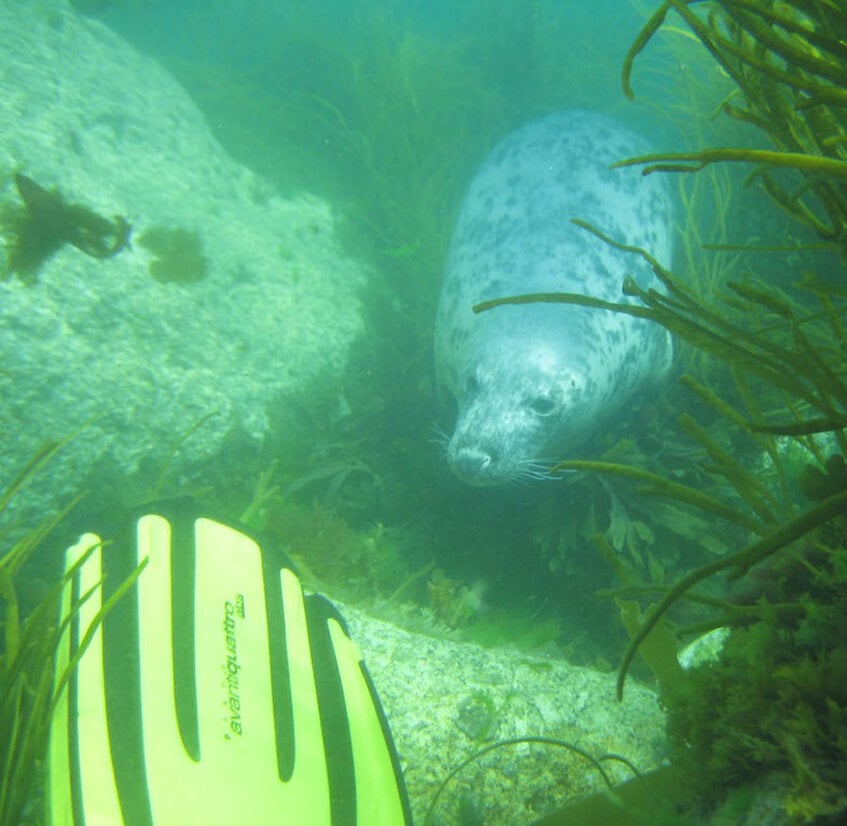 Seals are known for their unpredictable behavior, and they could quickly appear out of nowhere, leaving the divers startled. However, Grayson and his partner were no strangers to these waters, and they were well aware of the seals' tactics. 
Expecting The Unexpected
The ocean is a place of beauty and danger, where the tides can turn in an instant. Exploring the ocean's depths is a never-ending adventure for divers like Grayson. Every time they descend into the deep blue, they enter a world of inherent unpredictability.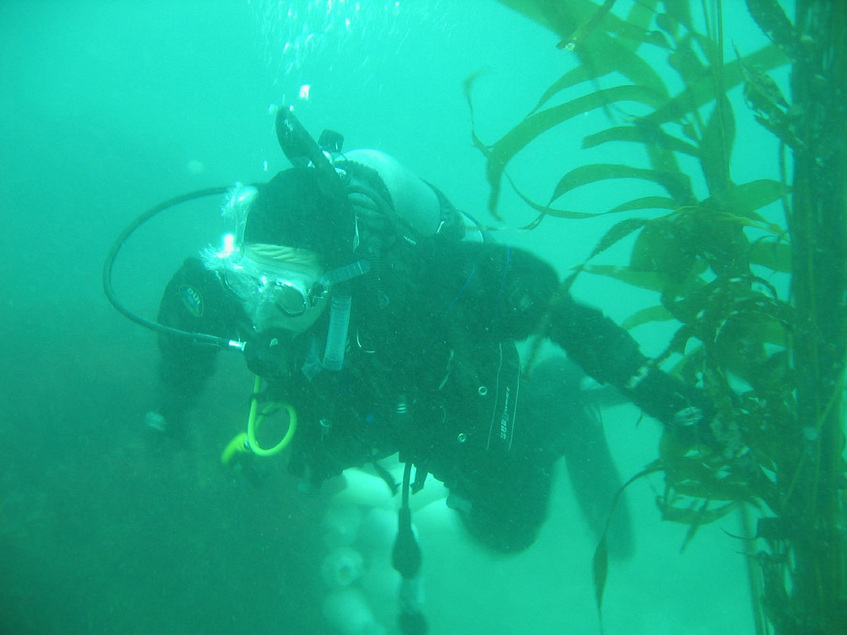 Gary Grayson had spent years perfecting his craft as a diving videographer. He captured some of the most awe-inspiring moments in the underwater world. But, on this particular day, he found himself caught up in an experience that left him speechless. 
The Video That Went Viral
It was sheer luck that Grayson had a trusty companion who had the foresight to record their extraordinary experience. Unbeknownst to them, their chance encounter would produce awe-inspiring visuals that would send the online community into a frenzy.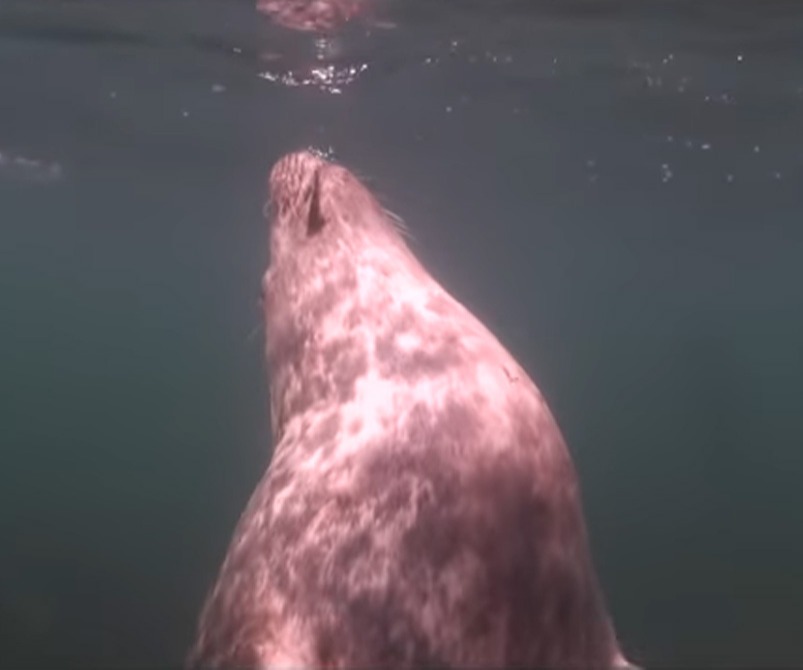 As fate would have it, the seals made a beeline for the divers. And, with each passing moment, they drew closer. As the brave filmmakers kept their cameras rolling, they were able to capture one of these magnificent creatures cozy up right next to the lens making for an unforgettable visual spectacle.
Better Safe Than Sorry
Seals are an inquisitive lot, but some can be shy and standoffish. Grayson and his accomplice, therefore, knew they had to exercise caution as they were dealing with fickle creatures. Safety was paramount—the divers knew all too well the risks involved.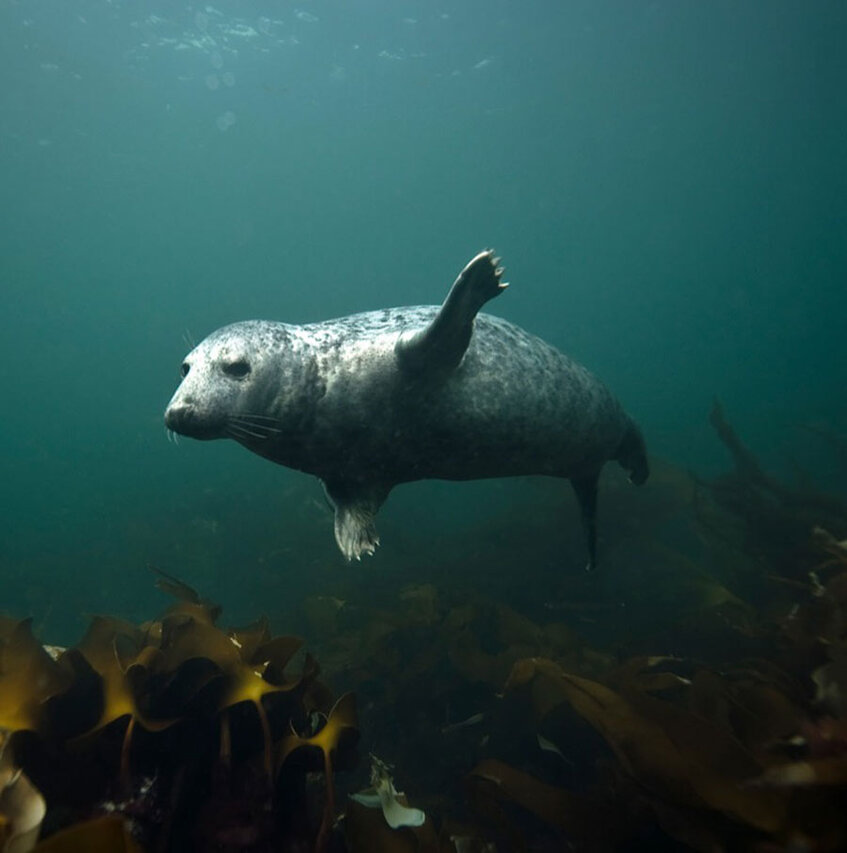 Despite their wealth of experience, the divers couldn't afford to be complacent. They knew their safety during a close encounter with wild sea creatures was far from guaranteed. Even for professionals like Grayson and his accomplice, unpredictability and excitement are to be expected in equal measure.
Adorable Babies Of The Sea
As the endearing seals came closer, it dawned on Grayson that the creatures were still babies. With this newfound realization, Grayson and his companion understood the gravity of the moment. The two opted for complete stillness, knowing that any sudden movement could scare the pups away.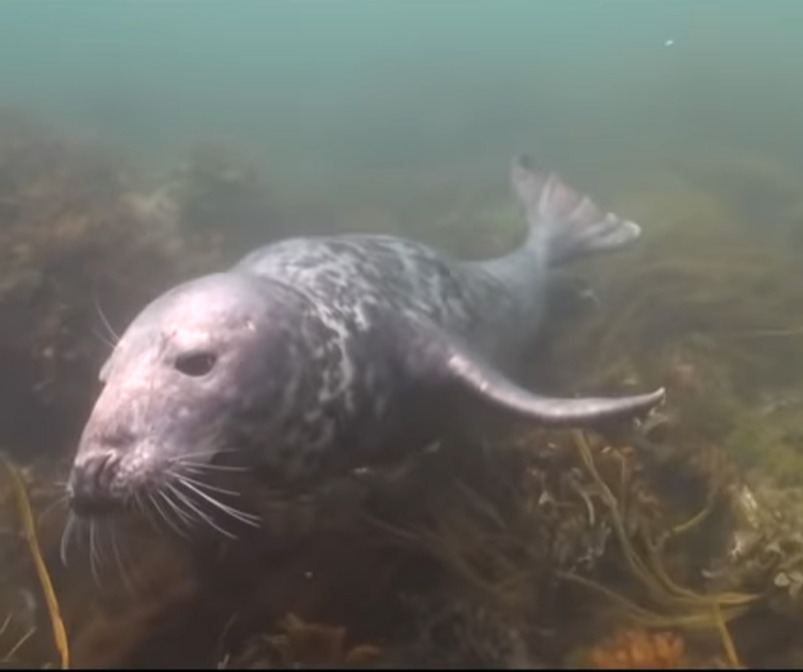 The divers made a conscious decision to help the young creatures feel at ease and secure. Their goal was to entice them to linger around for just a bit longer. Being young, these seals were naturally skittish and could swim off easily.
A Remarkable Development
The divers knew that getting video footage of these awe-inspiring creatures was a once-in-a-lifetime opportunity. But the clock was ticking. Fortunately, Grayson and his accomplice's patience paid off as the seal pups gradually began to warm up to them.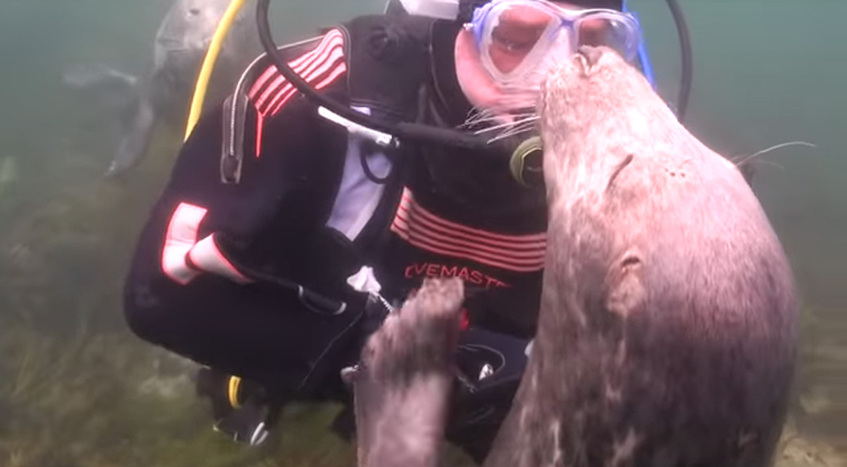 The seals put on an enchanting display and gracefully circled the divers, almost as if they were performing for the cameras. But, what made this particular group of pinnipeds stand out was their personalities. 
Fast Friends
Grayson and his diving buddy were mesmerized by their beautiful encounter. The seals were so near them that they were both fully engrossed in the present moment. This was simply extraordinary, as these creatures are known to be very wary of strangers.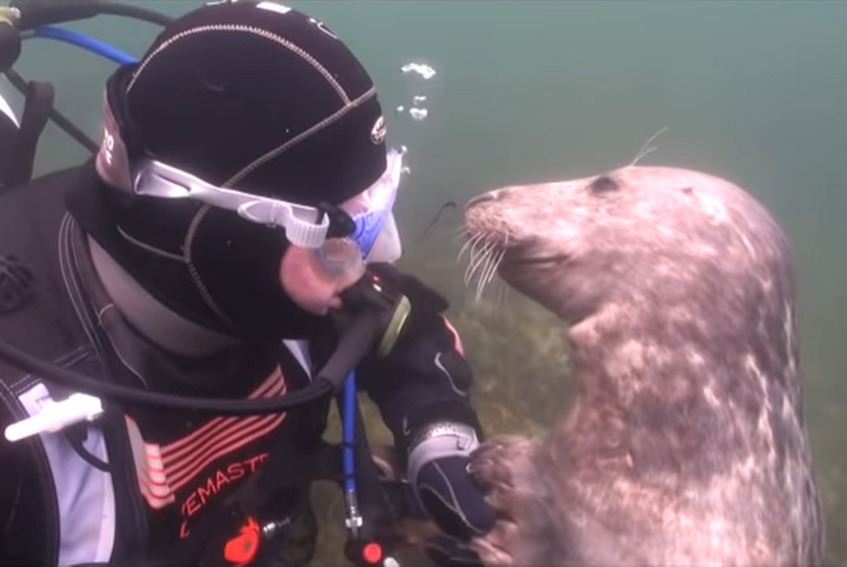 The divers were left bewildered as the seals swam straight up to them as if they were extending a friendly gesture. This extraordinary moment captured in film captivated the hearts of people across the globe. But amidst the excitement, Grayson couldn't shake off a lingering sense of unease.
Reaching Out 
Grayson was taken aback as one of the seals began nudging him gently, almost as if it wanted to hold hands. Then, in a magical moment, the seal stretched out its flippers as if inviting Grayson to join in a whimsical game of "Ring A Ring O' Roses."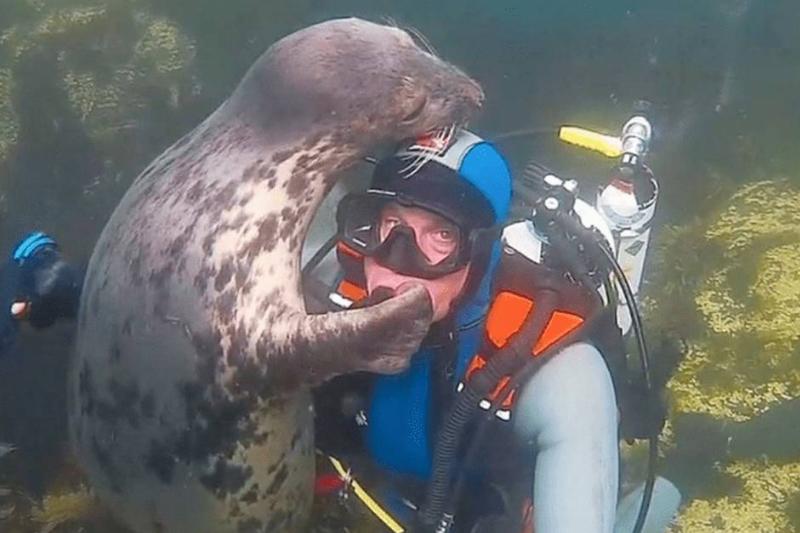 In a heartwarming moment of connection, Grayson and the seal locked eyes and extended their flippers toward each other. Grayson reached out and shook the seal's flipper, sealing a bond that transcended the boundaries of language and species.
Unnatural Behavior
Gaining the trust of marine wildlife requires unwavering patience. It often involves swimming for days alongside pods of seals while these elusive creatures scrutinize any human following them. In this delicate dance of mutual evaluation, trust can be earned by allowing the seals to set the pace.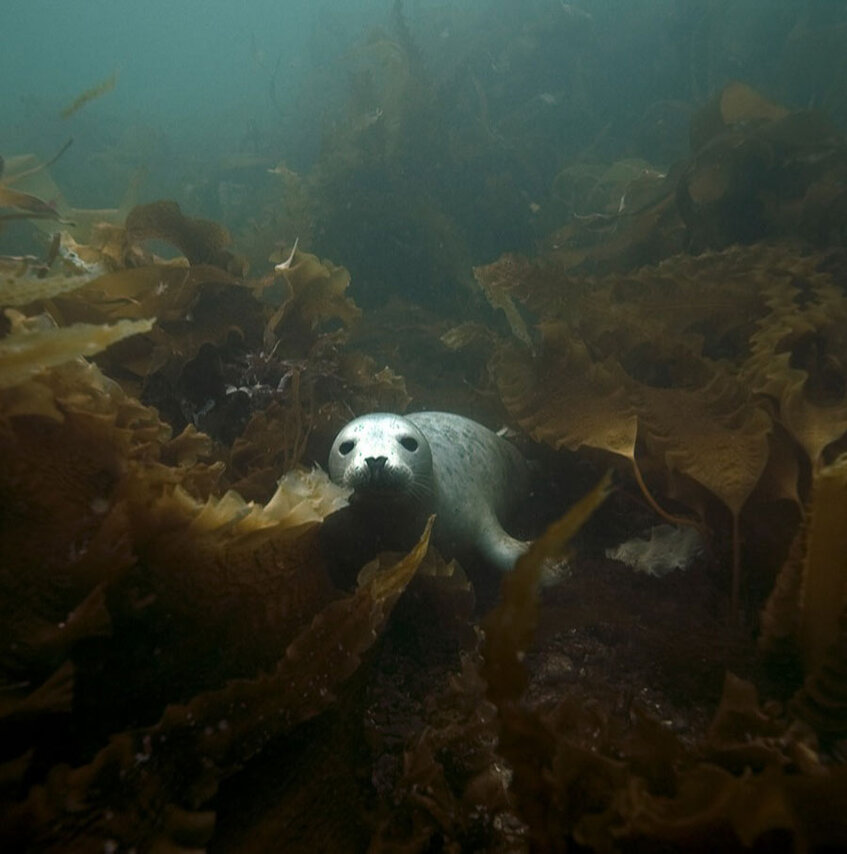 Grayson and his diving partner knew the intricate dance of trust that must be performed when approaching marine wildlife. So, the fact that the seals came to them so soon was bizarre. Much later, Grayson and his partner have a strange realization.
A Red Flag?
Sudden approaches by seals are often preludes to acts of aggression. So, when Grayson and his diving partner saw the seals get up close and personal, they naturally felt a sense of apprehension. Fortunately, their decision to remain calm paid off.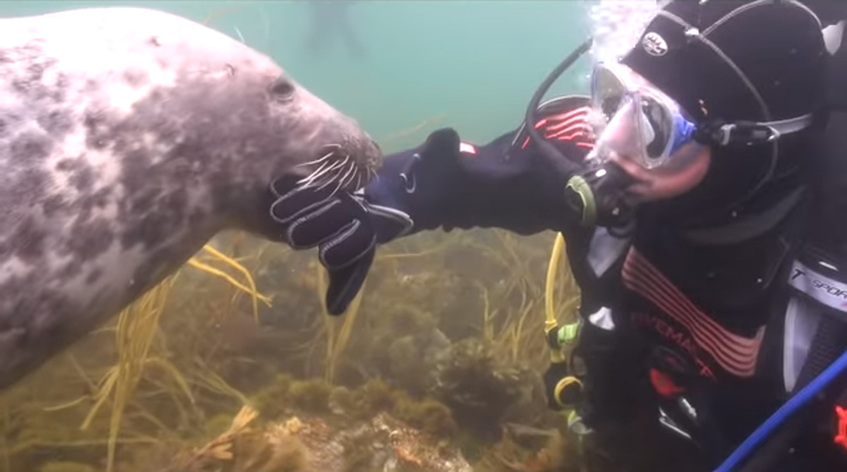 As Grayson and his new friend frolicked, the other seal swam calmly around them, unconcerned with the commotion. It was almost as if this second seal had a watchful eye on the humans, taking on the role of a trusted lookout or caretaker.
No Hesitation
Grayson couldn't believe his luck when the playful pup swam right up to him. Most wild animals tend to be cautious around humans. But, this seal was different. It was almost as if the creature was sizing Grayson up and trying to determine if he posed a threat. When it was clear that Grayson was no danger, the seal decided it now had a newfound friend.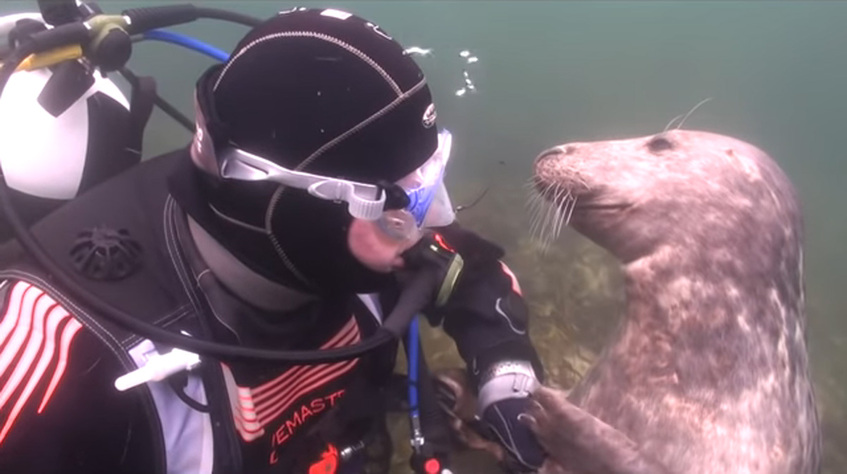 The seal's behavior was already unusual. Then, it did something that caught Grayson and his diving partner entirely off guard. After nibbling at Grayson's suit and nuzzling against his hand, the seal made a move that left everyone puzzled.
Petting A Seal Like A Puppy
Grayson's intuition told him that the seal was enjoying the sensation of being nuzzled the way a pet dog would. He then did what any animal lover would do—he started to scratch the seal's neck and head. To Grayson's surprise, the seal didn't swim away.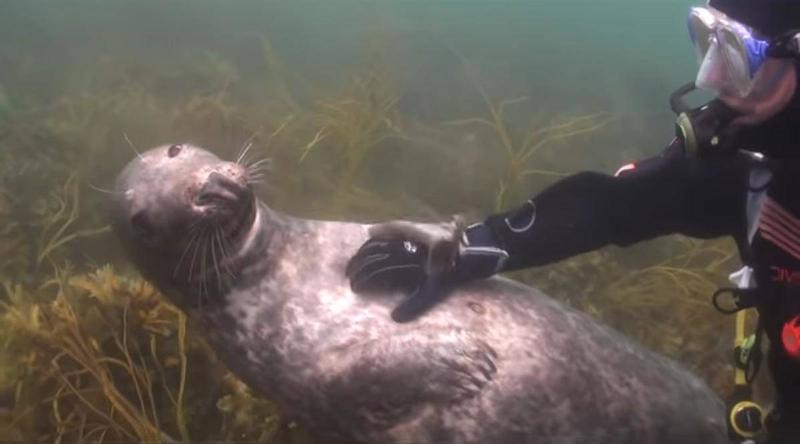 Grayson and his diving partner were on cloud nine as they reveled in the magic of their once-in-a-lifetime encounter with the playful seal. But, just when they thought the experience couldn't get any more surreal, the seal had another surprise in store for them. 
They Saw The Signs
Time seemed to stand still as the interaction between the divers and the seals continued. The divers were aware of how rare this moment was. Grayson knew they might never experience anything like it again. They were grateful for the opportunity to document it on film.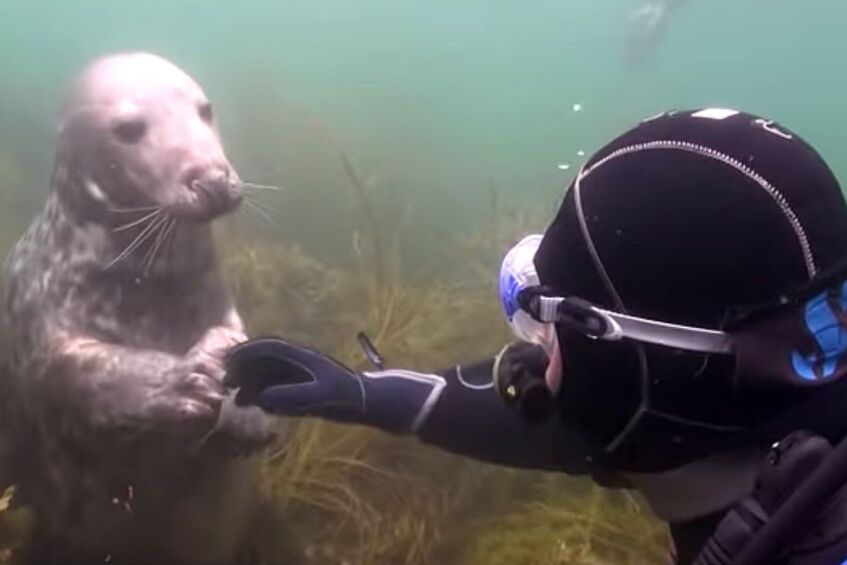 The seals were clearly in charge now, and Grayson and his partner were happy to follow their lead. The seal's movements seemed deliberate, almost like it was trying to communicate something. What could it be? The divers were curious to find out.
Puzzle Solved!
Grayson was taken aback for a moment by the unexpected request. However, when the seal showed Grayson its belly, he didn't hesitate. With the seal's approval, he gently started rubbing its belly. The seal seemed to be in pure bliss as it enjoyed every moment of Grayson's touch.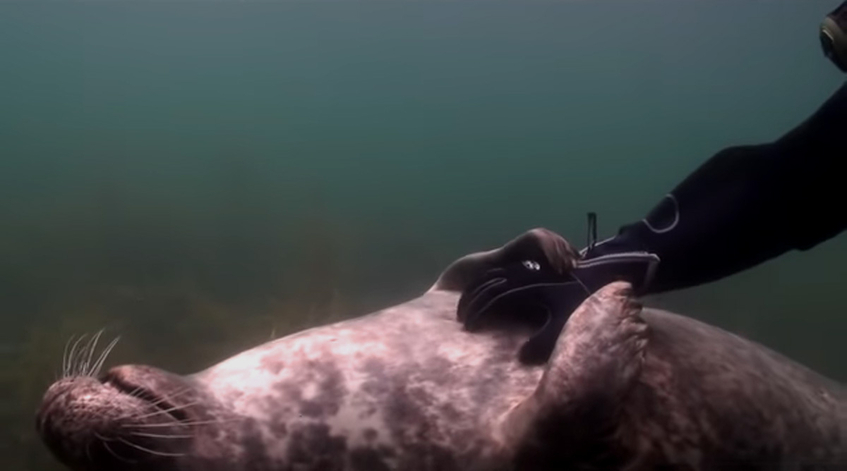 The seal's request for a belly rub may seem surprising, but it's a reminder that some things are universal. It's not just furry pets that enjoy a good belly rub, these aquatic creatures seem to love it, too! 
The Deal Was "Sealed"
Grayson's belly-rubbing skills were not just impressive—they were also well-received by the seal. The seal's flipper flapped with contentment as Grayson expertly petted its belly, causing its loose skin to sway with the underwater currents. Who knew Grayson had it in him to be an expert seal belly rubber?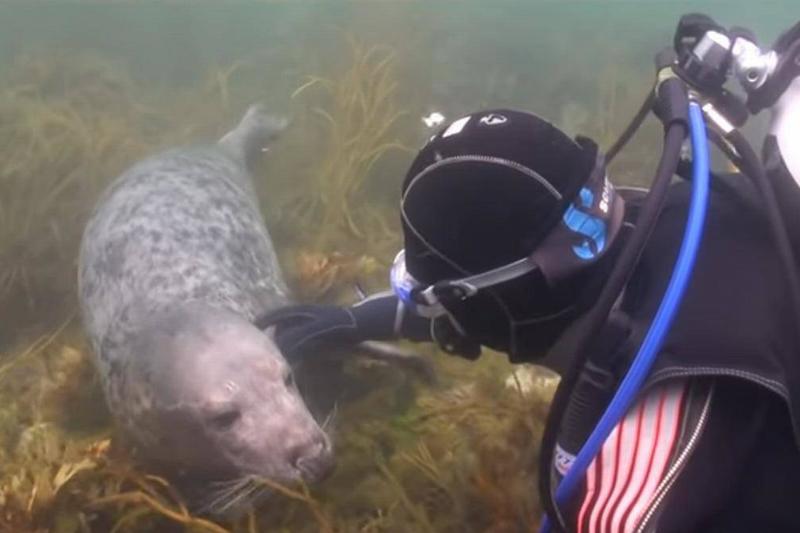 The happy seal remained on its back as it enjoyed the feeling. The belly rubs not only made the seal more relaxed but more playful. When Grayson thought the seal had had enough, it snapped back to make a different move.
No More Playtime
After a few moments, the first seal eventually grew tired of the game it was playing. Though it was grateful for the soothing belly rubs, the seal decided to swim away. At this point, the second seal also noticed that playtime was over.
The divers had no choice but to let the seals swim away. Fortunately, they captured everything on camera. They couldn't help but feel enthusiastic about their ocean experience. However, they could never have guessed that the footage they had would become a worldwide sensation.
A Memorable Experience
Grayson's underwater video eventually spread like wildfire. It not only garnered international attention, but it also brought them a ton of interview requests. When he was asked about his experience, he explained how much he loved playing with these sea creatures.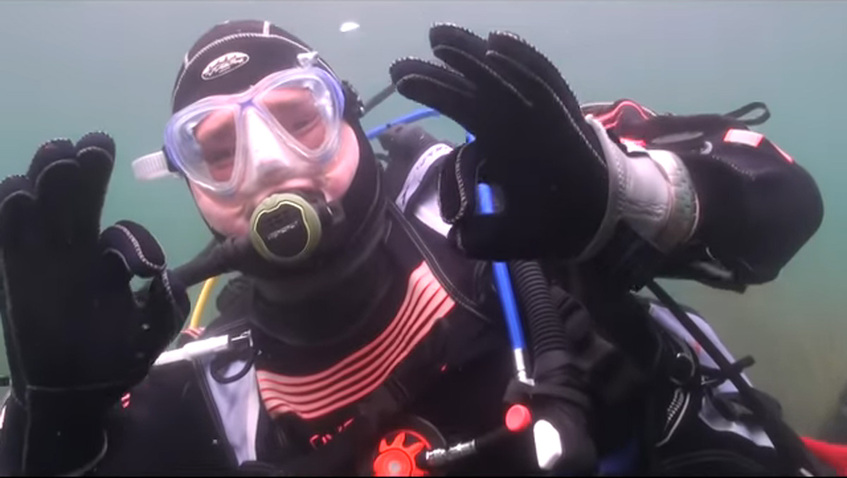 Fifty-five-year-old Grayson also described how the other seals he came in contact with swam past them. In the interview he had with the Manchester Evening News, the seal captured on video was totally different. He could not believe just how curious and friendly it was. 
A New Experience
According to Grayson, though he was a seasoned diver, it was his first time to experience being up close with the playful seals of Scilly. Despite having done much diving, he has never encountered extremely inquisitive sea creatures.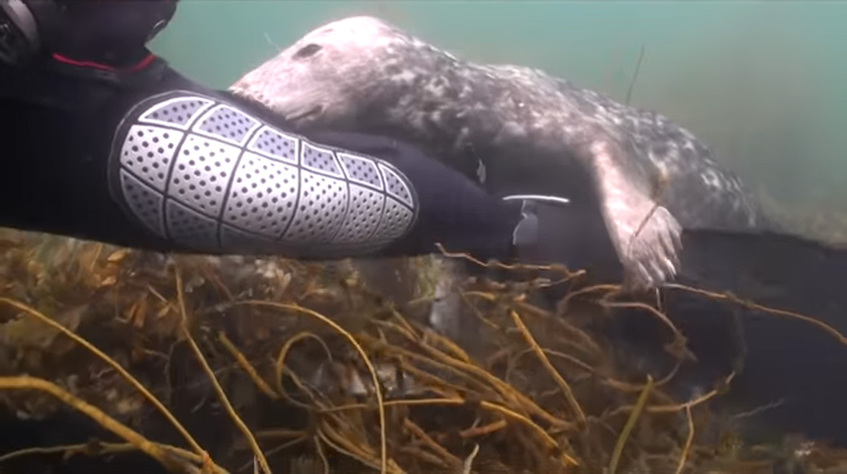 He described how the grey baby seal spent five minutes with him while the second seal managed to climb up his leg. Both were unafraid and were genuinely curious about his presence. Grayson has also dived with sharks in different parts of the world yet has never encountered such adorable pups.