Courageous Dog Overcomes Neglect, Finds New Hope, and Inspires Everyone
This brave dog had to endure so much suffering and pain but thankfully, its story has a happy ending. We must ensure that such cases of animal abuse and neglect are brought to justice and that these innocent creatures receive the love they deserve.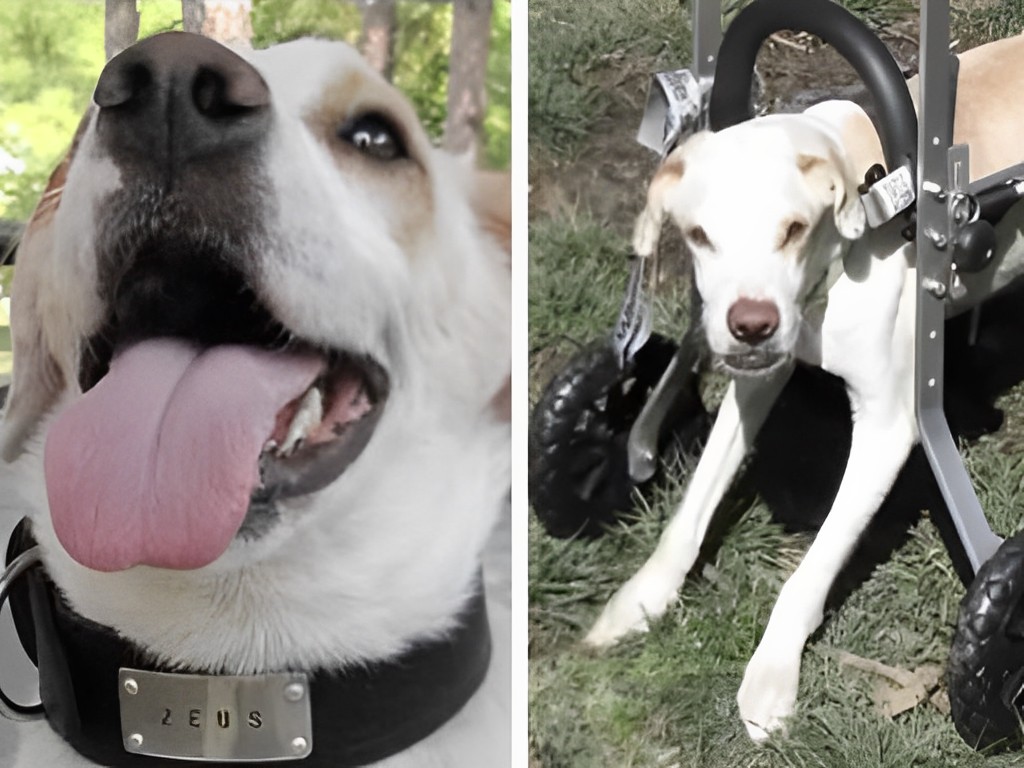 Animals bring so much joy into our lives, so it is our responsibility to show them the same level of compassion they offer us.
His Name Is Zeus
When Zeus was six months old, his owners noticed that he had begun to limp. The owners did not want to care for a needy dog, so they decided to take him to a high-kill-rate shelter. His owners simply did not understand the tremendous courage of this puppy, and what it took for him to carry on bravely every day.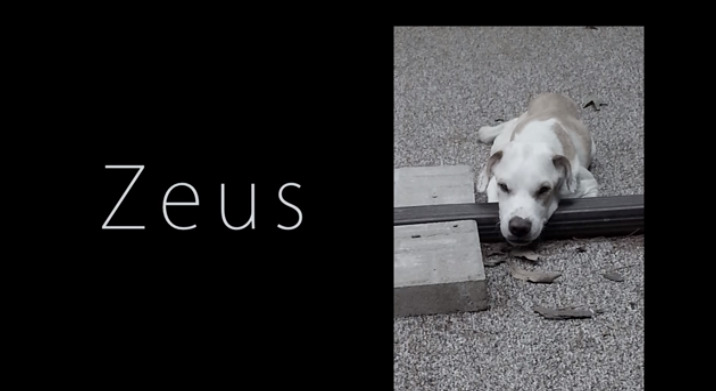 Animals like Zeus need our help and support; they deserve to be respected and loved just like any other being.
One Paralyzed Dog
Visitng the shelter, a couple fell in love with Zeus, especially because they knew that he was paralyzed and, therefore, hard to adopt. They could sense his pain and despondency and knew that he was one very brave little animal. They just felt compelled to take him home with them.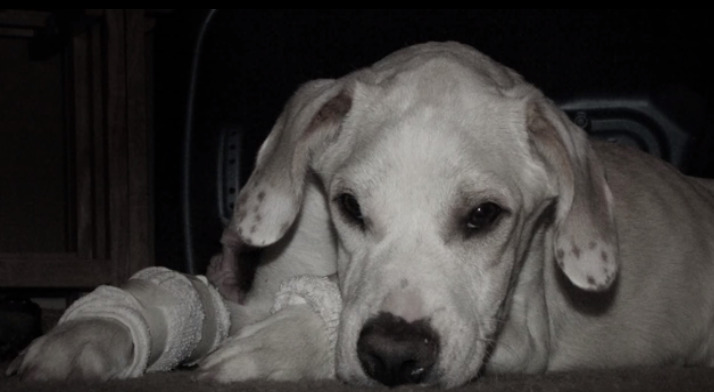 It seems that animals have a way of sensing when someone wants to help and rescue them, and this dog was no different. He signaled to them that his life needed saving even though he couldn't move, making them more determined to save him.
Zeus With His New Family
Zeus' new owners are incredibly brave for taking him in and providing him with the love and care he so desperately required. Without their compassion, Zeus may not have found his forever home. They knew the risks associated with taking on a paralyzed animal, but they were determined to give Zeus a better life.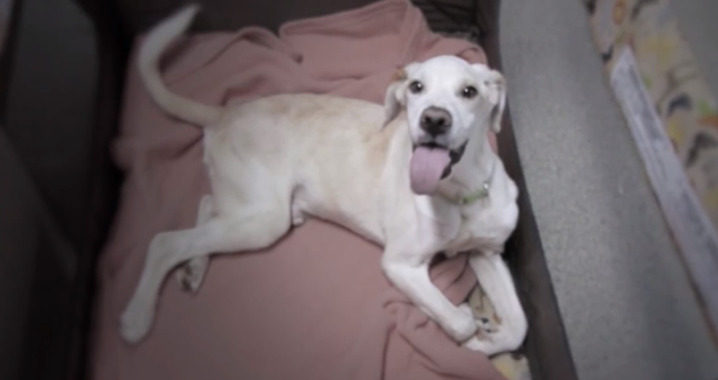 It's a testament to the kindness of humans that animals like Zeus are given a second chance at life despite their disabilities. We hope that their story will serve as a role model for others.
Everybody Needs Love
Zeus was a brave little dog that needed some extra care and attention. So, they decided to put him in a playpen instead of a crate. That way, he could move around and have more space. Aside from that, the playpen offerered added comfort and security.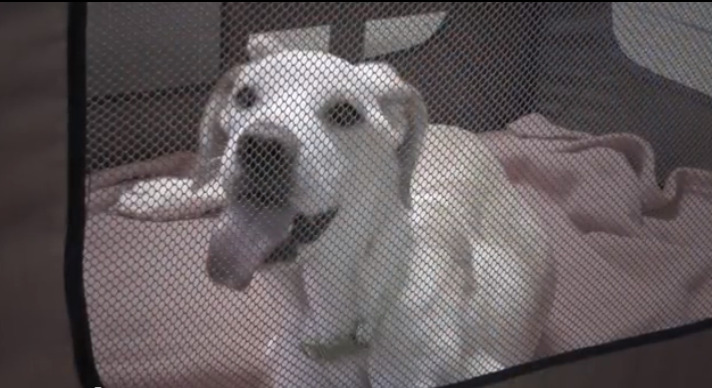 To make sure he would truly relax, they placed a cozy blanket next to their desk where they could keep an eye on him as they figured out a solution for him. They wanted Zeus to know that they loved him and wanted to care for him.  
Swimming Lessons With Zeus
A day after rescuing Zeus, going home with him, and setting him up in his playpen, his new owners then took him out into the pool with a life jacket. His owners were determined to do whatever it took to ensure his safety, and this incredible act of love was proof that humans and animals can have a special connection.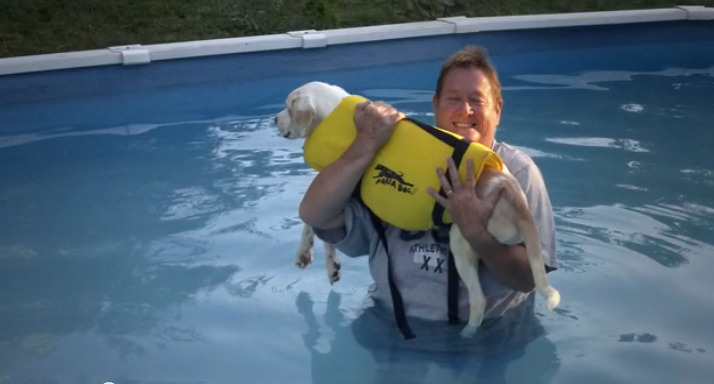 By taking such a daring step and making sure he was protected and comfortable, the owners proved that they were dedicated to the Zeus' well-being.
Nothing Is Impossible
Zeus was an animal who was brave despite his inability to move when he first entered the pool. His owners had to support him in every way, yet he still managed to stay strong and courageous, even though he couldn't swim or move,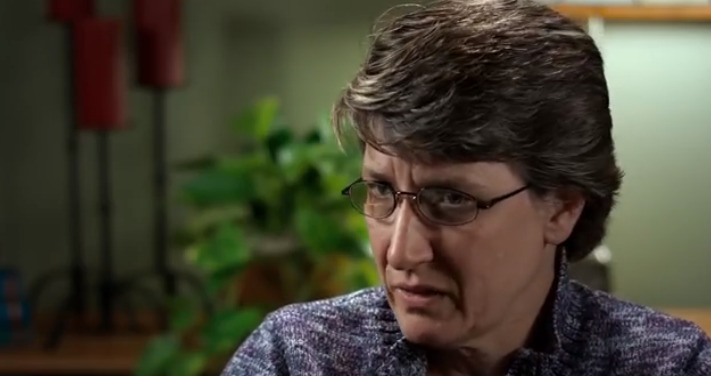 Zeus' bravery affected those around him. His determination and resilience were an inspiration to others. His story is a reminder of the strength and courage animals can possess in difficult situations, and it serves as a lesson for us all.
A Parent's Love
The owners bravely moved Zeus in the pool, taking turns in the front and back end. They worked as a team to help the dog learn how to swim. It was an inspiring sight, showing us how animals can overcome their limitations with just a bit of help and determination.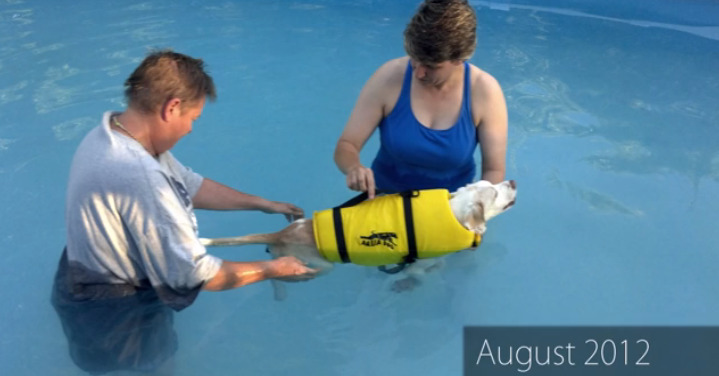 Through this experience, the couple taught all of us a valuable lesson about being brave in the face of difficulty and that any animal can achieve greatness with a little support.
Perseverance Equals Success
Zeus' new parents were determined to succeed at their task, so they continued to take the brave dog to the pool day after day, even though it was a daunting task. He was a large and powerful dog, but his parents never backed down from their mission.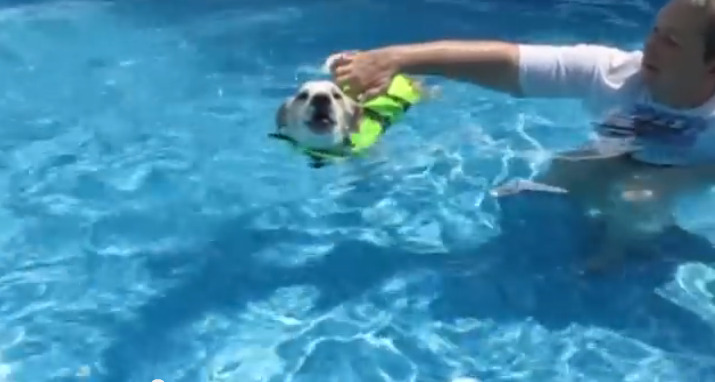 They had made a commitment to his recovery, no matter how long it took. Zeus and his parents did not lose hope and continued on their mission to his recovery until they made a breakthrough.
Zeus The Brave
Zeus was a brave and determined dog. He set out to prove that animals can do anything humans can do, and he did just that. After a period of time, Zeus had built enough muscle to swim.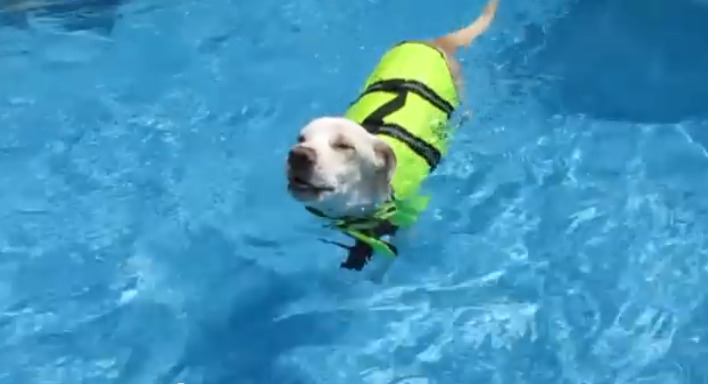 This breakthrough brought smiles to his parent's faces, who could not believe that they had just witnessed a miracle through continued effort and endless hope and prayer for the recovery of their big boy. Zeus is a true example of how courageous animals can be.
An Inspirational Story
This courageous dog was always so eager to explore and learn new things. Every time he got out of the pool, they would dry him off with a towel, and put him on the ground to see if he would crawl.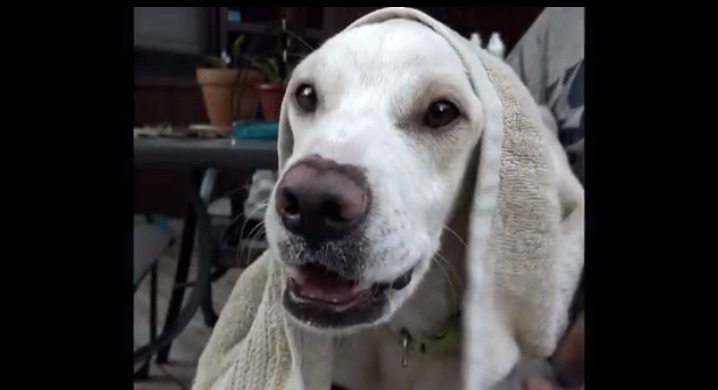 Zeus never failed to surprise his owners with his eagerness to learn as he tried to crawl every time he was put down. Animals have such an amazing capacity for learning and exploration that can often be inspiring for everyone around theml.
Slowly But Surely
This dog was incredibly brave; his determination to get up and move was inspiring. This touched his parents' hearts even more. After a while, he started to crawl a little bit, pushing with his back paws and pulling with his front paws.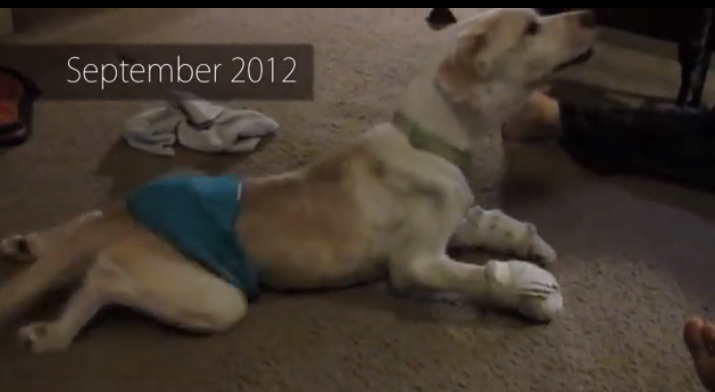 He made small steps forward, slowly but surely proving that he could do it with enough courage and willpower. Zeus' bravery was admirable; it not only showed the kind of strength animals can display but also how important it is never to give up.
On The Way To Complete Recovery
The brave animal was determined to run and play with his family, and he did not let anything stand in his way. Through his hard work, dedication, and with the help of his parents, Zeus continued to get stronger and stronger, until he could eventually crawl enough so he could get where he needed to go.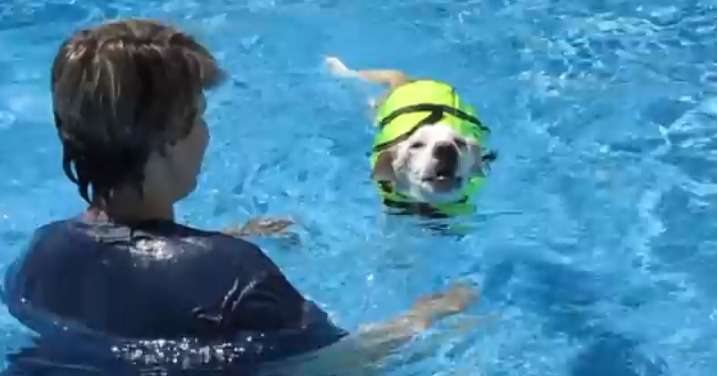 They continued to give him exercise in the pool to help him build his muscles, and soon enough, this dog was able to stand on his own feet again.
Freezing Pool? No Problem
Being the brave dog he is, Zeus never gave up on his rehabilitation despite the cold weather. His owners kept up their efforts throughout October until their pool became too cold to use. Fortunately, a friend of theirs offered to provide their heated pool so that Zeus could continue his path to recovery.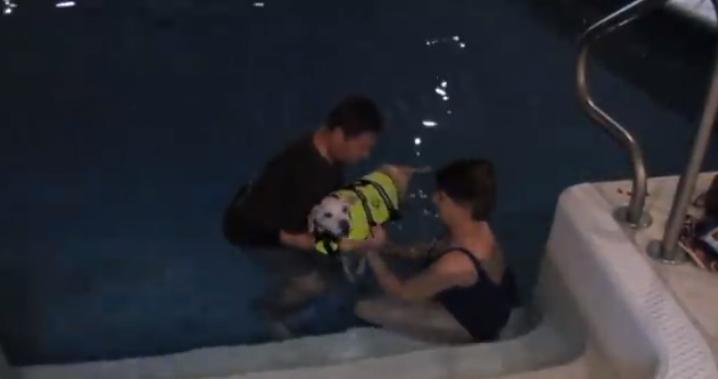 This kind gesture proved how much his owners cared about their valiant dog, making it possible for him to reach his goals.
Wheels For The Big Boy
Zeus was a courageous dog, and he had the support of his loving owners throughout his training. Despite the cold weather, they managed to keep up his training with the help of an indoor pool. But they wanted to give him even more mobility, and that would mean purchasing a special wheelchair.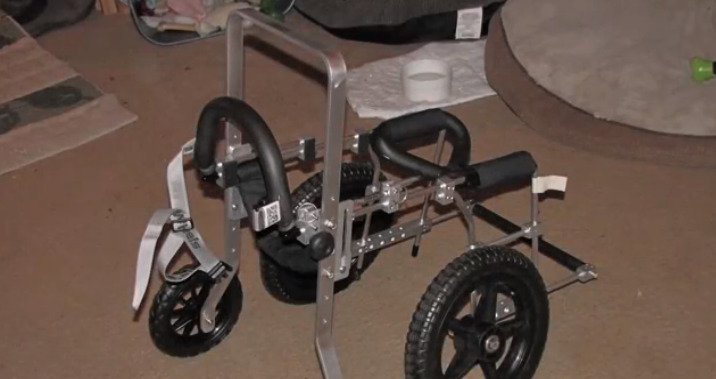 In March, they finally got him his very own wheelchair from a company called Eddie's Wheels. But it wasn't easy to purchase that expensive piece of equipment.
The Power Of Social Media
His family didn't know how they were going to afford the specialized wheelchair he Zeus badly needed. In an act of desperation, they put a call out on Facebook for donations, and the response was overwhelming.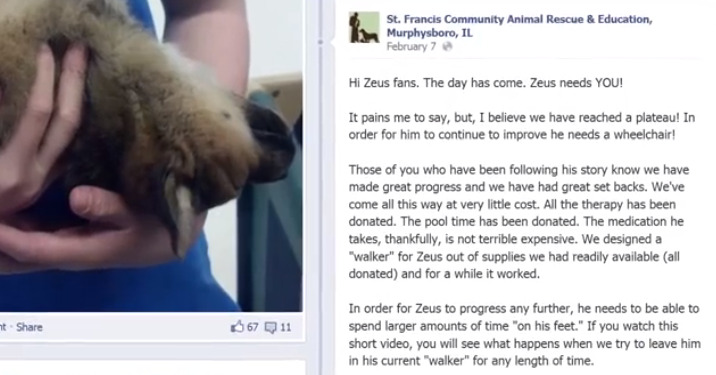 They never expected their post to go viral at all! Within just three days, their goal was met, and Zeus was able to get the wheelchair he needed. It was truly amazing to see how generous people could be when it comes to animals in need.
Zeus On Wheels
Zeus was a courageous dog for enduring the process of being placed in the chair and secured with harnesses. Even though he was nervous and scared, Zeus trusted his owners to take care of him and keep him safe.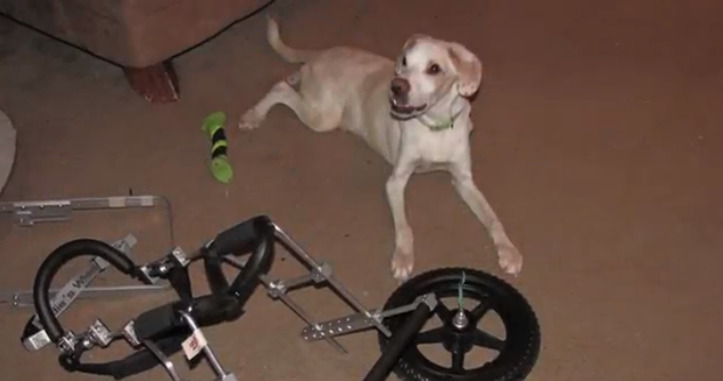 His owners were determined to make sure their beloved pet was comfortable and secure, so they made sure all the necessary straps were properly fastened before making a move. It was a difficult process, but everyone involved was proud that their efforts paid off- Zeus was happy. 
He Can Finally Move
Aside from being brave, Zeus is also an intelligent dog! He had seen his owners struggling to assemble the wheelchair and decided to take matters into his own paws.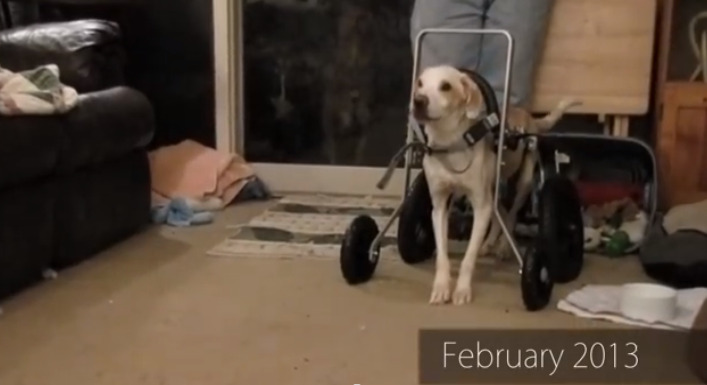 He picked out the last piece of the wheelchair and carried it across the living room with a smile on his face, showing a remarkable amount of intelligence and understanding. It was amazing to witness Zeus's smarts, proving that this very special dog can do great things!
Happy Zeus, Happy Family
It was truly remarkable to see Zeus take on the challenge of using a wheelchair with enthusiasm. He quickly became accustomed to it. His parents have become the happiest, seeing their dog enjoy life to the fullest! Zeus' spirit inspired everyone around him.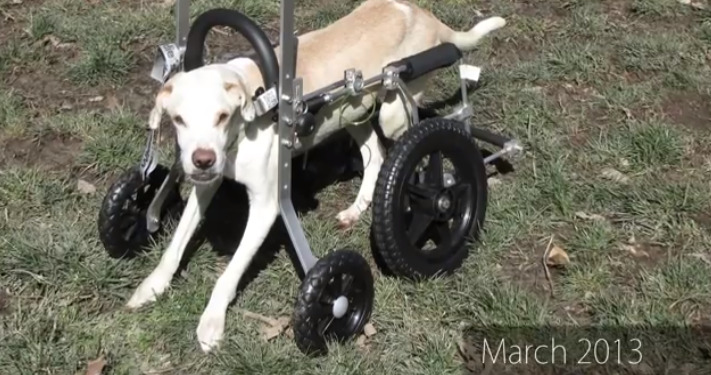 It is amazing how a dog can have such a positive attitude in a difficult situation – something we can all aspire to. His ambition and motivation were an example of true courage and strength that left everyone amazed.
Not Dampened By Setbacks
Zeus was strengthened by his experiences as he faced many challenges throughout his young life. Even though he had to overcome some setbacks, he never stopped fighting. As he grew and his muscles were stretching, he lost some strength.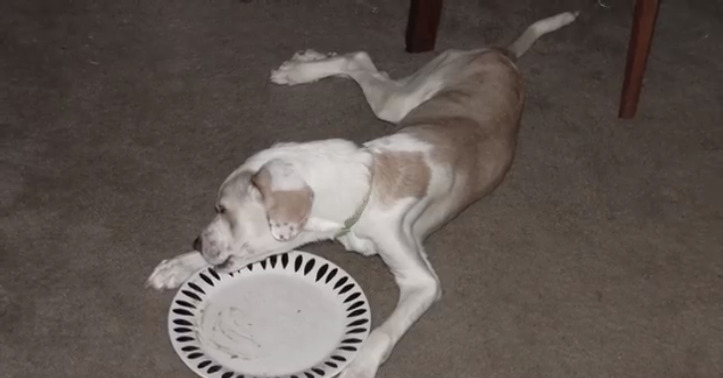 Zeus refused to give up on himself. He continued to army crawl, not willing to give up on his ability to get around. What an admirable feat for such a young pup. His bravery and courage kept him going and brought him all the way to his victory.
Strong Like A Soldier
Zeus was a brave dog and he didn't let anything get him down. Despite the setbacks that he encountered, he kept pushing through. No matter what the humans were enduring, Zeus was a source of joy for everyone around him.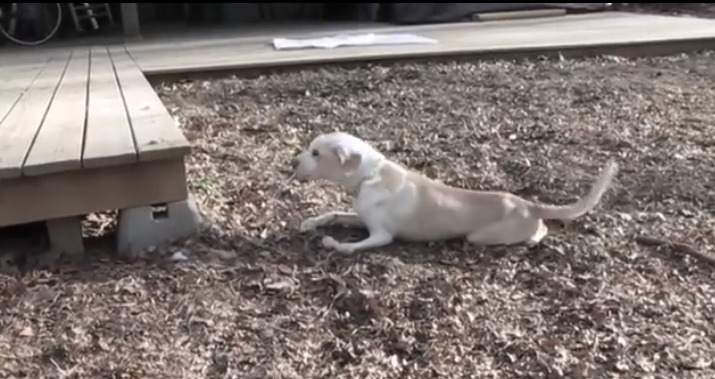 The owners had never seen anyone, let alone a dog, handle obstacles in the way that Zeus did. He never gave up and was always ready for the next challenge. His attitude was always positive and cheery, despite his limitations.
Zeus, Reborn
He was a valiant dog and his spirit of resilience was commendable. Despite the unfortunate setbacks he endured as he grew, Zeus did not let it take hold of him for too long. The big guy bounced back quickly with the help of his loving parents and strapped on his wheelchair once again with renewed determination.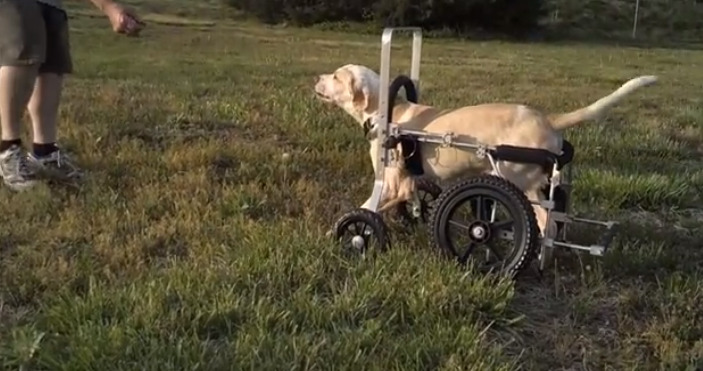 His courage to get back on his paws, even when it seemed difficult and impossible, was remarkable. He inspired all of those around him with his bravery and optimism.
Into The Light, Once Again
Zeus the dog was every bit of a courageous soul he was determined to make progress. After the first setback, he never gave up and kept pushing himself. His family was almost in tears seeing their dog doing his best to recover. He regained his strength and began walking a little bit on his own.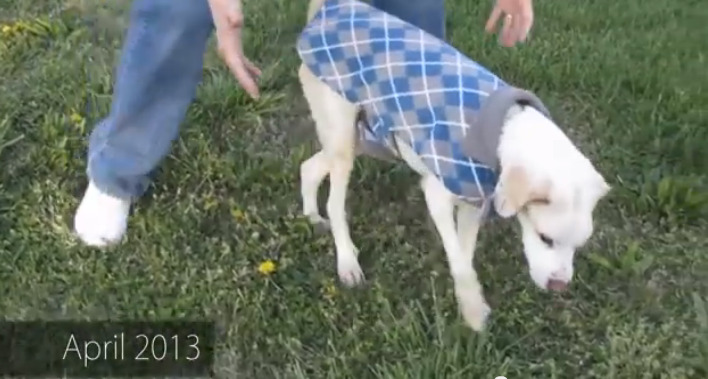 Even though he couldn't walk far distances, it was still a fantastic achievement which he had worked hard for. His bravery and determination was inspiring and proved that with the right attitude, anything is possible.
Stronger Than Ever 
Zeus had been through many hardships in his life. Being paralyzed then meeting his parents and his struggle to recover has not been linear. It had taken him a long time to overcome the first setback. Each setback, however, made recovery more difficult.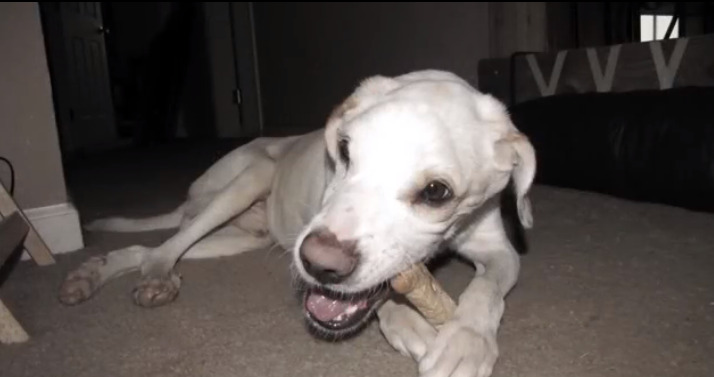 Despite the owners feeling the effects of this setback, they were comforted by Zeus' determination to keep going no matter what. He continued to awe and inspire everyone with his tough spirit and attitude.   
Zeus And His Emotions
He was tested by fate many times throughout his life. His paralysis was devastating, but he pushed himself and continued to live a happy life. However, just like any other living being, Zeus also got caught up in his emotions.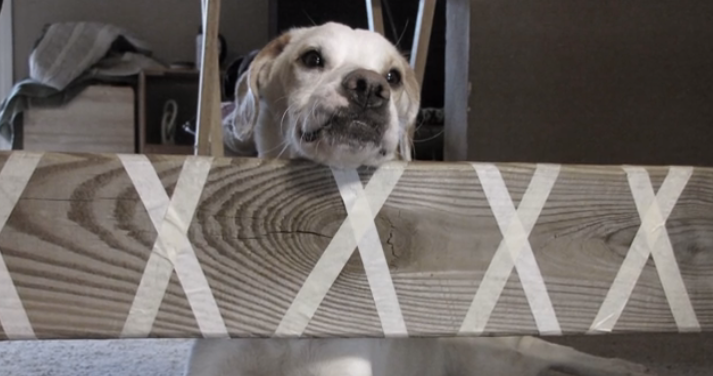 He would get angry and start to bark. Sometimes he'd whine or cry for long periods, letting his owners know that he was in distress. But eventually he always pushed himself, got up, and moved. His spirit was unshakable. 
Zeus The Tenacious
True to his namesake as the god of Greek mythology, Zeus was a tenacious one. He was bold and unwavering in his decision to walk, and it amazed everyone around him. He never gave up which endeared him to everyone.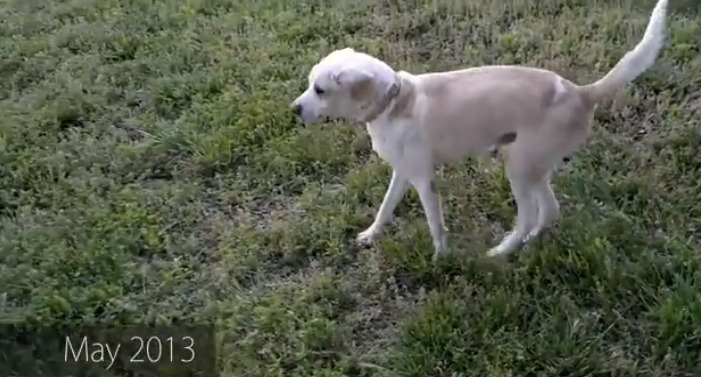 All of us should learn from Zeus; no matter what setbacks we face, there is always a way to get back up and keep going. This dog's remarkable journey reminds us that even with life's obstacles, a strong will and determination can take us far.
Ain't No Staircase High Enough
Zeus' progress didn't end with walking. He continued to push himself, and willingly worked with a trainer to learn how to walk up steps. He can now walk a few steps, which is a miraculous achievement for a dog that was totally paralyzed not long before.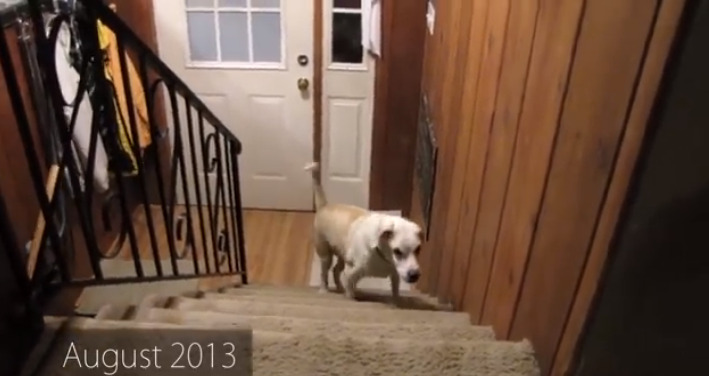 Zeus' story is an important one for potential owners of disabled pets. These animals have determination and strength, and humans often wonder how they are able to push themselves so hard to get stronger.
A Saint's Pet
Zeus was adopted from the St. Francis animal shelter in Murphysboro, Illinois, and the shelter considers him its mascot. His story shows that a brave and determined dog can be just as inspiring as a perfect pet. Despite his physical limitations, he never gave up, and he continues to bring joy to his family.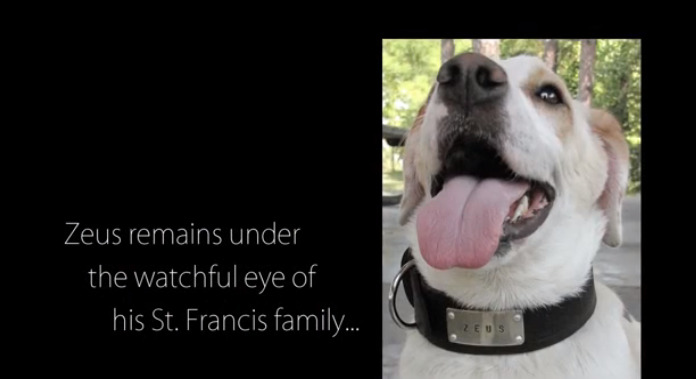 He demonstrates that even with imperfections, every pet has something valuable to offer.  And as humans, it is also our role to give love and care to these precious animals and treat them as one of our own. 
St. Francis Care
It is truly inspiring to see people who are so brave and determined to make a difference in the lives of these animals. The effort put into rescuing these dogs, providing them with food, shelter, and care is remarkable. The fact that these people are willing to go above and beyond for these helpless creatures is humbling.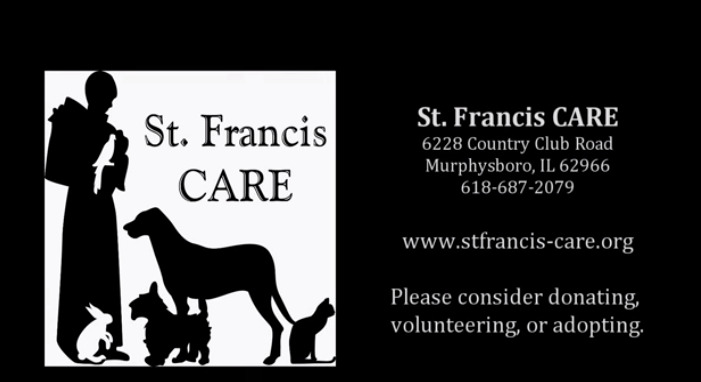 We should all be thankful for the hard work of these kind-hearted individuals who have made it their mission to give these dogs the best life they can have.