Olympic Athletes With Some Of The Most Amazing And Unique Bodies
Witness the incredible power of Olympic athletes as they defy the limits of the human body! From ancient Greece to the modern day, the Olympic Games have become the pinnacle of sporting excellence.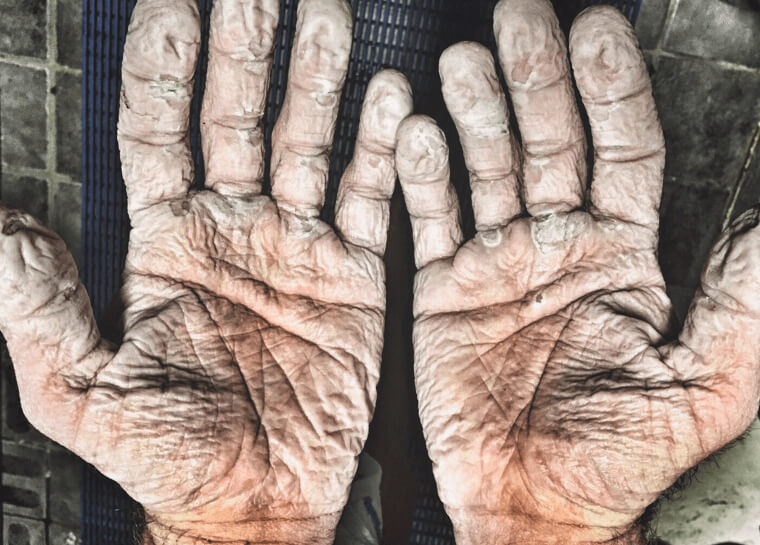 Olympians are so muscular and graceful, pushing themselves to their absolute limits in pursuit of gold. But have you ever wondered what kind of strange effects their intense training has on their bodies? Keep reading to find out!
Opposites Attract: An Olympic Selfie! 
When it comes to the Olympics, the games and the players are as diverse as can be. Look no further than gymnast Seda Tutkhalyan and volleyball player Aleksandr Volkov, who have recently made headlines with a viral selfie. Standing side by side, the contrast in their heights is simply remarkable.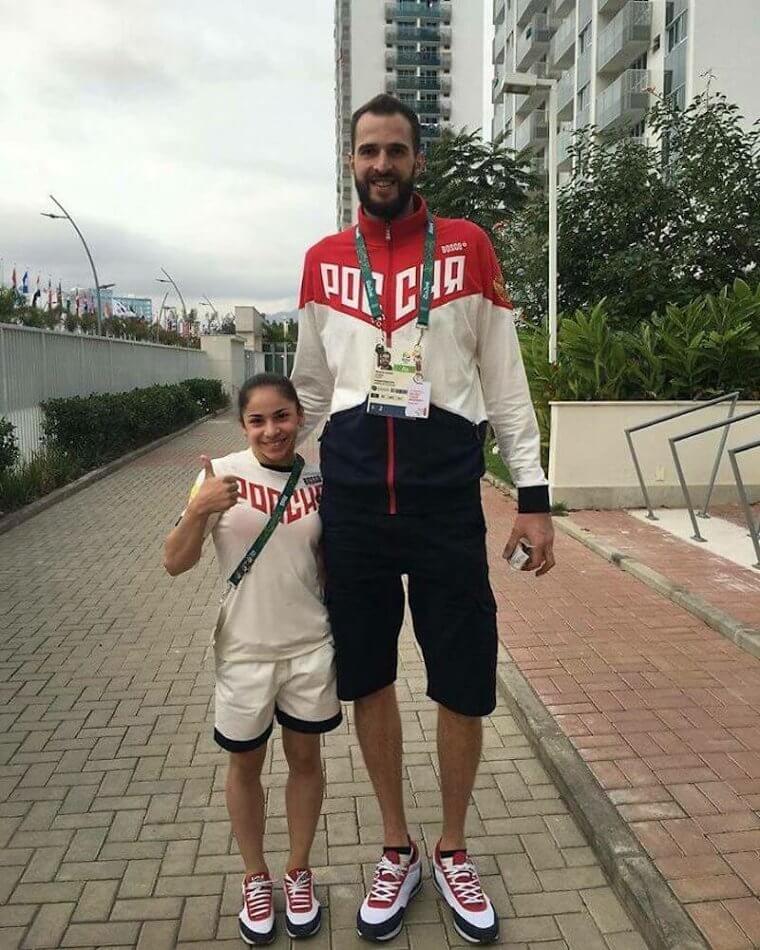 Even more impressive is the fact that both of them are in peak physical condition, their bodies honed for completely different endeavors. Seda has mastered the art of flipping and tumbling, while Aleksandr's strength and power make him a force to be reckoned with on the volleyball court. When two opposites come together, amazing things can happen – like this incredible selfie!
An Anatomical Marvel: The Remarkable Transformation of Janez Brajkovic 
We never thought it was possible, but Janez Brajkovic from Slovenia is living proof that it is. The former world champion cyclist battled bulimia and publicly documented his recovery journey.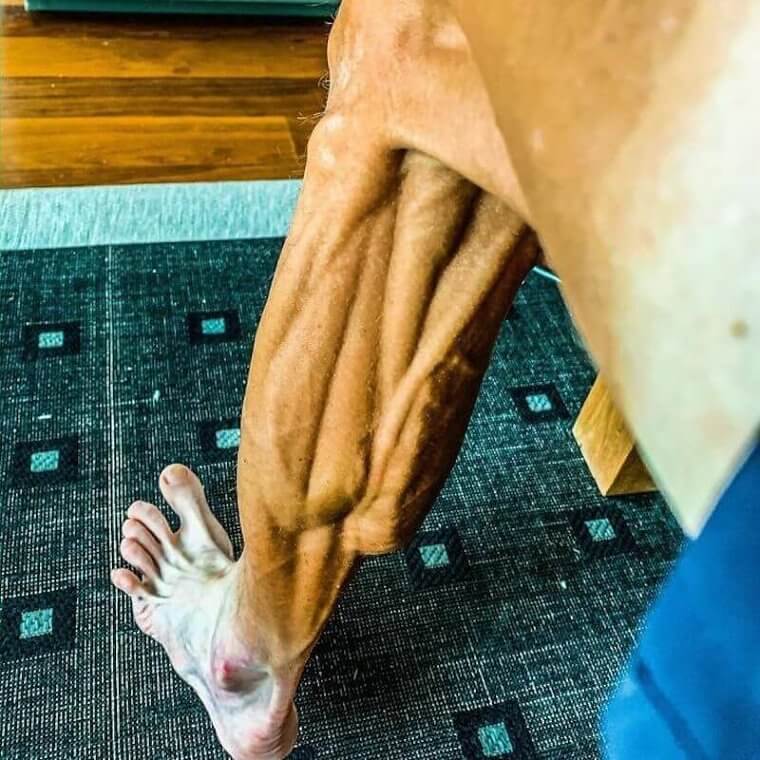 His amazing transformation is evident in his lean physique, which has made his lower extremity muscles especially prominent. It is a fascinating look at what top bodies really look like, on an anatomical level. Janez really is a true marvel!
Tons of Strength: Hidilyn Diaz Makes History with Philippine's First Gold Medal
At the Tokyo Olympics, history was made when Hidilyn Diaz of the Philippines took home the gold in women's weightlifting. It was the first gold medal for the nation, in any category, ever.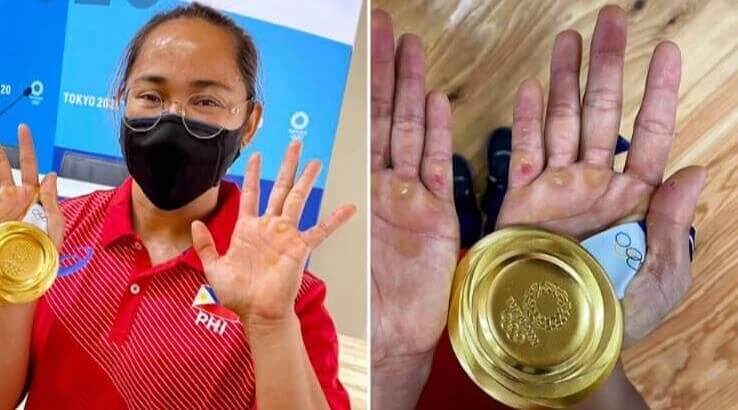 Diaz worked hard to get to the top and her grip never slipped, the blisters and calluses covering her hands, a tribute to all she endured while lifting weights. She is a true symbol of strength and an inspiration to us all. Congratulations to Diaz on an amazing accomplishment!
Uncovering the Secrets Behind Usain Bolt's Phenomenal Sprinting Record 
Jamaica has a lot to be proud of when it comes to Usain Bolt and his extraordinary sprinting record. Experts say that he is the fastest sprinter of all time, but what is the secret behind his success?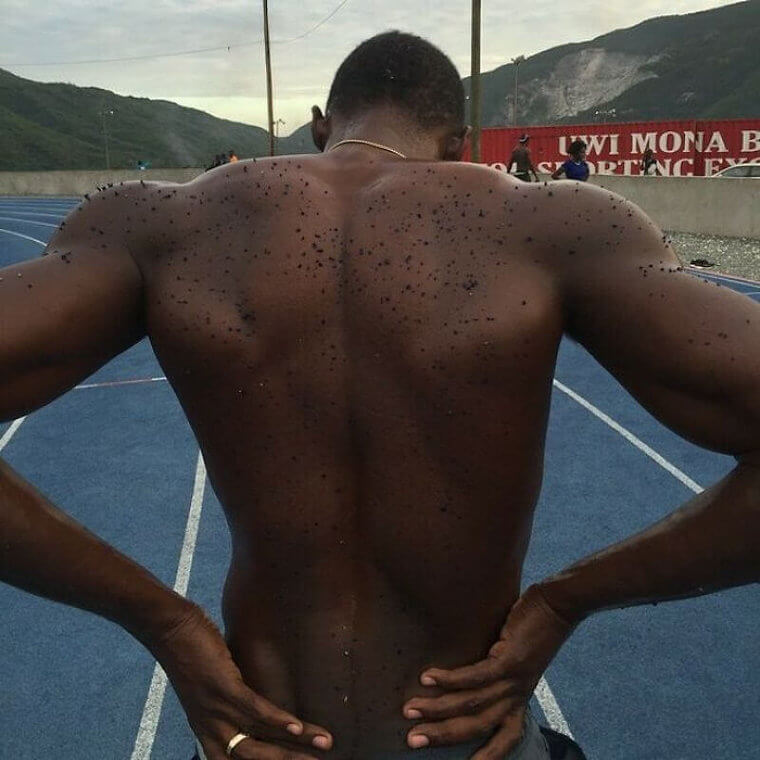 Most people assume that strong legs are all one needs to set world records, but Usain's back muscles are equally as important. His body is an impressive combination of strength and agility, which has allowed him to set so many records. It's no wonder that Usain Bolt is an inspiration for so many people!
The Physically and Emotionally Strong Team of USA Gymnastics 
The girls from USA Gymnastics have endured a lot of attention — good and bad — in recent years. But amidst it all, they have proved themselves to be emotionally strong. The team is also physically strong, as the bikini picture of Simone Biles, Madison Kocian, and Aly Raisman enjoying a day in Rio proves.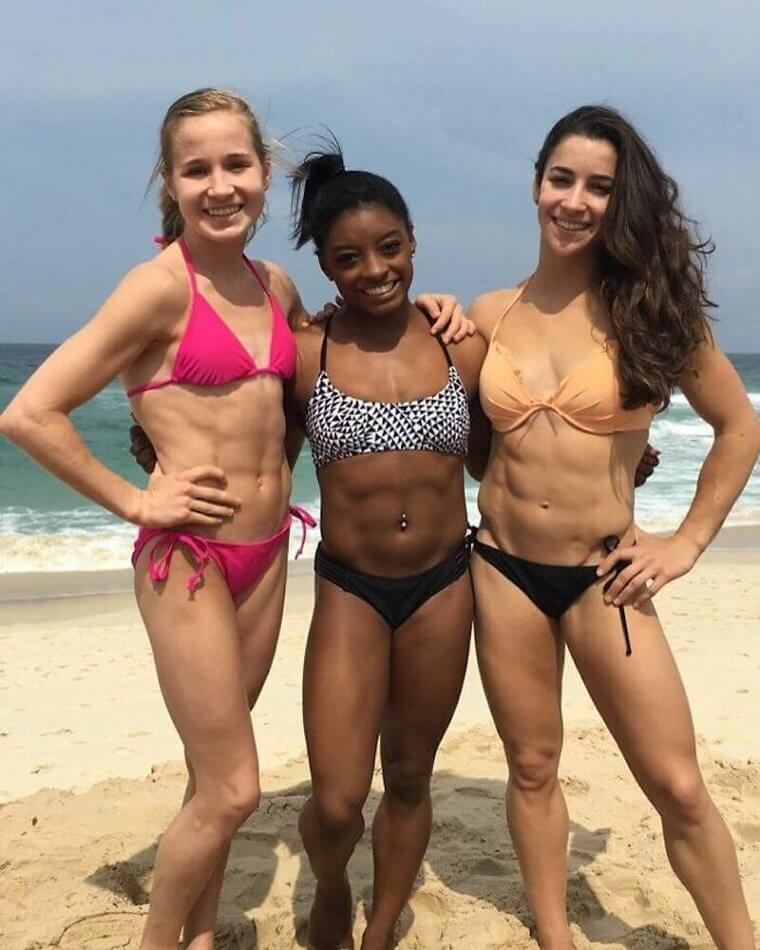 Aly Raisman has expressed that she has learned to love her muscles and she no longer sees them as a flaw, but rather something that has made her into the athlete that she is. The emotionally and physically strong team of USA Gymnastics stands out in the crowd and is an inspiration to many.
Witness the Spectacular Feat of Olympic Rock Climber Shauna Coxsey 
Witness the spectacular feat of Olympic rock climber Shauna Coxsey who recently competed at the Tokyo Olympic Games, in the debut of the event. Shauna's Instagram account shows her incredible physique as she hangs upside down in a million ways.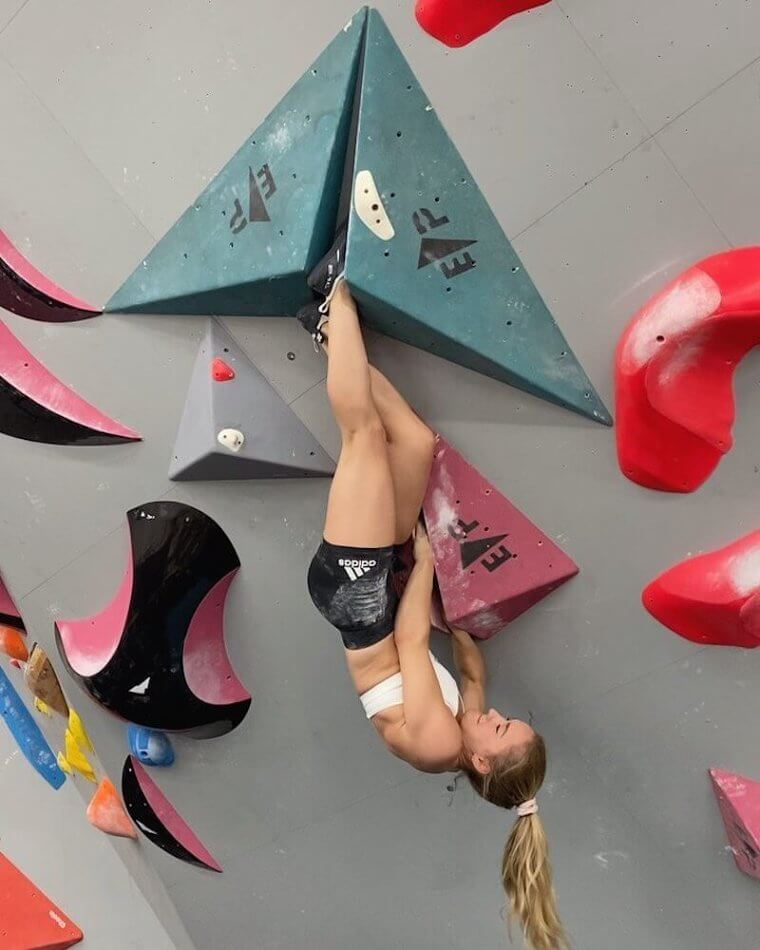 With lead climbing, speed climbing, and bouldering combined, this new competition is a sight to behold. The athletes must be incredibly fit and ready to face any angle. So, if you're unaware of this new Olympic sport, be sure to check it out!
The Anatomy of a Gymnast's Move - A Picture says a Thousand Words 
It's mesmerizing to watch a gymnast do a cartwheel or backflip, but have you ever wondered what that looks like anatomically? This viral medical scan of a gymnast's move reveals a stunningly complex network of flexibility and strength that athletes must have to perform the impossible.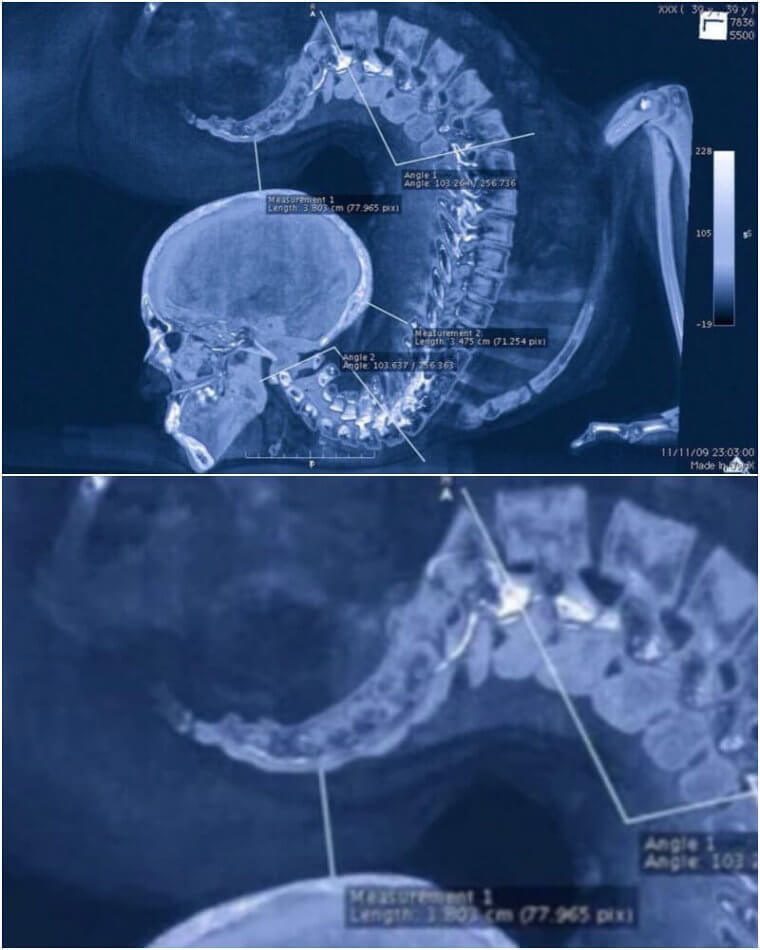 Was this a forward jump, a scissors leap, or a tumble? Whatever it was, it looks like it took a lot of skill and dedication to pull off! Gymnasts train tirelessly to master their craft and this image speaks volumes to their immense hard work. Hats off to these incredible athletes!
A Lion-Sized Strength: Meet Sarah Robles, The Unassuming Weightlifter Who Can Lift Almost 570 Pounds!
Sarah Robles is an American weightlifter who recently won a bronze medal at the Tokyo Olympics. She may look like a regular gal, but don't let her deceivingly normal appearance fool you.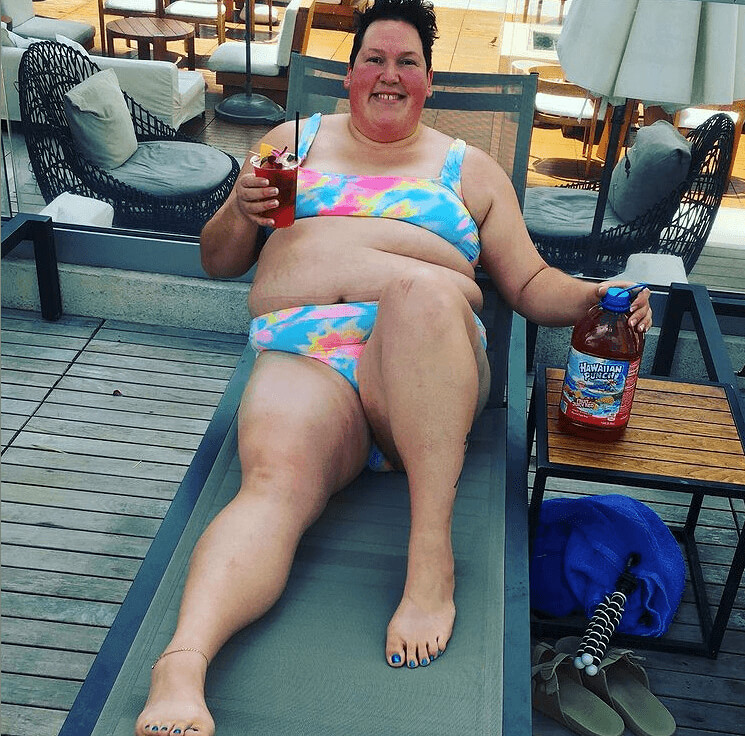 Sarah can lift almost 570 pounds, which is more than a lion! In some weight lifting events, extra weight on the body can even be beneficial. So don't be too quick to question Sarah's abilities – she's a lot stronger than she looks!
Introducing 'Quadzilla': Robert Förstemann, the German Track Cyclist with an Unbelievable Physique 
Robert Förstemann is a world-class German track cyclist who's shaking up the gym world with his amazing physique. Despite the competition from all the other fit bodies, Förstemann stands out with his impressive 34-inch thigh circumference.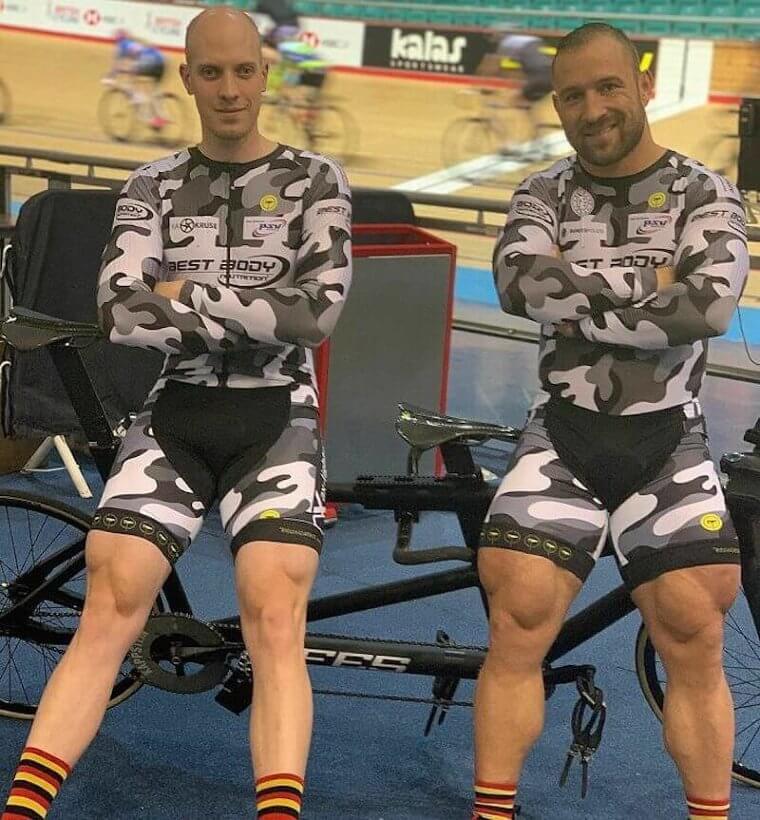 Part of this may be due to genetics, but the rest is all hard work. He's earned the nickname 'Quadzilla' for his incredibly thick thighs and has gone viral for his awe-inspiring pictures. Förstemann is definitely an inspiration to us all!
Olympic Flexibility: Synchronized Swimming Stretches Revealed 
Witness the extraordinary flexibility of Olympic synchronized swimmers! Olivia Federici, British swimmer at the 2016 Rio games, shows off her moves in this exclusive stretching session.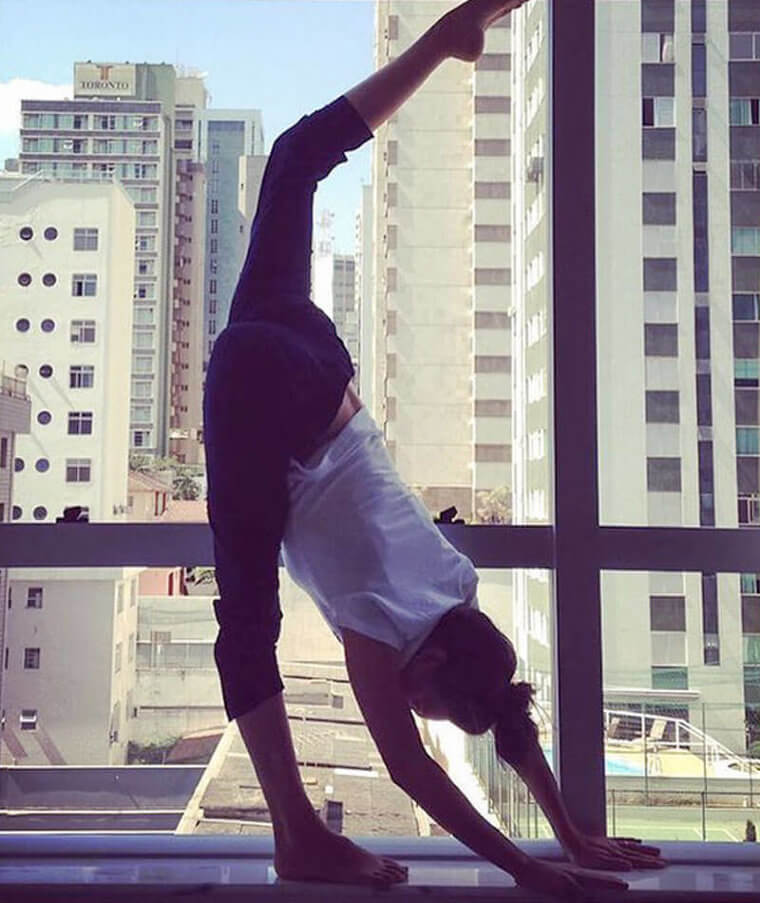 It takes a lot of preparation and practice to be able to hold your breath for minutes at a time, and to move with such grace and agility. How many of us can say we achieve this pose in our yoga classes? See for yourself the power necessary for synchronized swimming!
Michael Phelps - A Champion Designed for Swimming 
Michael Phelps is no ordinary pool boy. His arms stretch for miles, making him perfectly suited for the sport he was a leader in. Every stroke he takes is impressively powerful.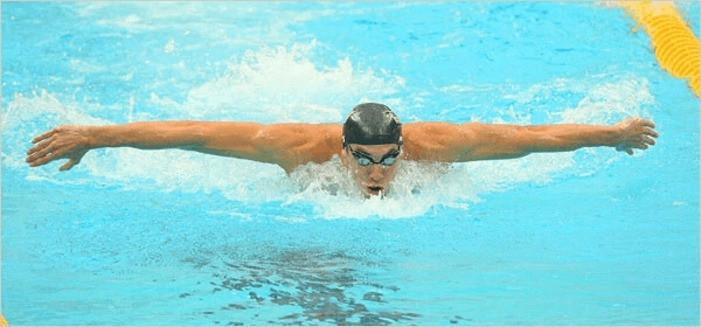 With an arm span of 6'7″, three more inches than his height, it's clear that the gold medalist had an edge from the very start. Michael knew that swimming was his mission and that his physical attributes would be wasted on any other sport. His lifetime of success speaks for itself.
Cody Miller: An Inspiring Swimmer Who Proves Perfection is Overrated 
Cody Miller is an inspiring exception to the rule, proving that perfection isn't everything. In 2016, the swimmer qualified for the Olympics in Rio de Janeiro and decided to share photos of himself with fans. He was born with pectus excavatum and was once self-conscious about his appearance, but he worked hard and won a gold medal.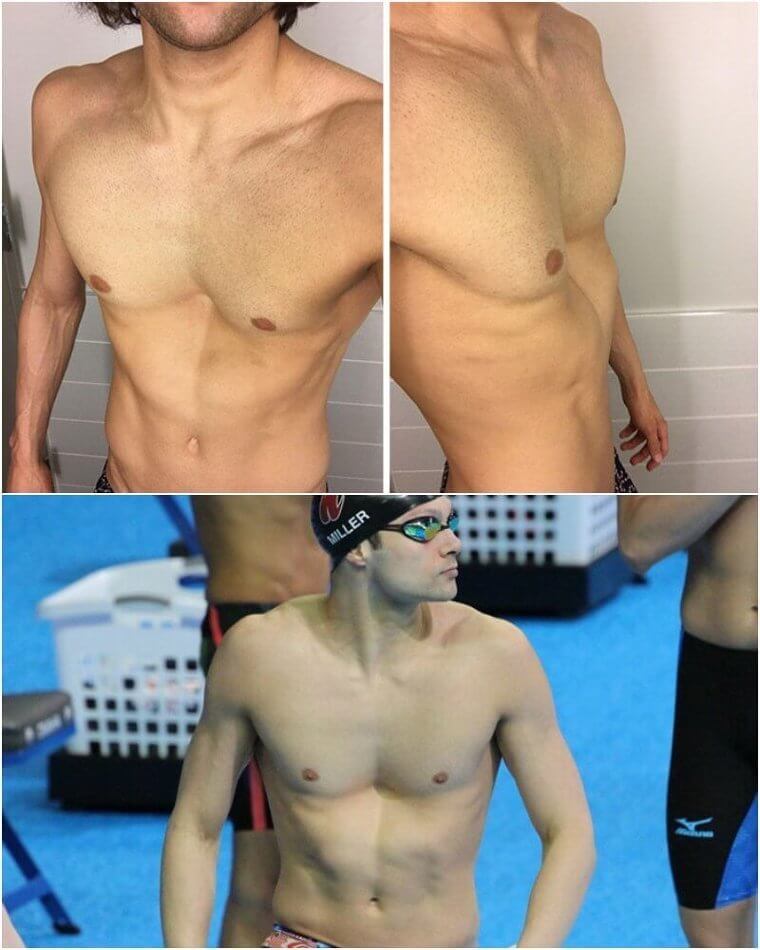 His story proves that you don't need to be perfect to achieve success and be a role model. Despite looking different and overcoming a physical challenge, Miller is now an Olympian and has inspired many around the world.
Winning the Race With a Good Razor!
Anthony Ervin is a true inspiration, having won a gold medal at age 35. But what's the secret behind his success? A good razor! That's right – Ervin understands that when the difference between winning and losing is a matter of milliseconds, every little bit counts.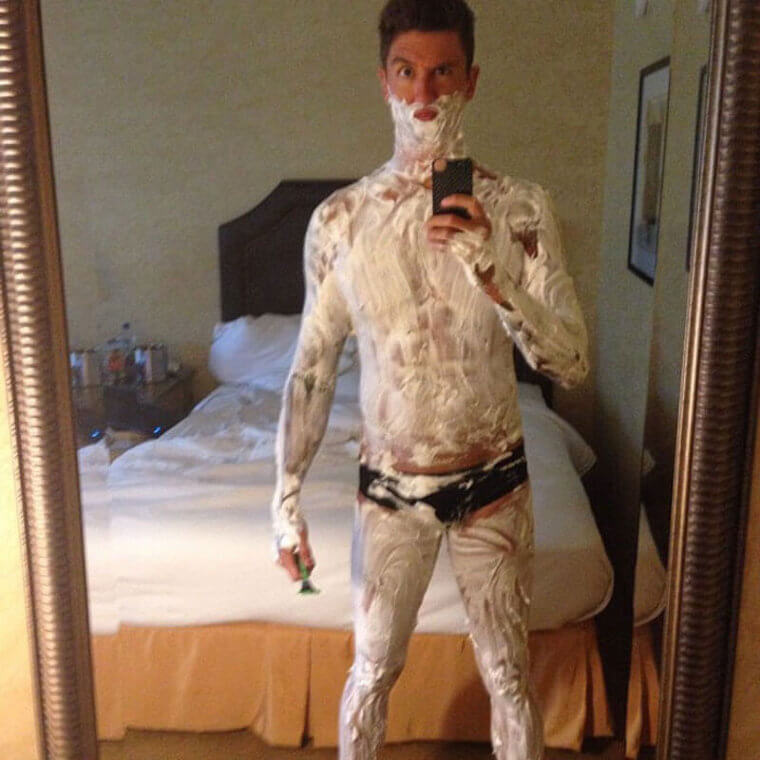 That's why he shared a photo of his shaving routine on social media, showing that good grooming is essential for swimming success. So, if you want to be the best, make sure you have the right grooming tools to get the edge!
The Unforgettable Nadia Comăneci - The Gymnast Who Achieved Perfection 
Though her name may be unfamiliar today, Nadia Comăneci is a name that will never be forgotten amongst gymnastics fans. At just 14 years of age, she achieved something unparalleled in the sport – a perfect ten score at the 1976 Montreal games.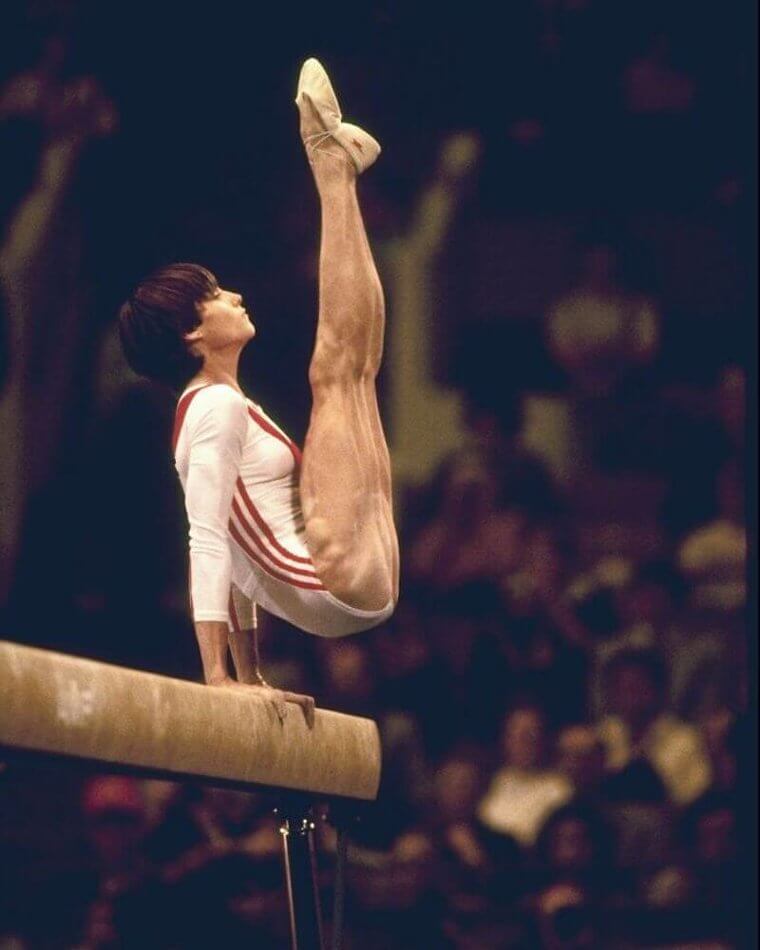 Her sheer determination and hard work was evident in her powerful leg muscles, and she went on to win an astonishing six more perfect ten scores in her career. Nadia Comăneci is a reminder that with hard work and dedication, anything is possible!
Ryan Lochte's Unusual Post-Workout Routine 
Are you an aspiring athlete looking for a unique way to recover after a workout? If so, 12-time medalist Ryan Lochte has something special in store for you. He recently shared his post-exercise ritual online: a 30-pound block of ice in the bathtub!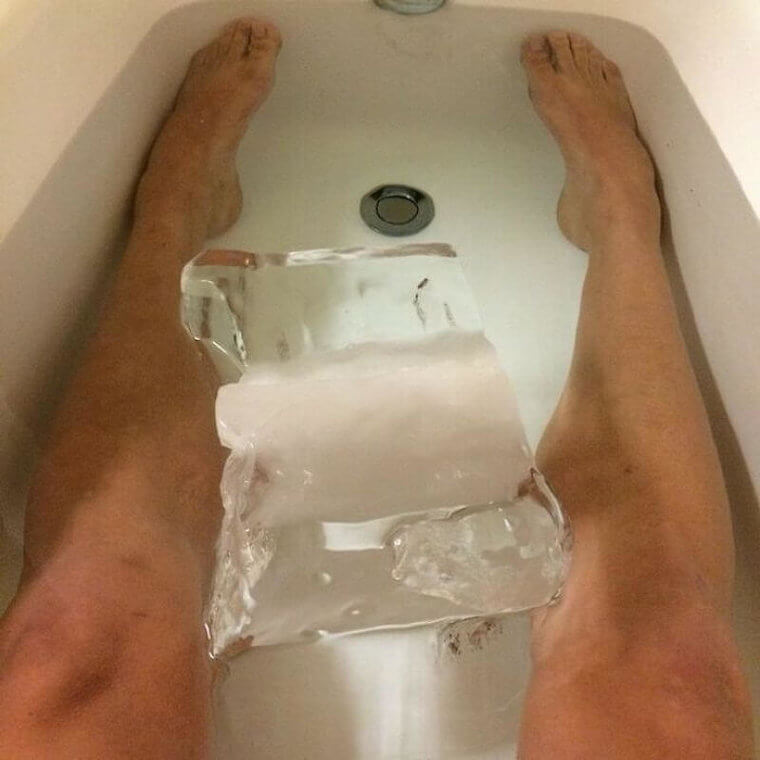 This is an odd way to relax, but Lochte swears by it for a reinvigorated feeling after pushing his body to its limits. So forget the bubbles, and try this unusual approach to recovering.
George Hincapie's Freaky Varicose Veins 
Are you ready to take a look at cyclist George Hincapie's legs? He has competed in the Olympics and Tour de France, and after one big race, he shared a photo of his varicose veins that gave the world a shock!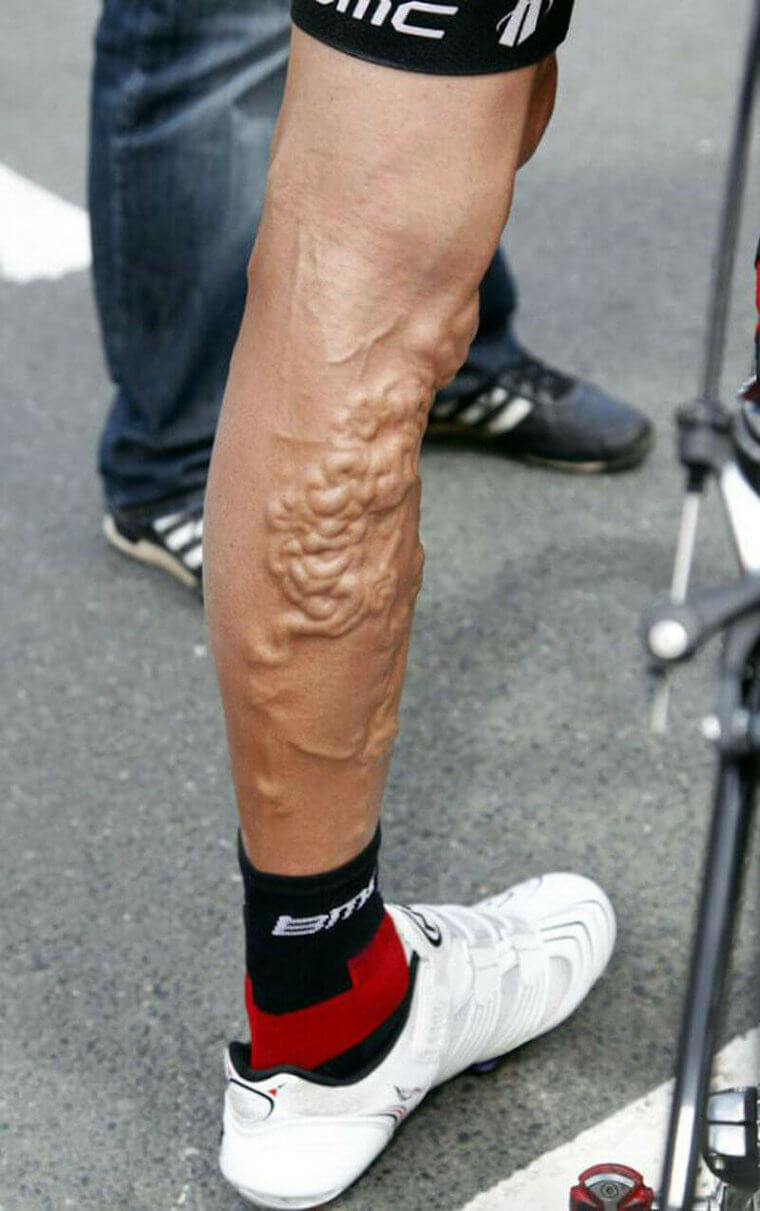 Apparently, the venous tissues in his legs are weak and even a vascular surgeon was quoted saying: "These are the ugliest varicose veins I've seen in a while. They are more severe than the typical patient." 
Tall vs. Small: The Power of Different Athletic Bodies
Volleyball and gymnastics often require different body types to succeed – and the results are fascinating! Take the athletes on either side of this comparison, for example: On one side, we have a towering 6'8 athlete, and on the other, a petite 4'8 Simone Biles.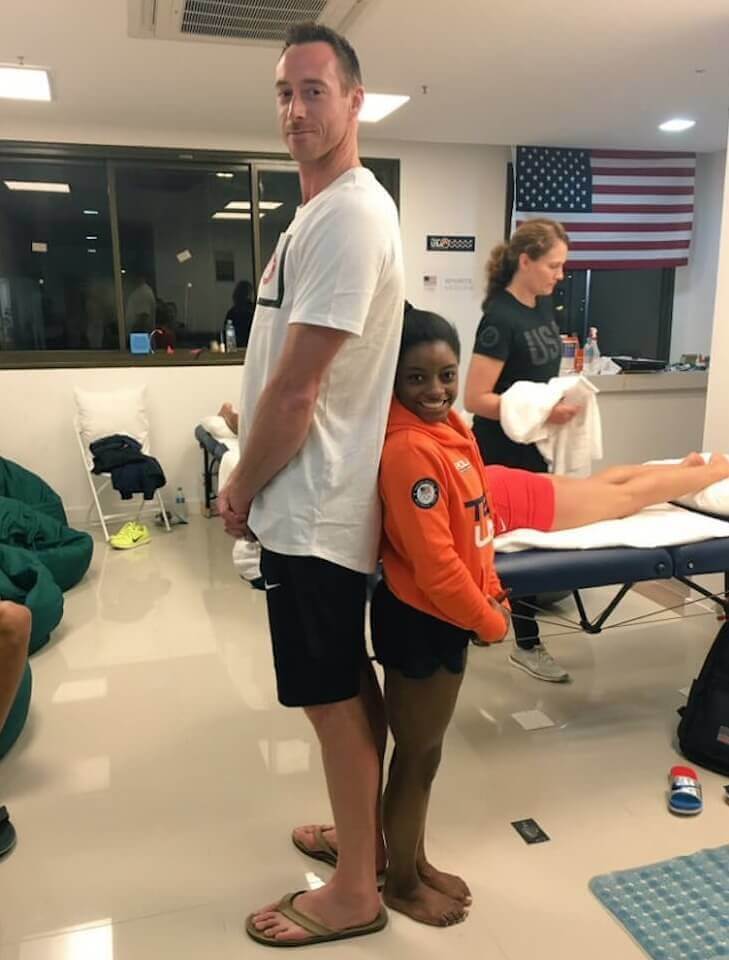 Although fans can easily recognize the unique benefits that each body type offers, the only confusion left is about basketball. Why isn't the 6'8 athlete competing in the NBA? It's clear that different builds can be incredibly powerful in different sports – and the possibilities are endless!
Miles Chamley-Watson's Outrageous Paws! 
Miles Chamley-Watson's giant hands are finally getting some recognition! When compared to legendary soccer star Pele, the contrast is clear – Miles' paws are outrageous!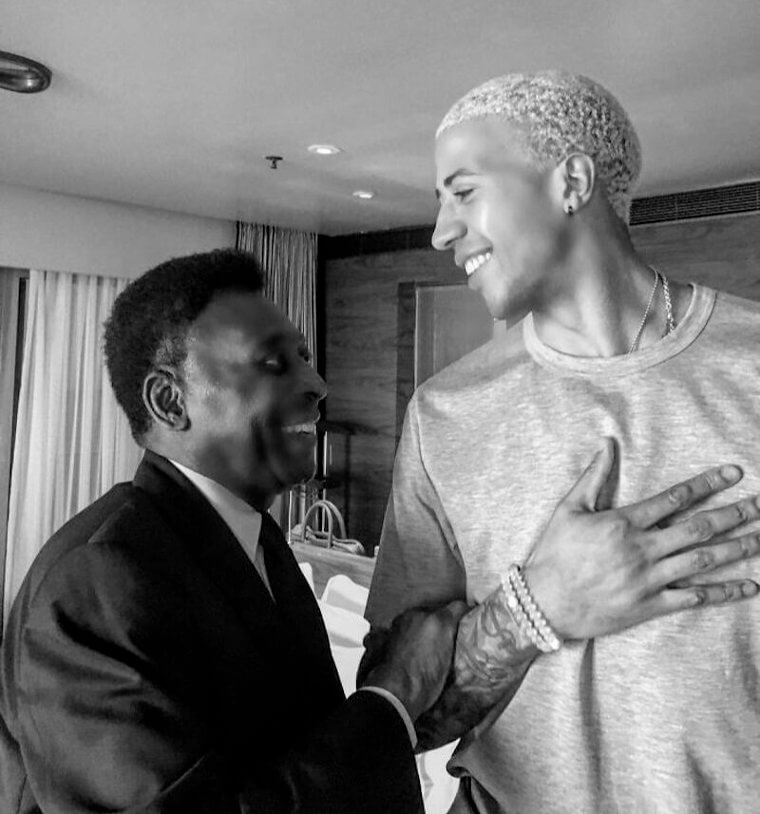 His size is a major advantage in the art of fencing. American football quarterbacks are chosen for their hand size, showing just how important big hands can be in sports. It's time to give this Olympic sport the credit it deserves and admire Miles' impressive grip on it!
Maarten van der Weijden: A True Olympic Hero 
Maarten van der Weijden is an Olympic hero. Diagnosed with leukemia at just 20 years old, he miraculously beat the life-threatening disease and went on to become an Olympian medalist.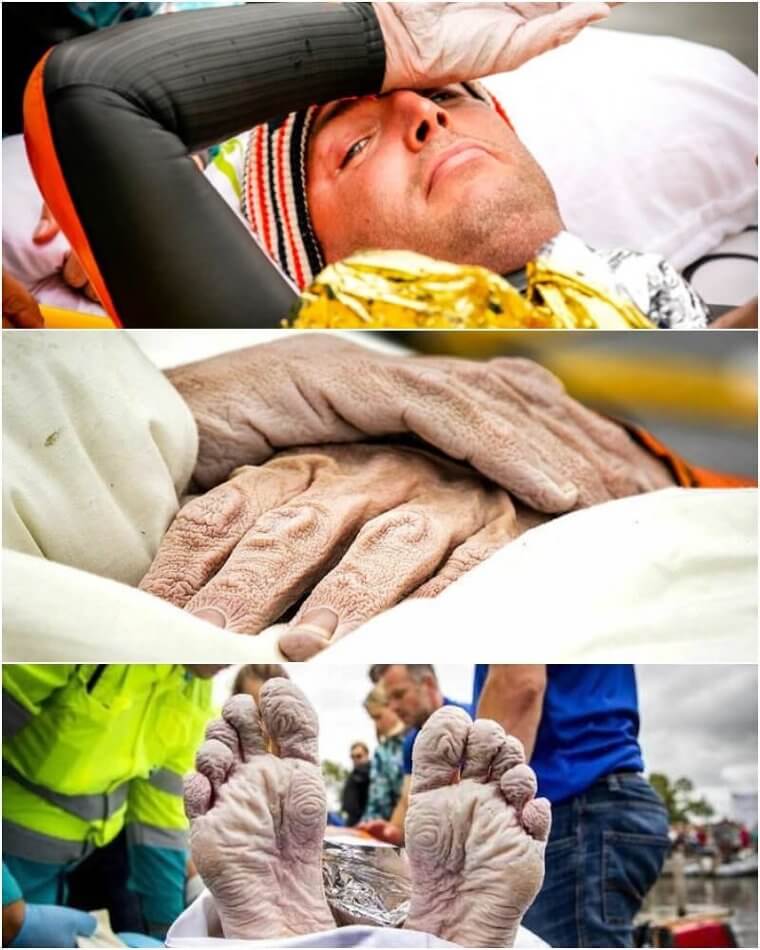 To raise funds for cancer research, Maarten recently undertook a grueling 55-hour swim, and the photos online showed just how hard he pushed himself. Talk about shriveled like a prune – his commitment and perseverance are inspiring! Maarten's story of hope and determination is one we can all learn from.
Celebrating Grace and Strength - Acrobatic Gymnastics at the Olympics?
Aubrey Rosilier and Emily Davis are pushing the boundaries of athleticism with their acrobatic gymnastics. Not yet an official event at the Olympics, these world-class athletes have performed at the opening and closing ceremonies in the past.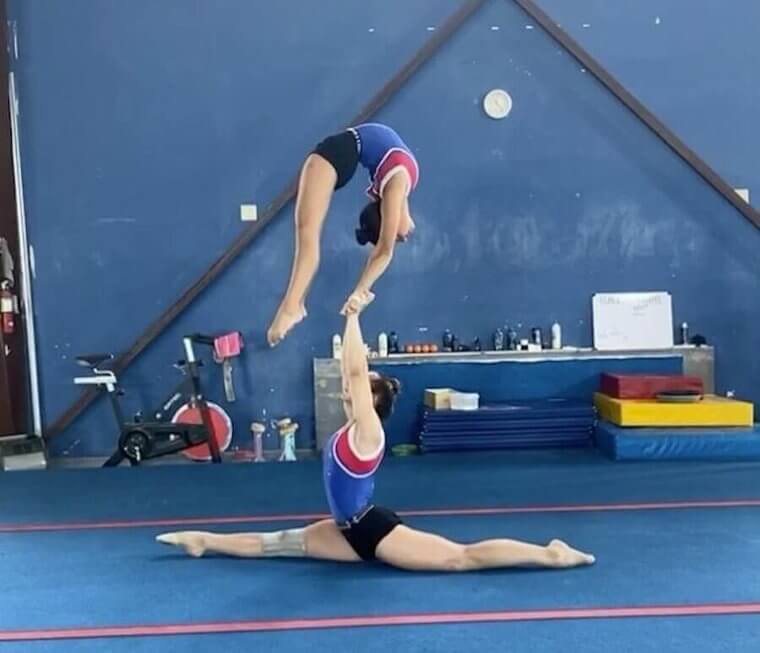 Captured in this stunning photo, the duo demonstrates an incredible balance of grace and strength that most of us can only admire. Acrobatic gymnastics could be the perfect sport to celebrate these two traits. Will it become an official event? We can only hope!
The Dangers of Skating at Top Speed: J.R Celski's Story 
J.R Celski's story of awful misfortune is a reminder of the dangers of Speed Skating. During the 2010 Olympic trials, the short-track speed skater took a tumble and six inches of his blade embedded into his quad.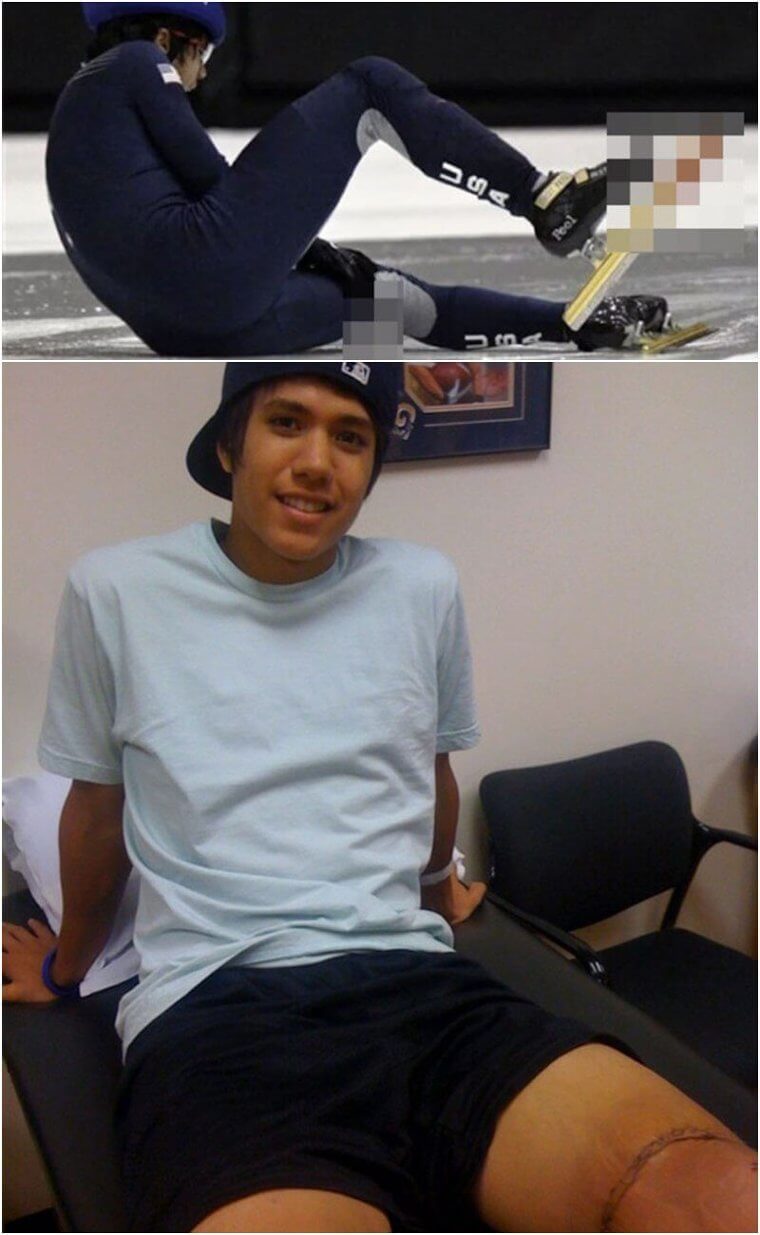 Miraculously, he managed to pull it out himself and avoid a major artery being severed. But this was a close call which highlighted the inherent dangers present in pushing yourself to the limit and beyond
Aly Raisman: A Master of Multitasking 
Gymnast Aly Raisman has shown us all that elite athletes must be masters of managing their bodies. After being the captain of the USA team for years, the retired athlete now shows us glimpses of her life on Instagram.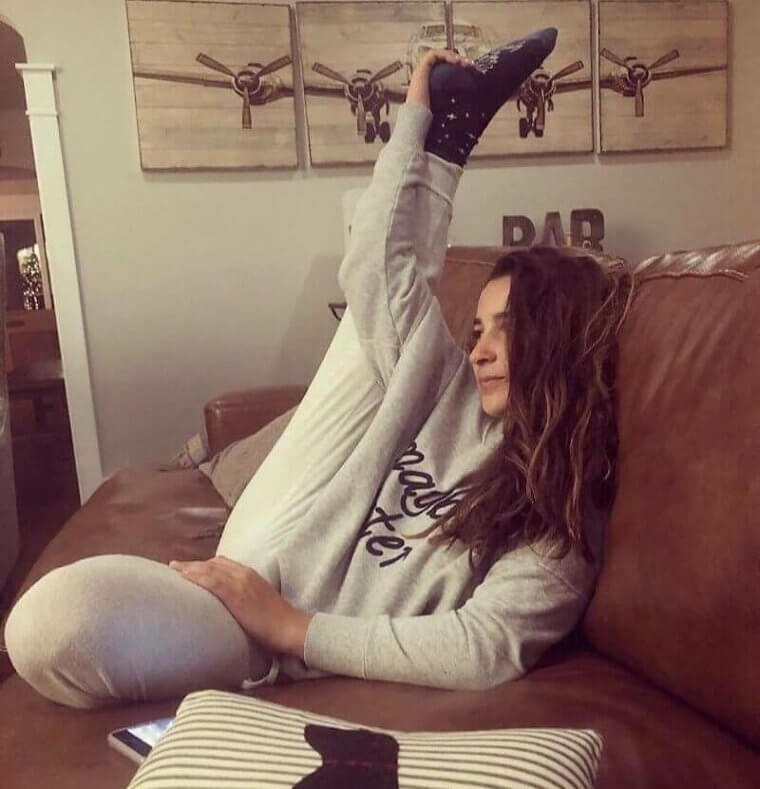 In one recent post, Aly revealed that she sometimes maintains her flexibility as she watches TV – true multitasking! Although many of us would prefer to just relax in front of the tv, Aly has shown us that even in retirement she remains committed to staying in shape.
Get Ripped Like an Olympian: Sebastiaan Verschuren's Secret Revealed 
Swimming is one of the most intense activities at the elite level. So it's no wonder that these Olympians are always ripped and toned. Sebastiaan Verschuren, a Dutch swimmer, decided to show us what it takes to get a physique like his. Not only can we admire his sculpted abs, but we also get to take a peek at his artistic side.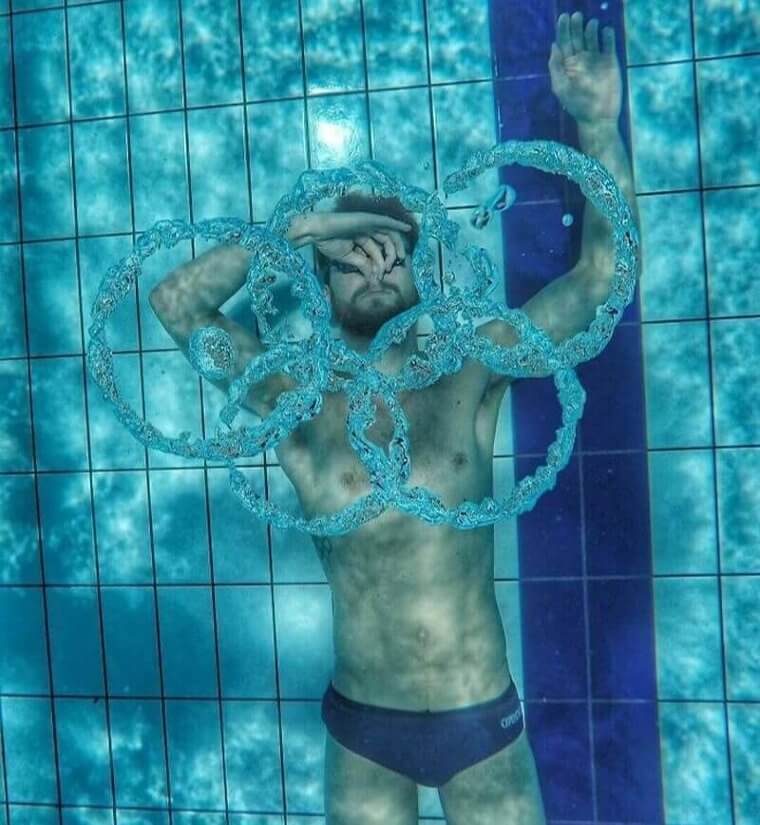 This photo gives us a glimpse into the training and dedication that it takes to be an Olympian and a testament to the incredible power of swimming as a workout. So if you're looking to get ripped and toned like Sebastiaan Verschuren, why not give it a go!
The Incredible Transformation of an Ex-Professional Biker 
Retired athletes may still have nostalgia for the sport they used to pursue. Bartosz Huzarski, a former Polish biker, decided to take his bike out for a spin one day and was amazed at the transformation that his body had undergone in comparison to the days before he was a pro.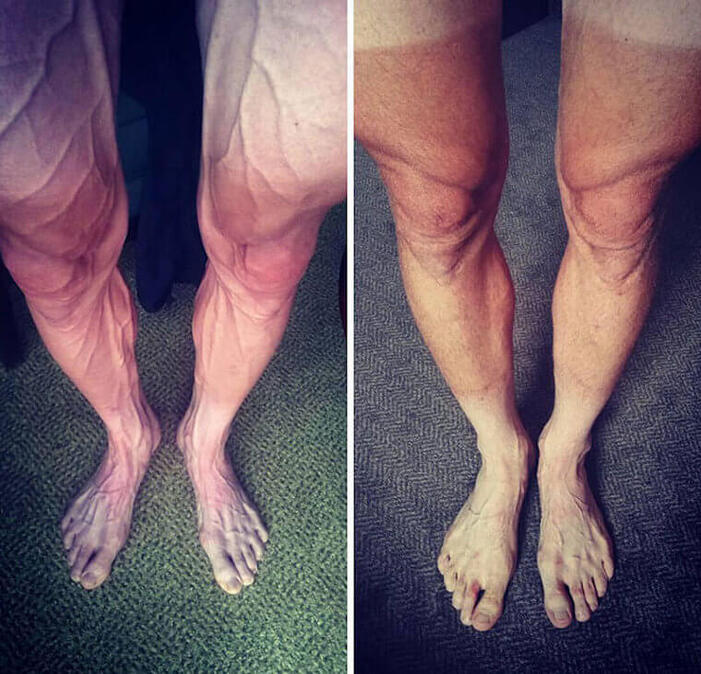 The photo on the right shows his legs prior to embarking on a professional career in the sport, while the photo on the left shows what he looked like after years in the sport. The human body is capable of incredible feats and pushing ourselves to the limit can produce remarkable results. Maybe it's time to get veiny!
Olympic Rower Alex Gregory's Hands Tell a Story 
Alex Gregory, an Olympic rower, recently shocked the world when he posted a picture on social media of his hands after spending a long time in wet gloves. His caption read: "The blisters were never bad on this Polar row, but the wet & damp seeped into the skin".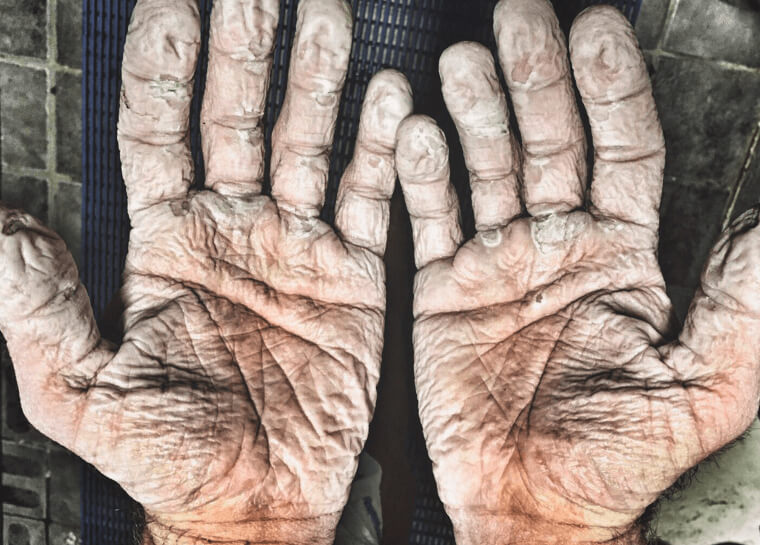 What happened to him? It turns out he got stuck on a remote island with other rowers on a failed Arctic expedition. But luckily they managed to escape. His post serves as a reminder of the damage that wet gloves can do if you're out rowing in the cold for long periods of time.
When Physics Fails: The Unfortunate Story of Dutch Cyclist Laurine Van Riessen
The Olympic Games are all about awe-inspiring performances from the world's best athletes. Unfortunately, Laurine Van Riessen, a Dutch track cyclist, found that physics cannot be beaten. During a live competition, Laurine attempted a risky manoeuver, only to land on the track and collide with her opponent.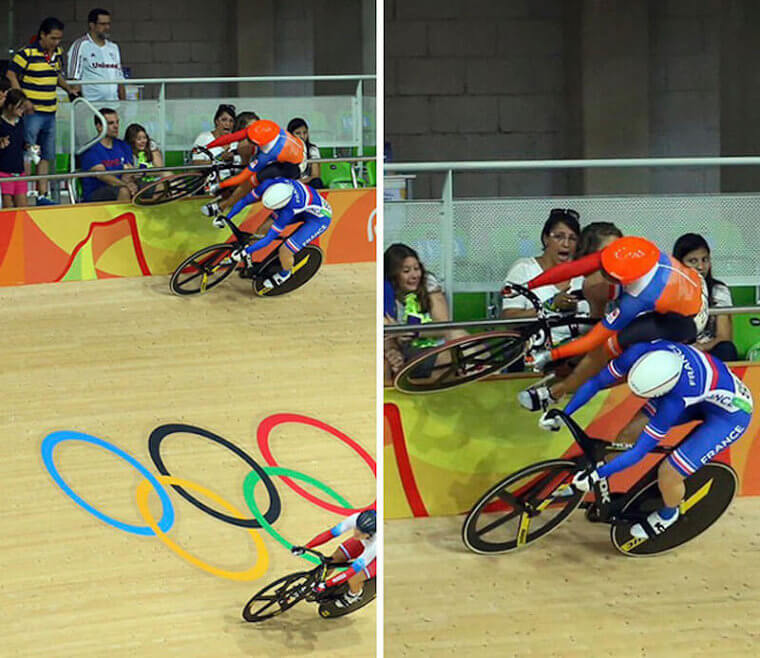 The impact resulted in several broken bones and she had to be medically evacuated, with uncertainty over whether she would be able to compete again. While it is an unfortunate story, it is a reminder that no athlete is invincible.
Devin Logan's Knee: The Impact of Olympic Skiing 
Skiing is a sport often associated with privilege and wealth, but for Devin Logan, it has taken a toll on her body. At just 2 years old, Devin started the sport she loved, but even her elite physique couldn't handle the impact of skiing on her knee.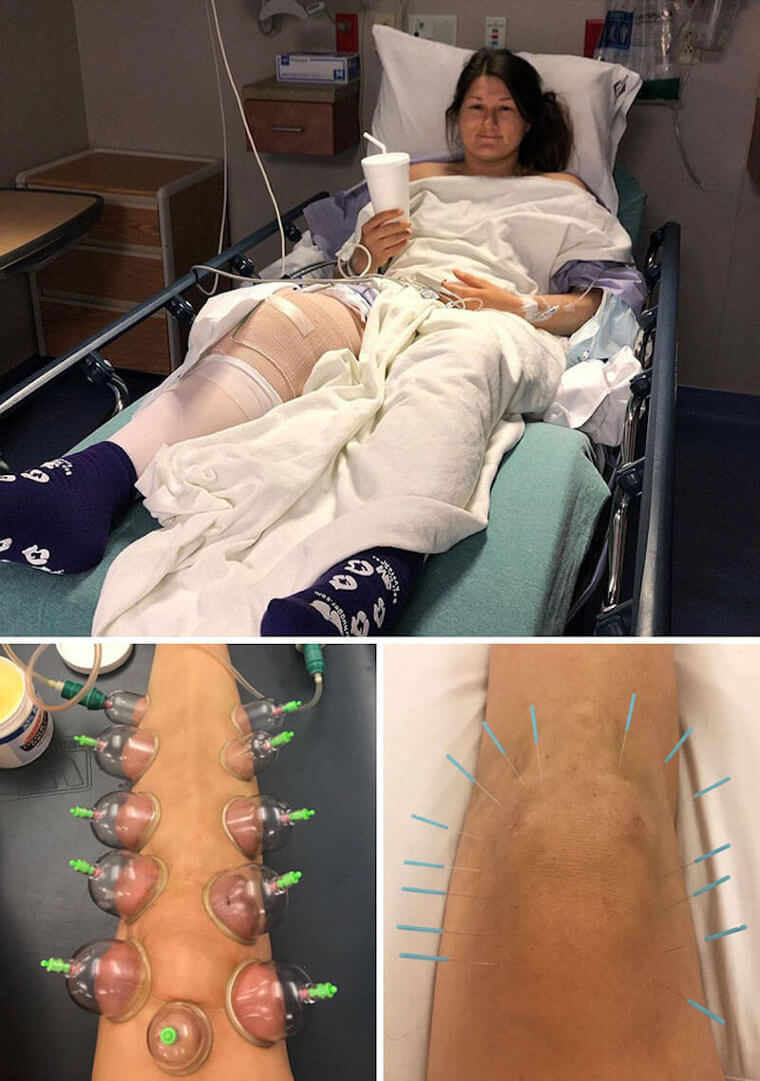 For years, Devin tried to ignore the pain her body was telling her, but something had to change. After finally getting her knee cleaned up, Devin is now on the road to recovery. Thankfully, her knee is starting to look like the other again – not twice the size!
Achievers Of All Sizes: Missy Franklin and Shawn Johnson 
From the 2008 Olympics, Missy Franklin and Shawn Johnson stand as shining examples of how success knows no boundaries. At 6 ft 1 in and 4 ft 9, respectively, their height gap is quite striking.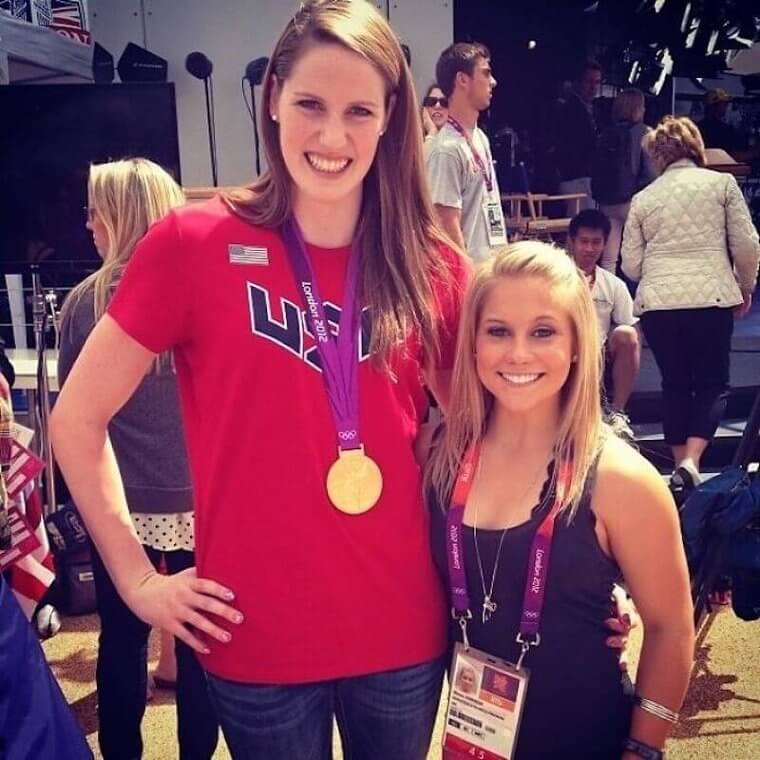 Despite the differences, they have one thing in common: both won gold medals for the USA! The podium is a place where tall and small can both shine, proving that achievement is not limited by size.
Usain Bolt's Superhero Moment - Marvel in Awe! 
We all know Usain Bolt can do anything he puts his mind to. And fans were left speechless when this incredible photo emerged of Usain seemingly channeling his inner Spider-Man!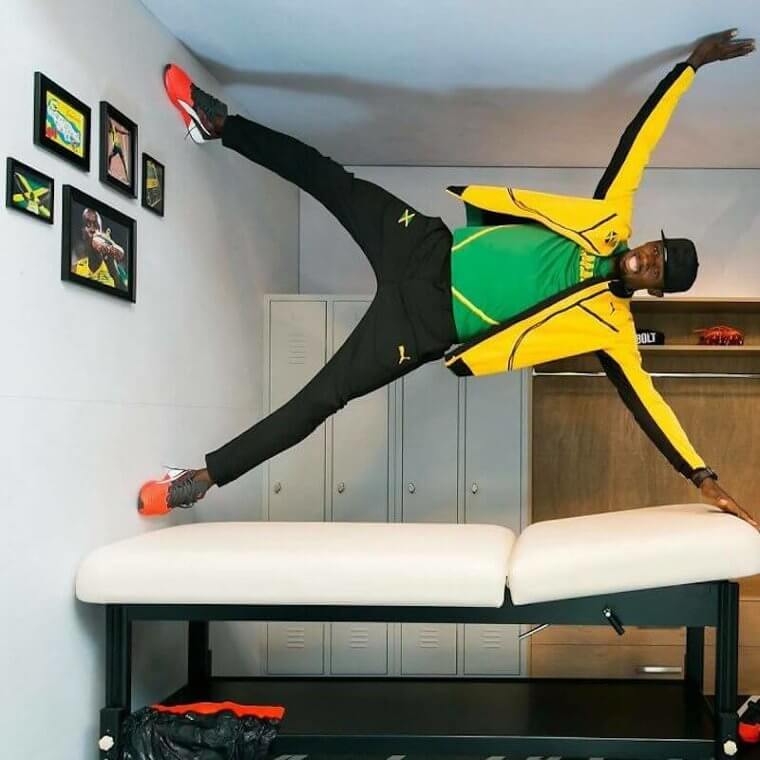 Usain is seen upside down in a massage studio, using his core and leg strength to hold the incredible balancing act. A moment like this certainly needs to be documented for its historical value, with fans feeling grateful for this glimpse into his superhuman abilities. So, marvel in awe at Usain Bolt's superhero moment!
Eythora Thorsdottir - No Half-Hearted Efforts! 
Gymnast Eythora Thorsdottir is a champion who pushes herself in everything she does – extending to not settling for a regular high five with her friends. Instead, she goes above and beyond in going for a high-foot! Showing her passion, she states that she gives it her all or nothing.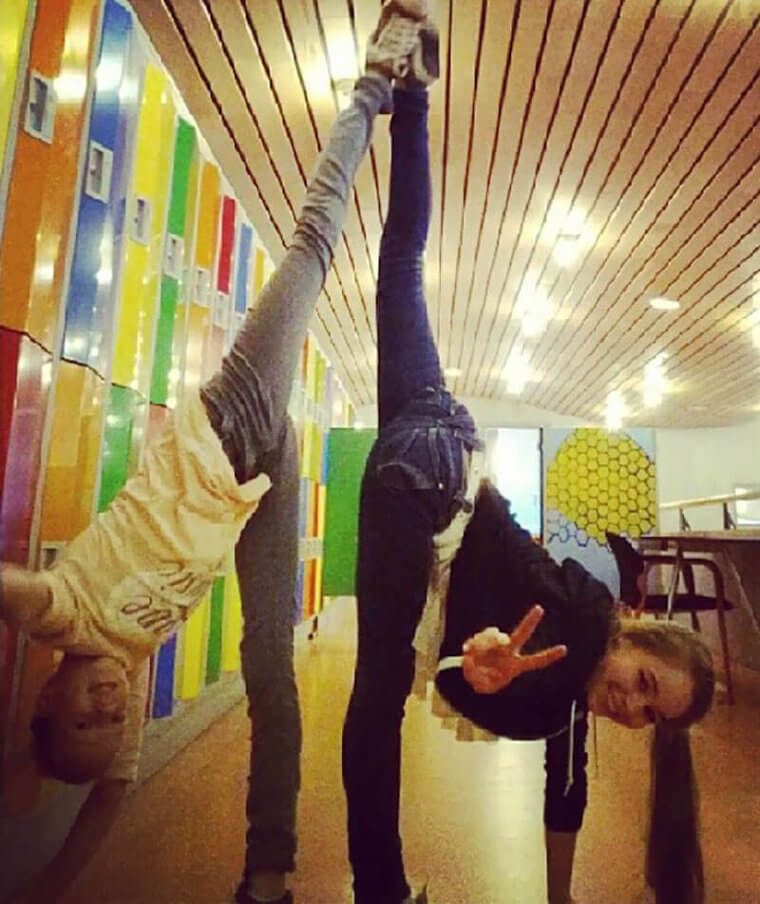 Her inspiring words show that she puts 100% of her effort into everything she does, refusing to settle for mediocrity. She is a true example of excellence and a symbol of what determination can achieve.
There's More to Tour de France than Meets the Eye! 
Polish cyclist Pawel Poljanski showed the world just how intense the Tour de France is, with a photo that left everyone in shock. His veins were bulging after the 26th stage of the Tour de France in 2017.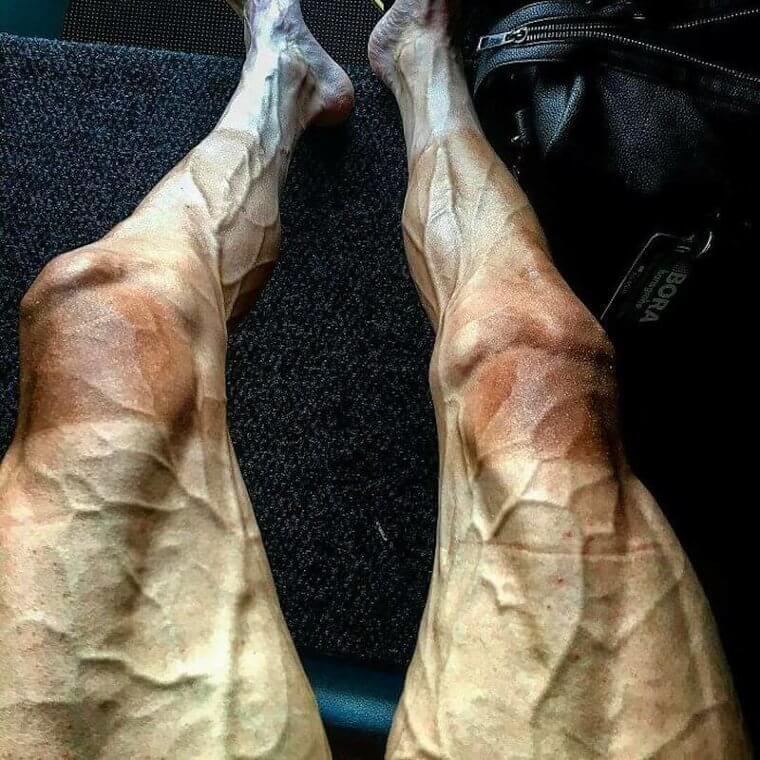 It was a sight that no one was expecting! While it may not be part of the Olympics, this event is an insane test of endurance. Did Pawel's veins go back to normal when things cooled down? We sure hope so, if he doesn't want to scare the children!
The Long and the Short of it - A Fun Photo Op at the Olympics
At the 2016 Olympic Games, a spectacular photo op was created when the USA basketball team welcomed the gymnastics team to their court. The difference in heights between the two teams highlighted the extreme contrast between them.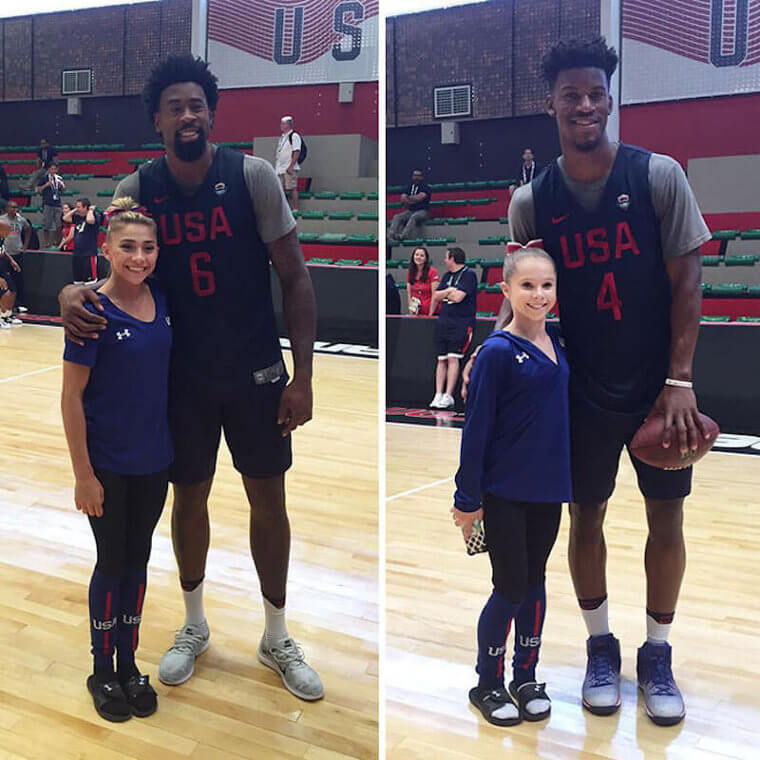 It was an amusing sight and the pictures went viral on social media. Even the most cynical of viewers had to admit that this was a heartwarming sight. It goes to show that as serious as professional sport can be, it's important to enjoy some downtime too.
Olympian Legs: Put Your Chicken Legs to Shame! 
Olympian Harry Aikines-Aryeetey isn't afraid to show off his impressive legs. With a cheeky caption of "Getting ready for that Christmas binge!", Aikines-Aryeetey definitely isn't afraid to be a bit quirky. His legs are a reminder of the hard work and dedication that it takes to become an Olympian.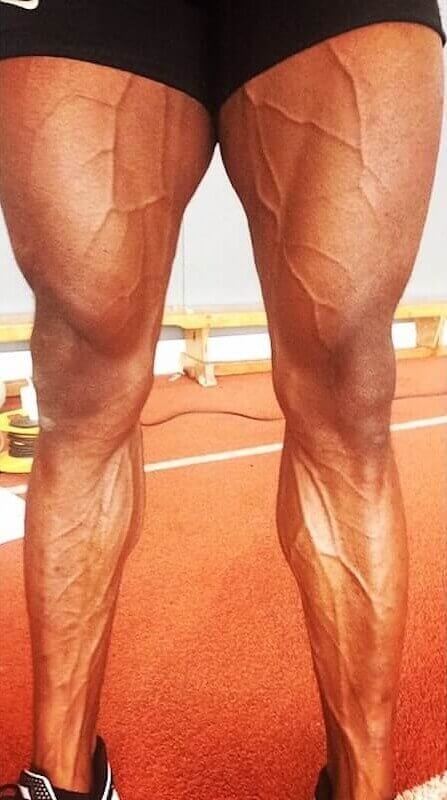 Compared to his toned legs, ours often feel like chicken legs. Even when we jog, it's impossible to get the same muscle definition as Aikines-Aryeetey! Olympians are no joke – they have to train hard to stay at the top of their game.
Acrobatic Gymnastics: A Visual Spectacle of Strength and Grace 
Behold the beauty and strength of acrobatic gymnastics! From their impressive feats in competitions to the breathtaking visual experience they offer, acrobatic gymnastics is definitely an underrated art form.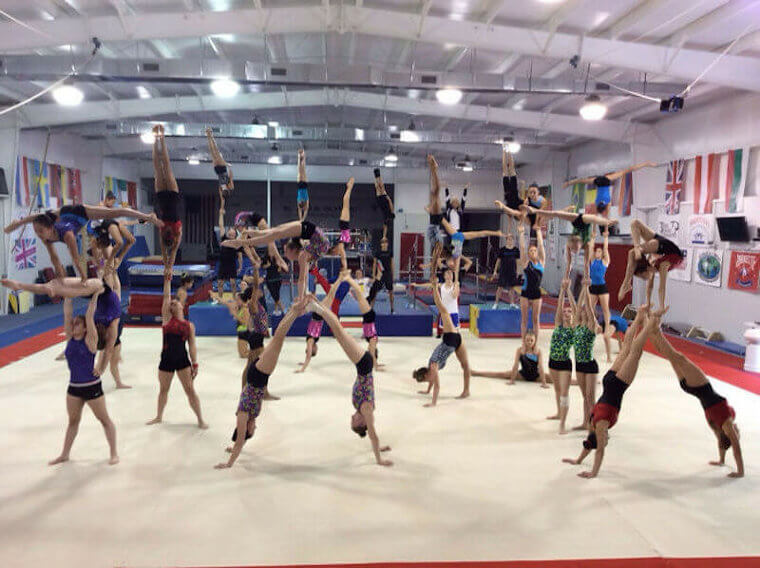 This photo captures the essence of their craft – strong gymnasts keeping the structure in place with girls in tricky positions above them. It's a show of strength, balance, and art that should not be overlooked. All of this together creates a totally mind-blowing and awe-inspiring visual spectacle. It's a captivating sight to behold!
Simone Biles' Winning Formula: Fun, Confidence & 100% Effort 
Gymnast Simone Biles knows the winning formula to success: having fun, gaining confidence and putting in 100% effort. And that's exactly what she did when she was invited to throw the first pitch for the Houston Astros.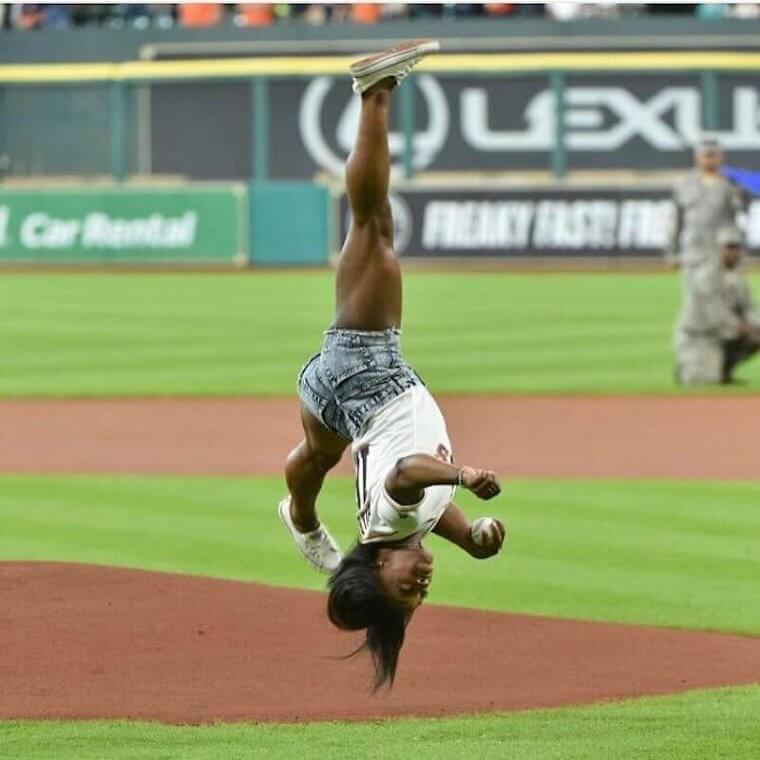 Even though this wasn't her sport, Simone still gave it her all, put her unique spin on it, and had a blast! It's no wonder she's such an incredible athlete – with this attitude, she can't help but win!