The Surprising Secrets Behind Your Favorite '90s Shows
If you know people obsessed with their 401K, there is a high likelihood they are old enough to remember how Blockbuster Video lorded over Netflix. They may also bring up a series that aired three decades ago that very few remember now. But, don't dismiss them as merely having  nostalgia for the "good old days." It may be a testament to their refined taste in timeless classics from the '90s.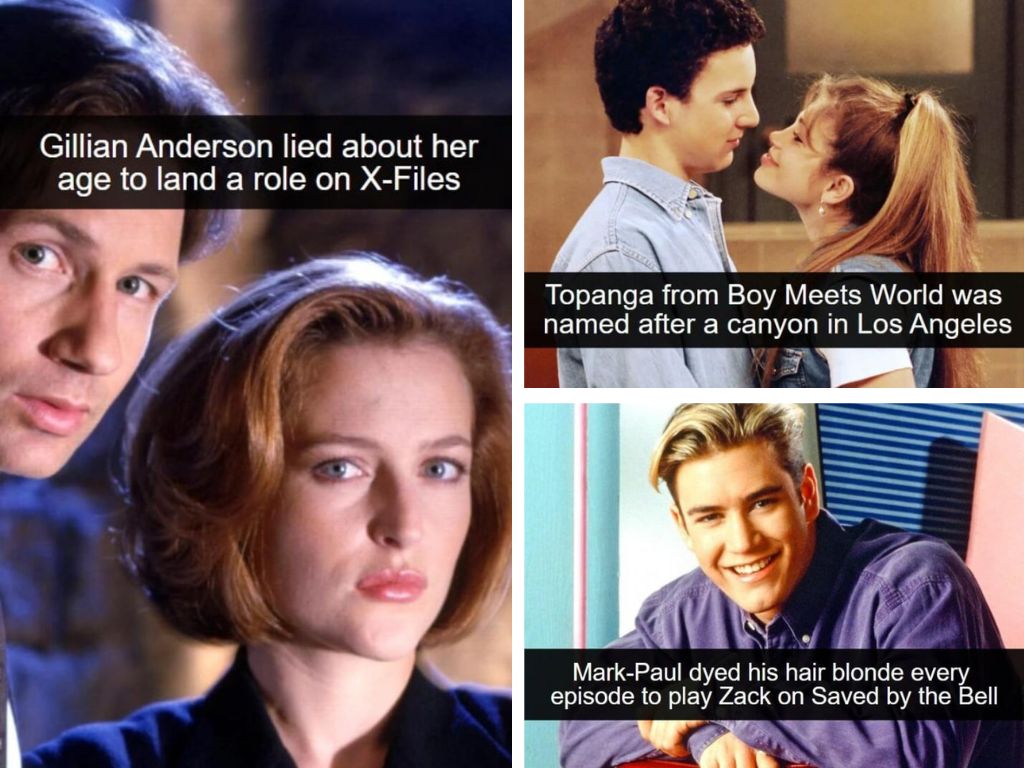 The process of creating exceptional TV is a multi-faceted craft. While some aspects of the process may be readily apparent, others remain shrouded in mystery. Yet, it's precisely this enigmatic quality that elevates these shows to a whole new level of greatness. Read on and take a moment to appreciate these shows that captured everyone's hearts and minds back in the day.
Aunt Vivian Vs. 'The Fresh Prince of Bel-Air'
True blue '90s kids would surely recognize one of the greatest sitcoms ever created–The Fresh Prince of Bel-Air. Unfortunately, this is not about Will Smith's charm or Carlton's dance moves. We are paying homage to the unsung hero of the show–Aunt Vivian.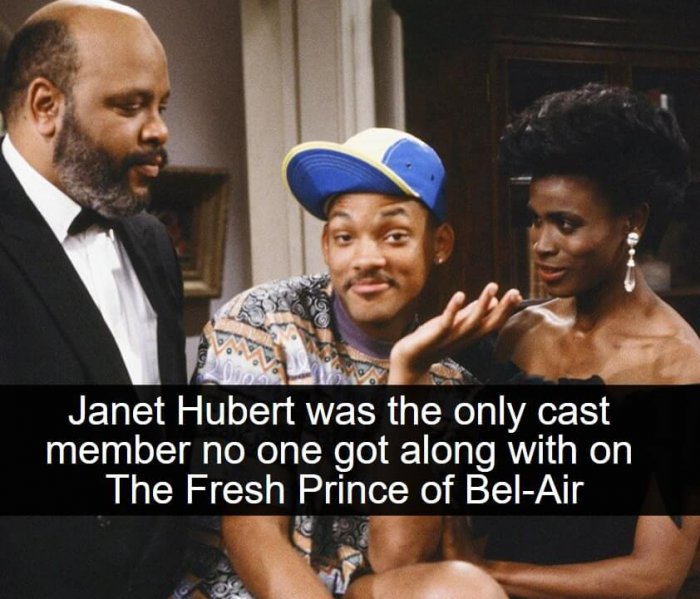 Rumor has it that the original Aunt Vivian actress felt overshadowed by her co-stars and demanded more screen time. Unfortunately, the show's creators disagreed and decided to replace her midway through shooting a season, causing a stir among fans. Despite the drama, the show went on to achieve cult status.
The Teens Of 'Beverly Hills 90210'
In the '90s, there was no hotter heartthrob than Luke Perry. Millions of viewers around the world swooned over his dreamy eyes every week on Beverly Hills 90210. But, getting the part of Dylan McKay wasn't a walk in the park. The show's producers weren't sold on Perry's talents. He needed someone to vouch for him to prove he was the perfect fit.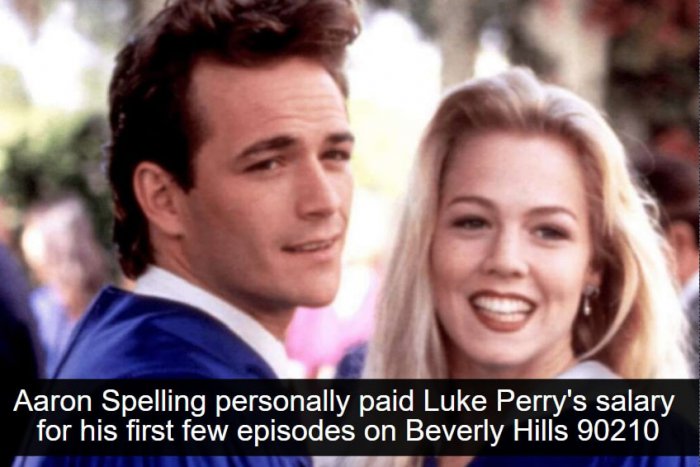 Fortunately, Aaron Spelling became Perry's guardian angel. The legendary producer had a hunch that Luke Perry was destined for stardom, and he was willing to put his money where his mouth was–literally. For the first few episodes of Beverly Hills 90210, Spelling paid Perry's paycheck from his funds. His risk paid off as fans quickly fell in love with Perry's brooding bad-boy persona.
The Mysterious Next-Door Neighbor On 'Home Improvement'
Home Improvement was supposed to be a show about DIY projects but offered little instructions on how to start one. However, it did deliver tons of laughs every week, thanks to the comedic genius of Tim Allen. But, let's not forget the real star of the show–Wilson, the enigmatic next-door neighbor who offered sage advice while also hiding his face. So, why did he do that?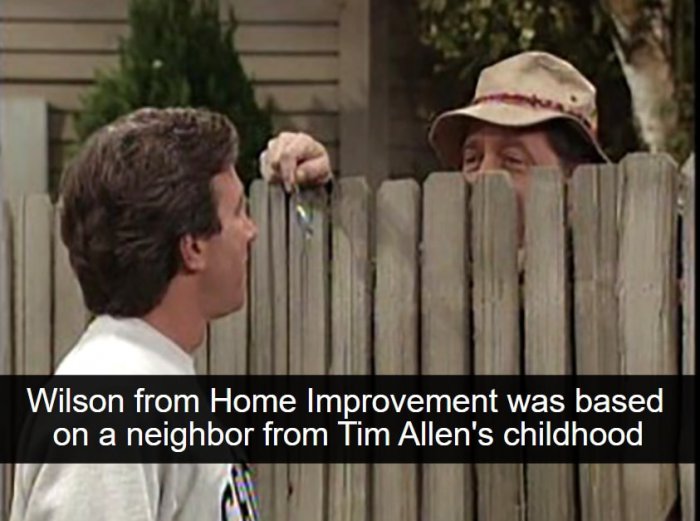 The inspiration for the character came from Tim Allen's real-life childhood neighbor. As it turns out, when Allen was a young sprout, he was too short to see over the fence that separated his backyard from his neighbor's. Similar to the character of Wilson, Allen's neighbor became a mystery, shrouded in secrecy. Wilson also became one of the most beloved characters in TV history.
The Sassy Nanny
If you didn't watch The Nanny growing up, you missed out on some seriously good television. This show had laughs, a heart, and, of course, fashion. From her signature leopard print outfits to her hilarious one-liners, Fran Fine quickly became a TV icon. Let's also not forget the unforgettable cast of characters that made up her unconventional family.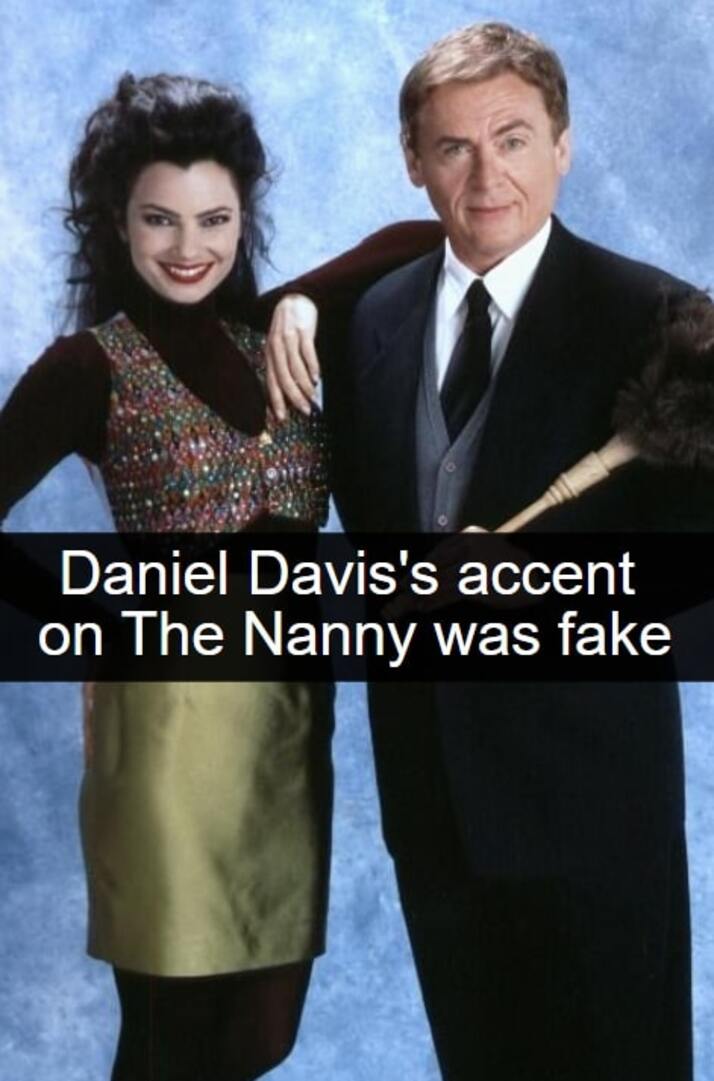 Enter Niles, the Sheffield family's quick-witted and razor-tongued butler. His dry humor and sarcastic remarks made him a fan favorite. But here's the kicker–he wasn't actually British! The man who charmed us with his posh accent was just a regular American guy putting on an act. 
The Nanny's Mommy
When it comes to comedic timing, The Nanny's Fran Fine had nothing on her mother, Sylvia,  played by actress Renée Taylor. This no-nonsense, lovable character always knew how to lighten the mood by always having a snack on hand.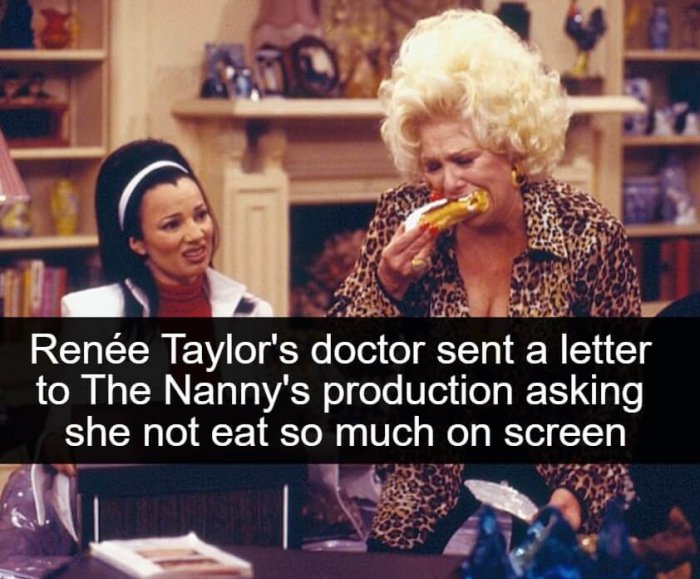 In fact, she even had a doctor's note sent to the production about all of her overeating. It requested that she shouldn't be eating so much on-screen.
Boy Meets Topanga
Cory and Topanga's romance has been etched in the hearts of TV viewers for generations. From their early beginnings to their mature love story, the couple never ceased to make us swoon. But, have you ever wondered why a girl would have Topanga as a name?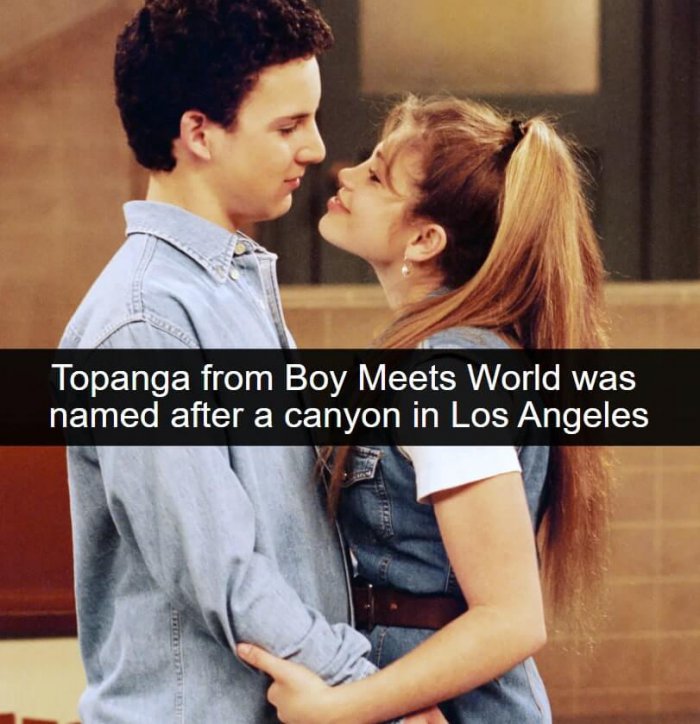 Apparently, Boy Meets World's co-creator, Michael Jacobs, was driving down Topanga Canyon Boulevard in California when he came up with the name. He liked the way it sounded so much that he decided to use it for one of the main characters in the show. Thus, Topanga Lawrence was born. 
Frasier's Furry-Loving Fans 
When you think of Frasier, you probably picture a stuffy psychiatrist rambling off pretentious words like "quintessential" and "prevaricate." While the show definitely had a lot of intelligent humor, it was still hilarious and relatable. Although, have you ever wondered what kind of fan mail the cast received?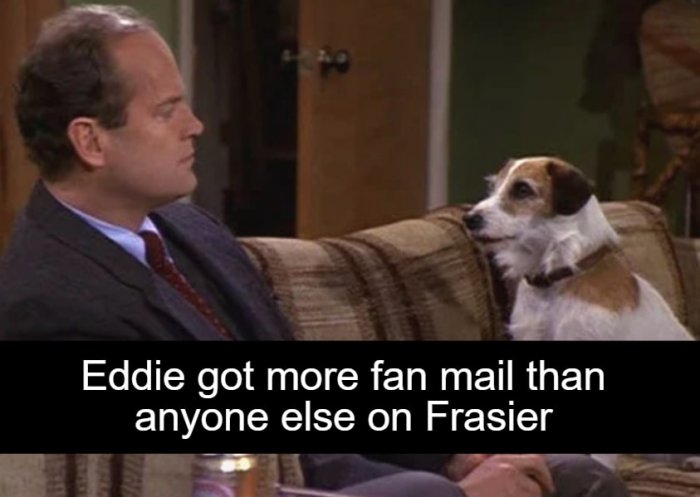 Who knew that a furry four-legged character would be the most beloved character in the show? Eddie, the adorable Jack Russell Terrier, received a lot of fan mail more than Frasier or Niles ever did. It's not surprising since he stole the show in many episodes with his undeniable cuteness. 
Phoebe In 'Frasier?
The cast of Frasier was phenomenal, with each member bringing their unique flavor to the mix. Roz, the ever-sassy producer of Frasier's show, was the perfect counterbalance to Frasier's high-strung personality. But, can you imagine if she had been played by Lisa Kudrow, better known as Phoebe from Friends?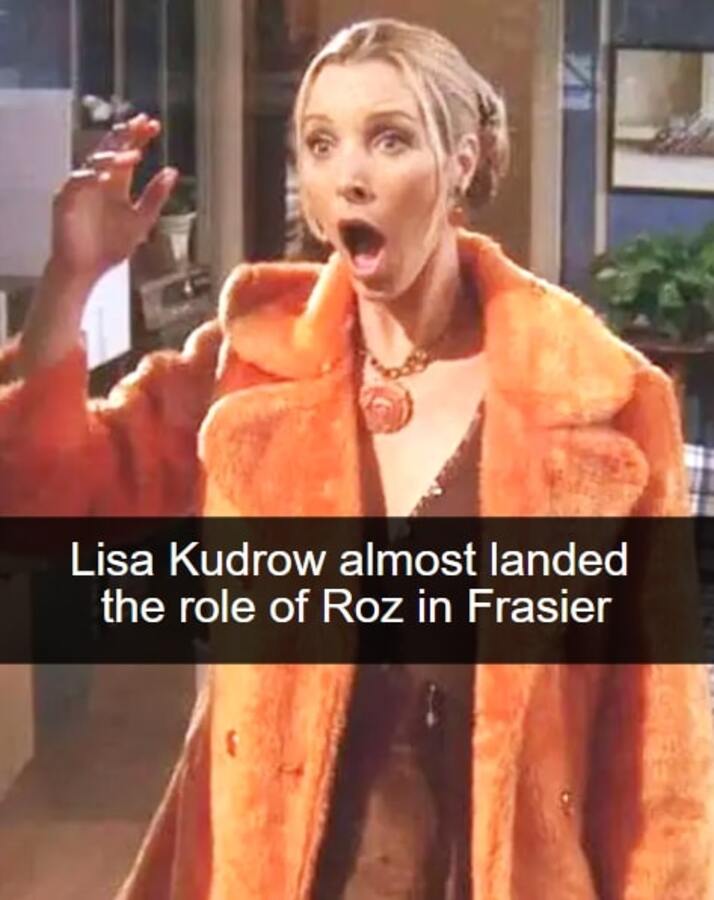 It's hard to imagine the show without the incomparable Peri Gilpin, but it would have been interesting to see Kudrow take on the part as she was originally considered for the role of Roz. Fortunately, Friends snatched Kudrow to play Rachel and Monica's quirky friend. Plus, where would the world be without Phoebe's iconic "Smelly Cat" song?
Filthy Mouth In 'Full House'?
Full House was known for its family-friendly values. But, behind the scenes, some cast members were not as wholesome as their characters. While Bob Saget was beloved as Danny Tanner, a few of his co-stars reportedly kept their distance from him when the cameras stopped rolling due to his off-color humor.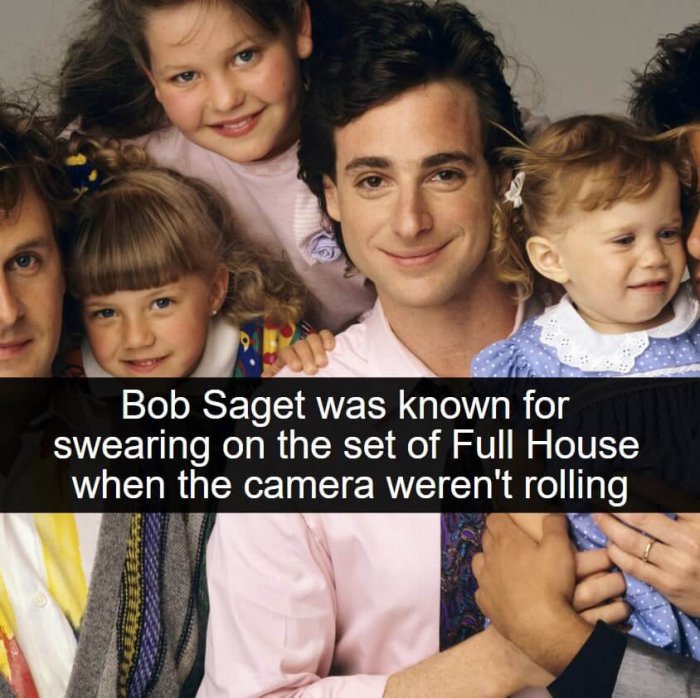 Before becoming Danny Tanner, Bob Saget did stand up with a twisted sense of humor. He was a far cry from the family-friendly image he portrayed on Full House. While he made sure his raunchy jokes were kept out of the show, he did slip up a few times on set and let a few expletives slip out. 
No Female Bonding Among 'The Golden Girls'?
The Golden Girls were the epitome of squad goals and their unbreakable bond made us all envious. We wished we had a group of friends like them right up into our golden age. But, it's a sad reality that sometimes our favorite on-screen characters don't always get along behind the scenes. Despite portraying a group of loving and supportive friends, the actresses in the show didn't always see eye to eye.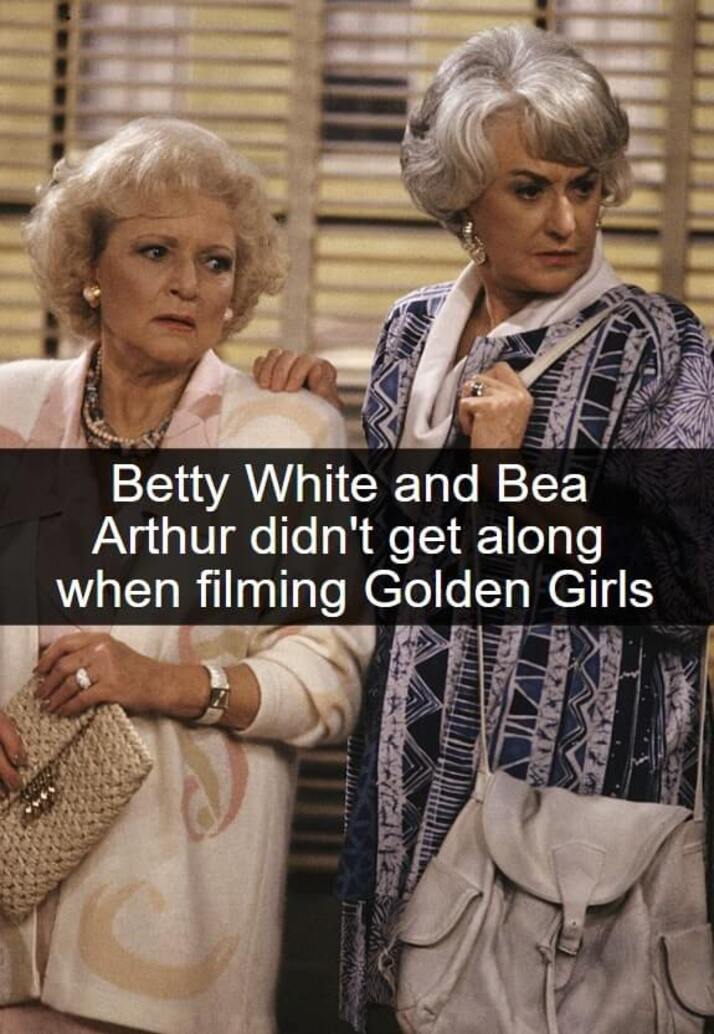 Betty White spilled some tea about The Golden Girls that may come as a shock to fans. It turns out the bond between the ladies wasn't as strong off-camera. Betty White confessed that they were more like acquaintances. The biggest surprise was that she and Bea Arthur, who played the sharp-tongued Dorothy, actually had a rift during the show's run.
Saved By His Hair
High school is the perfect time to experiment and find out who you are. For some, that means taking on a new persona and changing up their look. Some get piercings, while others have bold fashion statements. And, the students on the show were no different. They, too, underwent a journey of self-expression.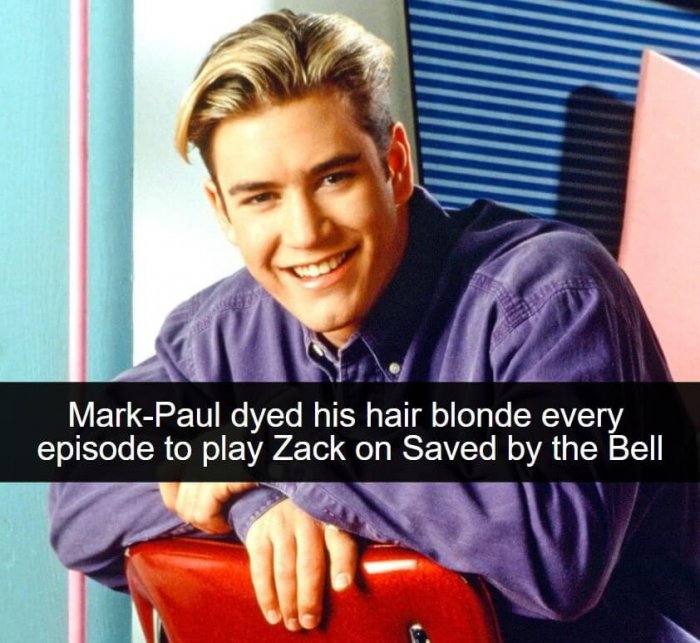 While Zack Morris was the quintessential blonde heartthrob of Bayside High, actor Mark-Paul Gosselaar was actually a natural brunette. This meant that every episode required a significant amount of time, effort, and bleach to transform his locks into the iconic golden hue we all know and love. 
Cheers For Frasier
Cheers was more than just a TV show–it was a cultural phenomenon. The show's characters were as diverse as the drinks they served. One such character was Dr. Frasier Crane. His sharp wit and erudite personality inspired a spin-off series that would become just as beloved as its predecessor.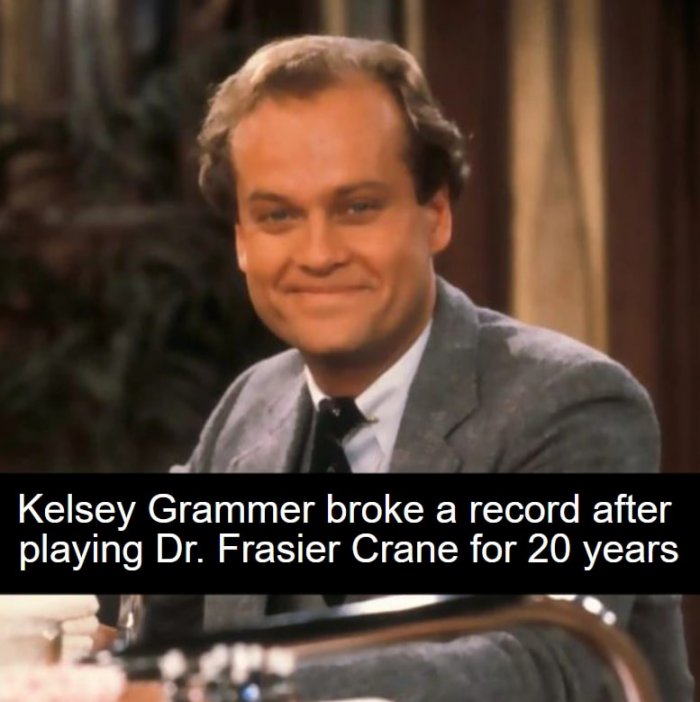 From bar-fly to radio psychiatrist extraordinaire, Dr. Frasier Crane's journey is one of the most iconic character arcs in TV history. But, before he was dispensing advice to callers, he was just another regular at Cheers.
Scully's Secret On 'The X-Files'
The X-Files had us glued to our screens because of the thrill of the unknown and the fear of extraterrestrial life lurking in the shadows. We looked up to Scully and Mulder hoping we would have their strength and wisdom. What if maturity is not just a matter of time but also cunning skill and deception?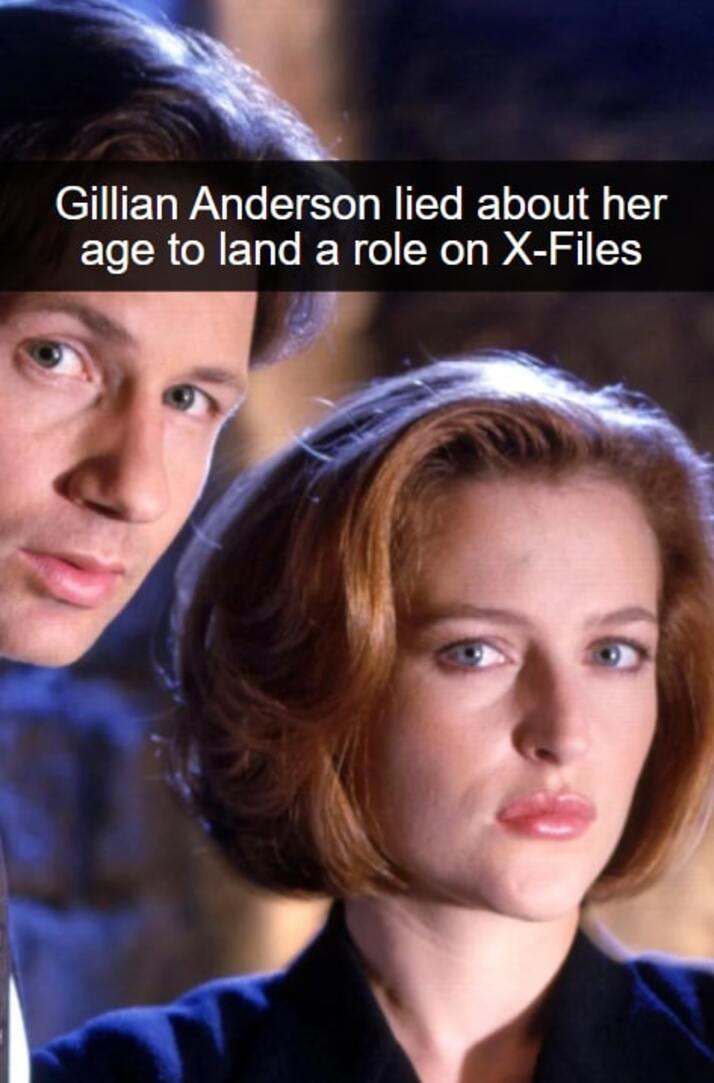 Gillian Anderson not only brought Agent Scully to life, but she also showed us that bending the truth can lead to great things. Though her acting talents are undeniable, she had to tell a fib or two while auditioning for The X-Files. Who cares if she was a bit young to be an FBI agent? The show had us all captivated with its spooky mysteries and eerie crop circles. 
That Mom On 'That '70s Show'
That '70s Show's cast was a unique bunch. From the charmingly awkward Eric to the rebellious bad boy Hyde, there was never a dull moment. But, amidst all the craziness, we couldn't help but be drawn to Midge, Donna's mom. She may not have stuck around until the end of the series, but she certainly left a lasting impression.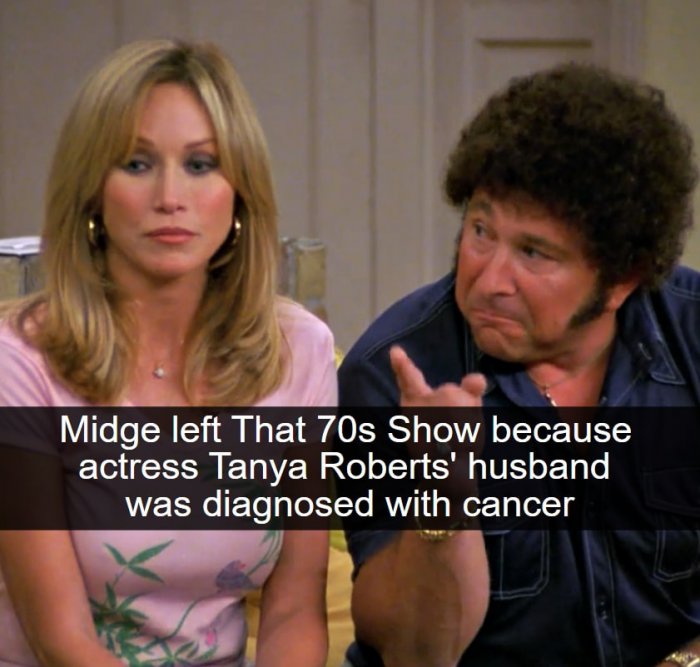 Midge's slightly off-kilter personality was endearing. Though fans couldn't get enough of her, she disappeared as the show progressed because the actress who played her, Tanya Roberts, had to leave so she could care for her sick husband. Evidently, love was more important than her role on the show.
Buffy, The Vampire Slayer And Cheerleader
Joss Whedon didn't want to simply follow the traditional horror and action formula of the '90s. He wanted to completely reinvent it with the creation of Buffy The Vampire Slayer. He took a poorly received movie and transformed it into a TV show that captivated audiences.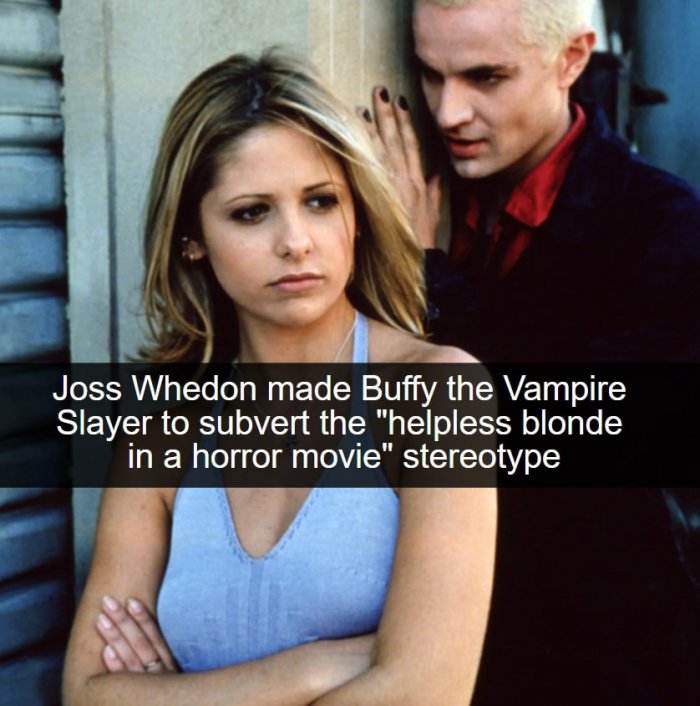 He also took the helpless blonde cheerleader character seen in horror movies and turned it on its head. In his world, the blonde cheerleader is the one who kicks some serious vampire butt! Not only does she survive until the end, but she also saves the day, as cheerleaders should.
The Ad-libs On 'Everybody Loves Raymond'
Step into the world of Everybody Loves Raymond, where love, family, and lots of complaints all blend into one chaotic yet heartwarming sitcom. Ray, a hapless dad, finds himself in the nightmare situation of having his parents living across the street. To lighten the mood, he showers his wife, Deborah, with sweet nicknames.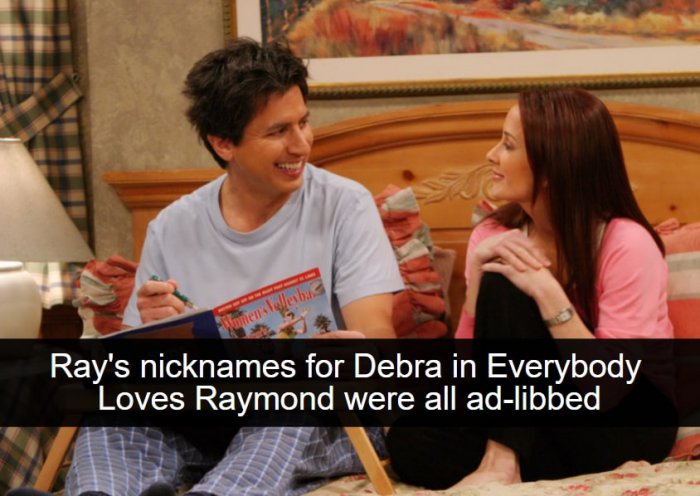 Did you know Romano actually ad-libbed these nicknames himself? The talented actor and comedian came up with them on the spot, adding his own personal touch to the show's already hilarious script.
Peggy's Wig On Married…With Children
When it comes to Married… with Children fans, there are two types–those who love Al and those who adore Peggy. There's just something about Peggy's larger-than-life country hair and killer kitten heels that captured everyone's hearts. Not many know that the actress who played Peggy, Katey Sagal, actually came up with her signature look.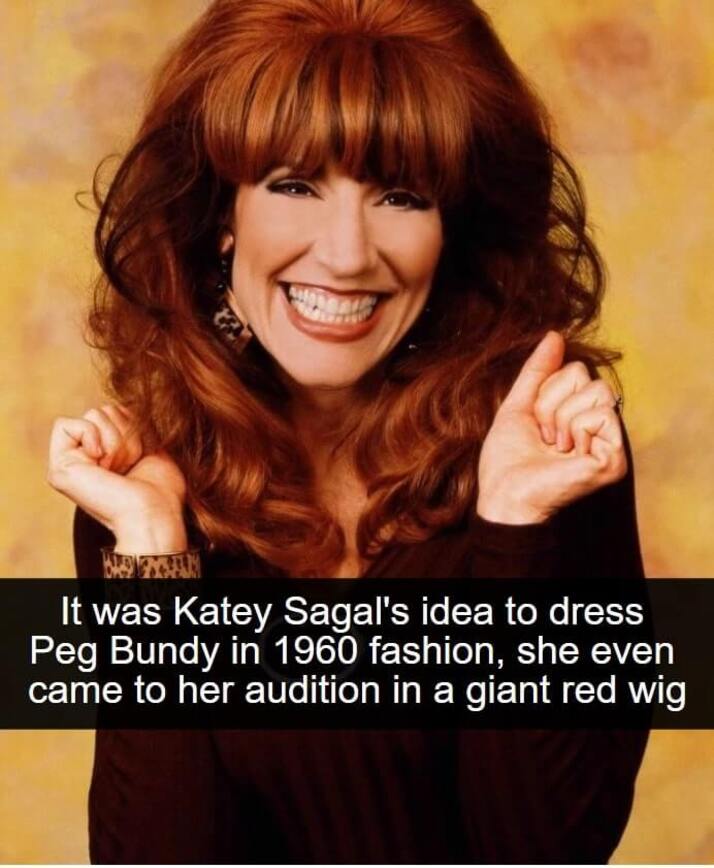 Sagal brought her flair to the role, including the infamous bouffant hairdo. Who can forget the waistline that made Al Bundy weak in the knees? It just goes to show that sometimes the best characters are the ones that come straight from the actor's style.
The Book Of Shadows Was Real
Charmed was a show that put sisterhood and supernatural forces in the spotlight. From their epic battles against demons to their struggles and relationships, the show was a thrilling mix of drama and magic. But, what captured our imagination was the Book of Shadows–a powerful grimoire that the sisters used to channel their abilities and defeat evil.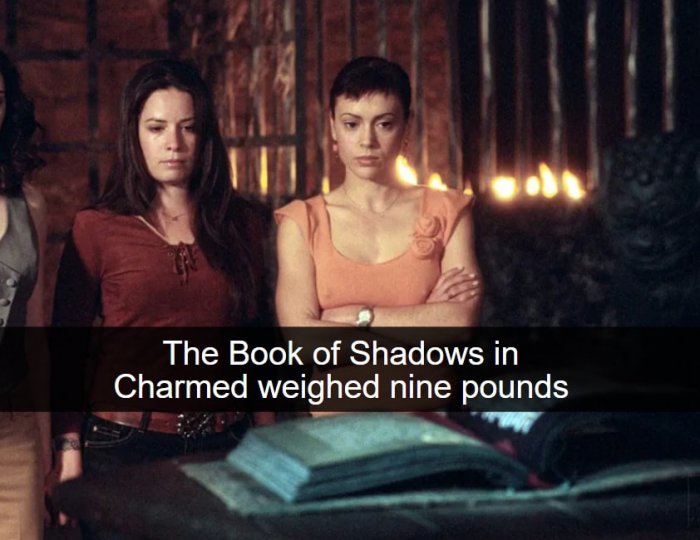 The Book of Shadows was not just a prop made of plastic but a real book. The pages that the sisters flipped through to hone their witchy powers were filled with real hand-painted designs. But, be warned, this wasn't a lightweight paperback. This hefty paperback weighed almost ten pounds, equivalent to five kilograms.
The Fresh Prince of Bel-Air's Butler
Geoffrey, the butler, was the unsung hero of the Fresh Prince of Bel-Air. His sarcasm was as sharp as his service. But, for all his screen time, we never really got to know much about him. Where did he come from, and what were his hopes and dreams?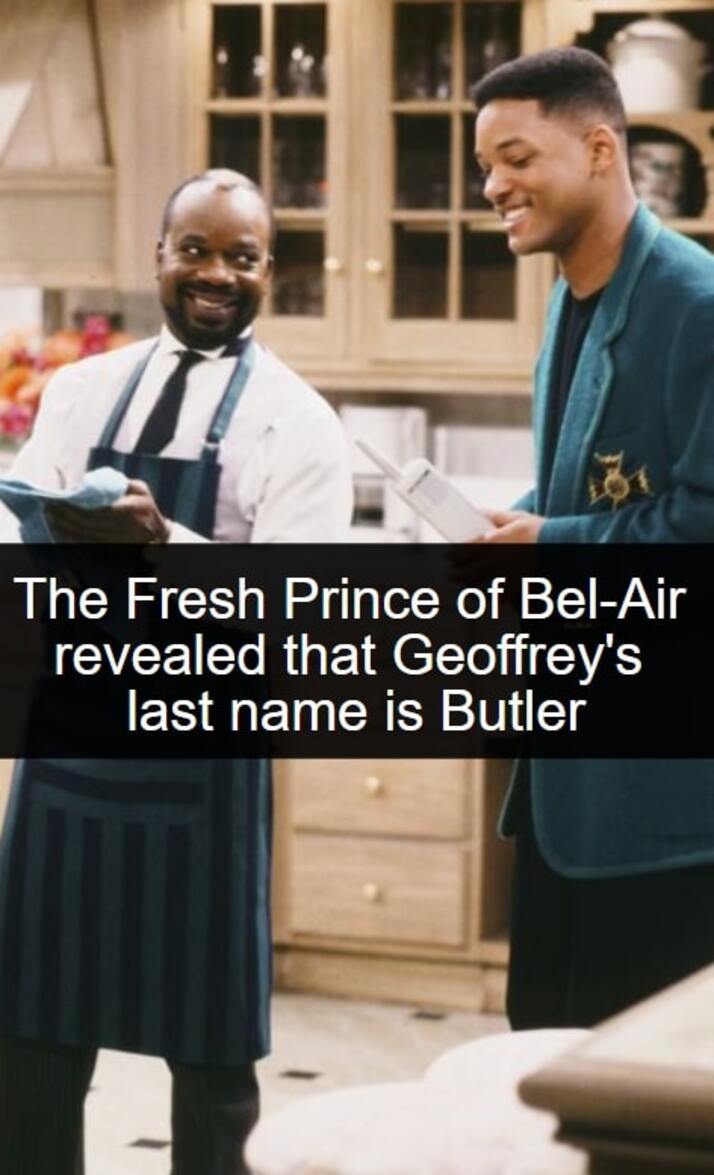 Geoffrey, the butler, was a man of mystery. But someone should at least know his last name. As it turns out, his surname is as straightforward as his profession. As you may have guessed, his last name is none other than Butler.
ER Means Expensive Room?
ER, the medical drama that captured the hearts of viewers in the '90s, was a force to be reckoned with long before Grey's Anatomy swept the nation. While Grey's Anatomy has its brand of charm, it simply can't hold a candle to the suave and debonair George Clooney, who made ER his very own.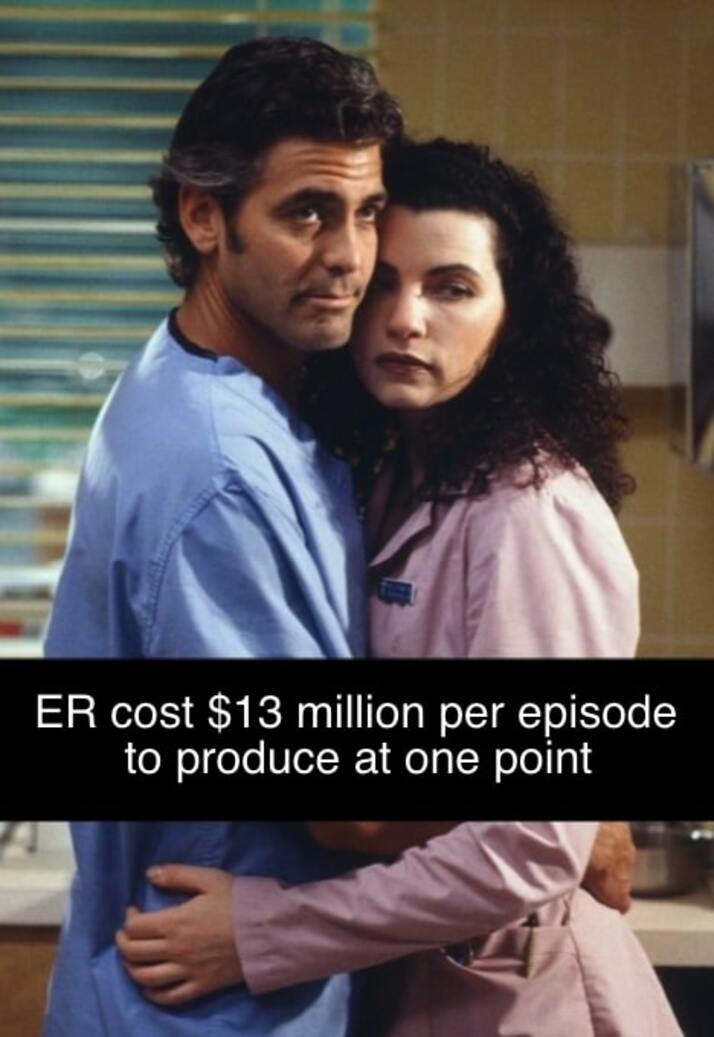 The show's production costs were comparable to producing a blockbuster movie each week. Its budget was a whopping $15 million per episode, and we can only imagine how much the cast and crew were making. But, if you want George Clooney and a team of talented writers and producers on your team, you have no choice but to pay top dollar.
The Music Teacher On 'King Of The Hill'
John Ritter will forever be a beloved American treasure. His presence on Three's Company made us appreciate our landlords. But, not many know that he was also a brilliant music teacher. Only a rare few who paid attention to King Of The Hill were aware of his side gig. This brilliant show introduced us to Texan propane salesman Hank Hill and his wife, Peggy.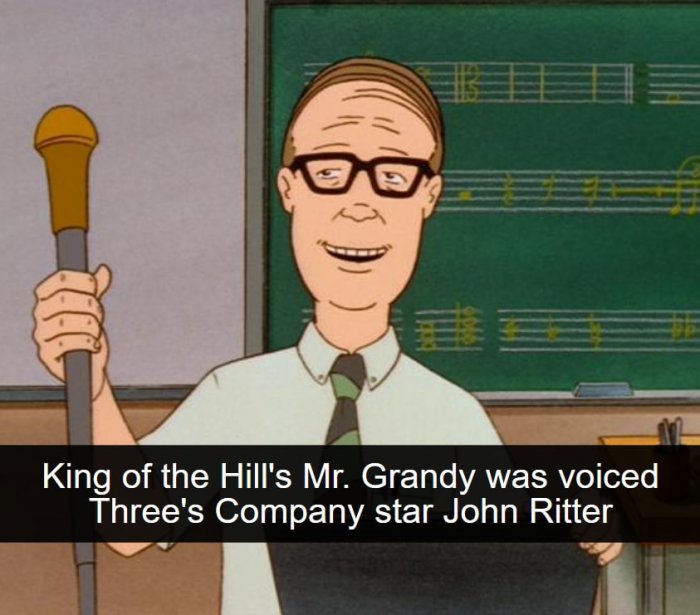 Thanks to this animated series, we got to experience how life would be if public schools still offered music classes. Plus, the show's resident music teacher, Mr. Grandy, was voiced by none other than Ritter himself.
The Realness Of 'Law & Order: SVU'
There is a reason why Law & Order is still on the air after many years. One of its most successful spin-offs is Special Victims Unit. The show's premise focuses on crimes with explicit themes. As a result, actors need to deal with very sensitive issues and subjects. Plus, the stories are mostly inspired by events that actually occurred.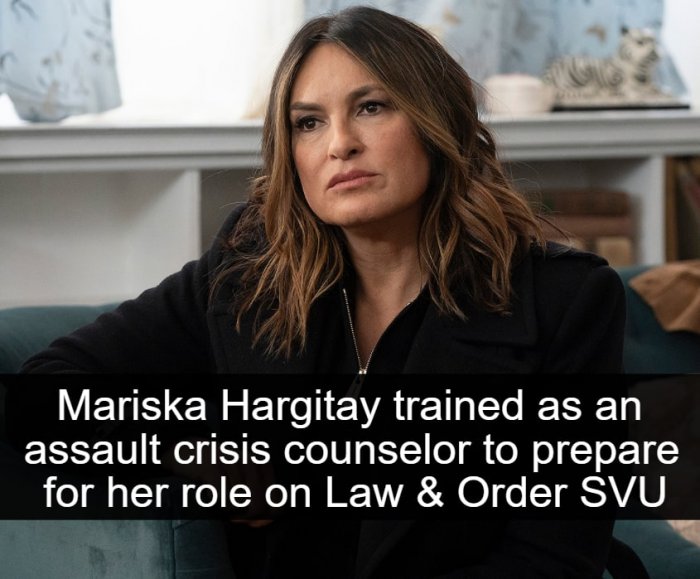 To help get the actors into the proper mindset, lead actor Mariska Hargitay decided to become a trained sexual assault crisis counselor. It was not an easy task, but she wanted to genuinely assist survivors, especially those who were victims of terrible crimes.
'Home Improvement' Had An Actual Audience 
Home Improvement was meta even before Zuckerberg made everything he touched meta. It not only showcased an average suburban family but it presented how a television show is made. Tim Allen was also a host on Home Improvement's DIY show-within-a-show called Tool Time.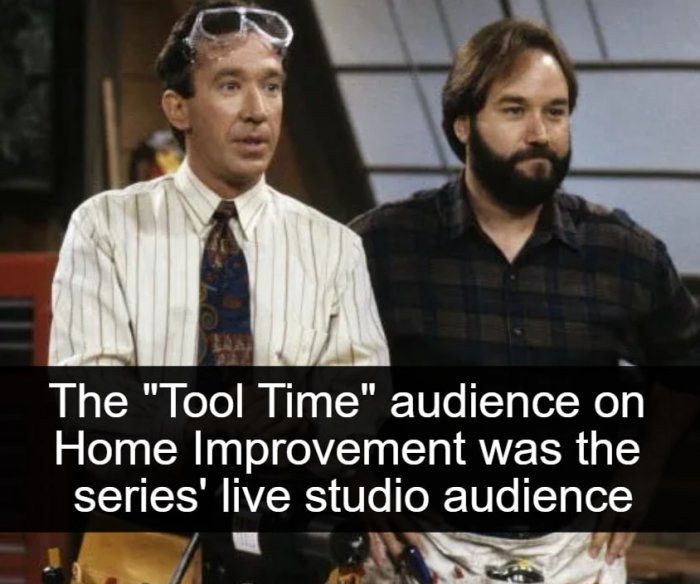 The program featured fix-its, numerous segments, and a live studio audience. Essentially, viewers got to watch two shows as they were able to see the sitcom as it was taped. Plus, they similarly became part of the audience for Tool Time. 
Saved From An Addiction?
Though Saved By The Bell was an entertaining show for teens, it did set up a lot of kids to have unrealistic expectations of how high school appeared to be. Some of the show's shenanigans were too odd for average teenagers. Also, a few of its storylines seemed too dramatically out of place. One example was Jessie's disturbing addiction to caffeine pills.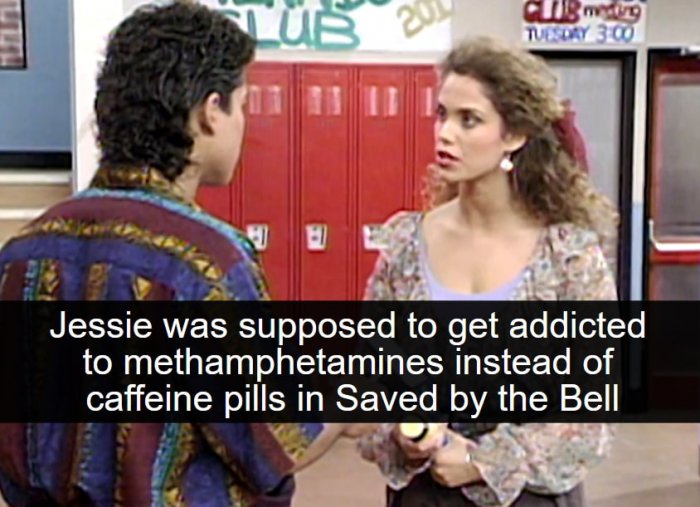 We are not privy to how such pills are processed by the body, but we are certain it does not cause anyone to sing and sob at the same time spontaneously. The story may be quite strange, but it was actually less dark than what the writers originally wanted. Apparently, the first version of the script called for an addiction to a more lethal substance that the production was naturally uncomfortable portraying. 
Full House, Full Hands
Full House was a staple of '90s television. Though Bob Saget and John Stamos quickly became a beloved surrogate family to millions of viewers, the show's real stars were Mary-Kate and Ashley Olsen. These twins were so endearing it was impossible not to fall in love with them.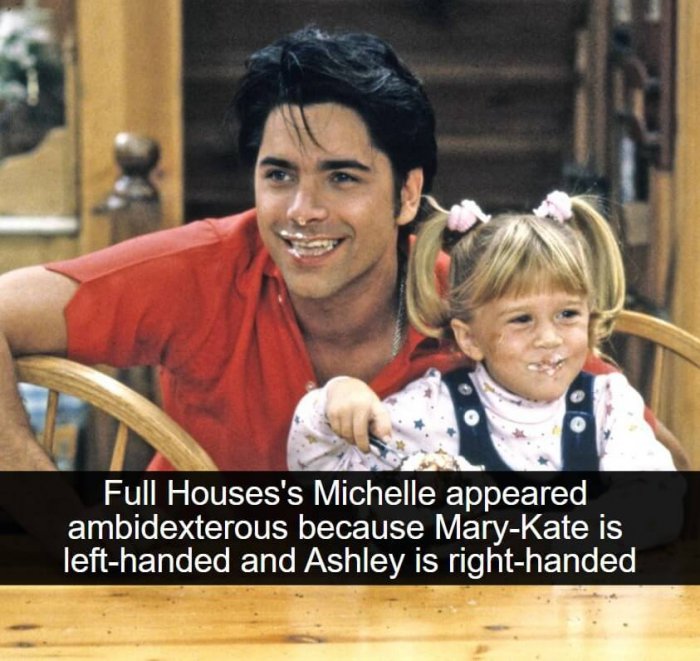 While Mary-Kate and Ashley Olsen were indistinguishable to most of us, they had a unique difference that most people didn't know. While they were identical in appearance, they had different dominant hands for writing. Mary-Kate was right-handed, while Ashley was left-handed.
The Golden Girls' Fake Southern Accent
The Golden Girls was like a ray of sunshine that showed us the beauty of aging gracefully with a group of witty and hilarious roommates. Blanche, the Southern belle of the bunch, was always the one cracking jokes and stirring up trouble. But, did you know that her sweet accent wasn't all it seemed?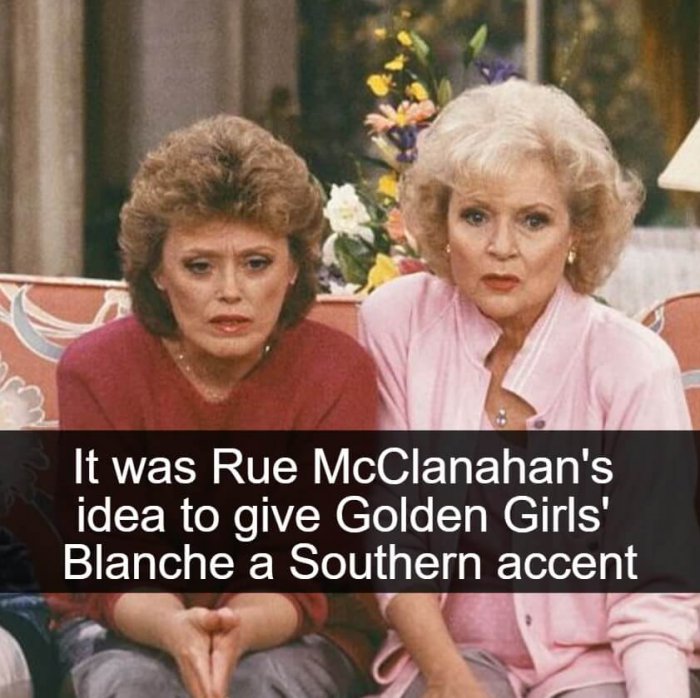 Rue McClanahan, the talented actress behind the character, actually faked her Southern drawl. But, don't worry–it wasn't a case of fraud. She did it on purpose to give Blanche that extra layer of sophistication and humor. Don't y'all think it worked like a charm?
The Unraveling Of 'Twin Peaks'
Twin Peaks was a genre-bending masterpiece that left a lasting impression on viewers. It was a heady blend of mystery, true crime, horror, and sci-fi. The show has amassed a cult following that's as rabid as the town's owls. One of its biggest mysteries was the identity of the murderer.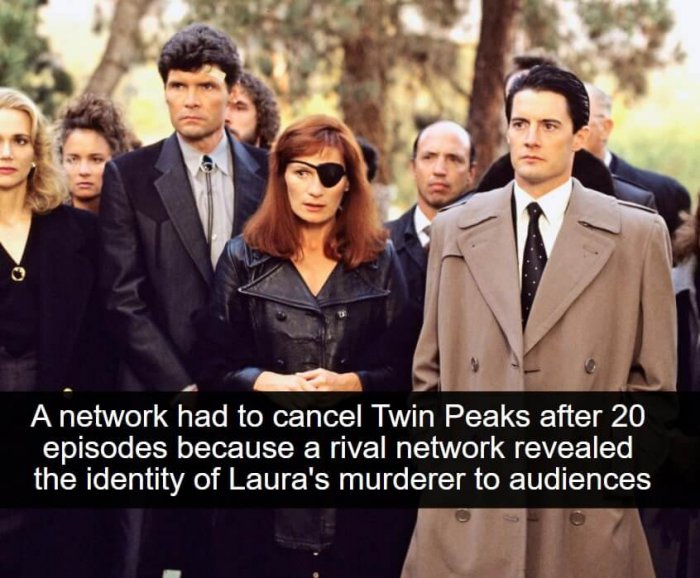 It was a mystery so shrouded in secrecy that it made CIA files look like children's books. The big reveal was so top secret even the broadcasting companies played their cards close to their chest. The information was so guarded it was used as a weapon against rival companies in the cutthroat world of television ratings. 
Everybody Should Love Their Neighbor
Owning your dream home is a significant milestone that deserves to be celebrated. It's not just about the property but also the neighborhood that you'll be calling home. It's important to consider the people around you and whether they'll be a good fit for your lifestyle.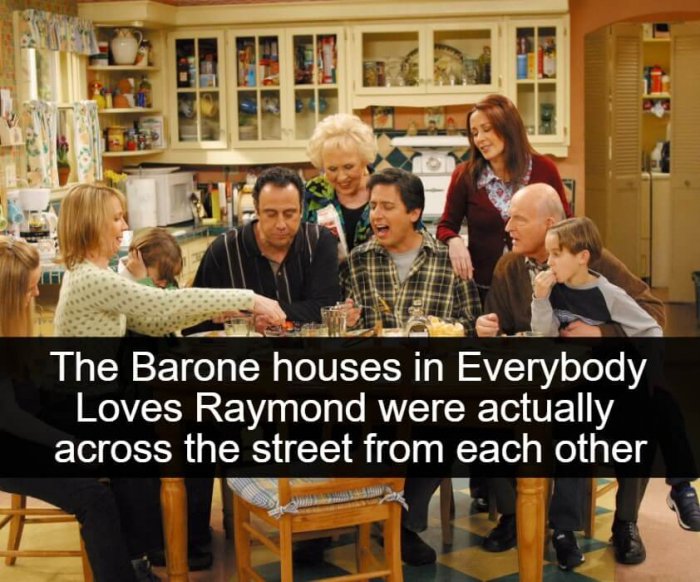 But, what happens when your dream home is just a stone's throw away from your parent's house? That was the predicament that Ray Barone faced in the hit sitcom Everybody Loves Raymond. A fun fact is that the two houses used in exterior shots are actually located across the street from each other in real life. Maybe it was meant to symbolize the idea that you can't escape family no matter how hard you try.
That '70s Food
Remember the good old days when hanging out with your buddies down the street was the highlight of your week? The times spent bonding with your friends over games, movies, and the occasional junk food binge are priceless.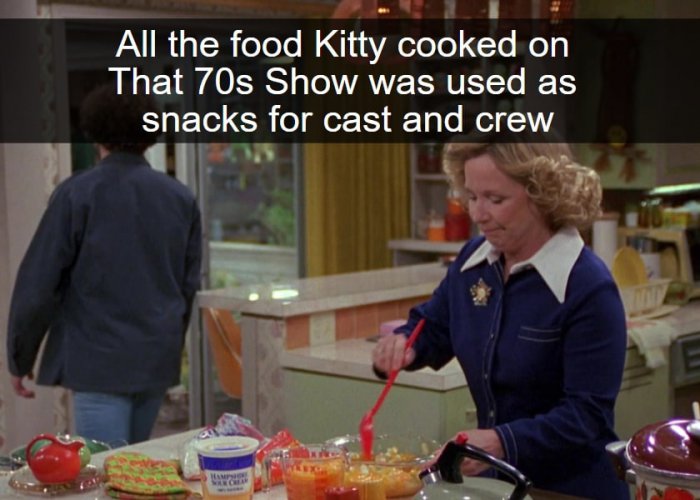 Fans of That '70s Show have noticed how the snacks featured on the sitcom looked downright delicious. The reason behind this scrumptious detail is none other than Eric's mom. She was busy cooking up a storm on set. Yes, the food was actually cooked and served to the cast and crew between scenes.