Funny Social Media Posts About The TV Series 'Friends' Will Make You Laugh So Hard
Time For a Friends Binge?
Assuming you're not living under a rock, you've probably heard of Friends, the beloved '90s sitcom widely considered one of the best TV shows ever. Although not everyone can afford a spacious New York City apartment for hangouts, the characters' shenanigans were entirely relatable to audiences.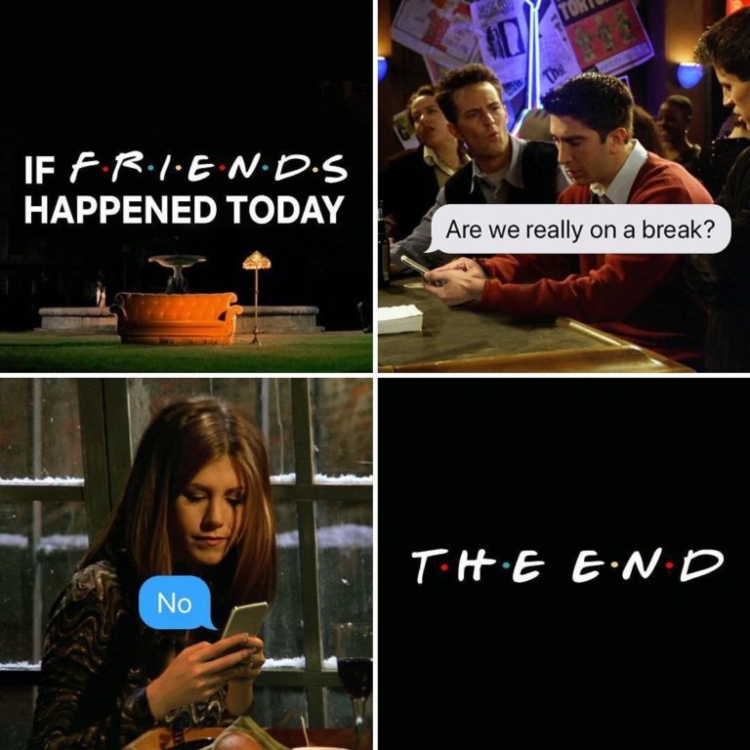 Check out the internet's funniest memes and posts spurred by fans' enduring love for Friends.
It Could Have Been an Iconic Brand Slogan
Having a spectacular product isn't enough to guarantee marketing success. It would help if you also could relate it to your audience. Having a few celebrities advertise your goods on video is also a simple yet effective tactic.
We can't believe Kit Kat didn't come up with this idea themselves. The candy was created with the notorious Rachel and Ross snooze in mind. The candy manufacturer would have made a fortune if this ad had run back then!
They Let a Fantastic Opportunity Go by
Die-hard fans of Friends know that Chandler and Joey's favorite movie of all time is Die Hard. So, when its lead star, Bruce Willis, guested on the show, many expected the duo to make a reference to the film. Yet, the writers did not touch on the subject for unknown reasons.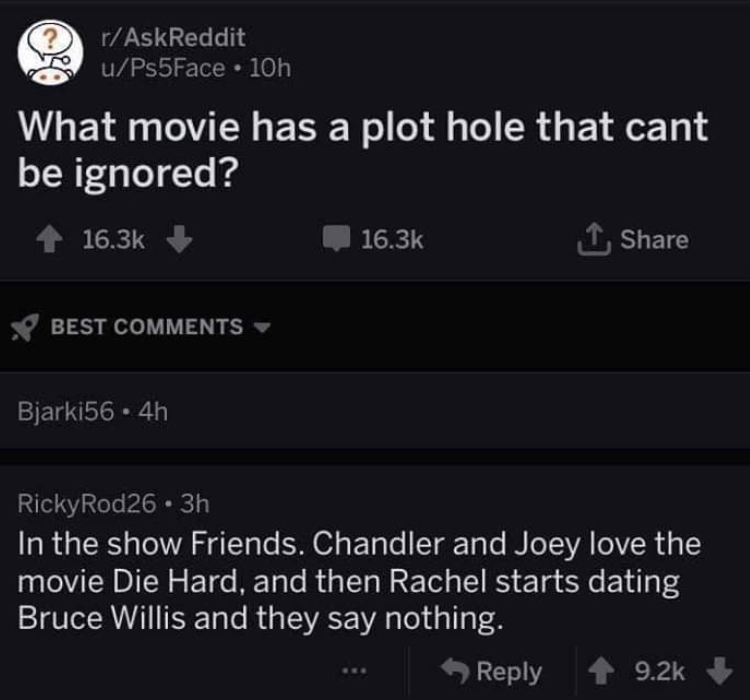 To add insult to injury, Paul Stevens became a recurring character. They had so many chances! The only logical explanation is that in the Friends-verse, Willis was not the star of Die Hard.
Netflix Hit the Mark with the Subtitle
You are obviously not a true Friends fan if you can pronounce these three words together without your voice taking on a nasally and overly dramatic intonation—"Oh, my, God!" Aside from the core six crew, Janice is one of the most enduring characters to emerge from the show.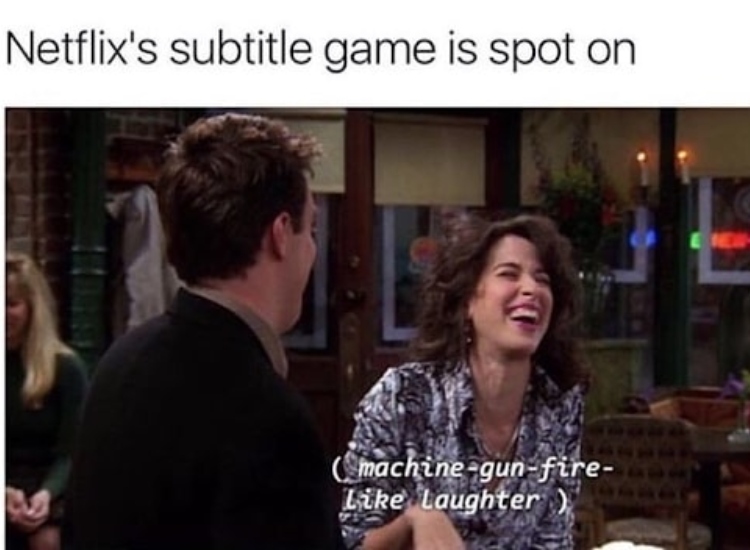 Along with her excessive obsession with Chandler, her entrance and laugh are among her most distinguishing characteristics. Netflix was on point when they described Janice's laugh as a 'machine-gun type of giggle.'
"Smell the Fart" Technique Conquers Hollywood
It's possible you won't find it to your liking. You may disagree with it. Yet, Joey's approach to acting, known as the "Smell the Fart" technique, is much praised. All you have to do is make an expression like you smell something horrible and gaze off to the side.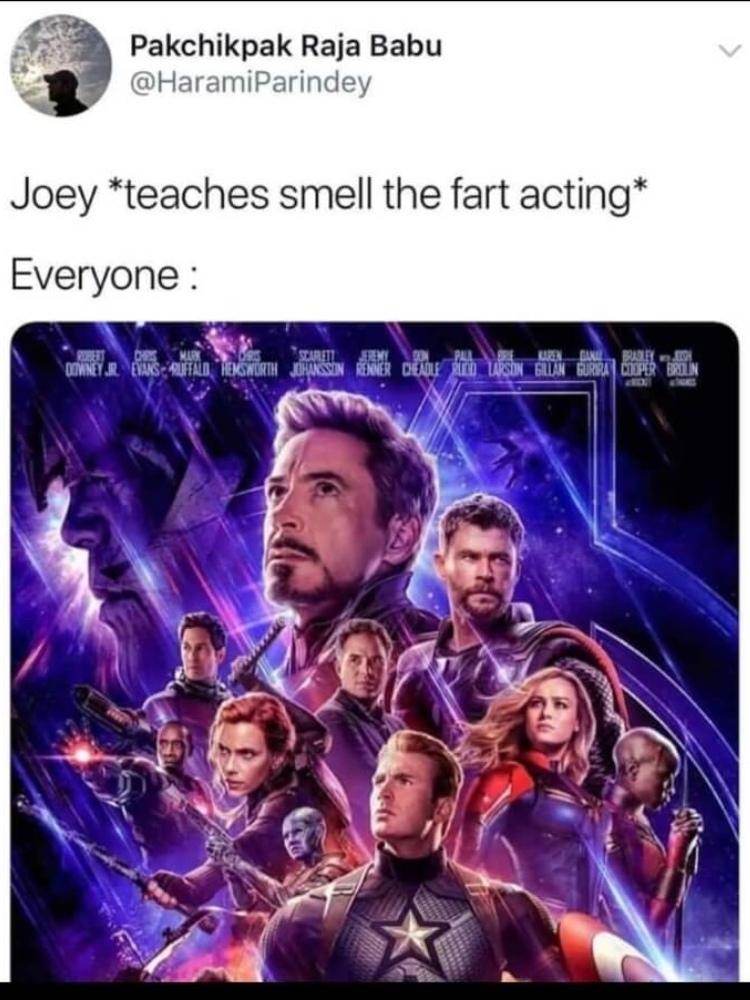 The cast of The Avengers obviously gets it, so they applied it during the pictorial for the movie's marketing posters. We can hear Joey saying, "my work here is done."
2020 Seemed Like a Trifle
Despite what others may say, we thought Rachel's dessert had potential. All you need to do is imagine the taste of a bacon chocolate chip cookie, and you wouldn't be so disgusted. It is a matter of personal preference; therefore, it won't appeal to everyone.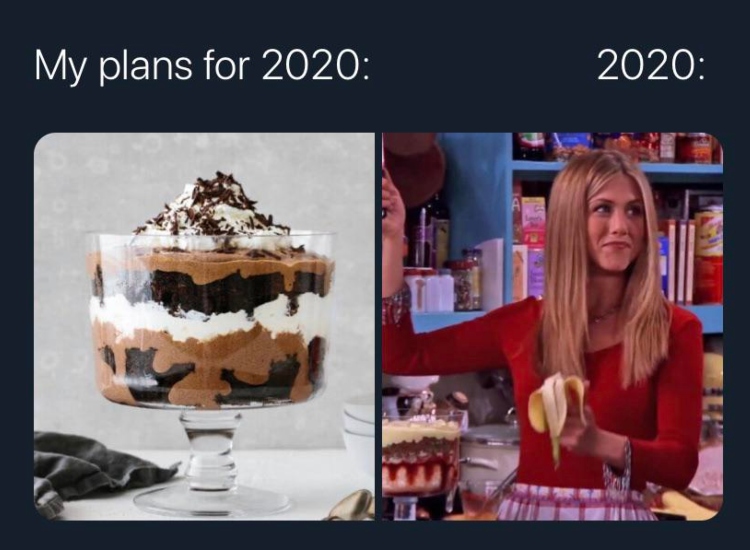 Still, for many, the dessert was a complete fail. All of us agree that the year 2020 was a hot mess that had the potential to be scrumptious but was instead quite icky; hence this reference was spot on.
They Were Clueless About Boundaries
One of the top qualities we look for when selecting our friends is someone who listens. Even so, for relationships to thrive, there must be clearly marked boundaries and some level of privacy that those involved can enjoy.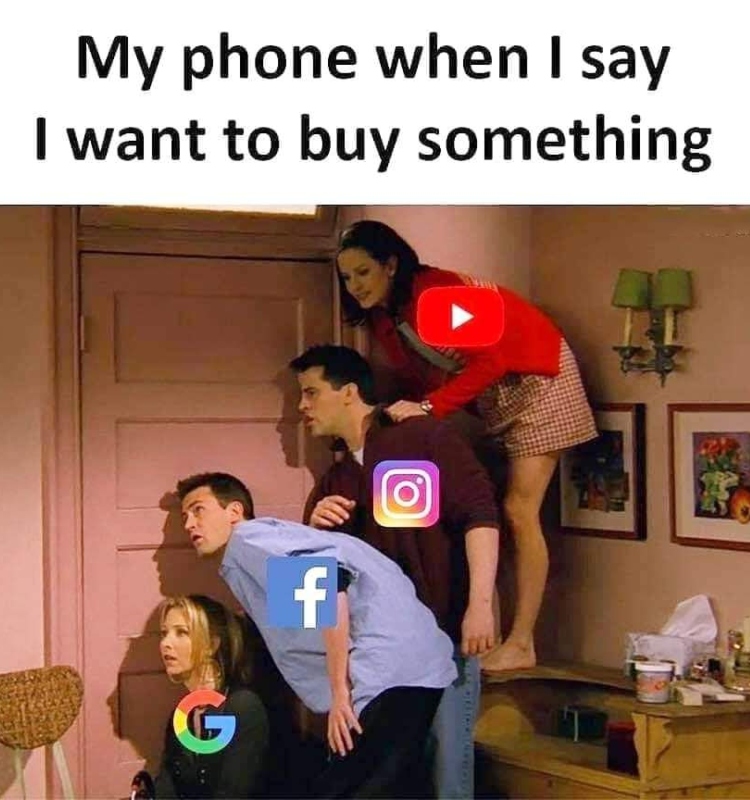 So if you're one of those whose buddies constantly violate your boundaries like the Friends cast always did, then it's time to walk away. Then again, aren't we all constantly betrayed by our phones that seem to know nothing about privacy?
The Lack of Cellphones Ensured the Show's Longevity
No matter how many comedy series are produced, Friends will always be a fan favorite. Yet many do not know that we got so many incredible seasons of the show and storylines that kept us hooked because the cast didn't enjoy the technological advancements that we do today. If they did, the show probably wouldn't have lasted so long.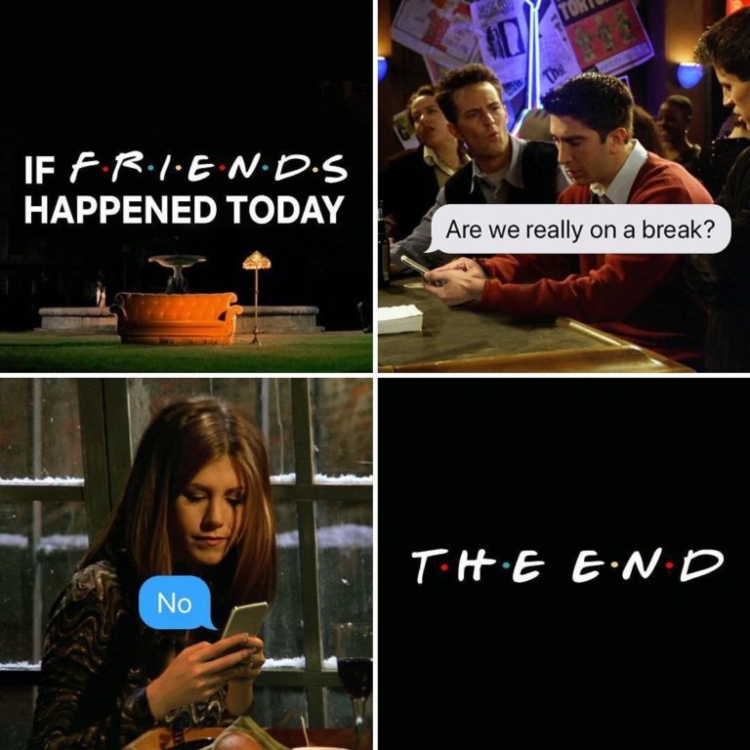 How we wish we could go back in time to the pre-cellphone era! Oh well, if wishes were horses!
Put To Sleep by a Heartfelt Letter
There's no denying that Rachel's love for Ross was genuine. Yet can all agree that writing an 18-page letter to an ex is doing too much?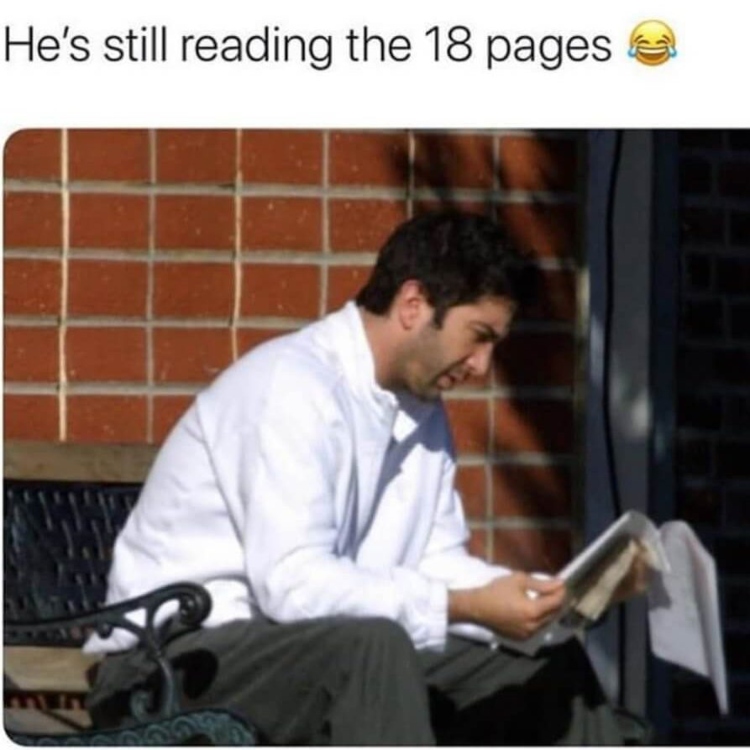 Poor Ross wasn't to blame for falling asleep while reading this mini-novel. As much as we agree that there's a need for closure once a relationship is over, we recommend that former lovers have a face-to-face conversation before going their separate ways.
Trading a Dream Job for a Dream Man
People talk about following one's heart, but very few individuals are bold enough to listen to their inner voice. Kudos to Rachel for reminding us what's possible when we're honest with ourselves!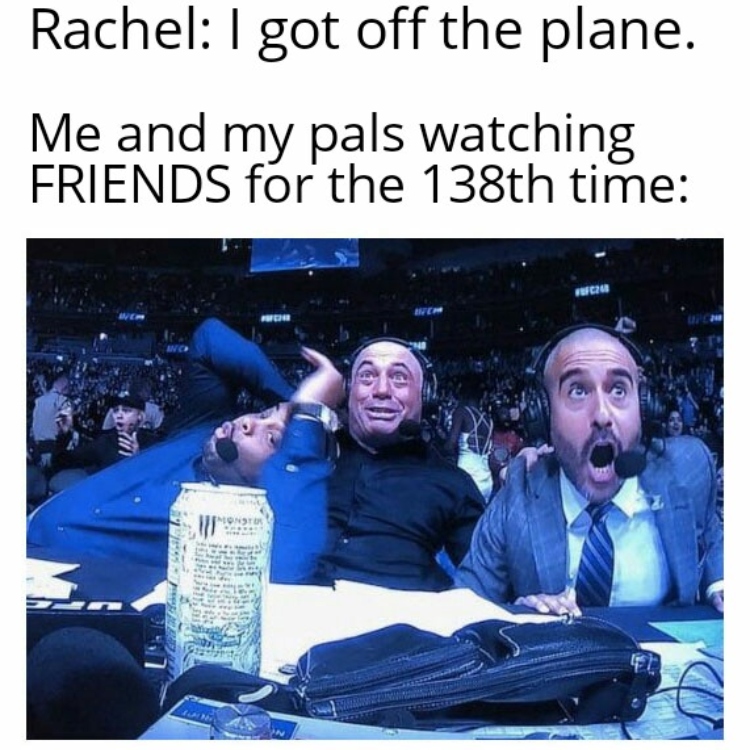 If you still have no idea what we're talking about, the episode of Rachel walking off a plane to go after Ross. No matter how many times we've watched it, we can't help but melt at the scene every single time it's on our screens.
The Gang Is Always There For You
Thank goodness for video streaming services that have now given fans of the show a chance to watch whatever episode they want to, whenever. Whether you'd like to meet the cast again or rewatch an episode you just can't get over, here's your chance.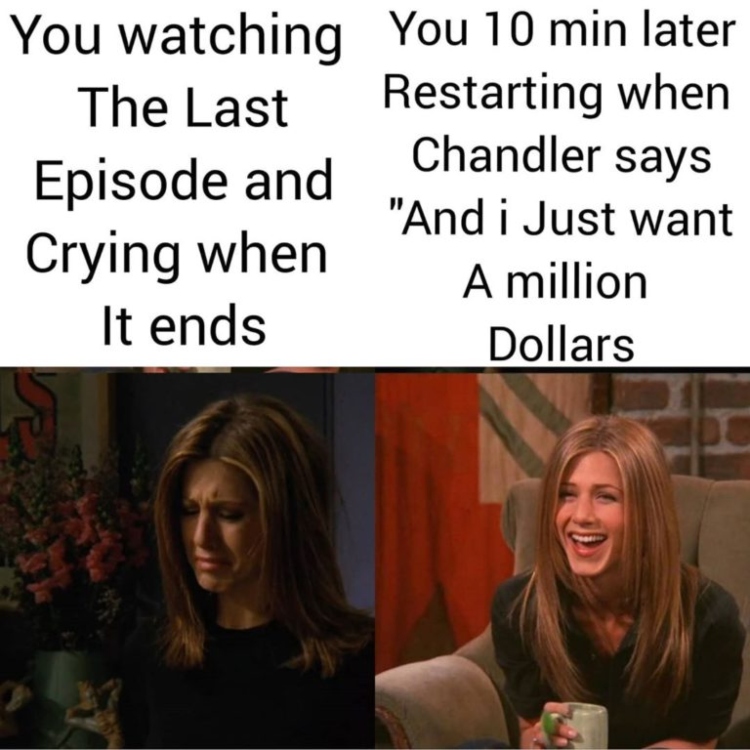 For those who keep hearing Friends fanatics talk about it all day but can't chime in because they never watched a single episode, you're in luck too. So go ahead; start streaming!
When Life Imitates Art
We know that our beloved Joey Tribbiani was always good with the ladies. This was obvious even before he got his breakthrough playing the character of the handsome and flirtatious Dr. Drake Ramoray in Days of Our Lives.
Yet, Joey didn't end up with the woman of his dreams, although he dated many. But at the same time, an entire ward of nurses announced they were pregnant. Would this be where Dr. Ramoray actually worked? Guess we'll never know.
Friends Will Always Netflix and Chill
Joey Tribbiani is a talented yet struggling actor. Even when Chandler offered him cash, he refused until he was tricked into taking it. So, fans wonder if Netflix was around when the show was airing, who would pay for the subscription?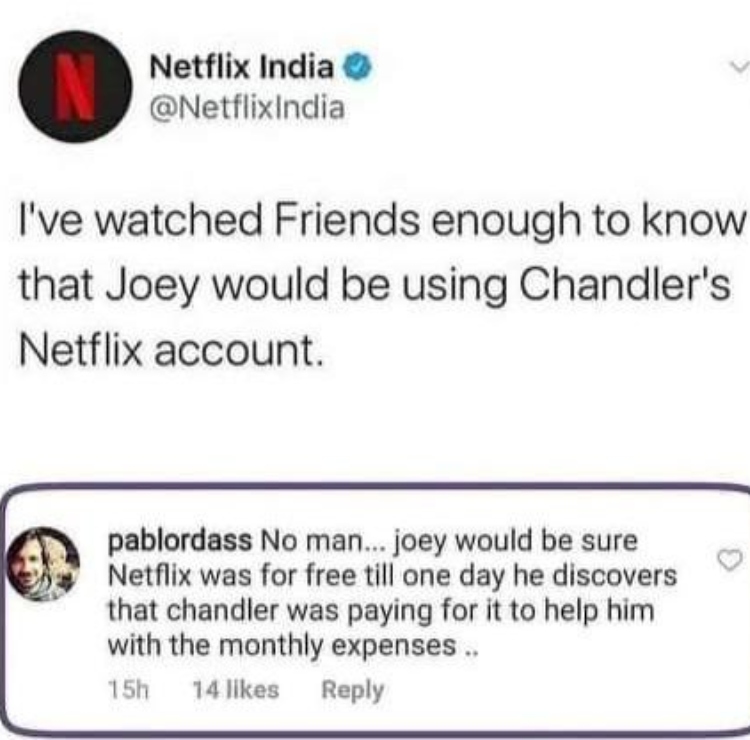 Most people agree that Chandler would trick Joey into believing it's a free streaming service. Even when he moves in with Monica to start a family, he'll set up a profile for Joey on their account.
The Deeply-Rooted Inequality
One of the darkest topics on this show was the inequality Jack and Judy treated their kids with. Ross was always their favorite child, even before he got the Ph.D., while Monica was always criticized or, at best, ignored.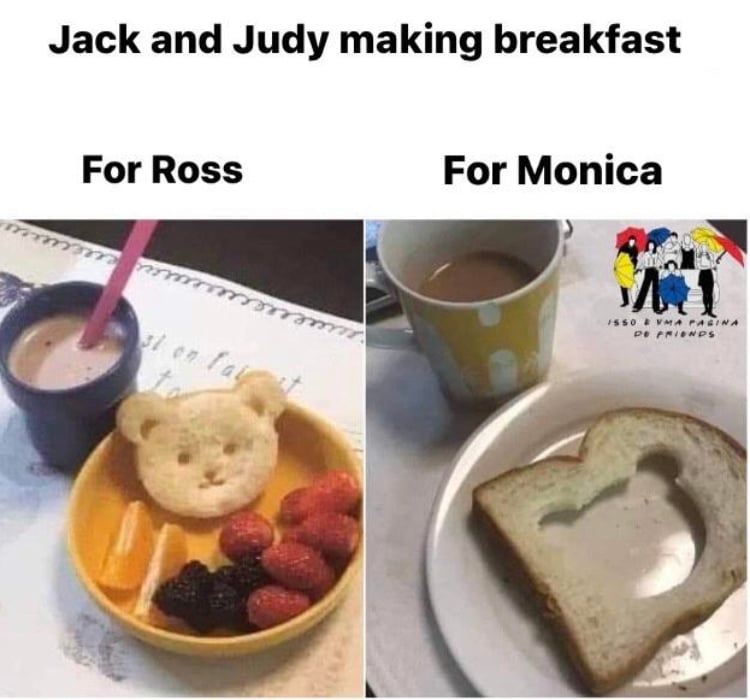 She managed to become a successful chef, found the love of her life, and married a good man, yet her parents never thought she could be better than Ross, who was actually a mess.
The Self-Developed Mean Girl
Although  Rachel manages to mature and take responsibility for her actions, we can tell that she was a classic mean cheerleader in high school. This was probably why Ross and his friend, Pitt, founded the official club for hating Rachel.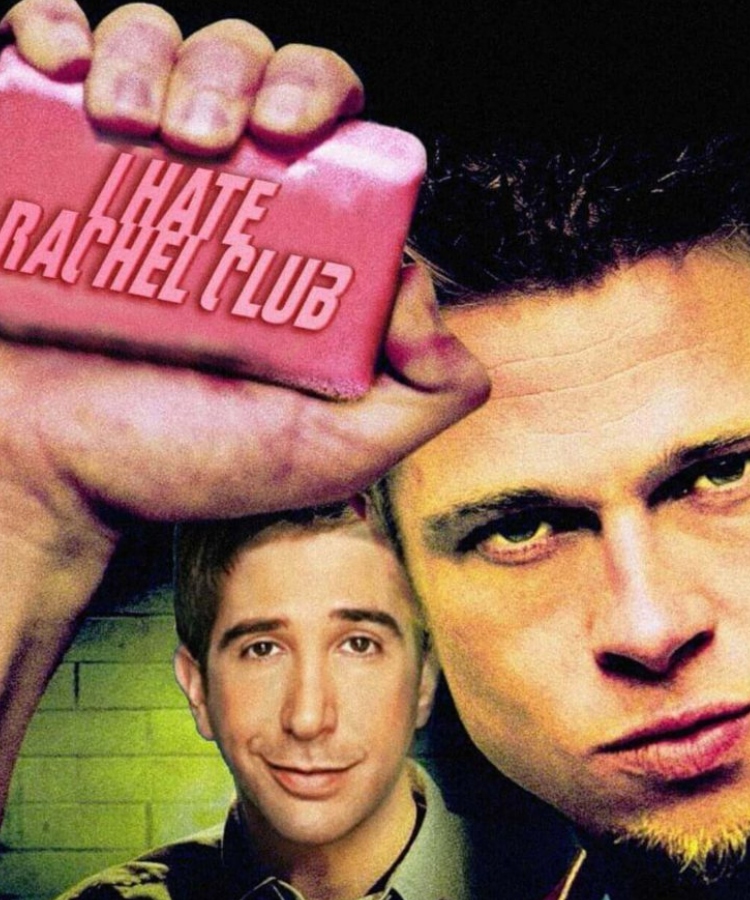 Years passed, but it was apparent that none of them were over her. Pitt couldn't stand being in the same room with her, and Ross was madly in love with her.
The Multi-Talented Actor In His Academy Award Performance
We're totally rooting for Joey's talent, and we think that with a masterpiece like Dune, we could have seen a very outstanding movie. Why not let Joey play every character and see how far his "How you doin'?" can get him in the world of fantasy?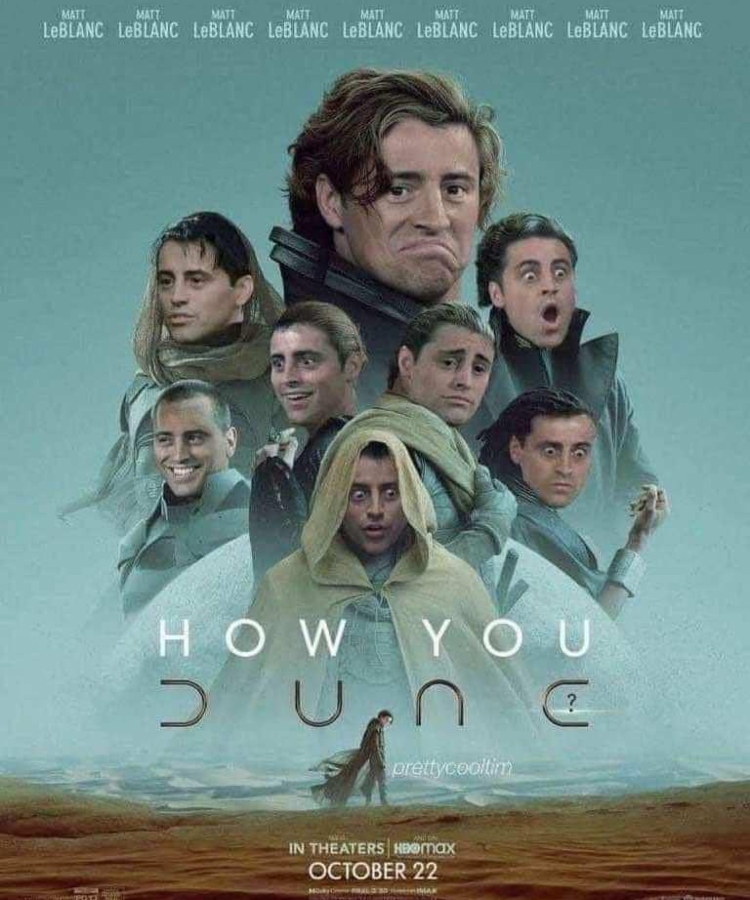 Would he date himself? Fight himself? Or simply get overpowered by a sandstorm? We'd like to watch this movie to see what happens.
The One Where Ross Always Blames Joey
Ross Geller from Friends is known for blaming his friend Joey whenever things go wrong, even when he's at fault. It's a mystery how the show manages to make us sympathize with Ross despite his frequent gaffes.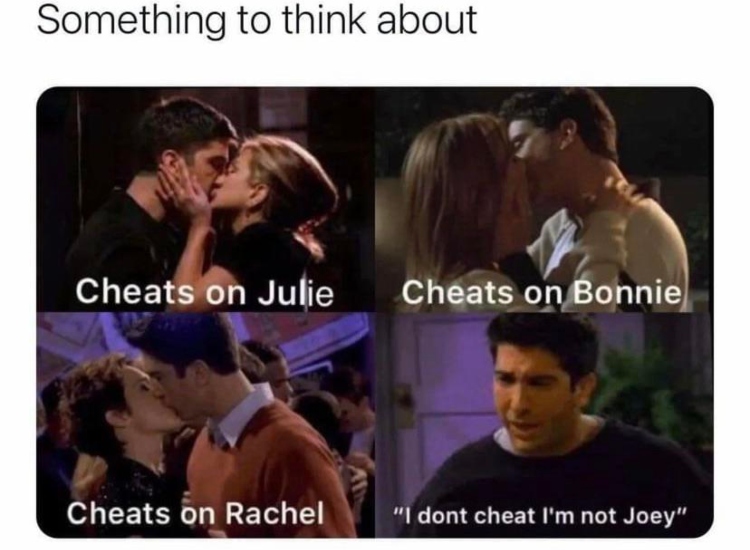 He has a track record of being unfaithful and clueless, but he always finds a way to shift the blame to his friend. Maybe if he took some advice from Joey, Ross could finally get his act together and start making better choices.
Were They Really On A Break?
The 'Were they on a break?' question from the Friends show is an iconic meme that still does rounds today. However, Ross' actions after their alleged break-up have kept fans divided. Was he right to move on, or did he make a terrible mistake?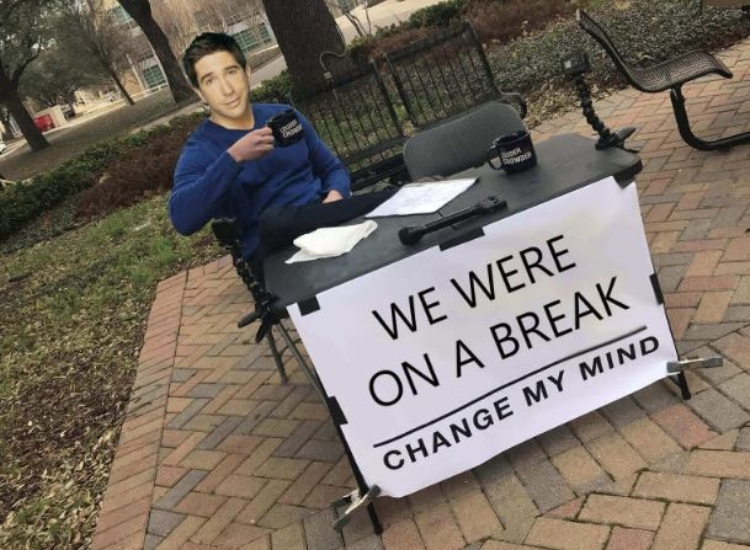 Ross' stubbornness makes it hard to sympathize with him, and his constant need to defend himself only worsens things. Despite everyone's best efforts, Ross couldn't see past his insecurities and ended up paying the price.
The Villain We Can't Help But Root For
In Friends, every character has flaws, but Ross' seems to be on another level. He's constantly playing the villain in his storylines, yet somehow getting sympathy from fans. It's a strange phenomenon, but it makes the show so relatable.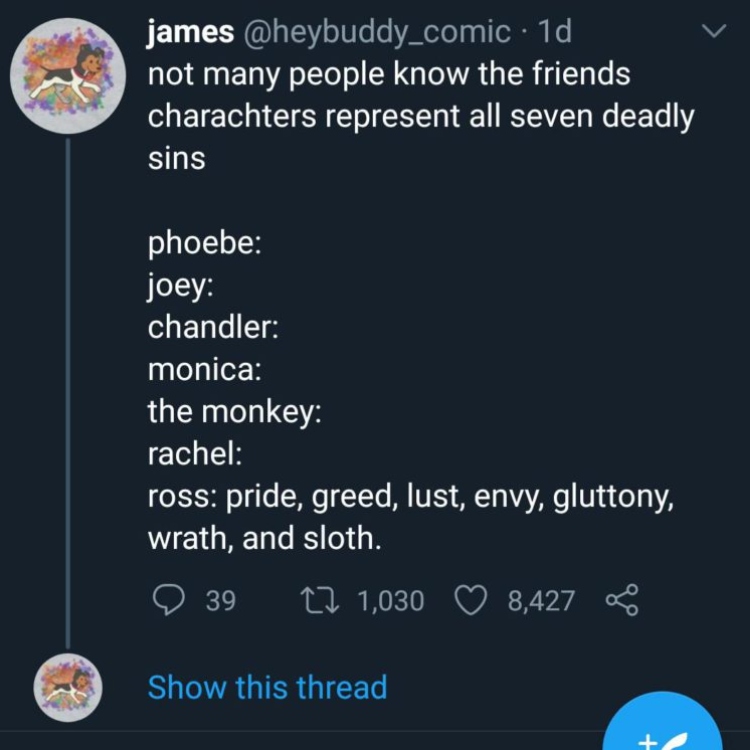 Ross is flawed, just like the rest of us. Who are we kidding? Most of us have been the bad guy in our own stories but decided to shift the blame and make others feel sorry for us instead.
Janice: The Voice We Can't Ignore in Friends
We all know the one character on the show who always seems to burst our eardrums with her ear-piercing voice is Janice. Chandler's on-again, off-again girlfriend thinks that being the loudest in the room is the way to go, but it leaves us all reaching for the volume control.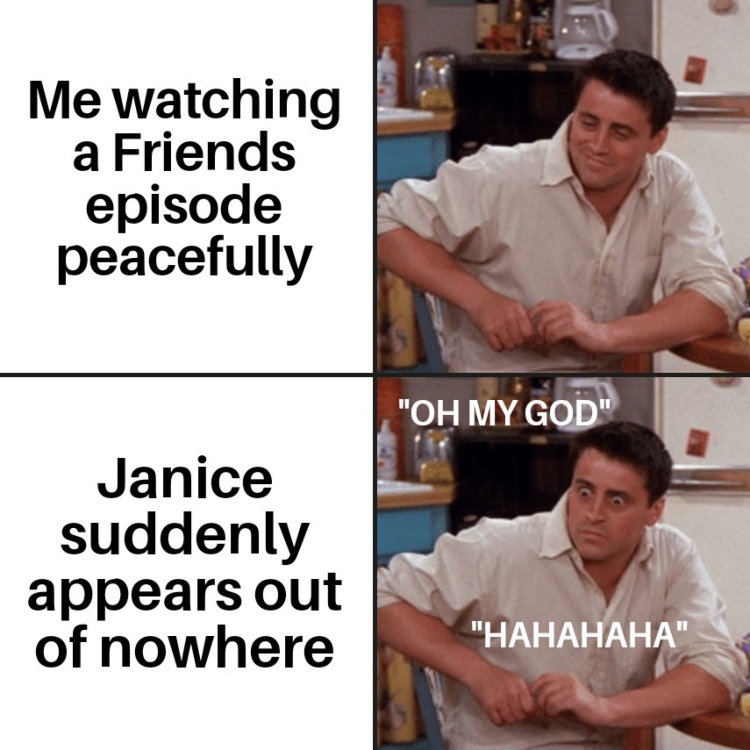 Fans of the sitcom have developed a sixth sense for when Janice is about to appear, and even then, there's nothing we can do to escape her noisy presence.
The Shakespearean Figure on Friends
Chandler Bing, the quintessential sarcastic friend, embodies our collective anxieties. He is haunted by a voice of self-doubt, which causes him to worry endlessly about even the most minor issues, such as moving furniture for his wife, Monica.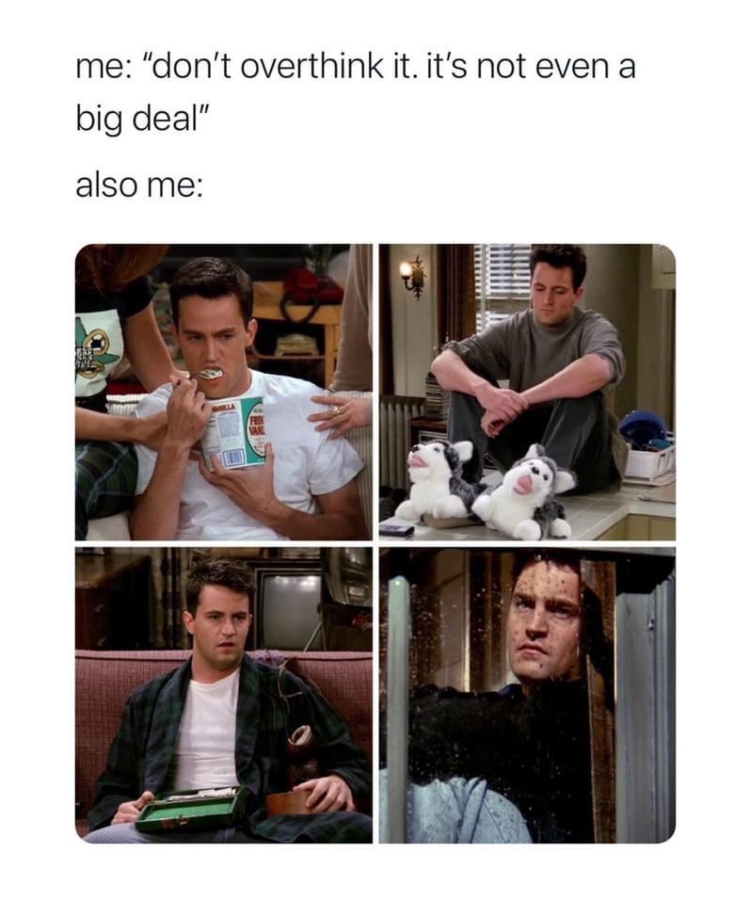 Chandler's overanalysis and tendency to panic are nothing short of theatrical. His intense emotional reactions, especially when he is upset with his best friend Joey, are both sad and relatable, making him a beloved character among fans of the show.
Only Monica Got it Right
We believe out of all the cast members of Friends, Monica was the wisest and knew more about love and life than any of them. So when she was imparting her knowledge on how to please a woman, many got to learn a thing or more, including the ladies themselves.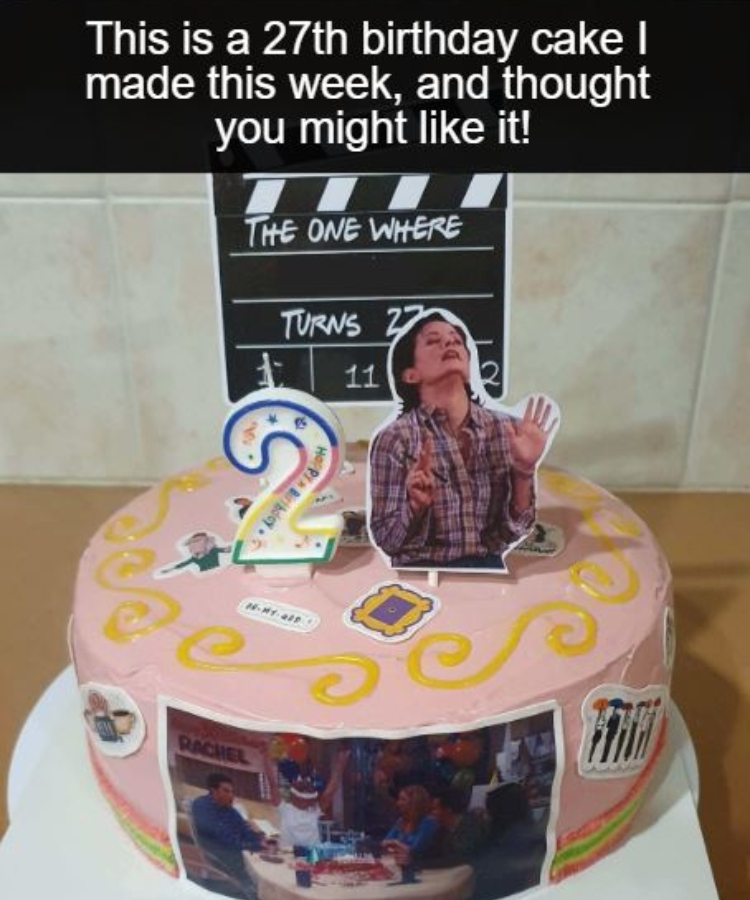 One cannot forget the informative episode where Monica led us to the seven erogenous spots on a woman's body. Who knew seven would prove to be a magical number?
The Bruce Willis That We All Forgot
Bruce Willis is the ultimate action hero on the block and it is hard to imagine him as a vulnerable romantic at heart. Yet if we look back in time we could faintly recall him portraying the love interest of Rachel. It was a first where Bruce was nowhere close to being a tough guy.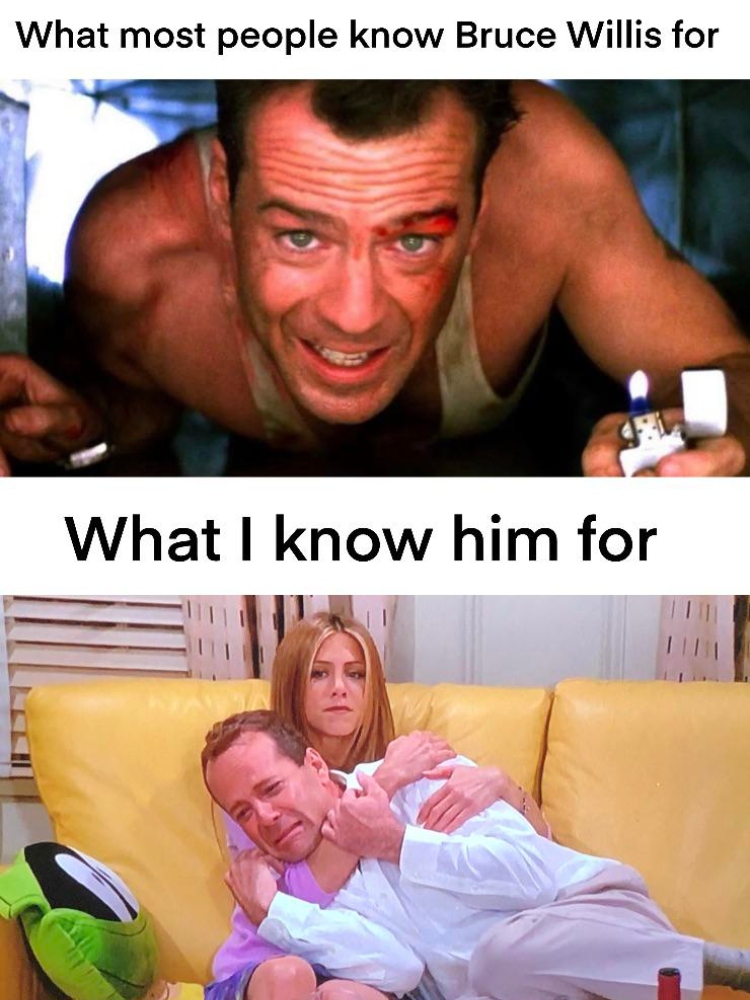 Initially, Rachel may have dated him only to distract herself from Ross but ended up falling for him.
This Breakup Cost Chandler a Lot of Money
Throughout the entire series of Friends, Chandler has committed several blunders which ultimately ended up being a funny memory. Nonetheless, no one thought that one of his goof-ups would burn a hole in his pocket. Chandler thought it would be easier to break up with Janice by lying to her.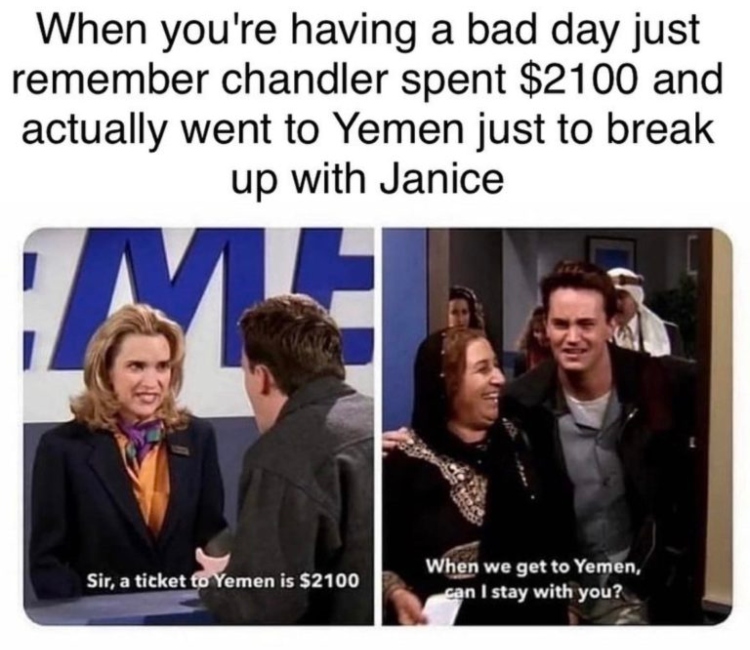 Eventually, his lies resulted in him buying a $2000 ticket and flying to Yemen. Here we thought only divorce ended up being expensive.
Your Very Own Mobile 'Friends' Pack
This meme has aptly described the condition of our parent's phones. Nonetheless, they aren't to be blamed for having the brightness of their screen as sharp as Ross's shiny white teeth or the font size as big as Monica's physique before she shed the extra pounds.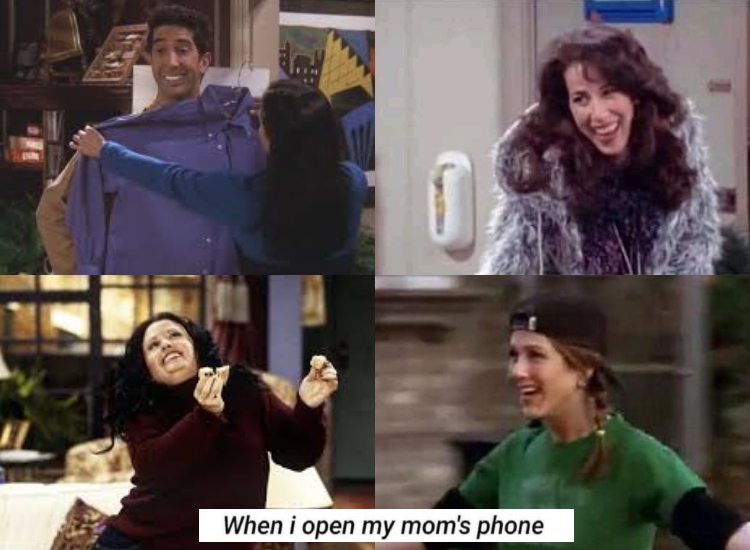 Although some seniors prefer keeping the volume of their phone loud so that if they miss the ring, at least their neighbors could alert them.
We All Need a Joey in Our Lives
Indeed, Joey wasn't the brightest among the group, yet he was a solid wingman. If you ask us, his approach to finding a guy for Phoebe wasn't the best; nevertheless, he did find her a guy named Mike.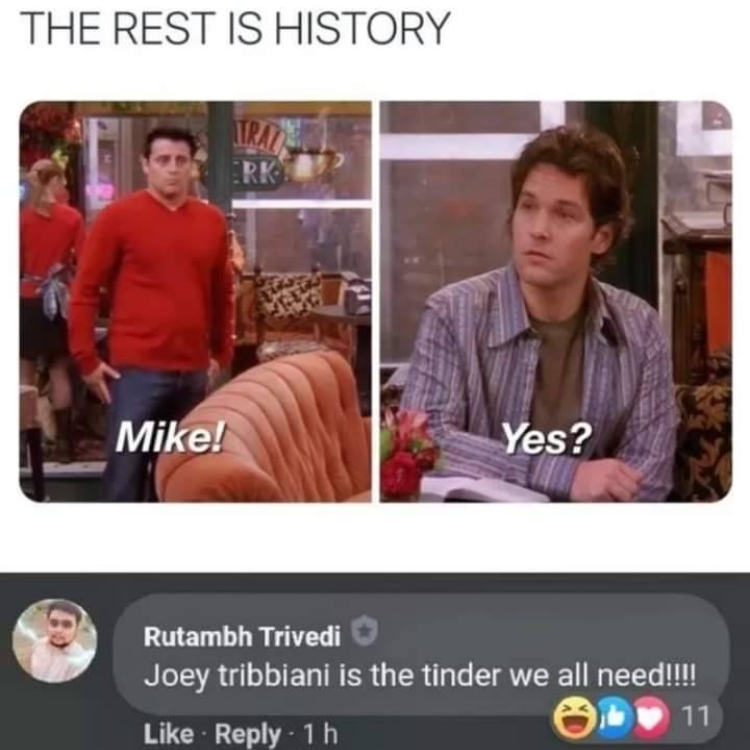 There's no doubt that having such a friend in one's life would make dating a lot easier. This guy feels just the same and managed to say it in quite an imaginative way.
We Finally Have Ichiban!
There's no doubt about the fact that Kylie Jenner's cosmetic line makes waves all around the world with every new release. And why not, since every other item is better than the last one.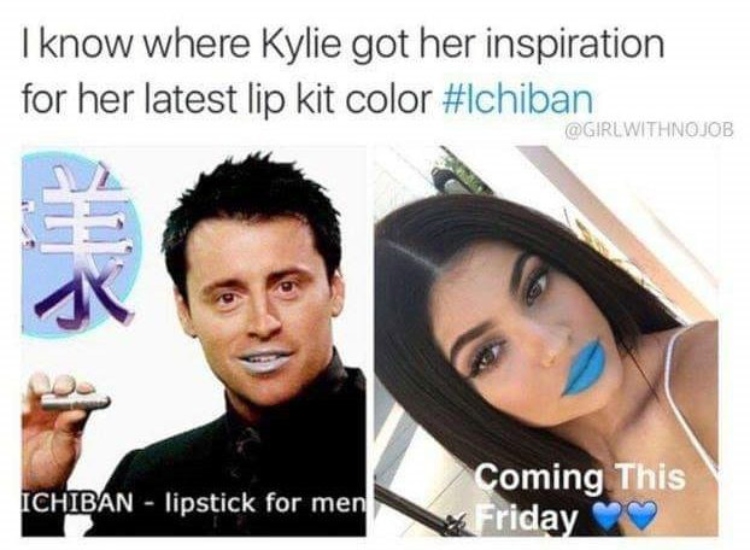 Having said that, as amazing as that lip color looks, the caption stole the show here. If we are honest, it does seem that Joey's Ichiban was the inspiration behind it. If only he were the model on this one as well.
A Dream Come True
As dark as this might feel, this man does have a point. Monic was so pertinent about cleanliness that it was almost annoying. Remember the time when she sneaked into another apartment just to clean it?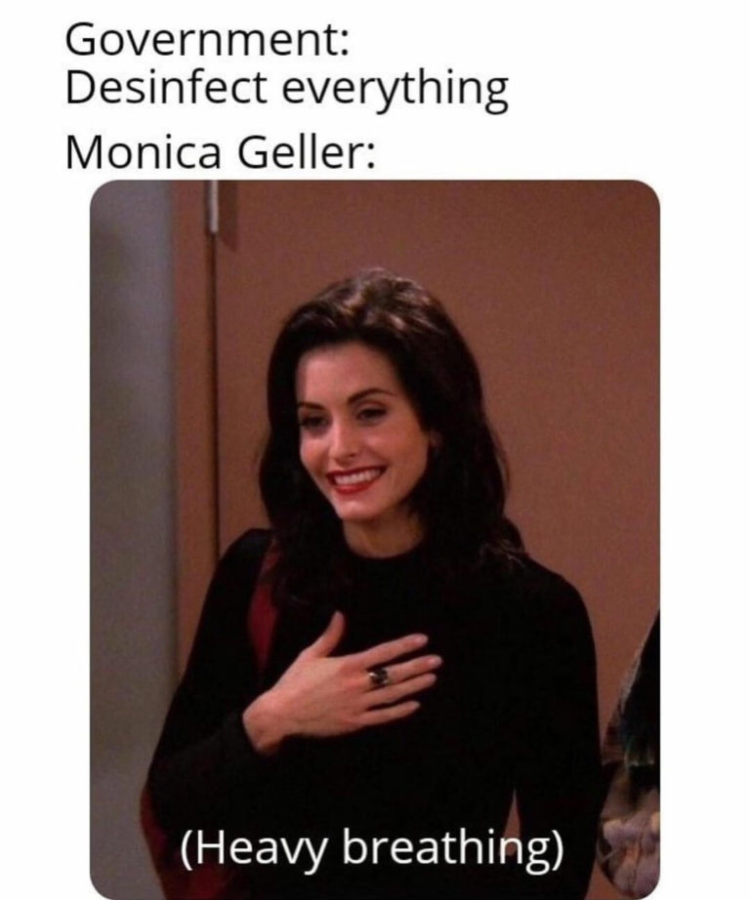 We agree, as tough as the past couple of years were for the world, it would have been a dream come true scenario for Monica. We bet she would've loved everyone to be so hygienic.
Who's Laughing Now, Chandler?
Chandler had a great sense of humor and often got the last laugh. Especially when it came to making fun of Joey's dullness. Having said that, it seems that the tables have been turned, at least partly.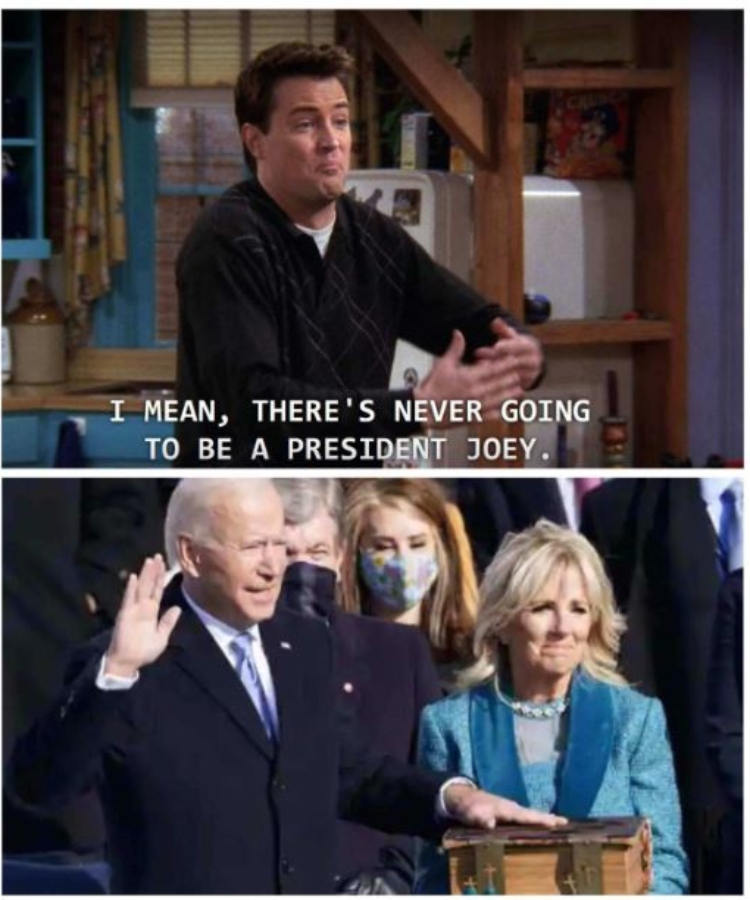 As pointed out by this person, we believe he was wrong to think that Joey could never be president. Granted that he is not Tribbiani, nonetheless, we have someone with the same name as the POTUS.
That's Another Way of Seeing It
There always are some people who see things differently than the rest of the world. While most of us saw Janice as the girl with a goofy personality and an annoying voice, this person has a different perspective.
As much as we would like to look the other way, this man does have an interesting way of looking at things. She did grow as a person and settled down in the end.