These Big Name Brands Actually Make Costco's Kirkland Products
Apart from offering cost-effective products on warehouse shopping, Costco came up with a Kirkland brand in 1995. The brand is well-known for its cost-friendly items. Costco offers lower prices on its products since limited funds are spent on advertising or marketing, which is an added advantage to consumers. The Costco Kirkland brand partners with third-party manufacturers to bring the best products at conveniently low prices.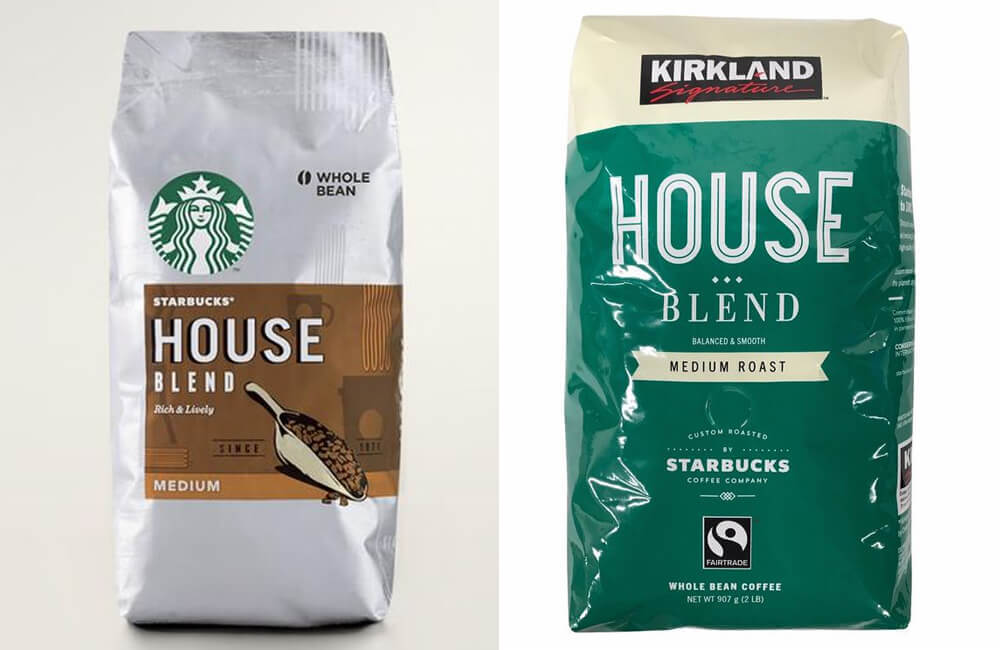 Costco's Kirkland brand offers you high-quality products from different regions. These items are made of high profiled brands. For instance, Duracell is behind the Kirkland Signature batteries, Starbucks makes Kirkland Signature Coffee, and Signy Ste-Mère imports Kirkland Signature Brie. It is important to note that the Kirkland brand offers the best products to clients at lower costs, which doesn't affect the quality of the items.
Kirkland Signature Batteries: Duracell
Batteries are unique products that are keenly evaluated by shoppers. Many people shy away from purchasing outside the original brand due to quality issues. Because of this concern, Costco secured a collaboration with Duracell. These Kirkland Signature Batteries are considered the most long-lasting batteries in the market.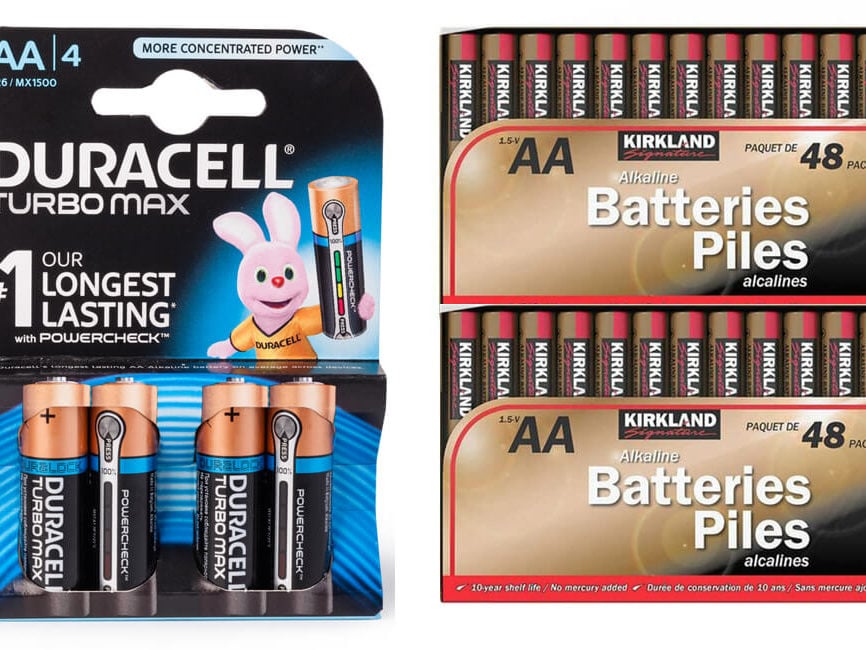 These batteries would serve you for a long time. Apart from the quality, these batteries are less costly than other brands.
At Costco, you will get Kirkland Signature AA Alkaline Batteries for only $16.99.
Kirkland Signature Diapers: Kimberly-Clark (Huggies) Diapers
Many shoppers are specific when it comes to choosing the appropriate brand of diapers. Every mother goes for the most quality nappies that meet required healthy expectations. Similarly, Kirkland Signature Diapers are made by Kimberly-Clark. The firm is a leading manufacturer which is well-known for making GoodNites and Huggies.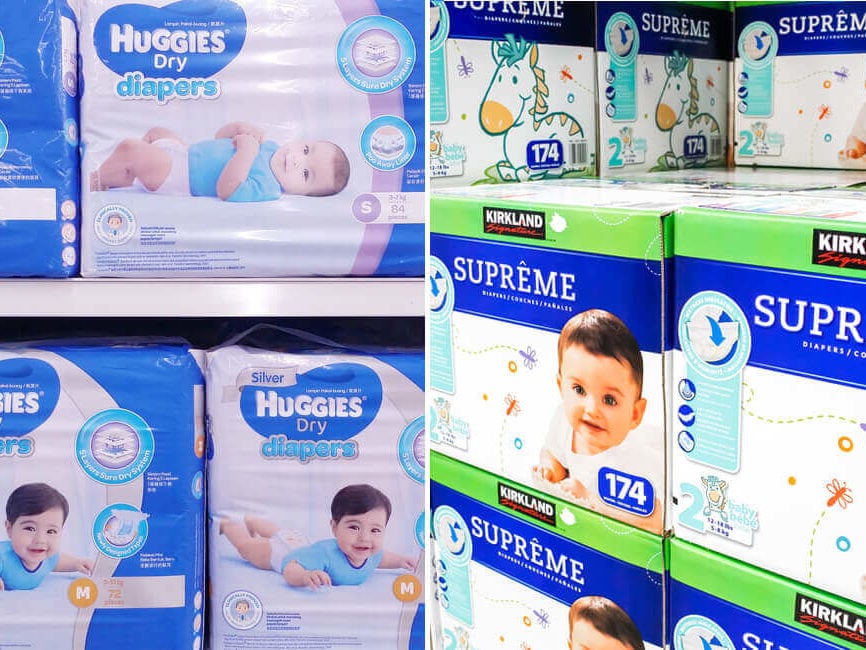 In the recent past, Kimberly-Clark has been rated as one best manufacturer for producing quality diapers. Costco was able to get a chance to work with Kimberly-Clark in the year 2005.
You can get Kirkland Signature Diapers at $22.49 only at Costco.
Kirkland Signature Foil: Reynolds Aluminum Foil
Kirkland brand doesn't shy away from revealing its collaborations with other brands for their esteemed customers' well-being. You will notice that Kirkland Signature Foodservice Foils have the Reynolds logo on the box. Costco partnered with this aluminum foil company to develop the most credible foil that meets your kitchen's preferences.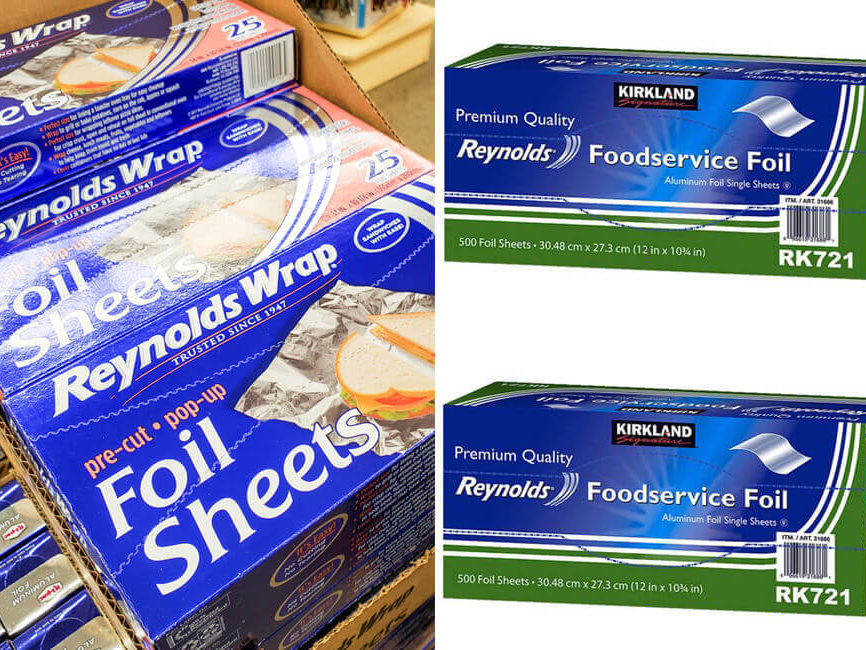 Kirkland offers you affordable signature foils, especially if you buy them in bulky. Purchase Kirkland Signature Foil for only $27.99, which is 12 in x 1,000 ft.
Kirkland Signature Craft Beer: Gordon Biersch
A person looking for quality and tasteful beer should go for Kirkland Signature Craft Beer. You can get Session IPA, Brown Ale, India Pale Ale, and America Pale Ale for only $19.99 for a 24 pack. This is a fantastic deal that you will probably not get in another place.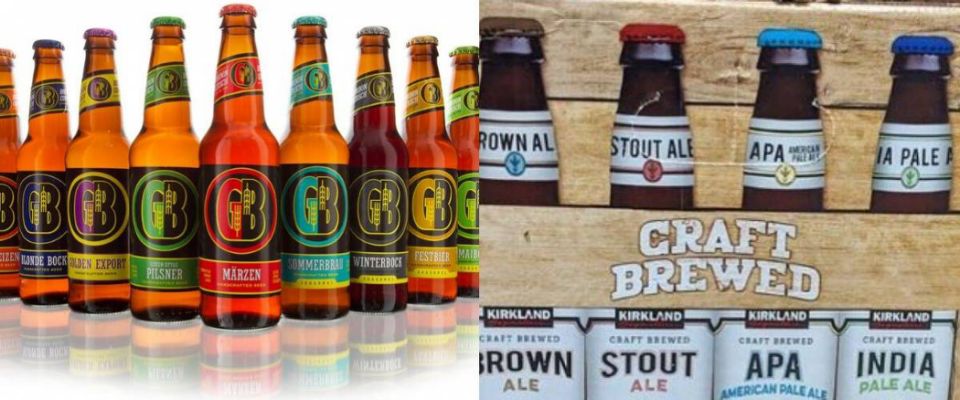 Gordon Biersch brews these cost-friendly craft beers. The firm is well known for brands such as Old Chicago and Rock Bottom on the west coast. It has award-winning beers that fall under Matt Brewing. Who would have known that these are the same!
Kirkland Signature Real Mayonnaise: Hellmann's
Kirkland Signature Real Mayonnaise will cost you $7.19 for two quarts (sixty-four ounces). Kirkland mayonnaise was the subject of a Consumer Reports blind taste test. They compared it to Hellmann's. Consumer Reports found that Hellmann's and Kirkland tasted the same. It is a rumor in the industry   that they're actually the same product.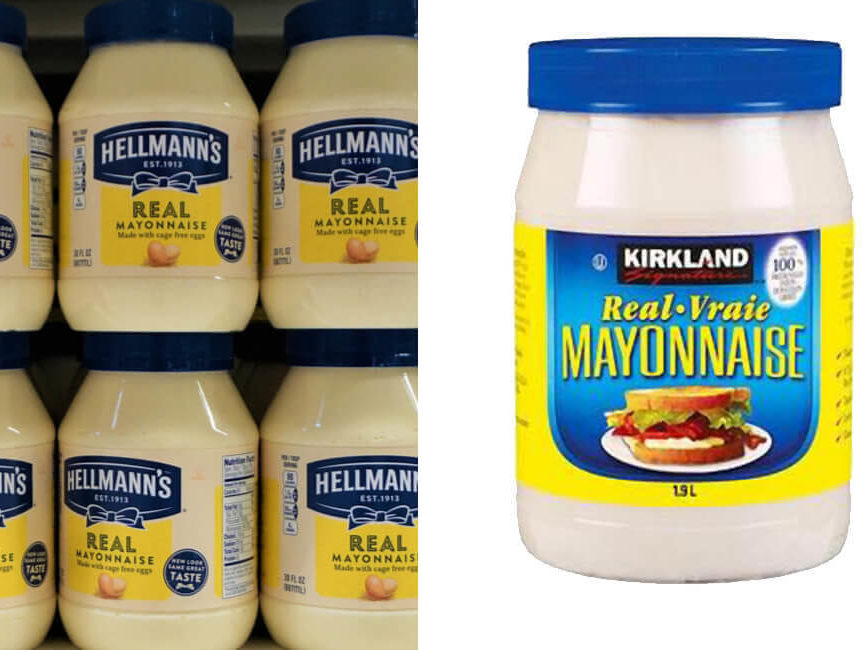 The only difference between the two is the price. Best Foods' mayonnaise is priced at $7.49 for a 64-ounce jar. Although it is only 30 cents, we still find it a decent amount of savings. The icing on the cake is that CR claims that by buying Kirkland you aren't sacrificing taste.
Kirkland Signature K-Cups: Keurig Green Mountain
Costco partnered with Green Mountain Coffee Roasters to make quality Kirkland's Pacific Bold and Breakfast Blend. These quality Kirkland Signature K-Cups become the most affordable K-cups beating other competitors in the market. These products are made purely for the customer's interests. Imagine getting this quality Kirkland Signature K-Cups at a lower price.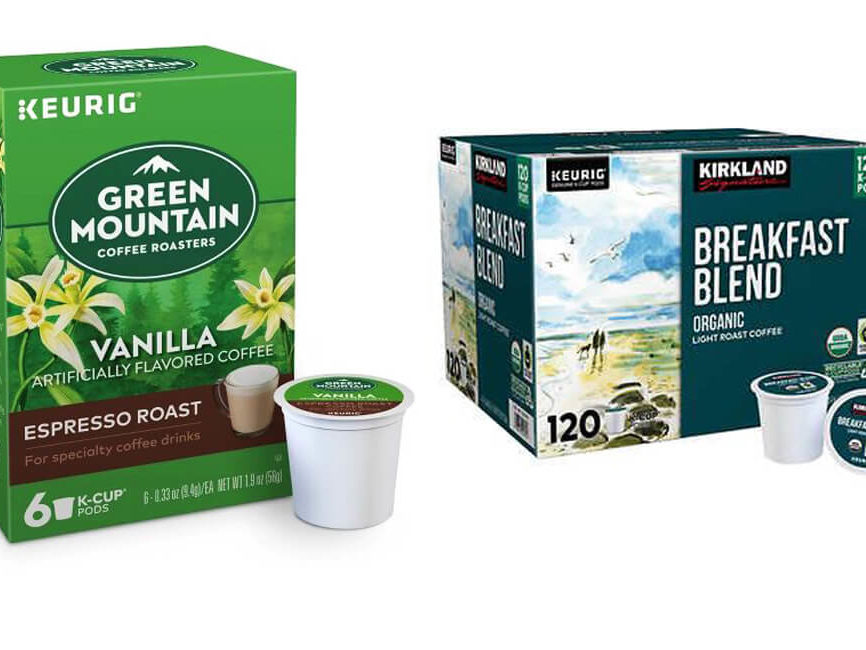 You can purchase Kirkland Signature Coffee Breakfast Blend K-Cup for only $34.99 at Costco. This product is also recyclable. So next time you are needing coffee pods check out Costco!
Kirkland Signature Ocean Spray Cranberry Juice: Ocean Spray
Costco is proud to present another significant brand collaboration with Ocean Spray. The partnership resulted in the rise of Kirkland's Cranberry Juice. You should note that the affordability aspect of Kirkland's Cranberry Juice doesn't compromise its quality. At Walmart, you can purchase Ocean spray 101 fl oz for $5.28 or get 192 fl oz of Ocean Spray at Costco for $7.99.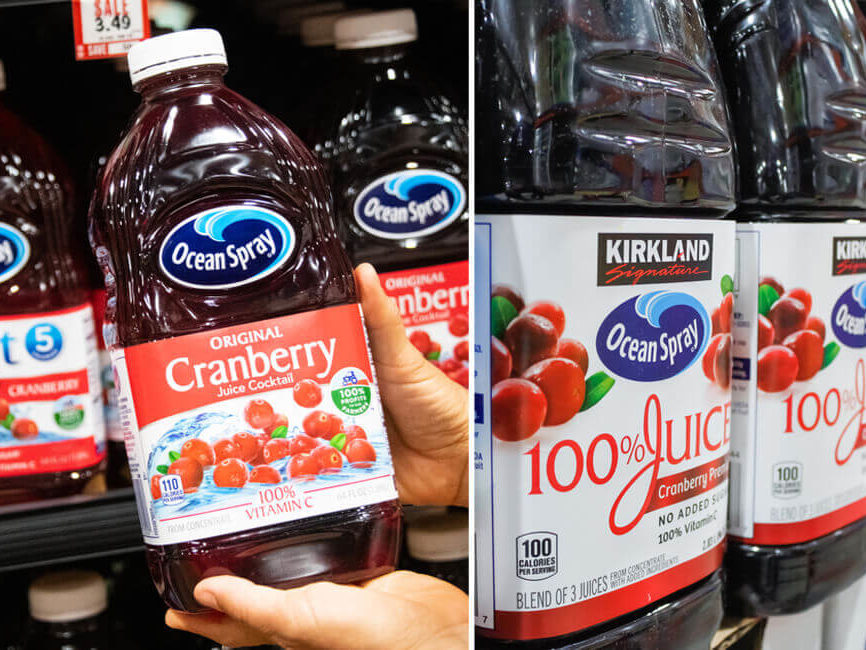 After evaluating the quantity difference, you can know that Kirkland gives you value for your money. On top of that, Costco has a credible relationship with Ocean Spray. The brand also promotes Kirkland's Cranberry Juice through its website.
Kirkland Signature Coffee: Starbucks
Kirkland Signature Coffee is a fantastic product that you don't expect to find in a typical warehouse. Starbucks roasts the product, which is a credible coffee company. The most exciting thing about the Kirkland brand is that you can get this Signature Coffee at a lower price than from the initial manufacturer.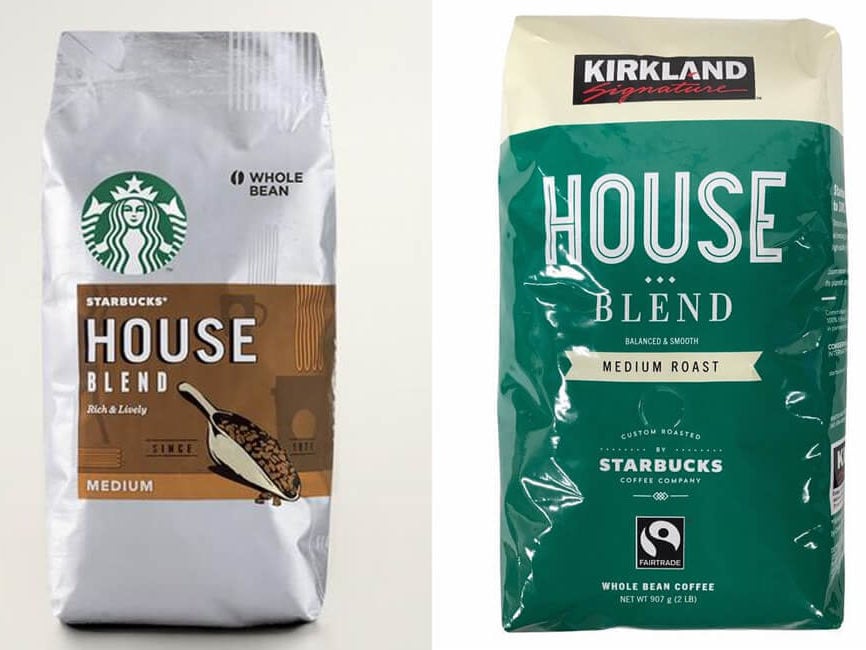 For instance, the Kirkland Signature Espresso Blend Coffee of two and a half pound costs $12.99 in Costco, whereas Espresso Roast 20-ounce bag costs $11.98 in Starbucks. It is an amazing offer that everybody is craving. You can't get this kind of offer anywhere else.
Kirkland Signature Espresso Blend Coffee, Dark Roast, Whole Bean, 2.5 lbs, $12.99, Costco
Kirkland Signature Albacore Tuna: Bumble Bee
In 2003, Costco partnered with Bumblebee to provide quality tuna to the market. These tuna have few floating flakes making it more unique and delicious. Bumble Bee is a leading canner in the fish industry, and that's why Costco decided to choose this brand.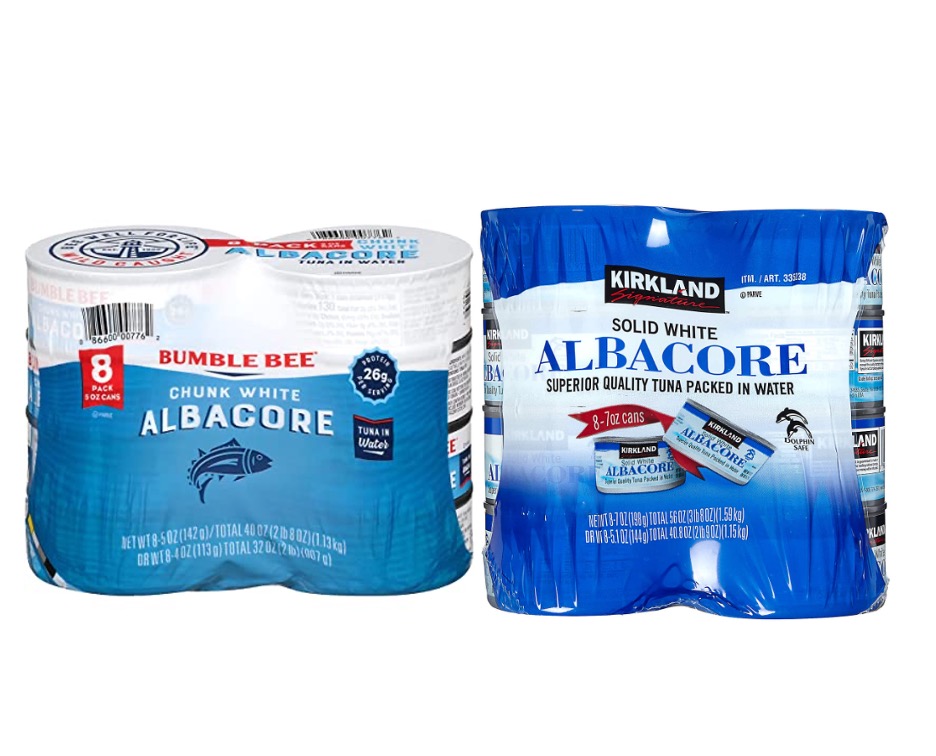 The most exciting part is that Kirkland Signature Tuna is more pocket-friendly than Bumble Bee branded Tuna. Trust me; you can't get this offer from any other brand.
Kirkland Signature Dry Dog And Cat Foods: Diamond Pet Foods
Pet lovers are specific about what they feed their pets. Most of them are always ready to spend a lot of cash to purchase quality food from the best brands. That's why Costco came up with a solution for your pet's food. Kirkland pet foods are the best in the market, which are manufactured by Diamond Pet Foods. These pets food are made of turkey, lamb, chicken, and fresh vegetables.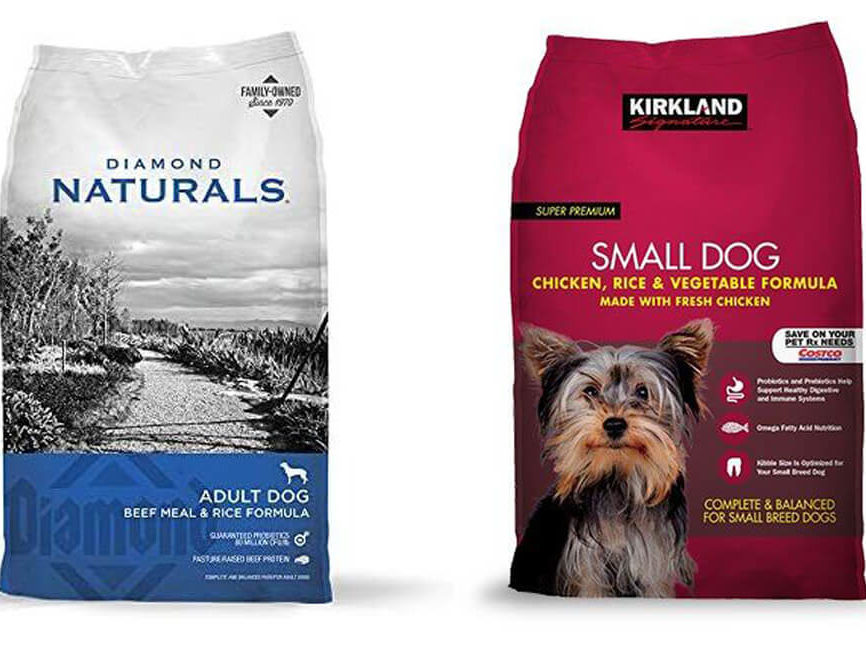 Apart from providing quality food, Costco has created a recipe that aligns with animal nutrition's latest research. The firms ensure that you get quality pet food at an affordable price. Buy Kirkland Adult Formula Rice, Chicken, and Vegetable Dog Food 40 lb. for only $40.99.
Kirkland Signature Parmigiano Reggiano Cheese: Formaggi Zanetti
Kirkland offers the best Parmigiano Reggiano from Formaggi Zanetti, Italy. This manufacturer is commonly known as King of Parmesan with more than one century of experience in this field. Formaggi Zanetti makes the best cheese in the market.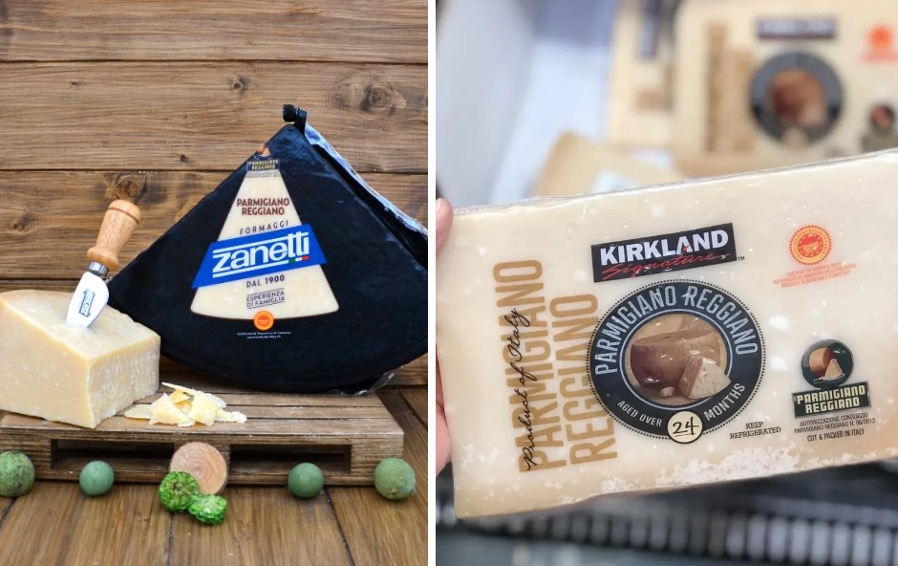 Buying Kirkland Parmigiano Reggiano Cheese is the best choice you can make. It is cheaper than other brands. Get Kirkland Parmesan Parmigiano Reggiano for only $20.87 at Costco. Its a no brainer!
Kirkland Signature Ice Cream: The Humboldt Creamery
Many people like ice cream, and that's why the Kirkland brand choose an organic manufacturer. Costco joined hand with Humboldt Creamery for the best vanilla ice cream.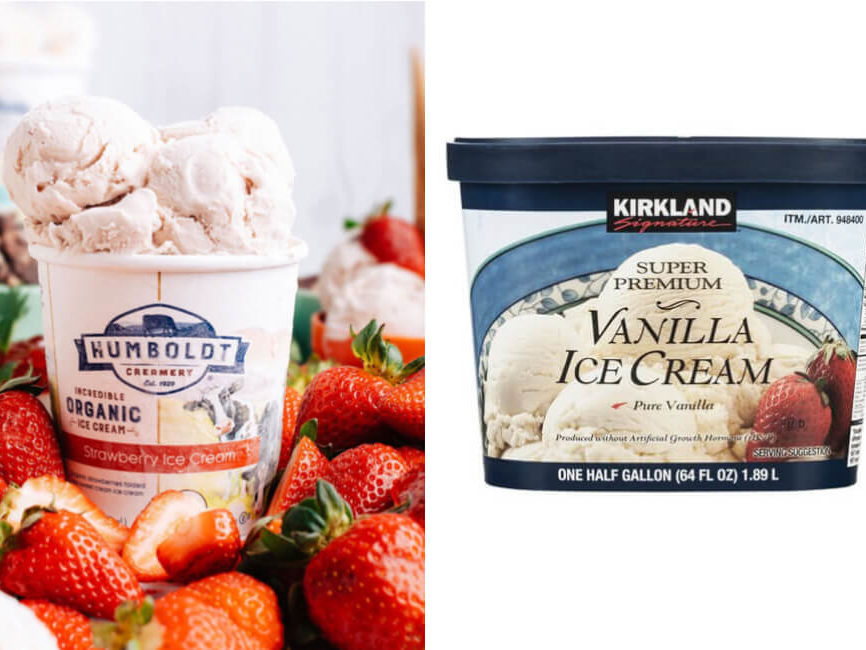 Since 1929, the creamery has using organic cream and milk to produce the best ice creams. Buy the best Kirkland Signature Super Premium Vanilla Ice Cream for only $15.29 at Costco.
Kirkland Signature Aged Balsamic Vinegar: Acetum
Costco went all the way to Modena, Italy, to bring you the best Kirkland Aged Balsamic Vinegar. This balsamic vinegar is made by Acetum, which is one of the most influential vinegar brands. You can never go wrong when you buy Kirkland Aged Balsamic Vinegar.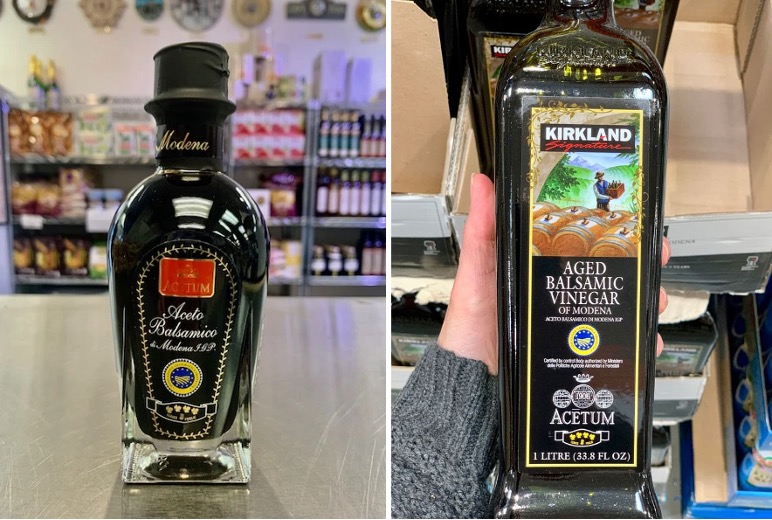 You can purchase a liter of Vinegar for only $13.49 at Costco or a liter from Acetum vinegar, which would cost you $18. If you do your maths, Costco helps you to save money.
Kirkland Signature Chicken Breasts: Tyson
Kirkland Signature Chicken Breasts are amazing! They are the best frozen food solution for any meal. You get two chicken breasts in each individual pouch. These average six to six-and-a-half pounds. The chicken usually comes in a six-count pack. These Kirkland chicken breasts are 99% fat-free!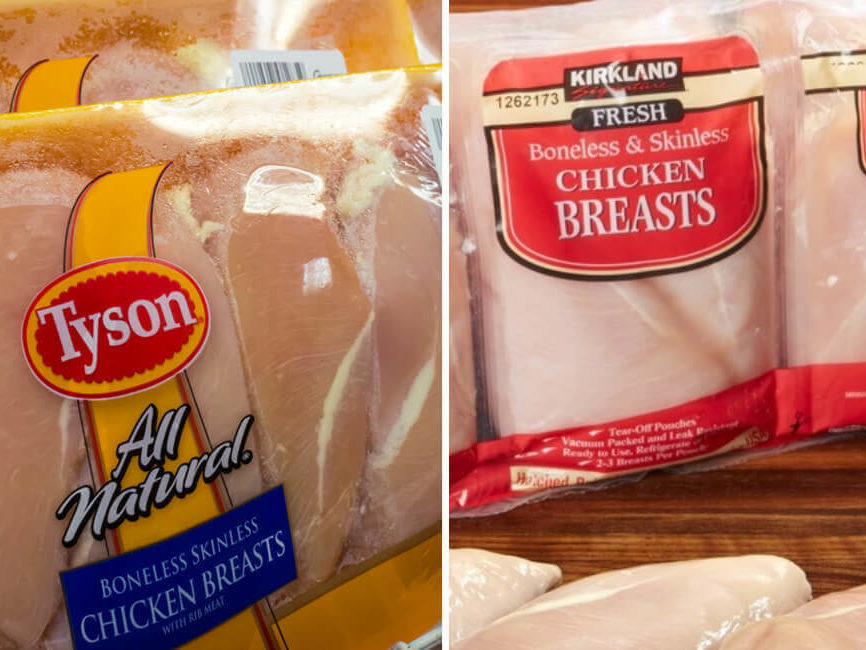 These Kirkland Chicken Breasts are a major competitor to Tyson chicken and are not raised with antibiotics. These Kirkland chickens are hatched, raised, and harvested right in the US.
Kirkland Signature Isigny French Brie: Isigny Ste-Mère Brie
AT Costco, you can get the Brie at a reasonable price. Isigny Ste-Mère imports Kirkland's Brie to the Costco warehouse. The Kirkland offers you high-quality French cheese from Normandy farmers in France.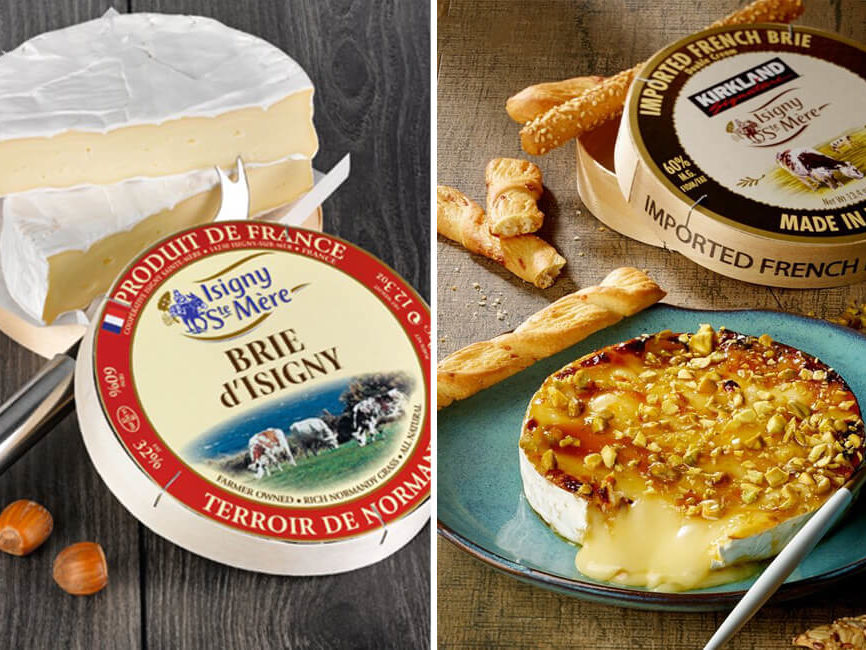 You can get this amazing Kirkland Signature Isigny French Brie for only $6.69 at Costco. If you bring this Kirkland favorite to your next gathering you are sure to be a hit of the party.
Kirkland Signature Nature's Three Berry Blend: Townsend Farms
Costco is very articulate on which manufacturer to work with for it's Kirkland brand. The partnered firm must meet both quality and ethical expectations. In 2019, Costco decided to pull its Kirkland Nature's Three Berry Blend products from the market since its supplier (Townsend Farms) had a confrontation with FDA on claims that the product was contaminated with Hepatitis A.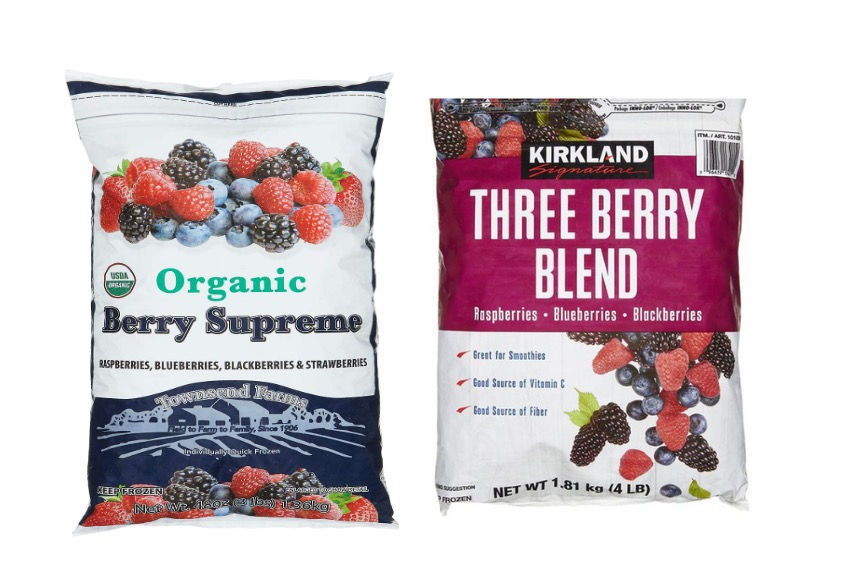 The decision indicates that Costco cares for its customers and maintains the best-required quality in the market.
You can buy Kirkland Nature's Three Berry Blend for only $10.99 at Costco.
Kirkland Signature Pizzas: Palermo
Kirkland Pizza has the same quality as that of Palermo's frozen pizza. It is evident since Palermo is the company that supplies Costco with these Pizzas. Costco partnered with Palermo in 2012 as a way of providing its customer with the best pizza.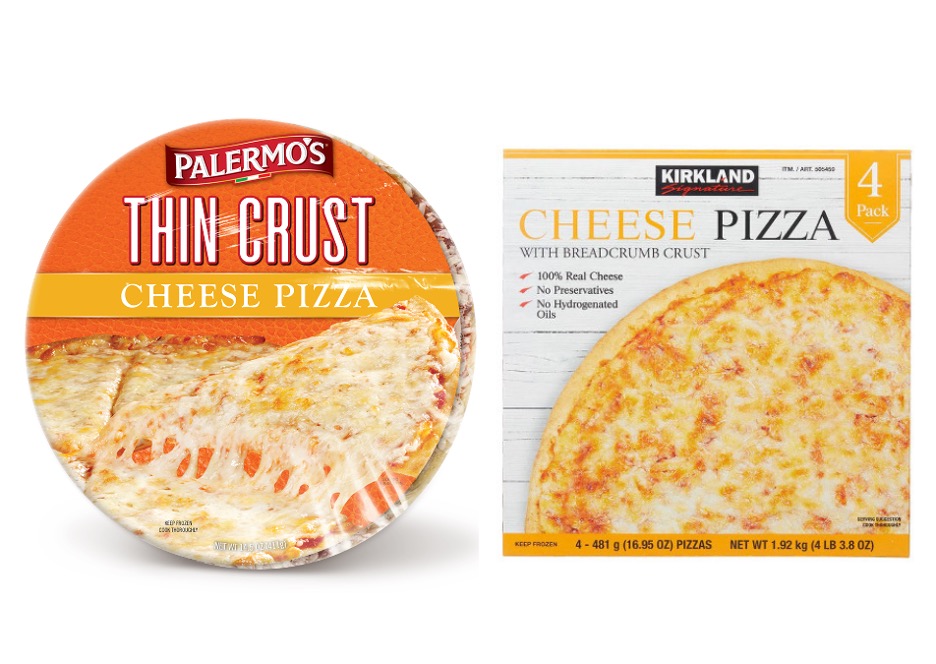 Try the most delicious Kirkland Frozen Cheese Pizza. It the most delicious pizza in the market right now.
Kirkland Signature Premium Sliced Bacon: Hormel Foods
Health comes first before anything else. It is why people are always cautious when it comes to buying healthy and well-conserved meat cuts. Costco is well informed about the health concerns related to bacon. That's why Costco's buyer, Sarah George, evaluated more than 10 Bacon plants before choosing Hormel.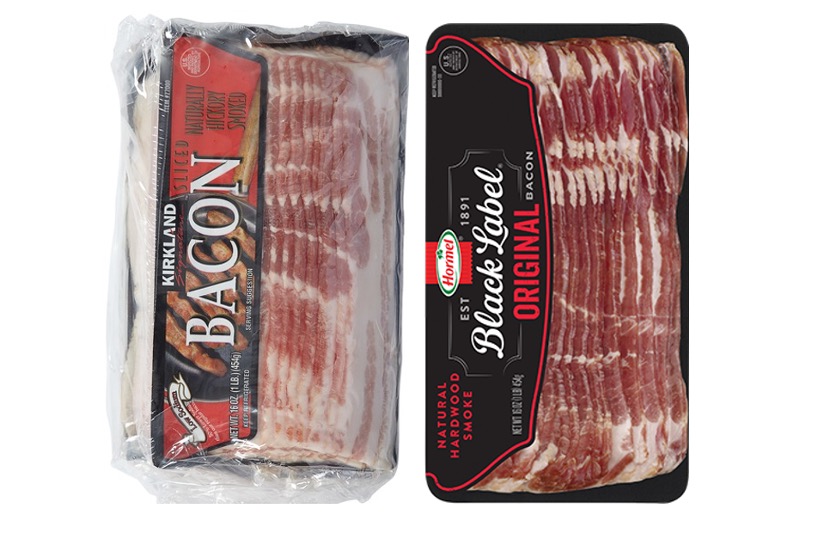 Hormel was selected since it was able to meet all Costco's healthy demands. According to Supermarket News, Hormel makes high-quality bacon thicker for Kirkland than its supplies. You can purchase Kirkland Signature Premium Sliced Bacon for only $16.49 at Costco.
Kirkland Signature Vodka: Grey Goose Vodka
Despite distinctly clear differences in taste, quality, and even distillery locations, unsupported rumors linking Grey Goose vodka to Kirkland's own Signature Vodka continue to pop up every now and again. But perhaps this is just wishful thinking on the customers' part.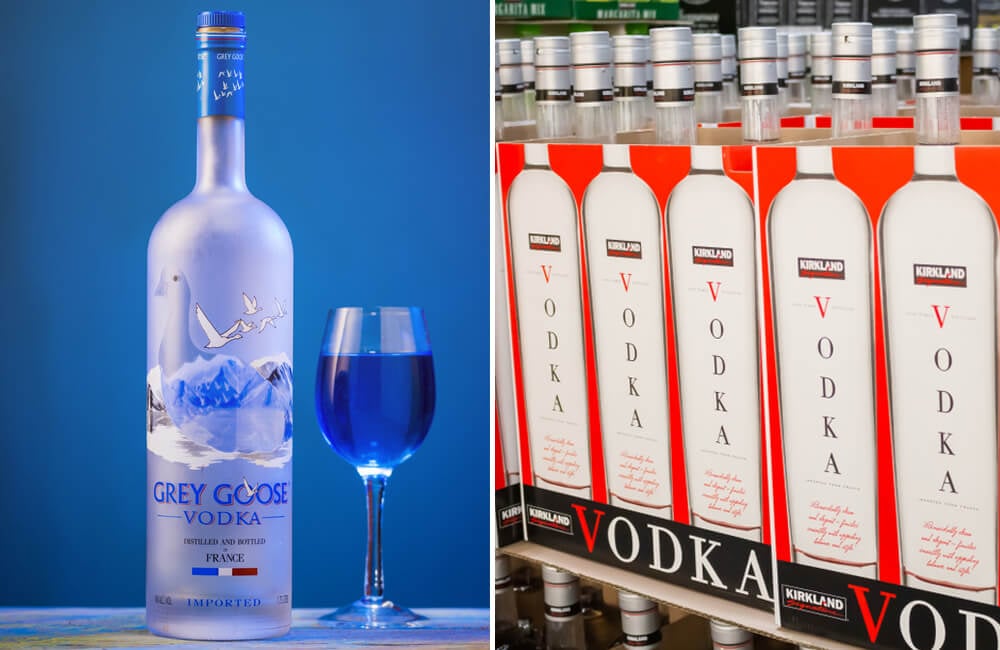 That's because while Bacardi's beloved Grey Goose has a reputation as one of the cleanest, smoothest vodkas on the market, it isn't exactly the cheapest. But at just $18.99 per bottle for the Kirkland brand, the price point is probably the only place Costco's vodka can claim any kind of competitive edge.
Kirkland Signature Motor Oil: Warren Motor Oil
Costco partnered with Warren Oil Company to bring you a fantastic Kirkland's Signature motor oil. The company has its label on the bottle. The firm is well known for producing quality oil. Besides purchasing quality motor oil, you will cut costs when you buy Kirkland Signature Motor Oil.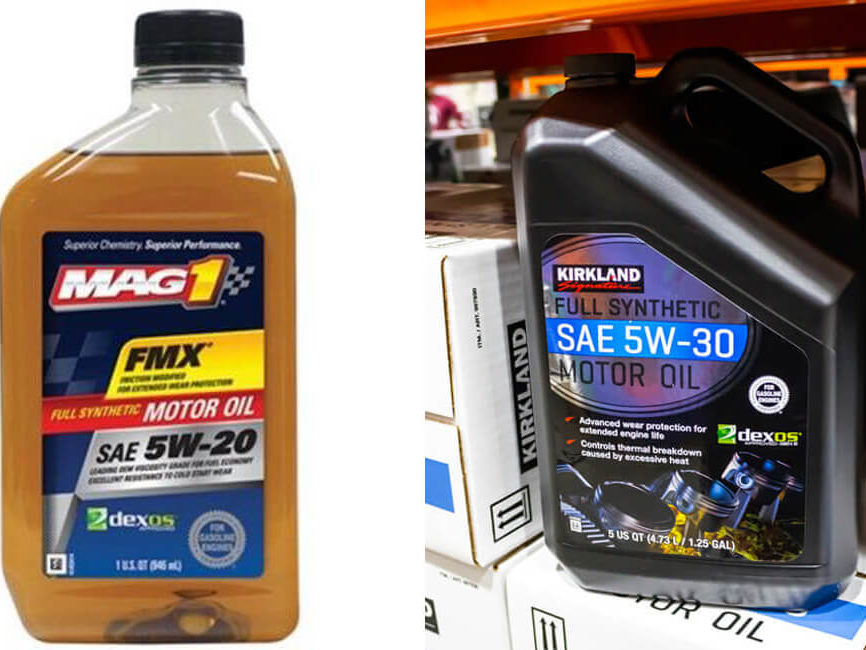 Two pack of Kirkland Signature Motor Oil bottles go for $29.99 at Costco, while a 1-quart MAG 1 bottle costs $40 from another brand getting the oil from Warren Company. 5-quart Kirkland Signature Motor Oil goes for $29.99. This price illustrates that Kirkland is the real deal for you.
Kirkland Signature Unsalted Butter: Tillamook Butter
Kirkland Signature Unsalted Butter is known for it's cheap yet high-quantity butter. It is a rumored rebrand of Tillamook Butter. Tillamook is a dairy collective and a major competitor of Lifeway Foods. Just like Tillamook, Kirkland Signature Unsalted Butter is made from unsalted sweet cream that is certified Grade AA.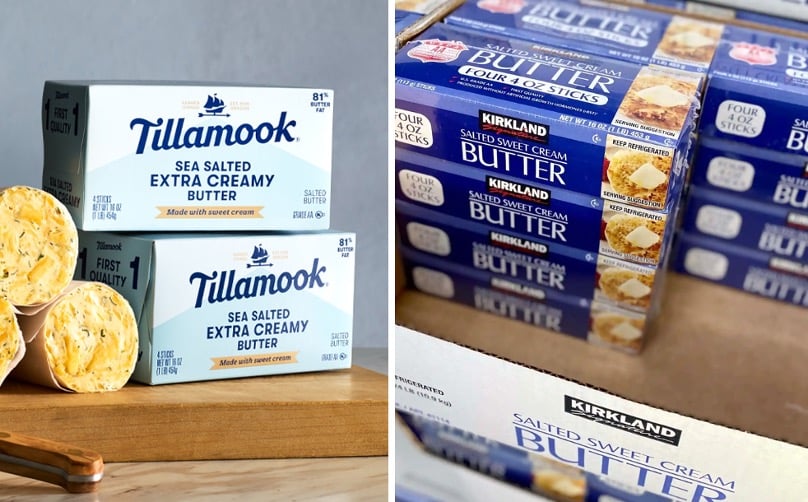 You will get sixteen sticks of butter which totals one pound. Kirkland butter is Kosher and produced without the use of hormone rBST. This dairy hormone is legal for use in America but banned in Canadian dairy cows.
Kirkland Signature Moisture Shampoo: Pureology Moisture Hair Care
Pureology has a good reputation as one of L'Oreal's luxury lines of hair care. It's an undeniably good product, but like most things on that end of the scale, it comes with a hefty price tag. Brand names especially love to hike the price up, because they know consumers will pay big bucks for the name.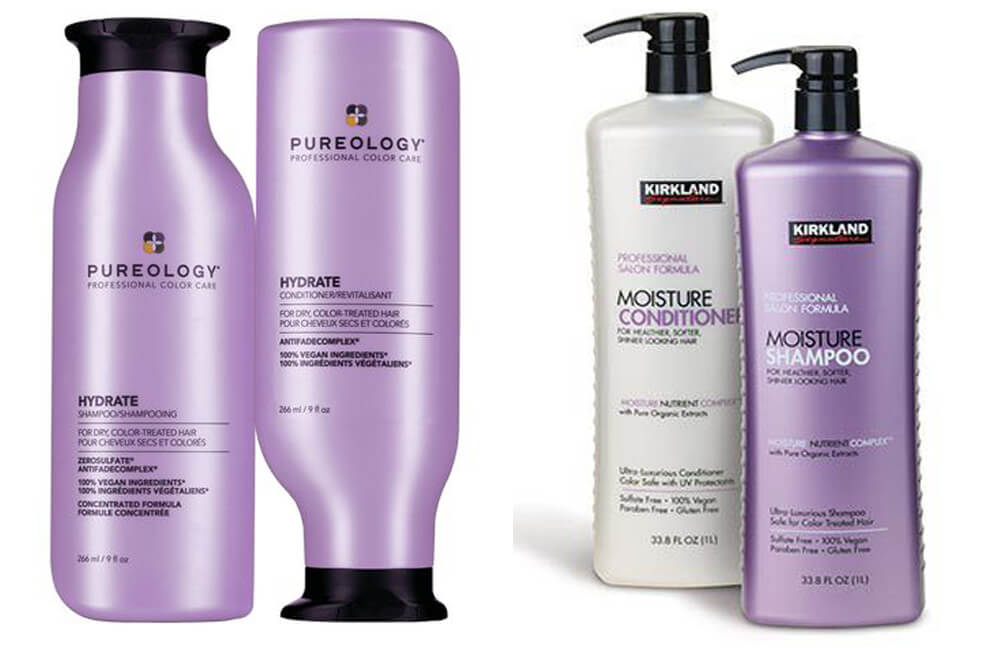 While the brand partnership may be unconfirmed, it doesn't really matter either way. If L'Oreal isn't in on the game then they're missing a trick, as Costco is offering a quality product at just a fraction of the price. Given how similar they look, it's hard to believe there isn't some sort of connection.
Kirkland Signature Japanese Green Tea: Ito-en
Costco is offering you Kirkland Japanese Green Tea, which is manufactured by Ito-en. This Japanese company is the largest manufacturer of tea globally.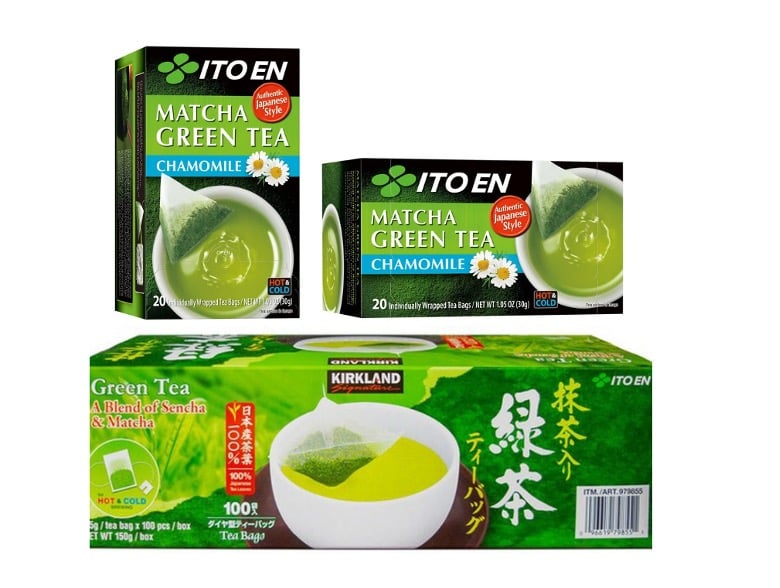 It has a unique flavor—Purchase100-Count of Kirkland Japanese Green Tea for only $16.59 at Costco.
Kirkland Signature La Mancha Spanish Saffron: La Mancha
Costco gets the best saffron from Castilla La Mancha in Spain. In an article published by Seattle Times in 2008, Costco has the highest quality saffron, which is affordable. Gary Kotzen, Costco's buyer, indicated that their goal is to get the best Saffron for their customers without subjecting them to premium rates.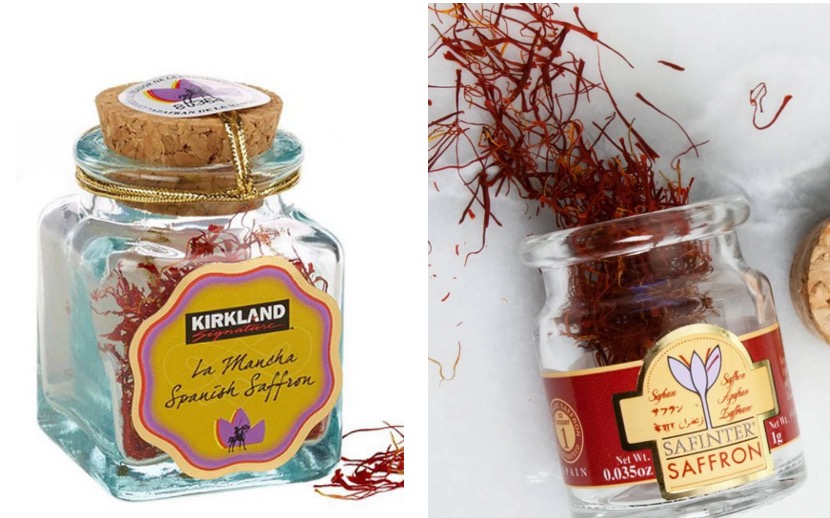 You can purchase Kirkland La Mancha Spanish Saffron for only $13.19 at Costco. Not a bad deal at all for a typically expensive spice!
Kirkland Signature Organic Blueberries: Scenic Fruit Company
Costco partnered with Scenic Fruit Company to offer you the best blueberries. The brand is well known for both frozen and fresh fruits. The berries are conserved with high standards of hygiene.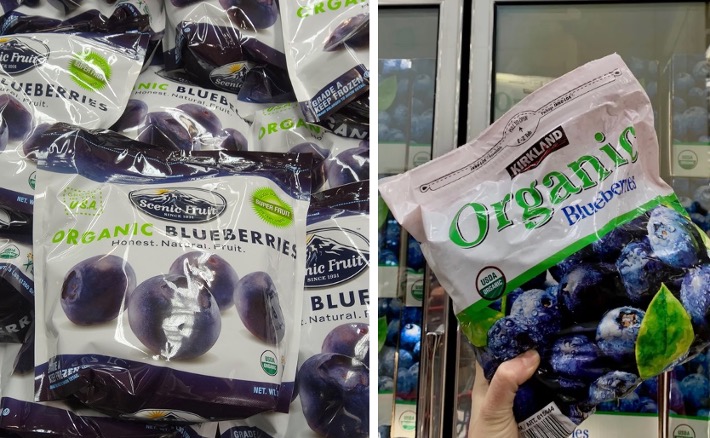 Buy a 3 lb bag of Kirkland Organic Blueberries for only $9.29 at Costco. If you have bought frozen blueberries before, you know that this is an amazing price.
Kirkland Signature Raw Tail-On Shrimp: Kader Exports
Costco partnered with Kader Exports for supplies on Kirkland's Raw Tail-On Shrimp. Kader Exports is a leading shrimp supplier to other known firms such as Censea, Aqua Star Reserve, Fresh Market, Unistar, Tops, and Wellsley Farms.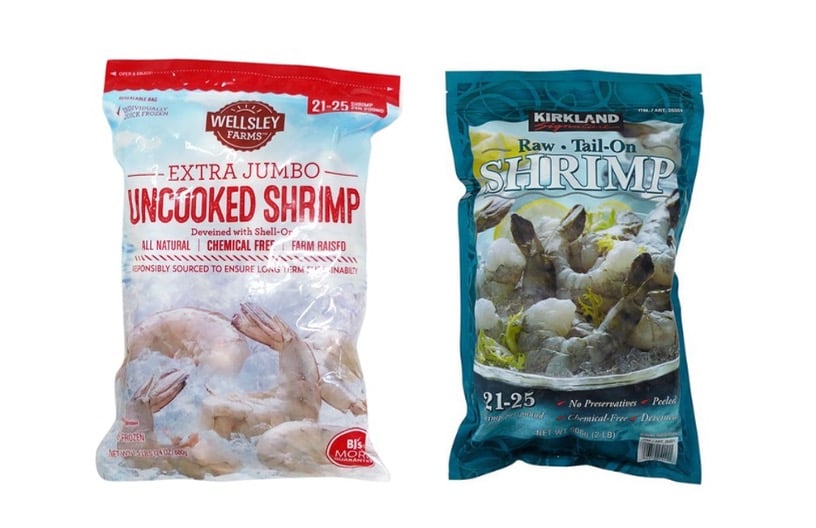 It means that customers get similar products like the one on the highlighted firms but more affordable on Costco. Buy 2 lbs, Signature Kirkland Raw Tail-On Shrimp for only $19.29 at Costco.
Kirkland Contact Lenses: Cooper Vision
The Kirkland Signature Lenses are the same as Cooper Vision My Days one-day contact lenses. The only difference is that Costco has re-branded these lenses. Apart from having a desirable quality, they are also cost-friendly.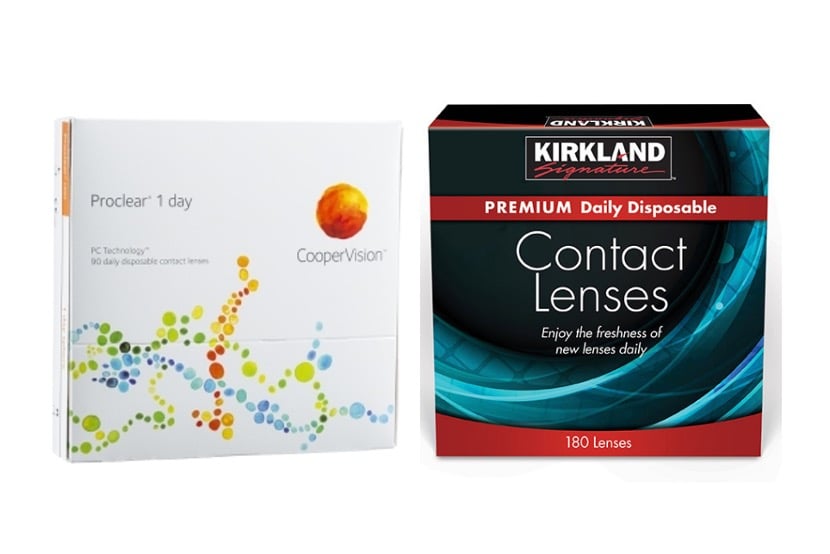 You can get Kirkland Signature Premium Daily Disposable for only $117.99 at Costco. This is a great savings for these lenses.
Kirkland Signature Contact Solution: BioTru
Costco offers you a great Kirkland Signature contact solution that has the same ingredients as that for BioTru. It is the best disinfectant solution in the market.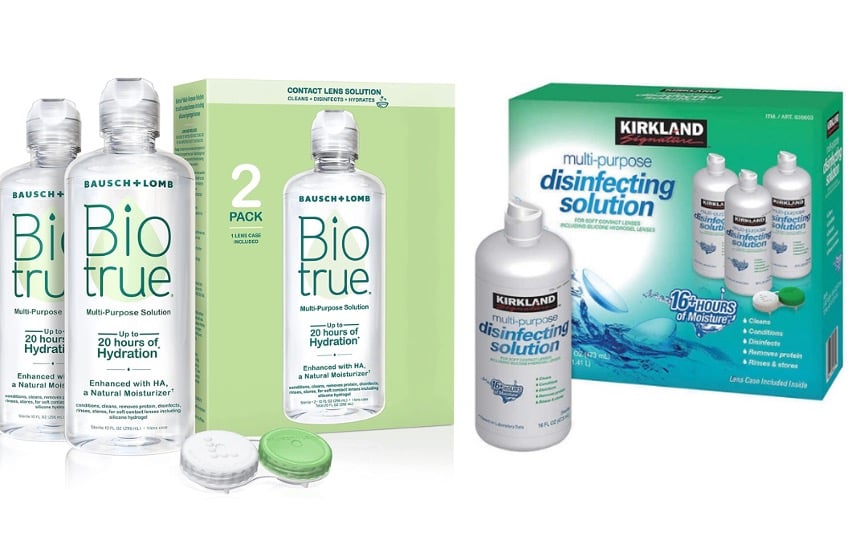 Buy this quality Kirkland Signature Multi-Purpose Disinfecting Solution, 48 ounces, at Costco. With price and quality at its best on this product, you cannot go wrong.
Kirkland Signature Organic Tortilla Chips: Mission Foods
Previously, Texas-based Mission Foods was making tortilla chips for the Kirkland brand. Costco changed to Mission Food, which is known for tortilla chips. Recently, their logos disappeared on the packaging, where it unclear whether the partnership is still there.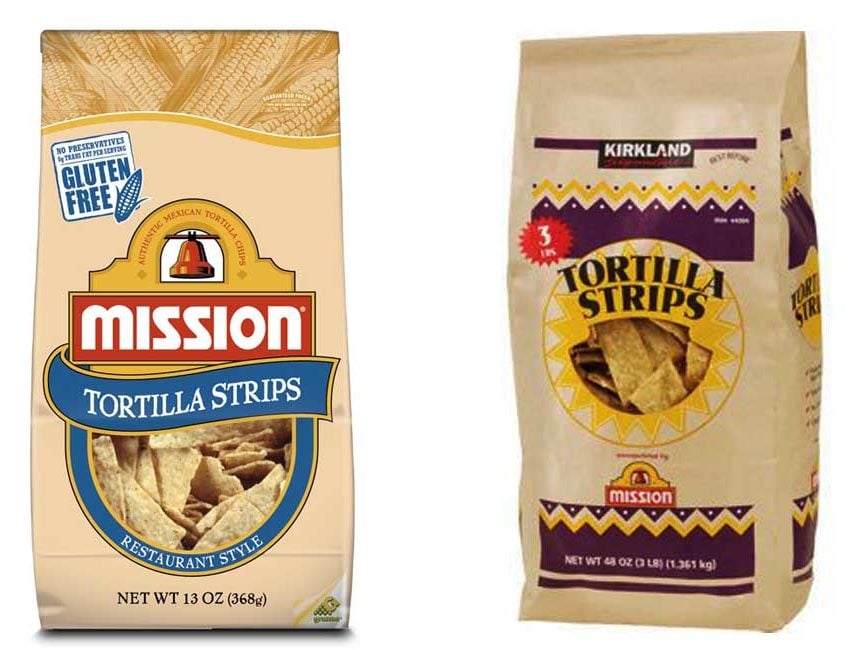 Get the best Kirkland Signature Organic Tortilla Chips for $5.59 only at Costco. Taste and price make these chips a must buy for your next party!
Kirkland Signature Wild Alaskan Fish Oil: Trident Seafood
Costco partnered with Trident Seafoods to bring you the best Kirkland Signature Wild Alaskan Fish Oil. This product is one of a kind since Trident Seafoods is the largest and most credible seafood firm in the U.S.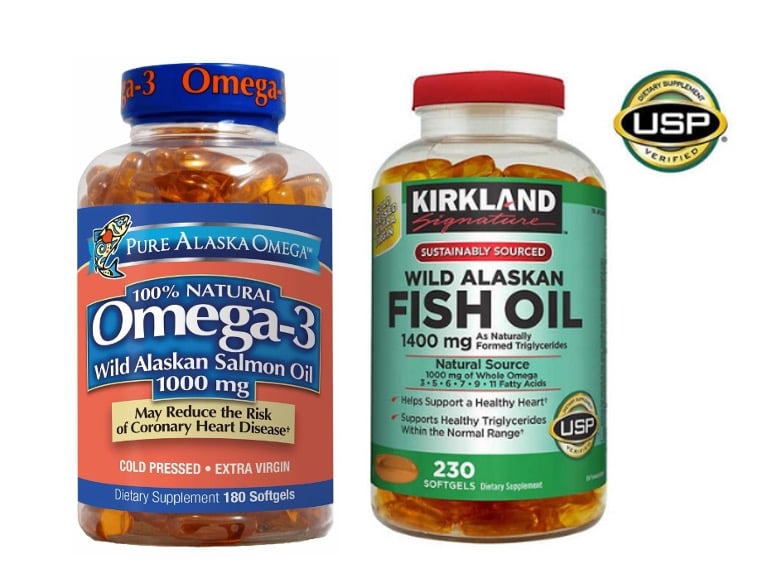 You can purchase Kirkland Signature Wild Alaskan Fish Oil for only $21.99 at Costco. Be sure to pick up a bottle of these on your next shopping trip to Costco.

Kirkland Signature Rosé: Olivier Sumeire
Get the best Kirkland Signature Rose, which is produced by Olivier Sumeire, a vintner from France. It is the best deal you can get in the market for a quality Rosé.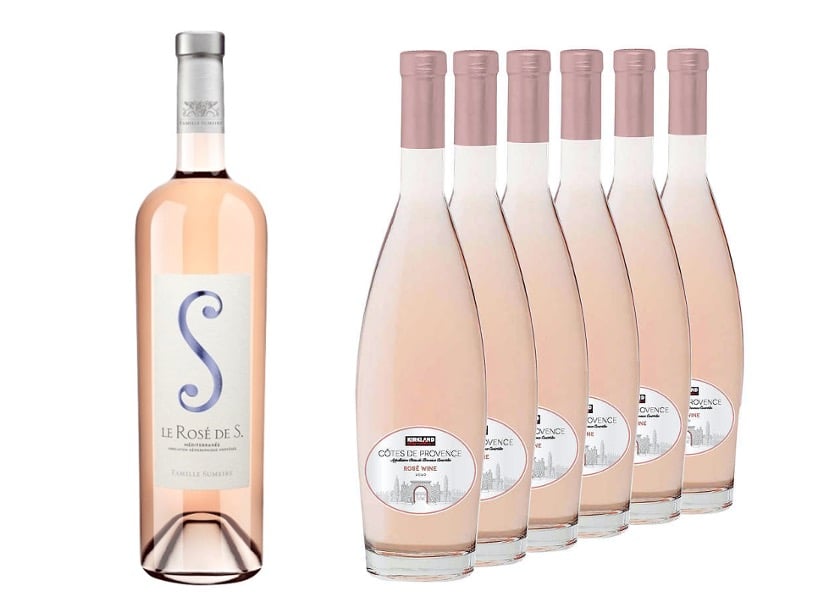 Buy the Kirkland Signature Rosé for only $10 at Costco. Next girls day brunch, stop by costco to pick up a bottle or 2 of this delicious Rosé!

Kirkland Signature Milk Chocolate Almonds: Blommer Chocolate
Costco partnered with Blommer Chocolate Company to offer you the finest Kirkland Milk Chocolate Almonds. The firm is recognized for making yummy chocolates that have demand in the market. Also, it is well known for cocoa powder and creams since 1939.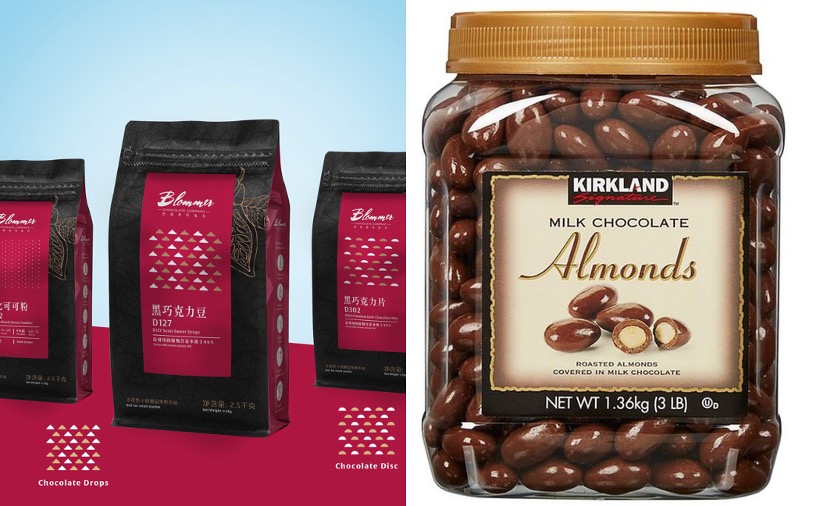 Buy this delicious Kirkland Signature Milk Chocolate Almonds for only $17.09 at Costco. You will have to fight your cravings to put these down.
Kirkland Signature Mattress: Stearns & Foster
People are very articulate when it comes to the selection of mattresses. Everyone wants a comfortable quality mattress, and that's why they go for the best. To offer customers the best mattresses, Costco partnered with Stearns & Foster.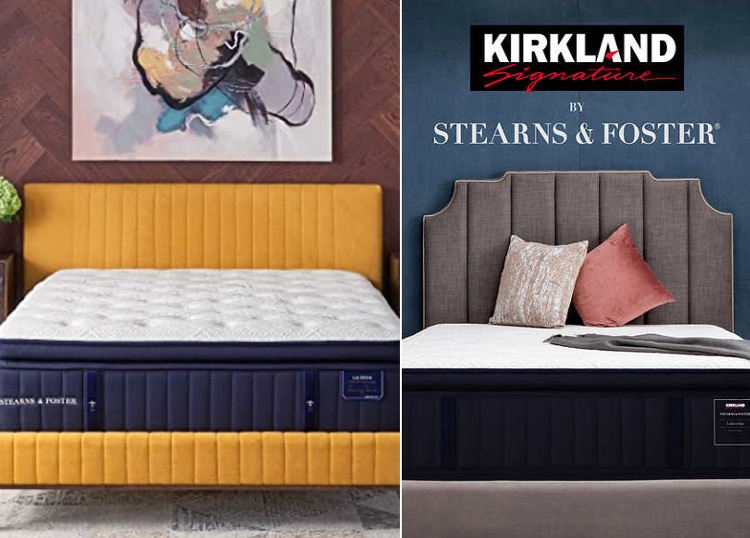 The company is known for producing high-quality gel form mattress that comes in all sizes.
Purchase the best Kirkland Signature mattress for only $1,199.99 at Costco.
Kirkland Signature Asolo Prosecco: Veneto
Costco presents the best Kirkland Signature Asolo Prosecco from the Veneto regions in Italy. These vineyards are well known for producing the best grapes in the world.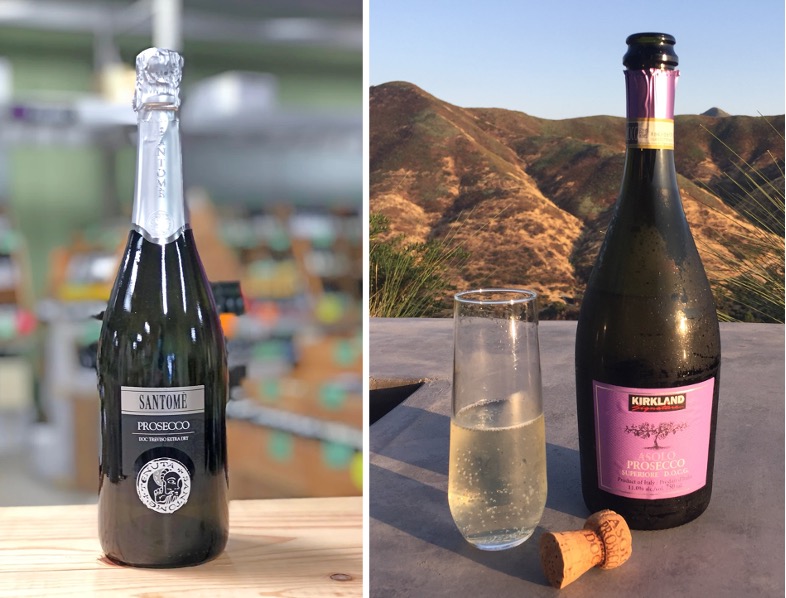 These grapes are used to make quality Asolo Prosecco. Next time you are looking for a bottle of Prosecco, stop by Costco and pick up this Kirkland Signature favorite.
Kirkland Signature Wines: E&J Gallo Wines
Wine connoisseurs often spend their lifetime searching for their favorite Merlot. There is no need to look any further than Costco. Often times, cheap alcohol has gotten a bad reputation but there is not a good reason behind that. Costco's signature line has ties to the established winery E&J Gallo.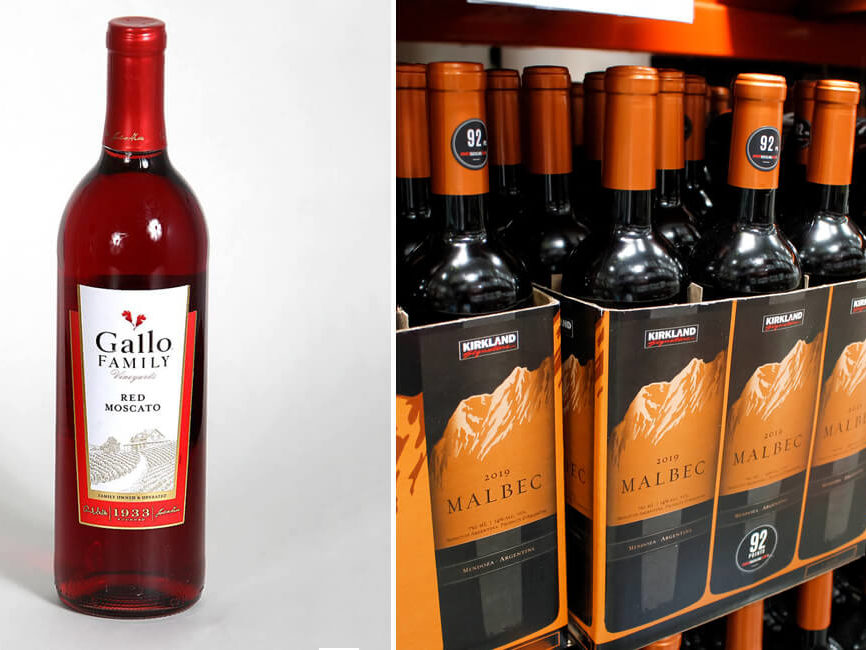 According to an Alcohol and Tobacco Tax and Trade Bureau registry, Kirkland's Signature Wines and Gallo's brands are one and the same.
While we all know Gallo is not an expensive brand in the first place, its not a bad option to bring to your next dinner party. If you ever felt like you would be judged as cheap when bringing a bottle of Costco's Kirkland's Signature, think again! Now that you know this tidbit of information, you can even use it as a talking point.
Kirkland Signature Jelly Beans: Jelly Belly
Jelly Belly jelly beans are often the go to way to satisfy your sugar cravings. These little bundles of sugar however can be quite expensive. Safeway sells nine ounces of jelly beans for $5.49. Why should you pay that when with a trip to Costco you could get the same product for just a fraction of the Safeway price.  Kirkland's Signature Jelly Belly Gourmet Beans are only $16.99 for four lbs!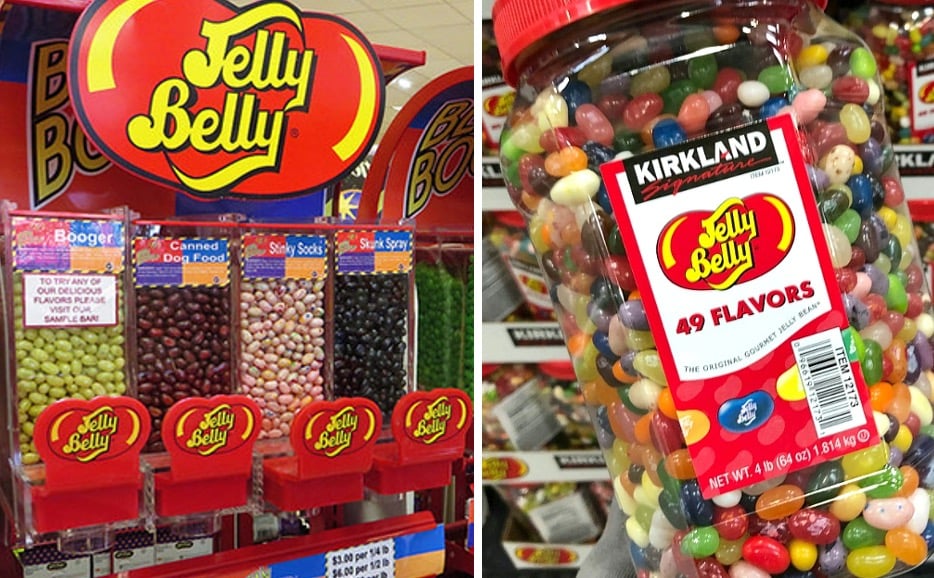 The Jelly Belly/ Kirkland partnership may be one of the best things to come out of Costco yet. These massive containers have 49 flavors and are both fat-free and kosher. This is a candy lovers dream! Can you guess how many Kirkland jelly beans fit in one container?
Kirkland Signature Premium Dishwasher Detergent: Cascade
The Kirkland Signature Premium Dishwasher Detergent that you find at Costco is good for 115 loads of laundry. It comes with 115 little detergent packs which costs just $11.79 in total. This is a direct competitor of its Cascade label, which is also much more expensive.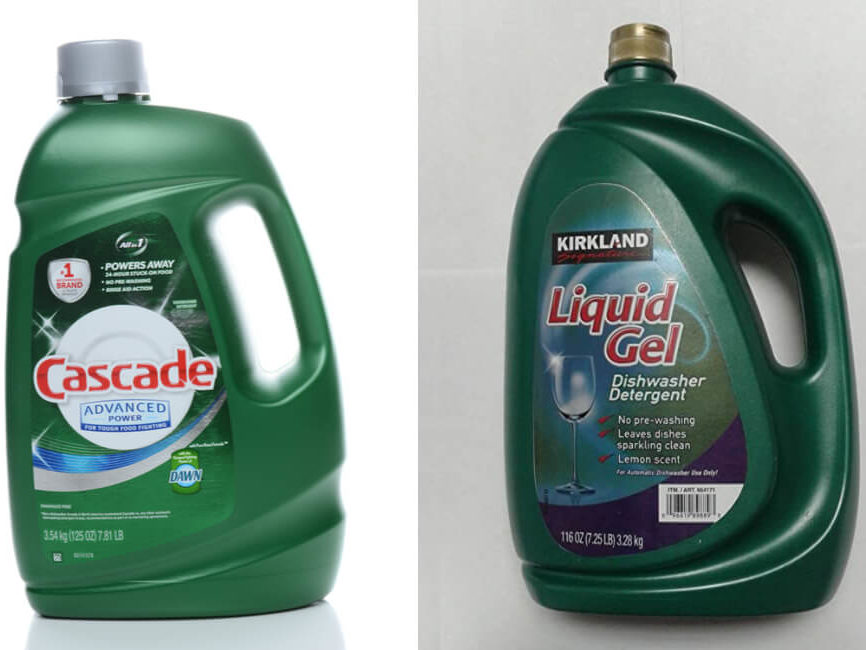 On Amazon, you can find a 78-pack carton of Cascade Complete Dishwasher Detergent that will cost you $16.97. We found that Kirkland's brand gives you more bang for your buck as well as similar quality.  Another positive for the Kirkland brand is that is does not require a pre-rinse. Kirkland's total detergent volume is 68.7 ounces, while Cascades is 40.9.
Kirkland Signature Beef: Own
Costco's Kirkland Signature beef is a fan favorite and got many rave reviews from the Consumer Report. Kirkland Signature beef has always been labeled as excellent.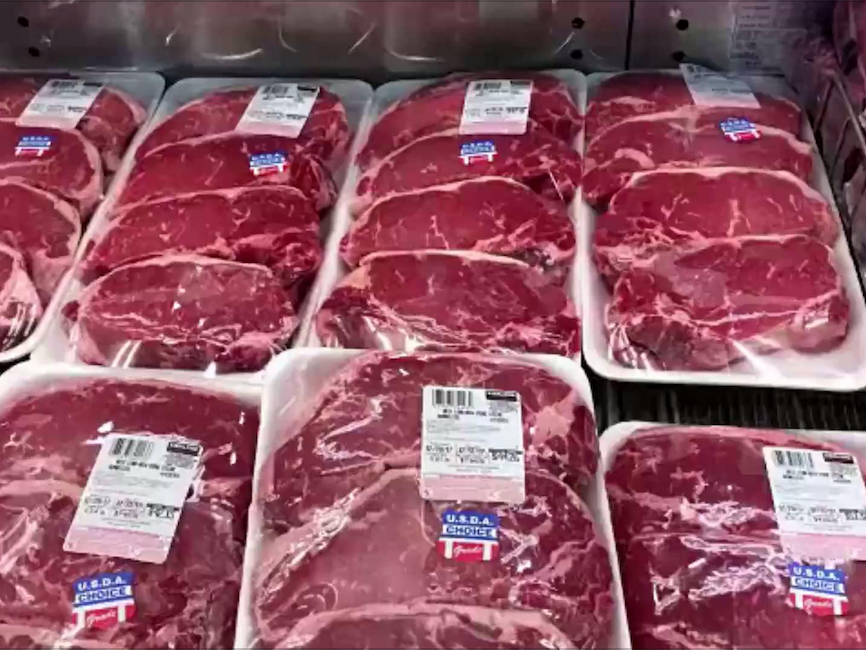 The flavor of the beef was a standout winner and a favorite. It has a great balance of fat and marbling.
Kirkland Signature Organic No-Salt Seasoning: McCormicks
McCormick's is a seasoning and spice company that you can find at most grocery stores. It has been around for a long time. When it comes to seasoning, Kirkland's Signature Organic No-Salt Seasoning is a crowd pleaser. It comes in a 14.5-ounce container and retails on Amazon.com for only $9.49. That is approximately $0.65 per ounce.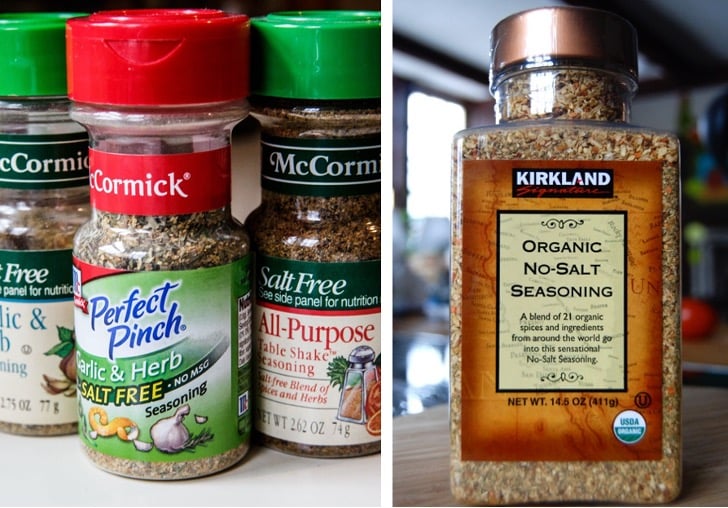 Kirkland's Signature Organic No-Salt Seasoning is a rumored McCormick duplicate. According to Costco, their seasoning salt is made from a blend of 21 spices. It is USDA-certified organic and much healthier because it has a lower sodium count. A bonus for this product is that is is certified Kosher.
Kirkland Signature Bourbon Whiskey: Jim Beam
Kirkland's Signature Bourbon Whiskey is very similar in flavor to that of a lot of bourbons. It has a very smokey profile with touch of spice. Kirkland's current brand is produced by Jim Beam. According to Mashed, Kirkland's Canadian Whiskey is made by Crown Royal.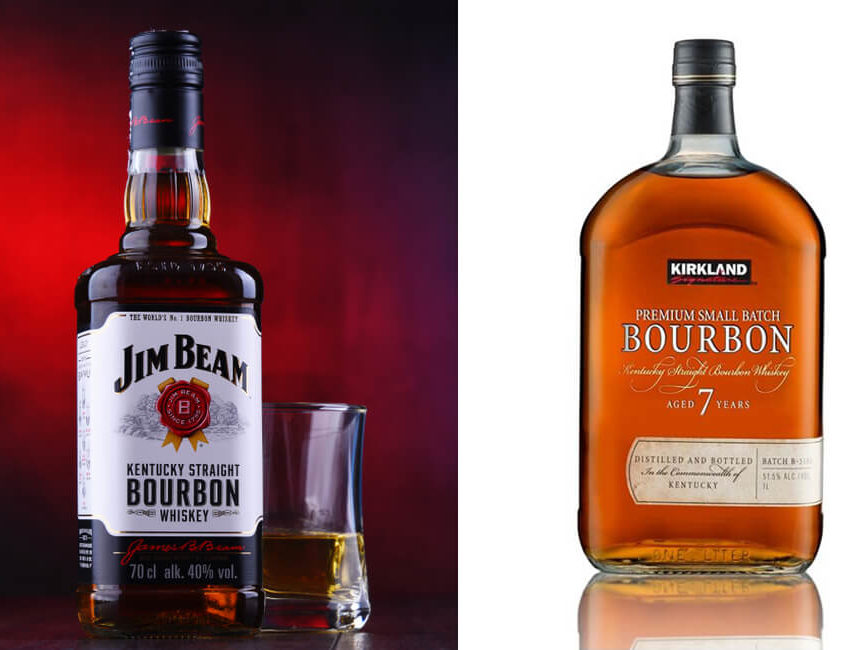 Kirkland has distributors all over the world. Tastings rated Kirkland's Signature Bourbon Whisky an impressive 91/100 in its blind taste test.
Kirkland Signature Golf Balls: Callaway Golf
Costco's Kirkland Signature Golf Balls took the industry by surprise when they were introduced back in 2016. They are often called K-Sig for short. These golf balls are sold for a low price of 24 balls for $30. This is far cheaper than you  will ever see from name-brand manufacturers.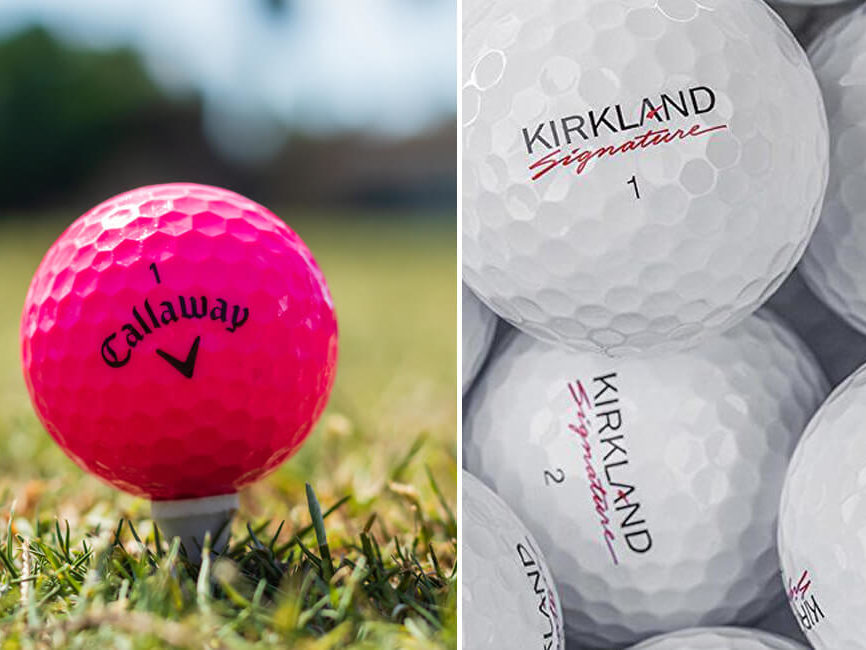 When K-Sig balls were compared to Pro V1 golf balls, Kirkland's golf balls did far better. When hit, they went almost ten yards further and flew 1.5 miles per hour quicker than the Pro V1. On average they had 300rpm less than the Pro V1 which is huge!
Kirkland Rotisserie Chicken: Own
Costco gets their whole chickens from various suppliers that operate individual chicken farms. Many of these poultry farms are owned by Costco.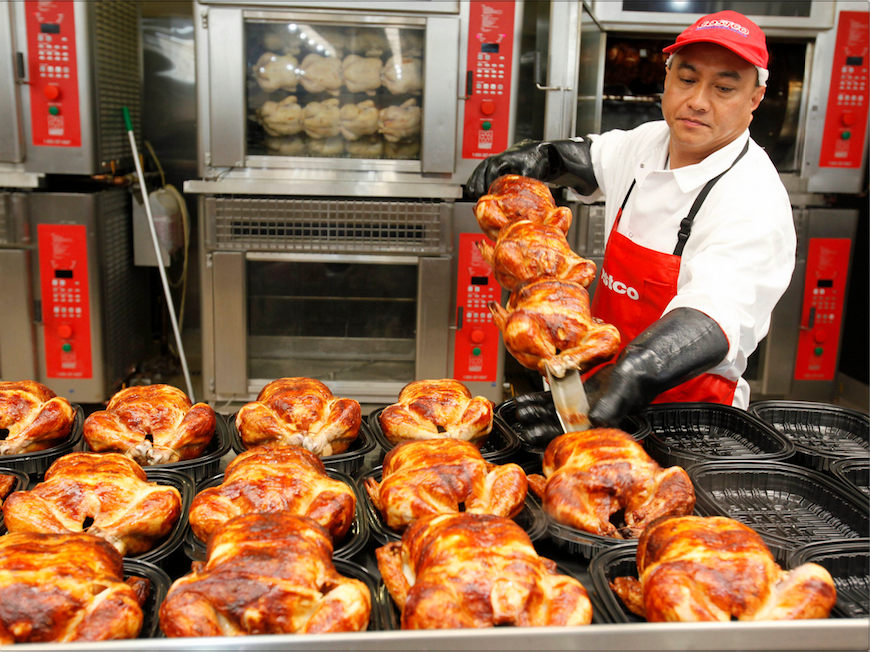 Costco produces well over 60 million chickens each year to sell as rotisserie chickens in their stores.
Kirkland Signature Organic Greek Yogurt: Stonyfield Farms
The Kirkland Signature Organic Greek Yogurt is nonfat and Kosher. The USDA has certified it as organic. It is sold in everything from single units to a 3 pound tub. Kirkland-brand Greek yogurt is pasteurized using "Grade A" nonfat milk. In each container you will find many live cultures (probiotics), including lactobacillus, bifidus, and bulgaricus.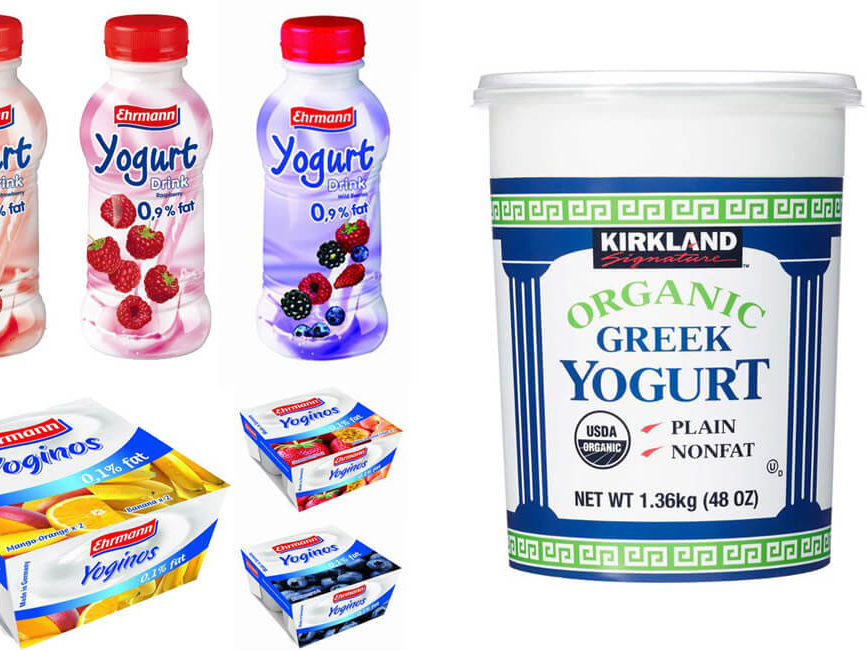 Kirkland yogurt is comparable to yogurts from larger brands like General Mills and Dannon. Stonyfield Organic is known as one of the healthiest brands as it is nonfat and has live cultures. Many taste tests have been done with Kirkland's yogurt and it always finished up top.
Kirkland Signature Sparkling Water: La Croix
Costco unveiled its own brand of sparkling water back in 2018. Kirkland Signature Sparkling Water, is rumored to be an exact lookalike for La Croix. The popular brand of sparkling water is owned by National Beverage.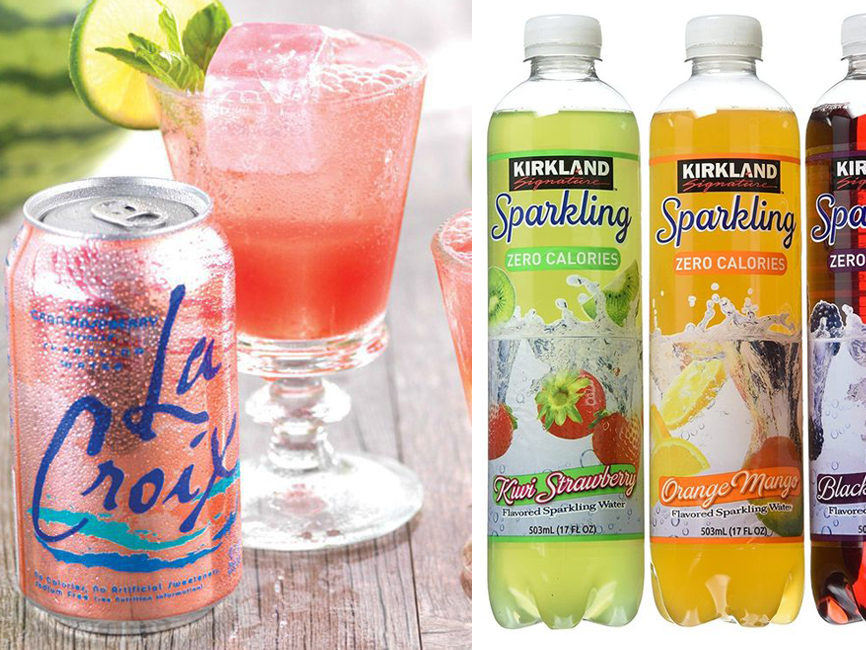 When you take a look at the prices of both, Costco's Kirkland brand certainly has La Croix beat. Each individual Kirkland can will cost you $0.23. This will save you 33 cents when compared to La Croix's twenty-four pack. With Kirkland, you get eight more cans. There are currently three flavors of this canned sparkling water: lemon, grapefruit and lime.
Kirkland Signature Organic Creamy Peanut Butter: Jif
Kirkland Signature Organic Creamy Peanut Butter is a version of the competing peanut butter from Smucker's. Smucker's is known for its peanut butter and jelly. You will get two 28 ounce jars of Kirkland-brand creamy peanut butter for just $11.49.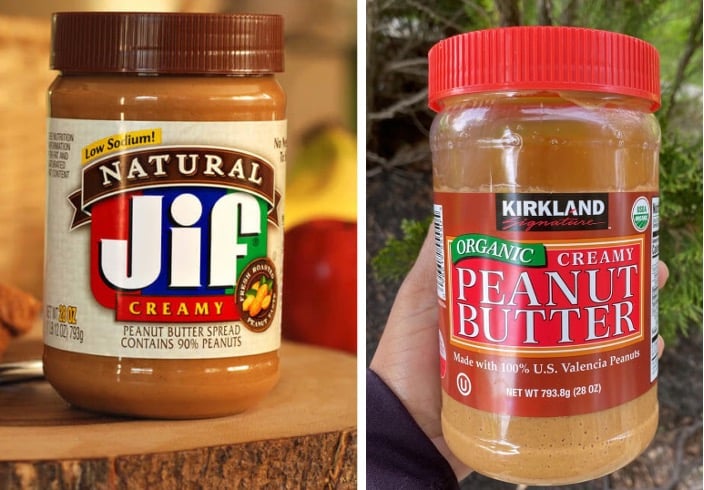 This peanut butter is Kosher and USDA-certified organic. The peanut butter is made from roasted peanuts which have been sprinkled with sea salt. This Organic Creamy Peanut Butter is known for its high-protein, with eight grams per serving! It is a healthy addition to a snack because it is easy on the sugar (just two grams).
Kirkland Signature Hair Regrowth Treatment: Rogaine
Minoxidil is an extremely common treatment for men who are struggling with hair loss.  Minoxidil is the most common ingredient in Rogaine in all formulas. Kirkland now has its own brand of Minoxidil which is known to be manufactured by the same company as Rogaine.  – though neither company has publicly confirmed this fact.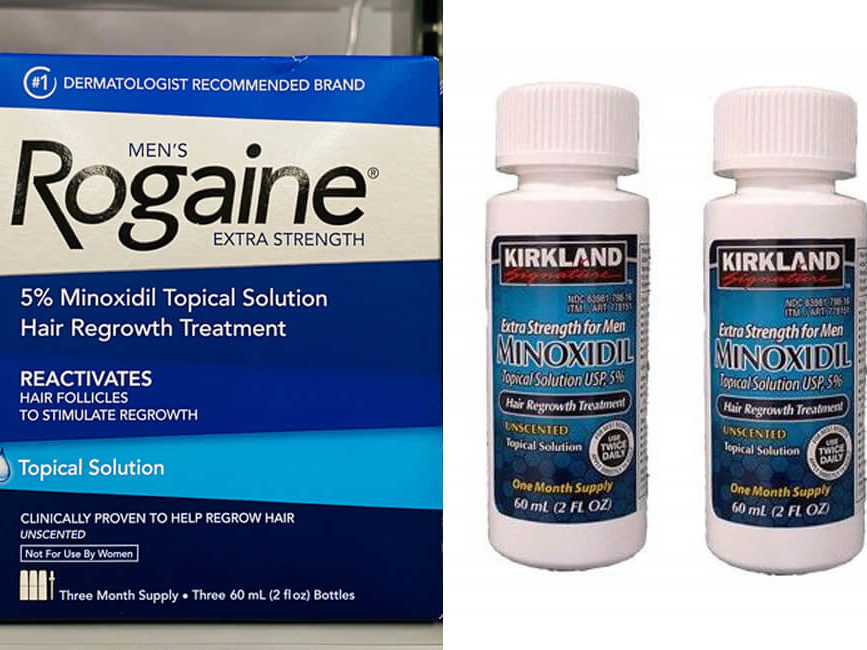 Kirkland Signature Hair Regrowth Treatment is a topical solution which is very much like the formula of the popular Johnson & Johnson brand. At Costco, you will pay $16.99 for a six-pack of this for two fluid ounces. The price comes out to $1.42 per ounce.
Kirkland Signature Tart Montmorency Cherries: King Orchards Montmorency Cherries
King Orchards and Kirkland source the exact same type of cherries for their packages.  Confirmation of whether or not they are the same product remains to be confirmed. There has been no denying that both Tart Montmorency Cherries are extremely popular.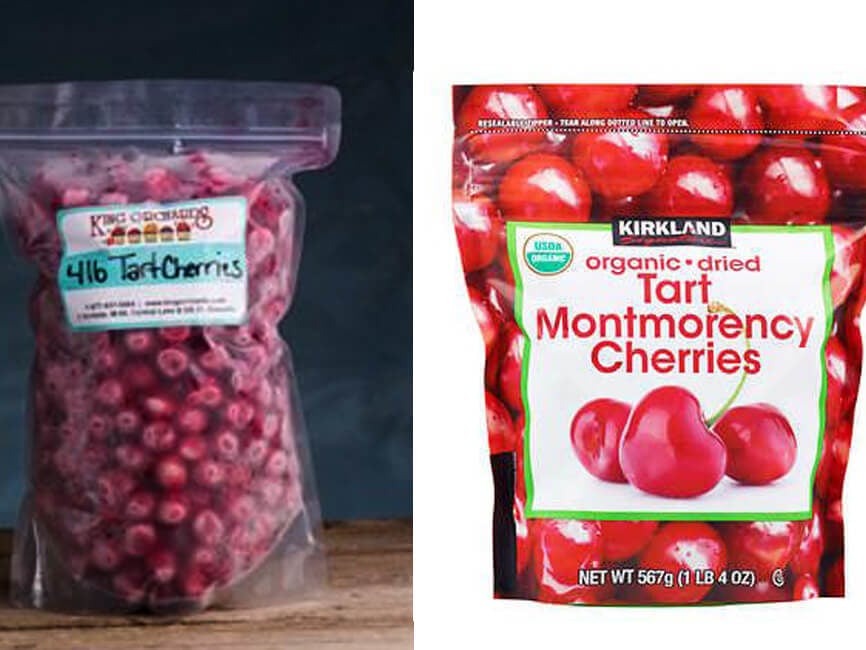 Montmorency cherries are grown all over the world. The areas they are grown in America are only in,  two main locations: Door County, Wisconsin and Northwest Michigan's Grand Traverse Bay. Montmorency cherries are a sour cherry, named after the region of Montmorency, France from which they were originated.
Kirkland Signature Smoked Salmon: Norwegian Smoked Salmon
The Kirkland Signature Smoked Salmon that you will find at Costco is sold in a two-count pack. Each pack of smoked salmon contains twelve ounces of delicious Kosher salmon. The Kirkland salmon is rumored to be a rebrand of Foppen Norwegian Smoked Salmon.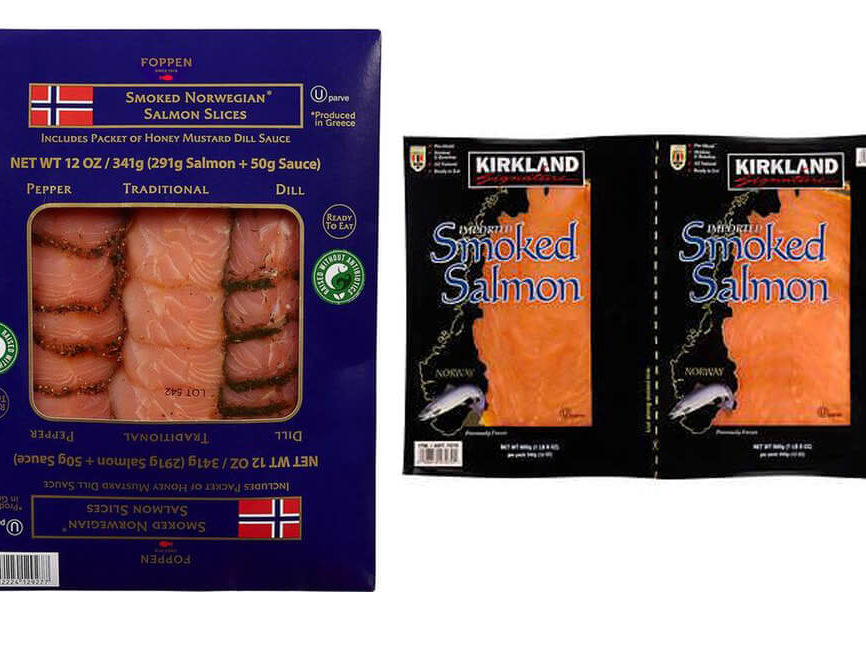 The Costco website does state that their Kirkland smoked salmon is "imported" from elsewhere. Kirkland Smoked Salmon appears to be quite popular. The salmon is pre-sliced, boneless, and skinless, and ready to eat.
Kirkland Signature Organic Blue Agave Sweetener: Wholesome
There is no doubt that there is extreme similarity in packaging between Kirkland Organic Blue Agave Sweetener and Green Bottle Wholesome Blue Agave Sweetener. This has led some to a lot of speculation that the Kirkland brand is a rebrand of the Green Bottle brand. Although it is similar, neither company has confirmed this fact. The taste of Kirkland Signature Organic Blue Agave Sweetener is just as delicious as the Green Bottle brand.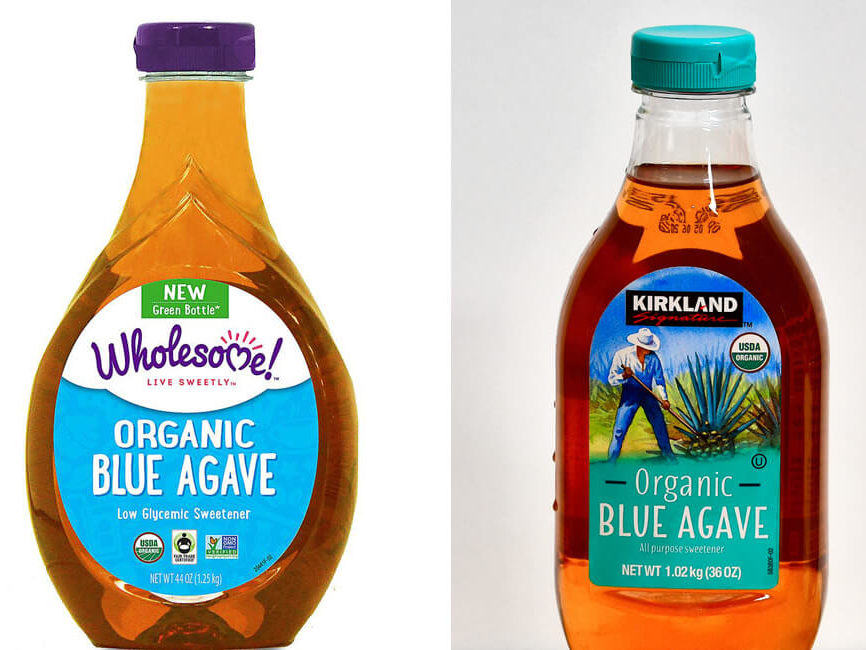 For this bottle, you will pay $10.49 for 36 ounces. Blue agave, also known as agave tequilana, which is the base ingredient for tequila. It comes from plants with pretty, bluish leaves.
Kirkland Signature Nut Bars: KIND Bars
These Kirkland Signature Nut Bars are rumored to be rebranded KIND Bars. You can certainly tell that the two bars share quite similar packaging. The Kirkland's brand is made in America and have five grams of protein and fifteen grams of fat.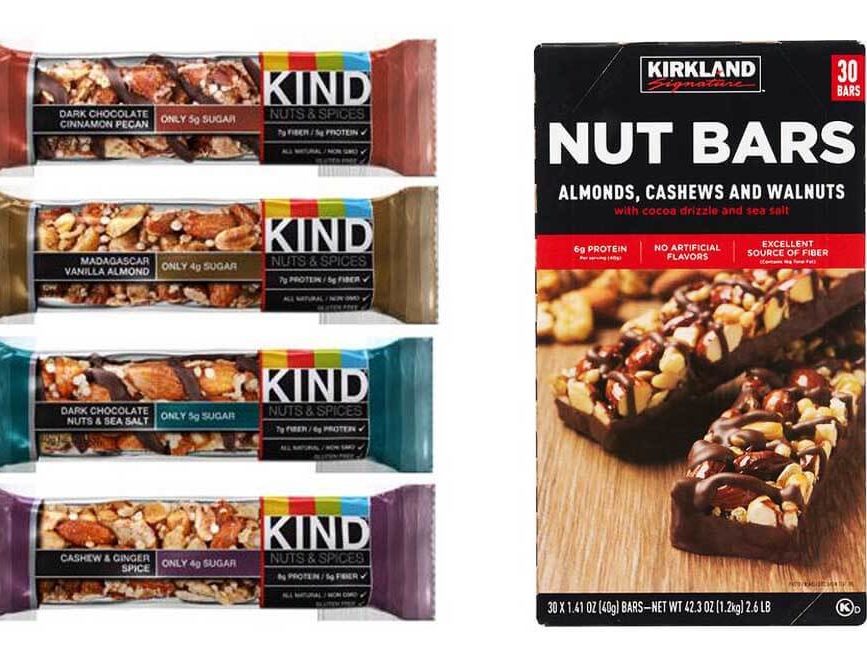 The nut bars are both kosher and gluten-free. They also contain no artificial flavors. All these stipulations are the same as what you will find in the KIND bars. KIND is owned by a private company, unlike Kirkland and Kellogg. The Kirkland Signature Nut Bars come in a thirty-bar box.
Kirkland Signature Dental Chews: Greenies Dental Dog Treats
Kirkland's Signature Dental Chews are another unconfirmed duplicate of a rumored rebrand of Greenies. The Kirkland Chews are the same telling green color. These dental chews are grain and gluten-free along with containing no artificial preservatives, flavors, or preventatives. The chews are two-sided, have grooves, nubs, and ridges that will help your dog clean their teeth thoroughly.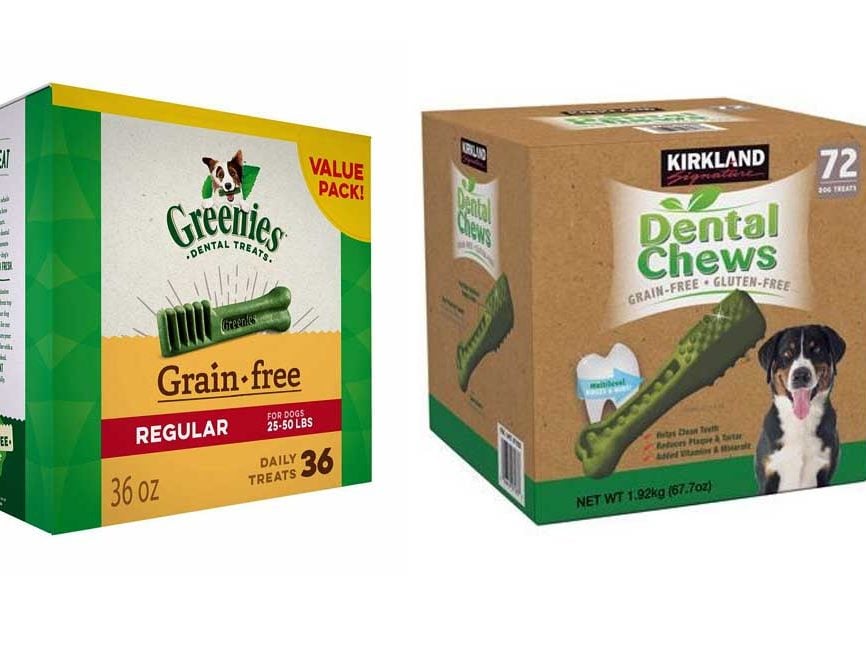 The Kirkland Signature brand comes in a box count of 72 chews. According to Costco, they have a "paw grip" handle that works with your dog's "instinctive" and "natural chewing style."
Why Does Costco Do This?
We obviously all appreciate the discounts that come from Costco shopping, along with the ability to score your items in bulk. But how does Costco convince brands to cut down the cost of their own items?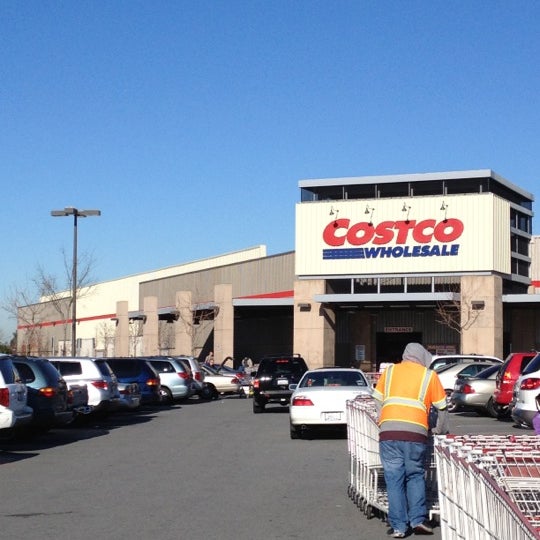 How does Costco get their consumers a large bottle of French vodka for only $20? Or 12 eggs at a huge fraction. Well, the answer is in business savvy, through and through.
Costco Asks Brands to Cannibalize Themselves
Costco does not eat the costs when they sell brand name items for much cheaper. In fact, they actually profit.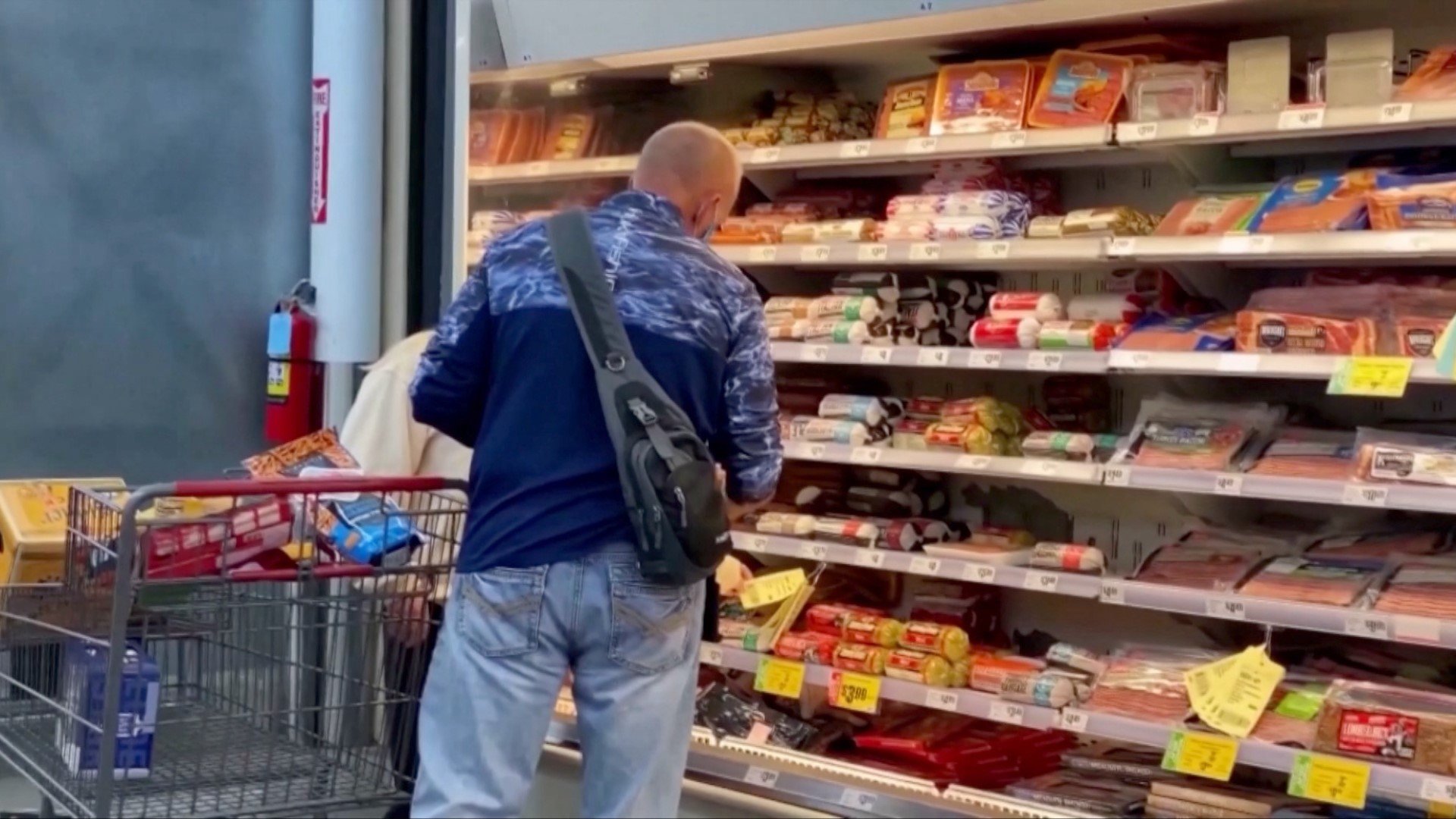 And nor does the quality of the products they are selling suffer, either. In fact, they all pass with flying colors on the purity test. And we all know that the consumers are not suffering one bit.
The Fan Base Is the Reason
It is a bit unusual to see such an intensely loyal fan base with a private company, and yet–here Costco stands, king of the hill.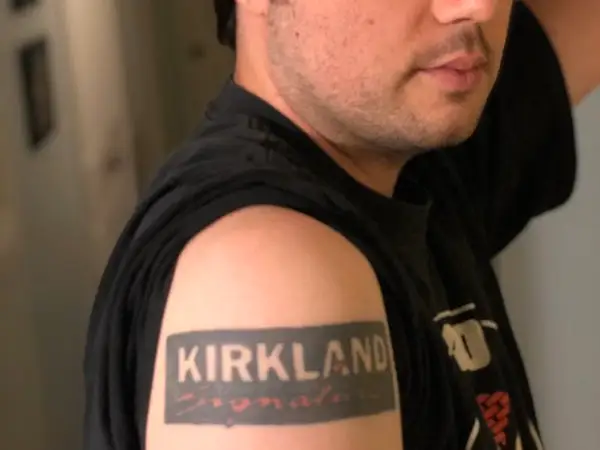 So how do they do it? How do they provide rock bottom prices with such high-quality products? Well–get this the products are not actually equivalent to the normal brands they come from.
Costco Makes Brand Compete With Each Other
So to keep everything in line with Costco standards, brands are made to compete with their own products. The Costco brand asks brands to fit into a standard and metric of their choosing and perform to that benchmark.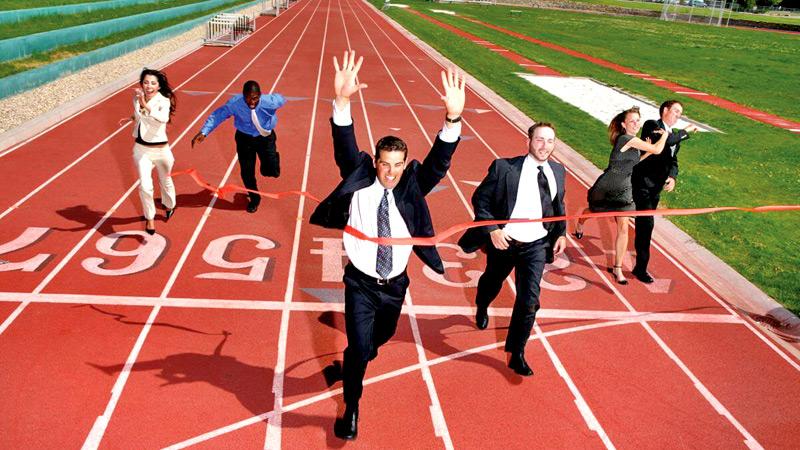 The products have to be at least 1% better than the products that other products are selling. So if Costco is pitting brands against each other to leverage a lower price for themselves…and us.
Costco Started as Business to Business Retailer
Costco was founded in 1983 and started as a business to business (B2B) retailer. They only sold three categories in products, what businesses needed and used (like food for a restaurant), what businesses used within their own business (like a TV for example).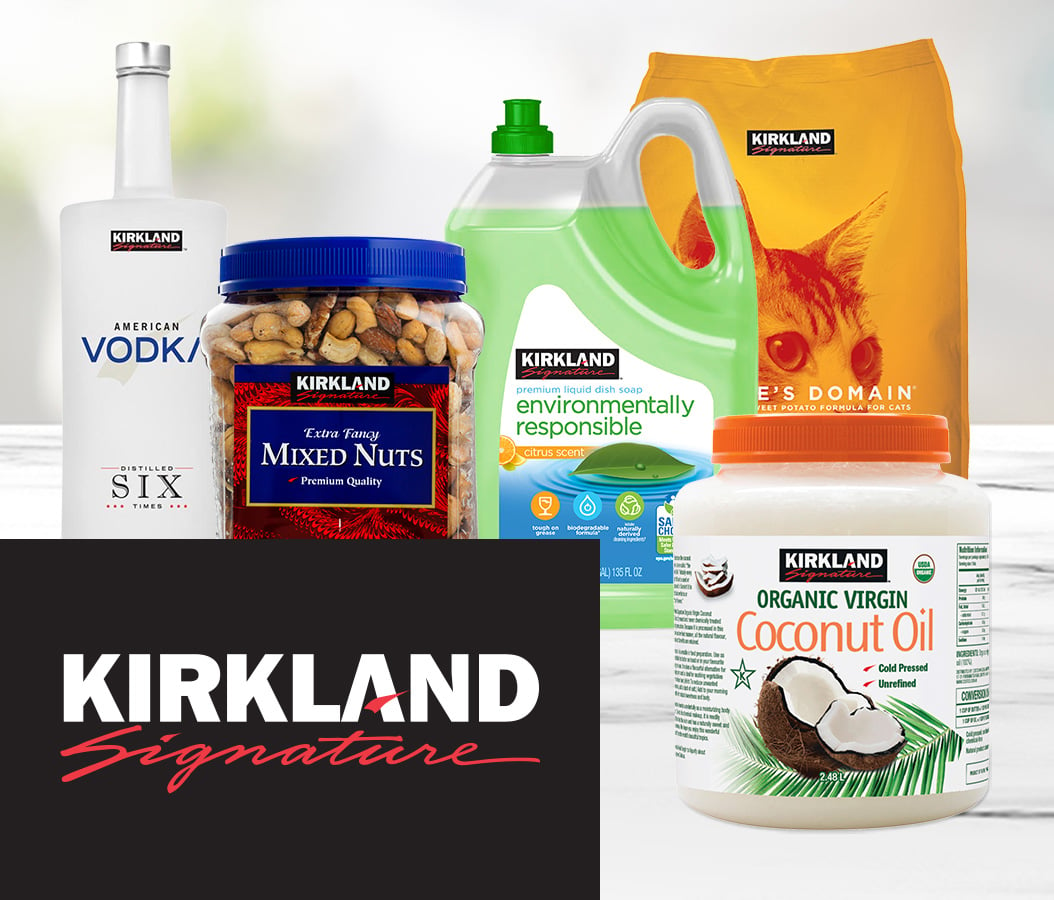 The Kirkland Signature was Costco's popular private brand label and launched nine years later in 1992. And the reason Kirkland existed is for the very purpose that it serves.
There Is Certain Criteria for Kirkland
As mentioned before, the Kirkland standard is quite high. So, aside from being as good or better than the already leading brand, there are two more sets of standards that are expected.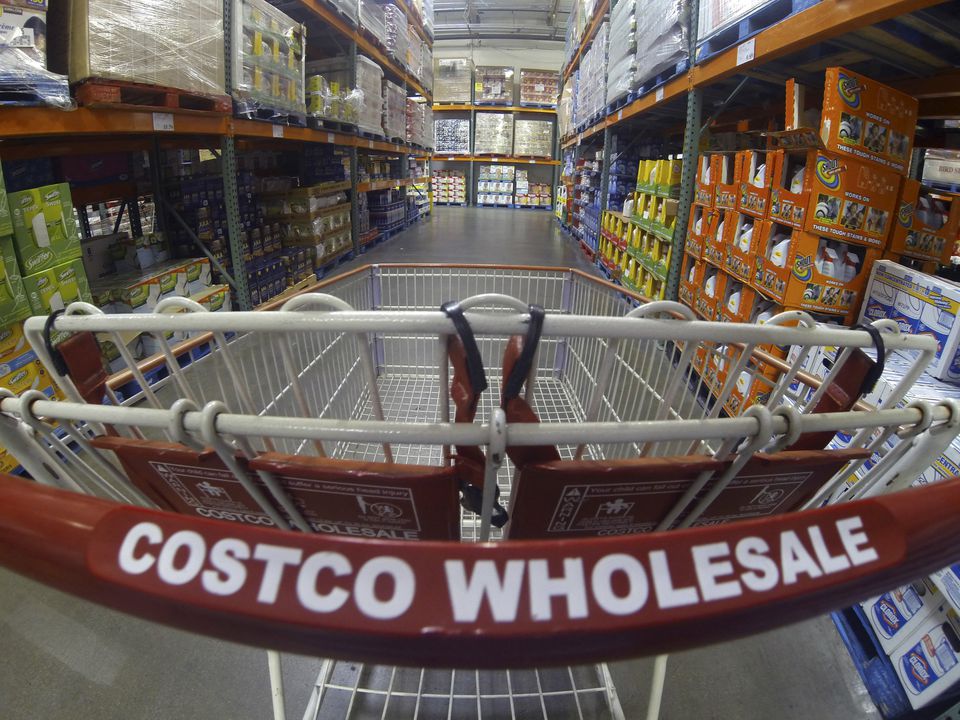 The second standard is that the product must be sold at a 15-20% discount at Costco price. Lastly (and perhaps most obvious) is that the product must be important to customers.