The Universe's Strange Coincidences Caught on Camera
Whether you believe in divine intervention, coincidence, or "everything happens for a reason", there are some things in this world that simply cannot be explained.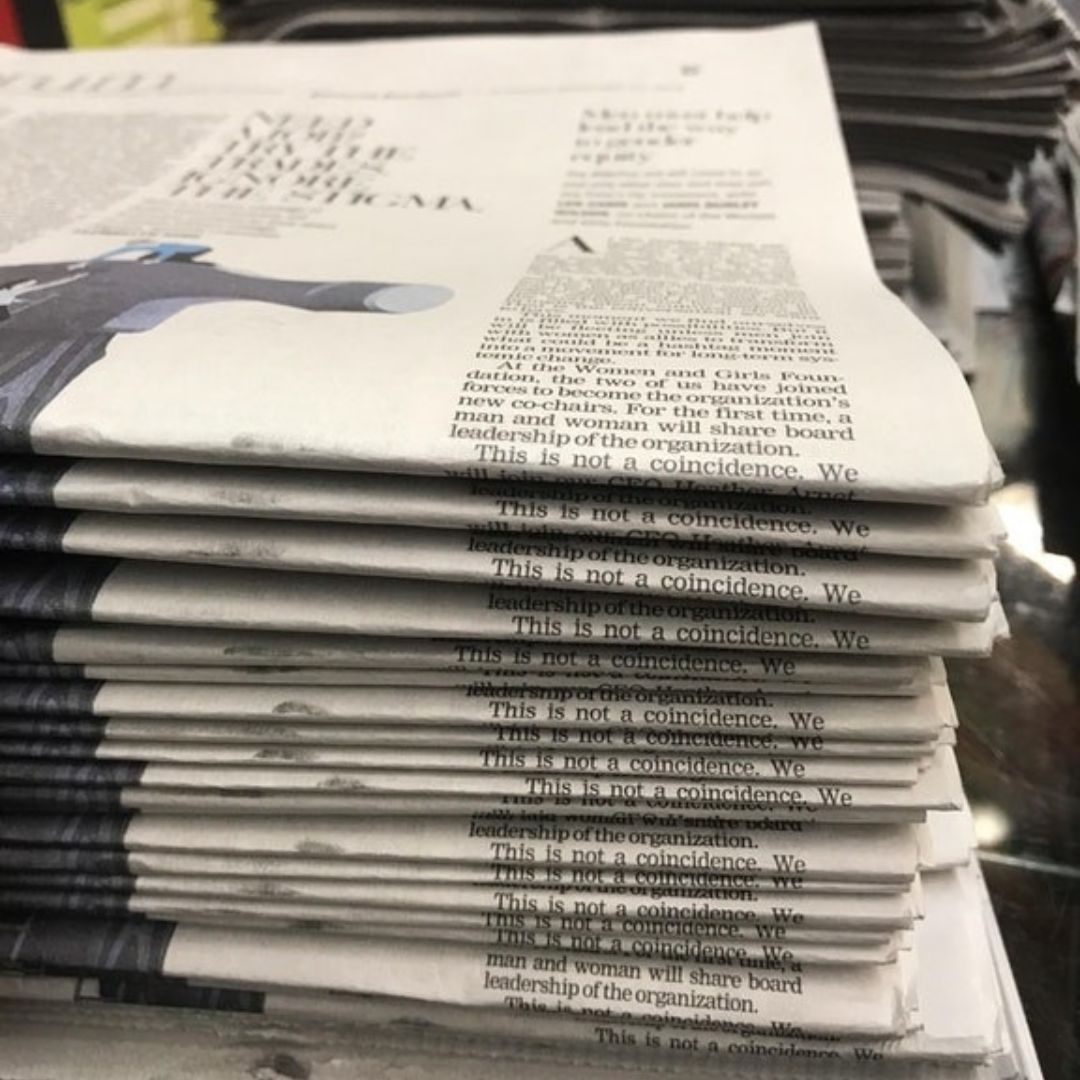 Luckily, some of these happy little coincidences have been caught on camera so we can share in the amusement and confusion. These coincidences will leave you wondering, "Is the simulation glitching?"
The Invisible Car
We're all for style, but this wrap job takes it to a whole other level. How are you going to find this thing in a parking lot? If not for the tires, we would never know the car is even there.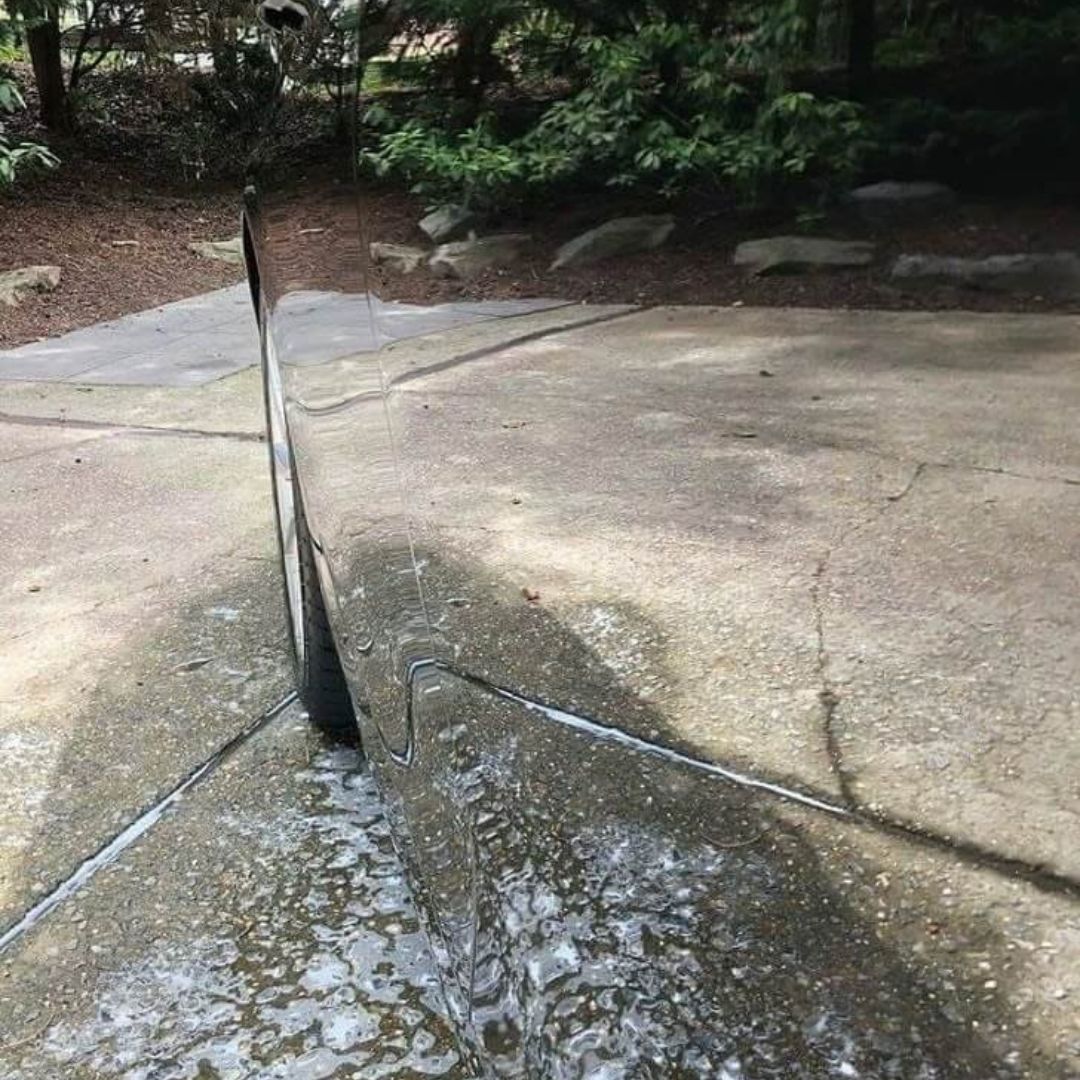 I have to imagine it's caught other people by surprise, too. How many people do you think have accidentally run into this thing? It can't possibly be street legal. But it makes for a cool picture that scratches our brain for a second.
Triplets
What are the odds that three ladies with the same haircut, bright pink shirts, and white slacks walk into the same donut shop at the same time? If these ladies didn't coordinate for their trip to Hortons, this is quite the coincidence.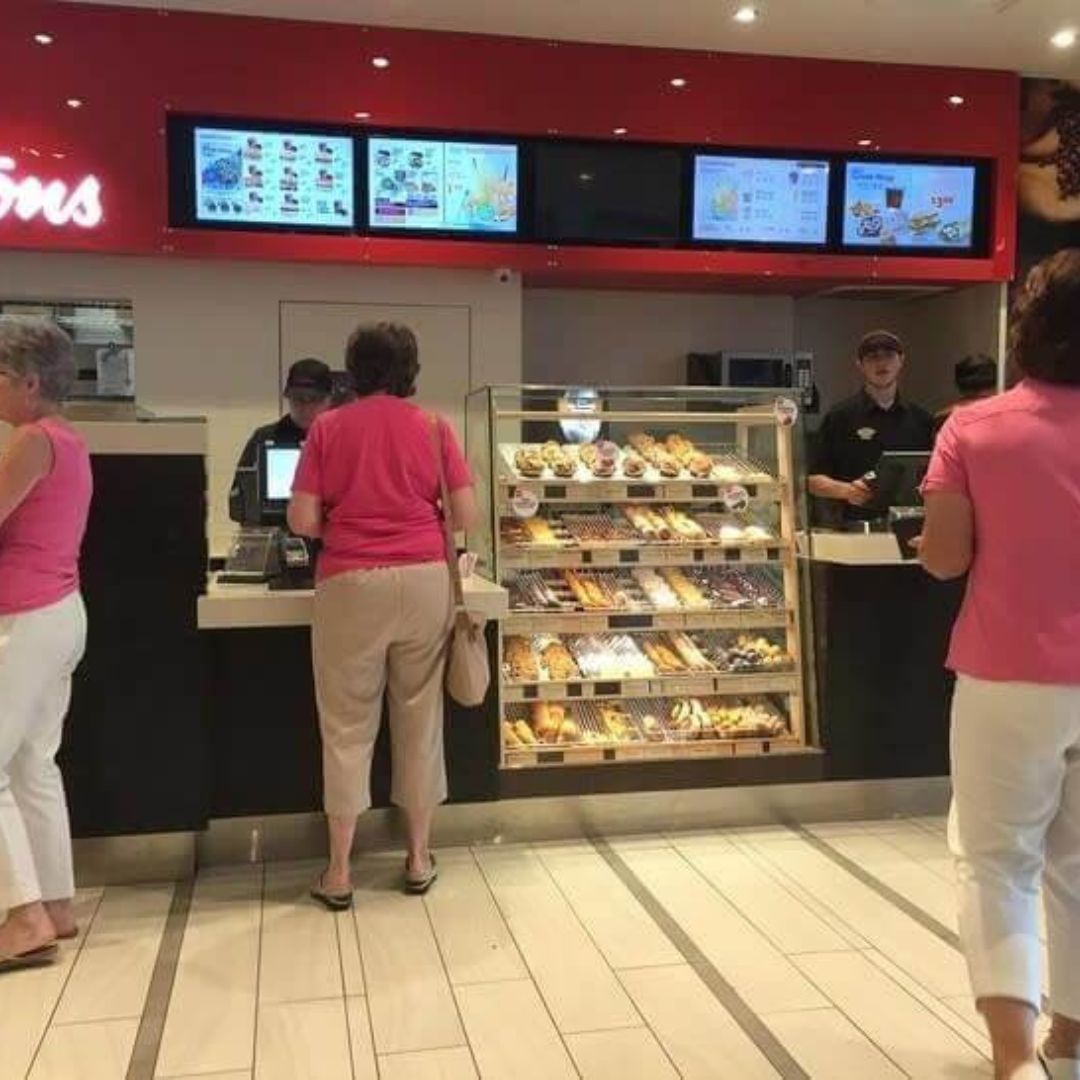 I like to think they became friends after this. Is unintentional twinning enough to build a friendship on? They could certainly go shopping together at the very least.
Cat Kid
The internet is no stranger to funny cat pictures. Perfectly timed photos like this are what we are here to see! We wonder if this guy knew he was creating a beast with the head of a cat and the body of a human when he took this photo or if it is just one of the universe's perfectly crafted coincidences.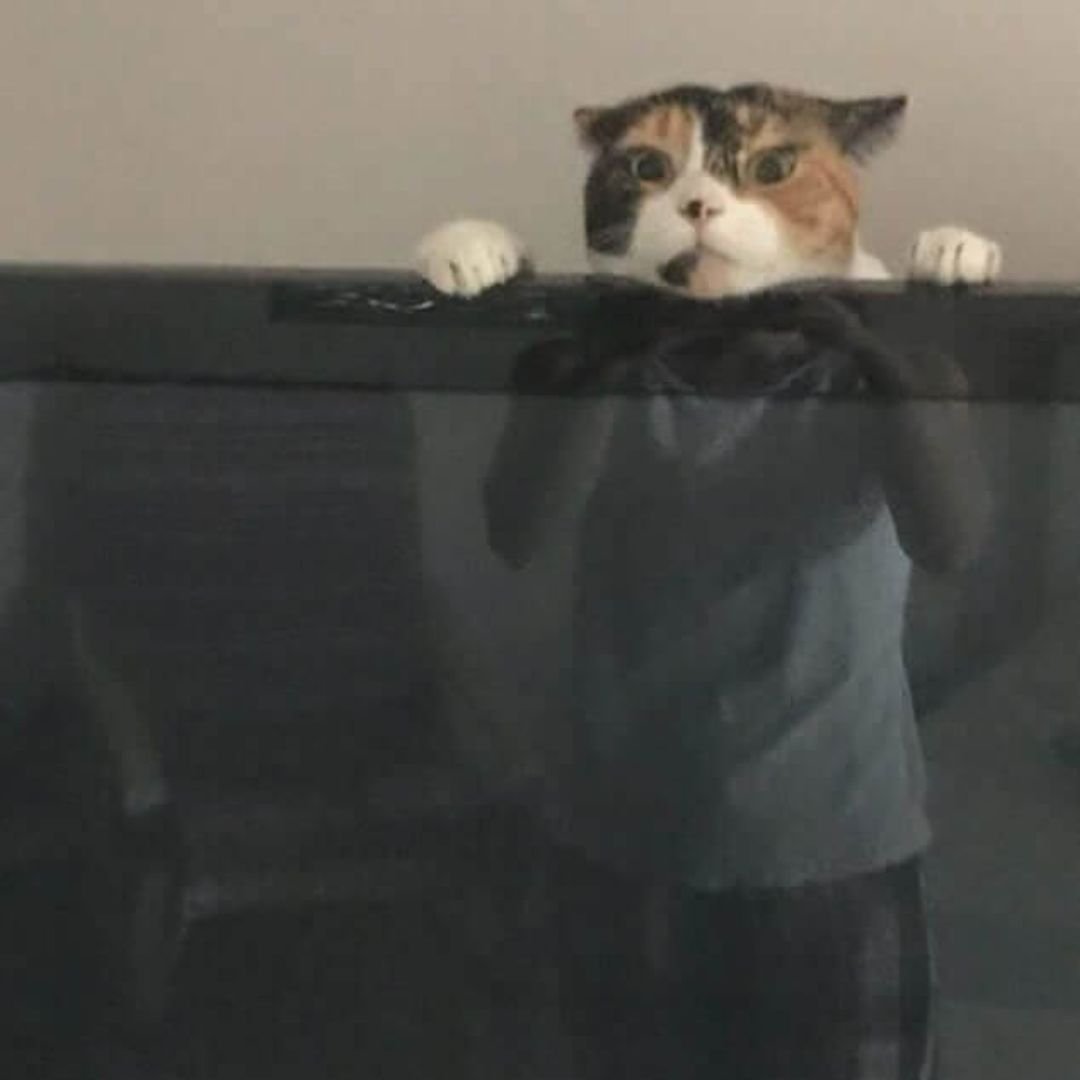 It leaves us grateful that the "cat man" does not actually exist. He'd be too powerful for this world! Props to this kitty for posing perfectly though.
Dixie Cup Style
This coincidence is two-fold. It's wild enough that this young man bought a sweatshirt that happens to have the same exact pattern that's on these retro paper cups. But for him to wear it somewhere where they actually use those cups? It seems like a glitch in the simulation.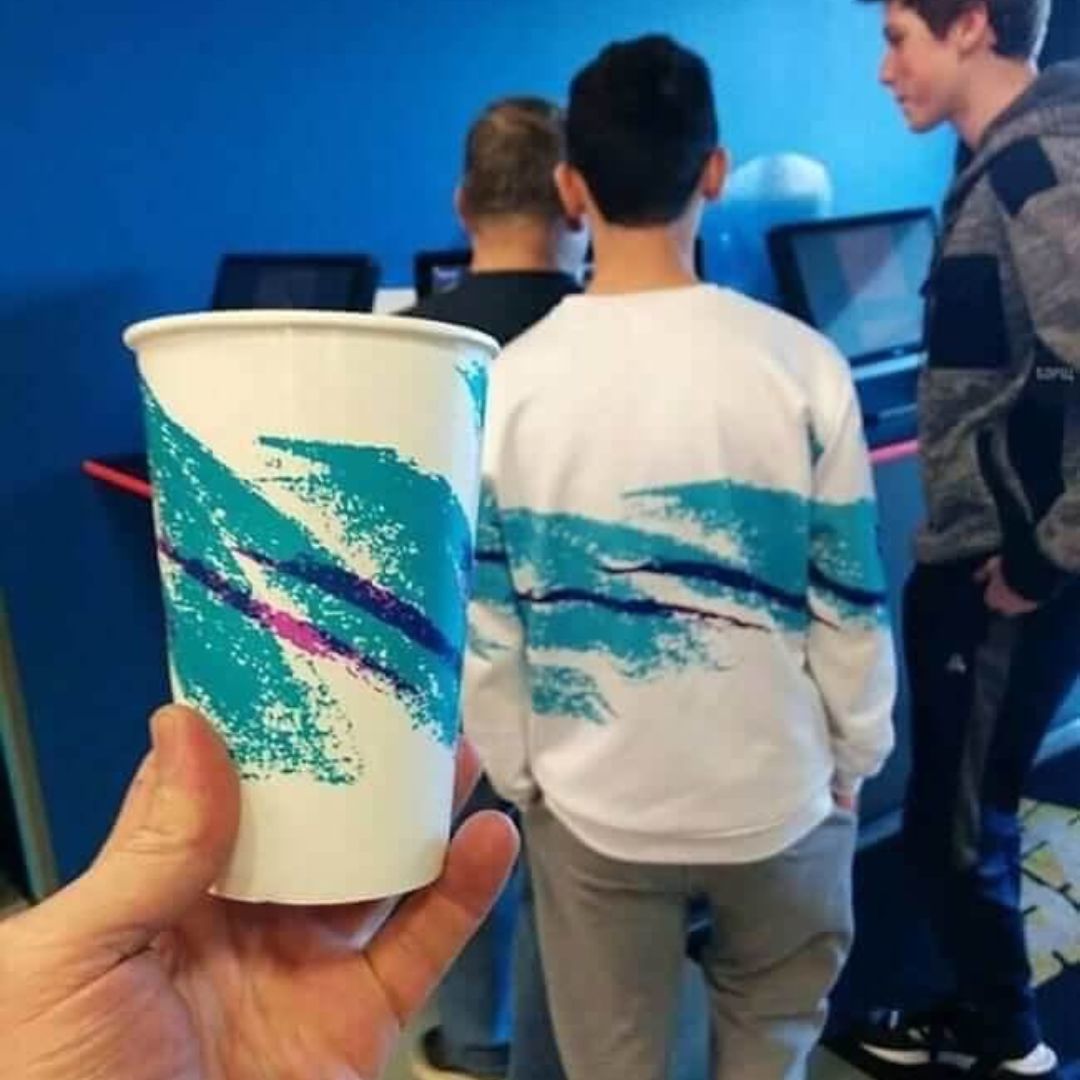 Maybe he's just a big fan of the cups or he just likes retro style. We're not ruling out any possibilities. Either way, thank you to whoever captured this precious moment.
Which came first? The Banana or the Dog
Does life imitate art or does art imitate life? This is the age-old question that comes to mind when we see this image. Does the dog look like a banana or vice versa? Maybe all banana slices look like little dog faces, but this one seems too weird to be anything but a coincidence.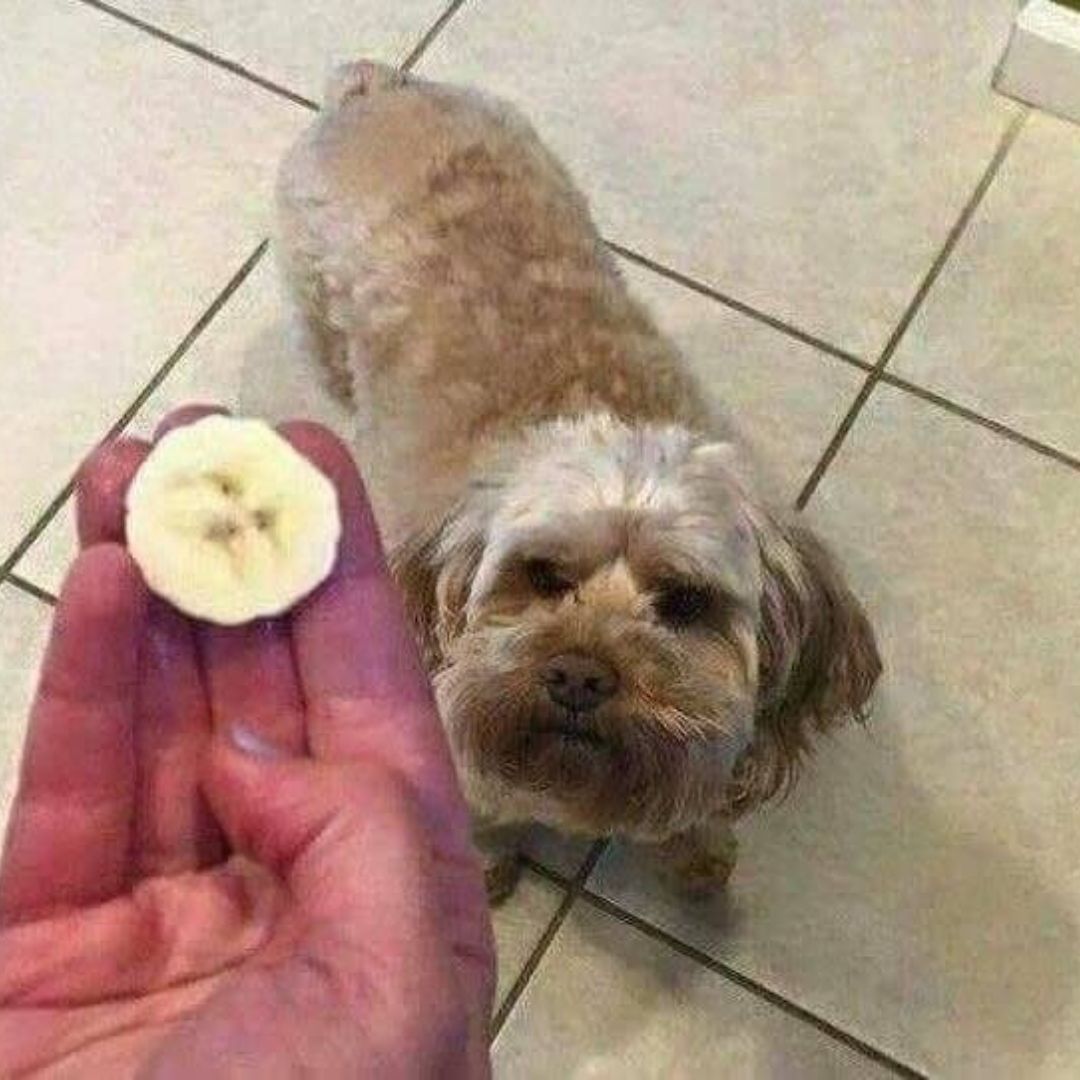 Maybe the universe just wanted to put a smile on all of our faces. Mission accomplished! We're wondering if this dog owner had the heart to eat the banana that shared a face with their cute pup.
The Counter/Burrito Combo
Some of the universe's coincidences occur when two completely unrelated items happen to perfectly blend together until you can't separate one from the other. This is that awkward moment when you set down your burrito and can't find it.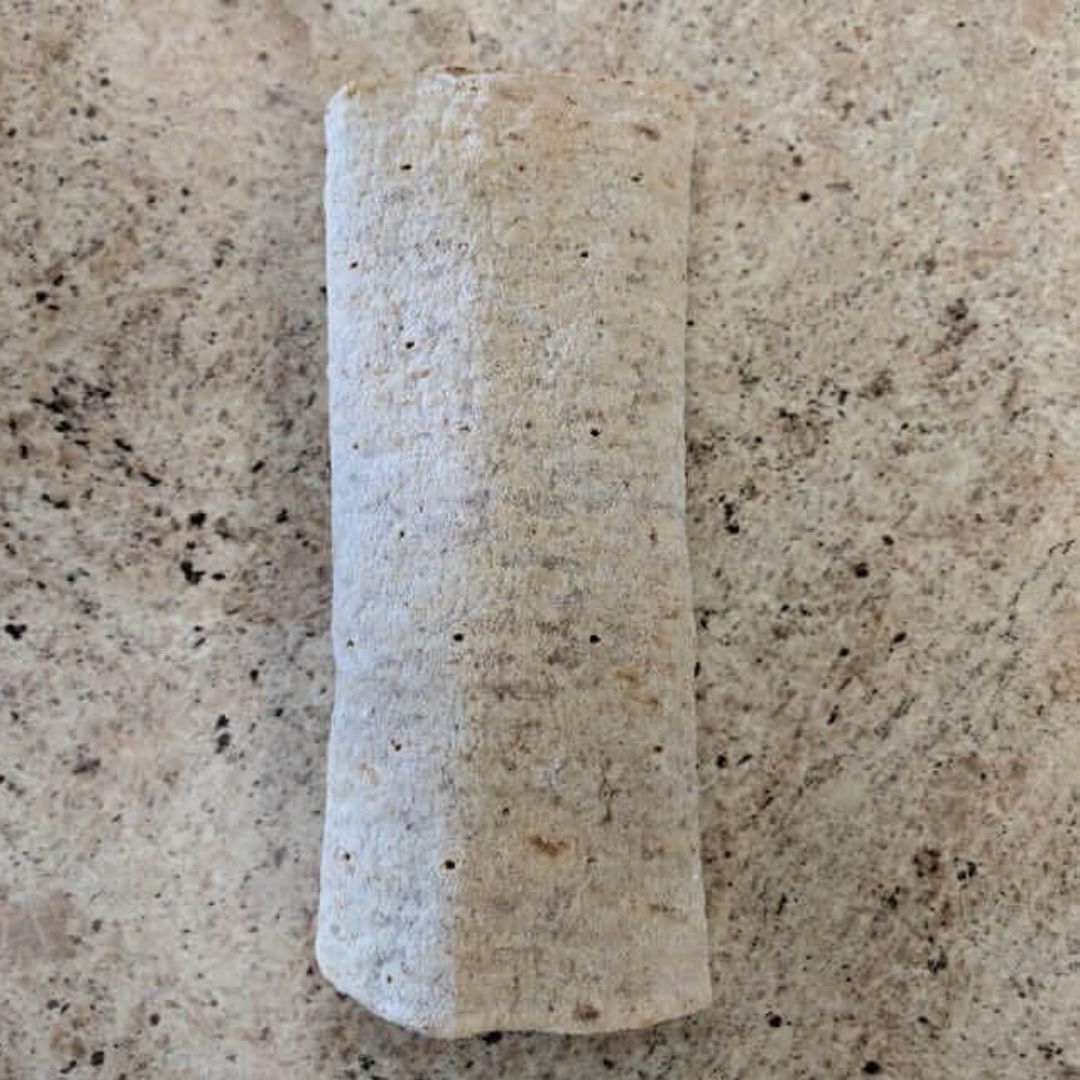 This burrito couldn't be more camouflaged into this counter if it tried! Maybe the counter tops come in the pattern "tortilla". We can't help but feel like this person's lunch was trying to hide from them. Hopefully it tasted better than a granite countertop would.
Taylor Swift Spotted
Every once in a while, a freak accident happens by absolute chance and you're lucky if you catch it; even luckier if you catch it on camera so we can all enjoy it. What are the odds that a "Taylor" truck and a "Swift" truck pull up right next to each other? Pretty slim.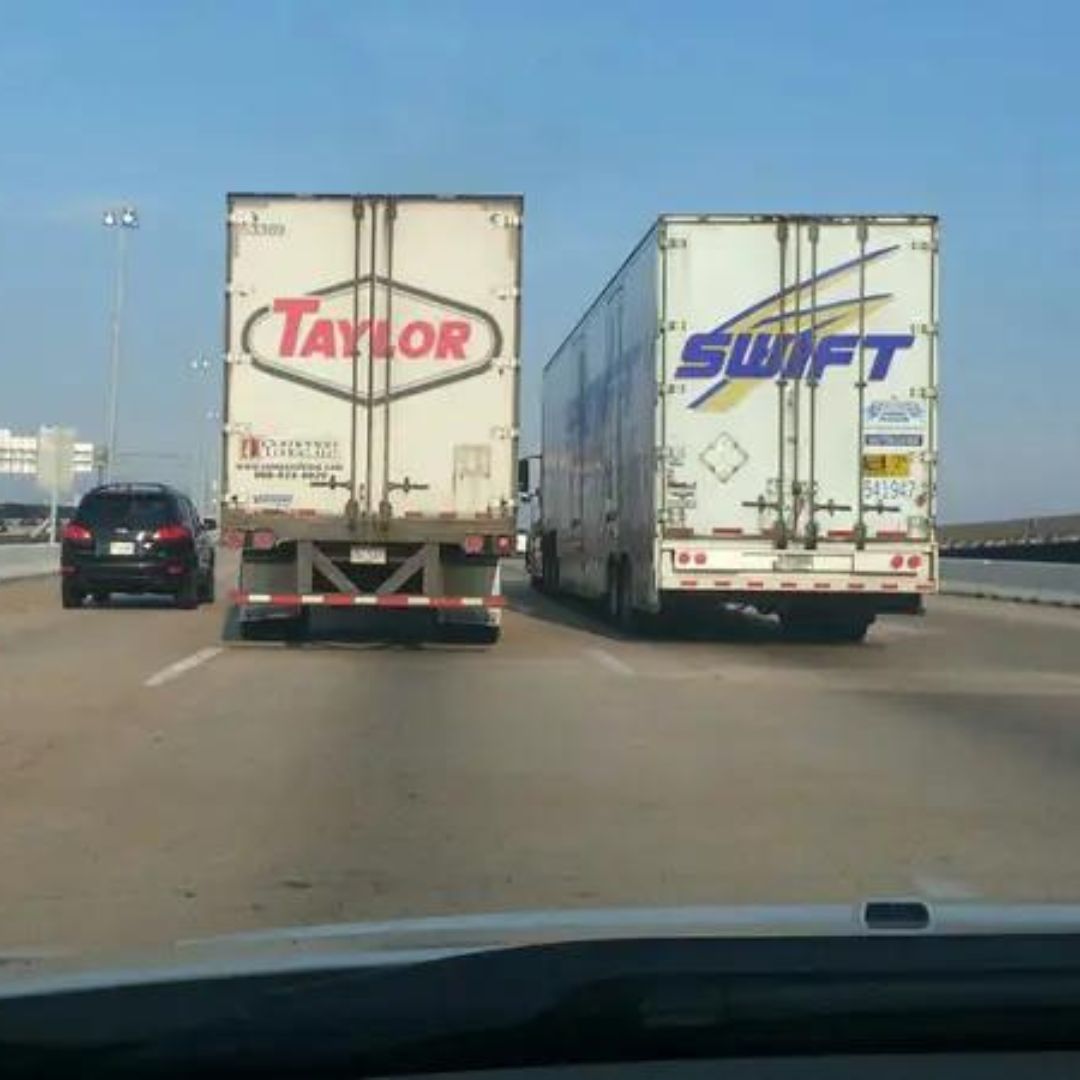 Taylor Swift should print this picture out on t-shirts and sell it as merch. The truck drivers probably have no idea of the perfect moment they created by driving right next to each other. We are oh so grateful to enjoy this happy little accident, no matter how it came to be.
Great Power
A photographer named Denis Cherim started "The Coincidence Project" which encourages people to challenge the way they see the world through photographs. This is one of the images from the project that makes us question the idea of coincidence by looking at everyday things in a new context.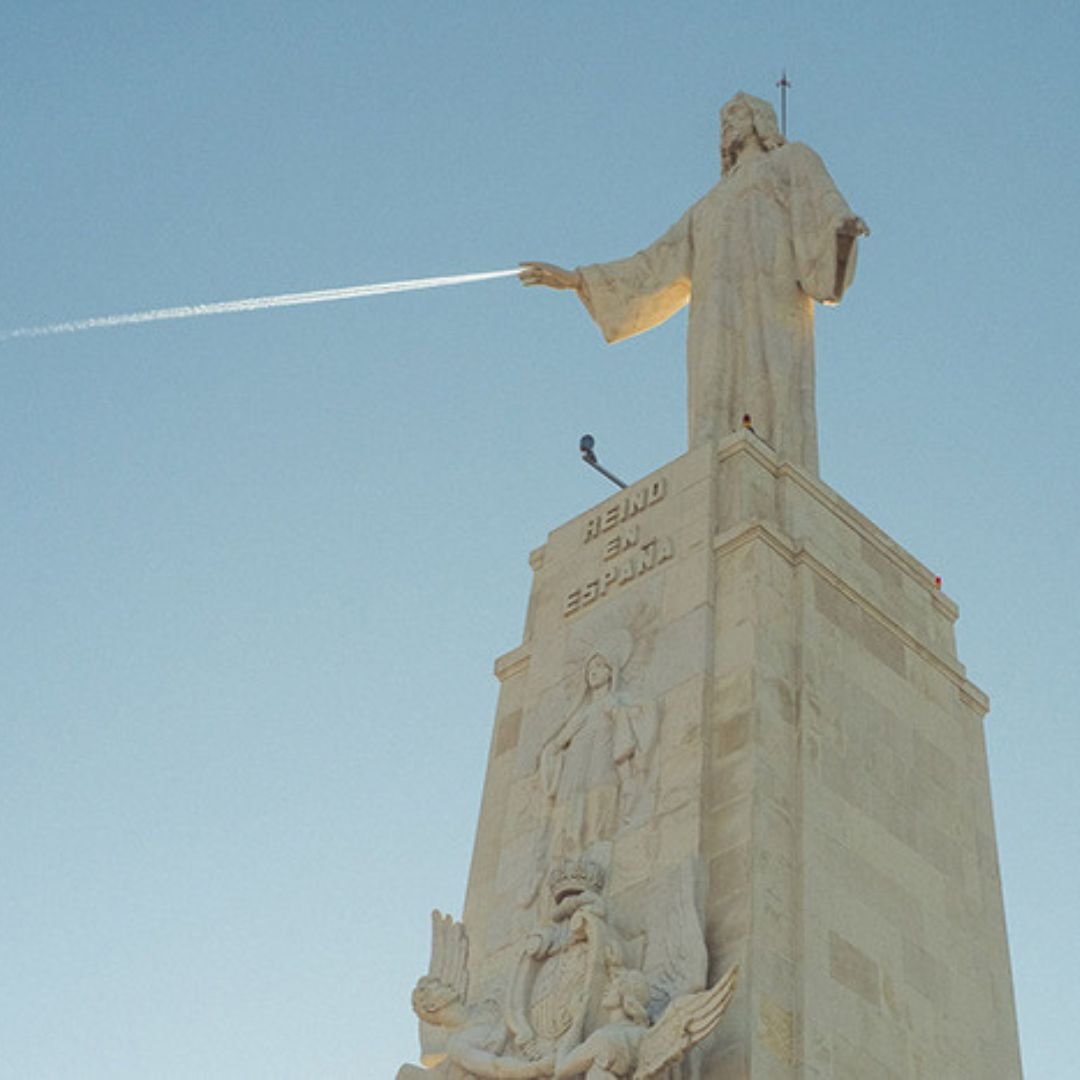 Rather than just seeing a statue and a jet stream in the sky, the jet stream looks to be coming from the hand of the statue, as if they were meant to coexist. Like a lot of his other work, he uses two things that are far away from one another and makes them appear as one.
Peekaboo
It can be difficult to find meaning in the world of vanity license plates. But this happy little accident makes us smile. It looks like the two people who picked out these license plates would probably get along well, as they have the same sense of humor.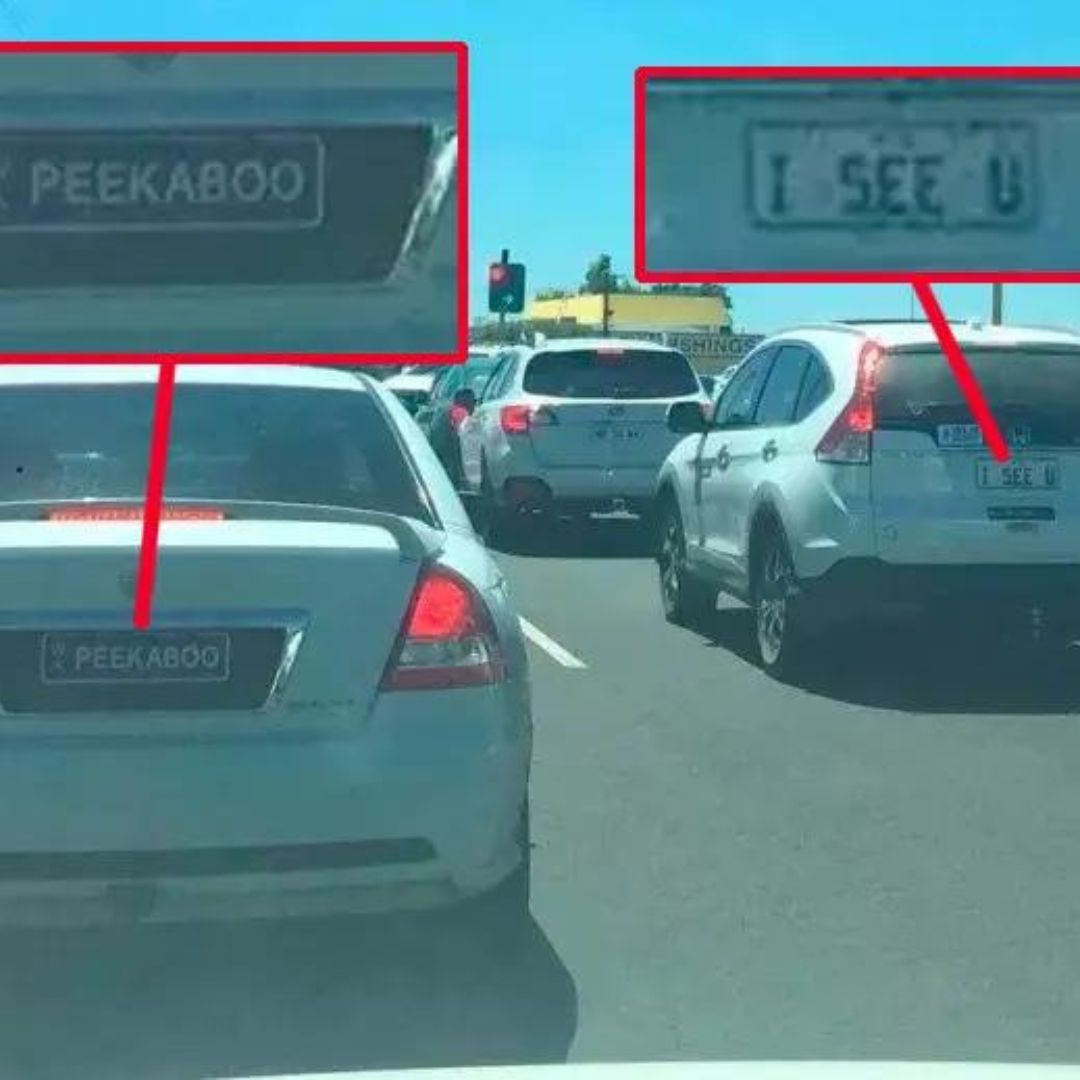 But for them to wind up on the same road at the same time gives us all an opportunity to laugh. We're grateful that someone noticed this license plate coincidence and shared it with the rest of us. We'll be on the lookout for accidents like this one from here on out.
This is Not a Coincidence
In a world of probability and chance, we wouldn't have bet on this happening. For the line "This is not a coincidence" to appear just at the fold of the newspaper so it is repeated again and again in the stack is a brilliant play by the universe. If you've ever asked the universe for a sign, this is just about as clear as it gets.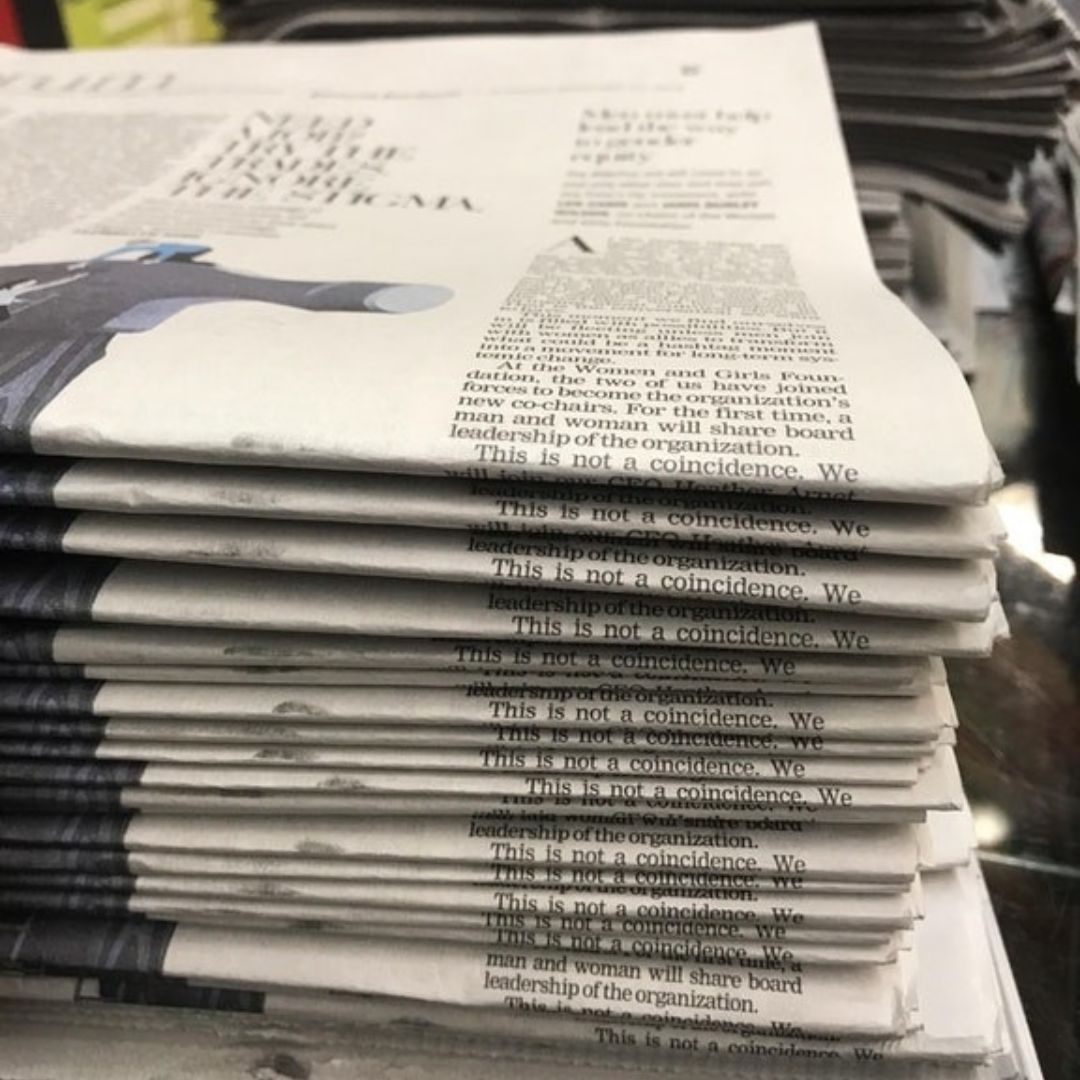 Are you beginning to believe in "meant to be" yet? If I saw this stack of papers I would definitely have to buy one. You don't want to miss a sign from the universe, especially when it's basically slapping you in the face!
Like Father, Like Son
Keep staring! It took me a while to figure out what was going on in this perfectly-timed photo before I figured it out. This picture was taken at the perfect time and at just the right angle. It probably could never be replicated even if they tried 1,000 times.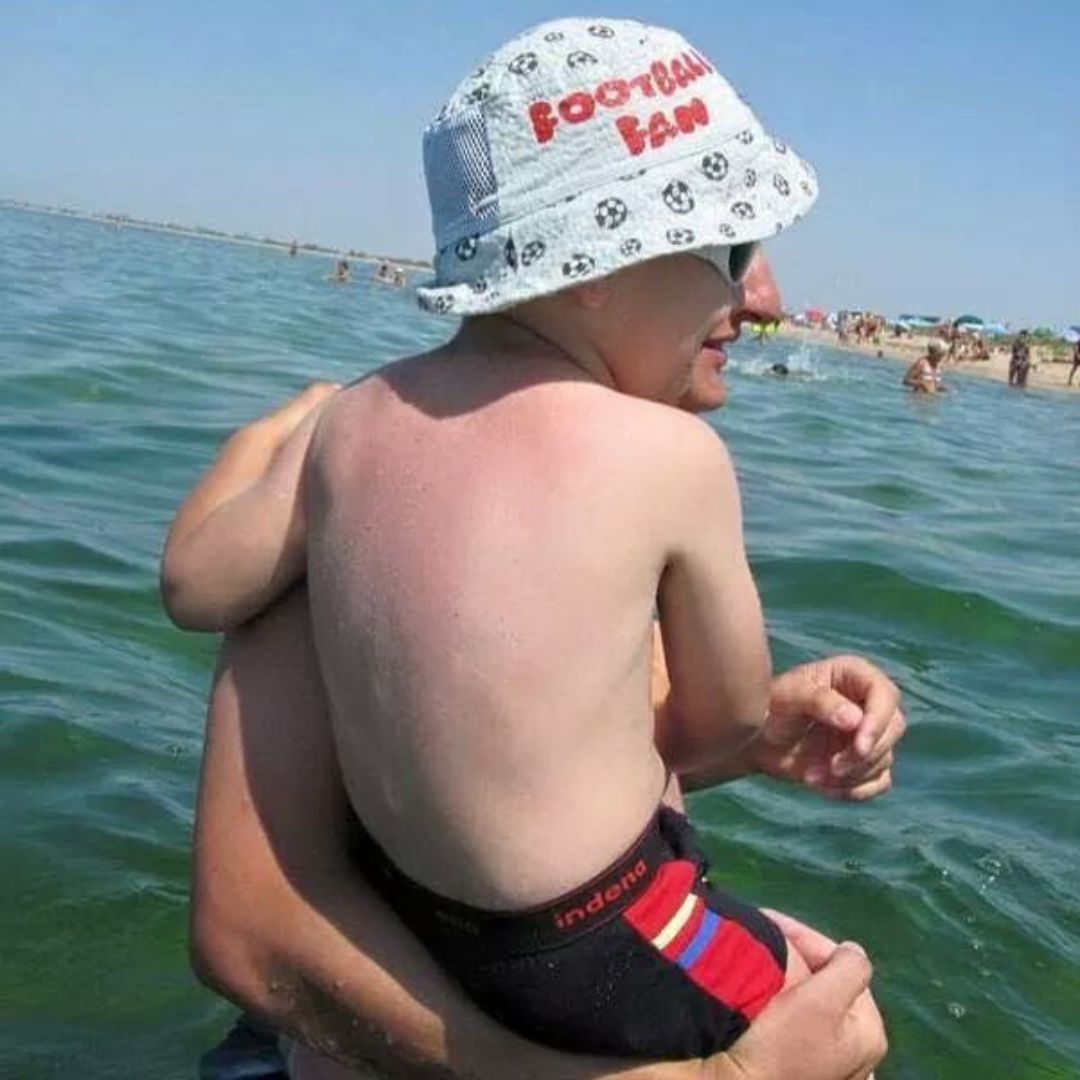 The father is holding his son (we're assuming) and the son's face blends almost seamlessly into his father's face behind him. At first glance (and maybe even second and third glance) it appears that the young son has the face of a grown man. It'll play with your mind if you stare at it for too long, but it's an absolute masterpiece!
They're Watching
This strange coincidence leaves us wondering if the people on T.V. can actually see us through the screen. It looks like this news anchor is just peeking around the piece of fabric hanging in front of the T.V.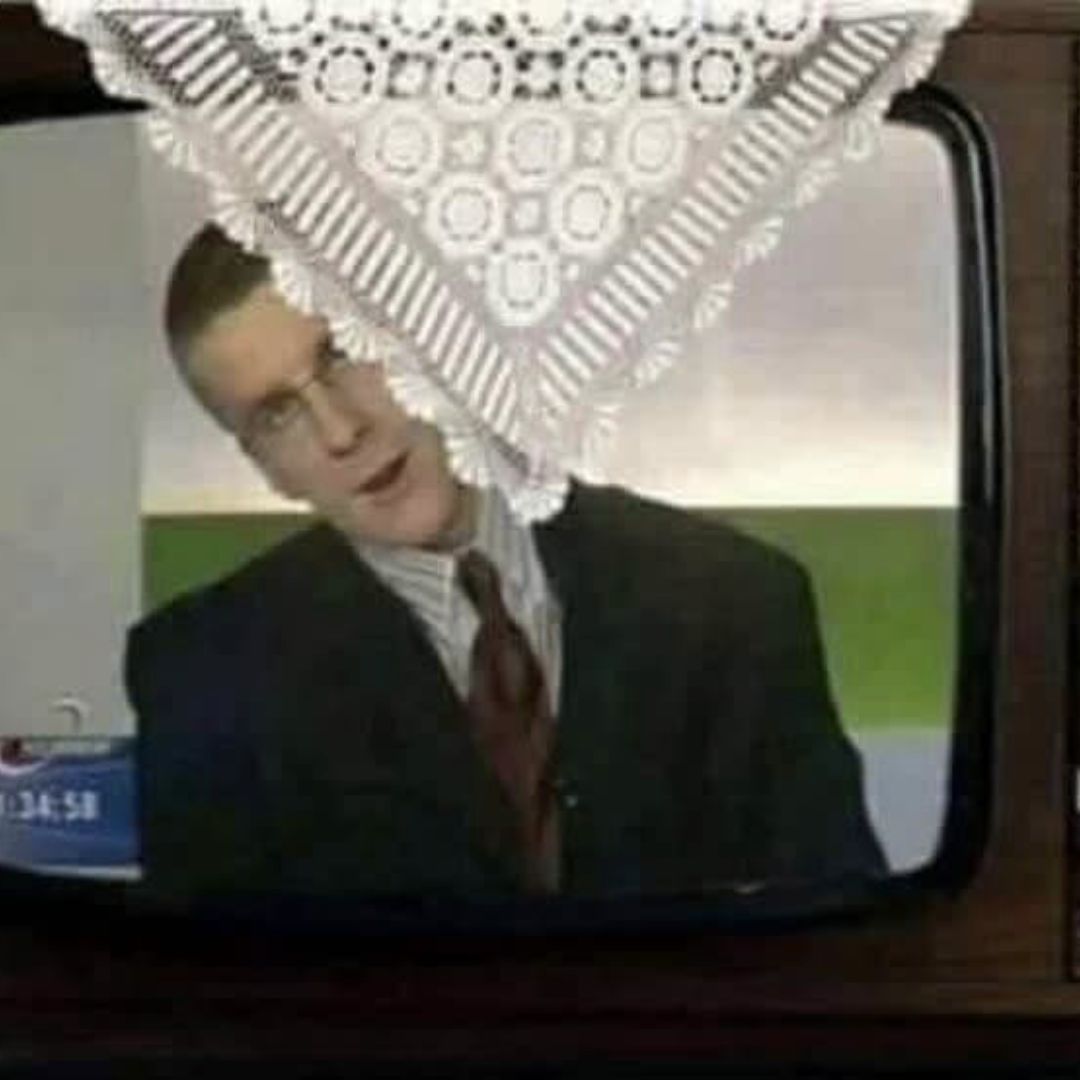 Of course, this must just be a coincidence. Right? It might just be the perfectly timed picture, but either way it does make you wonder: "Are we being watched?".
Brain Scratcher
This one will have you confused for a while. At least it did for me. At first glance, it looks like a huge pacman sculpture in a mall. But if you focus you'll see it's actually an optical illusion. There's actually someone skateboarding in that giant Pacman structure.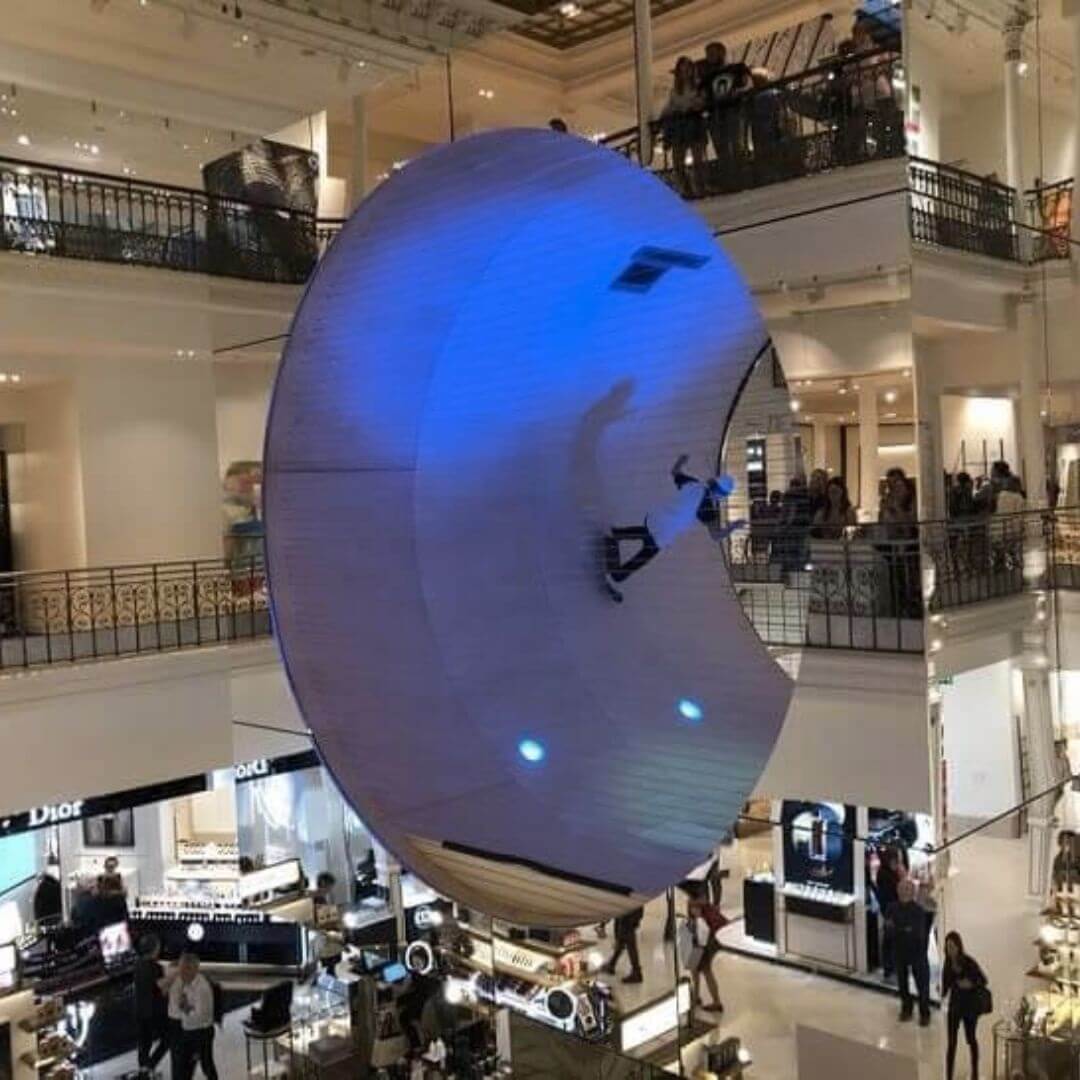 If you zoom in you'll see that this is a structure made of mirrors with a hole in the middle being used as a skate ramp. We're not sure who thought of this or what the purpose is but we're not the only ones entertained. Check out everyone watching from the balcony!
Imitation Is The Best Form of Flattery
It comes as no surprise that two dogs can look alike. What takes us back here is the fact that these pups are asleep in the exact same position. And we mean exactly the same! Both of their paws are crossed over each other in the same way, they're lying on the same side, even their ears look to be in the same position.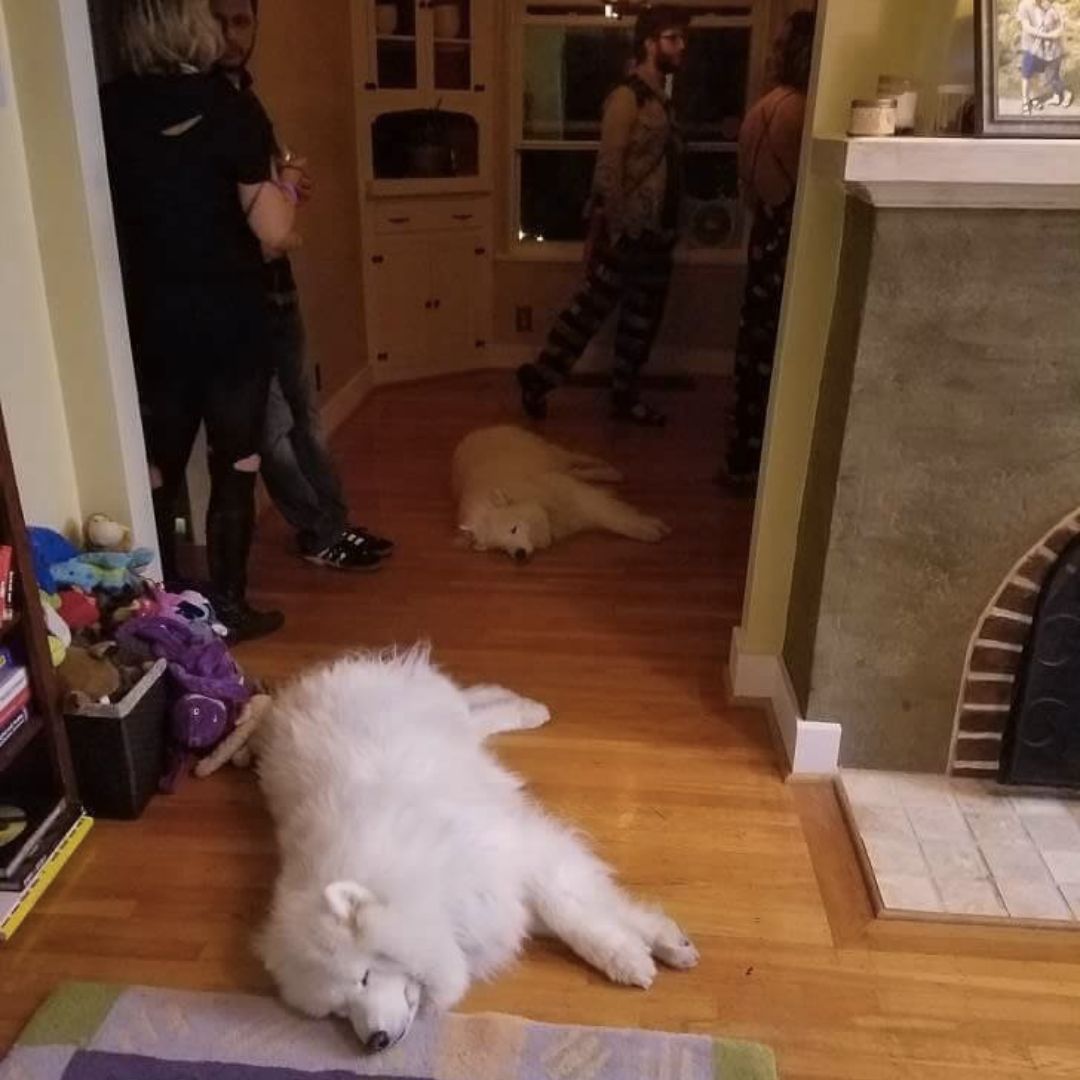 You might as well have copy and pasted one dog in front of the other and you'd have the same exact image. Either this is a glitch in the simulation or these dogs spend way too much time together because they're copying each other's sleeping positions a little too accurately.
The Same Weight As On The Package
What are the chances that this person weighs the exact same weight that's shown on the scale's box? That never happens, and this definitely is a strange coincidence.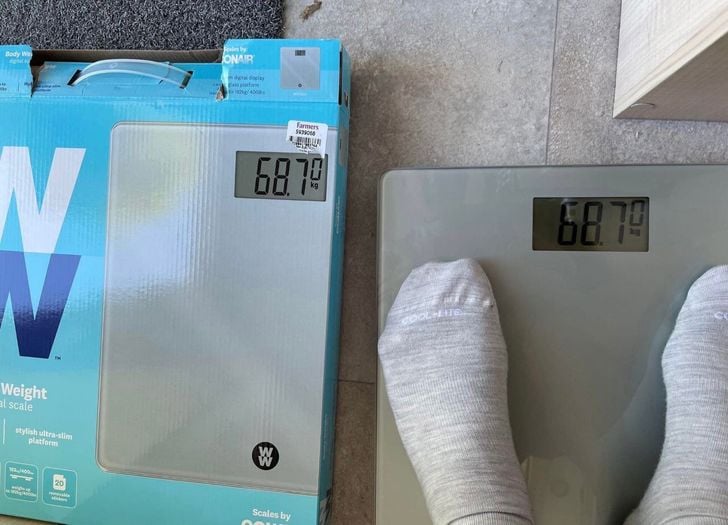 It seems clear that the owner is the chosen one. They will have a long-lasting companionship with their scale now!
An Actual Snowflake Angel
We can only imagine the incredible sight that this was when this person snapped it. It's a truly beautiful thing to see, but do you notice something else?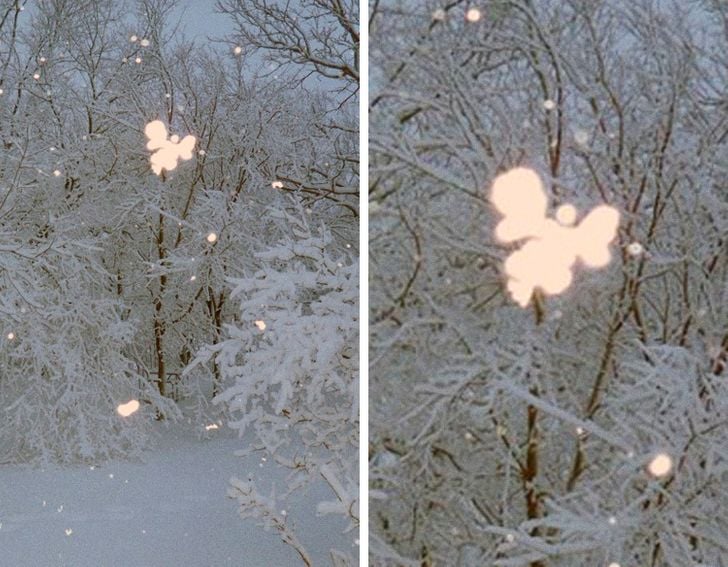 Yep, an actual snowflake angel is floating in the dreamy winter scene. Talk about perfect timing!
Water In The Form Of A Bike
Imagine setting your water glass down and when you pick it up again, you notice the coolest and strangest thing happened.  The residual water from the bottom of the glass formed a bike in perfect shape on the wooden table.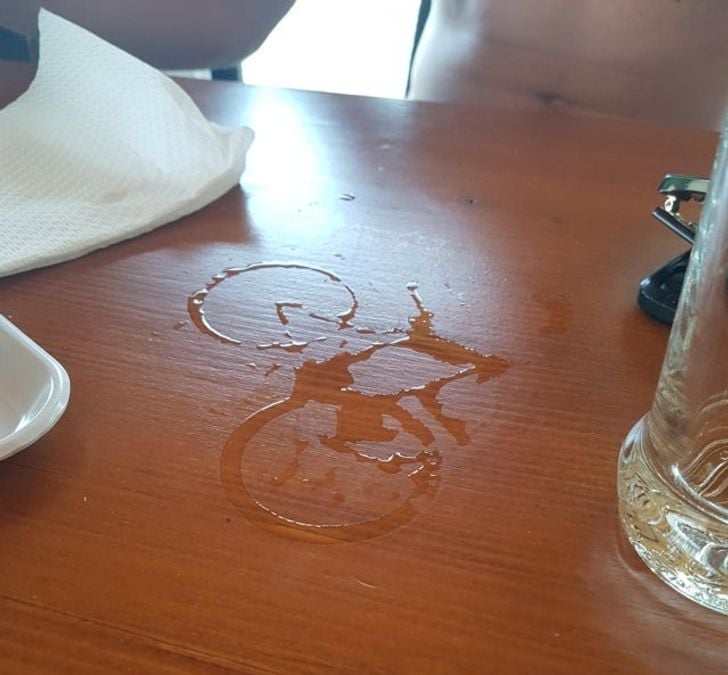 Surely, you would have to look twice to make sure what you're seeing is real! Well – it's very real, and also an extremely strange coincidence.
When Your Neighbor Ordered The Same Item You Did
It's not every day that your neighbor orders the identical item you did, and that it also arrived on the same day. They ordered the same TV stand as their neighbor!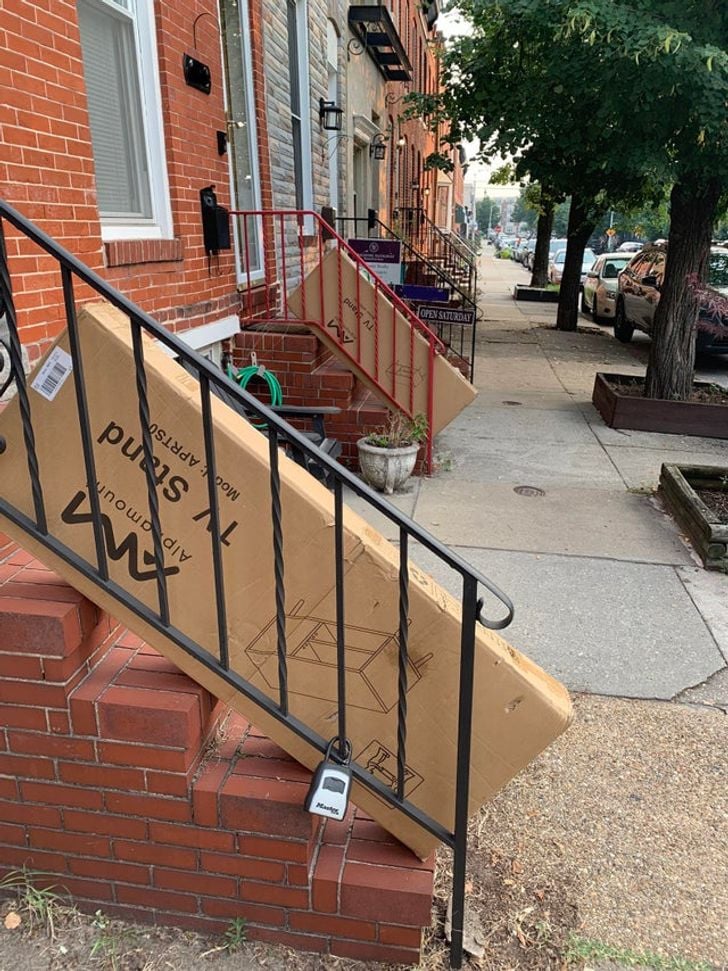 Apparently, they were both in the market for a solid TV stand and happened to order it from the same company. What's crazy is that it's the same model, too!
Your Cat Loves Hiding Behind The Shower Curtain
Cats are odd creatures. They wind up in interesting places and often do peculiar things. Let's face it: they pretty much do whatever they want!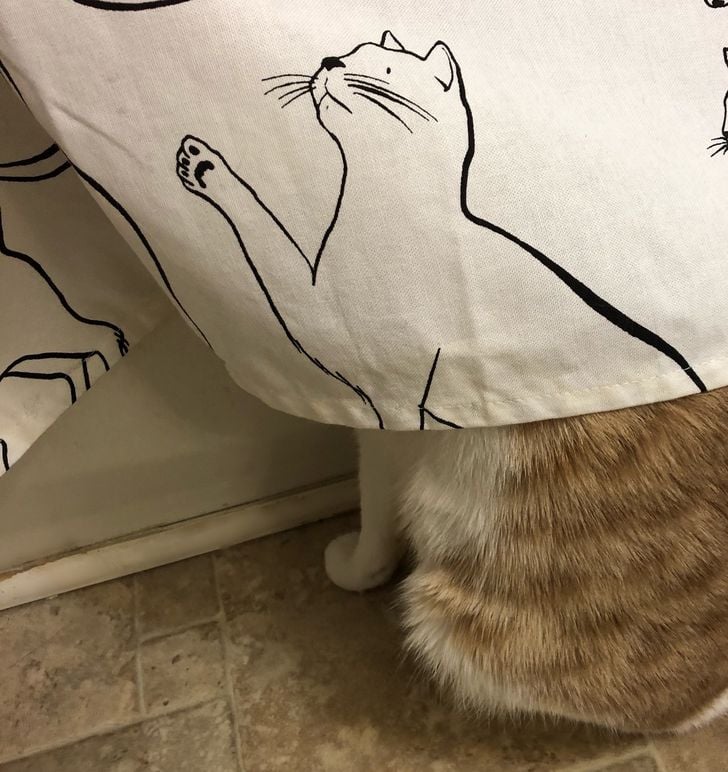 This cat's favorite hiding spot is behind the shower curtain, but the strange coincidence is that it's mirroring the cat's pose on the curtain. Very strange, indeed.
It's Just Coincidental
The police's job is over because they found their suspect…and he's a news anchor? That couldn't be right!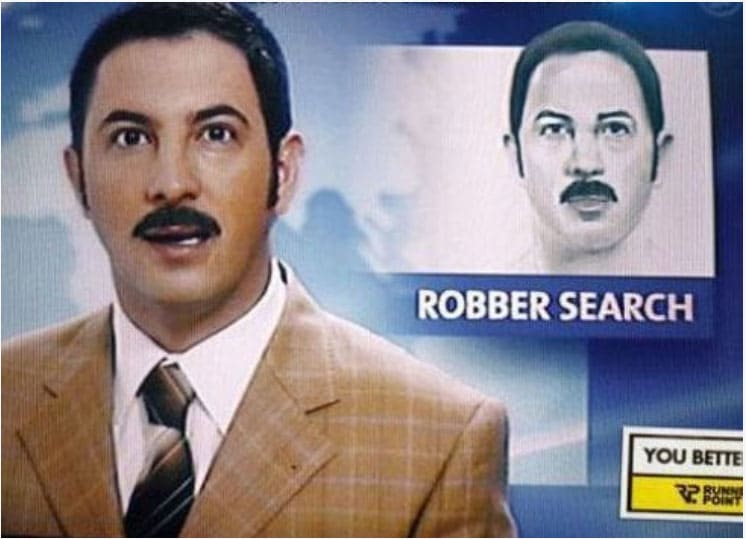 The similarity is eerie and purely coincidental, of course. However, his facial expression does look a bit suspicious, as if it's saying, "Uh-oh, they got me."
A Perfectly Hanging Moon
Wow, this image was captured at the best moment possible. It appears as if the crane is physically holding the moon as it's suspended in the air.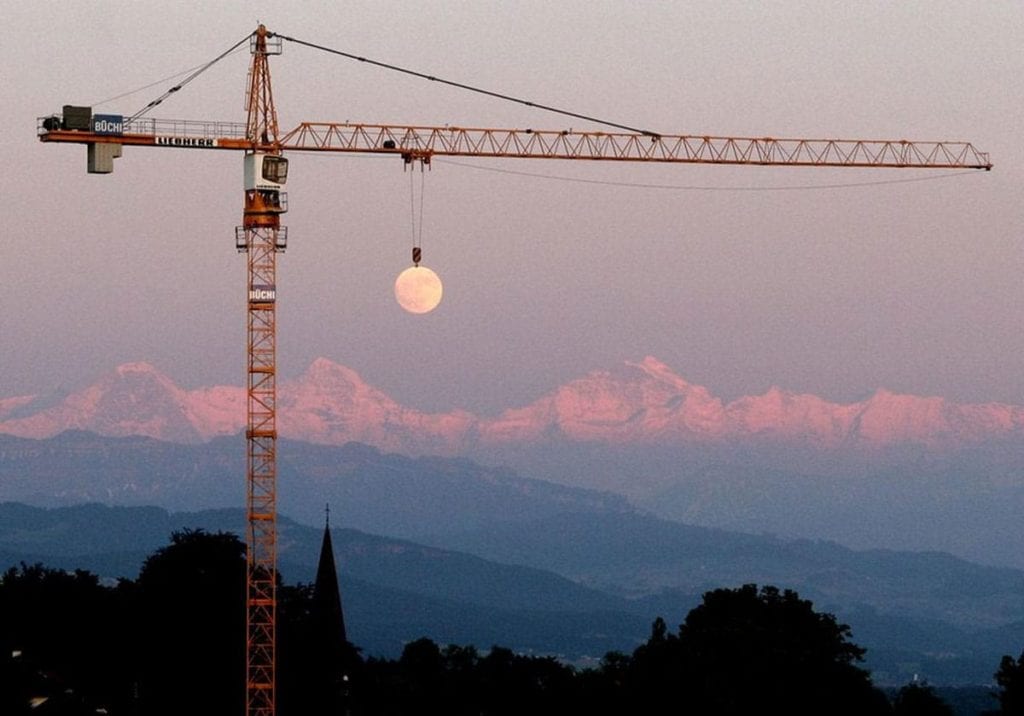 It gives a whole new meaning to a "hanging moon." Sometimes things just happen at the perfect time and happen to be strange coincidences. The world truly feels magical after seeing a sight like this one.
If It's Not Broken...
We're all familiar with the phrase, "If it's not broken, don't fix it." So, this photo takes that meaning to a whole new level.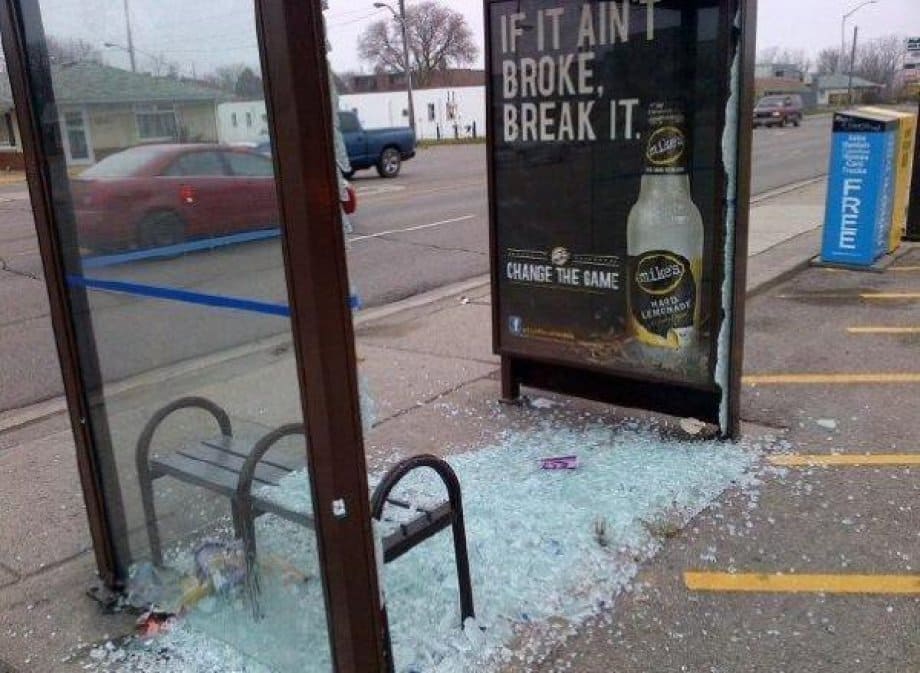 Some people took the sign's message pretty literally, as they ended up breaking the glass. If the police land on their doorstep, they have an obvious excuse.
Proper(tea) Shop
Ok, this is a really strange coincidence. What are the odds that two businesses with similar names would end up next to each other? They must have a wild rivalry.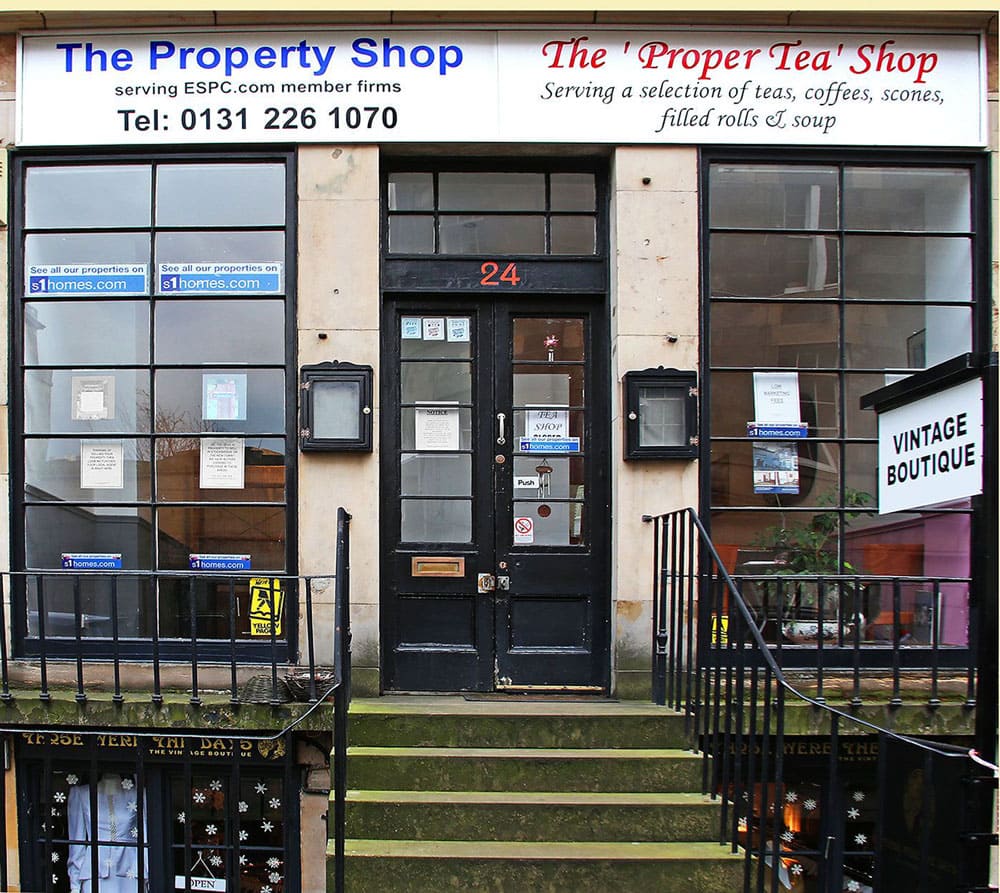 There's the Property Shop and the 'Proper Tea' Shop and they both serve very different purposes. People must get a laugh out of the signs when they walk by.
Double Trouble
Picture this: you're standing in line at a museum, look behind, and see a person who has the same color hair, scarf, and wardrobe as you. Would you think it's your doppelganger?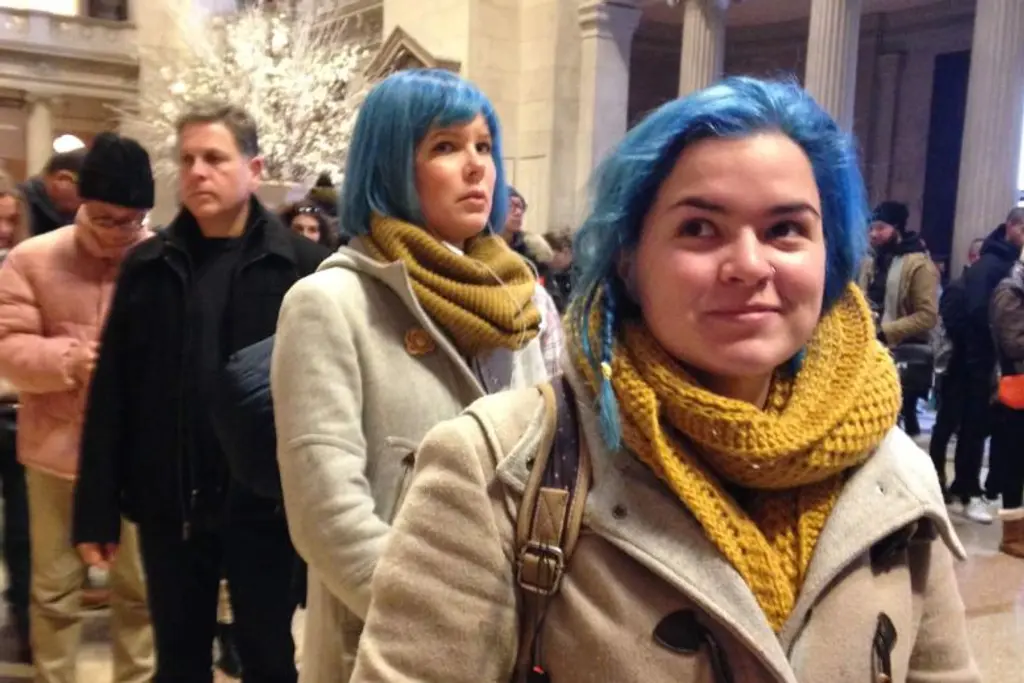 It can be argued that the woman behind this lady clearly stole her look! She is obviously unaware of the glaring similarity. It's a purely coincidental situation, but still extremely amusing.
Long Lost Siblings?
Now, this certainly doesn't happen every day! The person who took this photo included the caption, "Went to get my coffee this morning… came back to a crazy coincidence! What are the chances?!?"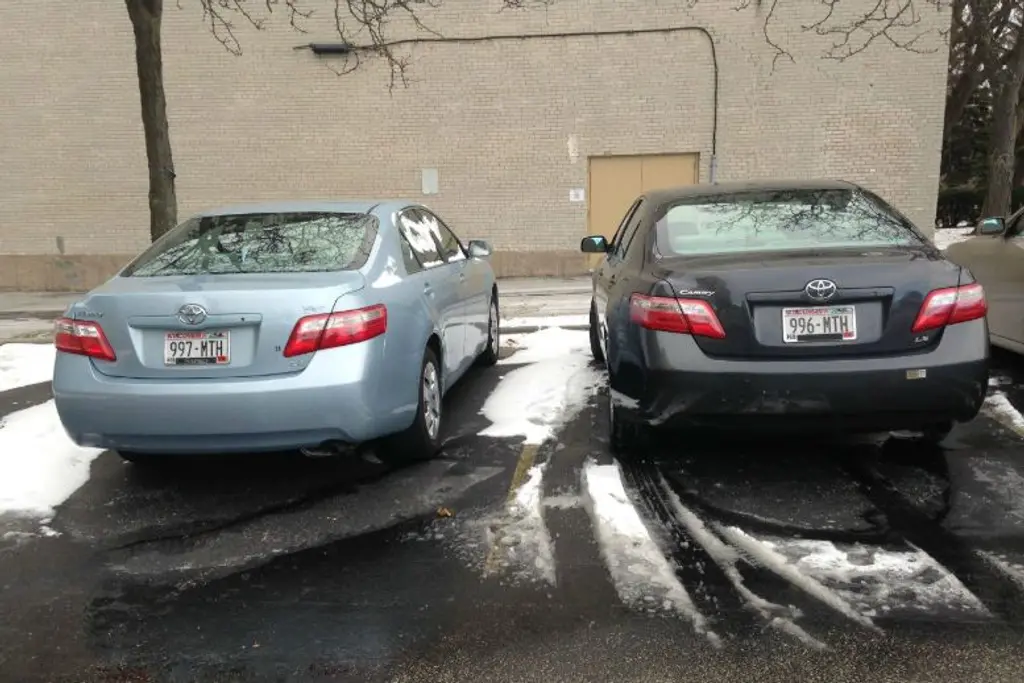 What are the chances?! They're slim to none, but on that fateful day, the person might have met her long-lost sibling. The other car is also a Toyota, which is even more eerie.
When Your Ring Matches Doorknobs
After checking into her hotel room, the woman noticed something quite strange. The ring she wore was almost an exact match of the doorknobs on the wardrobe cabinet, so she just had to capture the proof!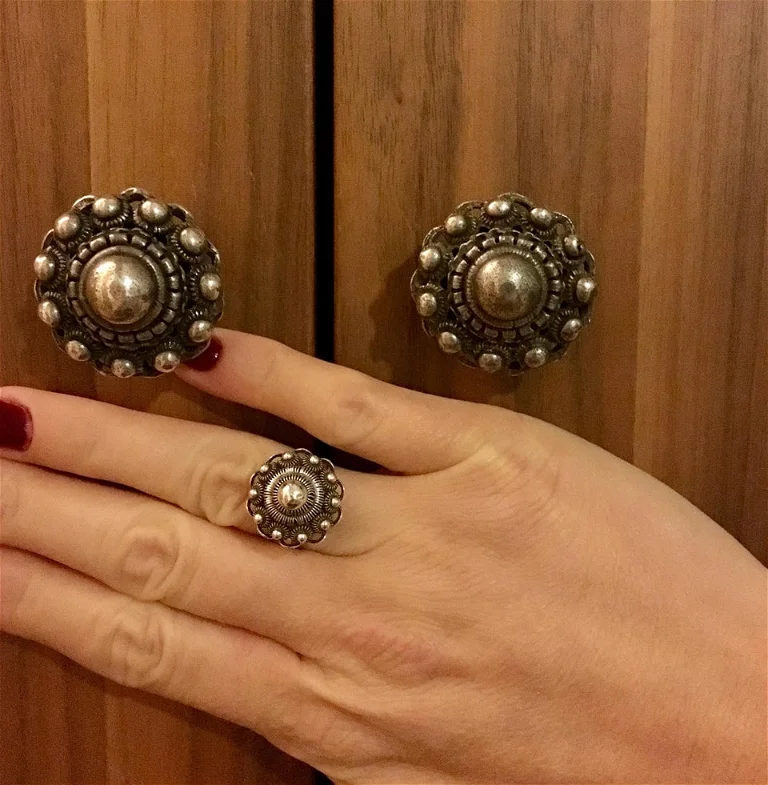 The antique ring is already unique, and the design is fairly identical to the cabinet's doorknobs. For such an intricate piece of jewelry to bear similarity to a random doorknob in a hotel is bizarre.
Stumbling Upon A Perfectly Formed Arrow
After the rain, you will sometimes discover interesting-looking puddles while you're on a walk. This guy snapped a puddle that was in the form of a perfect-looking arrow.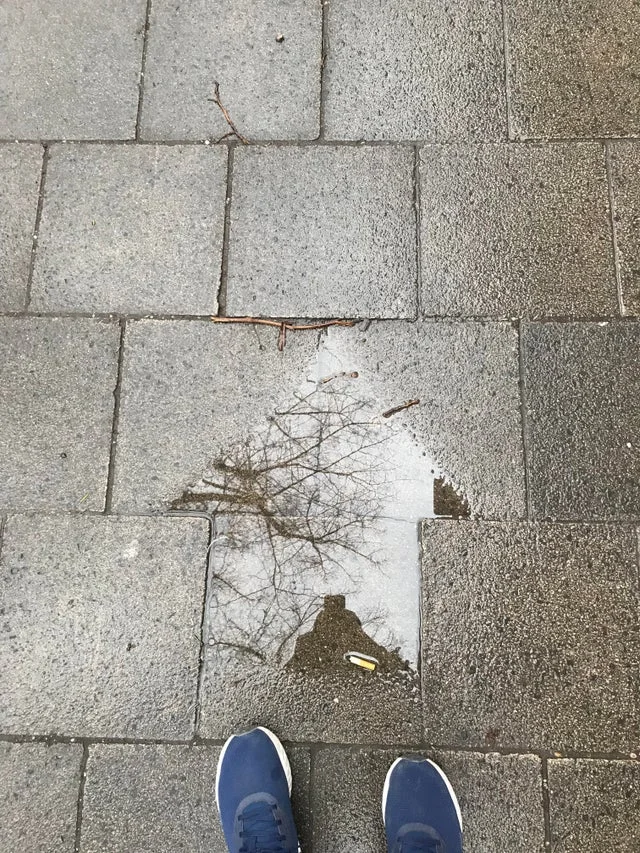 It's an understatement to say how rare this is. And, it's even rarer to also see an arrow so perfectly shaped.
The Trees Match Each Of The Buildings
This is a really rare and unique sight – one that was purely a coincidence. Each of the trees in front of the buildings matched their color perfectly.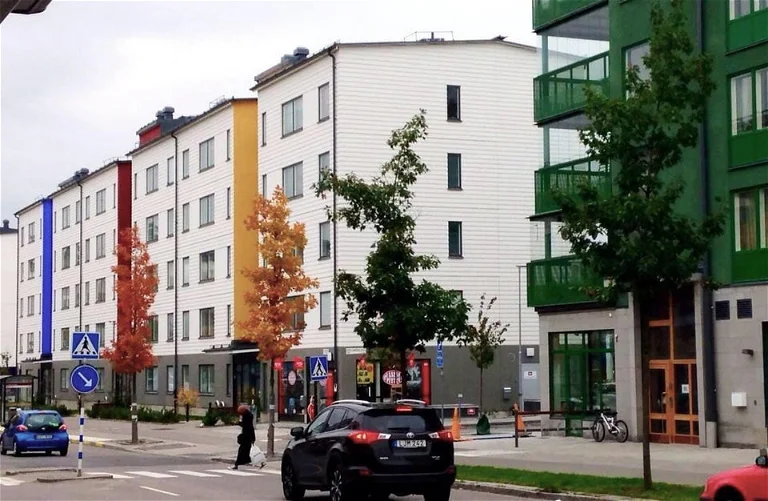 Each tree changed its colors at varying rates and ended up reflecting the color of the buildings. The strange coincidence is a beautiful way to show the amazing timing of nature and life.
Weird Happenings At The Store
What are the chances that an image on a puzzle box would be used as the advertising image on a TV box? Well, the person who took this photo verified it.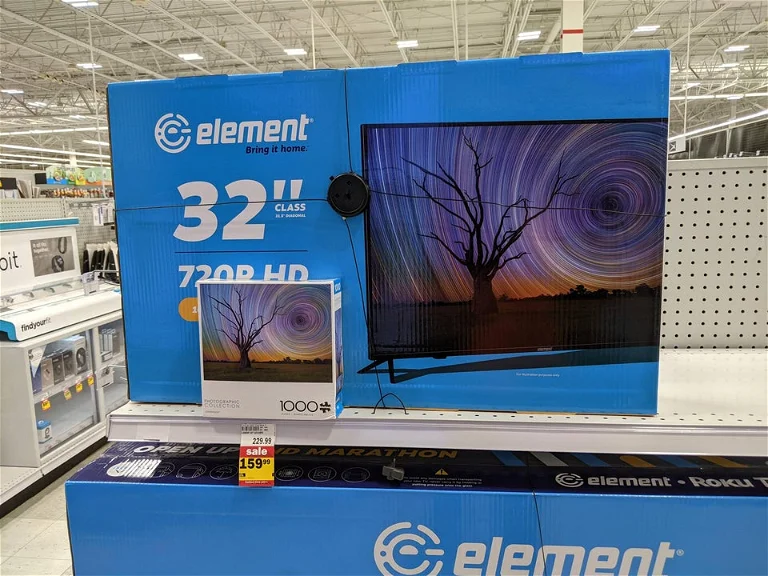 The exact photo on the puzzle box the person was about to purchase is the same one on a TV's packaging. They even questioned if that image was commonly used or if they had just never seen it before.
Same Couple, Same Outfits
It's not every day that you witness something as coincidental as this! Imagine sitting at a restaurant, looking over, and seeing a pair of couples that look the same and dress the same.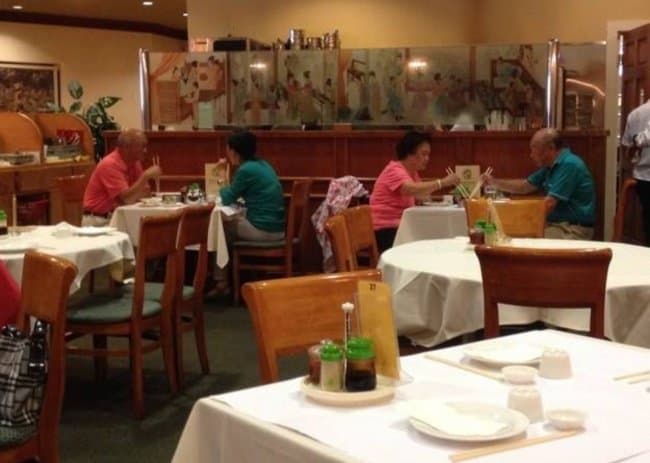 Funnily enough, one of the female couples wore the same shirt the male was wearing, and vice versa. What are the chances that they were also sitting right next to each other?
Attack Of The Clones
Both women decided to wear identical outfits to the same Redbox at the exact location. Their hair was even up in the same updo and their arms rested on the machine.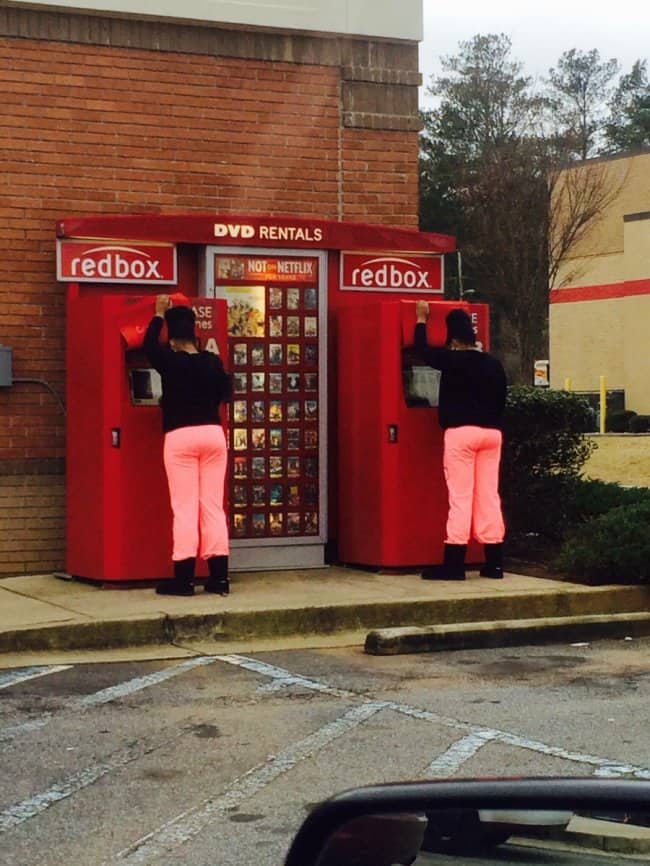 Truly, this scenario is something straight out of a sci-fi movie. We wouldn't be surprised if they were long-lost twins.
Rice Both Ways
It's a big world out there. Weird coincidences and strange moments happen all the time, no matter where you're located.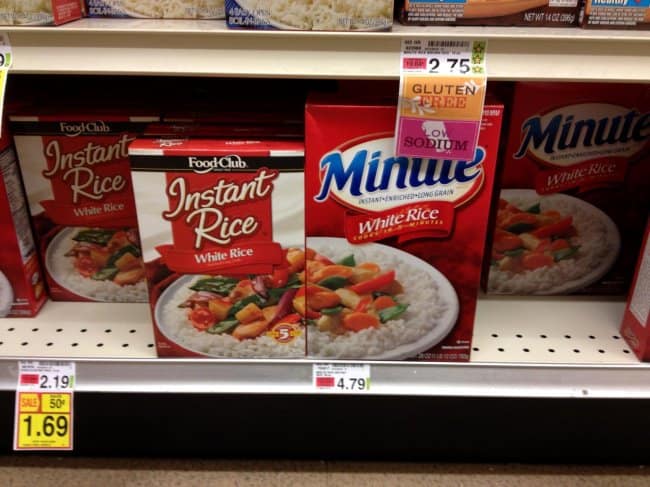 Interesting! While a person was at the grocery store, they noticed these two rice boxes from different companies, with images of the rice meal itself that were the same. Did the companies do that on purpose or was it pure coincidence?
She Must Really Love Cars
This image is really cool. Not only is the woman's dress two-toned with one-half red and the other navy blue, but it also matches both cars. It's almost like an optical illusion.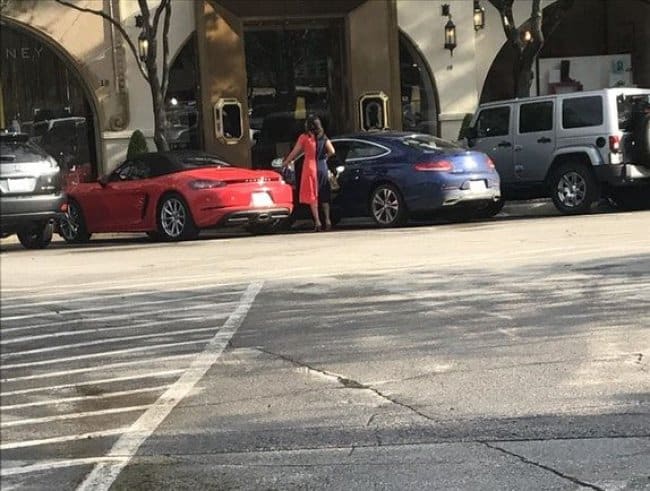 Who knows – maybe she is wealthy enough to own both nice cars? Or, we can just chalk it all up to coincidence.
Your Wish Is Granted
For some of us, one of our biggest dreams in life is to meet our favorite celebrity or actor. So, when it happens when it's least expected, your reaction will probably be one of total shock.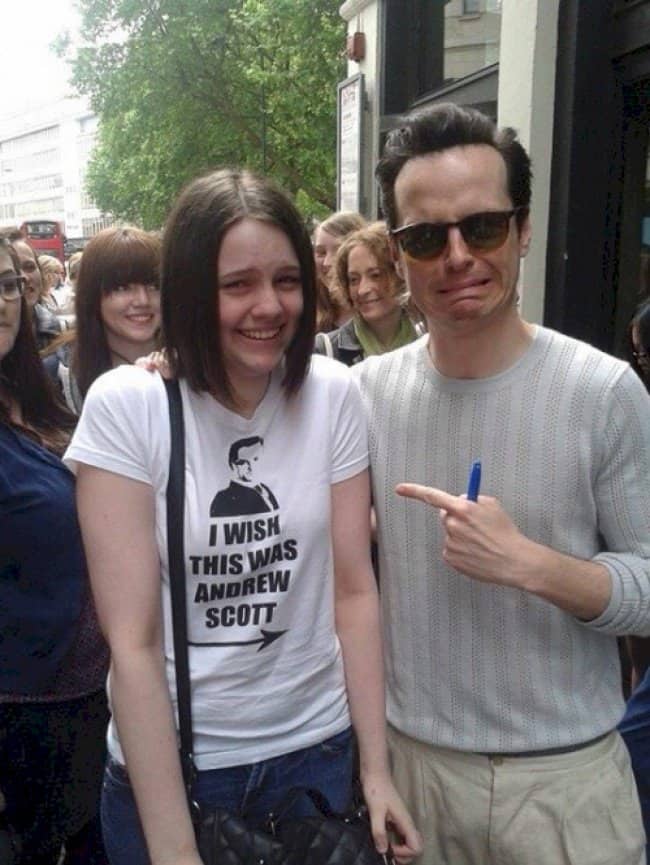 This girl was wearing a t-shirt that read, "I wish this was Andrew Scott" with an arrow underneath, and the actual Andrew Scott stood next to her, pointing. How hilarious and also wildly coincidental!
When You Think You've Found Your Friends
It's precious how this little butterfly thought it had found some fellow butterflies. Unfortunately, they're not real butterflies, but it was worth a shot!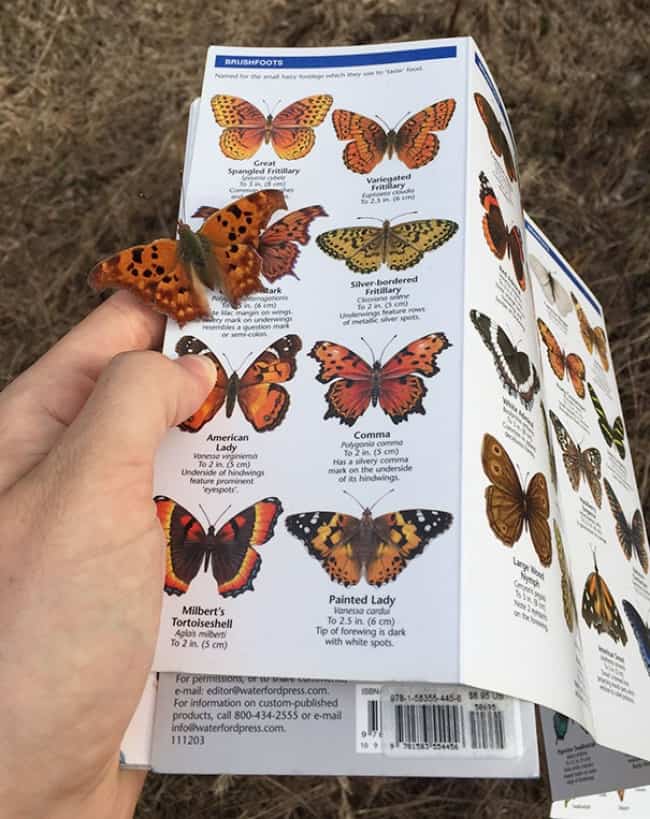 Small moments like these make life really wonderful and unexpected. Thank goodness it was captured and shared for others to admire!
Numbered Puppies
Not all puppy litters are the same – sometimes, unique things happen. In this case, these puppies were born with corresponding numbers as markings on their backs.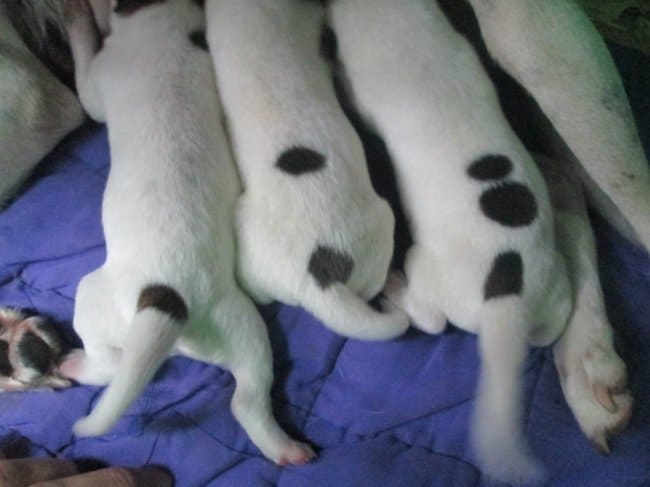 Here, we have Puppy 1, Puppy 2, and Puppy 3! They must have a really proud momma.
Flamingos In Formation
Wow, talk about nature working its magic. These flamingos flocked together to form one giant flamingo formation!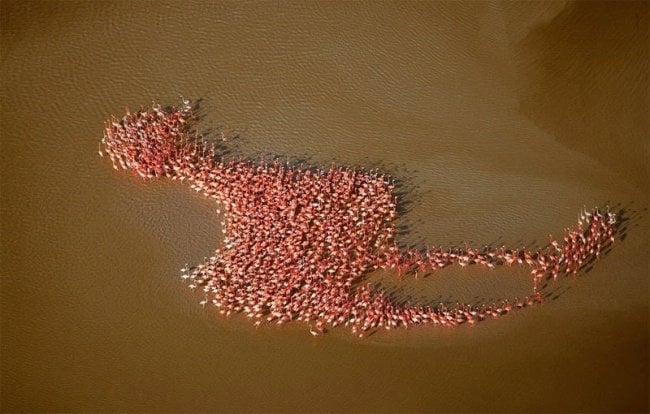 The incredible photo is a testament to the wonders of our planet and how awe-inspiring it can be. We can only imagine being the photographer who captured this once-in-a-lifetime scene!
Deceiving Product Marketing
Goodbye, cracks? More like hello, cracks. This is horrible marketing for the company when there's an actual crack in the product's cap.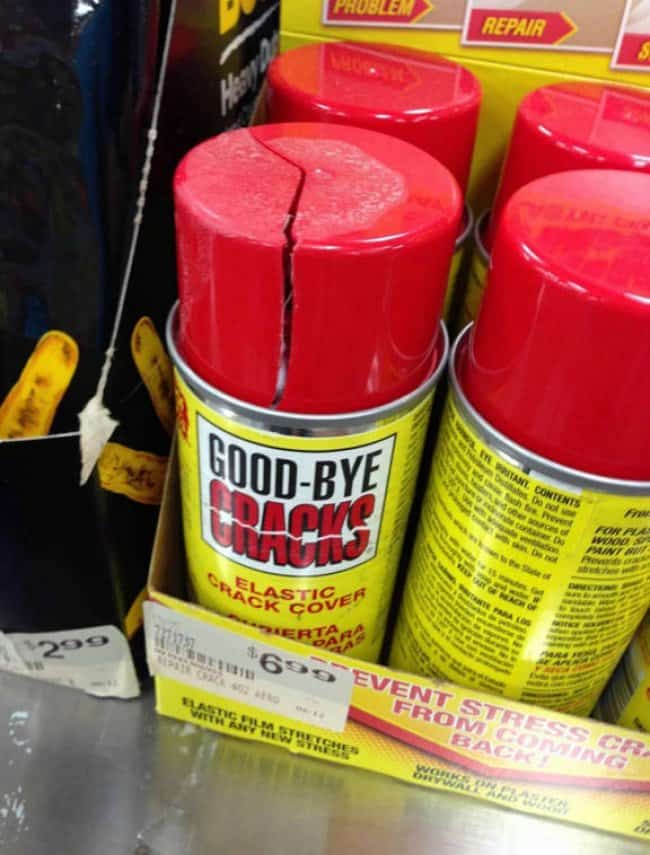 The store should immediately remove the product from their shelves because of the misleading marketing. Nobody would buy that!
Striped Shirt Strangers
Odd things can happen at any moment, and this strange coincidence happened while waiting at a bus stop.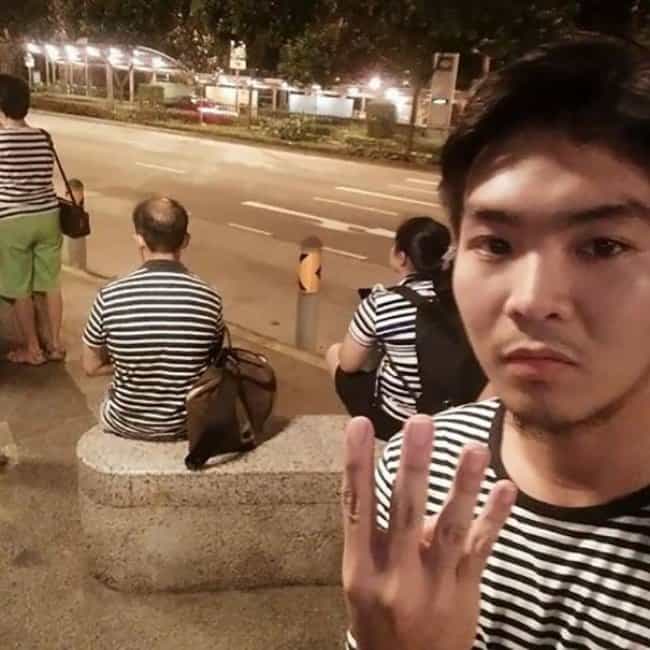 There are four random strangers all wearing striped shirts! What are the chances? Sure, many people wear stripes, but the timing of this event is uncanny.