The Evolution of the American Kitchen Over the Past 100 Years
When you think about a modern kitchen today what is the first thing that comes to mind? A wide spacious sociable kitchen, with an electric stove and a touch screen compatible control system? We certainly seem to have come a long way from the kitchens of the early 1900's. What exactly has changed, and why were these changes made? In this article we will go over the evolution of American kitchens throughout the years.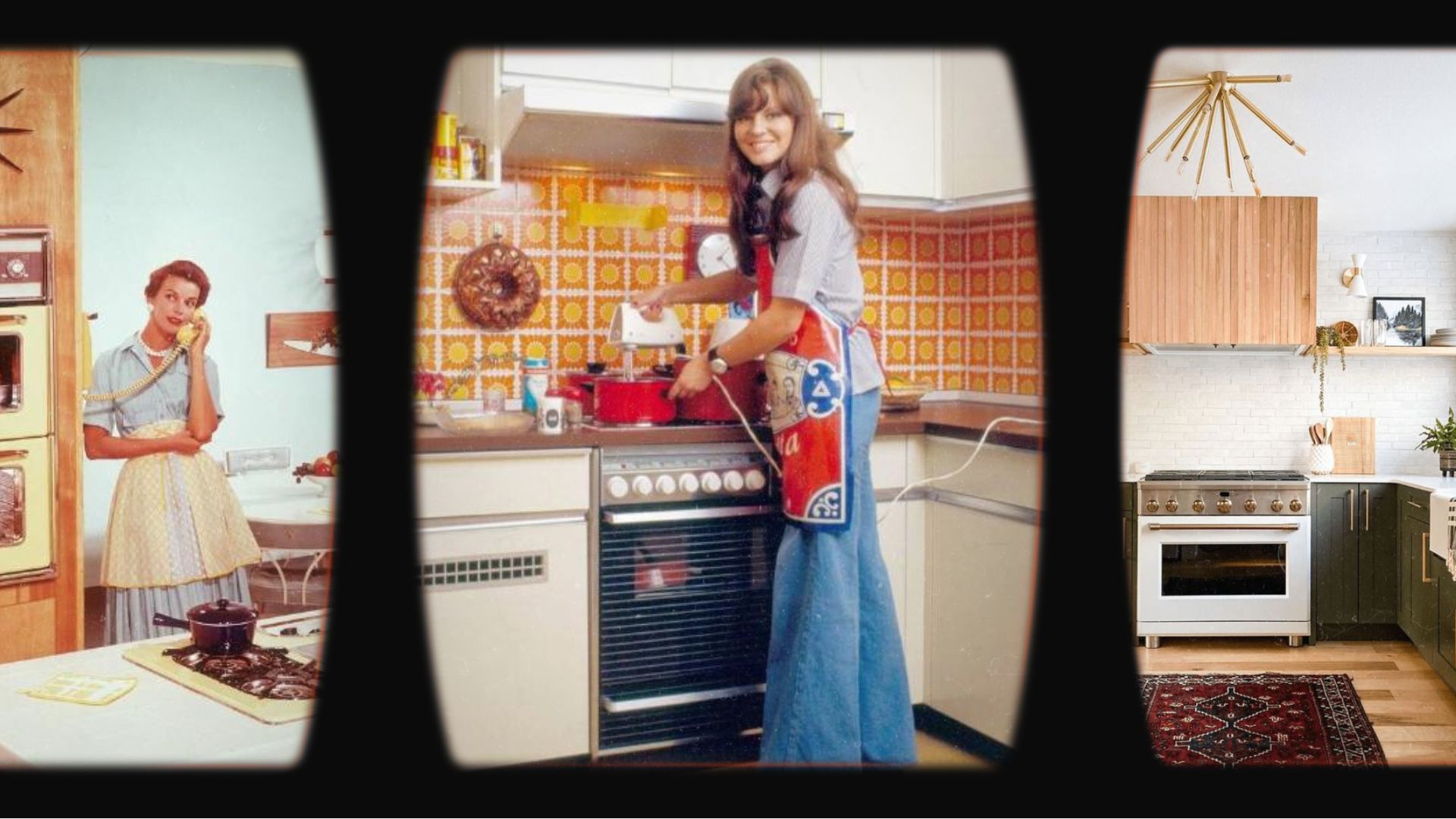 1910s Where It All Began
One of the first things you think of when you think about kitchens in the 21st century is likely a stove or oven. That's where the majority of cooking gets done, and most homes automatically come with them.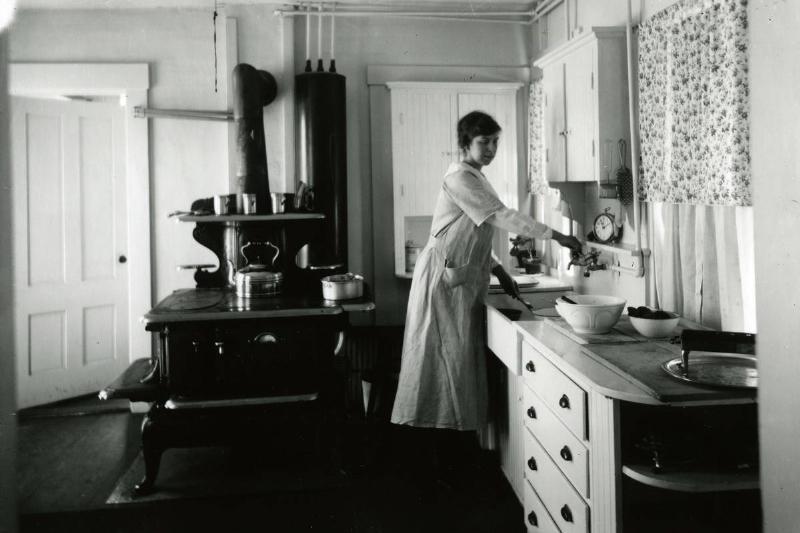 In the early 1910s most cooked on stoves but some cooked with hearths. This was a dangerous and time consuming way of cooking that consisted of cooking with large pots and pans over a roaring flame. 
1920s Slow Advancements
With electricity and natural gas making its entrance into modern homes, the gas stove was one of the biggest highlights of the kitchen at the time.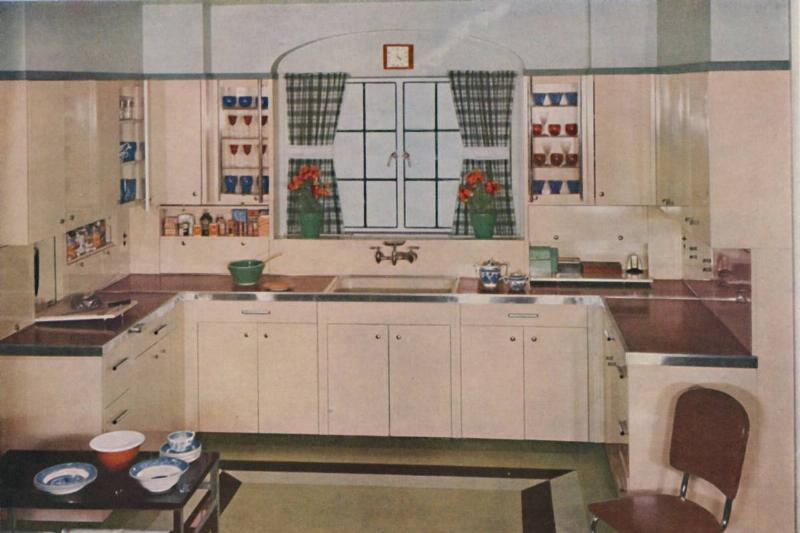 Also kitchen's started to feel more lively with most homes having decorative curtains on kitchen windows, fine polished and painted cabinets. During this time kitchen's were the most functional they'd ever been. The kitchen was certainly starting to feel a lot more homely! 
1927: The Beginning of Something Revolutionary
As the advancements of the modern kitchen continued, most Americans would consider getting rid of their commonly used ice boxes as electric refrigerators became available.  The late 1900s began booming with many helpful electric based kitchen appliances.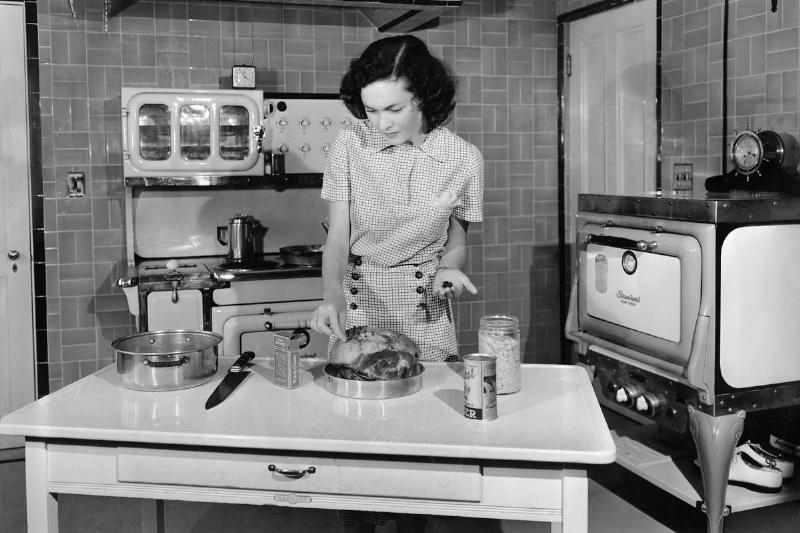 Things like refrigerators and other kitchen aids were advertised in the newspaper. There were convenient appliances that made cooking small things a lot easier with breakthroughs like toasters, popcorn makers and waffle irons.
1930s The Formation Of The Modern Kitchen
Kitchens started to become a lot more spacious, most applications like cabinets, stoves and shelves were connected to the wall instead of stand alone appliances.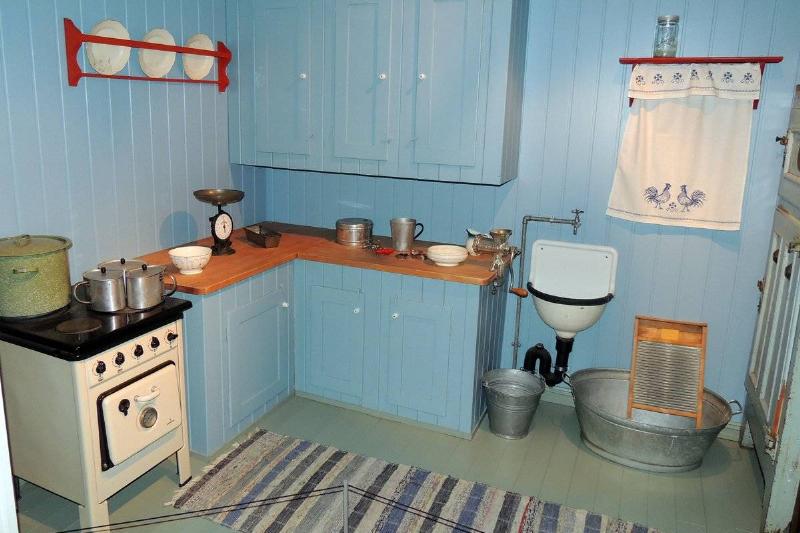 The configuration of the modern American kitchen was modeled after the German school known as the Bauhaus. It seemed like everywhere you turned in your kitchen you could find everything you needed. Drawers that had all of your cooking utensils, and a nifty china cabinet for all your dishes. 
1935 The Rise Of Art Deco
After the great depression the American people became inspired, and in need of some refreshing new decorative designs for the modern kitchen.
Geometrical wallpaper, cabinets, and countertops as well as the widely popular checkerboard floor tile design.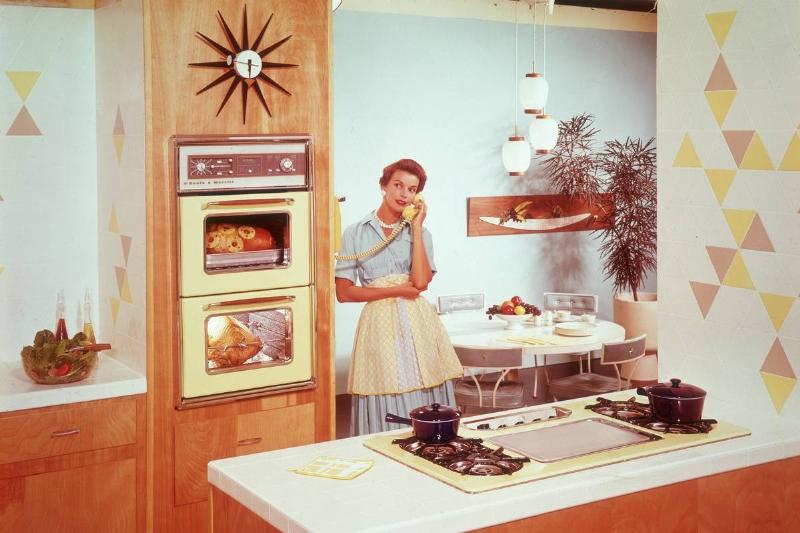 Along with the decorative changes some kitchens underwent, we also had a change of smaller kitchen sinks in most places. As well as smaller kitchen appliances, which allowed for more space to open up on countertops.
1940s The Easiest Kitchen To Clean
In 1939, House Beautiful worked with Procter & Gamble to produce the idea of a "self cleaning kitchen." This was heavily advertised as the kitchen that was the easiest to clean.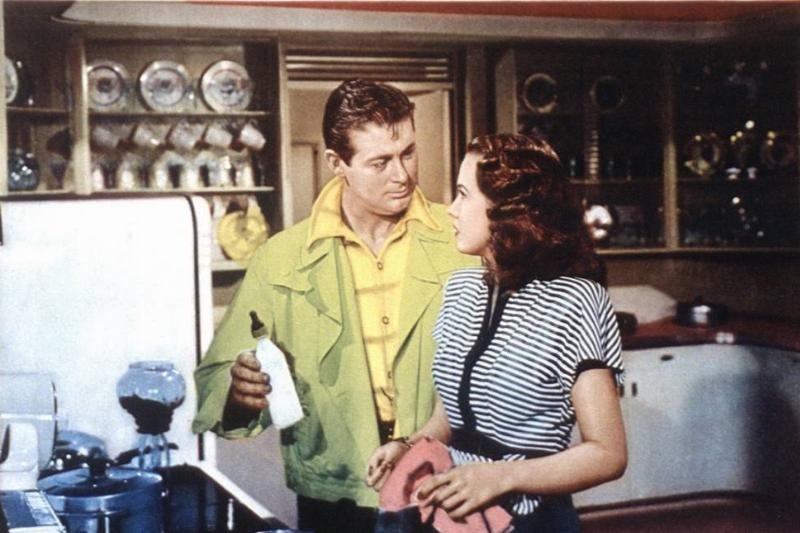 With new and improved wider kitchen flooring that made it convenient to vacuum and mop. Along with the wider flooring, the kitchen sink material and countertops changed to appear as stainless steel which was said to be easier to wipe down while cleaning. 
1943 Folk Kitchens
As most kitchens got larger and appliances on countertops got smaller, the folkloric design of modern American kitchens remained the same. This consisted of vintage fine china, pleated and embroidered curtains, tablecloths and plaid couch designs.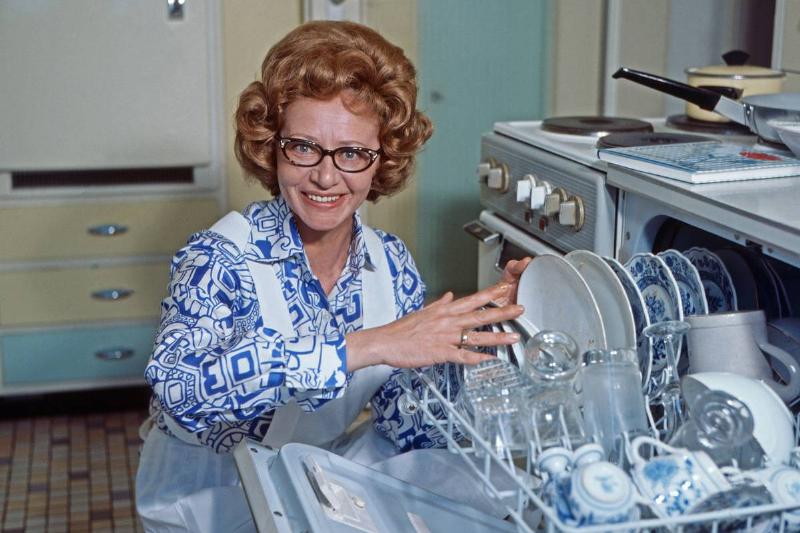 Another popular design to go along with that era was stripes on seating cushions, benches and wallpaper. With the modern kitchen rapidly changing, the designs remained older and somewhat outdated for most homes.
1947 The Newest Kitchen
New changes were being made to the kitchen to make it more efficient. Designers included stools that were meant to sit by sinks while cleaning, or stoves while cooking.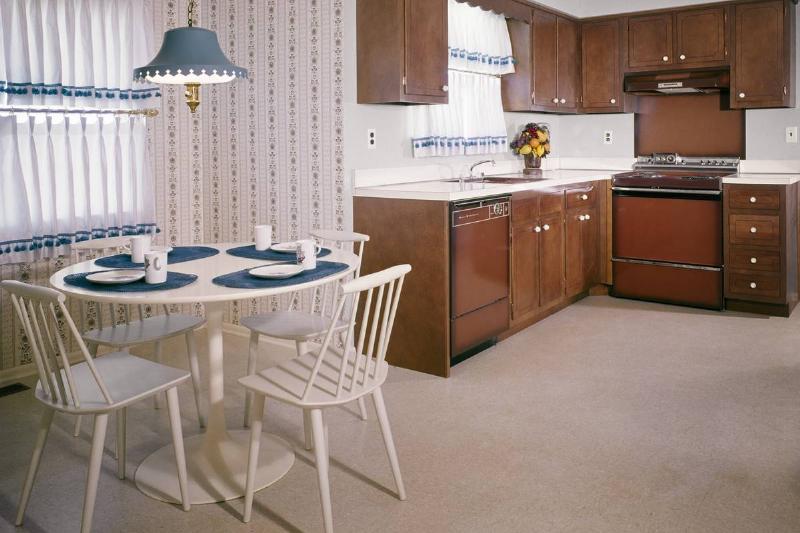 Giving the person using the stool a break on their feet between activities. It also was useful to those who may have sat at the sink to wash, peel or cut vegetables. Designers also made some prep tables for those who spent time mixing and baking. 
1950s Appealing To The Modern Housewife
The early 1950s was peak time for the busy American housewife. Women were at home taking care of children, preparing dinner and doing loads of laundry. Advertisers were gearing toward appealing to the comfortability of wives.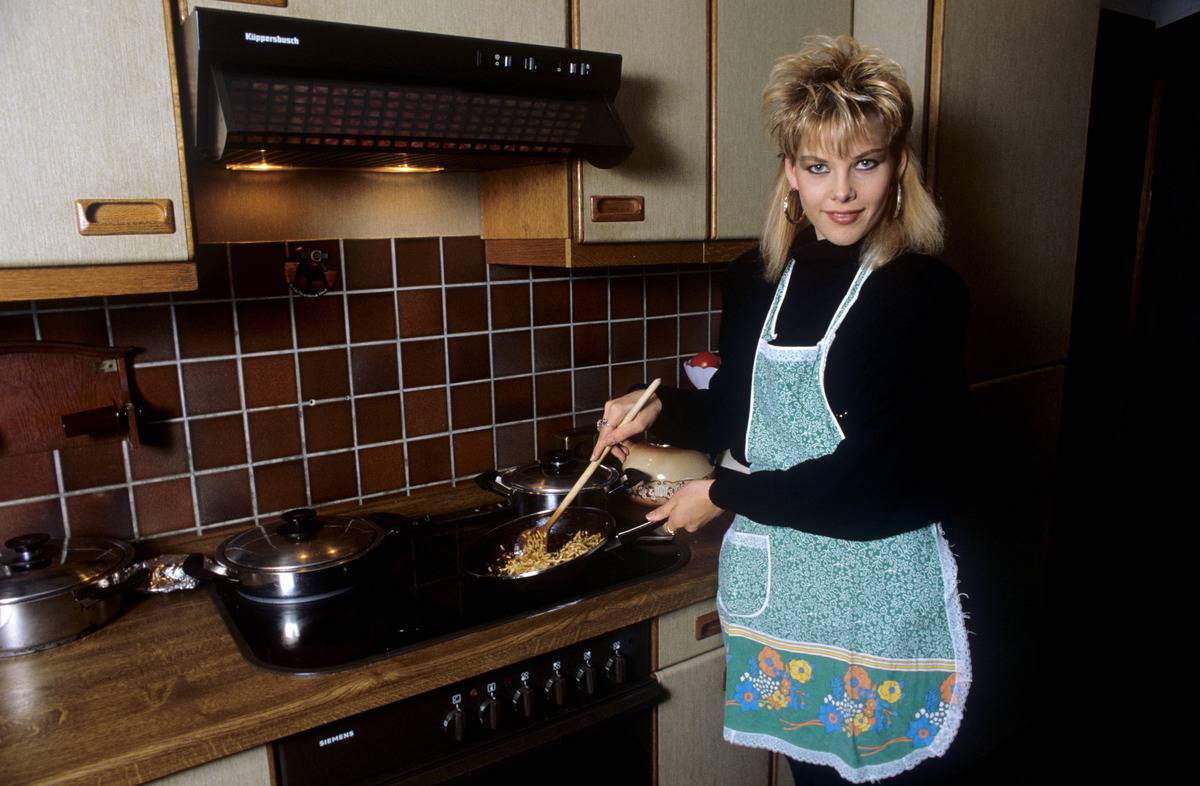 Household furniture became smaller and had multiple functions, therefore proving to be more efficient. Designers also appealed to the eyes of women by making tables, cabinets, counter tops and stoves bright funky retro colors. 
1955: A Place To Eat
Eat, drink and be merry! Dining rooms and kitchens were beginning to merge during this time period. Families spent a lot of time in the kitchen so designers likely reasoned why not eat in there too?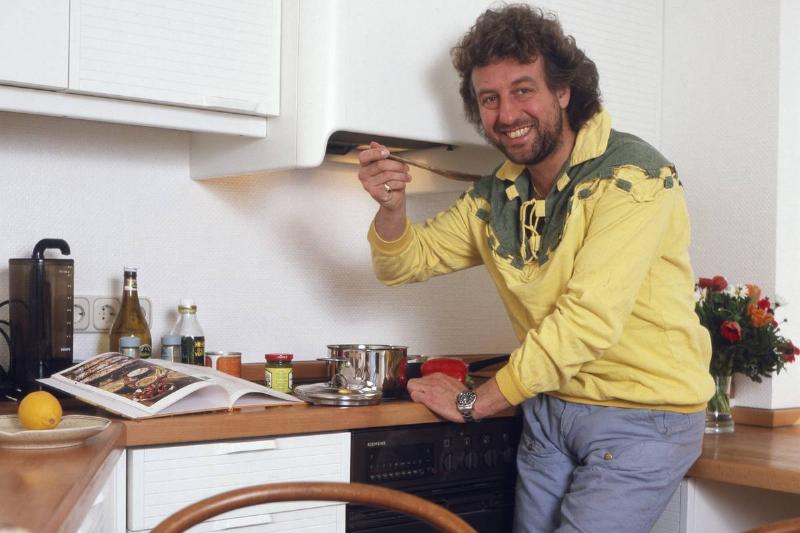 Most families conversed, and spent quality time together in the kitchen. Television programs showcased families and their wacky antics in or near the kitchen. Some American homes had a dining room table or bar counter in their kitchen.
1957 Luxury Kitchen Accessories
During this time designers were battling for the upper hand as new types of kitchen appliances were coming out left and right. The goal was to capture the attention of customers, with the newest most functional and innovative designs.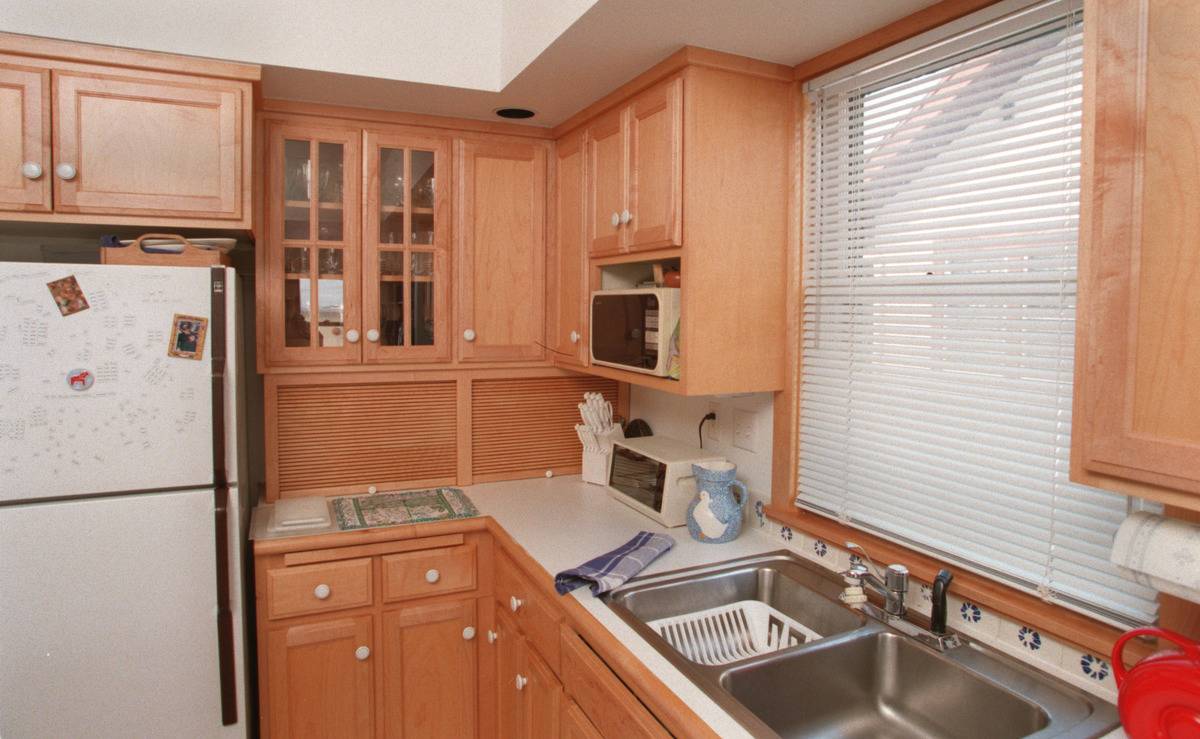 This progression was making the newest designs very expensive and considered luxury. Popular devices were the green bean slicer and the cake breaker. It's fun to think about what was considered exclusive back then! 
1960s Minimalist And Sleek
The tone of the modern kitchen was starting to shift. Gone were the days of bright stand out colors in kitchens like yellows and oranges. Warmer, earthier tones like browns, olives, and white were the color of wallpaper and cabinets.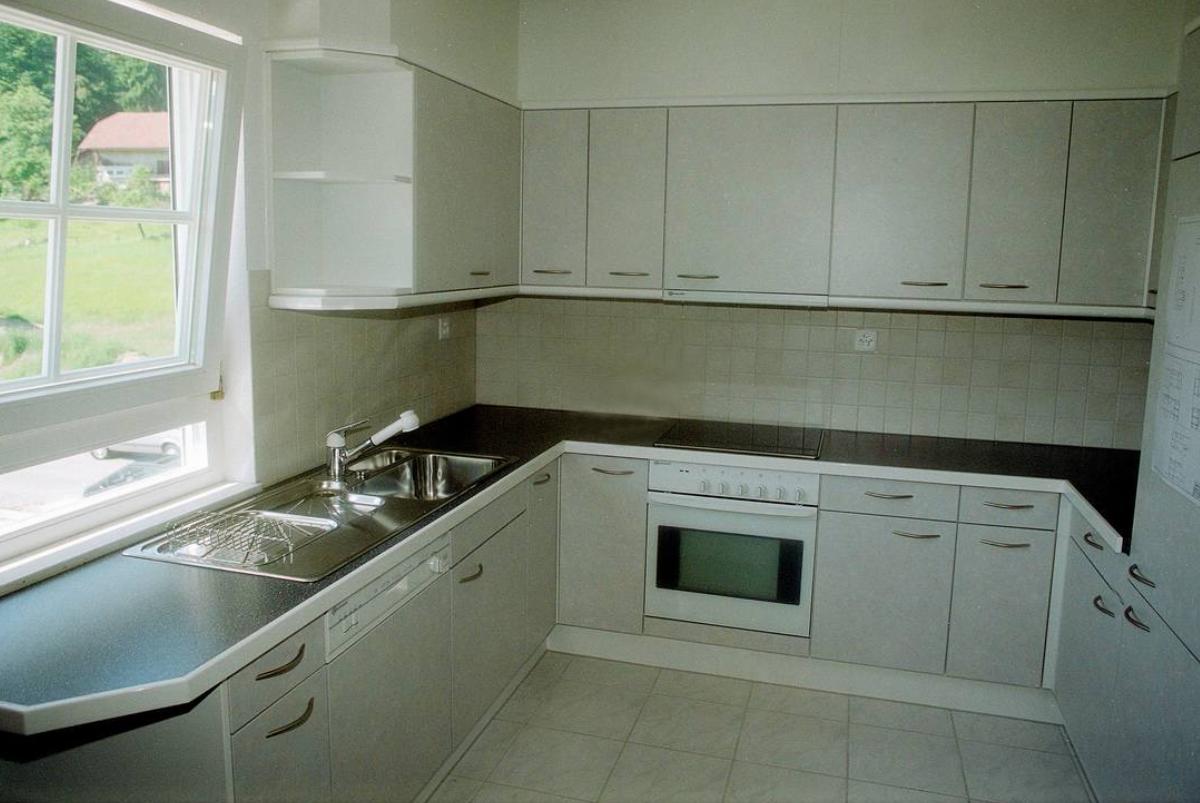 Wooden countertops and cabinets became more commonplace as people stopped painting over the furniture. Dining rooms started to grow in size as people had larger families and prioritized hosting parties and gatherings for guests. 
1961 Wooden Kitchens
Dark, almost chocolate-colored wood in kitchens were becoming more and more popular. As well as the color gold and other neutral colors like avocado green and off white that complimented wooden countertops and cabinets.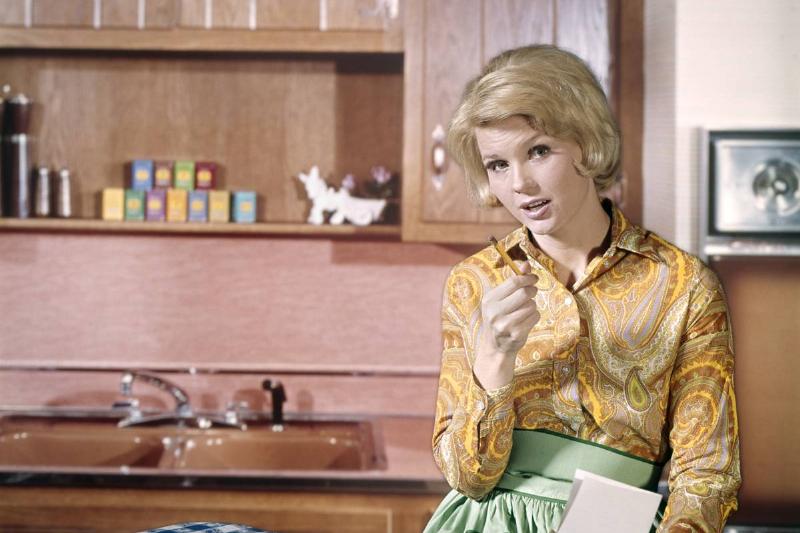 Stainless steel and chrome appliances were soon being replaced with wooden ones. Also the U- shaped kitchen started to surface. This design had more storage space for kitchen supplies. It also allowed for more natural light to shine through.
1966 Fun And Creative Wall Art
Previously the geometric designed wallpaper were some of the most popular looks of the 1950s. However, wallpaper designs began to change to shift again in the mid 1900s. The designs were whimsical, free feeling and earthy.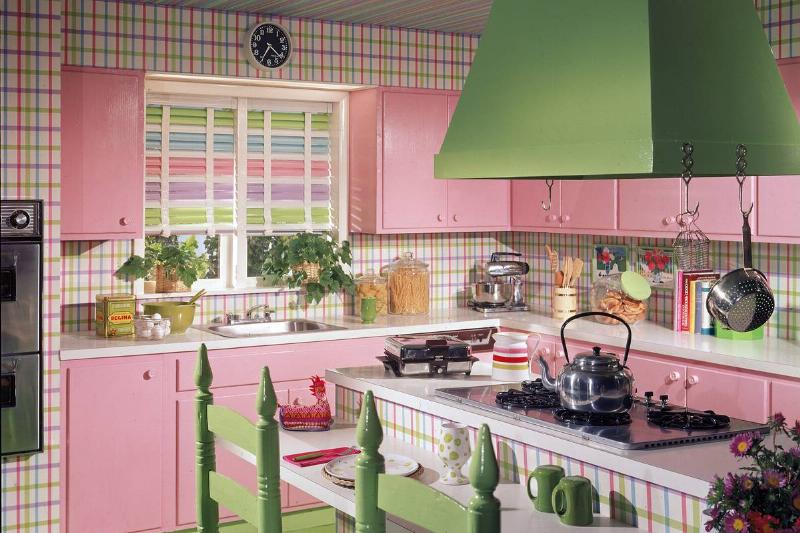 With designs like rainbows, flowers, and leaves. Surrounding those designs were colors like blue and white. Styles were fun and interesting with a contemporary feel. Americans moved into a different feel as the 1970s were approaching.
1967 The Emergence Of Microwaves And Dishwashers
What an exciting time for American families! The accessibility of these gadgets certainly made home life a lot easier. Appliances like microwaves and dishwashers were making their way into the modern home!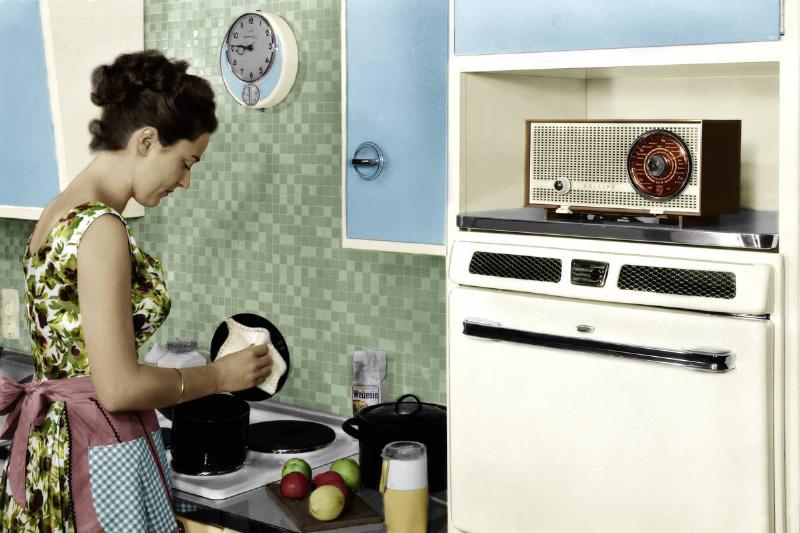 During the mid 20th Century, devices like microwaves were only used in places of business and wealthy American homes. Dishwashers started to appear in American homes in the late 1960s and early 1970s, making homes more appealing to the average home buyer.
1969 Laminate
Along with wooden appliances, different colored laminate started to make its way onto the scene closing out the 60s. This laminate would cover countertops in modern kitchens and restaurants.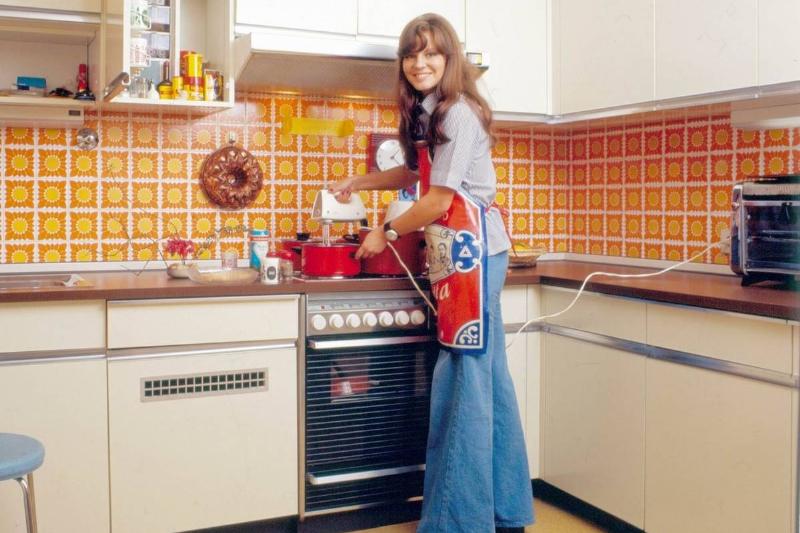 As well as bar stools and other seating. Some traditional laminate colors during this time were blue, green, gray, yellow and white. In contrast, during the early 1600s a lot of colors in the kitchens were bolder, brighter and more daring.
1970 Groovy Unique Designs
Homeowners were becoming more expressive and less minimal in the early 70s. The 70s were a time of good vibes, free thought, independence, and expression. Americans expressed their freeness with wacky and interesting designs in their homes, and more specifically their Kitchens.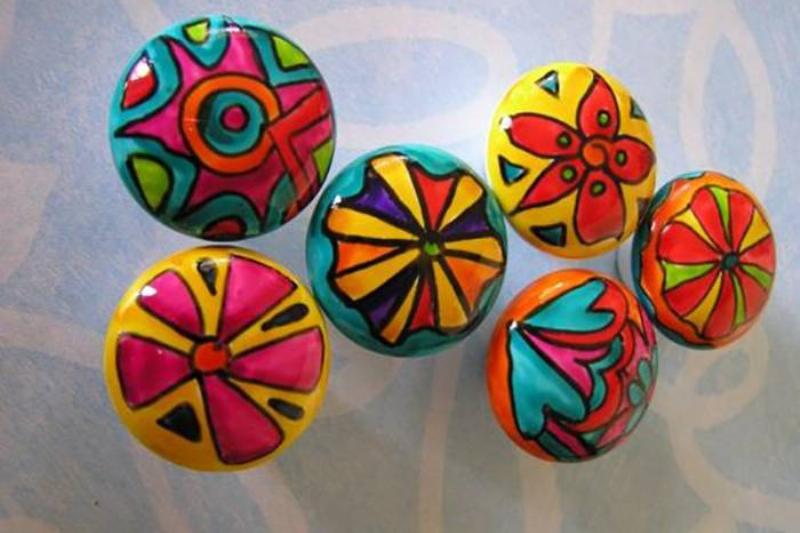 Designs with whimsical clashing colors, stripes, plaid, and flowers were common. Bright colors in kitchens started resurfacing around this time! The types of designs were considered experimental and different.
1975 Country Style
During this time period kitchens took on an even more earthy feel. Potted plants filled the counters and window seals! Shelves that normally would hold fine china in the past, held greenery instead.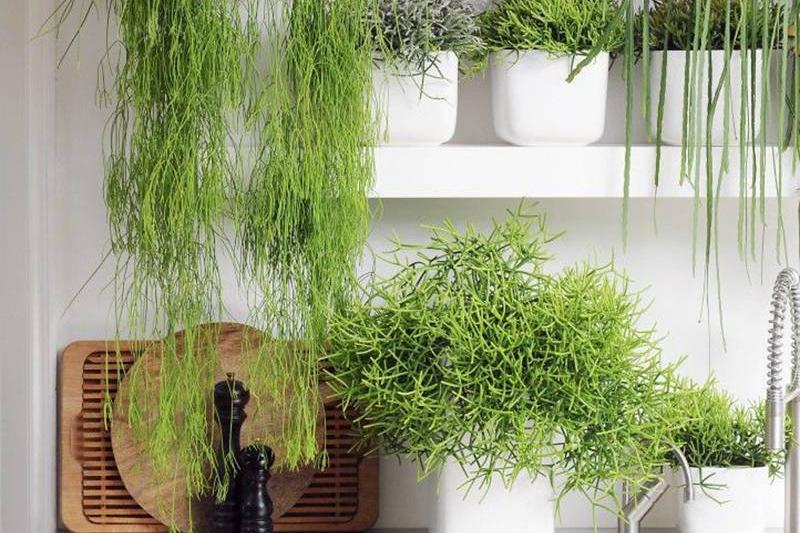 Things like pots and pans hung from the ceiling for decoration, as well as fruit baskets and mounted shelves with spices on top. Different accents on the walls included stone, brick and other rustic inspired looks that complimented the nature aesthetic.
1977 Daring Colors
Formica, a popular type of laminate in the 70s, was in a lot of American kitchens. It came in a wide variety of colors like neon green, orange, purple,red, and yellows. These bold energetic colors lit up American kitchens across the country. 
This type of laminate was found on counter tops, cabinets, chairs and shelves. Glassware came in these explosive colors too! This fad was fun but short lived.  
1980s Industrial Kitchens
Kitchens in the 1980s stopped becoming heavily family oriented. While living rooms used to be in the kitchen and house wives and mothers spent a lot more time in the kitchen in past years, women were working a lot more than they ever had.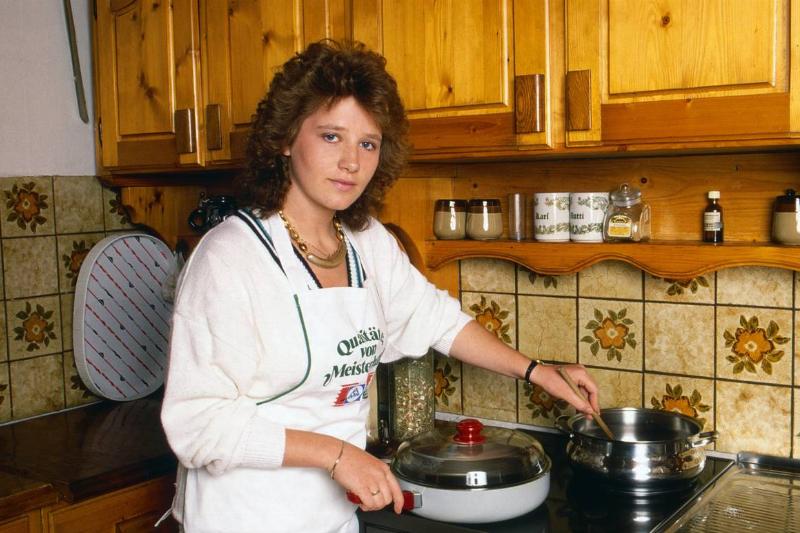 The design of the kitchen was changing, the living room and the kitchen became separate, some kitchens had built in benches and bars and focused less on designs and colors. 
1981: Huge Pantries And Kitchen Islands
A re-emergence of kitchen pantries broke through in the early 80s. Built in cabinets had proven to not be enough space for large families and their essentials, so the need for large pantries arose.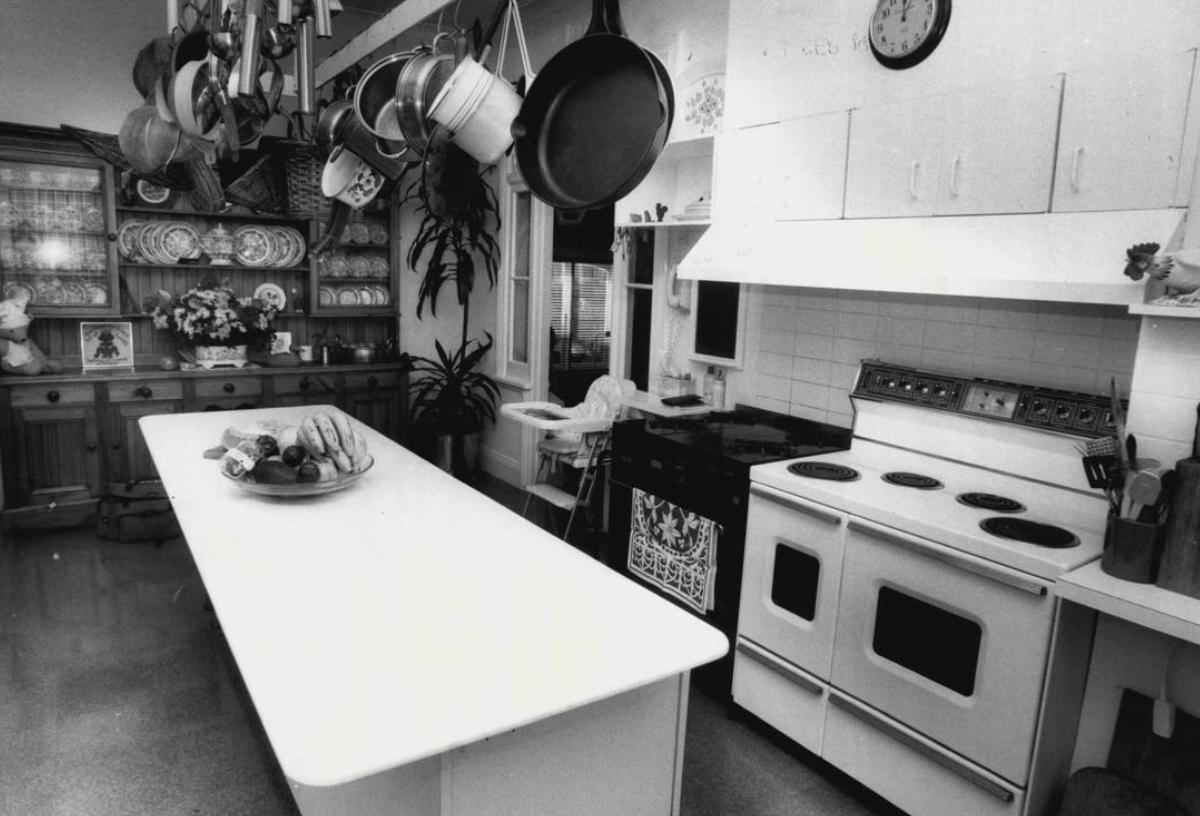 In addition to pantries, kitchen islands were made larger and given different features like sinks and trash compartments. These large islands were used to serve multiple guests for parties, and set the tone for the look of the kitchen.
1982: Too Many Tiles
The trend of laminate designs were starting to fade away at the start of the 80s. Colored tiles were the new staple in American kitchens. It would cover the backsplashes, countertops and floors.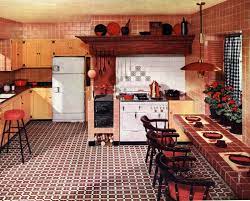 This material was a lot easier to clean and wouldn't peel as laminate would at times. The Colors in American kitchens also started to revert back to soft earthy tones, staying in the category of blue, white and gray.
1985: Contemporary And Simple
Americans began to take a more simplistic approach as they abandoned their laminate, and vibrant coloring, for simplistic black and white appliances and tiling. American Kitchens were filled with black and white, potted plants, and a splash of accent colors.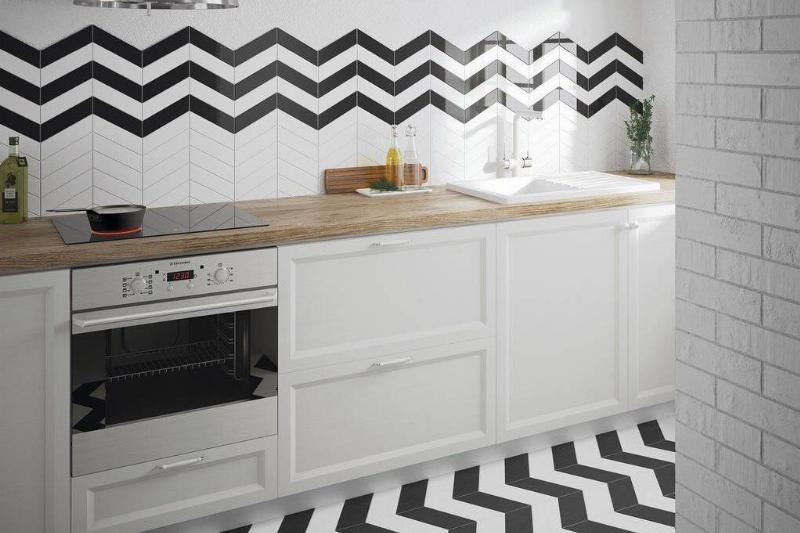 Black and white microwaves and ovens began to become a popular choice in most homes. Cabinets and countertops reverted back to laminate design.
Some accent colors in kitchens were popularly pastel.
1990s Going Granite
Granite countertops emerged in the '90s, and have proven to be a staple in American kitchens even today, being that we still see the design in luxury home magazines Granite became insanely popular during this time.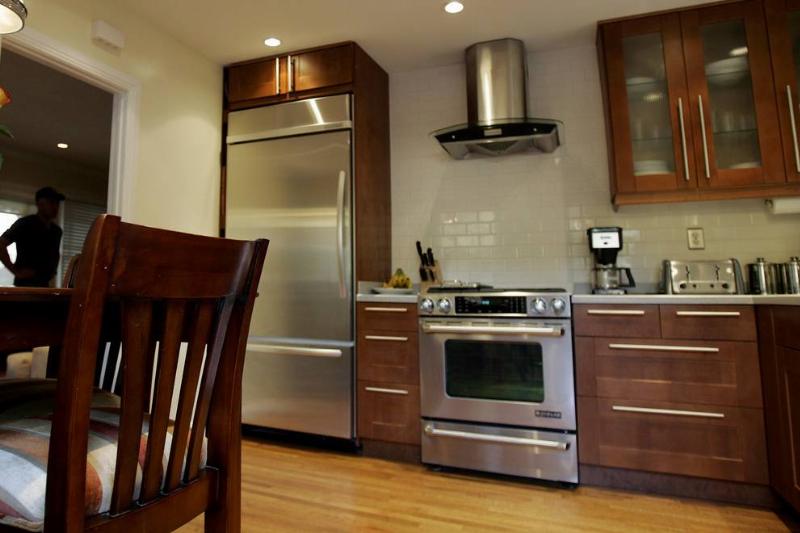 White, blue, gray and black countertops became all the rage instead of pastel colors. In some high-end homes there were even granite cabinets. Granite furniture or appliances were usually accessible to the more wealthy American homeowners.
1991 A White Out
In the early '90s, white appliances were being advertised as the newest sleekest design. All white kitchens were being featured in magazines and appealed to those with simplistic minimalist ideals.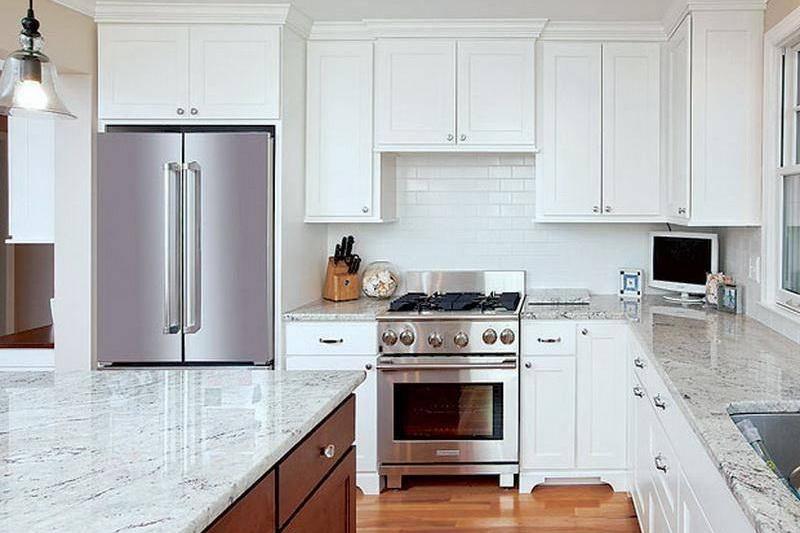 A lot of people opted into keeping wooden countertops but having all white appliances like refrigerators, stoves, dishwashers, pantries and microwaves. The new all white design wave was uniformly organized and simple. Neutral was starting to become "in" once again.
1994 The Farmhouse Fad
The '90 saw an uptake of the farmhouse look. The style was inspired by English and French homes. With the inclusion of marble and granite countertops, It gave the farmhouse some elegance with a country flair.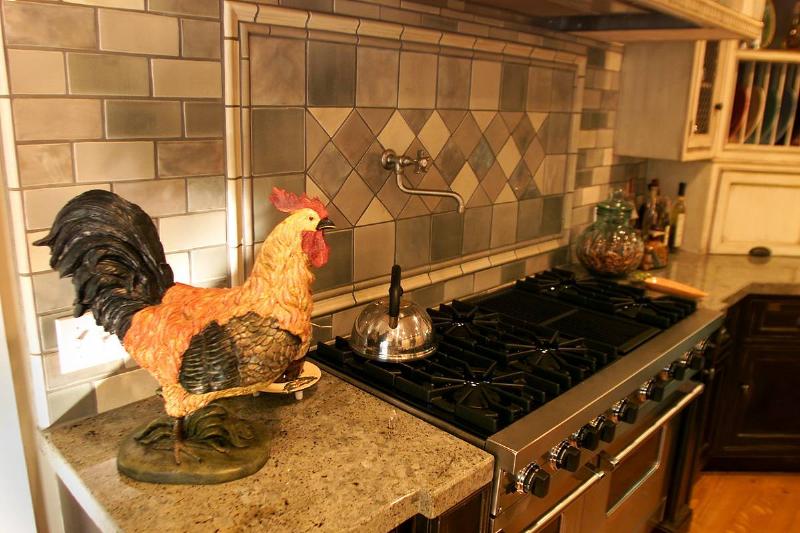 Kitchens with this look had a thrifty homely feel to them, with vintage vases and  pottery in a variety of warm colors. The look was calm and inviting, and looked best with natural light bleeding through the windows.
2000s: McMansions
In the early 2000s, these kitchens were known as McMansions wide. Spacious open-ended kitchens and wide spacious homes. The islands in these kitchens also maintained a large size for parties, gatherings and spending time with the family.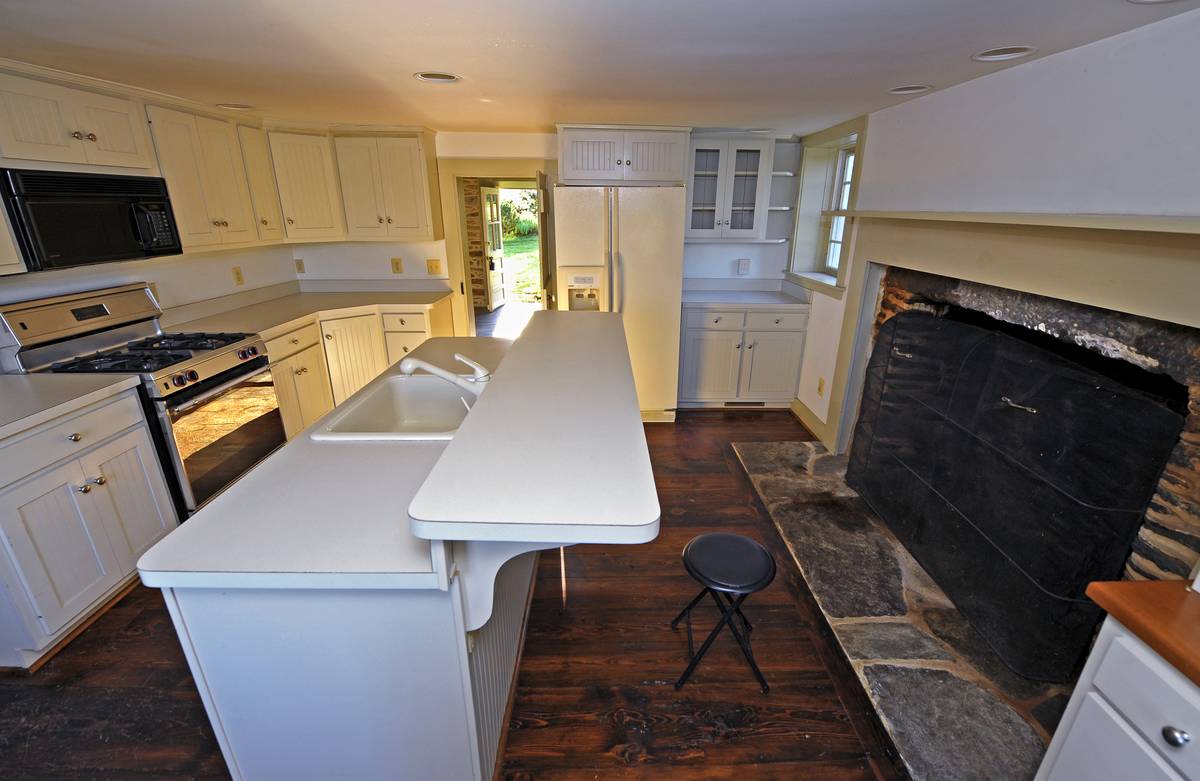 Designs remain simplistic but rustic and luxurious. The colors of most layouts for these homes were deep browns, beige, whites and cream colors. With some refrigerators and dishwashers being chrome like in design.
2006: The Beige Look
By The early 2000s, most kitchens had abandoned the lively and hoppy colors of the '80s and '90s. Contemporary and simple were "in" and beige was the fan favorite color. Beige was one of the most popular choices for cabinets during this time.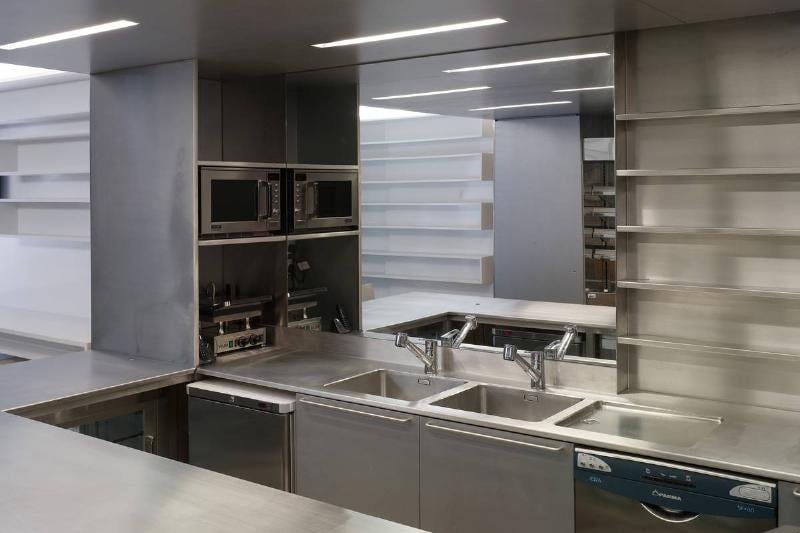 Another popular design was the combination of wooden appliances and stainless steel. Both materials could be polished and were easy to clean so people gravitated towards them.
2010s The Social Media Savvy Kitchen
To close out this article, we bring you the modern kitchen, our decade – the 2010s. The bright and glossy finish of a modern kitchen is social media ready! Since the '90s, we've maintained the stainless steel appliances and granite countertop look.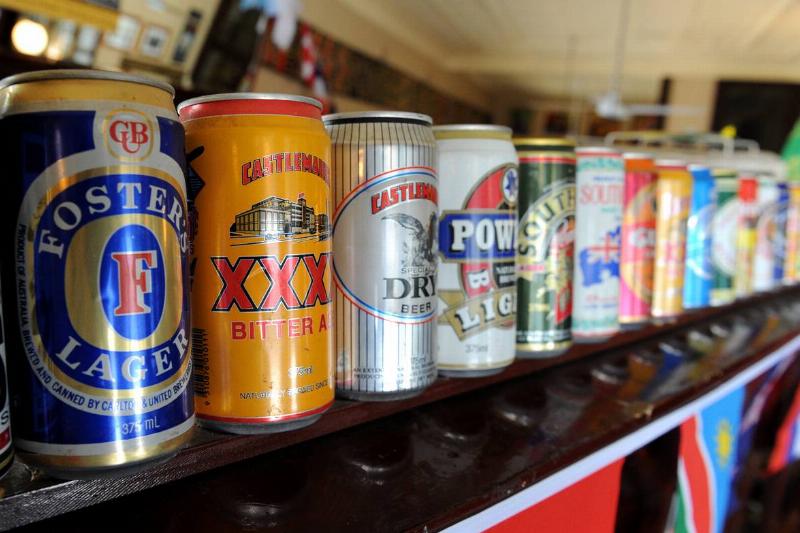 Not to forget our classic polished wooden cabinets. This current era has also maintained an overall white kitchen look. It's completely vibrant, classy, minimalist and makes for good pictures!