Red Carpet Regrets: Unforgettable Fails That Made Us Cringe, Ranked
The glitz and glamor of the red carpet are meant for the best of fashion, style, and grace. However, sometimes things don't go as planned, and even the most prominent stars can experience embarrassing moments that leave them red-faced.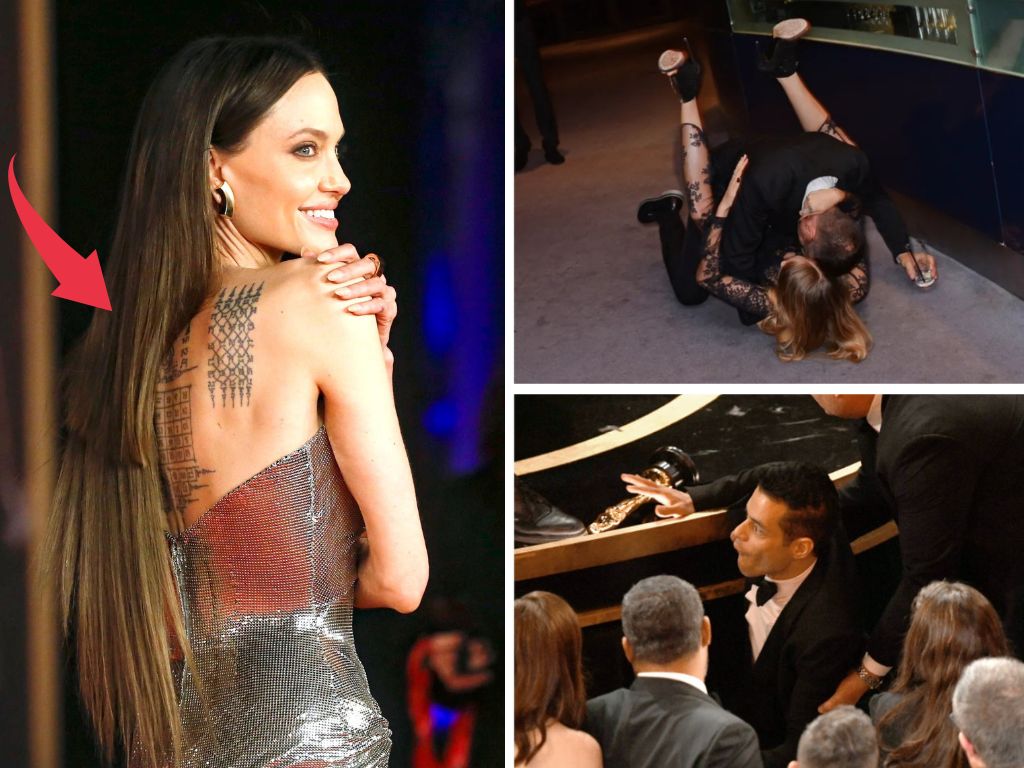 From wardrobe malfunctions to awkward interviews, these gaffs have been caught on camera for all to see. Prepare to cringe as we look at Hollywood's most embarrassing red carpet moments.
Did Jason Derulo Take a Tumble?
In 2015, the Met Gala witnessed a man have a spectacular fall, and the internet went wild. Everyone thought it was Jason Derulo who took a tumble down the stairs, but as it turns out, it wasn't him.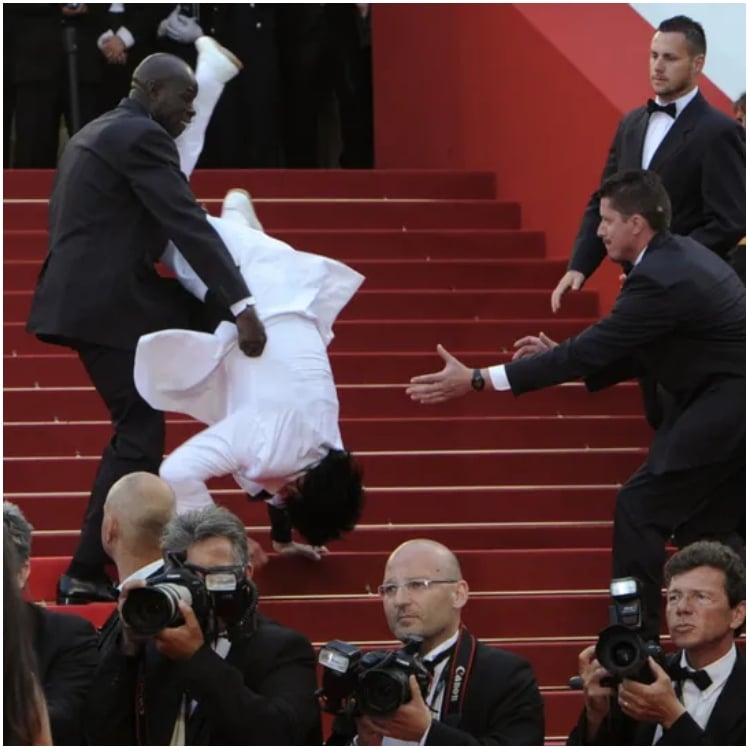 The truth behind the viral photo finally came out – the poor guy was an anonymous attendee. Even though several ushers tried to stop the accident from happening, it was too late; the damage was done.
Katy Perry's Cake Dive Fiasco
Imagine a performance so out-of-the-box that it involves diving into a giant, human-sized cake! That's exactly what Katy Perry did at the 2008 MTV Latin America Music Awards.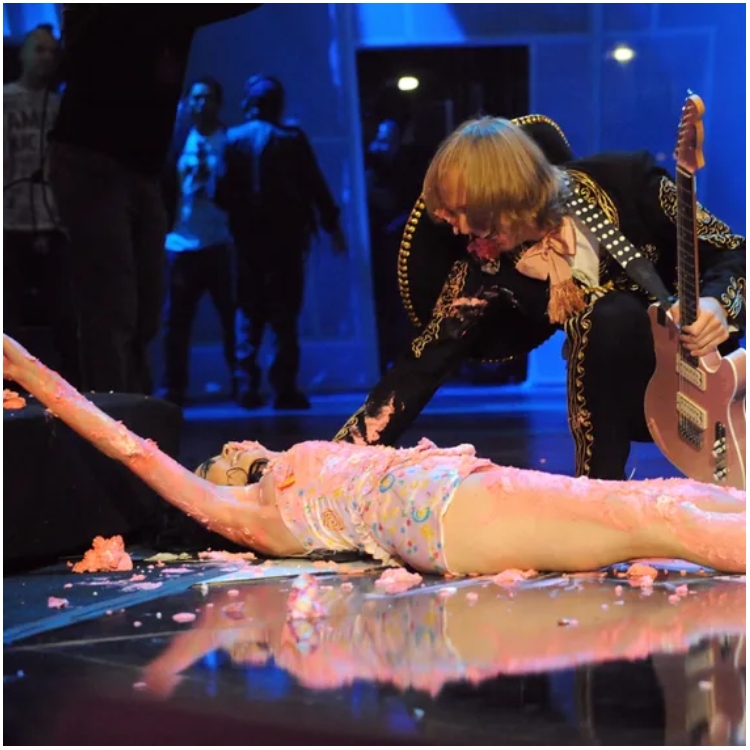 However, things took a hilarious turn when she tried to leave the stage and slipped – a messy but comical moment ensued as Katy got cake everywhere – all over herself, the stage, and all over her clothes. Her band couldn't stop laughing! 
The Golden Popcorn Catastrophe
In 2009, Kristen Stewart was on top of the world after winning the Golden Popcorn for Best Female Performance at the MTV Music Awards. Just as she was leaving the stage, disaster struck!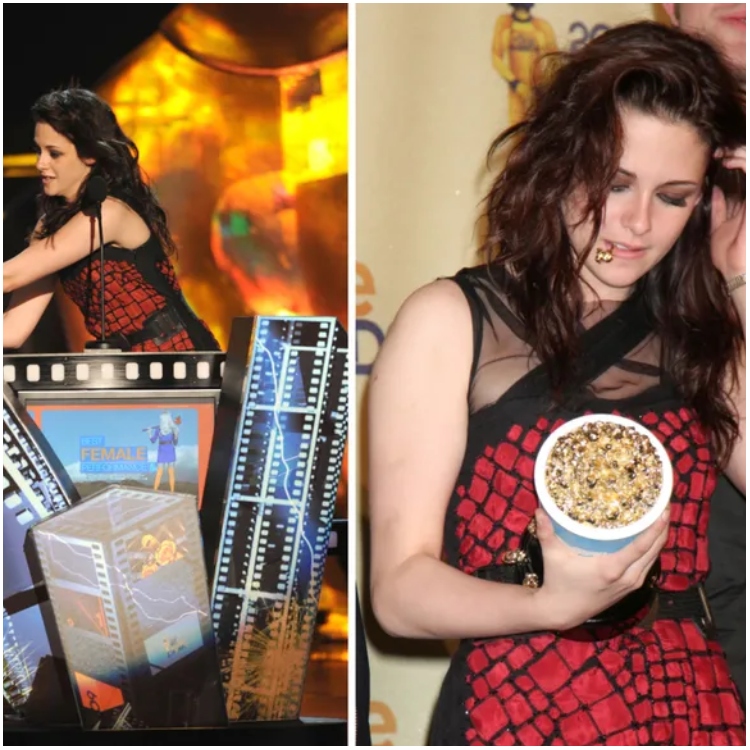 The award slipped out of her grasp and shattered into two pieces, leaving poor Kristen with half a prize and a dash of humiliation. Was the coveted statue too heavy, or was it just an unfortunate goof?
Melissa Joan Hart's Makeup Mishap
Lights, camera, makeup mishap? Melissa Joan Hart may be a seasoned actress, but even she can't escape the dreaded red-carpet faux pas. At the Frozen premiere, Hart's makeup artist missed a crucial step, leaving the star with an unblended foundation glare that could blind the paparazzi.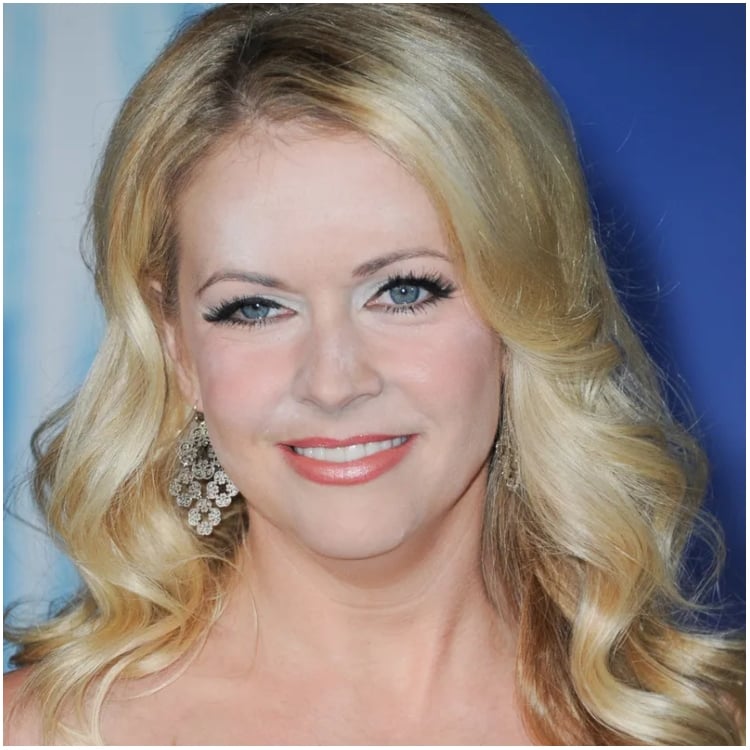 The result was a cringeworthy moment caught on camera. It wasn't until someone kindly clued her in that Hart was able to step out of the spotlight and fix the situation.
Iggy Azalea Reveals A Little Too Much
At the 2013 MTV EMAs, Australian rapper Iggy Azalea showed off a bit too much skin while walking the red carpet. Azalea even outdid Miley Cyrus that night.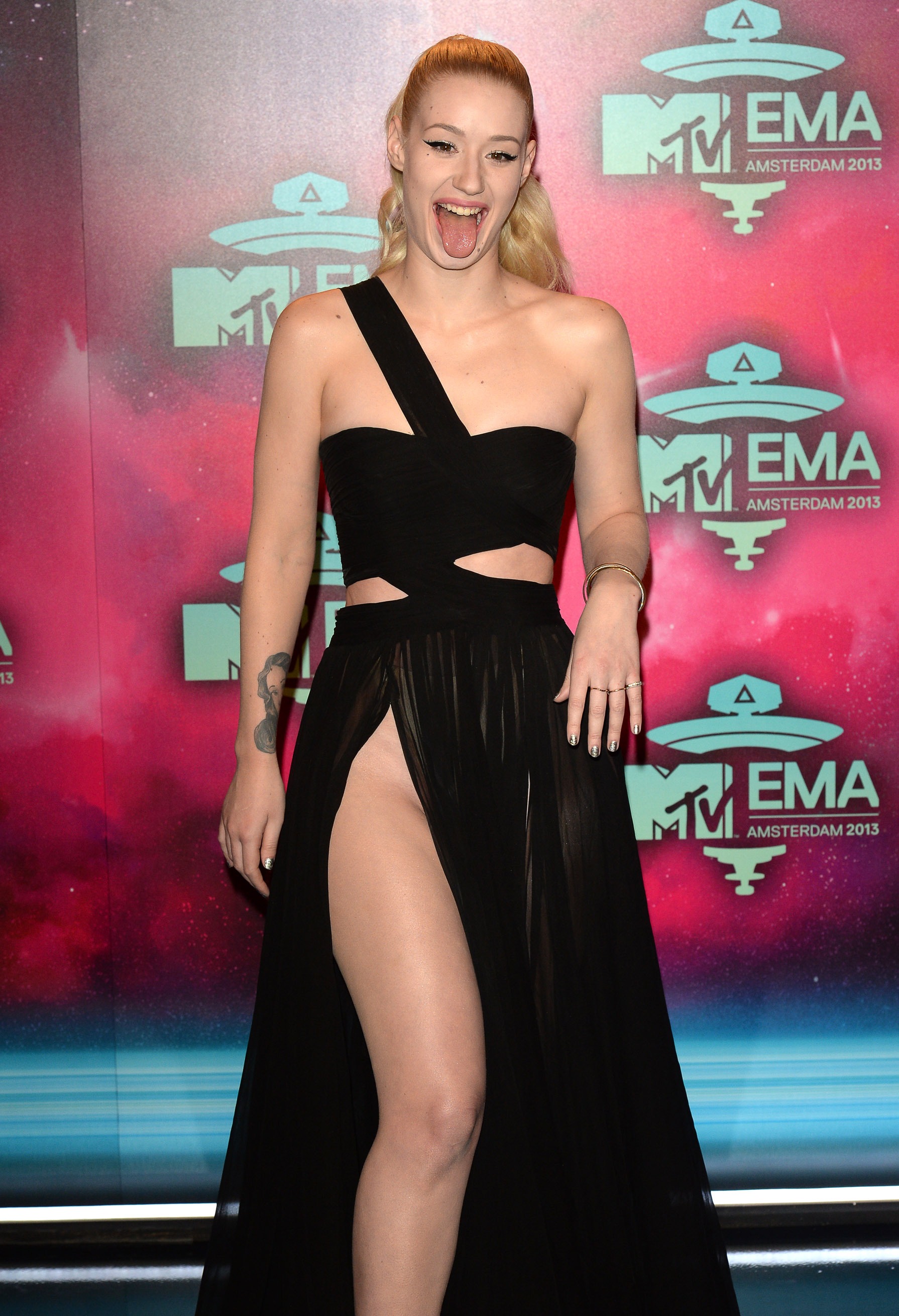 Well, as Azalea attempted to shield parts of herself from the photographers, it didn't work out in her favor. She ended up sharing more than she had intended, all for the world to see.
Cara Delevigne's Fateful Fall
Cara Delevigne's antics at the 2014 GQ Men of the Year Awards were the talk of the town. With a drink in hand, the model-turned-actress tripped and almost drenched a famous fashion designer.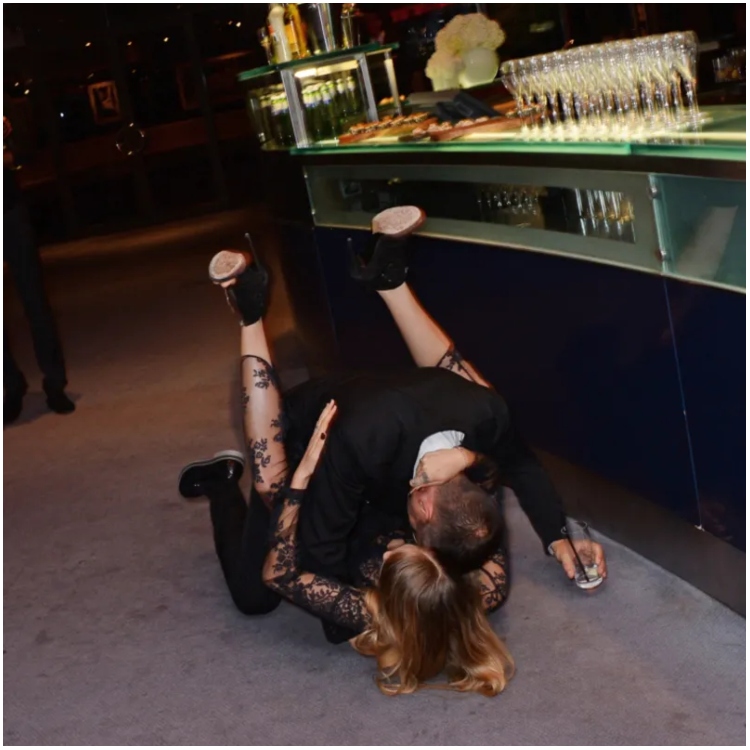 In a heroic attempt to steady herself, she grabbed onto the designer but ended up falling on top of him! Their expensive haute couture got ruined, but they joked about it before Cara quickly got up and rushed for another drink.
Jennifer Garner Loses Control
Despite her fair share of red-carpet mishaps, the charming Jennifer Garner manages to pull them off with grace. At the 2013 Oscars, the stunning actress almost bowled over and fell face-first while wearing a tight, wine-colored dress.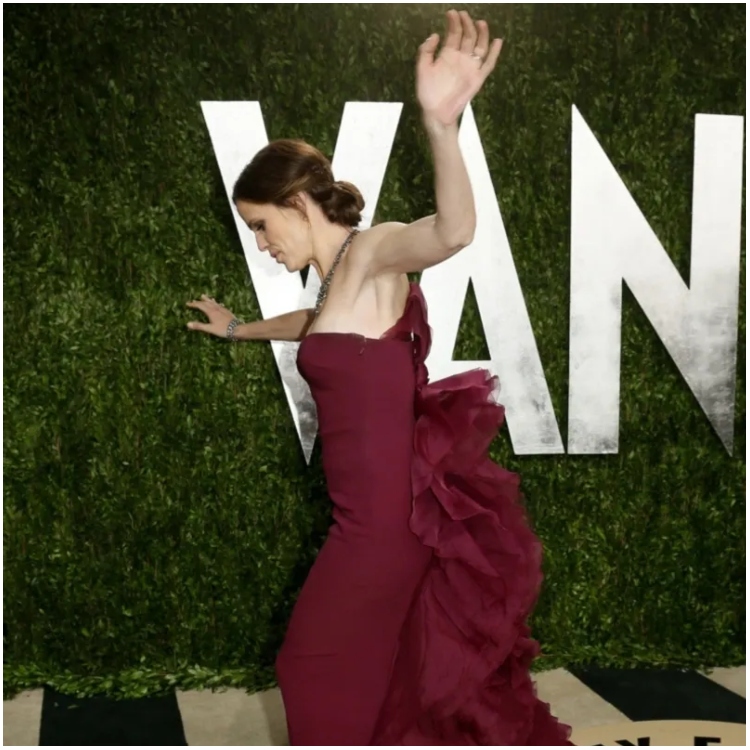 However, she regained her composure by flinging her arms out and laughing off the incident. Kudos to Jen for taking it all in stride and making us adore her even more!
Adam Levine Saves Wifey
Adam Levine, the Maroon 5 frontman, is adored by fans and blessed with a stunning spouse, Victoria's Secret model Behati Prinsloo. During a 2015 Oscar party, Prinsloo's dress betrayed her as it slipped off her chest while she posed for a photo.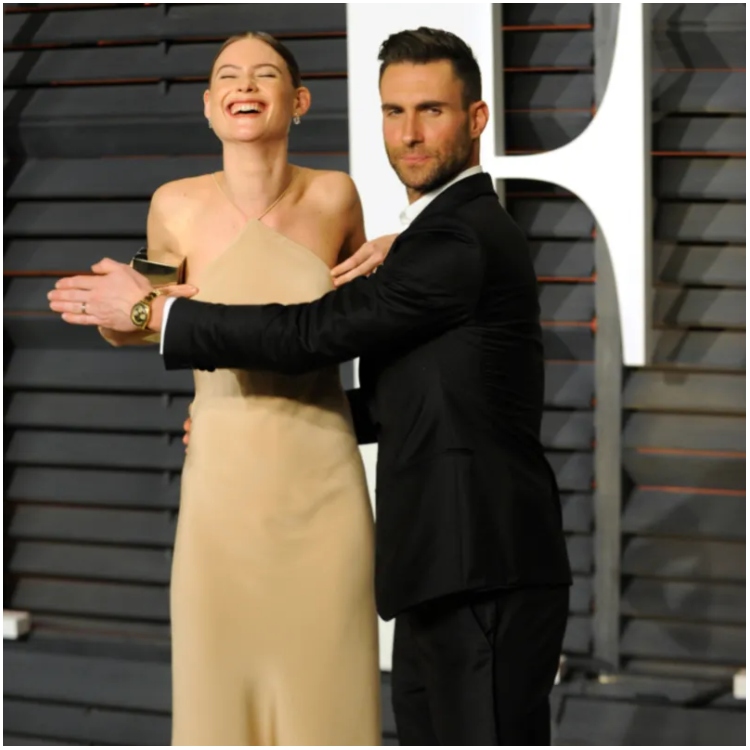 Don't worry, though, her chivalrous husband saved the day by blocking the wardrobe malfunction with his hand. The couple took the wardrobe malfunction in stride and shared a laugh afterward.
Elsa Hosk Loses An Earring
Victoria's Secret angel, Elsa Hosk, was walking on the 2019 Venice Film Festival red carpet when a small incident occurred. As Hosk was posing for cameras, her left earring became unlatched and fell to the ground.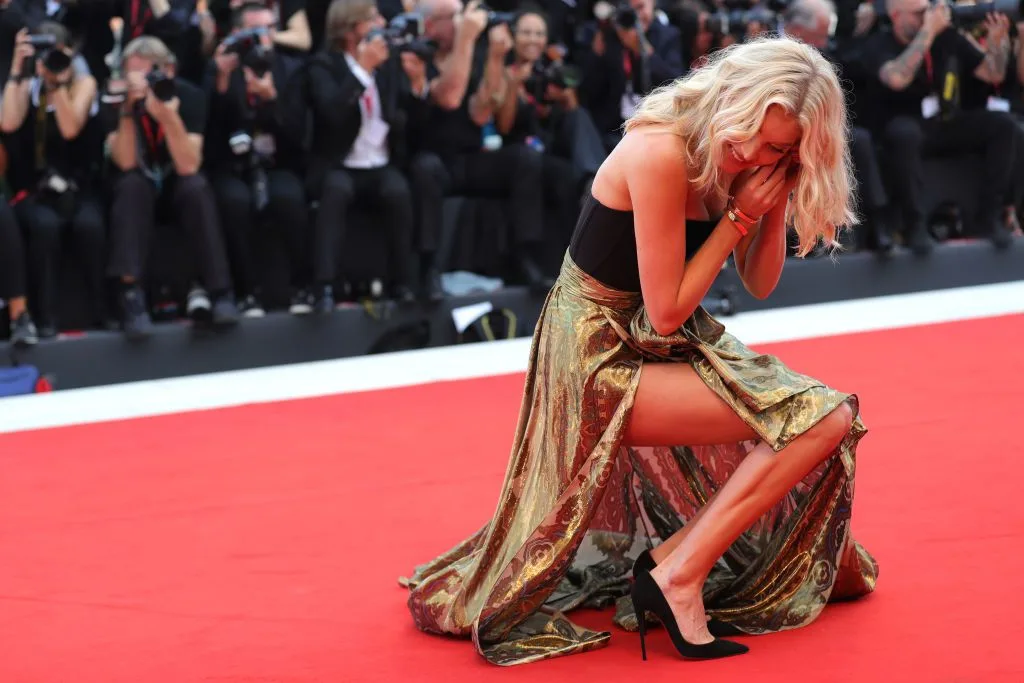 Like a total pro, Hosk quickly dropped down, picked up her earring, put it back in its right place, and returned to smiling. It's as if nothing had happened.
Rami Malek Stage Dive
Rami Malek won the 2019 Oscar for his mesmerizing portrayal of Freddie Mercury in Bohemian Rhapsody. The young actor delivered his victory speech on the Oscars stage and started to descend the stairs – only to stumble and fall hard.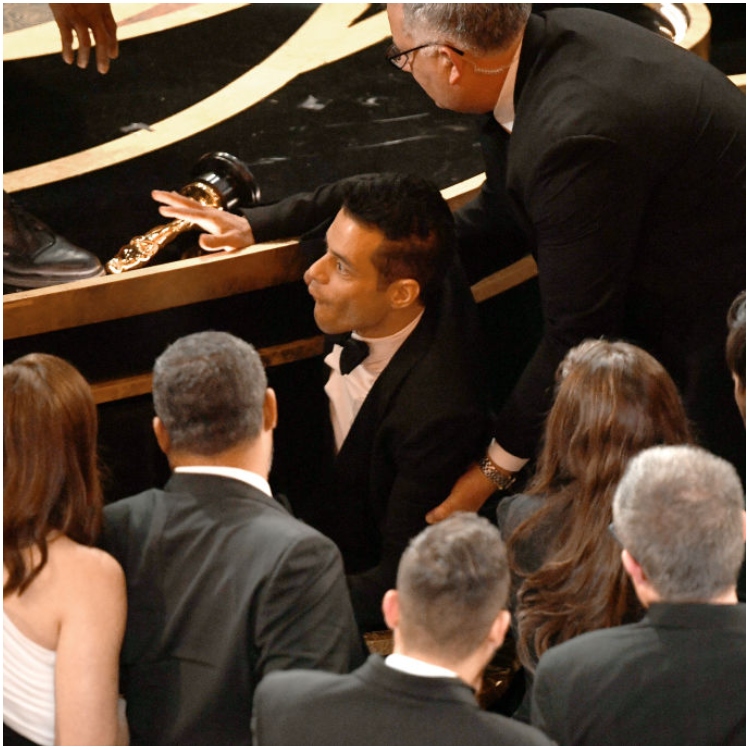 Good thing his fellow attendees quickly helped him, and a concerned medical staffer checked in on him. Despite the scare, Malek flashed a smile and assured everyone that he was fine, though likely sporting some bruises later.
Jason Segal's Oscars Surprise
Something amusing happened on the Oscars red carpet that could only happen to the comedy actor Jason Segal. His distinct facial expressions were on full display as he strolled along, and when the cleaning crew caught him off guard, his reaction was priceless.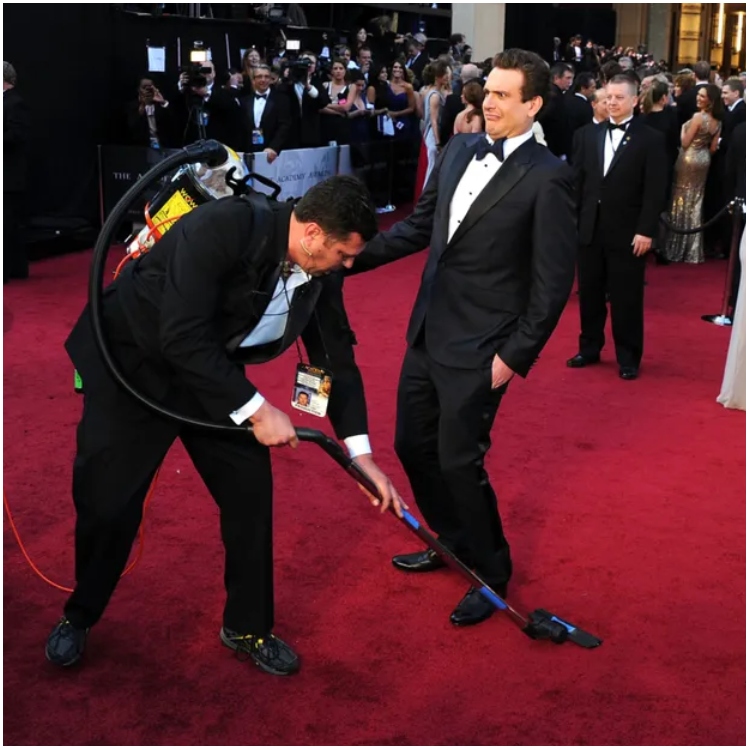 Segal was clearly perplexed by the unexpected interruption, and to be honest, so were we. After all, shouldn't the cleaning begin as soon as the actors enter the theater?
Angelina Jolie's Dress Reveal
Angelina Jolie's fashion gaffe at the 2012 Academy Awards will live in infamy. She arrived in a stunning gown with a very high slit, and Jolie chose a pose that left little to the imagination, making the slit the focal point.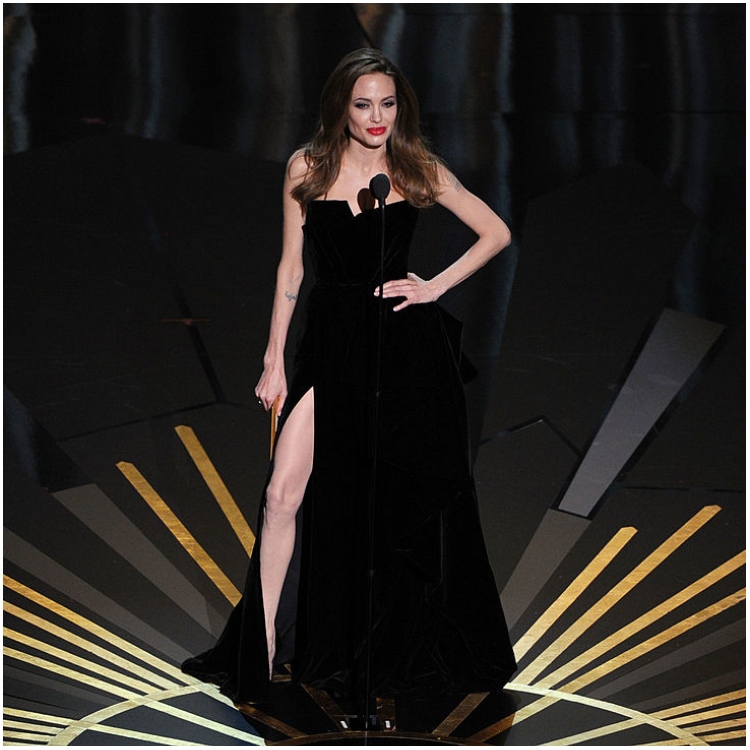 It was an awkward move that caught everyone's attention for all the wrong reasons. In fact, Angelina Jolie's slit got so much attention that someone even created a Twitter account under the name 'AngelinaJoliesL.' 
Geri Halliwell's Dress Malfunction
One can only hope that no major fashion mishap happens while walking the red carpet. However, Geri Halliwell bared more than she intended as she appeared at the Children's BAFTAs.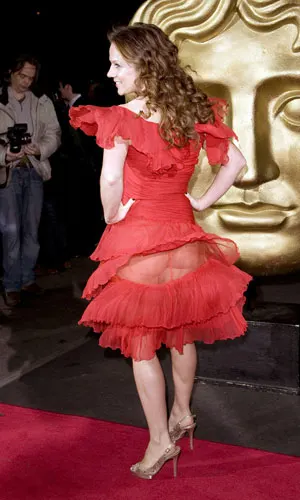 Accidents happen, of course, but this was super embarrassing. As soon as she spun around, her red ruffled dress accidentally showed her behind and she didn't even seem to notice.
Giulia Salemi's Orange Dress Mishap
In 2016, Italian model Giulia Salemi arrived at the 73rd Venice Film Festival with jaws already dropping. Her choice of dress is beyond revealing, as she is seen sporting a tan line and no underwear.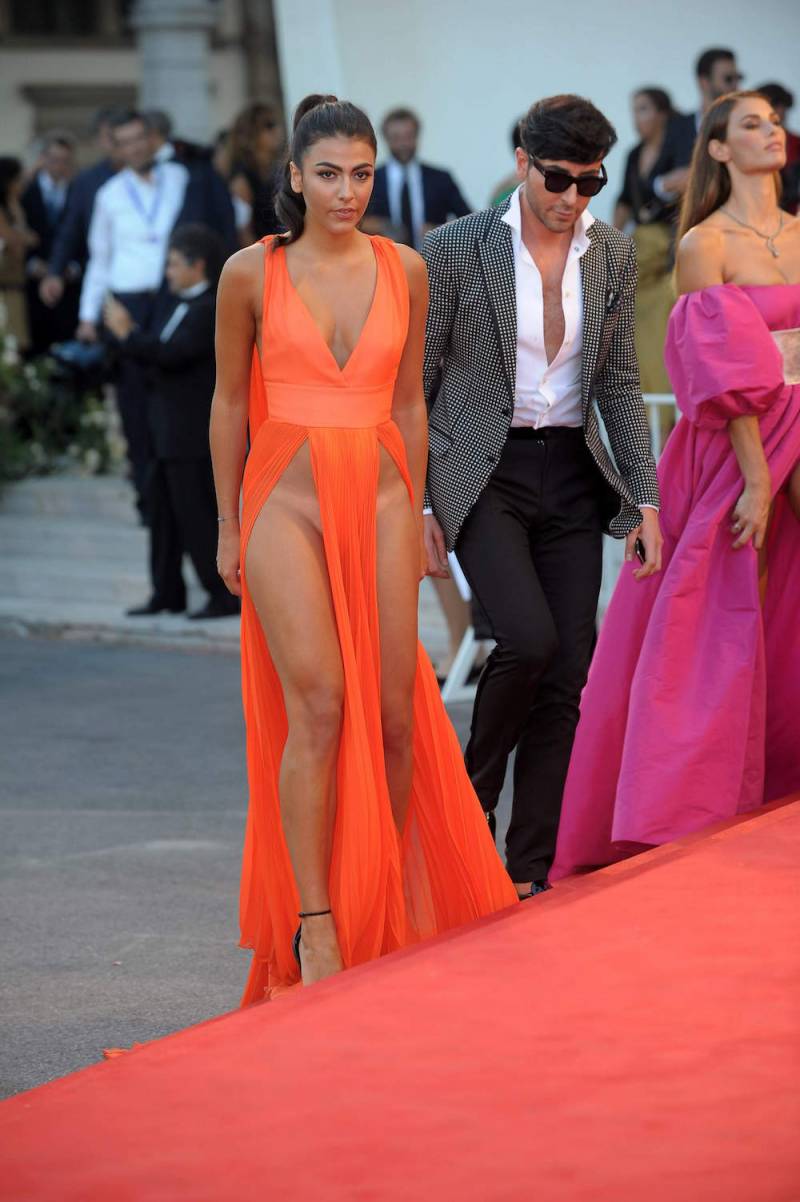 Is it even a dress when there's not much there, to begin with? Surely, all eyes (and cameras) were on her while she walked the red carpet.
Ashley Graham Versus Her Gown
Ashley Graham is a well-known plus-sized model and TV personality who promotes women's beauty and body positivity. While walking the red carpet at the TIME 100 Gala in 2017, the usually graceful model had a clumsy moment when she tripped over her gown.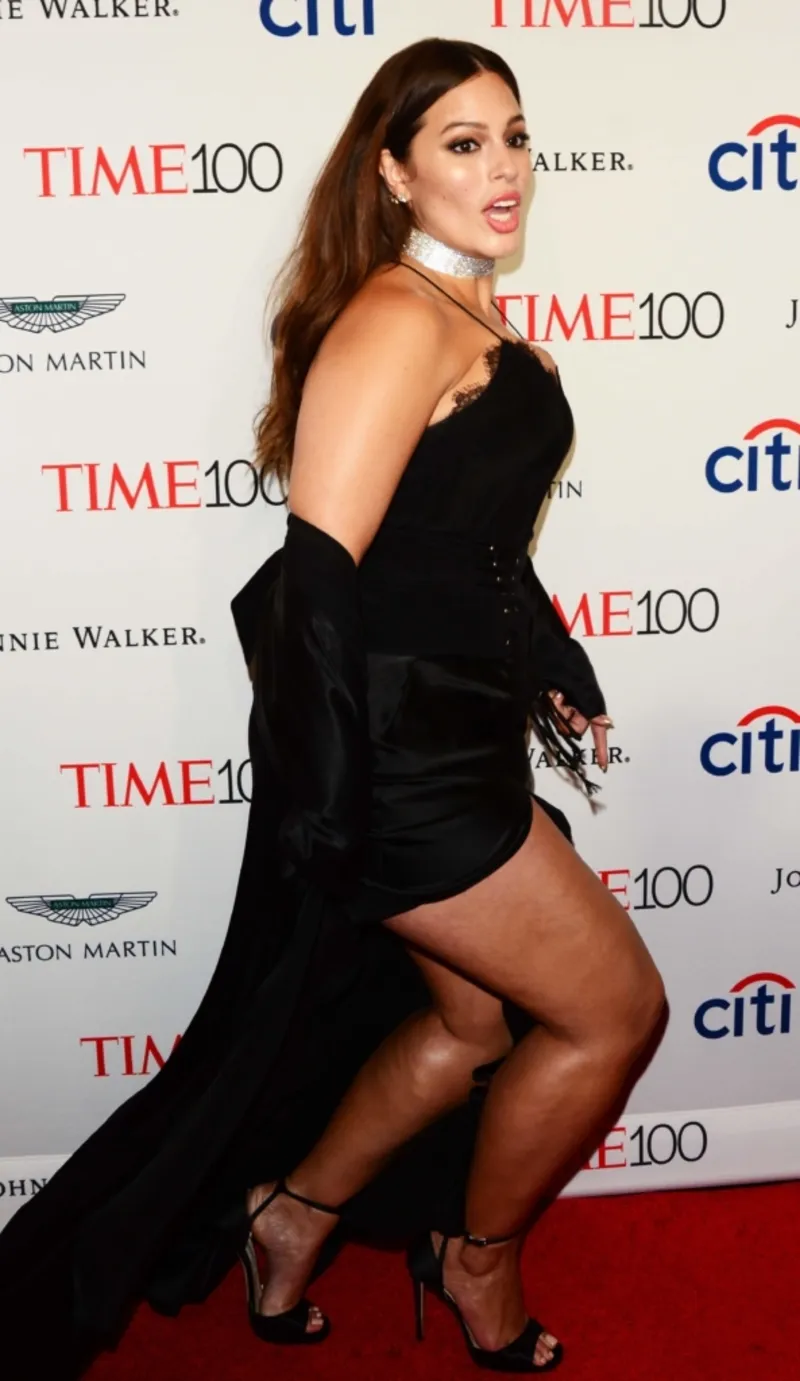 The gown looked a lot like lingerie but had enough material to make the stunning Graham slip up. Luckily, she only twisted her ankle and did not fall, although we think a quick fall would have been less painful.
Lady Victoria Hervey's Red Carpet Accident
As Lady Victoria Hervey strolled down the red carpet at the Cannes Film Festival in 2015, she tried covering up an embarrassing moment that caught her by surprise.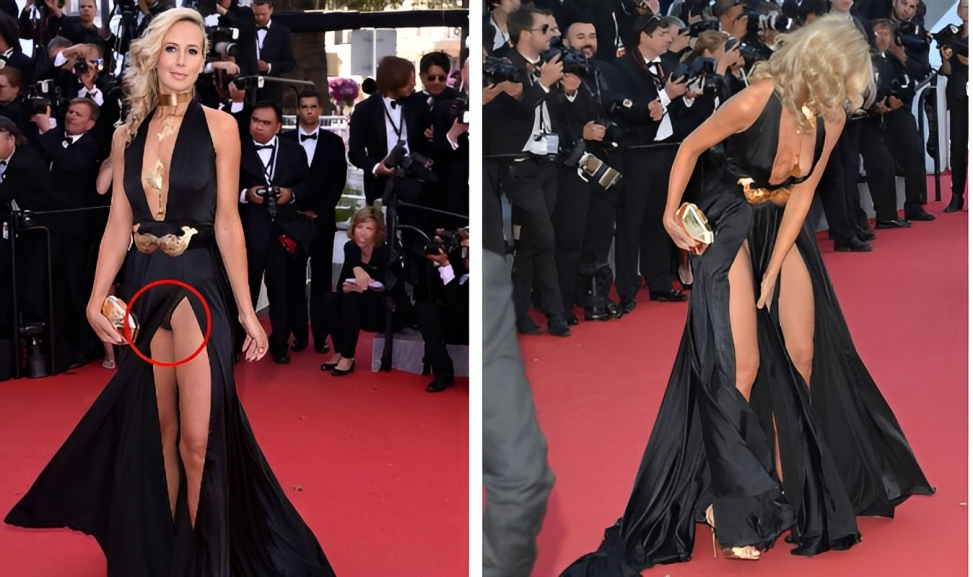 After the wind threw part of her dress to the side, her black underwear peered out. She quickly tried to cover it up, but let's be honest: there wasn't much of a dress there, to begin with!
Michael Cera's Awkward Pose
Michael Cera has made a name for himself as an awkward and quirky actor in Hollywood. He's most well-known for his roles in Arrested Development, Superbad, Juno, and Scott Pilgrim vs. The World.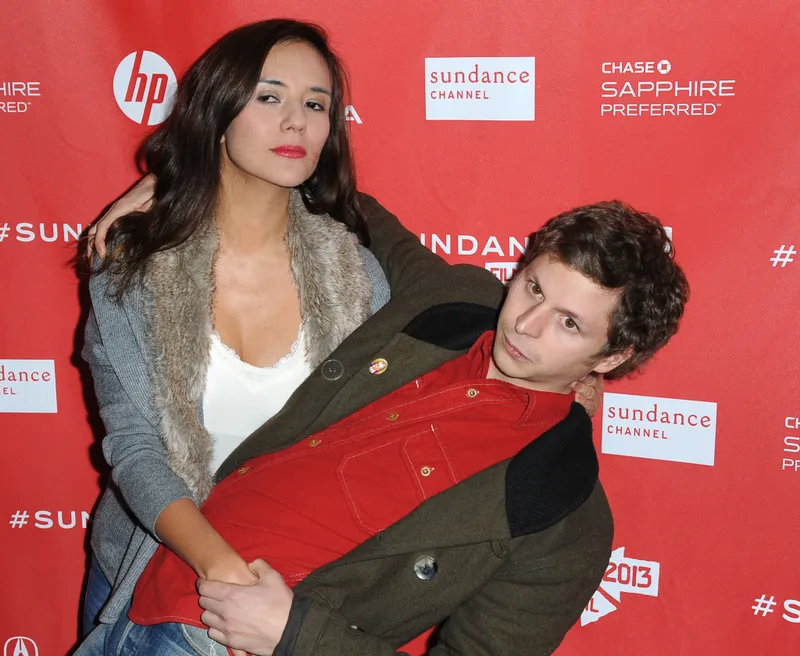 While attending the Sundance Film Festival in 2013, he and his costar, Catalina Sandino, caused quite a stir as they walked the red carpet. Cera had somehow tripped over his feet, and Sandino nearly caught him before he embarrassed himself.
Heidi Klum Must Have Reigned Curses On Bergerson
It was probably one of those Awards where Heidi Klum had planned a funny skit with her co-host Tom Bergerson. Apparently, she was supposed to play dead and fall into the arms of Bergerson.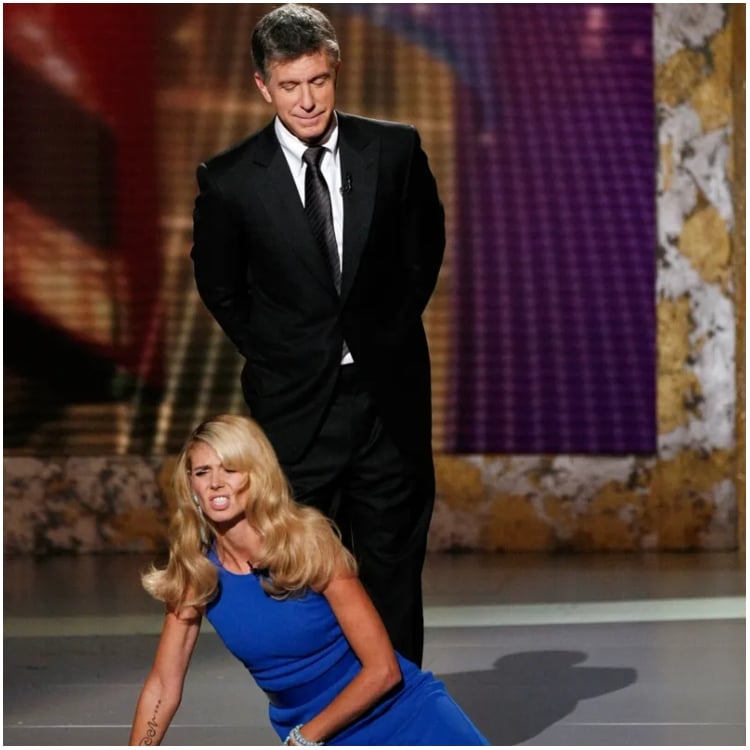 But things didn't go as planned and the fake fall became very real. We can't imagine the embarrassment that followed as Bergerson missed the catch and she fell straight to the floor. That was some real comedy there! 
Hayden Panettiere's Star Fall
In a bid to look stunning and fashionable, a lot of celebrities have ended up making fun of themselves. Just take a look at Hayden Panettiere in this picture.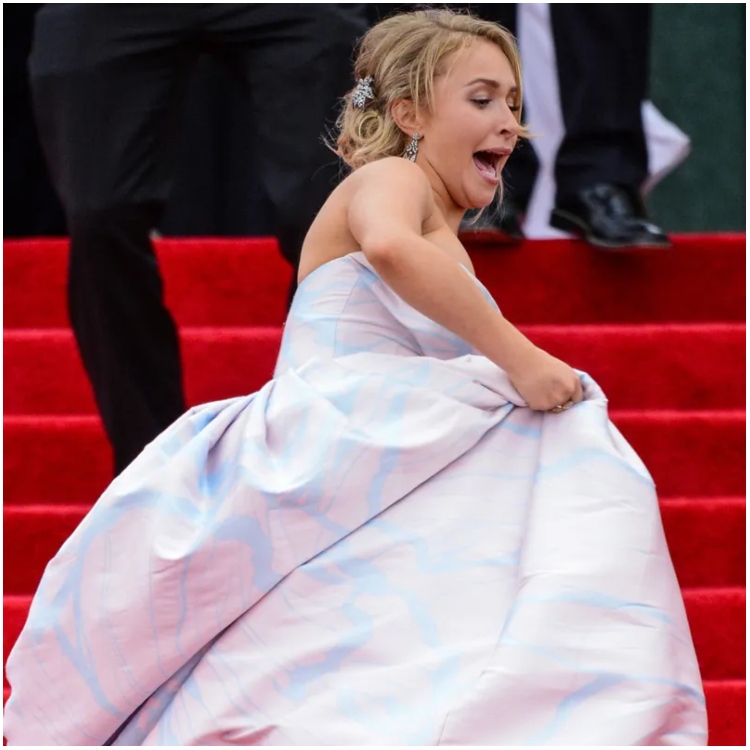 We bet it was hard to walk in that puffy dress, and it was all too easy to lose her balance. This moment was captured at the 2014 Gala event, where she was called a Nashville star with a star fall moment.   
Jennifer Lawrence's Oscar Win and Fail
What is it with the Oscars stage? It certainly causes a lot of rising stars to fall down! In 2013, Jennifer Lawrence had just been called on stage to receive an Oscar for Best Actress for Silver Linings Playbook.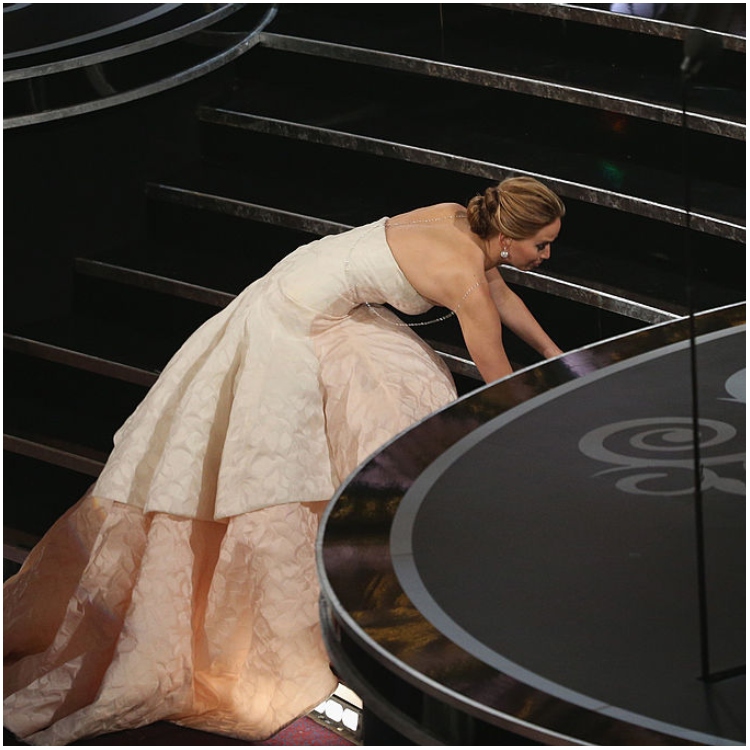 While walking in her huge Oscar de la Renta dress, she missed a step on the stairs and hit the floor. In true Jennifer Lawrence fashion, she stood up, accepted her award, and made a joke about the spill. 
Jon Hamm Went From Jumping To Crawling
Wait, going from jumping to crawling – how's that even possible? Well, Jon had just been nominated for Best Actor in a Drama Series for his performance in Mad Men.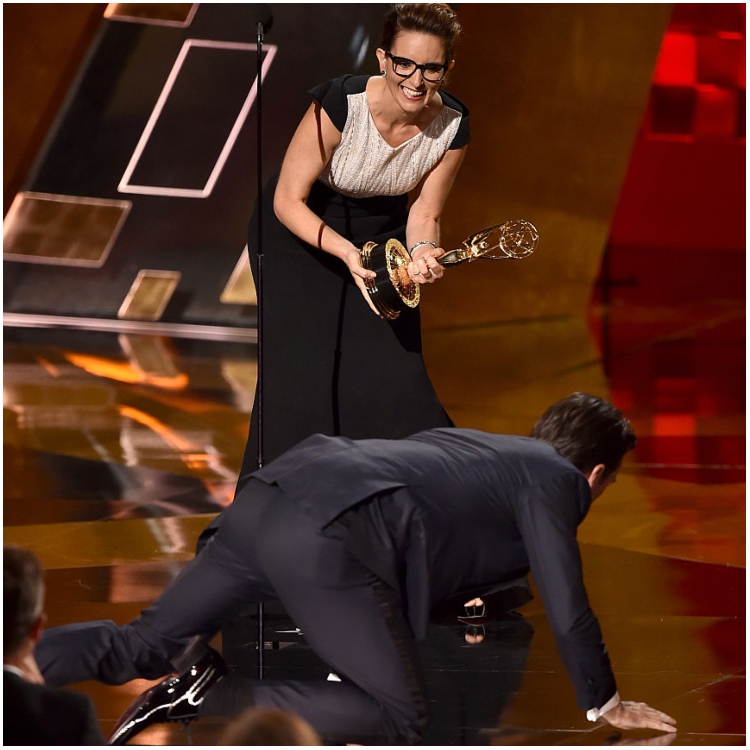 He was invited on stage to receive the 2015 Emmy Award. Then out of excitement, he wanted to pull a stunt of having to jump the stairs. Unfortunately for him, he missed a balance and had to complete the distance by crawling up. How embarrassing! 
Katherine Heigl's Dress Slip-Up
Actress Katherine Heigl always has a good spirit about things and a great sense of humor. She handled this embarrassing moment like a champ!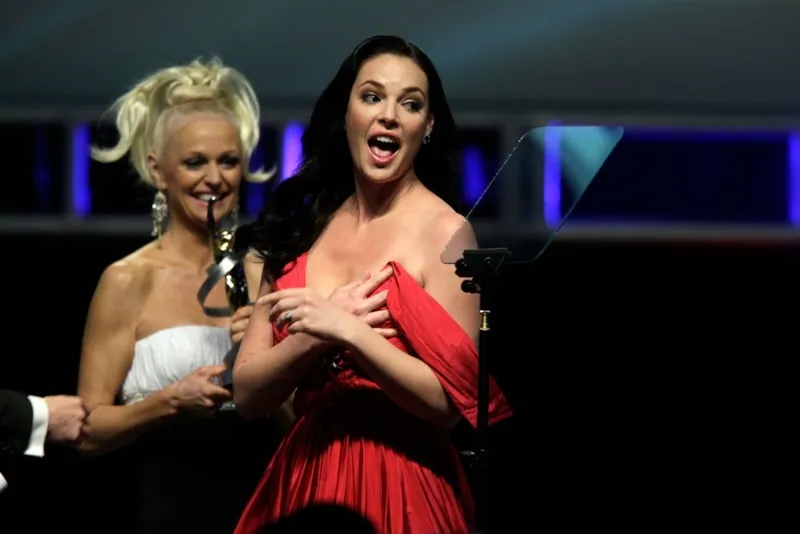 While at the 2010 Las Vegas ShoWest convention accepting her Female Star of the Year Award, her dress strap fell down. Luckily, Heigl fixed the situation before it got worse. She laughed about it and continued making her speech.
Helen Mirren's Red Carpet Mishap
She's a dame, and she has the triple crowns of Emmy, Oscar, and Tony awards, but Helen Mirren is just like the rest of us and has some mishaps and klutz moments.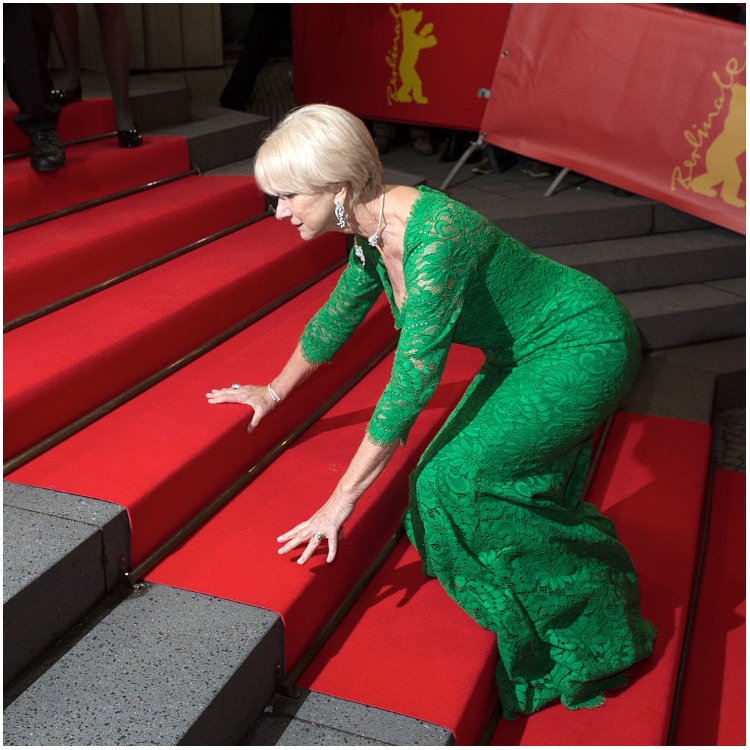 A 69-year-old Mirren elegantly graced the red carpet in a luxurious sea-green gown with tall heels – she tumbled over some stairs. Still, she stood back up and made a crack about how her heels usually do not give up on her.
Jeremy Renner's Uncalled For Comment To JLo
Things were heating up at the 2015 Golden Globes. As Jeremy Renner and Jennifer Lopez were presenting the award for Best Actor in a mini-series or TV movie, Renner made a pretty inappropriate comment about JLo's cleavage.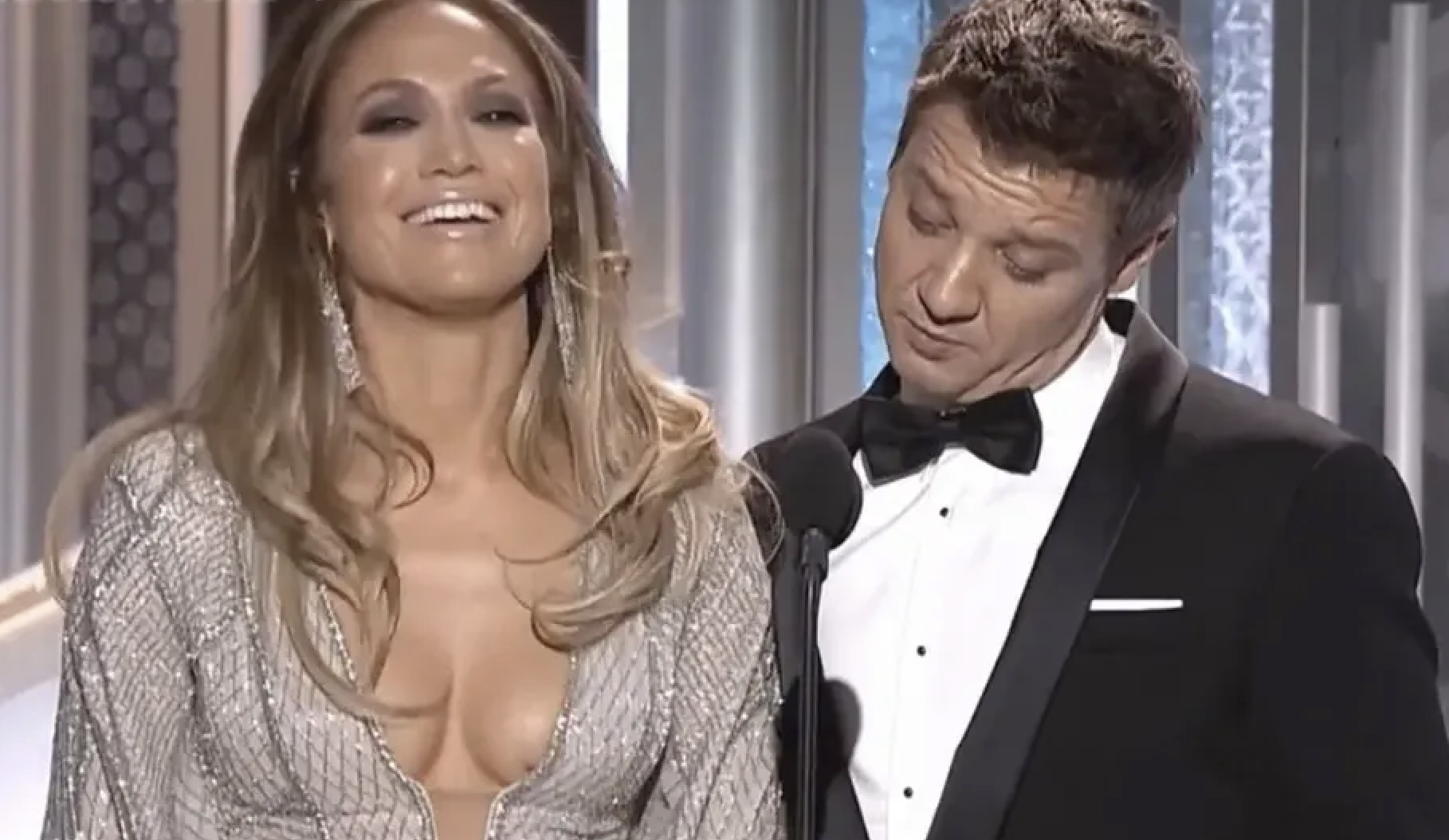 While the "joke" was supposed to come off funny, it came off quite cringy, and the Internet was not happy.
Naomi Watts' Close Call
During the Birdman cast's acceptance for Outstanding Performance by a Cast in a Motion Picture at the 2015 Screen Actors Guild Awards, Naomi Watts got a little too excited. As the actors gathered onstage, Watts missed a step while walking toward the microphone.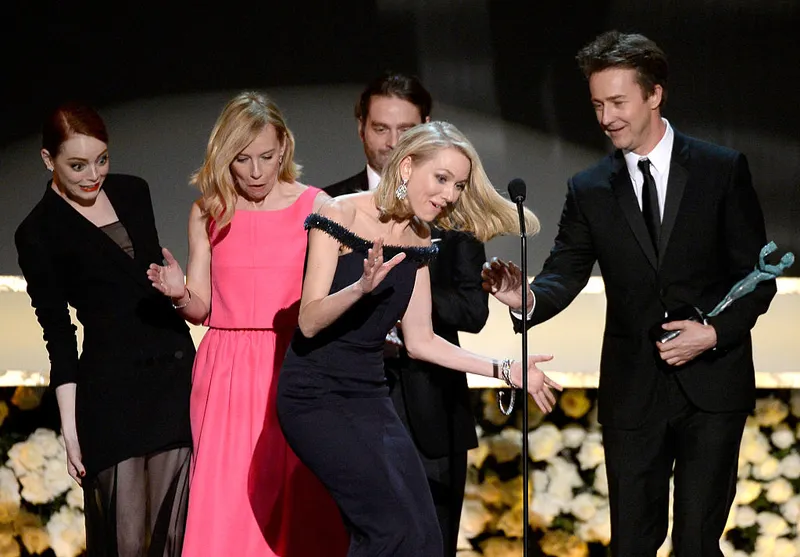 Pictured are Emma Stone, Amy Ryan, Edward Norton, and Zach Galifianakis and their hilarious reactions. Watts almost fell right on her face but ended up retaining her balance.
Angelina Jolie's Embarrassing Extension Moment
Anything can go wrong on the red carpet. From wardrobe malfunctions to falling and tripping, the possibilities are endless.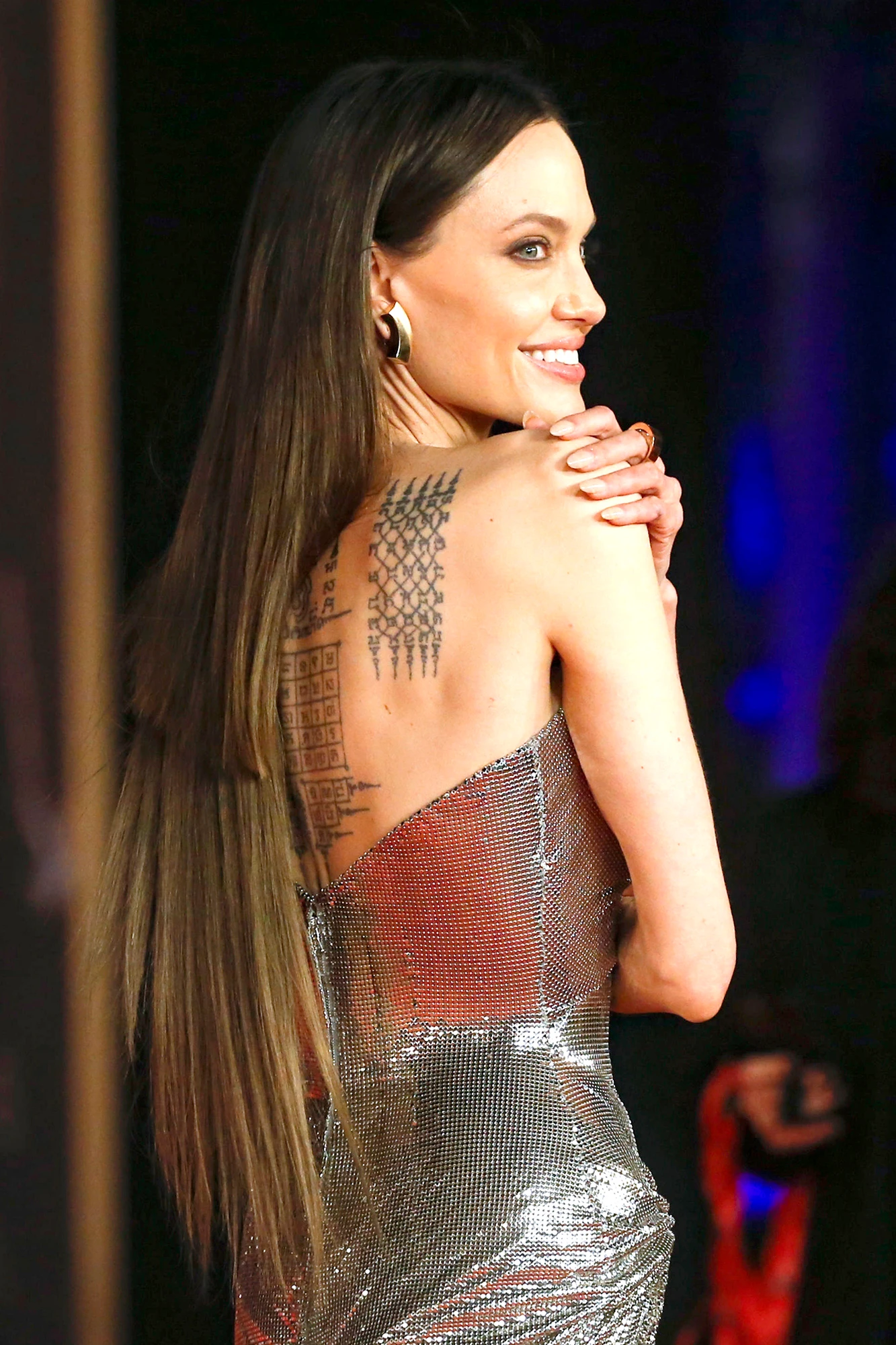 In this case, Angelina Jolie is photographed with her normal hair showing up over her extensions. It's pretty embarrassing how noticeable the mistake is, and Jolie is proudly embracing the hair mishap.
Tre Cool's Uncool Moment
Green Day's drummer, Frank Wright, famously rebranded himself as Tre Cool, but his coolness was in short supply at the 2019 Europe Music Awards. While stepping out of a car onto the red carpet, Tre Cool tripped and had a nasty spill onto the carpet.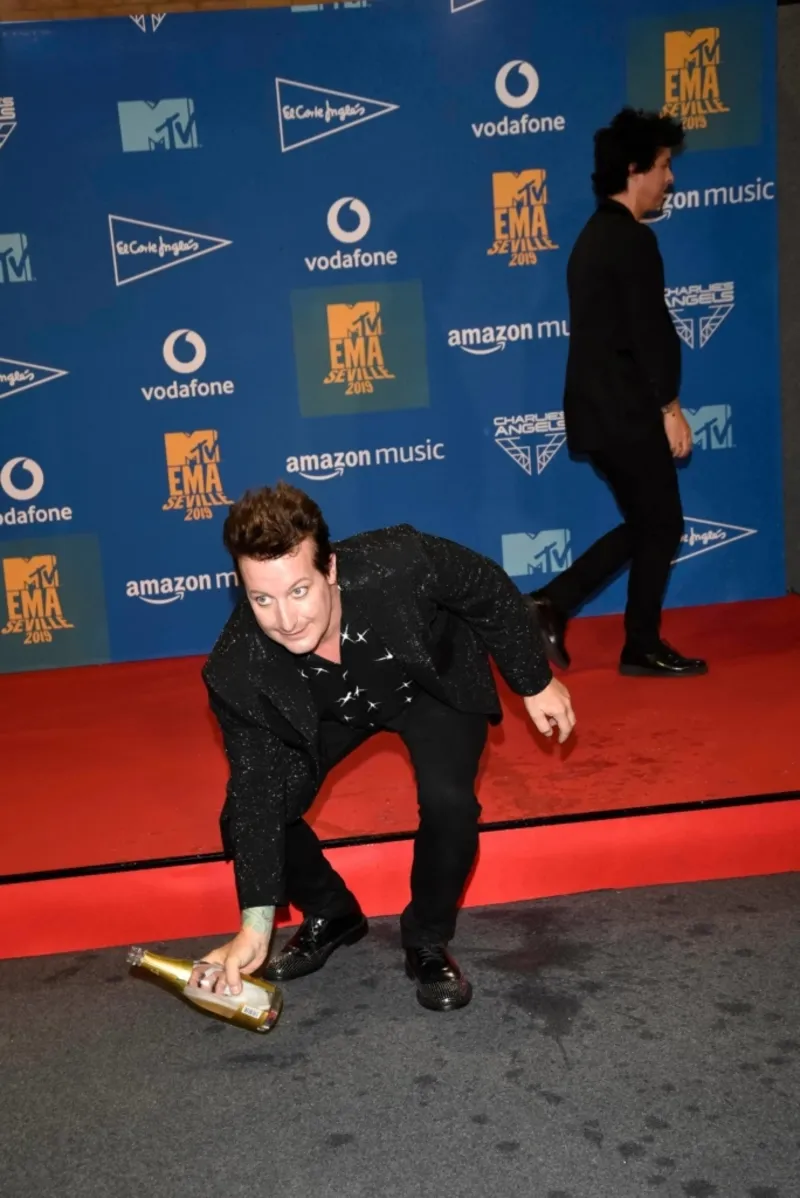 Trying to keep his composure, he rose quickly and declined assistance, but countless cameras captured his awkward moment and the photos are probably great meme material.
Kristen Stewart Ditches Her Heels
No pain, no gain, right? We don't think Kristen Stewart agrees. While heels make women feel empowered and beautiful, they are exhausting and painful. Maybe that's the reason the Twilight actress decided to remove her Louboutin heels midway through the red carpet event.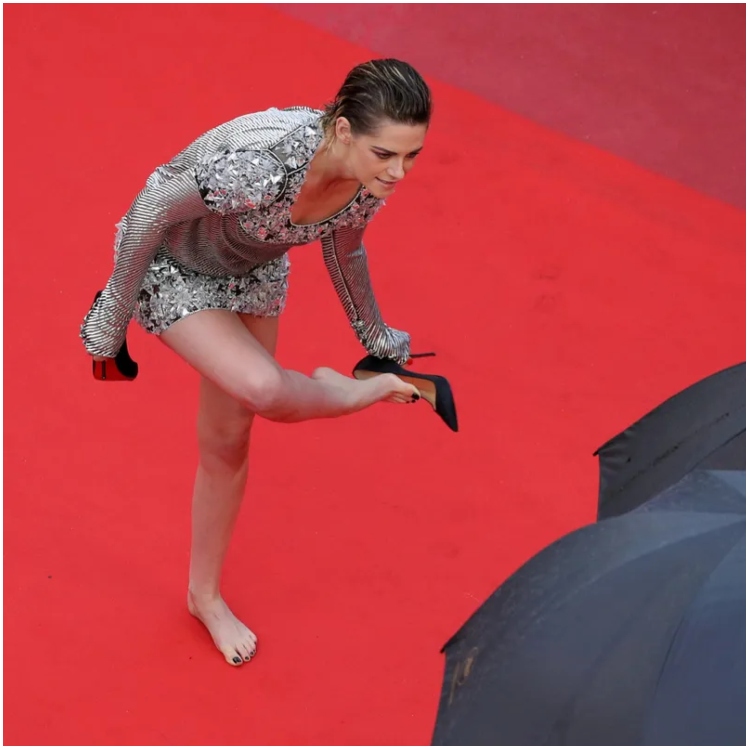 Kristin is unapologetically herself, and when the heels came off, she continued her walk barefoot and with the utmost grace. Hey, who says you need shoes to be a star?  
Tina Fey and Amy Poehler's Stage Crawl
Amy Poehler and Tina Fey are two of the world's biggest and most famous comedians who always attract attention to themselves somehow. They're also known for mocking themselves.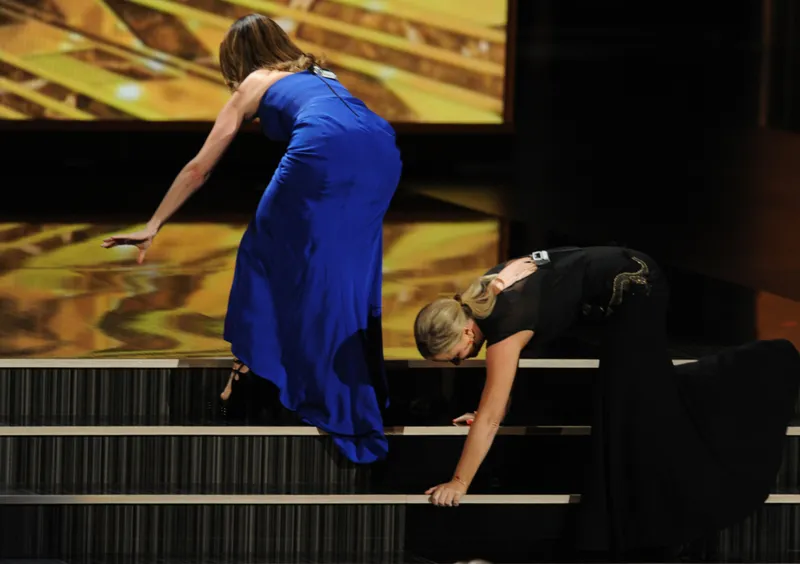 In 2013, Poehler and Fey decided to crawl the stairs to the stage, which is very much in line with their antics. We just can't get enough of them!
Christoph Waltz's Weird Walk
Christoph Waltz, the accomplished German-Austrian actor known for his enigmatic acting style, caused quite a stir at this year's Cannes Film Festival. Waltz walked the red carpet with a strange limp, leaving many wondering if it was genuine or a prank.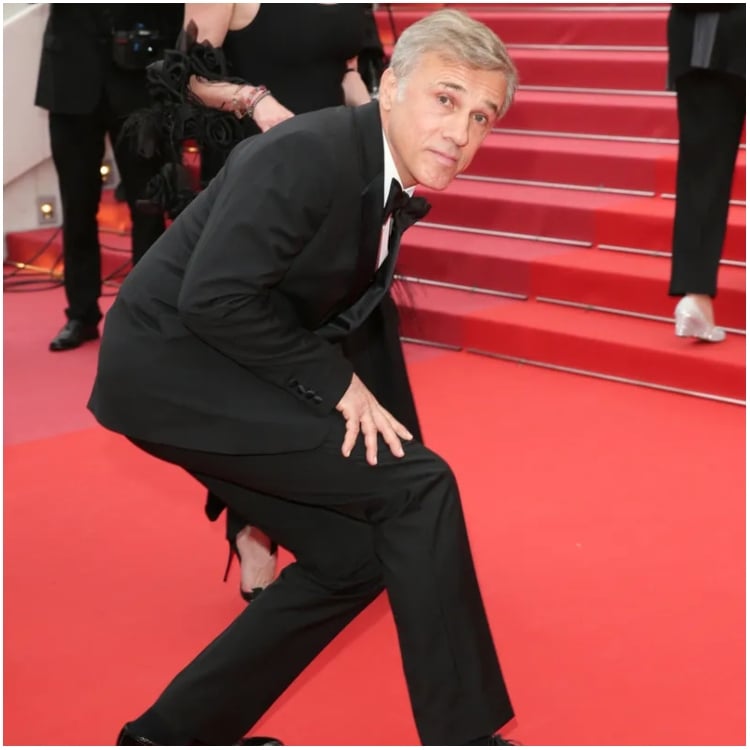 The actor's captivating on-screen persona translated into real life as he playfully taunted the audience by staring into the cameras. Unfortunately, the mystery of Waltz's walk has yet to be solved.
John Travolta's Cringy Kissing Attempt
There was once a time when John Travolta played a cool, collected Danny Zuko in Grease. But those days didn't last forever because Travolta did something pretty cringy at the 2015 Oscars.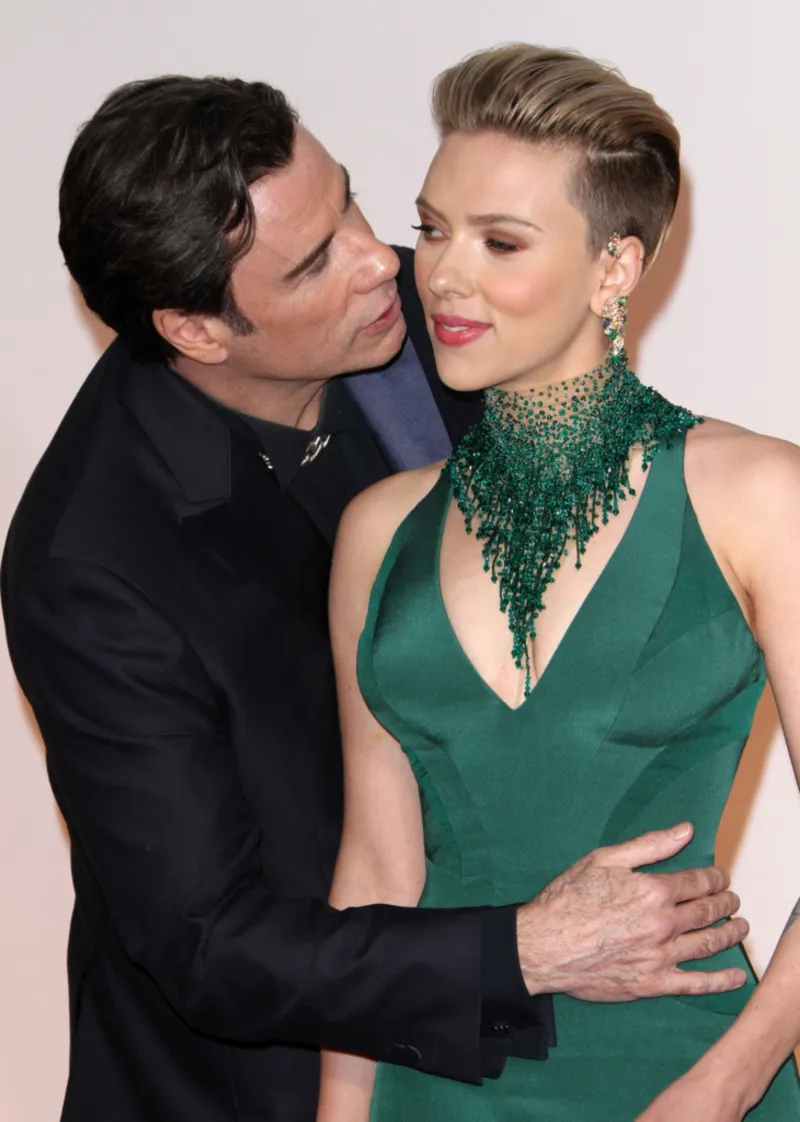 While posing with Scarlett Johansson, he tried kissing her on the cheek (or neck?!). The whole gesture – and him grabbing her waist – is beyond awkward. Clearly, he didn't ask her first!
Dayane Mello Bares Everything For The Cameras
Much like her friend Giulia Salemi, Italian supermodel Dayane Mello also showed up at the 73rd Venice Film Festival with not much to show off. She rocked a puffy and revealing pink dress and the paparazzi couldn't get enough.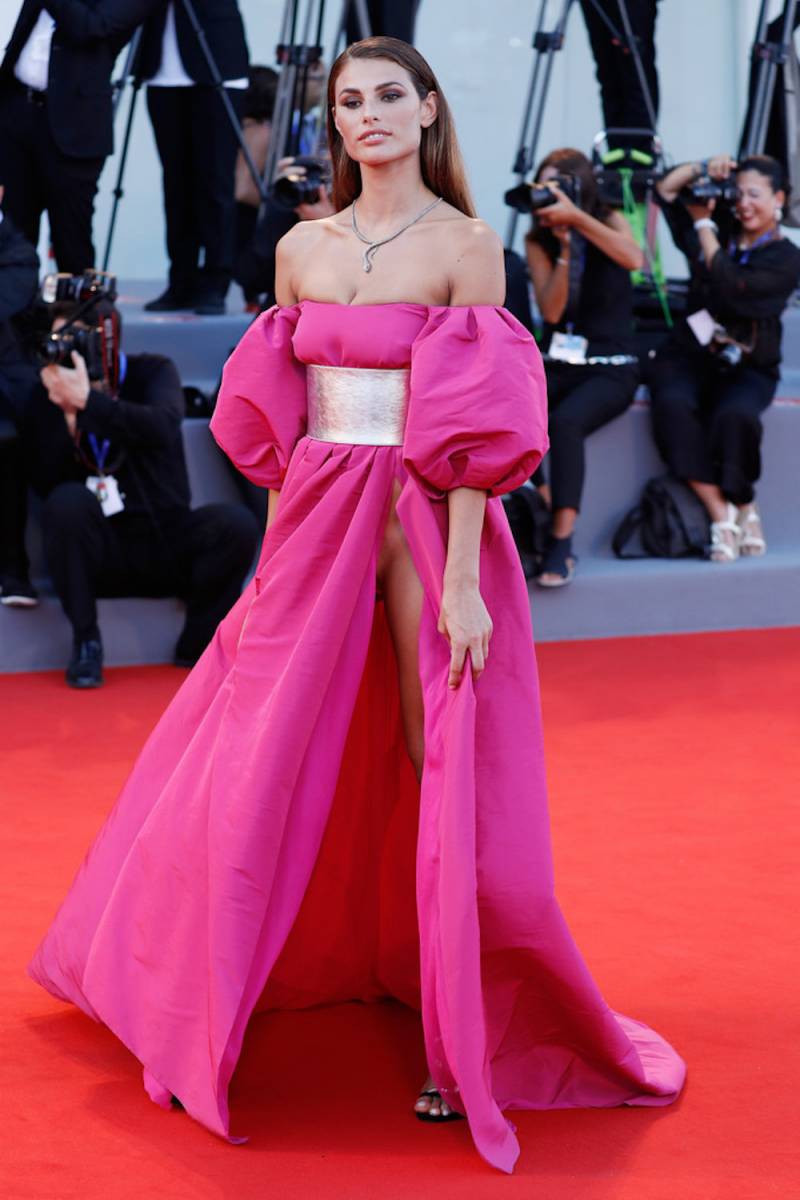 Mello caused quite a commotion with this look, as it appears she doesn't have any underwear underneath her already suggestive dress. She and Salemi were certainly the talk of the town that night.
Princess Mary and the Fall That Never Happened
During the 2014 Bambi Media Awards in Germany, Princess Mary, the Crown Princess of Denmark, experienced a minor mishap. As she ascended the stage to accept her charity award, she lost her balance and almost stumbled, nearly dropping her Bambi trophy.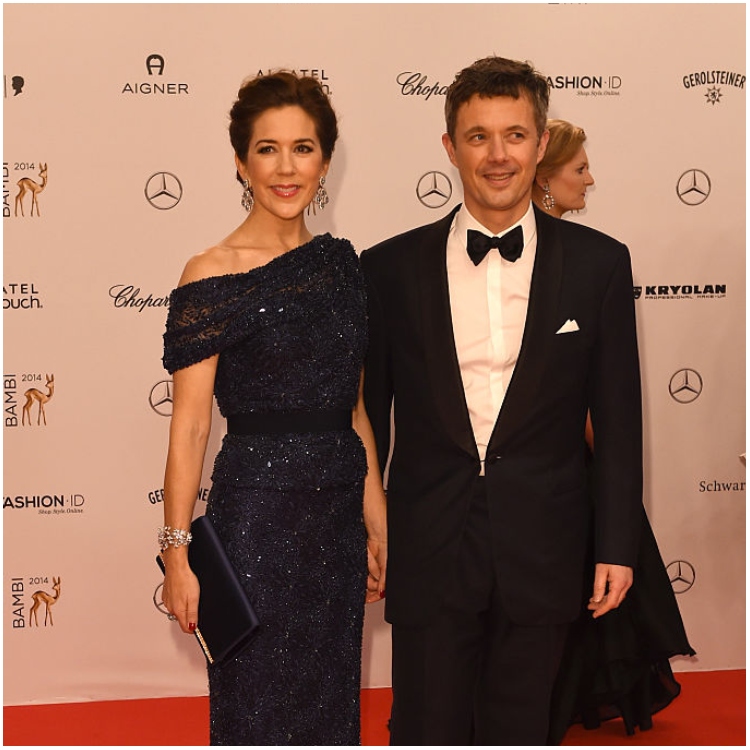 Unfortunately, these split seconds weren't off the camera, but the poised Princess was determined not to let anything deter her from this moment, as she regained her balance almost immediately to avoid major embarrassment.
Emma Thompson's Comic Clumsiness
Emma Thompson has been gracing the British cinema since the '80s and there is no stopping her. The star was honored at the TCL Chinese Theater in 2013 and lost her balance while kneeling during the handprint ceremony.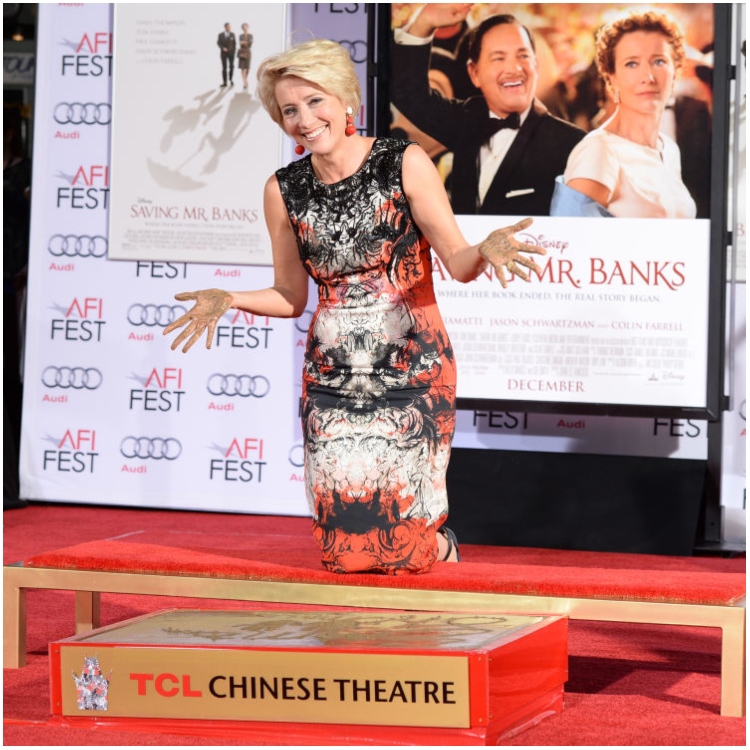 Emma has a funny way of turning accidents into comedic moments and it's what she did here. Despite the stumble, she used this as an opportunity to do some improv and make the crowd laugh, sprawling on the carpet and adding more flair to the fall. 
Emma Stone's Awkward Encounter
Emma Stone has proven herself to be a very talented and versatile Hollywood actress. Beginning with her first role as the down-to-earth Jules in Superbad, Stone went on to star in La La Land, The Help, and The Favourite. She is known for being awkward and witty.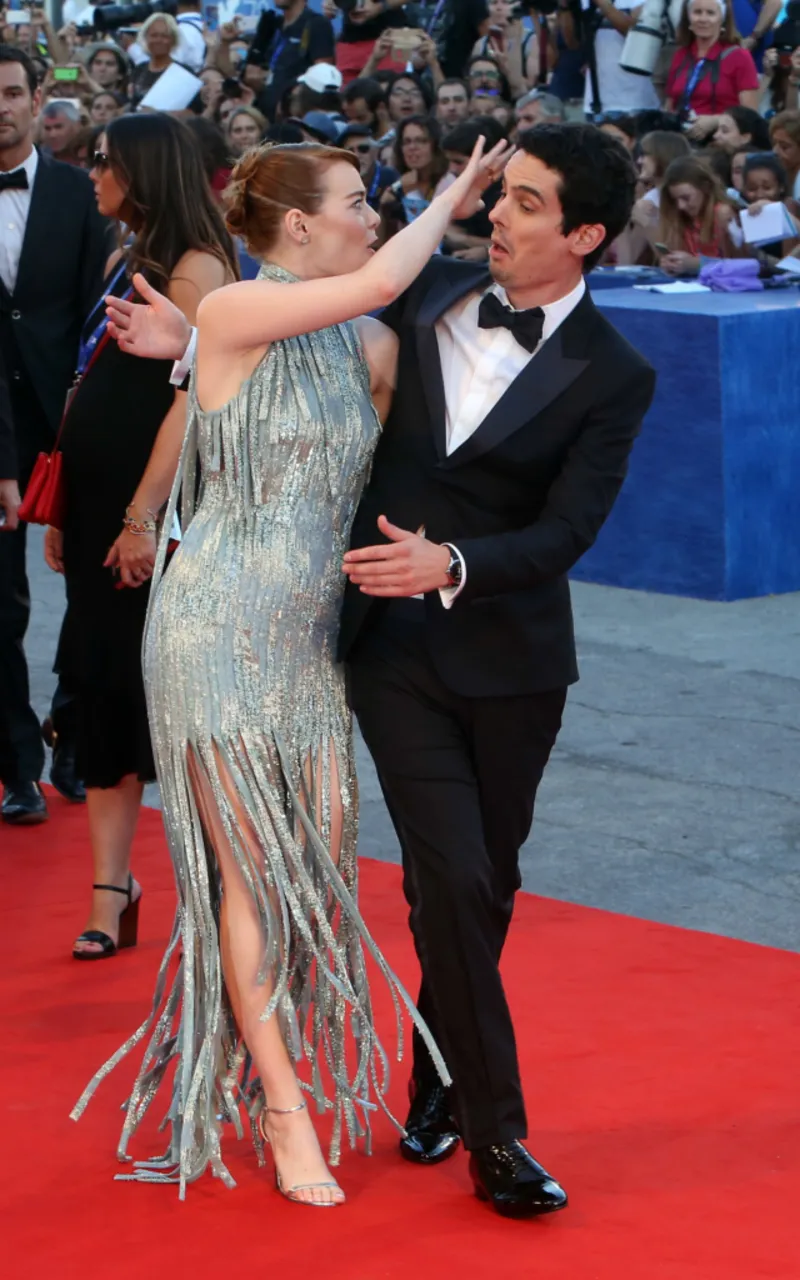 So, when Stone was waving at fans, Damien Chazelle (the director and writer of La La Land) tried to hug her, which just made things really awkward. Later on, the two actually laughed it off, even sharing a special hugging moment at the Venice Film Festival in 2016.
Idina Menzel's Awkward Interruptions
John Travolta presented with Idina Menzel at the 2015 Oscars and did some things that would definitely be trending on Twitter if they happened today. It appeared that John had no sense of respect or personal space as he grabbed Idina's face and got her name wrong.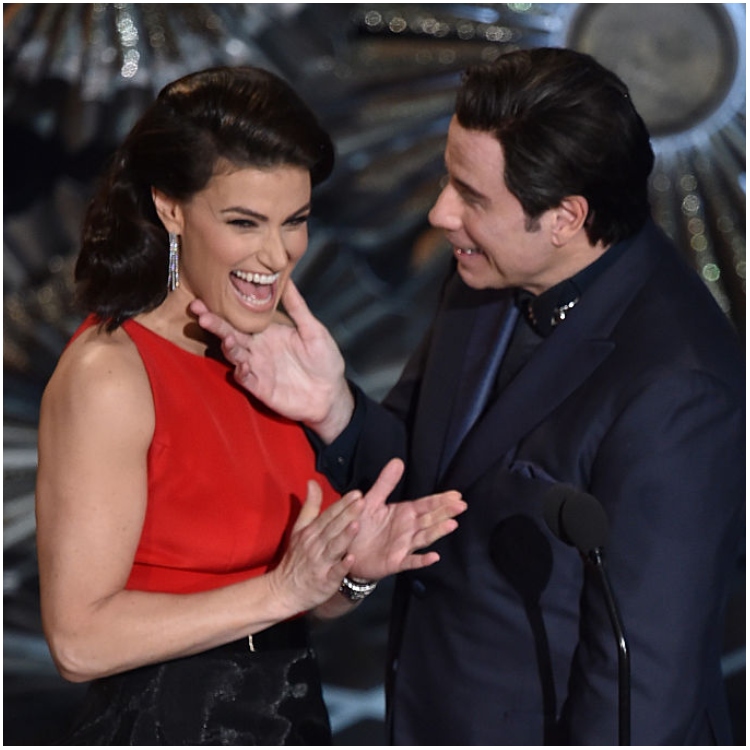 While Idina was graceful and tried to laugh it off awkwardly, John did not get the hint. He grabbed her chin for more attention, eventually making everyone uncomfortable that night. 
A Tearful Moment: McCartney's Rip Shocks Rihanna
In 2014 Rihanna wore a gorgeous number from Stella McCartney's collection but as fate would have it, McCartney herself would nearly ruin her own creation. McCartney was lifting her leg, unaware of the fact that the end of Rihanna's skirt was entangled in her heels.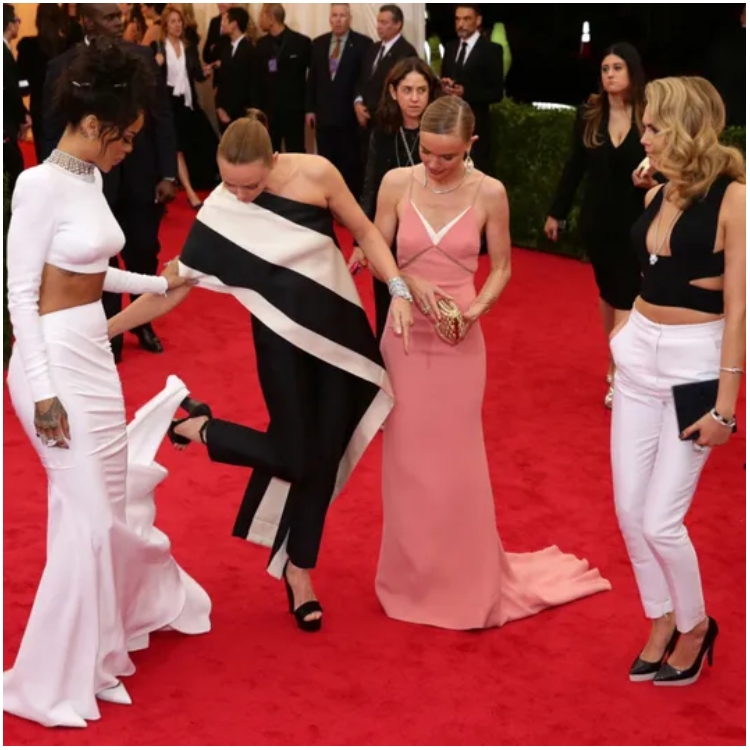 One more wrong move, and she could have ripped the whole skirt. Thank goodness Stella found her balance through the help of her friend Kate Bosworth and Rihanna herself, and a fashion disaster was averted! 
America Ferrera's Moment of Violation
Vitalii Sediuk is a journalist prankster who decided to play a prank on actress America Ferrera and clearly went too far. The Ugly Betty star felt violated and abused after Sediuk tried to take pictures under her dress.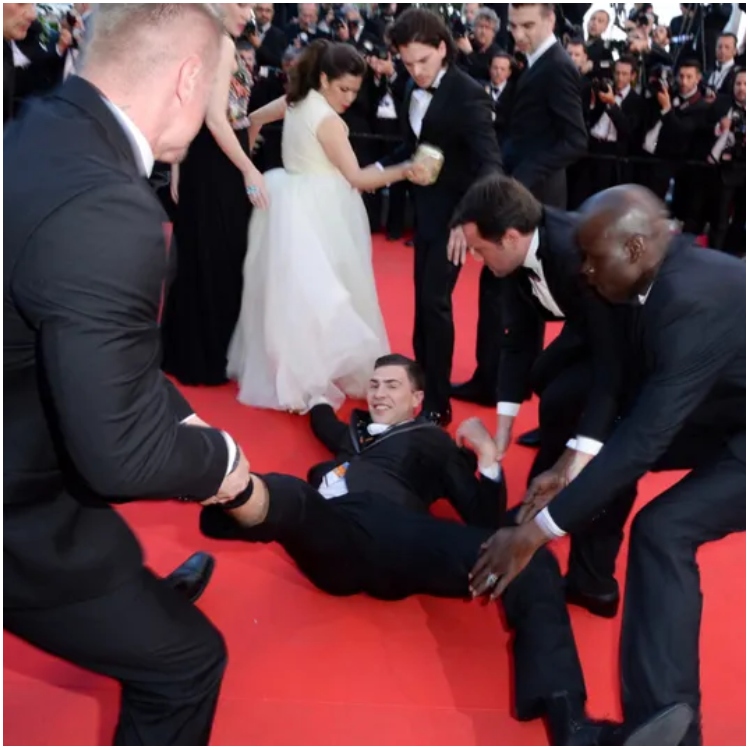 Ferrera was just posing for pictures at a movie premiere when the man slipped his hand under her clothes and tried to take pictures of her underwear. Imagine – her underwear! That guy deserves to be arrested.
Reese Witherspoon's Wrist-Shake Oscar Jitters
Eye contact and a firm grip – a proper handshake isn't so hard. Though, from the looks of it, it might have been the most challenging task ever for Reese Witherspoon.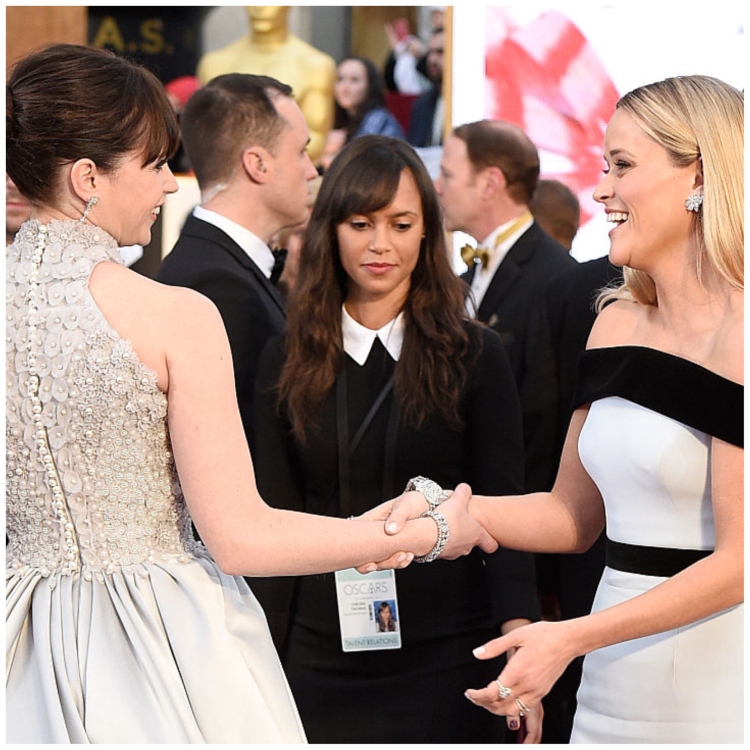 While attending an Oscar event in 2015, the A-lister had an awkward wrist shake with fellow actress Felicity Jones. Though it wasn't at all embarrassing, the gesture seems uncomfortable, and it definitely made the gossip pages. Was it just Academy jitters? You be the judge.
Kim and Kanye Step Over Amy Schumer
Amy Schumer loves poking fun at celebrities. That's why, when the Snatched actress chanced on Kim and Kanye at the 2015 Time Gala, she pretended to faceplant onto the carpet to see how the husband-wife duo would react.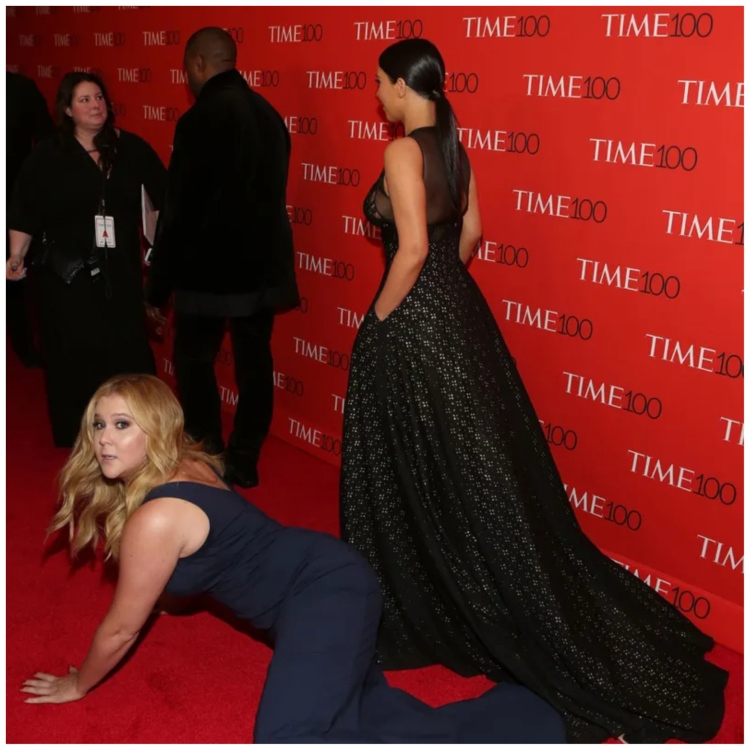 Unfortunately, the couple didn't buy Schumer's comedic timing and just stepped over her as if she was invisible. Later, the comedian commented on the moment, saying, "they just stood there like, "you're welcome." Don't worry, Amy; you'll get them next time! 
Marion Cotillard Still Dazzled Amidst Earring Crisis
There's no denying that Marion Cotillard embodies poise and grace but sometimes grace has to take a backseat — especially if there's a fashion crisis.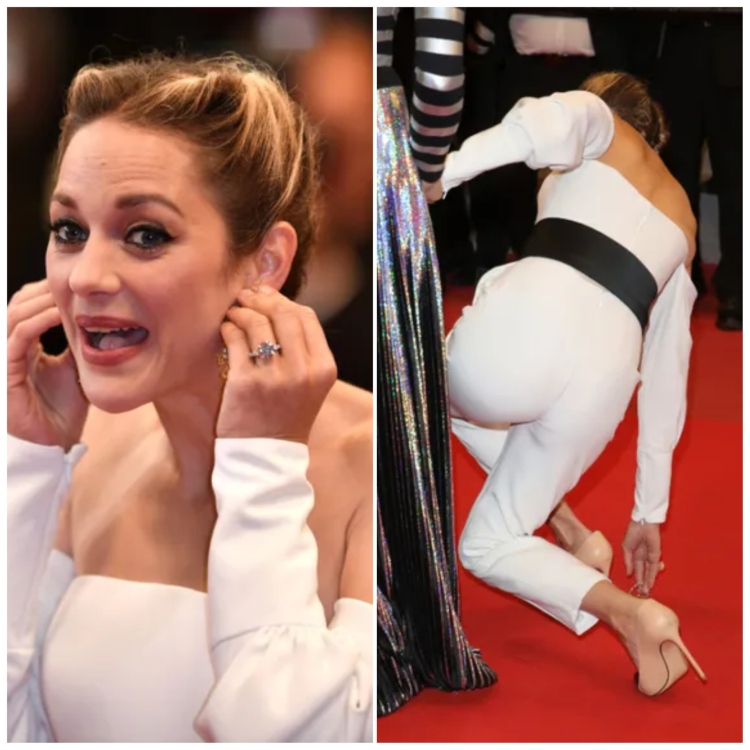 There's plenty to see at the Cannes Film Festival. However, you wouldn't expect to see Ms. Cotillard in an acrobatic pick-up routine. Although she was in heels and a tight white jumpsuit, when one of her weighty earrings fell off, she had to bend over to grab it. It was quite the move, actually. Bravo! 
There's Not Enough Jennifer Lawrence for Everybody
Talented and elegant, Jennifer Lawrence is a Hollywood force to be reckoned with. Of course, the Hollywood starlet isn't all about work, she's a whole lot of fun, too!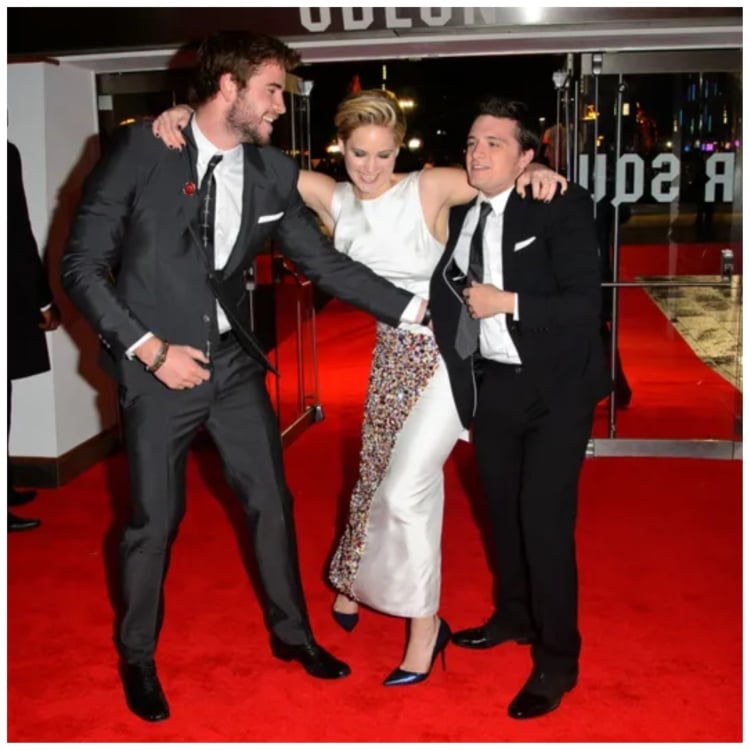 At a London premiere during the Hunger Games era, a hilarious snap saw Lawrence's handsome co-stars, Liam Hemsworth, and Josh Hutcherson, fight over her. Lawrence smilingly played along and was quite thrilled to be in the middle of the trio.
Leslie Mann Just Wants to Have Fun!
Leslie Mann is a real joker. In 2014, at the UK premiere of The Other Woman, the actress made headlines when she got a little too cozy with co-star Cameron Diaz.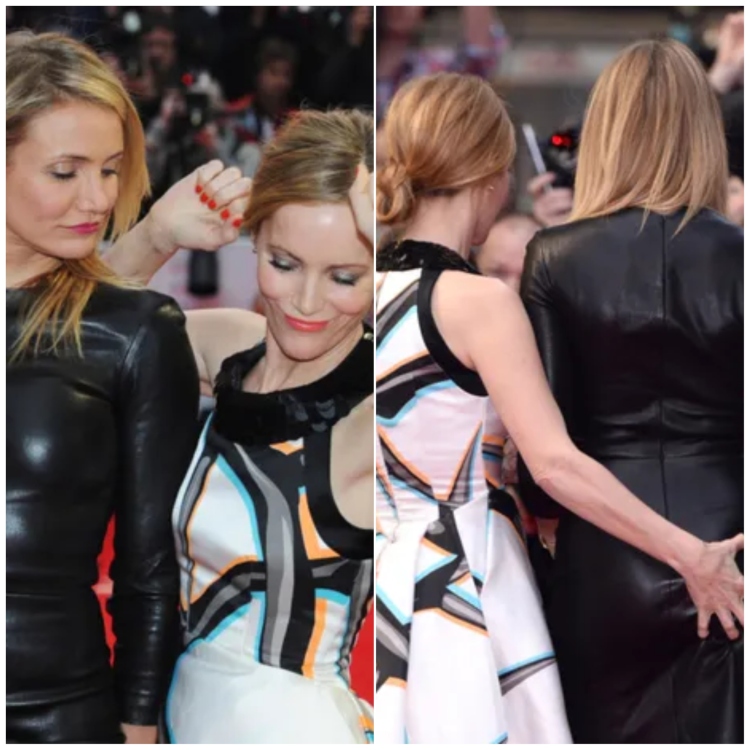 Mann was in the mood for a cuddle and Cameron didn't seem to mind as they were photographed having a great laugh amidst the back-grabbing action. She even commended their close friendship, saying, Leslie's great to work with. There's nothing better than Hollywood women fangirling over each other.