Explore Coober Pedy: Underground Living In An Australian Mining Town
Head out into the middle of the Australian Outback, where you may stumble upon a small town of folks with chimneys rising from the sand and large signs warning people about falling into massive holes.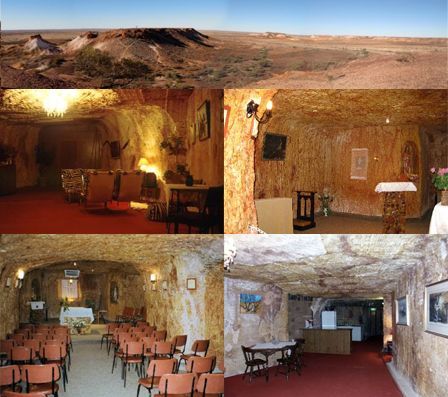 This is the small town of Coober Pedy, where residents live underground. 
Coober Pedy Is 1,000 Miles from the City's Capital, Deep in the Australian Outback
Coober Pedy lies about 1,000 miles from Canberra, the Australian capital city.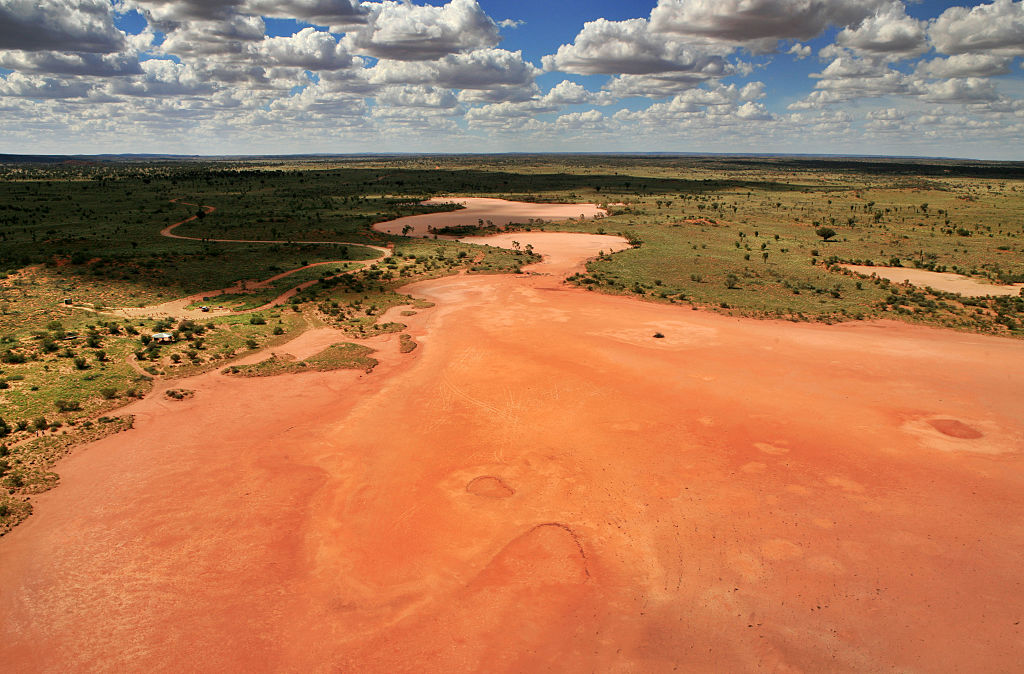 The town is located in Southern Australia, and many refer to it as the "opal capital of the world." "Coober Pedy" comes from an old aboriginal term, which has a rough translation meaning "white man in a hole." It's a pretty fitting name, as you'll soon find out.
The First Thing You'll Notice When You Get There Is an Absence of People
If you're ever fortunate to take a trip to Coober Pedy, the very first thing you'll notice is an absence of people.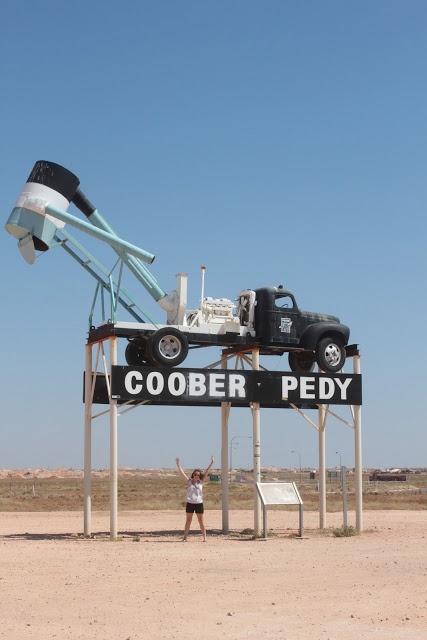 While it may look like a scene from a post-apocalyptic movie such as Mad Max, it's simply because you're looking in the wrong place. Most of the people in the town have wandered far beneath the ground.
The Summer Months Can Be Unbearably Hot
The summers in Coober Pedy can reach up to 120 degrees pretty often.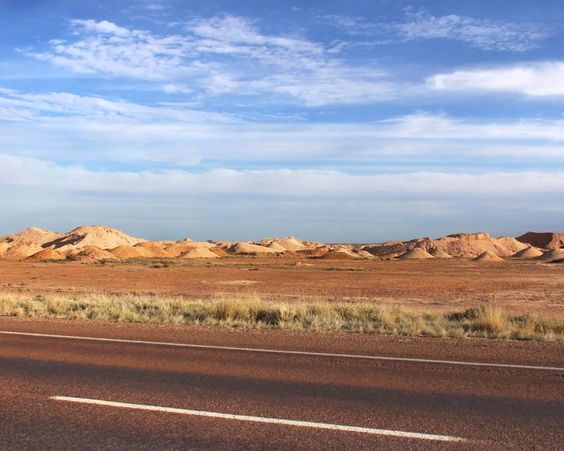 Even if you spend time underneath a shaded structure, you can still feel the 10-degree-plus weather beating down on you. Unfortunately – for the locals and tourists – there is very little rainfall here throughout the year, meaning they don't get much reprieve from the unforgiving outback sun.
Water Can Also Be Scarce
With such an arid climate, water in Coober Pedy can also be quite scarce.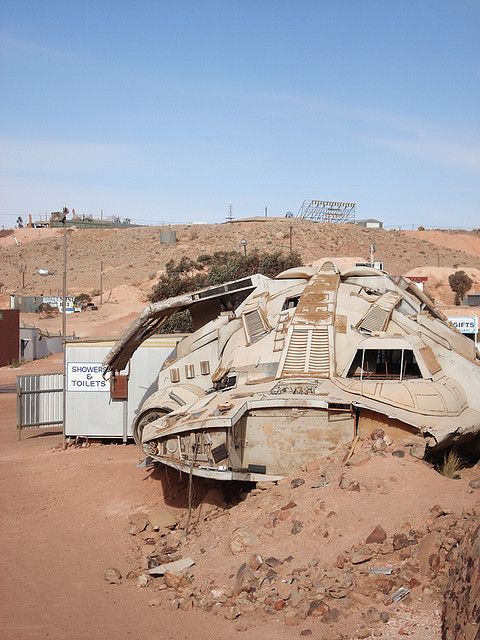 Around the town, you may see signs telling the people in Coober Pedy to preserve water. The Great Artesian Basin is the closest water source, a little over 15 miles from Coober Pedy.
In 1916, Miners Made Their Way Into the Town
Dating back thousands of years, the region was first inhabited by the Aboriginal people.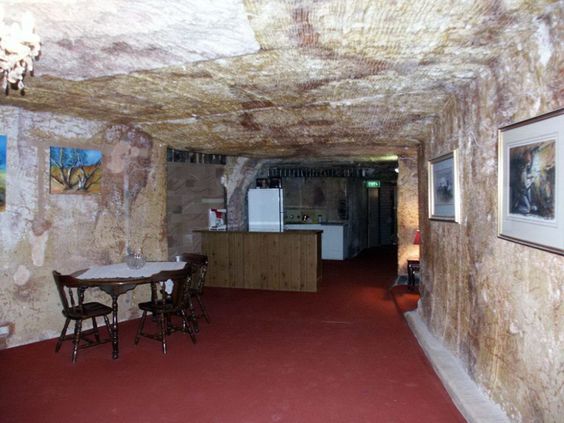 However, miners moved into the town in 1916 as they heard about the presence of opal in the mines. After WWI, many soldiers returned to the territory and began to mine for opal, a very precious gem at the time.
The Town Was Once Covered By Oceans
At one point, the entire region of Coober Pedy was covered in oceans.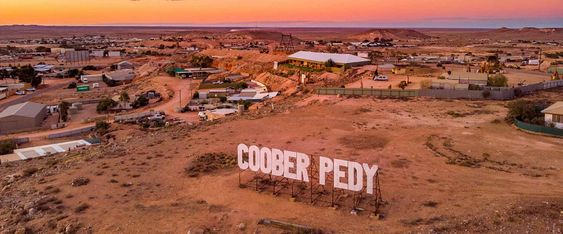 Thanks to these oceans, the region's opal mines formed. When they eventually receded, the seabed minerals slowly filled the cracks of the Earth, creating the wonderous and colorful terrain that we now call opal. It is a shimmering sight to behold in person. 
At the Decline of Opal Mining, Residents Began Getting Crafty With The Mines
Opal mining eventually became a less steady business, as many people turned to other gems.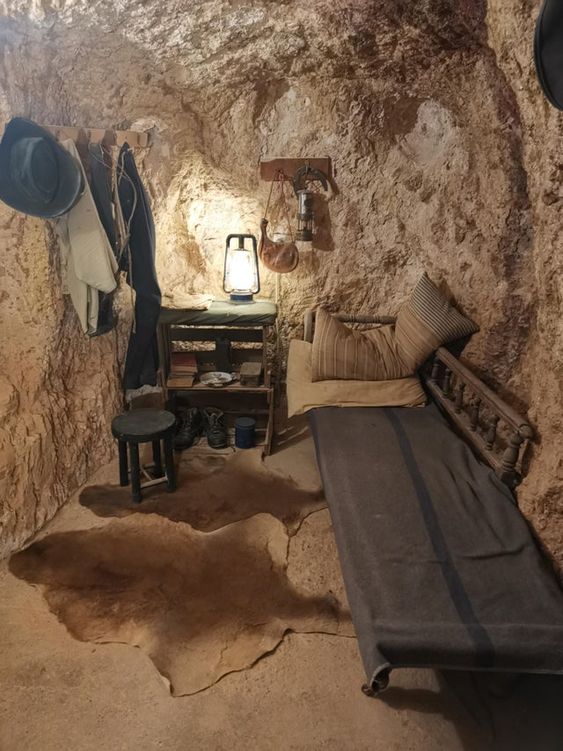 This slow decline prompted residents of Coober Pedy to start turning their old opal mines into long-lasting homes and dugouts. Many residents altered these underground dugouts into makeshift houses to protect themselves from the harsh heat.
The Homes Are Like Little Caves, Reaching Into the Unknown
The homes have cave-style exteriors, and walking into one may seem terrifying and inspiring. It is like walking into a completely different world.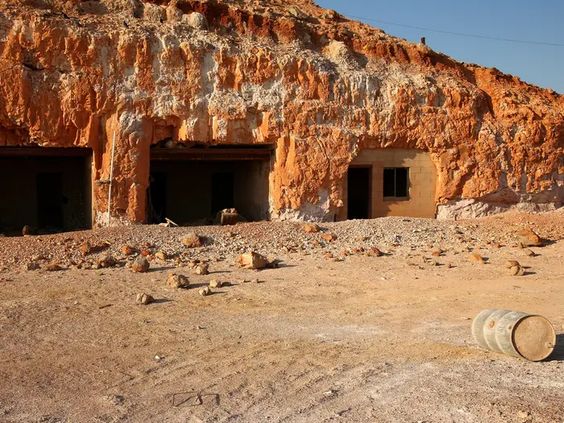 The town certainly has an otherworldly vibe, even though 2,500 residents have normal lives, just like the rest of us. Of course, there is one glaring difference.
Around 80% of Coober Pedy's Population Lives Beneath the Sandstone
Most people in Coober Pedy have decided to build lives far beneath the Australian sandstone.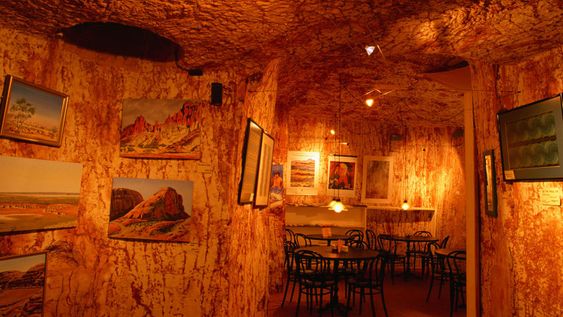 The residents there say they will probably spend their lives in these underground caves, as they offer protection from the oppressive sun and the dangers of living in Australia's outback.
You'd Be Surprised At How Homey They Are
Once you step down into one of these underground homes, it's surprising how comfortable they are.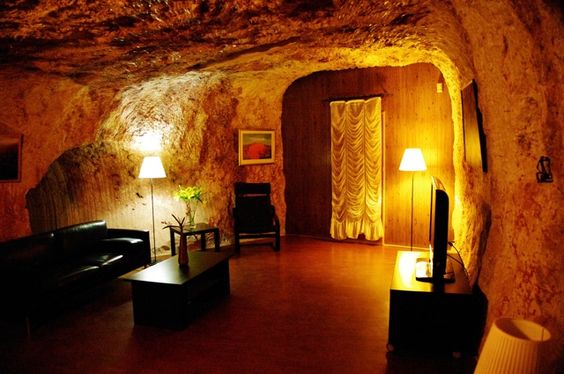 There are rooms like the one above, which is the bedroom of a woman named Faye Nayler. She is one of the many people in the town who shoveled their homes in the 1960s. Many of the homes in Coober Pedy look very similar to this one.
You'll Find All the Traditional Amenities of a Home In These Dugouts
All the amenities you could expect from a home can be found in Nayler's.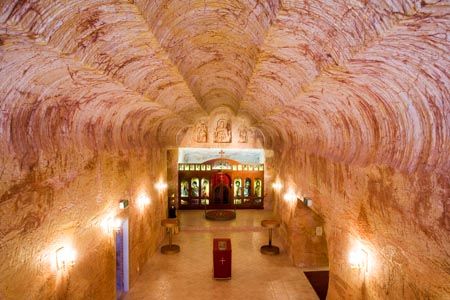 She and her friends constructed a full kitchen, a living room swimming pool, and a bar. Most homes in Coober Pedy have access to your typical home amenities, including water, electricity, and even internet access.
Faye's Underground Home Has Become an Attraction for Tourists
Faye Nayler's home eventually became a tourist attraction, giving visitors a glimpse into what it is like to live beneath the sandstone.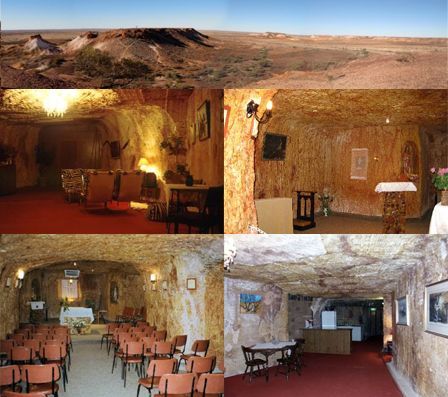 The difference between homes like Faye Nayler's and everyday homes that regular people live in is that they do not have direct sunlight access. This means that they need to run electricity during the day and night to navigate their homes.
Tours of the Nayler Home Happen on a Daily Basis
The Nayler home caretakers are still living in it. They also provide tours to visitors almost every day.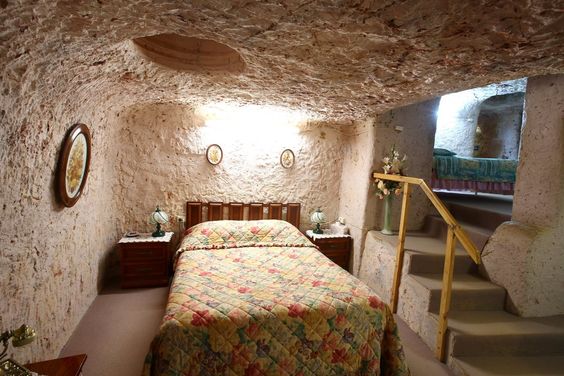 If you want to travel to Faye Nayler's Underground Home, there's a fee to go inside. However, travel experts say it's one of the must-visit spots for tourists visiting the town.
Guests Might Even Enjoy the Holy Word at the Town Church
One of the most surprising aspects of this underground town is that both residents and tourists can attend church services. The church is located around 55 feet beneath the surface of the land.
The church was beautifully constructed with tile floors and high ceilings, and the traditional amenities you would expect from a Catholic church.
The Bookstore Is a Great Way to Pass Time
Many residents and tourists pass the time by heading to the town's bookstore.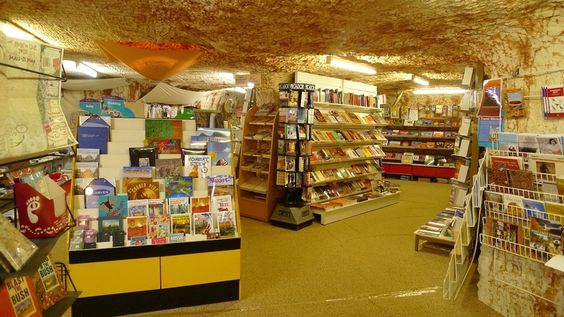 This cave-like bookstore (Underground Books) was originally altered from a 1930s mining shaft. You'll find plenty of books with information regarding Coober Pedy's history and much more.
Tourists Can Find an Authentic Experience at the Local Hotel
As for accommodations, many tourists book a room at the Desert Cave Hotel, which provides the most authentic Coober Pedy experience.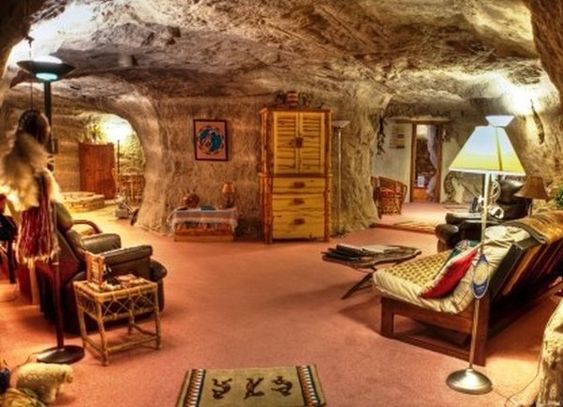 It's worth noting that the town can only be accessed by a relatively small airstrip. Once there, you take a private car or tour van or hop on the Ghan train line, which runs between Adelaide and Darwin.
The Hotel Has Just About Everything You Could Ask For
You can find just about everything you're looking for at the hotel, including a restaurant, a gift shop, a pool room, and a fully stocked bar.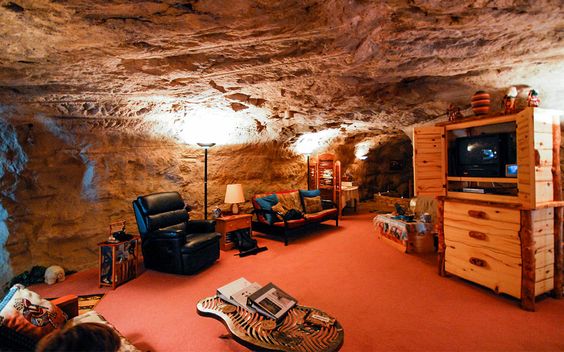 All that and more comes to about $150 per night, depending on the season you decide to travel there.
However, People Must Come Out For Food
Of course, you're not going to find any food in the caves, so people need to come up on land to get groceries for the week.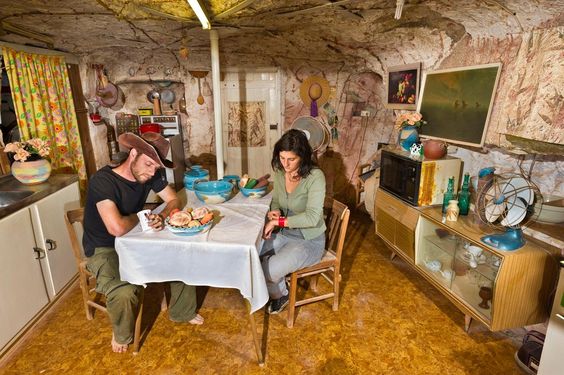 Luckily, there are two fairly large supermarkets in Coober Pedy, both of which can be found on one street outside of the caves. Here, you'll find everything that you would expect to find at your local grocery store, from snacks to liquor to produce and beyond.
There Are Plenty of Awesome Tourist Shops
You'll also find plenty of unique tourist shops scattered throughout the town. The most famous is the Opal Bug.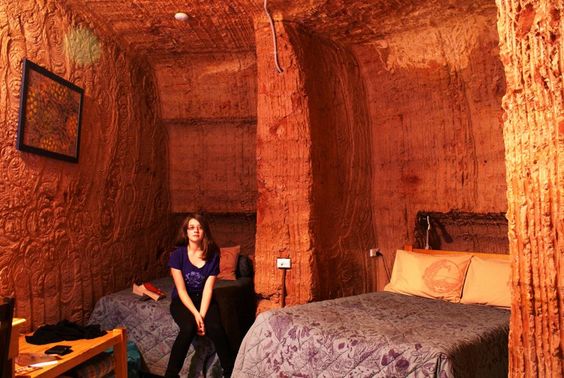 The Opal Bug – as you may have guessed – is a Coober Pedy opal shop that deals with everything from watches to jewelry to gems and beyond. Many visitors go there to catch a glimpse of the opal-covered Volkswagen Beetle, which is built onto massive steel spider legs.
Some Souvenir Shops Have More Than Just Souvenirs
Then, other shops in the town cater to both tourists and locals.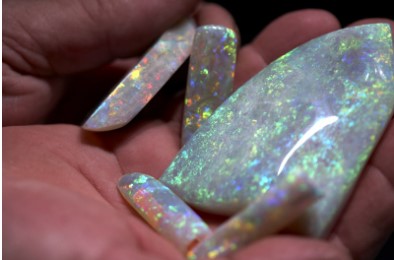 One of those shops is Spiros, which provides everything from opals to fossils to video games and beyond. Residents can even get their internet access from this little tourist shop.
Holes Can Be Found All Over Town
If you're hanging out around Coober Pedy, you must always watch your step, especially if you're out at night.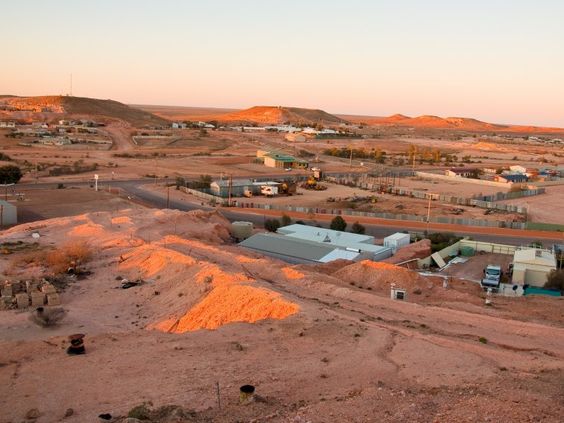 This is because there are several holes in the ground scattered throughout the town, where many old mine shafts used to be.
The Town Ensures People Understand these Dangerous Mine Shafts
Luckily, the people in the town are very keen on visitors being well aware of the dangers of the ultra-deep mine shafts.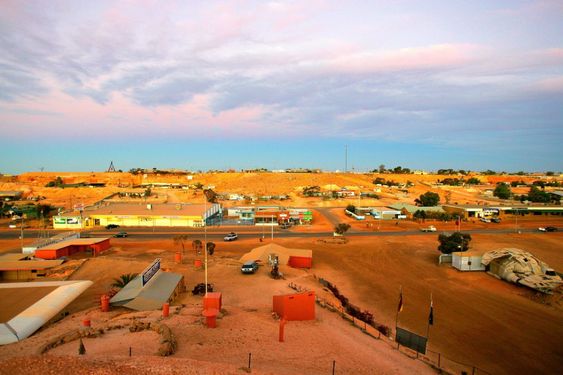 They have put signs up all around the town, noting unmarked holes and telling people not to run or walk backward when outdoors.
You Can Find Plenty of Treasure Throughout Coober Pedy
While in Coober Pedy, you may even end up stumbling upon some treasure.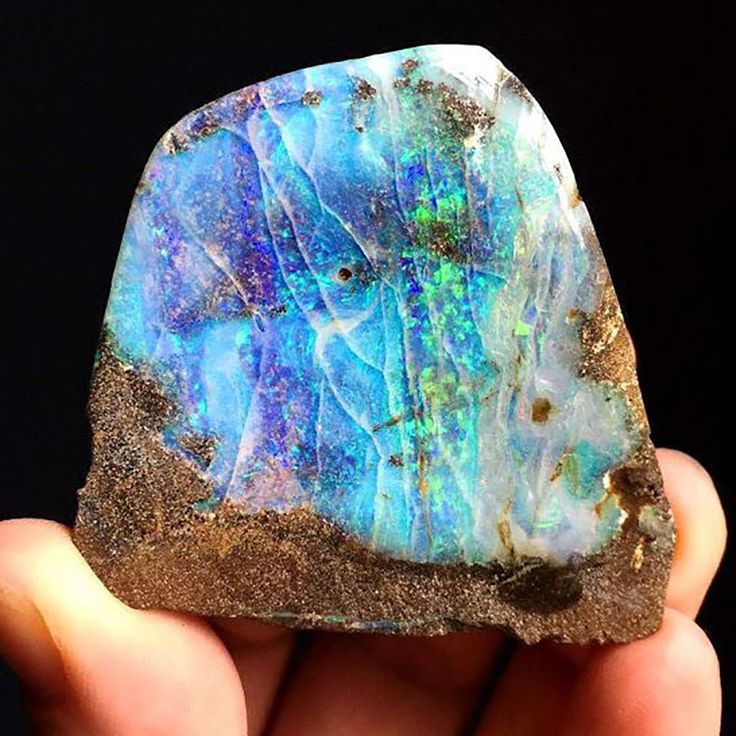 As with many far-out desert towns, plenty of abandoned vehicles and mining equipment are scattered around the town. It's almost impossible to know what kind of treasure you'll stumble upon that day.
The Town Certainly Showcases Human Innovation
The people of Coober Pedy were true innovators of their time, taking a declining industry and turning it into a unique and long-lasting paradise.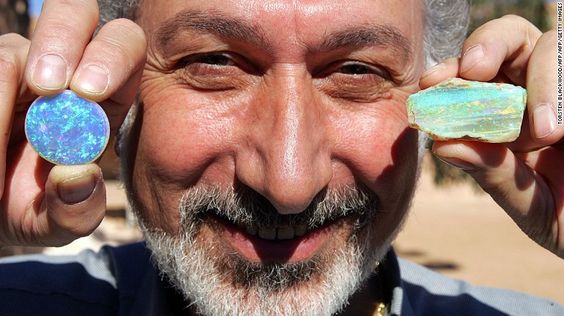 Though it might not be the easiest way of life from an outsider's perspective, the townspeople have happily lived beneath the ground for many decades.