Ever famous for her spectacular hit songs 'Burn' and 'Love Me Like You Do' among so many others, Ellie Goulding has welcomed her first baby in this world with Caspar Jopling, and fans couldn't be any happier for her!
Ellie Goulding and Caspar Jopling started dating back in 2017, giving us relationship goals ever since, and later tied the knot in the year 2019. The couple announced their pregnancy a few months earlier in February, and Ellie once said in an interview, "The thought of getting pregnant didn't seem like it could be a reality. Becoming pregnant kind of made me feel human. I want a better word than womanly, [but] I have curves I've never had before. I'm enjoying it. My husband's enjoying it."
She further also spoke on being pregnant in the middle of a global pandemic where she said, "You have your partner, and you have your friends, but in a pandemic, it can feel particularly lonely… I knew it was a mere solitary journey because of what's going on. I think that made me keep it very secretive and made me very protective over it."
As much as their fans and followers are able to empathize with the couple's challenges that they faced in terms of the pregnancy and the pandemic, they actually can't be happier on the arrival of this gorgeous couple's adorable baby!
Caspar announced the birth of the couple's newborn on his Instagram Story on Sunday, where he didn't reveal any details other than his caption on a photo of a floral arrangement which said, "Mum and baby both healthy and happy. Extremely grateful."
He further made it a point to request privacy during this "personal moment" for the family by saying, "I don't ever address the public attention that comes with Ellie's job. But during this magical and personal moment, we would really appreciate being able to enjoy our privacy… thank you x."
Along with that, he also uploaded another post where he shared a screenshot of a Google search about the "world population 2021," in which he crossed out the number and added one of his own.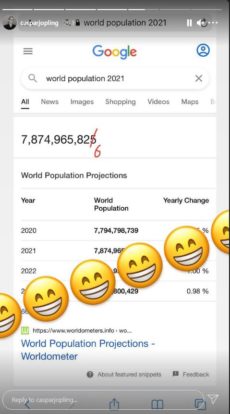 This is undoubtedly super cute and adorable and possibly even made some fans and followers giggle with joy and happiness!
With the arrival of their baby in the world, things are likely to change for them and become quite different, especially in terms of their work.
After all, looking after a baby is a full-time job, and we wish them nothing but good luck in their new journey of parenthood! Fans and followers have absolutely no doubts that Ellie Goulding and Caspar Jopling will make super amazing parents to their first-ever child.