Seven Siblings Separated in Foster Care Get an Amazing Christmas Surprise
Seven loving siblings walk out onto Angela Turbeville's front lawn. They were about to get a huge surprise.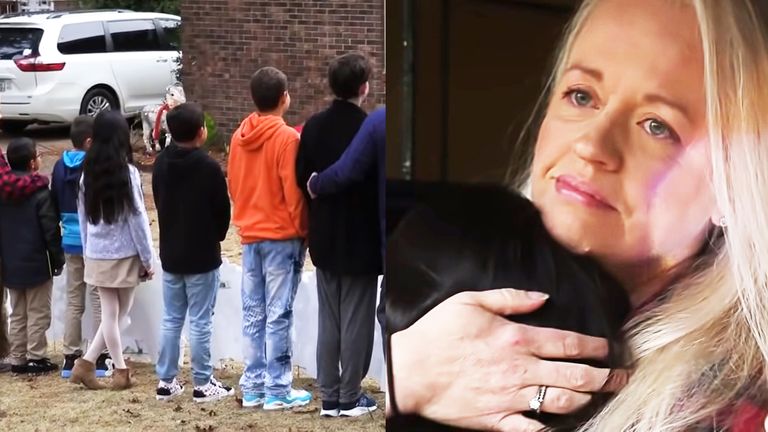 The children, aged seven to fourteen, had been in the foster care system for a long time. They hadn't always been placed in good homes and in the past had been separated many times, but they'd always wanted to be together.
A Couple Taking on Seven Foster Kids
Elliott and Angela Turbeville, a loving and generous couple, became the siblings' foster parents in 2019. The Turbeville home was a happy and warm environment for the kids, and they seemed relaxed and just happy to be together.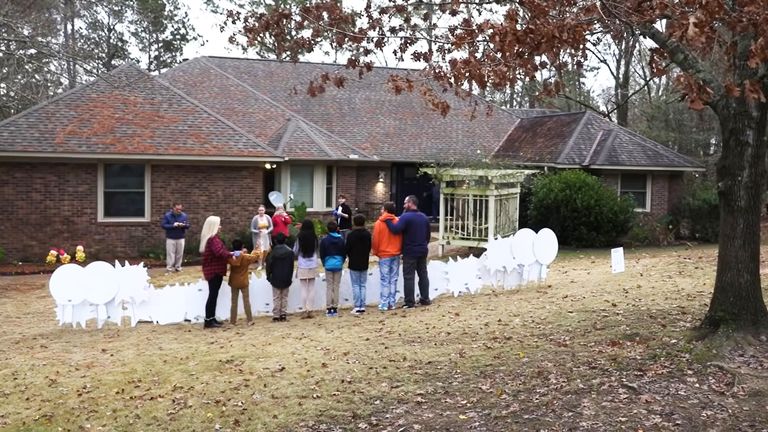 It wasn't always that way for the siblings, though. Before 2019 they'd been separated many times, put into different homes, and didn't see each other, sometimes for long periods of time. This had a profound effect on the children. One of the boys even confided to Angela that in his entire life, he'd never trusted anyone.
Fighting for their Welfare
That little boy's honest statement that he'd never trusted anyone broke Angela's heart. She later reported to the Columbus Ledger-Enquirer that she responded, "I will fight to make sure you are okay and that you're safe for as long as I live."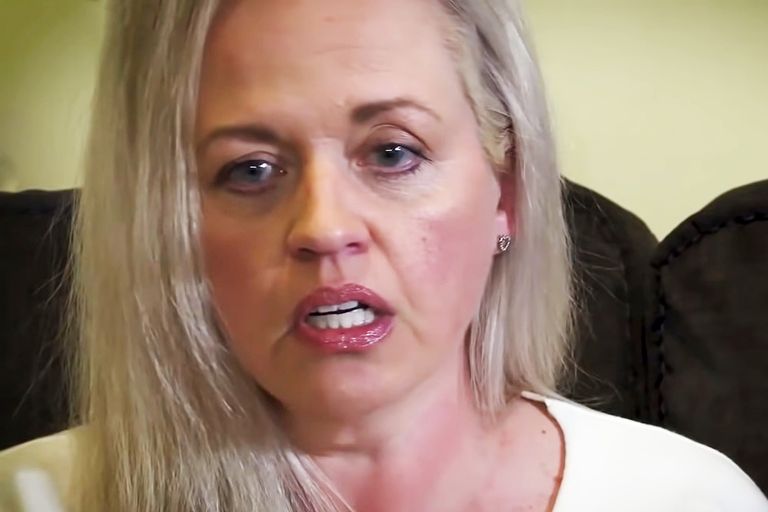 Who knows if the little boy believed Angela after all that he'd been through? Kids who have been through the foster care system can be full of doubts and fears. Angela and Elliott knew they had a tough road ahead to gain the siblings' trust and assure them that they'd never be separated again.
Taking on a Big Project
The Turbevilles had their own biological children, so they knew that raising kids meant honesty and trust. But they had never experienced life with kids whose lives had been upended so many times.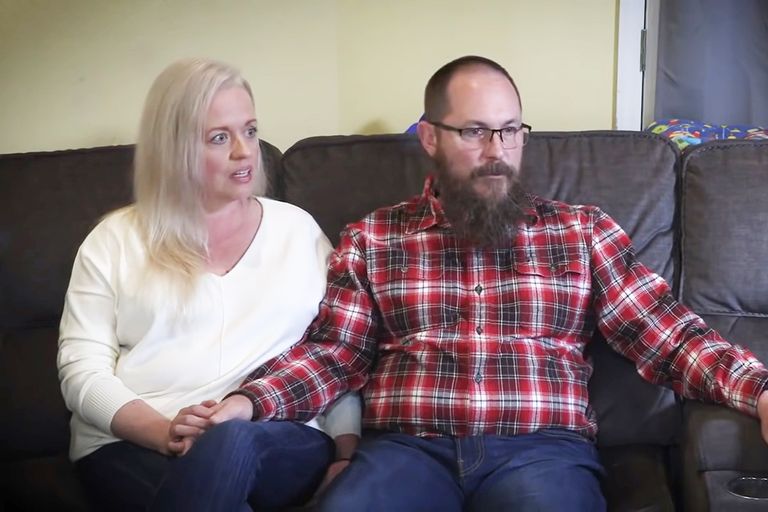 As Elliott told AP News, "They came from an environment that they didn't know where their next meal was coming from." It was hard for the couple to imagine how hard life had been for these siblings, but that made the Turbevilles even more determined to give them a good life going forward.
Four Kids at First
The Turbevilles' own children were grown and out of the house, and they missed having kids around. They were excited to join the Foster Care program and looked forward to having a child or two around their house again.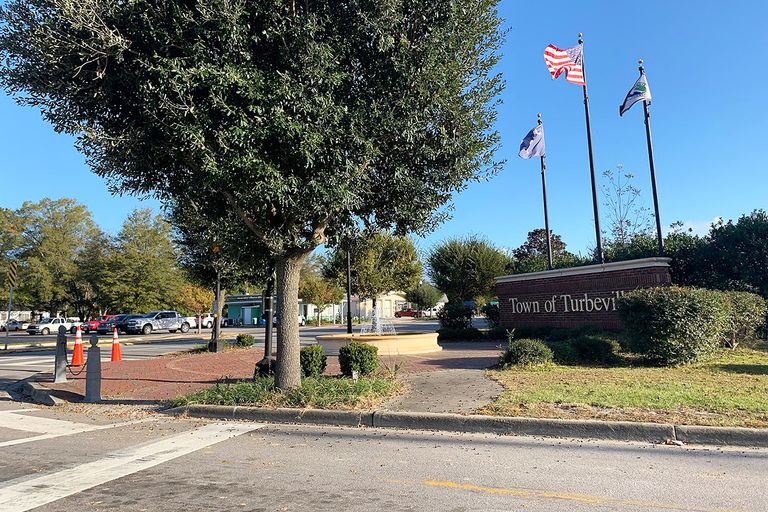 They took training sessions for fostering certification and underwent extensive background checks. Finally, they were approved as foster parents and waited for the call from the program to ask if they were ready to accept children. One day they received a call asking if they'd foster four children from the same family.
Kids in the House!
Elliott and Angela happily took in the kids. They had already raised three children and felt that one more would be great. What they didn't know was that there were three more siblings from the same family waiting to be placed in a foster home.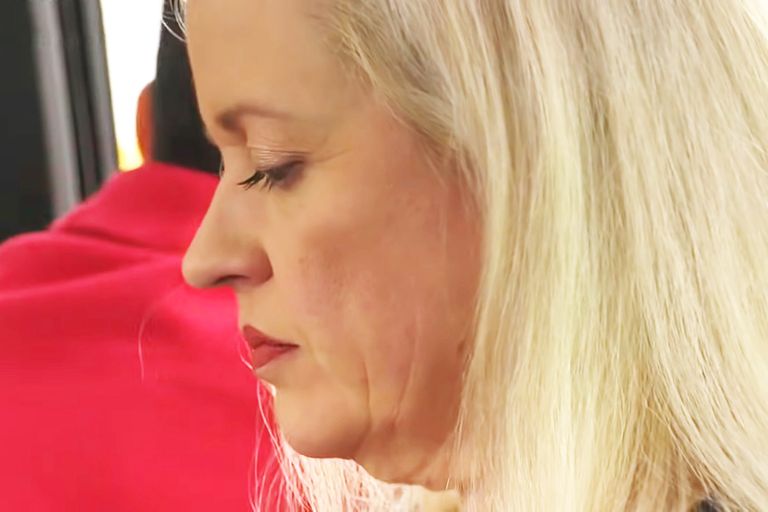 The couple was excited that they were finally going to have kids in the house again. Angela even imagined these kids were destined to be with her since one of the brothers had the same birthday as her late mother-in-law.
Even More Kids
Then the truth came out. The Tubervilles discovered that their four kids had three more siblings who'd been placed in a foster home just a few hours away. Angela and Elliott were determined to bring the seven siblings together.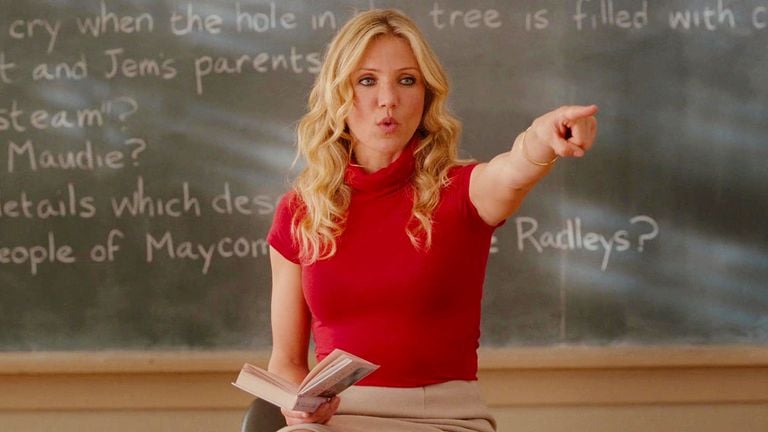 They discussed the situation with the agency they'd been working with, Hope Foster Care. The organization and the Turbevilles decided that the siblings would meet up on Saturdays for a few months. That just wasn't good enough for the Turbevilles, because they wanted to have all of the kids together in their home. Hope Foster Care was so pleased, and the decision was made.
And Then…COVID
Just when everything was going well, COVID struck. This made fostering the seven kids more difficult because Angela was a teacher, and she needed to begin teaching from her home.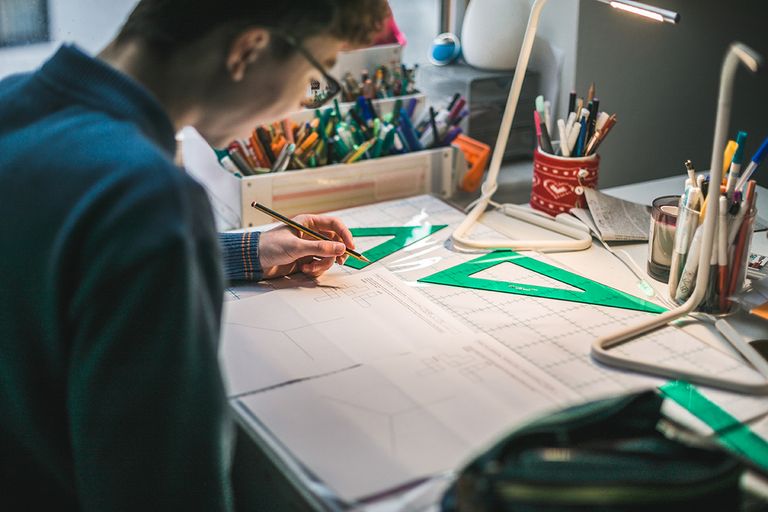 But even this didn't faze her. Angela decided to homeschool the siblings and set up her own one-room schoolhouse at home. She even assessed each child to see what kind of work was needed for each one. She didn't want any of the kids to fall behind.
Honor Roll Students
"The oldest boy is now almost at grade level (eighth grade) in most subjects," Angela told AP News. "He came to me on a kindergarten/first-grade reading level two and a half years ago."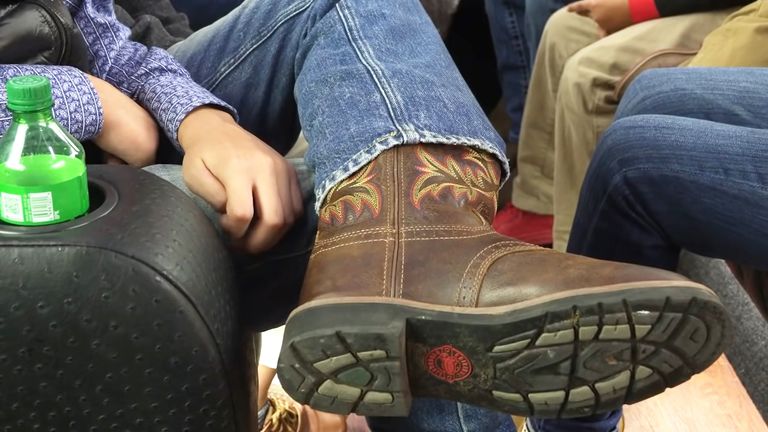 After a few months in theTrebeville's home, the siblings started attending the local school. Soon, all were on the honor roll. They were thriving in their new foster home because they were happy and felt safe and cared for. One child, in particular, seemed to be excelling.
Outstanding Student
One of the siblings was in the 7th grade in 2021 and was doing exceptionally well. He had a tough math test and was worried about it. The Turbevilles encouraged and tutored him.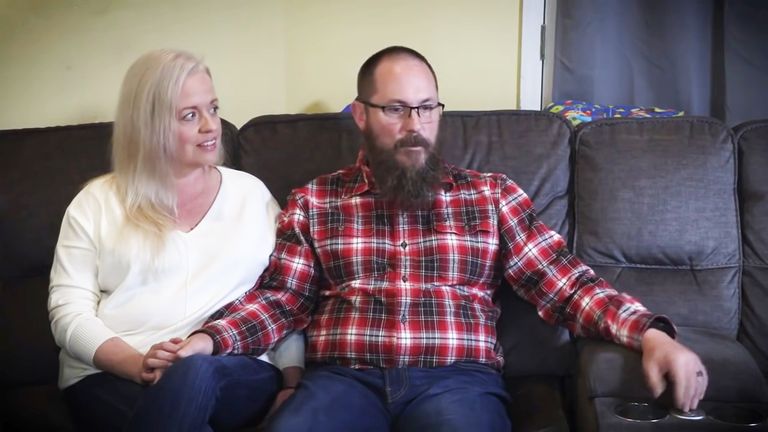 In fact, he got the highest grade on the test, and as a reward the school presented him with a gift card. Instead of buying something for himself with the card, he asked if he could spend it on Thanksgiving groceries for the family. "That was a big deal for him," Angela said.
Lonely No More
The Turbevilles had been quite lonely when their own three children left the house and missed having kids around. They even considered in-vitro fertilization so that Angela could give birth to another child.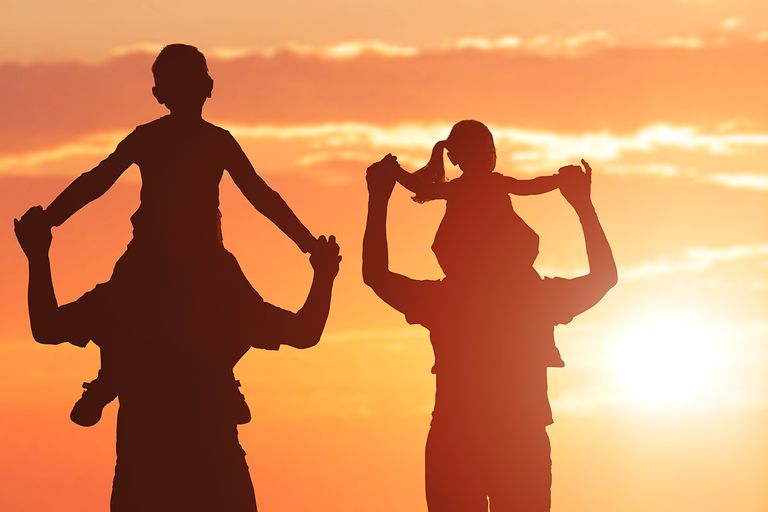 But in the end, they decided to give hope and love to children in the foster care system. They had plenty of love to go around, and loved raising and caring for kids. Once they took in the seven siblings, they knew they'd made the right decision.
Let's Give a Child a Loving Home
"There [are] just thousands of kids in that need," Elliott told AP News. "So we figured, instead of going through all of that…and trying to make more of our own, why not just help kids already out there [who] need help?"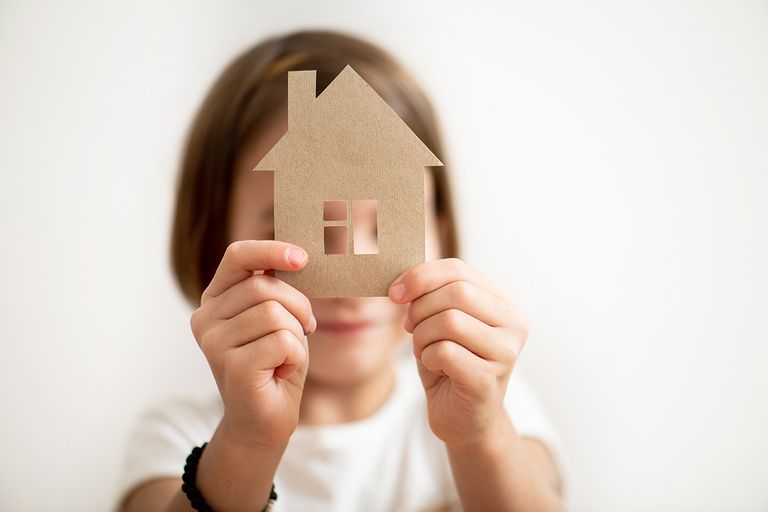 The Turbevilles knew there were thousands of children in foster care just in their area. They'd heard stories of kids in foster homes feeling unhappy and ignored and were certain that they could make a difference in a child's life by offering a happy and loving home.
Making One Life Better at a Time
Angela and Elliot felt strongly about helping children grow up happy and safe. It hurt them to think of any child feeling alone, neglected, and denied the basics of a good life. And they knew that helping a child would add meaning to their own lives.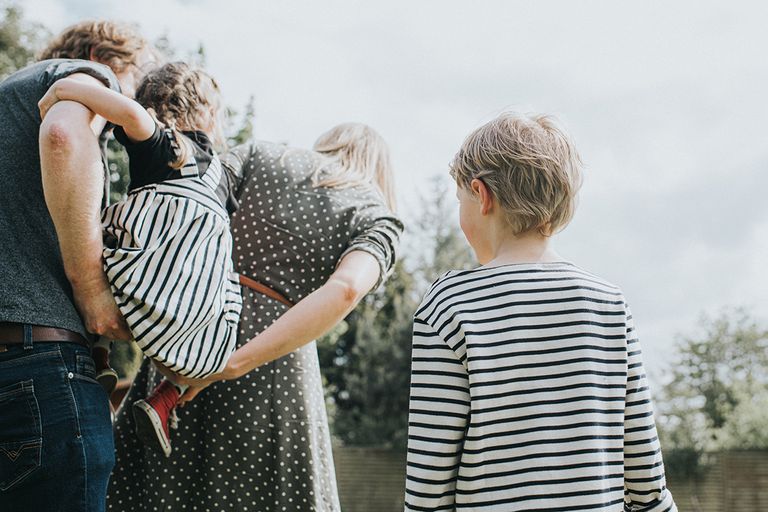 "If we can carve out a little area and make them better, make us better as a result," Elliott said, "and let them go out and make the world a better place as well…it's just the general idea of doing something good instead of just sitting back and watching all the bad happen."
Their Own Decision
Some of the Tuberville's friends thought they had taken on too much by fostering seven siblings. And they were not afraid to voice their opinions. But Angela and Elliott were firm in their decision and just ignored the naysayers. They knew they could do it and do it well.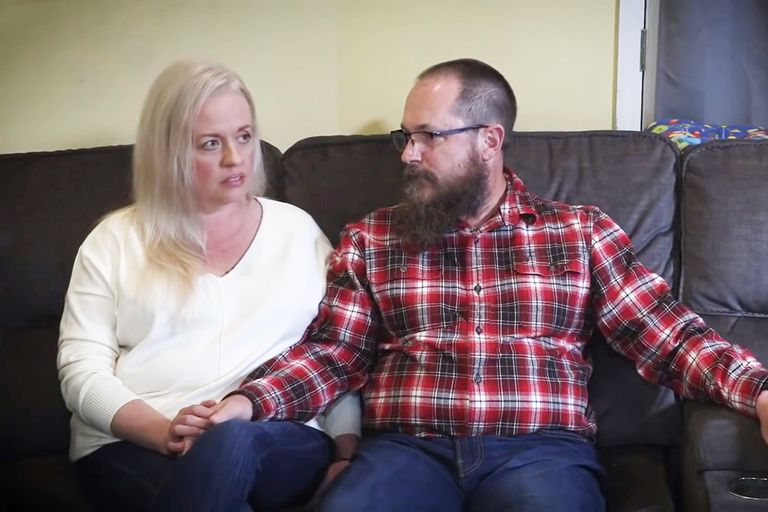 "I always tell people, we had three, so what's a few more, right?" Elliott told the Ledger-Enquirer. Elliott, who works for Pratt and Whitney as an associate director, is a logical and practical person. He added, "It's just a number."
How Can You Do This?
Taking in seven siblings to foster is a huge commitment, which Angela and Elliott entered into with their eyes open. They encountered criticism and doubt from others who asked how they could possibly take on such a task.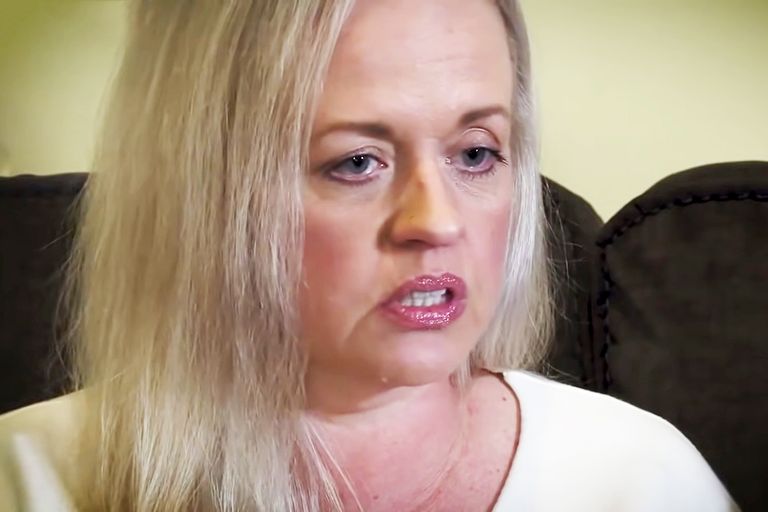 She said, "Anyone we talk to says, 'We don't know how you can do this; this is crazy, you already have so much going on. So it's always, 'Why, how?'" Those questions only increased when the couple decided to move their commitment to the next level.
Everyone Out on the Front Lawn!
One day, Angela and Elliott called all the kids to come out to the front lawn. The kids had no idea what was happening because the couple had kept this surprise to themselves until everything went through the complicated legal processes.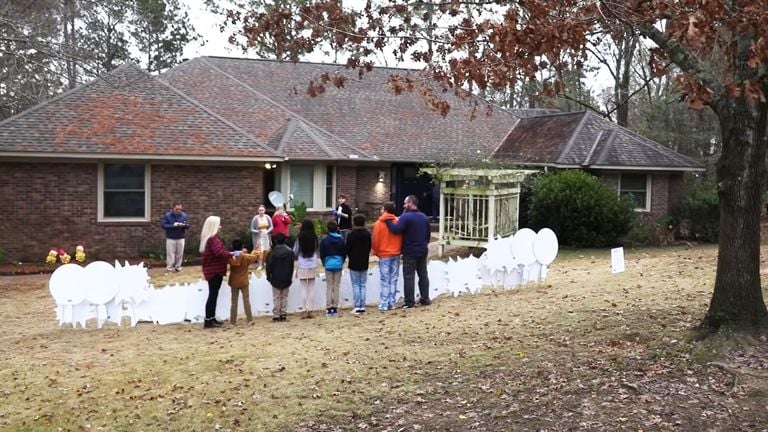 When the seven brothers and sister came outside, they found a giant sign reading, "It's Adoption Day." That's when they realized what was happening – Elliott and Angela were formally adopting them, and they were going to be a real family.
The Legal Stuff
In 2021, Angela and Elliott learned that they could start the legal work for the formal adoption of the siblings. They knew from the court that the kids' biological parents had lost their parental rights after a ruling in a Floyd County juvenile court.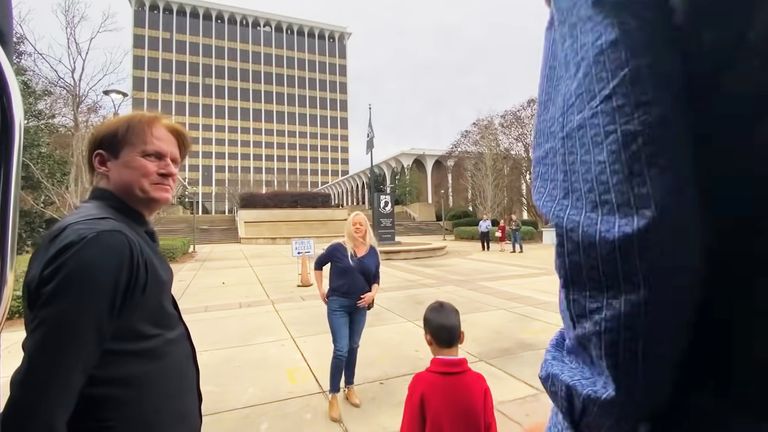 In the two years they'd been living with the Turbevilles, the children had been asking the couple to adopt them. As soon as the couple heard that, they didn't skip a beat before going to a lawyer to get the process started.
Time to Go To Court
Right after the kids saw the sign on the Turbeville's front lawn, there was a good deal of hugging and kissing. The siblings had finally found a forever home. They couldn't quite believe it. But then Elliott announced their next step.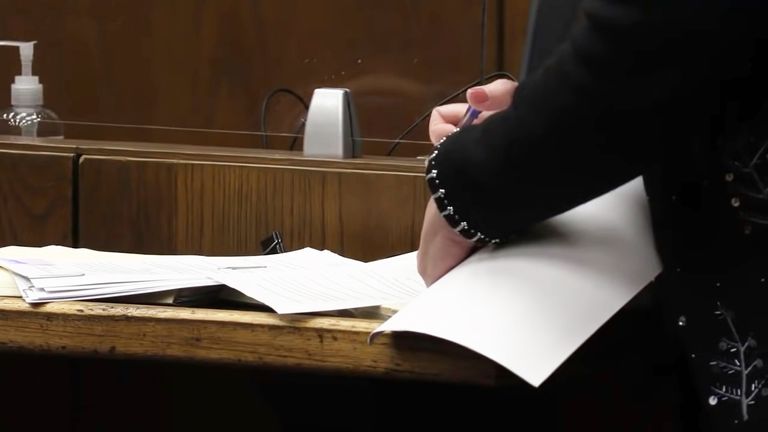 Elliott told them they were now heading to court for the formal proceedings. Angela explained to The Columbus Ledger-Enquirer, "They've asked for two years, 'I just want to stay. I just want to be adopted.'" Now it was time.
Two Days Before Christmas
This momentous event happened just two days before Christmas. One of the little girls had already written out her wish list for Santa, and ironically on the list she wrote, "get adopted." not knowing what was awaiting her.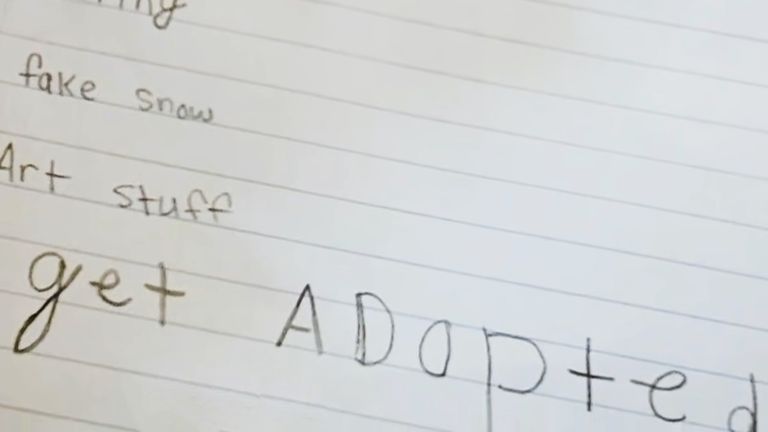 Angela told the Columbus Ledger-Enquirer, "She doesn't know that Christmas is about to come early for her." It's hard to imagine the glee that these seven children felt after so many years trudging through the foster system. They finally had parents and a home.
A Day of Celebration
"To me, it's a dream come true to be able to adopt children," Angela went on. "I hate that they were in foster care but at least we get to give them a good life." It was a whole day of celebration for the new family.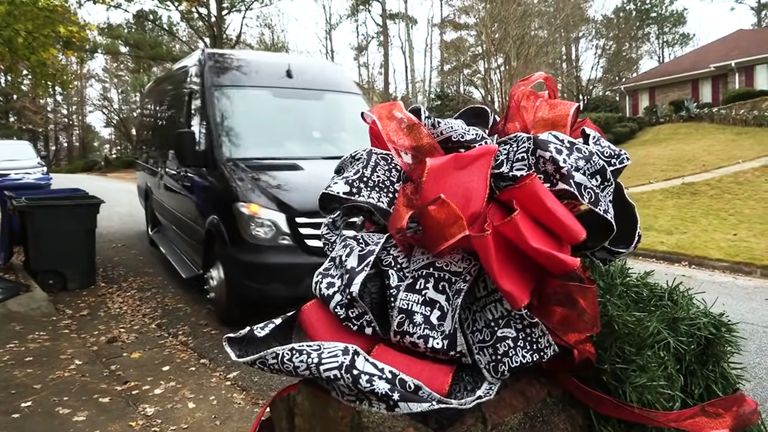 Elliott and Angela had added to the celebration atmosphere by hiring a party bus to take everyone to the courthouse. The kids were ecstatic and excited. No one had ever treated them with such kindness and generosity.
Meeting the Judge
The party bus pulled up to the front door of the Columbus Government Center Courthouse. Everyone trooped out with big smiles on their faces and went into the courtroom. Superior Court Judge Maureen Gottfried took charge of the proceedings.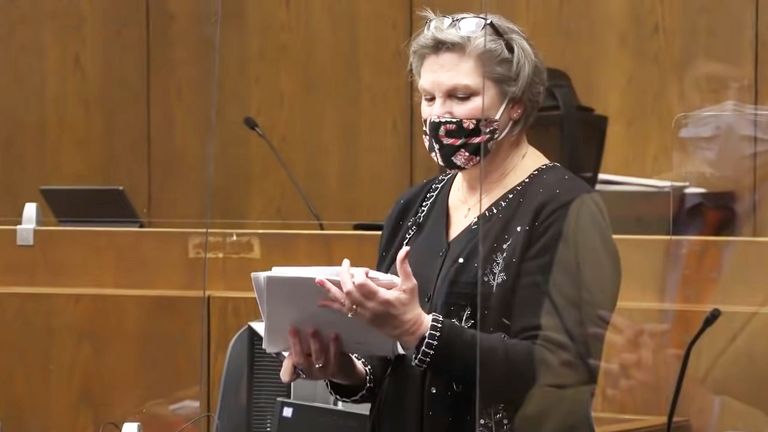 Judge Gottfried was all smiles as she told the family, "This is just a really, really, happy, happy day. I'm so glad that all of you all are here to celebrate because this is really a celebration of a bad situation turning great."
You're A Family!
Judge Gottfried was thrilled to have such a happy event in her court. She'd seen so many desperate, sad situations involving children and parents, so many tears and tragic results. But today was a today to celebrate, and she joined in.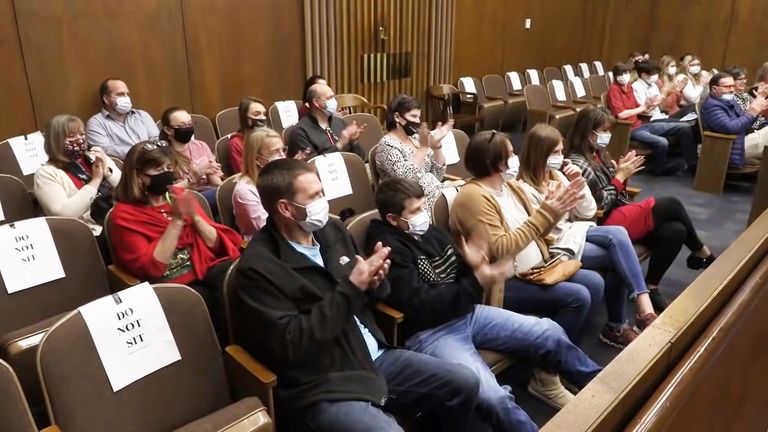 The Superior Court Judge told the kids, "This is going to be a wonderful holiday. Everything is official. You already were a family, let's face it, but now you are legally a family."
Everyone is Joyful
The Turbeville's attorney Tom Tebeau added his own sentiments, "These kids, y'all are getting what you deserve as children, to be able to be raised in a happy house and taken care of, loving each other, loving your parents, and just having everything be great.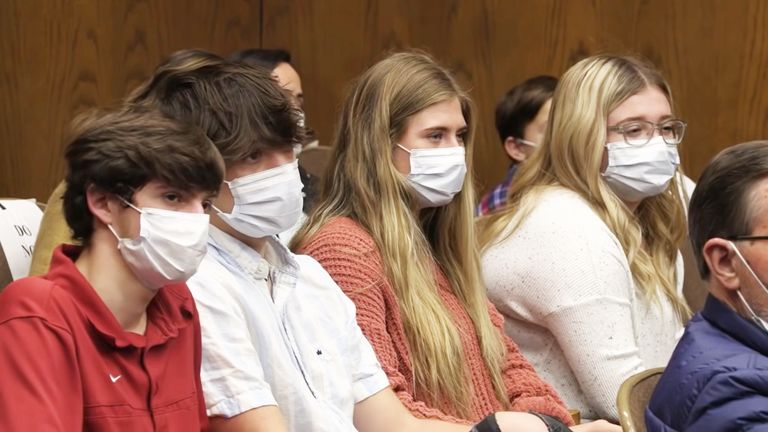 He added, "So I'm very thrilled to be able to sign off on all these." His satisfaction knew no bounds after the hard legal preparation that preceded this day. Next, Caytlin Merritt, the Turbevilles' caseworker, added her sentiments.
A Happy Caseworker
In her interview for the Ledger-Enquirer, Merritt said, "Not only have they welcomed these kids into their home and love them, but now they're opening their hearts to them forever."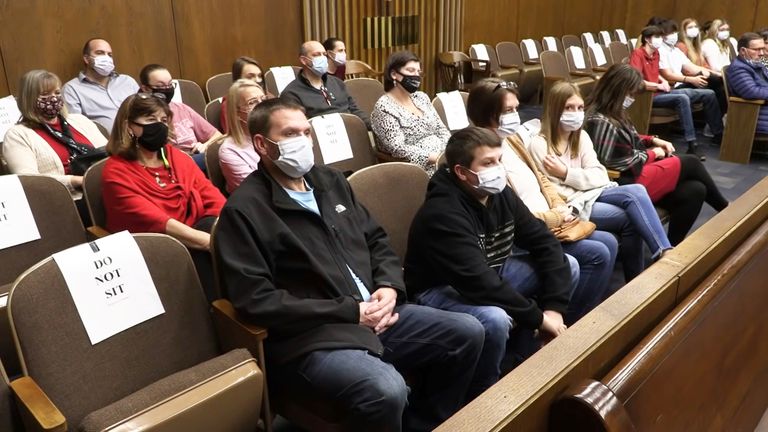 She continued, "That's a huge commitment and sacrifice on their part, and they have just been all-in from day one… It's just a joy and a pleasure to have been a witness to that and support them." Merritt expressed what everyone in the courtroom was feeling – what the Turbevilles were doing was inspiring.
Siblings Should Not be Separated
Merritt continued, "There are not many foster homes currently able to take more than two children at a time and even fewer that are willing to take in teens. This means that siblings are often separated and may be placed in different counties, sometimes hours from each other."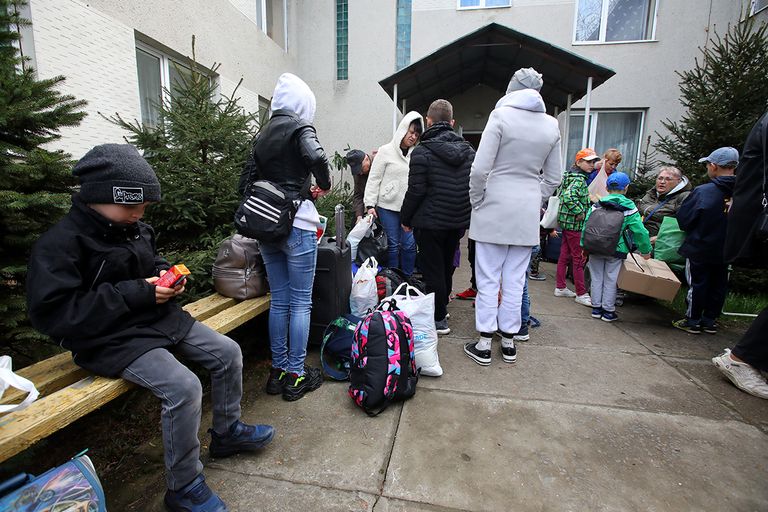 She explained that the foster agencies do everything they can to keep siblings with each other and out of group homes. But placement can be very complex.
The Kids Have Their Say
In some of the most touching moments at the courthouse, each of the siblings got to say a few words to the judge. To hear them thanking their new parents, everyone present felt the intense gratitude for the Turbevilles' generosity and kindness.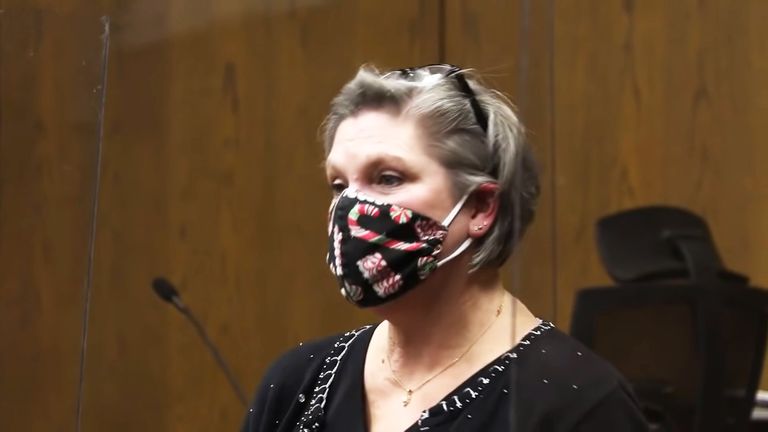 One of the boys, aged 13, told the Ledger-Enquirer, "Coming right before Christmas, this is like the perfect time. I'm just amazed and excited because we've been waiting for this a long time." He kept speaking, and his words showed wisdom beyond his years.
A Rare Moment of Joy
The teen, whose name was not revealed, said, "We've been through a lot of stuff that shouldn't have happened. Our parents should have taken care of us. But now, we have these parents that actually take care of us and feed us every day."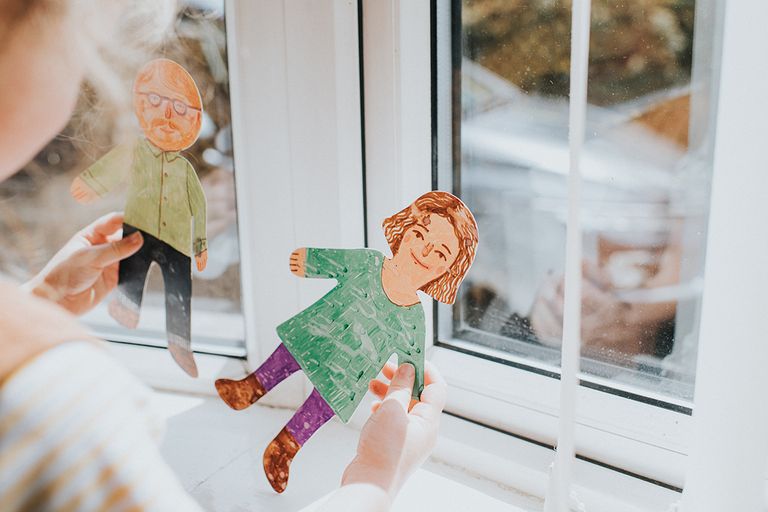 "This is really rare, he continued, "They took this chance getting all of us. I thank them — and I thank God — for this." At 13 years old this boy has been through more than most of us have in a lifetime.
I Get to Have a Better Life
Then another son stood up, expressing his gratitude that Elliott and Angela had gone from being foster parents to adopted parents. You can tell from his words that these children never thought they'd feel safe or cared for.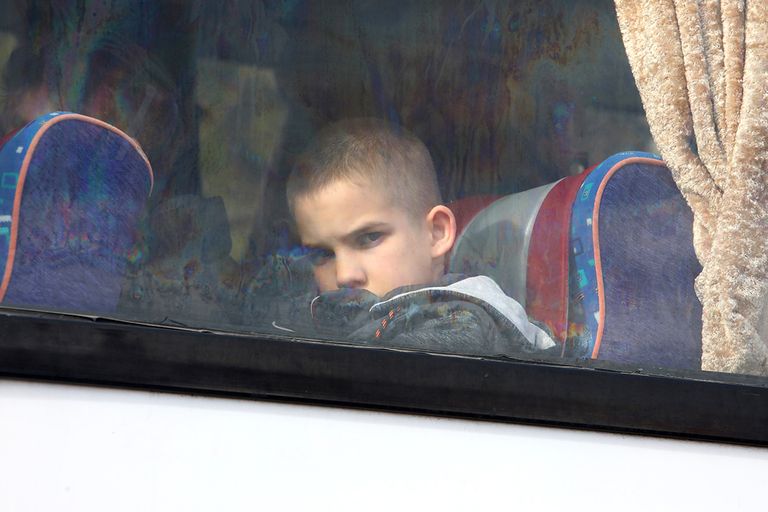 The boy said, "I don't have to worry about my old life and stuff that happened to me. I get to have a better life now." We are betting that there was not a dry eye in that courtroom during these speeches.
The Marathon Ends
In 2021, when Angela and Elliott finally finished up their paperwork with the more complicated adoption of the seventh sibling, Angela told The Columbus Ledger-Enquirer, "I feel like I'm almost at the end of a marathon."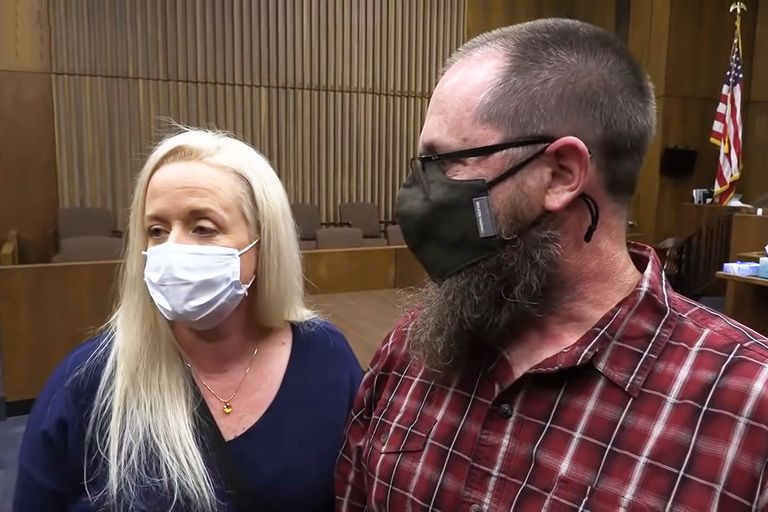 Elliott and Angela also reported moving the family into a new farmhouse. They needed more room for all seven kids so that they could hang out together but also have their privacy. That, along with the day-to-day management of seven children's lives, has kept the happy family very busy.
The Best Christmas Ever
"Children heal best within a family environment," caseworker Merritt told the Ledger-Enquirer. "Group homes exist because we don't have enough foster parents able to meet the needs of all of the children we have in care."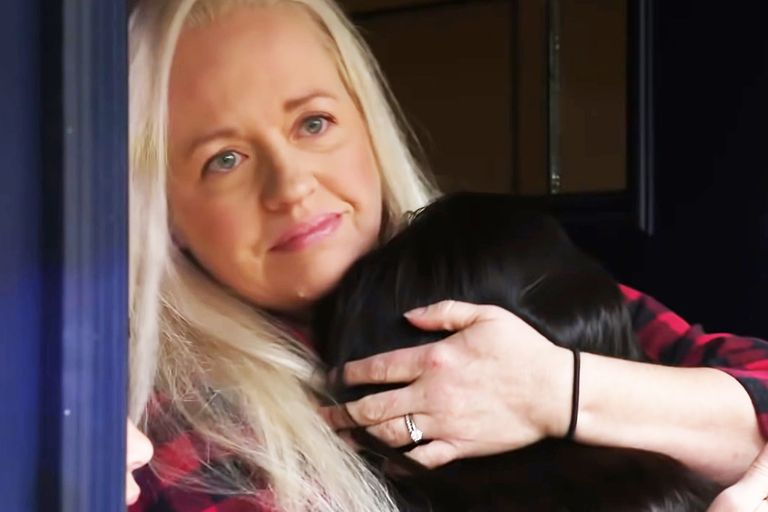 The timing for this adoption had been perfect. Coming at Christmas was the ultimate gift for these seven siblings and their adoptive parents. As Elliott said, "It's a Christmas to remember." But while this story might be extraordinary, it's not entirely unique. Many generous parents have adopted siblings and are living happily ever after, and we salute all of them.