Interesting Pictures That Require Explanations
Have you ever looked at a photo and wondered what was going on? Sometimes you can stare at a picture for a long time before you figure out what's happening.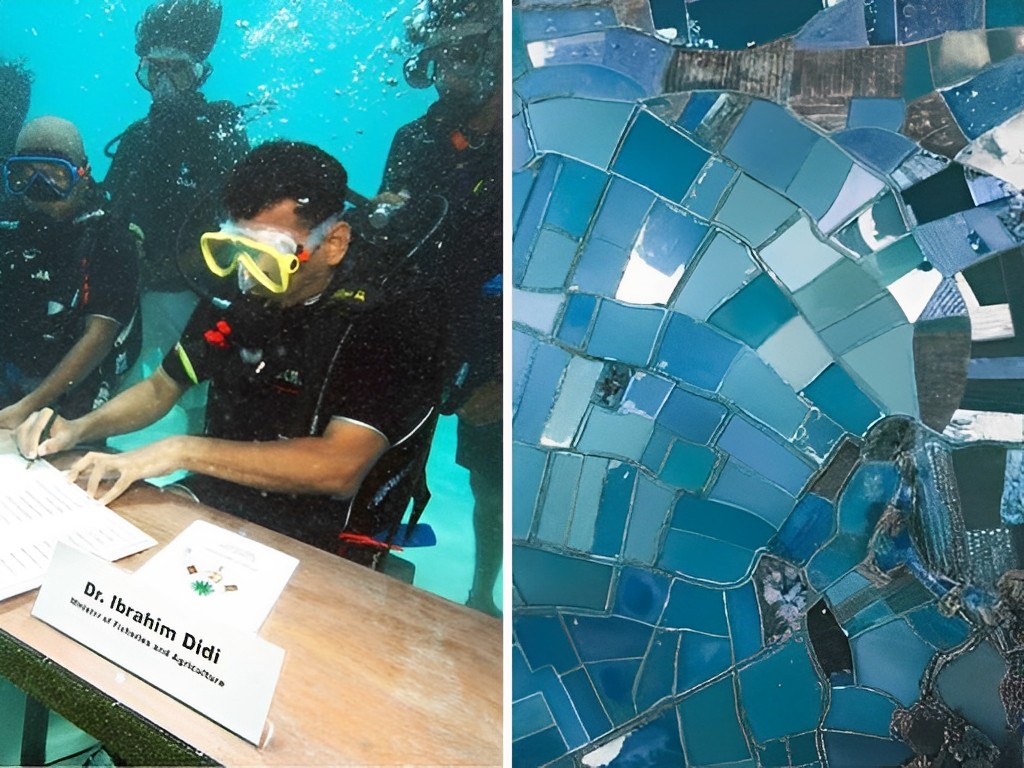 With the photos on this list, you will have the same feeling.  We're going to fill you in on what's happening so you know the meaning behind the image. 
The Most Expensive Photo Ever Sold
Does this photo look extra special to you? Upon first glance, it seems like a stretch of road – some grass, and maybe a river. What makes it so special is that it sold for (wait for it) $4.3 million!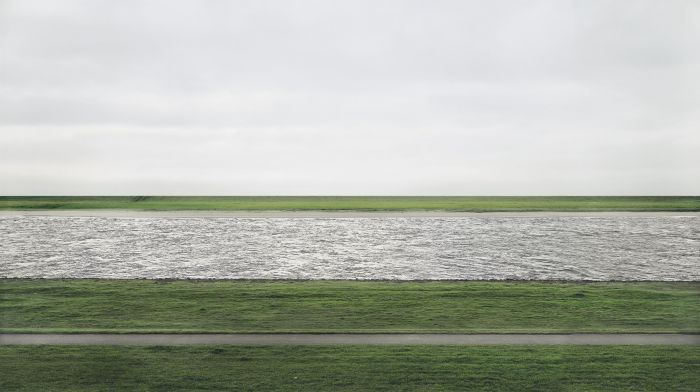 Perhaps the value was in the size of the photo. It measures six feet by 11 feet, so it's not something you'd hang in the average living room. Or, perhaps, its starkness made it striking and valuable. Either way, someone paid a lot for it, and let's hope they are enjoying it.  
The Fiery Hole
This image is terrifying, made more so by the people standing next to it. It looks like a huge hole of burning lava, but actually, it's the Darvaza gas crater that's still burning years and years after it was set afire.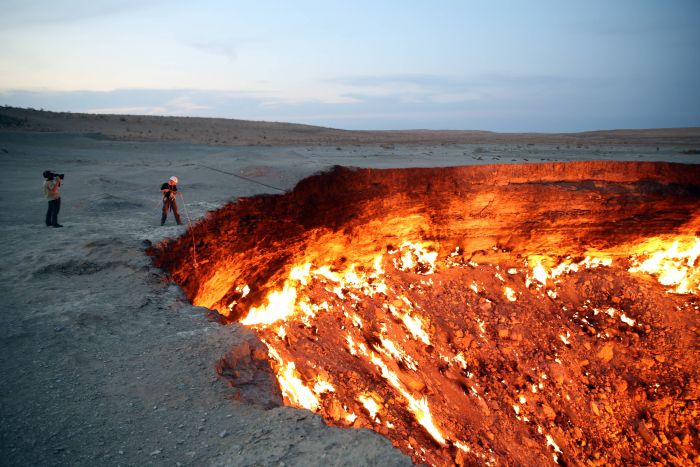 The story behind this photo starts in 1971 when Soviet scientists set the crater on fire to stop the spread of the methane gas that was leaking. They didn't realize that it would just keep burning. The hole is 98 feet deep, so it's not exactly a tourist attraction. 
Signing a Climate Statement Underwater
The President of the Maldives, Mohammed Nasheed, staged the first-ever underwater government cabinet meeting to sign a climate agreement in 2009. All his cabinet ministers joined him, donning scuba gear for the event.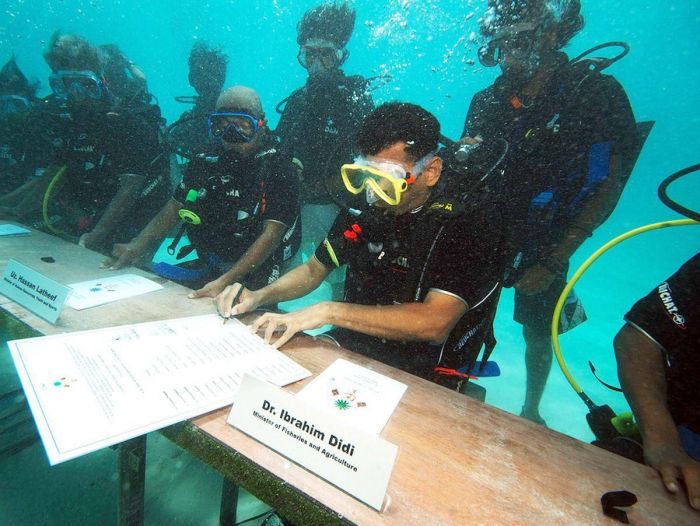 He certainly made a striking statement by performing this signing underwater. Part of his reasoning was that the water level in the Maldives is rising to dangerous levels, so he wanted to make a point about climate change. We think he certainly did.  
Mt. Fuji's Shadow
The dramatic Mt. Fuji, at 12,460 feet high, is Japan's highest mountain. Early in the morning, it casts a shadow that is 15 miles long. The shadow looks exactly, and eerily, like an Egyptian pyramid.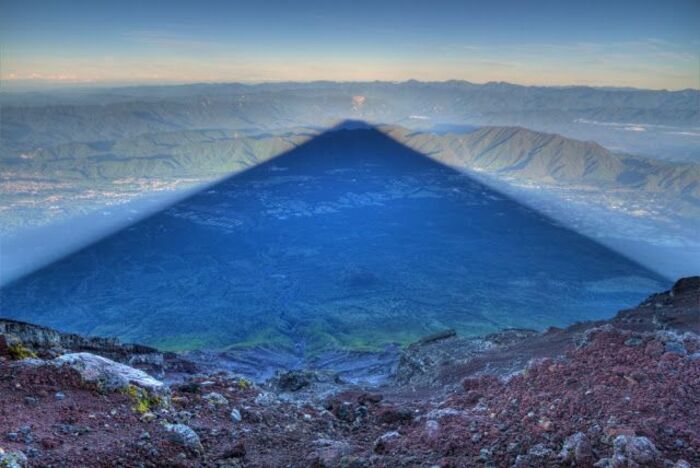 The image of the triangular shadow reaching so far into the nearby area is highly dramatic and worthy of a second look. You almost think you're seeing a mountain within another mountain looked at long enough. Taking a picture like this at sunrise is genius.
A Shrine Covered in Ashes
Doesn't this photo look fake? It's almost like someone took a black-and-white photograph and photoshopped the figures onto it for contrast.  But that's not the story at all. In fact, this photo was taken after a tragedy.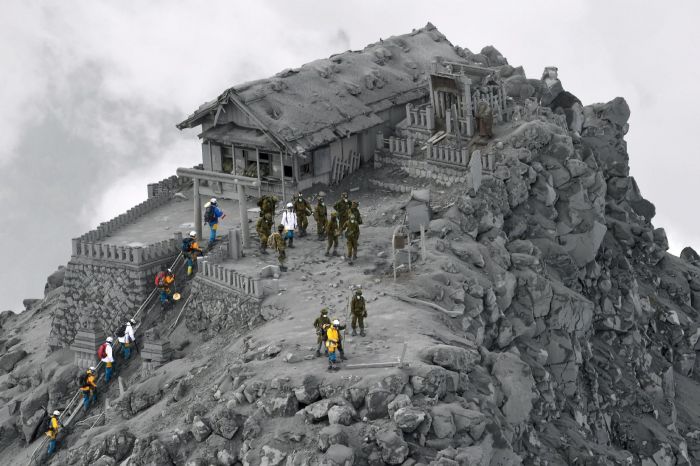 This is a photograph taken after a volcano erupted and enveloped the Ontake Shrine in ashes in 2014. The people walking there are rescuers who came to help right after the eruption. Sadly, this incredible photo tells the sad story of 60 lives lost during it. 
Bees and M&Ms
This photo almost looks like an intricate mosaic piece you could hang on the wall. The colors are striking, especially the contrast between the various shades of blue and yellow. But that's not what you're seeing.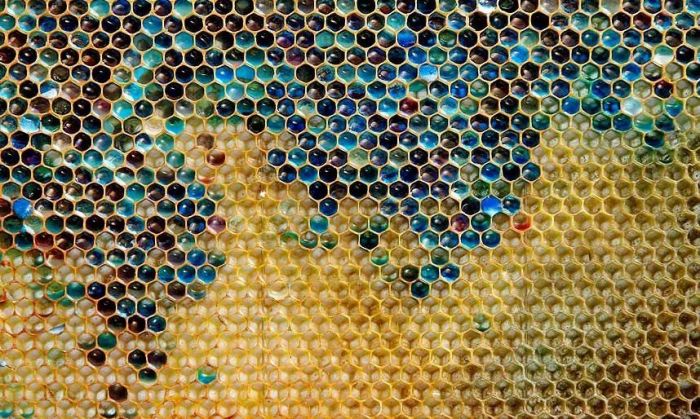 Actually, you are looking at honey produced by bees who decided to visit an M&M factory nearby. After eating the candies, they began producing blue honey (much to the amazement of the beekeepers). So humans aren't the only ones who love those candies. 
An Audience in North Korea Split Down the Middle
Believe it or not, this photo is for real. It's a gathering of North Korean soldiers and civilians in an auditorium. Somehow, the soldiers and the other guests ended up sitting on opposite sides of the venue. We're not sure if they were told to do so, but we're awe-struck by the photo.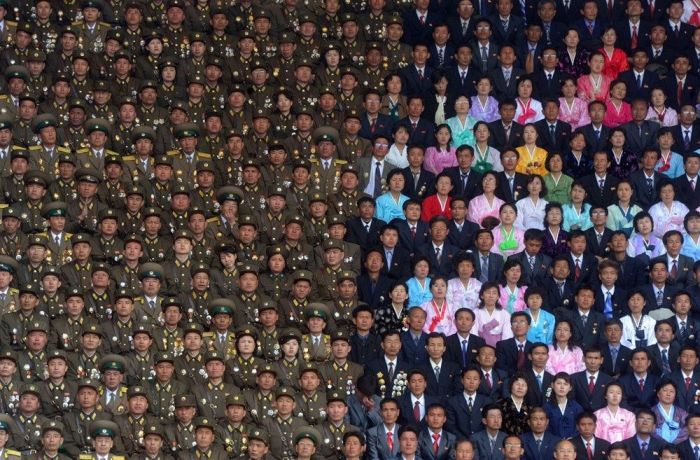 The crowd was celebrating the 100th anniversary of the birth of North Korea's founder, Kim II-sung. It's unclear if someone arranged the seating like that, but the vision is so striking that it almost looks photoshopped.
The World's Largest Cemetery
At first glance, this photo looks like a shot of a city from miles up in the air. It looks like a crowded combination of large and short buildings, roads, and shops.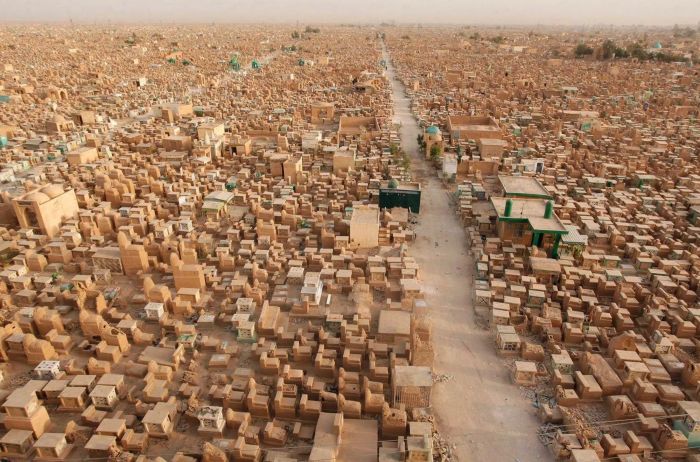 This is the world's largest cemetery, known as WEadi Al-Salaam, in Najaf, Iraq. What looks like buildings are headstones or mausoleums. Over five million souls are buried here, taking up over 15 square miles of land. 
That's a Big Pearl
What do you think you're looking at? This took us a while because it doesn't look like what it is – a 75-pound pearl found by a fisherman in the Philippines. He didn't know what it was and kept it hidden for a long time.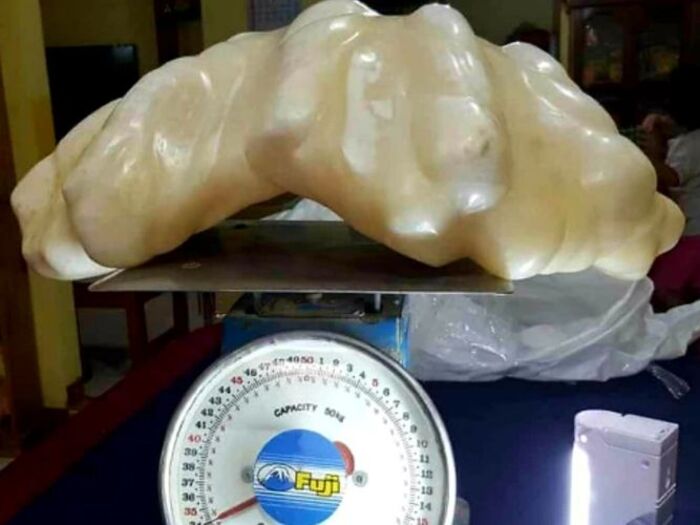 The fisherman had it in his home for over ten years, keeping it as a good luck charm. The pearl is now on display in the Puerto Princesa city hall. It's called "Pearl of Puerto" and is worth over $10 million.
Change Your Lenses!
At first glance, this picture looks like a set of glass bowls. They seem to fit inside each other. But you won't believe what you are looking at.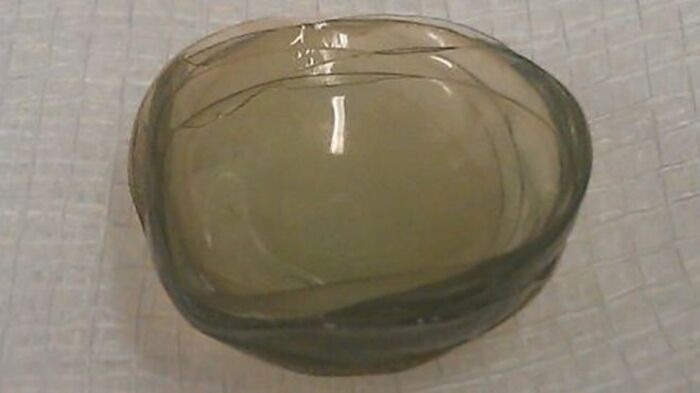 A patient came into her doctor's office complaining of pain in her eye. Upon examination, the doctor found 27 contact lenses sitting inside her eye. It seems she kept putting new lenses in and not taking the old ones out. The patient didn't even know she was doing anything wrong and thought the pain was just due to old age. 
One of the Last Photos of the Apollo 1 Crew
A few days before their fatal flight attempt, the crew of the rocket Apollo 1 pretended to "pray" to their module capsule. This was their way of poking fun at their faith in the spaceship.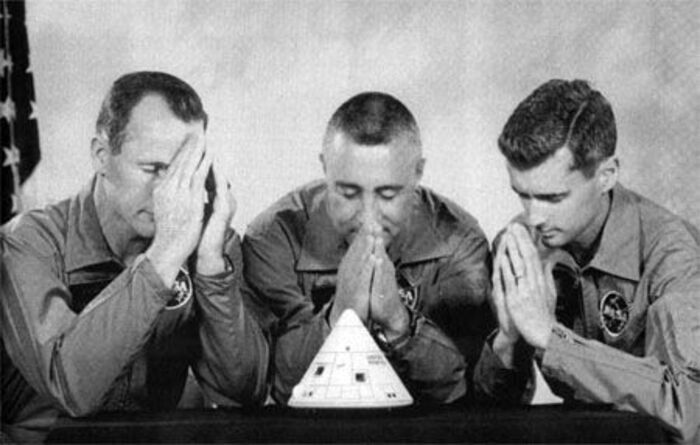 Gus Grissom, Edward H. White, and Roger B. Chaffee jokingly prayed that the construction of the command module was safe. As you probably know, when the three heroes went into the pre-launch test, the module caught fire, and all three perished. 
A Prehistoric Monster?
Well, this sure is a striking photo, one that kind of looks like a monster from a horror movie. But you eventually notice the human hand with an instrument at the bottom and realize something else is going on.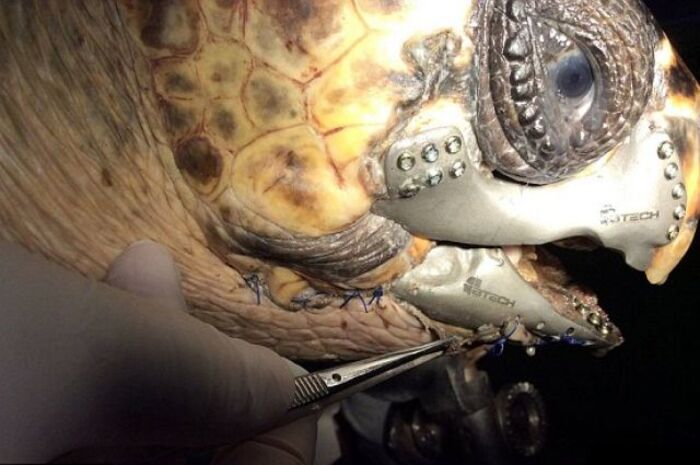 This sea turtle, named Akut-3, was injured during a boating accident, and his jaw was broken. He was found and brought to a specialist vet who decided to fix this little guy. The turtle got his bite back thanks to a 3D-printed titanium replacement jaw.
Is it a Mosaic?
At first glance, this stunning image looks like a stained glass or mosaic piece of art. The colors are just stunning, and the design is so intricate – it looks like some artist created something beautiful. But that's not what this is!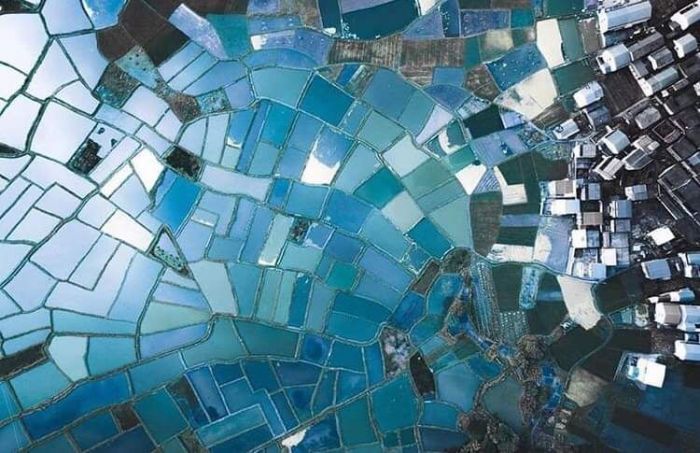 This is actually an aerial shot of rice fields from above. The rice fields, or paddies, get flooded in several inches of rain at some point during the year, hence the blue coloring. You can see homes off to the right side of the image.  
A Rock Collection?
This looks like a beautiful collection of decorated rocks. The colors are so vibrant, and they are arranged beautifully in this bowl. But these are plants, and no one has decorated or embellished them.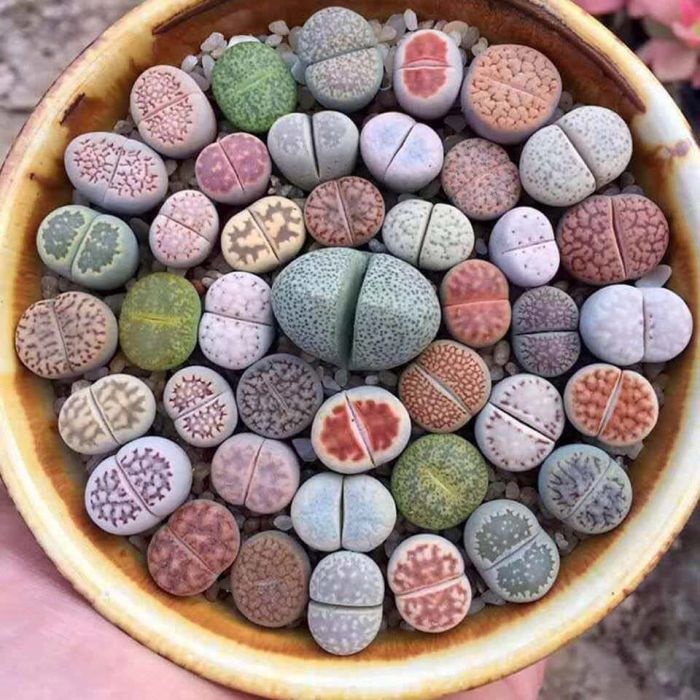 You're seeing South African plants called Lithops that look like stones. They are succulent plants that simply develop these beautiful designs as they grow. They look a lot like candies, but hopefully, no one tries to take a bite. 
How to Weigh a Bird
What looks like animal abuse is actually quite the opposite. In this picture, you can see how zoologists weigh tiny birds. They are placed feet up in a container to keep them still, and then the researcher can read the weight.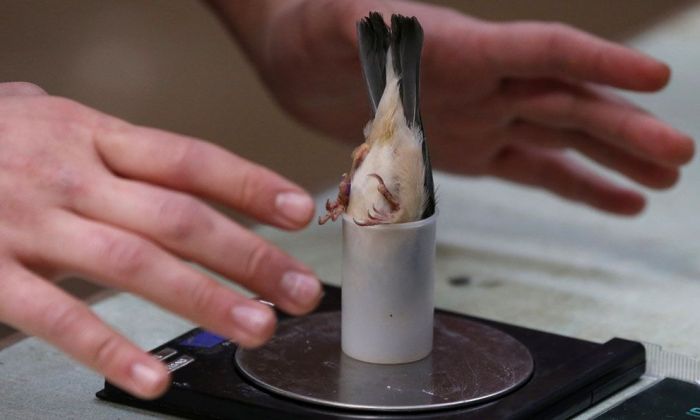 Why weigh a bird, you ask? Zoologists do lots of research and experiments on animals to learn how they live and grow. For birds, measuring them helps determine their migratory patterns and eating habits. See, you learned something new!  
A Circle Dance?
Are these ants dancing? They certainly look like they are standing in a circle for some reason, most with their antennae out. It seems like some ritual, even a human one since the ants are arranged perfectly. What are they doing?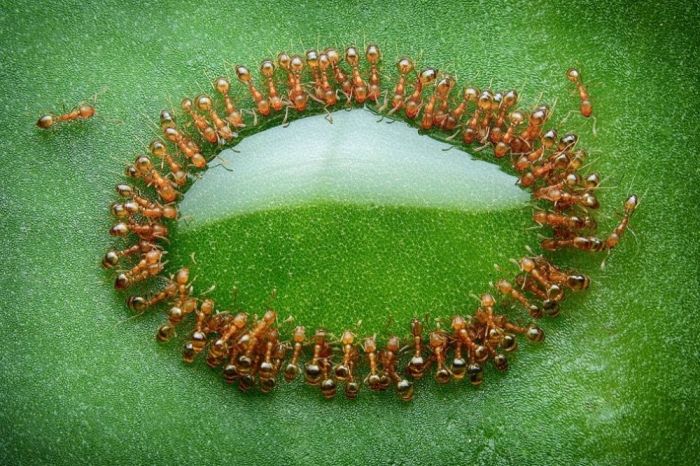 If you look inside the circle, you'll see a reflection. What you are looking at is a drop of honey. One of the ants probably stumbled upon it and called his friends to come over for the party. 
Dyed Eggs?
This could easily be a modern art piece in a museum. The colors are arranged beautifully, and if you saw it from afar, you wouldn't know what the oval items were. Those items are eggs sitting in an egg crate.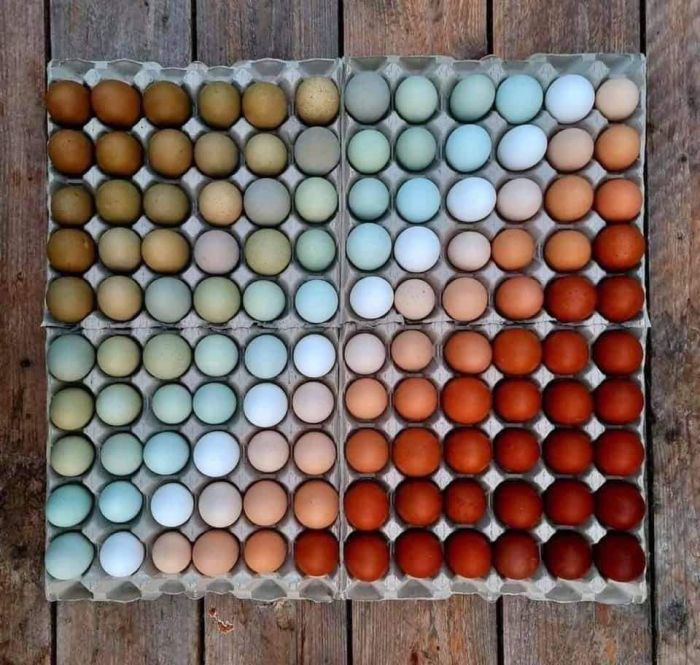 The eggs come from a variety of chicken breeds, and each breed lays different colored eggs. We are used to brown and white shells, but many exist that lay red, blue, and orange eggs. We wonder if eggs all taste the same.  
Biblical Scene?
This image looks surreal. The red of the water is so vibrant and deep that it looks like blood, putting one in mind of Biblical plagues. However, this lake in Texas is red because there is a bacteria in it that turns red when it doesn't get enough oxygen.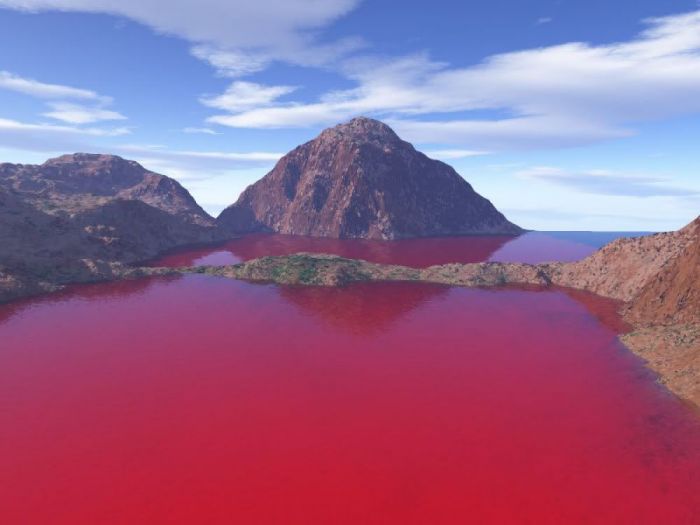 The lake is the OC Fisher Reservoir in Texas and it indeed turns this color because of the bacteria which live in it, called Chromatiaceae. This bacteria loves oxygen-deprived water and that's what gives it its red hue.
Grounded Plane
Has this airplane crashed? It looks in pretty good shape, considering it's sitting on the ground, not in an airfield. Wonder how it got there? In 1970, a fighter pilot was flying this craft during training and had to eject from the plane, but the aircraft just kept drifting for many miles and then gently let itself down in a field.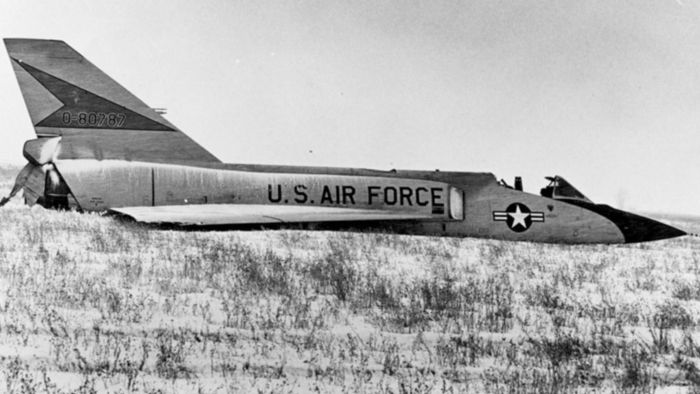 The plane earned the nickname "The Cornfield Bomber" and had just been taken out for a training mission. Thankfully, it only suffered minor damage and then went back into service.
Magical Sculpture
This masterpiece is a wonder to behold. When you gaze at this image, you can almost feel the softness of the hair as it drifts down into the woman's face.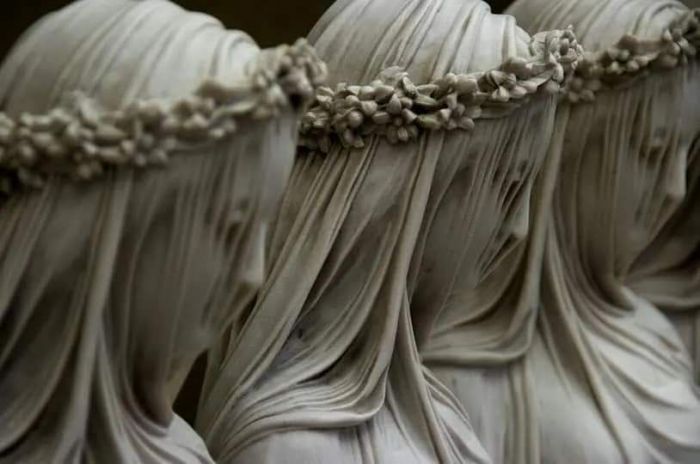 You are looking at a marble statue. One wonders at the talent of the sculptor and the hours it must have taken to chisel down the marble to look like this. The photo makes you want to feel the sculpture to assure yourself it's not soft cloth and hair. 
Jewelry? Glass Sculpture?
This beautiful image is a closeup of something very mundane. The jewel-like bubbles combined with the vibrant colors remind us of a piece of art in a museum. But what you are looking at is something quite boring.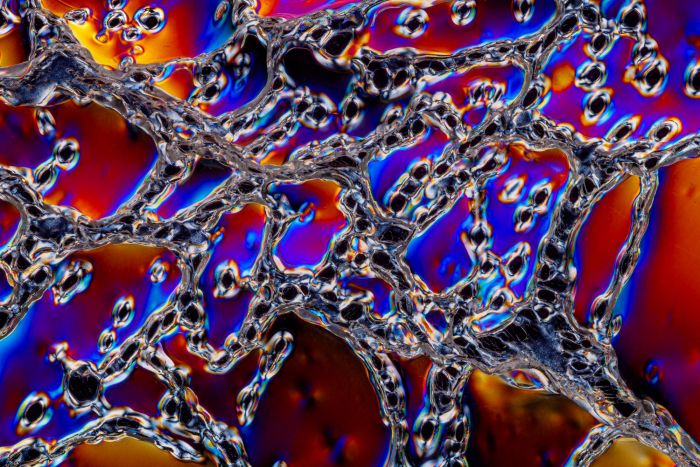 This is a close-up picture of plastic! Like many items, their real beauty and interest are revealed under a microscope. That's when you see the intricacy of the material and the makeup of the chemicals that have bonded to create it. We bet you'll never look at plastic the same way again.