If These Celeb Couples Stayed Together Their Kids Would Look Like This: AI Edition
Whether or not you love them, hate them, or miss them together, there are some things we will never know for sure. Like how these celebrity couple's families would look like if they stayed together.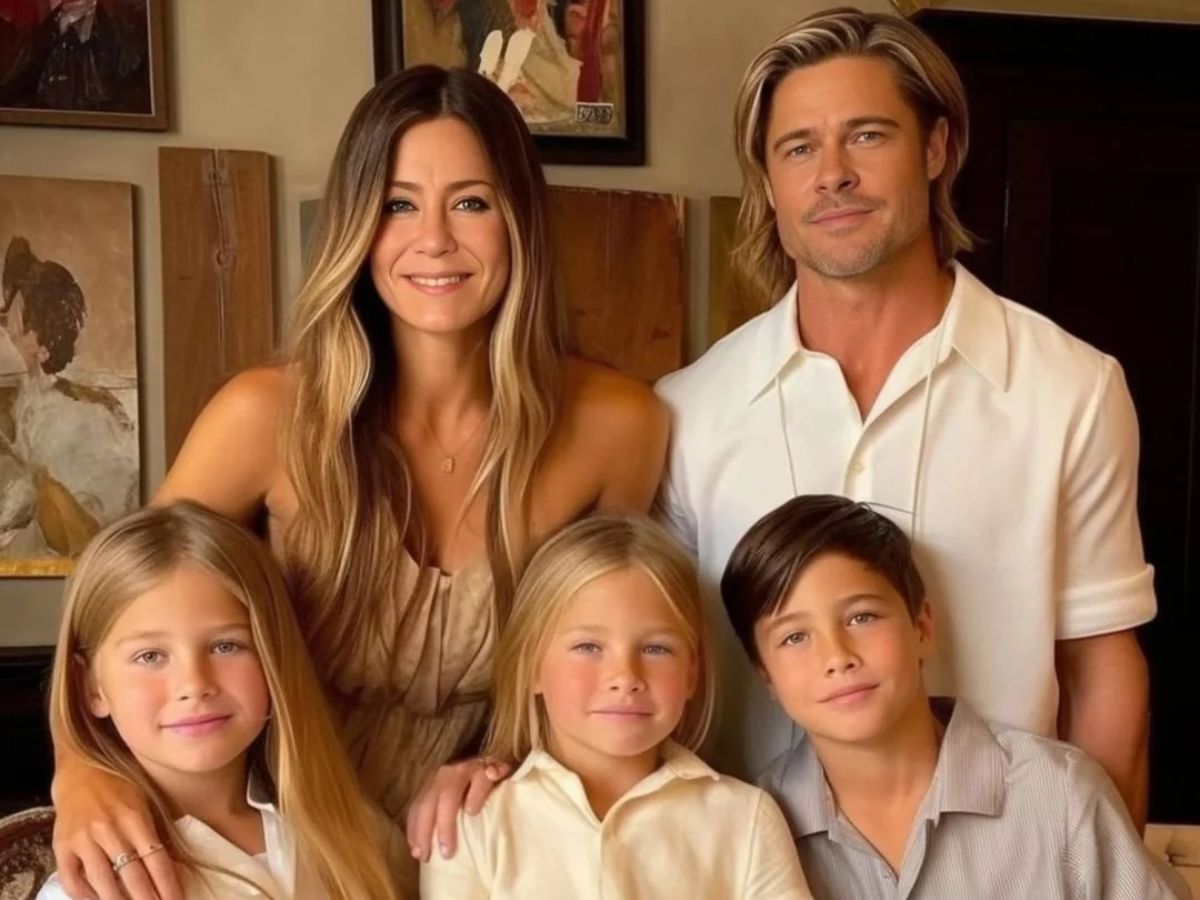 Here are some of the hottest couples that used to be together and some we forgot about and what their families might have looked like if they stayed together. Using the help of AI tool midjourney and some talented artists, these families have been imagined into what could have been real life.
1. Kate Winslet and Leonardo DiCaprio
Although Winslet and DiCaprio never formally dated in real life, they have undeniable chemistry on screen. Can you imagine if their chemistry carried beyond the camera role?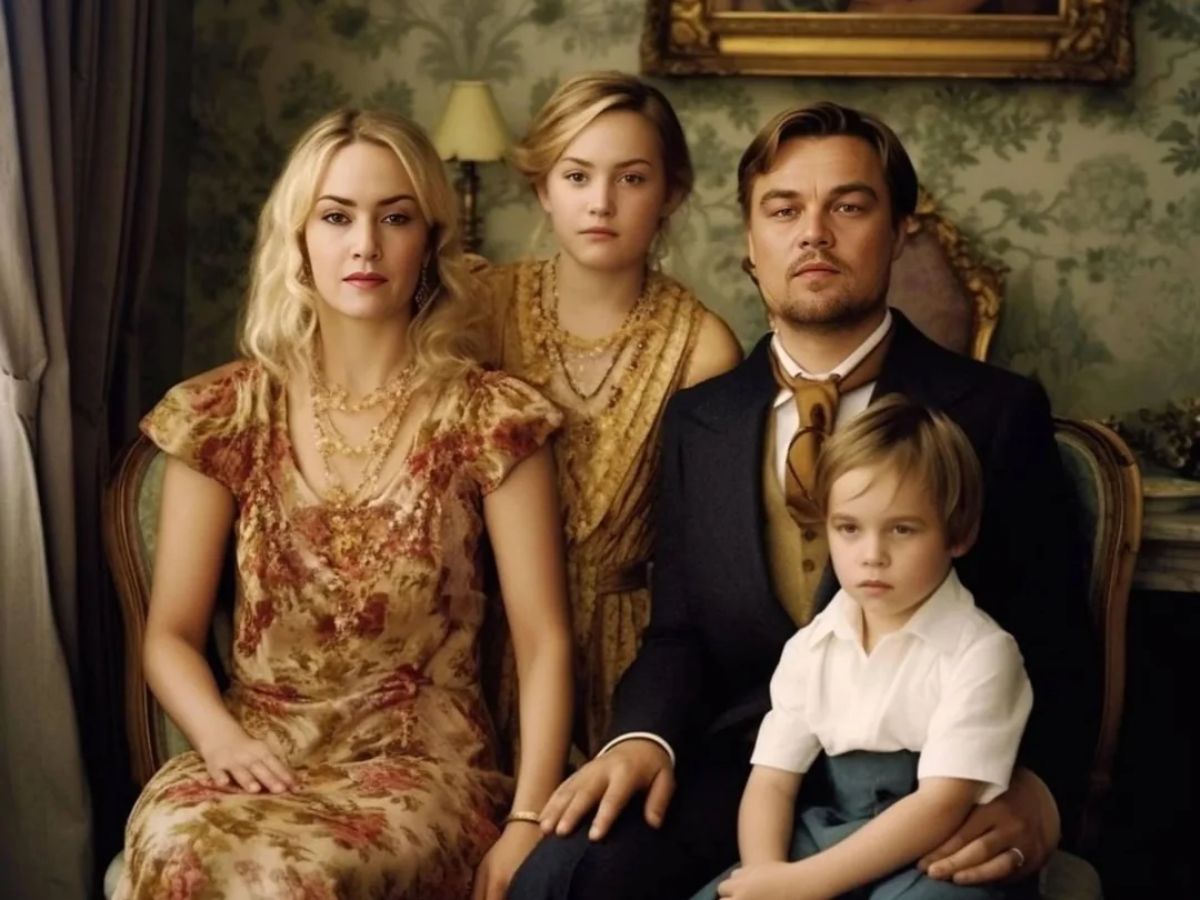 Talent would surely run in this family that's for sure. This pair of Hollywood icons have been besties for over 25 years and have no plans of slowing down yet, but it looks like any romantic relationship between them has already missed the mark.
2. Winona Ryder and Johnny Depp
These two shared four years of love which is no small feat, especially in Hollywood. We think these AI kids of theirs make a pretty accurate prediction of what could have been, don't you?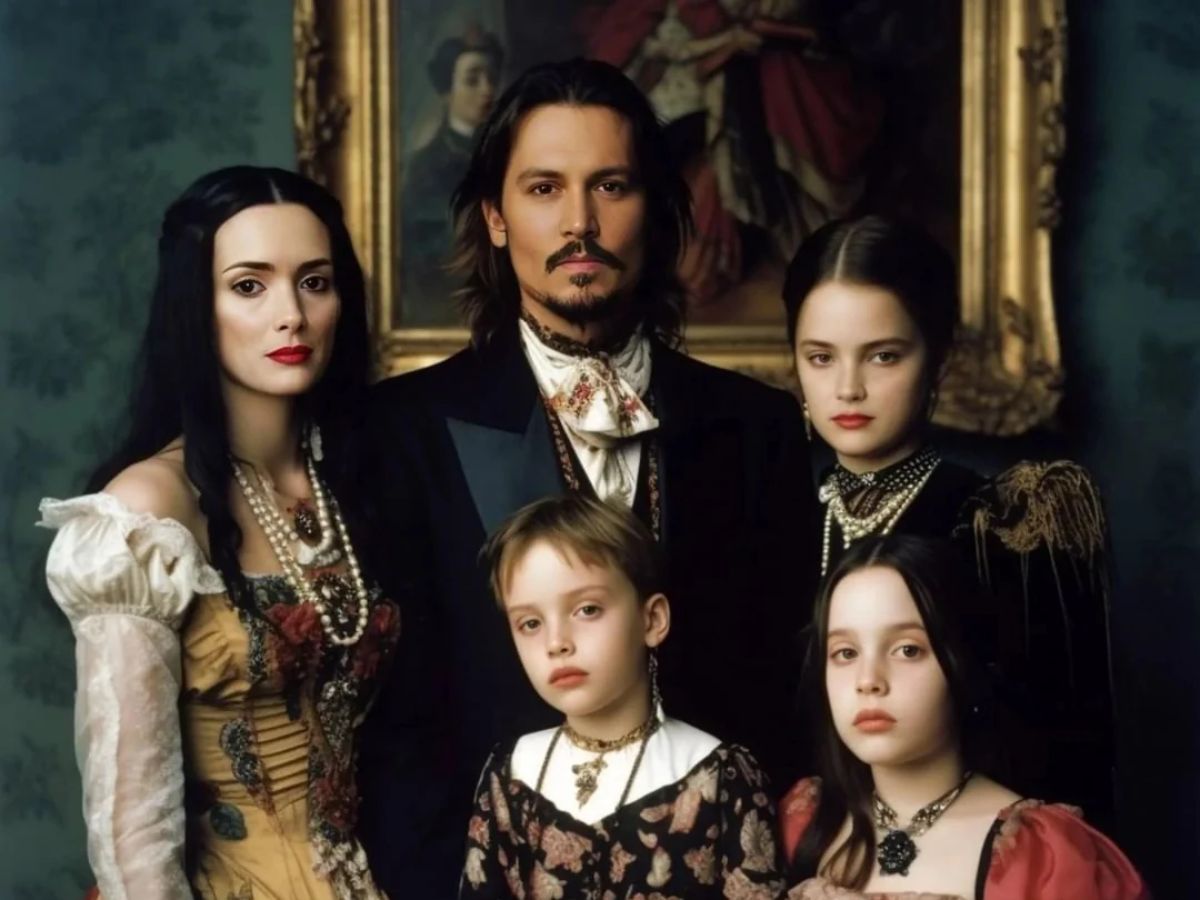 We will forever remember the early 90s as a time of Winona and Johnny. They allegedly locked eyes at a movie premiere and the rest was history. Well, now it's ancient history.
3. Jennifer Aniston and Brad Pitt
Talk about a time warp when it comes to this couple. Many of us were devastated when it came to this breakup. Talk about all genetic potential when it comes to these two.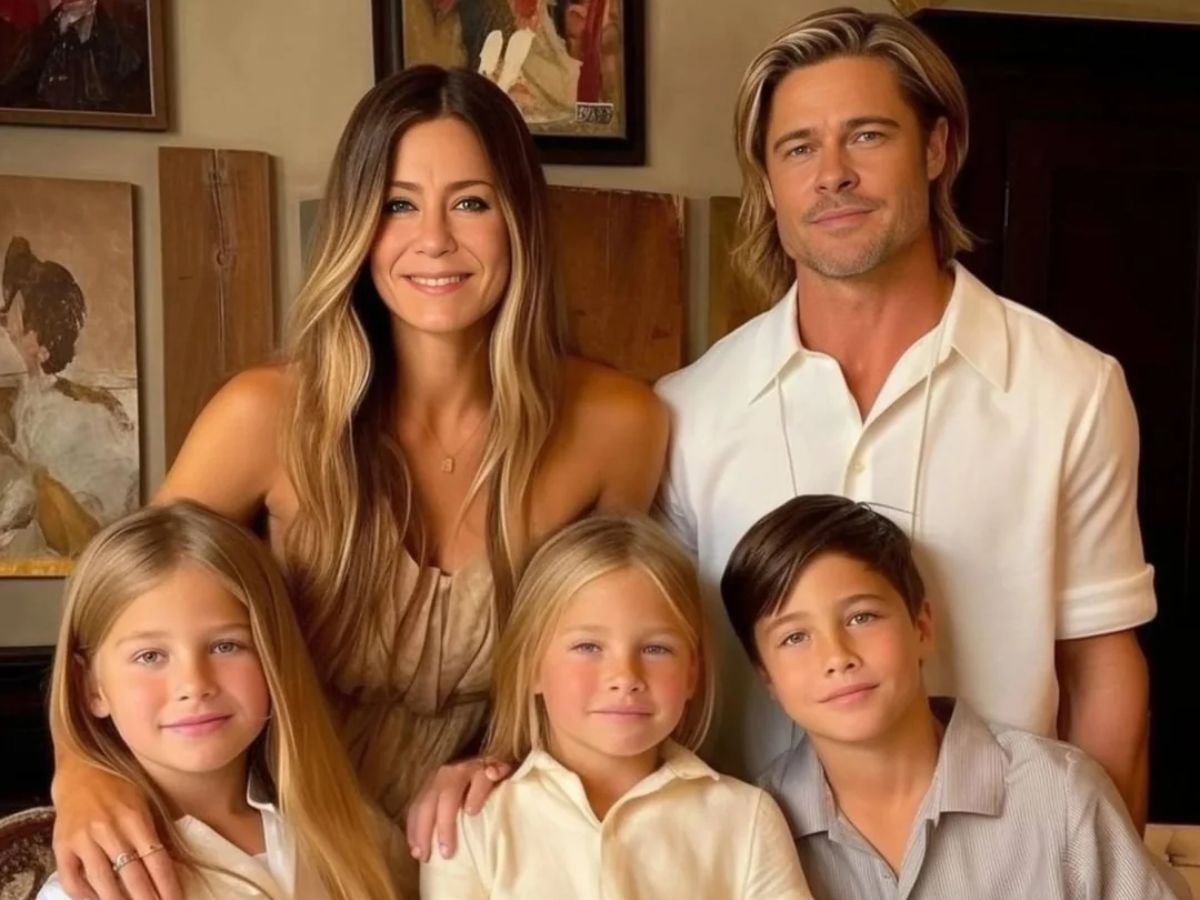 They wed in 2000 and after 5 years of marriage called it quits. They both have become friendly over the years and even were seen chatting on occasion.
4. Ms. Piggy & Kermit
Surprisingly, puppet life is a crazy one. Kermit and Piggy are perhaps the most famous couple of them all, even going on to marry at some point although they seemingly broke up in the 90s.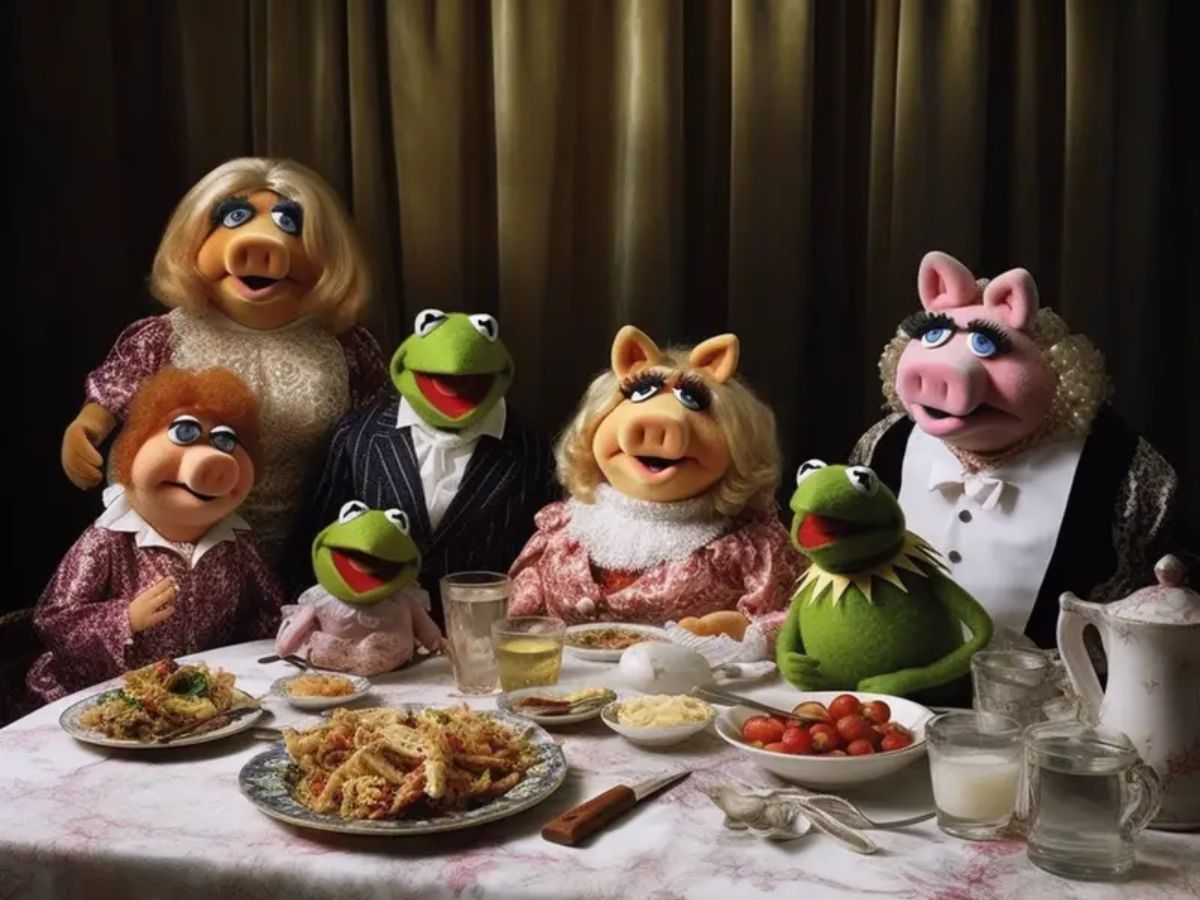 They allegedly split and ended their romance officially in 2015 but you never know how things will go among puppets. We are invested in this relationship as much as you are. We can't help but hold out hope, if puppets can't make it last then who can? Our eggs are in the Kermit and Piggy basket before anyone else's.
5. Michael Jackson and Priscilla Presley
Michael Jackson, a pop legend and actress Priscilla Presley, formally the wife of none other than Elvis himself, got together and eloped in 1994. Their romance went on, and off for years before they called it quits for good.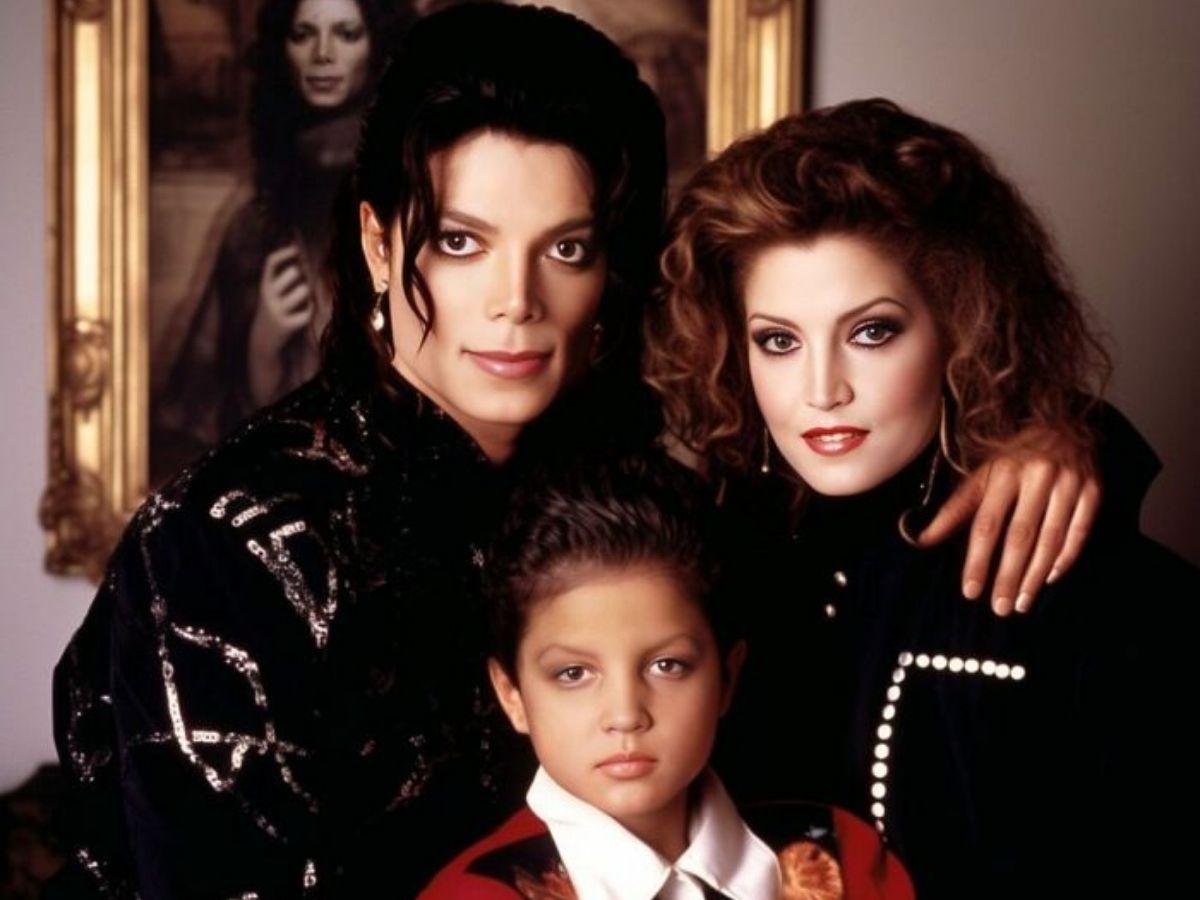 We think this family has some striking features, we'll let you be the judge as to which counterpart.
6. Adam Sandler and Drew Barrymore
Although Adam Sandler and Drew Barrymore have played romantic interests of each other on numerous occasions they were never linked together in real life. We almost wish they were though, just look how cute their potential kid could have been.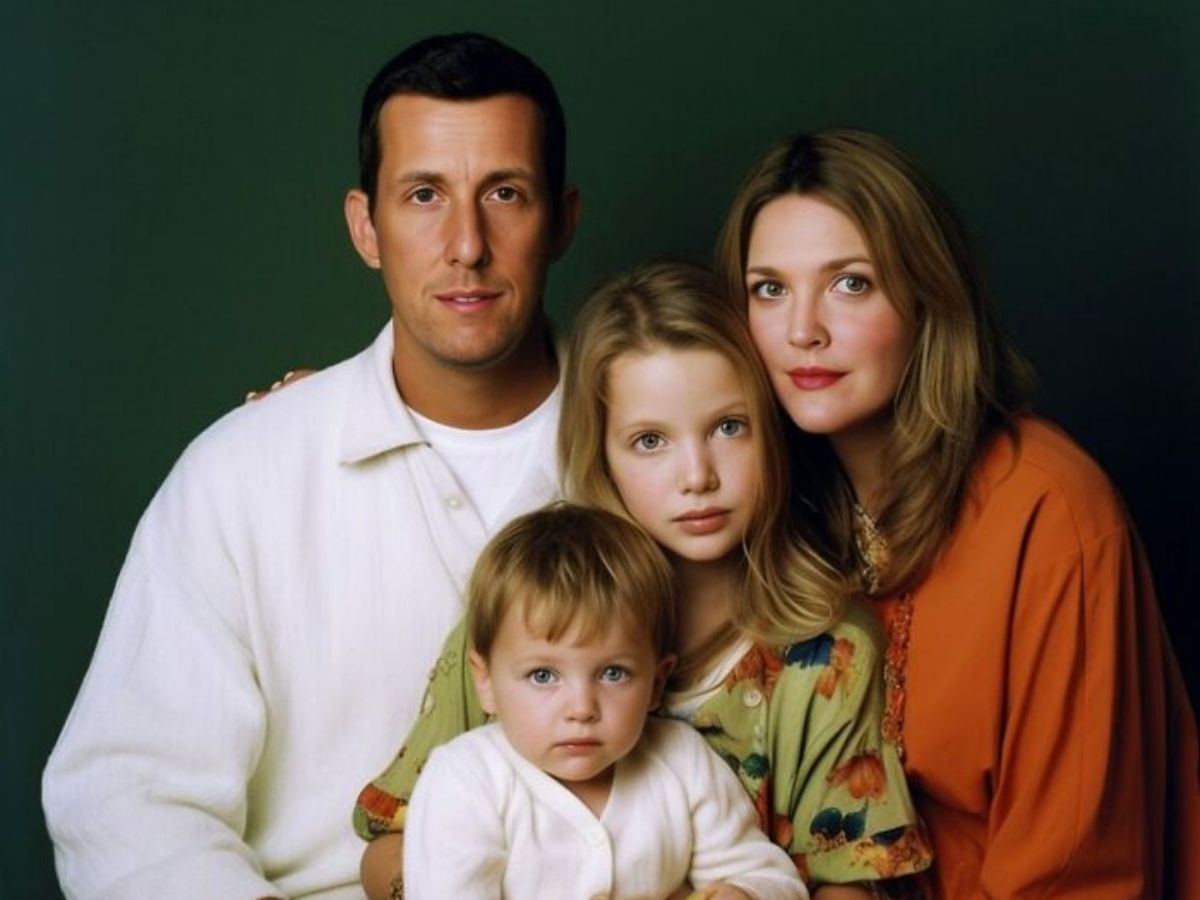 Drew has been reported saying that their friendship is based on true admiration, humor, and love for each other. Their long-standing friendship spans across more than 20 years.
7. Jimmy Fallon and Nicole Kidman
Apparently, this pair didn't last beyond a first date, probably because Jimmy didn't even realize that he was on one. Kidman even stated she had a crush on the comedian. Do you think things would have ended up differently if he had?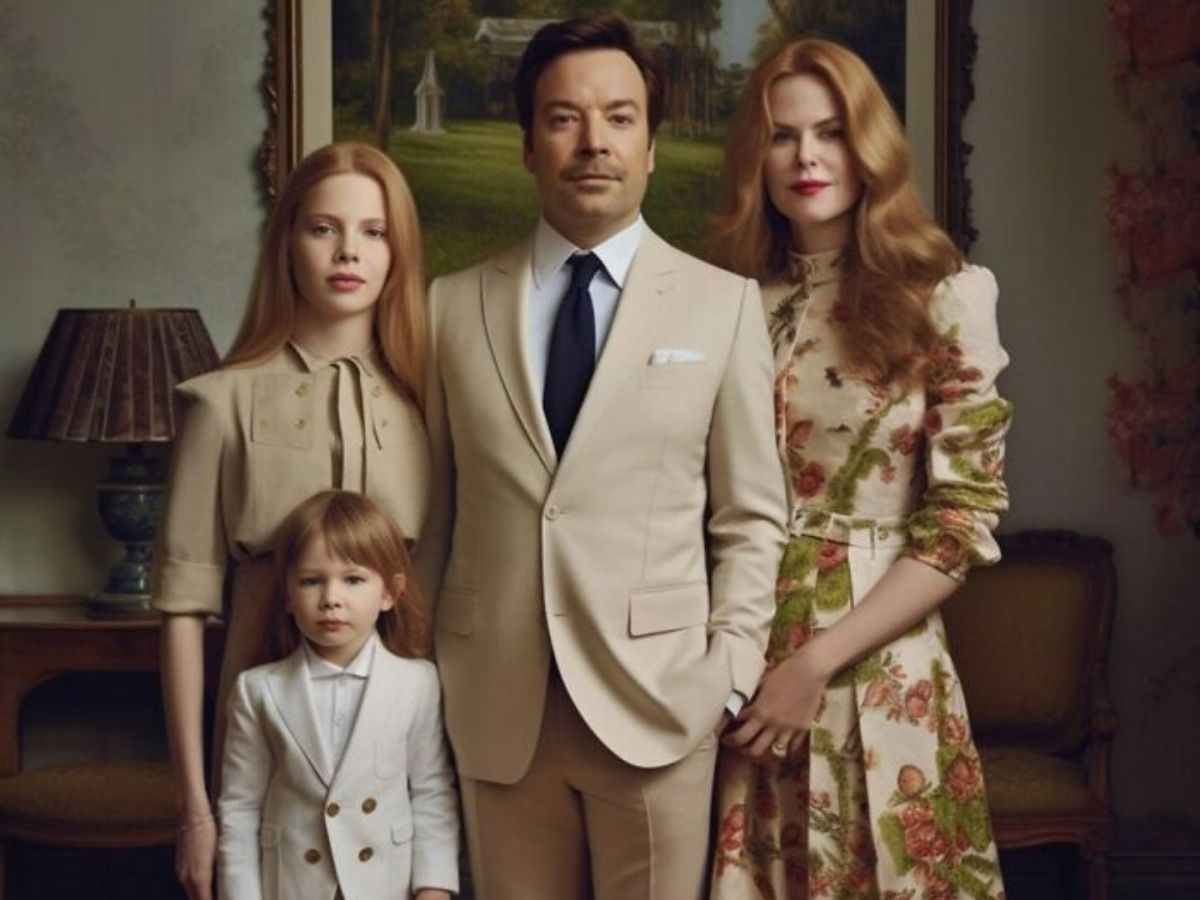 These are the kids we never knew we needed to see, just like Fallon seemed not to know he was on a date with the beautifully poised Nicole.
8. Britney Spears and Justin Timberlake
Britney Spears and Justin Timberlake were nothing short of power couple royalty when they dated. They definitely speak to the time of all things Y2K, we are getting nostalgic just thinking about it.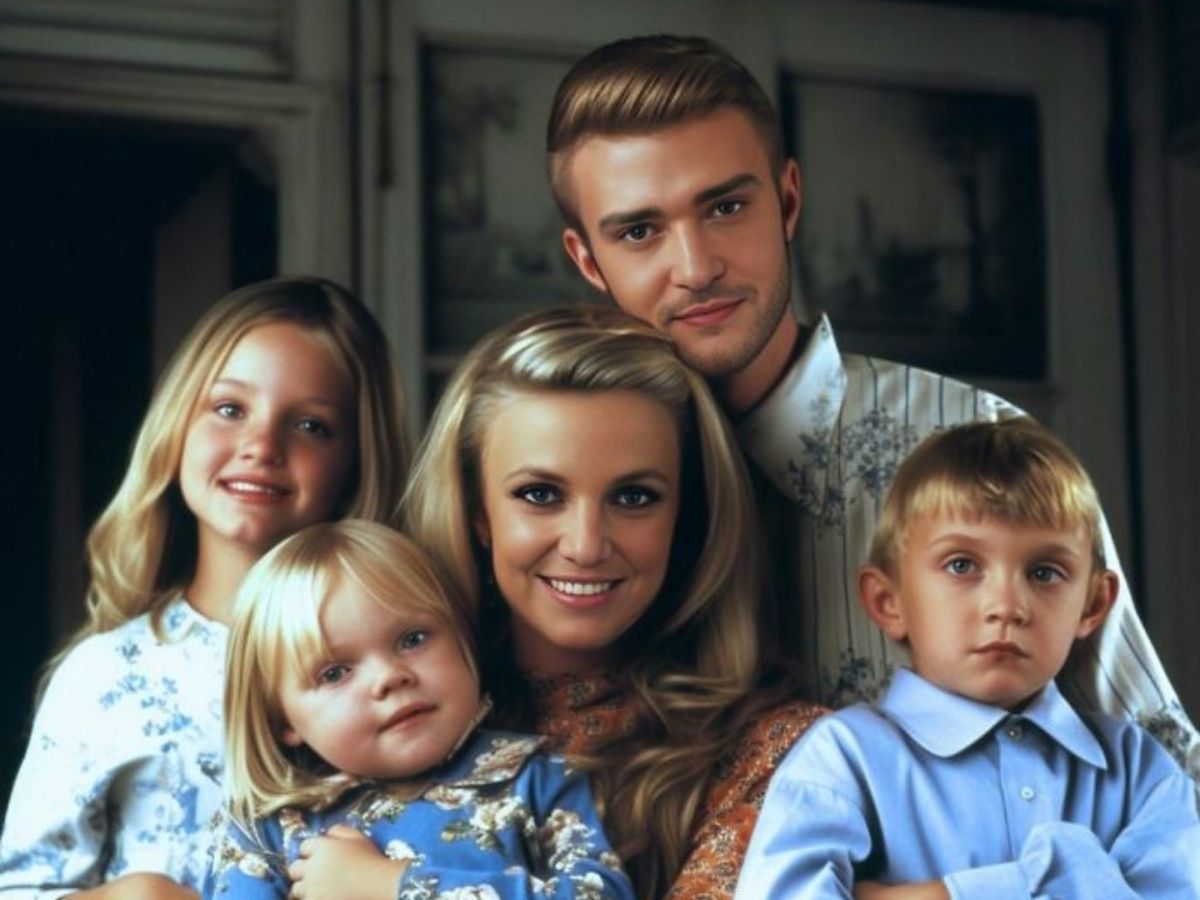 Their romance started in 1999 and lasted into 2002. They had a fairly public relationship, thrown into the spotlight at a young age, they were seen trying to navigate the ins and outs of the industry both together and apart.
9. Sandra Bullock and Keanu Reeves
Sandra Bullock and Keanu Reeves ultimately never dated but they both have said that they had crushes on each other during the same time.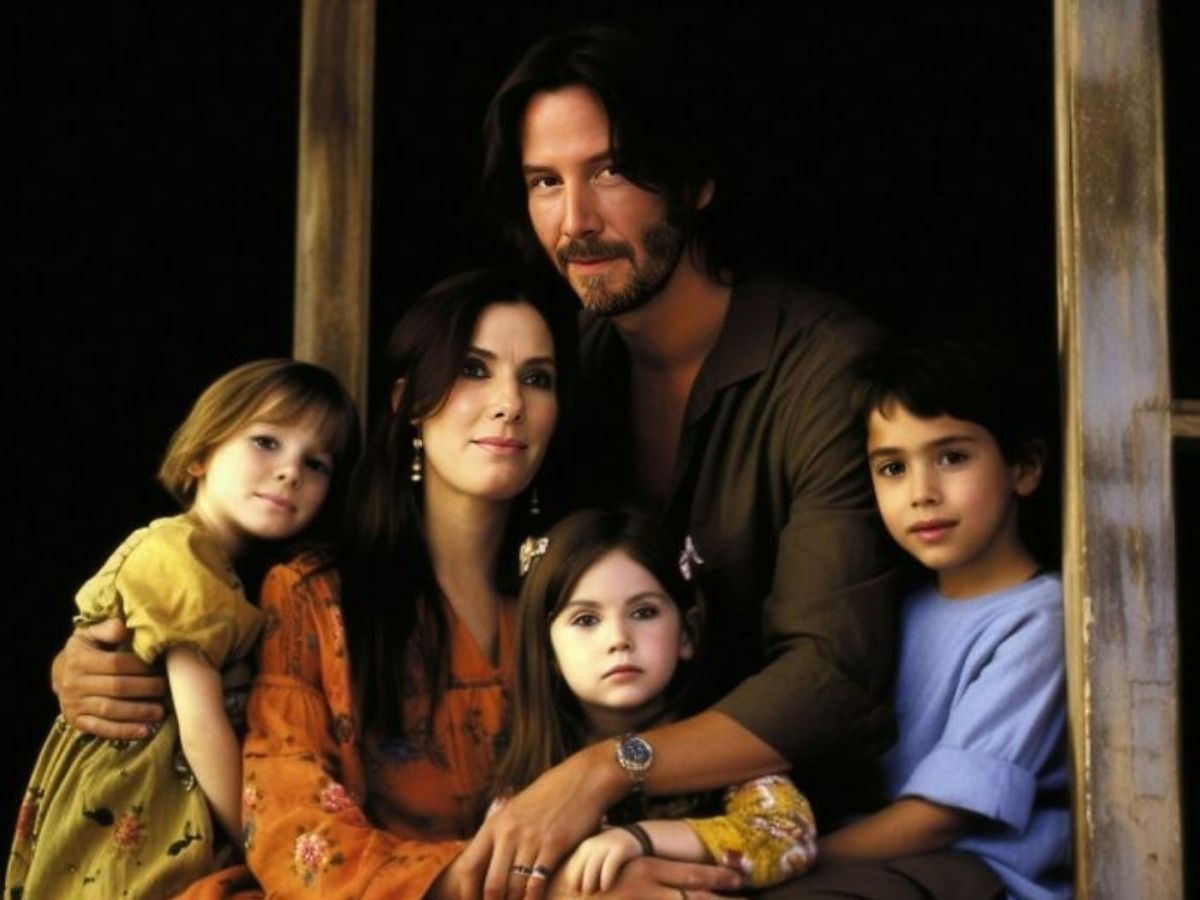 Talk about a missed connection. Even though these two are in the movies, sometimes life just doesn't play out like one, no matter how much you wish it did. Their imaginary kids sure look like them though.
10. Ryan Gosling and Rachel Mcadams
Ryan Gosling and Rachel Mcadams spent two years as a couple although they reportedly hated working together on their classic film, The Notebook. They brought to us one of the most memorable on-screen kisses, even winning 2005's MTV Movie Award for 'Best Kiss.'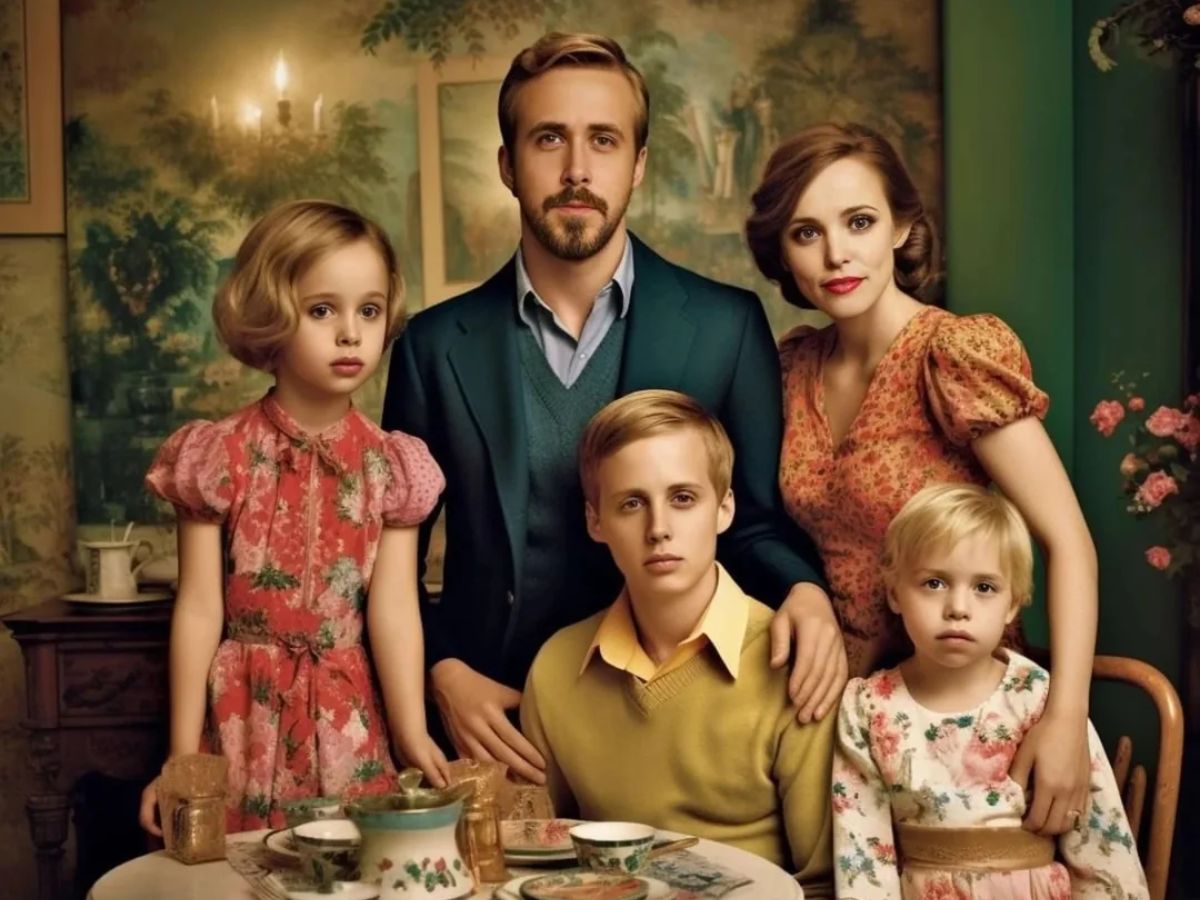 Although their romance was short-lived their kiss and their relationship will undoubtedly be remembered, they did play Noah and Allie after all. Their kids would have been just as iconic.
11. Lady Gaga and Bradley Cooper
Although they never formally dated in real life, these two placed on-screen love interests in their film, A Star Is Born. We would GO GAGA for this couple if they ever decided to date. Could you imagine the dinner conversations?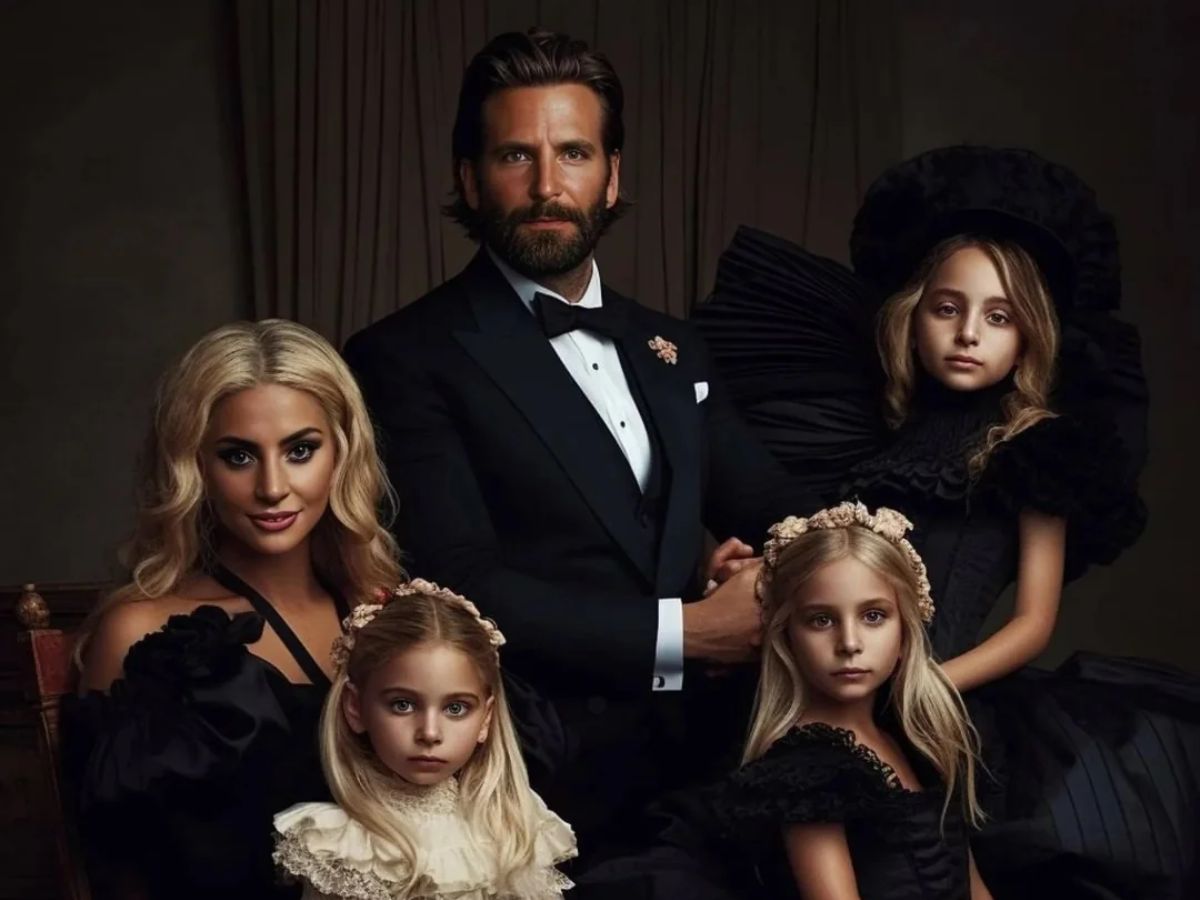 We think their little monsters would have been the best mix of them both.
12. Mila Kunis and Macaulay Culkin
Before Mila Kunis and Ashton Kutcher, or after depending on how you see the chicken and the egg debate, there was Mila Kunis and Macaulay Culkin. They dated for an impressive eight years.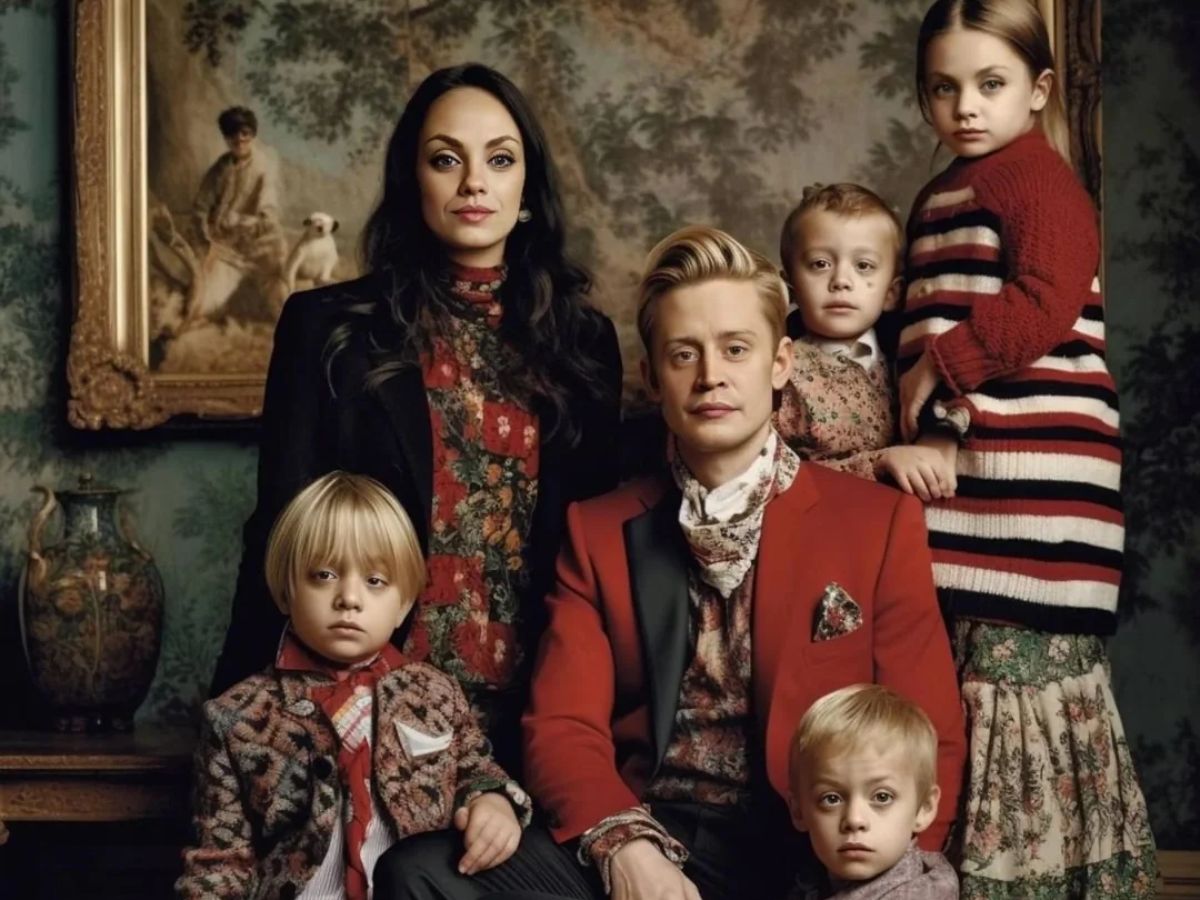 They were both talented childhood stars, rising in their own right. Their potential kids may have been the same. I guess we will never know for sure.
13. Tom Felton and Emma Watson
Tom Felton and Emma Watson are most known for their time in the Harry Potter franchise, these films shot them to superstardom. Although their romance never went beyond friendship, this is definitely a pair that we want to ship together.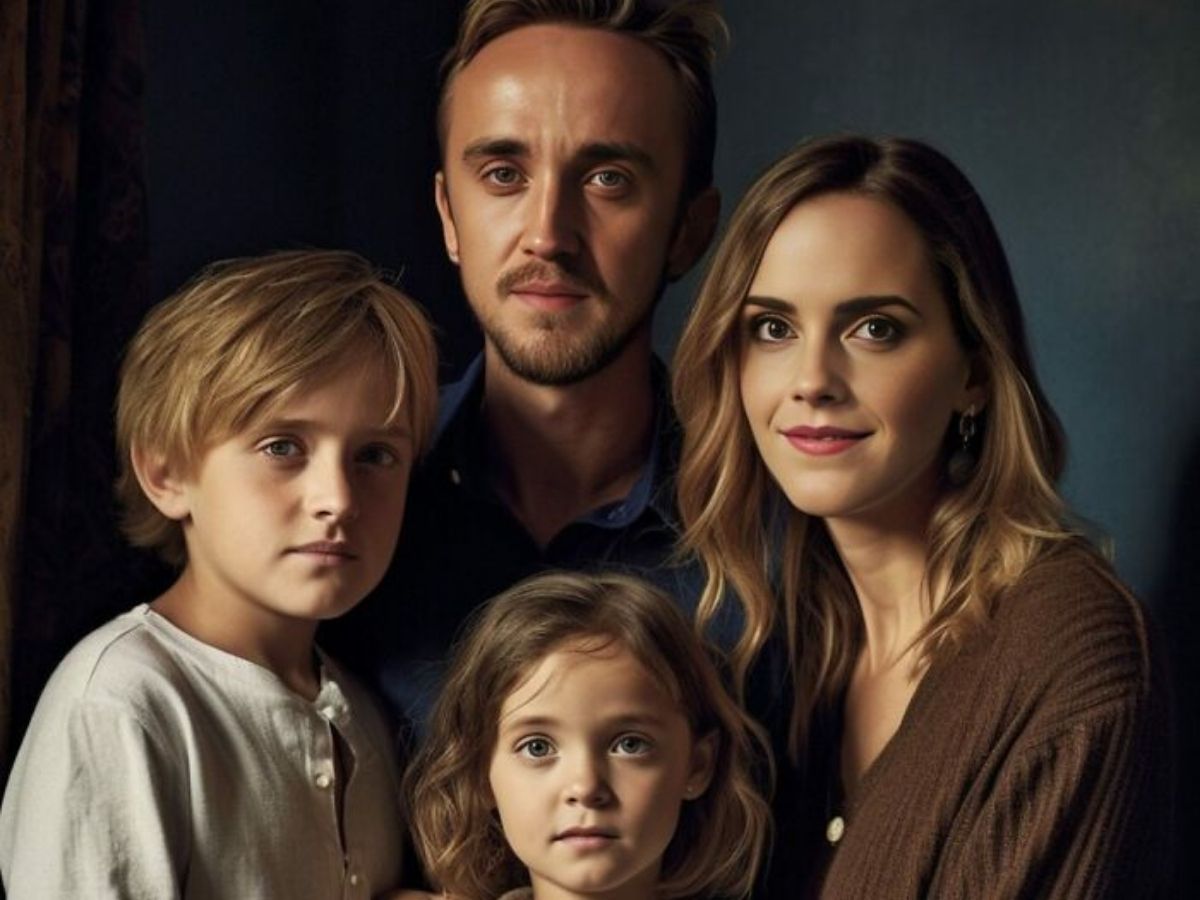 As told by Emma, she had the biggest crush on her co-star when they were kids. We are rooting for this pair, maybe they'll give each other a chance one day. We think the prediction of what their kids would look like is yet another reason to get this pair together.
14. Paul Rudd and Lisa Kudrow
Paul Rudd and Lisa Kudrow played the most loveable couple on screen in their cult classic hit television show 'Friends' and although they never got together in real life we can only imagine how good their banner would be in real life if it is anything close to how good it was on screen.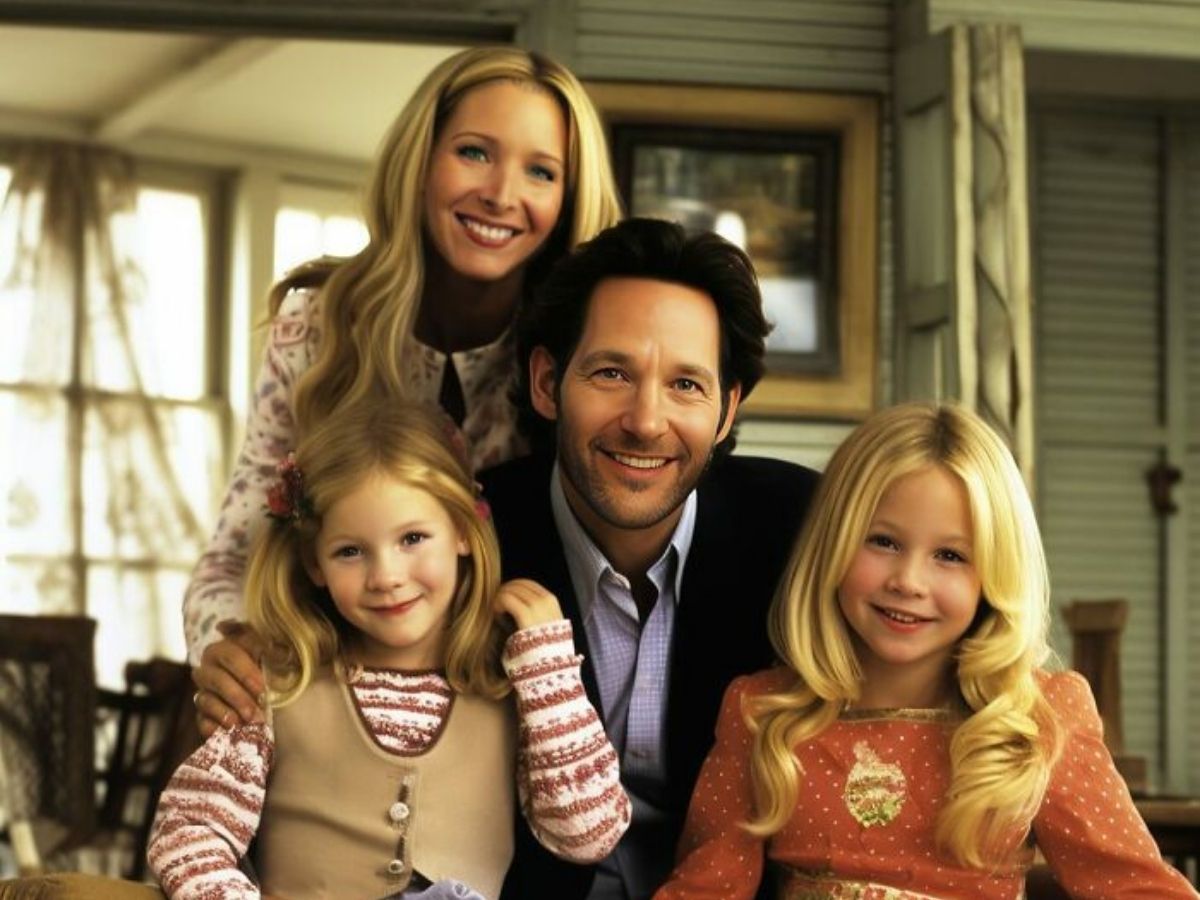 We think it is safe to say that their would-have-been kids would have Lisa's blonde locks and Rudd's anti-aging superpower. Seriously, we are dying to know his secrets and his skin routine.
15. Taylor Swift and Harry Styles
Despite a seemingly firey breakup giving us some classic and raw filled emotional songs from both Swift and Style, we think this pairing has some incredible style together. We believe that they have cleared up all the bad blood and remain friendly. As "friendly" as exes can be.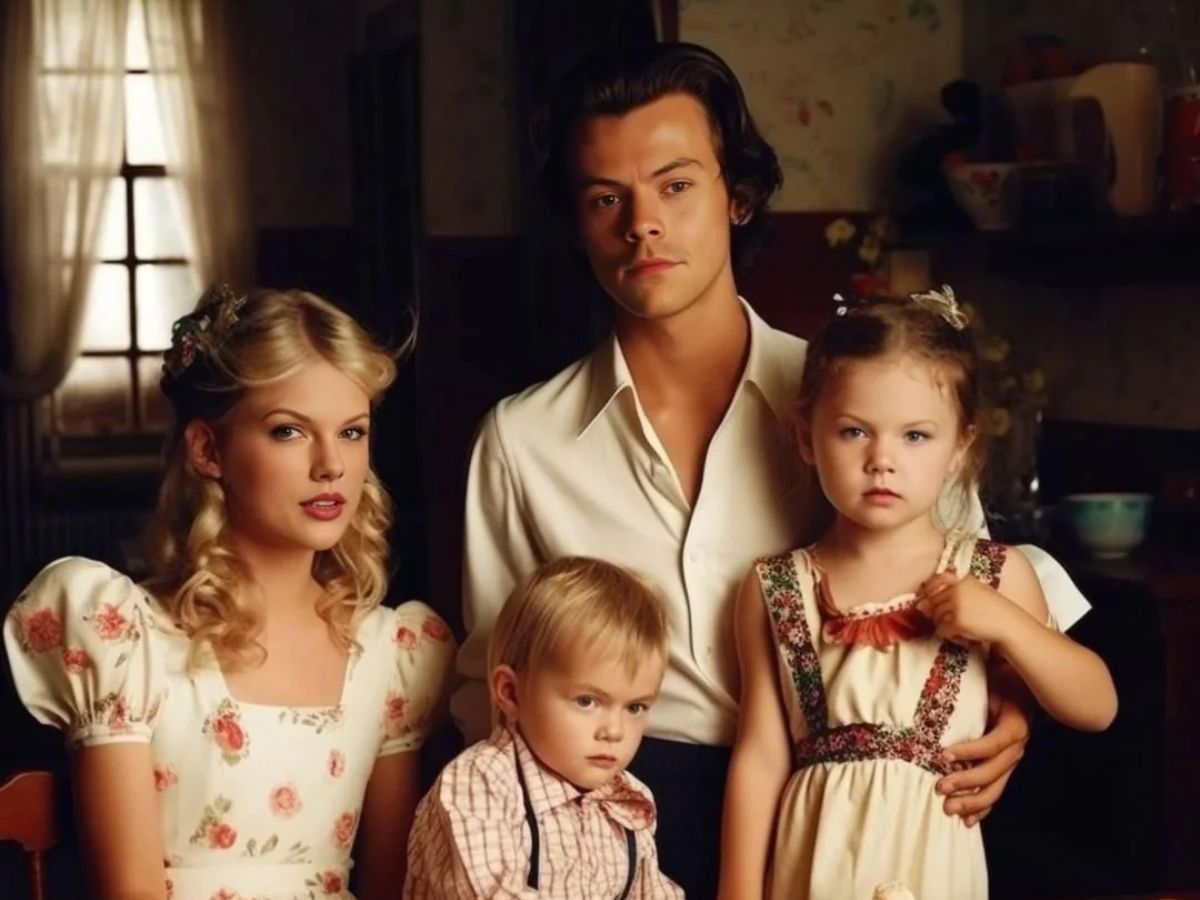 We are getting emotional thinking about want could have been if these music geniuses stayed together. Do you think their kids would have a perfect pitch? Either way we think these kids would be incredibly musically inclined.
16. Justin Beiber and Selena Gomez
The never-ending Justin Beiber and Selena Gomez ship that somehow everyone still keeps talking about despite Gomez moving on with several high-profile relationships and Beiber marrying Hailey Baldwin.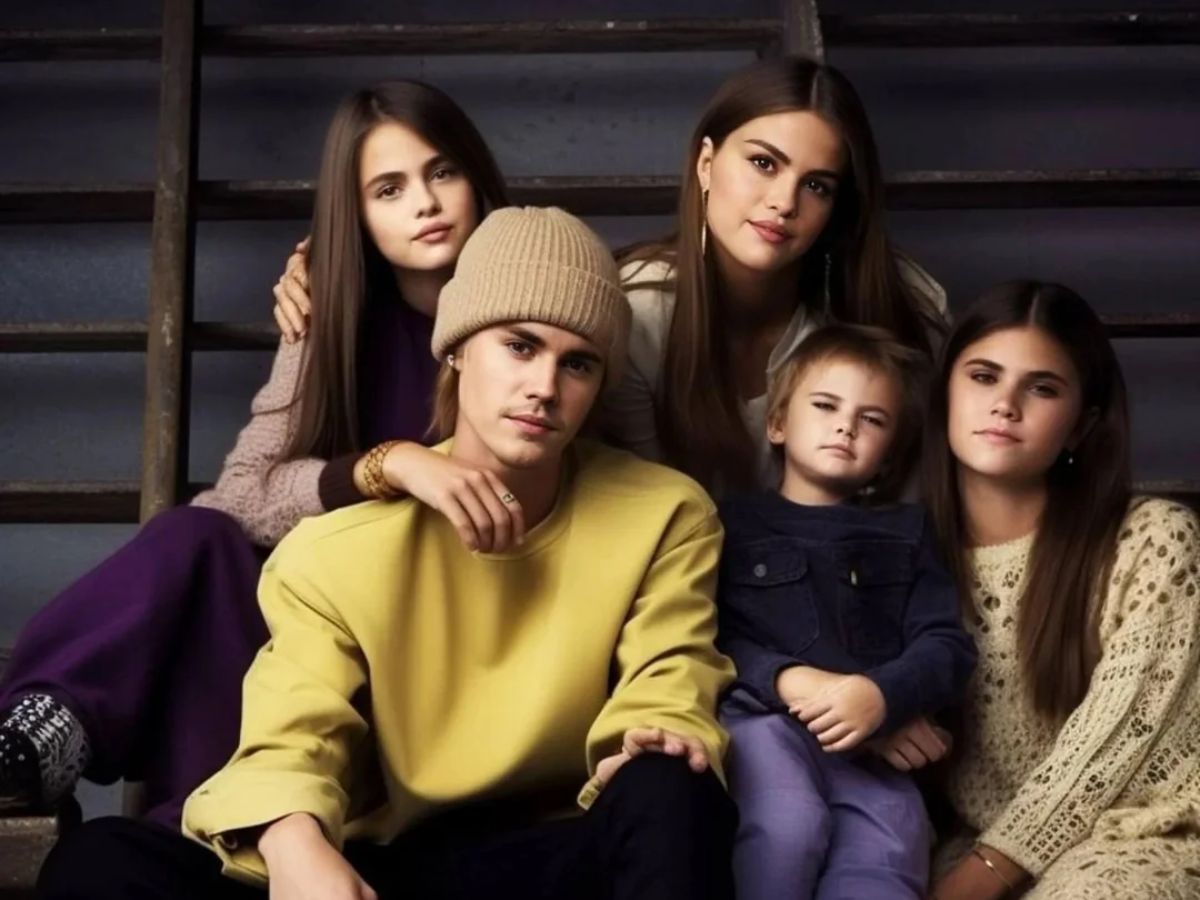 Selena and Justin dated on and off for a number of years before calling it quits for good, which is the case for most young loves. We think there may be a good reason why sometimes things don't work out with your first real love, but their kids would have been cute ones.
17. Jennifer Aniston and David Schwimmer
Were they on a break? These stars played love interests in perhaps one of the most talked-about storylines in television. Although they never actually dated in real life, these two both have stated that they had serious crushes on each other off-screen.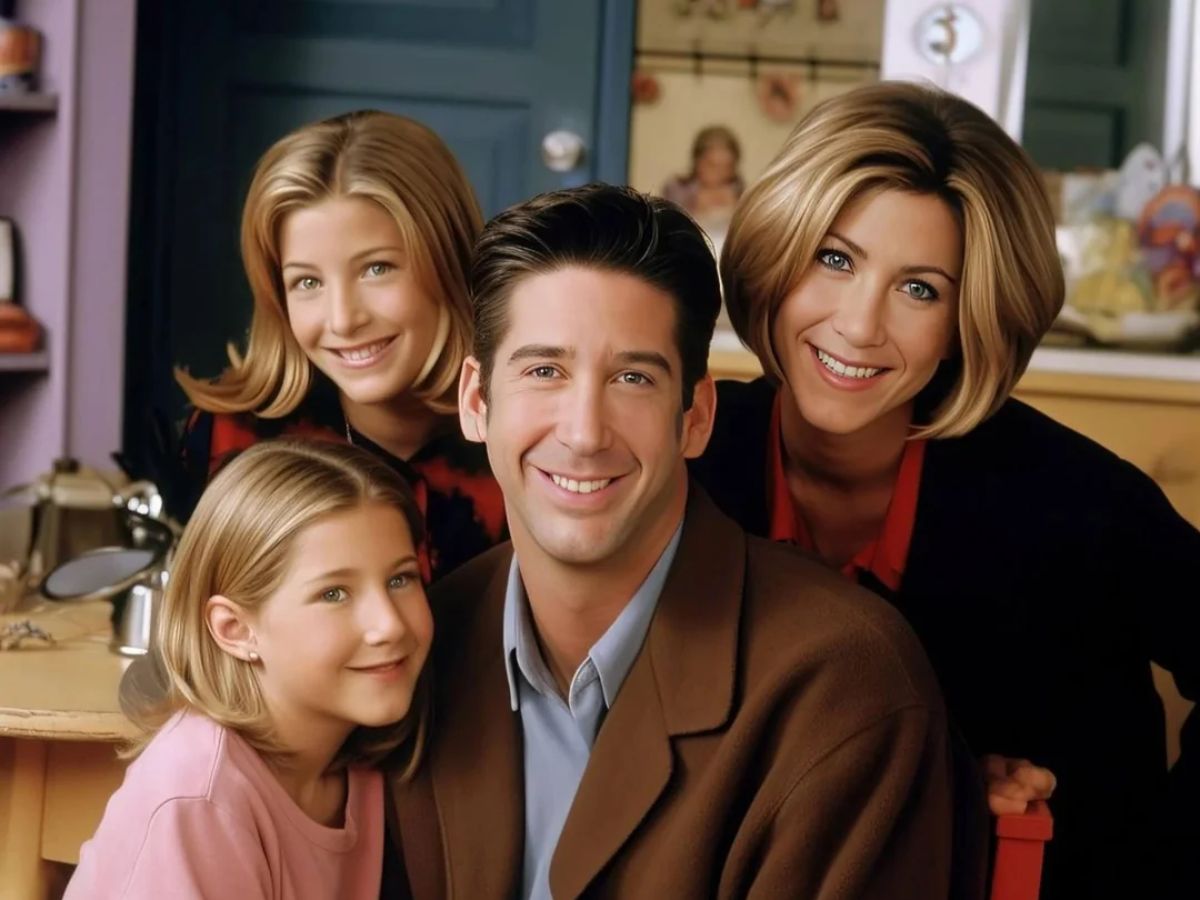 Could it have been a missed opportunity that these two didn't end up together in real life like their characters? We think the answer is yes, indeed, just look at how cute these mini-me children could have been of their famous parents.
18. Chris Evans and Scarlett Johansson
Chris Evans and Scarlett Johansson reportedly have never dated but they have amazing rapport and chemistry you'd be almost shocked to know they have never stepped into that area of their relationship. They get along so well, almost too well that there are constant speculations about their affairs.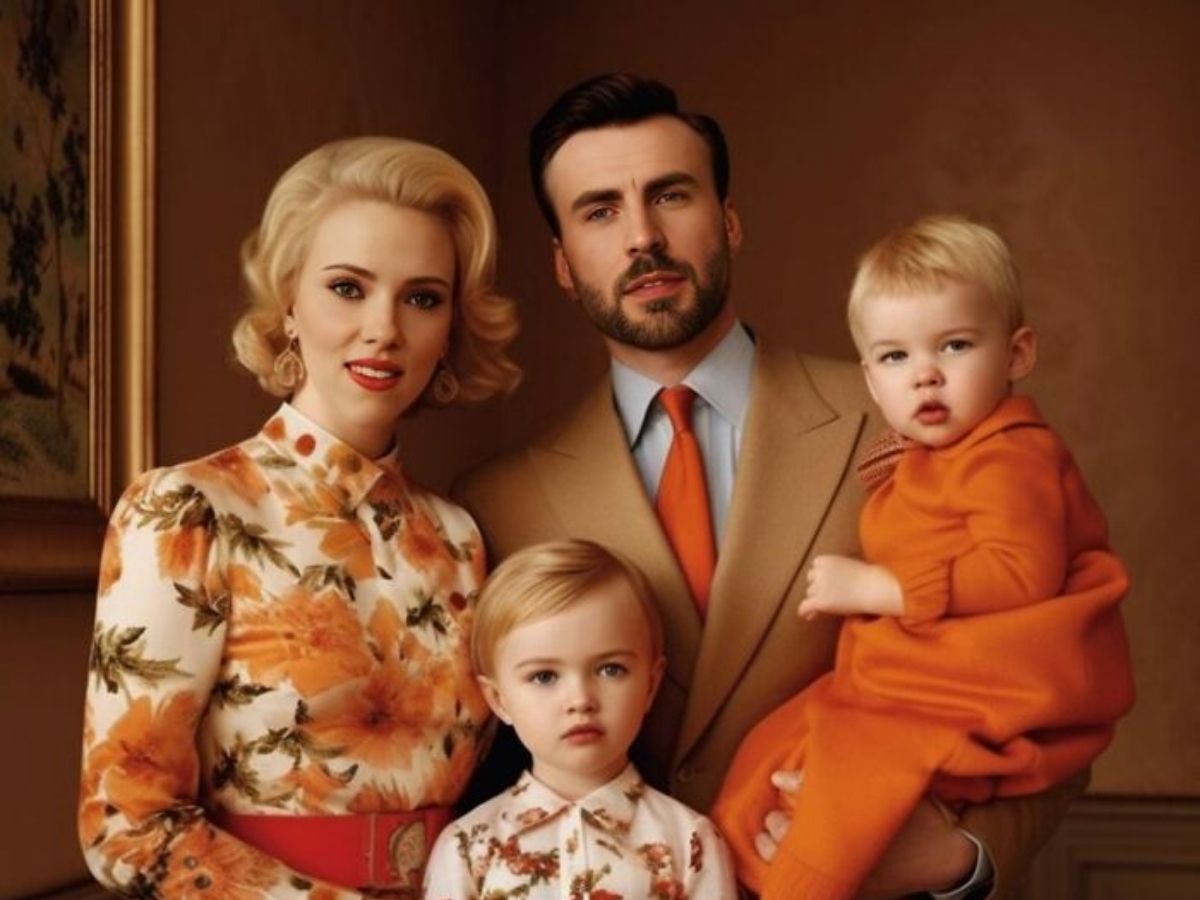 These two have continued to deny these romance rumors and have maintained their age-old friendship. What do you think their kids would have looked like? This may give you an idea.
19. Matt Leblanc and Maggie Wheeler
Although these two never hooked up in real life, Maggie has been known to say that she was disappointed when it came to their lack of storyline in the popular TV show, 'Friends'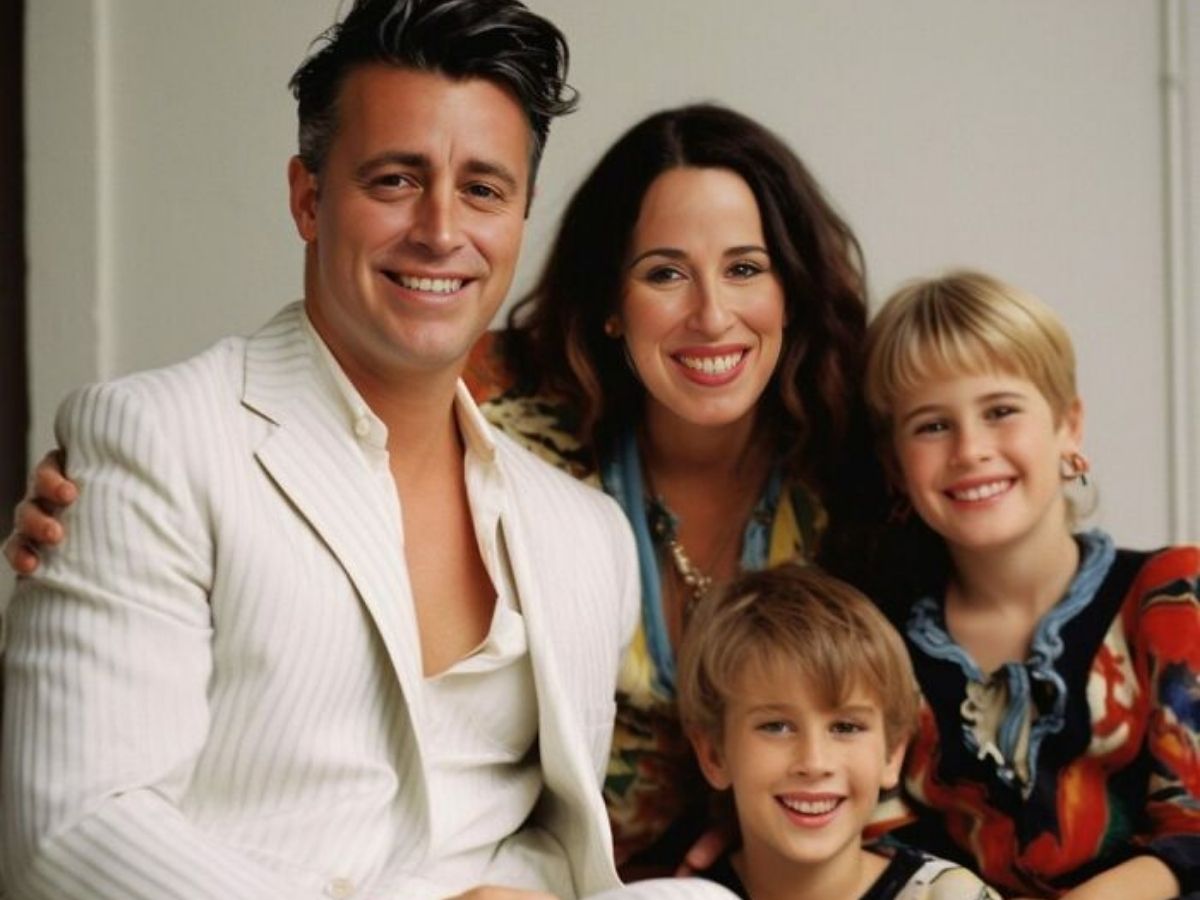 She thought Joey and Janice should have hooked up at least at some point, regardless of whether it ended up lasting or not. Their kids would have given you a run for your money, that's for sure. We like to imagine they are all eating some meatball subs together in an alternate cinematic universe.
20. Matthew Perry and Courteney Cox
Matthew Perry and Courteney Cox have a very famous onscreen romance as 'Friends' characters Monica and Chandler, you almost wish these stars got together in real life too.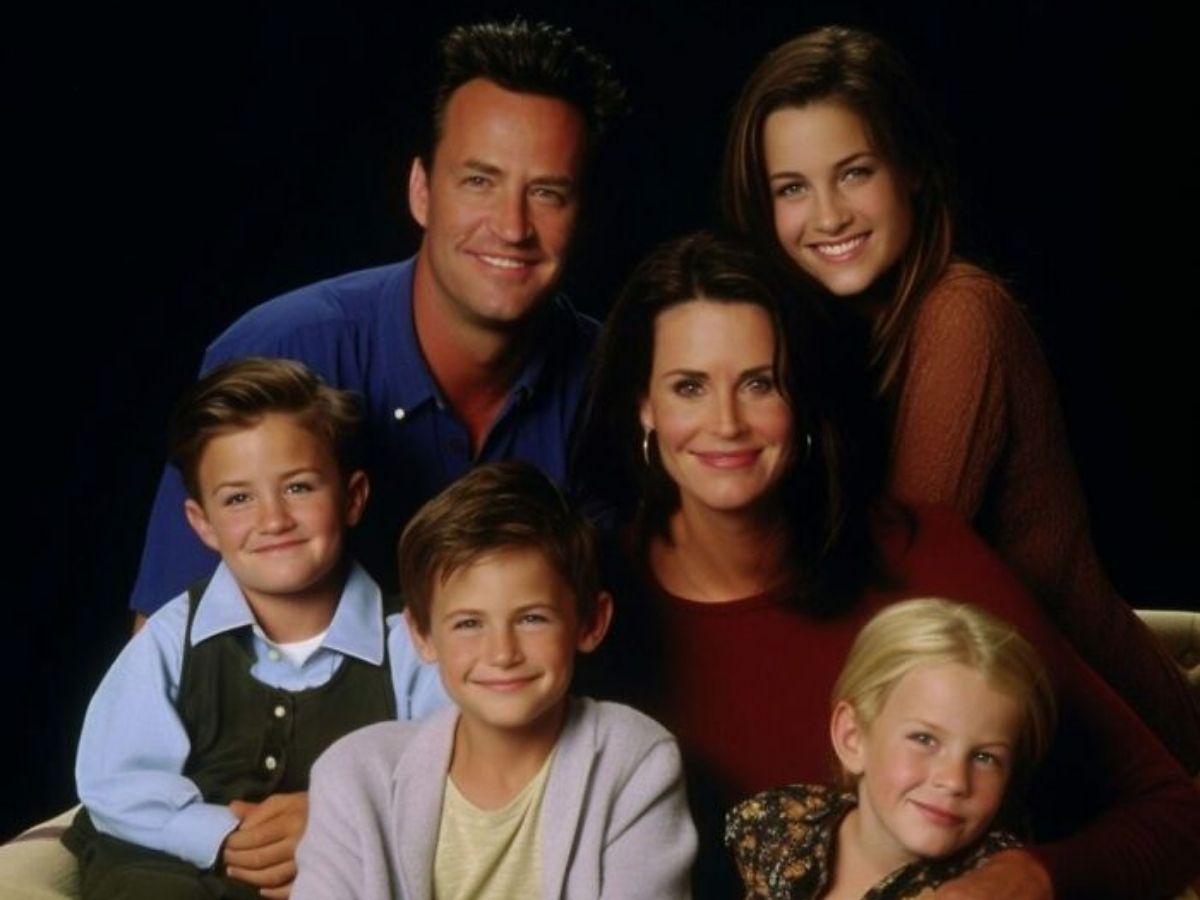 Although Perry has said before that he went back and forth between crushes on several of his 'Friends' co-stars that is exactly where they stayed, as friends. These could have been kids though look super spot on, it's uncanny.
21. Tom Hanks and Robin Wright
Tom Hanks and Robin Wright played love interests in the classic film Forest Gump and although they didn't date in real life, how cute would these pair have made alongside such a brood of children? I guess this is what we imagine Forest and Jenny's kids would look like in a sequel.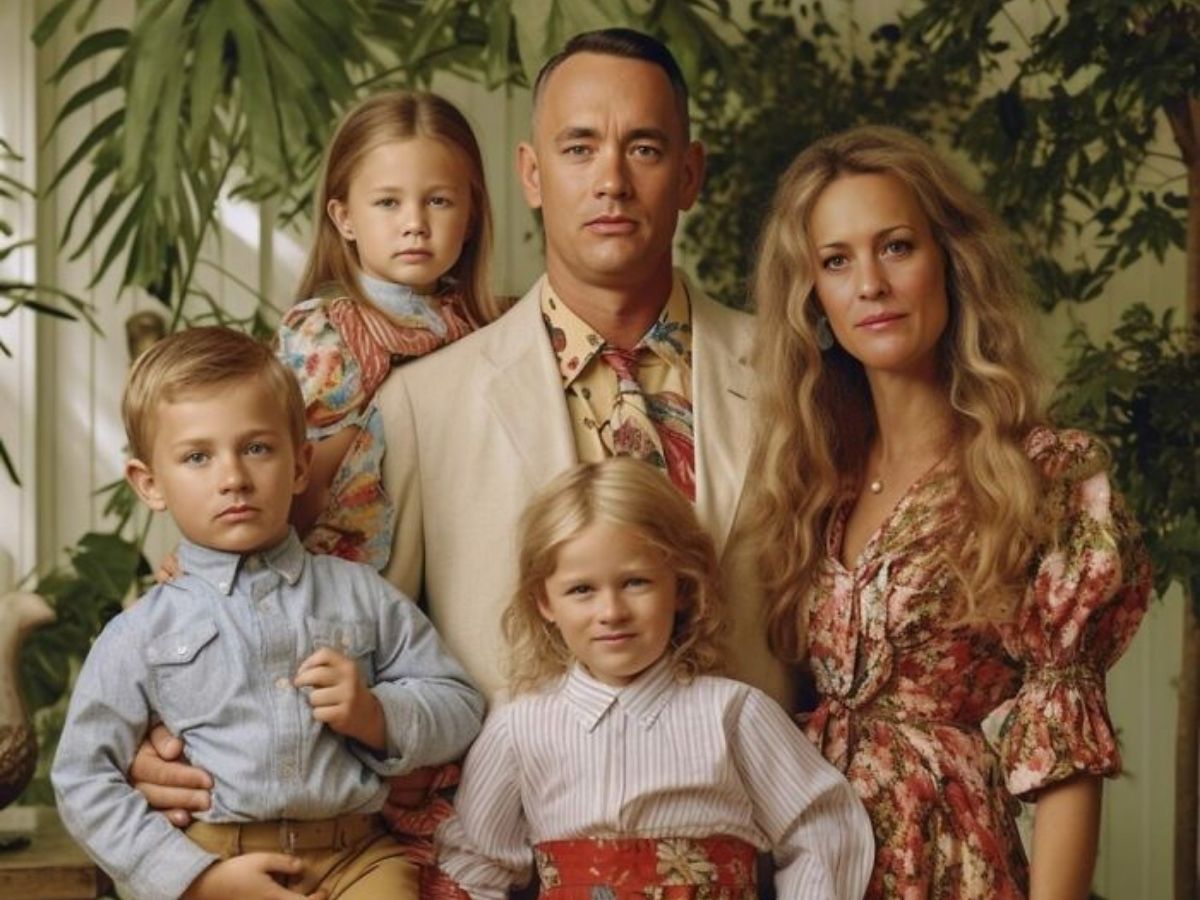 You know what they say, "Life's a box of chocolates, you never know what you're going to get." We hope we get another part to their on-screen romance at least.
22. Kristen and Robert Pattinson
Kristen and Robert Pattinson started out as co-stars, a tale as old as time. They played love interests in the popular film franchise, Twilight, based on the books, and then fell in love in the process.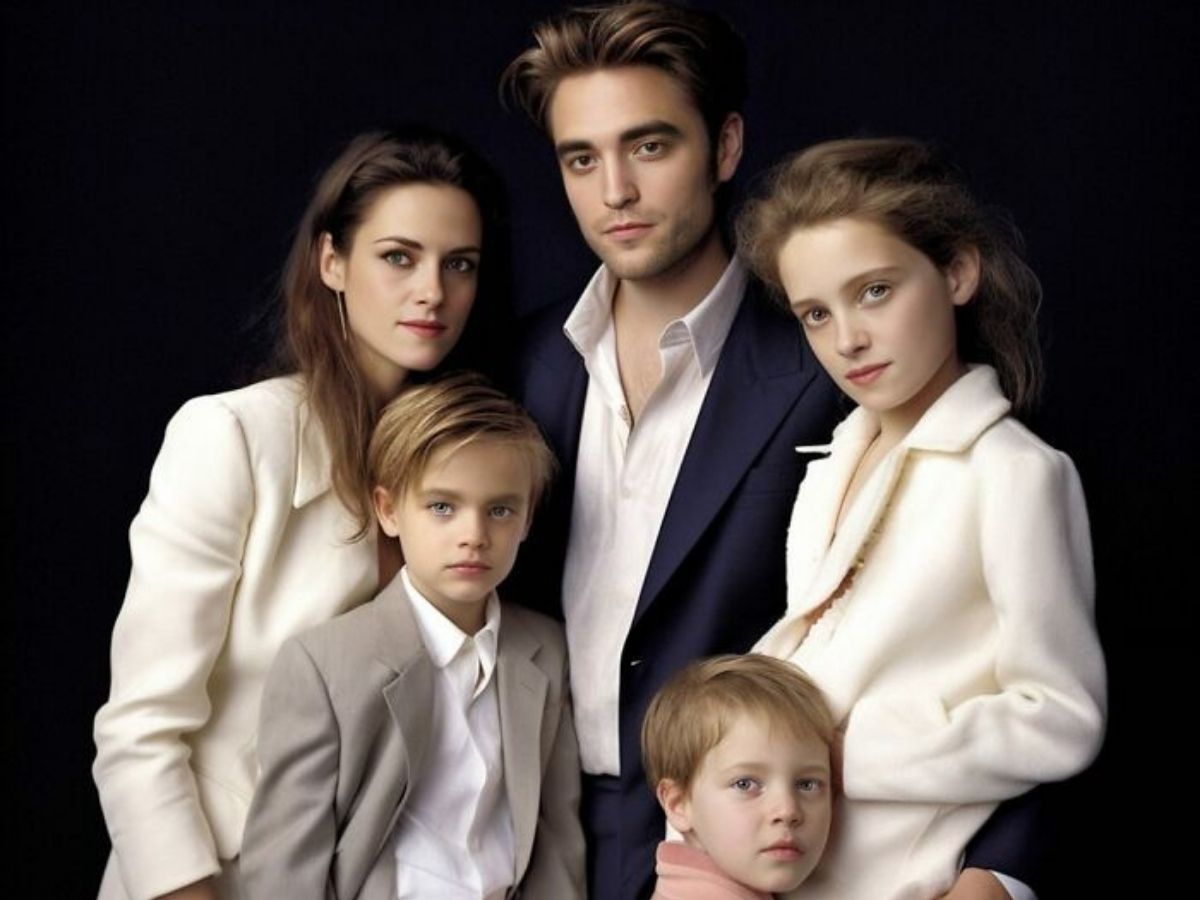 These lovebirds parted ways in 2013 after being together for four years. Allegedly Kristin was unfaithful in their relationship which caused it to come to a halt. I guess we will never know for certain what might have been nor what their kids would have been but if it's anything like this depiction they do no disappoint.
23. Pharrell Williams and Rihanna
Pharrell Williams and Rihanna sparked romance rumors of dating around 2009 after he was spotted leaving her place on several occasions. They both have since moved on. Rhinanna recently welcomed a second child with ASAP Rocky.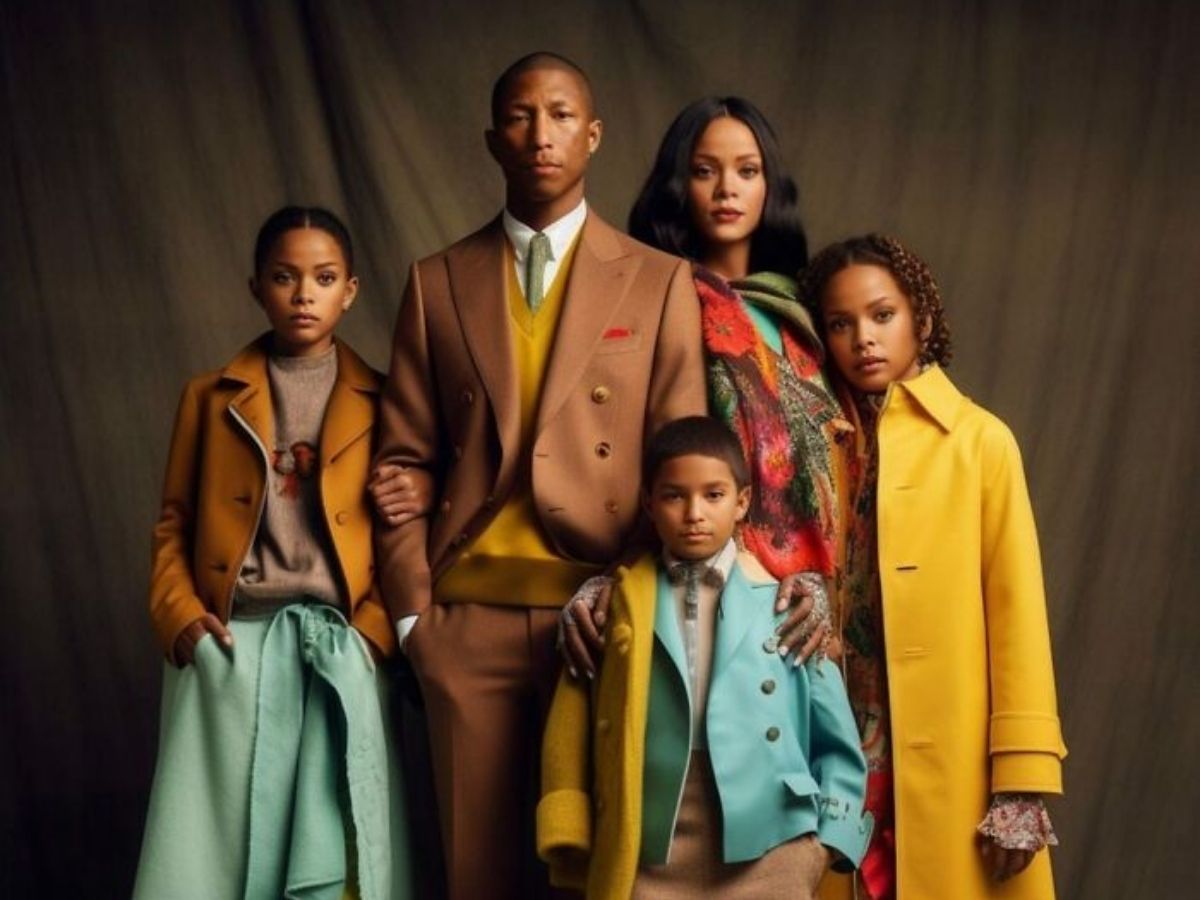 Even though this romance was seemingly shortlived, we know it had potential, just look at Exhibit A, the level of beauty and cuteness in what could have been their holiday family photo.
24. Zac Efron and Vanessa Hudgens
Zac Efron and Vanessa Hudgens are everything we love about a Hollywood romance, minus the happily ever after. They fell in love on the set of their Disney original movie, High School Musical, and dated for five years from 2005 to 2010 before ending their relationship.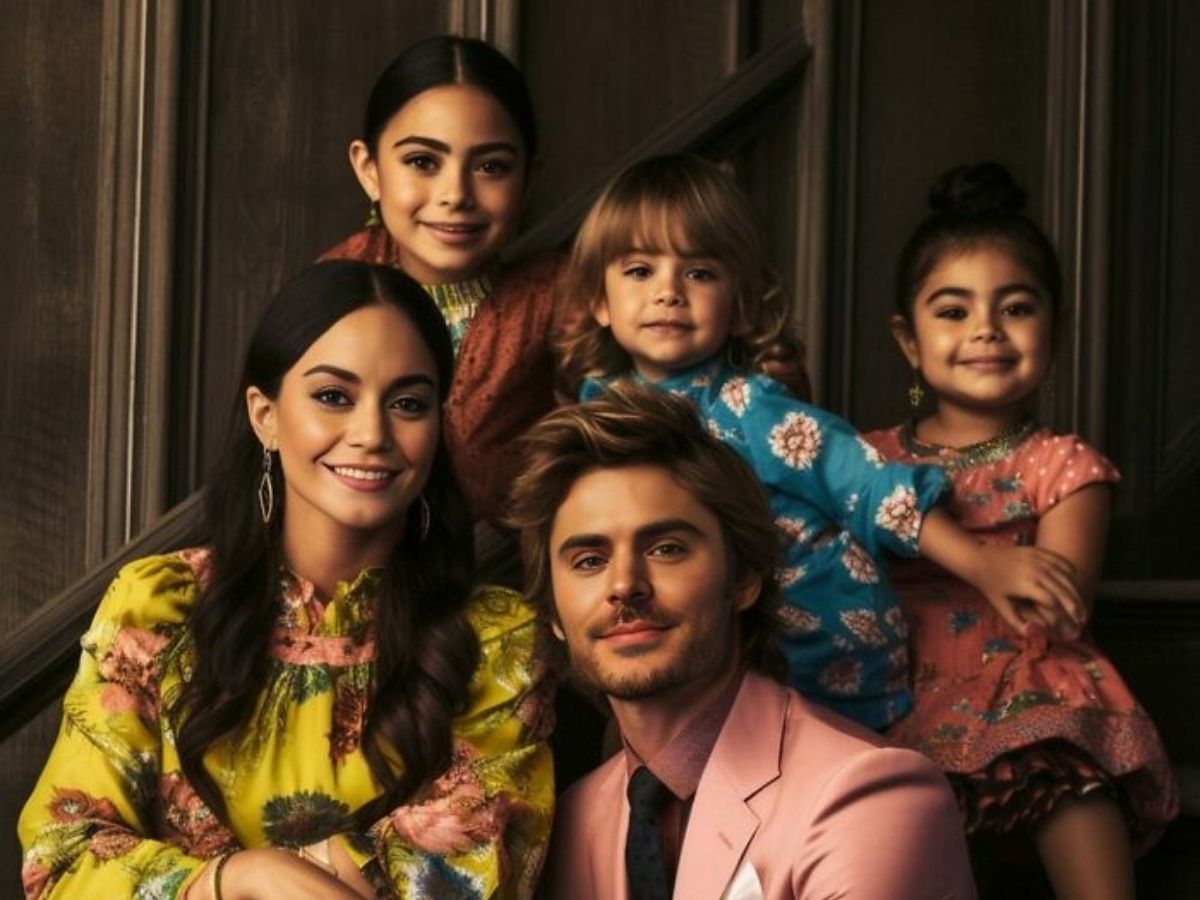 Both of them have gone on to have numerous relationships in the spotlight since then but we are suckers for some nostalgia, especially if it reminds us of our childhood.
25. Andrew Garfield and Emma Stone
Andrew Garfield and Emma Stone although not together anymore, still have lots of respect and love for each other. I guess exes can be amicable and cordial with each other. Even though their romance wasn't working for the long-term we simply love this quirky pair.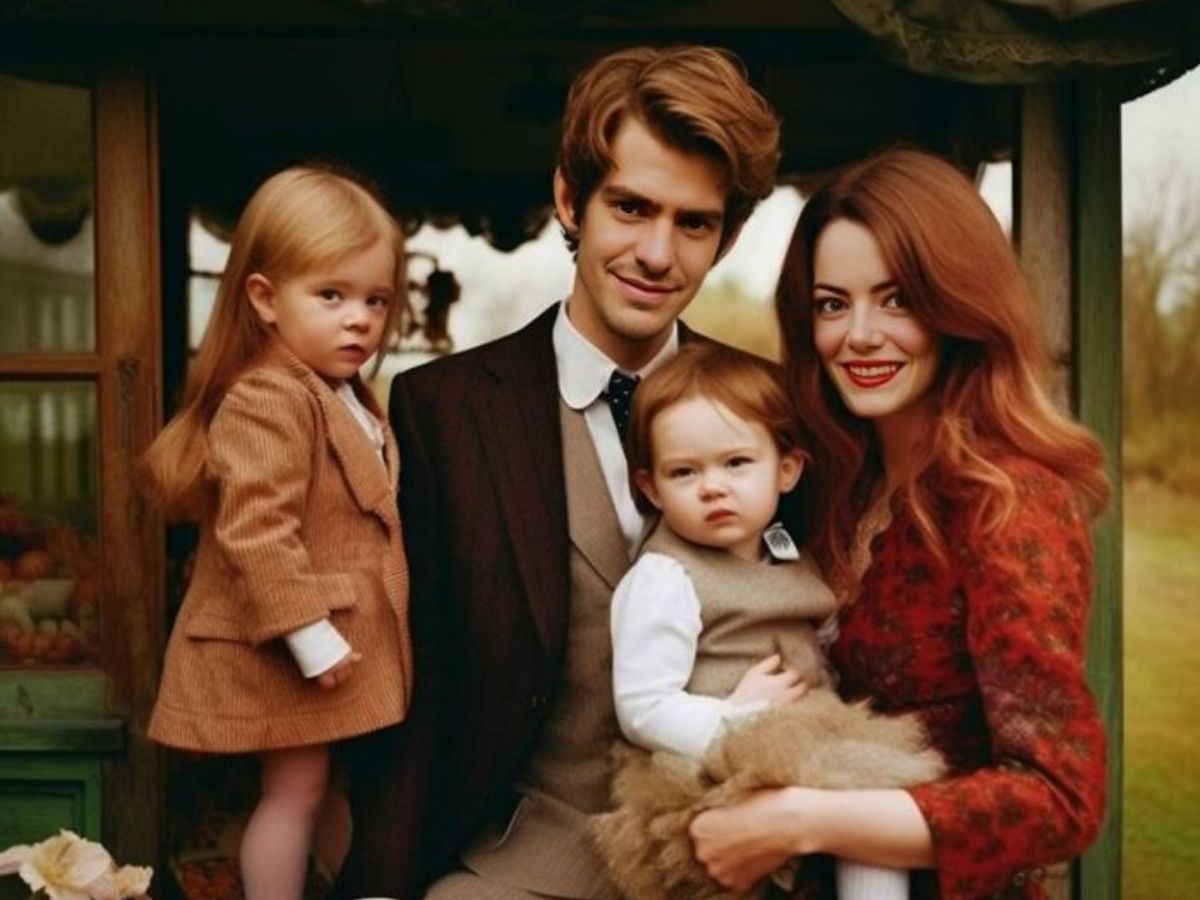 Like with a lot of Hollywood couples sometimes distance and conflicting schedules take a toll on relationships instead of making the heart grow fonder. We like to remember them as they were and the family that could have been.
26. Nicki Minaj and Drake
This particular pairing we aren't exactly sure about. It is unclear if Nicki Minaj and Drake got together per se but they without a doubt collaborated on some highly successful music together. If their relationship was anything like their music we can confirm that it hit all the right notes.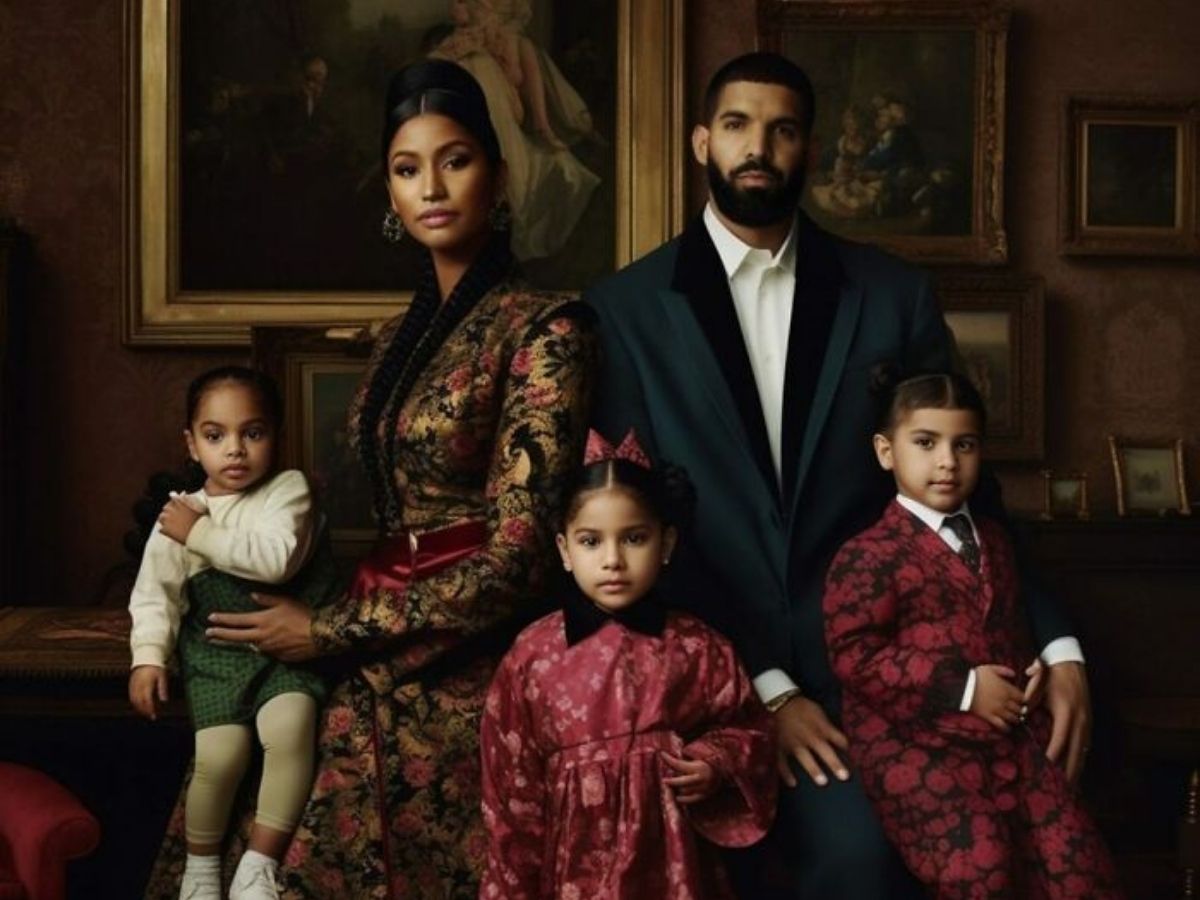 Both have since moved on romantically and remained good friends. We love both of them and we are sure that if they stayed together we would have loved them just the same.
27. Joe Jonas and Gigi Hadid
Joe and Gigi dated in 2015 but it lasted less than a year, by November of that year they already called it quits. Despite being a not-so-serious relationship, we think their families would have gotten on great.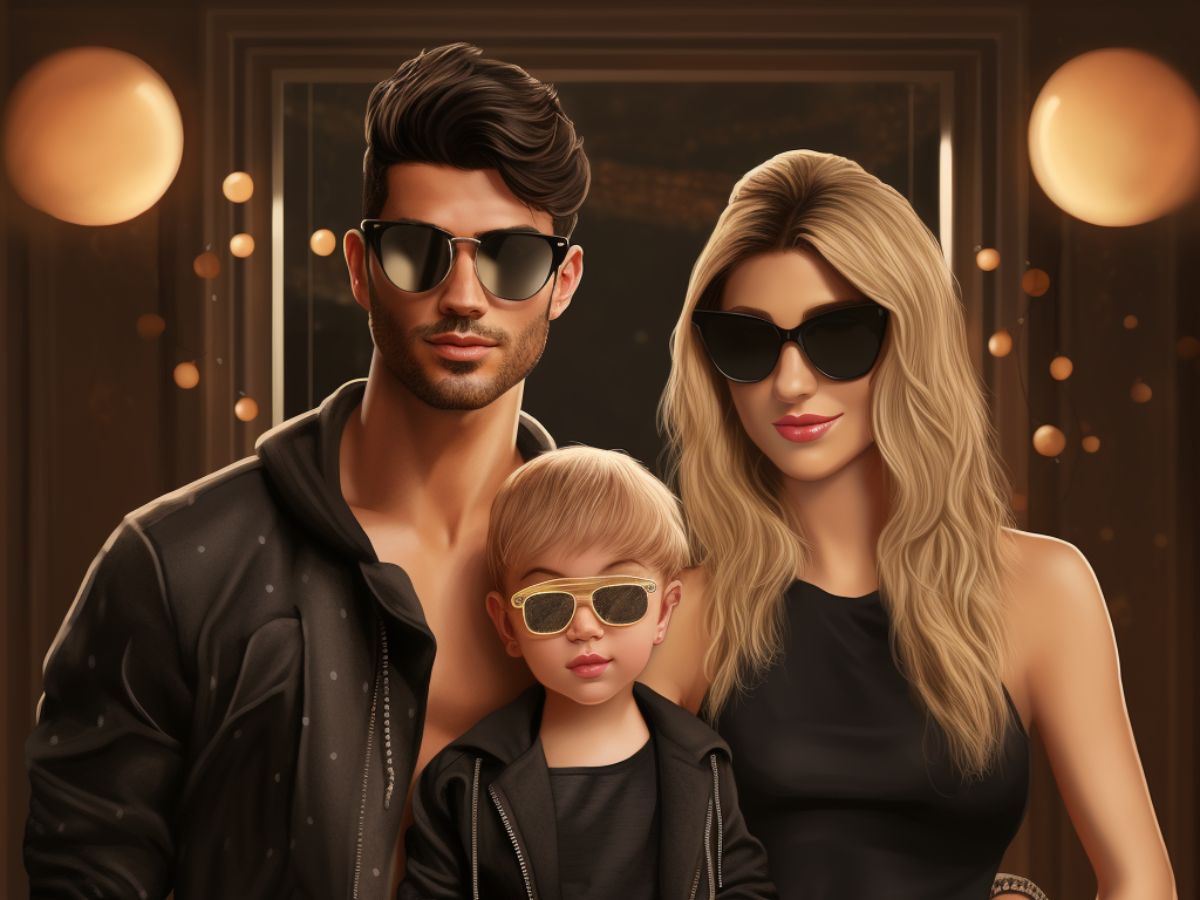 They both seem to be single now but we think this relationship will stay in the past. Both went on to be parents on their own with different partners although their relationships didn't ultimately work out.
28. Ellen Pompeo and Patrick Dempsey
Ellen Pompeo and Patrick Dempsey never dated in real life but their Grey's Anatomy characters sure did. We imagine their character's kids would look something like this at least, if they ever did.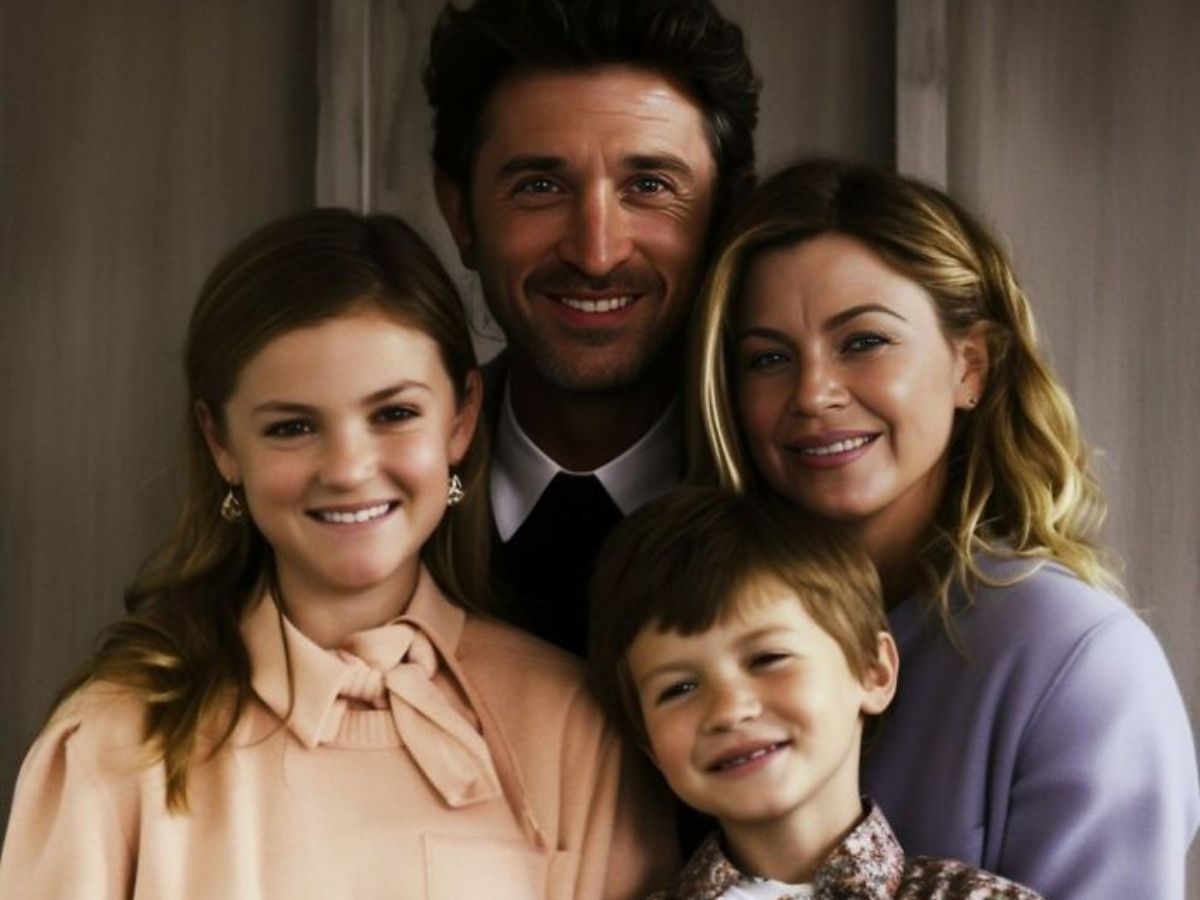 Dempsey was happily married by the time he first starred alongside Ellen in the now critically acclaimed TV show 2005.
29. Kristen Stewart like Taylor Lautner
Kristen Stewart like Taylor Lautner developed a particularly close bond while filming the Twilight franchise although she was romantically linked to Robert Pattinson at the time.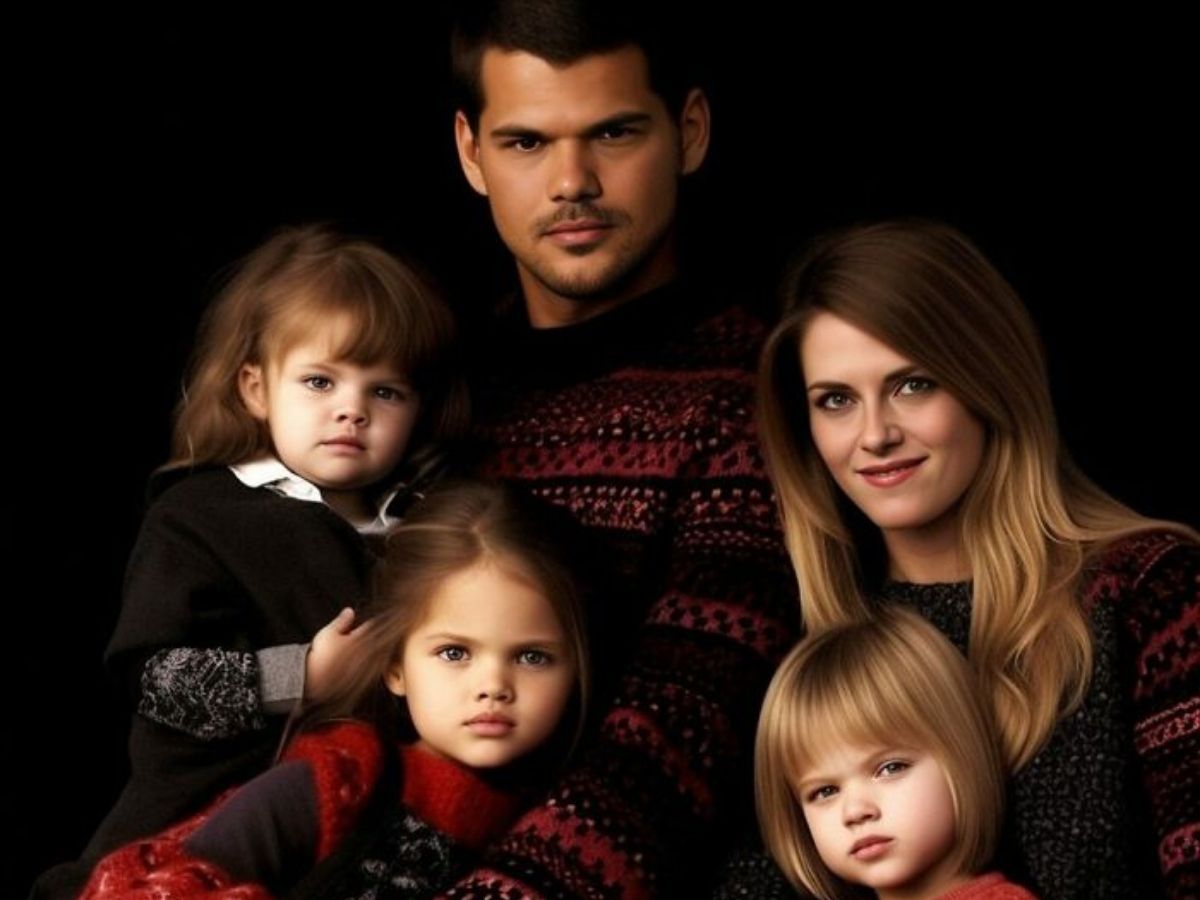 There was some speculation that she had fallen for Taylor as well but the timeline is a bit unclear. We prefer to stay out of this past drama. Their kids looks would have been iconic though.
30. Pete Davidson and Ariana Grande
Pete Davidson and Ariana Grande almost made it to the alter, getting engaged after a mere 5 months,  but a few days shy they called it quits, more so Ariana than Pete. Pete seemed devastated always feeling that their relationship was too good to be true.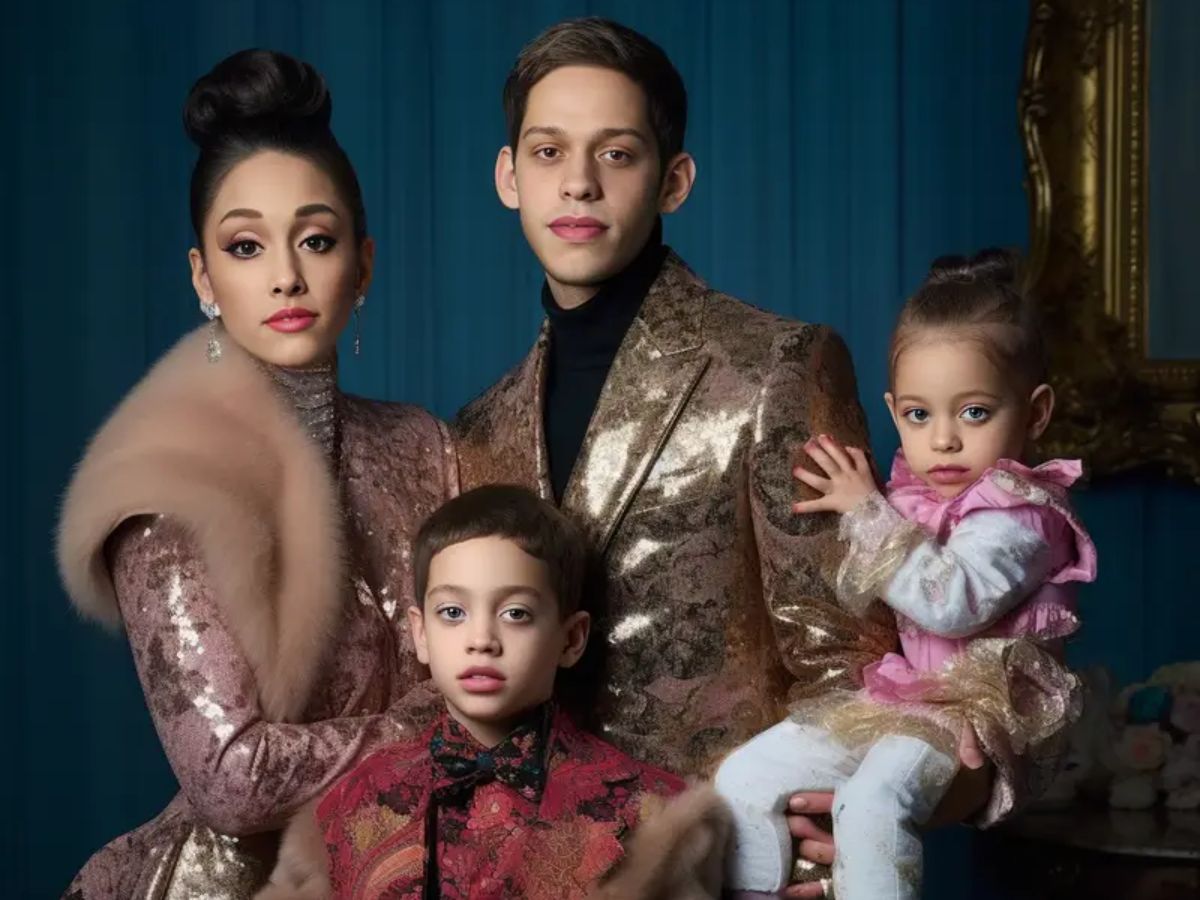 We can't help but think what would have happened if they had made it through and gotten married, Do you think they'd have kids by now? Davidson went on to have numerous high-profile relationships with the women of the industry and Grande even got married to someone else. In both instances, things didn't work out.
31. John F. Kennedy and Marilyn Monroe
According to historians JFK allegedly met Monroe four times over the span of October 1961 and August 1962. There is a lot of controversy and mystery surrounding this high-profile affair.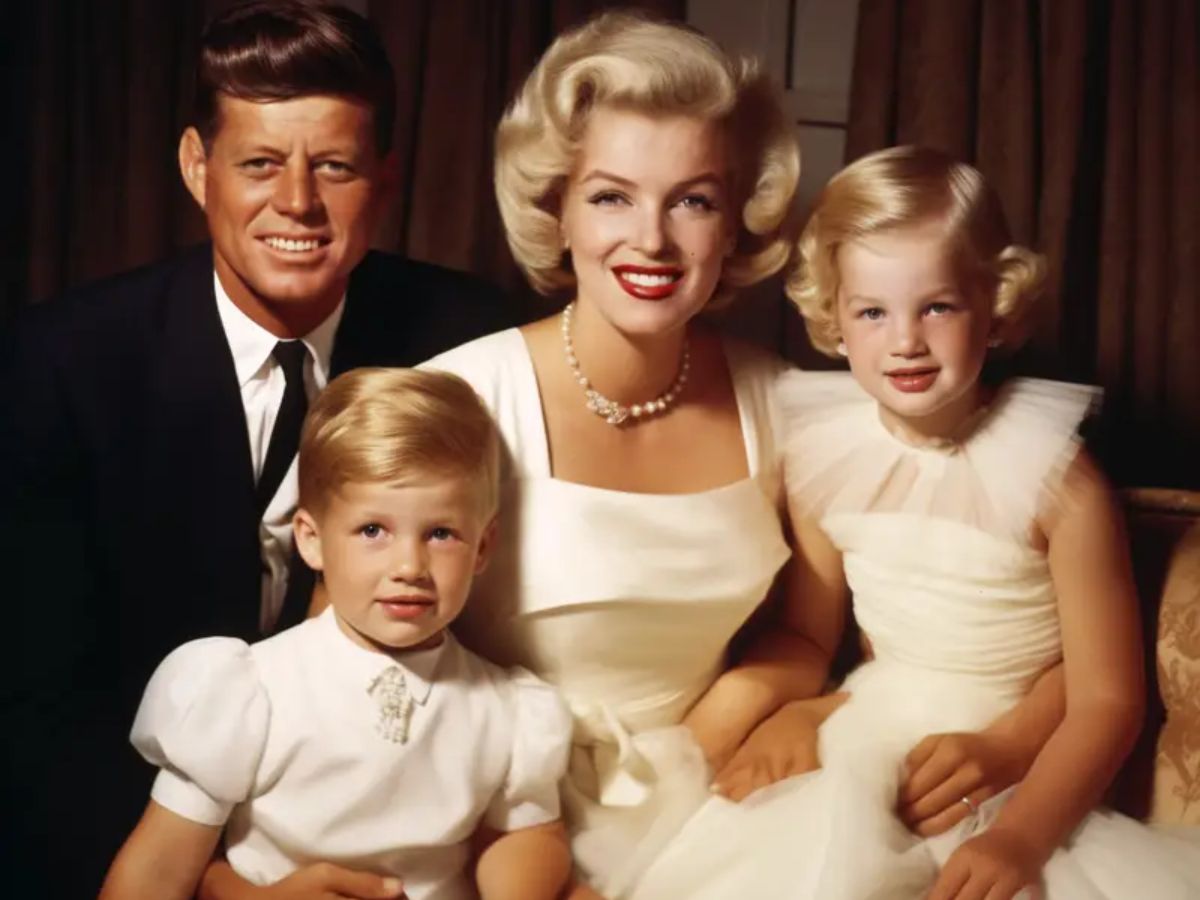 How could there not be? If you put one of the most beloved Presidents of the United States alongside the woman who is considered one of the most iconic symbols of our time together, drama is sure to ensue. It's safe to say if they had kids, they sure would be a handsome bunch though.