Fashion Through Music: How Fashion at Music Festivals Has Changed Since Woodstock
Beginning in 1969 with the legendary Woodstock festival, it was all about the music and not so much a glaring emphasis on the fashion choices. Of course, as the decades progressed, styles changed, and the mindset around fashion evolved.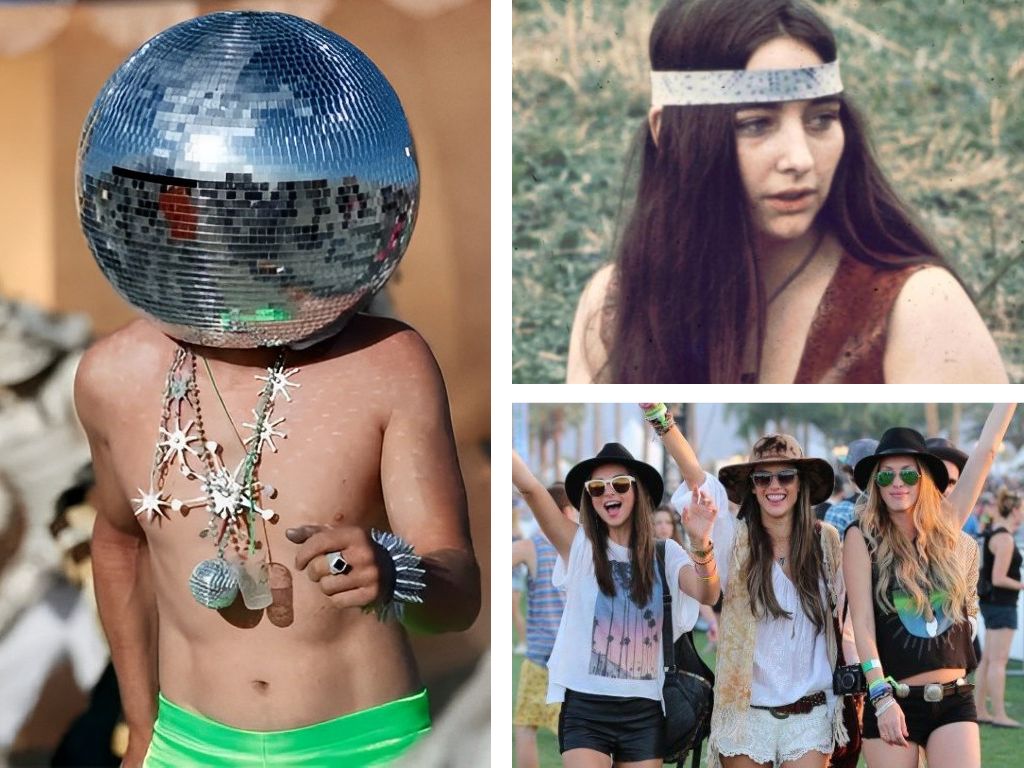 Burning Man was born out of Woodstock's ashes, with fashion styles reminiscent of the hippie era. Today, the high-fashion, influencer, and celebrity-driven music festival Coachella turned into more of a fashion show than an appreciation of the music itself. So, let's dive into how fashion at festivals has changed over time. 
The Birth Of The Hippie Trend
During the flower power movement of the 1960s and 1970s is when psychedelic fashion styles originated. Young people passionately protested the Vietnam War and advocated for civil rights, all while discovering the wild and liberating nature of the rock'n'roll way of life.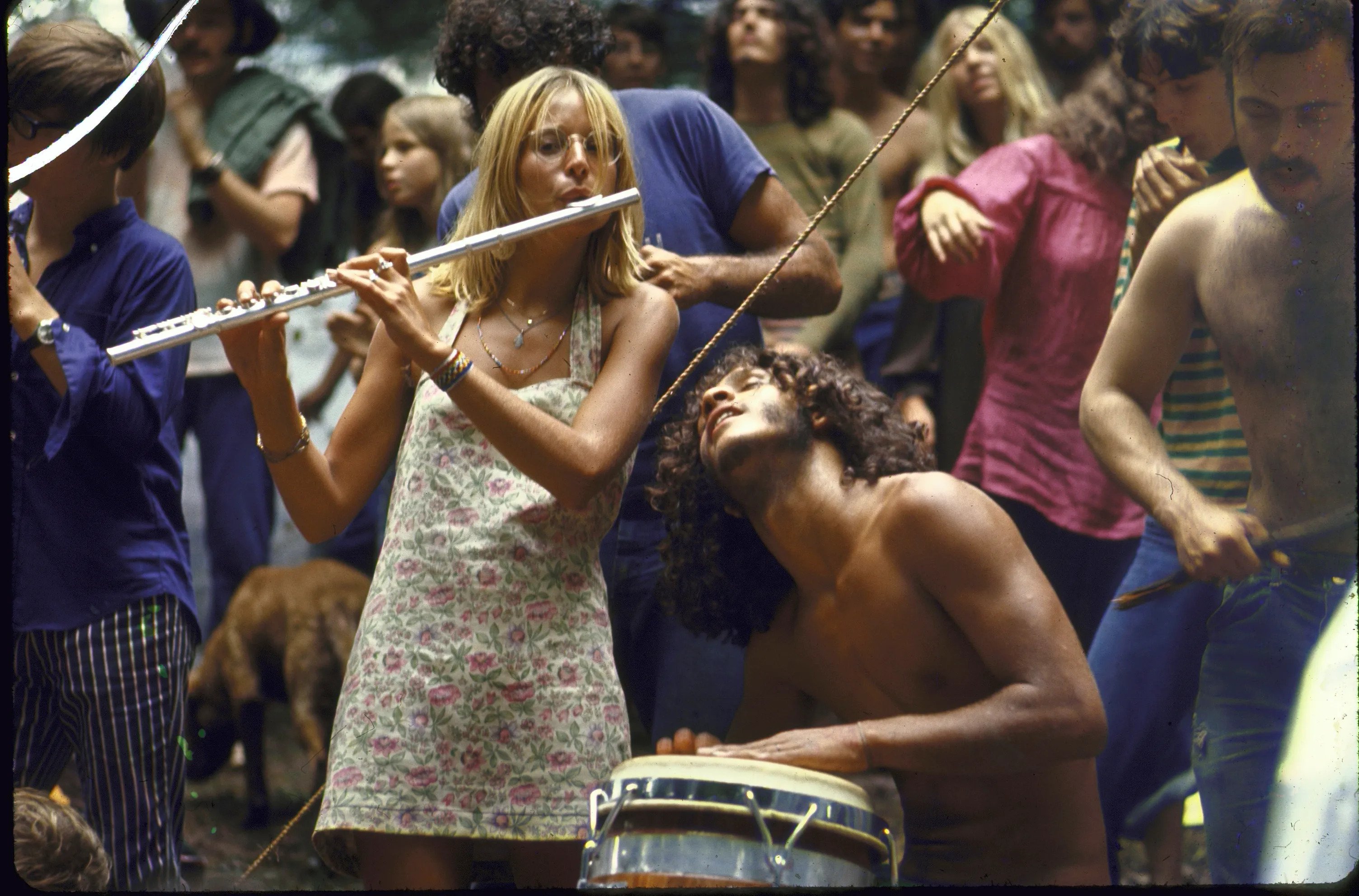 Thus, fresh styles were born, challenging the previous way of doing things and dressing. The "hippie" or bohemian movement blossomed due to the attitude of rebelling against the mainstream. The youth began donning free-spirited, liberating clothing that symbolized peace, love, and the flower power state of mind. 
Notable Elements Of The Flower Power Style
Youth culture began embracing the flower power clothing style in 1967, signifying a change in the music of the time. Important style elements such as fringe jackets, denim jumpsuits, flowers in hair, leather vests, and long, flowy dresses were essential to this new wave of fashion.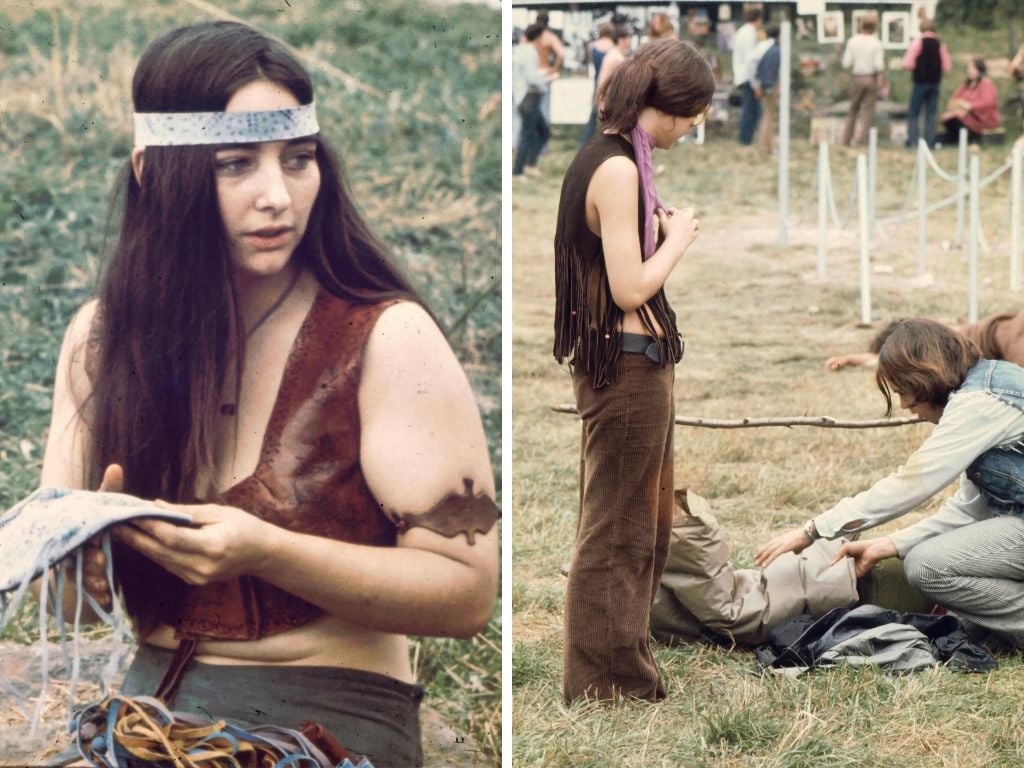 Other popular style trends included moccasins, bell-bottomed jeans, work shirts, headbands, tie-dyed shirts, medallion necklaces, ponchos, polka-dotted fabric, and love beads. And, women often ditched their shoes and went barefoot. 
The Woodstock Style Was Influenced By Multiculturism
Inspiration for the signature Woodstock look came from all over the world, specifically countries like India, Nepal, Bali, Morocco, and Africa. There was a distinct separation of the styles because of this inspiration, so there was no true uniform that everybody abided by.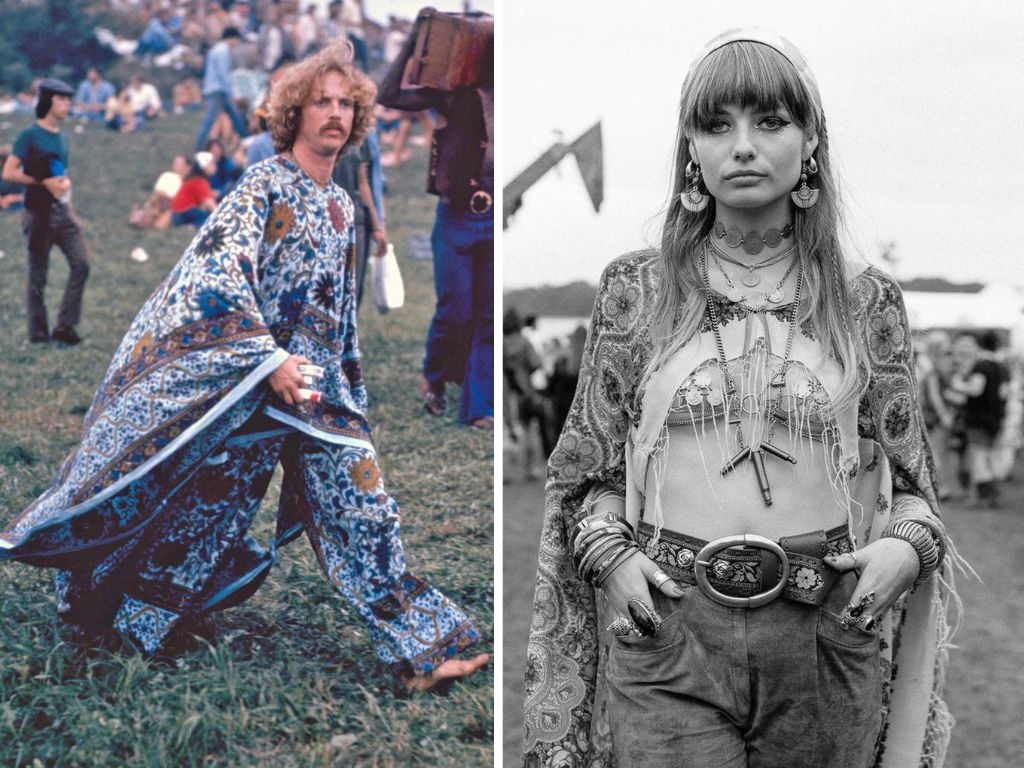 Outfits were borrowed from other outfit ideas, echoing somewhat similar silhouettes of them. More popular styles included "lounging" or hostess pajamas (a tunic top placed over floor-length polyester or chiffon culottes), and flowing caftans (a one-piece dress). 
Burning Man Fashion Echoes Woodstock
Burning Man is a nine-day festival that focuses on art, community, and music. Even though the festival has garnered infamous attention due to its wild escapades (for example, the burning of a massive wooden man statue), festivalgoers still show up with their most Instagram-worthy outfits.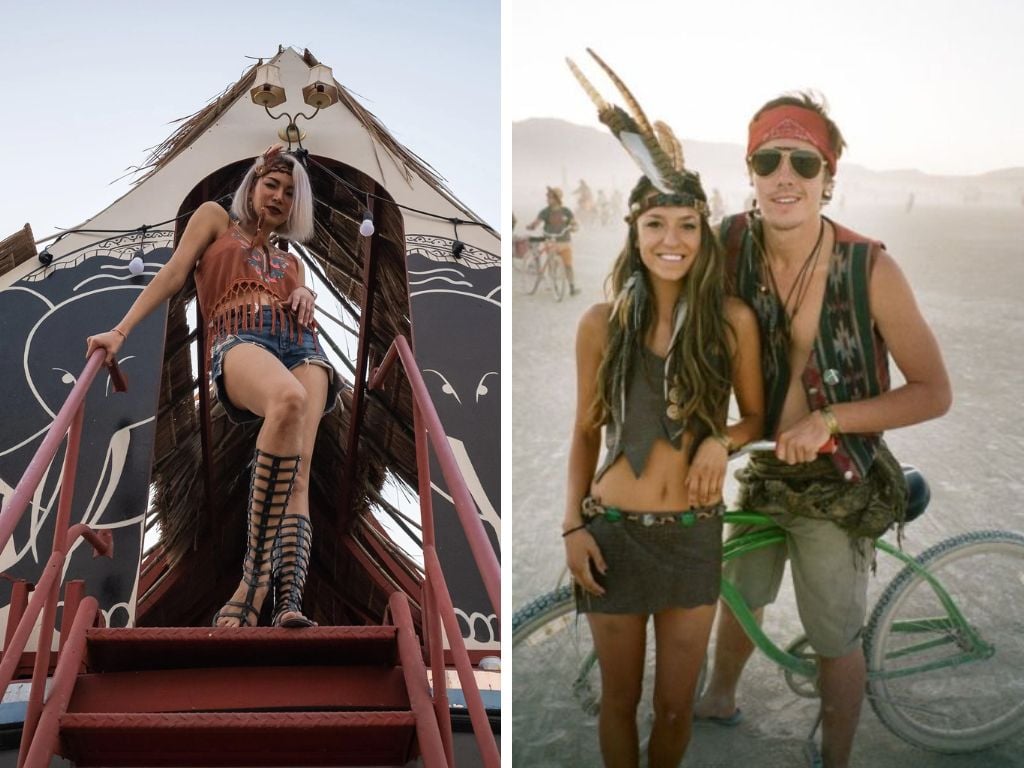 Taking place in the Black Rock Desert, Burning Man attendees must dress appropriately for the day and night. During peak hours, women wear long, flowy maxi dresses, lace tank tops, denim cut-off shorts, gladiator sandals, and other pieces that call back to the flower power style of the 1960s. Of course, this style has changed over the years. 
The Festival Shifted Away From The Bohemian Style
By the early 2000s, fashion at Burning Man began to shift away from when the festival started in 1986. People began wearing bolder ensembles such as animal print jackets and leather pants.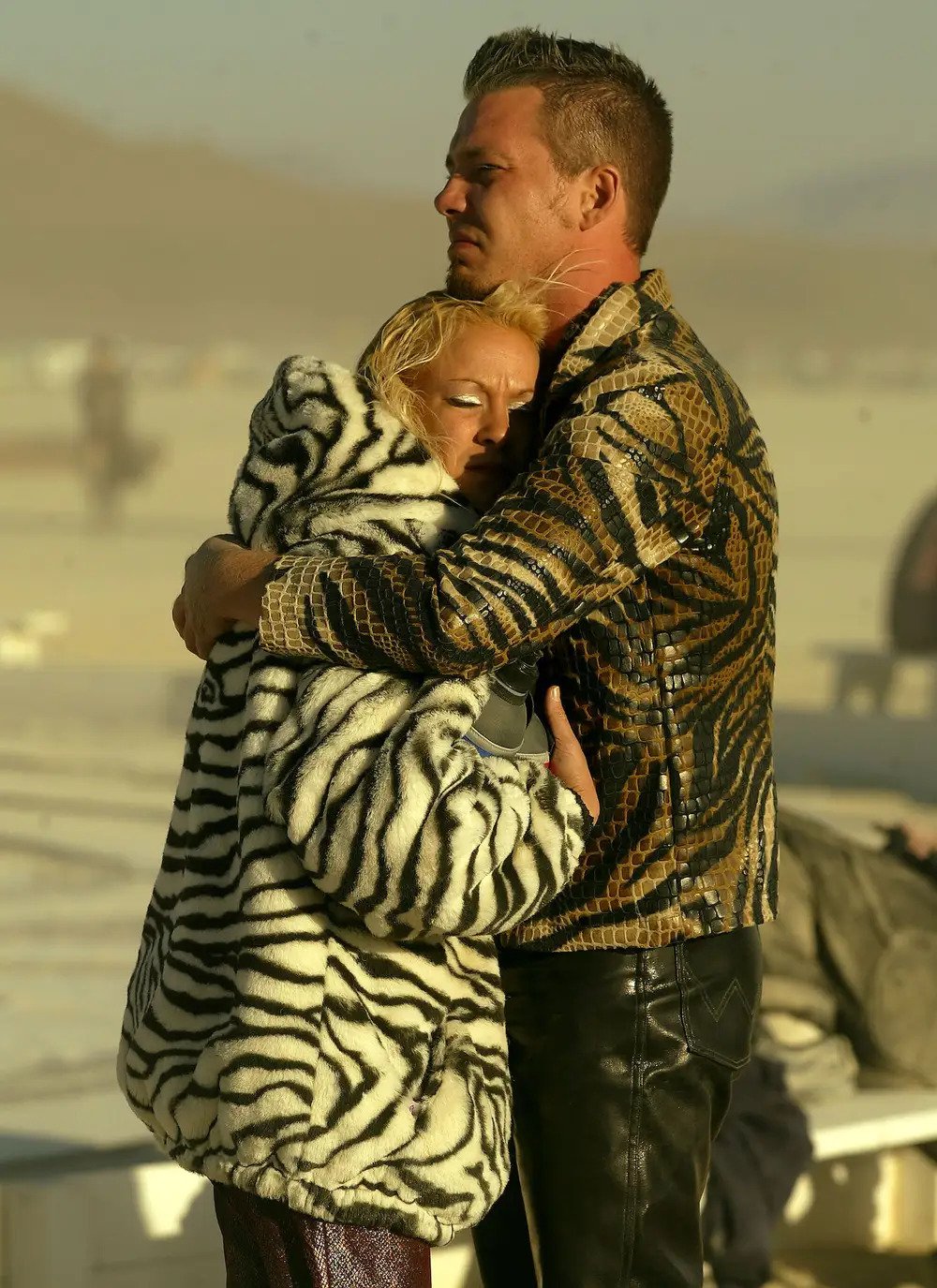 By 2003, neon became popular for many and turned out to be a stand-out piece. Others chose the route of wearing outfits that required less clothing and tall, green knee-high boots. And, the Burner style just kept evolving from there – it gets wilder and wilder. Move over, hippie clothing trend. 
Burning Man Colors Kept Getting Brighter
Paul Pham, a Burner attending the festival in 2011, is photographed here wearing tie-dye rainbow pants, a blue jacket, and a bright red bag. Pham – among many other festivalgoers – donned colorful getups. Truly, this style embodied the festival's prominent shift to bold colors in the early 2010s.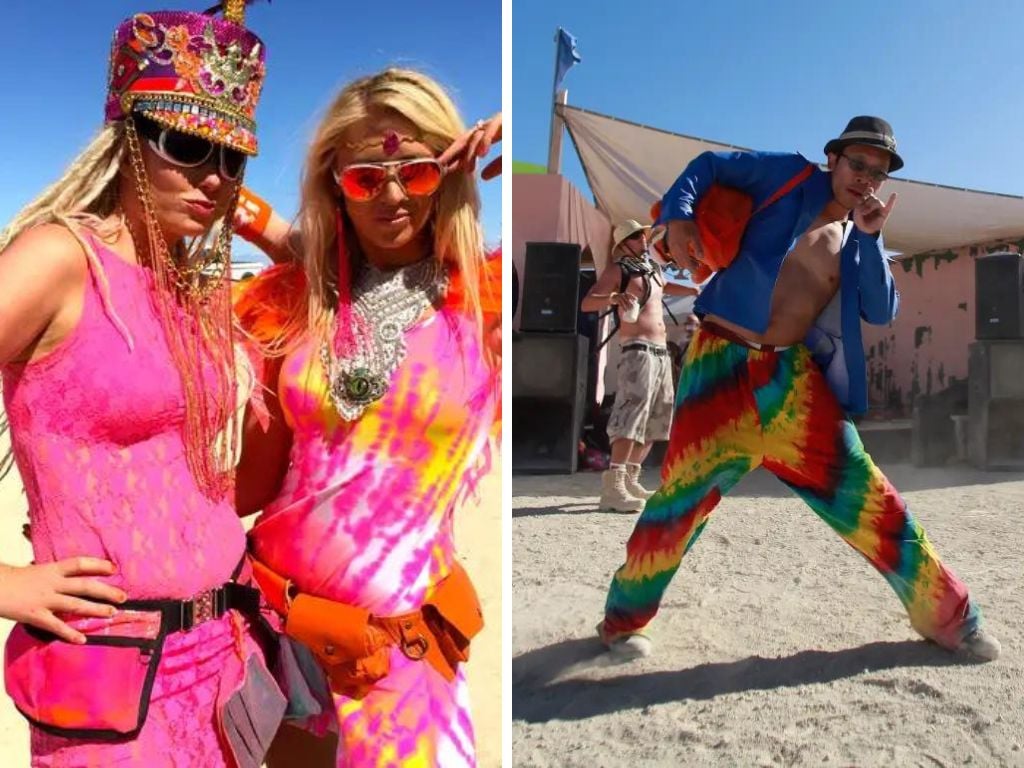 Even when it's a simmering 100-degree day at the festival, people still show up and wear their most crazy and unique ensembles. As the 2010s kept progressing, the style kept changing and the fashion choices were getting bolder. 
2012 Saw An Eccentric Fashion Pivot
Have you ever seen a person wearing a disco ball on their head? Now you have. Burning Man's ever-shifting fashion  saw an interesting peak in 2012 as this man (named Ciberfy) sported neon-green shorts and necklaces layered around his neck. Plus, a giant disco ball covered his whole head.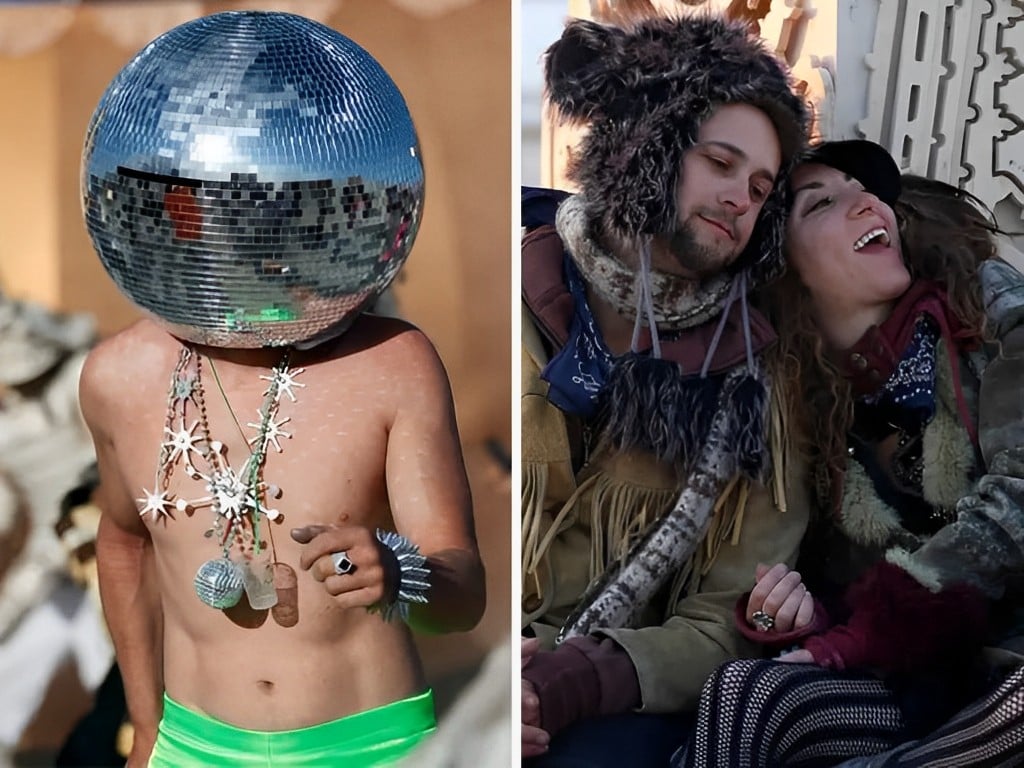 On the other hand, some decided to completely cover themselves up to shield the desert's dust and sand. Steven Babson and Lila Wright donned head-to-toe layers of fringe jackets, scarves, tights, sweaters, and fuzzy hats. 
Burner Style Continued To Get More Odd And Wacky
Body suits and platform boots were the rage in 2015 for Burning Man attendees. Pictured is Bibi, a woman wearing an elaborate red body suit complete with an ornate kind of body armor and a black beaded head-dress. Not to mention, she's riding a bike adorned with a white, furry covering.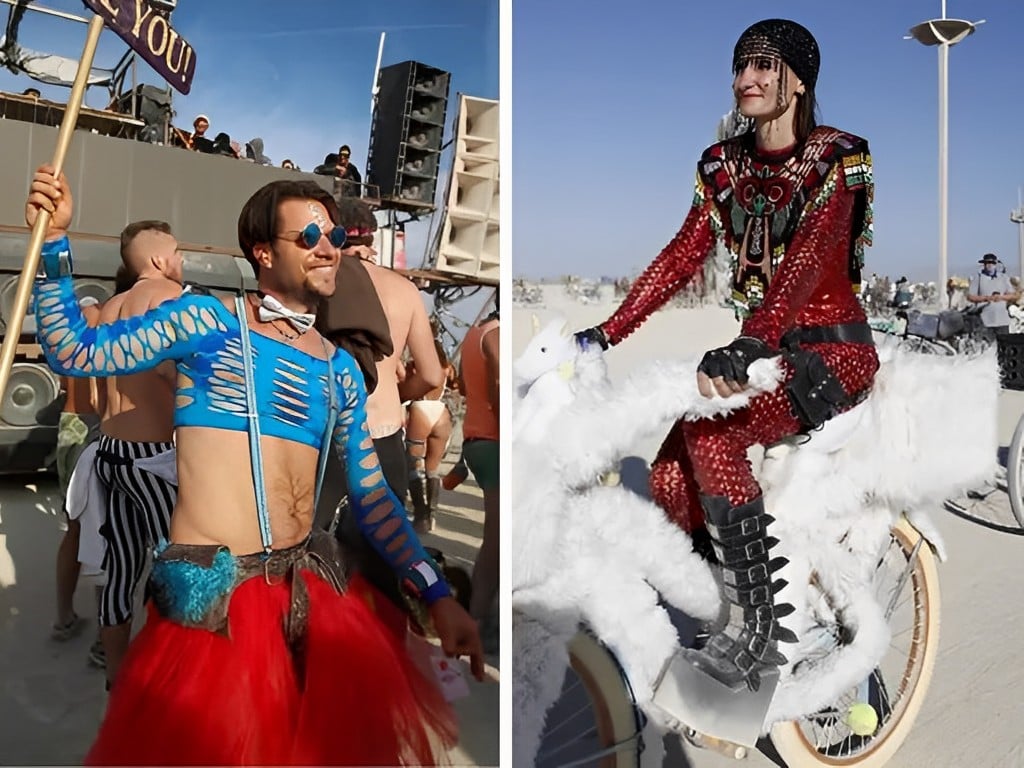 In 2016, crop tops became extremely popular, as seen with this person donning a ultra-cropped blue, long-sleeve slitted top. At the time, crop tops were typically dressed with accessories such as suspenders, bow ties, and colorful tutus. 
Burning Man Fashion Can't Really Be Defined
Over the last few years, Burner fashion has taken a big turn. Attendees have gotten ultra-creative in going the distance to sport the most unusual, jaw-dropping looks that make audacious statements. Surely, they will leave a lasting impression.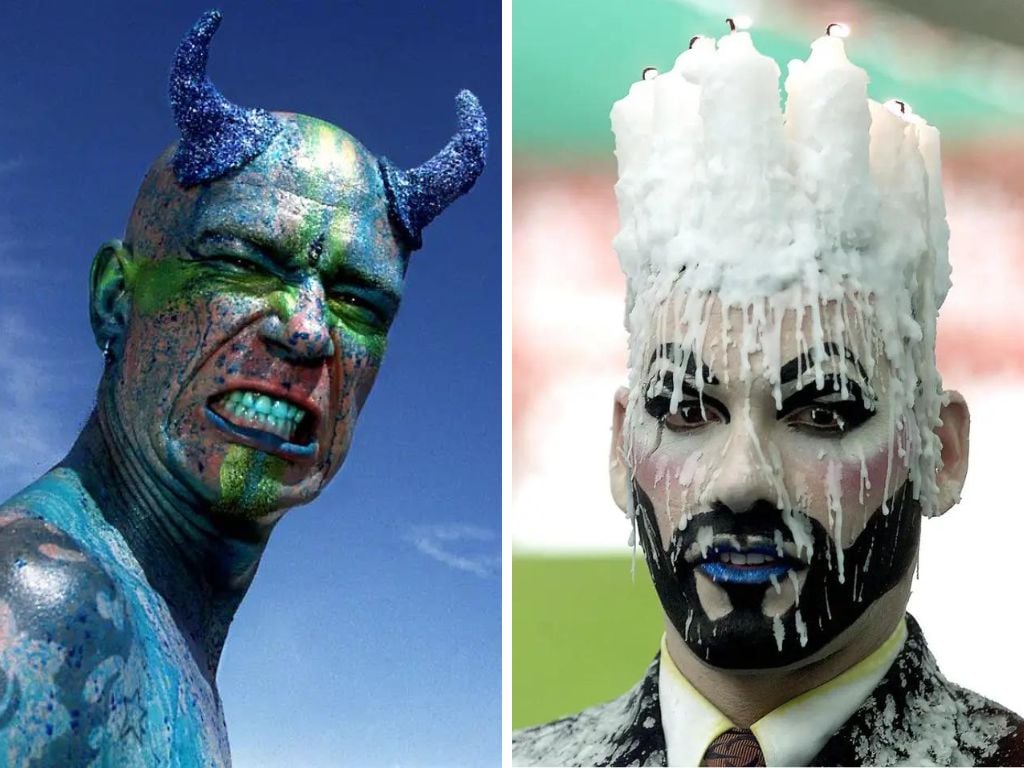 From a blue man with horns to an impressive dripping candle motif, Burning Man has always been a magical place where creatives flaunt their most daring outfits while not caring about what others think. It's the festival's pride and joy for Burners to fully express themselves. Now, let's have a look at Coachella…
Coachella Fashion Trends Have Come And Gone
Beginning in 1999 and taking place in Indio, California, Coachella has made its mark as the most famous and well-known festival (perhaps for the wrong reasons). However, its fashion has taken even more precedence than its music.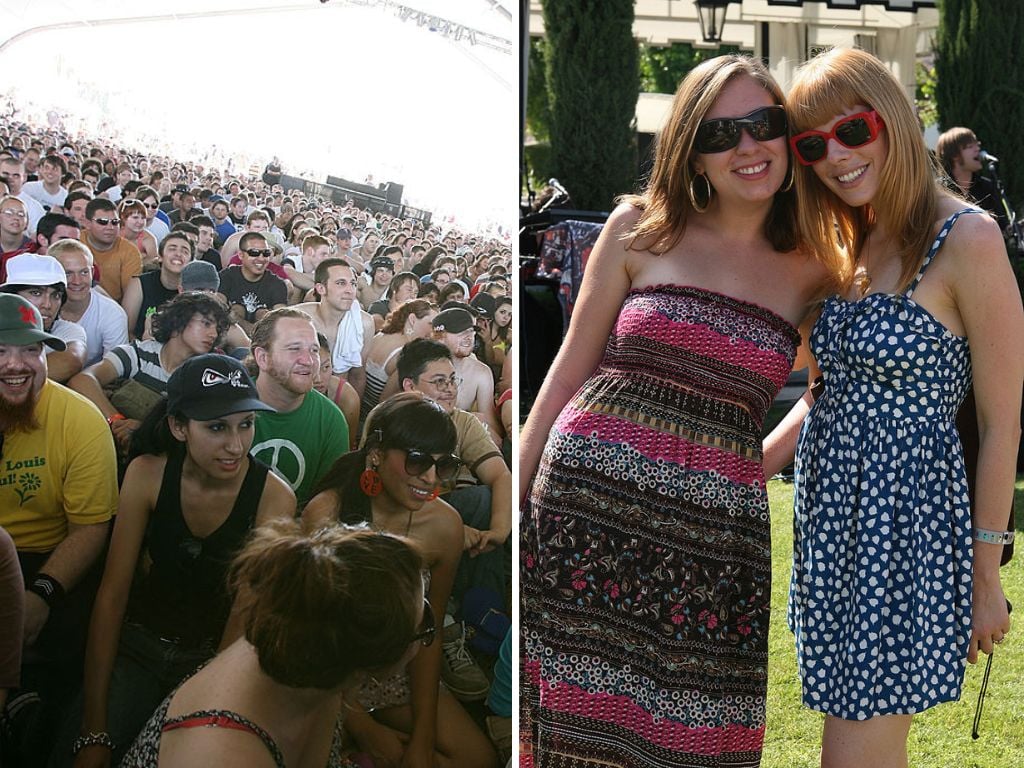 Coachella fashion in the mid-2000s was laidback and attendees didn't take their style choices that seriously. Even in 2007, there wasn't a "distinct" aesthetic. It was practical, comfortable, and reminiscent of typical summer fashion. Sandals, bikini tops, denim shorts, and standard tees were some of the main staples.
2009-2010's Fashion Started To Turn Bohemian
The year 2008 didn't change all that much in terms of style (although it was a bit more tailored), but still remained casual. When 2009 and 2019 rolled around, the bohemian aesthetic started to take hold of the attendees.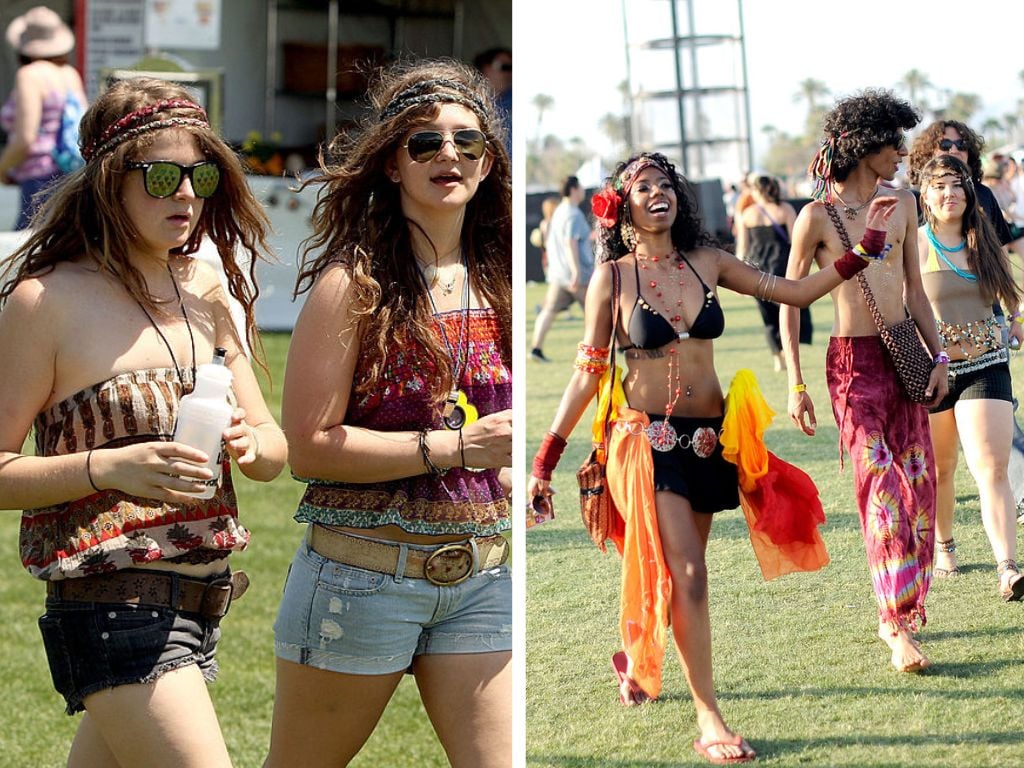 Suddenly, headbands, cropped flowy tops, wide-brimmed hats, and flower patterns were prominent. The flower power, hippie influence of Woodstock returned at Coachella and then re-returned in the coming years. It seemed that the general consensus was that the free-spirited bohemian look was in. 
From Flowy Dresses To Fishnet Tights And Crochet Halter Tops
From 2011-2012, flowy dresses and maxi skirts were popularized at Coachella. String bikinis and other accessories were paired with other bright colors and textures to make an outfit more eye-catching.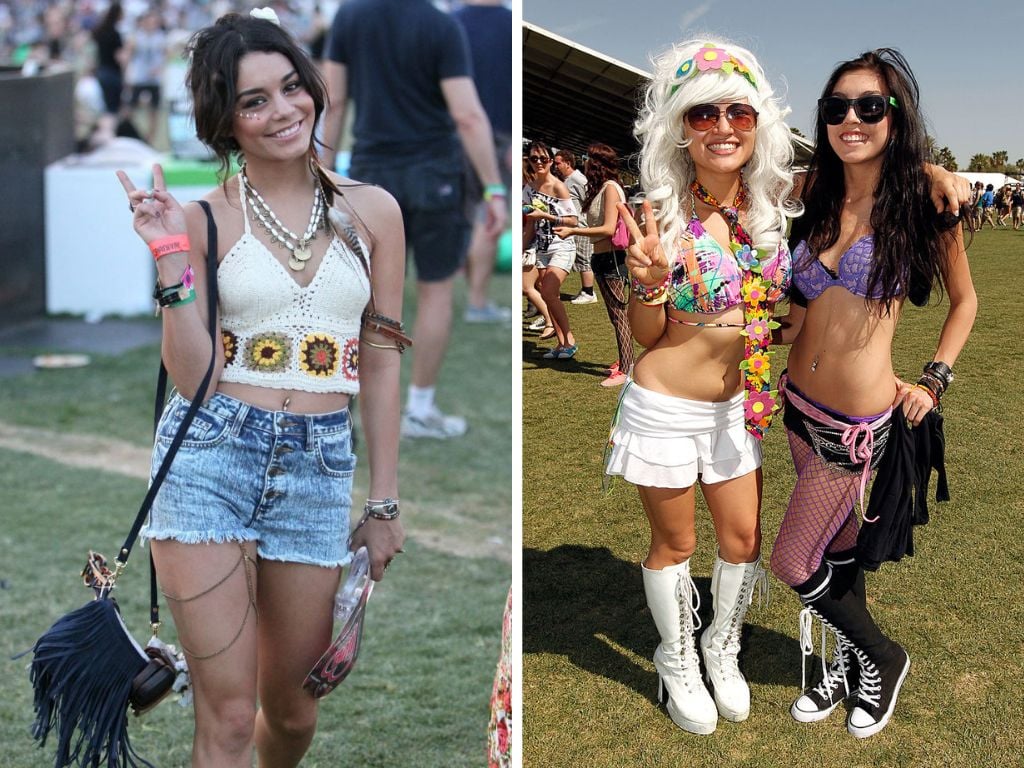 Other attendees of the festival wore fishnet tights, belts, and hats, despite the fact that the Y2K style remained influential. Vanessa Hudgens was instrumental in creating the cool it-look for Coachella girls, bringing a bohemian craze to the festival. More unique styles were floating around the grounds, but the boho aesthetic remained supreme.
Embracing New Looks From 2013 - 2018
While the bohemian, laid-back aesthetic was still in its prime, 2014 came in with motorcycle boots, handkerchiefs, and brassy, layered jewelry. Other festival attendees got more experimental with cool prints and colors. In turn, 2015 became a mix of hippie and cowboy culture.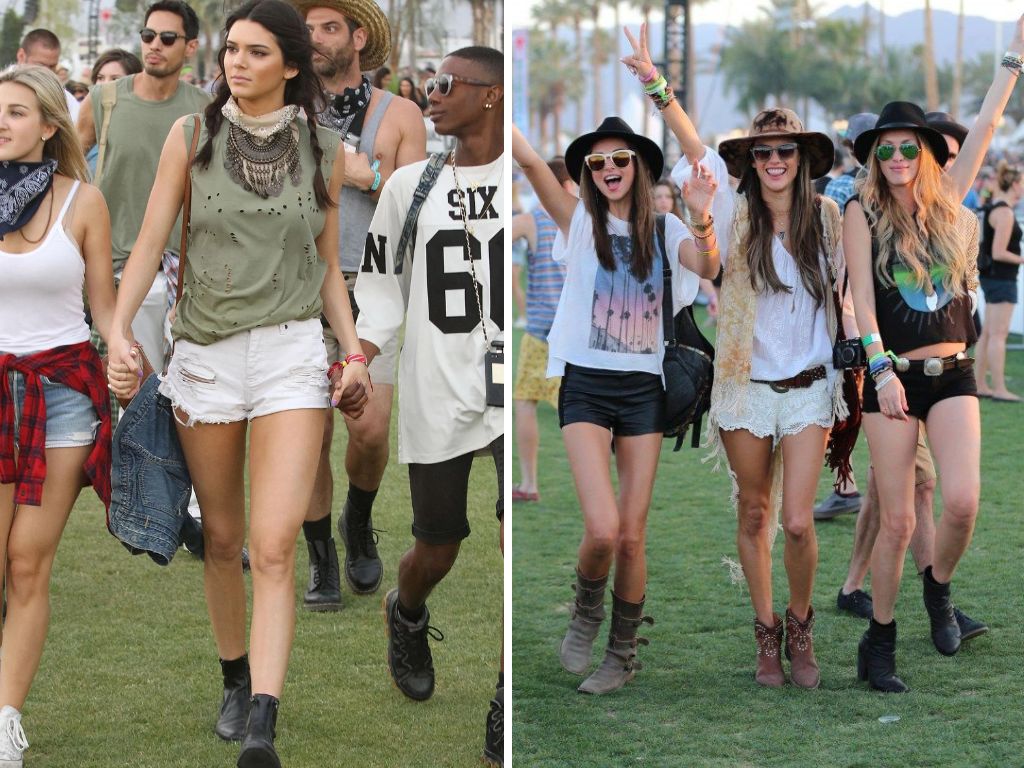 From 2016 to 2017, attendees started to move away from the strictly boho look and started to add onto it with other stand-out elements. Coachella 2017 witnessed rave-inspired looks, stemming from colorful hair to shredded tops and ripped denim shorts. 
2018 - Now
In 2018, there was a mesh of different styles and anything and everything went. The streetwear aesthetic started to become trendy. 2019 ushered in the holy grails of cow print, crochet pieces, cargo pants, and sheer clothing. Going forward, denim on denim, sequins, harnesses, bustier tops, and boots became the rage from 2020 to 2023 Coachella festival. Indeed, the looks are playful and brash while remaining creative.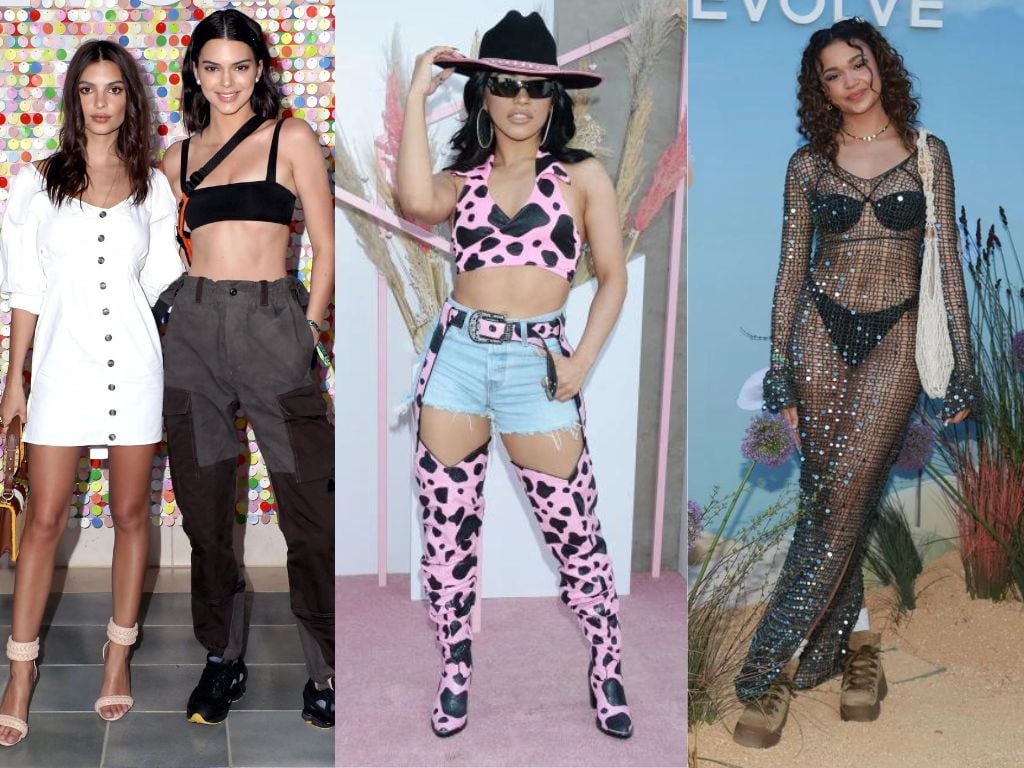 Observing the evolution of fashion festival style tells you a lot about the various trends and aesthetics that dominated the fashion world at the time. That being said, while the music was still the main drawing force for regular festivalgoers, the outfits garnered more attention for celebrities and influencers.