Jimmy Fallon Shares The Funniest #WorstFirstDate Tweets In Hilarious First Date Fails Round-Up
First dates can be exciting, but they can also be nerve-wracking. Unfortunately, sometimes things just don't go as planned. Late-night talk show host Jimmy Fallon took to Twitter to ask his followers to share their #WorstFirstDate experiences, and the results are both cringe-worthy and hilarious.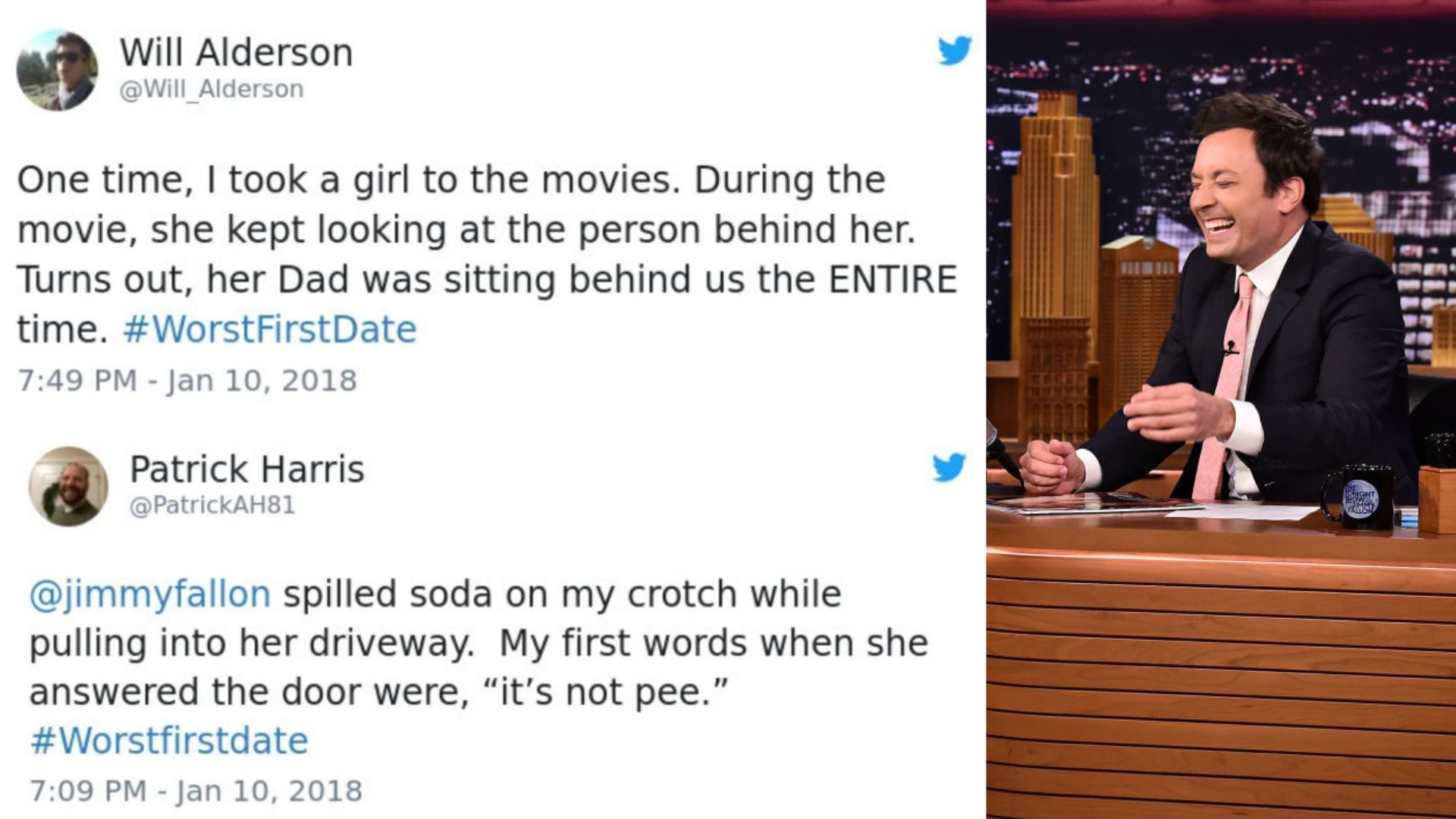 Whether you're newly single or have been on countless first dates, it's always entertaining to hear about other people's misadventures in the dating world. So sit back, relax, and get ready to laugh (or cringe) at these epic first-date fails.
Bizarre movie date
Have you ever been on a date with someone who cares more about the movie's rating than the actual movie itself? It's a bit much, especially if they're an adult. Mojo's date took it to the next level by calling his mom for permission during the date. Talk about bizarre!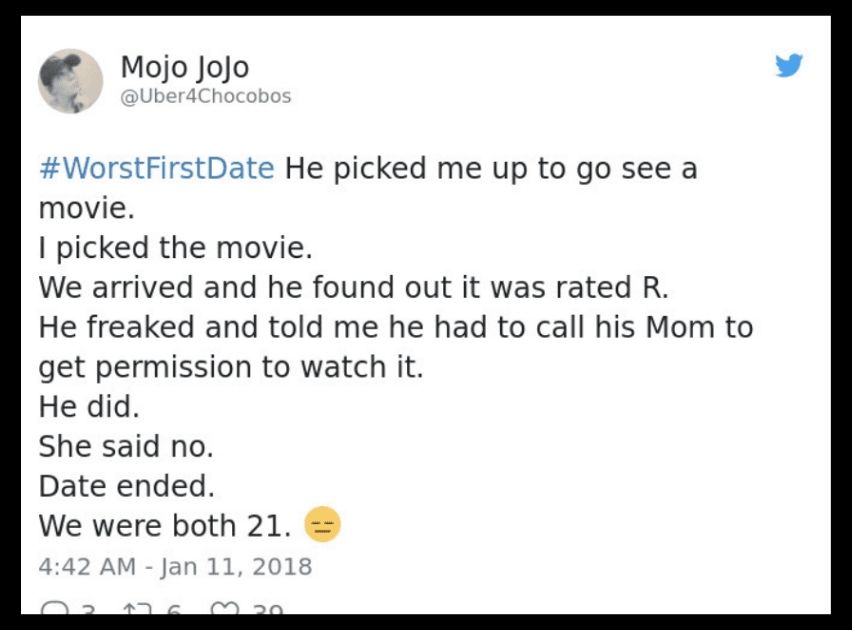 We're not sure how we would react if we were in Mojo's shoes. It's a sweet gesture, but also a little strange. If your date has to ask for permission to do things, maybe it's time to reevaluate if they're ready for the dating scene.
Too much family love?
Dating someone who values their family is usually a good thing, but it can get a little tricky when they bring their parents along on the date! While it's sweet that Kelly's date enjoys his parents' company, it's also important for people to have some independence – especially at 25 years old.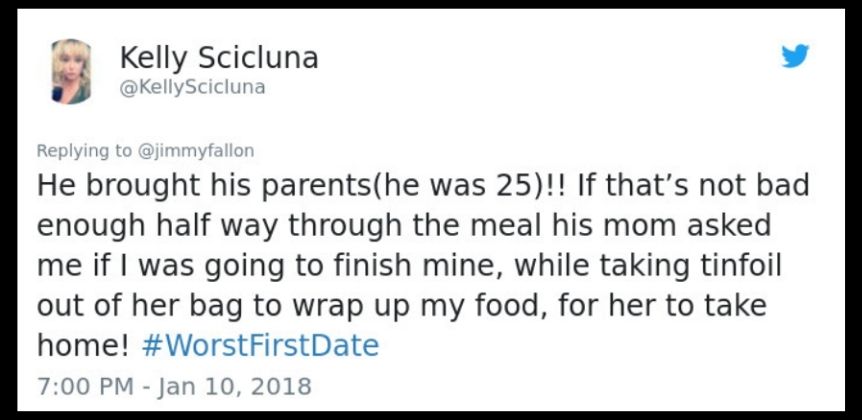 Introducing your partner to your family is a big step, and it's usually best to wait until the relationship has reached a certain level of commitment before making that introduction. But hey, at least Kelly's date has a strong bond with his family, which is always a positive trait.
A real-life horror movie
Wow, what a strange start to a romantic evening. Can you imagine bringing a body on a first date? Yikes. Good thing Christine had the patience to stick it out, because we would have been running for the hills. It's like something straight out of a horror movie.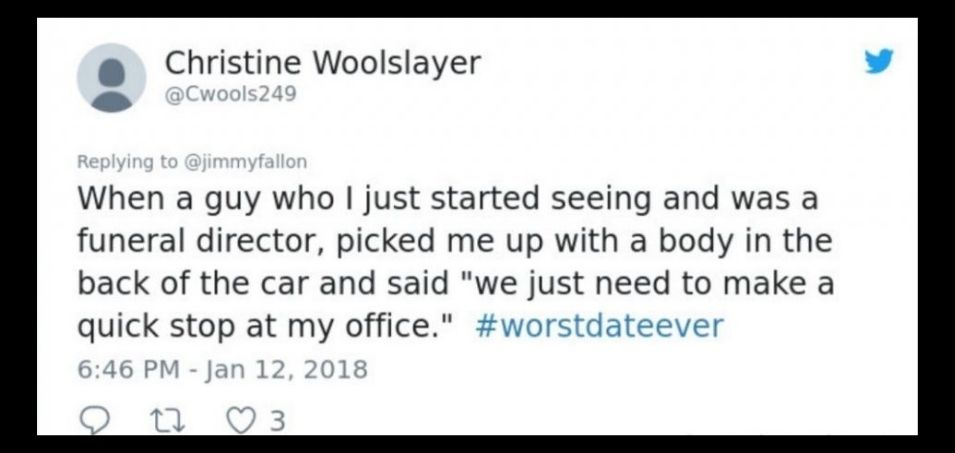 We get that being a funeral director is a perfectly normal job, but something about this guy's behavior just seems off. If he's comfortable enough to do something like this on the first date, we can't help but wonder what other quirks he might have.
An awkward confrontation
Ah, the perils of dating! It sounds like Michelle had a rough night when the waiter decided to confront her date right in the middle of their dinner. It must have been super awkward for everyone involved.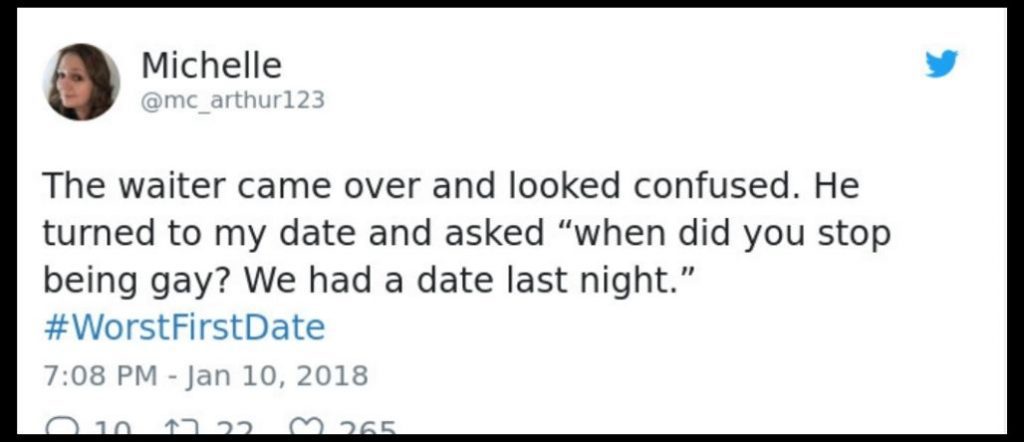 Here's a pro tip: when it comes to other people's relationships, it's always best to mind your own business. That waiter probably should have kept their nose out of Michelle's date's business. Plus, if you're going to have a confrontation, it's probably not the best idea to do it while someone is trying to enjoy a romantic evening.
Not what it seems
First dates are always nerve-wracking, and Patrick had a little mishap when he accidentally spilled some soda on his crotch. But hey, accidents happen! The real challenge was explaining the spill to his date without it being misinterpreted. Fortunately, Patrick was able to save face by clarifying the situation.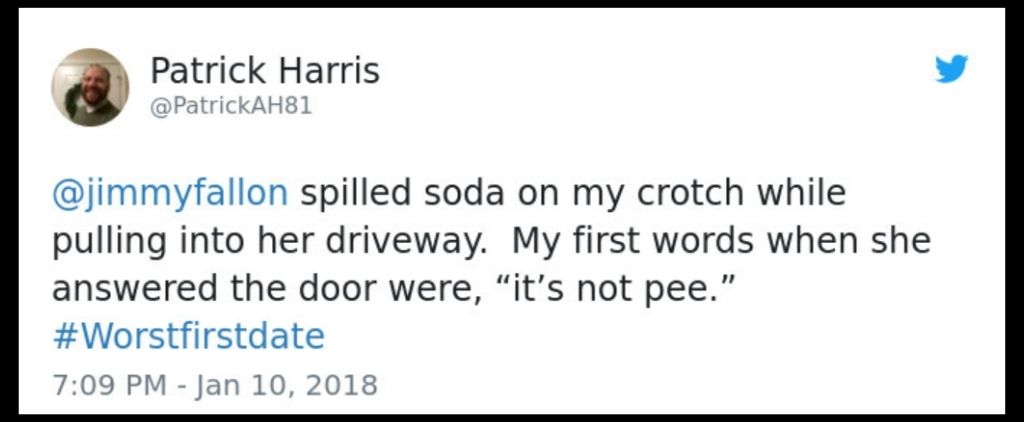 Despite the spill, Patrick was able to turn a potentially awkward situation into a funny story to tell. It just goes to show that even the most embarrassing moments can be turned into a positive with a good attitude.
Dinner date disaster
Sharing food on a date can be a fun and exciting way to try new things and bond with your partner. However, some boundaries should never be crossed. For example, it's one thing to ask your date to smell a dish that you've chosen, but it's quite another to force their face into a plate of food.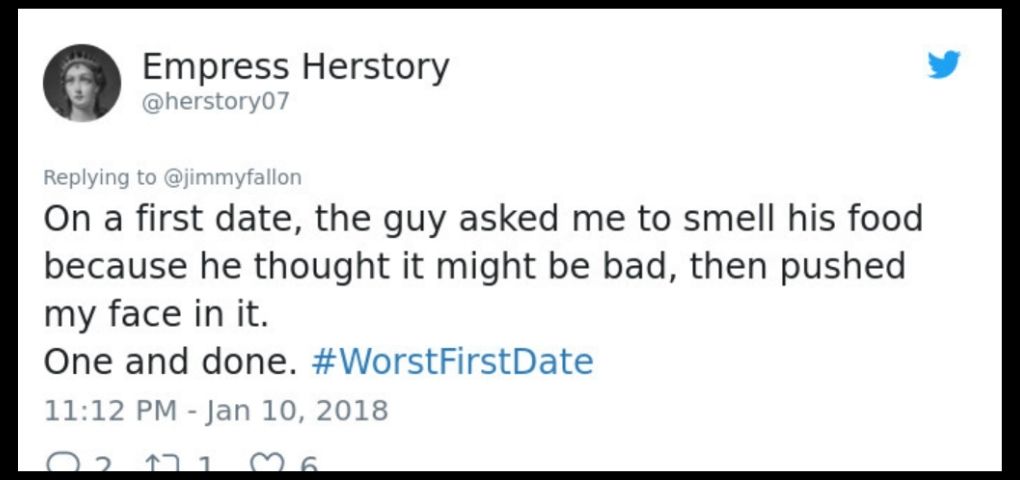 This is not only rude and disrespectful, but it's also a major red flag and a surefire way to ruin the date. So, remember to always be respectful and considerate of your partner's feelings, and you'll have a much more enjoyable time together.
Honesty is the best policy
Honest communication is key to any relationship, and Robert and his wife are no exception. On their first date, Robert was upfront about not having much planned, and somehow it all worked out!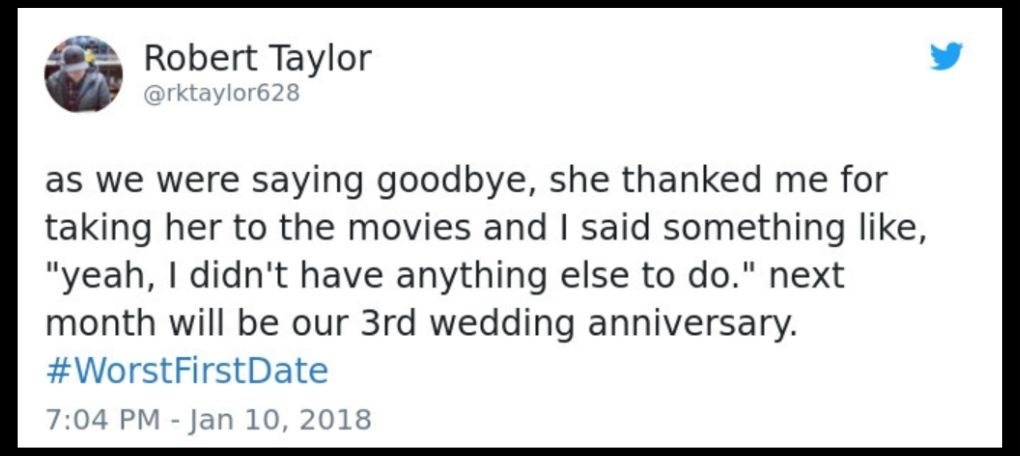 While it's not always a good idea to be brutally honest all the time, in this case, it seems to have paid off. And who knows, maybe one day they'll be able to look back and laugh about it with their kids. Even when things don't go as planned, it's all for the best in the end.
The selfish date
Chelsea had a cringeworthy date that was a total dud. Her date had the audacity to ask her for money on their very first outing together. And if that wasn't bad enough, he even left her to go buy a scratch-off ticket on his own.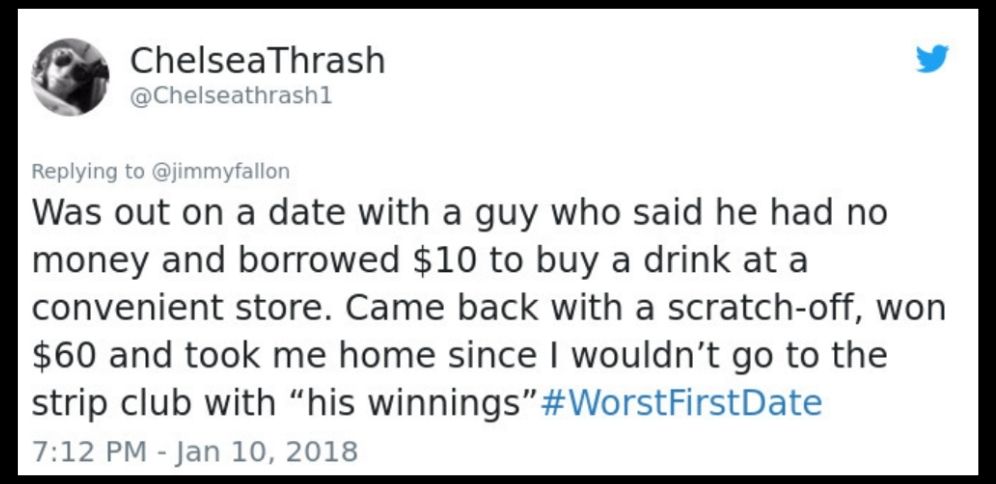 But luck was on his side when he won $60. Instead of using it to treat Chelsea to a nice evening, he just dropped her off so he could go spend his winnings. Thank goodness Chelsea was able to avoid a potentially selfish relationship and say goodbye to this guy for good.
Who's Tom?
Imagine being on a date, and having your partner call you by someone else's name. How embarrassing! Chris must have been feeling pretty mortified. And to make matters worse, his date had a whole group of friends over when he wanted to take her out. That must have made things super awkward.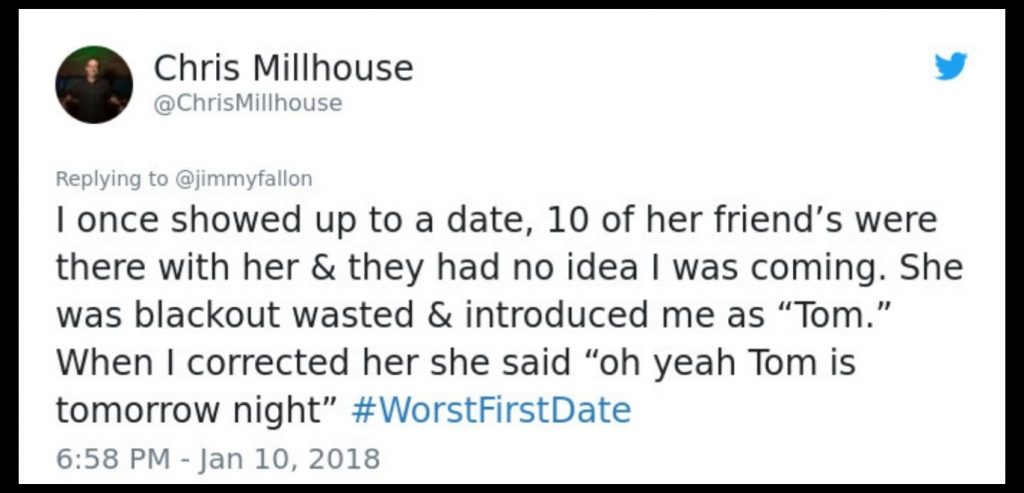 Despite all the mishaps, Chris seems like a total sweetheart. But seriously, who is this Tom person?! We hope Chris was able to laugh off the situation and find someone who can remember his name correctly.
They're watching us
Have you ever noticed someone with tape over their laptop camera and wondered why? Some people are really cautious about their personal information being stolen or their cameras being secretly recorded. Klara's date was one of these people and had taken the extra precaution of placing their phone face down on the table during their date.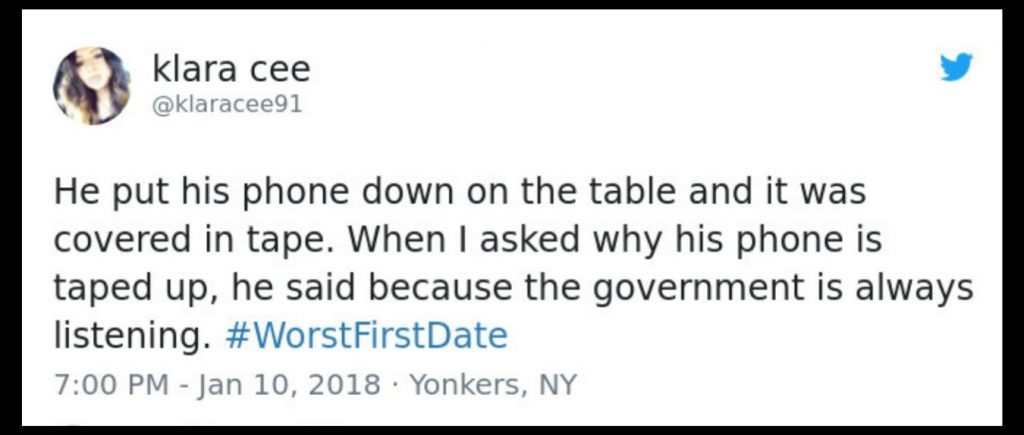 While it's understandable to be concerned about privacy, it might also be a good opportunity to learn more about internet security and how to protect oneself from hacks. On the other hand, placing the phone face down on the table might have seemed a little suspicious. Maybe Klara's date should have just brought out their phone instead.
How rude
Intellectual connection is key on a date! Not only is it good for your brain, but it also makes the whole experience more enjoyable. However, one girl had a bit of a rough time when she felt like she had to carry the conversation with her date.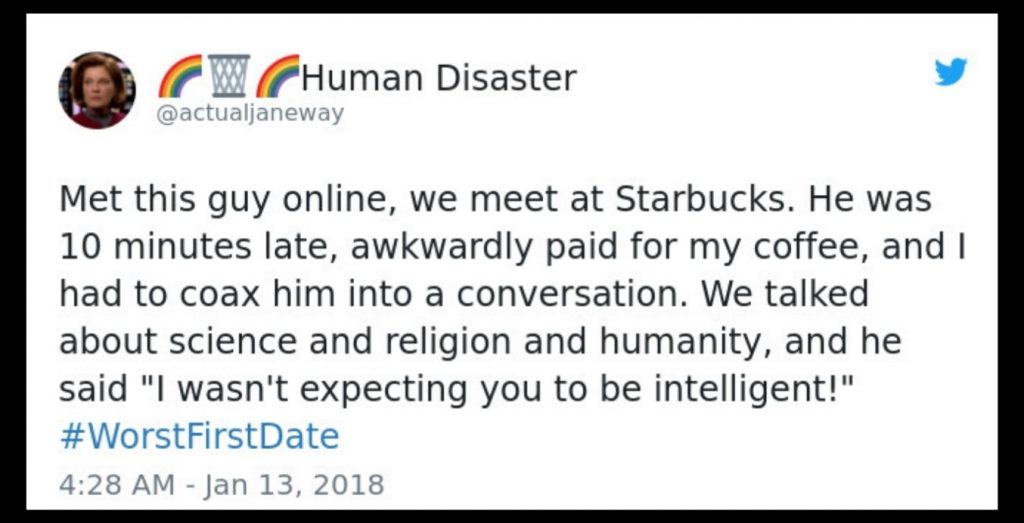 It's important that conversations are balanced and that both parties put in an effort to keep the energy up. Unfortunately, this girl's date ended up making a remark that came off as him assuming she was not intelligent. Definitely a red flag!
When things don't go as planned
Who says you can't still have a good time when things don't go as planned? This person had a rough start to their date – they walked into a bar and ended up in the ER by the end of the night!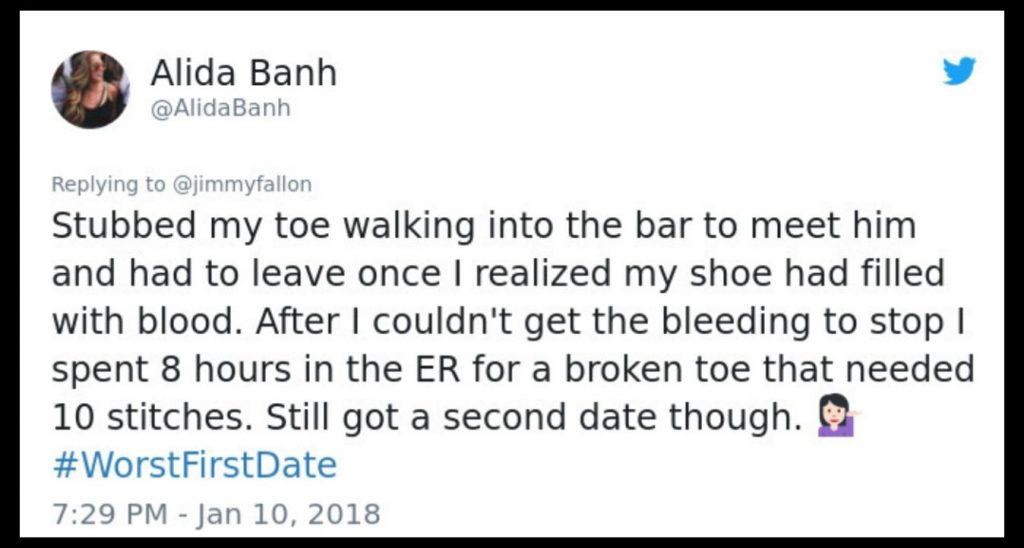 But even with a bleeding toe and ten stitches, they managed to charm their way into a second date. Accidents happen, but sometimes they lead to unexpected silver linings. Just goes to show that a little bit of perseverance can go a long way.
The first date fumble
This man had a bit of a mix-up on his first date with his now-wife. His date couldn't find him in the restaurant and spent a few minutes searching before he had to wave to her to let her know where he was. It's a funny story to tell the kids and a humorous moment to look back on.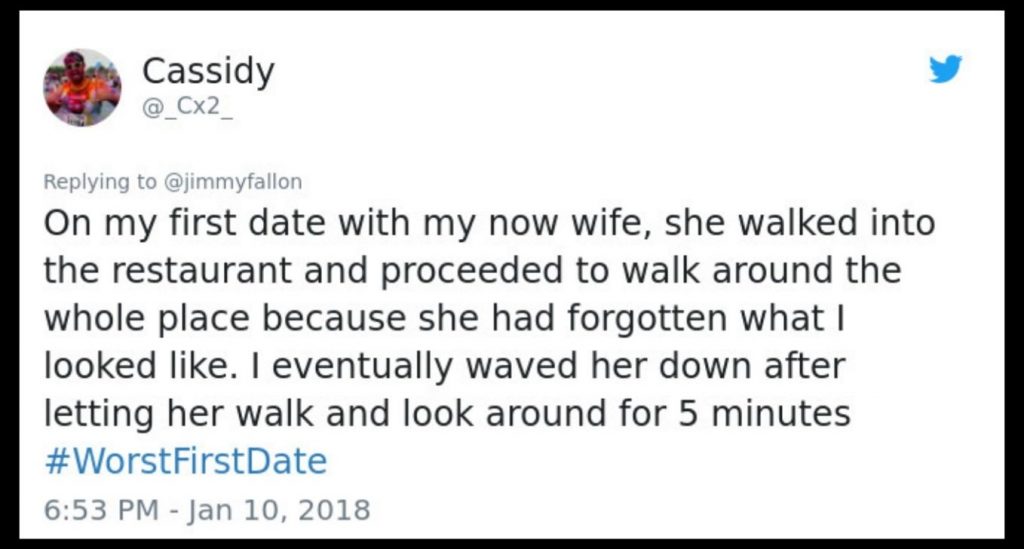 Despite the mix-up, the date ended up being a success and the two are now happily married. It just goes to show that even the most seemingly embarrassing moments can end up being a funny memory to look back on.
A lesson in awareness
Being an independent woman is all about taking charge, but it's also important to be aware of your surroundings. Anna learned this lesson the hard way when she accidentally stepped into the wrong car on a date.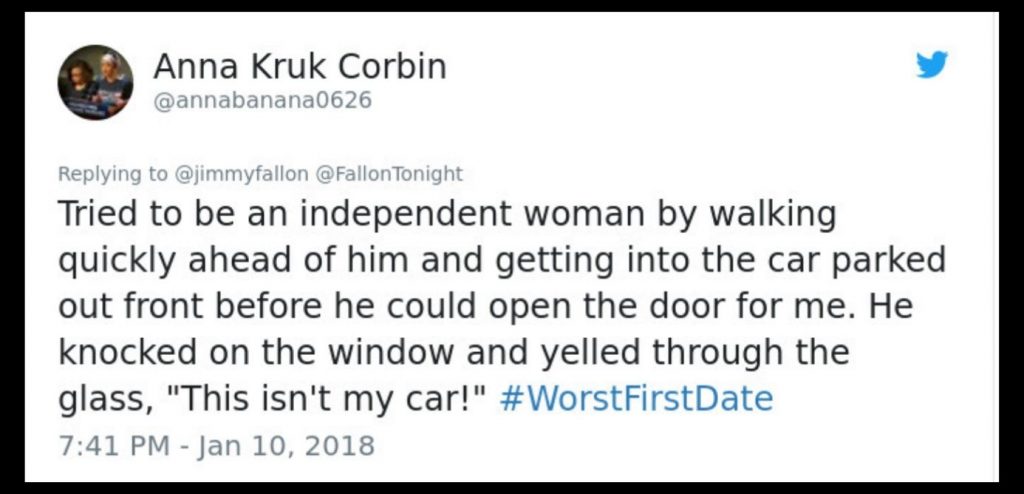 Luckily, the car's owner wasn't around, so there was no awkward confrontation. Next time, Anna ought to ask her date what their car looks like to avoid any mix-ups. Being a little extra cautious can go a long way in preventing embarrassing situations.
Sushi overload
Have you ever had a moment where you misread something and ended up with a surprise that you weren't expecting? That's exactly what happened to this lady at a sushi restaurant. She thought that "rolls" meant individual pieces of sushi, but when the order arrived, it turned out to be enough to fill two tables!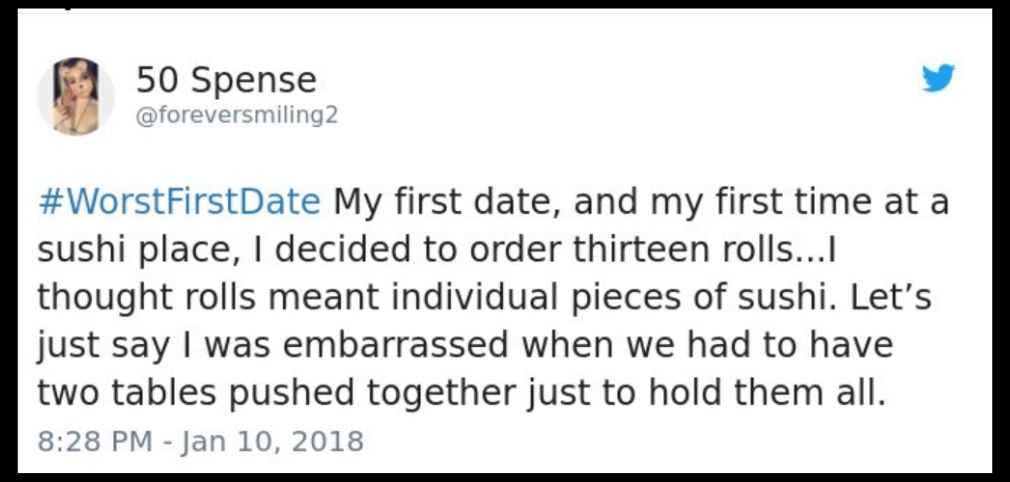 We bet her date was pretty full after all that sushi. But hey, we think food is always a great idea for a date. Plus, now she knows to be more specific when ordering her favorite rolls in the future.
Meeting the dad too soon
Awkward moment alert! Will probably wasn't expecting his date to bring along her dad to the movie theater. It's a bit weird, right? We'd be pretty freaked out to see our date's parents there.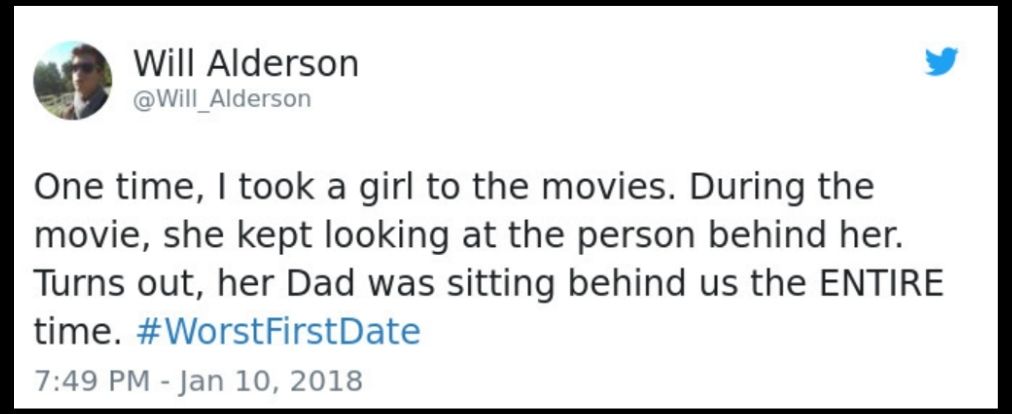 It looks like Will and his date might not have gone out again after this little cinema mishap. Poor Will was introduced to the parent way too soon in their relationship. He might be a little bit hesitant about going to the movies with a potential love interest now. Can't say we blame him!
Sweater surprise
Have you ever been on a date with someone who just can't seem to sit still? Well, Marc was definitely guilty of that on his last date. His poor companion was probably wondering what on earth was going on. But little did she know, Marc had a surprise hidden up his sleeves – or rather, in his sweater.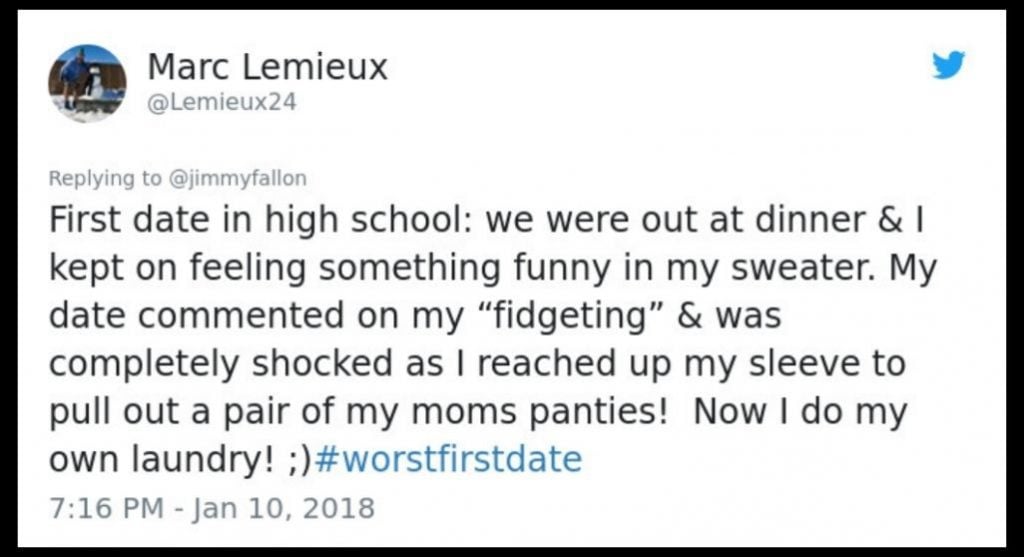 No, it wasn't an animal. It was a pair of his mom's panties! We can't decide whether to laugh or be amazed at Marc's magician-like skills. We wonder what other tricks he has up his sleeve (or sweater).
Bizarre Tinder date
Looking for love on Tinder can be a wild ride, just ask Claire! She ended up having an unforgettable (and possibly regretful) evening with a date who ended up being a bit of a blur after having one too many drinks.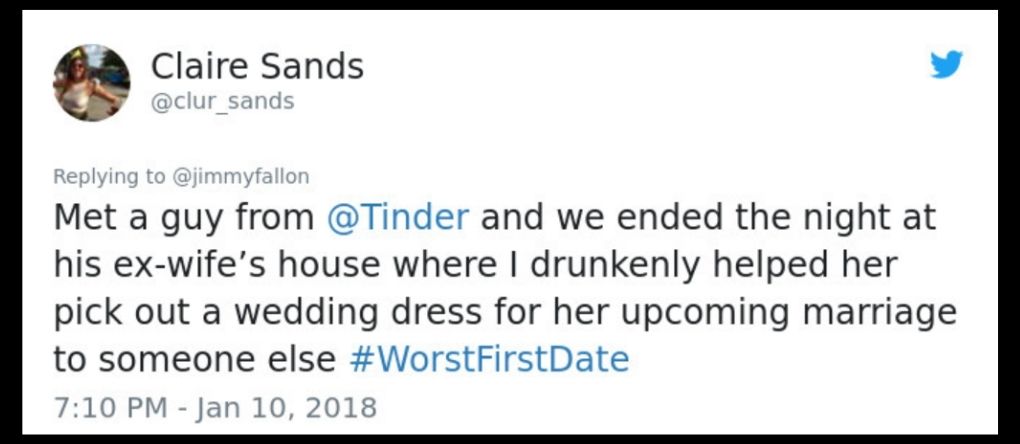 And if that wasn't strange enough, the night ended with Claire helping her date's ex-wife pick out a wedding dress. Talk about an awkward situation! It's hard to imagine how the first half of the date even went. One thing's for sure, at least Claire can add this wild Tinder tale to her collection of funny stories to tell her friends.
No kisses allowed
Going on a date can be a bit nerve-wracking, but there are a few simple things you can do to make sure everything goes smoothly. First and foremost, make sure your breath is fresh by brushing your teeth before you head out. It's also a good idea to avoid strong-smelling foods like onions and garlic. Trust us, no one wants an unpleasant make-out session!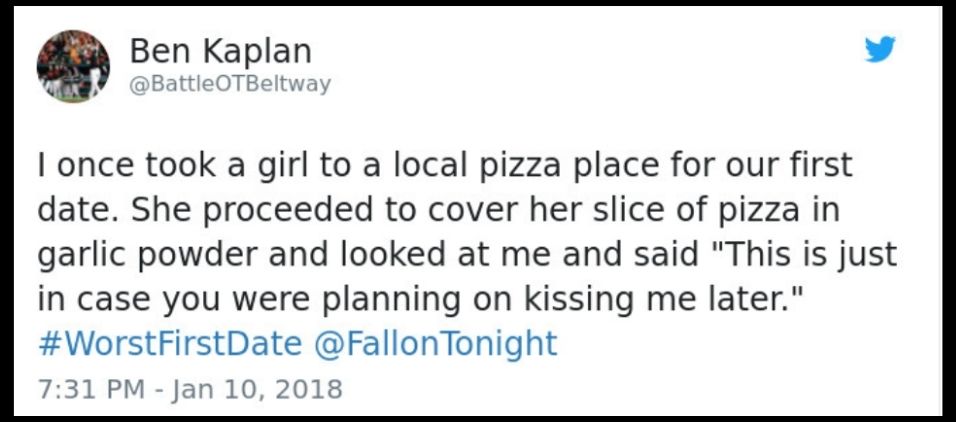 And if you're worried about being rejected, just take a cue from Ben's experience. She bravely scattered garlic powder on her pizza slice, effectively signaling that she wasn't interested in getting up close and personal later on. Better luck next time, Ben!
When texting ruins a date
Have you ever been on a date and caught your significant other texting someone else? Well, that's exactly what happened to poor Maite. Her date accidentally sent her a message meant for his friend, and let's just say the mood took a turn for the worse.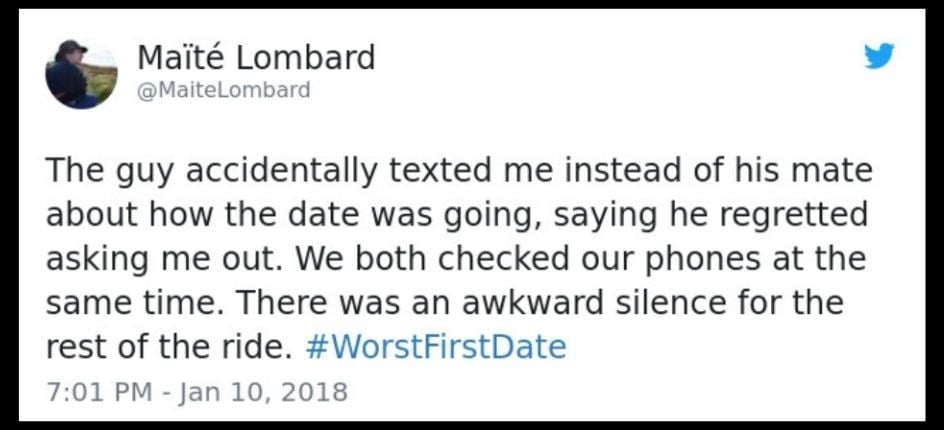 To avoid any awkward moments like this, it might be best to put the phone away while on a date. Trust us, it's not worth the embarrassment. Even if you do make a mistake, it's best to just wait until after the date to share the mishap with your friends.
Date gone wrong
Well, it looks like Jon had quite the wild ride on his date. All we know is that he accidentally hit his date with his car. Oof! We can only imagine the chaos that ensued after the initial shock.

Did they end up together or was it a complete disaster? One thing's for sure, we hope his date is okay. Accidents happen, but we can't help but wonder what led to this one. We wish Jon had filled in the missing details for us. Regardless, we hope everything turned out alright in the end.
A blessing in disguise
Poor Todd had a rough start to the day when he forgot to ask his date for her address. A rookie mistake, for sure! But don't worry, things ended up working out in the end.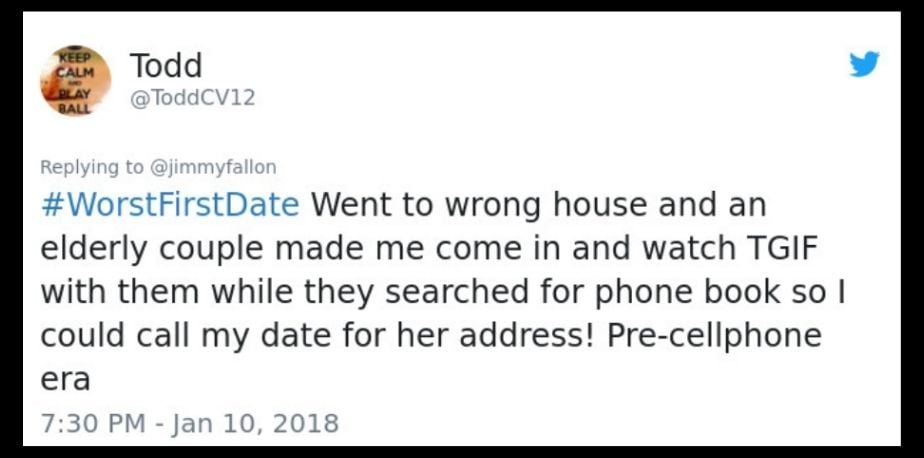 See, Todd accidentally entered the wrong house, but it turned out to be a blessing in disguise. Can you imagine trying to navigate through life without our beloved cell phones? Back in the day, it was so hard to get in touch with people. But thank goodness for technology and the gracious couple who helped Todd out!
Gut feeling leads to love
Looking for a memorable date? Look no further! Even if you're not feeling your best, a date with the right person can still be amazing. Just ask Ashley, whose date turned out to be her future spouse.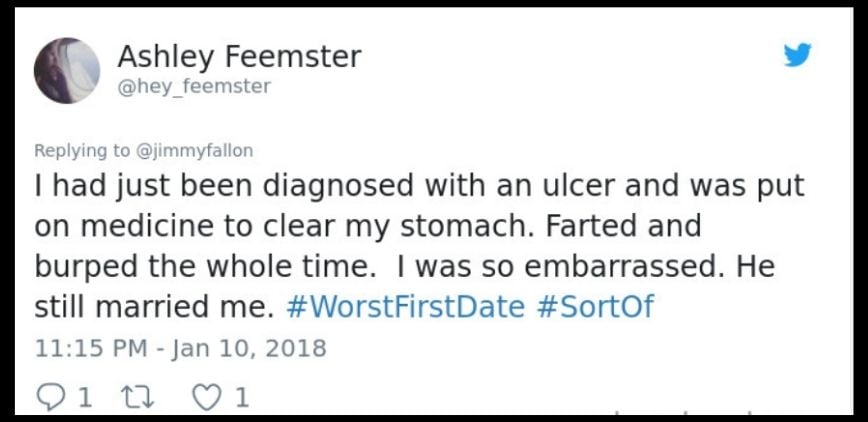 Despite having an upset stomach on her first date, she and the guy ended up getting married and spending the rest of their lives together. Now that's a happily ever after! So don't let a little stomachache get in the way of finding love. Embrace the unexpected and who knows, you may just end up with your own fairytale ending.
The omelet incident
Ah, true love. It can strike at any moment, even when you least expect it. Take this couple, for example. They met and went out on a date, and everything seemed to be going smoothly until the guy started choking on his omelet and blowing onion chunks out of his nose.

But let's be real, who hasn't had an embarrassing moment like that? And if your partner can still love you even when you're at your grossest, well, they must be a keeper. These two are a match made in heaven, and their story just goes to show that love can be found in the most unexpected of places.
Scent-sational first date
Looking and smelling your best is essential for any date, and Jordan definitely had that covered. She spritzed on some floral scents and was happy to receive a compliment on how great she smelled.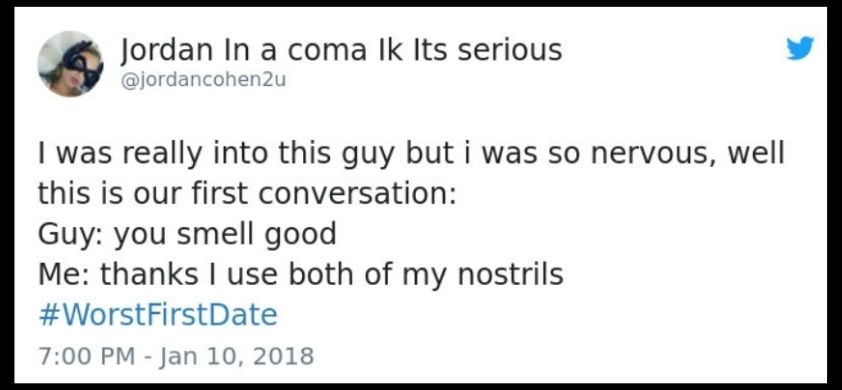 Despite being a little nervous, Jordan's quirky personality came through when she joked about how she was breathing in response to the compliment. All in all, it sounds like this worst date could have been much worse.
A close call
Phew, what a close call! It's always better to find out that your date is a relative before things get too serious. Can you imagine the embarrassment of showing up to a family BBQ with someone you later discover is related to you? Yikes.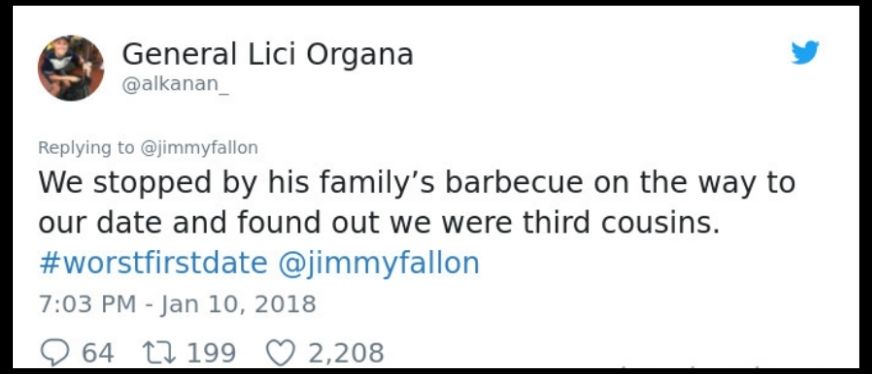 On the bright side, at least this person found out before things got too awkward. We can all agree that finding out your date is a relative is definitely one of the weirdest things that can happen on a date.
Two-timing trouble
Dating can be unpredictable, and sometimes your date may act in ways that are hard to understand. If you find yourself on a date that seems consistently inconsistent, it might be time to do some digging to see what's really going on.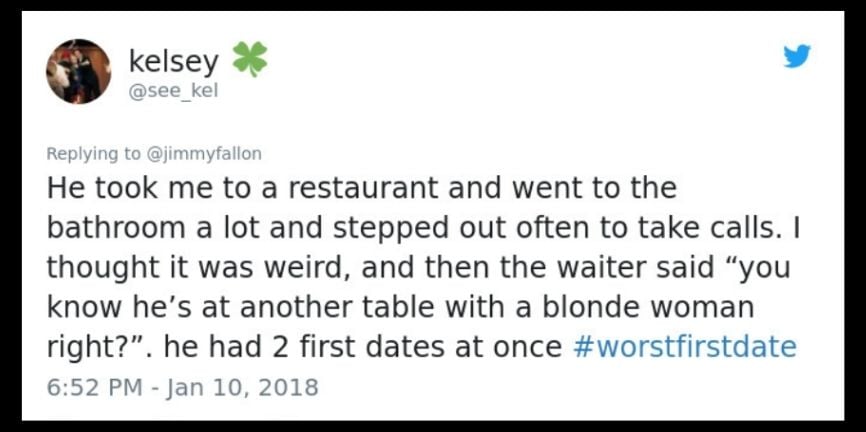 Kelsey had a helpful ally in this situation – the waiter. This observant server had probably seen all sorts of dating drama and was happy to give Kelsey the scoop. As it turns out, Kelsey's date was actually seeing two people at the same time.
Unfiltered insensitivity
It's not cool to bring up someone's weight on a date, especially if you don't know if they have any underlying health issues. Catherine's date was way out of line when he started talking about her weight.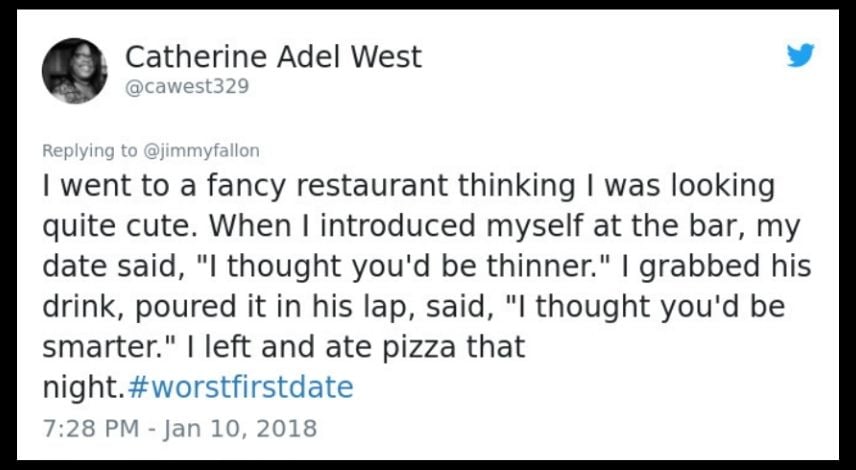 While honesty can be important, it's also important to be mindful of how you say things. Catherine handled the situation like a pro and gave her date a taste of his own medicine by dumping a drink on his lap. Sometimes, a little bit of instant karma can go a long way!
Fate's funny ways
Linda had a rough day, and it only got worse when she received a ticket from a police officer. Getting a ticket is never fun, and it can be especially frustrating if the officer decides to take your license too.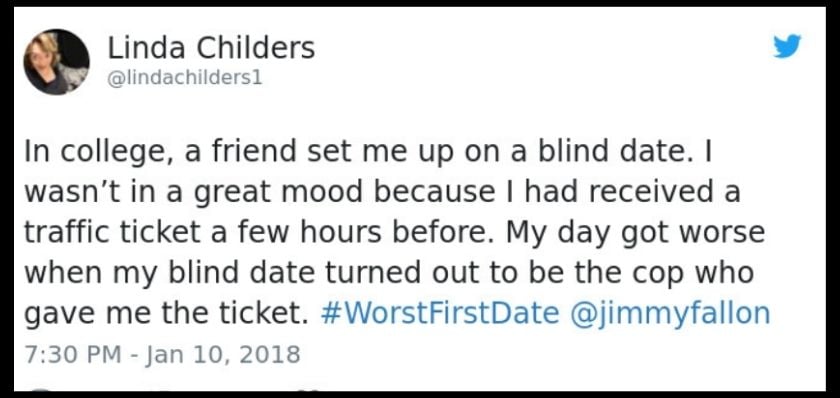 Imagine Linda's surprise when she later learned that her ticket-giving cop was also her date for the evening! A small world indeed. Here's hoping that he was able to show a little bit of chivalry and revoke the ticket. After all, everyone deserves a break every now and then.
The dangers of excess
When it comes to gambling, it can be easy to get carried away. Just ask Heather's date! He ended up losing all his money and making Heather pay for their date. Not exactly a gentlemanly move.

But hey, sometimes people just get caught up in the excitement of gambling and lose track of their limits. It's never a good idea to support someone's destructive behavior, but sometimes you just have to do what you can to get through a tricky situation. Here's hoping Heather's date can learn to gamble responsibly and not put himself or others in such difficult positions in the future.
Spoiler alert
Collin's date sounds like it didn't go well at all! It seems like she wasn't really interested and ruined the movie by spoiling the ending. Nobody likes spoilers, and they can really ruin the experience of watching a movie.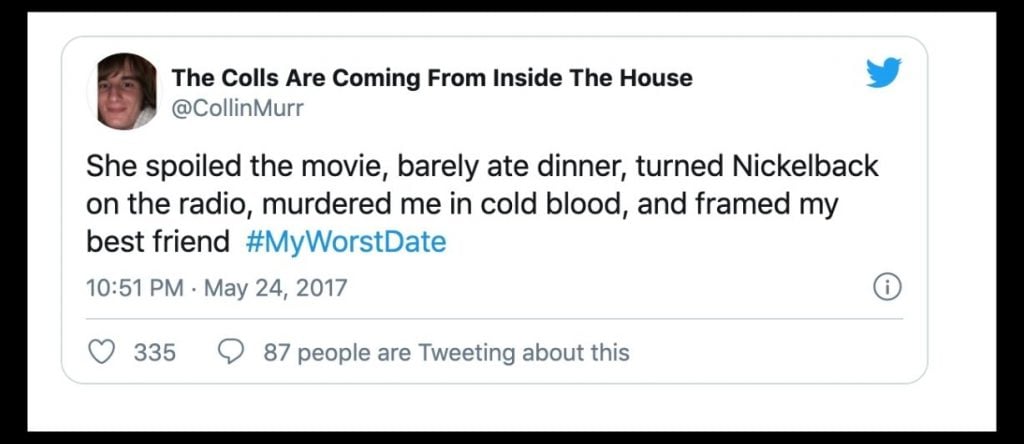 Plus, if you're not even eating dinner on a date, it can make things feel really awkward. If we were in Collin's shoes, we'd be extra careful about who we went on dates with in the future, or at least make sure to get to know them a little better beforehand.
Who was Scott with?
Scott's date was a bit of a mystery-romance flick come to life. When he arrived at the restaurant, he found that the girl he was with wasn't actually his date at all! Talk about an unexpected twist.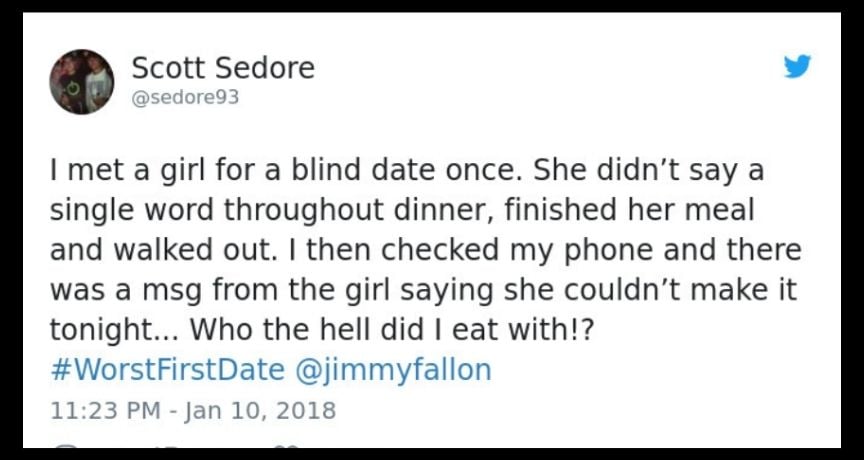 Despite the girl's silence and lack of communication during dinner, Scott never suspected a thing. We can't help but wonder how he didn't notice that she looked different from her picture. This mysterious date has us full of questions!
So many red flags
Going on a date can be daunting enough, but imagine finding out your potential partner has a criminal record! It's no surprise that Heather felt uneasy on this particular date, especially with the added distraction of the guy's less-than-stellar dental hygiene.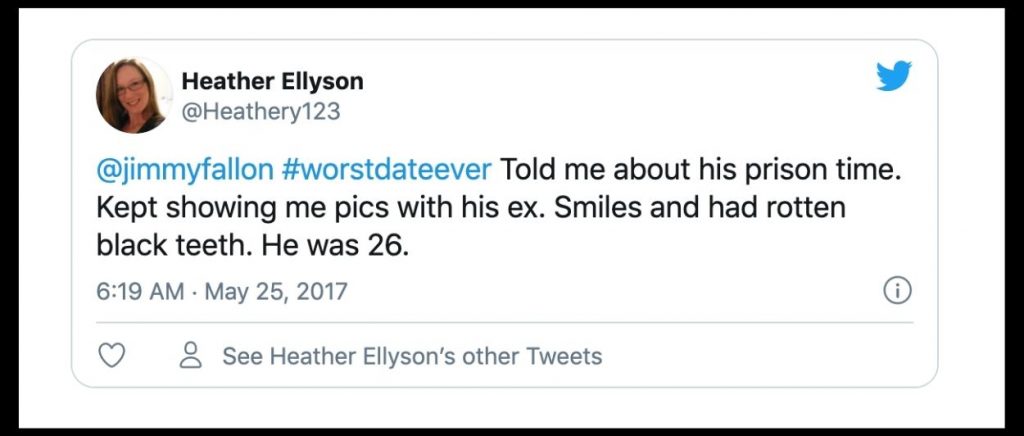 We've all had those moments where we wish we had a pack of mints or gum on hand to freshen up. But it's important to remember that good oral hygiene isn't just a nice-to-have – it's a must. Next time, maybe this guy will remember to brush and floss before heading out on a date.
An elbow to the face
Mike's love story is one for the books! On their first date, he accidentally elbowed his now-wife in the face while going in for a kiss. Despite this mishap, the two have been inseparable ever since. It's a funny and endearing tale that shows that even a little accident can bring people together.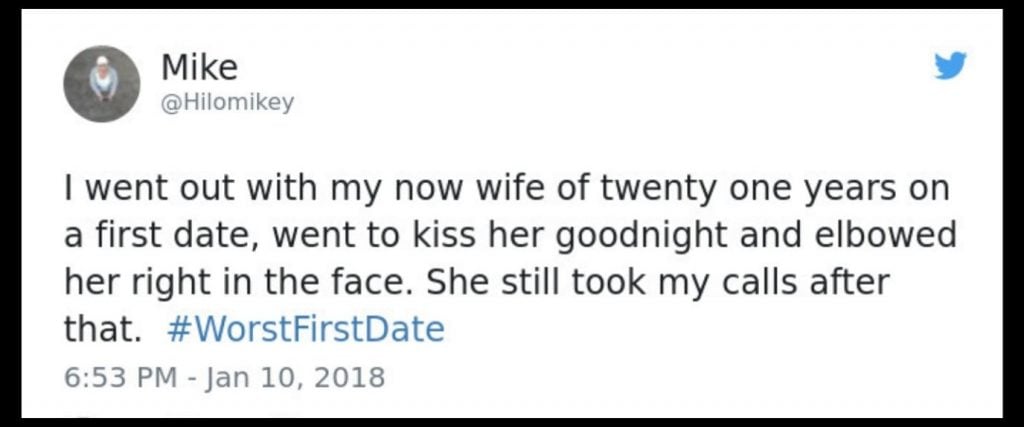 Despite the initial awkwardness, Mike's wife stuck by his side and showed herself to be a true keeper. It's important to remember that a little nervousness is natural when it comes to romantic moments, but with a little patience and understanding, anything is possible.
Cheap date disaster
It's no secret that Taco Bell is a fast food lover's paradise, with delicious burritos and top-notch tortillas that'll make you want to come back for more. But unfortunately, not everything about Margaret's experience was top-notch.

During their first date, her partner treated her poorly and ended up ditching her at the restaurant. How rude! Margaret deserves someone who will treat her with respect and not try to skimp out on the bill. This guy certainly wasn't worth her time or energy.
The lessons of young love
Ah, the highs and lows of high school love. Remember when everything seemed so bright and rosy, especially when your crush walked by? Kyle certainly does. He had a girlfriend in high school, but she wasn't exactly the affectionate type. When he tried to plant a smooch on her, she just laughed it off.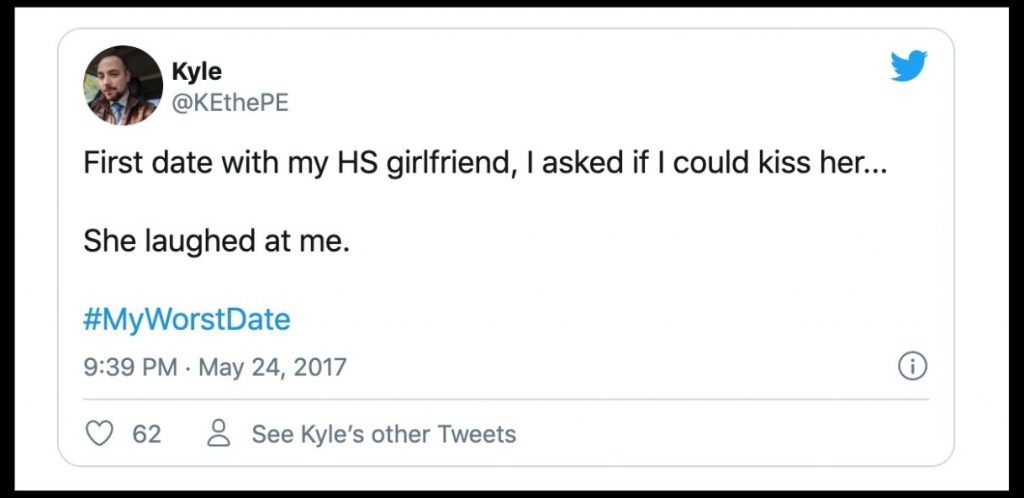 But hey, it's all part of the learning experience. Kyle's ex may have turned down his affections, but she taught him a valuable lesson about love and relationships that he'll carry with him for the rest of his life. Even at a young age, it's important to manage our expectations and not take things too seriously.
The puppy trumpet incident
It looks like Danielle had a bit of a cringeworthy date. Her date tried to be cute, but his gesture came across as just plain strange. You know things are bad when someone blows into your nose and calls it a "puppy trumpet." Yikes! This one might be better left for a more serious relationship or, even better, never repeated.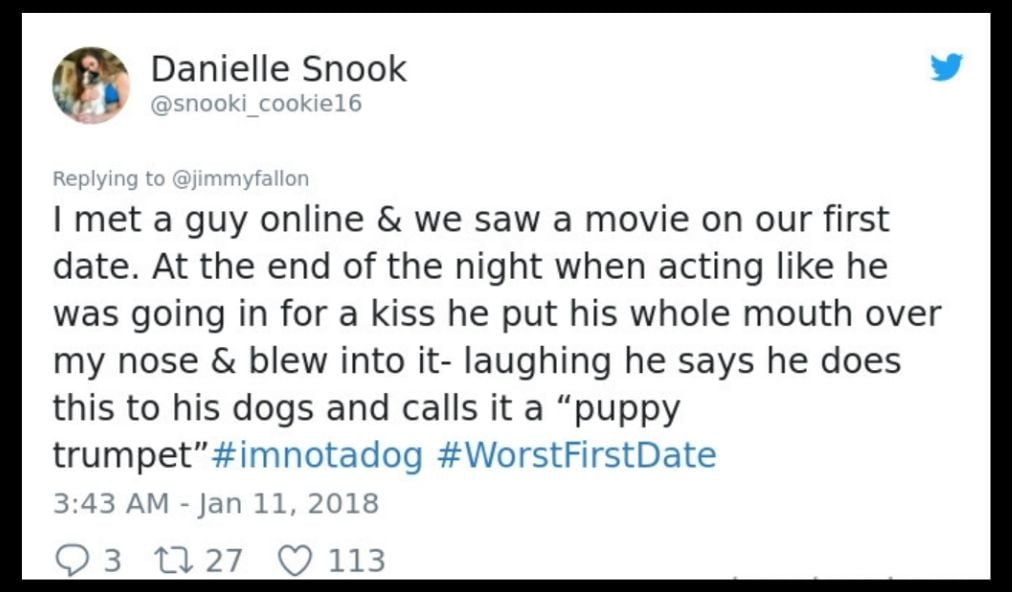 We can't say for sure what happened before this moment, but it seems like things were going okay until this point. It's always a good idea to be mindful of your actions on a date and make sure you're not making any weird moves. Just stick to kissing the nose and you should be good to go!
Kissing conundrum
Ranch dressing is a fan favorite for wings and Caesar salads, but it's not exactly the best choice for kissing. Bennet learned this the hard way when his date tried to lean in for a smooch with a mouth full of food. Yuck!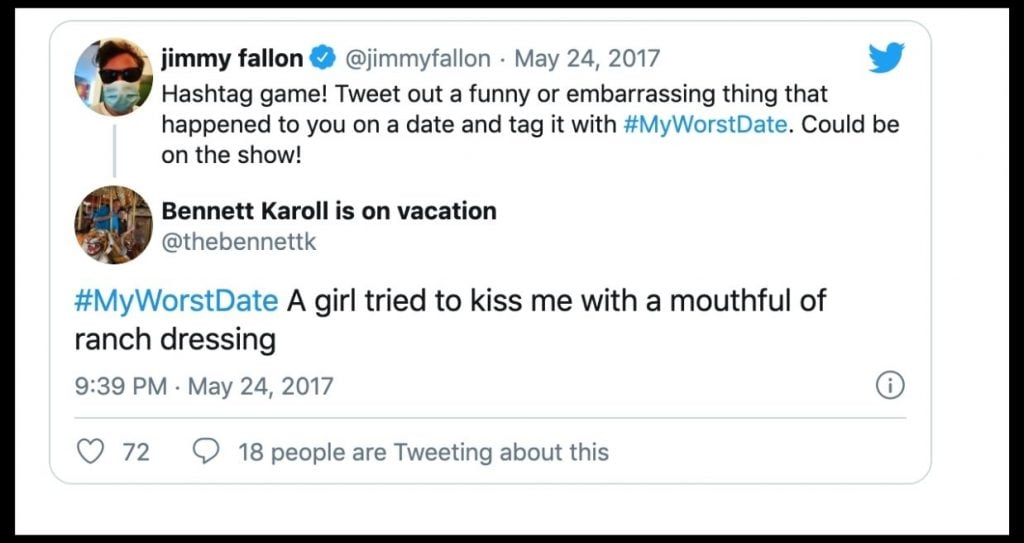 Before puckering up, it's always a good idea to make sure you've fully swallowed your grub. Unless, of course, you're a bird or something. After this ranchy incident, Bennet called it a night on this date.
Boozy blunder
Thomas really shouldn't have had that extra drink before his date. It's always a good idea to keep a clear head on a date, so you can fully engage with the person you're with.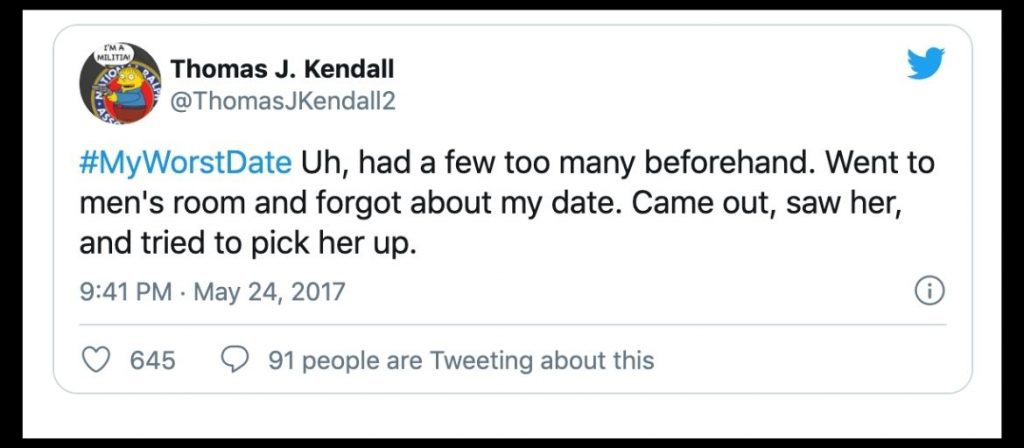 But things took a turn for the worse when Thomas stumbled into the bathroom. He ended up mistaking his date for someone else and asked her out again! We can only imagine how awkward that must have been for her. But hey, at least it's a story to tell for years to come! Just try to remember to pace yourself on those drinks next time, Thomas.
Age gap surprise
Seth had a really weird first date experience. He thought he was going to meet a young woman, but it turned out he was actually set up to go out with her grandma!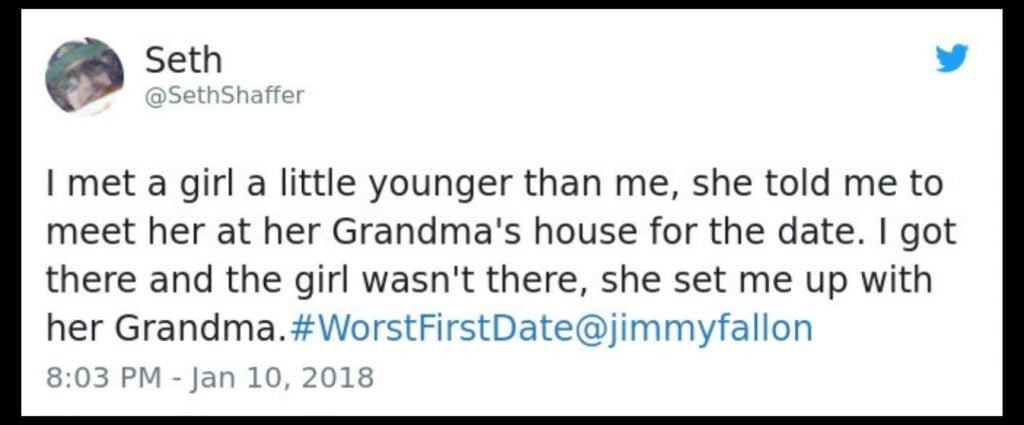 We're not sure what we would have done in his shoes, but maybe just treating the grandma to some ice cream would have been the best approach. It's definitely a strange lesson in the importance of double-checking details before heading out on a date.