Fans Scrutinize Kate Middleton's Fashion Accessories for an Interesting Reason
For so long, Kate Middleton has been the center of attention. We saw Kate rise in the royal spotlight through her marriage and pregnancies. Today, she stands at the center of British society as one of the most photographed women in history.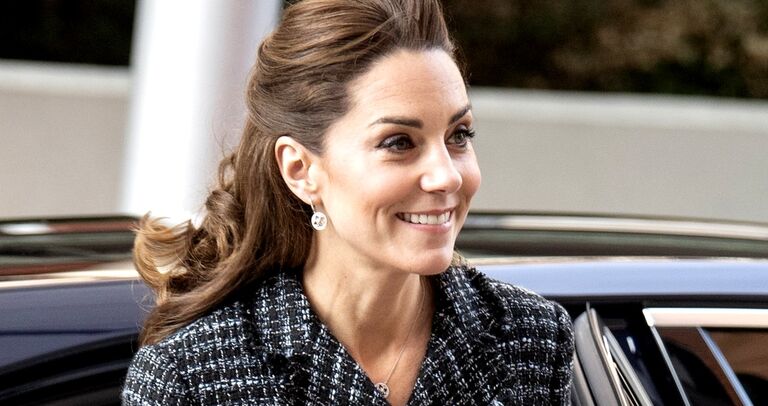 From the clothes she wears to the jewelry pieces, shoes, and bags she accessorizes with, fans have always had a knack for noticing every little detail about Kate's fashion style. When fans noticed a small accessory missing from Kate's outfit, the rumors began. With this in mind, we've selected 40 of the most iconic photos of the Duchess of Cambridge to demonstrate why people have become so obsessed with her chic aesthetic. These photographs will astonish you in more ways than one.
1. Wedding Day
On April 29, 2011, Prince William and Kate Middleton officially tied the knot. It was such a memorable moment that people still talk about today. It would take a lot to top the astonishing dress she wore on her wedding day. As you can see in the photo, Kate looks stunning and happy while waving to onlookers outside Westminster Abbey.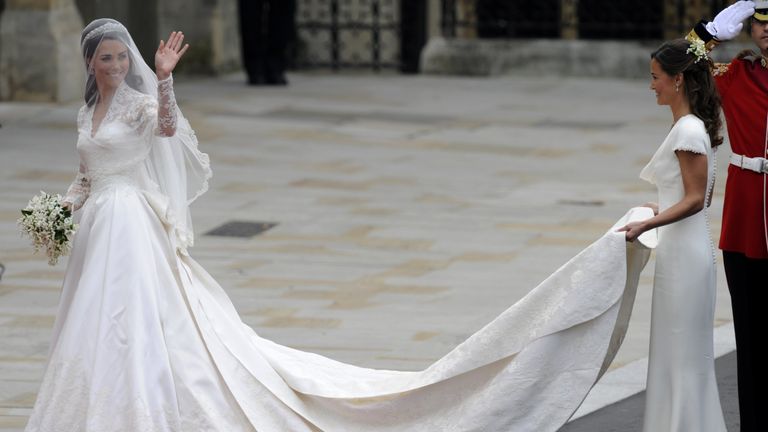 Sarah Burton of Alexander McQueen designed Kate's gown, and the Duchess collaborated closely with Burton throughout the process. Kate's dress had 58 gazar and organza-covered buttons on the back, secured by Rouleau loops. This style was influenced by the Victorian practice of corsetry.
2. Family Picture
The whole family appeared on Big Night In, a fundraising initiative run by the BBC Children In Need and Comic Relief. The program was put on to raise money for COVID-19 first responders. Below, you can see the perfectly orchestrated outfits the family wore. Look at how cute their children are. They were all so well-behaved, clapping on queue for the camera.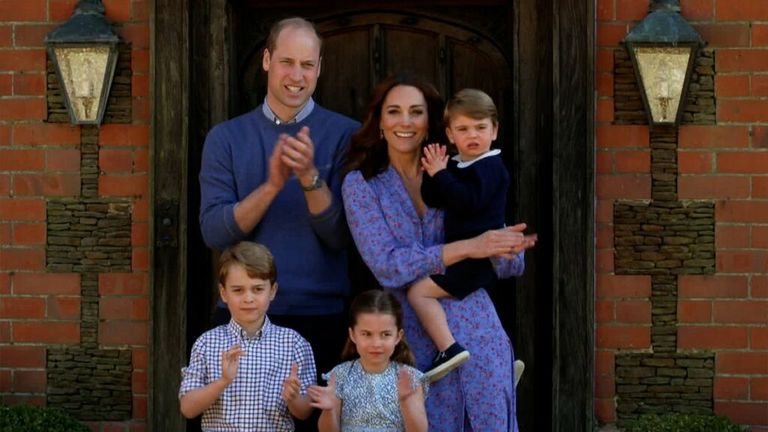 Outside their house in Norfolk, the royal couple were joined by their three children, Prince George, Princess Charlotte, and Prince Louis. In the photo, Kate Middleton is wearing a lovely blue shirt dress with ruffles. Ghost, a London-based company, created the Duchess' full-length crepe dress, complete with its semi-fitted shape and beautiful flower pattern with buttons down the front.
3. London Hospital Visit
The Duchess of Cambridge, Kate Middleton, was at Evelina London Children's Hospital in London for a creative workshop. The National Portrait Gallery runs the workshop to engage kids in the arts and give them something positive on which to focus. It's an event where children may use various materials to showcase their creativity and ideas.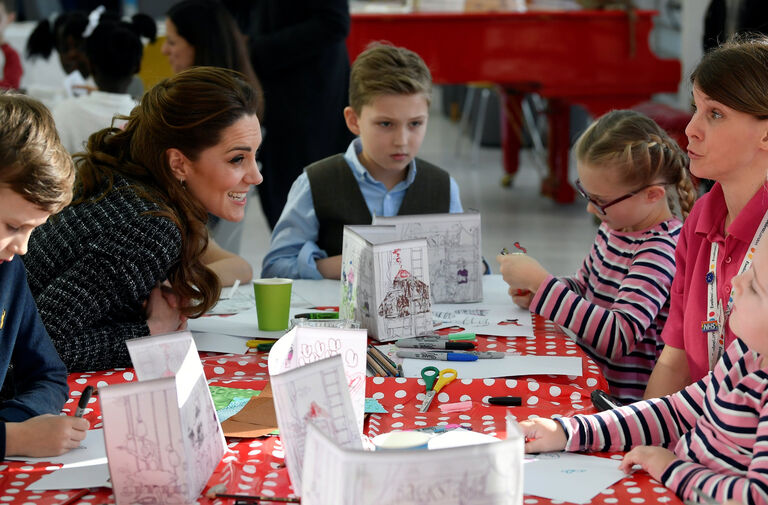 As you look closely at the picture, you can see the kids are engrossed in what they are doing. While it's cute to look at the kids, you can't deny that Kate's look is captivating in this photo. She wore a black dress and loosely braided hair. She looks relaxed but dazzling, perfect for the event she's attending.
4. Polka Dots with Jeans
On their second day in Ireland, the Duke and Duchess of Cambridge visited the National Centre for Youth Mental Health. Though you can't see it in this photo, Kate wore a Reiss coat – the same one she'd worn on her 26th birthday.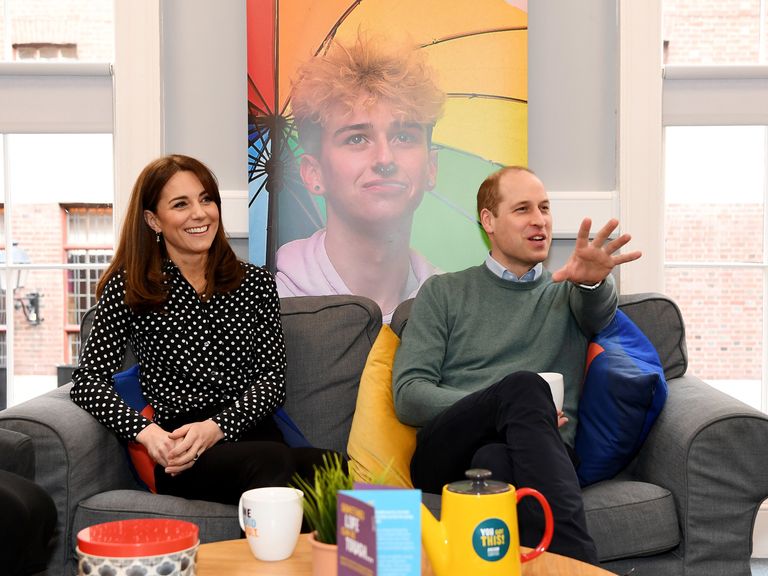 The photo shows a genuine smile from the Duchess of Cambridge, and she looks comfortable wearing black jeans. On their visit, they met some of the beneficiaries. They also participated in discussions about the impact of the organization's work.
5. Hobbs London
As the Royal Patron of East Anglia's Children's Hospices (EACH), Kate Middleton visited the place wearing a Hobbs London jacket and skirt. Her attire is chic but understated, as you can see in the photo of her and the children in the sensory room.
The event was about a new Norfolk hospice called the nook. The location is at Framingham Pigot. Kate met with Quidenham hospice employees, volunteers, and families who are currently or have previously used the institution. She even met the supporters of the event who are continuously fundraising for the new hospice.
6. Engagement Announcement
On November 16, 2010, Kate and Prince William announced their engagement in the State Apartments of St. James Palace. Kate wore a timeless Issa wrap dress in royal blue. This style of dress is a wardrobe essential, allowing the wearer to effortlessly transition from day to evening.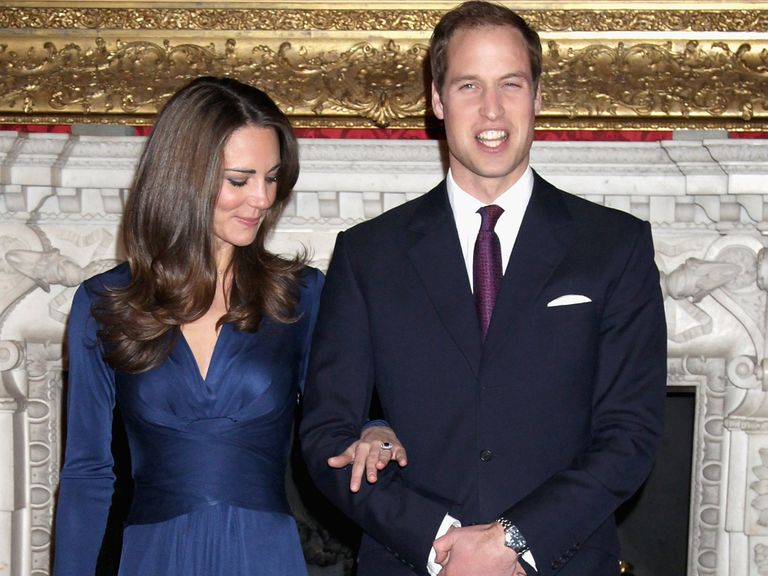 The most shocking element of her outfit, of course, was the new ring. Garrard created a 12-carat oval blue Ceylon sapphire surrounded by fourteen solitaire diamonds. It was Lady Diana Spencer's engagement ring when she was engaged to the Prince of Wales.
7. Meeting Anne-Victoria
At an event run by the National Portrait Gallery that focuses on the impact of the arts on children's well-being, photographers captured Kate wearing a Dolce & Gabbana skirt suit. During the event, Kate gave a speech that focused on the impact of the arts on children's health and happiness.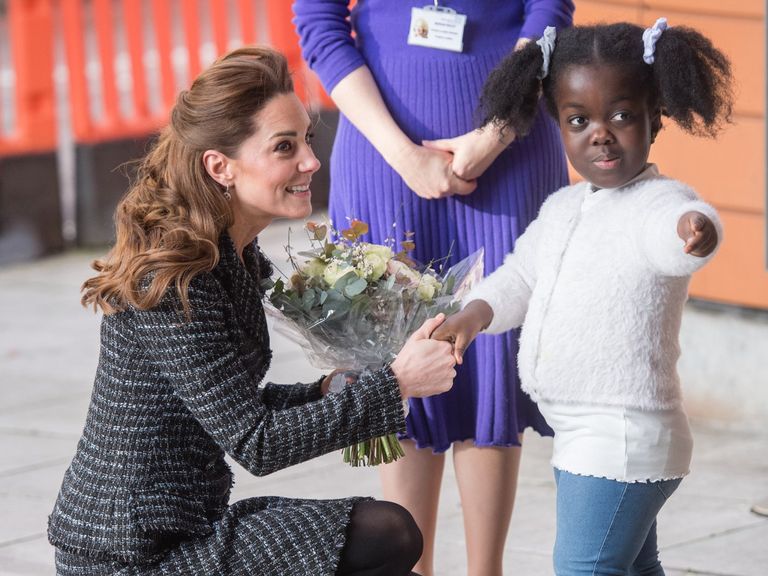 In the picture, you can see that she's holding the hand of Anna-Victoria Amoafa-Sennie, who handed her the bouquet she's holding with her left hand. Her understated beauty shines even more because of the genuine smile plastered on her face throughout the event.
8. Vintage Polka Dot
On the last night of the couple's stay in Ireland, the Duchess of Cambridge wore a vintage Oscar De La Renta dress. The Duchess caused a stir because some thought the pink polka dot dress was a tribute to her late mother-in-law. It looks a lot like the dress Princess Diana wore to a royal engagement.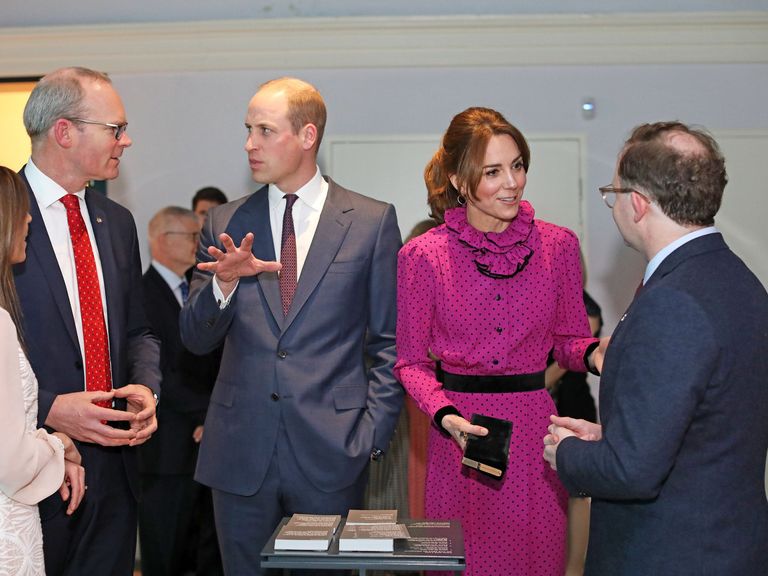 Whatever the case may be, the pink dress looks lovely with her ponytail and simple makeup. She accessorized her pretty-in-pink ensemble with a black purse and matching Jimmy Choo heels. If you are following Kate Middleton's style, you'll know she loves wearing polka dots.
9. Paddington Station
Kate joined Prince William and Prince Harry at a charity event at London Paddington Station, despite her morning sickness. She revealed a new shorter haircut, curled into her characteristic waves, hovering above a peach Orla Kiely dress. She looks so lovely in her outfit.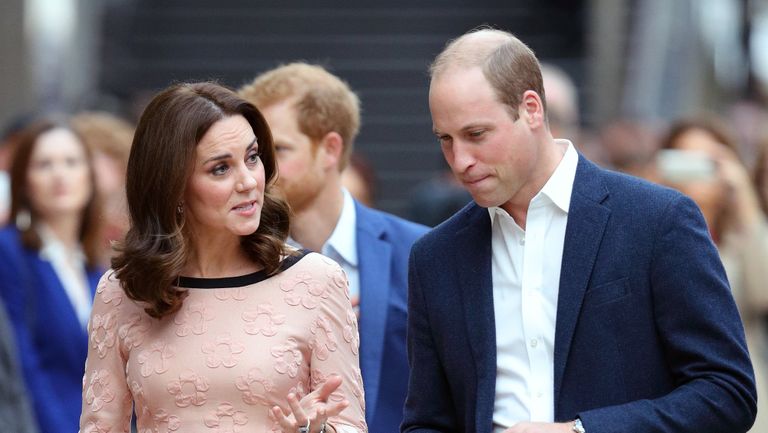 This was her second public appearance since the announcement of her third pregnancy. She appeared in high spirits while visiting the famous figure and conversing with children onboard a vintage Pullman train. The crowd did not expect her to come, but she made the effort.
10. Green Sparkling Dress
We all expect Kate to wear expensive clothes and jewelry, but this is not always the case. On the first night of the royal visit to Ireland, the Duchess of Cambridge wore a green dress and H&M earrings. The Duke and Duchess of Cambridge went to the Guinness Storehouse to celebrate Ireland's famous beverage.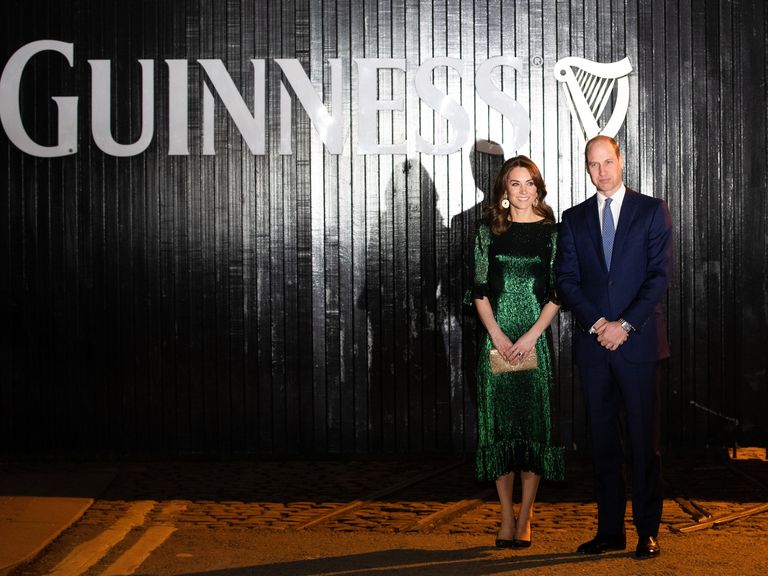 In the photo, you can see how the sparkling green dress lights up at night. Kate looked lovely in this emerald dress by The Vampire's Wife. While the H&M earrings may have been cheap, the dress costs around $2,000.
11. EE British Academy Film Awards Ceremony
The royal couple, the Duke and Duchess of Cambridge, were invited to the EE British Academy Film Awards ceremony in 2020. Kate wore an Alexander McQueen gown that she had previously worn on a royal visit to Singapore, Malaysia, and the Solomon Islands in 2012. She accessorized her gold and white ensemble with glistening heels and Van Cleef & Arpels jewelry.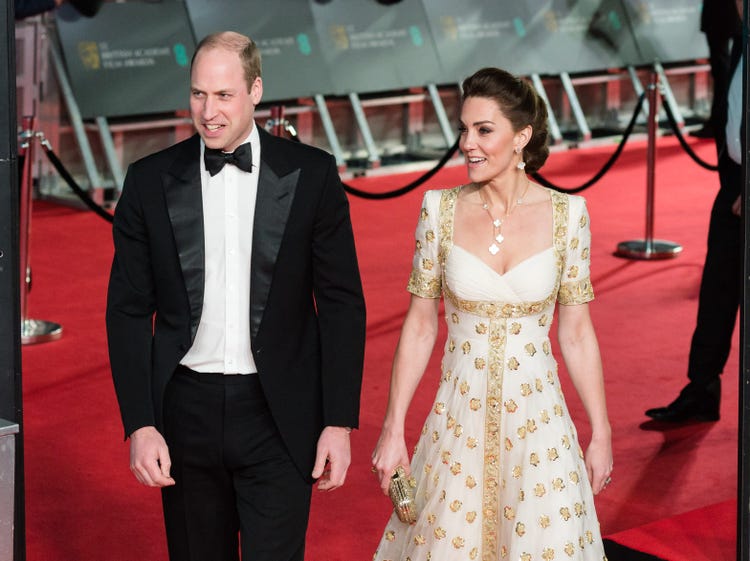 The Duchess joined other red carpet attendees in advocating for sustainable fashion as part of a request made by the awards event ahead of time. In the photo above, you can see how elegant Kate is with her outfit. She looks like she's just stepped out of the fairytale world.
12. Rumors Begins As Kate Appears in Public Without Her Ring
Kate Middleton was at the end of the second trimester in this photo. She's wearing a red coat from British brand, Broden while visiting Great Ormond Street Hospital. Kate visited the children's hospital to celebrate the completion of the most recent phase in the facility's major reconstruction project.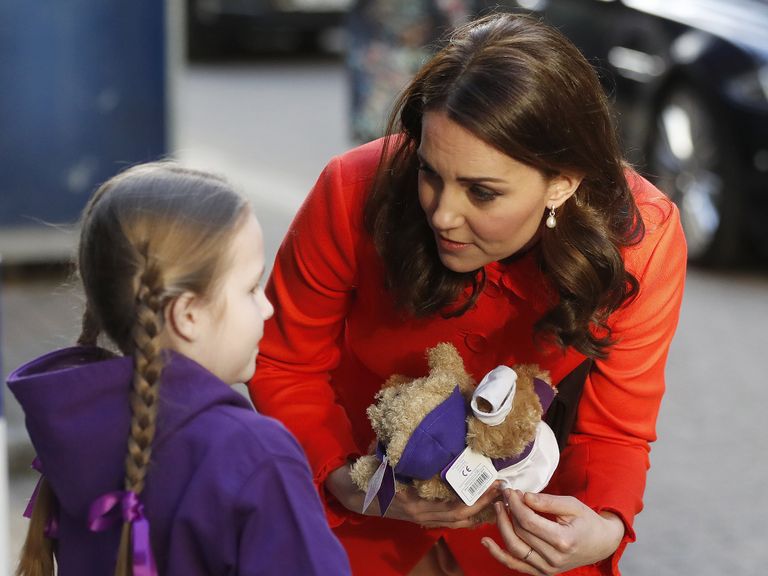 As you can see in the photo, Kate receives a cute gift from Ava Watt. However, many onlookers were intrigued as to why Kate did not wear her engagement ring. After observant fans noticed the gorgeous accessory missing, the rumors began. What was the meaning? Was there trouble in paradise?
13. Gala Dinner at Buckingham Palace and the Ring Returns
The Duchess of Cambridge was seen attending a gala at Buckingham Palace. Jenny Packham, one of the Duchess's favorite designers, designed the gown. Kate finished off her ensemble with a pair of Jimmy Choo heels, a matching clutch purse, and, of course, her characteristic bouncy blowout.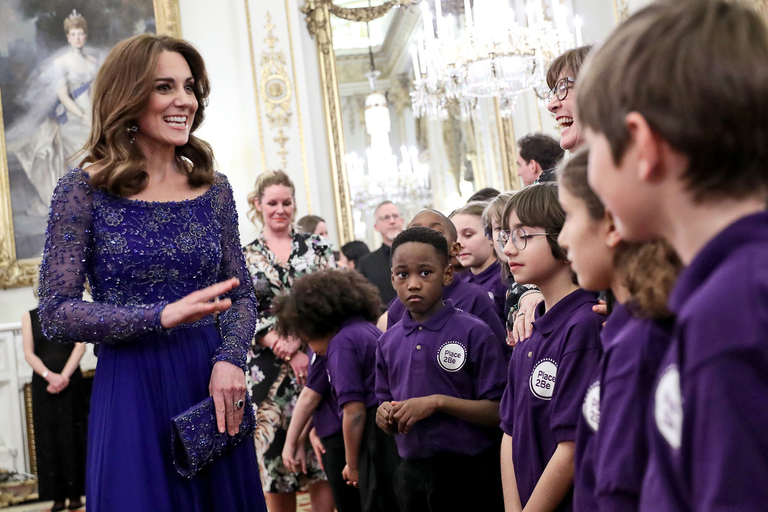 The most eye-catching element of her outfit in this image is her engagement ring. The event celebrated the 25th anniversary of Place2Be, an organization that supports childhood mental health. As you can see in the photo, the engagement ring has returned. As it turns out, Kate left her engagement ring at home during her hospital visit due to the hygiene rules in place for the event. That's all there was to it!
14. Green Color Combination
A photographer took this photo during the Duke and Duchess of Cambridge's official visit to Ireland. As soon as the Duchess stepped out of the plane, fans were amazed at her new look, specifically her hairstyle. She pulled her glossy brown locks back from her face, allowing them to tumble down over her shoulders.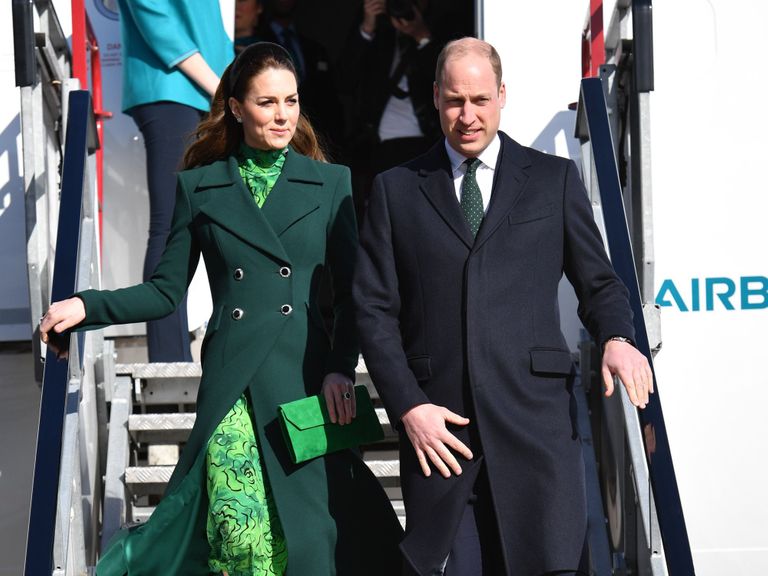 As you can see in the photo above, the Duchess of Cambridge is sporting a green coat, dress, and clutch. It is her way of paying tribute to the verdant hues associated with Ireland and St. Patrick's Day. Given how bright her outfit is, it's funny that her hairstyle is what caught the public's eye.
15. A Bright and Cheery Yellow Dress
On July 20, 2017, the Duke and Duchess of Cambridge visited Hamburg in Germany. A lot was going on for the royal couple at the time, with many important engagements to attend.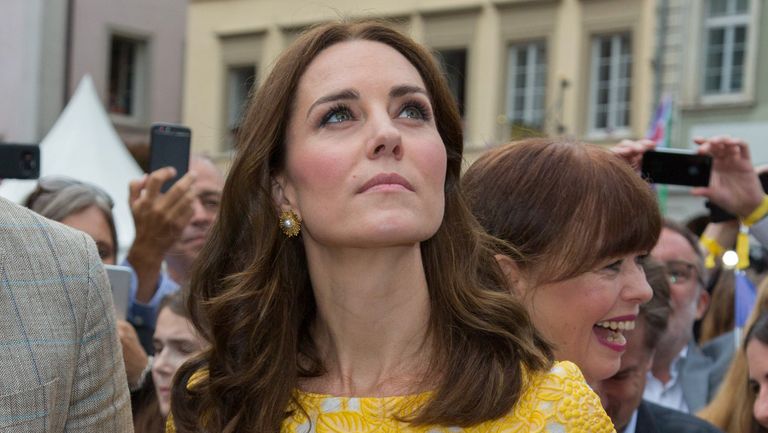 In the image above, the Duchess of Cambridge can be seen wearing a bright yellow dress by Jenny Packham. It has short sleeves, a midi-length pleated skirt, and white piping detail on the front. Kate accessorized her look with wedged shoes by Monsoon and Japanese pearl earrings set in gold-plated stars.
16. A Scenic View
After visiting the National Centre for Youth Mental Health, the Duke and Duchess visited Teagasc Research Farm. Take a look at the photo below taken from the Howth Cliff Walk. After their farm visit, they took the opportunity to enjoy the scenic view over the cliffs.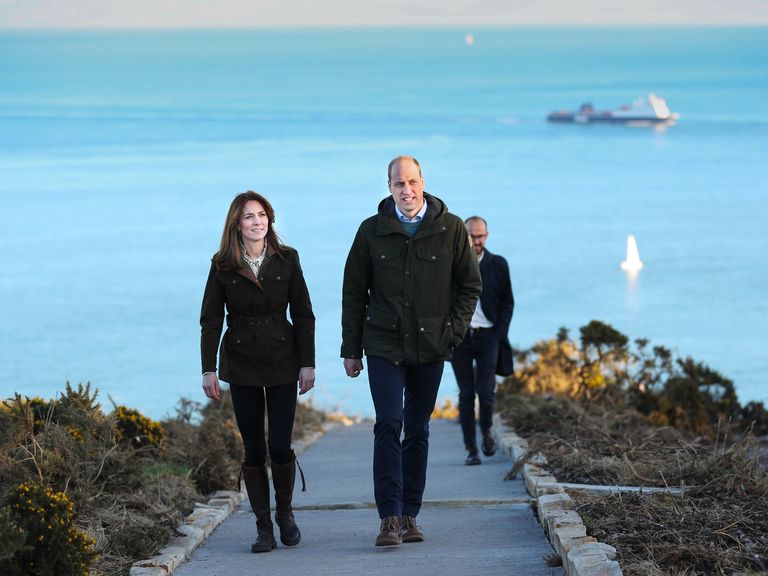 In the photo, Kate is wearing a Dubarry jacket and a pair of Penelope Chilvers boots. She looks classy in her outfit. One thing you'll notice about Kate's outfit choices is that she always matches the setting perfectly. Kate is never overdressed, but neither is she ever underdressed.
17. Her Visit to Blackpool
The Duke and Duchess of Cambridge visited Blackpool in the north of England on March 6, 2019. The royals had a full schedule ahead of them, with many engagements planned before returning home. Before a long day of appointments, the Duke and Duchess of Cambridge strolled through the seaside town to visit Blackpool Tower.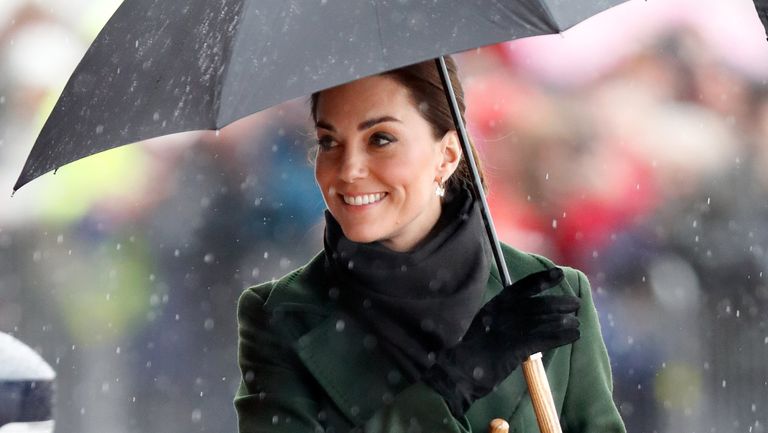 Kate wore a Sportmax coat, Ralph Lauren boots, and a green Michael Kors midi shirt dress on their visit. The weather was bad, and when the royals arrived, it began to rain severely. Kate somehow managed to appear immaculate, despite the rough conditions.
18. Visit at the Mumbles Lifeboat Station
Kate and Prince William visited Mumbles Lifeboat Station on February 4, 2020. A crowd greeted them on the seafront before they enjoyed some freshly made gelato. They chatted with some of the locals and crew members on their trip.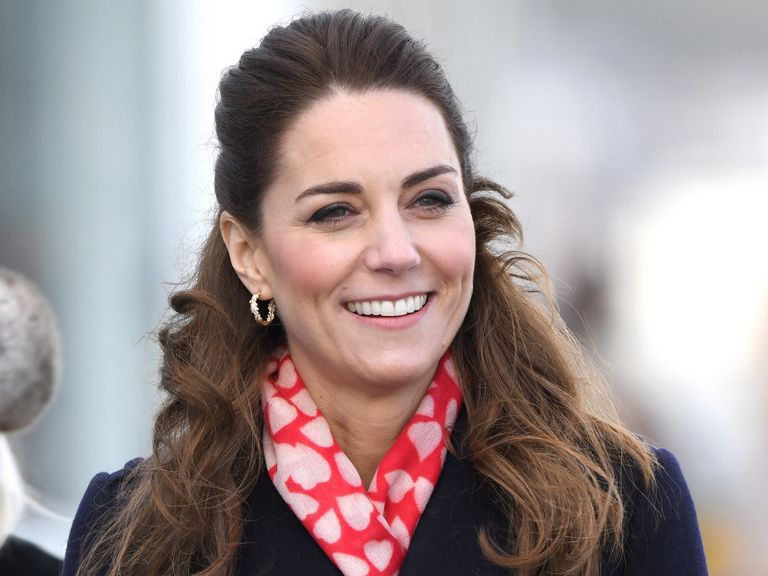 Kate never stopped smiling while enjoying their trip. She wore a Bianca Coat by Hobbs, which was perfect for the strong wind. Beneath it, Kate wore a Zara dress and added a Bella London scarf to complete her look.
19. First Public Engagement
This photo was Kate's first public event after the lockdown. As part of a request made by the awards ceremony ahead of time, the Duchess joined other red carpet participants in campaigning for sustainable fashion. As you can see in this photo, Kate looks comfortable while giving her talk.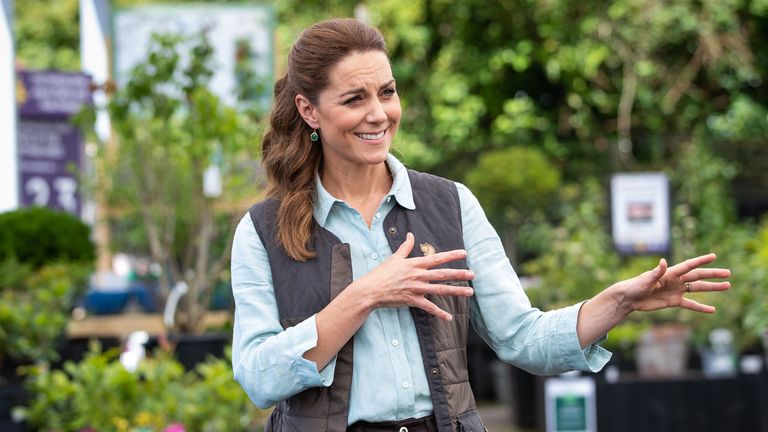 Kate wore a Jaeger blouse, Massimo Dutti jeans, and a Fjällräven padded vest for her first in-person engagement, and as you can see, she rocked the outfit with her usual aura of effortlessness. Though you can't see them here, she wore a pair of Superga shoes.
20. Commonwealth Day Service 2020
The Commonwealth Day Service 2020 was held at Westminster Abbey, and Kate Middleton wore a stunning deep-red coat by Catherine Walker. If you follow Kate's outfits, you may remember that she wore the same coat in 2018 on Christmas day. On both occasions, she looked so elegant that she left everyone in awe.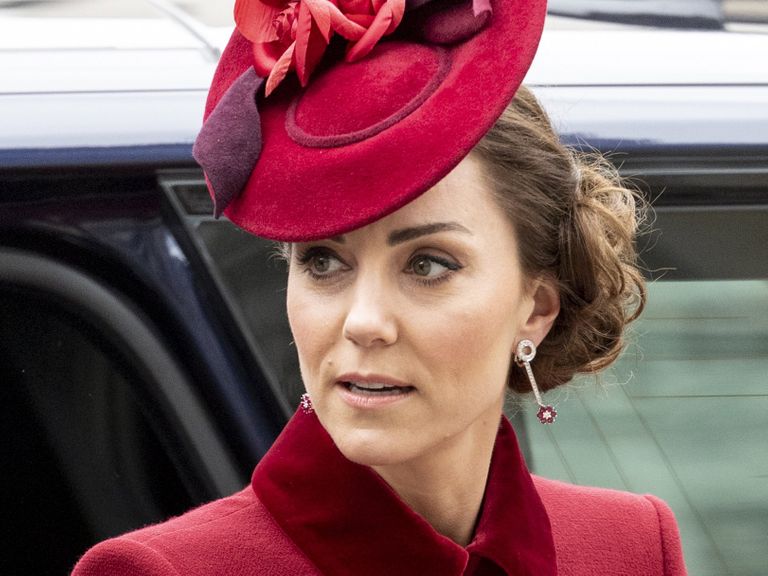 Kate completed the stunning outfit with a rose-accented hat, a pair of wine-colored stiletto heels, and a burgundy purse and gloves. Her earrings match the necklace she wore at the 2011 Sun Military Awards.
21. Chic Gray Blazer
Kate looks good in whatever she wears. She also proves that a chic blazer and black jeans can make you look ultra-stylish. On October 20, 2018, Kate visited Coach Core Essex at Basildon Sporting Village. Though he's not included in the photo below, Prince William accompanied her.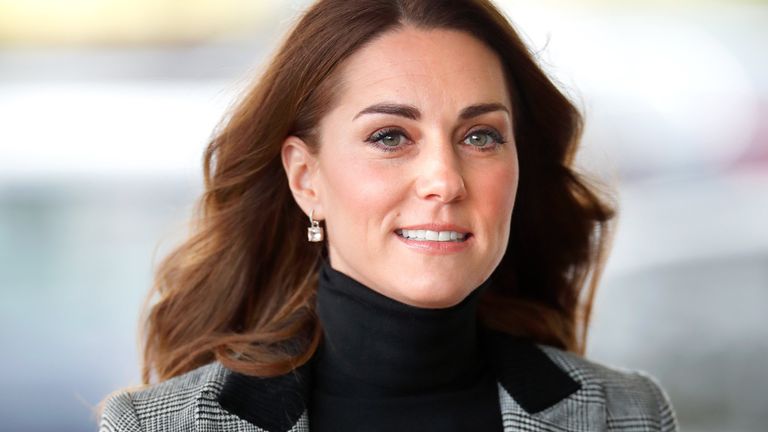 Kate looks stunning wearing a check blazer, a black turtleneck sweater, and slim jeans, coupled with her favorite Russell & Bromley boots. The blazer alone is estimated to be worth $795. However, the most expensive additions to the outfit were her diamond earrings.
22. Perfect Smile
The Duchess of Cambridge arrived at The Ark Open Farm wearing casual attire paired with some chic boots. She was given a tour of the farm, and as you can see in the photo below, she thoroughly enjoyed the trip.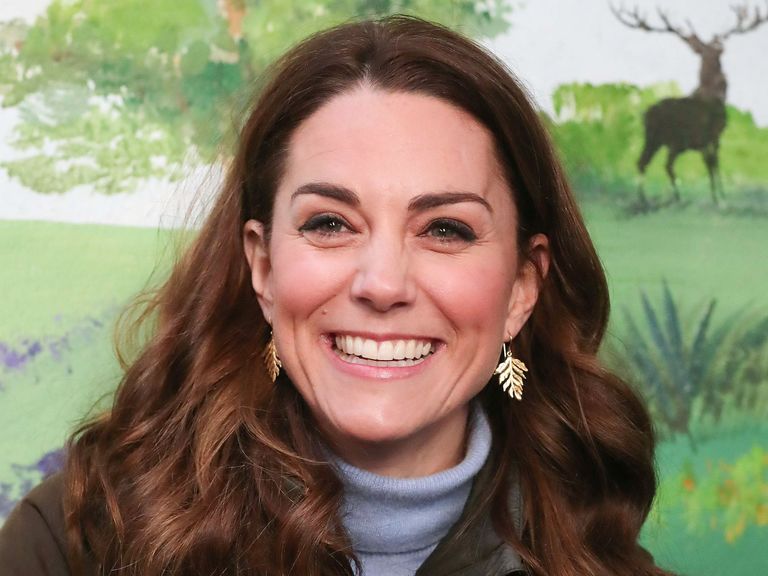 Look closely at the picture. Those golden Catherine Zoraida leaf earrings are the same ones Kate wore with her John Lewis cashmere jumpsuit. They drew a lot of attention on both occasions. Zoraida is a London-based label that has long been a favorite of Kate's.
23. Hurling Battle
This photo was snapped at the last event the Duke and Duchess of Cambridge attended to end their Ireland visit. They visited the Salthill Knocknacarra GAA club in Galway after learning about the nation's favorite sports. The crowd was excited to see who would win between Team William and Team Catherine (Kate).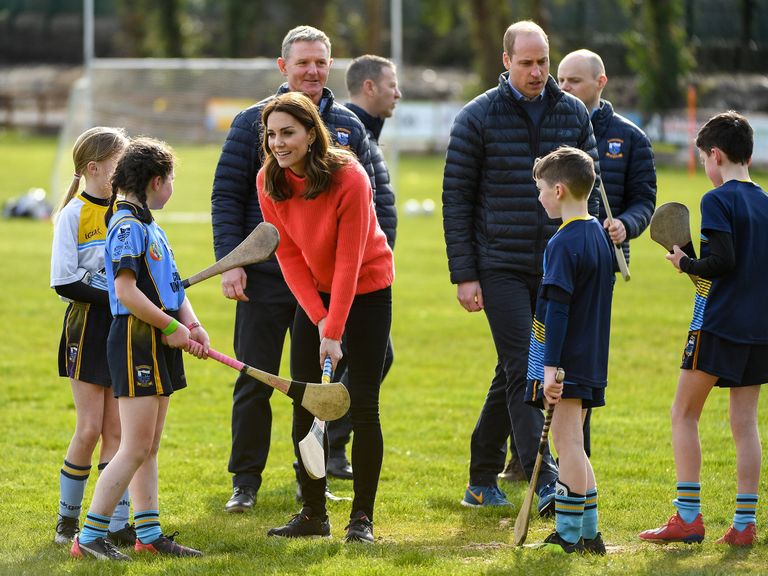 Take a look at Kate's outfit in the photo. She wore New Balance trainers and paired them with black leggings and a neon, knitted jumper. She pulls off an elegant look, even in sporty attire. If you're wondering, team Catherine won the game.
24. Red Coat
One thing is always present with Kate, no matter where she goes. It's her smile, which can make other people feel happier just by looking at her. She comes across as a pure and genuine person, with no fakeness or affectations. This photo was taken when she visited a group of young air cadets at RAF Wittering.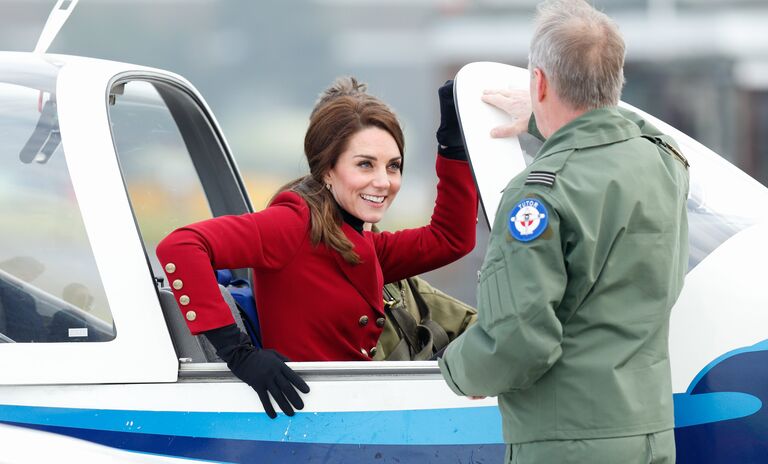 The Duchess of Cambridge was wearing a Philosophy Di Lorenzo jacket, paired with Stuart Weitzman Half N Half Boots and Kiki McDonough Lauren Leaf Earrings. On the midsection and both sleeves of this elegant jacket, you can see beautiful gold buttons.
25. Those Black Boots
Kate Middleton was seen rocking an all-black outfit while visiting the Jaguar Land Rover Factory. She looks stunning in her outfit, and her gorgeous smile in the photo completes the look. Did you know that Kate was pregnant at the time? It's not obvious in the photo thanks to the coverage of her black outfit.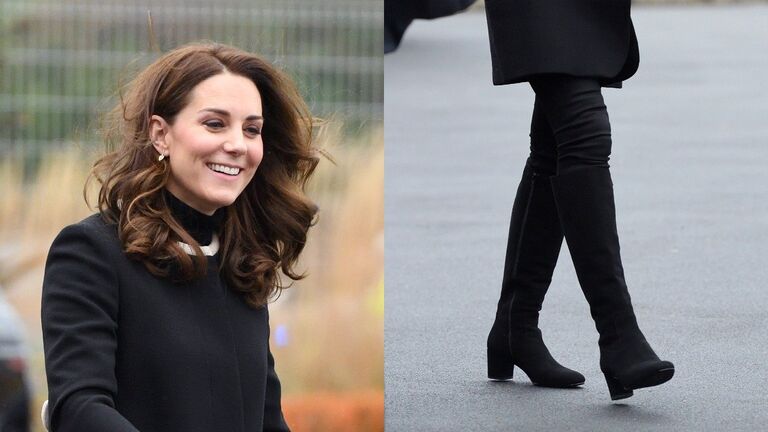 Though the entire outfit is stunning, her black knee-high Russell & Bromley boots were the talk of the town. She paired them with Kiki McDonough's yellow gold diamond leaf earrings. She already used this outfit on a vacation in New York in 2014.
26. Commonwealth Fashion Exchange Reception
Kate Middleton wore a black and white lace Erdem gown, modest black pointed shoes, and Anita Dongre earrings to this event. The Commonwealth Fashion Exchange project brings together designers, artists, and manufacturers from all 53 Commonwealth nations, including Canada, Australia, and India, to mention a few.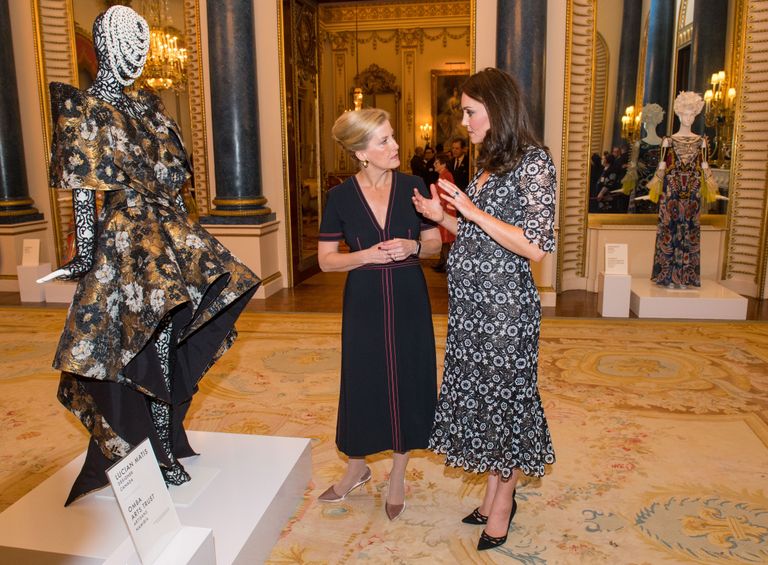 The Duchess spent the evening touring an exhibition of fashion pieces in the Palace's State Rooms. She met the designers who had collaborated on the project. In the picture, you can see that she was pregnant with Prince Louis at the time.
27. Rocking a Casual Look
We all know that Kate can pull off any outfit that is given to her. Just look at this photo of her sporting casual attire when she visited the King Henry's Walk Community Garden in Islington. She wore a Dubarry jacket and matching pants.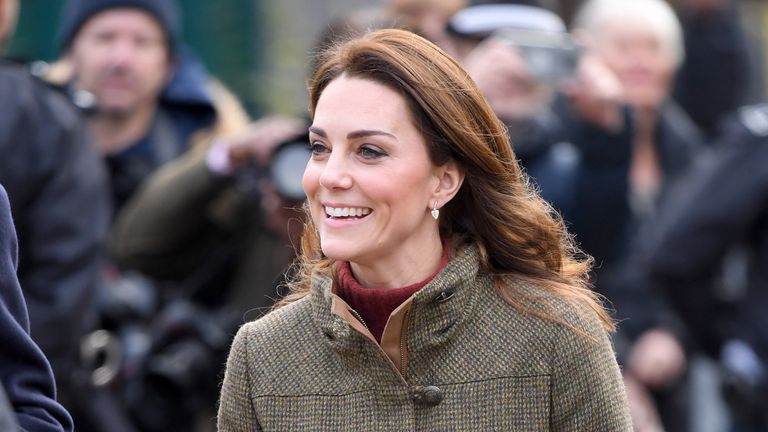 You can see in the photo above her genuine smile that shows how happy she was on her visit. Also, she enthusiastically discussed pizza, bird watching, and studying outside with St. Jude and St. Paul's Primary School students. During Kate's visit, she may have picked up some gardening advice too.
28. Her Purple Gucci Blouse
On March 12, 2019, Kate Middleton, the Duchess of Cambridge, visited the Henry Fawcett Children's Centre in Coventry. The Duchess is known for having British values at heart and supporting charities to ensure they are able to support the community. This visit was no different.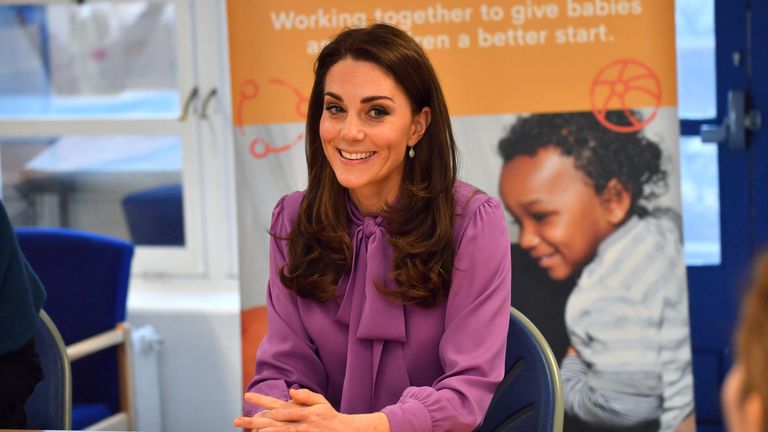 As you can see in the photo above, she wore a Gucci Silk Crepe Pussy Bow Blouse that cost about $1,300. She paired it with high-waisted Sport Luxe Trousers. Her Kate's Hope Egg Earrings in sterling silver and white topaz by Links of London are one of the most fascinating aspects of this ensemble.
29. Kate's Lacy Blue Dress
Kate attended a reception at Buckingham Palace to commemorate World Mental Health Day on October 10, 2017. Alongside Prince William and Prince Harry, she met with representatives from different organizations. The event was a celebration of the efforts put in by workers in the mental health sector across the UK.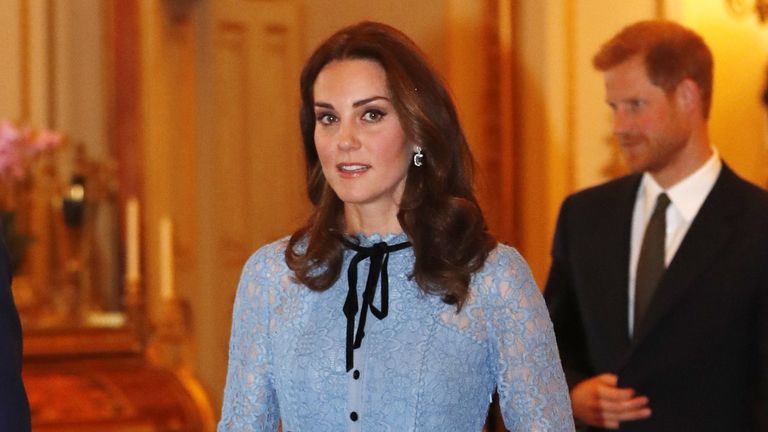 As you can see in the photo, Kate wore a beautiful blue midi dress from Temperley London. She paired it with Gianvito Rossi 105 pumps and a Mulberry Bayswater clutch. The most iconic piece of her outfit was her Kiki Mcdonough Blue Topaz and Diamond drop earrings.
30. The Global Academy
The Duke and Duchess of Cambridge and Prince Harry officially opened the Global Academy in London. The new academy offers a unique approach to education as students learn through inquiry instead of rote memorization. The Global Academy can be seen as an example of how successful public-private partnerships can help solve social problems.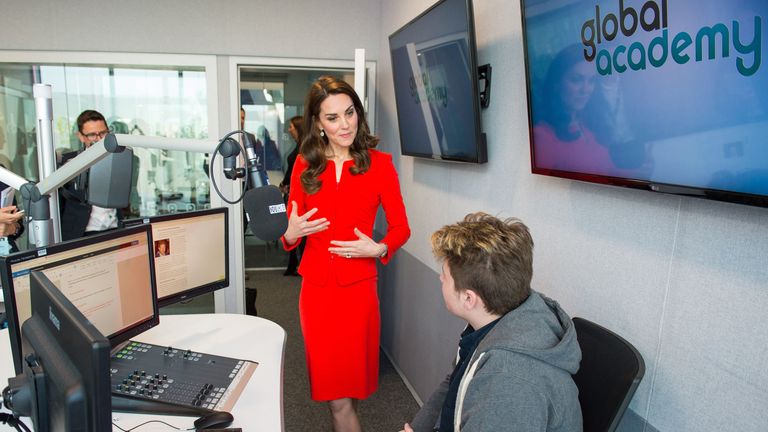 At the event, Kate is seen wearing an Armani Collezioni skirt suit. She paired it with Mappin and Webb Empress earrings and necklace, an Etui Clutch, and Rupert Sanderson Malory nude pumps. She looks so fresh and pretty in the photo.
31. Royal Engagement in Hamburg, Germany
William and Kate paid a visit to Hamburg, Germany's second-biggest city, on July 21, 2017. During the couple's Royal Visit to Poland and Germany, they were able to take in the impressive architecture and history of the cities on their itinerary.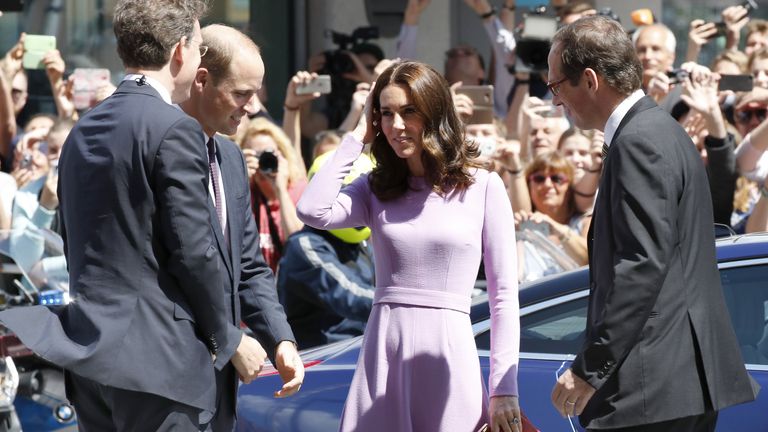 At this event, Kate chose a lilac dress by British designer Emilia Wickstead. As you can see in the photo, the dress features long sleeves, a knee-length flared skirt, and a waistband that looks perfect on Kate. She paired her dress with Gianvito Rossi 105 pumps in Praline. She also wore amethyst earrings by Kiki McDonough.
32. Standing Ovation at Wimbledon
The Duke and Duchess of Cambridge watched Roger Federer play Marin Cilic in the Wimbledon men's singles final. Kate looked stunning in a white Catherine Walker & Co short dress with a vibrant floral design featuring poppies, cornflowers, and daisies.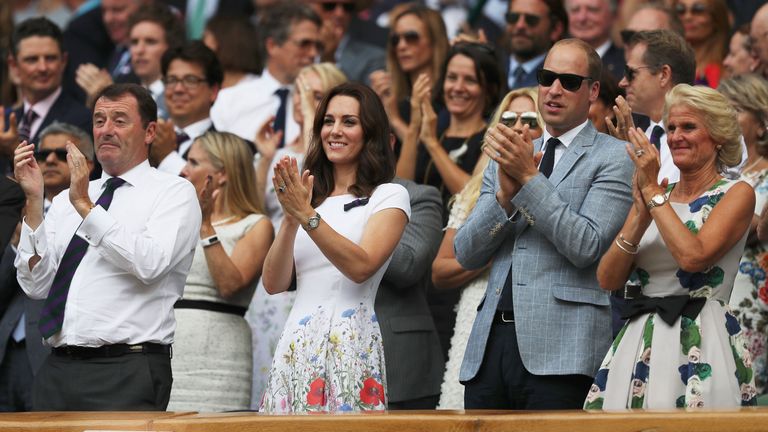 Prince William and Kate Middleton applauded after the Gentlemen's Singles final on day thirteen of the Wimbledon Lawn Tennis Championships between Roger Federer of Switzerland and Marin Cilic of Croatia, as seen in the photo. To the fashion world, Kate was the true star of the 2017 event.
33. Christmas Party
Prince William and Kate Middleton got into the festive spirit with a series of Christmas parties for the families and children of deployed Royal Air Force troops. The British royal couple hosted a family Christmas party for the children and parents of the military personnel deployed to Cyprus to help with the humanitarian crisis.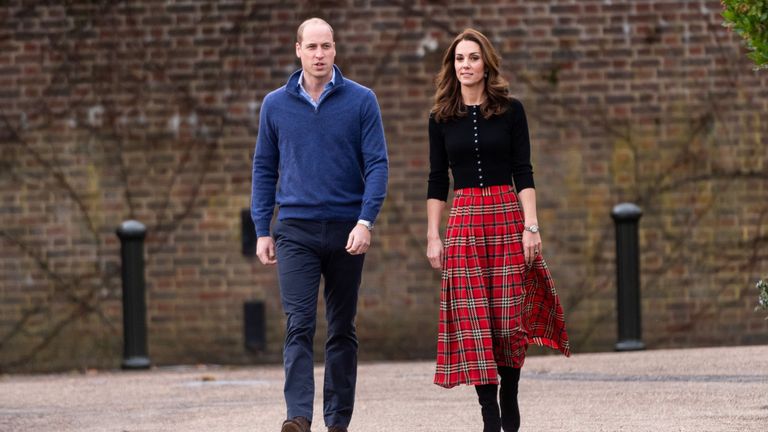 At Kensington Palace's Marlborough House, Prince William and Kate Middleton served traditional English Christmas puddings and several other festive treats. As you can see in the photo, Kate is wearing a plaid skirt by Emilia Wickstead with a cropped cashmere cardigan by Brora.
34. British Academy of Film and Television Arts
The Duke and Duchess of Cambridge were invited to the EE British Academy Film Awards held on February 12, 2017, in London, England. The royal couple looked dazzling in their outfits, and their presence added a splash of glamour to the red carpet.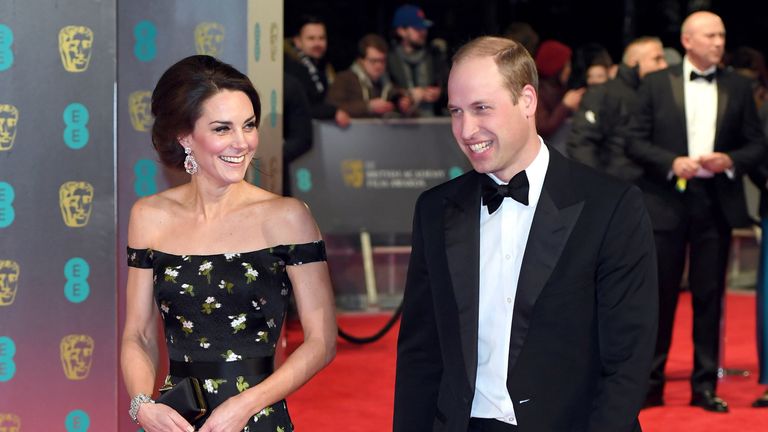 Kate wore an Alexander McQueen outfit in the style of Brigitte Bardot. It has a high-tiered skirt with tiny white flowers. She carried an Alexander McQueen clutch bag to match. Once again, her earrings stole the show. Kate was also wearing a bracelet that was Prince Philip's wedding present to The Queen in 1947.
35. Kate's Sunny Yellow Dress
The custom of throwing a springtime celebration at the Palace dates back to Queen Victoria's breakfasts in 1860. The Queen was joined by Prince Philip, Prince Charles, and the Duchess of Cornwall for the ceremony pictured below. Kate also attended the event for her second year in a row.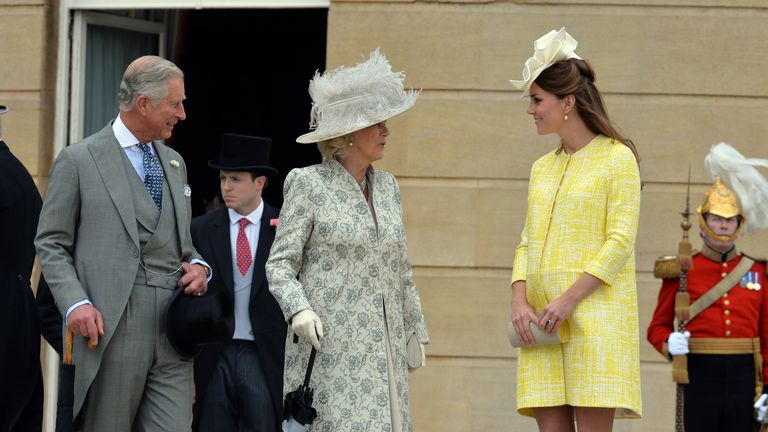 Here, Kate can be seen wearing an Emilia Wickstead dress. She paired it with a Russell & Bromley Park Avenue Clutch in beige patent leather and Annoushka Pearl Drops earrings hanging from Kiki McDonough Diamond Hoops.
36. Another Polka Dot Dress
Here, Kate Middleton can be seen arriving at the anniversary of the D-Day landing at Normandy. She went to the location where Alan Turing and others worked on cracking the codes of the Axis countries. As you can see in the photo, the crowd couldn't contain their smiles as they followed Kate's every move.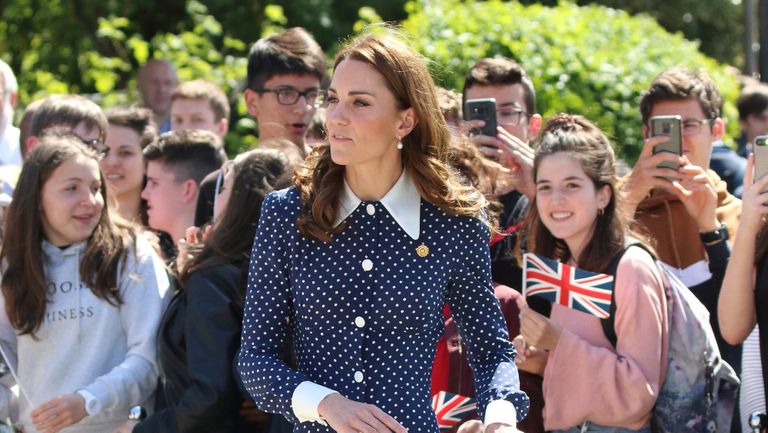 Kate wore a beautiful spring outfit, recycling her vintage-inspired blue shirt dress with white polka dots and matching white collar. Her signature bouncy hair and a pair of exquisite pearl drop earrings completed her look that day.
37. A Sparkly Party Dress
Kate Middleton dressed up for a later-in-the-evening soiree at Belfast's Empire Music Hall after their football schedule in the morning. The Duchess of Cambridge is accustomed to being given the royal treatment, but in the picture below, you can see that she isn't too fancy to pour her own pint.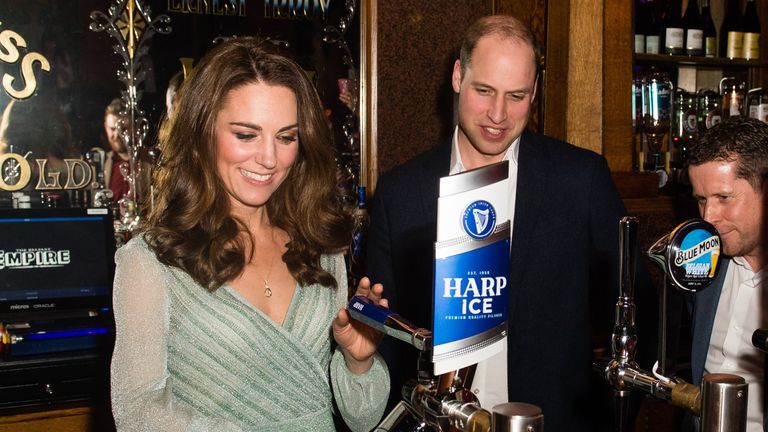 On that night, Kate wore a sparkly mint-green party dress by Missoni that is worth an estimated $2,480. She paired it with beige heels and wavy tresses and completed her look by wearing her famous engagement ring. We can truly say that Kate's fashion keeps getting better.
38. A Surprise Visit
In October of 2018, Kate Middleton made an unexpected appearance at the V&A Photography Centre's inauguration at the Victoria & Albert Museum in London. Kate has long been a supporter of the arts. In fact, she studied art history at university and is a royal patron of the Victoria and Albert Museum.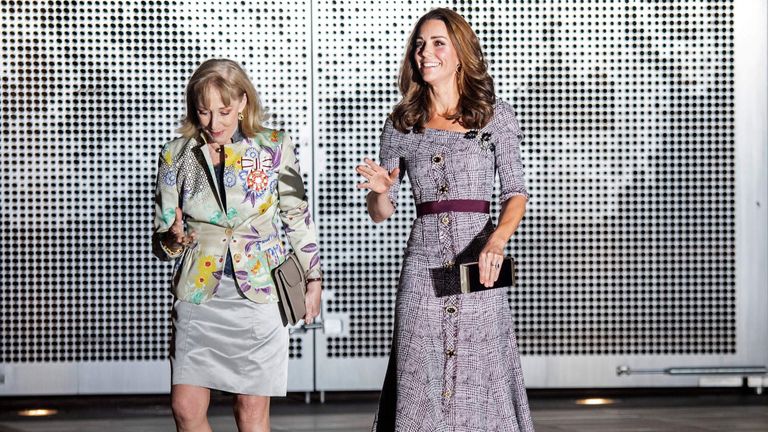 The Duchess of Cambridge wore a grey and purple checkered Erdem gown for the event, complementing her stunning look with a clutch, black shoes, and dangling earrings. She looks stunning in her outfit and makes a statement with the color scheme.
39. Kate Middleton in Luxembourg
On May 11, 2017, Kate went to Luxembourg to attend an event to which she was invited by the small European nation's government. The event honored the 150th anniversary of the Treaty of London. In the photo below, you can see that there were numerous people there to give Kate the warmest of welcomes.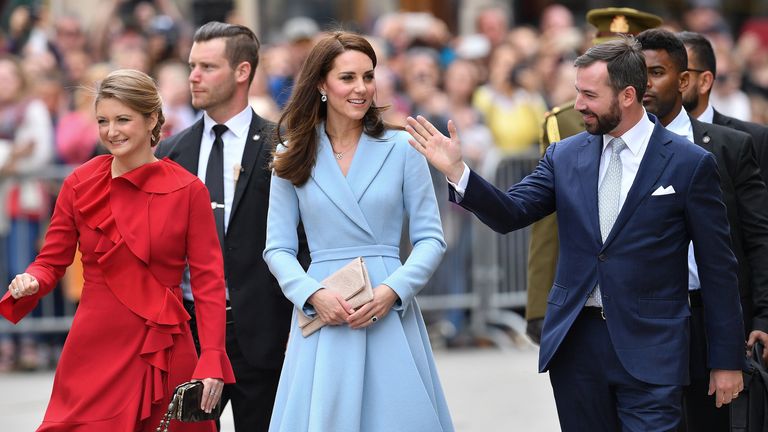 Kate wore a blue coat dress by Emilia Wickstead. She paired it with 18ct white gold earrings featuring blue topaz and diamonds. The stunning set was made by the jewelry designer Kiki McDonough and came with a matching white gold and diamond necklace. Of course, her beautiful, sapphire engagement ring complemented this outfit.
40. Kate's Gucci Mini Dress
Kate Middleton formally opened the Exhibition Road Quarter at the Victoria and Albert Museum in London on June 29, 2017. The Exhibition Road Quarter includes a new museum entrance, the UK's first porcelain tiled public plaza, and a purpose-built gallery for temporary exhibits. It has provided new public areas and exhibition venues for the city of London.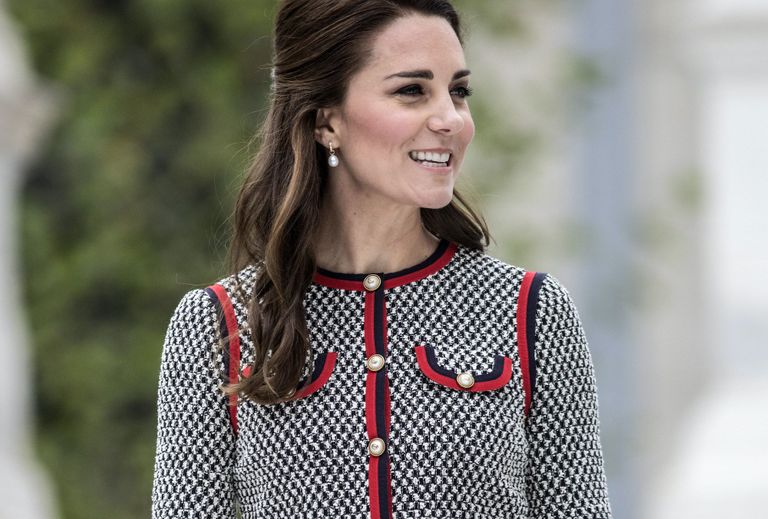 In the photo above, Kate can be seen wearing a black and ivory tweed mini dress by Gucci. She paired this dress with a pair of LK. Bennett Art heels she had worn before in 2011. She finished her look with Annoushka Pearl Drop Earrings dangling from Kiki McDonough hooks.