DIY Storage Solutions That Will Change Your Life
It's human nature to have a chaotic environment, but it doesn't have to be this way. If you need a way to store all of your clothes, or maybe organize some kitchenware that is just too heavy for the shelf, we've got the solution for you. Read on to find out how we can help you organize every stray item in your home and make your life easier.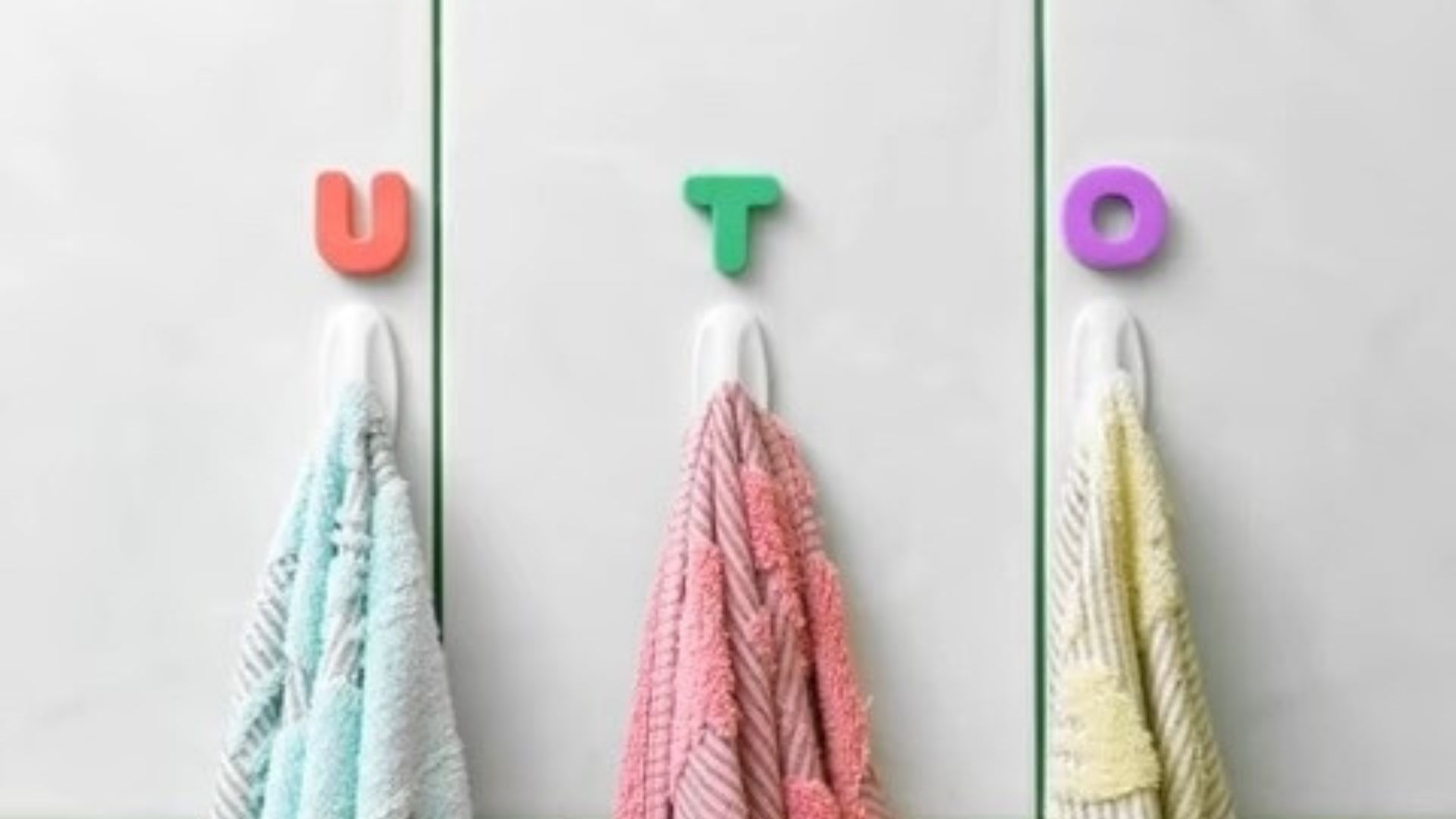 This article includes different ways to organize your space with easy-to-find items from around the home. From cabinet makeovers to fridge and kitchen organization methods, these tips are sure to help you get your stuff in order! When you're able to walk through your door at night and know exactly where everything is, you can genuinely relax after a long, tiring day. Let's help make that possible!
Bath Towel Organizer
Are you sick of hanging your towels on the bathroom door and then bringing them to your bedroom when you're finished? With a few simple stainless steel racks, you can now spruce up your bathroom.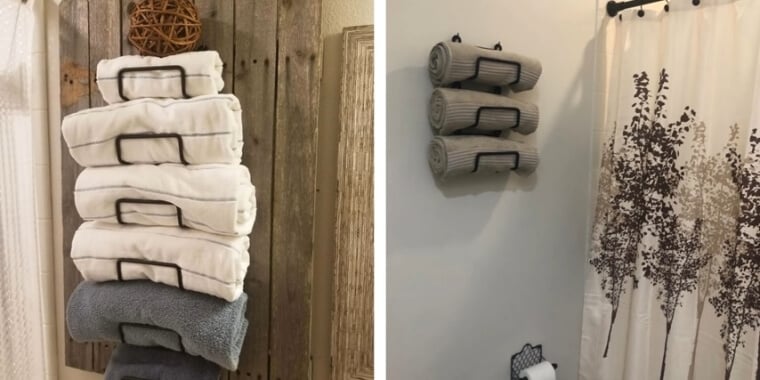 Invest in a 6-tier wall mount rack.  This towel holder's open design keeps towels easily available for you and your visitors. It can also add a modern look to your bathroom. Towels of all sizes can easily fit into the holder; just fold and roll them to the right size.
Wall Mounted Shoe Organizer
Do you have a collection of shoes spilling out of your closet and taking up all the space in your room? Are you tired of having to search for hours just to find matching shoes with the outfit you want to wear today?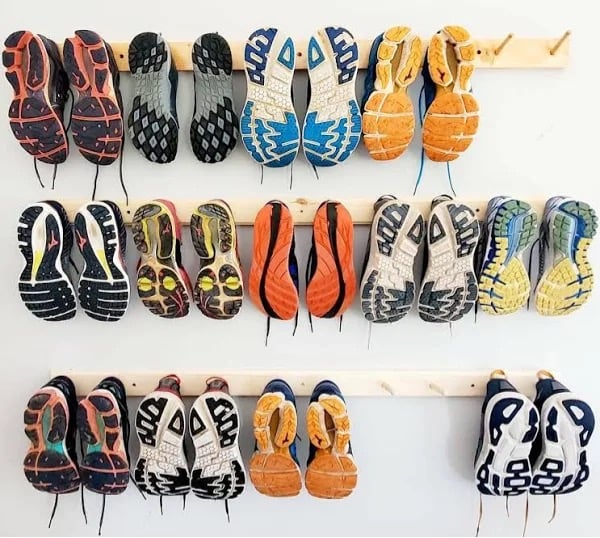 Luckily, we've found an easy way to organize those pesky accessories! Here's what you need: wooden planks, screws, a drill bit, and hooks. Screw the wood into the wall and drill holes for the hooks or pegs. Screw in the hooks, and once everything is ready, hang all your pairs of shoes.
Fruits and Vegetable Organizer
If you've been looking for an easy way to organize your fruits and vegetables, we have some tricks that will ensure they are less of a mess on the countertop. This picture shows just one of the options we have for managing your fresh food in the kitchen.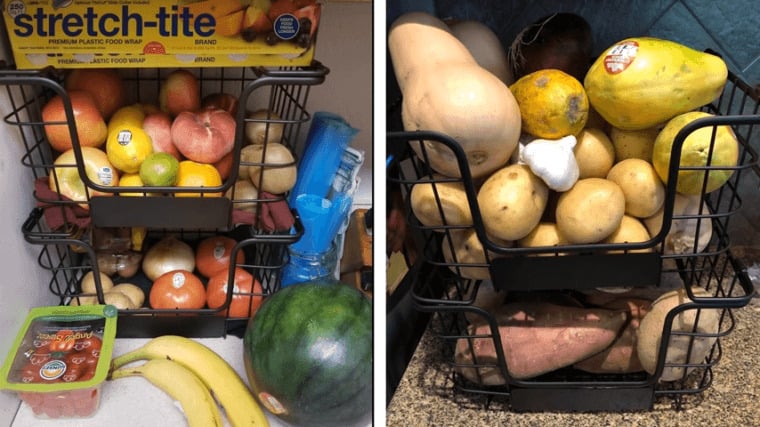 You can use fruit and vegetable racks, available in stores or online. If you're on a tight budget, consider using an over-the-door shoe organizer. These organizers have various compartments, allowing you to pick out what you need without rummaging through everything else.
Stamped Toilet Paper
Want to create a chic, 5-star look in your bathroom without spending money? All you have to do is fold the end of your toilet paper the way they do in hotels and press it under the sink. Don't run the water on it or it will become soggy. Instead, run the tap for a second, wait for the drips to stop, and then press the roll up into it to create the stamp.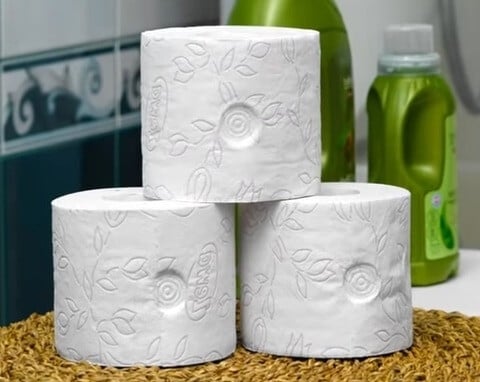 A stamped toilet paper roll not only looks neat but also keeps your roll from unfolding. That is why you may have noticed stamped toilet paper at high-end hotels or restaurants.
Stick Your Spices to the Fridge
How many times have you opened a cabinet to look for a spice jar? Or how many times have you dug deep into your rack of spices? Well, worry no more. This simple trick will give you an easier way to see and grab your spice jars.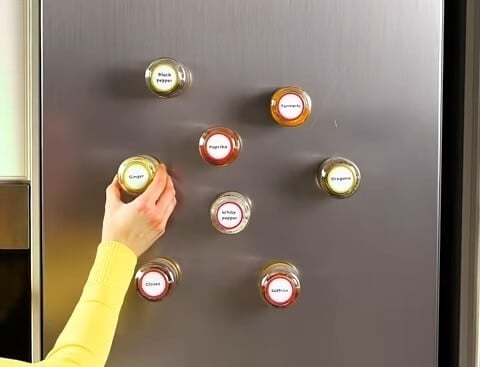 Simply stick a magnet to the lid or the underside of your spice jars. Then, you can stick them to your brushed steel fridge or any other metal appliances or storage solutions in your kitchen. Use magnets large enough that they won't come off until you want them to!
LEGO Utensils Holder
Ever wonder how to store your cutlery in a way that saves space and is easy to access? If so, let's give your kitchen some quirky style and get playful with this DIY LEGO utensil holder.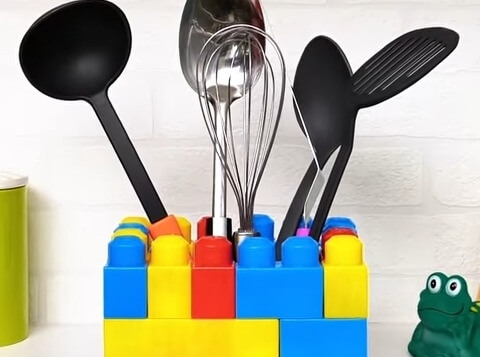 If your child has some LEGO toys laying around, you can build a rectangular shape with them. Make sure to have an open area for the placement of the spoons. Done? Now slot in all your big utensils. These little bricks aren't just fun childhood toys – they can also help you get organized.
Organize Your Spices
Spices are essential in any kitchen but can become a hassle when you spend too much time looking for the one you need. To avoid that problem, organize your spices using this cute trick.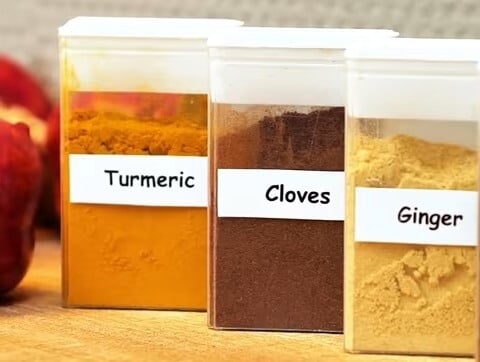 You don't have to spend a lot of money to organize your spices. If you're a fan of Tic Tacs, you already have everything you need. Clean up the old containers, remove the labels, and add a new labeling system for each spice you wish to store.
Tissue Boxes Make Great Plastic Bag Organizers
Having a lot of plastic bags inside your drawer or cabinet is pretty annoying. If you want to free yourself from this mess, customize your own plastic bags organizer using a tissue box.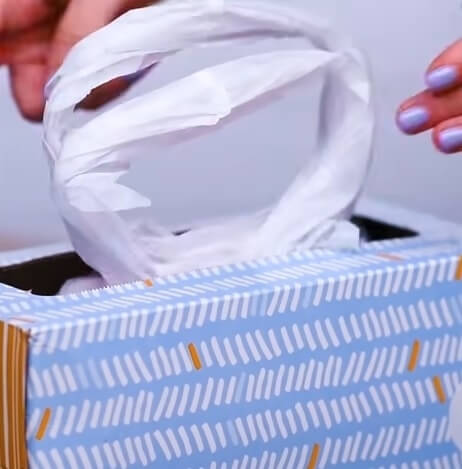 Fill the empty tissue box with your plastic bags. To ensure that the bags will come out quickly, roll them as you see in the picture above. Place the box in an easy-to-reach location like a cabinet or drawer. When you need a bag, simply pull it from the box like a tissue.
Easy Snack Station
It can be difficult to keep snacks from going stale in the pantry. To avoid this, use a cylindrical container for individual snack items. These cylinders are inexpensive, easy to find, and work well for keeping snacks fresh.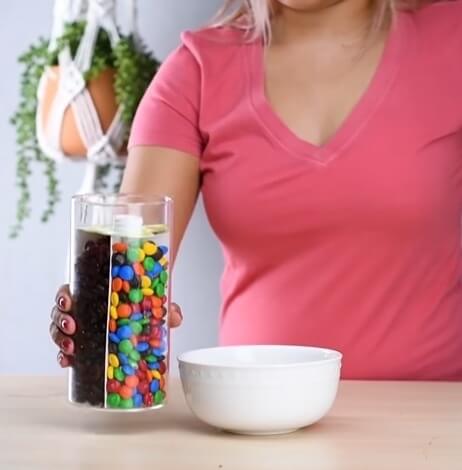 If you have multiple snacks in small packets, cut some cardboard to size and insert it into the cylinder to create a partition.  Now cut out the top spout of an empty plastic juice container and use this piece to pour your snacks out. This is great when there are children who want different snacks at the same time.
Kitchen Drawers for Storage
Perhaps many of you store foods like onions, garlic, and ginger in the vegetable drawer inside the refrigerator, but root vegetables don't do well in cold storage. Root vegetables should be stored in natural, dry, wooden bins at room temperature.
A dark place with very little humidity is perfect. Common places that work well are dark and cool closets or kitchen drawers close to the floor. While in storage, check them often to make sure the onions and garlic are not sprouting.
Slinky Lid Organizer
It's so annoying when you have to dig through a pile of random utensils and pots to find your container lids.  I'm sure many of you can relate! Now, there's a simple solution to make it easier for people to get lids out of the kitchen cupboard.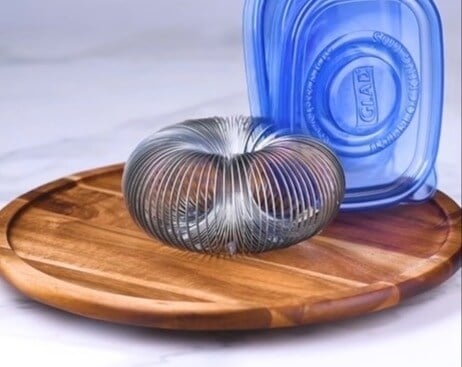 A slinky can be used to store lids. It is a simple, low-cost solution that just might be the perfect fit for your kitchen. Simply apply some adhesive to the spring's ends to join it together.  When you're finished, place all of your lids in the gaps of the spring.
Charging Station
If you have a desk or table with drawers full of cables, here's a trick to organize your phones and chargers! You'll never have to worry about your messy cords now. Get creative with your drawer space by turning one of them into a charging station.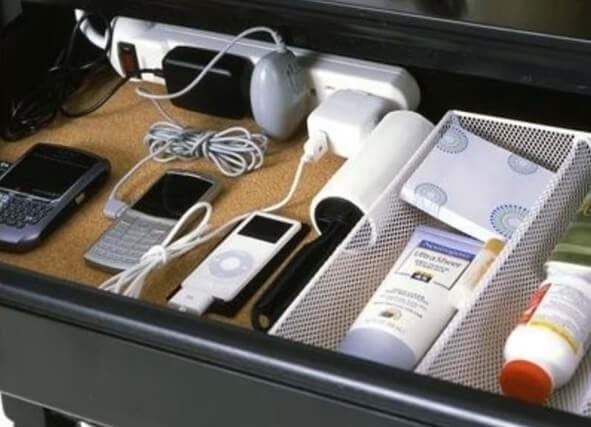 All you need is a power strip, some wire ties, and velcro straps. Simply drill holes where necessary for wires. When you're done, place the power strip inside the drawer. Use the velcro straps to attach it to the drawer's side. The wire ties? Wrap up the charger cable so they don't get tangled. Voila! You now have a hidden charging station.
No More Messy Cars
How annoying is it when trash accumulates in your car? Receipts, cups, cans, plastic bags, and all sorts of junk can quickly add up when you're busy and always on the go. Having a designated place to store your waste is an easy way to keep your car tidy.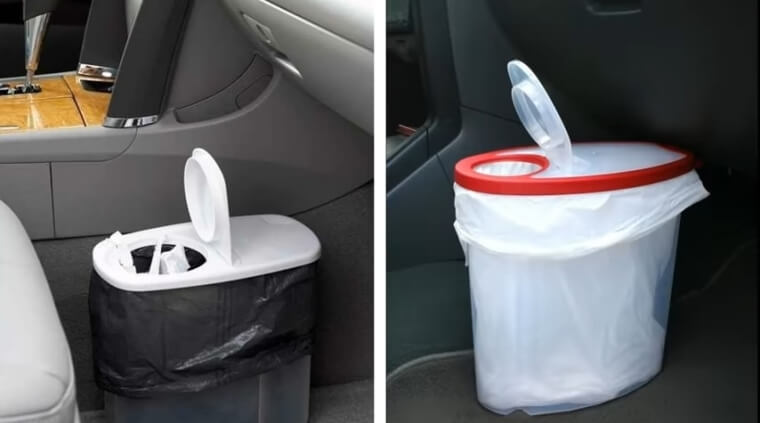 If you have an unused cereal container, use it as a trash bin for your road trip! The hole in plastic cereal containers is big enough to fit most car-based waste. Also, it won't take up much of your passenger's legroom.
Pot Lids Organizer
If you love cooking, you probably have lots of pots and pans in your kitchen. If organizing them is a challenge, try using the backs of your cabinet doors for storing pot lids.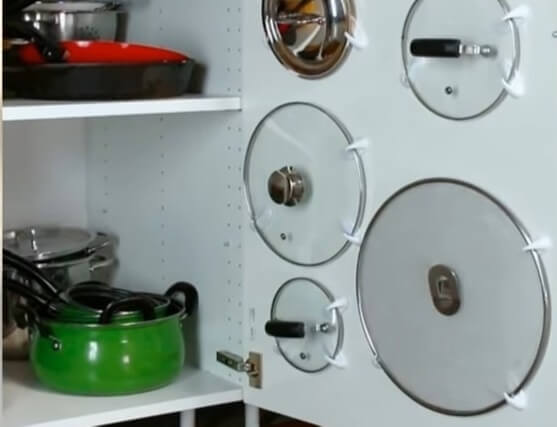 Simply buy some Command hooks and measure out their placement using the picture above as a guide. Follow the instructions to correctly secure the hooks to the cabinet door. Then, slide all your pot lids into their new homes.
Stick Your Bath Towels to the Wall
Every bathroom needs a place to hang towels or robes after use. Hooks are perfect for this job as they're easy to install and inexpensive. Also, using hooks is a stylish and classy way to dry your towels while maximizing bathroom space.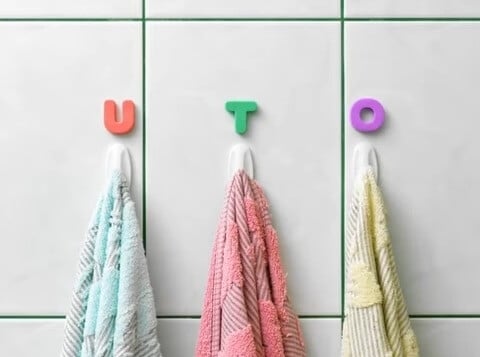 You can even install a special hook for each person in your home, so no one uses the wrong bath towel. To make it more clear for them, add their initials above the hook. This way, everyone has easy access to their respective towels.
Tidy Toiletries
No one likes to spend time looking for their toothbrush or toothpaste. With a bit of creativity, you can stop the hunt and start managing your toiletries in a way that works better for you.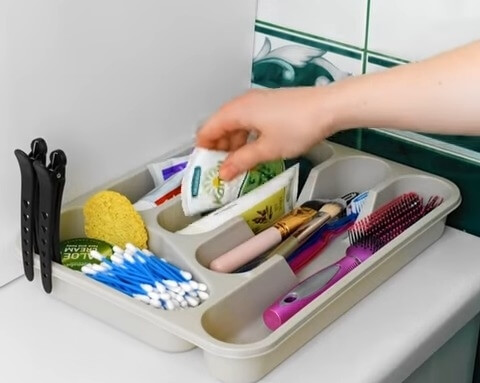 You don't need to buy any products or use up storage space – just grab a kitchen utensil organizer. It is a perfect way to keep your toiletries in one place! Simply apply some savvy organizing skills, and viola! Your toiletries will take up less space and be easily accessible.
Flower Pot Organizers
Spice up your kitchen by adding these cute flower pots in bright colors as your utensil holders. The toolkit for this idea isn't expensive at all; just grab some flower pots, paint, twine, and paper for labels.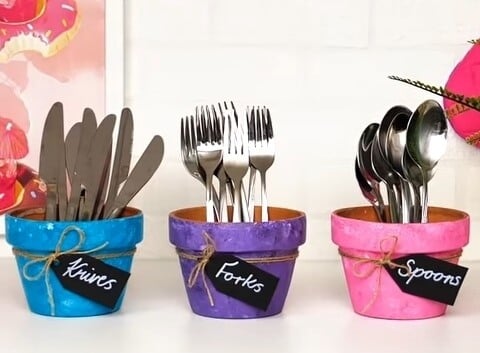 It's time to transform your pots into stylish holders. Ensure that the pots are dry and clean. Coat them with primer. When dry, add your desired paint color. Once that's dry, tie the twine around the pots. Label them for forks, spoons, and knives.
Elevated Organizer
If you want to find your utensils without having to look through overcrowded drawers, this elevated utensil rack doesn't take up much space and makes it easy to find what you are looking for, no matter what meal you're cooking.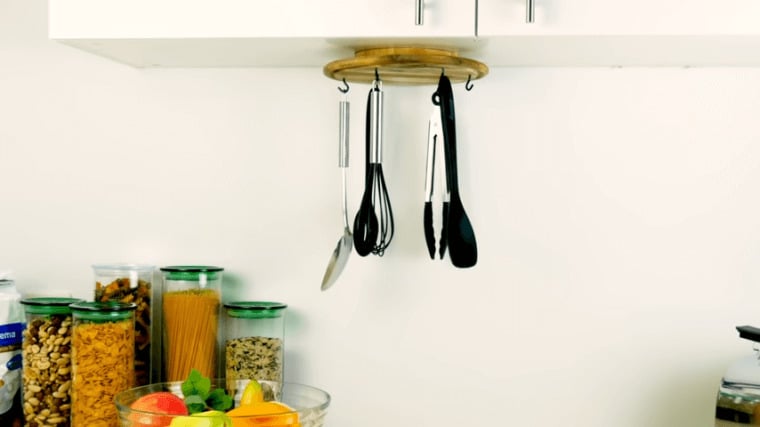 To make this device, get a wooden "lazy Susan." Screw in the hooks first, and once you're done, use screws and a drill to attach it to the underside of a cabinet. You will likely need someone to help you hold it in place as you work. Hang up your utensils, and you are ready to go!
Hang Your Fruits
Let's now talk about the fruit we forget about because it's tucked behind other stuff in the refrigerator. We have a solution for you. This trick is perfect for fruit lovers who hate finding spoiled fruit in their plastic storage containers.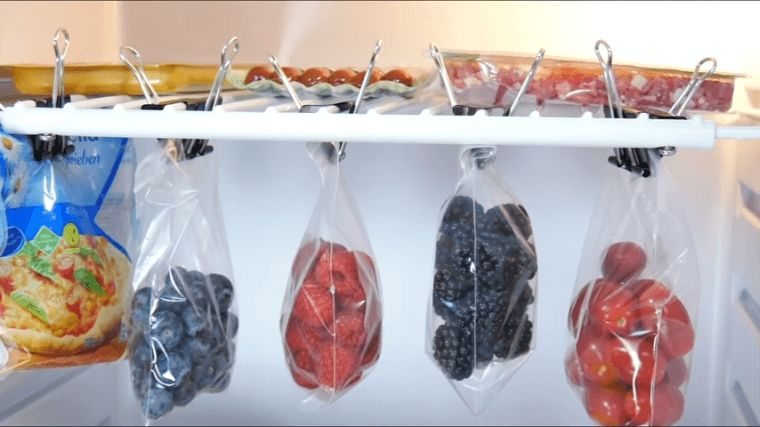 To ensure you can always see what fruit you have available, take some durable plastic bags and binder clips, put the fruit in each pack, then use the binder clips to hang them. This will ensure they stay fresh and get used in time.
Food Covers
Stepping into your kitchen and seeing the fridge full of uncovered leftover food is quite annoying. If you don't have many lids for your food, we have some tips for you.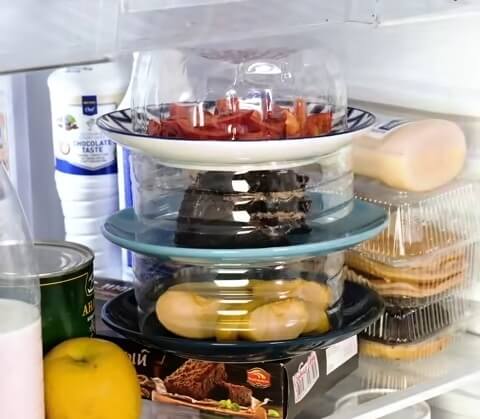 You can use some unused cake lids or cut gallon-sized water bottles in half. Grab the bottom part of the bottle and use it for covering your food. You can even use the middle portions of the bottle to create layers as pictured above.
Plastic Baskets for Meat
To preserve it for longer, many people store their meat in the freezer. If you're not using storage containers when filling your freezer, however, you'll end up with ice-cold clutter.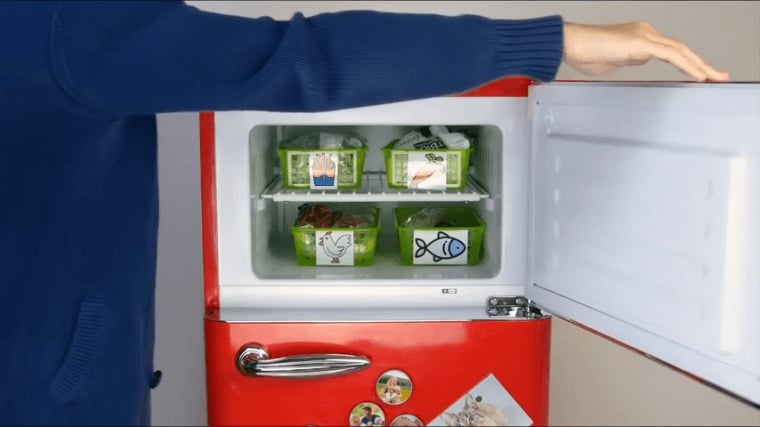 Using plastic storage baskets inside a crowded freezer is a smart space-saving solution. Use the baskets to organize foods by type, then add a label and dates as a reference. Always put new stuff towards the back and the stuff that needs to be eaten first at the front.
Charger Holders
Many objects around the house have multiple functions. Binder clips, for example, are not just made for binding sheets of paper together but can also be used for some handy life hacks.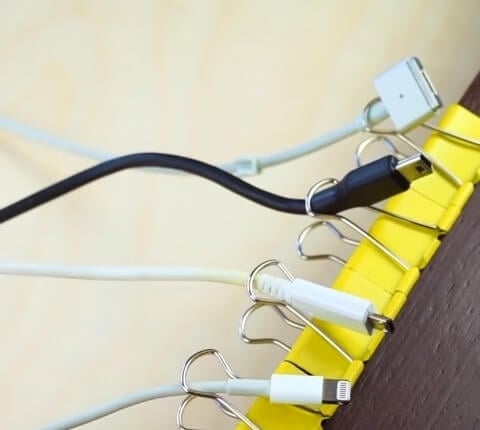 One of these hacks is using binder clips to organize charger cables under a desk. Simply attach the binder clips to the desk, then insert the cord into the openings. Line them up neatly, and the cords will look tidy and stay in place at all times, even when unplugged.
Egg Carton Condiment Organizer
No more shaking and tapping your condiments out of their containers. Place an egg carton in the fridge to store condiments in bottles like mustard, mayo, ketchup, or your favorite dressing.
Store your squeeze bottles upside down in an egg carton. This will keep them organized and make them squeeze with ease. Egg cartons also keep condiments from sliding around and falling over in the refrigerator door.
Wire Hangers for Shoes
Every member of your family has at least a couple of pairs of shoes, and this can quickly add up to a big demand on your space. If you have a limited floor area that prevents you from having shoe cabinets, you can always maximize the free space in your closet.
A simple wire hanger can help you. Just take some wire hangers and bend the ends into a boomerang-like shape. Bend each arm of the hanger up towards the hook, creating two holders for the shoes. Slide your shoes onto the hanger and hang them in your closet.
Drying Make-Up Brushes
Drying your make-up brushes is an important part of maintaining their hygiene. However, it can be annoying having all those brushes lying around in your bathroom. Fortunately, this hack will give you the easiest way of drying your make-up brushes.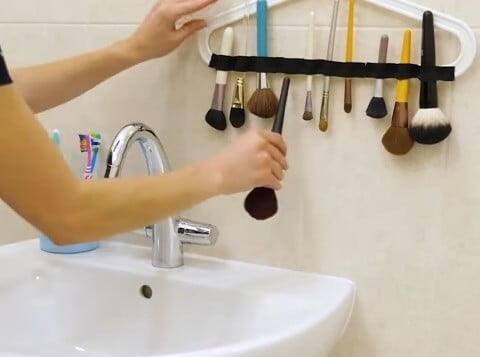 Once you've washed your brushes in warm water with gentle soap, here's how to dry them: first, attach some velcro to a clothes hanger. Then place your brushes in an upside-down position into the spaces between the loops. This method will ensure that all parts are completely dry.
Hat Organizer
If you're a hat lover, then you know that keeping your hats organized can be a challenge. You've probably been through many different options, from shelves to racks and even the floor.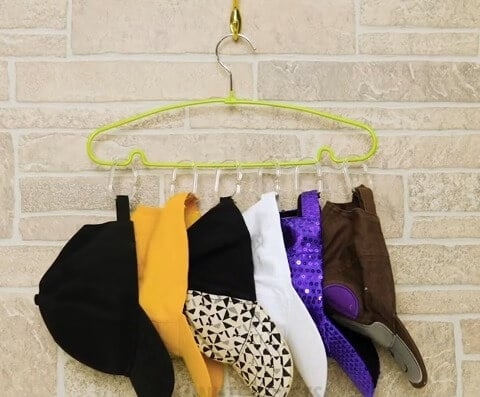 If you have many caps, you probably want a way to keep them organized. You can do this easily by using a clothes hanger and some shower hooks. Just slip the shower hooks onto the bottom of the hanger and then clip the caps on. No more scattered hats on the floor!
Nail Polish Organizer
We know what you're thinking. Why would you want to use a shoebox when there are little plastic containers available at the store? Well, if you have multiple nail polish colors, they can be expensive, so it's more cost-effective to use the shoe box storage idea.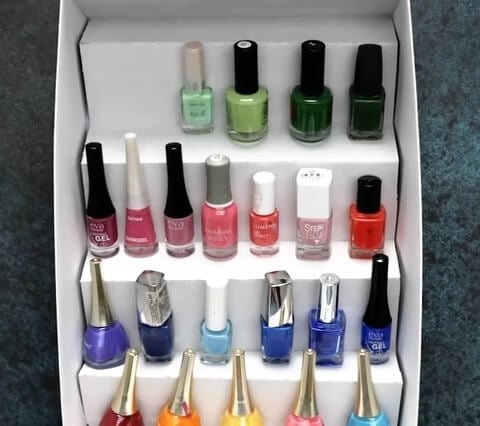 All you need is to find an empty shoebox and fold the lid to create tiered shelving. Insert it into the shoebox, and if needed, secure it in place with glue. Once done, line up your nail polish on each shelf. Easy, right?
An Easy Broom-Holder
If you're tired of tripping over the brooms and mops in the corner of your garage, we've got a solution for you – pool noodles! Pool noodles are used to teach people how to swim and allow them to float and relax in the water. This hack puts them to an entirely different use, helping you organize all your cleaning supplies.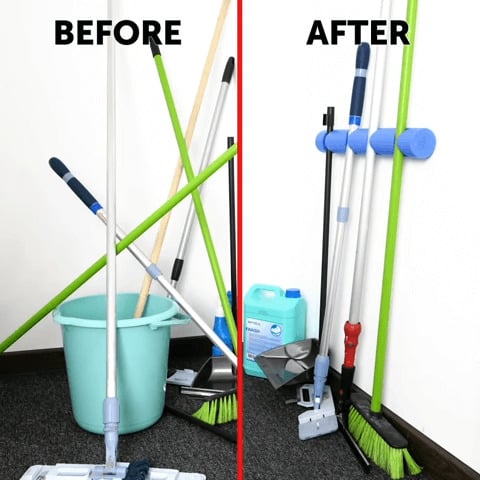 All it takes is a pool noodle and some adhesives! Start by adhering the noodle to the wall, then make slits for the broom's handle. This method will also help your mop to dry properly and prevent bad odors.
Sock Organizer
We've all been there – digging through a drawer to find that one missing sock. It is frustrating when you are in the middle of getting ready for work and can't find a clean pair of socks. Save yourself from frustration with this easy solution.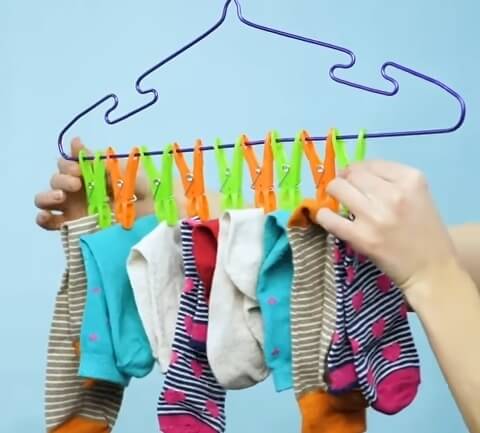 This method is similar to the hat organizer we showed earlier. Simply use a hanger and some clothes pins. Attach the pins to the bottom of the hanger, then clip on your socks. This obviously works better if you clip the socks on in pairs!
DIY Spice Rack
We've already showed a few spice organizers on this list, but if you're looking for additional inspiration, give this hack a try. This DIY spice rack is perfect for any space, and all you need is some glue, two plates, and a can.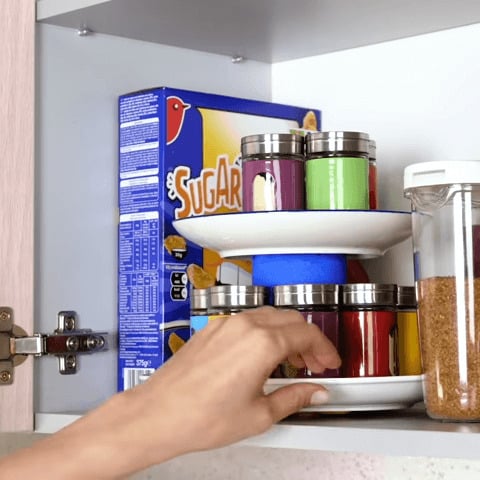 Gather the items needed, then glue one of the plates on top of the can and one on the bottom. Let it dry overnight. Now, fill with spices. This is such an easy and inexpensive way to store your spices, and it looks great too!
DIY Shelves for Your Closet
Do you have clothes that are piled on top of one another in your closet? Have you tried to organize them, but they just end up back in the same spot? Well, here are some tips to keep your clothes neat and organized.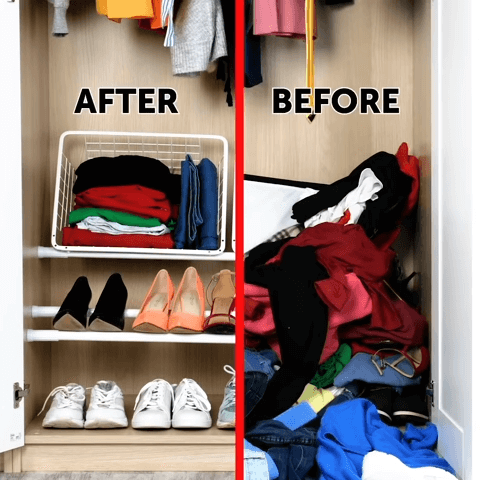 All you need is a drill with a small bit, some screws, brackets, and some closet rods. Pre-drill a hole for the bracket screw, then attach the round bracket to the wall. Repeat the process until you've made three shelves. It's a great way to cut down clutter and give you more space.
Colored Pen Holder
Do you have a huge collection of colored pens and markers that are taking over your desk? Have you ever wished for an easy way to store them, so they don't get lost or mixed up with other colors? This is the perfect DIY tip for you!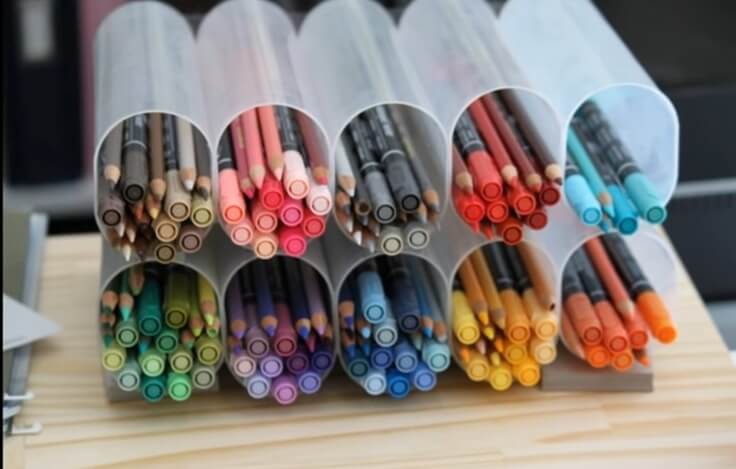 All it takes are some cylindrical containers and glue. Arrange the containers horizontally and use glue to fasten them together. Make two layers for extra storage. Once they're dry, all you have to do is put your pencils and markers inside.
An Elevated Jewelry Organizer
Do you have a lot of jewelry that is just scattered around your bedroom? Or do you find yourself digging through piles of clothes to find your favorite piece? Fortunately, there's an easy way to organize all your jewelry without having to spend a lot of money on an expensive display unit.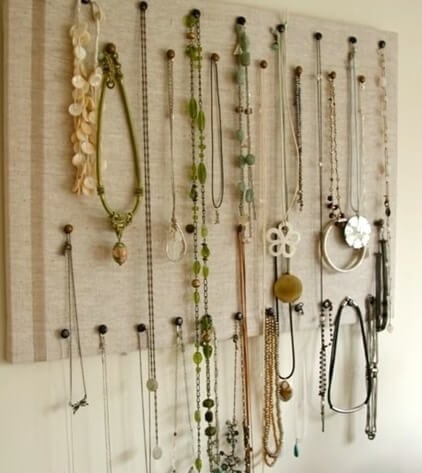 Get a corkboard or a plain canvas print and hang it in a convenient place in your house. Then, get decorative pins and arrange them so that there's a place for all your jewelry. You can be done in a matter of minutes. This storage solution saves space and is easy to install. It also serves as a decorative piece in your bedroom.
Trash Bag Trick
When you're using a garbage bag inside your trash bin, things can get messy, right? The bag may slide inside and give you an uncomfortable time trying to take it out. Don't worry – it's happened to all of us, and this trick will save you a whole lot of frustration!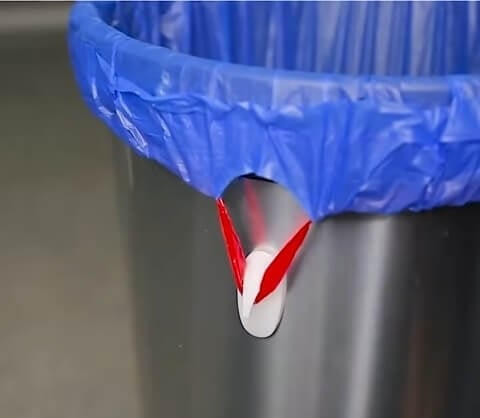 You don't have to struggle anymore – just use hooks! Get two Command hooks and stick them upside down on either side of your garbage bin. Hook the handles of the bag around them, and it will stay in place until you're ready to take the trash out.
Hanging Nail Polish Storage
Here's another cute and convenient way to store your nail polish bottles! This hack is a must for every avid nail polish collector. These hanging pockets can be found at dollar stores. They come in different sizes, designs, and colors.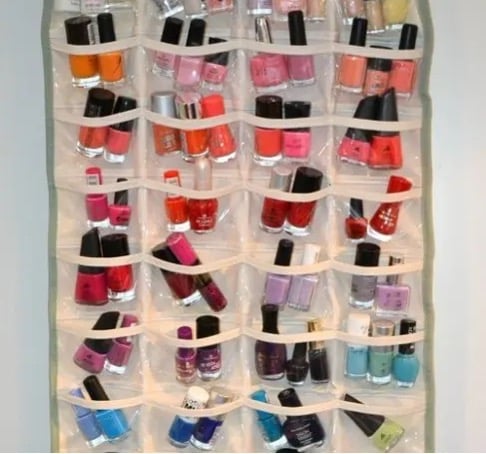 If you have lots of nail polish, you'll need a large one. However, you may also wish to purchase small pockets so you can bring them with you when traveling. It's really convenient, and you can move it wherever you want.
Avoid Soggy Paper Towels
Do you have a paper towel holder in your kitchen? If not, you need to get one! Instead of buying a new one, a simple clothing hanger will do. Just cut the hanger in half, then insert the paper towels. Easy, right?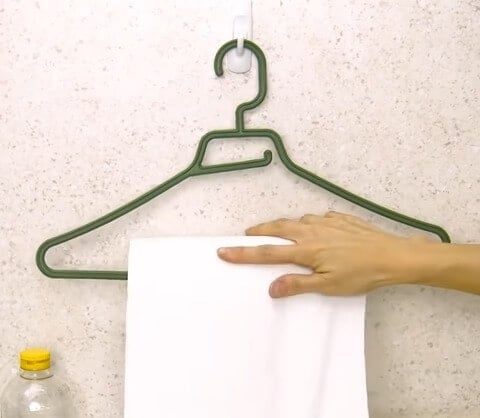 This paper towel holder will keep your roll in order. Not only is this convenient, but it also saves space and helps you break off the right number of sheets to clean up any mess. Since it's up off the countertop, the roll won't accidentally get soggy either.
Magnetic Strip To Organize Small, Metal Products
Storing small beauty products such as bobby pins, nail clippers, and tweezers can be a pain. These tiny tools either end up all jumbled towards the back or bottom of our drawers or even completely lost.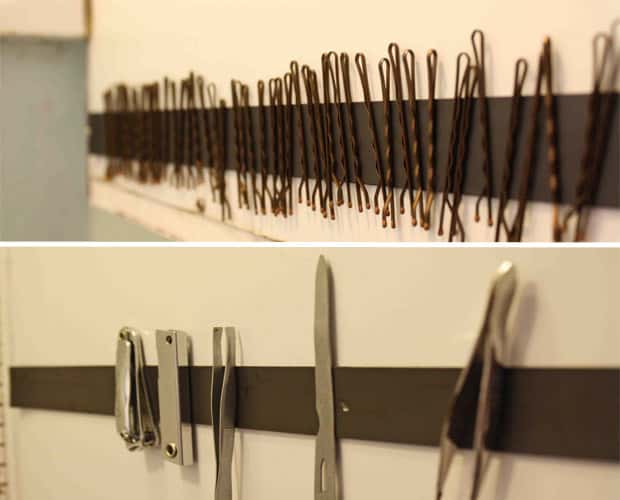 To solve this troublesome issue, put a magnetic strip either on your bathroom wall or on the inside of your cabinet or drawers. Now you can magnetize your bobby pins, nail clippers, tweezers, and other metal tools to keep them all organized and accessible.
Organize Your Fruit or Snack Pantry
As we've seen earlier in our article, using hanging bags like this can be incredibly effective in helping us solve our storage issues. The best part is that these simple organizers are typically quite cheap, meaning that there's no reason not to buy a whole bunch at once!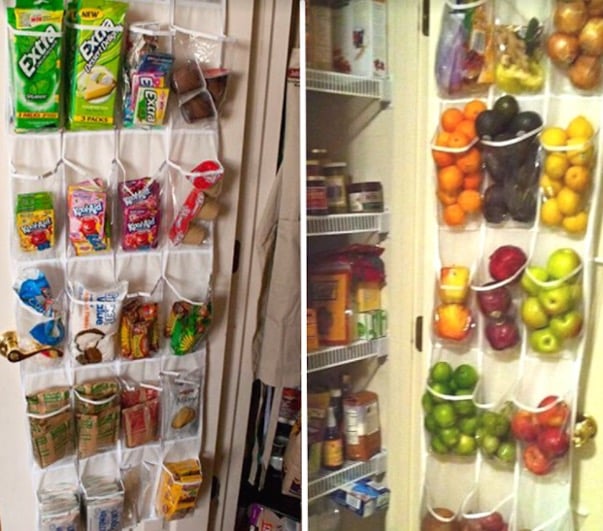 Use this hanging storage solution to organize your snack or baking cabinet or use it to store your produce. The possibilities are seemingly endless!
Save Your Old Coffee Creamer Containers
Coffee creamer containers may be more useful than you think. After you've finished using the product, simply cut off the label and repurpose the container to store other items around your kitchen.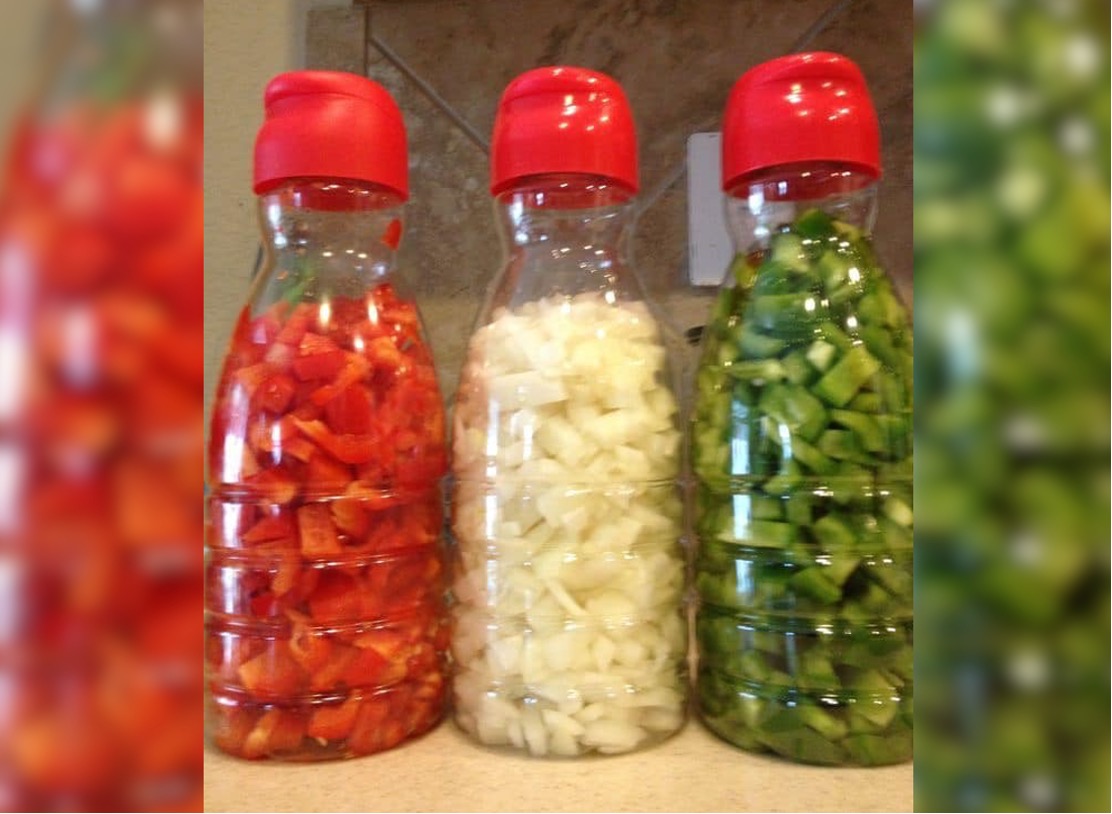 For example, storing sliced up vegetables in these containers is a great idea when preparing for lunch or dinner. The best part about these containers is the spout lid that makes poring ever so easy. Pour just the right amount of veggies into your pasta sauce, soup, stir-fry or other meals using these convenient storing containers.
Clip Your Salad Dressing Packets Together
Keep track of all your flavor packets and salad dressing mixes by clipping them all together. All this DIY hack requires is a small wall hook and a binder clip.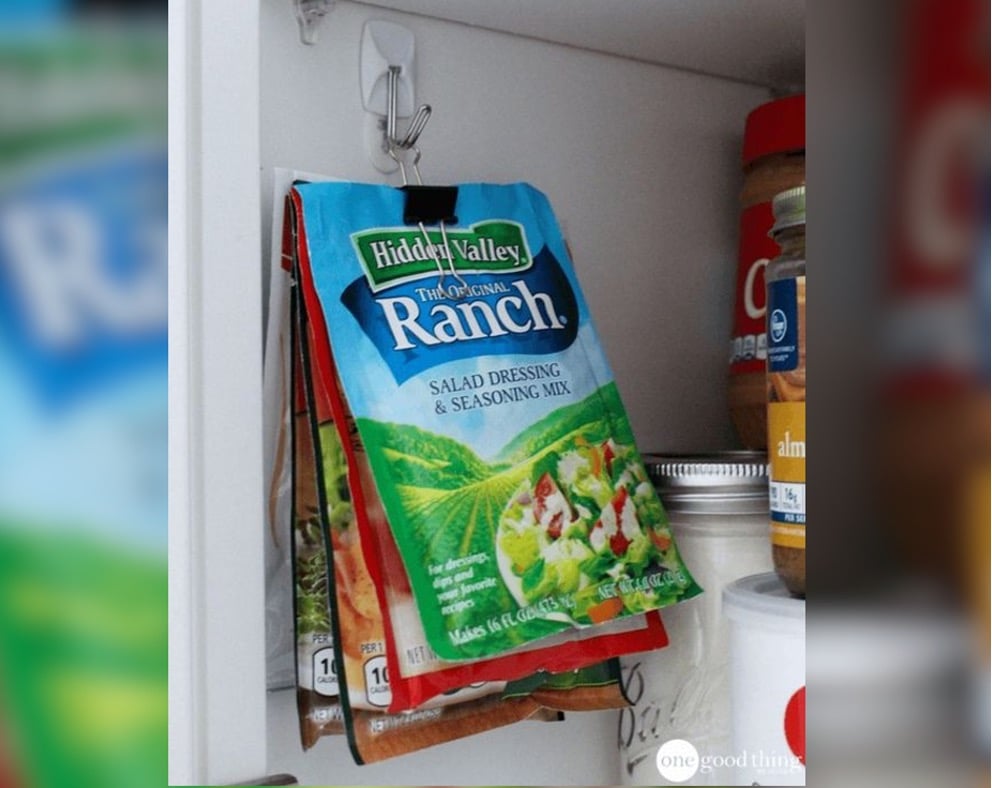 Use a binder clip to secure all your cooking packets together. Next, attach the wall clip to the inside of your kitchen cabinet. Then hang the binder clipped packages to the hook for simple storage.
Use An Old Rake To Hang Your Wine Glasses
Repurposing something old can turn into an incredibly creative storage hack. Take this old rake for example. With a little creativity, this individual gave new life to their old product all while solving a storage issue.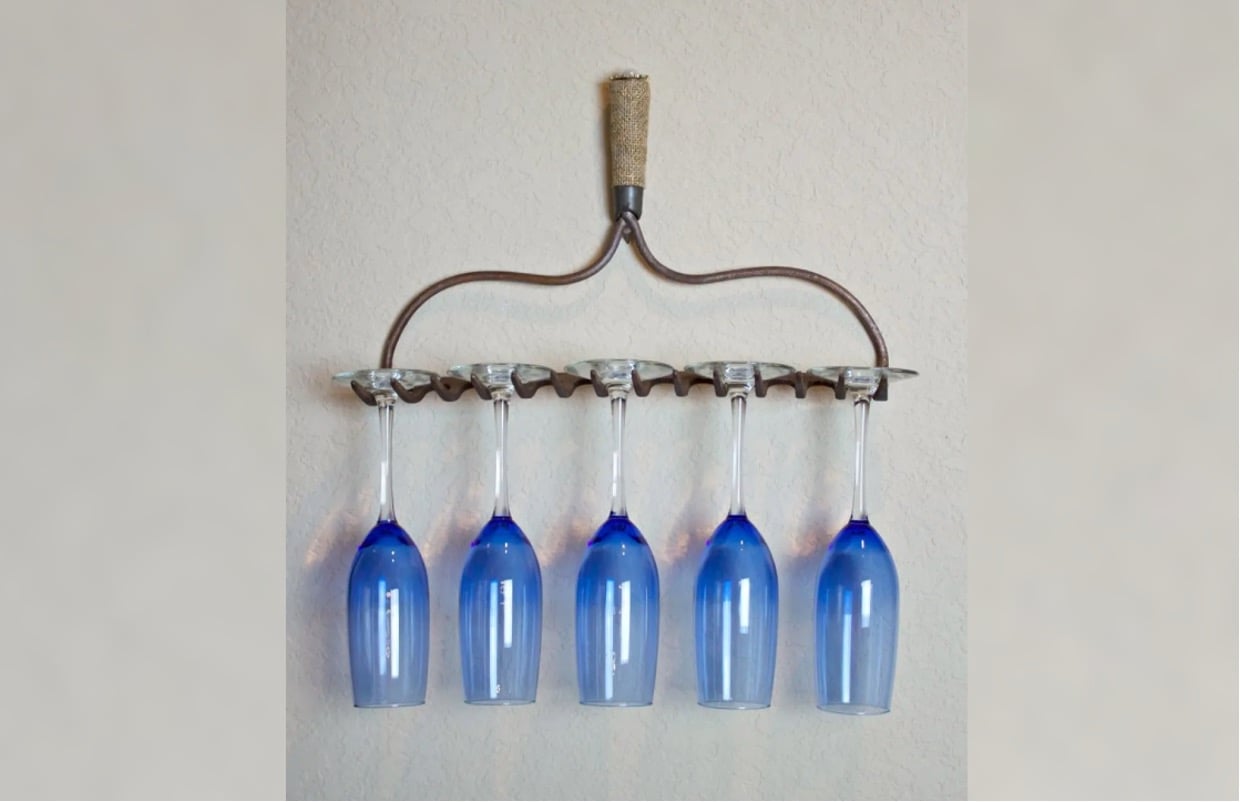 Cut off the handle of an old or new rake and wrap the end for safety and decorative purposes. Now hang it upside down on the wall and slide your wine glass stems through the prongs for a fun storage hack.
Screw Plastic Jar Lids Under Your Shelves
This hack can especially come in handy in the garage, shed, or workshop. If you're constantly working with small tools like screws, nails, pins, and the like, keep them organized in individual plastic containers.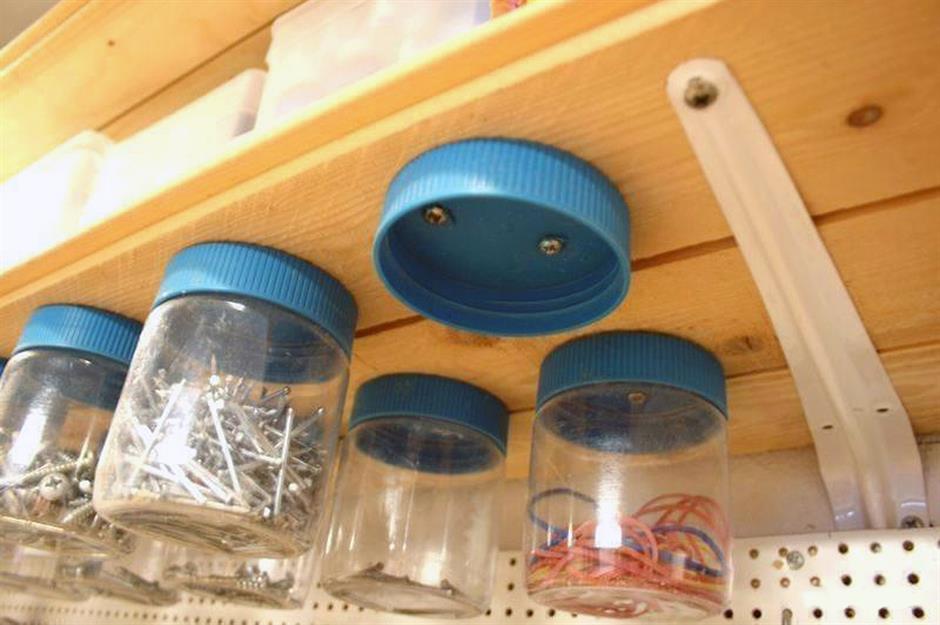 Reuse old jars like peanut butter containers and screw their lids to the bottom of a shelf or desk. Now all your small items have a designated space where they won't get lost or scattered. Every time you need to access them, just unscrew the container while the lid stays in place. Simple!
Camping Gear and Patio Gear Storage
Patio cushions and camping gear can get very messy very fast. Extra-large Ziploc bags can solve that problem."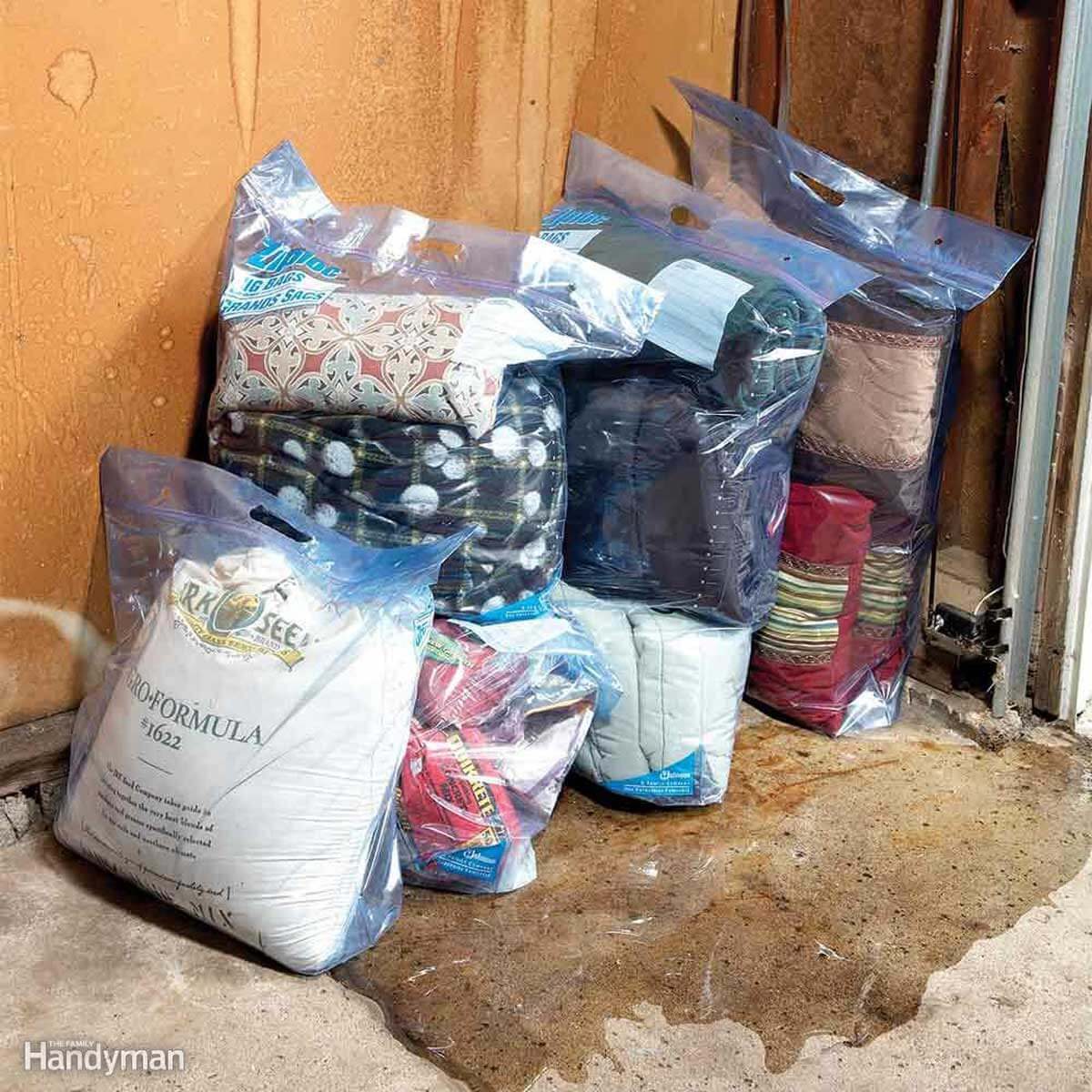 They run for about $2 at home centers and are perfect for storing out of season clothes, patio cushions, camping gear, or whatever else.
Trolley Cart Bedside Table
To make the most of your bedside table space (and make sure that yours isn't a crowded space full of your nightly treasures) use a trolley cart!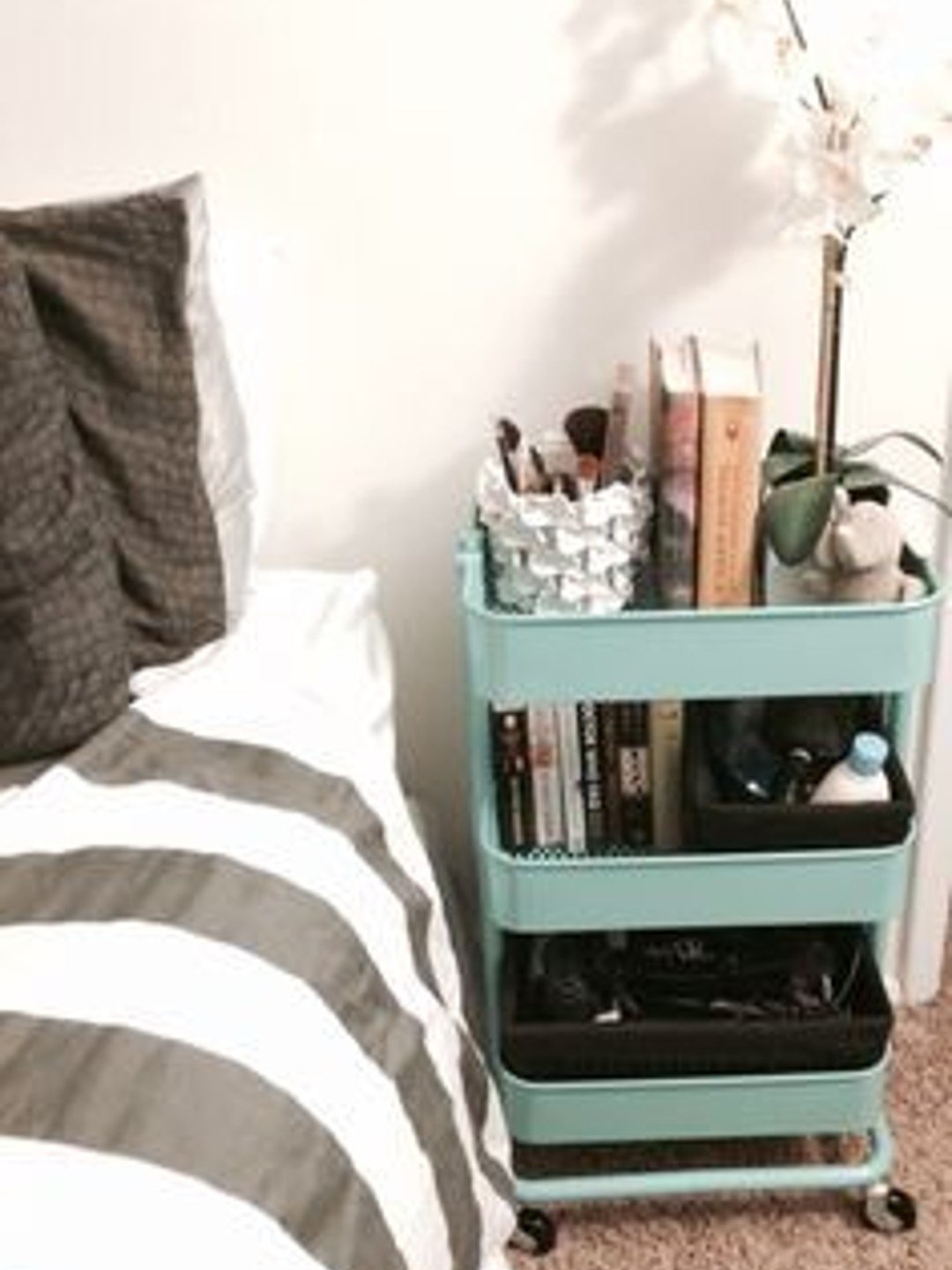 This way you will have layers of storage in one slim area so you can skip getting up at night to get what you need and simply reach over and grab it.
Tackle Box Battery Storage
We always seem to need batteries, we always seem to buy batteries, and there always seem to be batteries left over.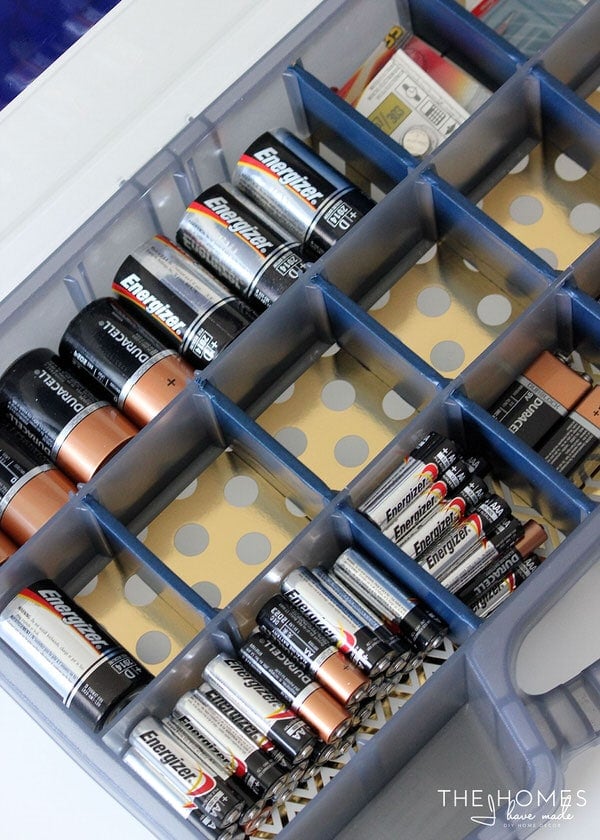 So why is that when we actually need batteries they are nowhere to be found? This hack simplifies that problem. Use a fishing tackle box to store batteries and take away the mystery of fishing for them.
Trolley Cart For Crafts
Another great way to use a trolley cart is to store all of your art supplies inside of them.  Not only is this a cute (and artsy) way to go about storing your supplies, it also gives you ease of access.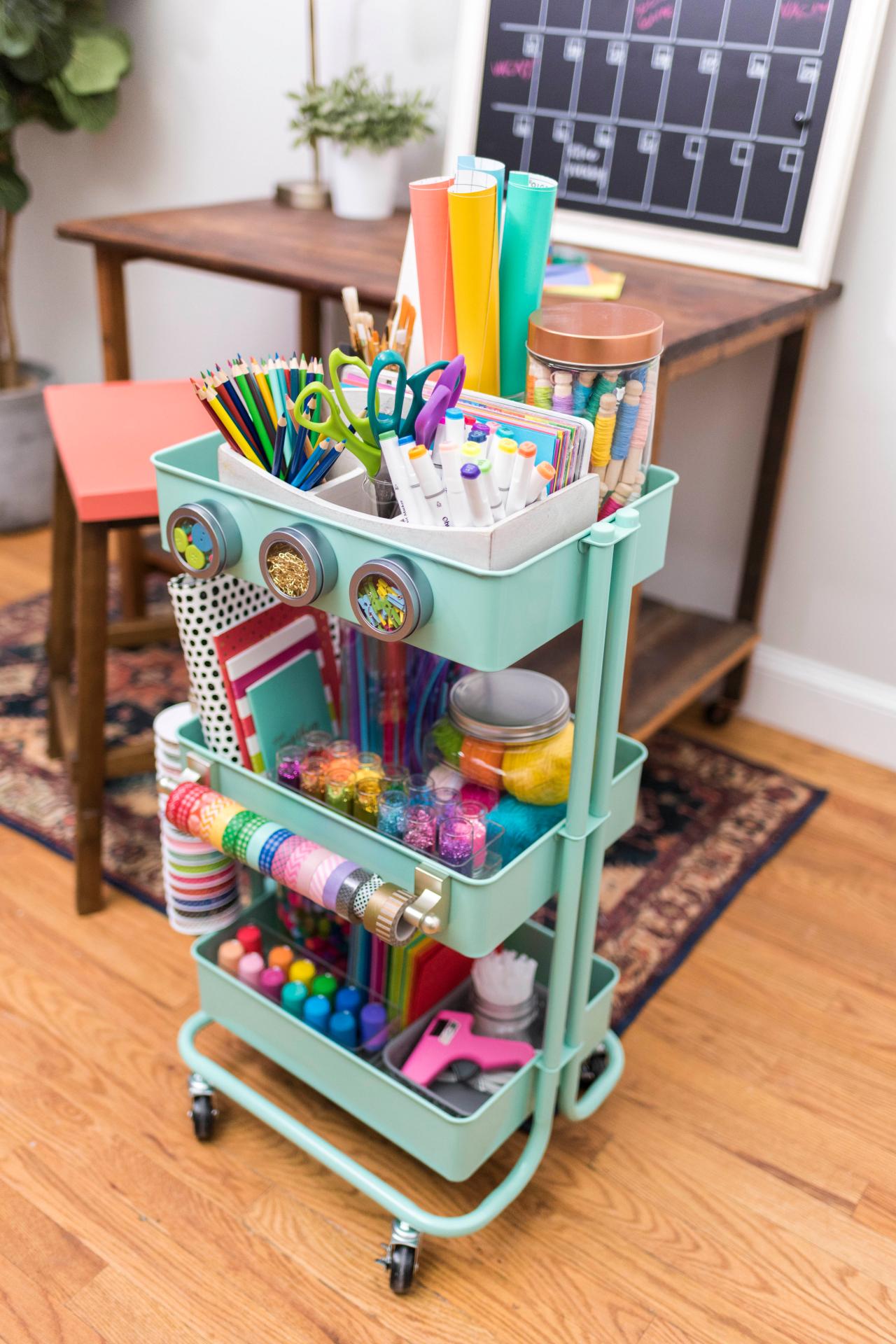 Wherever you or your kids are working on your art, be it outside on a beautiful day or inside on the tile floor, his trolley cart can come along too!
Organize Your Shower Shampoo Bottles 
Organizing your shower can be a hassle. Between the body soap, shampoo, conditioner, sponges, creams, loofahs, and hair brushes, there never seems to be enough space in the shower.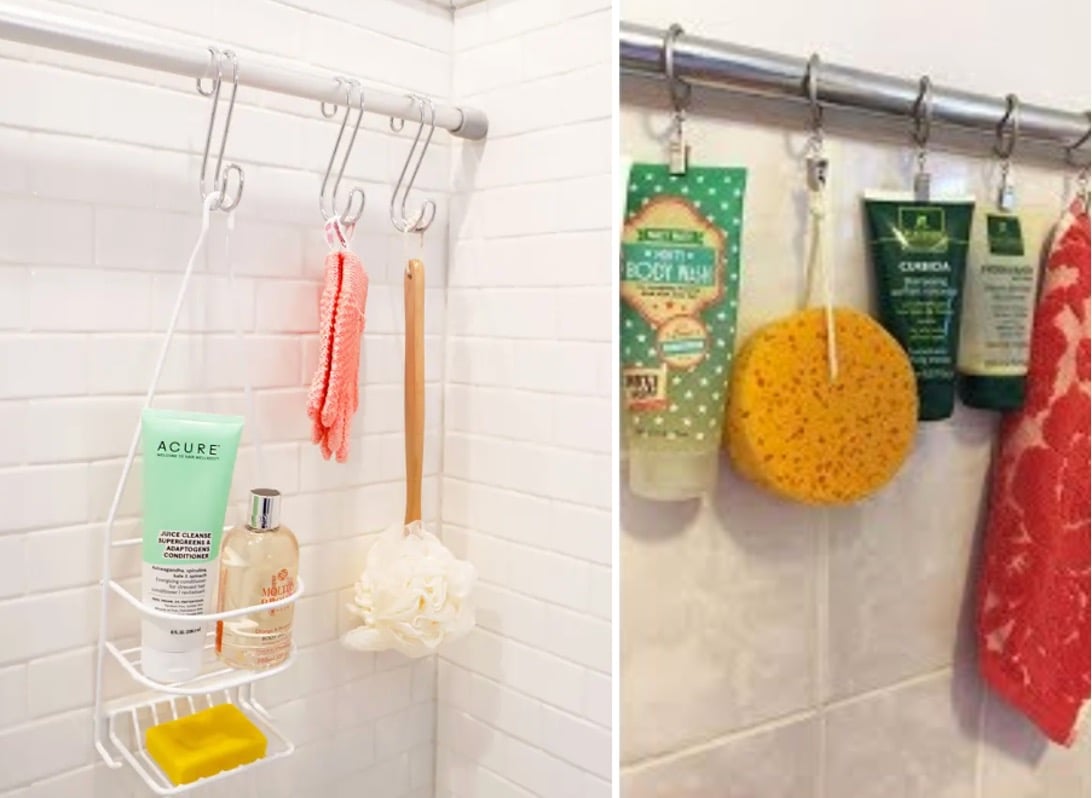 Instead of throwing all your products and items on the ledge of the tub or the bottom of the shower, attach your items to clips or S-hooks. Add an extra tension rod to your shower or hang additional hooks to the back of your shower curtain. Either way, you now can easily access your hanging products without having them scattered around the shower itself. 
Don't Lose Your Earrings!
There are few things worse than getting ready with the perfect outfit and jewelry only to discover that you have lost one of the main ingredients.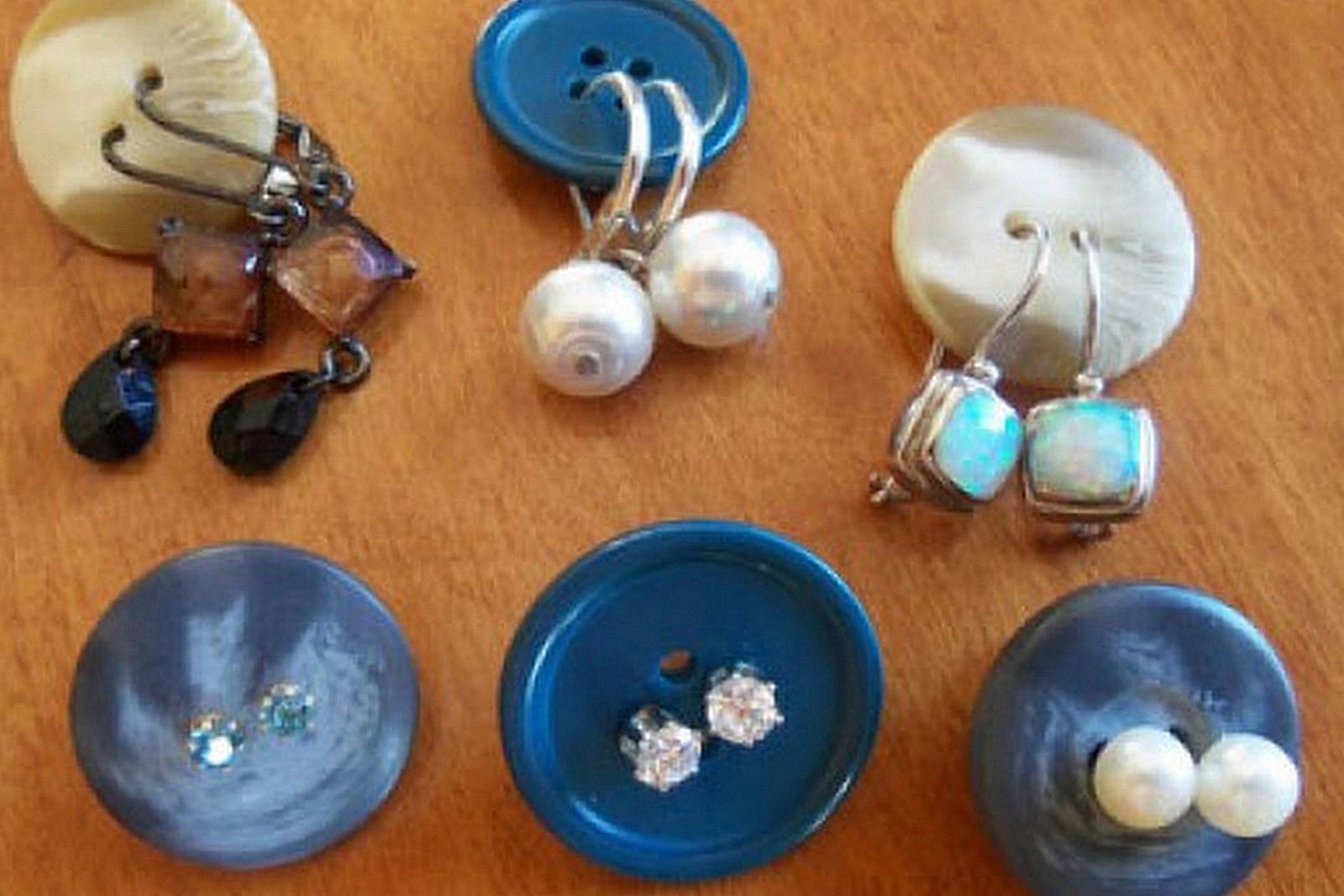 This hack is the perfect solution. By storing earrings in the holes of buttons you make them easy to find, store, and keep them all together. What's not to love?
Store Your Instruments 
For the fellow musicians out there, storage can be pricey. Floor stands run up the bill and also leave your instruments vulnerable to curious children and spazzy dogs.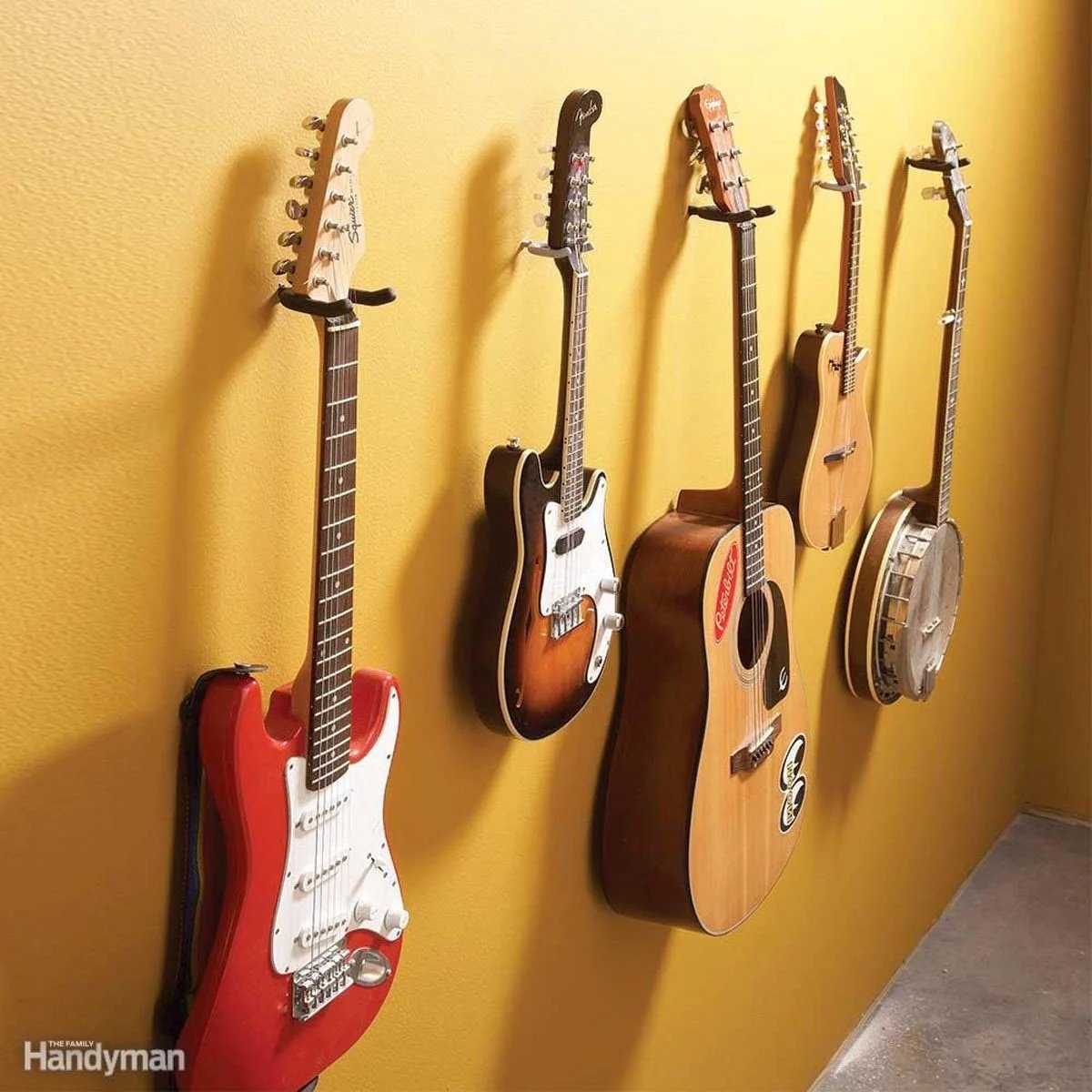 Hanging your instrument on the wall fixes that problem. Instrument wall hangers cost around $20 a pop. Instead, you could buy plastic coated hooks that come at $2-$4 and are just as tough.
Create A DIY Mug Wall
A common theme in these DIY storage hacks involves organizing items on the walls instead of making your countertops or cabinets appear cluttered. Well, this same tip can work for your coffee mugs too! Many of us have probably more mugs than we need, so why not show off your collection?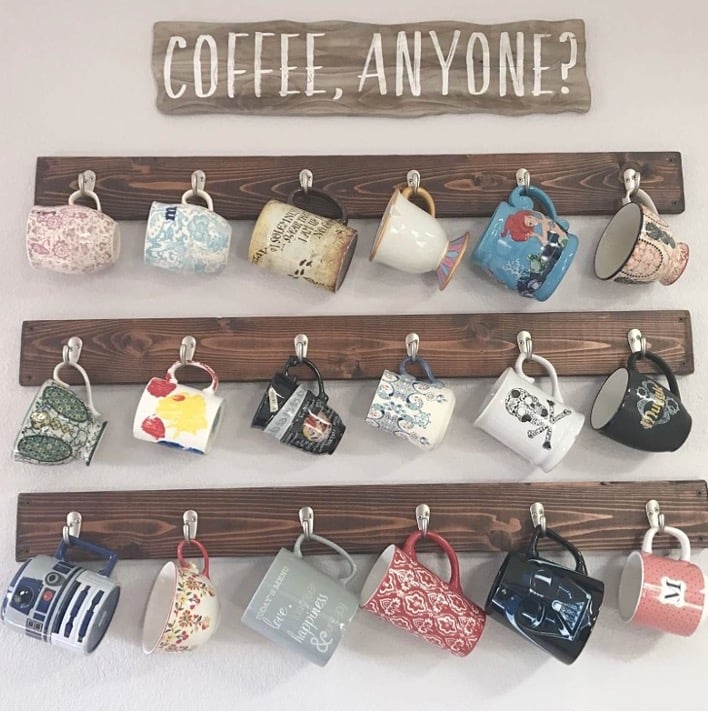 Place hooks along the wall itself or along planks of wood to create a stylish mug organizer for your wall. Be sure to put your creation near your coffee machine for easy access. Not only will this free up your cabinet or counter space, but this can also give your plain wall some added personality!
Tool Organizers
If you need a tool storage solution for your garage or kitchen, this reusable water bottle storage hack will help you get organized. You can make five compartments for different tools. Now, you don't have to worry about misplacing anything ever again.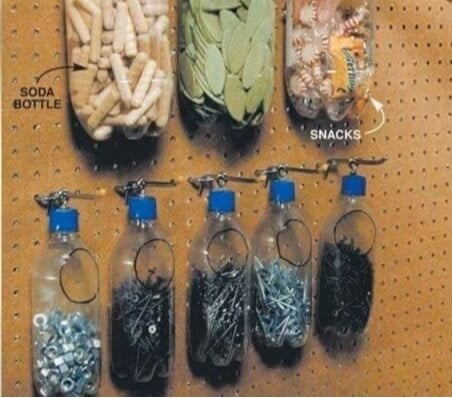 Simply cut a hole in the top of a clear plastic bottle. Then, drill a hole in the cap for the hook. After placing your odds and ends inside, hang them in your garage or kitchen.
Layer Clothes Hanger
To optimize the space in your closet, invest in these very cheap and wonderfully storage saving multilayer hangers! They are a saving grace.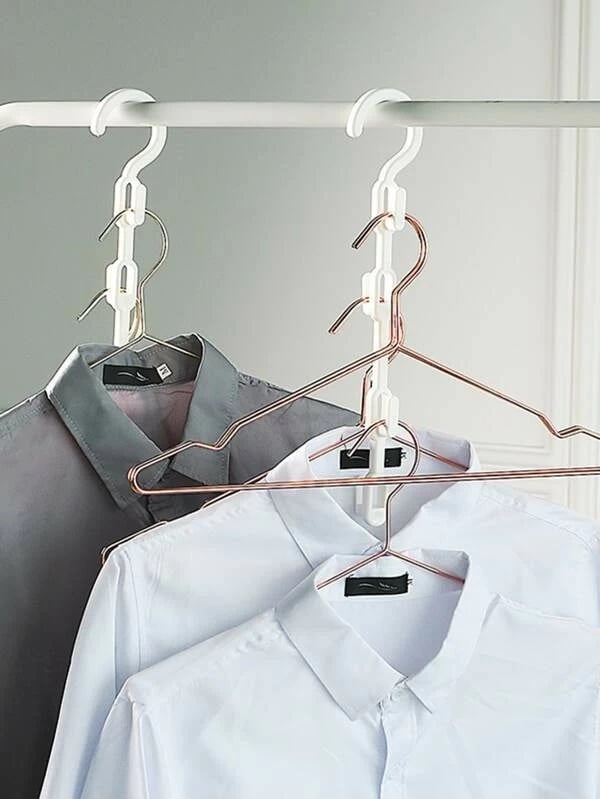 Not only do they give you way more space in your closet, but they are also an organization dream. You can now organize your clothes however you see fit!
Get Your Books Off The Table And On The Wall
Yet again, here's another way to organize your items while decorating your walls. Sure bookshelves exist, but for an easy DIY book storing solution, consider taking a basket or bin you may have around the house and secure the bottom of it to the wall.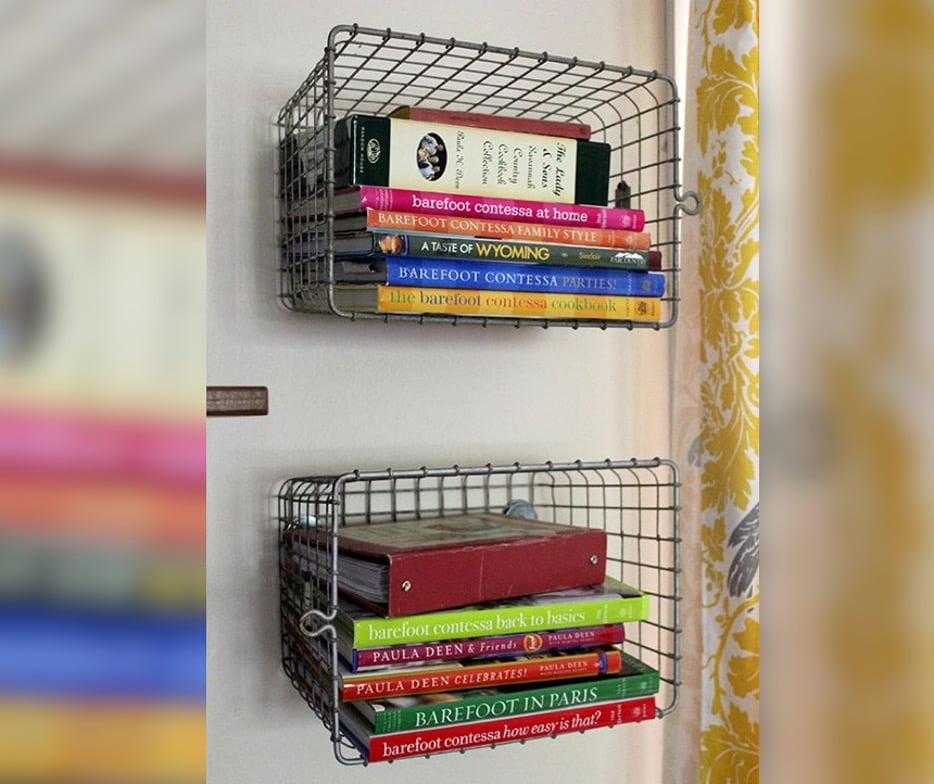 Now slide your books into the baskets for a creative bookshelf alternative. This is a great way to get books off your floors or coffee tables to free up space while still making your novels easily accessible for reading time.
Declutter Your Refrigerator
Do you want some brilliant fridge organization ideas to maximize space? If so, here's a tip for you. First, arrange your food in categories, then put them in their own containers.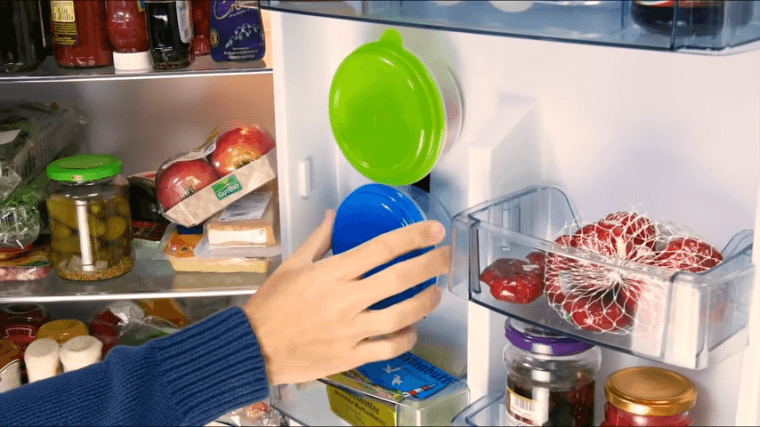 After placing everything into a logical container, get some velcro so you can stick smaller containers to the door and inner walls, maximizing your space. Make sure to use transparent containers for clear visibility.
File Rack Wine Storage
While regular refrigerators do not provide a space for storing wine, you don't have to invest in a fancy cellar to get the job done. There are different ways of organizing your wines, but one of the most innovative tools is a simple file rack.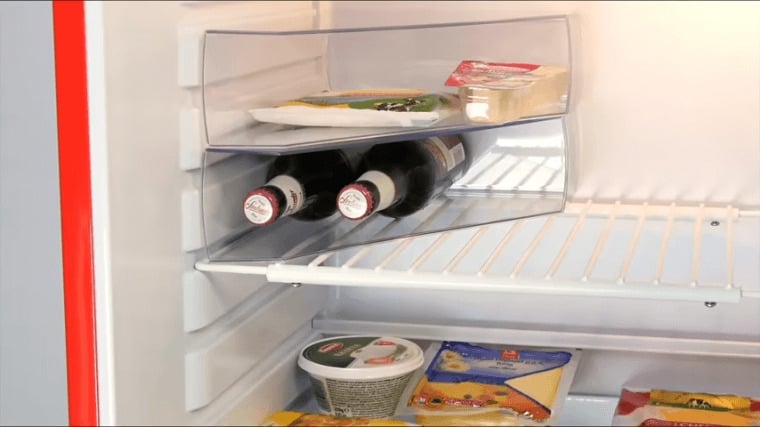 A file rack shelf can hold up to three bottles horizontally. It doesn't take up much space in your fridge but can prevent your wine from rolling around when carefully installed.
Keep Your Ring in Place
Do you ever have a hard time finding the right place to hang your ring when washing your hands or the dishes? This stainless steel hook is perfect for keeping your ring safe. The design is elegant and will match any bathroom or kitchen décor.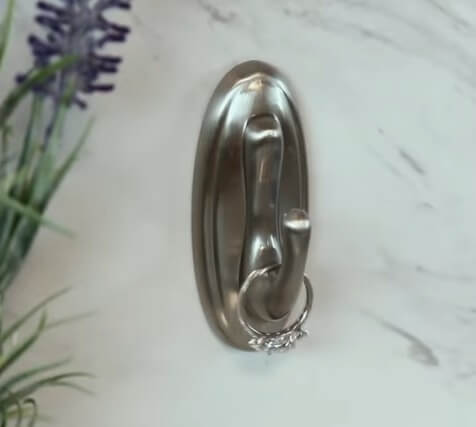 This ring holder is easy to use because it can be mounted anywhere in the bathroom or kitchen that has a smooth, flat surface. You will never lose another valuable piece of jewelry again!
Bungee Cord Your Paper Towel Rolls
Keep your bathroom or kitchen products organize with a bungee cord. If you're all stocked up on paper towel rolls, rather than having them consume an entire cabinet, hook two bungee cords to the wall and slide your rolls behind the cords as in the image below.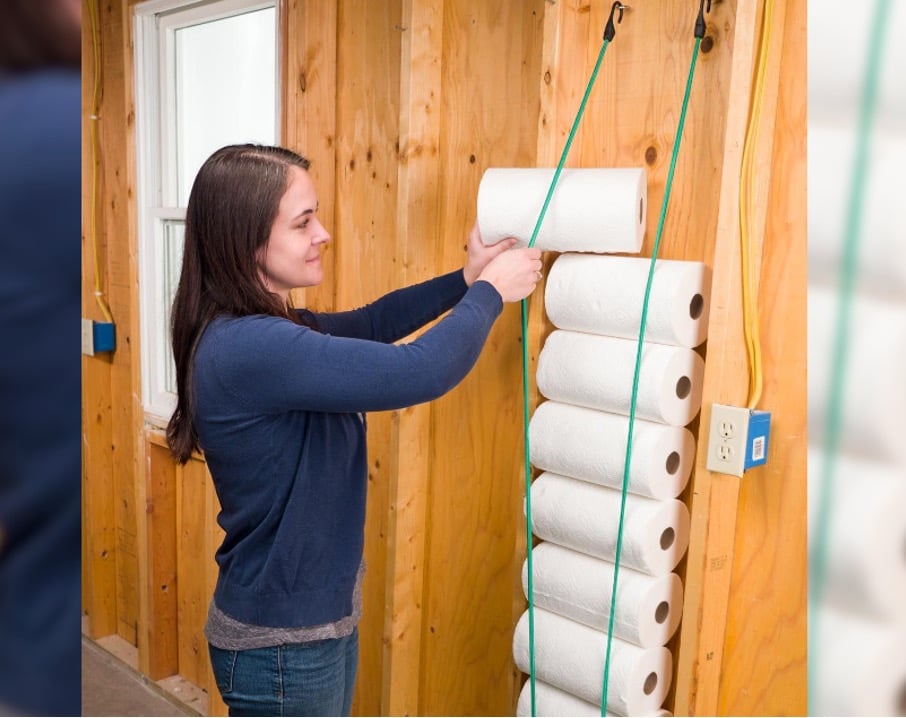 This simple trick is a great way to free up space while keeping your excess products organized and easy to access. You can try this bungee cord hack in the bathroom as well for storing toilet paper.
Garbage Bag Roll Dispenser Under Sink
It's common to keep your garbage bag rolls underneath your kitchen sink to easily access once you need a new trash bag. But have you ever thought about organizing them to be more effective?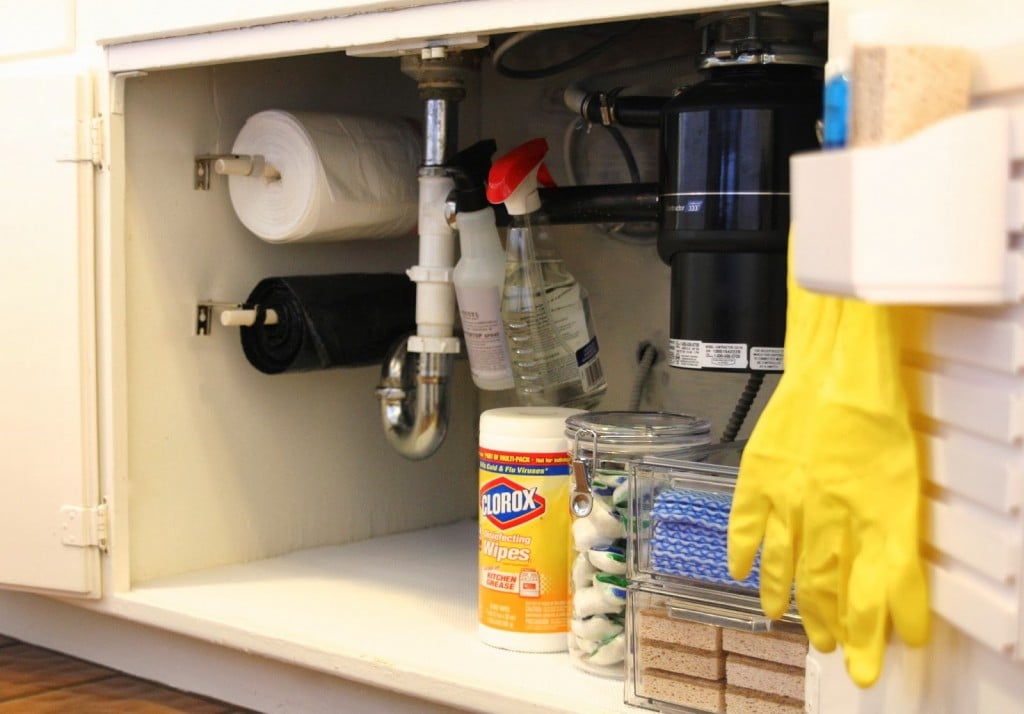 Instead of allowing the bags to take up space on the bottom of your cabinet, install two hooks to the wall of the cabinet then use a plastic rod to hold up your garbage bag roll. Now just tug on the roll to rip off a new trash bag each time. A simple trick!
Store Your Washcloths
Create an easy and accessible way for everyone in your home to access their wash rags. Not to mention they look super cute!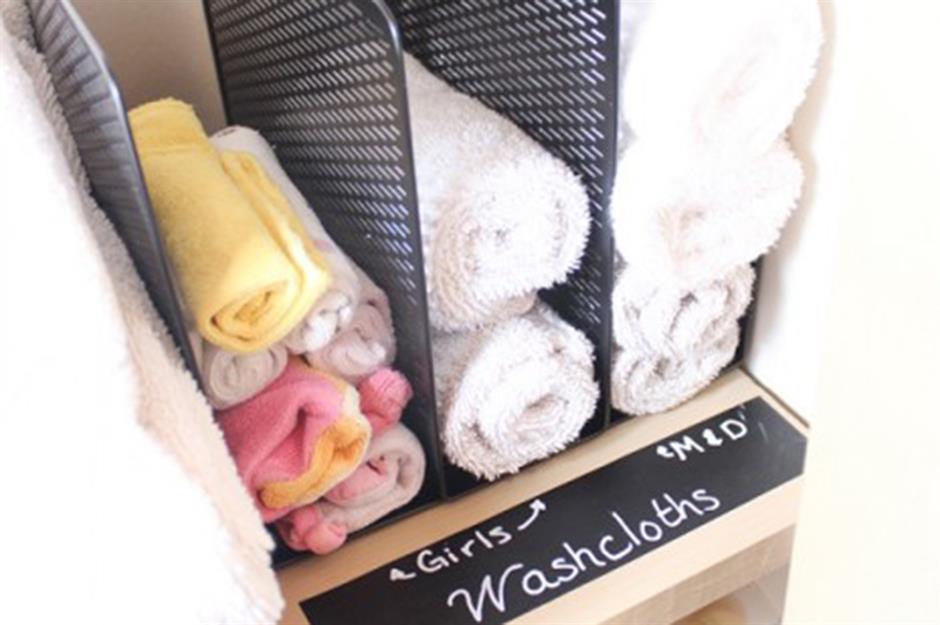 This way, you can store as many washcloths as you need without taking up all of that space that usually comes with storing wash rags.
Store Your Weights In Wine Holders
Exercise equipment tends to be bulky and tricky to store in a small space. A wine rack offers a perfectly sized storage solution for that problem.  Camouflage them among the bottles and we're sure no one will notice!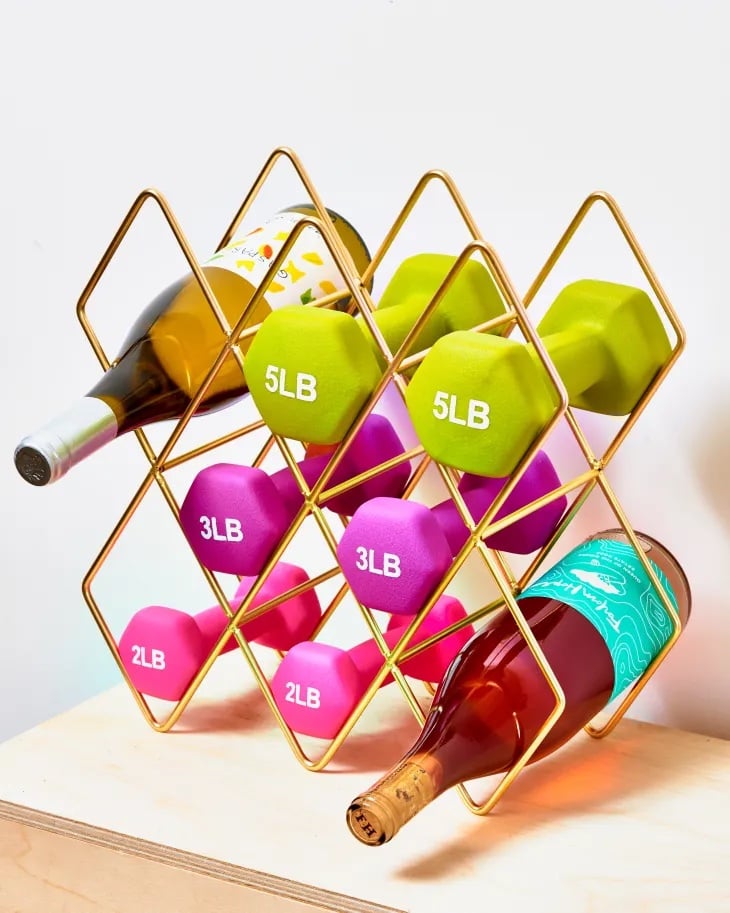 This hack is very ergonomic and also just practical and nice to look at. You can find a wine holder for pretty cheap, or maybe you have one laying around. Either way, take advantage because this hack makes a space look adorable.
Use Hangers to Seal Items
Use hangers to seal your open bags. You can even hang them, which to us is a win win if we ever saw one.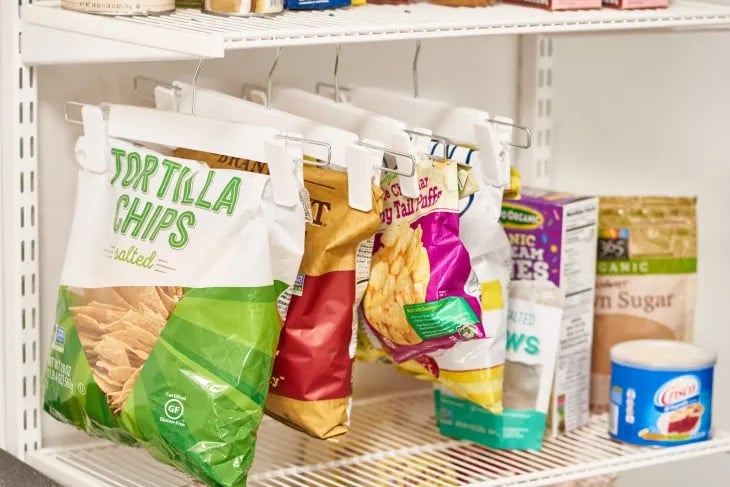 It makes accessing already opened snacks very clear and easy to find and also keeps them stored in an organized way.
Magnetize Your Makeup
Keep all of your makeup easy to find and organize with this adorable hack. Look how sweet!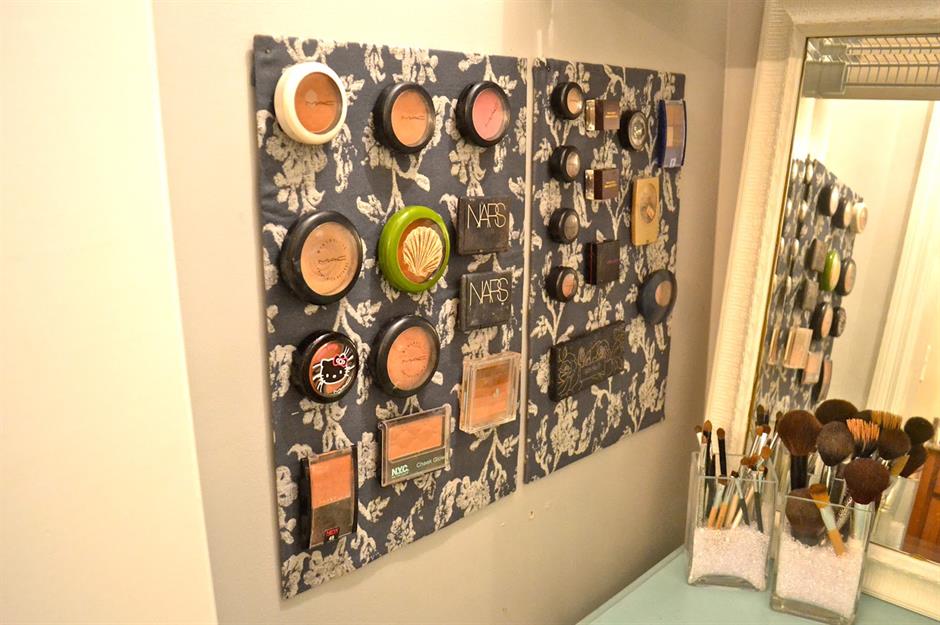 This makes your space appear tended for and also offers a lot of free space for you to enjoy. Plus it is an easy DIY.
Keep Your Hose Contained
Keep your hose out of the way so no one trips with this simple solution. Step 1 is buying a planter bucket. Step 2 is easy enough and you put the hose into the bucket. Step 3 sit back and enjoy your organized outside space!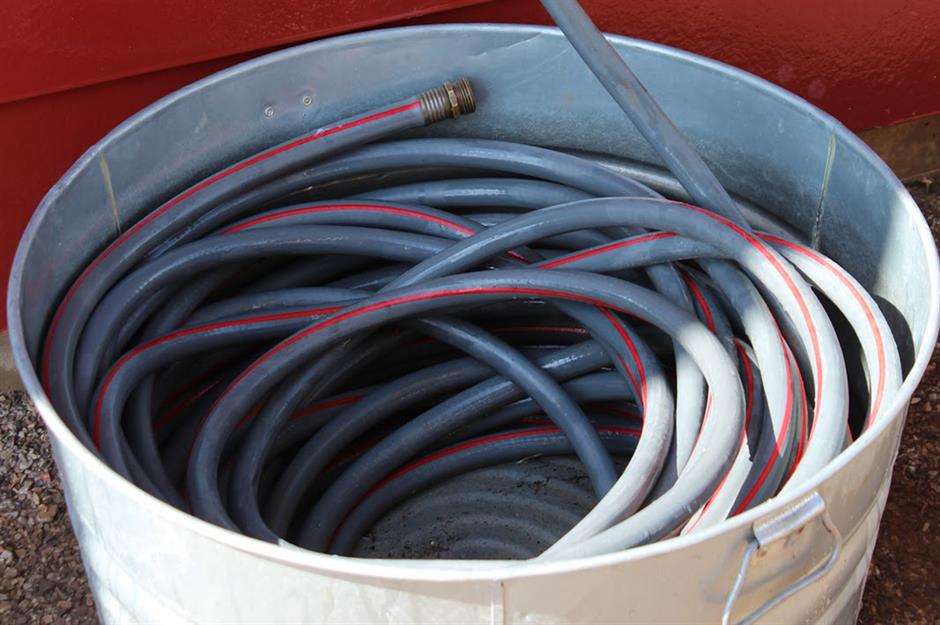 They are pretty decently priced and will allow you to wrap up your house. Easy and actionable
Lift Your Bed
Raise your bed for extra space. It seems like a silly and obvious solution, but it is something we all often overlook.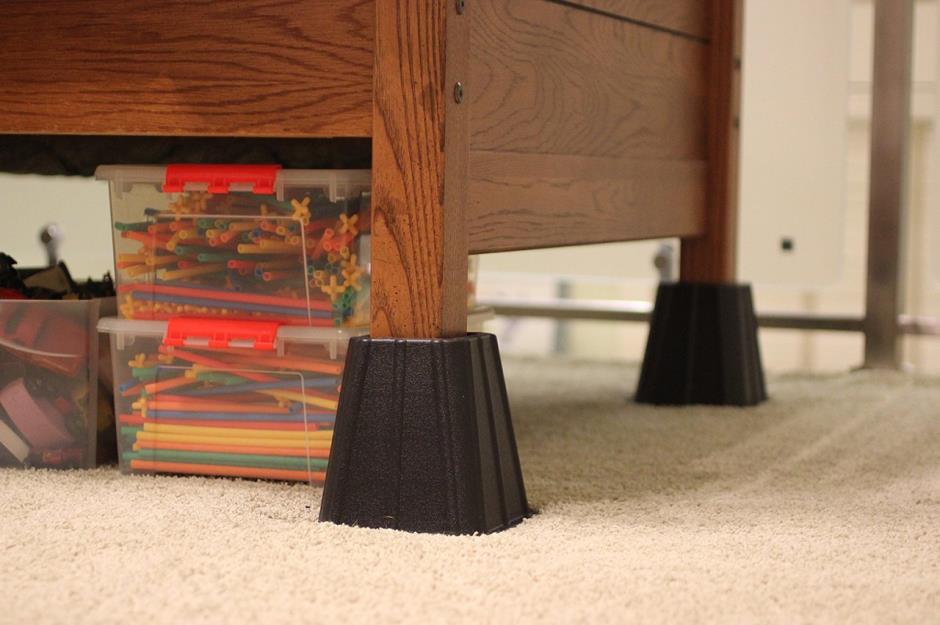 By raising your bed, you are offering yourself a wide variety of options in what can be stored underneath it. Take advantage.
Keep Your Sink Clear
Our sponges can often take up a lot of room in our sink. This isn't good for a few reasons.When you leave your sponge wet in your sink, you are leaving yourself vulnerable to bacteria. Secondly, it is simply not functional for storage space in your sink!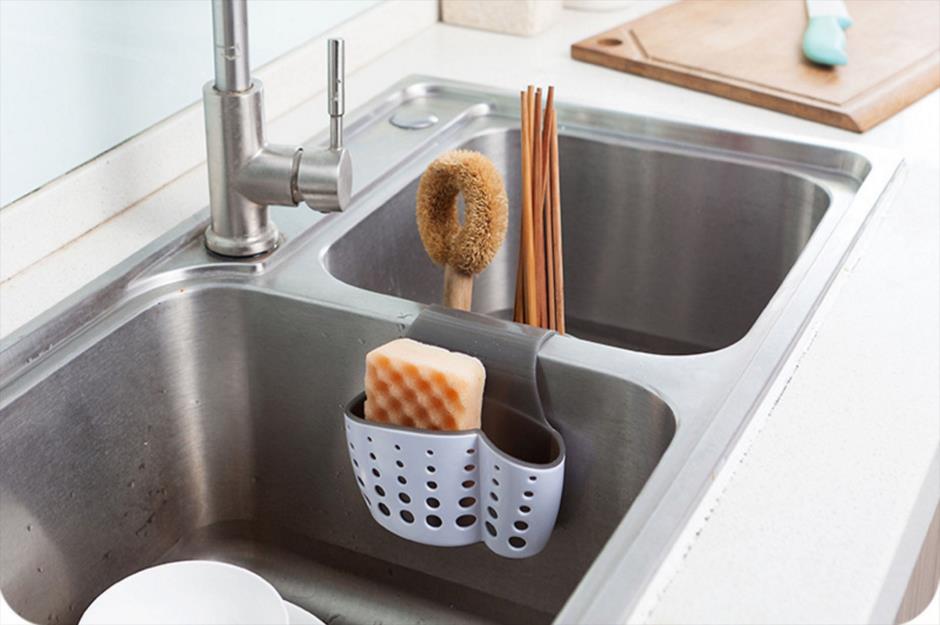 This little hack not only clears up some much needed counter and sink space, it makes your sink area so much less cluttered. You can achieve this clean and clutter free space by creating your own little sink saddle!
Upcycle Your Rake
By upcycling your rake, you are feeding two birds with one scone! Get it? Not only are you putting to use an object that has lost its purpose, you are also freeing up and organizing your tools that are in circulation.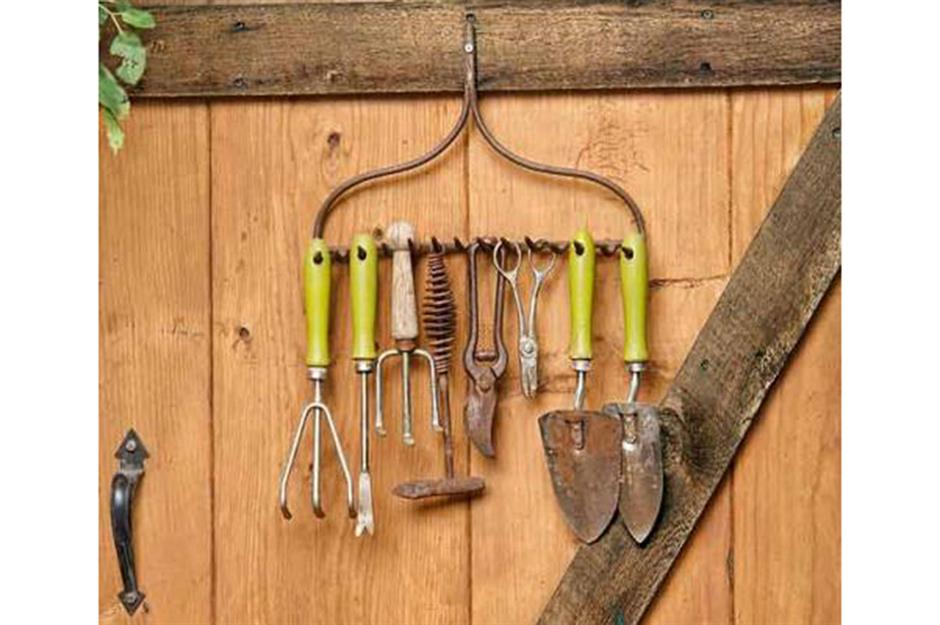 This hack is not only awesome but also super affordable.
If you have an old rake laying around (it can even be missing the handle!) you are going to want to take advantage of the instant organization right at your fingertips.
Store Your Things In Clear Jars
This is especially helpful if you have children. It gets their things organized and out of the way and also takes the hassle out of trying to find them.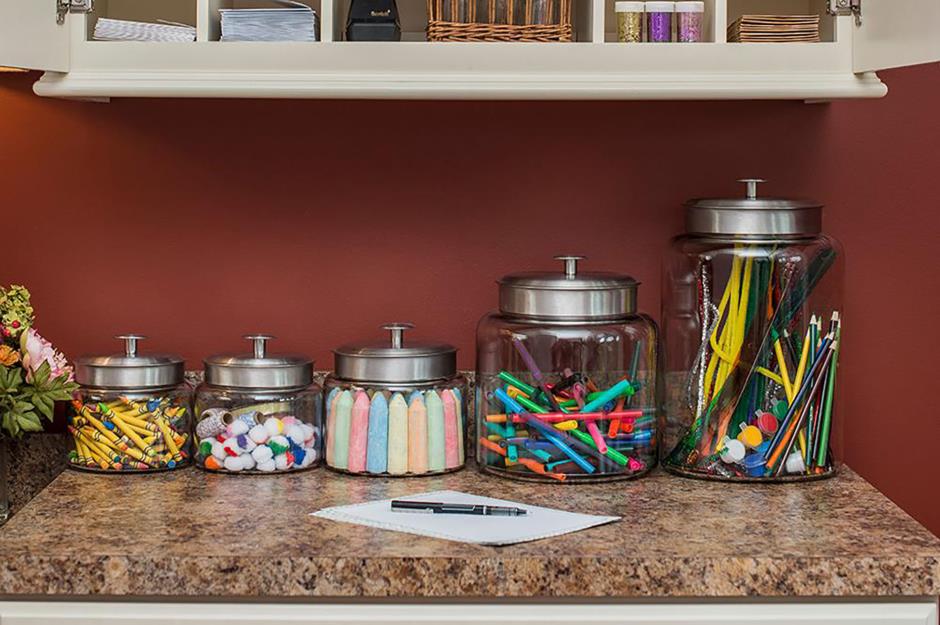 This hack is great for art projects, toys, or toiletries in your kid's bathroom. Really, whatever works best for you.
Keep Art Supplies Tight
Keep you and your children's art supplies locked up tight with a kitchen staple– ziploc baggies.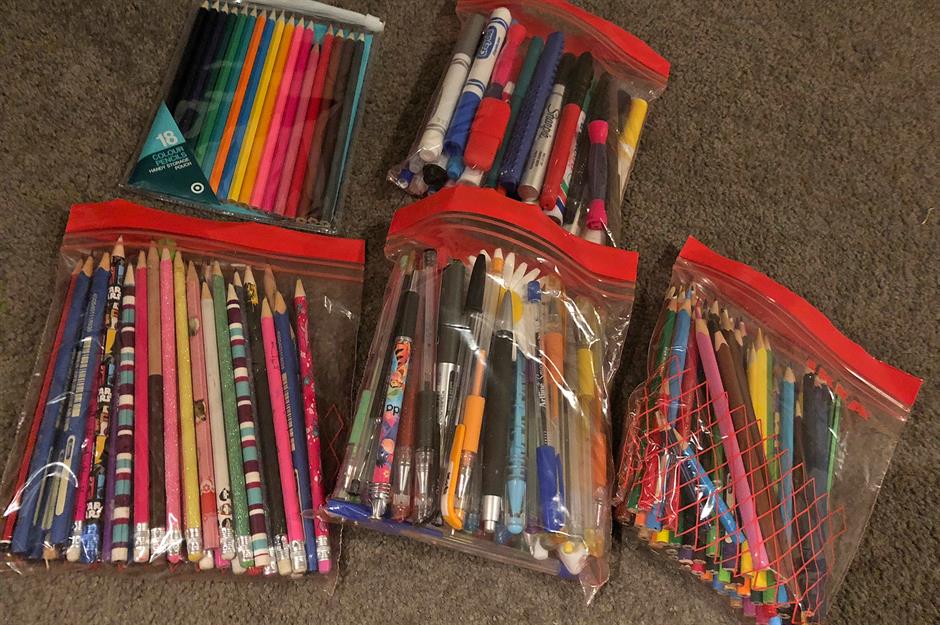 You can keep markers, pens, colored pencils– you name it! The point is they are space saving and affordable, right?
Bonus Shower Space with a Sponge Caddy
Have an extra sponge caddy laying around? Perfect! The suction cups meant to hold it to the side of your sink are perfect for shower walls! You can stick it on a shower wall to keep soap from making a slimy mess, or just use it to get a few extra square inches of storage for your toiletries.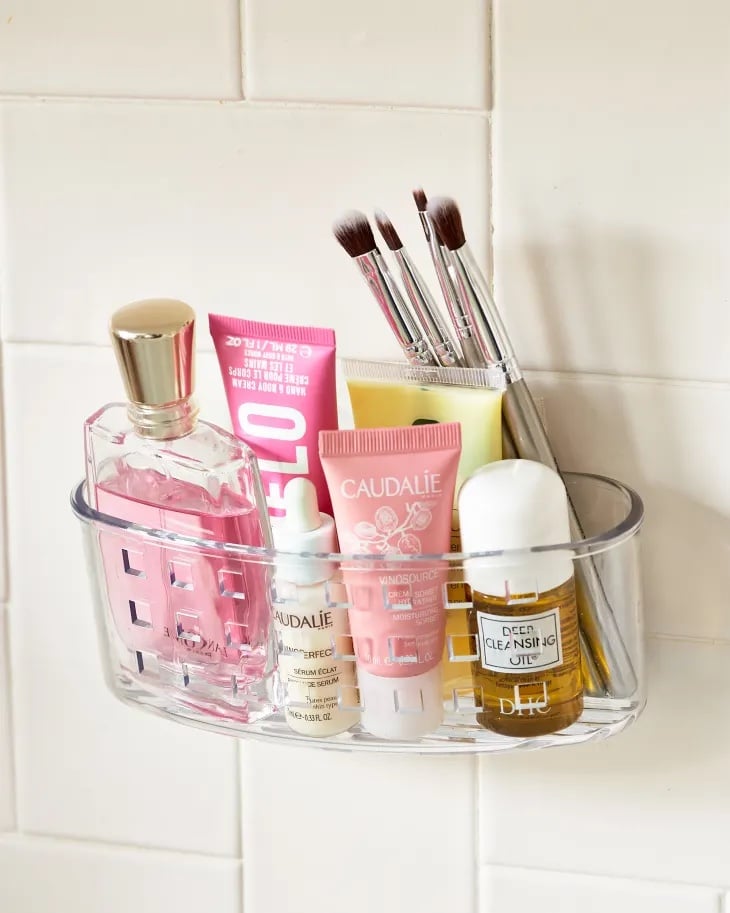 Have a second one lying around as well? Stick another one to your vanity mirror to stash skincare and makeup brushes. So not only will you have an organized shower, your vanity will be organized too!
Clean Up That Laundry Room Floor
The laundry room is easily one of the quickest rooms in your house to become a mess. Not only is it the dumping ground for clothes, laundry products tend to be bulky and take up a lot of space. Don't get us started on all the different products there are now a days to choose from (seriously, there are so many)!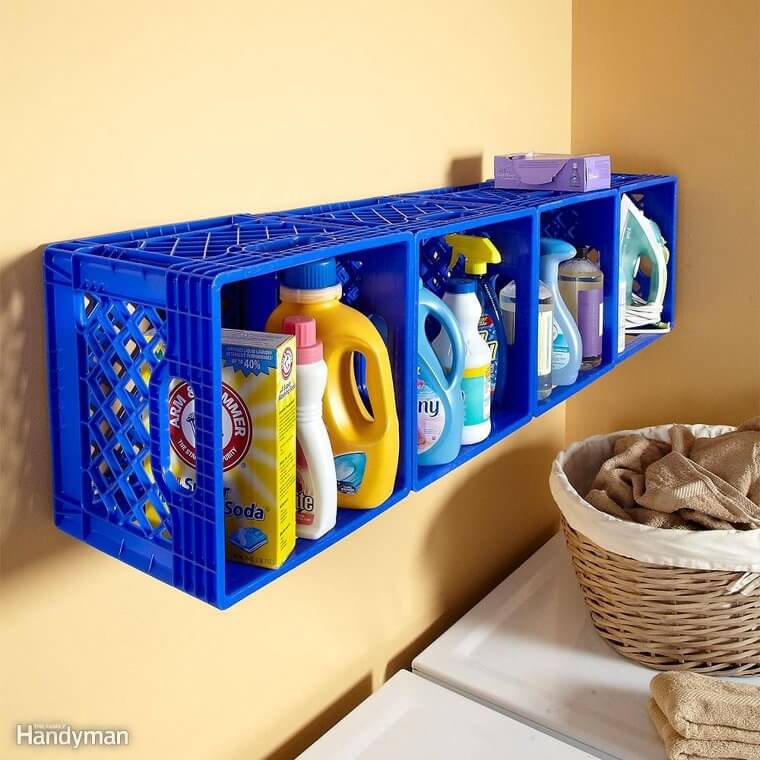 If you don't have shelves, you really need to add that to your to-do list.  No time to get to the store? No problem. That's where this hack comes in handy. Most of us- honestly we don't know why- have crates lying around. Clean them up and screw them into the wall and  viola! You have super quick, easy, and sturdy storage area.
The Forever, Overflowing Closet
Having a tower of clothes fall onto you every time you open your closet to grab something is most definitely not the ideal way to go about storage in your home . Why not spare yourself the struggle/ clean up and invest in a few home-made shelves made from metal clothing bins?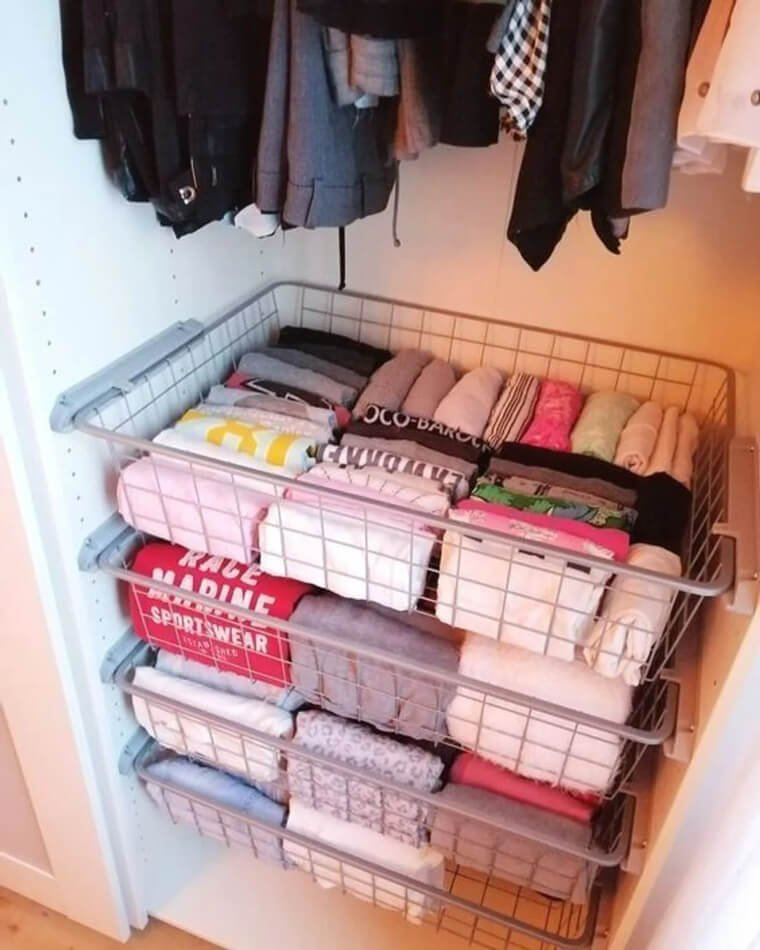 Just because your closet didn't come with shelves doesn't mean it can't have shelves. Get creative and think outside the box!  Organizing your closet is a therapeutic, or at least we think it is!
Repurpose Cookie Tins as Storage Tins
Join the thousands of households who remember a relative storing their sewing notions in a cookie tin. If you ever felt that, once the cookies were all gone, that tin was too good to throw away, you were indeed correct!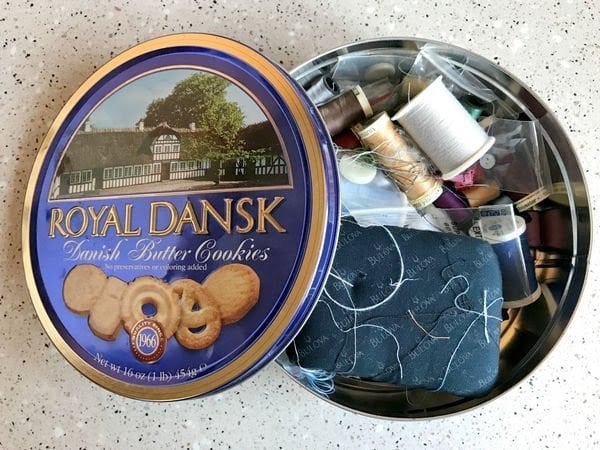 You can store things from thread, needles, buttons, down to basic household items in this sturdy and perfectly shaped storage cookie tin. This probably unlocks a core memory for a good chunk of our readers!
Extra Storage Bins
Look for some extra space in your fridge? Take some of your baking sheets and create some extra shelves in your fridge. Not only do you have instant, extra space, you can remove it whenever you need to.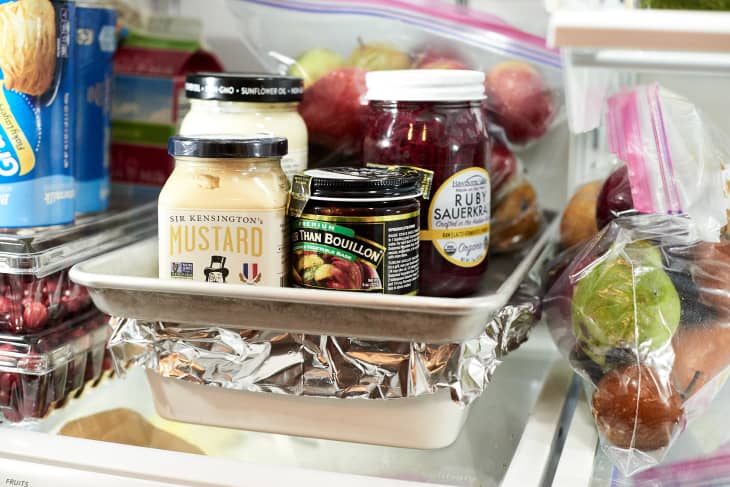 When you've run out of space in your fridge and you don't want to play Tetris with casserole dishes and pickle jars, place a baking sheet on top of a flat surface and bam, there you go!
Double Duty
No need to travel down the aisles of your favorite storage store to find this unique combo of organization and drying rack. You can make it right in your own home!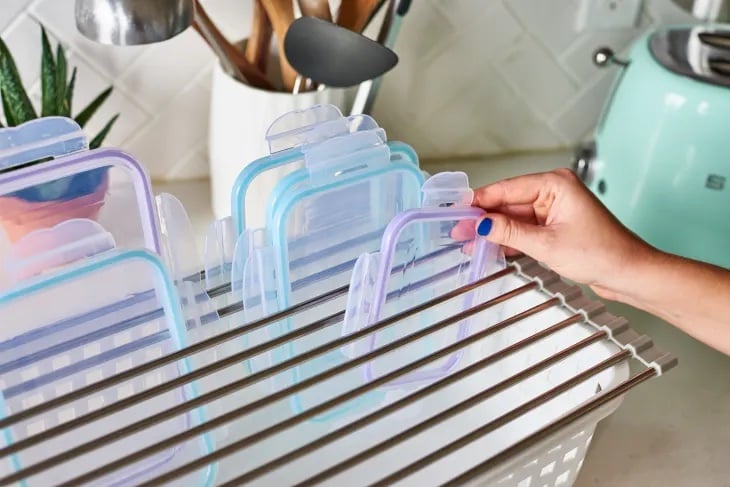 Just grab yourself a drying/cooling rack and a plastic storage bin and then you have yourself a drying rack for those pesky storage lids and an easily accessible/ organized way to store them.
Storage With Silicone Cupcake Liners
Silicone cupcake liners are very much versatile when it comes to their many uses. Some use them simply for baking where as others use them in their kids' lunchboxes to keep the cut up fresh fruit  from getting the veggie puffs soggy.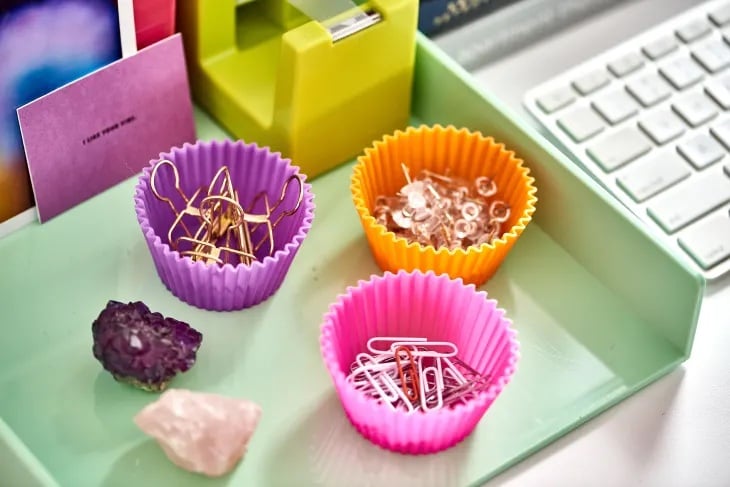 Silicone cupcake liners are also perfect for corralling those small items around your homes like push pins, safety pins, paper clips, or bobby pins. You can take any drawer from chaos to uncluttered in the blink of an eye with this hack.
Small Appliances on a Rolling Plant Stand
Tired of bending down and shuffling through rows of kitchen gadgets? Instant Pots, slow cookers, air fryers, we've all got them! This genius hack has you taking those bulky everyday items and putting them on simple, cheap rolling plant stands.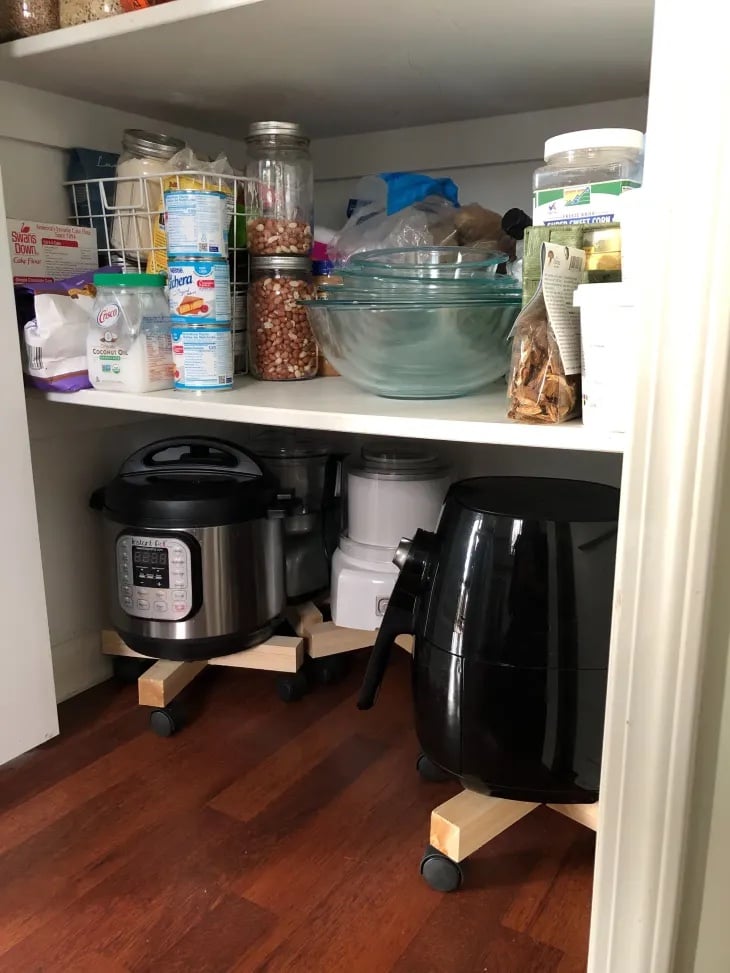 This makes makes undoing and redoing your small appliance storage space a thing of the past. All you need to do is simply wheel them out when they are in use, clean them up and then out them away.
Save Those Cartons
This is the perfect opportunity for you to save your egg cartons and upcycle them. Not only are egg cartons cushioned and separated from each other, the firm outer box keeps them from getting squished. This makes old egg cartons the perfect place to store Christmas ornaments.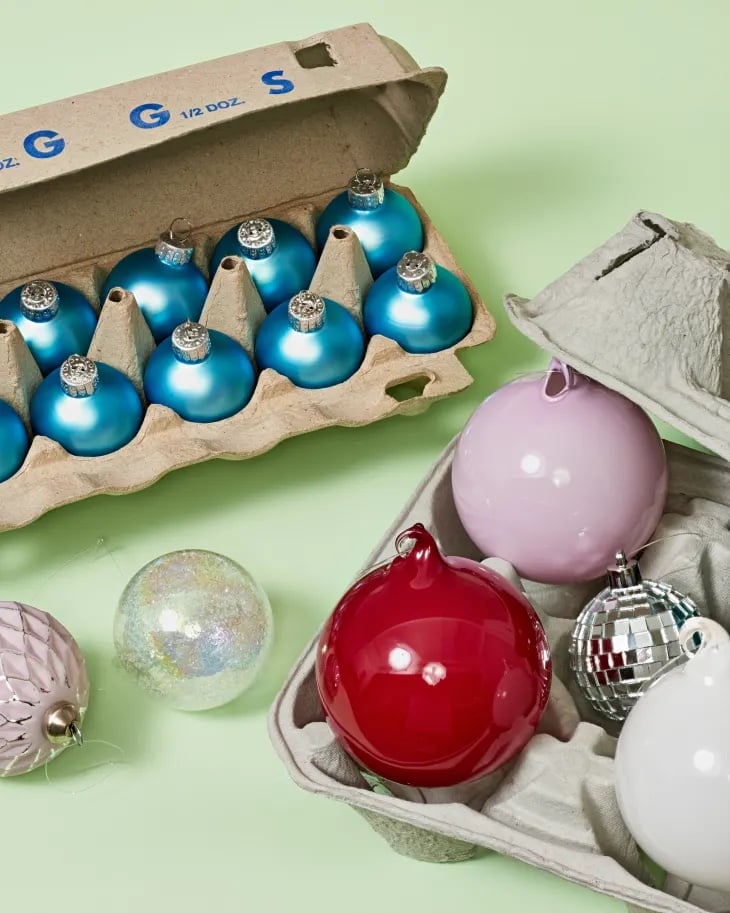 An added bonus is you will be able to stack multiple egg cartons on top of each other and as long as the stack doesn't get too high they won't fall over. The best part? This Christmas decor storage won't cost you a thing.
Extra Under The Sink Storage With Storage Bins
The inside of cabinet doors are such a good place to carve out a little more storage space. In this case, adding little bins you can find around your house or at the Dollar Store gives you a space to store items you need readily available or grab often.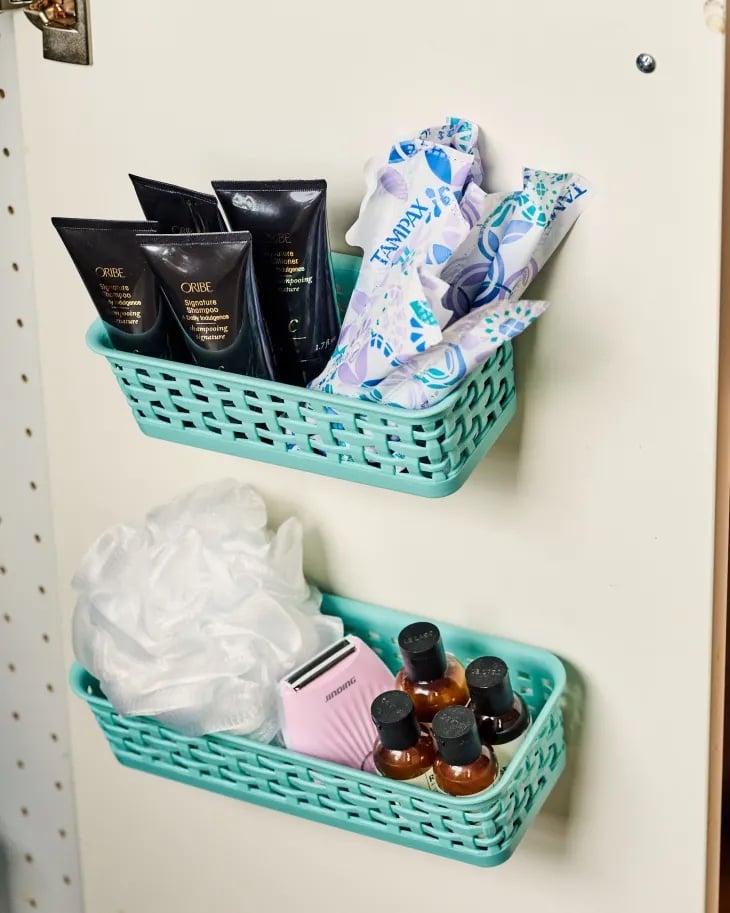 Things such as your hair dryer, hair straightener or even styling products can fit into these added bins. If you need a renter friends option for adding storage to your cabinet doors we suggest hanging the bins with command hooks.
The Sponge Caddy Does It Again!
You guessed it, we've found another awesome back for a suction cup sponge caddy! Seriously, these little guys are so versatile. They're just as effective in the fridge.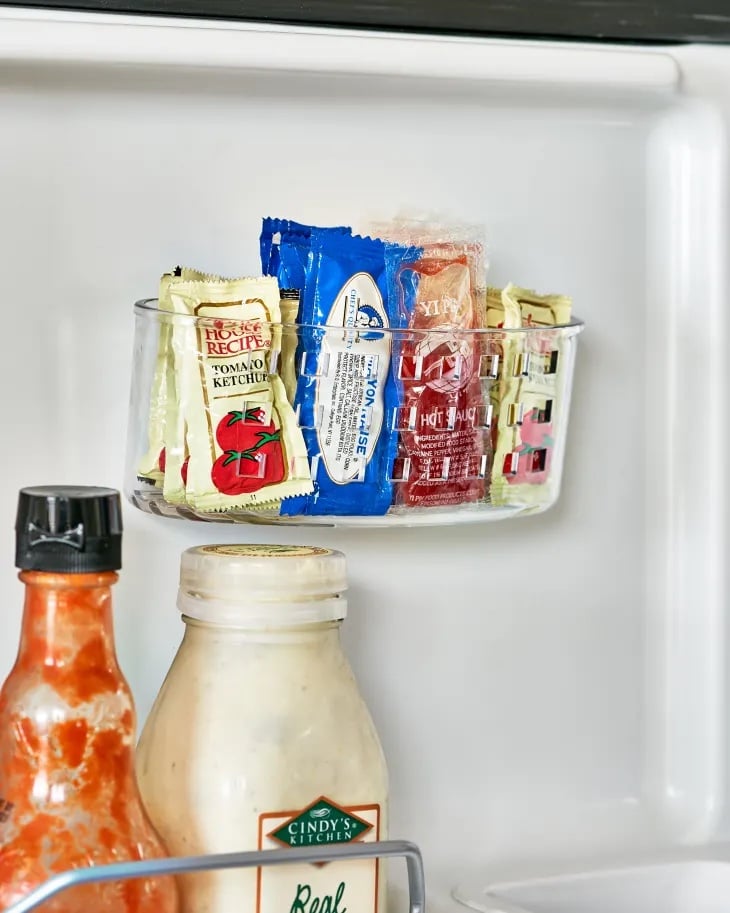 Just stick one inside of your refrigerator, and you have instant extra storage for anything that doesn't have a home. From condiments, to fridge deodorizer, the possibilities are endless for what you can do with that extra fridge real estate!
Silverware Organizer to Store Jewelry
 There is nothing worse than finding the perfect outfit and then going to grab your perfectly paired jewelry and finding it all a tangled mess. Not only is the frustrating, you can damage some very sentimental pieces in the process.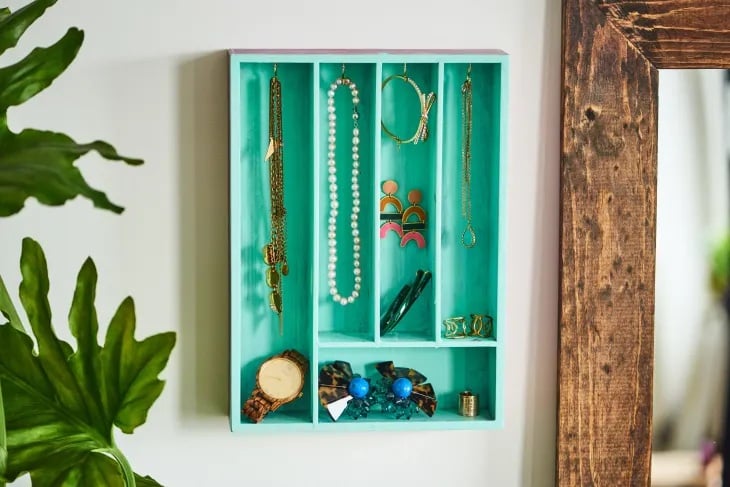 If you have an old drawer/ silverware organizer lying around, try adding a few command hooks on backside of it, hang it on your wall and now you've created a new safe place for your jewelry. Not wanting it on your wall? No problem. Place the organizer horizontal and slide it into a drawer. 
Use Tension Rods to Store Baking Sheets
Stacked cookware is never ideal. Not only is it a pain to sort out, some get damaged this way. Using inexpensive tension rods to create slot like pockets in your kitchen cabinets allows you to store platters, cupcake tins, and all of your baking sheets vertically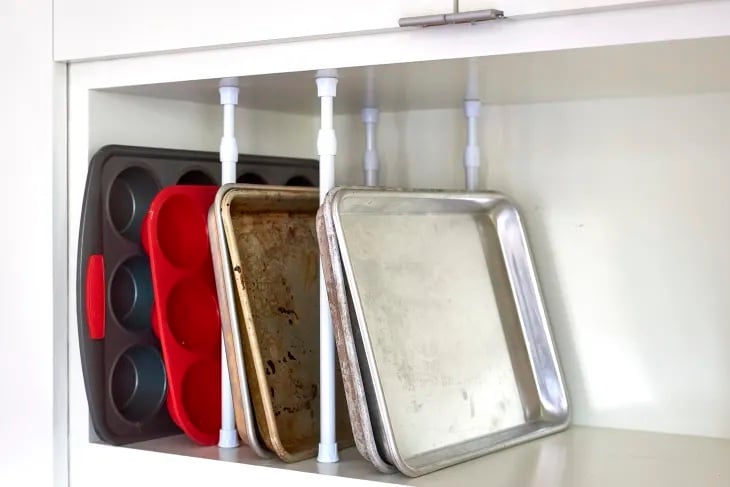 This allows you to see exactly what you need and then you are able to access it with ease. Added bonus, you don't have to unstack everything on top of it!
Use A Bag Holder to Store Rolls of Wrapping Paper
Admit it, we don't know how it happens, but one day you just have a massive amount of half used wrapping paper. Yes, you could store it in a bin under your bed or lean them up against a wall in the corner of your closet, but that's just waiting for a crinkled mess waiting to happen.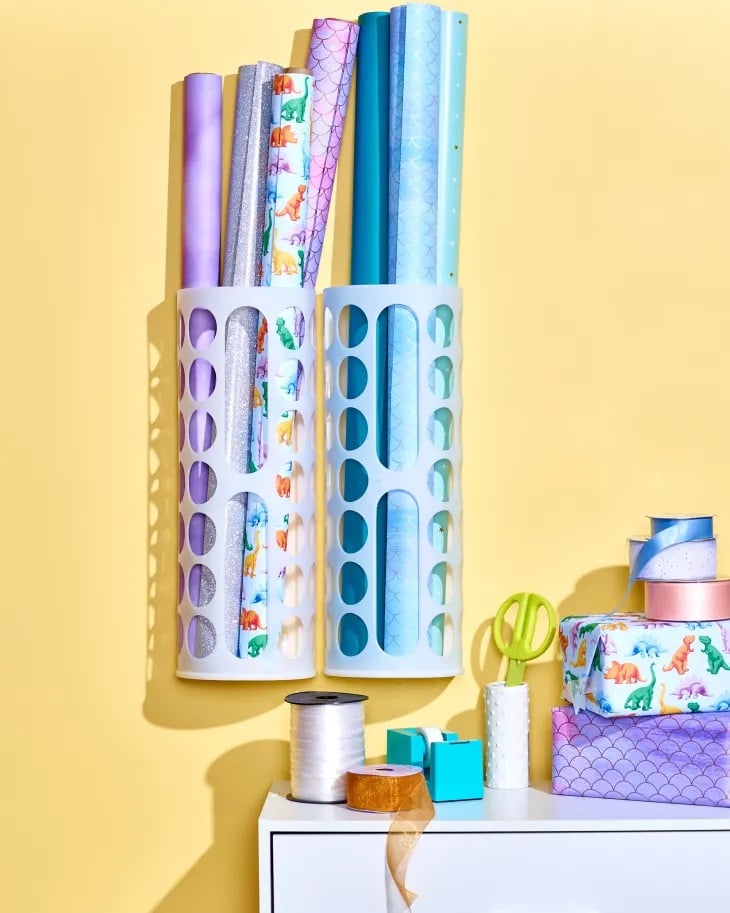 Not only does properly storing your rolls of wrapping paper keep them within easy reach, it prevents them from toppling over, and can be hung on an otherwise underutilized wall space in your closet or craft space