A Dad and Daughter's Recreation of The Same Photo for 35 Years is Absolutely Heartwarming
As parents, we watch our kids grow up fast with equal parts joy and longing. Once in a lifetime, children are dependent on their parents, hugging them whenever they're sad, clinging onto them when the pains of growing up become too much to bear. Then, in a snap, everything changes. In the blink of an eye, they're already adults, moving under their own steam, with their own lives and responsibilities. That's why parents are always trying to capture as many memories as they can, so that they'll have something to remember their children by once they fly the nest.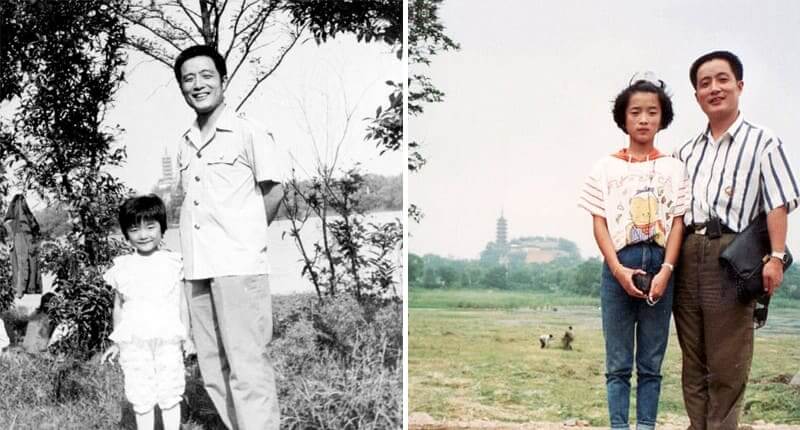 That's what Hua Yunquing decided to do. He wanted to capture every special moment with his daughter, Hua Hua. Their tradition began when they took a photo together in Zhenjiang, with the river and pagoda in the background. He clearly knew that it would be a difficult commitment, but he did it nevertheless. These photos illustrate the transformation of Hua Hua, from timid girl to confident woman, and finally to a loving mom.
1980: The First Photo
Hua Yunqing decided to have this photo taken while they were on holiday in Zhenjiang, China. This is the photo that gave him the idea to do it once every year, or at least for as many years as he could manage.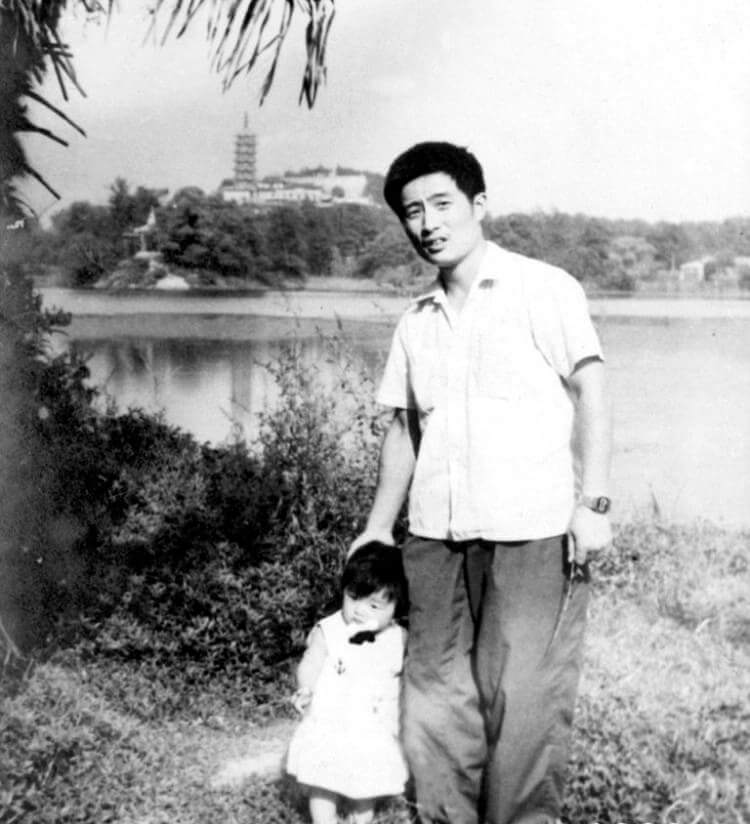 And this little girl is Hua Hua, his daughter. Once her father had the picture in hand, he knew right away that this could be a special little time capsule for them both. It would take commitment and effort to return to the same spot the next year, but the memory would be priceless.
1981: Two Year Old Hua Hua
Hua Yunqing knew what he wanted to do. He was ready to commit to the long-term plan, for the sake of his precious little girl. And so, in 1981, he brought his family back to Zhenjiang for a second time. There he took a photo with a two-year old Hua Hua, on the same spot as before.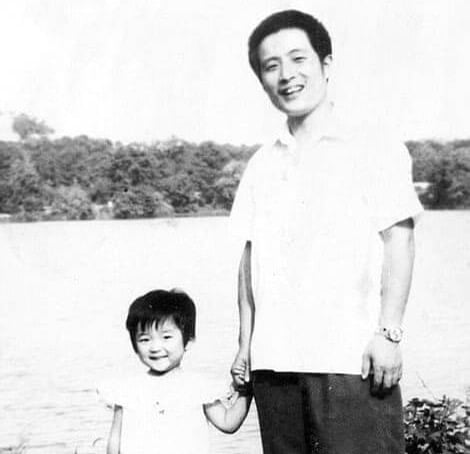 Hua Hua is all smiles here, looking right at the camera. Her dad is also smiling much more compared to his shot in 1980. Hua Hua is going to be a fine lady when she grows up, for sure.
1982: The Third Year
Can you spell "dedication"? This is the third year of the family taking their picture together at the same spot. Nothing much has changed. Hua Hua still has that shy smile, but she looks like she's having a little bit of fun in front of the camera now.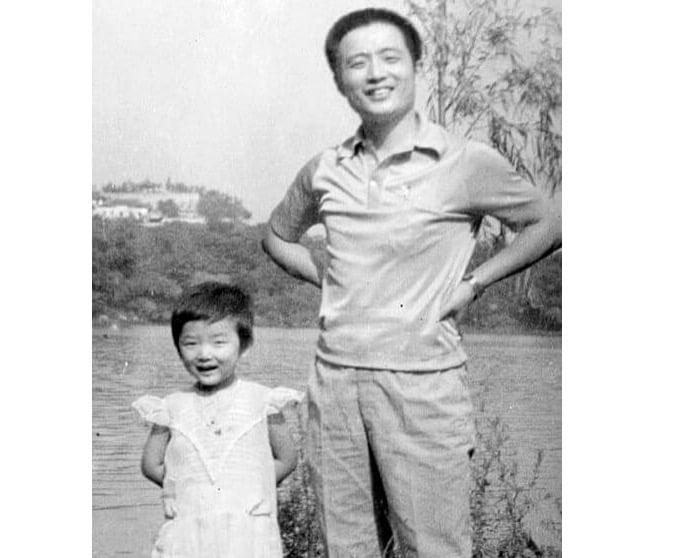 We wonder what Hua Hua was holding behind her back. Maybe a toy, or a bag? It's also nice to see her dad having fun with his picture project.
1983: Hua Hua's Confident Smile
Hua Yunqing is beaming in this photo, and his daughter has a little smile too. Seems like she's enjoying the vacation.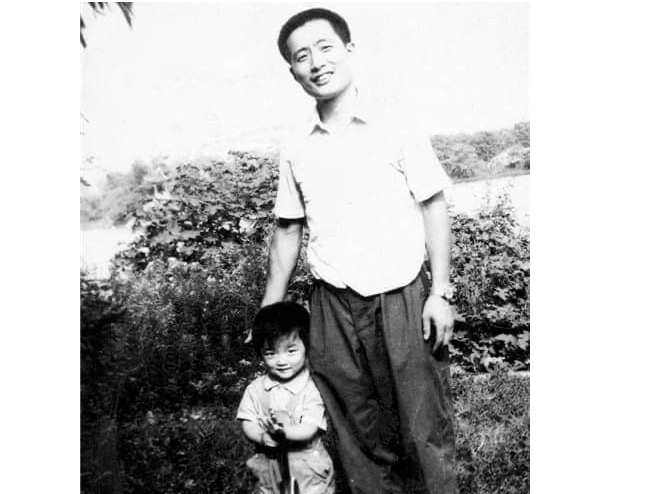 You can see confidence building in Hua Hua's eyes. Is she waving at the camera?
1984: The Last Summer Before Starting School
Hua Hua is now 5 years old, and she's going to a big school already. The father is in full support of his daughter, and he's there with her one step at a time. It seems like she's taking the same pose as her dad. Like father, like daughter, indeed!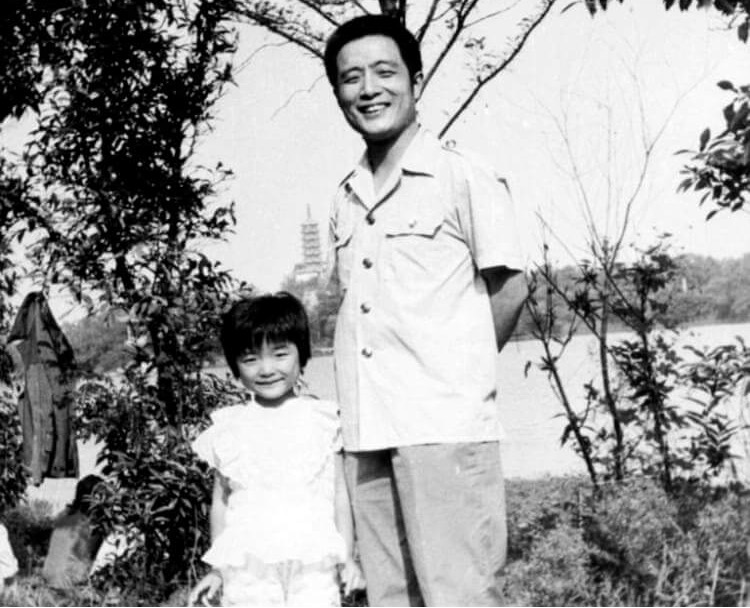 Hua Hua is getting taller too. Additionally, the ruffle dress or blouse is consistent compared with the past years. It's nice to see that she loves taking pictures at that same spot too.
1985: The First Color Photograph
The first colored photograph of the father and daughter duo brings us a new perspective to the project. Hua Yunqing must have been working very hard to invest in his new camera. Colored photographs were still an early technology at the time, so expect these photos to be a little hazy.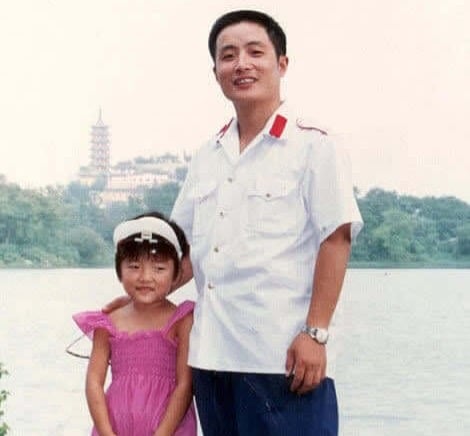 Now in color, we can clearly see how beautiful Hua Hua is. The pink dress, white headband, and sunglasses are giving us some major cutie, chic girl vibes. Is she going to be a fashion model when she grows up? Let's wait and see!
1986: Swimming Day!
In this photo, we get to see a different side to Hua Yunqing and Hua Hua. In previous years, this dad and daughter have been wearing casual clothes. but now they're in their swimwear. We're guessing this picture was taken before swimming, right?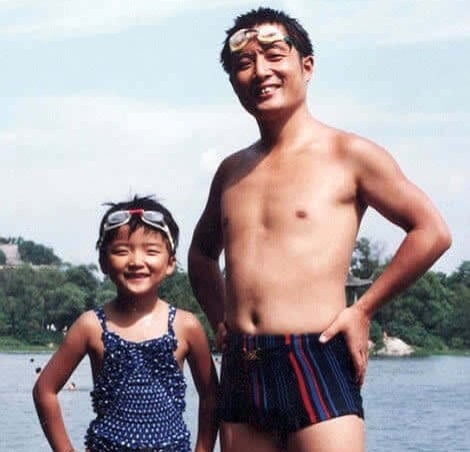 Here, her smile demonstrates much greater confidence. It seems like this father and daughter team is having a blast on the water. Hua Hua is growing up to be a fun-loving kid. On the other hand, it seems like Hua Yunqing hasn't changed at all!
1987: Stylish Dad and Daughter
Hua Hua's fashion sense improves with each passing year, and it looks like her father is matching her style streak. This is the first time we see him wearing shorts and sporting a casual look, which we really like!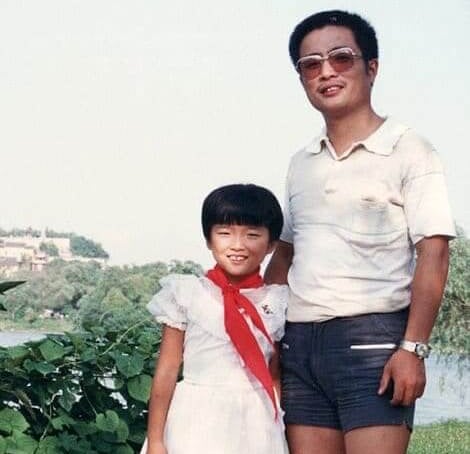 Young Hua looks angelic in her white dress as well. We assume that she really likes ruffles, especially since she's been rocking them throughout the years. This dress has ruffles as well. Hua is looking like a fine little lady!
1988: Young Hua in Grade School
By now, Hua is already nine years old. She's probably in grade school and having a great time with her new friends. She looks wiser, too. It seems she's learning a lot at school.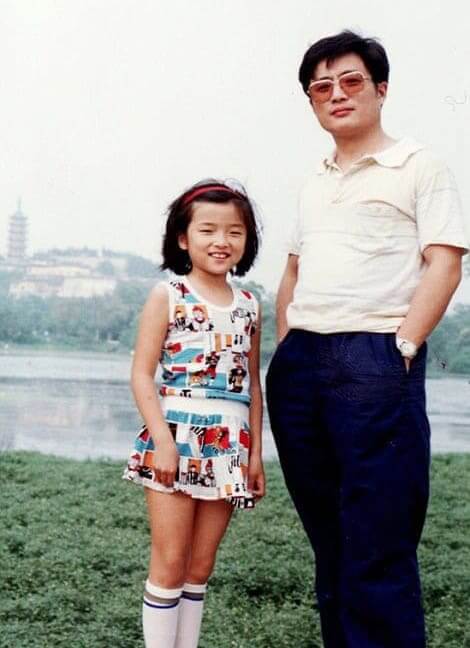 Her dad, on the other hand, upgraded his looks. He looks like a celebrity – a regular Elton John with those classy shades– don't you think?
1989: Dad's the Fashionable One
Hua is wearing her famous ruffles again and went back to the bowl cut. Her mom must have cut her hair for the summer, but whatever the reason, Hua always rocks her look.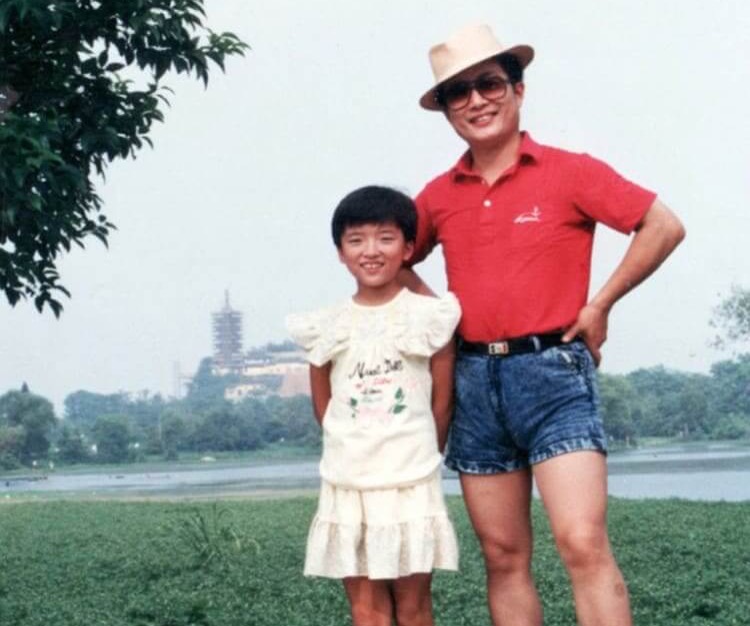 Hua Yunqing is quite the fashion icon, truth be told. Every year, he makes a point to bring his A-game. This time he opted for shorts and a cool hat. We approve of this new edition!
1990: Dad's New Glasses
Hua Yunqing has taken it to the next level. He bought new sunglasses and dropped the casual clothes, seen previously in pictures before. This time around, he seems classy!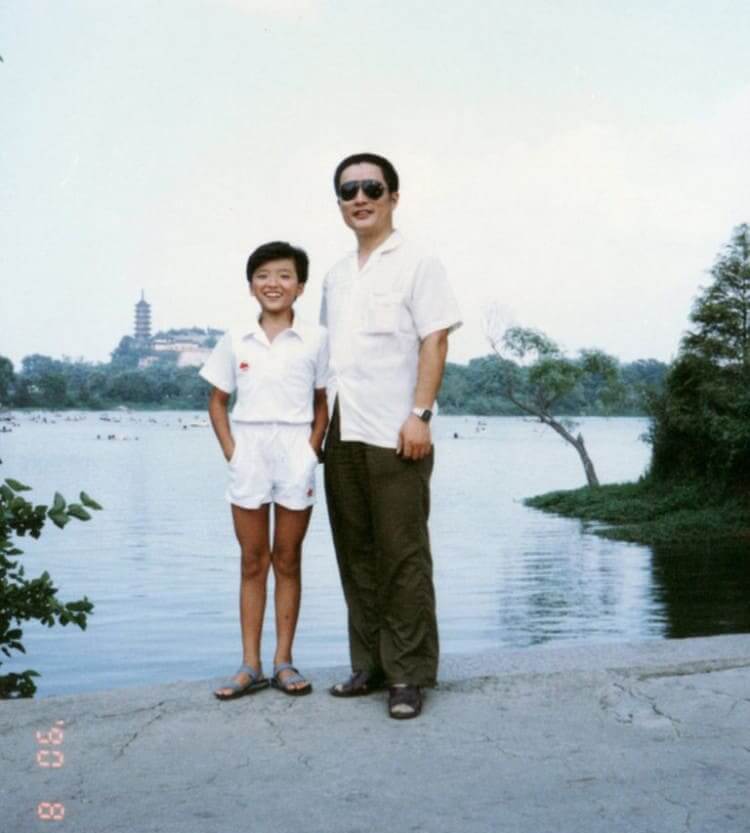 Hua is still the same bubbly kid we've known since 1980. We still love her short hair, and the long side parting suits her so well. We admire their all-white ensemble!
1991: New Decade, Same Dedication
A new decade is no reason to stop the tradition. This father and daughter continued to take their photos at Zhenjiang. From stunning matching poses to beaming smiles, everything about this photo is perfect!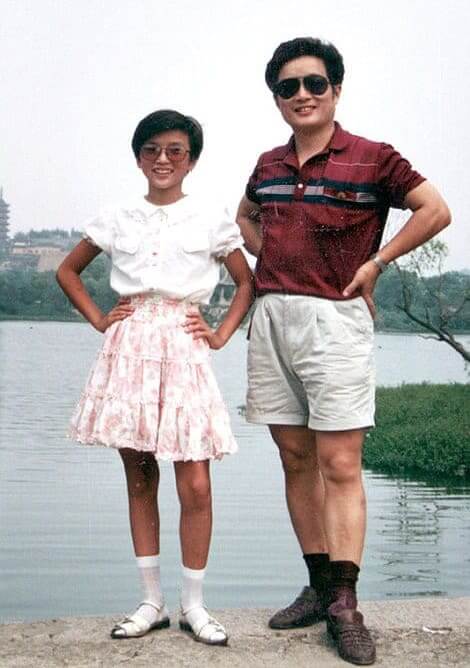 They sort of have the same outfit, or at least the same idea for their socks, shoes and shades. Looks like they planned this all along.
1992: Hua's Teenage Years Start Now
This is the era of electronic gadgets. As Hua Hua begins her teenage years, it seems as though she's getting more and more trendy. With the portable cassette player, earphones, and a not-so-happy expression, she looks like one of those teenagers who's starting to discover their true self.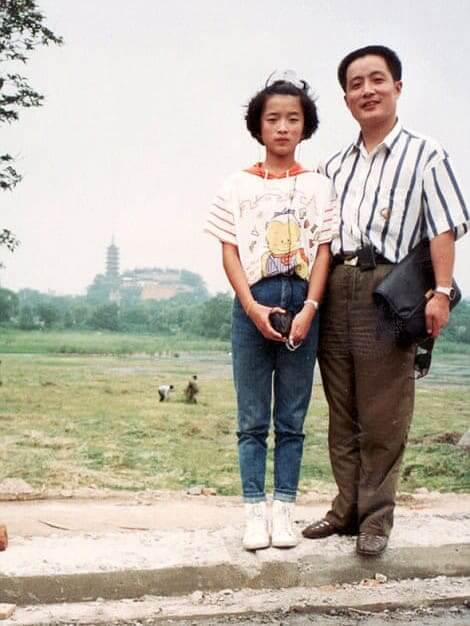 Hua Yunqing also looks like he's into electronic gadgets, with a pager strapped to his belt. You're looking professional in those clothes. Way to go, dad!
1993: Pigtails
Hua Hua is already 14 years old, and she's grown. She's almost the same height as her father now. Her pigtails are giving us major cutie vibes.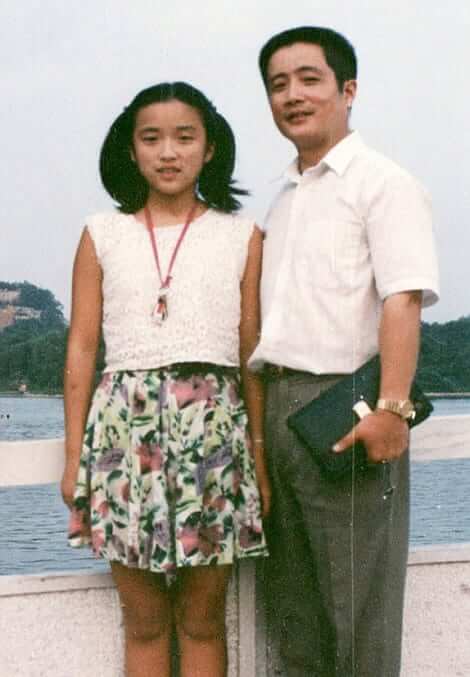 On the other hand, her father is already 39 years old. But to be honest, nothing much about him has changed. I wonder what his secret is for looking so young? Is there a hidden fountain of youth somewhere in Zhenjiang?
1994: Hair Blowing in the Wind
This year is quite different. This time they decided to take a candid picture in the wind. They are definitely enjoying a cool breeze.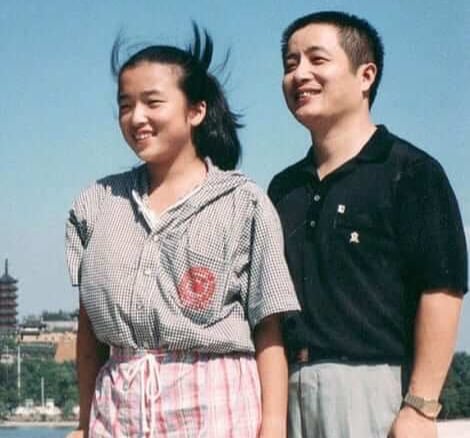 Hua Hua is starting to look a bit more like her father, with the same smiles and gestures. They look like they're in a movie. A remarkable moment!
1995: Start of High School
The 16-year-old Hua Hua had just started high school when this photo was taken, meaning that she hadn't quite yet entered into the world of adolescence. It's nice to see her still being clingy with her dad.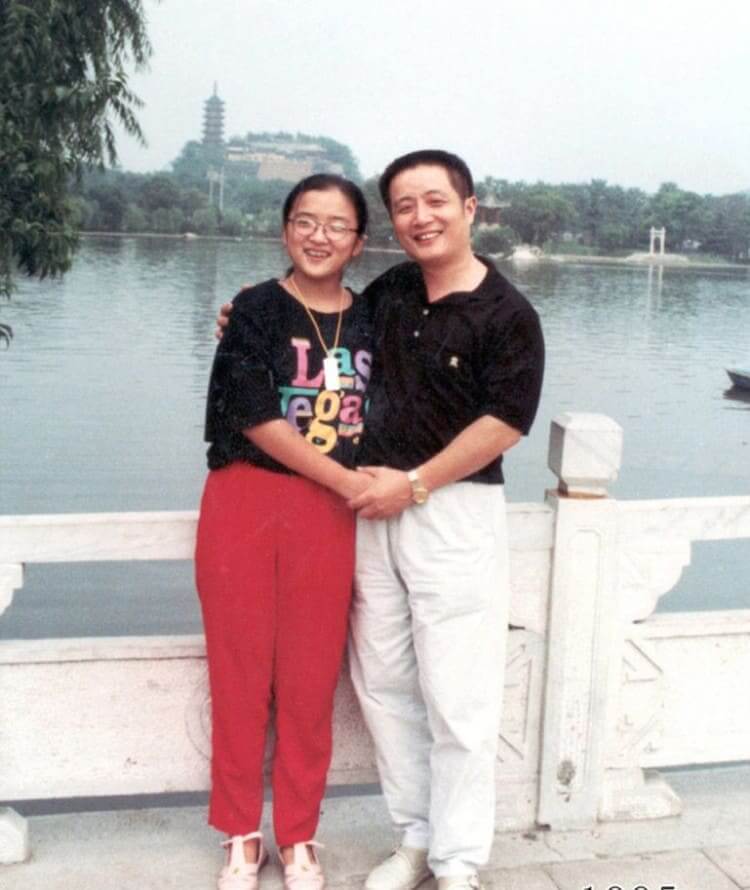 This photo marked the year when Hua Hua started to wear braces and glasses. We're sure she's focusing on her studies and excelling. Her dad must have been proud!
1996: Thankfully, She Didn't Wear the Hat
One thing's for sure, Hua looks good in everything she wears. This year, she's decided to wear overalls over a white shirt. Thankfully, she decided against the hat for the photo. Nonetheless, she will always be the adorable Hua Hua that her father loves.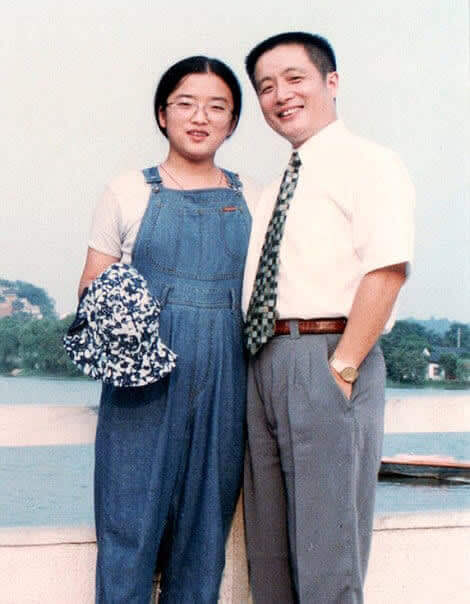 Hua Yunqing is killing it in his work attire. With the necktie and brown leather belt, it looks like he was promoted to a higher station. Whatever it was, I'm sure his daughter was proud of him as well.
1997: Goodbye, Braces!
Removing braces is a great relief to all who've ever worn them. In this picture, Hua Hua's smile widened without the extra equipment on her teeth. She also looks happier without them.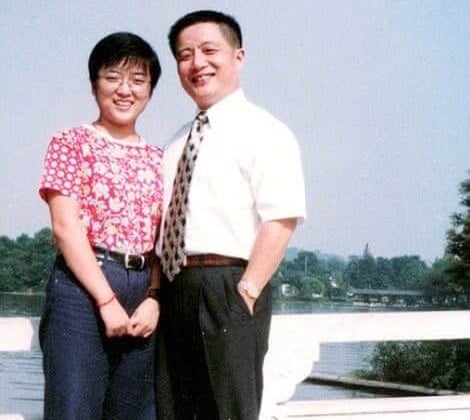 We also love Hua's fashion style here. The pink shirt and high waist jeans fit her so well. It totally gives off 90s fashion vibes. And her dad is looking younger each year!
1999: Return After a One-Year Break
This snap of the dad-and-daughter duo is definitely more memorable than to their last. Probably because they took a one-year break from the family tradition, as Hua was busy with her studies. Like many Asian fathers, Hua Yunqing probably wouldn't have taken exception to this missing year, since school studies are regarded as highly important in every Asian household.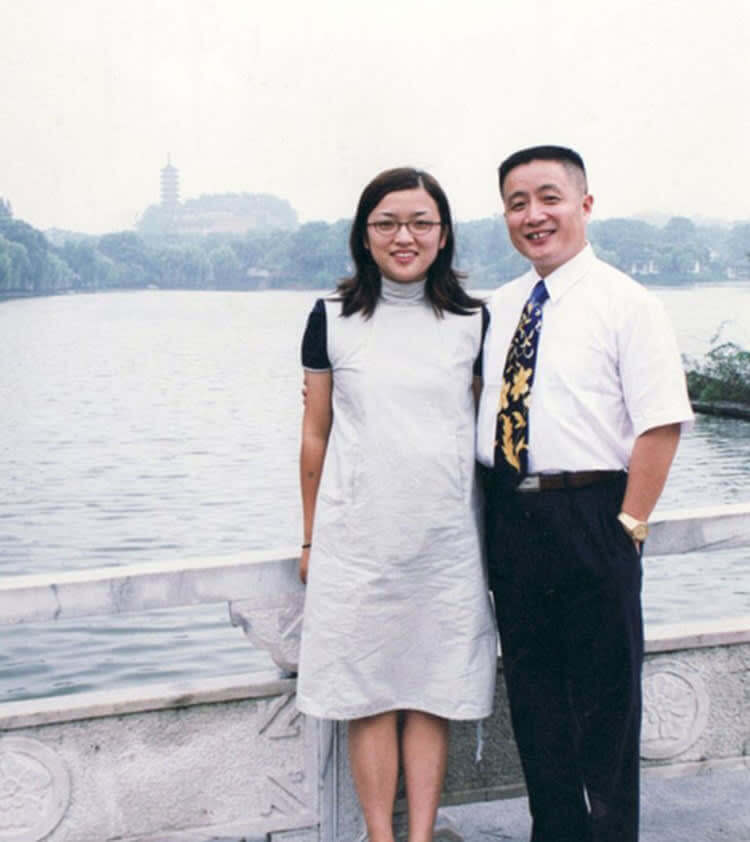 Hua's already grown into a wonderful lady. From being the shy, bowl-cut toddler to a teen with braces, and now into a grown woman with ambitions of her own. Her fashion has also improved through the years. Her father still looks the same, rocking his shirt and tie.
2000: Entering a New Millennium
Hua is already 21 years old by this time, while her father is 46. A lot of things might have changed, even Zhenjiang in the background, but the love between father and daughter is still the same.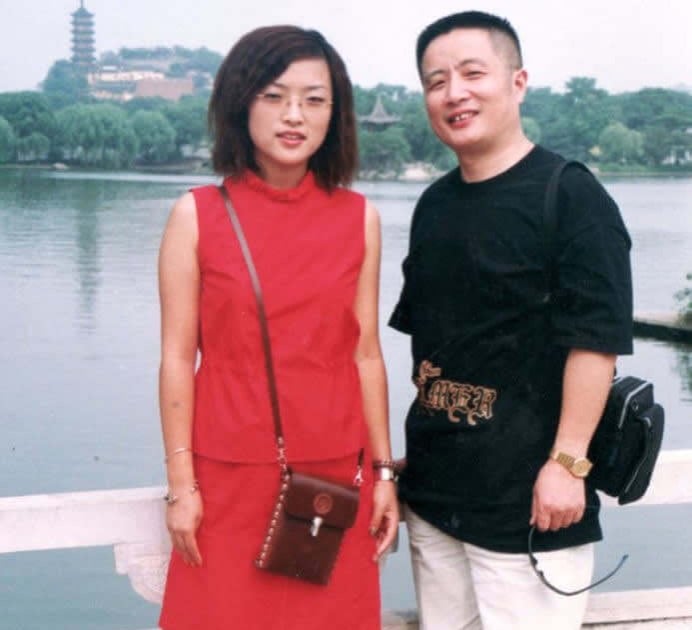 Hua is becoming quite the fashionista, taking after her father. The red dress looks fantastic on her. Additionally, the crimped hair, trending at the time, looks great on her. Hua Yunquing also opted for more casual attire this year, not the usual shirt and tie he used to wear.
2001: Some Things Stay the Same
By this time, Hua Hua is working professionally in her chosen career. It seems like her dad is giving her his support just by looking at their photo here. Hua Yunquing's smile stays the same. Getting the time to organize a yearly photo is becoming more difficult as both of them are busy with their jobs.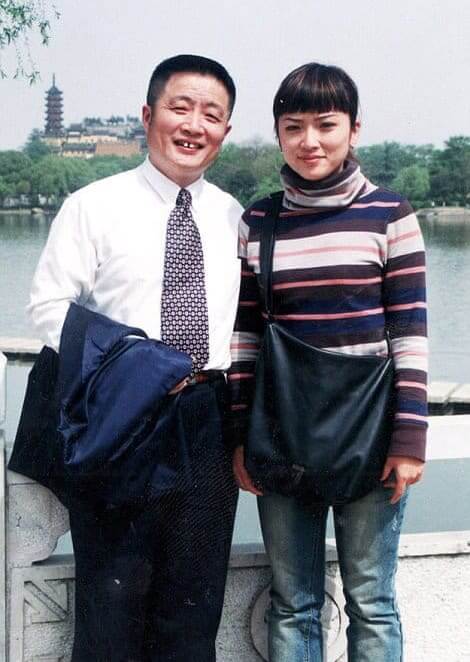 However, Hua Yunquing knew that this was something that he would want to treasure forever, which is why he stuck firmly to his commitment to take one photo at the same spot each year. It's fun to think just how they made time to arrange for their special picture-taking tradition.
2002: Following in His Footsteps
It's official – high fashion runs in the family. When Hua was still a little kid, her father usually showed off his fashionable side. We can see here that she's definitely following in her father's footsteps.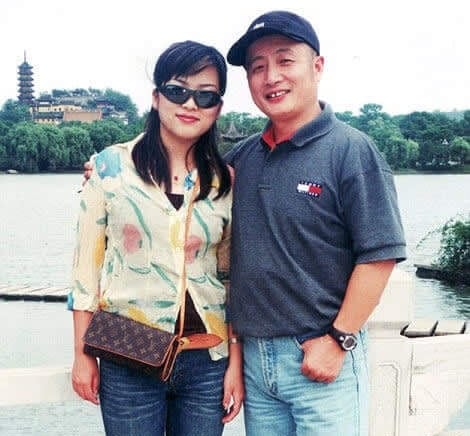 From the buttoned floral top and undershirt, jeans, and Louis Vuitton bag, everything about Hua is exquisite. We are also loving her father's casual wear: his jeans, hat, and of course, his never-failing smile.
2003: Young Woman
Hua Hua is not the tiny girl who clung to her dad in every picture anymore. She has grown up into an attractive, confident, and passionate looking young woman. She's looking beautiful in her business outfit. You can tell by her glowing complexion that she's been investing in herself. Hey, there's nothing wrong with taking care of yourself, is there?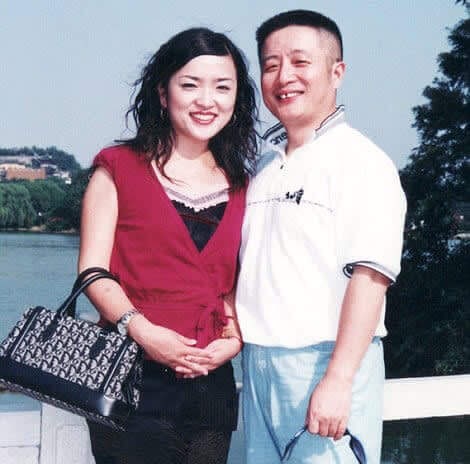 You can see by her designer bag that Hua has been working hard to achieve her dreams. Nothing's changed on her father's side. He's still the cool dad, smiling endlessly in each of the yearly photos.
2004: Another Year, Another Look
This year, Hua took it to the next level by adding a little dye to her hair. To be quite honest, the auburn red looks great on her. Her smile shines radiantly. It looks like it was a beautiful day.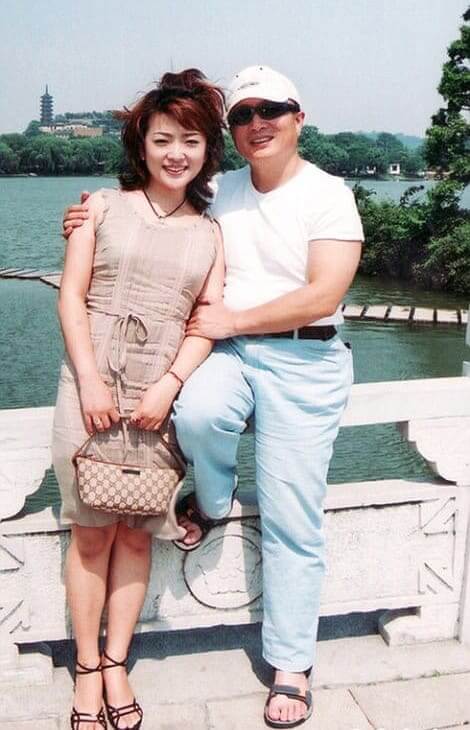 Hua's dad took a break from the business casual clothes or polo shirts, opting this time for a plain white t-shirt and jeans. The sunglasses and hat bring back old memories of the fashion of his younger years. Can you believe that this man is already 51 years old? Time goes by so quickly!
2005: Change of Sides
In this photo, it looks as though Hua is taller than her father, maybe because of her straight poise. She opted for a simpler look this year, without the hair dye, signature bag, or business attire. This year, Hua wants to look like the shy little lady just like she was when she was a girl.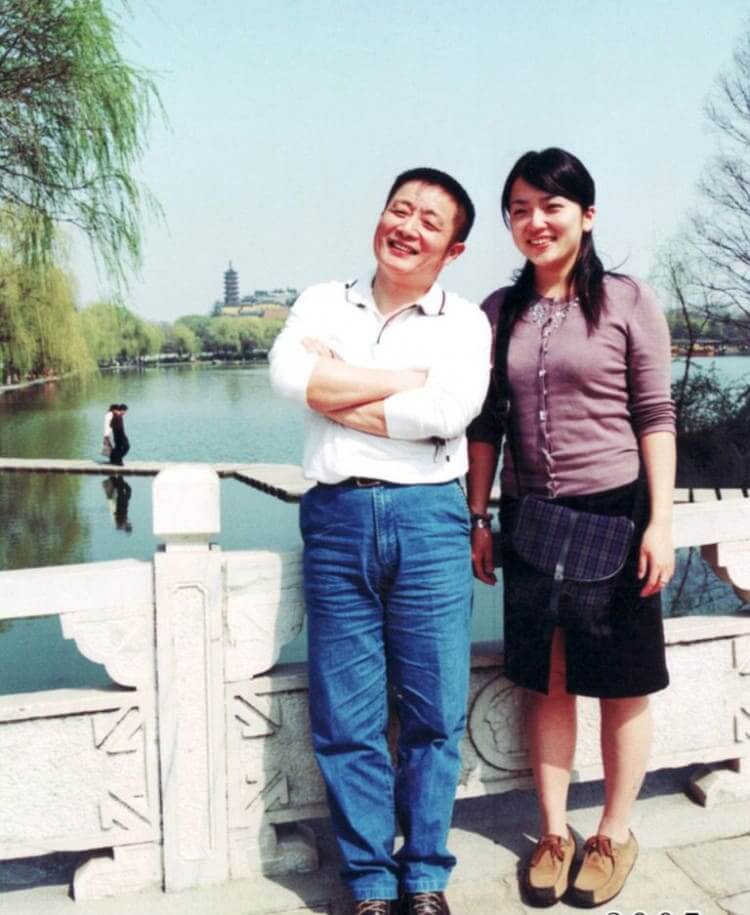 The dad is back into wearing polos. We guess that maybe he missed wearing polo shirts. He also became creative this year for doing a new pose; however, the smiling face never fades away.
2006: New Camera
Not that we ever doubted it, but this photo is proof that Hua Yunquing loves taking pictures. With his big camera, vest, and cap, it looks like he's a professional on a trip to the park, on his way to take random photos of people.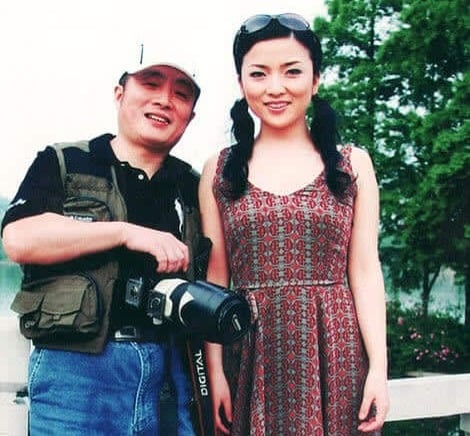 Hua was considered stylish ever since she was little. This year, she opted for a red patterned dress with white doll shoes. The classic pigtails and sunglasses look fabulous. We are impressed by Hua's ever-changing wardrobe!
2007: A Little Bit Wiser
Here's a photo where it's a little more obvious that Hua's father has aged. However, even though he seems older compared to previous years, he's still killing it with his tidy looks. He looks wiser, maybe even ready to be a grandfather.
On the other hand, Hua's summer dress is perfect for the annual father-daughter photo. The shorter hair is something that she wanted to try for so many years but never had a chance to do. The feminine flare suits her well.
2008: Daughter and Granddaughter
This year is a memorable one because there's a new addition to the annual father-daughter photo. Hua gave birth to a cute baby girl, and of course, Hua Yunquing became a grandfather. We think he'll definitely be a cool grandad.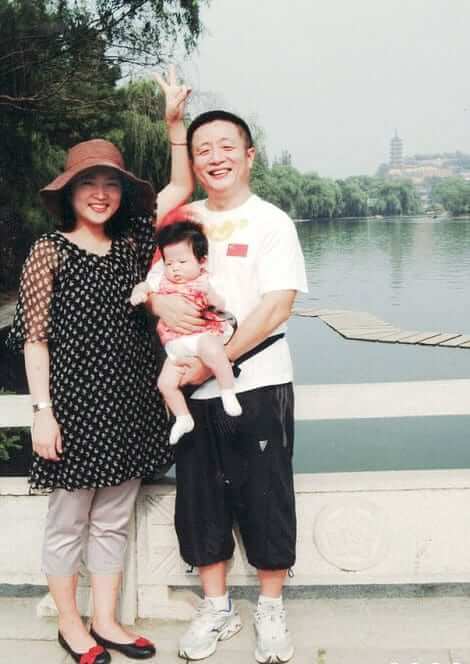 The smiles on their faces say it all. The happiness they must have felt would have been hard to even put into words. Hua Yunquing's annual picture tradition has been a great success, and his commitment to the tradition paid off. But this isn't quite the end of the story. They will continue their family tradition until Hua Yunquing's final days.
2009: Little Angel
Hua seems to enjoy her father's annual tradition of taking pictures at the same spot. She's still at it, only now with her own daughter. The little angel is slowly growing up, and before we know it, she'll be a beautiful young lady, just like her mom.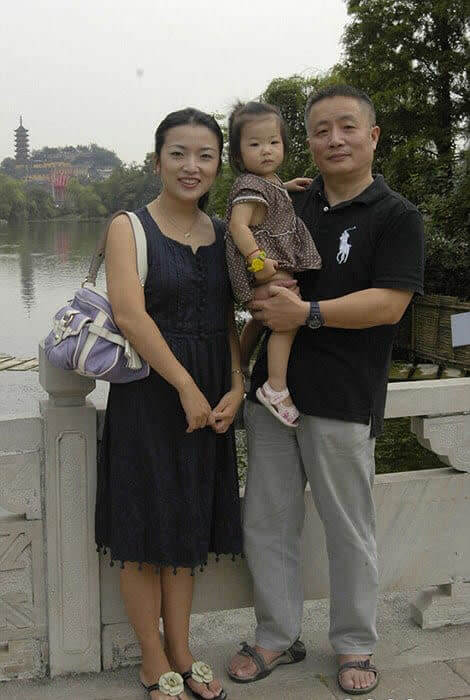 From then on, Hua Yunquing's granddaughter is included in their yearly tradition. It could be a good time for grandad-granddaughter bonding. Hua Yunquing must be so happy to see a new angel bless their family.
2010: Happiness Overload
This photo was taken in cold weather, going by the jackets they're wearing. It's nice to see that the family continues their tradition. You can see on their faces that they are genuinely smiling for the camera.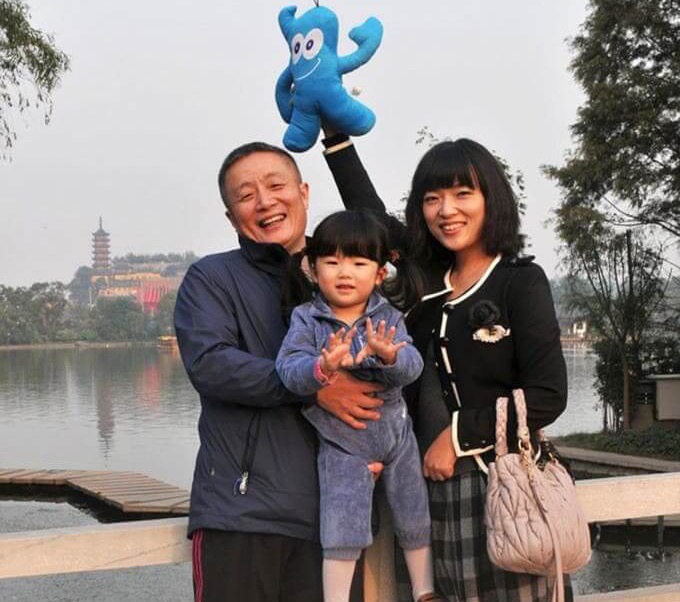 Wouldn't it be adorable to have matching bangs with your daughter? We think they're both adorable with full bangs. We can also add the stuffed toy to the family roster, can we?
2011: Three Generations
Hua Hua is aging flawlessly just like her father. She's already 32 years old in this photo. Ageless genes run through her blood.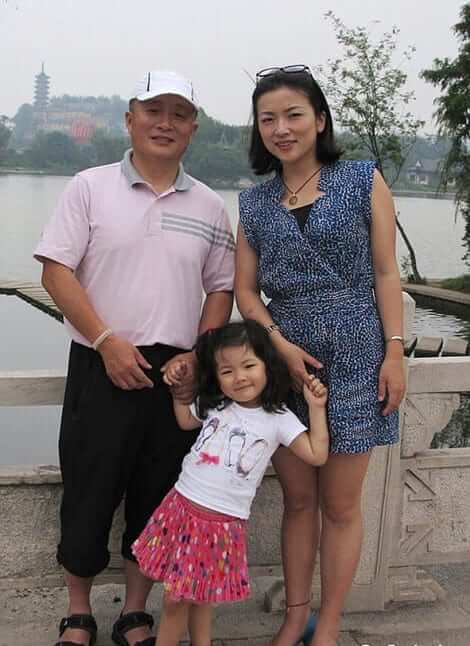 Our cute baby girl already knows how to pose for the camera. Her smile and outfit remind us of Hua's early years. Her grandpa is rocking his new look, even though he's nearly of senior citizen age.
2012: Plus One, Again!
2012 is an extraordinary year for the Hua family as another little angel arrives! The family keeps on growing as the years go by. Hua Yunquing looks happy with his two granddaughters.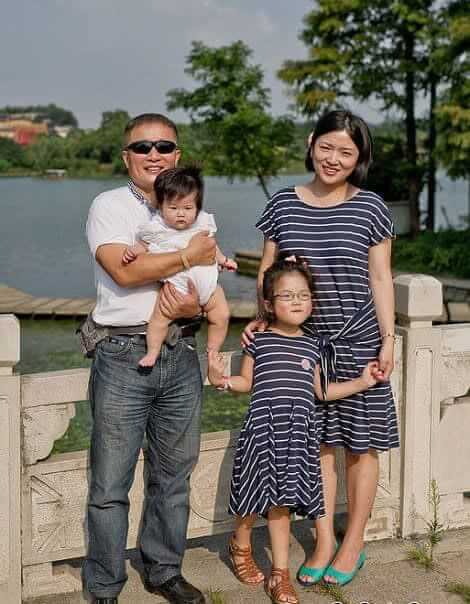 Hua Hua and her eldest look just like twins with their matching striped dresses. Hua Yunquing is still rocking the polo shirt and sunglasses, just like old times. The coolest grandpa in the whole wide world.
2013: The Sun is Shining on Them
Even Mr. Sun wants a peak at this family's photo shoot, giving them the perfect lighting. As the sun sets, it shines perfectly on the family as each member smiles happily for the camera.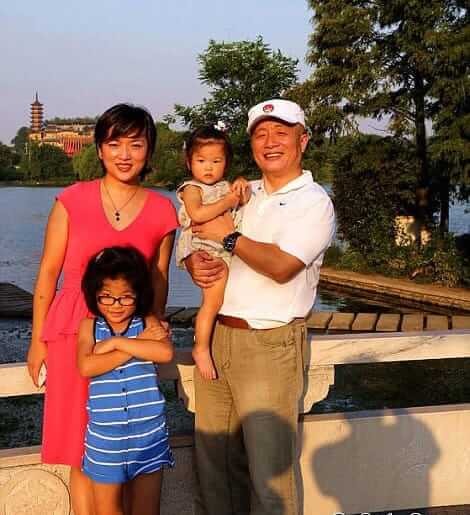 Hua Yunquing must have been proud of his daughter for raising her two girls so well. They may still be little for now, but to be sure they're already thinking about their future.
2014: Same-Same
Hua and her daughters are having another matching day, wearing the same dress colors. It seems that they were well prepared for this photo opportunity.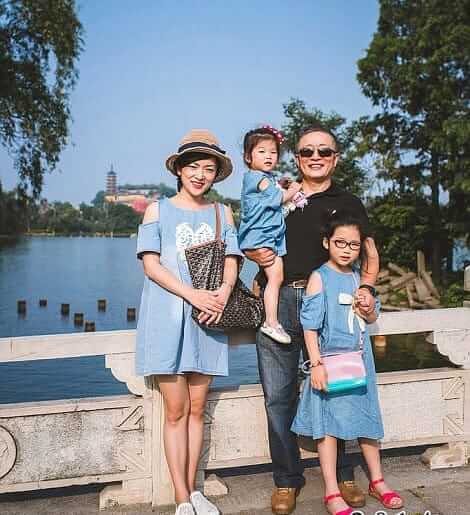 Hua Yunquing was 60 when this photo was taken. He may even be retired by now, having fun with his grandchildren, or perhaps even using his free time to travel. When discussing all the photos he'd acquired over the 35 years, he said: "It's a memory. When I look at the pictures, I feel I have a time machine." Times may change, places may develop beyond recognition, but the memories he has will forever stay with him, in his heart.