Construction Workers Stumble Upon 1,300 Ancient Roman Coins During Dig
Originally Published on
savvydime.com
and repurposed with permissions
Nothing could be quite as exciting as coming across an incredible archeological find. Something about unearthing a unique part of our past lives as humans could certainly fulfill a sense of accomplishment on a given day.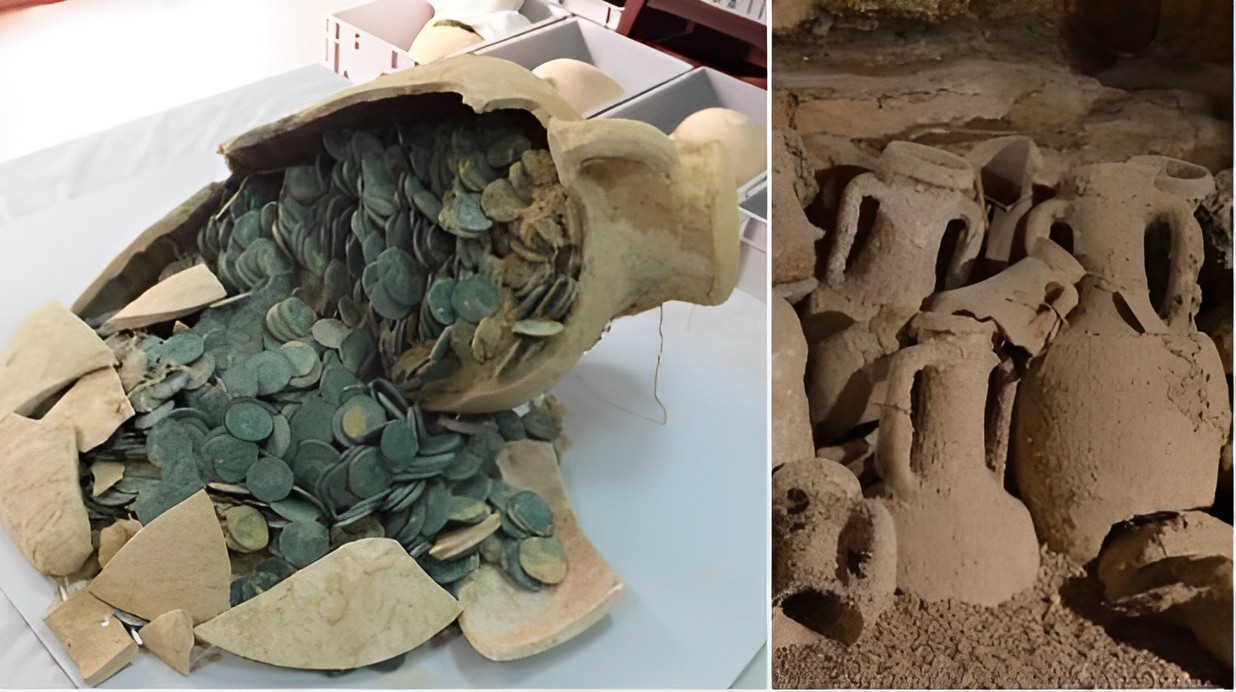 Luckily, these Spanish construction workers had the chance to experience such an event. Though they were going about this fateful day like any other, what they were about to discover would be life-changing. 
During a Day Like Any Other, These Workers Stumbled Upon Several Unusual Looking Pots
A small group of construction workers, who had routinely been working to install a water line in Tomares, Spain, came across something that would be life-changing for many.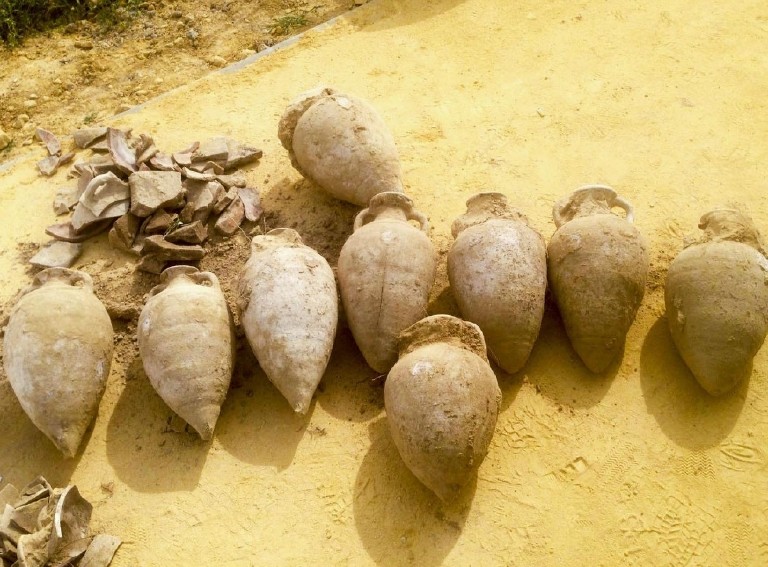 While digging, they stumbled upon a group of ancient-looking pots (also called amphoras). These pots have existed for many generations and were very prevalent in the days that ancient Rome ruled Europe.
After Clearing Out the Dirt, They Found Something Incredible
The construction workers probably didn't know they would find something incredible when they cleared the massive piles of dirt surrounding the amphoras.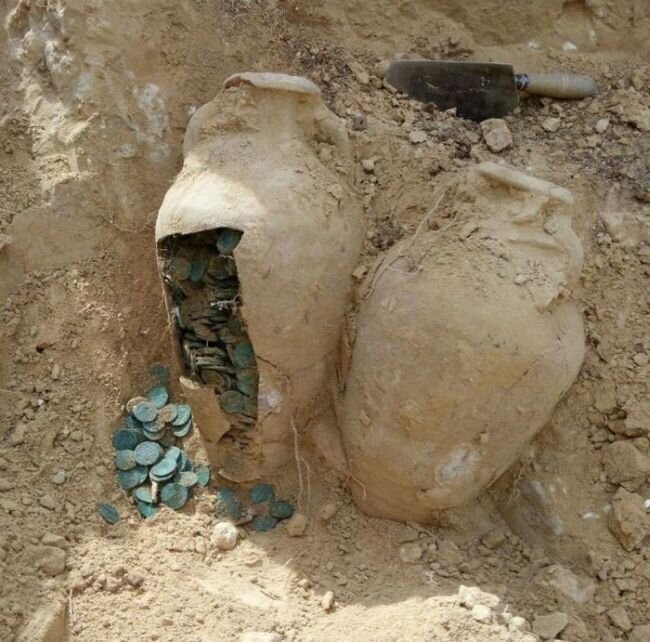 They eventually discovered what would look like a ton of ancient coins. Could they be worth something? Was someone hiding ancient treasure that wasn't meant to be discovered? The crew certainly had no idea.
There Were 19 Pots In Total
There were 19 pots (or amphoras) collectively, which was quite unearthing for a regular day at work.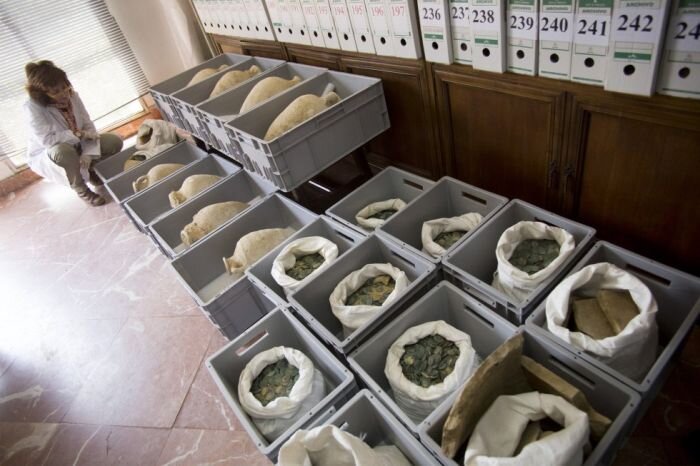 What was even more magical about these pots, beyond that they were in remarkable condition, was that each was filled to the brim with ancient Roman coins made of pure bronze. Experts would later estimate their worth to be millions of dollars.
The Coins Weighed 1,300 Pounds In Total
After taking the coins out of the amphoras and putting them into sacks for counting and protection, they weighed them out at about 1,300 pounds.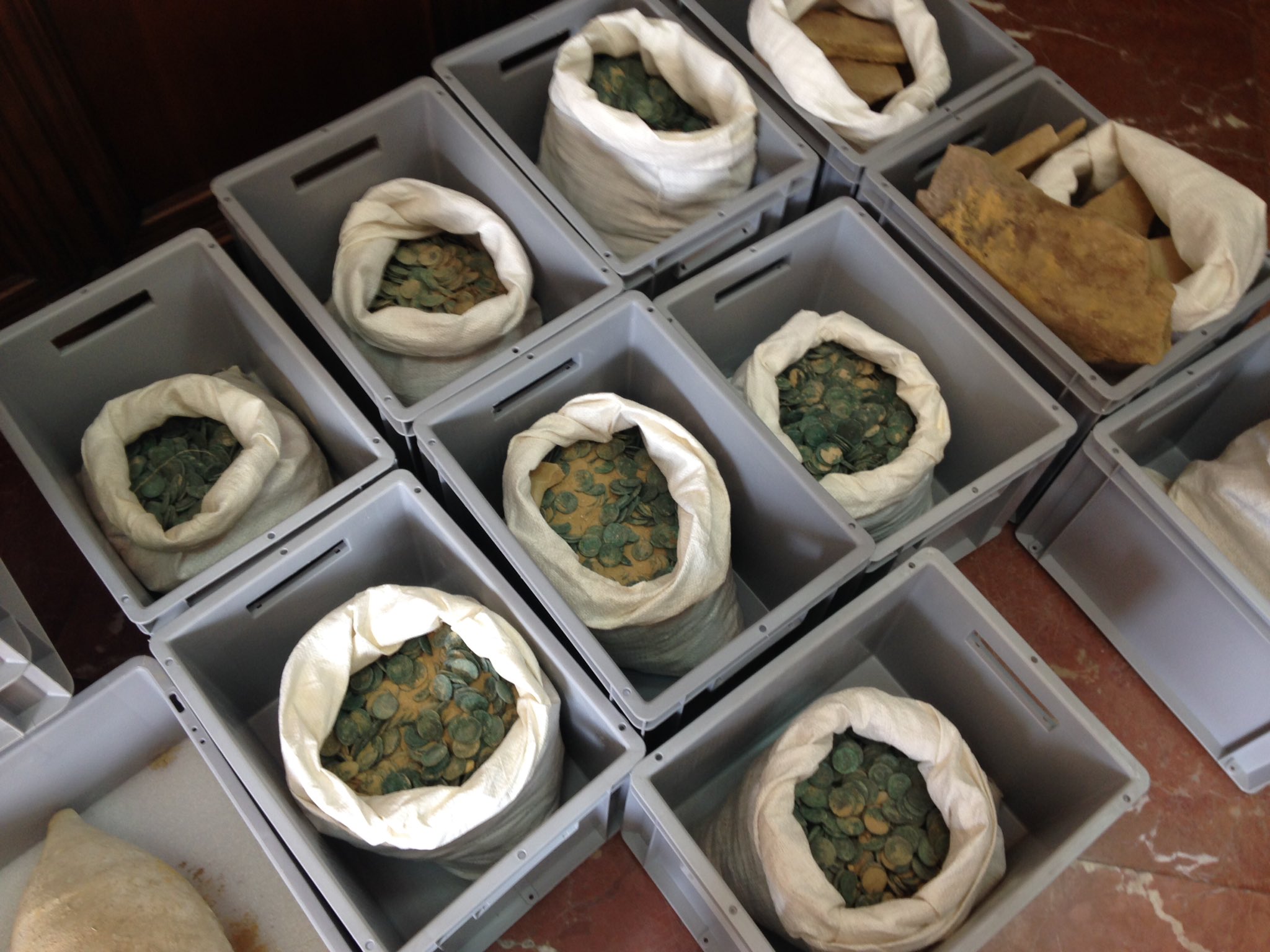 It's quite astounding to imagine burying this much money in the first place, and researchers still don't know why they were buried. 
Researchers Dated the Coins Back to the 3rd or 4th Century A.D.
Though the exact dates of the coins are unknown, researchers suspect they were from around the 3rd or 4th century A.D., dating back thousands of years.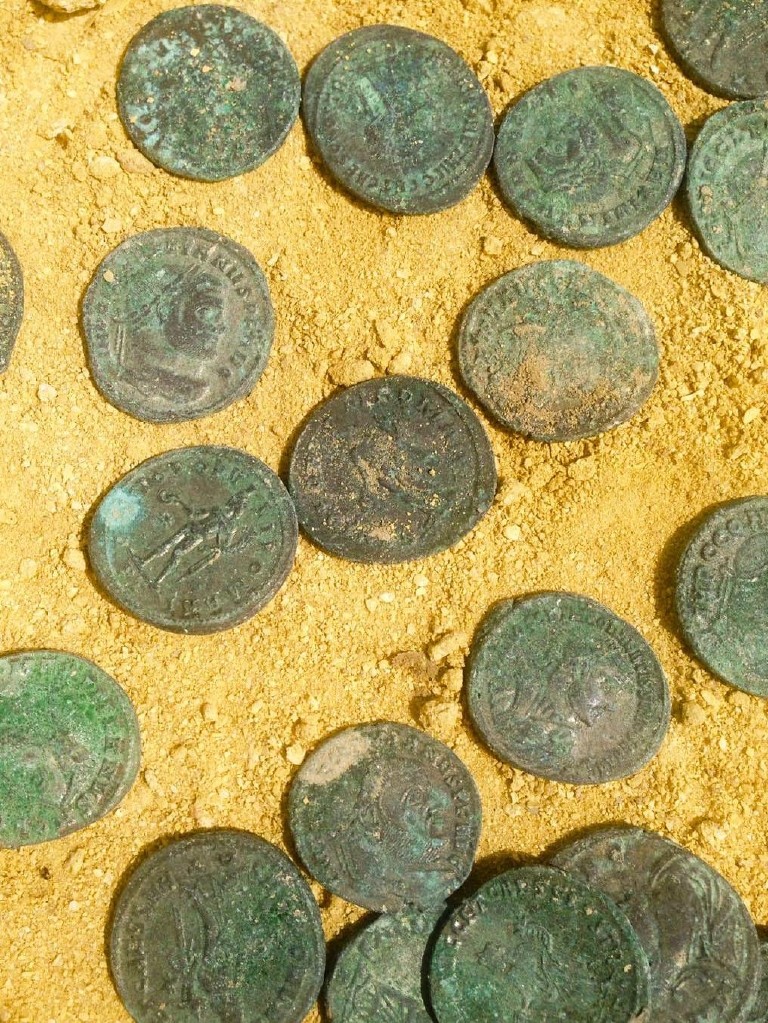 One of the surprising things that these researchers found is that these coins were never actually in circulation. The reason why the Roman government never decided to circulate them is unknown. 
Amphoras Were Often Used as Storage
What these experts do know is that amphoras were commonly used to store and transport items, including food, olive oil, and wine.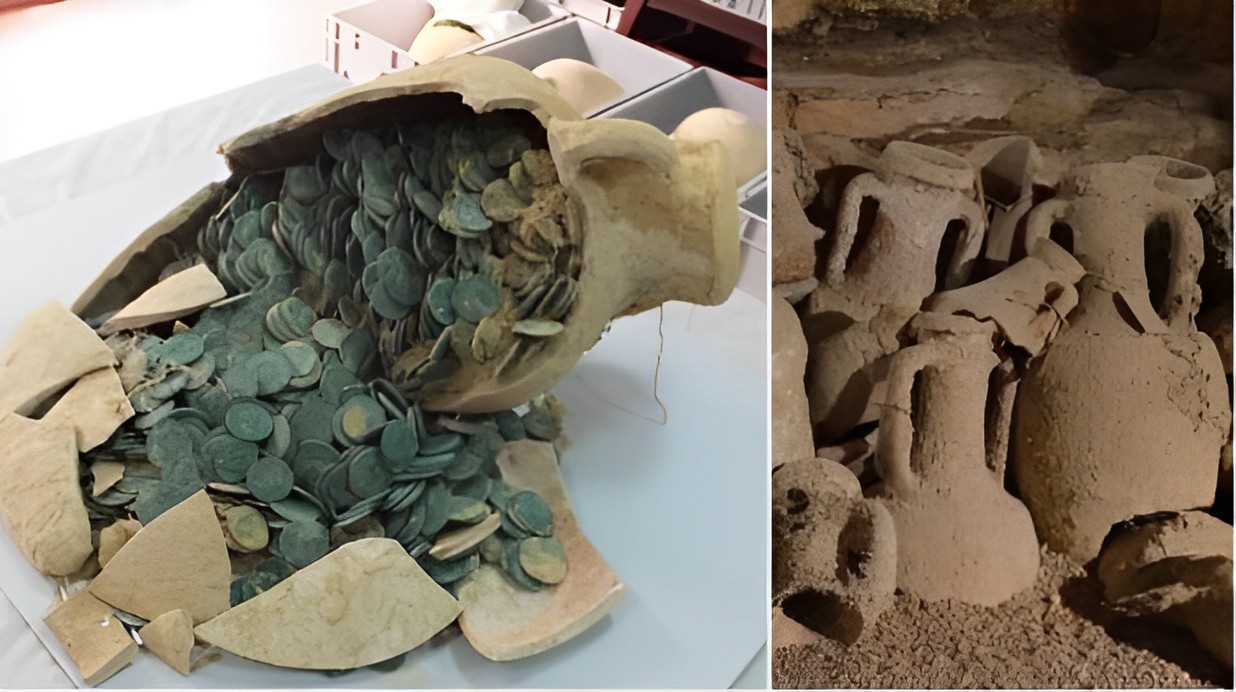 It was fairly odd to see so many of these filled to the brim with ancient coins. Without knowing what was inside at first, archeologists had to be very careful about opening them up.
The Coins Featured a Few Famous Roman Emperors
The reason that researchers knew these coins dated back to the 3rd and 4th century A.D. was that they featured a few notable Roman emperors on them — Constantine and Maximian.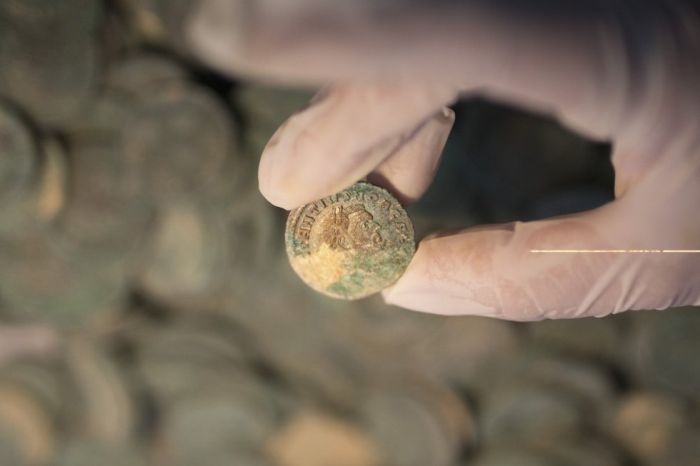 Experts noted that these coins were worth at least several million euros at this point, though, luckily, they were not for sale. 
It Was Likely That the Coins Were On Their Way To Get Paid
According to a team of researchers from the AFP, it was more than likely that the coins were being transported into Spain to pay the civil servants working there at the time.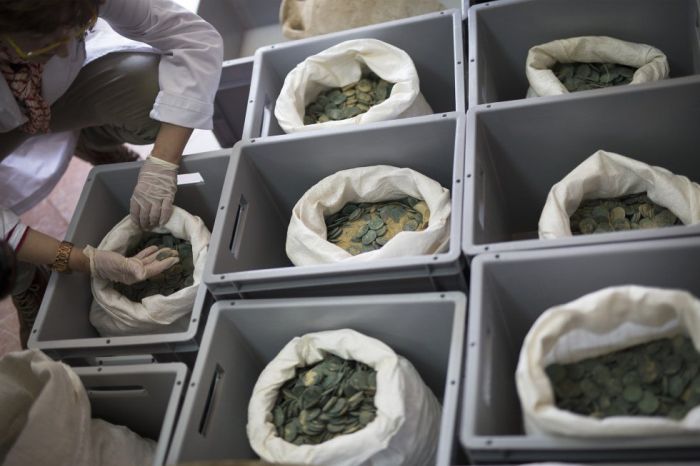 However, as to why they were lost or buried, the team can still not figure it out. They know that the coins were far too heavy for one person to carry on their own.
According to Archaeologists, This Was a Very Unique Set
This set of coins was incredibly unique, and the experts who looked at the batch said that to come across something like this was rare. These construction workers certainly made an amazing find.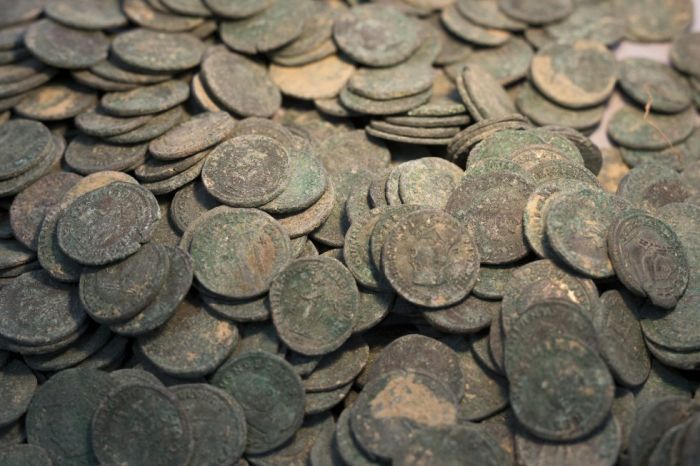 Even more unique is that these coins never ended up in circulation, as most found coins were at one point.
Researchers Want to Learn All They Can About the Coins
Researchers want to learn as much about these coins as possible.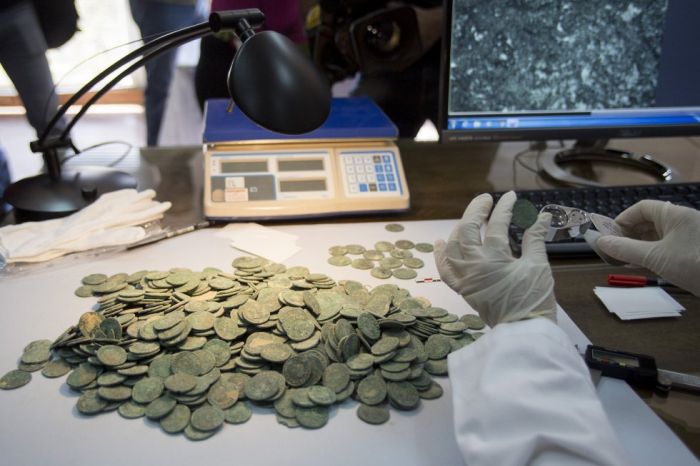 However, because there are so many, they expect it to take a long time. It's about identifying the inscriptions on the coins and trying to find connections between their findings, as well as what is known about the ancient Roman empire.
They Will Eventually Be Placed in Seville Archeological Museum
The good thing is that these coins will eventually be placed in the care of the Seville Archeological Museum for further study and display. This museum houses several unique treasures in the province, from the ancient Roman era to the Medieval Moorish.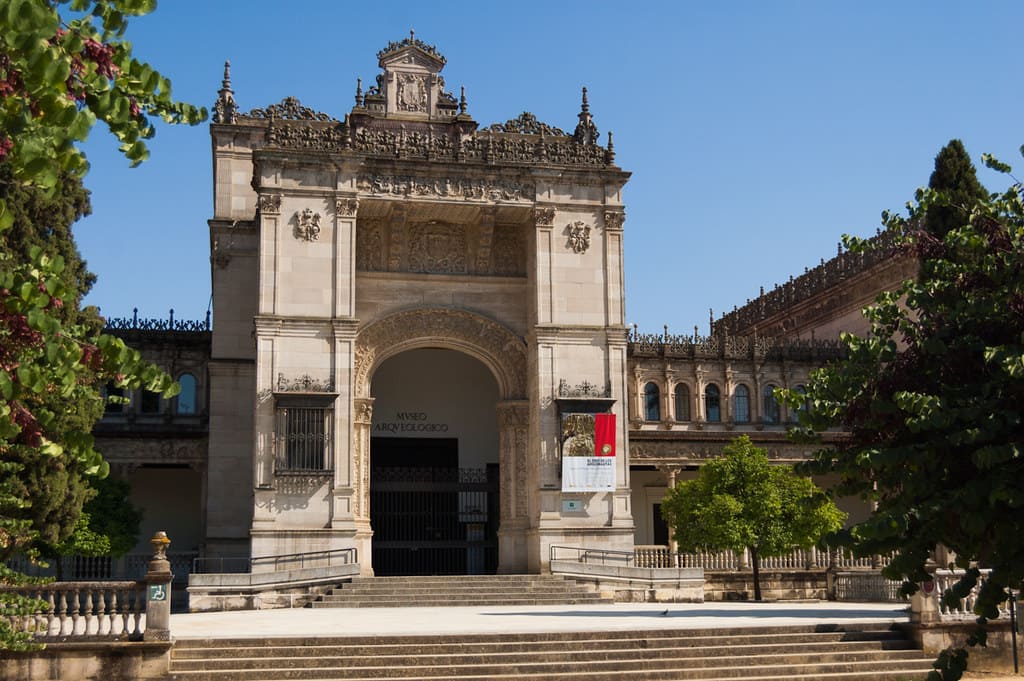 At some point, people from all across the globe will get to come and see these magical coins for themselves. 
No One Has Ever Discovered a Collection Like This Before
The most exciting thing about this discovery is that no one has ever discovered a collection of coins like this one.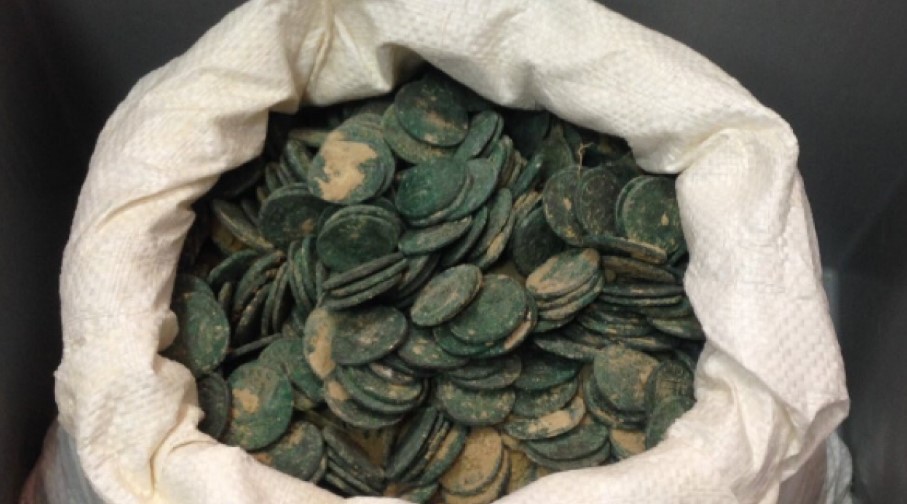 Researchers are incredibly anxious to uncover what kind of knowledge they can extract from this incredible collection of coins. 
They Don't Know If They'll Be Able to Determine a Value
Ana Navarro, the head of the Seville Archeology Museum, notes that the bronze coins are estimated to be worth several millions of euros.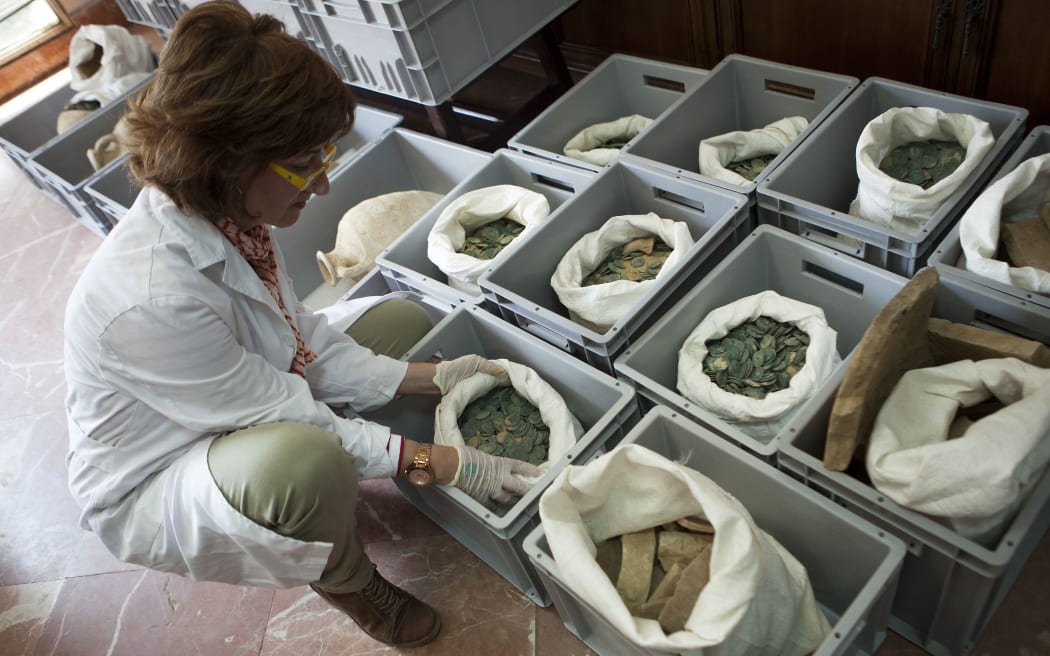 However, she also noted that because the coins are so unique with such an incredible historical value, it's pretty much impossible to determine an exact economic value. There is nothing like these coins on Earth to give reference. 
It's Quite Incredible How Long They Survived
What's truly incredible is how long these amphoras survived being so deep beneath the Earth.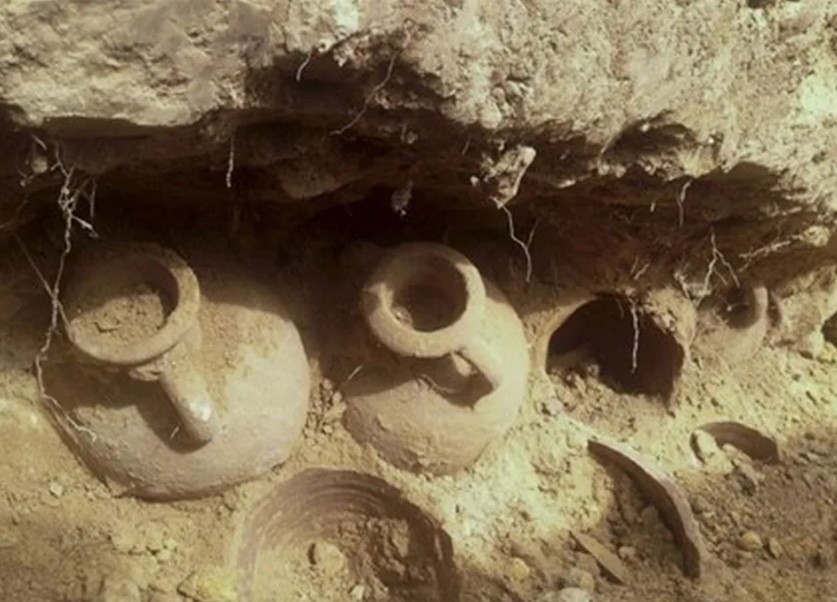 It just goes to show that the ancient Romans had incredible craftsmanship. These crafted pieces of pottery could outlast several hundred generations of people, only to be found thousands of years later. 
Officials Have Now Suspended Construction In the Area
As you probably guessed, construction in the area was soon suspended after the finding, letting archaeologists explore what else might be stored beneath the Earth's surface.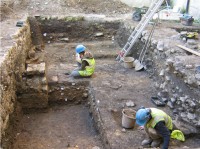 We're hoping that if given enough time to explore, they will come up with a few other treasures that were lost very long ago. 
It Was Certainly Not a Typical Day for This Construction Team
For the guys on the construction team, this was certainly not a normal day at the office.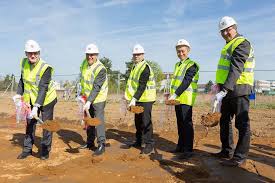 Finding something as rare as this set of coins would make anybody want to take extreme caution when digging in the future. There are likely incredible artifacts all over Europe, so it's impossible to know what we will unearth next.
This Is Not the Oldest Set of Coins Ever Found, However
The oldest coin that was ever discovered was a Lydian starter.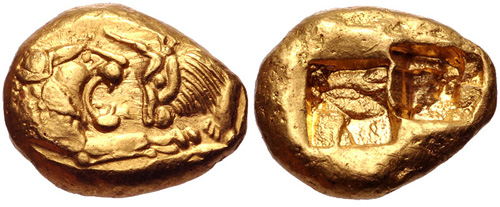 This unique coin was made of a mixture of silver and gold (referred to as electrum). These coins were some of the earliest in existence, minted by the Lydian Kingdom of what is now modern-day Turkey around 600 B.C.E. These coins pre-date the ancient coinage of the Greeks.
It Seems That Construction Workers Have Been Getting Lucky With Findings Lately
Construction workers aren't strangers to stumbling upon unique artifacts and remains. Just this past January, a group of construction workers in Alexandria, Virginia, discovered a 300-year-old ship while working on a site.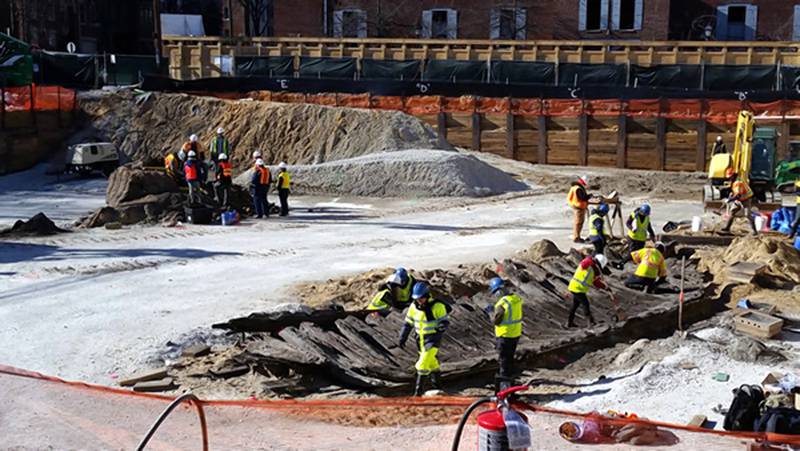 In April, another group of construction workers in Malaysia discovered something more terrifying — the longest snake in the world. 
Some Workers Aren't Too Honest About Their Findings
In September 2015, a few construction workers in Israel stumbled upon a Roman-era sarcophagus while putting together structures in a suburban neighborhood.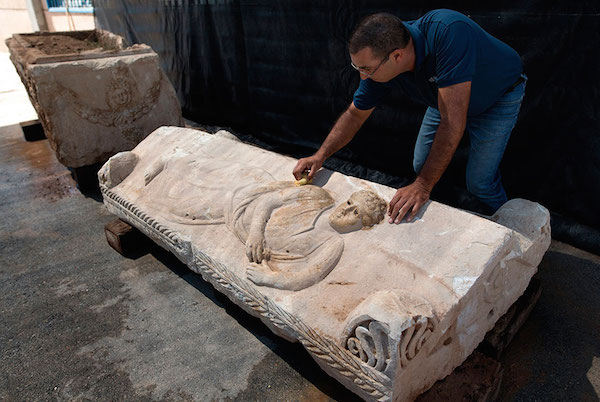 However, instead of getting in touch with an archeological site to explore their findings, they decided to hide them. 
Looks Like We've Found the Right Career Path for Discovery
If you want a better chance at discovering something incredible, you might be best off taking up a career as a construction worker.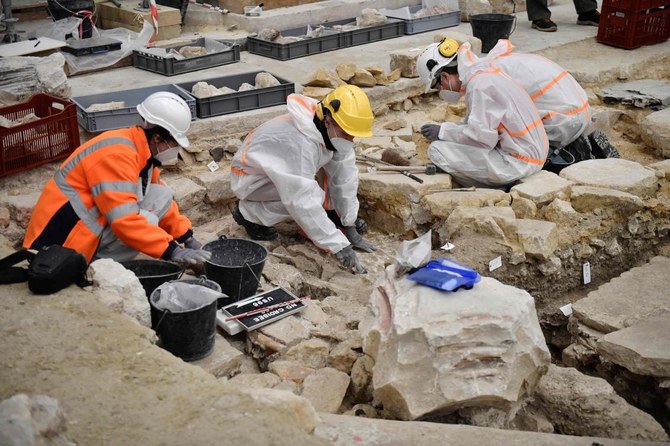 Who knows, you might discover something that will change the course of history for good!