Clever Church Signs That Will Make You Do A Double Take
Clever Church Signs That Will Leave You Laughing And Thinking
Sometimes jokes are found in the most unexpected places- even at your local church! Heading to church on Sunday is tradition for many, and these churches found a way to spice things up just a little bit.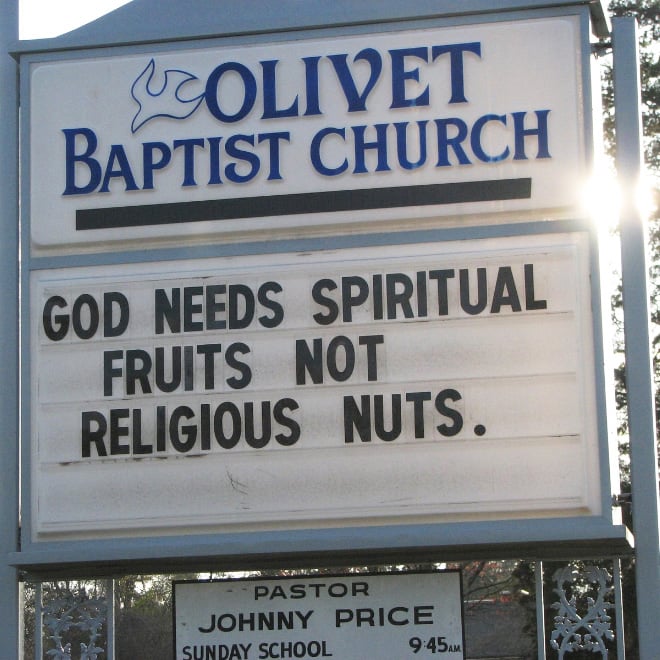 These churches have taken to their signs to share some hilarious quick-witted, one-liners that will crack up even the holiest of churchgoers. Here we have the funny photos to prove it.
Who Doesn't Love A Good Fruit Basket?
Seriously, who doesn't love a good fruit basket? We sure do. Not only is this sign hilarious, it also goes to show Madison Avenue Baptist Church has their doors and arms open to every one. This small church on Madison Avenue in New York City is turning heads these days- especially to look at the church's messages out front.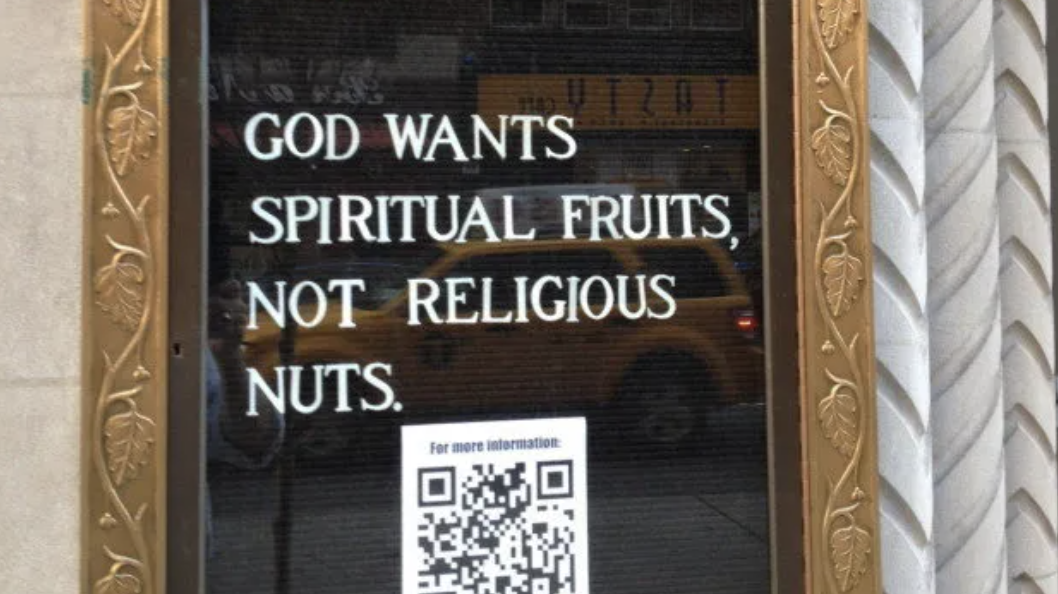 Rev. Susan Sparks the Senior Pastor od Madison Avenue said "I love it because it is a way to show that the church can step back and laugh at itself. Every week we have folks stopping and taking photos of the signs to post, share, etc."
This Church Has Jokes
We can't agree with you more Sara. If there was an overpriced church award ceremony for hilarious church signs though out the year "the winner goes to…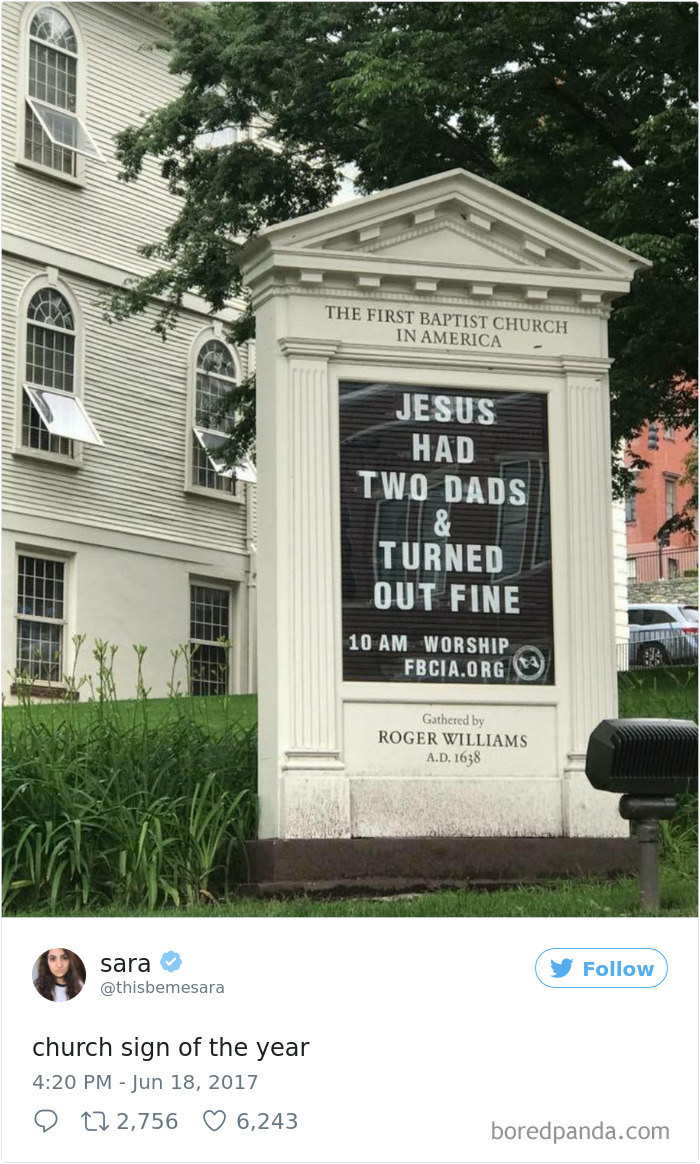 The first Baptist Church In America!" This sign is not only funny, but it also is letting the community know, no matter who they are/ who they choose to love, they are welcome.
Karaoke Anyone?
Admit it, this totally got "All About That Bass" in your head, didn't it? And nowwww you can't stop sining- We're all about that grace, bout that grace, no devil!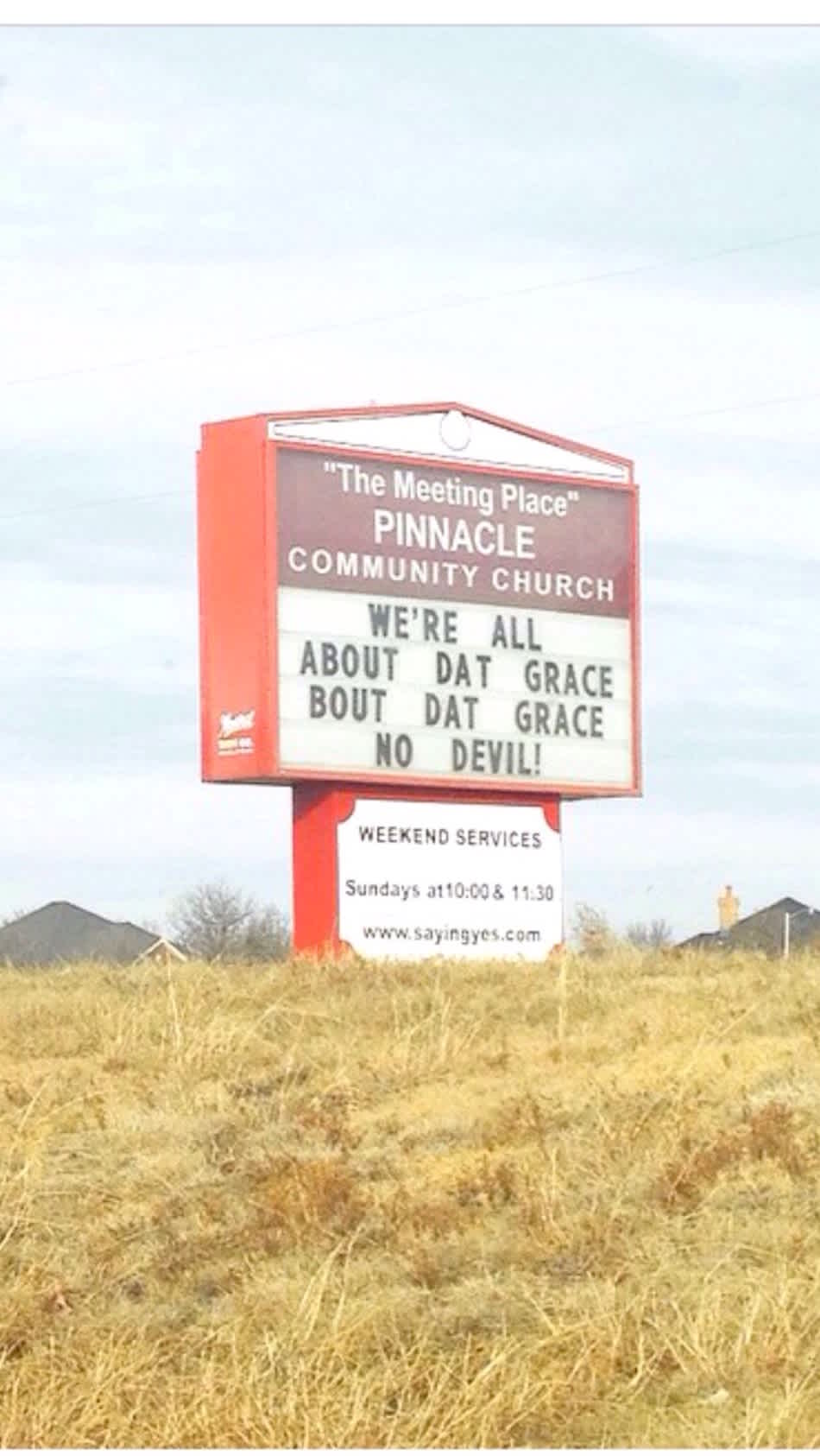 Mission accomplished Pinnacle Community Church! This is a catchy and fun way to stop passersby and get them to either come into mass, or have a karaoke session out in the front lawn.
It's A Hot One Out There
Sin Bad, Jesus Good. It may sound a little like a caveman wrote this hilarious church sign, but we've got to appreciate the honesty of the sign's creator. No one's got time to be out in the sweltering summer heat changing out the church's sign every week.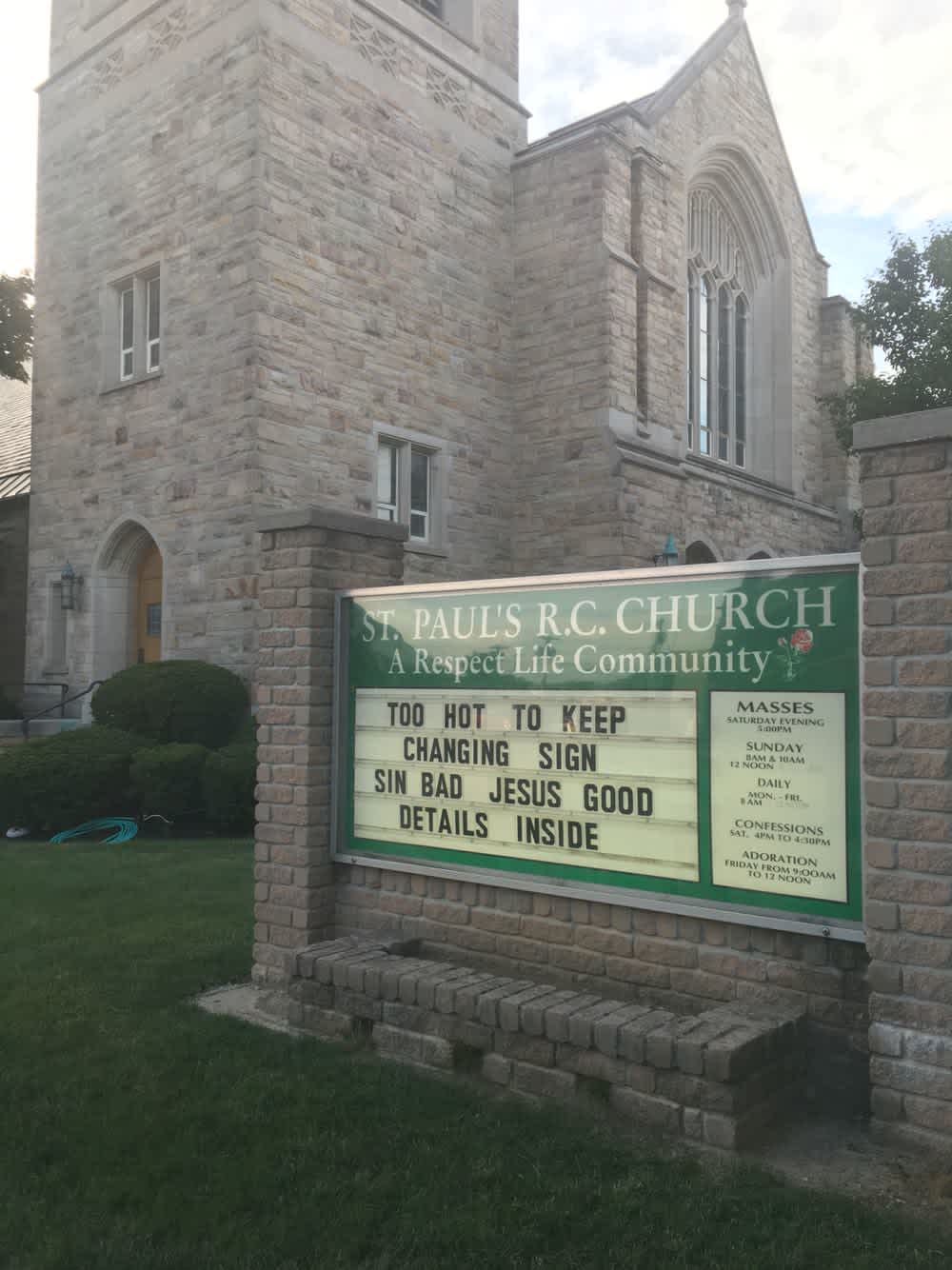 This sign is honest and straight to the point and we have to applaud St. Paul's Church for this funny sign. Why do we get the feeling they had a similar sign during the cold winter months as well.
A Bit Chilly
We found it! The perfect opposite to the sign above. We're guessing this sign at the First United Methodist Church will be up until Spring.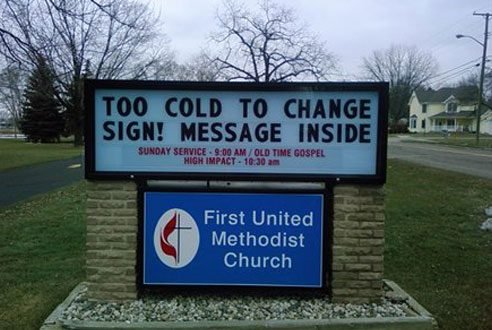 Too hot, or too cold, we've got to give it to the creators of these church signs because their blunt honesty is priceless.
Power Nap?
Whoever makes the signs for Benton Heights Presbyterian Church must have been told to use whatever means necessary to get more people into mass.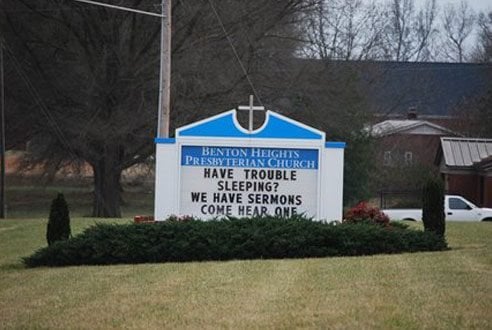 Suggesting that the pastors may put the congregation to sleep may not exactly be what they had in mind. Hey, sometimes you do what you've got to do to fill up those seats.
The Town's #2 Church
So this may not necessarily be a funny sign, but we've got to give credit where credit is due. The placement of this sign is chef's kiss.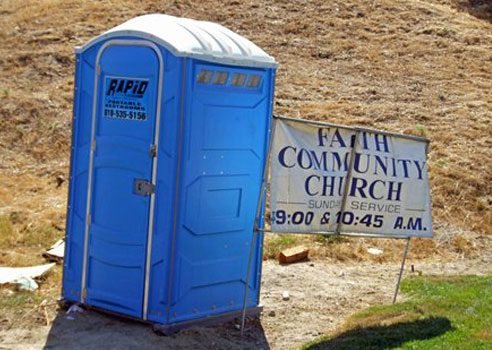 One has to wonder how Faith Communities Church is able to fit their entire congregation  in this, um, shall we call it establishment?
Spell Check
Everyone loves to celebrate their town's graduates, and the sentiment behind this sign is sweet. However, we are hoping that none of this towns graduates were behind the spelling of this sign.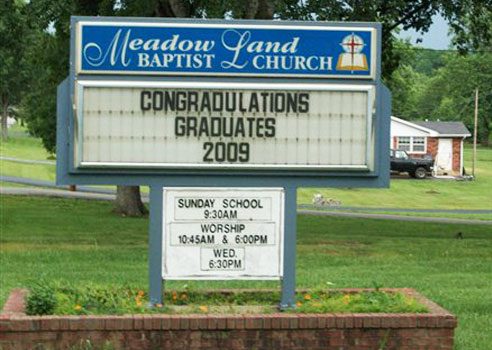 Meadow Land Baptist Church you guys may want to invest in a little something called spell-check. You guys have a letter d where you want a letter t!
I'm Sorry, What?
As seen in the previous church sign blunder spelling errors can happen. What can be worse than that however, is missing letters.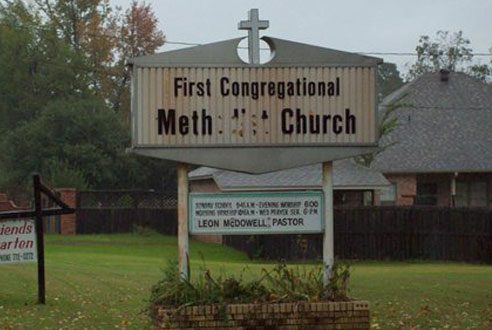 First Congregational Methodist Church learned this valuable lesson the hard way when the "odist" part of their church sign went missing. First Congregational Meth Church does not sound quite as welcoming.
Limited Time Only
We've got some questions about this church sign. Why is there only one day a week to make your marriage better? Apparently this church is limited to helping better marriages only one day a week.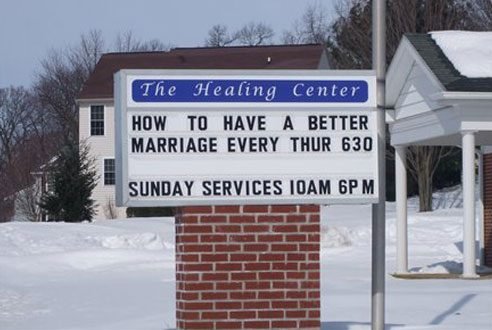 This leaves us wondering what unhappy couples are doing with the other six days of the week. They most certainly will not be at The Healing Center Church that's for sure!
Honk For Jesus
Blunt, but crystal-clear. This church sign has a cheeky message, but it's also mixed with a harsh dose of reality. Texting and driving is a serious problem and this church found a good way to address the issue.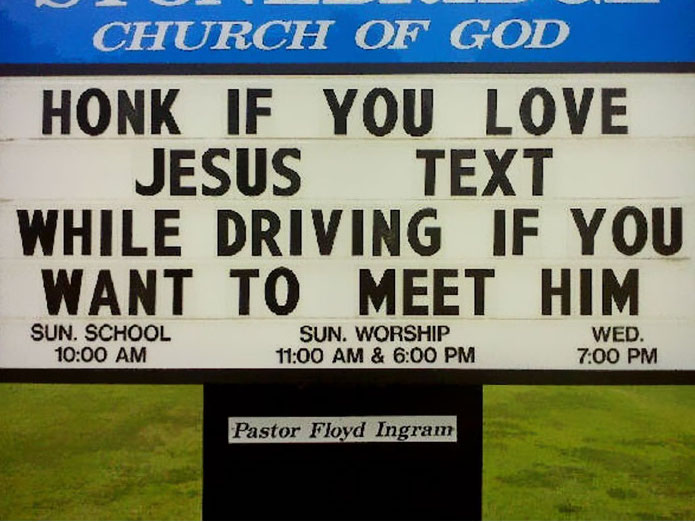 Distractions like cell phones while driving are incredibly dangerous. Not only do they cause us to not pay attention, they cause us to lose our focus. This sign is an excellent reminder to direct your attention to where it needs to be.
God's Got You
"Just love everyone, I'll sort'em out later" – God. We love this church sign by Walnut Grove Baptist Church. It makes you chuckle but it's also nice to know you've got some back up.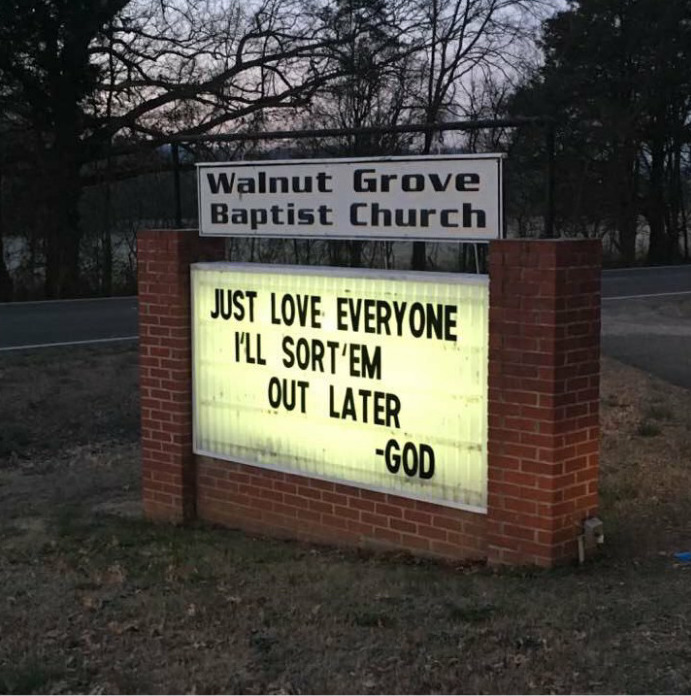 We think if all congregation's put this up in front of their church's it would hit passerby's right in the feels. It's a friendly reminder to be kind to others.
Smokin Hot
This sign has to be one of our absolute favorites. We're not really sure of the meaning behind it, but it's an attention grabber for sure!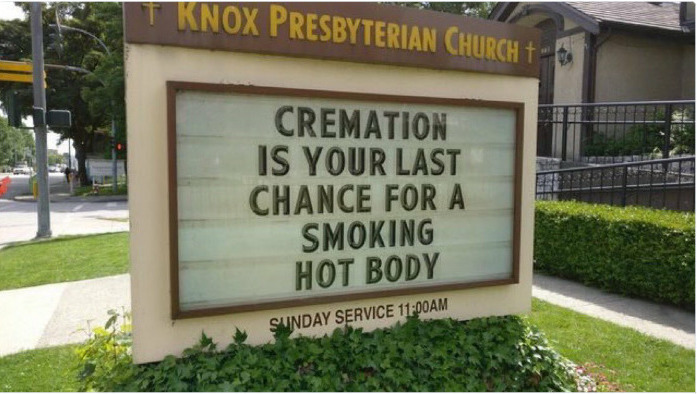 Maybe it's a little glimmer of hope that even in the afterlife you have the change to be a show-stopper? Knox Presbyterian Church's sign creator definitely has a sense of humor, a dark one at that, but we are here for the laughs.
Got Ketchup?
This sign is all about play on words and we love it. "Catch up" instead of ketchup, "lettuce" instead of let us, and "to-ma-toes" instead of tomatoes. Let's not forget the play on the word relish.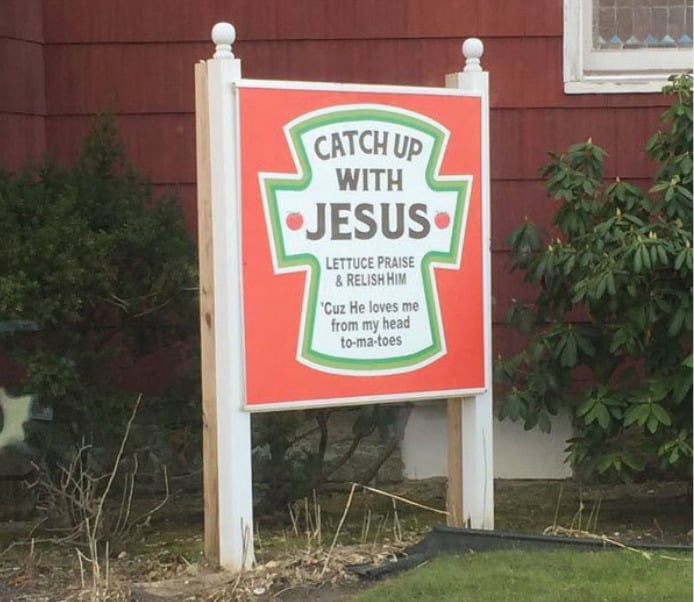 We must give credit where credit is due, the church sign creator not only understood the assignment, they nailed it! This sign is cute, colorful and delivers a great message. Is anyone else suddenly craving fries?