Britney Spears Slapped in the Face and Knocked to the Ground by a Member of NBA Star Victor Wembanyama's Security Team
On Wednesday night, Britney Spears was greeted with a backhanded slap by NBA player Victor Wembanyama's security guard after she tried to get a photo with the French basketball star in Las Vegas, TMZ reports. The 19-year-old first-overall pick of the 2023 NBA Draft towers over Spears at 7'5" – who is only 5'4".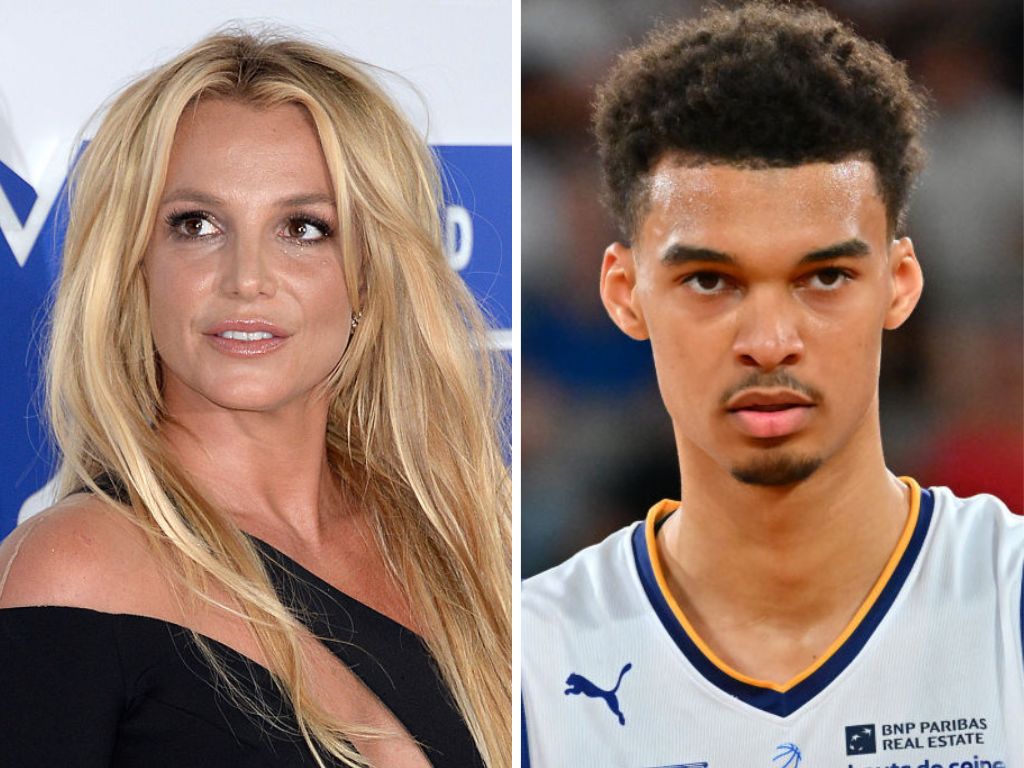 Spears filed a police report with the Metropolitan Police Department alleging that she was assaulted by a security guard that worked for Wembanyama. At around 8:30 PM, Spears, her husband, Sam Asghari, and two others were walking to the ARIA Hotel's Catch restaurant when she spotted Wembanyama. 
Spears Was Allegedly Slapped
That night, Spears herself was being swarmed by a hoard of fans. She went over to Wembanyama with a crowd of people surrounding him. She tapped him on the right shoulder and wanted to introduce herself and get a picture with the San Antonio Spurs athlete. The Spurs' Director of Team Security, Damian Smith, allegedly slapped her without hesitation which knocked her to the ground – as well as the glasses off her face. 
After the incident, Spears got herself together and walked to her table before Smith went over and apologized.  Apparently, he told her: "You understand how it is when you're being swarmed by fans."
No Charges Were Pressed
Spears ultimately accepted Smith's apology. She filed a police report, but the assault charges were dropped. No charges were pressed against Smith. In an emailed statement to USA Today from the Las Vegas Metropolitan Police Department, they confirmed they have "concluded its investigation of the alleged battery" and that "No charges will be filed against the person involved."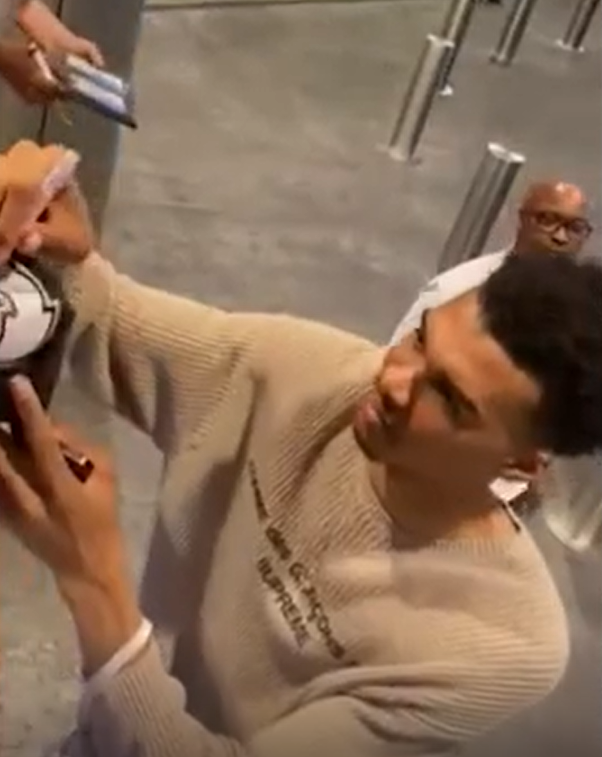 According to the surveillance video, police said she accidentally hit herself in the face after her hand was pushed off Wembanyama. 
The Law Explained
Although Spears' security team reported the incident as battery, the police aren't treating it as such because the basketballer's security team have a valid defense for their actions. According to the law, even when the elements of battery are established, defendants can defend the charge by proving self-defense or defense of others.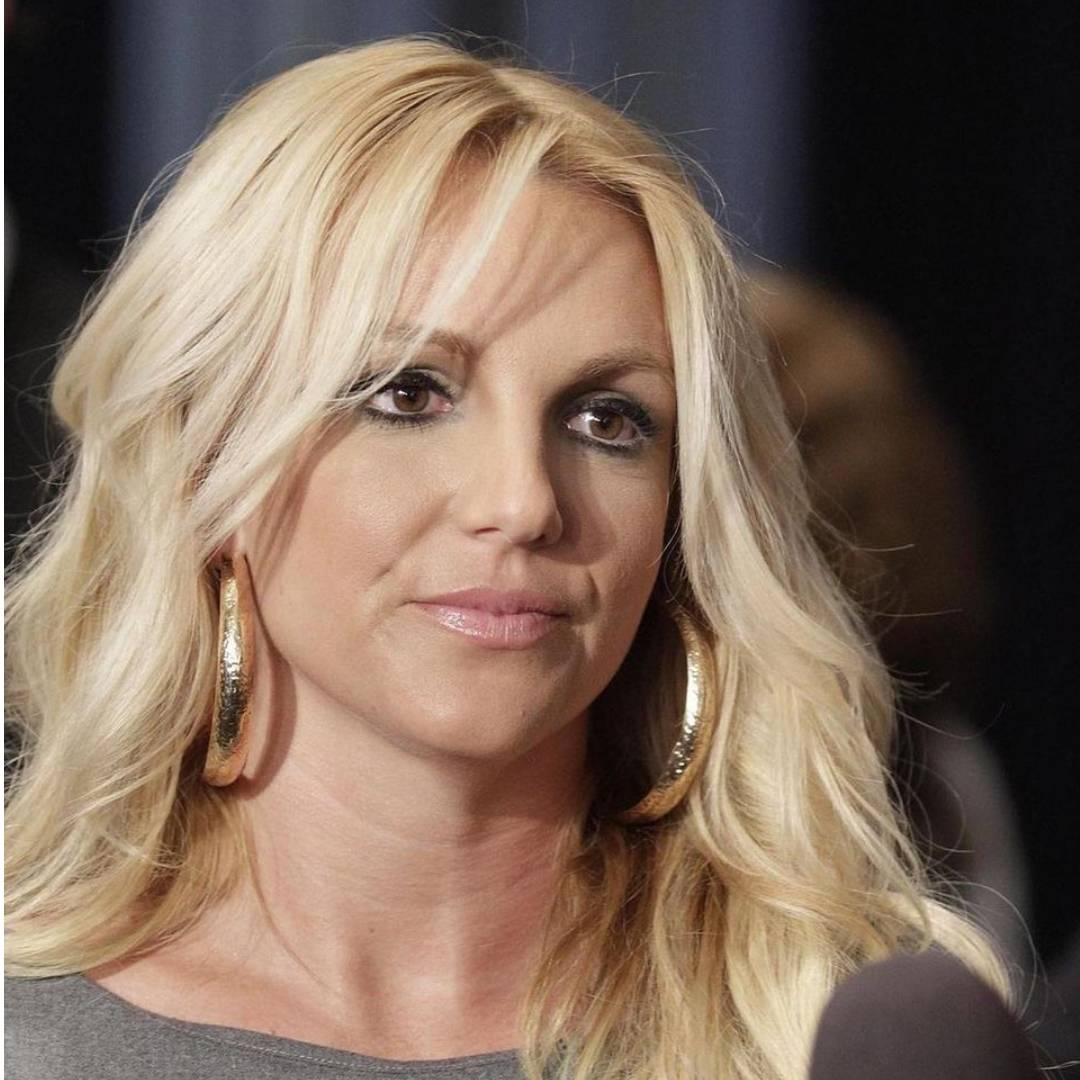 In this case, Smith claimed that he didn't set out to hurt anyone. He was just doing the job he was paid to do by defending his boss against a perceived threat.
"I Get Swarmed By People All The Time"
Spears discussed the encounter in detail in her Instagram stories. She didn't address Wembanyama by name but said she saw him at a restaurant after seeing him in the ARIA hotel lobby earlier. She wanted to "congratulate him on his success," and when she saw him, she tapped him on the shoulder as the restaurant was "really loud."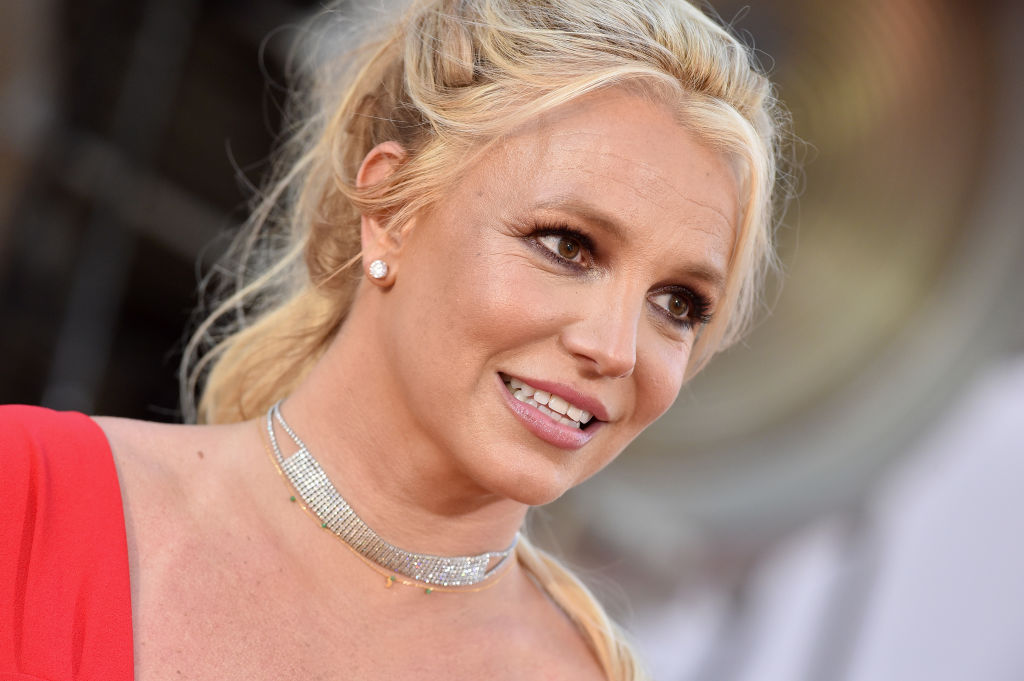 She shared on her Instagram: "Traumatic experiences are not new to me, and I have had my fair share of them. I was not prepared for what happened to me last night. I am aware of the player's statement where he mentions 'I grabbed him from behind,' but I simply tapped him on the shoulder. His security then backhanded me in the face without looking back, in front of a crowd."
"I get swarmed by people all the time, " she wrote. "In fact, that night, I was swarmed by a group of at least 20 fans. My security team didn't hit any of them."
Wembanyama Speaks About The Incident
Wembanyama commented on the encounter during a post-practice interview in a video statement posted by ESPN reporter Cassidy Hubbarth. The star supposedly didn't know that Spears was the one who approached him. He said that there were "a lot of people calling me, obviously. One person was calling me but I couldn't stop."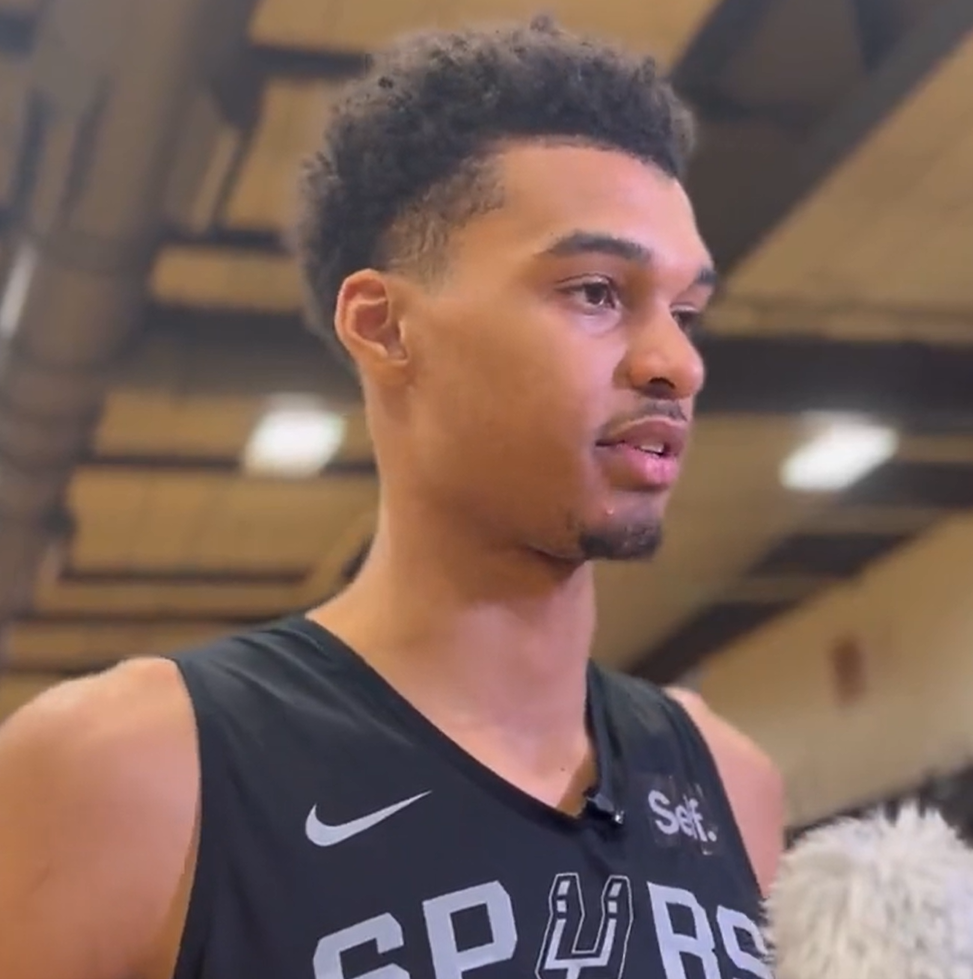 He continued: "That person grabbed me from behind. I didn't see what happened because I was walking straight, but that person grabbed me from behind, not on my shoulder. I just know that security pushed her away. I don't know with how much force though … I didn't stop to look. I kept walking."
Wembanyama added: "Turns out it was Britney Spears, but I didn't know because I never saw her face. I just kept walking straight."
Spears Believes She Was Treated Unfairly
Besides her Instagram stories, the actress, popularly known as the " Princess of Pop," has taken to her Instagram page to make further comments on the incident. Among other things, she called her reaction to her experience in Vegas a "cry out."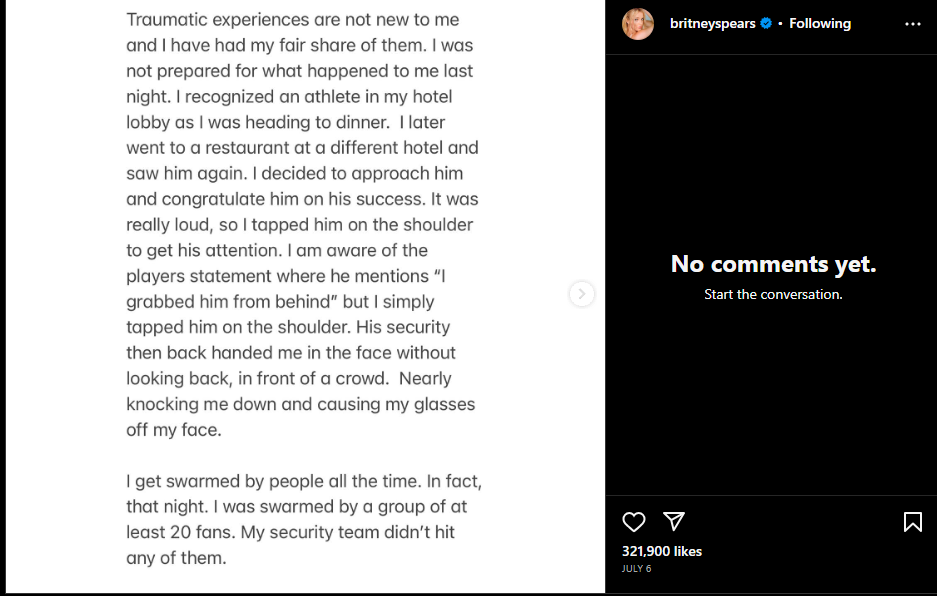 "I've had documentaries done about me and none of which I approved…No, I don't feel like I have been treated as an equal person in this country," she wrote.
Not His Fault
Nevertheless, Spears claims that the people who swarmed around her when they heard of the battery made her feel like she mattered. She also defended her actions, saying that her cursing at the security team was much better than hitting him back.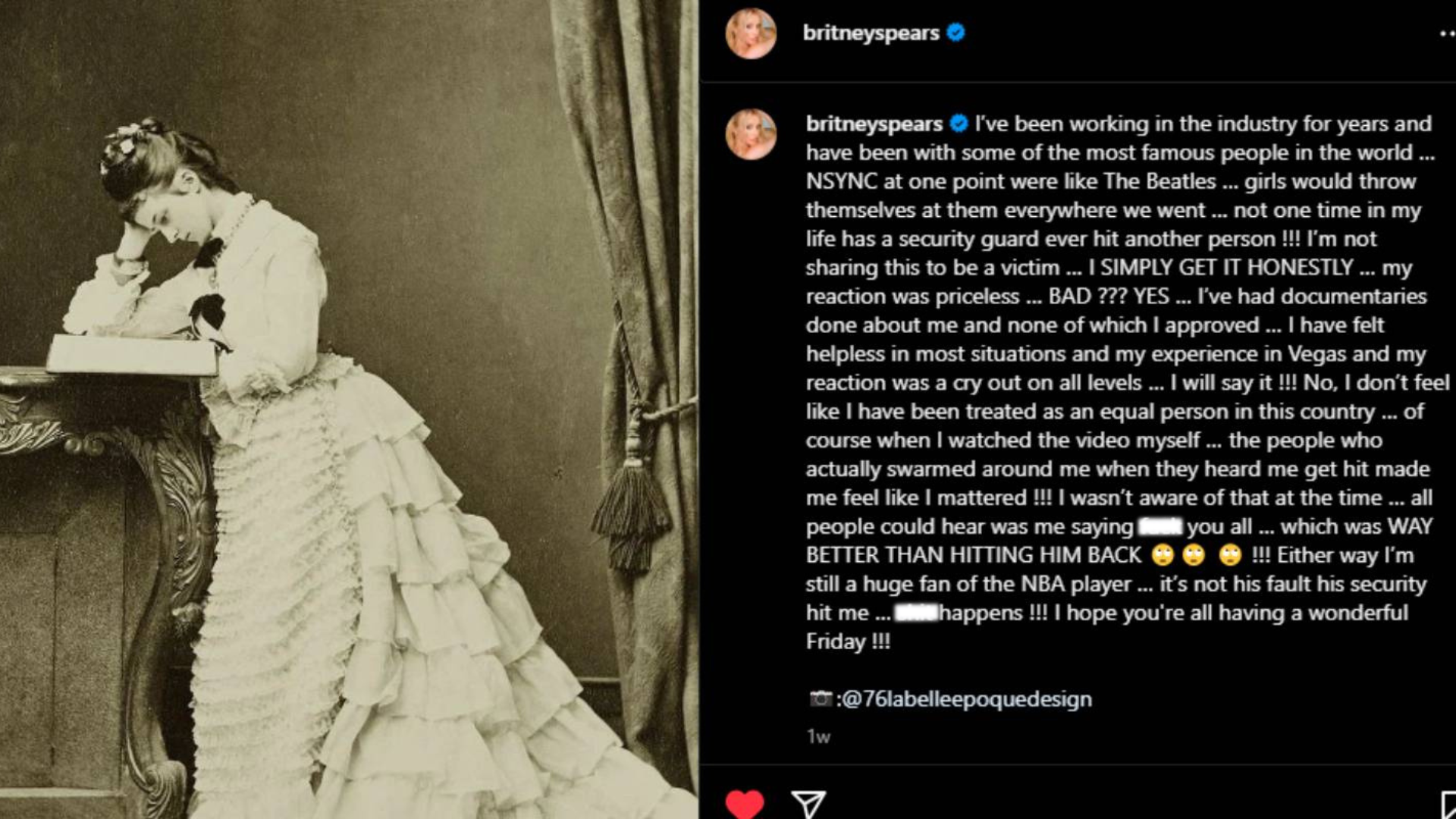 For anyone wondering whether her love and respect for the basketballer is gone, Spears has this to say — "Either way I'm still a huge fan of the NBA player…it's not his fault his security hit me…sh*t happens!!!"
Forging Ahead
Britney Spears and Victor Wembanyama have made a name for themselves in their industries. They're loved by many around the world, and any bad blood among their fans would be disappointing.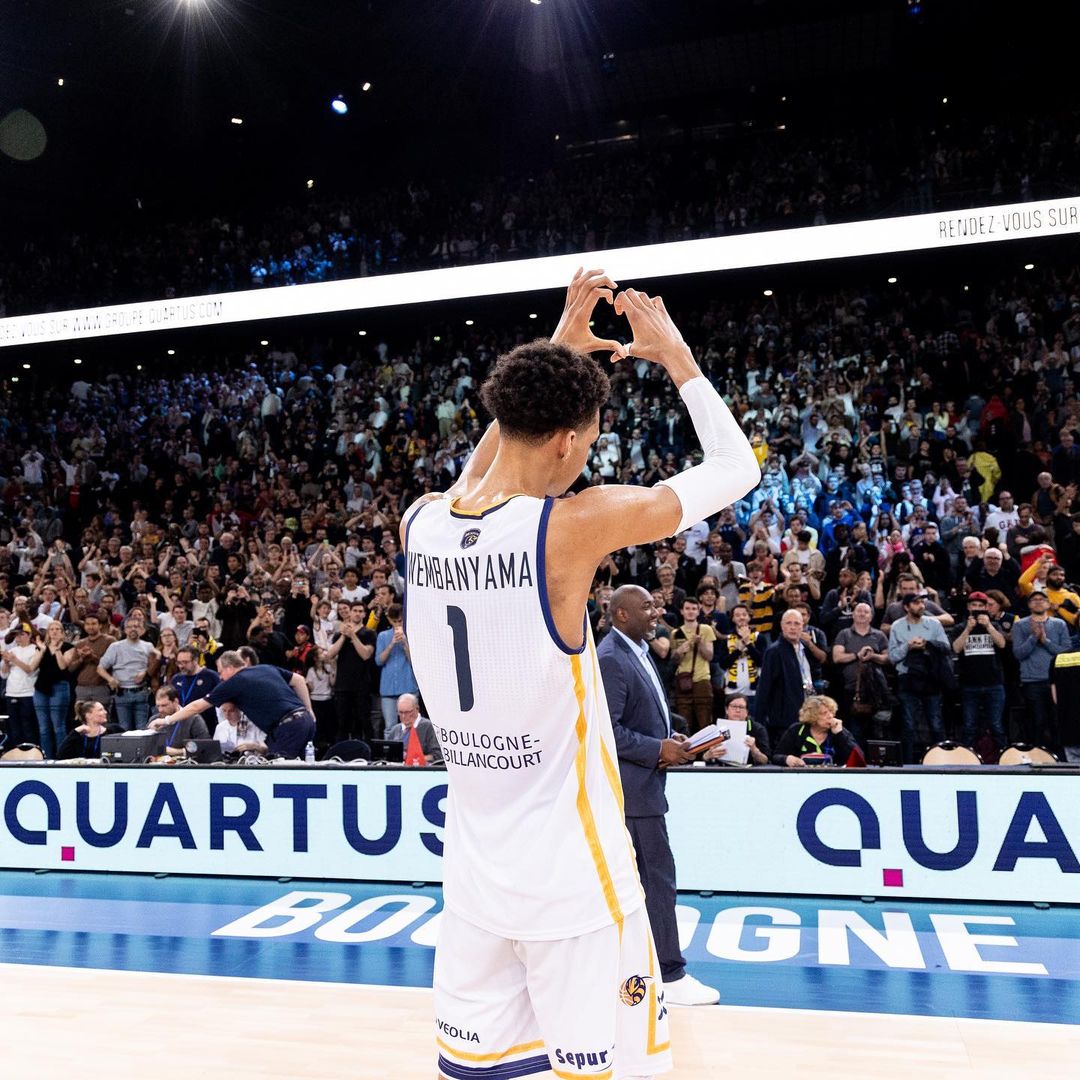 So, regardless of the public's opinion, we're glad that the buzz about this issue has calmed.  We're rooting for the two celebrities involved in this and hope they've sincerely been able to put this matter to rest.
A Penny for Your Thoughts
What do you think about the scenario? Did Wembanyama's security apply too much force in shoving Spears or were they justified in their actions? Was it unprofessional for his team to have reacted without verifying who she was?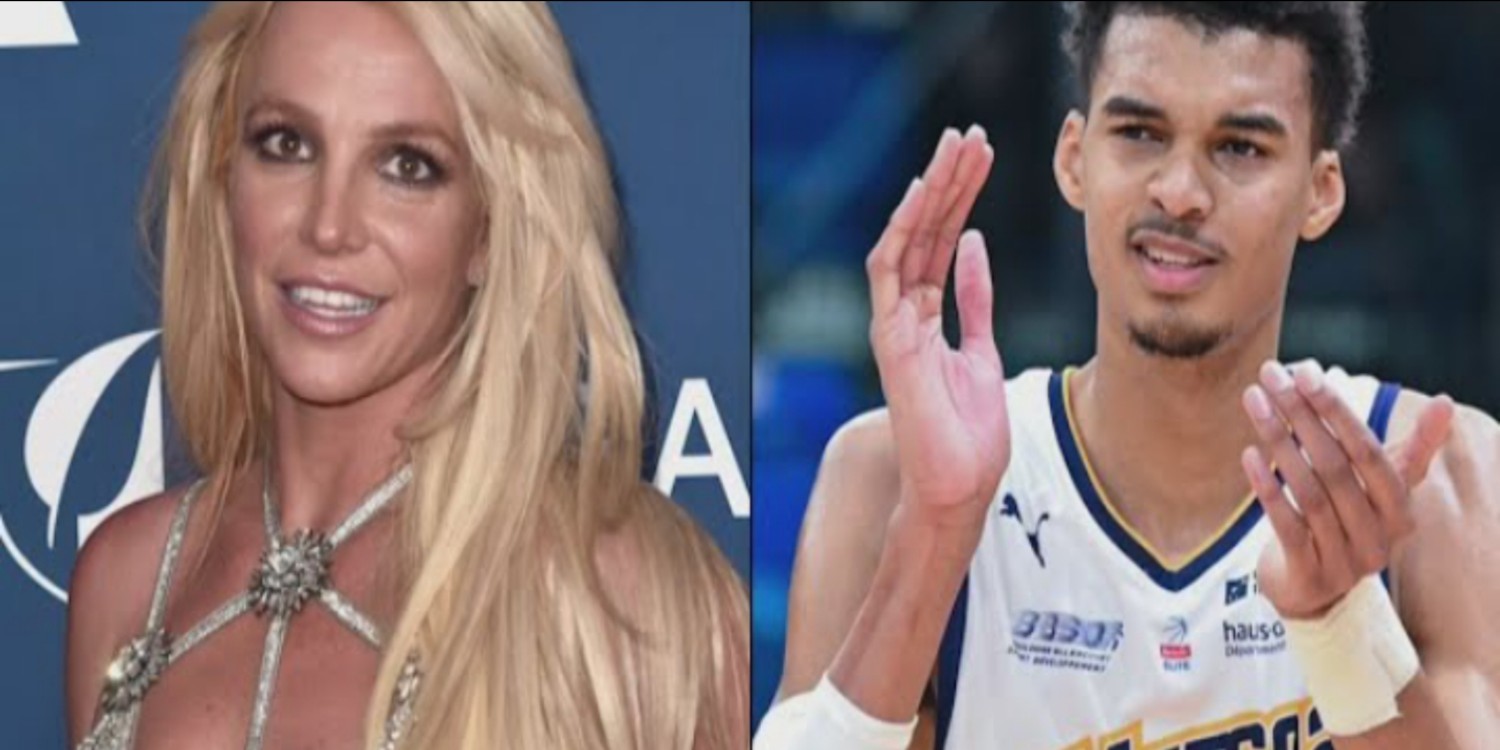 How about Spears? Did she overreact to the situation? Was she right in approaching Wembanyama without clearing it with his security first?