35 Best-Reviewed Kitchen Products That Make Cooking Easy
Good nutrition and healthy eating is so important, but meal prep is the last thing we want to deal with at the end of a long day. Whether you're a busy mom, college student, or working professional, you know how difficult it can be to muster the motivation to make dinner when you're exhausted. Thankfully, there are tons of clever and useful devices out there to help expedite this daily chore. Before you log into DoorDash again, take a look at Amazon's selection of kitchen goodies.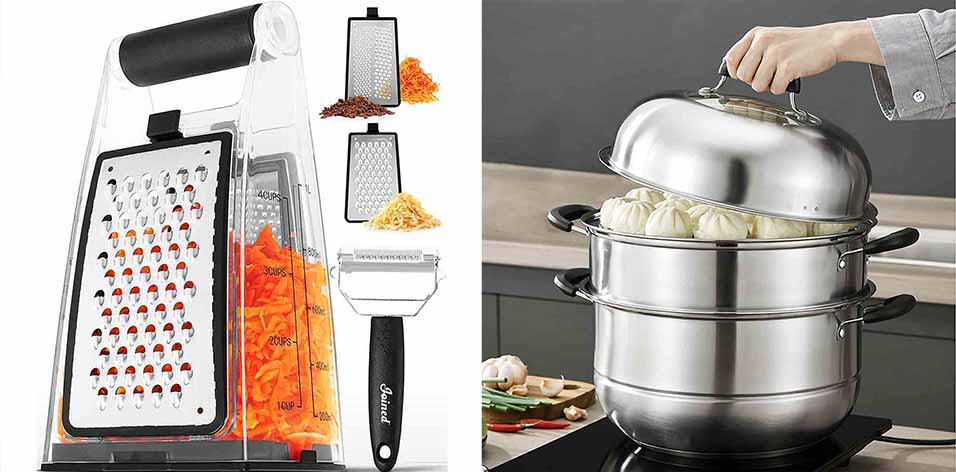 We went ahead and put together a list of Amazon's top rated, best reviewed kitchen products so you don't have to waste time on product hunting either! From automatic can openers and 10-in-1 veggie slicers, to Bluetooth enabled thermometers and splatter screens, these products will help you get the job done faster (and cleaner) than ever. The best part? Almost all of them are less than $50!
Whip Up Your Morning Matcha with this Frother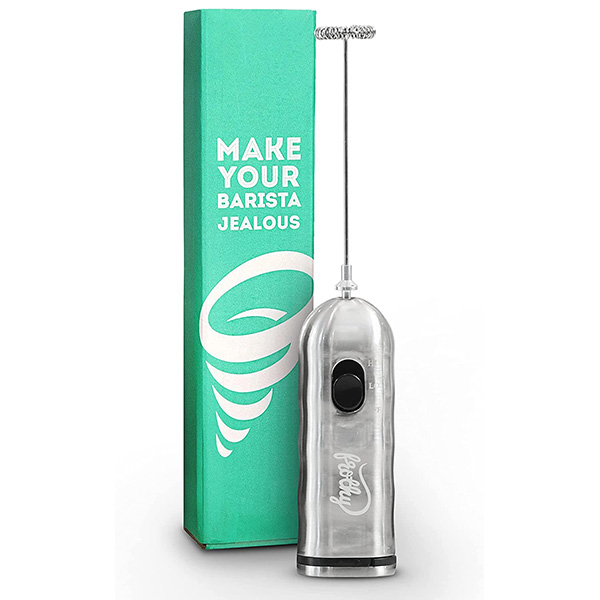 Tired of chunks in your matcha or hot cocoa? This frother is here to help. It can froth milk within 15 seconds and all you need are a few batteries to make it run (which also makes it convenient for camping). It's made with durable stainless steel, so it's a little more durable than competitor models too.
Buyers are Obsessed with this Temperature Gun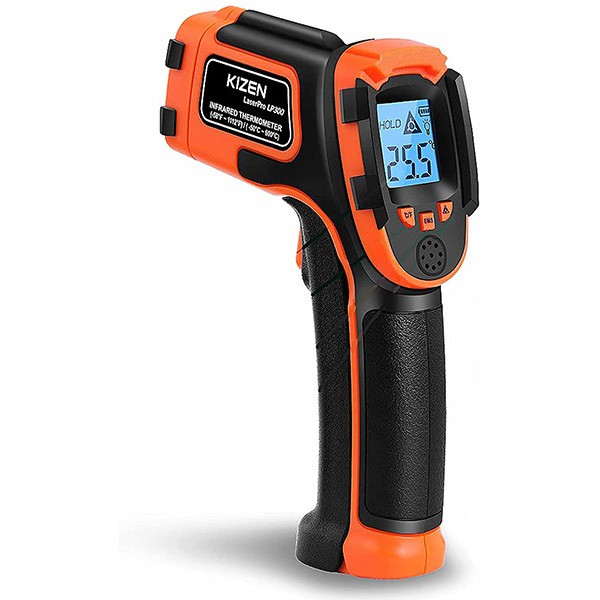 Bakers swear by this device! It looks like something that belongs in a garage; you can use it to measure the heat of your electronics too, but a lot of positive reviews were actually left by chefs. Buyer dyivdeuhfs said the thermometer can take an accurate measurement in less than one second, which is pretty impressive.
Save Time with a 10-in-1 Vegetable Slicer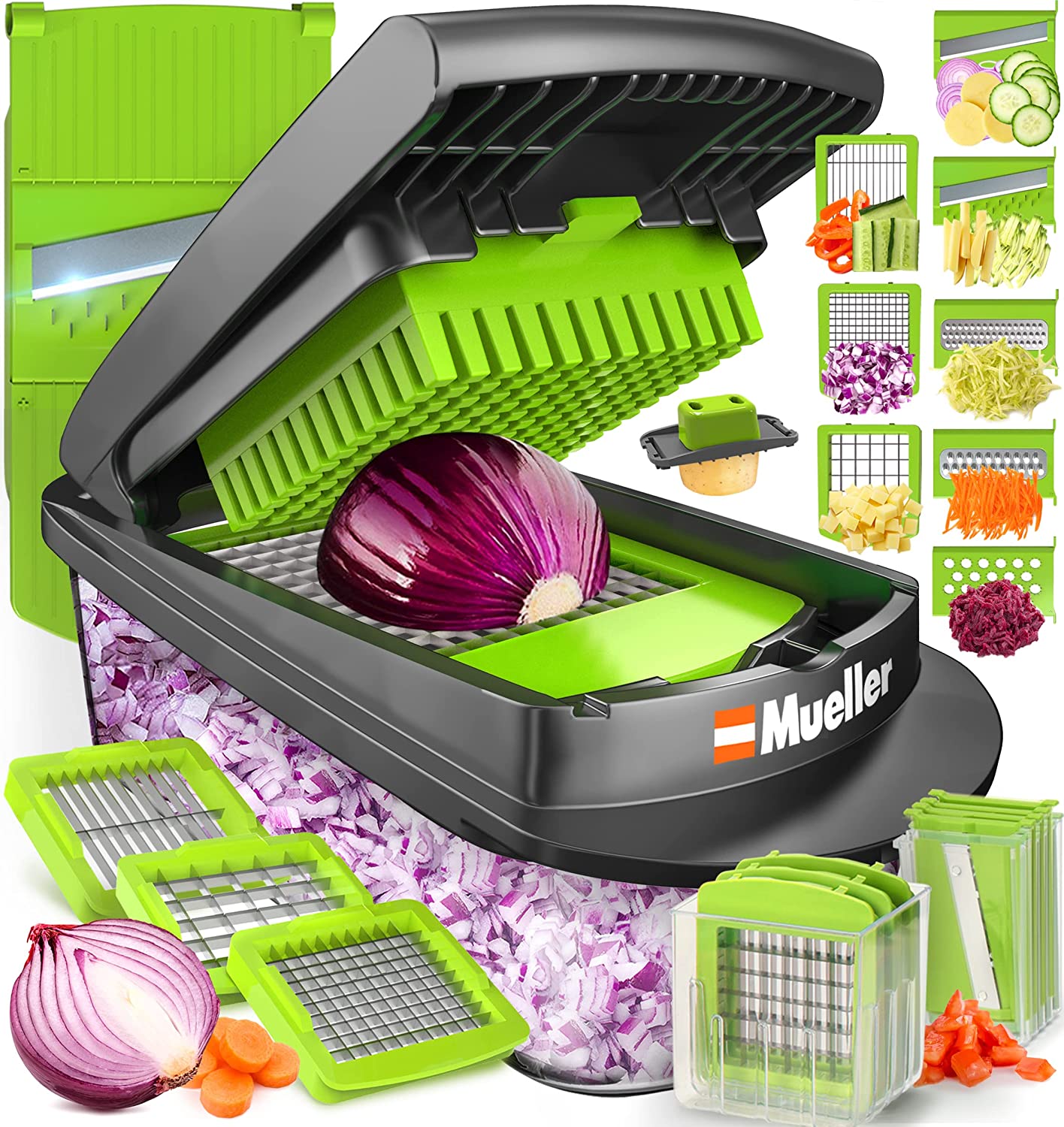 Meal prep time can be a nightmare, but this all-in-one chopper will make it a breeze! It includes grating, slicing, and dicing blades of different sizes, so you can get the perfect blend every time. The chopper is especially convenient; just add your blade and close the lid for instant cubes. It even comes with a container, so you should have very little cleanup to do.

Ditch Your Metal Colander for this Clip-on Pasta Strainer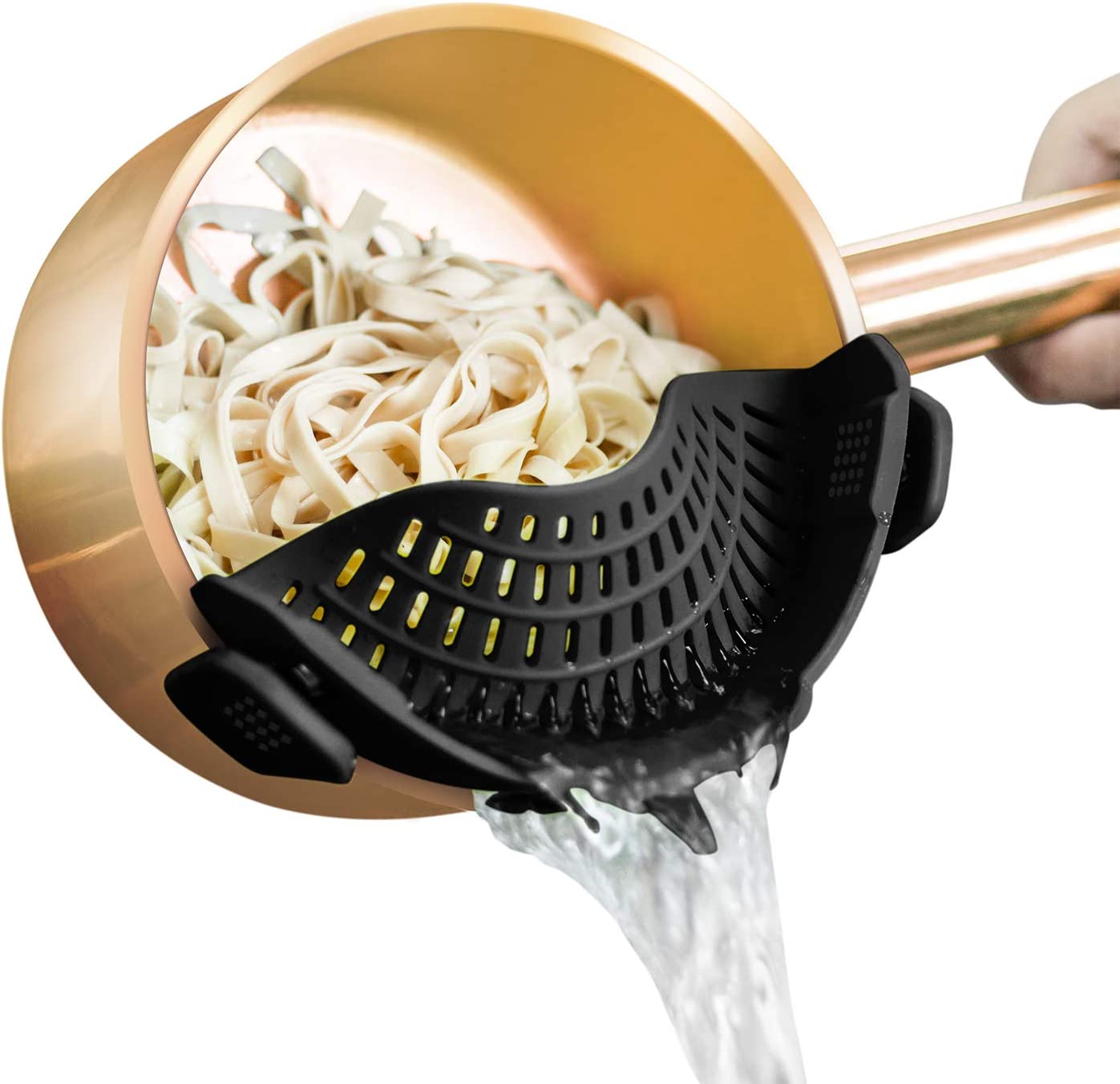 If your sink is perpetually full or you have a super tiny kitchen, you need this product. Why waste space or risk accidental burns when you could have a smaller, safer tool? This strainer is made with food grade silicone, so it's safe to use with your food and won't melt under boiling water.
A Cushioned Floor Mat for Meal Prep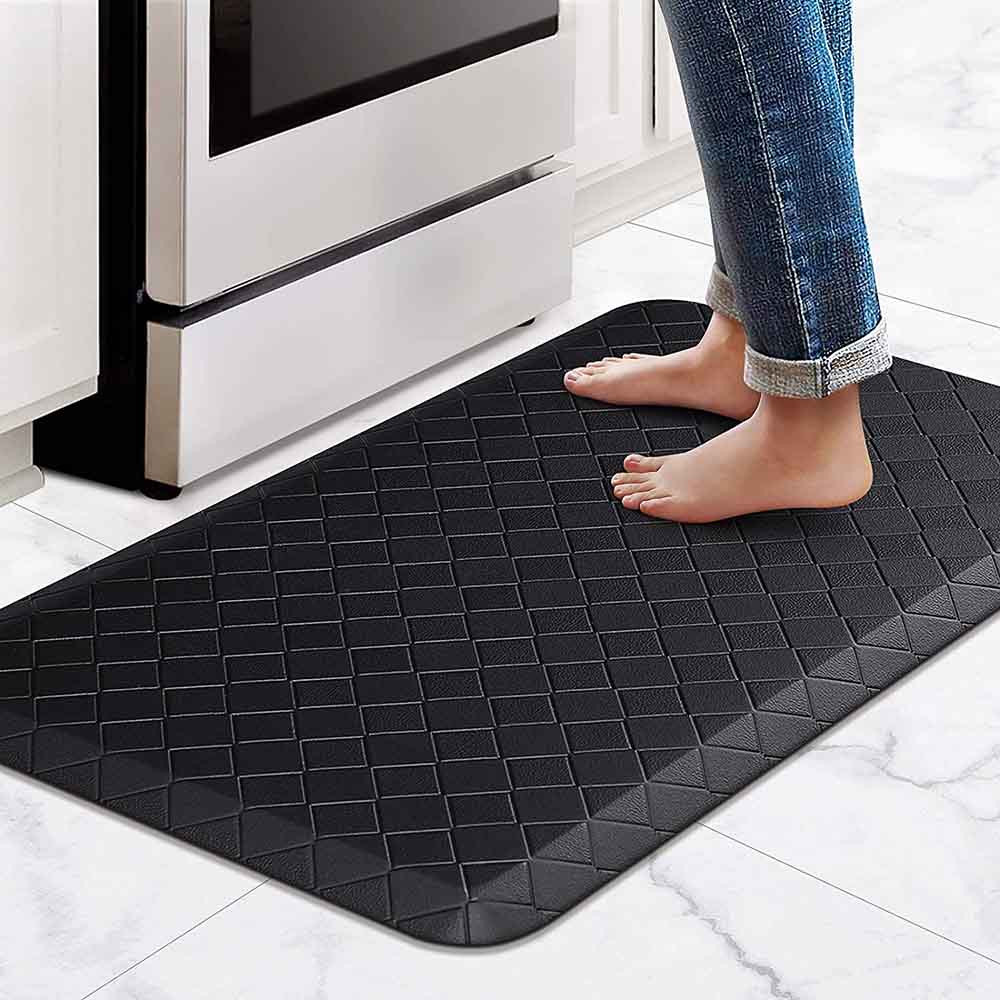 Eating healthy feels great, but it can take a lot of time to prep whole grain rice, veggies, protein, sauce, etc. If you must be on your feet for another hour or two after work, at least grab this mat. It (along with other useful devices from this list) will take some of the strain out of cooking so you can spend more time relaxing.
Get these Magnetic Barbecue Lights for Your Dad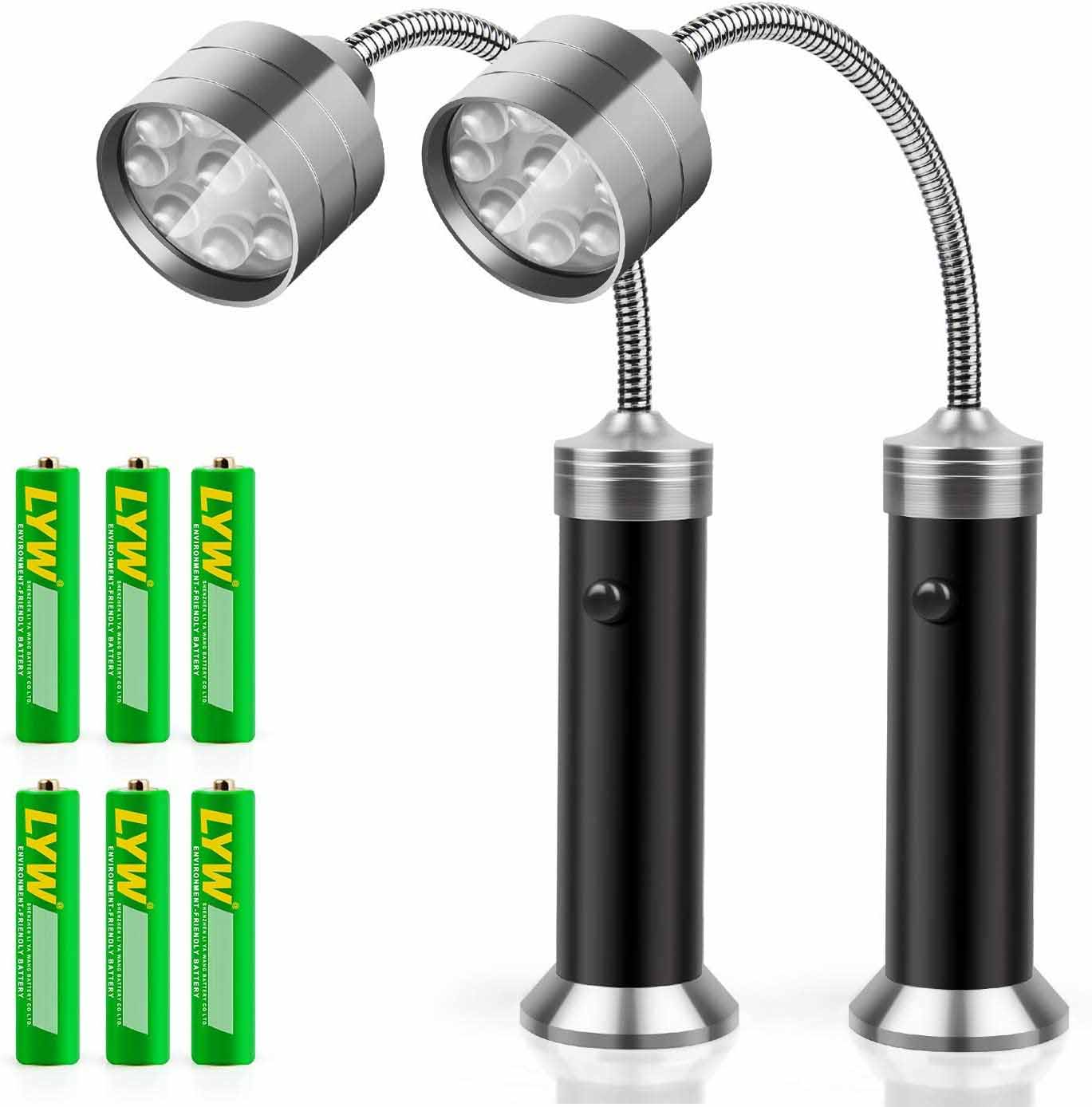 Seriously, you won't regret grabbing these if you or your loved one has an outdoor grill. Now your dad won't have to struggle with a flashlight or risk burning the burgers! At $15, it's a much cheaper alternative to adding a patio lamp or recessed lighting too. Bonus: they're battery operated, so they're perfect for camping trips.
This Under Cabinet Jar Opener Gets the Job Done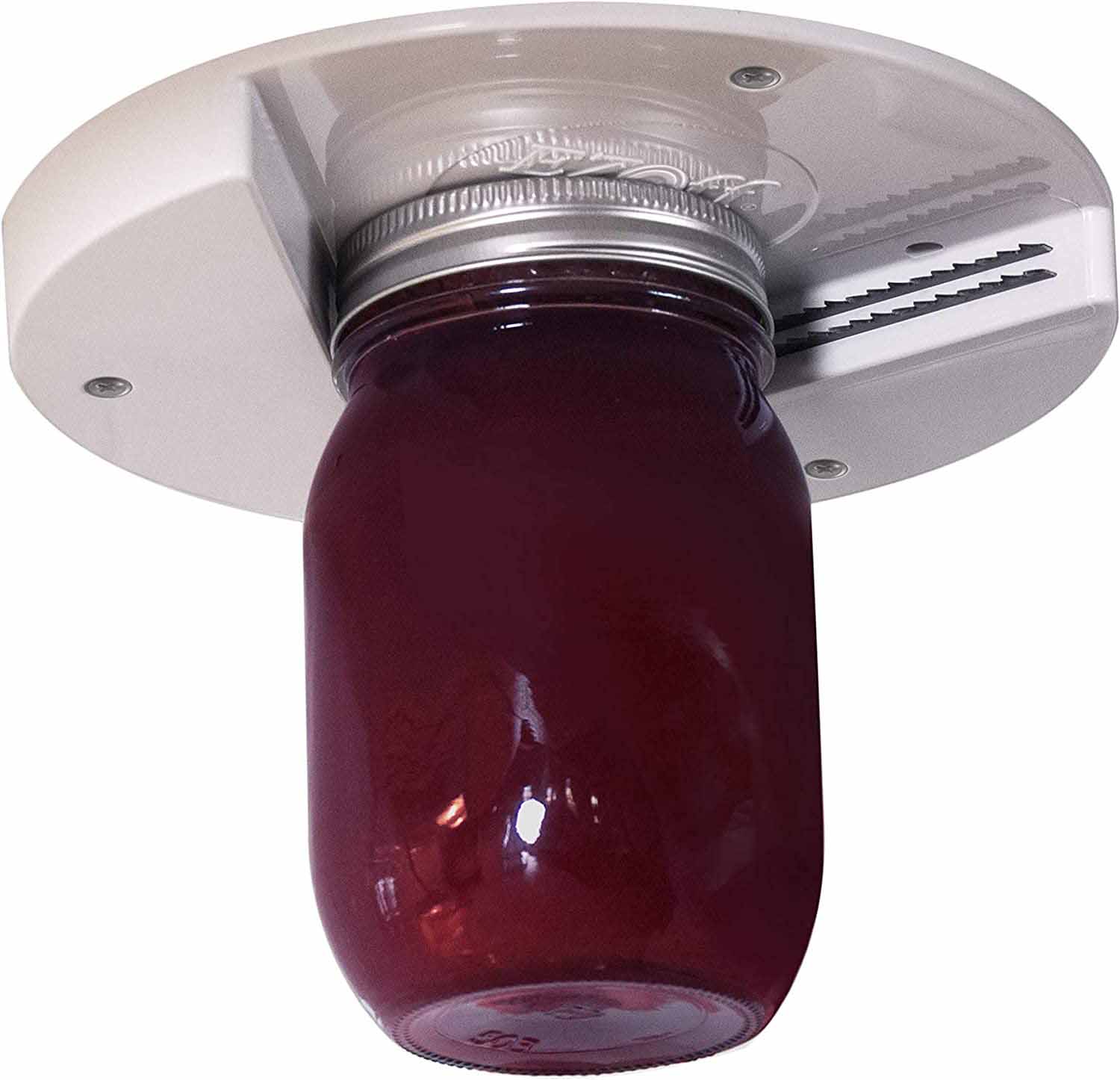 Having trouble opening pasta sauce, jams, or jarred fruit? This 4.7-star rated hidden jar opener is a lifesaver. With a special serrated design, it can open pretty much any jar lid. Buyer KathyDae wrote: "Best purchase ever. I have weak hands and this is a lifesaver, no more banging jars on the table or countertop. It will open a wide range of sizes from large jars down to the small caps on water bottle."
Don't Get Burned -- Use this Splatter Screen!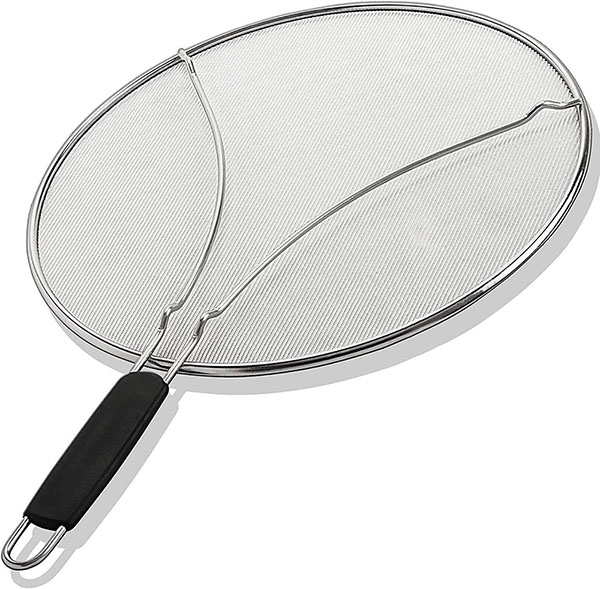 This may look like a tennis racket, but it's actually made to fit over your frying pan like a lid. The fine, stainless steel mesh keeps grease and other splatters from escaping while you cook, making it kitchen must-have. It'll protect you and keep your counters spotless at the same time — what's not to love?
Every Kitchen Needs a Reliable Cork Screw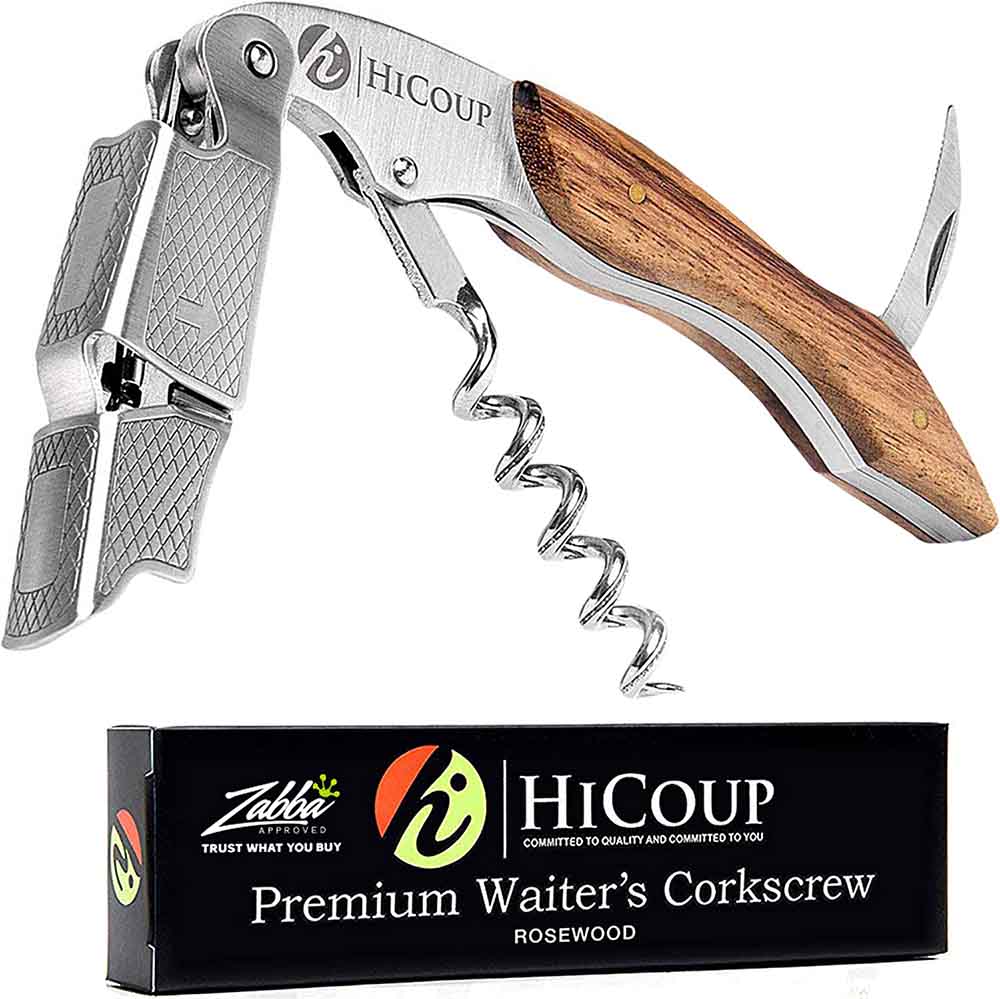 There's nothing worse than getting to a friend's house or a Vrbo and realizing the kitchen doesn't have a corkscrew. Don't be that household. Even if you aren't a wine drinker, your guests will appreciate that you have one of these. If you prefer a fancier opener, just throw this in the junk drawer as a backup — you can never be too careful!
An Egg Cooker for Instant Breakfast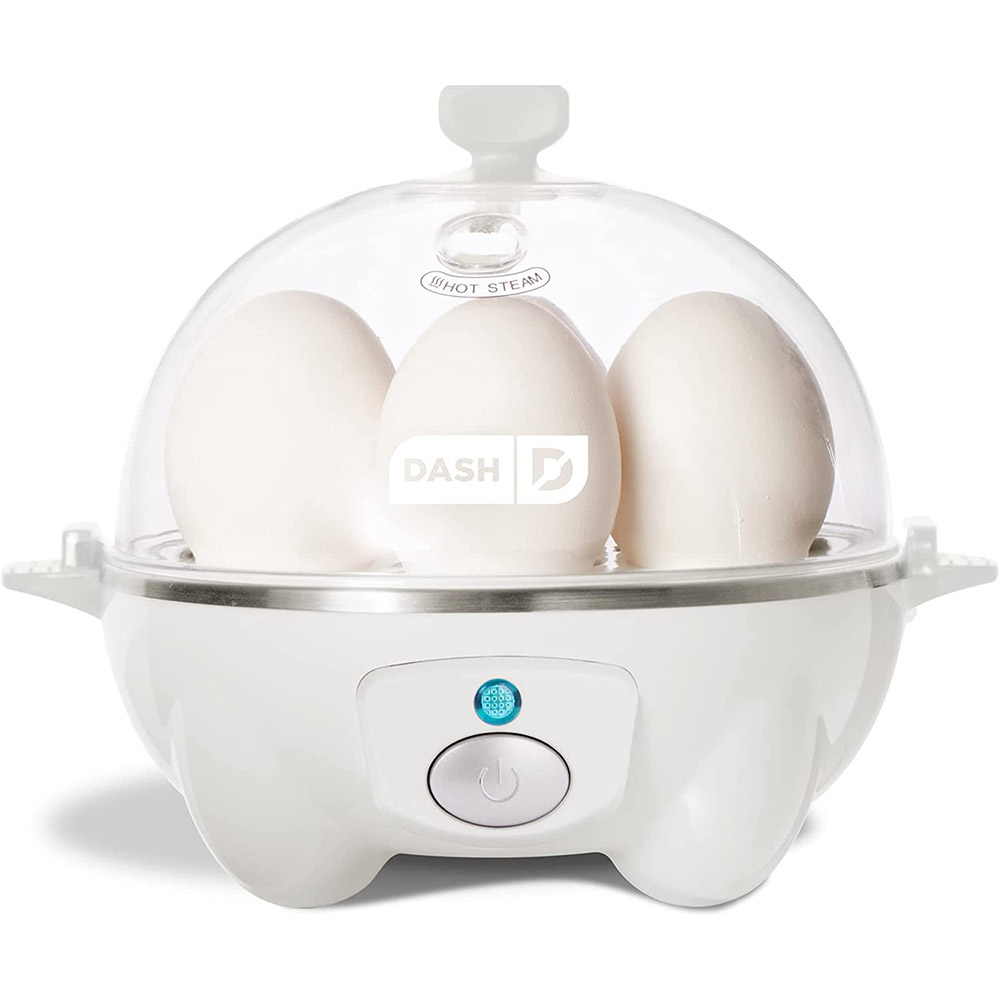 Freshly cooked eggs and pancakes in the morning is the dream, but who wants to clean the skillet? Especially if you don't have nonstick frying pans, you're in for a rough ride. Thankfully, the rapid egg cooker trays are dishwasher safe and will cook your eggs faster than the stove top. This is also a great find if you're an on-the-go breakfast eater.
Finally, a Cheese Grater with a Built-in Container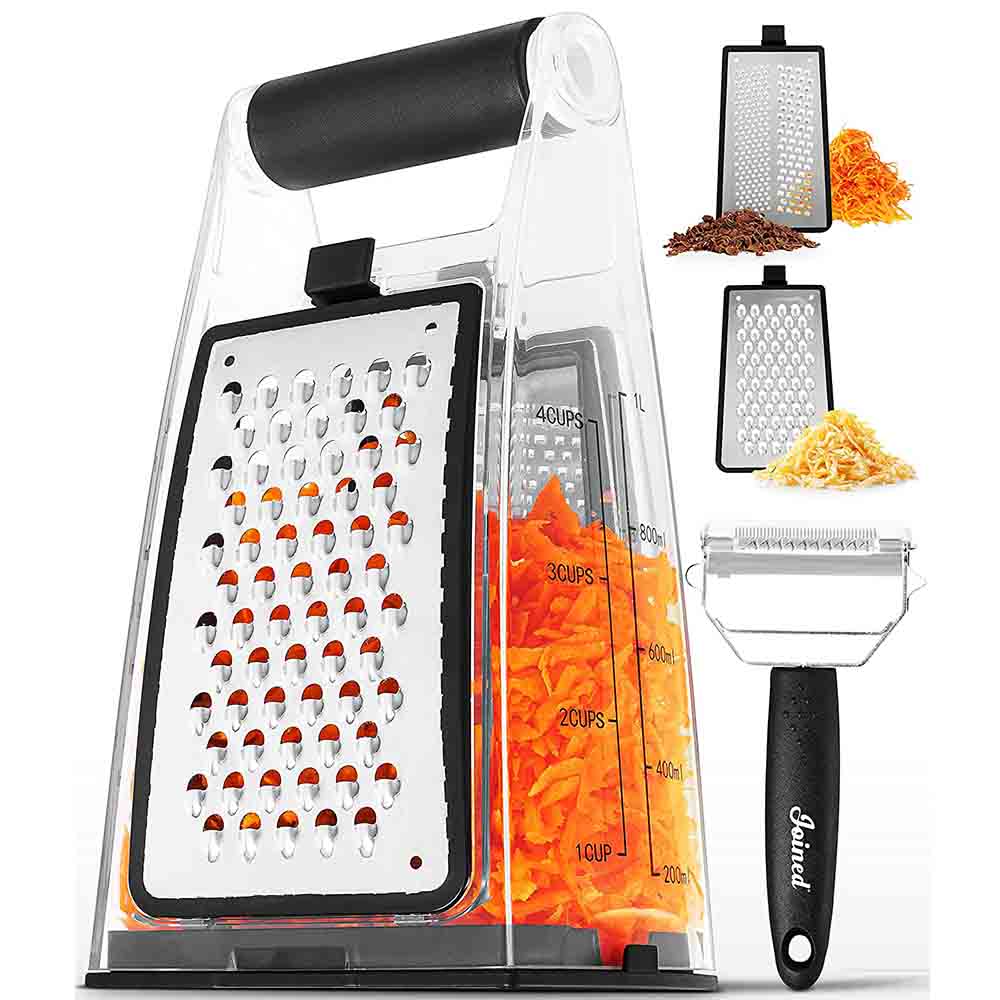 Where has this been all of our lives? A cheese grater with a built-in container is so neat and convenient; no more cheese on the floor or stuck to the cutting board. It even shows measurements on the side so you can be precise with your grating. But wait, there's more! This kit also comes with a peeler, brush, and several different blades for your grater.
Keep Herbs Fresh with the Herb Savor Pod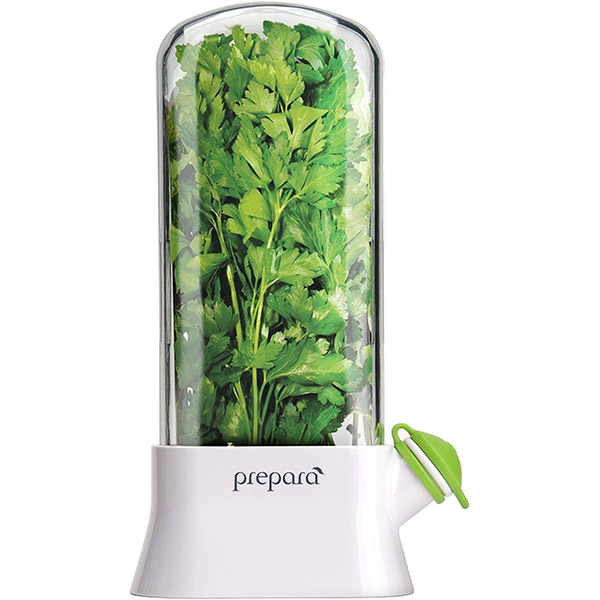 This item is a winner for produce lovers. It's a bit pricey, but buyers are in love with this Herb Savor Pod. It uses a fresh water reservoir to keep greenery fresh for up to three weeks, which sure beats the several days it takes spinach to wilt in the fridge. The lid also keeps herbs from being crushed, which is a nice addition.
Silicone Oven Mitts for Extra Hot Trays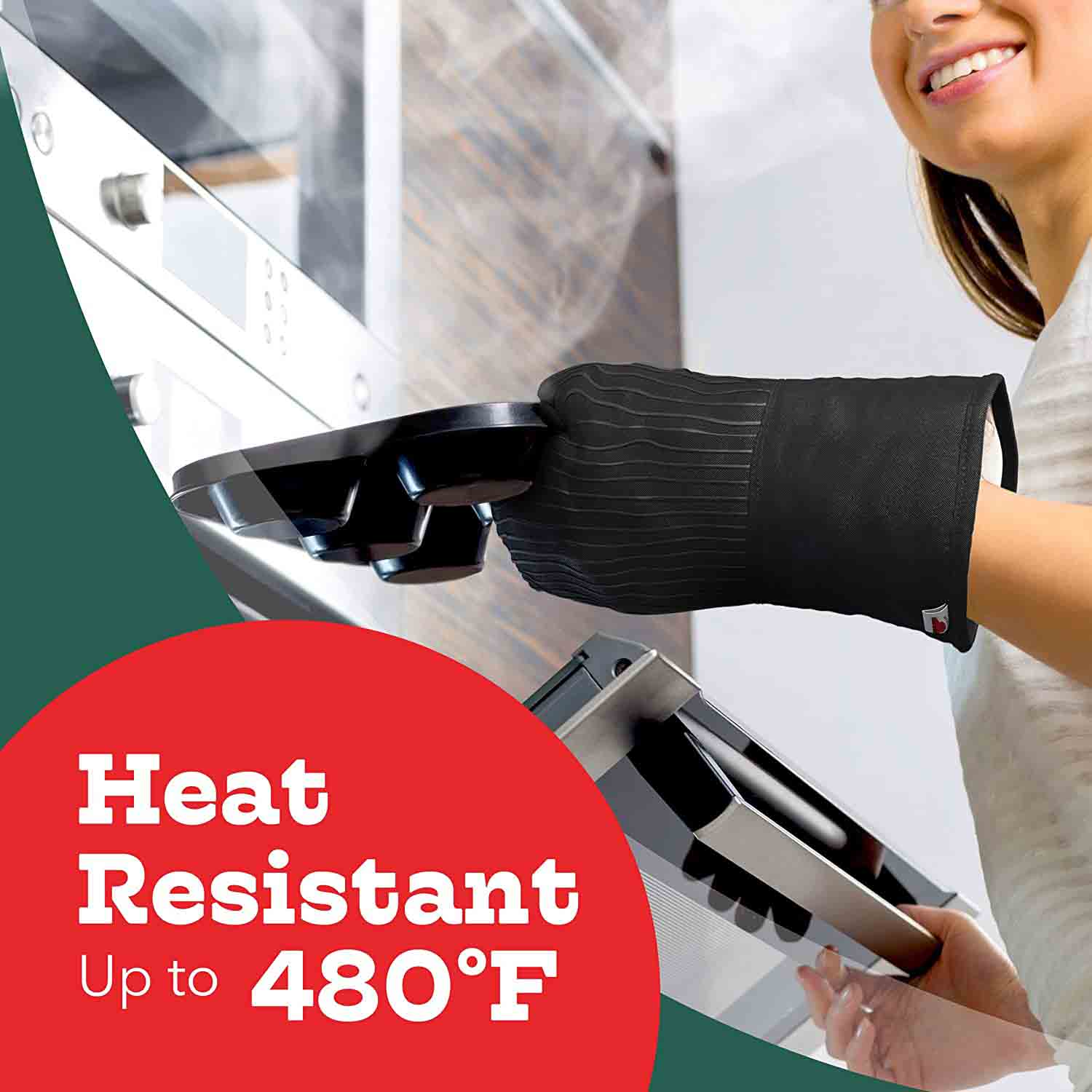 Handmade fabric oven mitts are cute, but they don't always hold up or protect you well enough from high heat. This silicone oven mitt was praised by nearly 15,000 buyers, many of whom said it was exactly what they needed. The silicone makes them extra grippy and remains flexible, unlike other plastics.
Grab this Gravy Fat Separator for the Holidays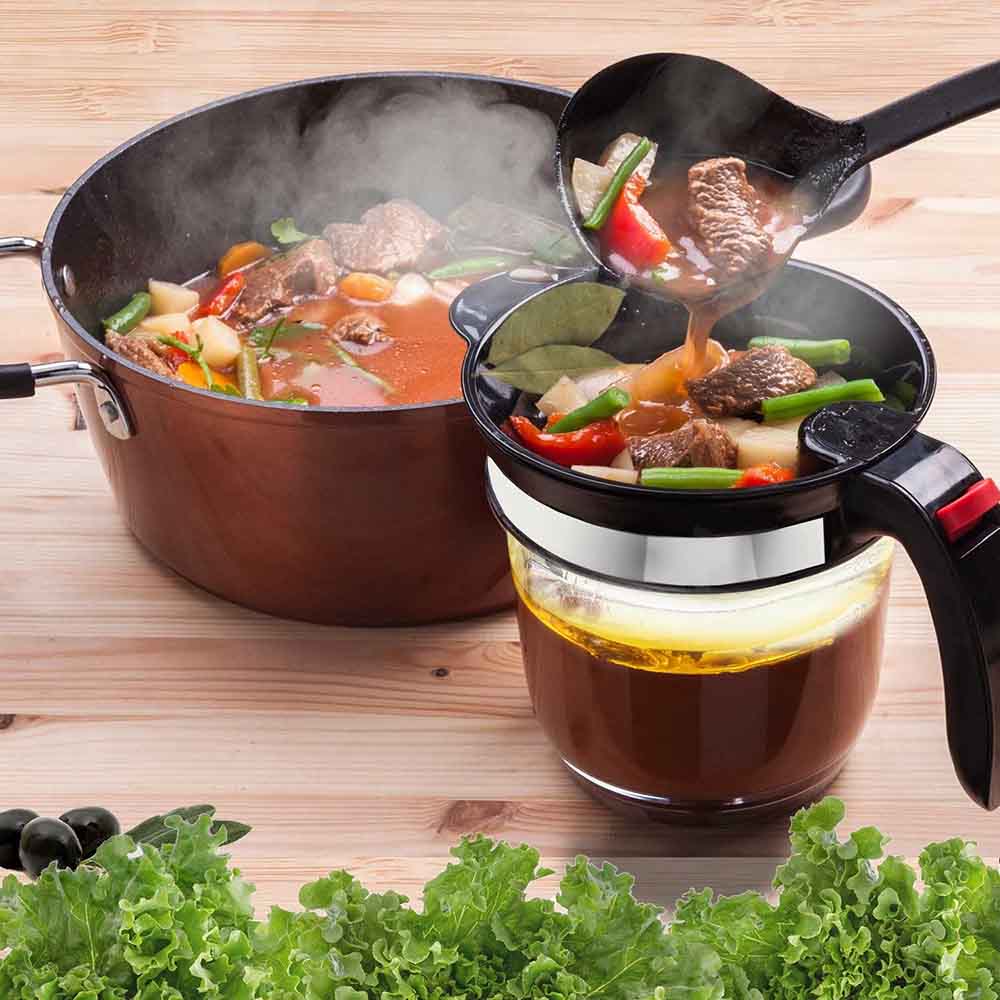 This odd looking pitcher caught our attention when we were scrolling through the kitchen section. It's a gravy fat separator! According to reviewers, it does exactly what it's advertised to do. Customers especially liked the larger capacity, how quickly it separates the fat, and the fact that it's dishwasher safe.
Take this Microwave Splatter Cover to Work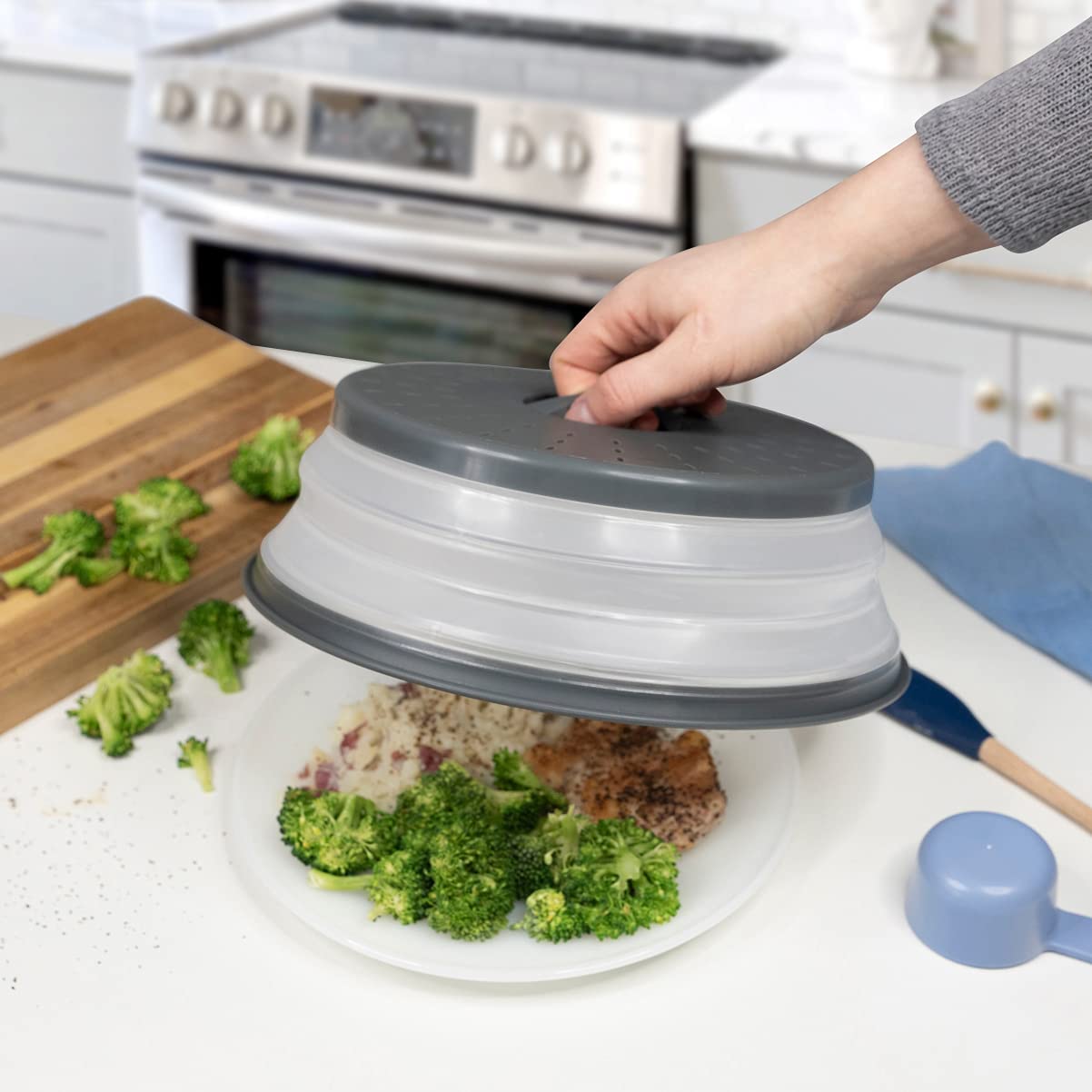 Microwaving fish in the office is a bold move, but sometimes it has to be done. Use this lid to prevent explosions next time! Your office mates may still resent you, but at least you won't have to clean up stinky fish flakes after everyone else clocks out. Bonus: it's BPA free and dishwasher safe!
This Egg Separator Will Making Baking Easier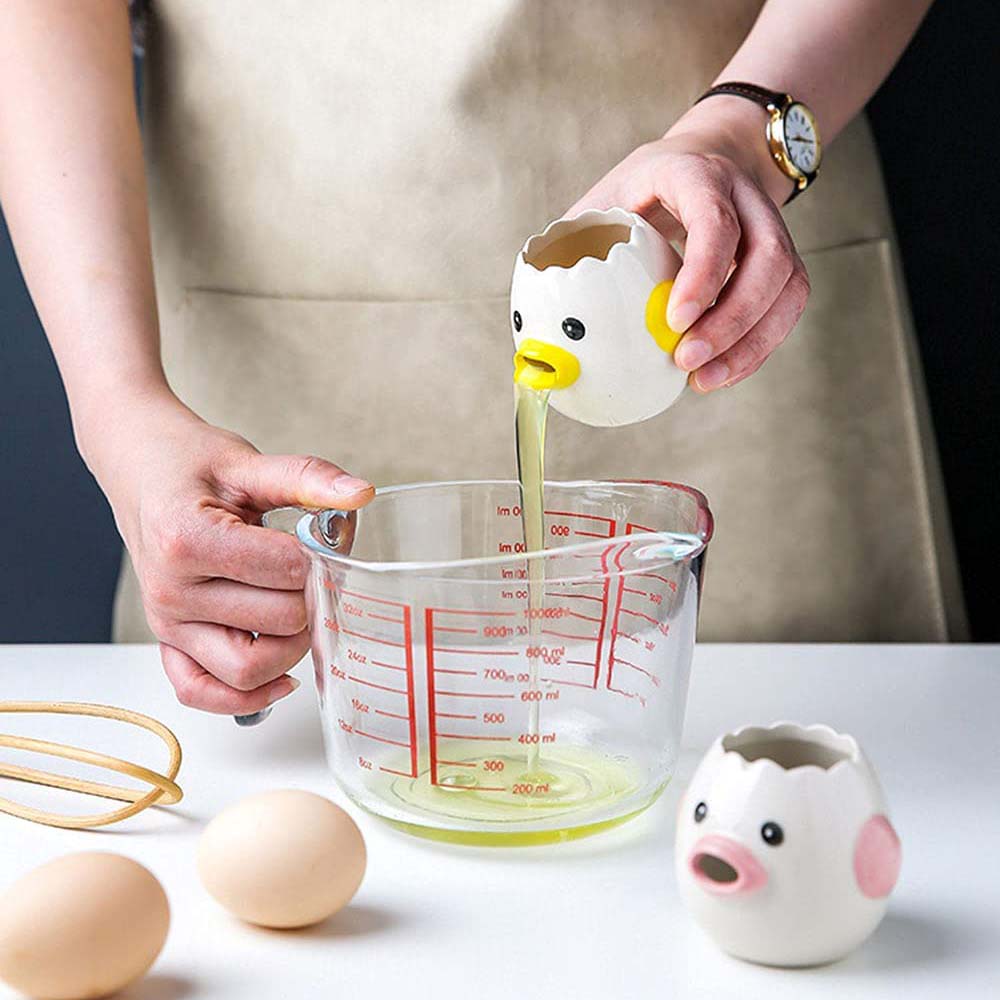 Baking just got even cuter! This funny little yolk separator makes a great gift for bakers and chefs. It'll help you keep the shells out of your food and prevent bacteria from spreading by hand. You can't beat the price, and it's apparently a real hit with young kids. Buy it in yellow or pink!
Sous Vide Your Way to Perfectly Cooked Meat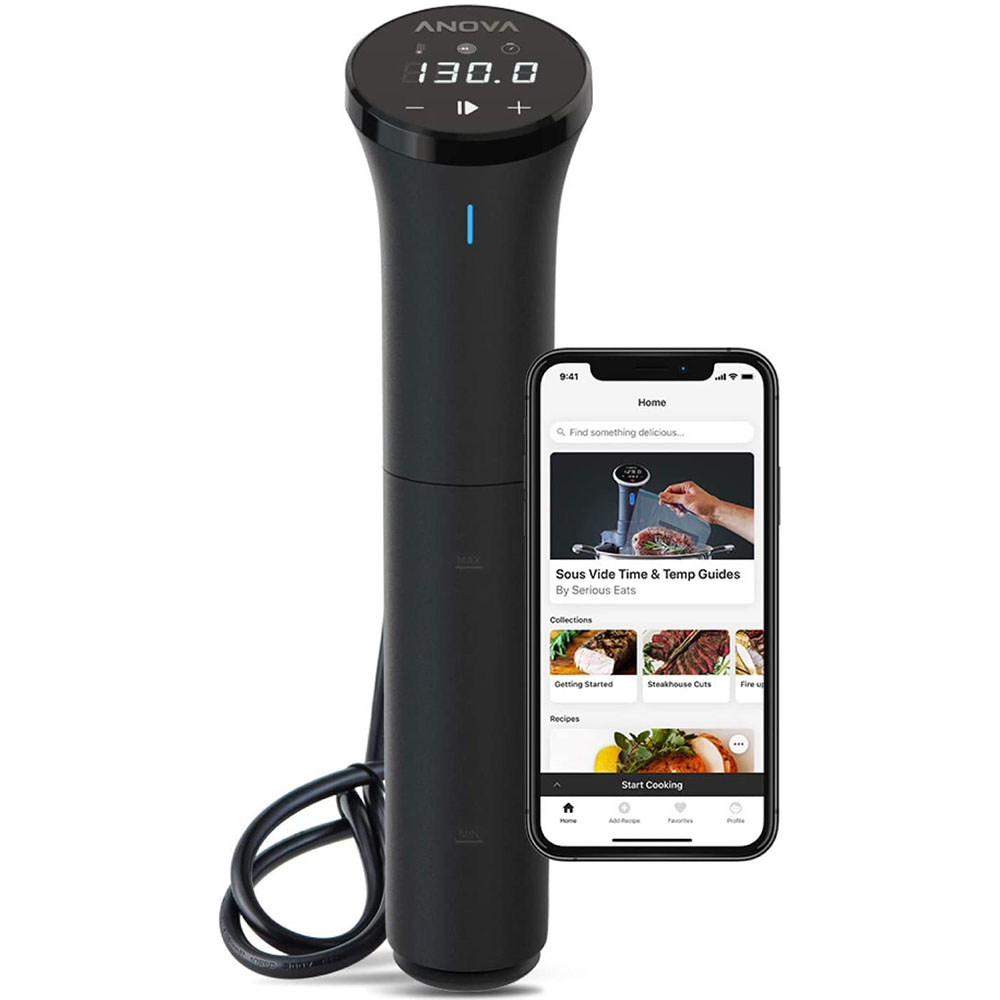 Tired of overcooking or under-cooking your steak? If you're willing to pay a little more, you'll love using a sous vide cooker. It's basically a slow cooker that uses water to heat your meat to the perfect temperature. You'll never have to suffer through dry chicken again! Just stick your favorite meat in a sealed sous vide bag, add the cooker into a pot of water, and wait. It's that easy!
Flexible Silicone Cooking Utensils that Won't Melt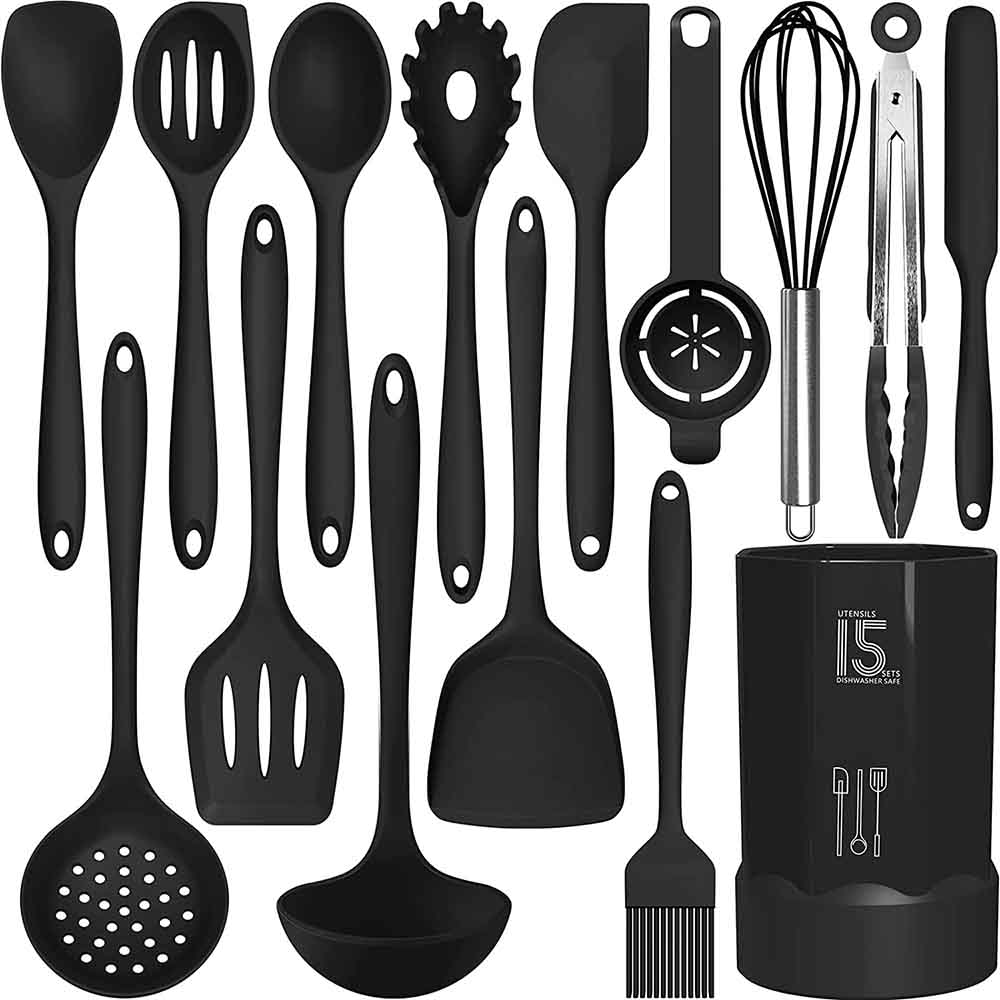 No need for added anxiety when you're busy cooking. Toss your old, melted spatula into the trash and upgrade to this silicone utensil set. Each tool is heat resistant up to 446 degrees, so it's safe for using on the stove, in the oven, and even with a candy cooker. Choose from four colors: black, coffee, khaki, or pink!
This Electric Can Opener Actually Works with Any Can
Old electric can openers can be persnickety, but the Kitchen Mama 2.0 is ready for anything. According to the reviews, it's small but mighty. Buyer Vanessa said she was glad she made the switch from manual to electric: "Came across all the reviews on this one and didn't disappoint! Just pop it on the can and let it do the magic. Then to take the lid off there is a little latch so you can pick it up without cutting your finger. AMAZING."
Your Guests Will Love this Espresso Maker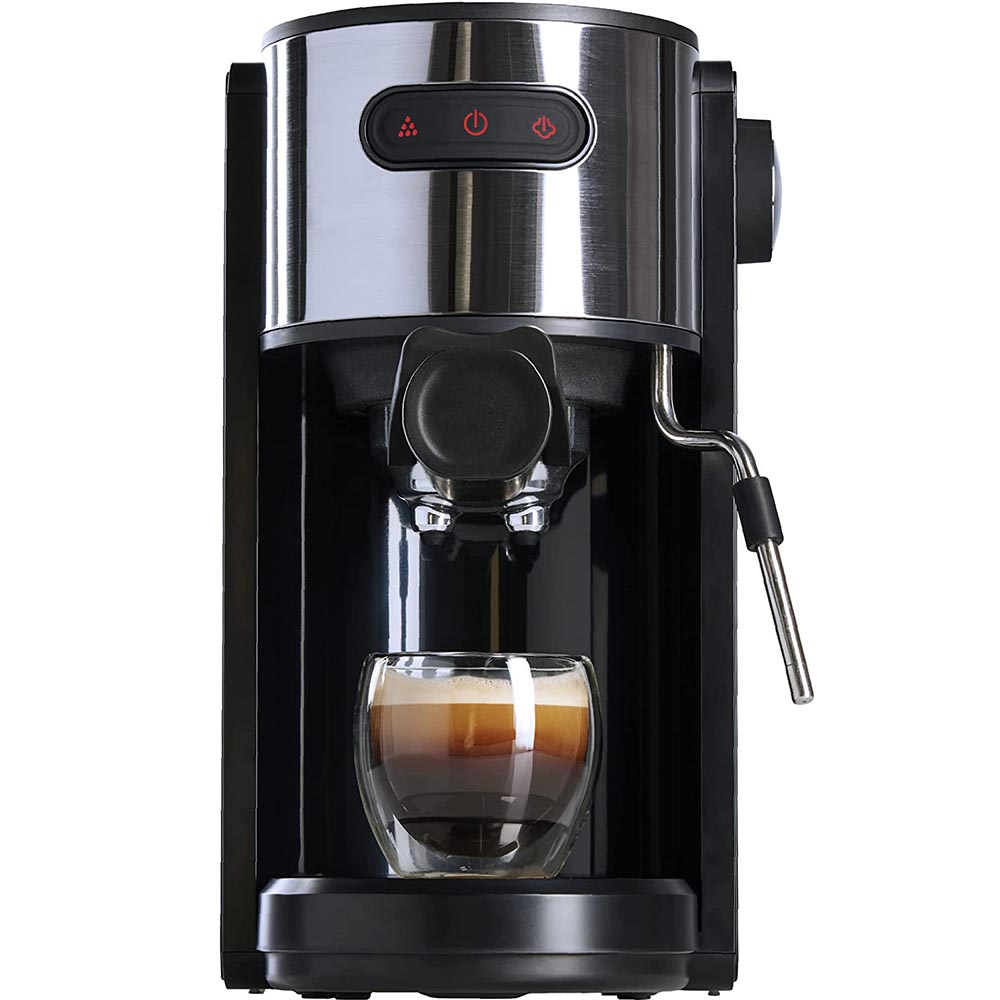 If you're looking to upgrade before your next dinner party, or you just want to treat yourself, this espresso maker is the way to go. It comes with a built-in steamer too, so you can make fancy Starbucks quality coffees! This top rated espresso maker takes both pods and grounds, so you can choose the blend you like the best. Grab it while it's on sale!
A Convenient 2-Tier Dish Drying Rack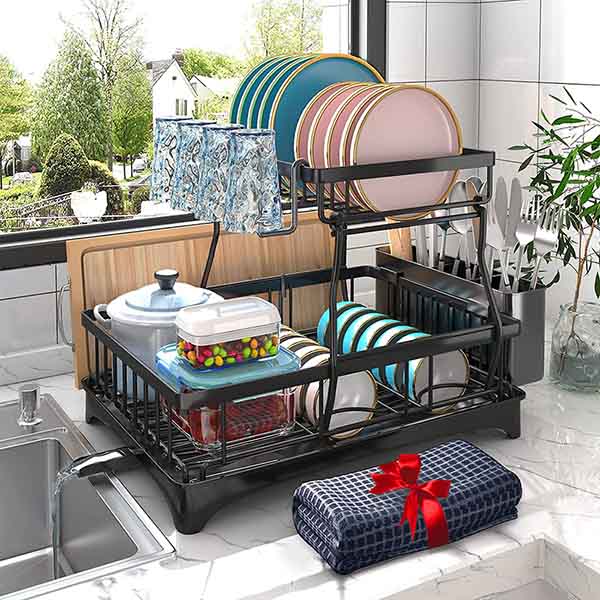 For your college dorm, first time apartment, or tiny kitchen, you definitely need this compact dish drying rack. It'll save space and give you more motivation to wash your dishes rather than leave them in the sink for days. The two-level design is perfect for positioning everything from water glasses to cutting boards.

Keep Your Cooking Gear Closer with this Magnetic Knife Holder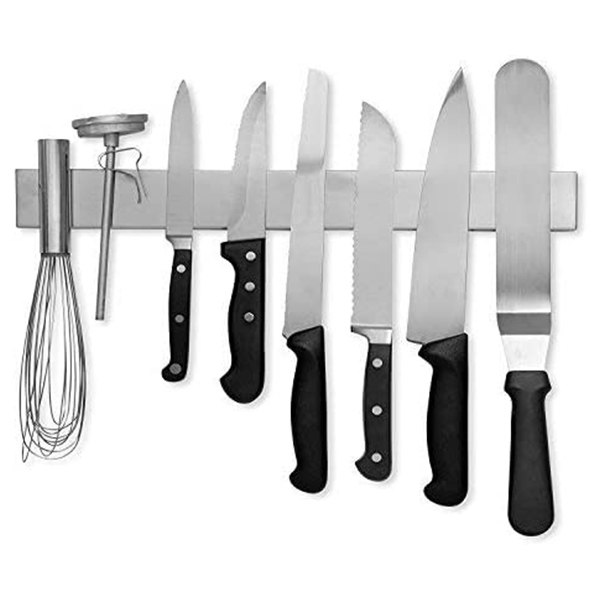 Instead of digging around in drawers for your knives, why not hang them on the wall above your counter? That way they'll be easily accessible when you're trying to complete five recipe steps at once! No need to worry about knives falling down and stabbing you either. The 35,000 people who left reviews had tons of praise for it, especially for how strong the magnetic is.
Replace Your Ziplocks with this Vacuum Sealer Machine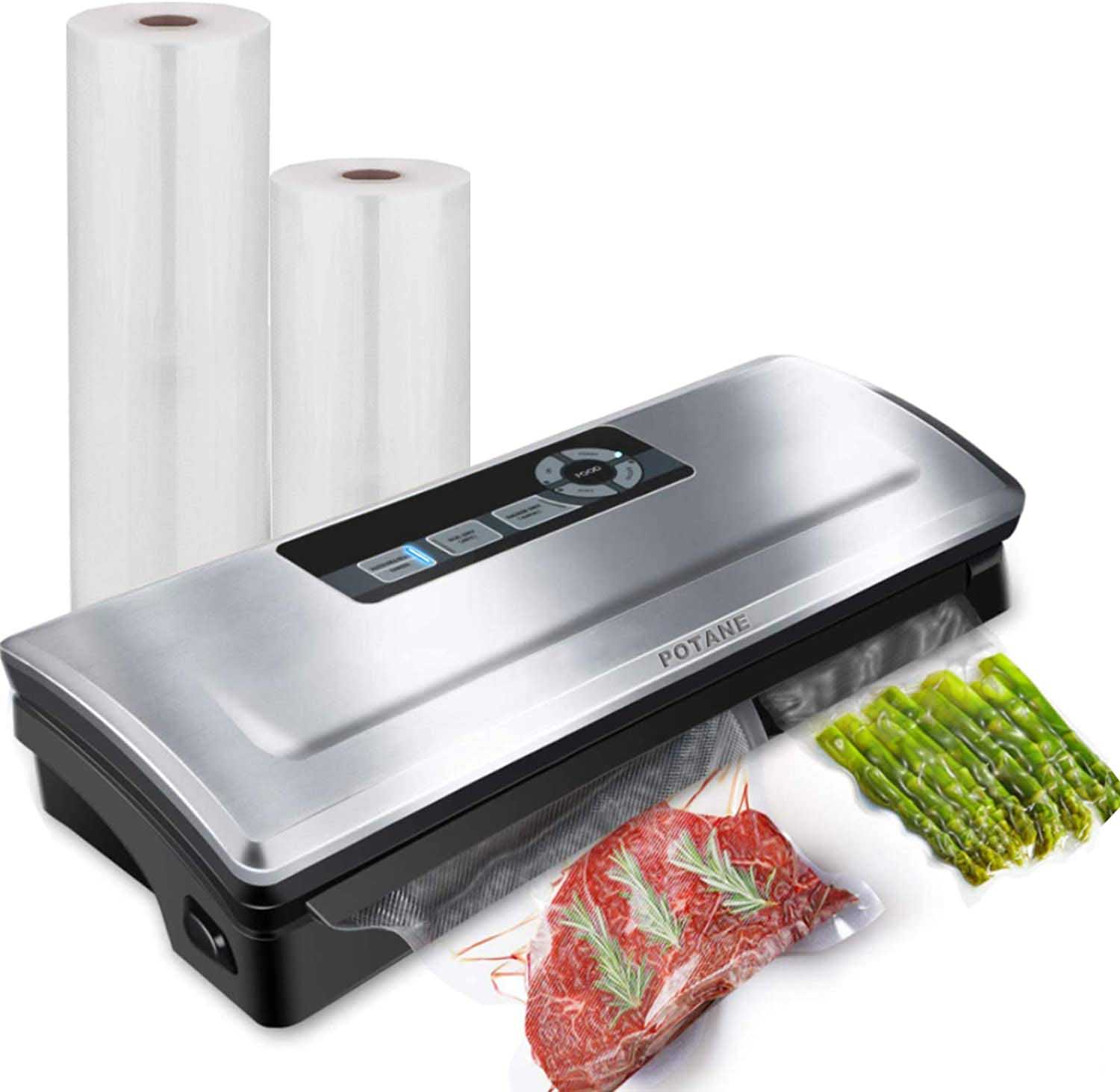 Nothing will keep your food fresher and take up less space than these vacuum seal bags! The vacuum sucks all of the air out of the bag for a super tight seal. This starter kit comes with two rolls of bags, eight easy preset modes, and a five year warranty.
A Top Quality Steamer for Your Dumplings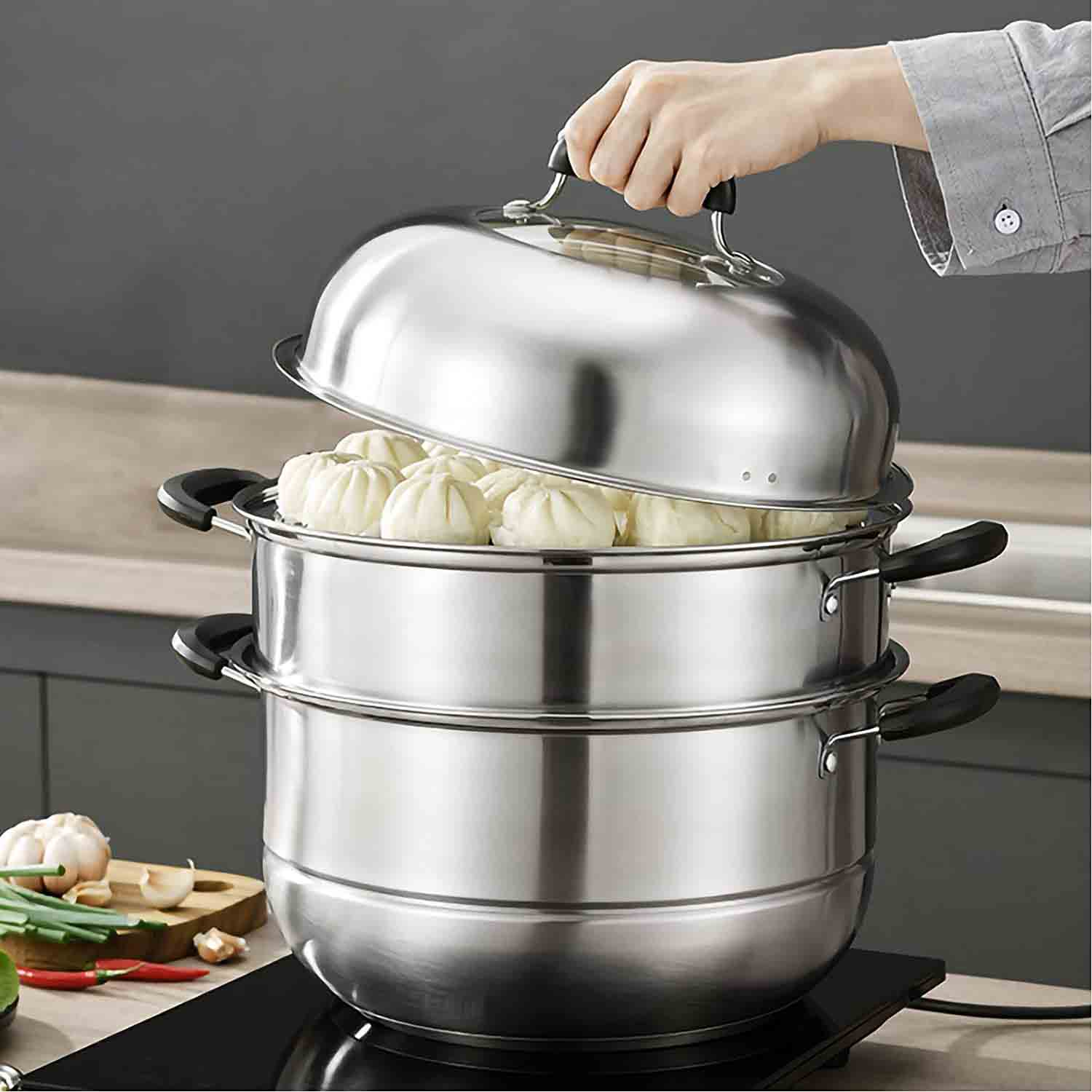 How does the idea of using only one pot for an entire three-course meal sound? With this two-tier steamer, you can cook veggies, proteind, and an appetizer all at the same time with minimal effort. This will endure better than a bamboo steamer and you can throw it in the dishwasher!
These Sustainable Bamboo Cutting Boards are a Great Deal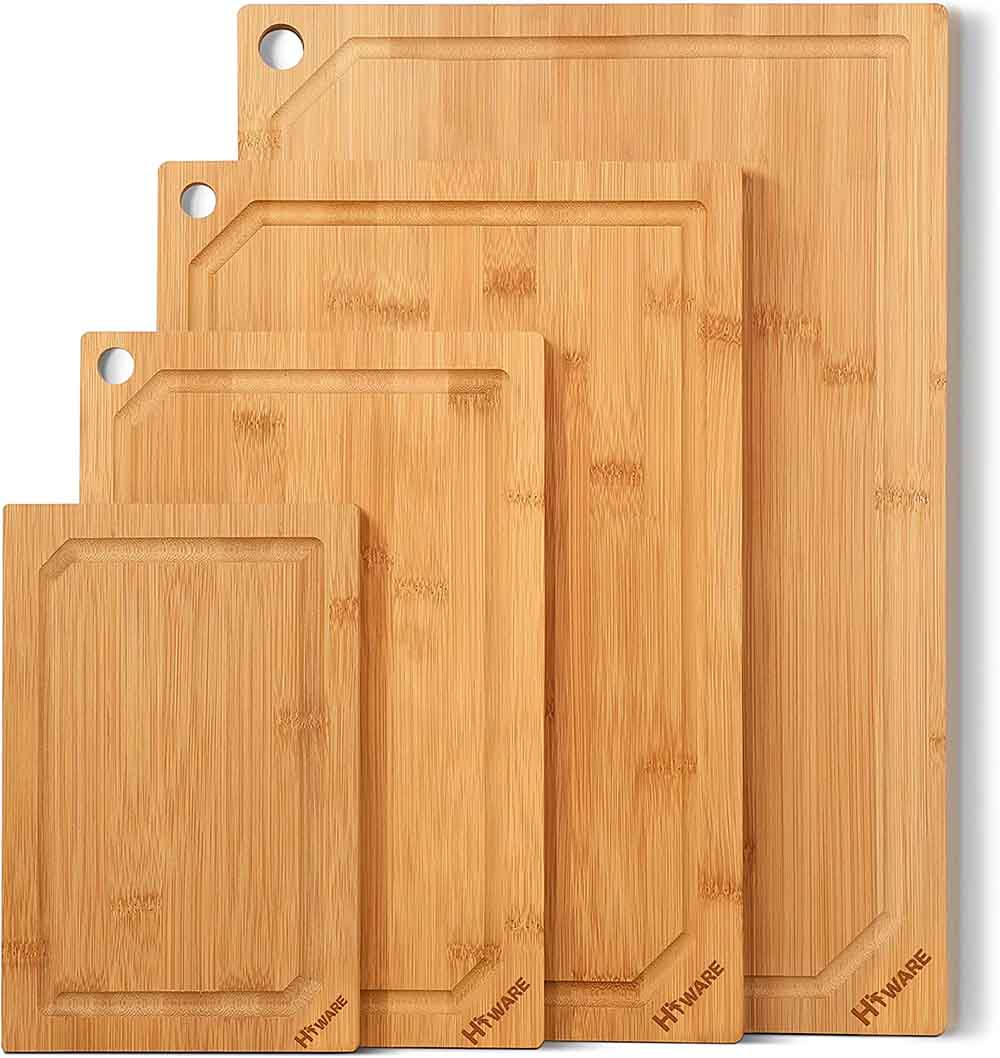 When you're cooking in a hurry, accidents happen. It's easy to forget the electric stove top is hot; next thing you know, your favorite plastic cutting board is ruined. Though they might get a bit singed on the bottom, these strong bamboo cutting boards will never dissolve on you. Plus, they come with added grooves to catch extra juice and water.
Pair this Wireless Meat Thermometer with Your Phone!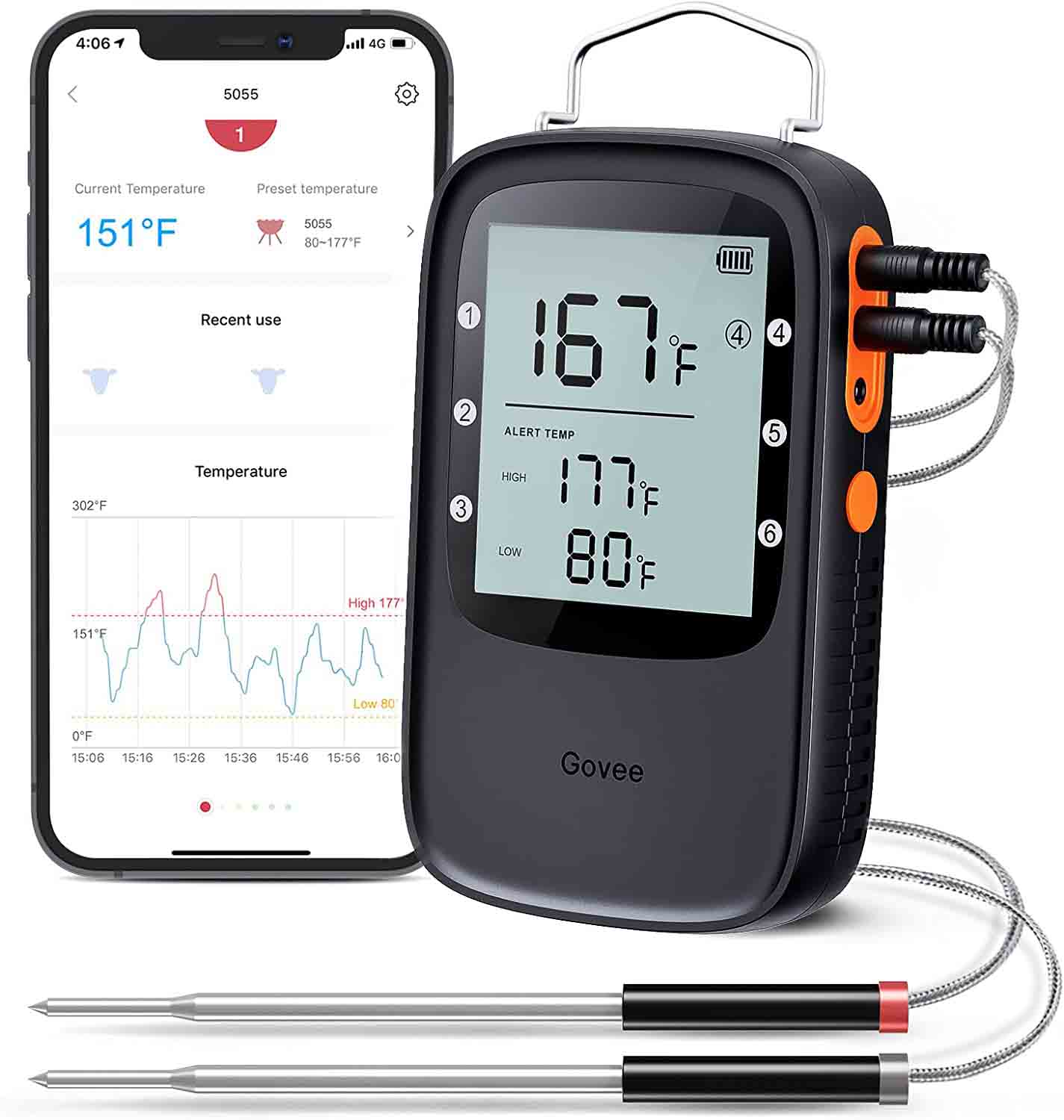 We won't ever recommend leaving your food alone while it cooks, but if you really want to, you could theoretically use this meat thermometer. It pairs with the Govee Home application, so you can monitor the temperature of your meat from up to 230 feet away. Use it for barbecues, home dinner dates, and camping trips.
Grab a Pineapple Corer for Next-Level Piña Coladas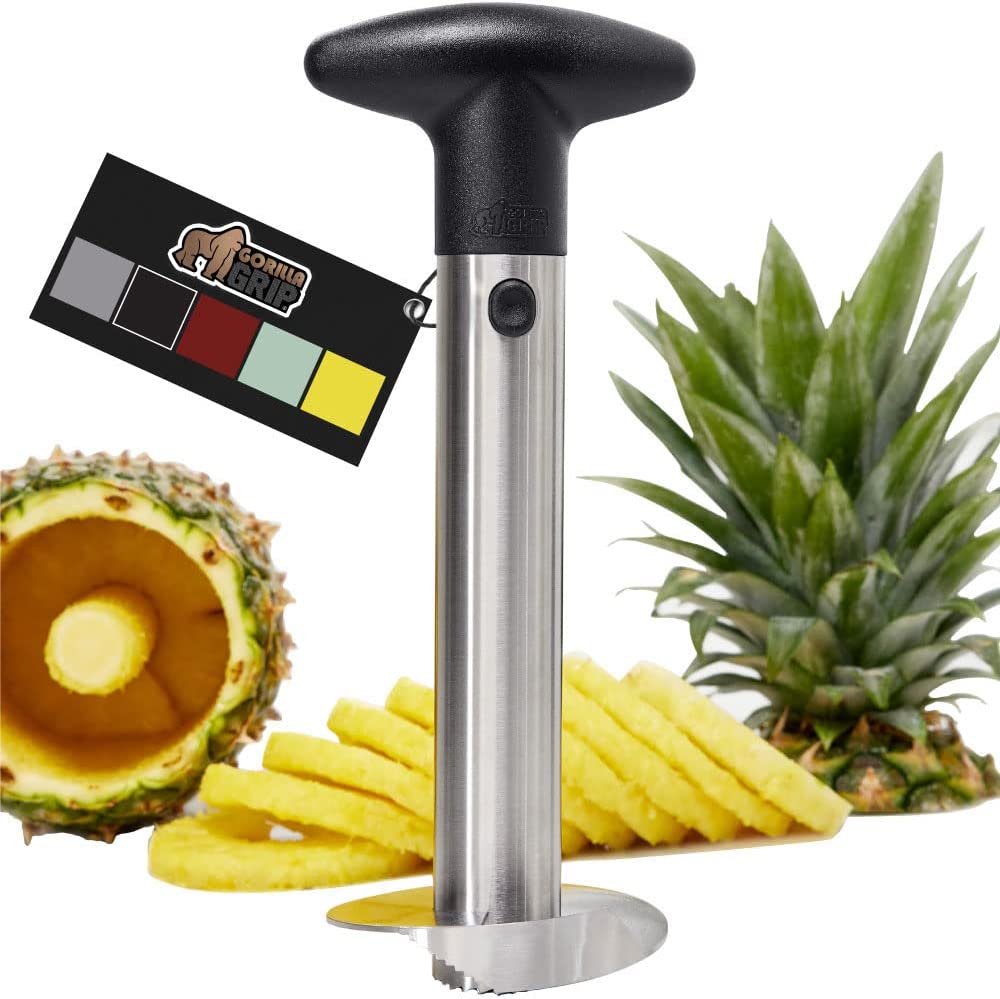 Everyone loves a fun cocktail! If you serve piña coladas in an actual pineapple husk, your party will be the talk of the group chat for at least a full calendar year. The best way to hollow out a pineapple is with this coring tool. It creates nice spiral shapes with the leftover fruit, perfect for a fruit platter. Bonus: it's dishwasher safe!
The Classiest Stainless Steel Sink Strainers
These will keep all of the gunk out of your drain, which is extra important if you don't have a functioning garbage disposal. We also like it for keeping peelings out — no need to throw away what you can compost! Each strainer is made with stainless steel, so they'll last a long time; you can even throw them in the dishwasher.
Stick these Multipurpose Kitchen Timers on Your Fridge
Real talk: you take your phone with you into the bathroom, so you probably shouldn't be using it to keep track of time while you cook. These two magnetic kitchen timers are perfect for your kitchen; with three buttons, they keep setup simple. Reviewers said the alarm is definitely loud enough too.

Reusable Grocery Bags = No More Plastic Bags to Store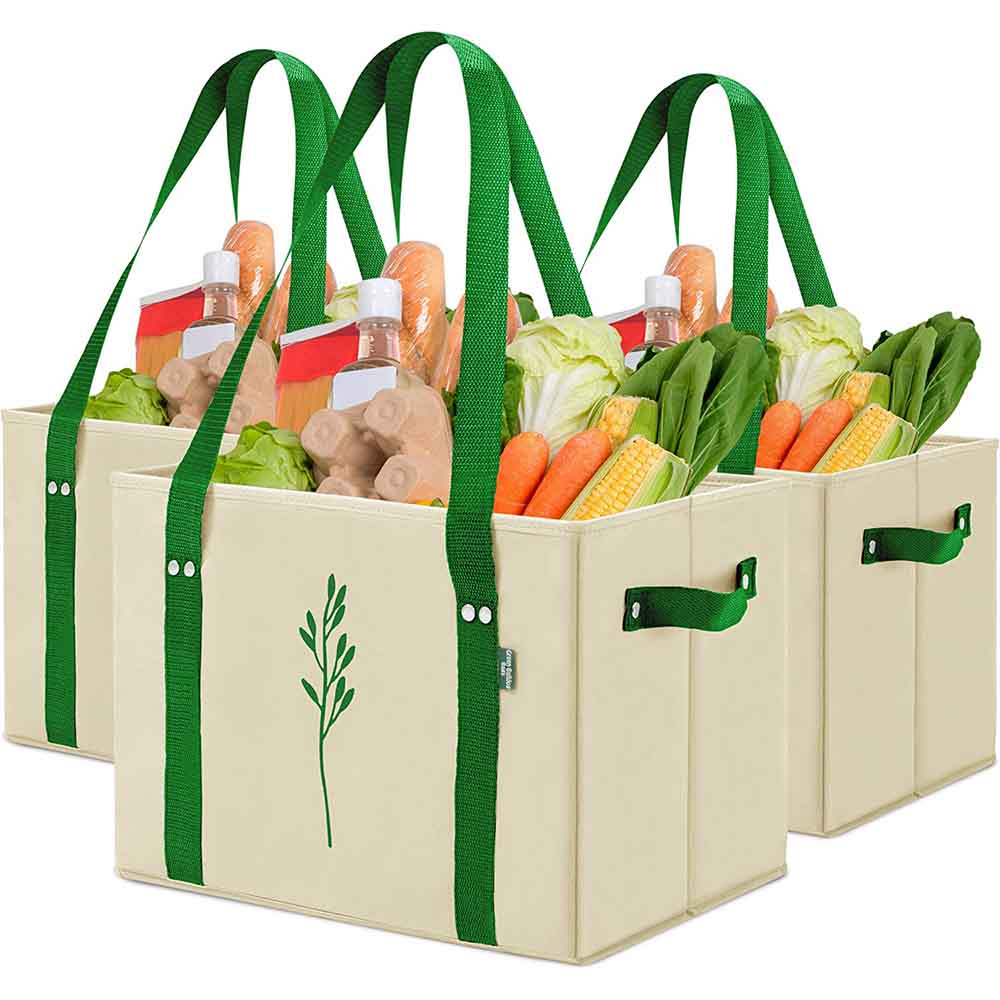 If you don't have a set of reusable grocery bags yet, these are the ones we recommend purchasing. Each one has a 65 lb. weight limit and sturdy siding to prevent spills in the car. Unlike plastic bags, they're a lot simpler to store; collapse them like cardboard boxes when you're done and slide them under your couch. No more cabinets full of bags competing with your non-perishables!
No Scraping Needed with this Nonstick Frying Pan Set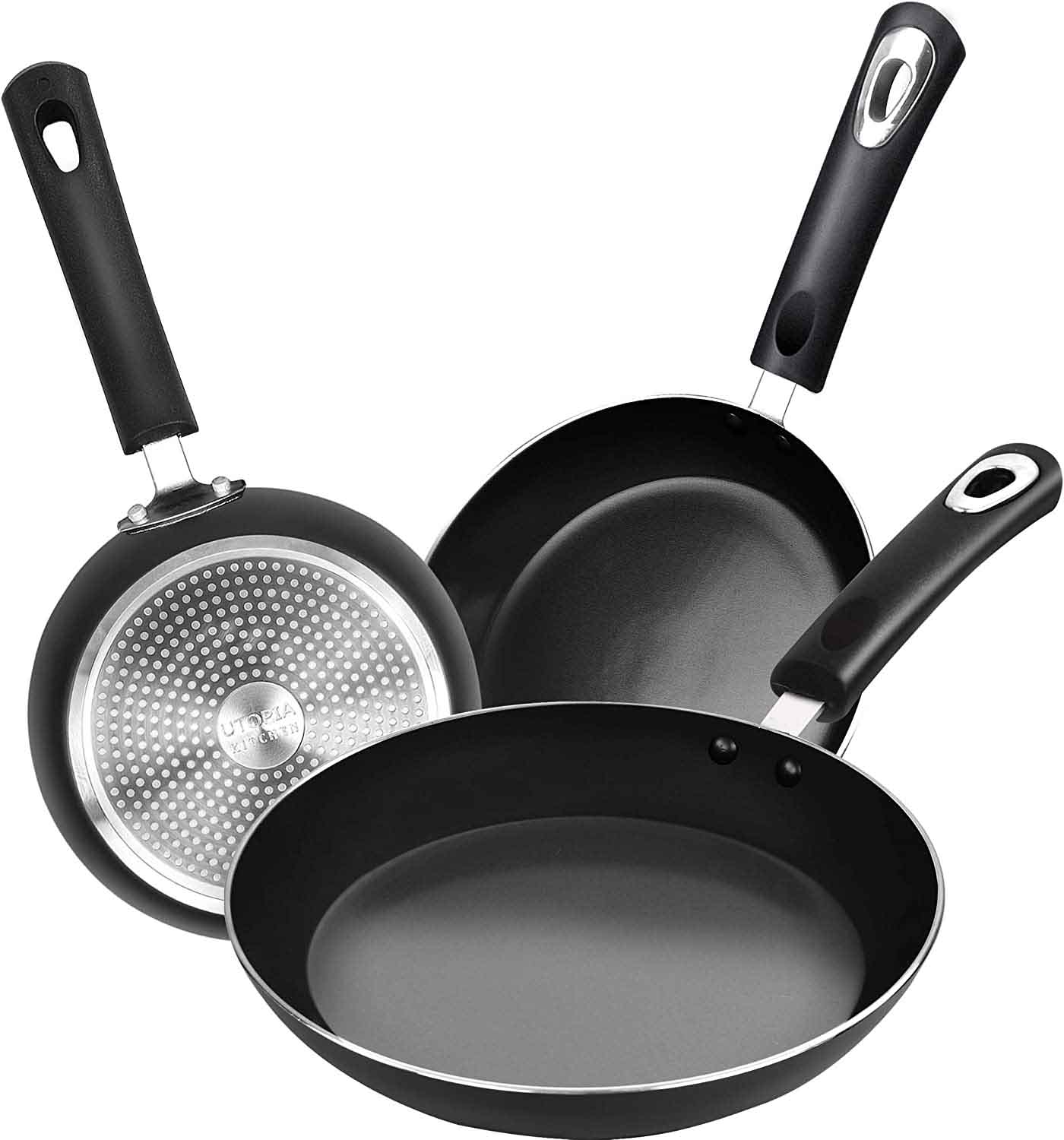 Grab these nonstick pans if you want to save time in the kitchen — seriously! They clean off so easily and this three pack is well worth the price. These are designed to work with gas, electric, and induction stove tops, so they also make good gifts. "These pans are really excellent, after I discarded my older set," buyer Lee R. Jones lii wrote. "Nothing sticks, the heat is evenly distributed, and all items cook to perfection."
A Heat-Safe Spoon Rest for the Stovetop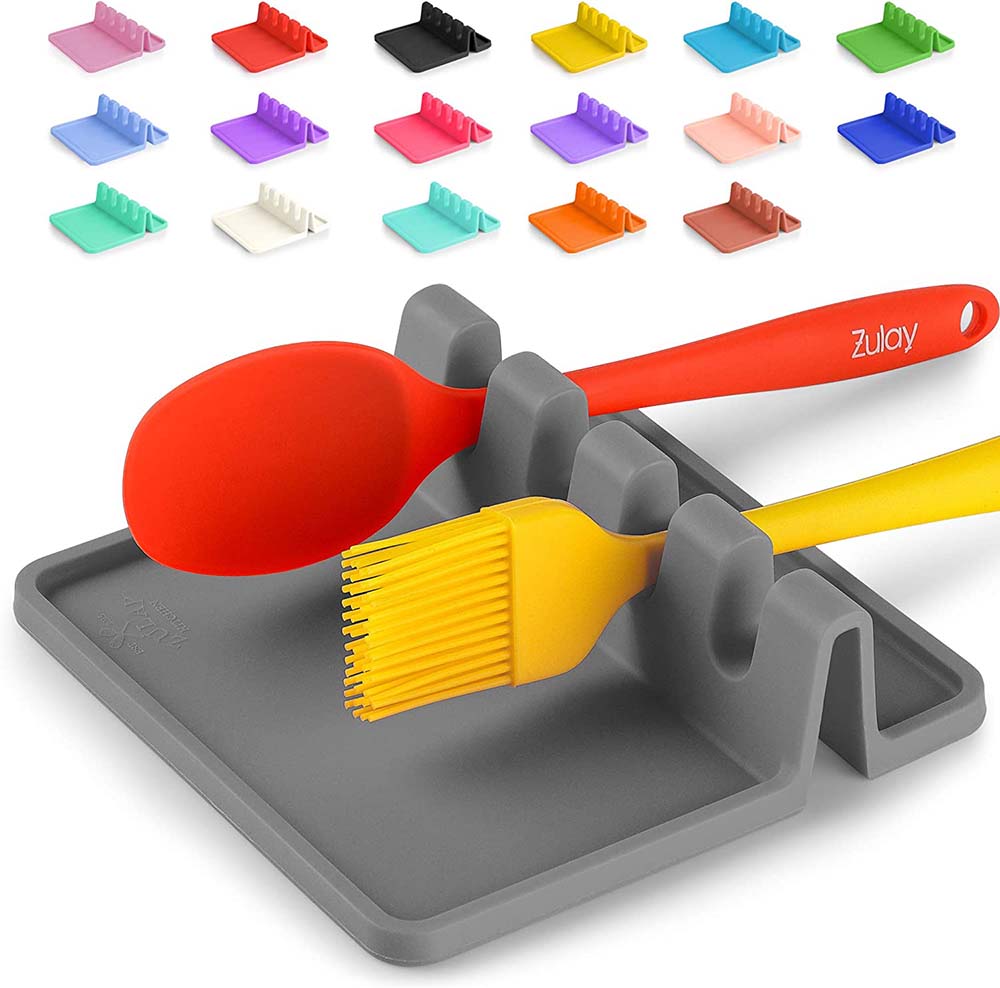 This $11 silicone spoon rest is another kitchen must-have. It won't melt, it can't break if it falls off the counter, and it even comes with raised edges to keep grease puddles contained. It can hold up to four spoons at a time and won't tip over, according to the reviews. Bonus: it comes in 31 colors!
Break out the Dish Drying Rack When Guests Come Over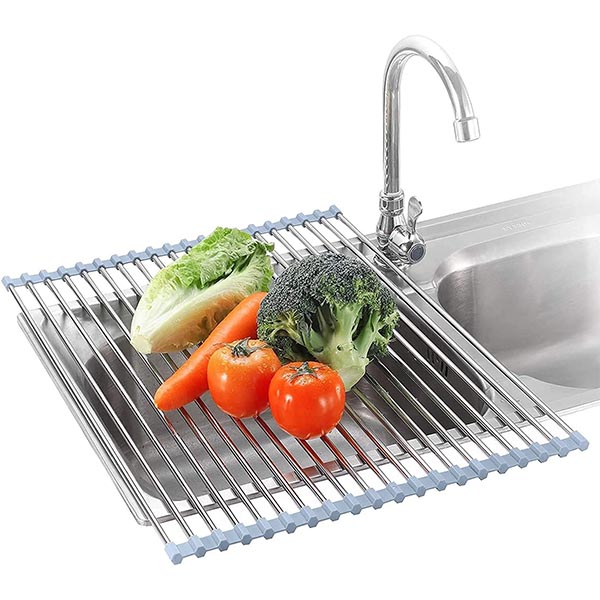 Need a place to wash and dry veggies when your counters are crowded? You'll love this over-the-sink dish drying rack. It rolls up for easy storage and is designed to stay in place while in use. Nearly 30,000 people have reviewed it; most highly recommend it! Buyer Rockelle said she was very pleased with it: "I don't like plastic so this solved my desire for drying dishes, love that it rolls up so I can clean my sink too! Great invention."
Cool Cookies Faster with these Baking Racks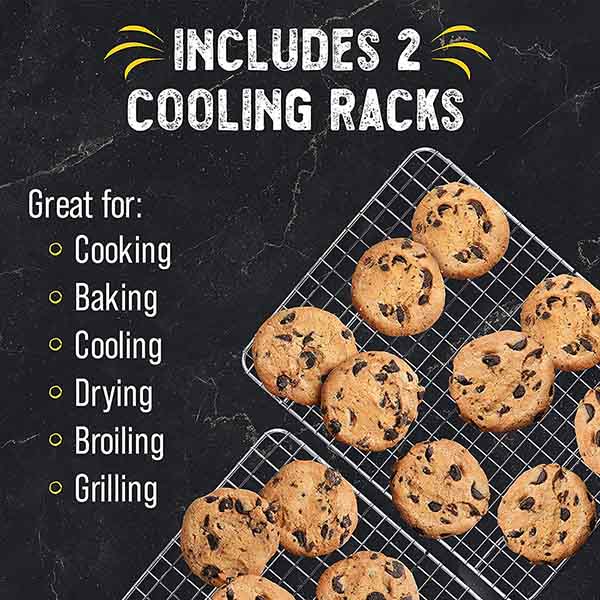 We like these because they're affordable, sturdy, and multipurpose. Use them as cooling racks, dish drying racks, baking trays, or barbecue trays! Apparently, they also work really well for cooking greasy food; instead of sticking your steak or bacon right on a baking tray, slide one of these in between. Bonus: you can store that bacon grease for use later.
10 Reusable Dish Cloths for a Greener Home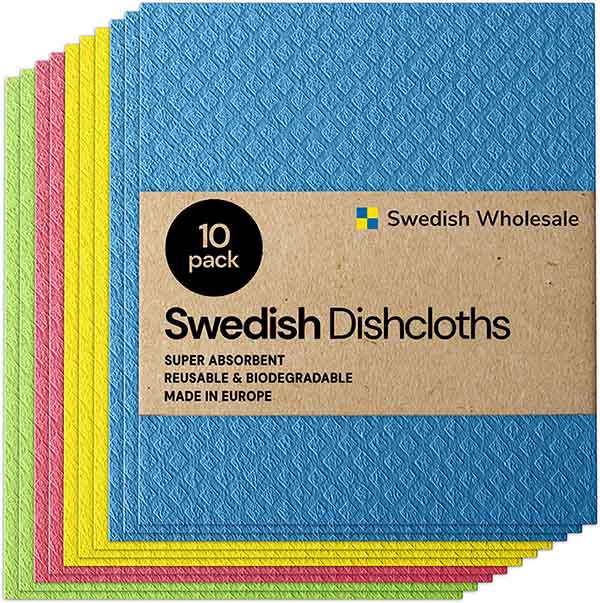 Instead of trying to tell the difference between your dish sponge and cleaning sponge (then forgetting and using them both for everything), grab some of these dish cloths for cleaning day. They're reusable, grippy, and machine washable! Also, think of how much money you'll save on paper towels for the rest of the year! The seller recommends using them dry for scrubbing and wetting them down for wiping up messes.