Behind The Wheel: Uber Drivers With Unforgettable Stories
Experience more than just a ride with these five-star Uber drivers! From providing thoughtful conversation to going the extra mile, these Uber drivers have unforgettable stories that are more than worthy of a five-star rating.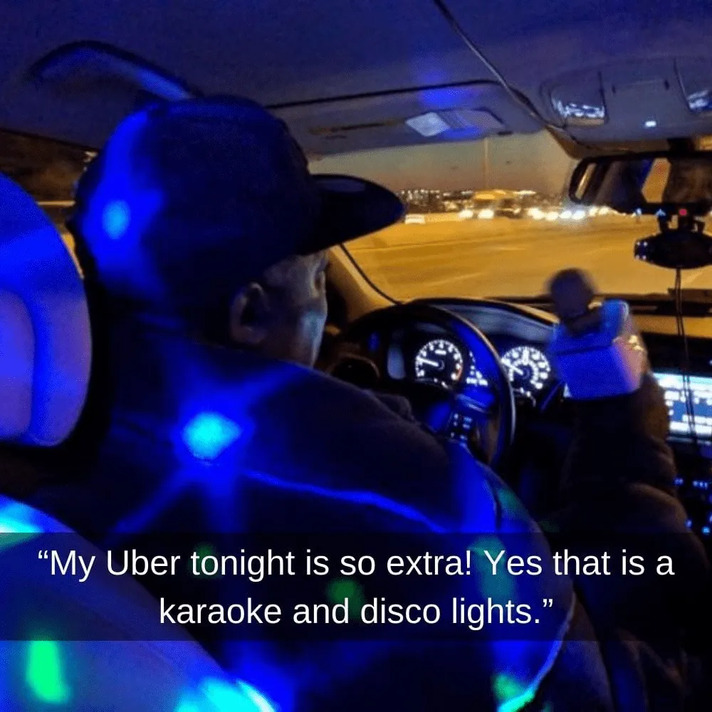 So hop in and get ready to be amazed at the tales they have to share.
An Uber Driver Who Goes Above and Beyond for His Passengers
Meet Beni, the Uber driver with a heart of gold. He shows us that a stranger's kindness can go a long way, especially when we are in the hospital and away from our family and loved ones.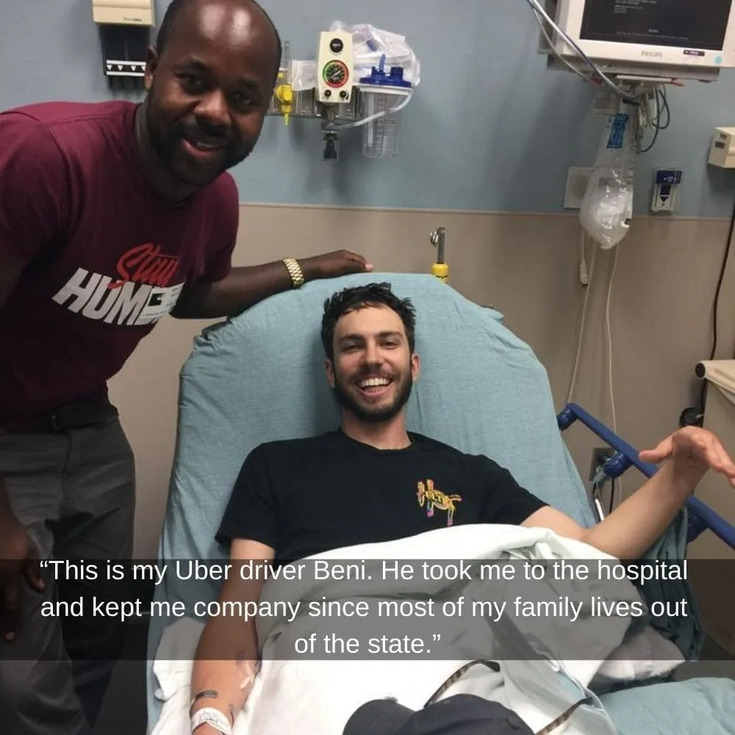 This warm-hearted gesture from Beni is more than enough to earn him a five-star rating and a place in our hearts.
Prep in the Backseat: When Your Uber Driver Becomes Your Personal Stylist.
In a mad rush to make it to that important meeting on time, you find yourself stuck in the backseat of an Uber. You frantically search for your make-up bag to touch up before you arrive, only to realize that applying cosmetics in a moving vehicle is a rather tricky task.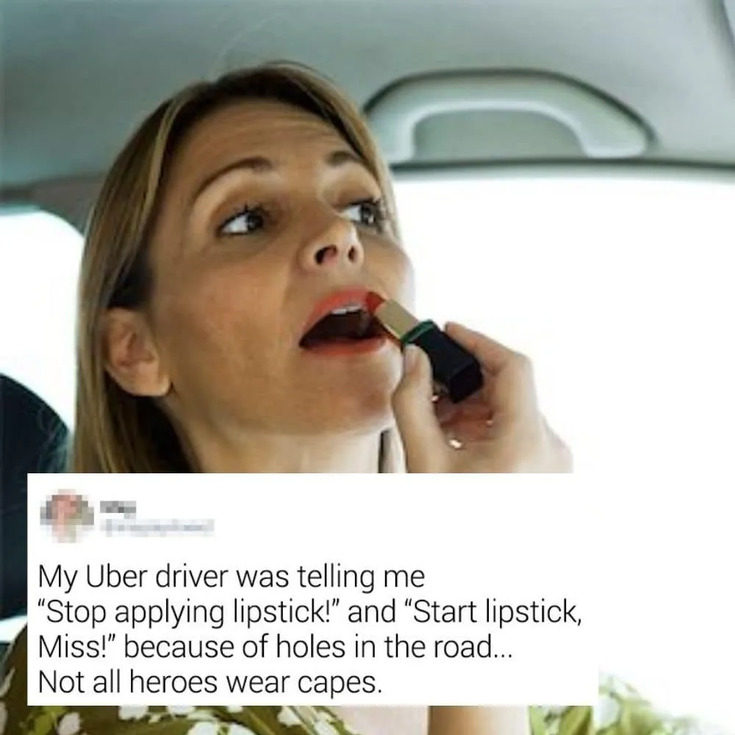 Have no fear! If you're lucky, your Uber driver may just be your knight in shining armor – your personal stylist! Truly, you could not ask for better content for a scene in a movie like The Devil Wears Prada. Just imagine it!
Stress-Free Packing: When Your Uber Driver Becomes Your Personal Guru.
We've all been there – stuck at the back of an Uber trying to cram luggage into the trunk, frantically racing against the clock. Traveling with a large family can make this process even more challenging. Sometimes, you get lucky. Your Uber driver may just be a helpful packing guru!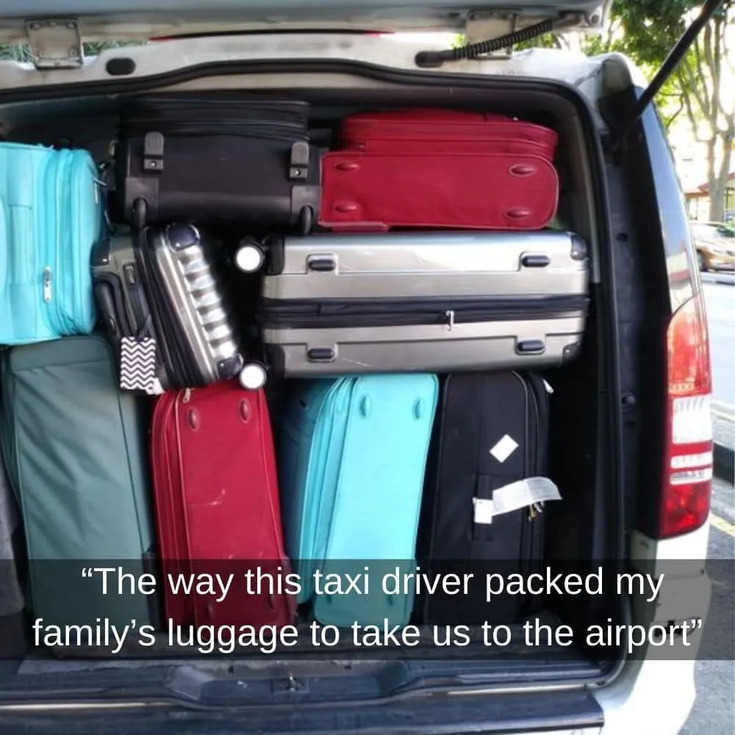 With their neat method of organizing your luggage, they can undoubtedly make your packing stress-free. Even if that means the driver has an issue seeing out of his back window, we have to give them credit for their A+ job!
Uber Driver Who Knows When To Chat and When To Listen - Bravo!
After a draining flight, all you want is some peace and quiet. When you find an Uber driver who can sense your vibe and adjusts their level of friendliness accordingly, you can't help but feel a little bit blessed!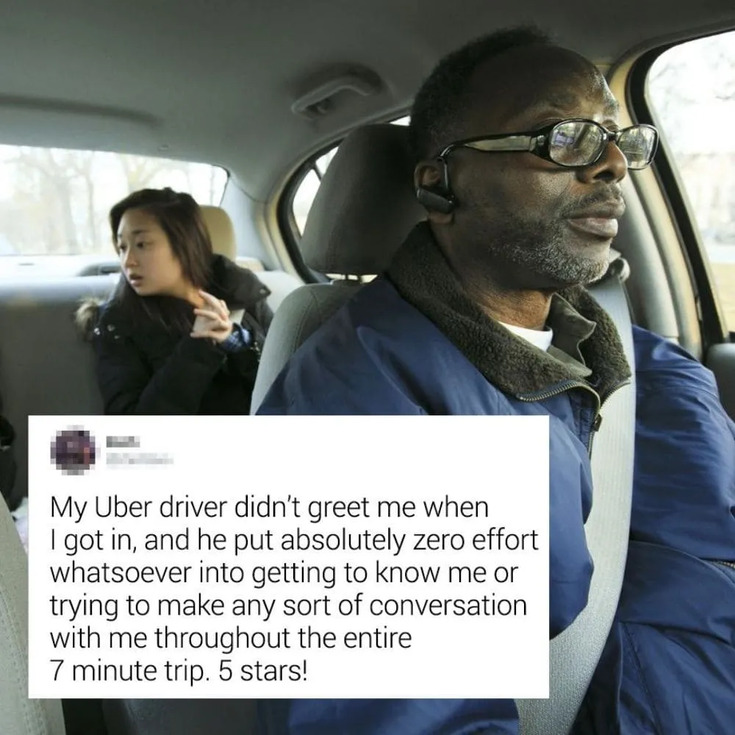 This driver certainly understood this woman needed her peace and quiet and respected her wishes. Nothing earns you a higher rating than being attentive and reading the room. Give this driver a round of applause for understanding the situation!
A Fur-tastic Ride to the Destination!
It sure can get lonely in that backseat when you're on your way to your destination. Sure, you can have a nice chat with your driver, but that's nothing to brag about. But, if you have a furry friend as your co-passenger, now that's something special!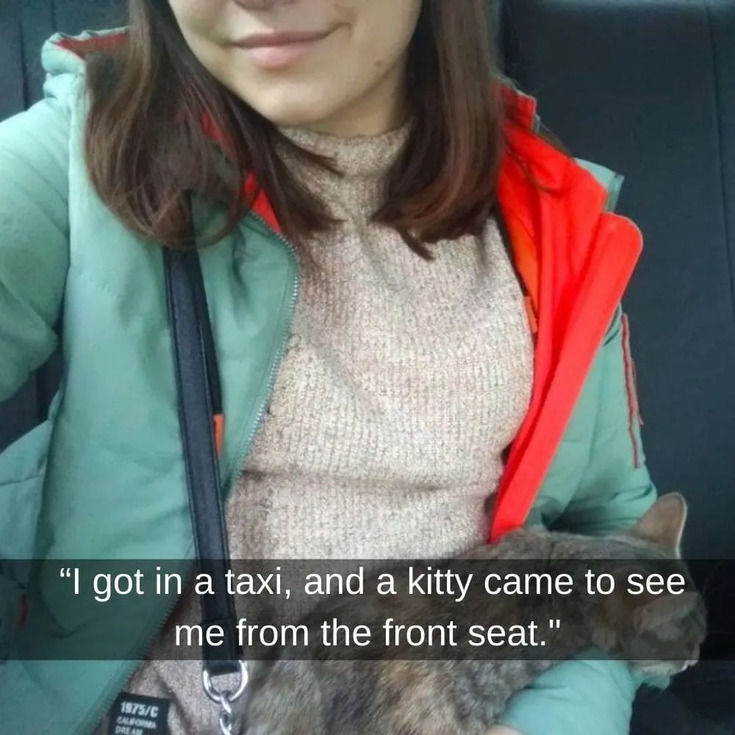 Just take a look at this girl's smirk and caption – it's clear that she was a very happy camper after being greeted by this sweet kitty! Now, that's a ride worth telling your friends about!
"The Uber Driver Who is Our Saving Grace!"
Have you ever been out and about, only to realize you needed something you didn't have; like a breath mint or a band-aid? We've all been there, luckily there's an Uber driver who is here to save the day!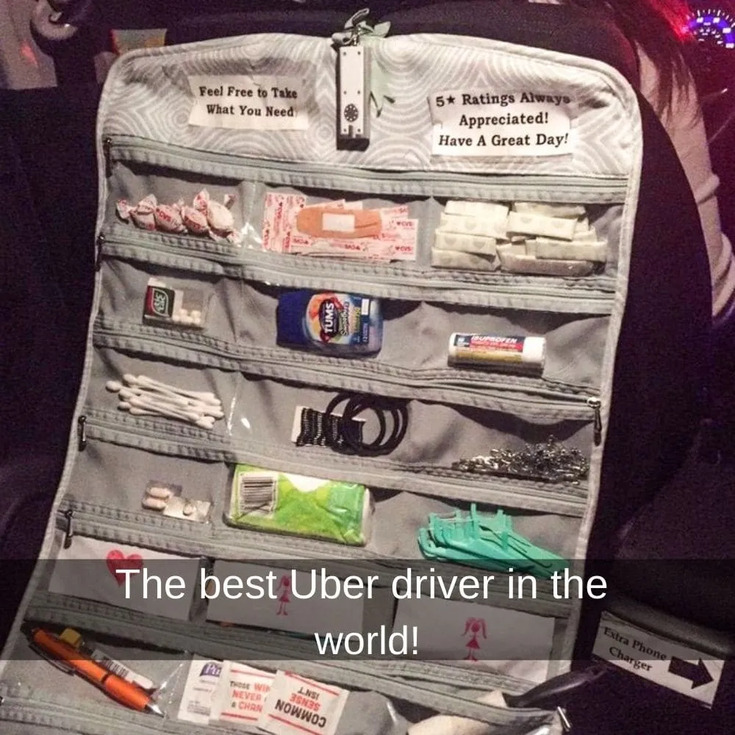 This driver thought of everything, stocking their backseat with Tums, gum, earbuds and a spare phone charger. We'd give them a five-star rating even without the goodies! They're like our very own Wonder Woman, always there when we need them. Thank goodness for our Uber hero!
"Hey, Is That a Six Star Uber Driver I See?": The Power of Music and the Cheeky Humor of an Uber Driver 
Tired of the silence in your vehicle? Don't be afraid to break it up with some music, chances are, your Uber driver won't mind! If you want a truly unforgettable experience, look no further than this Uber driver who should go down in the Taxi Driver's Hall of Fame.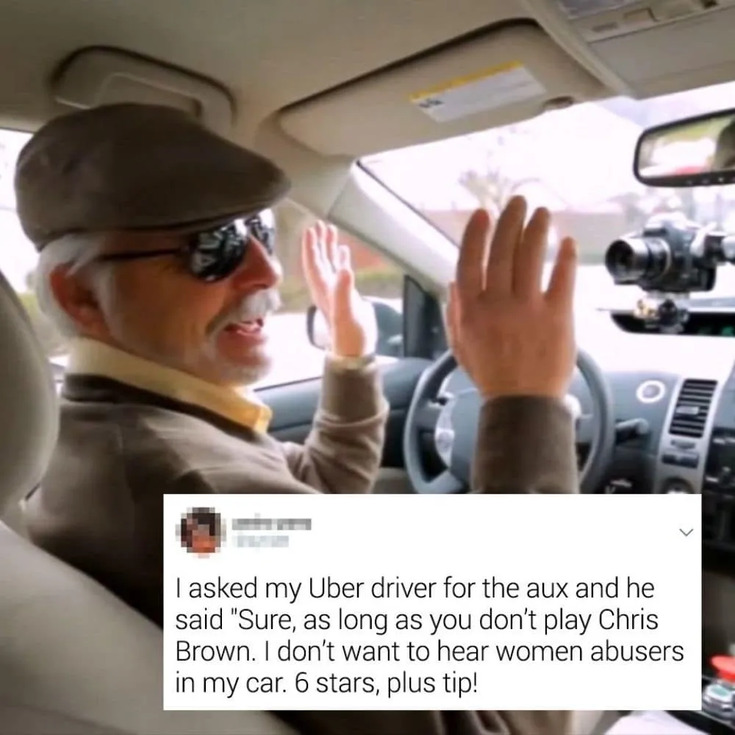 Not only did his passenger get to enjoy some tunes on her ride, she also got treated with respect, courtesy, and a side of cheeky humor to top it off. Music sure does have the power to make a trip more enjoyable and all it takes is just one Uber driver to appreciate it.
Give Our New Alien Friend a Five Star Welcome! 
The storytelling here deserves a five-star rating – it's a magical mix of nonchalance and mystery. If your Uber driver needs to be enigmatic, this one is the one to go for!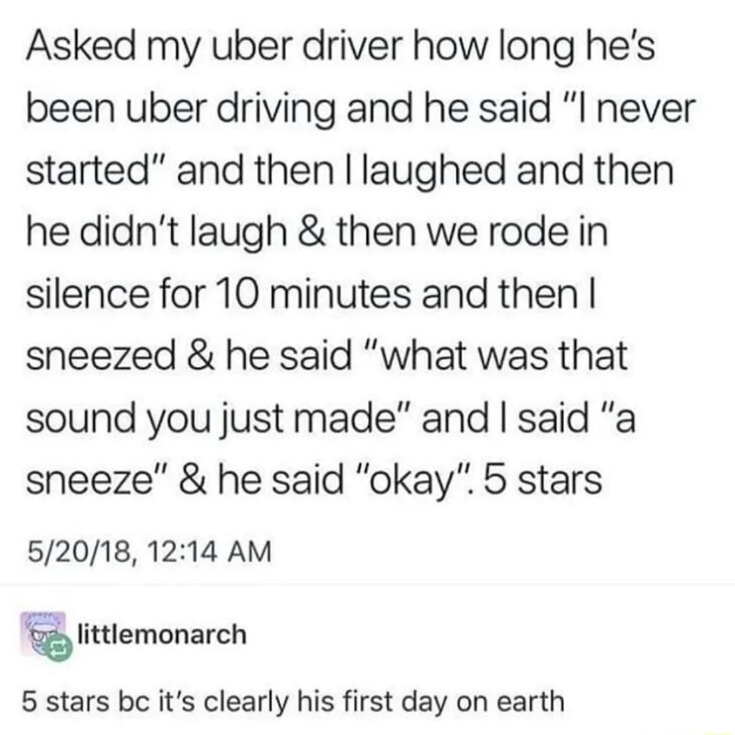 Let's welcome our new alien friend to Earth with open arms and a shiny five star rating – hopefully he knows how to recognize a sneeze by now!
Get Ready for the Ultimate Uber Ride! 
Are you dreading your next Uber ride? Well, worry no more! One Uber driver took the extra step to make sure your ride is more than just a boring trip. They installed several screens and consoles, so you can have an awesome time while on the road.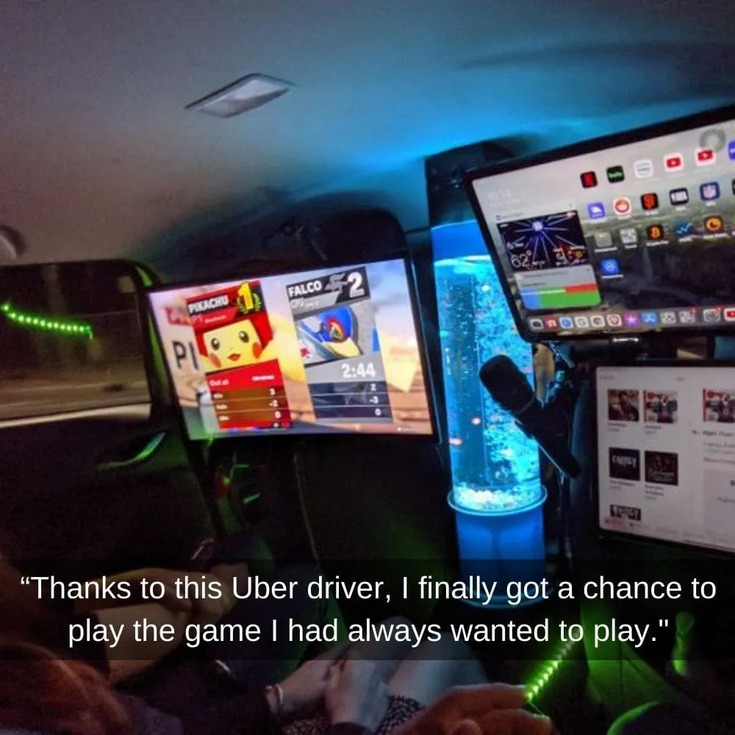 No more wasting your phone's battery! Get ready to have the ultimate Uber ride, full of fun and games. Hop onto the fun-themed Uber and enjoy the ride!
Joyful Journeys with Uber - Get Ready for a Furry Ride! 
Step into an Uber and be ready for a joyride with a furry twist! This driver decided to surprise his passengers with some of the cutest pups ever, as he put up pictures of their pooches on the backseat screens!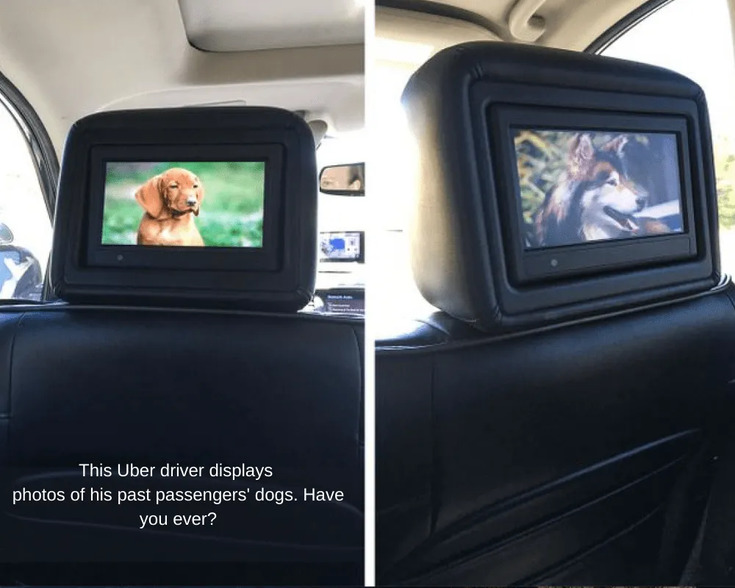 No wonder everyone's smiling at the end of the ride – and we can only hope he shows us some adorable kitties too!
Uber Driver and Passenger Bonding Over an Unfortunate Situation 
It's never fun getting sick in a car, especially when it's not your own or a friend's. When it's a complete stranger's vehicle, it can be an even more uncomfortable and a sticky situation.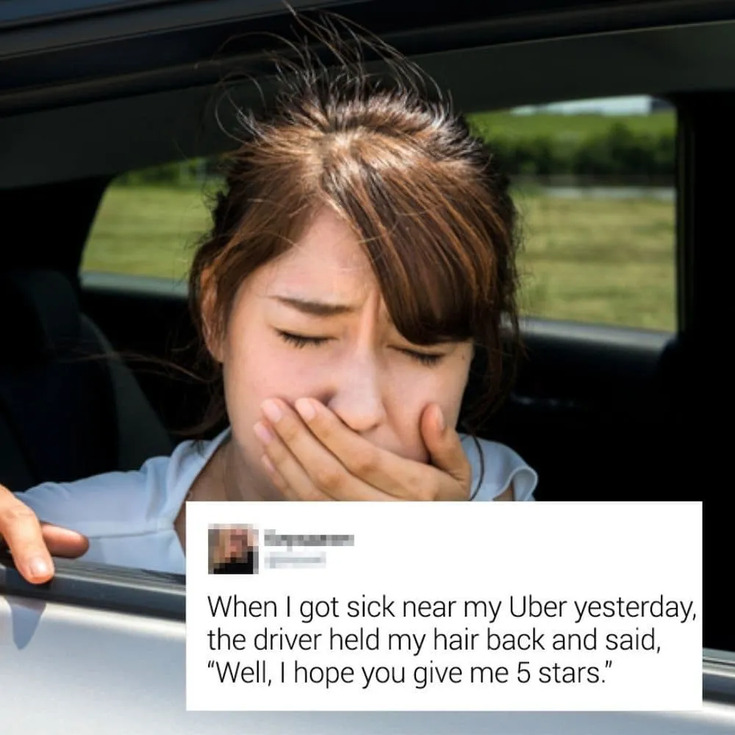 So when a passenger got sick in her Uber, it could have been a disaster. However, the driver stepped up and held back her hair, showing both kindness and understanding. It could have been the start of a beautiful friendship – if he got his five stars first, of course!
Uber Driver Shares His Lunch with His Fare - Bon Appetit! 
Don't you just hate it when you have to eat alone? We feel you, which is why we can totally relate to this Uber driver's need for someone to share his lunch with. Not only is he incredibly kind and considerate, but it's also just plain rude to pull out a delicious empanada and start munching away in front of someone without offering them some.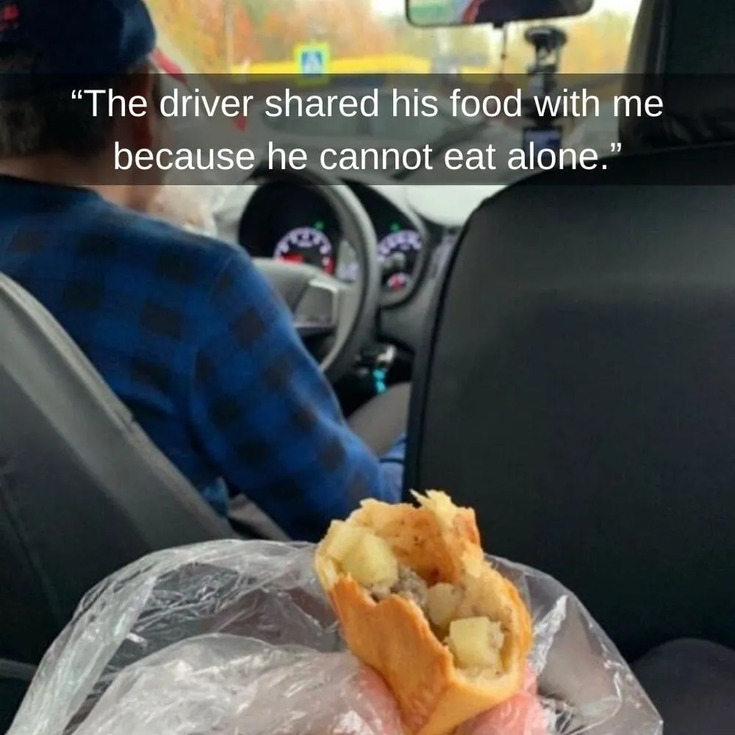 Luckily, this person got her Uber driver just as he was about to tuck into his meal. And boy, does it look tasty! Bon appétit to you both!
A Karaoke Ride to Remember! 
There's a new ride in town and it's sure to get the party started! Who doesn't love a little karaoke action? This savvy Uber driver has decked out his car with a karaoke machine, giving passengers a truly unforgettable experience.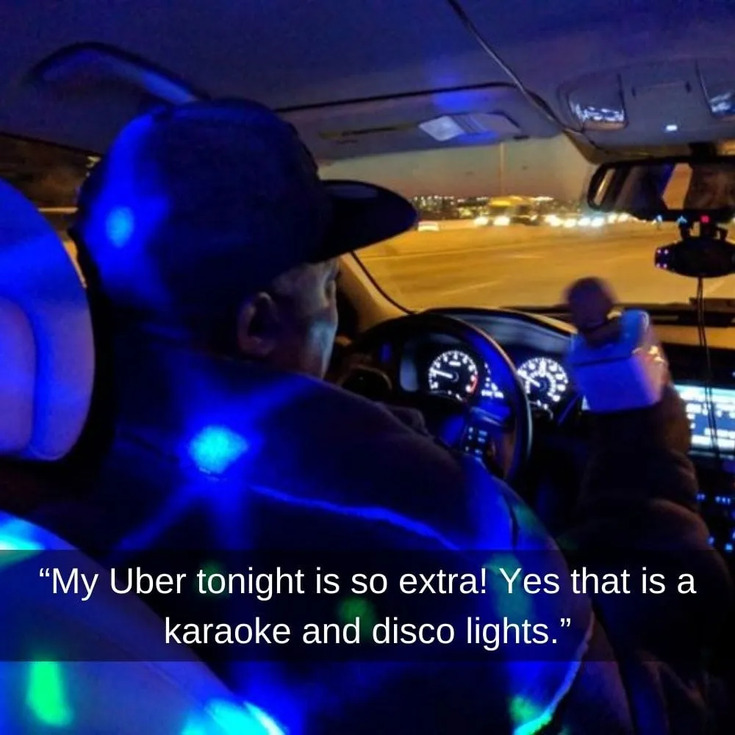 With a cool dresser behind the wheel, you're sure to make a lasting impression on your friends. So buckle up and get ready for the best karaoke ride ever – this is one experience you won't want to miss!
"Awwwwww! Hop Into This Uber for an Unforgettable Ride!" 
Are you ready for the most unforgettable Uber ride of your life? Buckle up and get ready for the surprise of your life! Imagine sitting down in your Uber and while you're reaching around to fasten your seat belt, you look up to see a little dwarf rabbit sitting on the center console! Picture the thrill on your face! Our first reaction would probably be something along the lines of "Awwwwwwww!"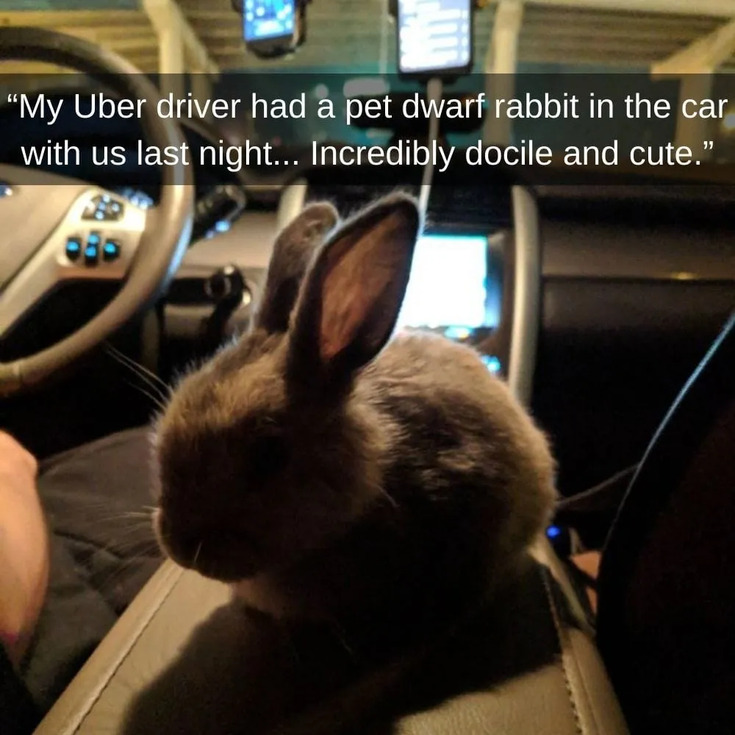 That's right, you're in for an adorable surprise – a furry friend just waiting to make your day! And just like that, this Uber driver scored himself a flawless rating. There's nothing like riding with a dwarf rabbit to make someone's day. Plus, it's great story material to tell your friends. So don't wait any longer – hop into this Uber for an unforgettable ride!
Uber Driver to the Rescue! 
When you're traveling, one of the most dreaded fears is losing your wallet, passport, or ID. Apps, gadgets, and other inventions have been designed to help you find them, or to not lose them in the first place. But unfortunately, sometimes things still get lost, leaving travelers feeling hopeless and helpless.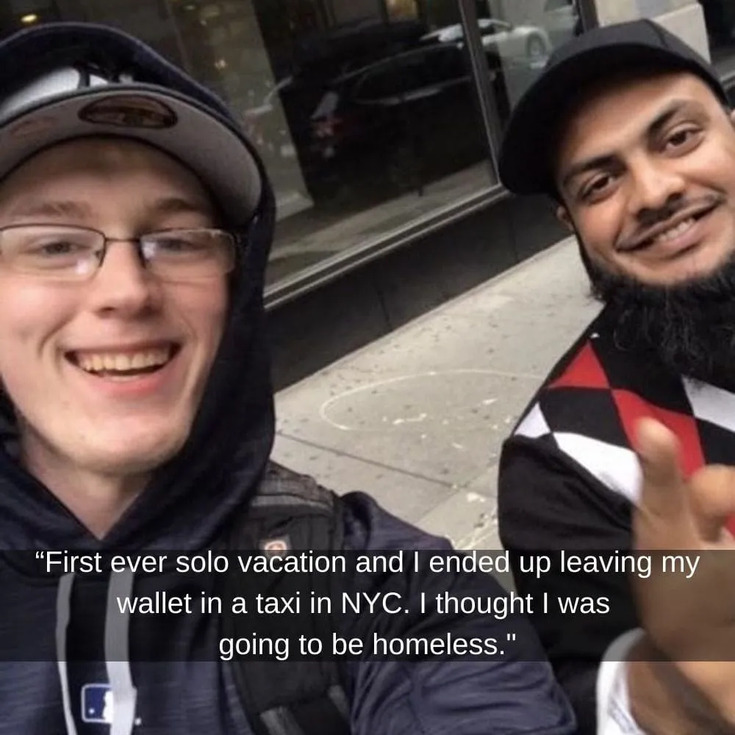 That's why it's so amazing to hear about the incredible Uber driver who recently rescued a passenger's lost wallet! Not only did he look up his passenger on social media, but he even arranged a meet-up to return the wallet. What an amazing act of kindness!
Get Your Retro Gaming Fix During Your Uber Ride! 
Tired of swiping away on your phone while you're on the go? Why not take advantage of your Uber driver's retro gaming setup and get your fix of classic gaming vibes?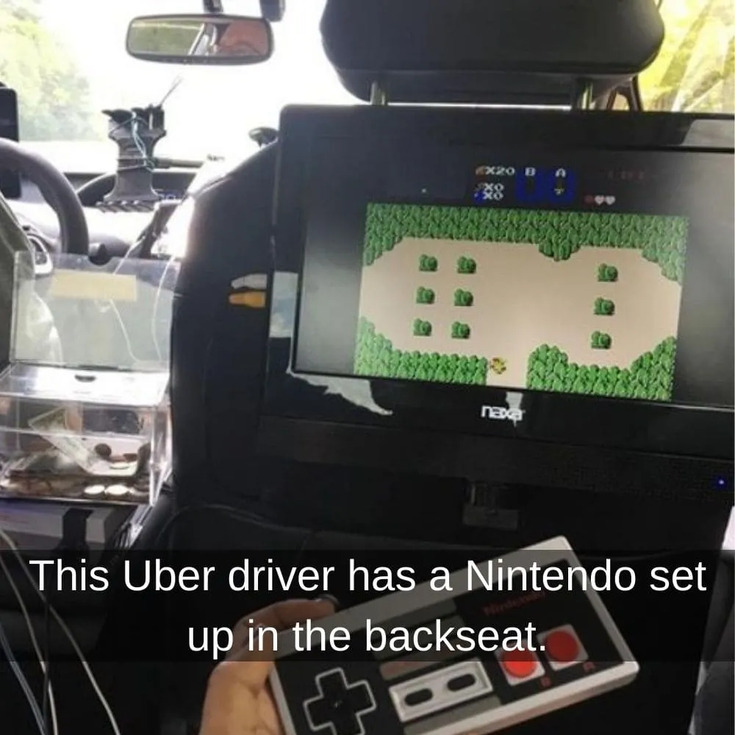 Whether you want to go on an adventure in Hyrule, or try to save Princess Peach, you can make your ride to the airport a whole lot more fun. The best part? Your Uber driver is getting five stars for hooking you up with the best of the best!
Respect and Appreciation For Our Everyday Heroes 
It's easy to forget that our Uber drivers have lives and families of their own. But when we get a reminder like this, it's enough to make our hearts melt! Resi, the daughter of one of our Uber drivers, made the sweetest note for her dad. Her dad made a keychain out of it to show his appreciation.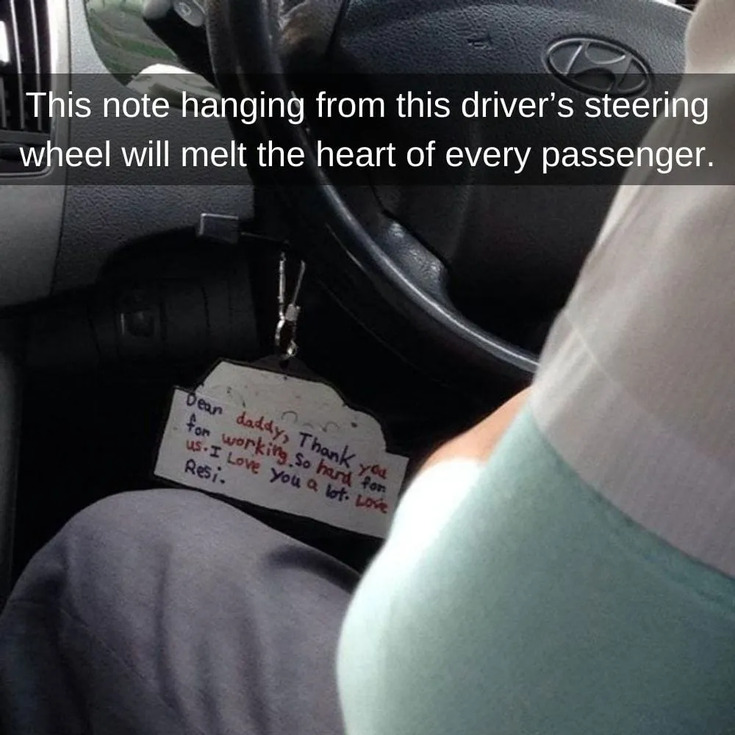 It's a heartwarming reminder that not all heroes wear capes – and that we should always show respect and kindness to those who provide us with a service.
Need a Ride? This Puppy's Got Your Back! 
Are you feeling down in the dumps and need a pal to ride shotgun? Don't worry, no need to rely on two-legged friends – there's an alternative! We're talking about this four-legged, furry friend who just so happens to be a puppy!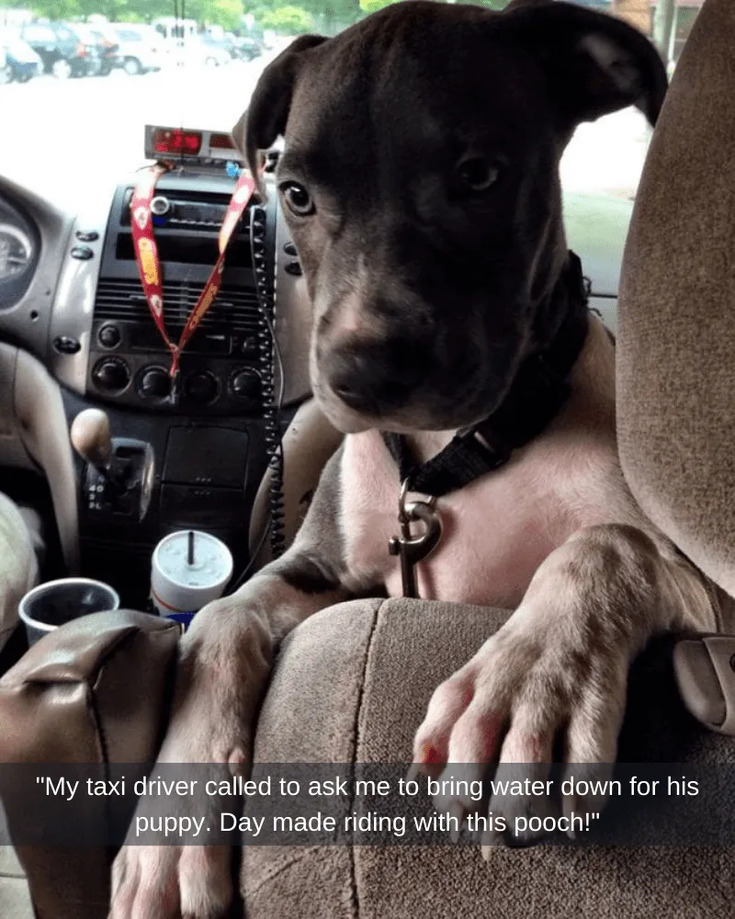 If our Uber driver suddenly asked us to bring some water – sure, we might be a bit perplexed – but then, when we see those big puppy eyes, our hearts will melt and we'll be happy to help out! So, if you need a ride, why not bring this pup along? He's always got your back!
Uber Driver's Sweet Gesture of Kindness 
It's not every day that you hear stories about Uber drivers going the extra mile – but this one is the exception! This driver felt it was his duty to return a passenger's property, no matter what it was.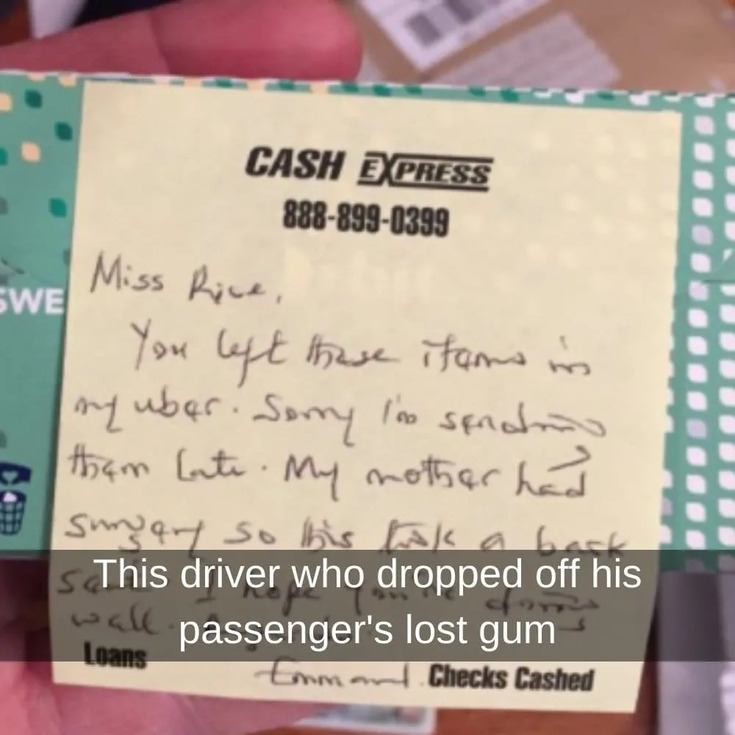 But what made this story so special was the sweet note that accompanied it. This driver's thoughtful gesture was enough to leave us speechless! Talk about an amazing five-star rating! Who knew a simple piece of gum could make such a lasting impression?
An Uber Driver Spreads Holiday Cheer! 
Have you ever had a bad day, only to have it completely changed by the kindness of a stranger? Well, one Uber driver is making sure that his customers have a great holiday season no matter what. He has been giving out handmade cards to each and every one of his customers to let them know that he's thinking of them.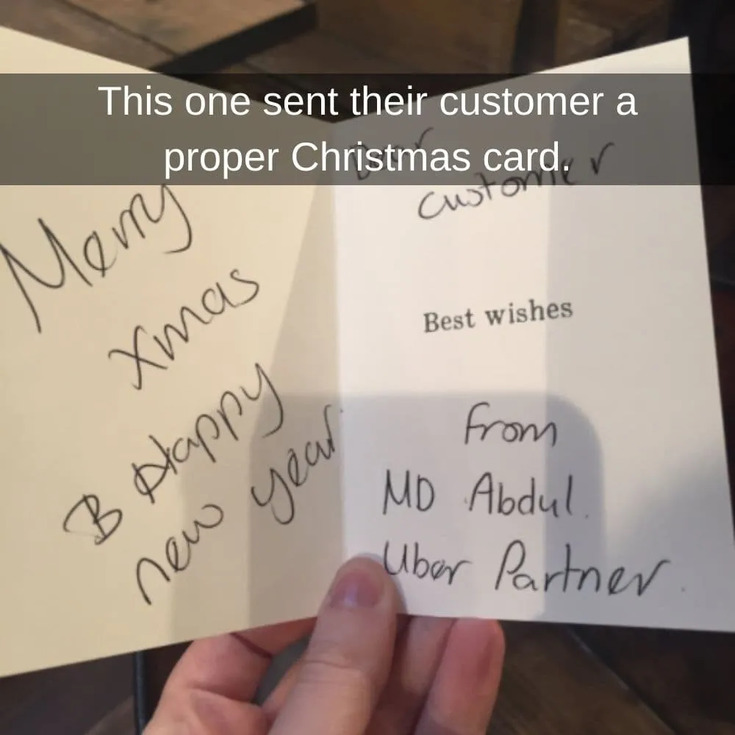 What an incredible gesture that will surely put a smile on the face of all who receive it! So, if you're ever in need of a pick-me-up, call an Uber, and you may just get a festive surprise!
A Little Touch That Goes a Long Way 
A personalized number plate? Now that's a surefire way to make an impression! Spotting your driver by their unique plate is an easy way to make sure your ride is extra special.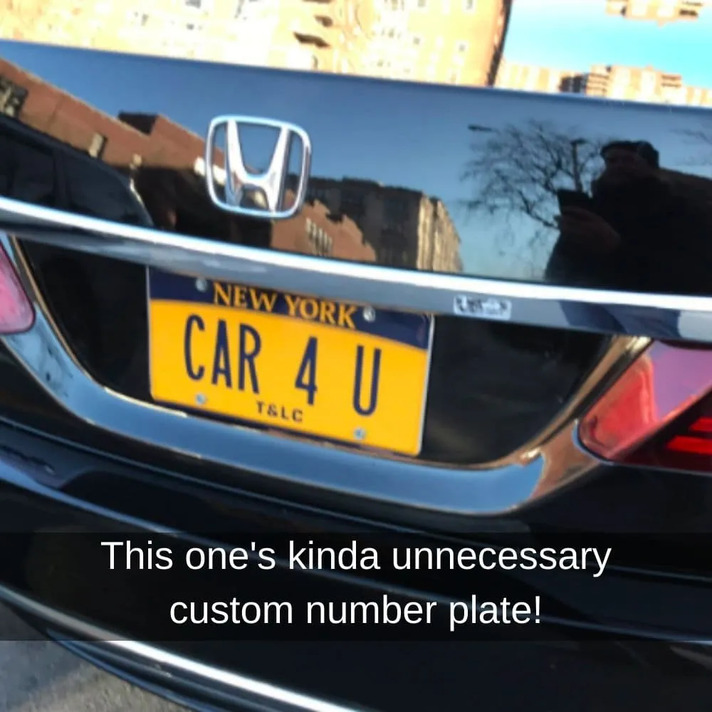 This small gesture might not change the ride, but it shows how dedicated your Uber driver is—and that definitely deserves a five-star rating! So don't forget to show your appreciation—a little touch can go a long way.
Get Ready for an Uplifting Ride – In More Ways Than One! 
Climb into your Uber and get ready for an uplifting ride – in more ways than one! Your driver isn't just getting you from point A to point B – they're also getting you pumped up with some inspiring words of wisdom.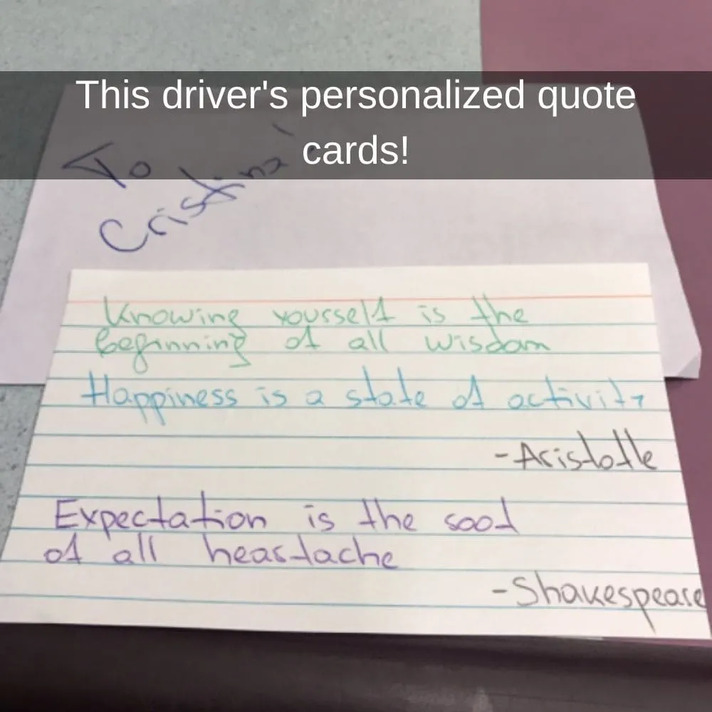 From historical figures to personalized messages, your Uber driver is arming you with life mottos to take with you throughout your day. Don't be surprised if you find yourself repeating these words to yourself throughout the day – it's that kind of ride!
A Driver With a Positive Mission - A Five-Star Rating is Deserved! 
We often overlook the small, but meaningful moments in life, but luckily, this Uber driver is here to remind us of their value! Their mission?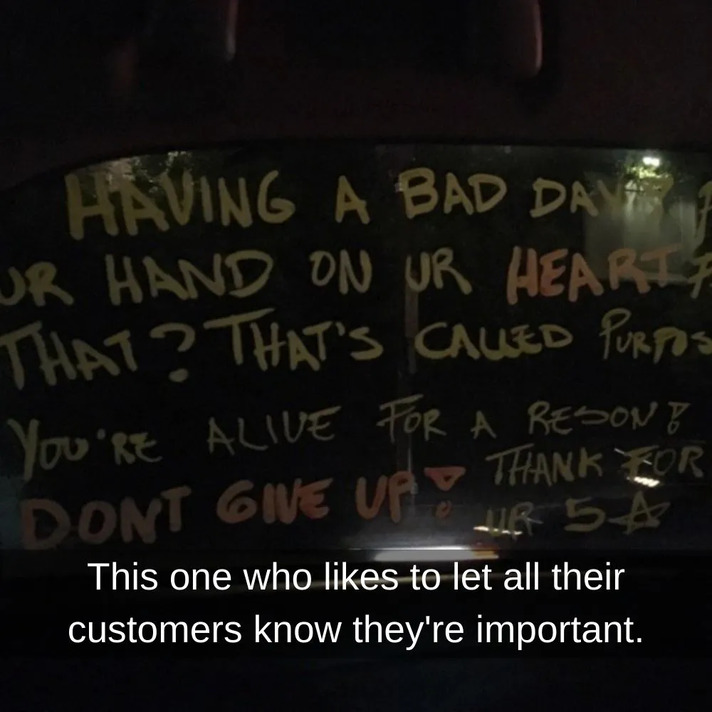 To help us all enjoy the power of positivity and change a frown into a smile. Let's give this amazing individual a five-star rating they truly deserve!
The Most Festive Airport Taxi Ride Ever 
Walking out to your taxi on the holidays can be stressful, but this driver certainly changed that! With a beaming smile and a Santa costume, he was ready to make the trip to the airport a lot more cheerful.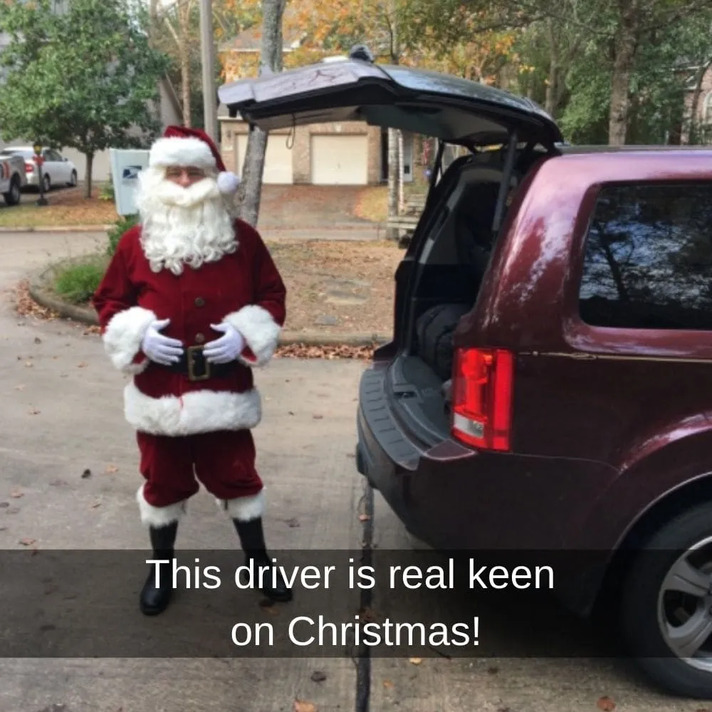 His festive spirit was sure to put a smile on the face of any passenger he picked up, while his dedication to making the trip more enjoyable deserves recognition. So if you're ever in need of an airport ride, make sure to look out for this jolly driver!
Spreading Holiday Cheer with Uber! 
This Christmas, don't just settle for a boring ride, get a festive experience with your Uber! Imagine being surrounded by a garland of mini presents and candy canes, all to help get you in the holiday spirit.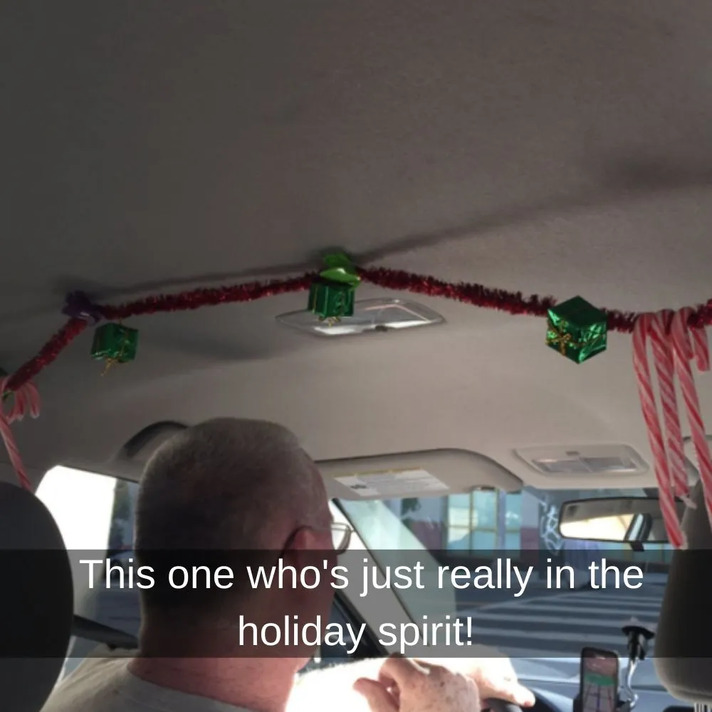 This Uber driver has earned five stars for going the extra mile to make sure your ride is merry and bright. So, this holiday season, don't let your Uber ride be a drag, make it a joyride!
"A Ride with an Uber Driver That Cares!" 
You've been there, haven't you? You get in your Uber, ready to go… and your phone dies! Ugh. But don't worry, this Uber driver has you covered! Whatever type of phone you've got, he's got the cord you need to charge it.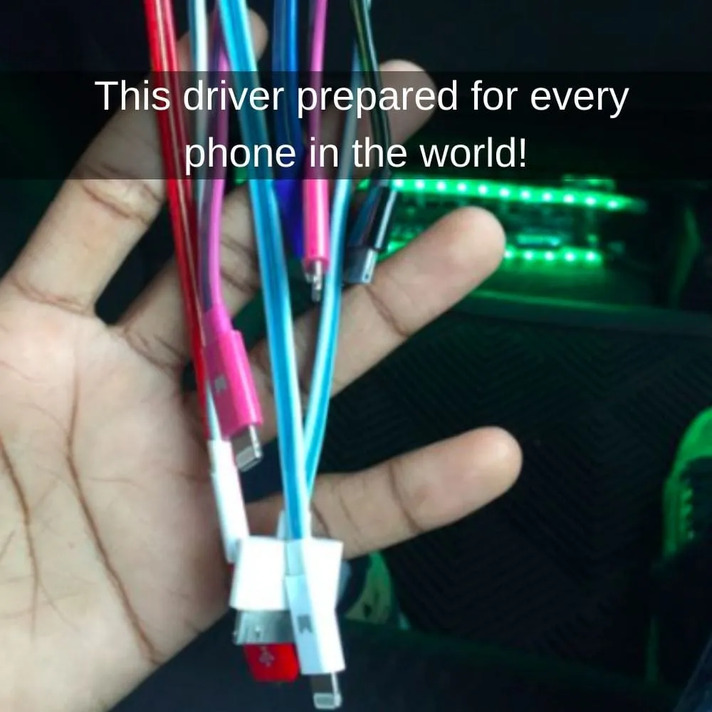 What a lifesaver! Now you can sit back and relax while your phone recharges, and by the time you reach your destination you'll be feeling refreshed and your phone will be full of energy, ready to go. Definitely give this Uber driver 5 stars!
Award-Worthy Kindness: Meet This Optimistic Uber Driver! 
Have you ever been in an Uber and been completely taken aback by the driver's kind and cheery attitude? Well, this is exactly what happened to us recently. We hopped in for a regular ride and were met with a driver who was brimming with optimism and joy!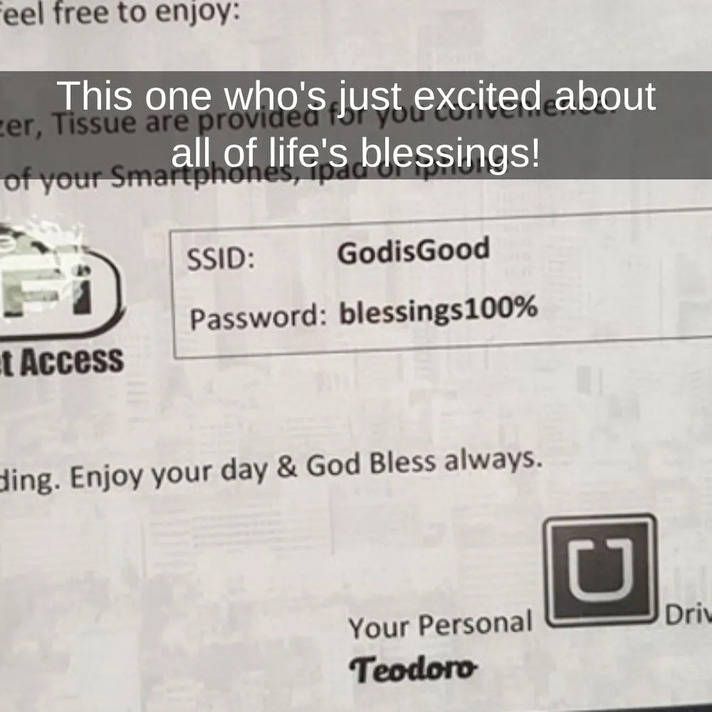 Even if you're not a particularly religious person, you have to admit that this kind of energy is infectious and makes you smile. And if that wasn't enough, this uber driver also offers free Wi-Fi! We're not quite sure how this man isn't a celebrity yet, but we want to give him an award for his kindness and optimism. So, if you're ever in the area, make sure to hop in and meet this amazing Uber driver!
Uber Drivers Get Creative: Meet the Uber Light! 
When the night falls, it's not always easy to find your Uber ride. But one driver had a super-smart solution: the Uber Light! No more mistaking this car for anything but your ride!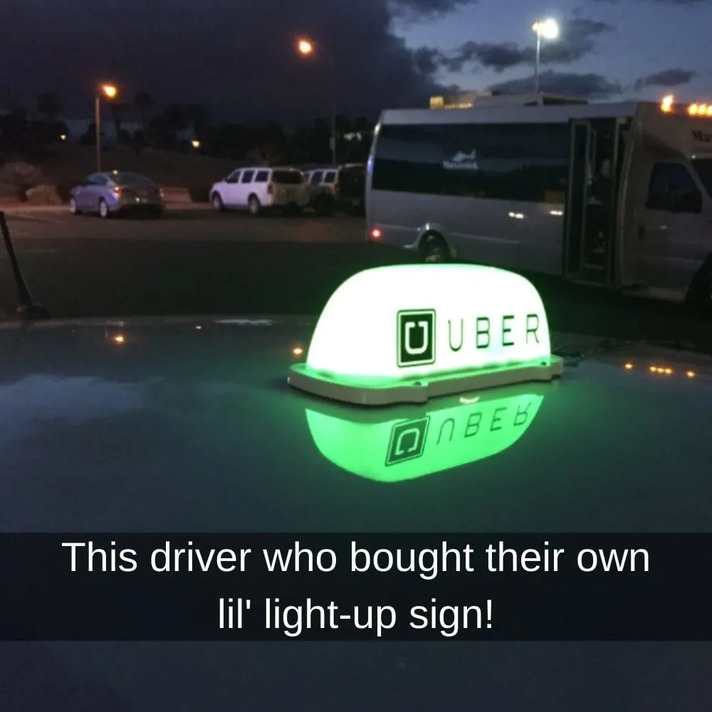 While this driver didn't offer free Wi-Fi or a pet, we can still appreciate the uniqueness of this idea. Who knows, maybe there was a furry little passenger waiting inside? Let's remain optimistic and hope so!
Let Your Inner Child Shine Through! 
Riding in this Uber at night transports us back to our childhoods! The Lumo glow-in-the-light stars plastering the roof of the car are a fun reminder of our bedrooms when we were young.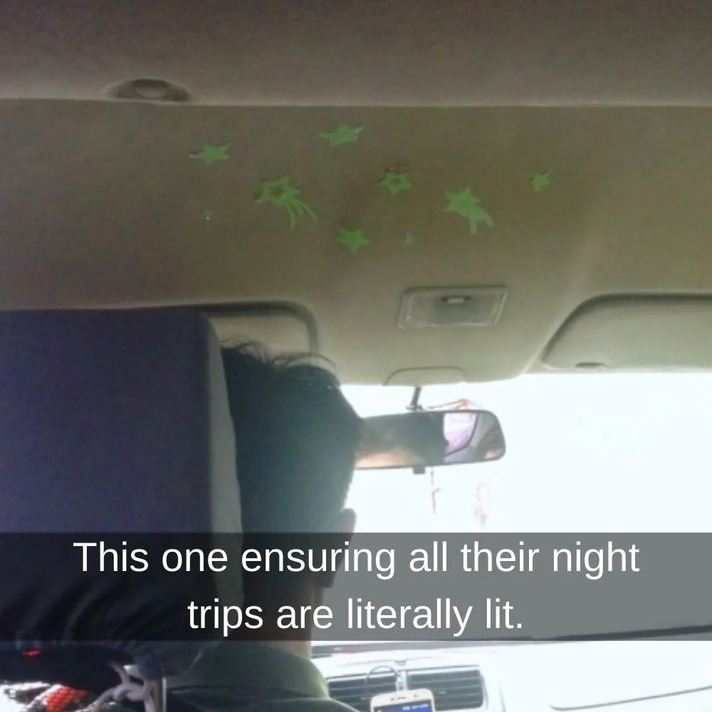 It's almost like this Uber driver knows that sometimes life calls for a blast from the past, and these twinkling stars are exactly what we need. Who knows – maybe this driver is trying to tell us that it's okay to reach for the stars, or maybe his kids just wanted a cool ride. Either way, we're digging the nostalgia and applauding the effort!
Make Someone Smile With Your Positive Outlook! 
We all know that having a positive attitude can help others feel more relaxed and less stressed. This Uber driver is proving that to be true! We love the "You get back what you put out there" mentality.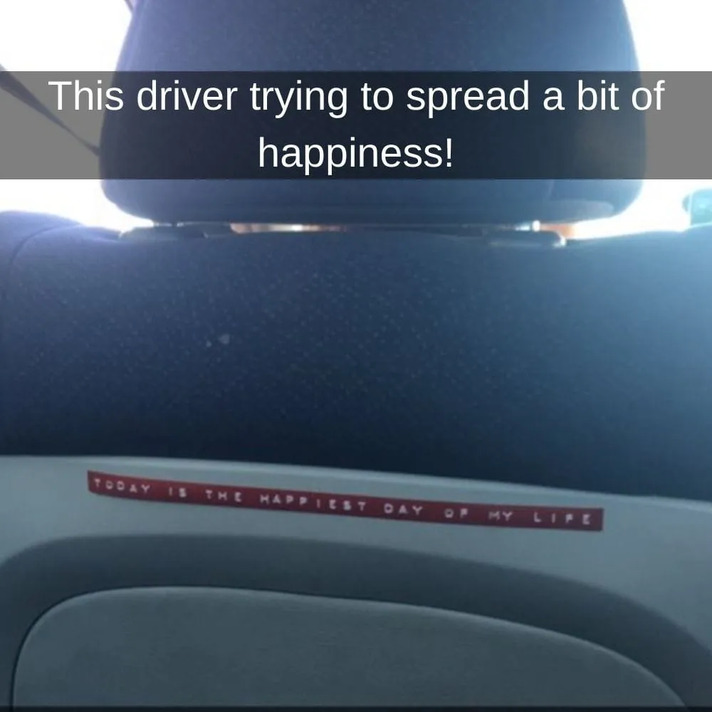 It may not be obvious at first, but when you reach your destination and are about to leave, you'll be sure to notice it. That moment will bring a smile to your face – we guarantee it!
"Uber Driver Spreads Valentine's Cheer to All Riders!"
It's Valentine's Day, a day of love and romance…or loneliness and sadness if you're single! But that all changed when one Uber driver decided to make his riders feel extra special, regardless of their relationship status.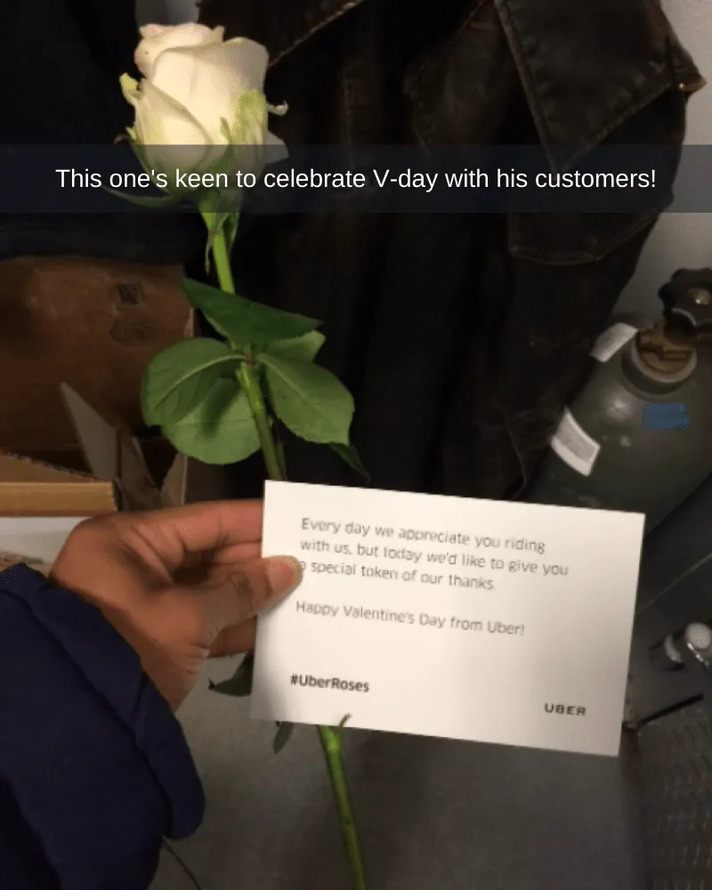 When passengers hopped in this Uber, they were in for a special surprise that put a smile on everyone's face and earned the driver a five-star rating!
Uber Driver Going Above and Beyond - A Heartwarming Tale! 
Who knew an Uber ride could be so much more than just a lift? This driver is taking customer service to the next level, by going far above and beyond the call of duty! Not only does he give you a comfortable, safe journey, but he also provides all sorts of extras like water, phone chargers, and even chewing gum.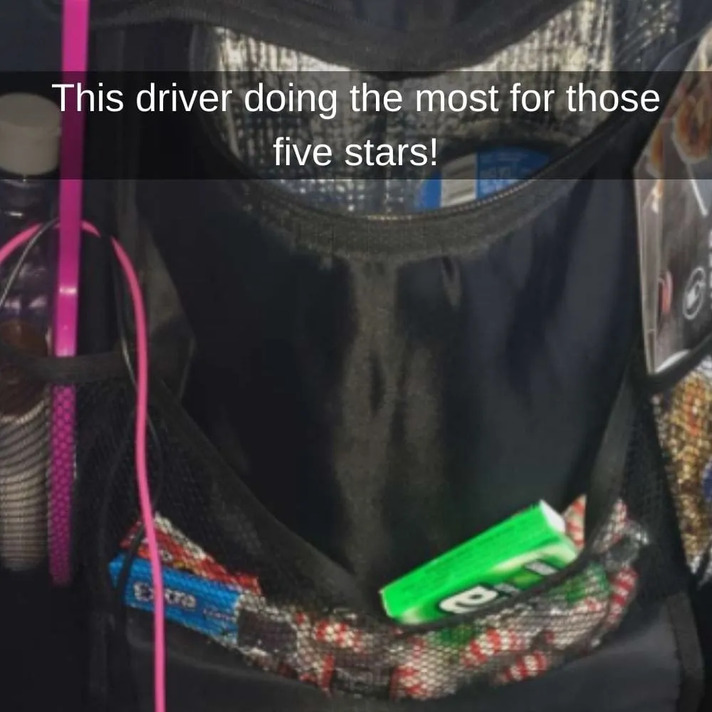 It's no wonder his customers leave with a smile on their faces! This kind of generosity is truly inspiring – let's all take a moment to remember to show kindness and appreciation to those who deserve it. And don't forget to tip your driver, as a small way of saying thank you for their amazing service. So the next time you take an Uber, make sure to pay it forward!
The Uber Driver Who Redefined the Ride! 
You ever been in an Uber ride where you sit in complete silence, wishing there was something to make the trip more exciting? Well, this Uber driver had a different idea! He set up a free Wi-Fi connection so you can surf the net, a movie to make you laugh, and even a free phone in case you need to make a call.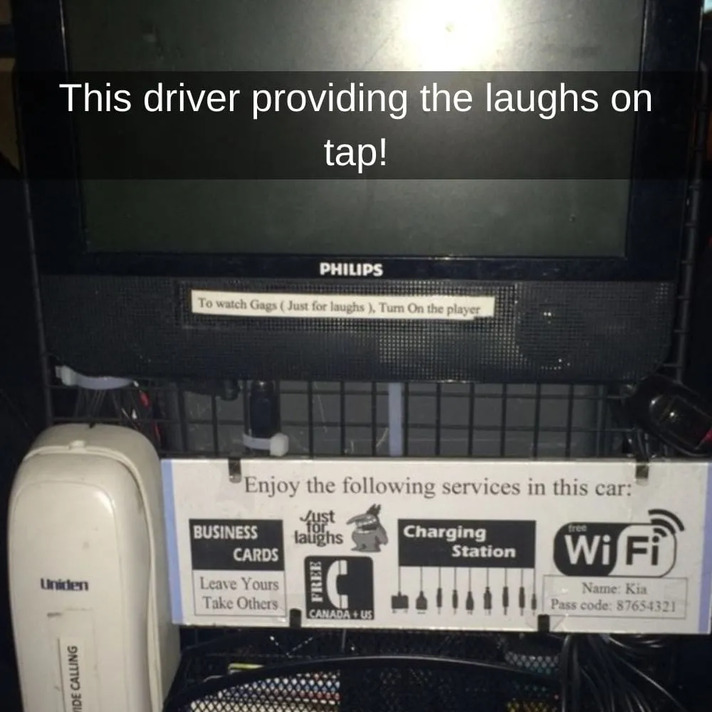 But that's not all – he also has a smart networking system so customers can exchange business cards. This Uber driver has definitely redefined the ride! Who's with us in giving him all the stars?
A Hoot of a Ride: The Joys of Having a Funny Uber Driver! 
Are you looking for a fun, wild ride? Look no further than your local Uber driver! Not only will you get a smooth, safe ride, but you'll also get to enjoy some laughs along the way.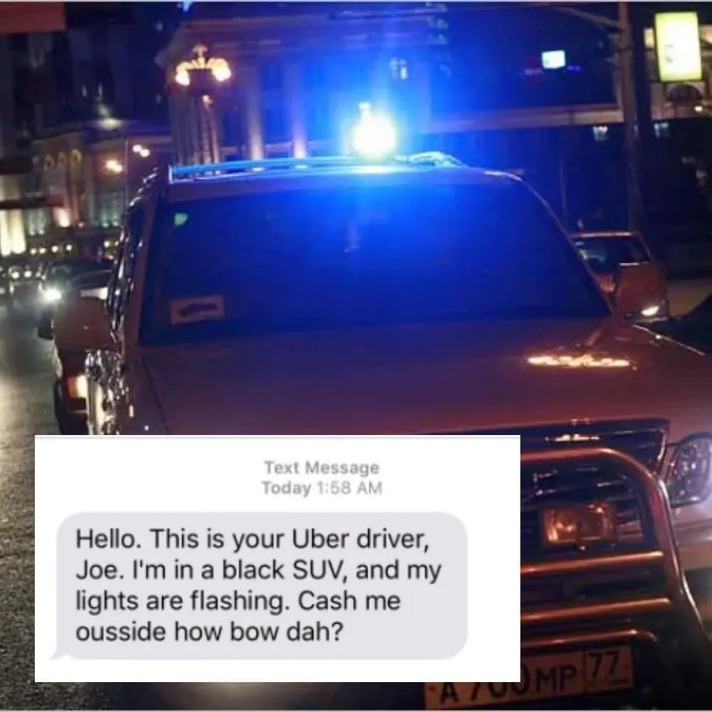 This Uber driver is sure to make your experience unique, with their funny personality and on-point catchphrases. Who knows – you might even get a high rating! So take a chance and book your ride – you won't regret it!