Amazing Places You Didn't Know Existed
The world is a strange and beautiful place filled with mystery and intrigue. Nature can do some pretty spectacular things that we can't even comprehend. And the world is wide so there are so many places, people, and things that we have yet to explore.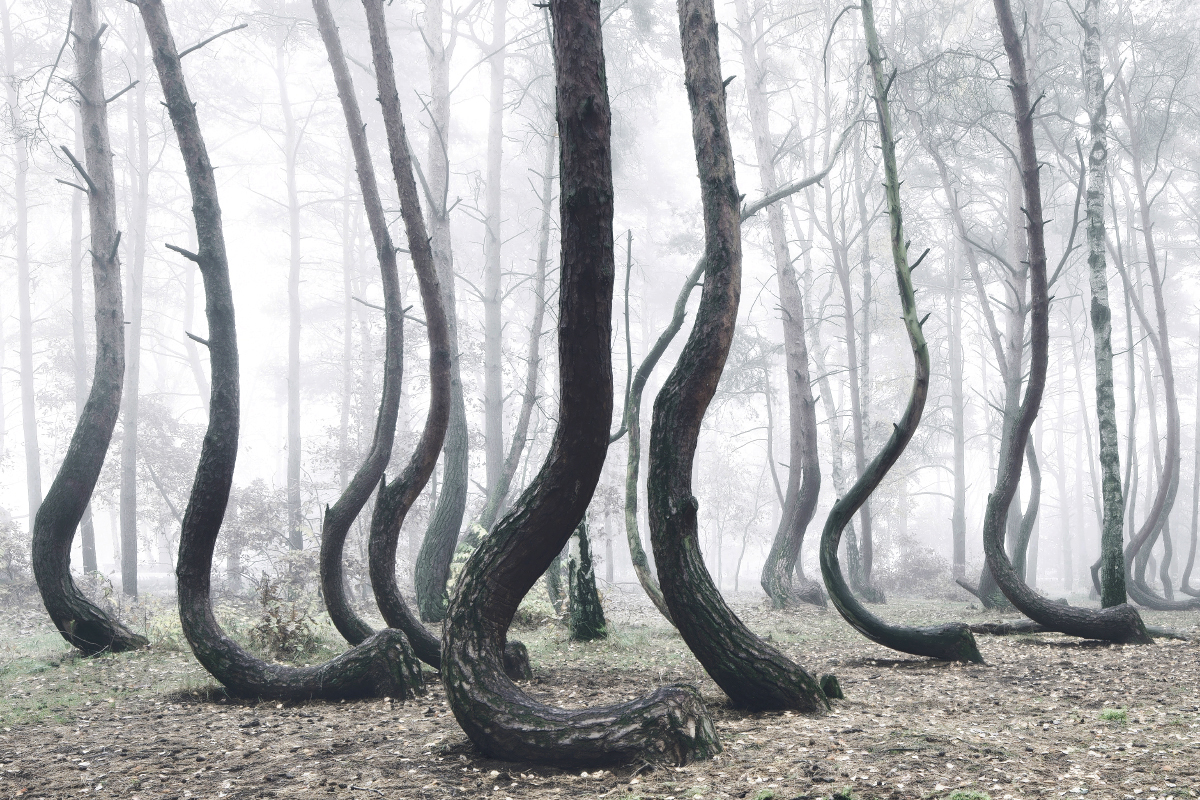 Think about the fact that we've only explored about 10% of the world's oceans! We've collected some incredible photos of fascinating places that you had no idea existed.
1. Trees Coming Out of Trees
This image is stunning, but the story behind it is even more intriguing. This is actually a Japanese method of producing wood without having to chop down forests of thriving trees!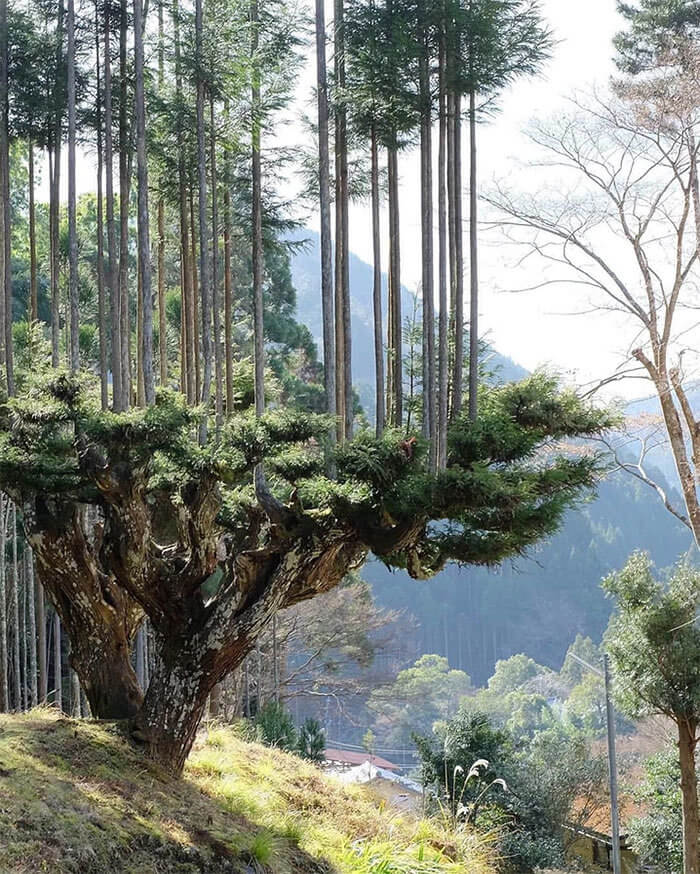 This centuries-old technique called daisugi involves pruning the cedar trees instead of chopping them down entirely. It basically results in trees growing from the original tree and producing tons of cedar for construction and other projects.
2. Redhead Convention
Yes, the Redhead convention actually exists. And if you didn't already guess, it does happen in Ireland every year. This weird and wonderful event invites all these people with the rarest hair color to gather.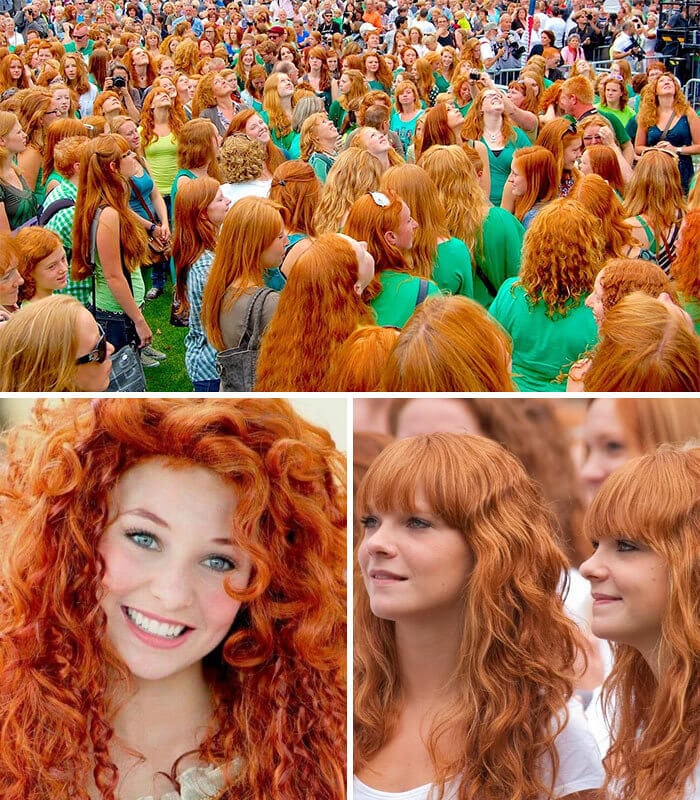 The festival has been going on for about a decade. They have awards such as the "Best Ginger Awards", "The Most Freckles Awards", and "The World's Greatest Ginger Beard". It's absolutely fascinating that they host this event annually and even more fascinating to see all that red hair in one place!
3. A 2,000-Year-Old Bathhouse
2,000 years is a long time for a bath to be in working shape, but this bathhouse in Algeria proves that it can be done! It's still used by locals regularly all these years later. It still produces hot water for the baths.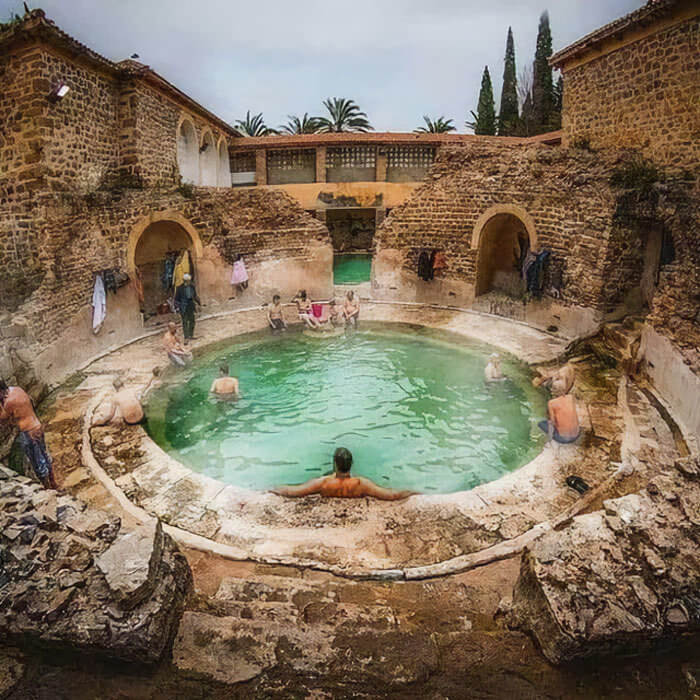 It was created by Emperor Vespasian. We wonder if he had any idea of the longevity of his project. Due to its age, it is considered a national historical heritage site and is protected as such so that it may remain functional for 2,000 more years to come.
4. Crystal Daggers
These incredible daggers look like something straight out of Game of Thrones but they actually exist in this world. They were discovered in the tomb of Montelirio Tholos in Spain. They are so well preserved that they're considered some of the most sophisticated artifacts ever recovered.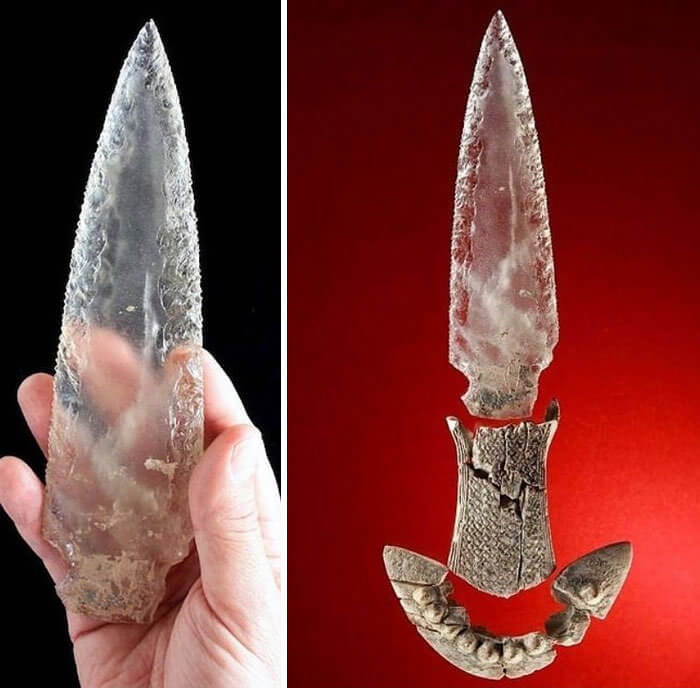 And we can see why! These intricate daggers are made entirely of real crystal. They are around 5,000 years old. We can only guess what they were used for that long ago!
5. An inhabited 2,000-Year-Old Village
This mystical village sits off Flores Island, Indonesia and is one of the very last of its kind. The ancient village is comprised of 8 homes. For 2,000 years, it has been inhabited by the Manggararian people.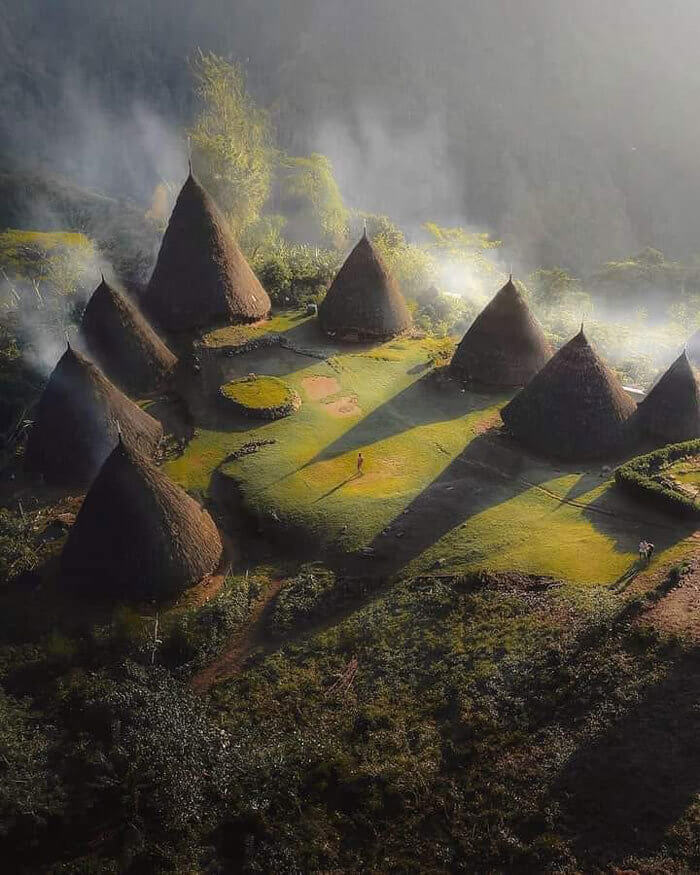 They are completely self reliant. They plant their own crops such as coffee, vanilla, and cinnamon. They sell their goods with people at the local market but the village itself is isolated.
6. A Fairytale French Home
This medieval home from 1509 is the stuff Disney movies are made of. It's hard to imagine that a home that old could be kept in such wonderful shape. The stunning architecture certainly stands out and is absolutely unique!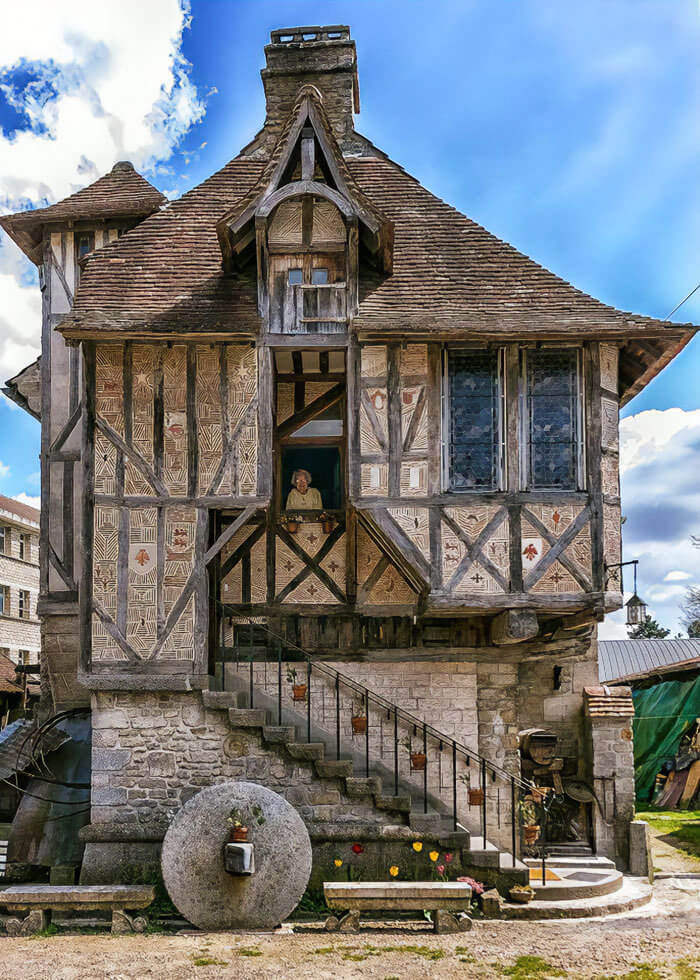 Some people speculate that the home was actually built in 1955 to replicate a home of the 1500s, but it has not been confirmed. Regardless, it is a wonderful hidden treasure in France that we can't help but marvel at!
7. A Pirate Ship That Spent 333 Years at The Bottom of the Ocean
This warship resembles a ship from Pirates of the Caribbean. The battleship was sunk in Stockholm way back in 1628. There, it spent 333 years at the bottom of the ocean until it was rediscovered.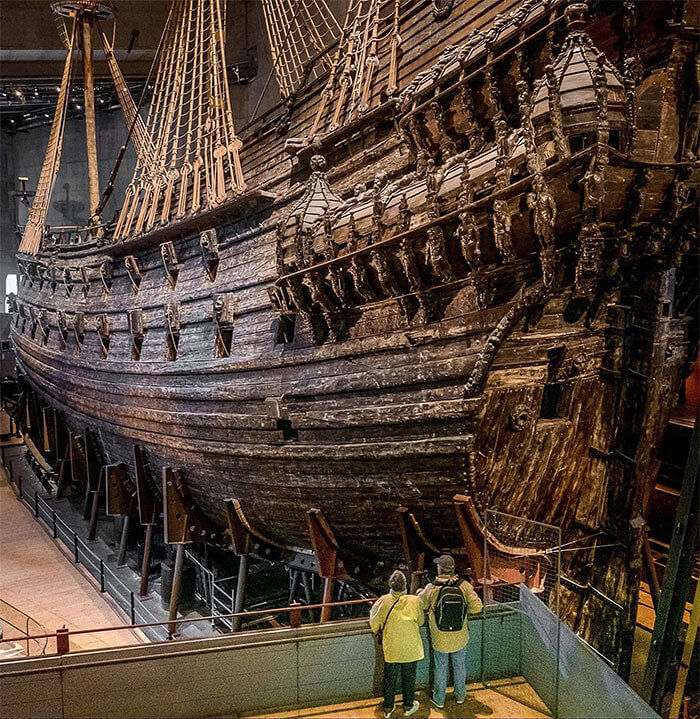 Now it resides at a museum in Stockholm where you can see the beauty for yourself. It's been called the best-preserved ship in the world from the 17th century. It has 98% of its original parts which is almost unheard of!
8. The World's Deepest Step-Well
Don't look down! This almost never-ending set of stairs is a nightmare for anyone with a fear of heights. It's certainly the most impressive stairwell I've ever come across. The structure is located in India and is called the "Queen's step-well".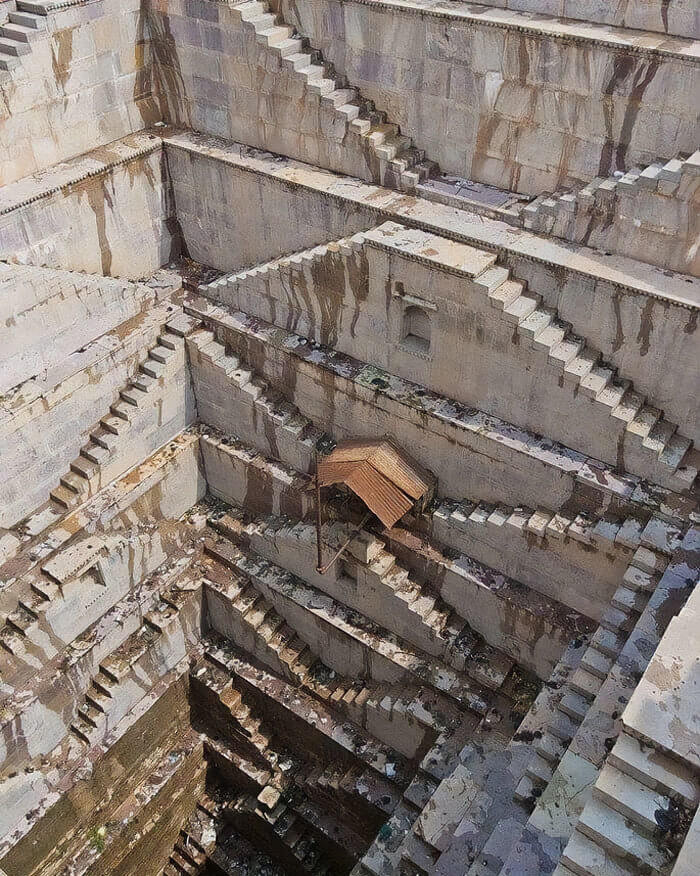 It gets its name for its size and for the incredible architecture. Also, it was originally built by a medieval queen by the name of Rani Nathavati in 1699. You can visit and even swim in the well today!
9. The Colorful Cemetery in Taiwa
You might never know that this was a photo of a resting place, but it is ,in fact, a cemetery. The bright colors are breathtakingly beautiful. The colors make a place that would ordinarily be very dark feel very warm.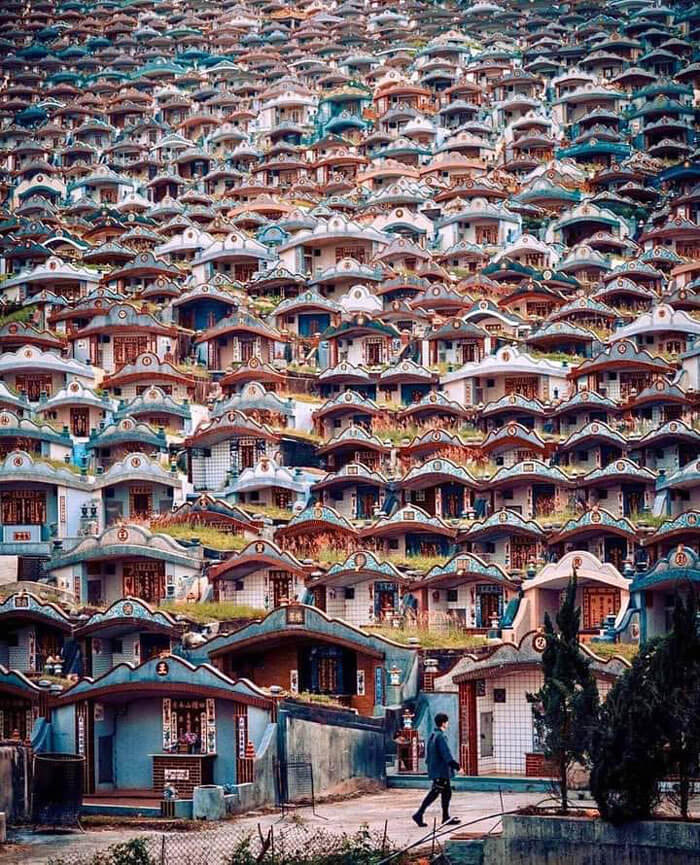 The designs are intricate and you can tell there was a lot of care that went into these structures. It is clear that the Taiwanese respect and honor their passed loved ones.
10. The Most Beautiful Library in the World
In Rio De Janeiro, Brazil rests the most beautiful library in the world. This home to books gives the library from Beauty and the Beast a run for its money. It's any book-lover's paradise!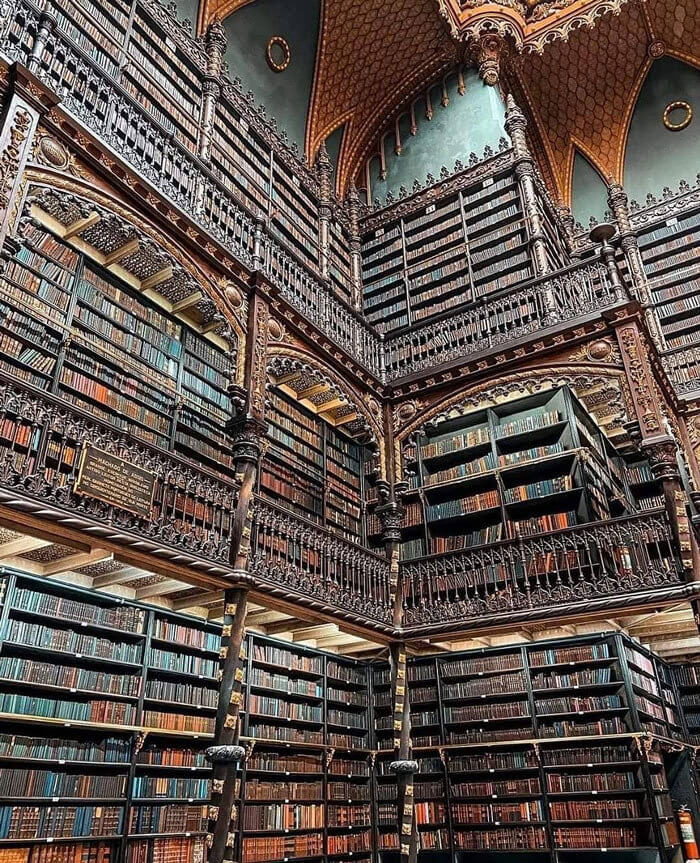 We can only imagine how many books fill this stunning library and how much time went into the construction of the building. It was built in 1880 and became public in 1900. It has been preserved magnificently.
11. A Home Made of Boulders
Ever heard of turning lemons into lemonade? This is turning rocks into a home, literally! This cottage rests in Northern Portugal and stands out from any home we've ever seen. It was made from four giant boulders.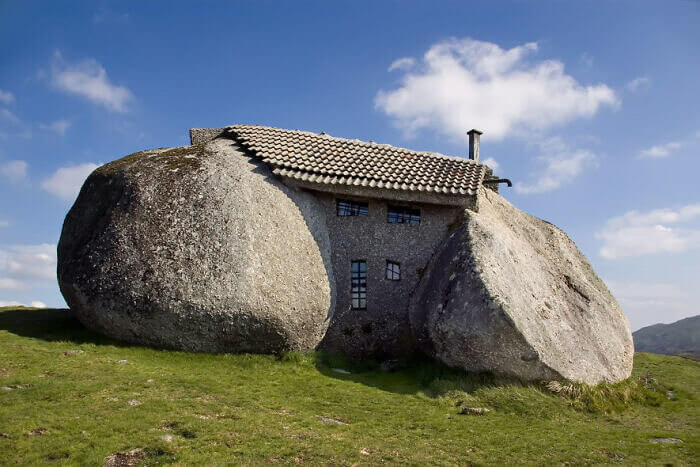 It was actually constructed as recently as 1972, even though you might assume it is centuries old. It was originally a vacation destination but now serves as a museum of relics and artifacts.
12. An Optical Illusion Created From a Hall of Mirrors
This Hall of Mirrors in Versailles, France is world-famous and for good reason! It is a stunning piece of art and architecture. The paintings on the ceilings and intricate chandeliers hanging are irreplicable pieces of art.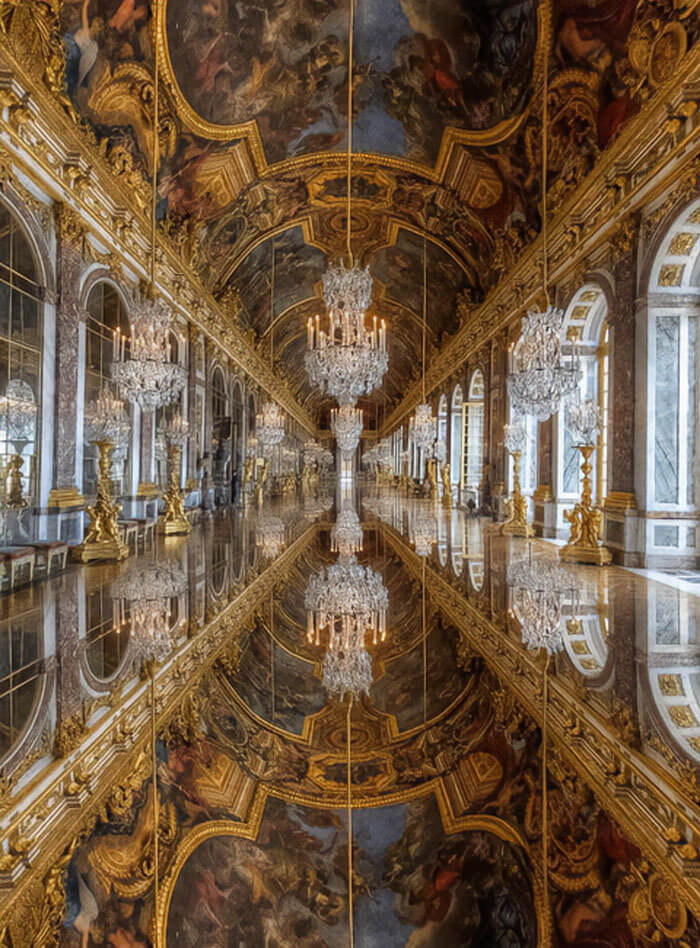 The hall extends 73 meters long and in addition to being stunningly beautiful it is the site of tons of monumental historical events. This includes the signing of the Treaty of Versailles in 1919.
13. 20,000-Year-Old Armadillos
At a glance, these might look like regular old boulders, but they are, in fact, enormous armadillos. These beasts could weigh up to 2 tons and become the size of a Volkswagen Beetle!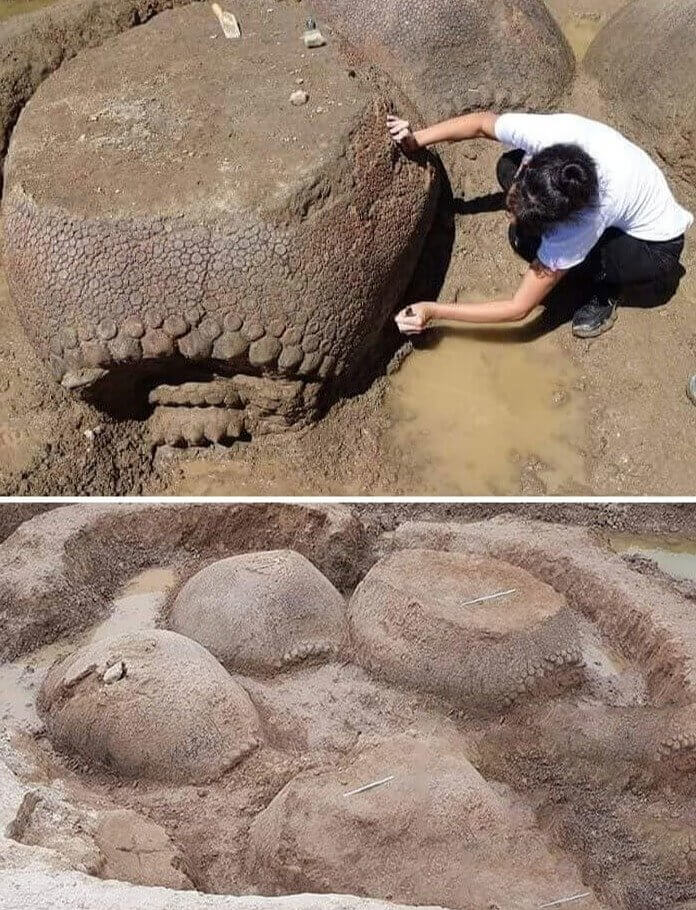 These remains were found buried in Argentina by a farmer. They're all faced the same way which makes us wonder what they might have been looking at or what they could have been traveling towards.
14. A Village Frozen in Time
This Korean folk village is perfectly frozen in time. It is a unique town which hosts people with their own way of life. There are about 100 homes made of straw and clay. These mostly house farmers who live by the traditional "folk village" lifestyle.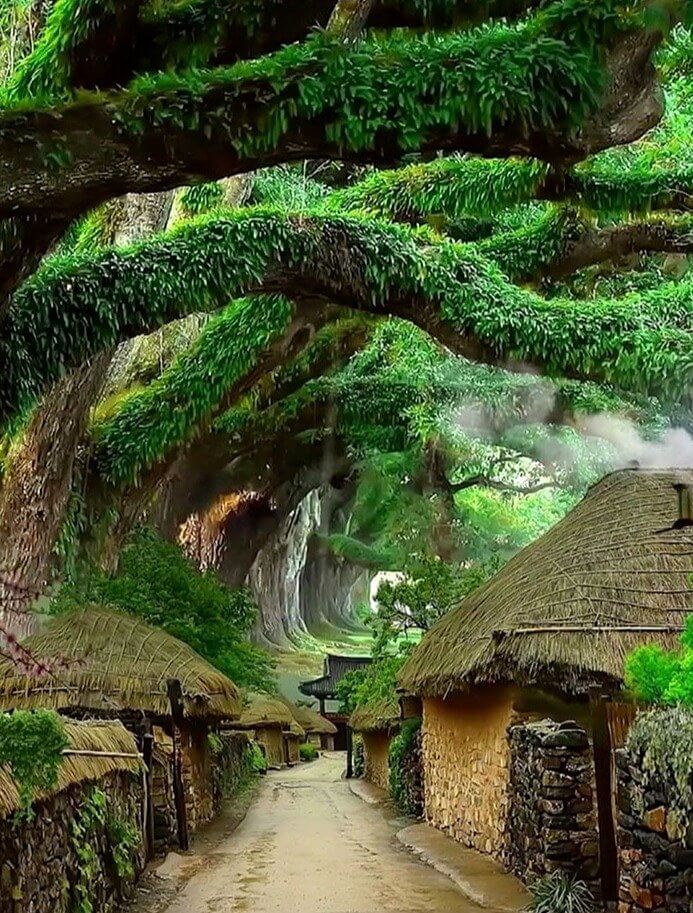 It is a really popular destination for Korean parents to bring their children to see history in the present. It gives them an idea of how the way of life has changed from what it used to be. And its beauty pulls in a lot of visitors as well!
15. A Bridge Made With No Nails
This bridge is impressive because it is more than 200 years old, but it is unique for another reason as well. It was made using no nails and it still stands today. The bridge resides in the village of Gulli in Dagestan, Russia.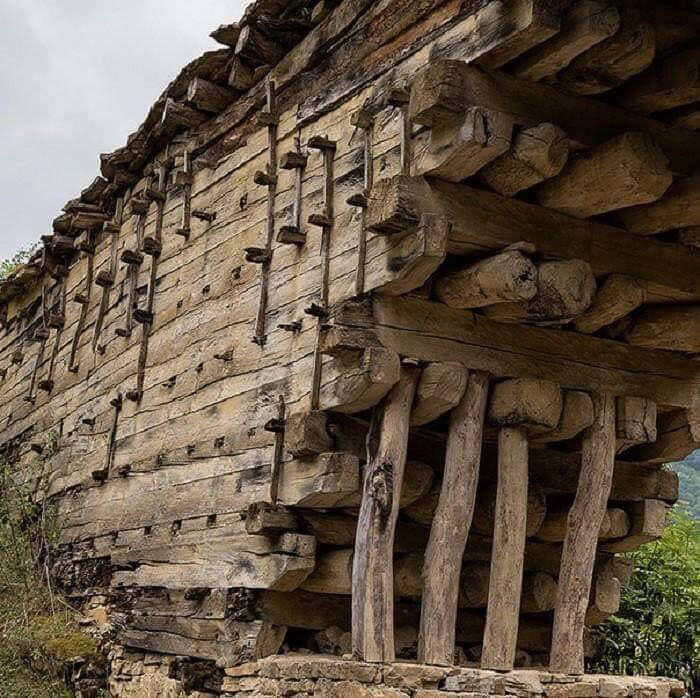 How was it constructed without using nails, you ask? It was built using a method in which the blocks of wood are slotted into each other to create this massive structure. Shockingly, it still stands today at 10 meters high and can still carry the weight of a car.
16. A Very Realistic Koi Fish Pond
You don't want to dive into this pond unless you're wearing a helmet because this is not a real pond. This mosaic looks just a little too realistic! It was created by artist Gary Drostle to have a 3D element.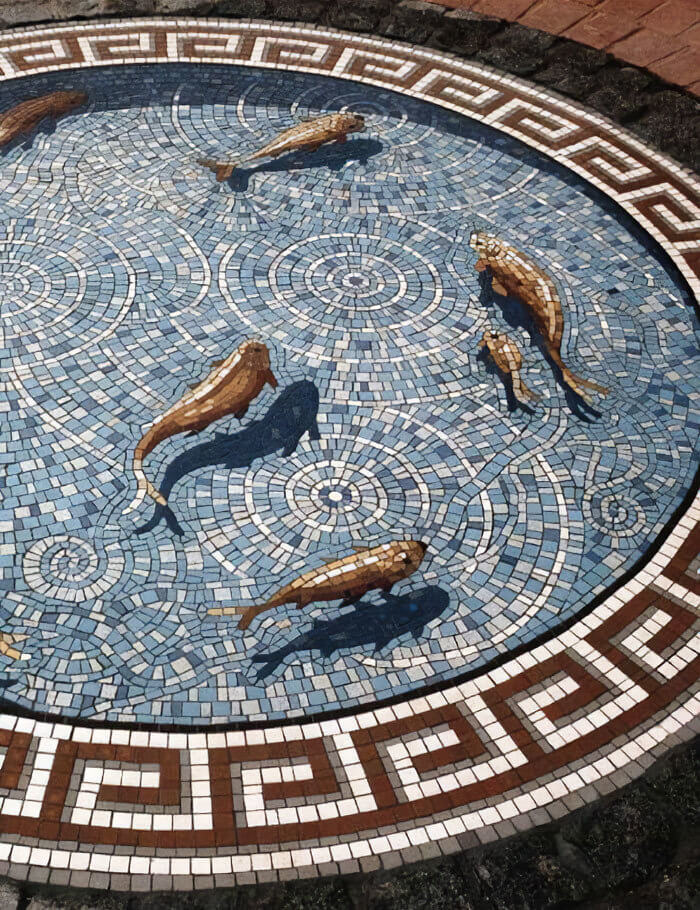 We even thought those were real koi fish at first! It was created for a public garden in Croydon, Surrey, UK in 1996.
17. The Oldest Baptism Basin
This stunning Russian ruin has been preserved since 400 CE. It sits in Tunisia and is a beautiful example of excellent craftsmanship. While it is a beautifully preserved relic, some people who visited it had some funny things to say.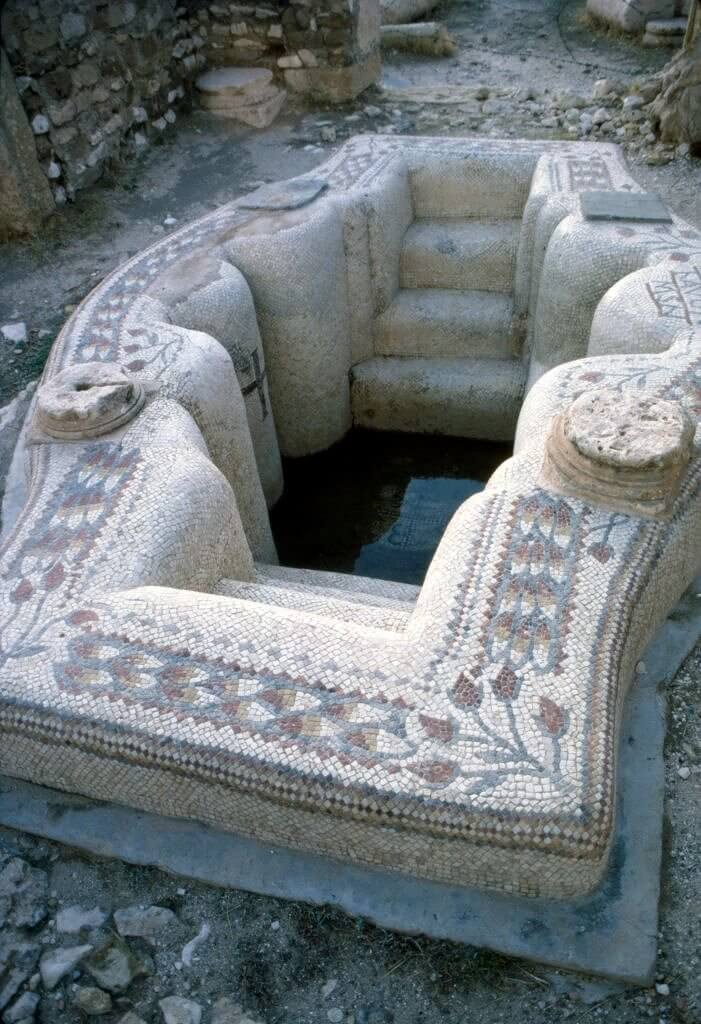 One visitor said that it resembles a sofa and another one said that the mosaic that surrounds the bath looks like snake skin. To be honest, we can see what they're talking about.
18. A 200-Year-Old Park in Brazil
Rio De Janeiro is home to this beautiful park in addition to the most beautiful library in the world. The botanical park was founded in 1808 and is considered one of the most beautiful in the world. We can agree!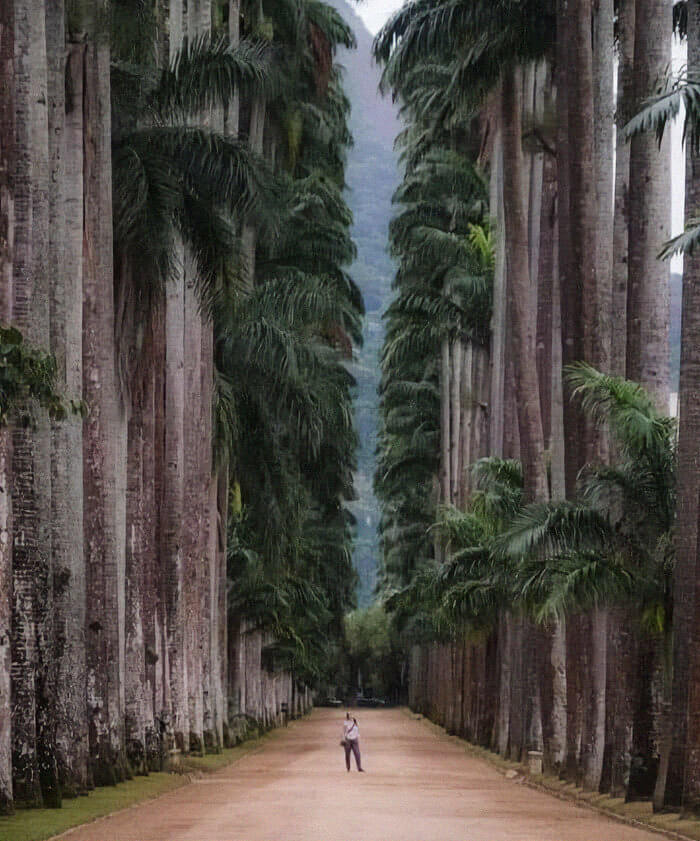 The trees are tall and tower over the walkways. It certainly makes for an excellent photo opportunity. The mountains in the back also provide a stunning backdrop to the image.
19. Man Made Caves to Conserve Wine
If you're not exactly sure what you're looking at here, you're not alone. We weren't sure either. But, it turns out these are actually man made cellars dug into the mountainside. These cellars are perfect to maintain wine!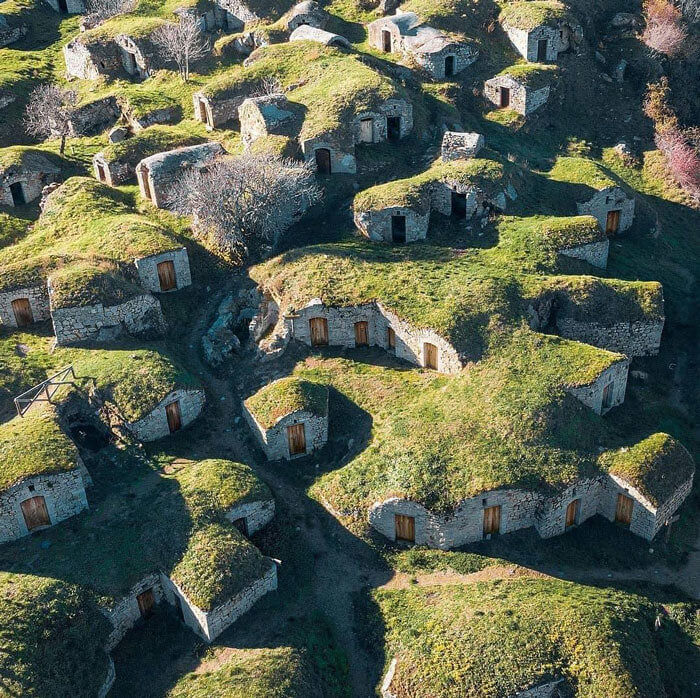 They reside in an Italian town and would make an amazing trip to visit if you're a wine-lover. It looks like grass has overgrown the cellars giving them an almost hidden appearance. Imagine how many bottles are probably hidden in those little homes.
20. Sparkling Blue Lake at Jiuzhaigou National Park
This stunning blue lake in China really exists and it is really open to swimmers. It is crystal clear so you can see all the way to the bottom. It's a private location tucked away in the Min Mountains near the Tibetan Plateau.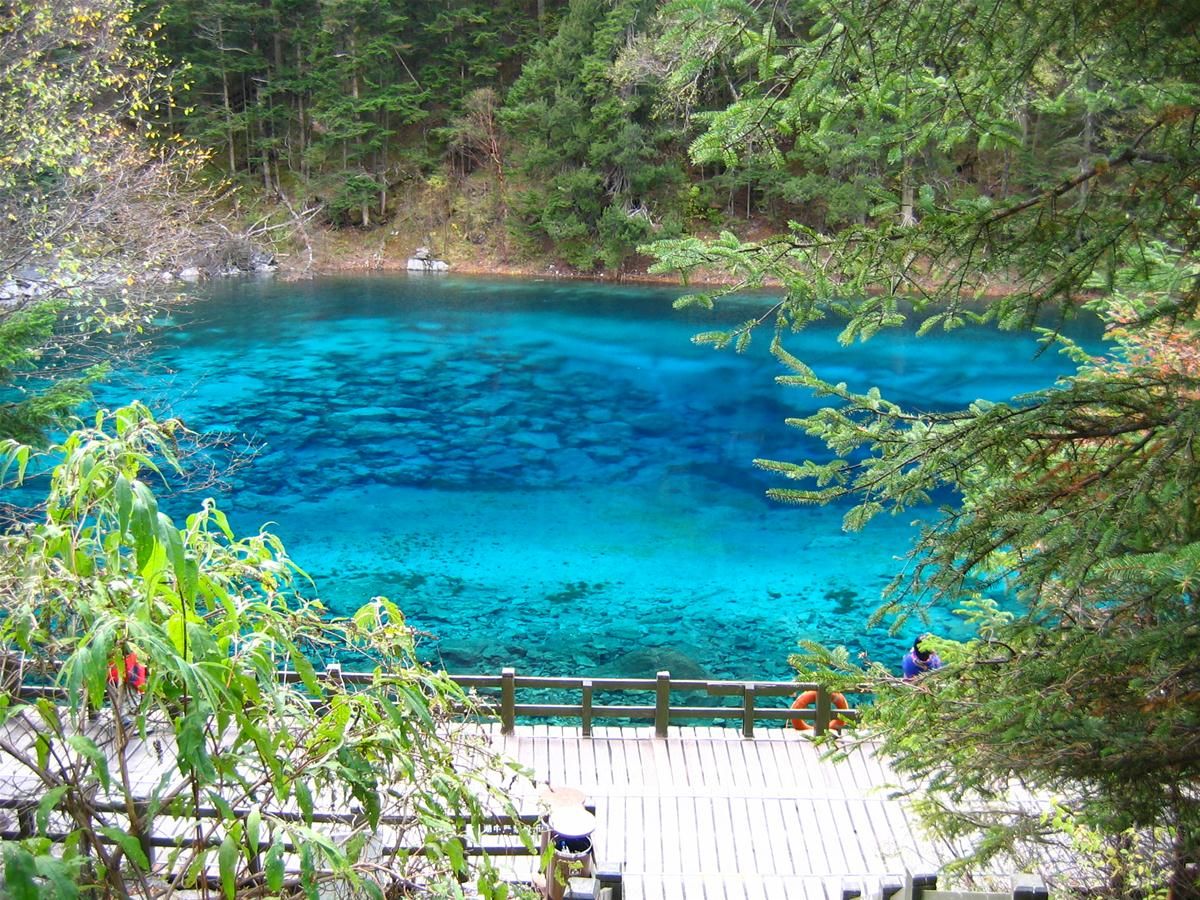 This quiet lake is far from the loud and crowded streets of Beijing so it's a perfect destination for any travelers looking for some serene peace and quiet. It was named a World Heritage Site in 1992 by UNESCO.
21. The Mysterious Stairs of Oahu, Hawaii
These mystical stairs lead right into this green valley that borders the ocean. But this site is a hidden treasure not just for its eye catching beauty, but for its historical significance as well.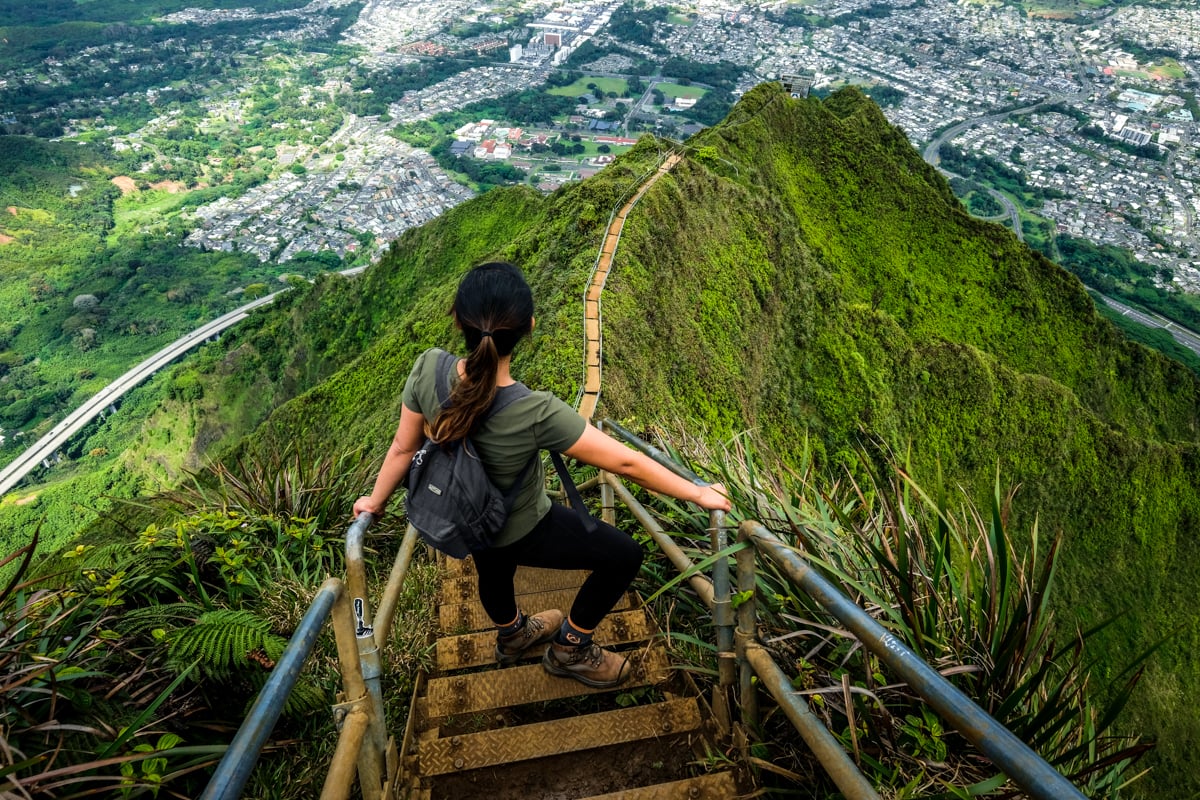 This majestic stair set was used as a secret passageway when they were built in 1942. They were made by the Haiku Radio Station to transmit radio signals to Navy ships in the Pacific. They're made of 3,922 stairs so if you're prepared for a workout you should definitely visit.
22. The Crooked Forest
This crooked forest lives in Szczecin, Poland and contains some of the most unique trees we've ever seen. There are more than 400 trees which have grown in this 90 degree angle out of the root.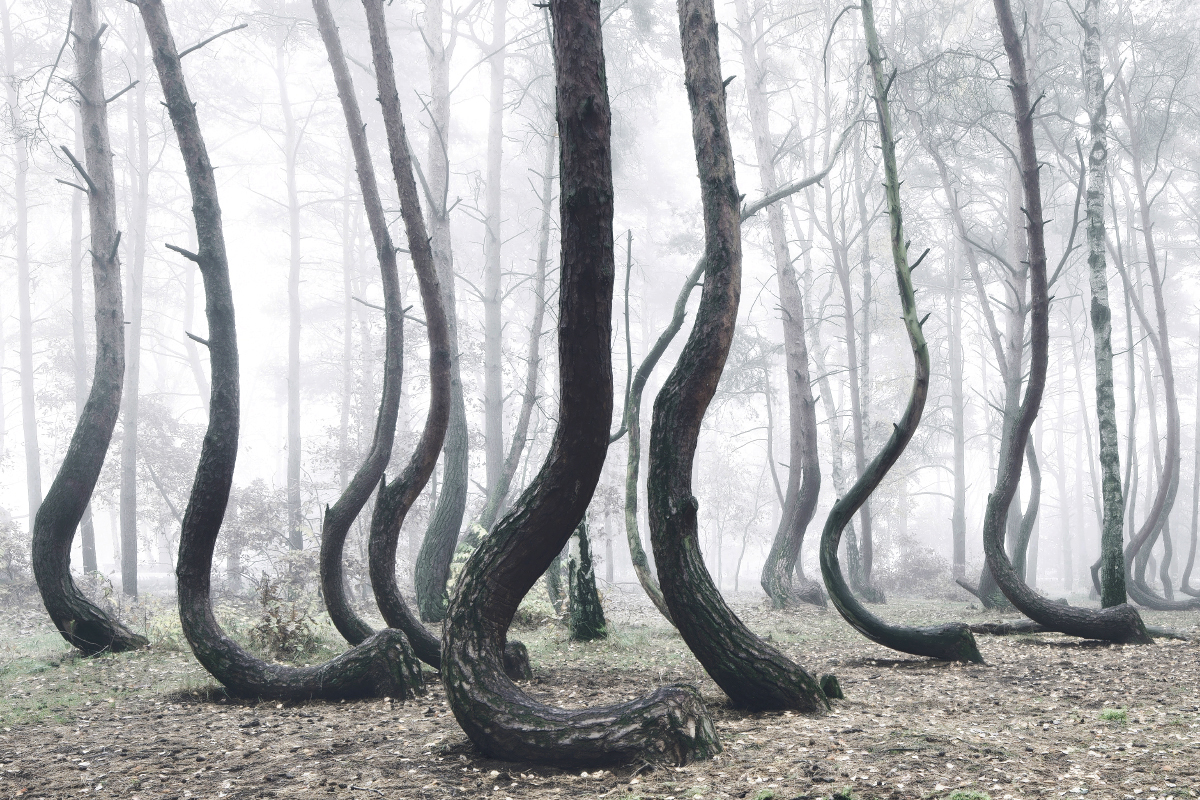 No one can seem to nail down the real reason that the trees grow in this interesting shape but no one knows for sure. Some speculate that it is because of the gravitational pull in the area. Others think that there is a more spooky reason! Who knows?
23. The Stunning Salt Flats in Bolivia
I don't think I've ever seen salt look so beautiful in my life! Salar de Uyuni is a salt flat that covers 10,582 kilometers. That makes it the largest salt flat in the entire world. And you can see it for yourself in Bolivia. 

It's tucked away in Potosi and has come to be known as one of the most beautiful unknown locations in the world. It was formed from many lakes that have been dried up for centuries.
24. Secret Snorkeling Spot in the Aquarium in Rangiroa
If you're looking for an adventure, you might consider heading to Randiroa in French Polynesia. It is a picturesque location to see some amazing things under and above the water.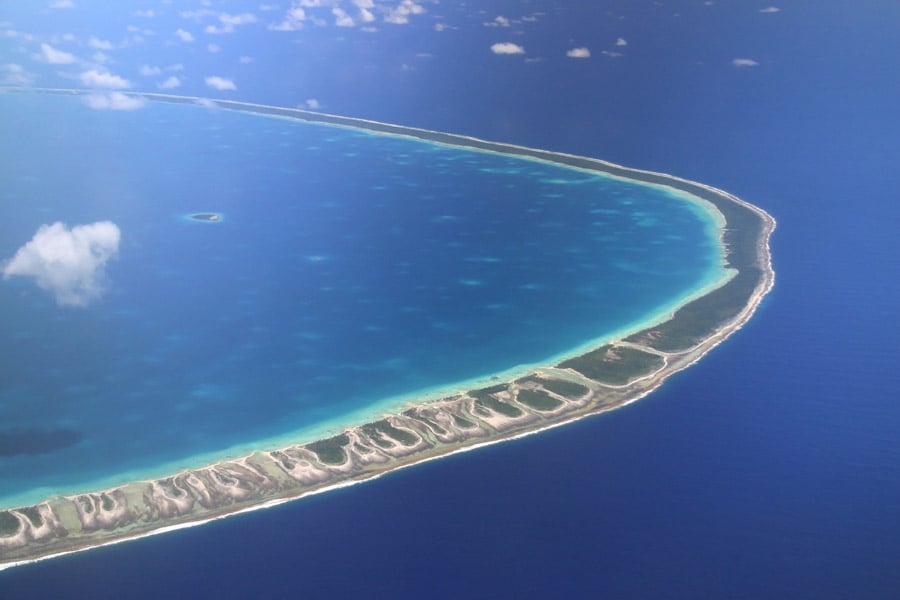 There is a long stretch of coral which makes this location one of the best snorkeling spots in the entire world. But it is a fairly well kept secret. The coral surrounds this amazing aquarium and ranges in depth so there are tons to see.
25. The "Door to Hell"
If you're feeling brave you might consider looking straight down into the "door to hell". This natural gas field has also been referred to as the gateway to hell for its scary appearance on the earth.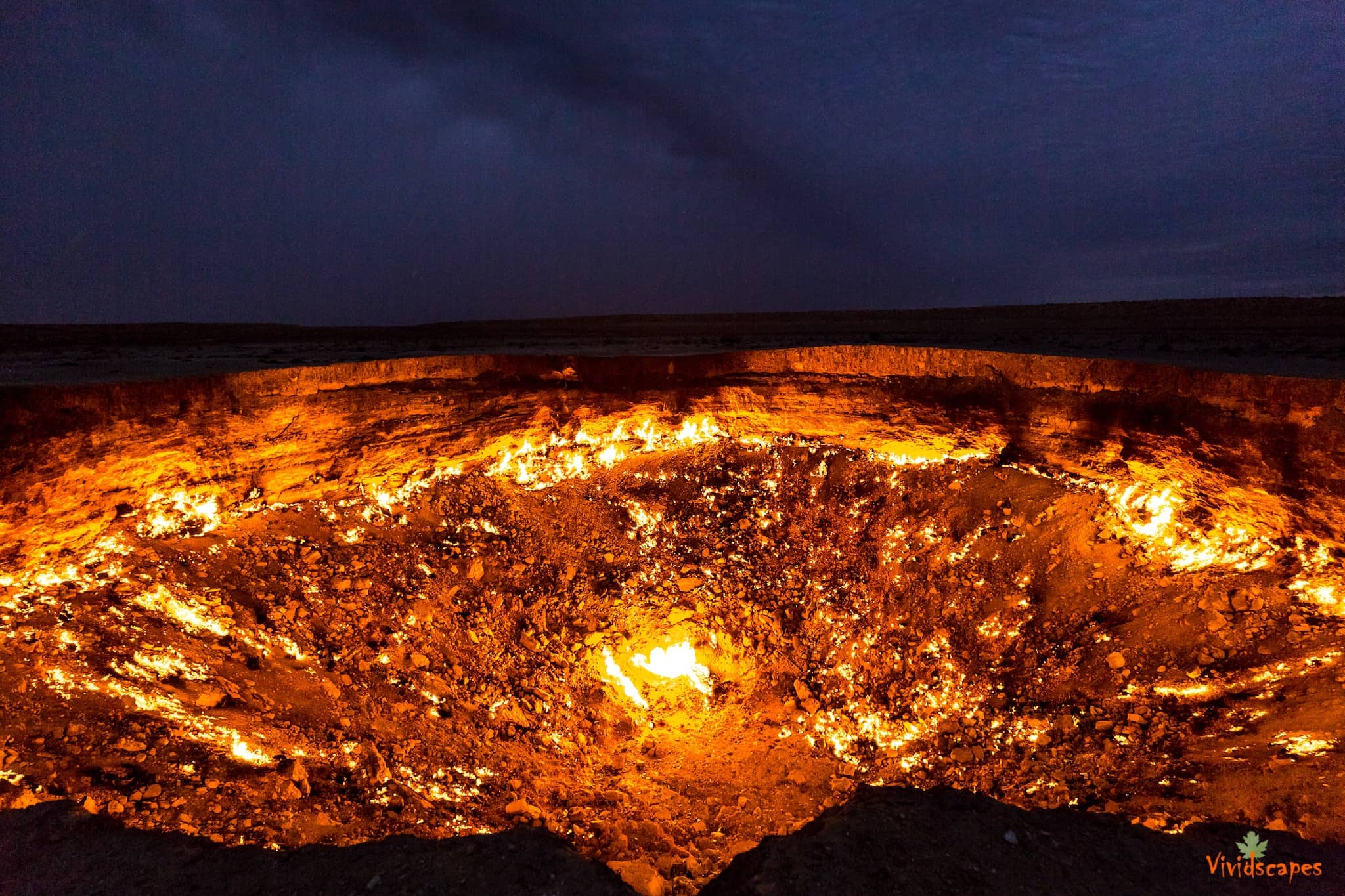 It is actually a collapsed cavern that was set on fire to avoid methane gasses from continuously burning. How brave are you? Is it worth a selfie on the edge?
26. An Oasis in Peru
This idyllic little oasis lives in Southwest Peru. It includes a small town that borders a stunning lake and is surrounded by lush trees. It only houses 96 residents but they make up their own little community isolated from the rest of the world.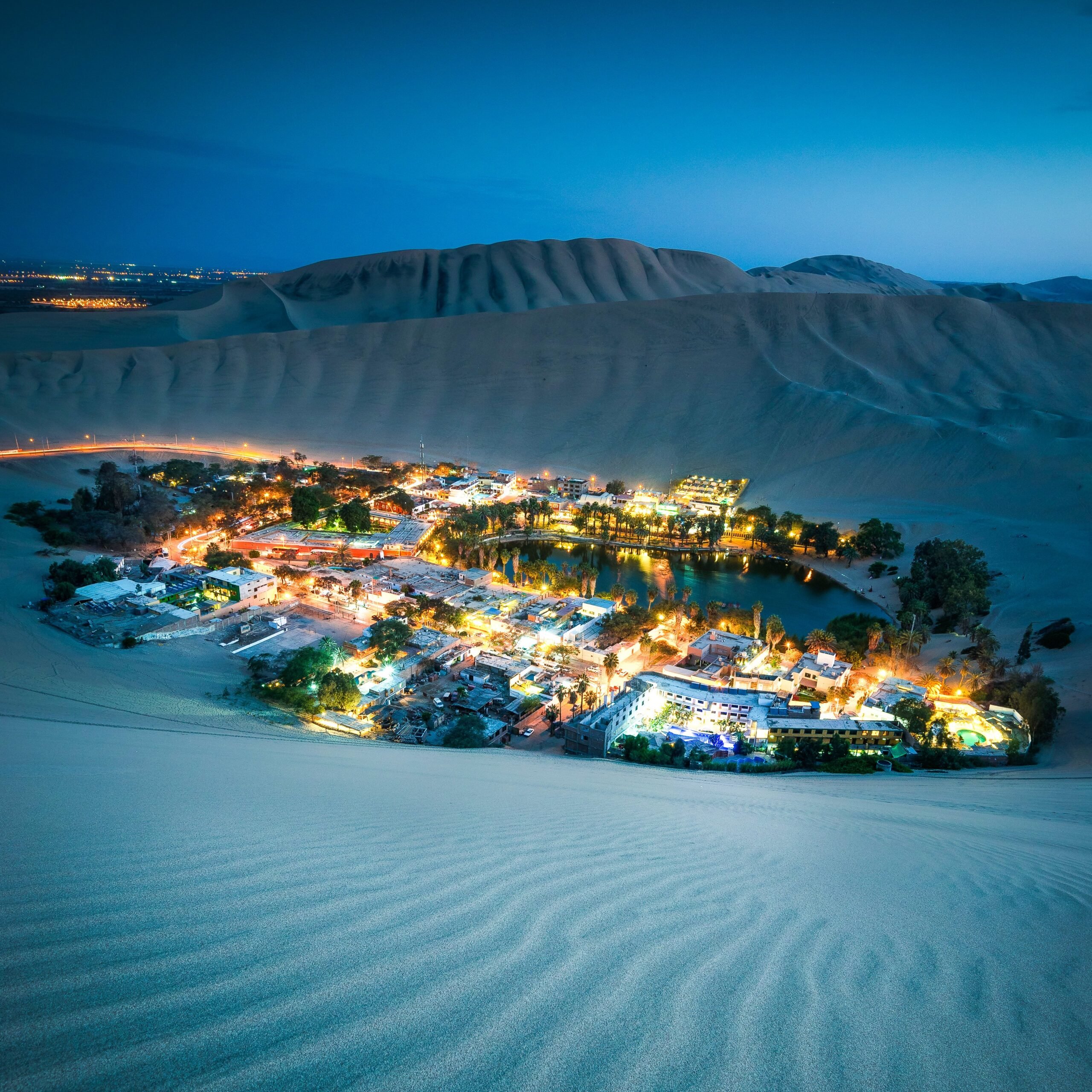 But, you can visit and experience this unique oasis and catch a stunning sunset if you're traveling in the area. The oasis is surrounded by dunes that look perfect for sandboarding as well!
27. Psychedelic Salt Mines
These salt mines in Yekaterinburg, Russia are a 60s dream! The colors and waves are very psychedelic. But don't be fooled! These walls are not painted or drawn. The colors are completely natural.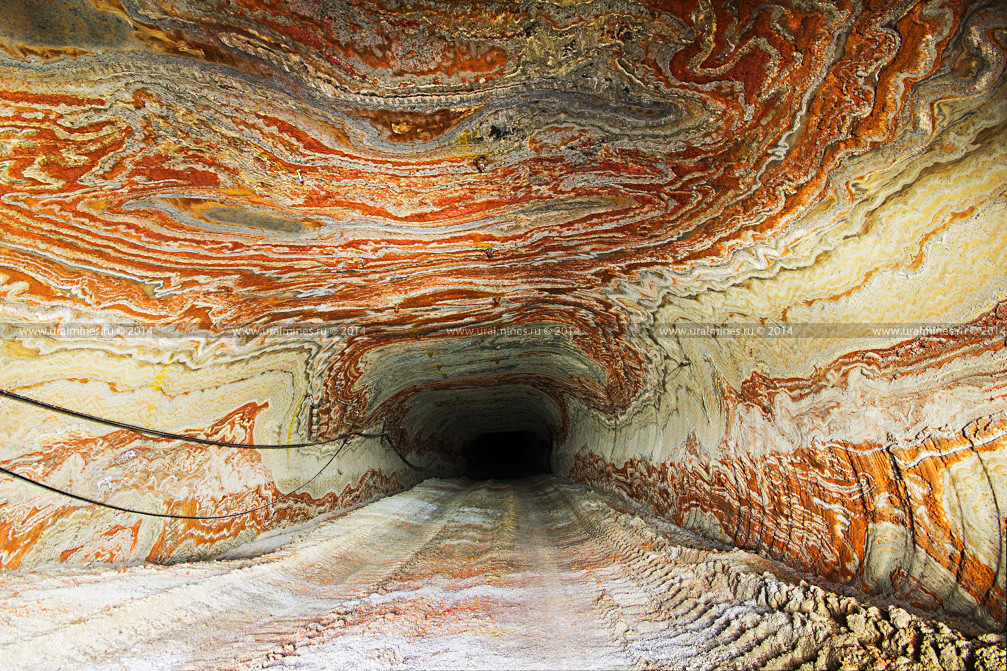 The red, oranges, and yellows are a result of minerals that produce natural colors. They result in this stunning swirly psychedelic pattern. Who knew salt mines could be so pretty?
28. One of the Most Beautiful Botanical Gardens in the World
We've already taken a look at Brazil's stunning botanical garden but Canada is home to another stunning example of manmade nature. The Montreal Botanical Garden has more than 30 thematic gardens and 10 greenhouses.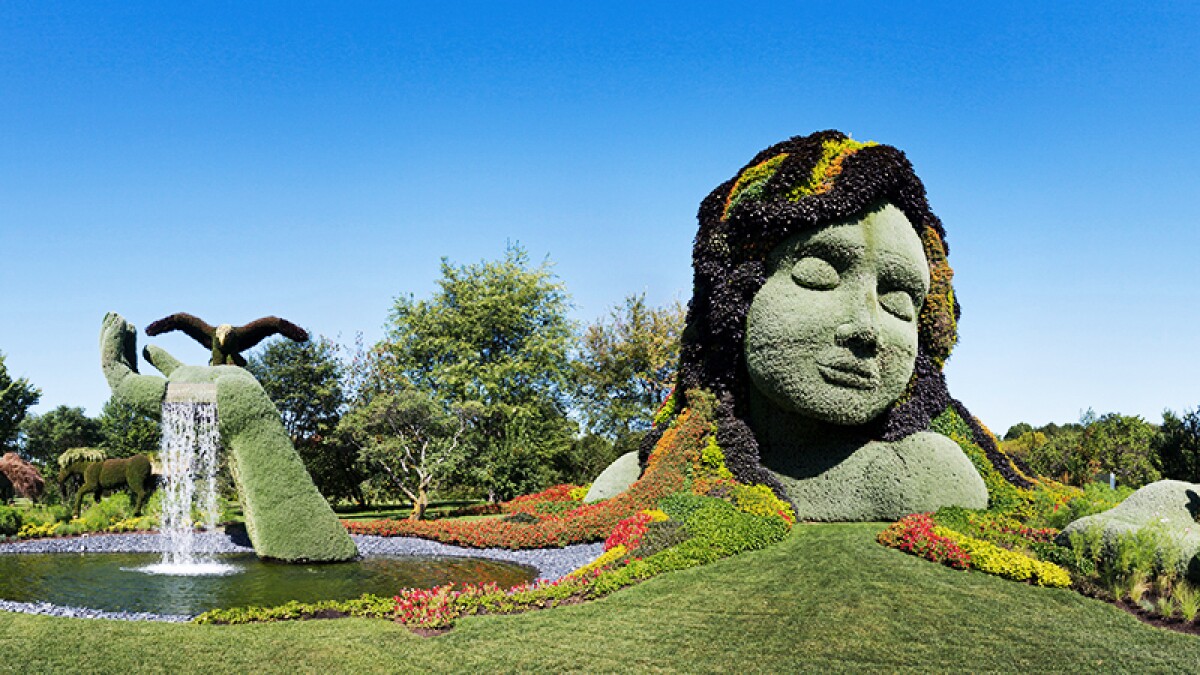 This example is reminiscent of the green Te Fiti in the movie Moana. And it is completely made of plants!
29. An Inverted Tower
Have you ever heard of an inverted tower? I hadn't either. But seeing one now, it makes total sense. This inverted tower is in Quinta de Regaleira, Portugal and you can walk it yourself.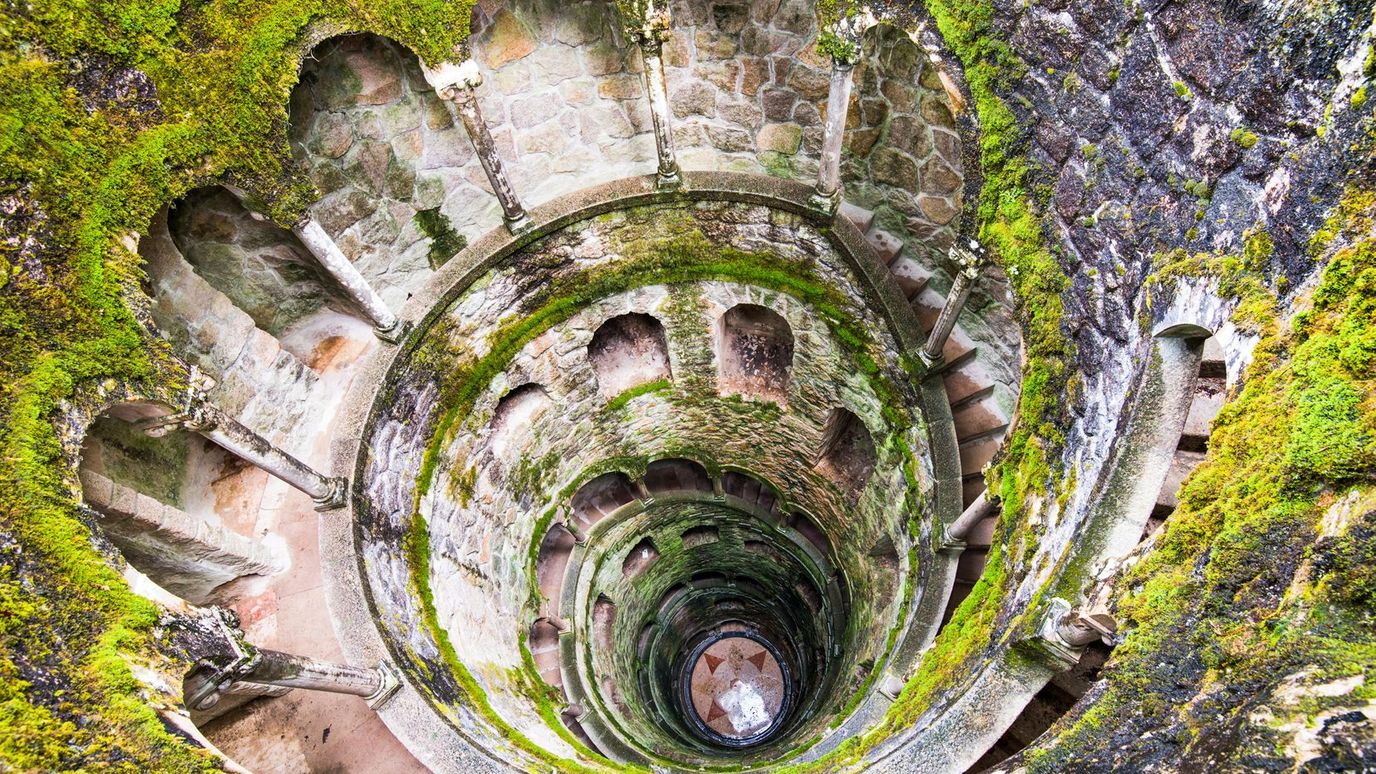 It is a deep well with a stunning spiral staircase and stone interior. Curious travelers debate whether it is truly an inverted tower or a well.
30. Be in Two Continents at the Same Time
We've seen tons of pictures of people standing with one leg in each state right over a state boundary but have you ever considered that you could be in two continents at one time?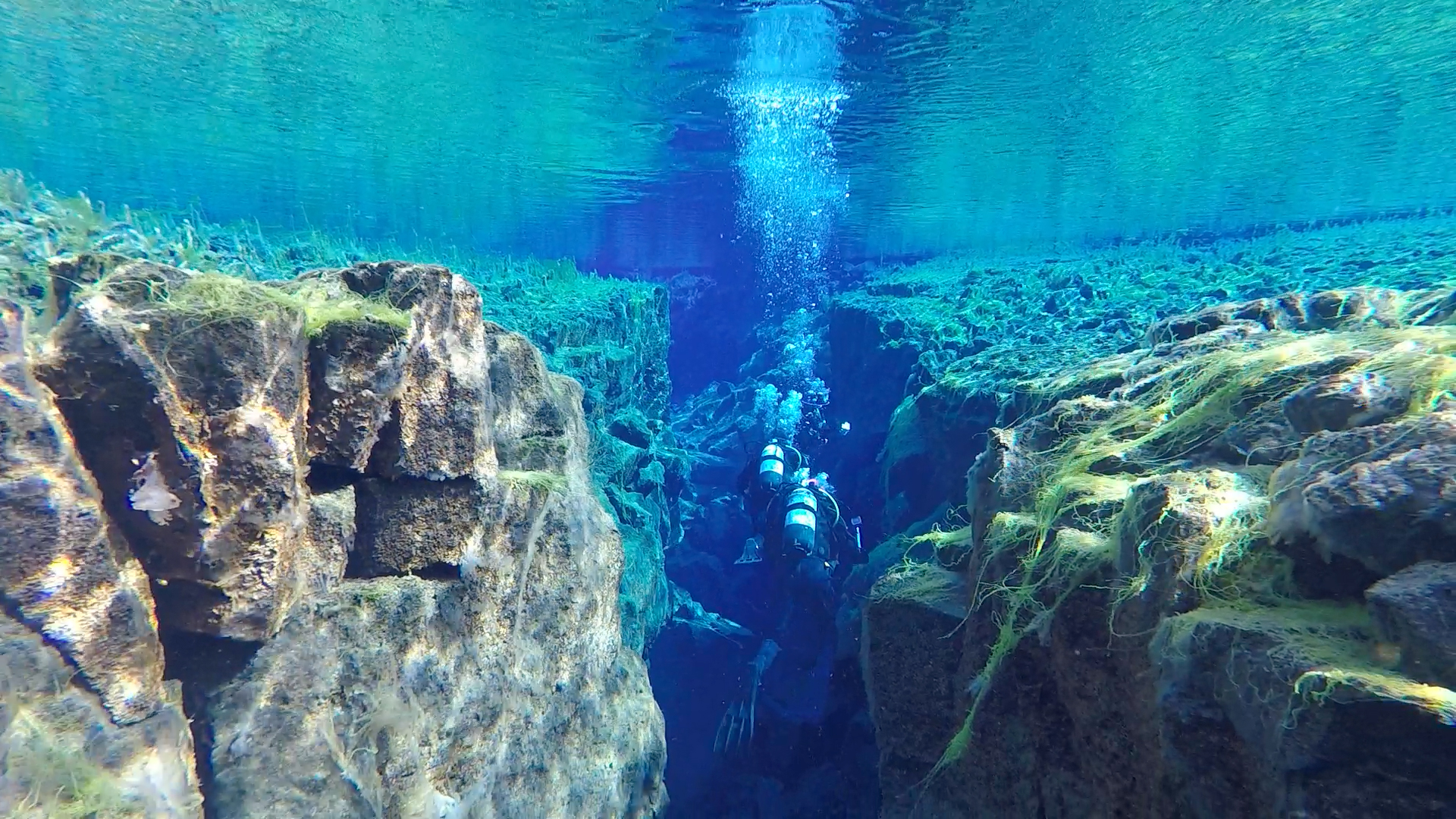 The Pingvallavatn Lake in Iceland is right in the Atlantic ocean right between Europe and America. You can swim in both continents at once if you can stand the cool temperatures!
31. Hamilton's Pool Reserve
Hamilton's Pool Preserve is located near Austin, Texas and is an amazingly unique natural pool that was created when the dome of an underground river collapsed from water erosion. This collapse gave way to this stunning natural pool.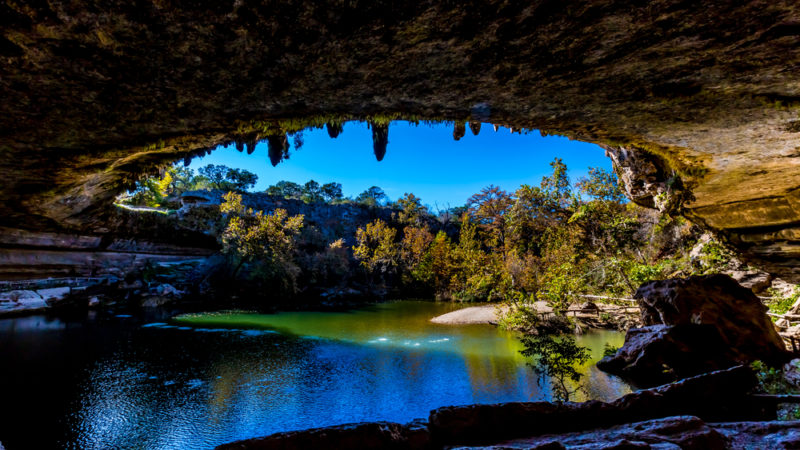 It's a natural habitat for tons of wildlife. Hamilton's pool is one stunning example of nature's way of making gorgeous landscapes.
32. Namaqualand
This stunning image was taken in South Africa and only shows a small portion of this incredible landscape which stretches 600 miles long. In the early spring the wildlife flourishes to expose these bright colors.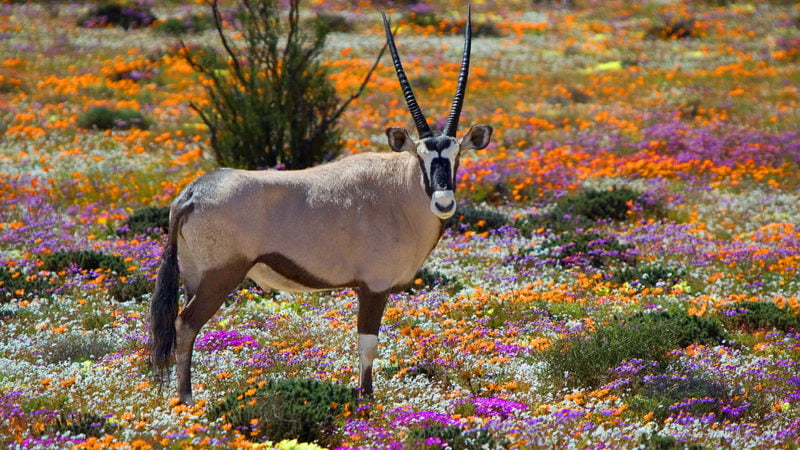 A wide variety of flowers grow here following the month of May. In fact, some of the flowers that grow here do not grow anywhere else in the world. These flowers have inspired songs, poems, and paintings.
33. Dean's Blue Hole
Dean's Blue Hole is one of the deepest plunges in the world which reaches 360 feet deep. This makes it the deepest salt water hole. Interestingly, n one knows how this deep hole came to be. But the blue waters are absolutely breathtaking!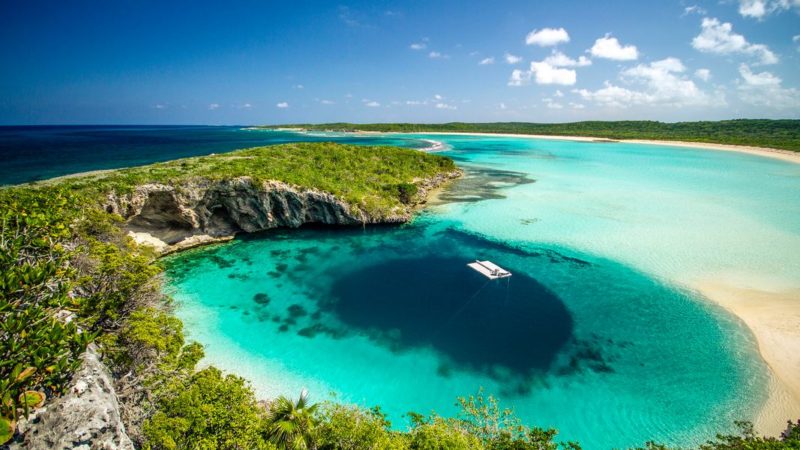 It is surrounded by coral and sandy beaches that almost look like they can't be real. Sea turtles can be seen lounging around the beautiful site. In 2010 a free diver broke a record for the deepest free-dive in Dean's Blue Hole as well!
34. Whitehaven Beach
Whiteahven Beach might as well be called "heaven" because this amazing beach seems too good to be true. It looks like it is pulled right from a postcard. This beach sits in Australia and covers 4.3 miles of blue swirling waters and white sand.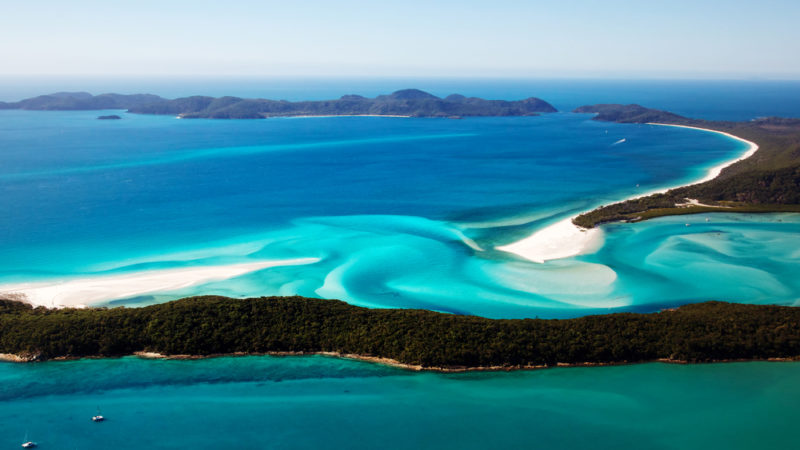 The waters create these beautiful blue and white swirls with the sand because of the cove where the tides shift. It's another example of nature creating unimaginable beauty.