AI Reimagines Celebrities as Iconic Barbies
Do you remember the rush of unpackaging a new Barbie from its box? There is no other feeling quite like it. This signature doll has become the most recognizable toy in the world, a symbol of beauty and fashion no matter your age.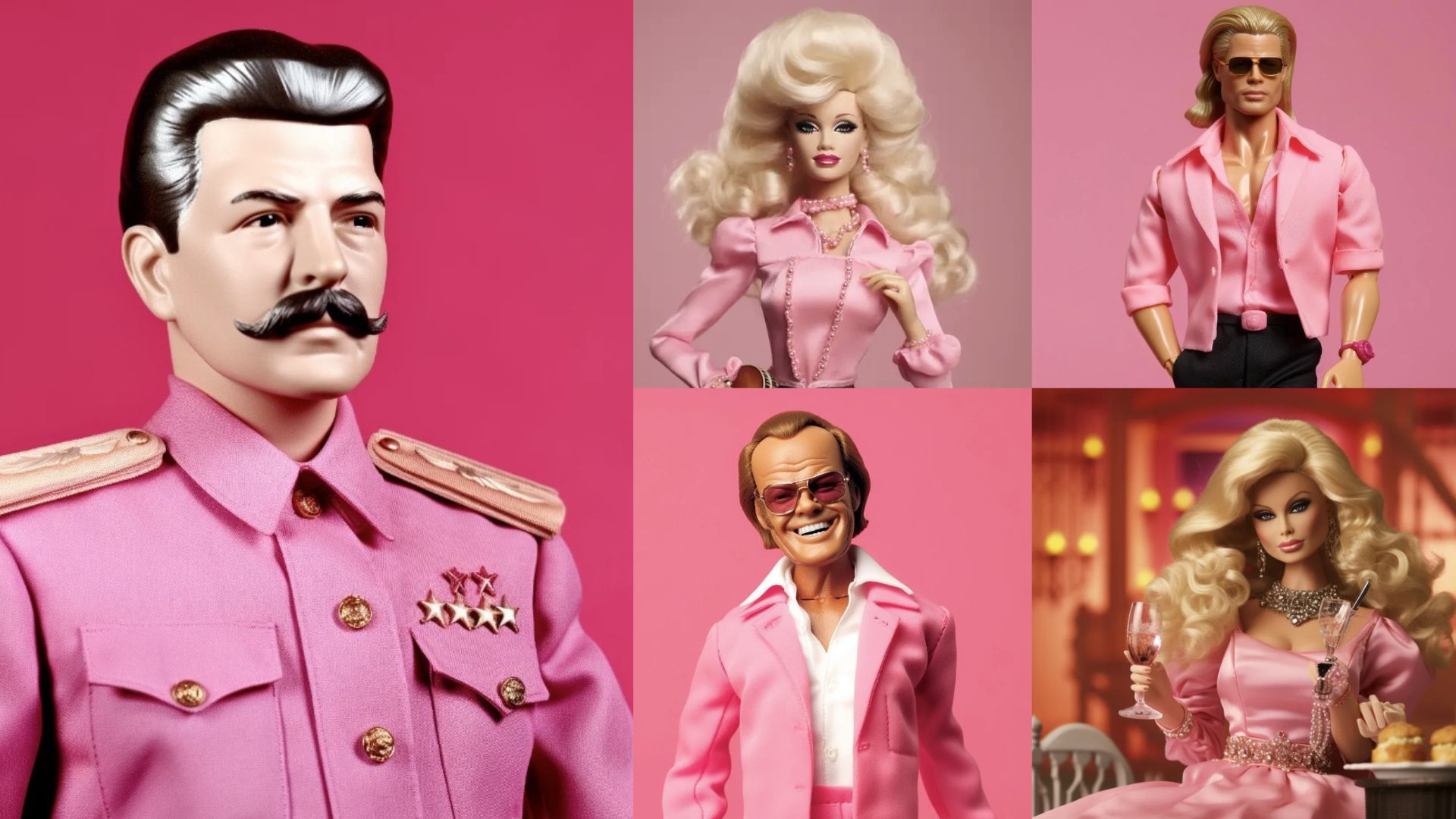 Since it's Barbie season, get excited to check out these AI produced Barbie images that show a striking or not-so-striking resemblance to their celebrity counterparts.
Jack Nicholson
The man, the myth and the legend, nonother than Jack Nicholson in the flesh or rather in the plastic. This Barbie Nicholson definitely embodies Jack's iconic expression. It is sure to be remembered for the ages.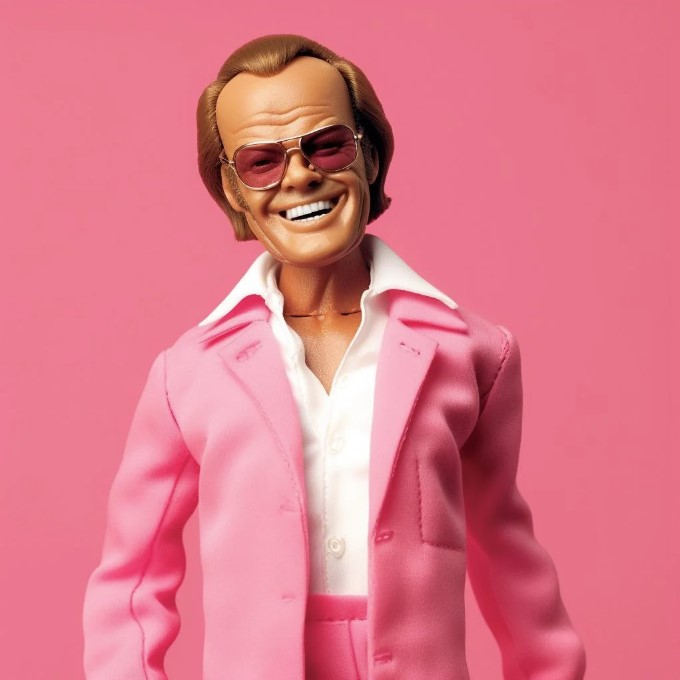 Although Nicholson is allegedly retired, this Barbie version is sure to cause a comeback in no time at all. From the sharp suit to the classic sunglasses, movie star energy seems to come through just as it oozes through Jack Nicholson himself.
Leonardo Dicaprio
With a name like Leonardo DiCaprio, how can you not be a star? Whether as a celeb or as a Barbie, this Leo is sure to draw mega attention to himself. Barbie DiCaprio seems to have gotten that goatee just right.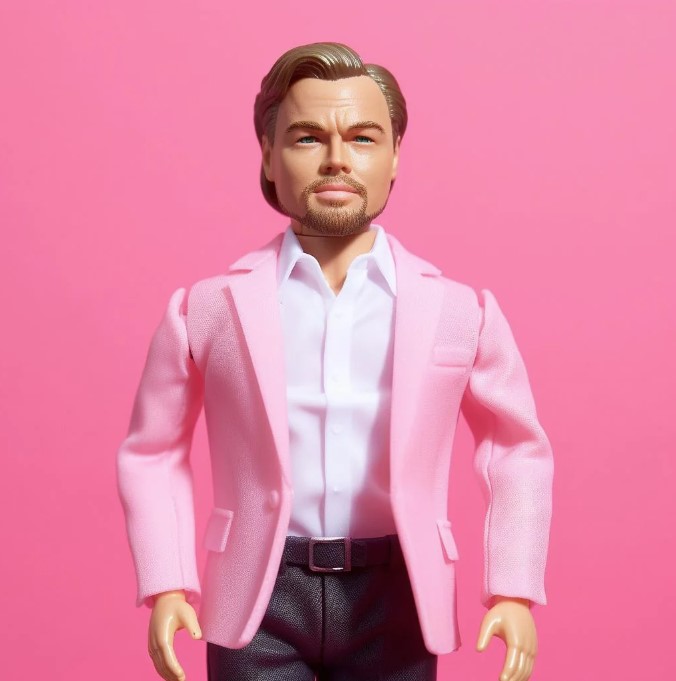 Leo is known for his impressive portfolio as an actor and film producer, he is the recipient of countless awards and accolades. It makes sense that his Barbie garners the same recognition. We can almost feel the talent come to life right off the plastic, just like it does off the screen.
Meryl Streep
If the devil can wear Prada, then Barbie can most definitely channel her inner Streep. No one can deny that Meryl Streep is a Barbie queen. Barbie Streep is not letting Meryl down as she is serving up all the looks.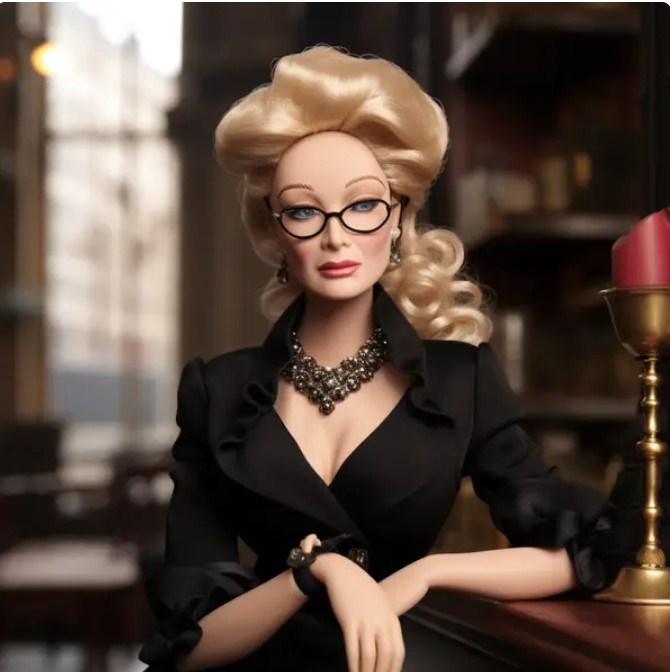 Both Barbie and Meryl Streep do not need to wear pink to show they can be Barbie girls too. Although, how similar do you think Barbie Streep and Meryl actually look? We'll let you decide how much of a resemblance there is between them.
Joseph Stalin
Joseph Stalin, a political theorist and revolutionary who led the Soviet Union during his time. They say that there is a lot of controversial opinions regarding the work Stalin did, just like with every person who chooses politics as a career.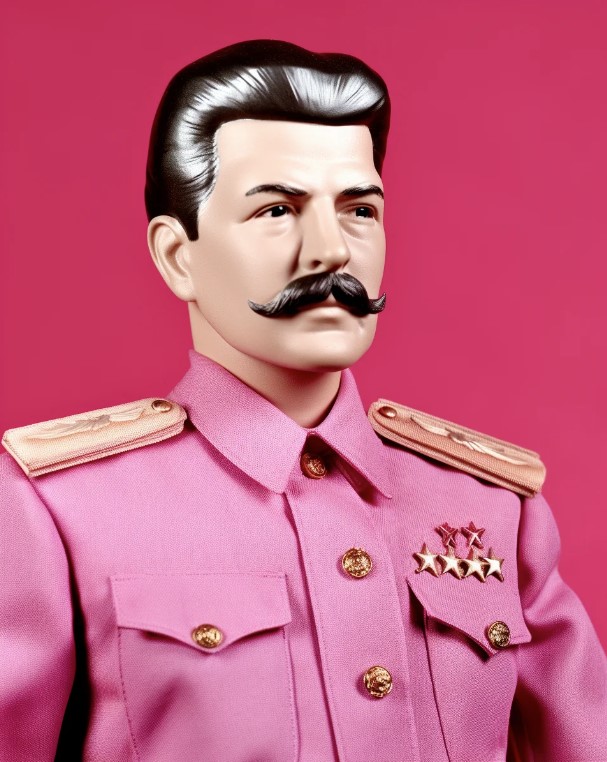 Do you think Barbie Stalin warrants the same controversy? Barbie Stalin definitely captures real life Stalin's stoic appearance, although we doubt he would wear the same bubblegum pink general's outfit.
Donald Trump
Whether you know him as the predominant businessman or  America's 45th President, you can't argue that he is a memorable character. He gives off that "look at me" vibe and it seems as though Trump Barbie does the same.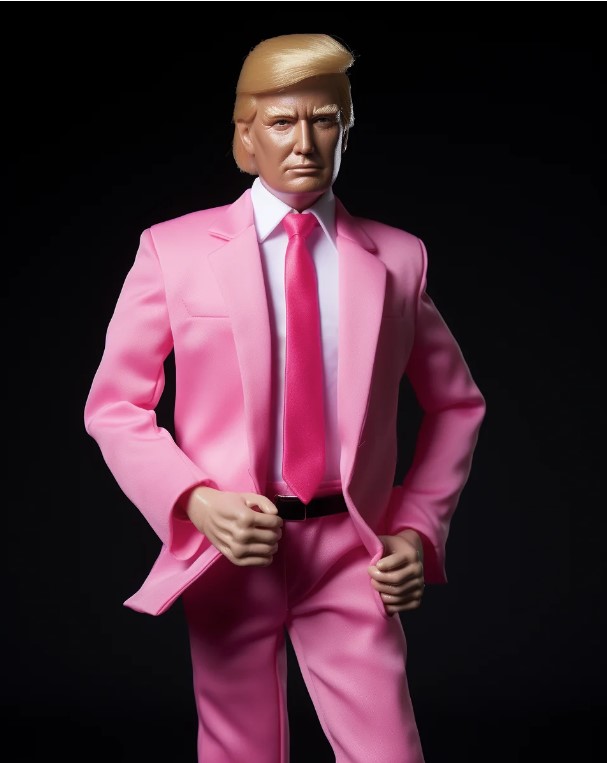 He runs the Trump Organization, a group of about 500 business ventures of which Mr. Trump is the sole or principal owner. Of such entities about 250 of them reference the name 'Trump.' Would you believe his Barbie owns and runs the same?
Margot Robbie
We cannot have this celebrity Barbie countdown without nonother than Margot Robbie herself. She is the lead actress in the newly released 'Barbie' movie, a role she totally nailed from her looks down to the character.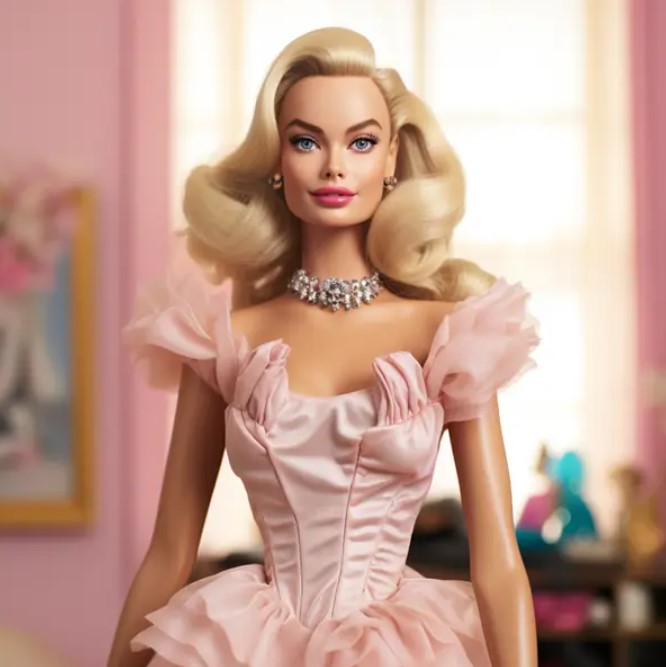 From this image, we can see that even AI technology knows that Margot was born to play Barbie. There is a striking resemblance between both Margot Robbie and Margot Barbie as they both look fabulous. They could definitely pass as twins, so it's no wonder that she was cast as the "Stereotypical Barbie" in the movie. 
Dolly Parton
Can Barbie be a country girl? The answer is yes, and Dolly Parton is living proof. The country music genius proves that being Barbie has nothing to do with age and everything to do with having your unique style and owning it.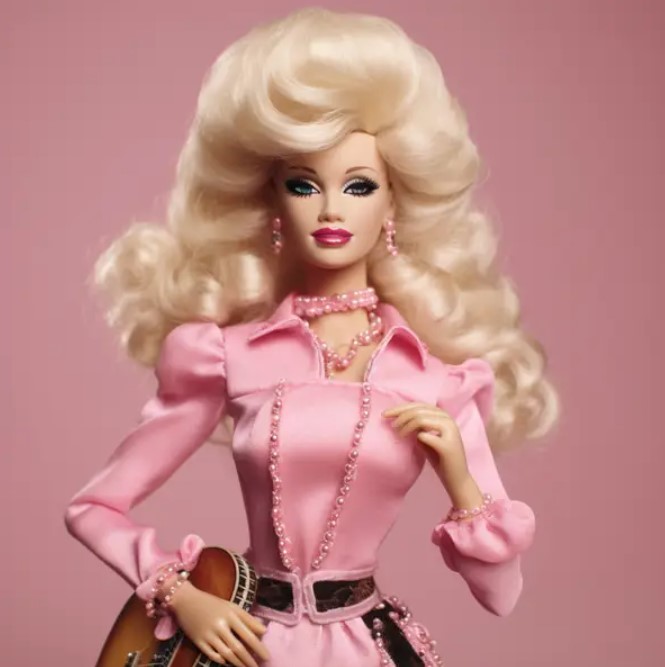 Barbie Parton has a striking resemblance to this icon. If the hair is the first thing you see, her name will definitely pop into your mind. We think it's safe to say they look alike to a certain extent.
Clint Eastwood
Clint Eastwood, an American actor, film director, and producer extraordinaire achieved great success in the Western genre. It makes sense that his Barbie is reminiscent of such western film vibes just like in his career.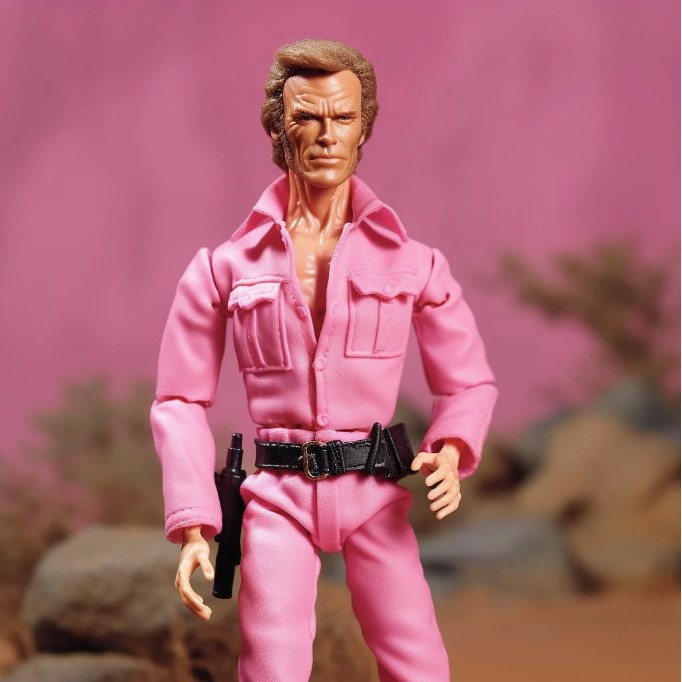 He has some famous children in the industry as well as has been linked to some famous faces in the past. His impressive career spans over several decades and yet somehow he still manages to surprise us. What do you think of his Barbie Eastwood?
Michelle Pfeiffer
Michelle Pfeiffer became one of Hollywood's most famous stars in the 1980s and 1990s, and her career continues to thrive until today. She is the epitome of timelessness, just like Barbie, transitioning through the years with ease.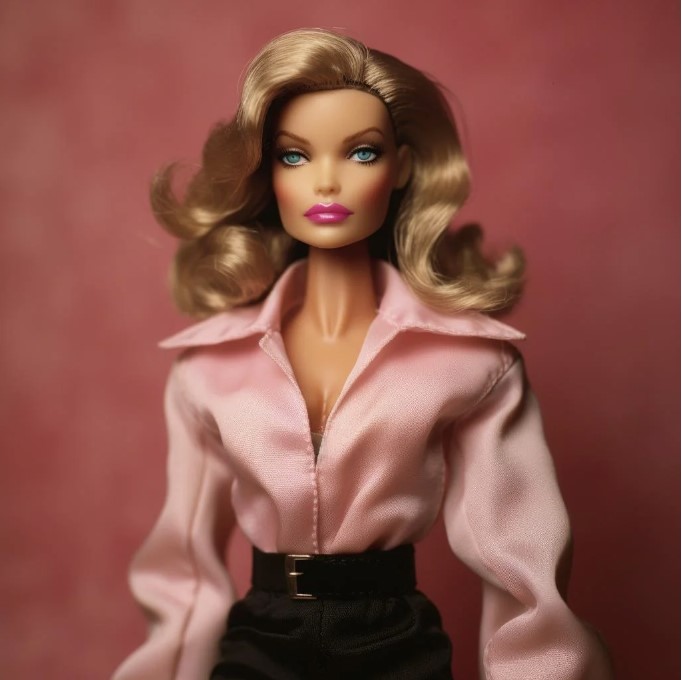 Pfeiffer just like her Barbie exudes effortless style and class. It would make sense that she is adored around the world both as a celebrity and in her Barbie form.
Winston Churchhill
Winston Churchill, twice Prime Minister of the UK and a British statesman, soldier, and writer. Churchill is known around the world, he is as iconic in death as he was in life.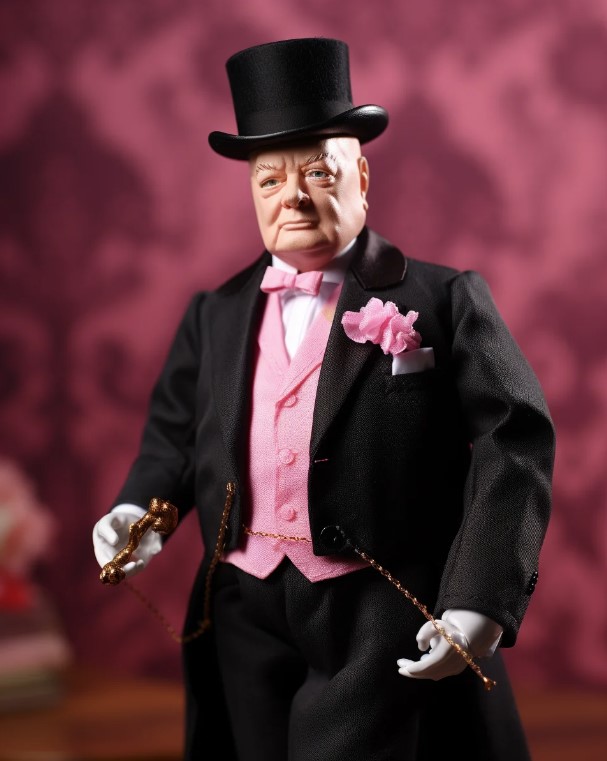 If we traveled back in time and made him a Barbie, AI thinks he would look something like this. His facial expression seems spot on, as well as the traditional dress of the time. Do you think everything looks better in pink?
Brad Pitt
Both an actor and film producer, Brad Pitt does it all. We expect nothing else from his Barbie look alike. Dreamy in real life and in plastic, it truly is a Barbie-Brad world and it's fantastic.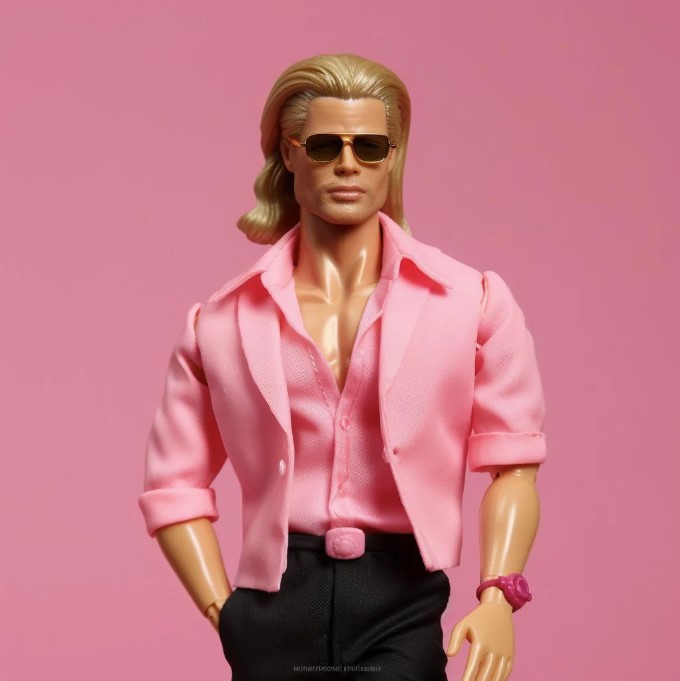 How could you say no to brushing those lushes locks? We would without a doubt buy this Barbie hot off the shelves. Mattel has our vote for this Barbie to come to life. We'll take one or maybe even two of Barbie Brad.
Sigourney Weaver
Sigourney Weaver has some real acting chops. She known for some memorable roles in the world of film and television like that of Ellen Ripley in the Alien film series and the Ghostbusters franchise among others.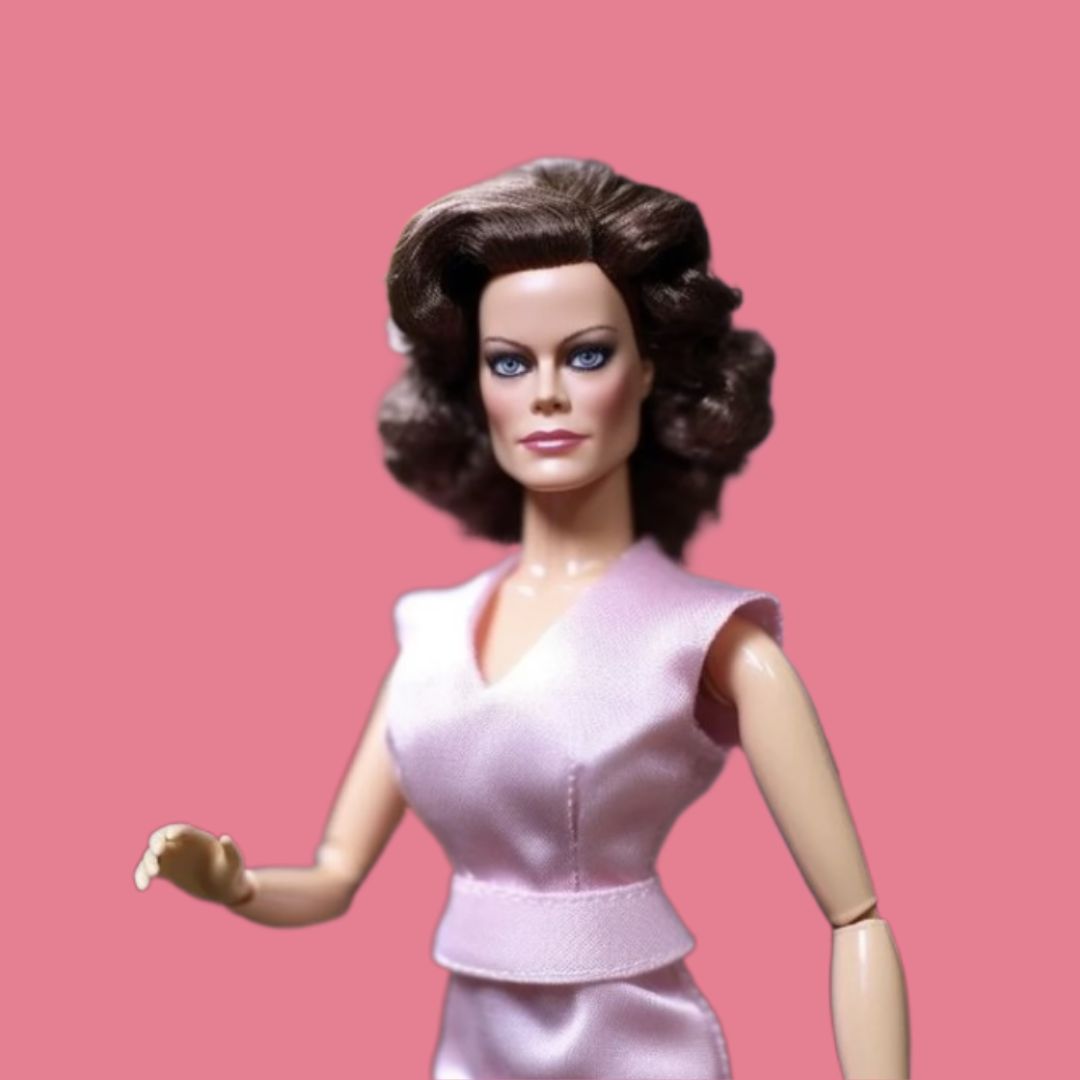 We aren't sure if how a mere Barbie can do this bona fide star can fully be replicated in a Barbie but here is AI's best attempt. Do you think it nailed it?
Daniel "Danny" DeVito
DeVito is an actor, comedian, and filmmaker who has been in the business a long time. He has one countless awards and recognition for some very iconic roles. Even his demeanor and way of speech is highly recognizable from miles away.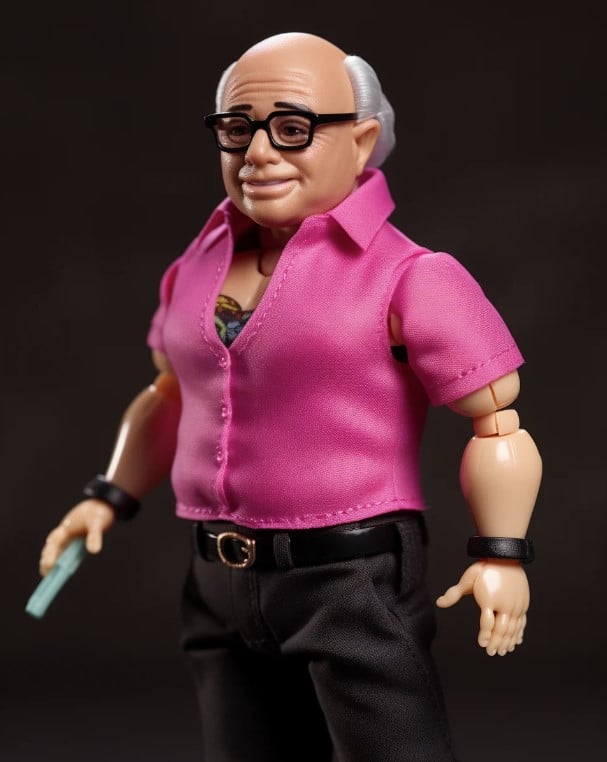 Barbie DeVito does not disappoint, wear the classic Barbie pink in his classic stance. This Barbie is ready to get on the stage and deliver in full.
Pamela Anderson
Pamela Anderson, an actress, model and media personality known for her good-looks and charm is now imagined as the classic lifeguard barbie. This Barbie is channeling one of Pamela's most iconic TV roles, 'Baywatch.'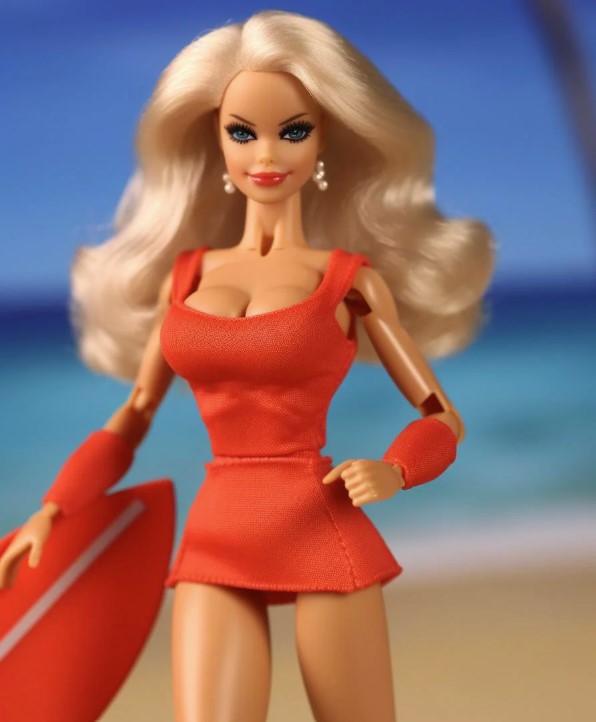 Just like Anderson in Baywatch, this Barbie is a babe. With surfboard in hand both lifeguard Barbie and lifeguard Barbie will be remembered for their sun-kissed glow.
Jennifer Coolidge
Jennifer Coolidge is an actress primarily known for her comedic nature and her ironically recognizable voice. She graces her talents in classics like 'Legally Blonde.' Is there an even pinker movie than that?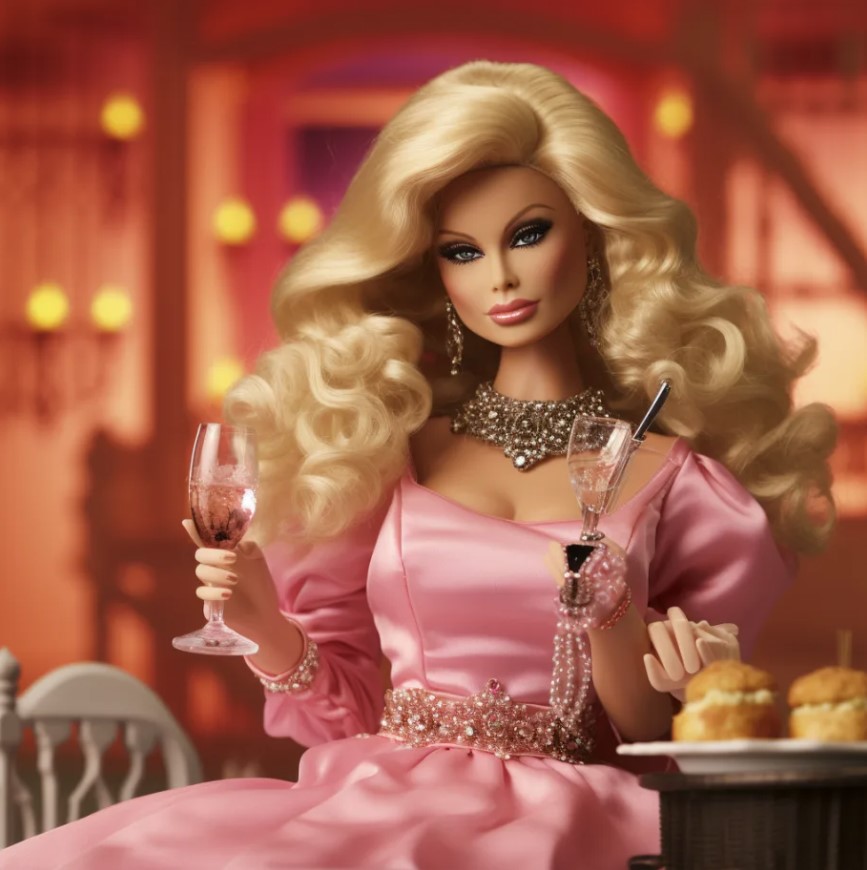 All things pink and fashionable in both Barbie and film, this barbie has what it takes to make a name for herself as Coolidge Barbie, she is cooler than us for sure.
Ryan Reynolds
He is another superhero that would look good in just about anything if he could look good in his superhero costume. And yes, he definitely has the Barbie look.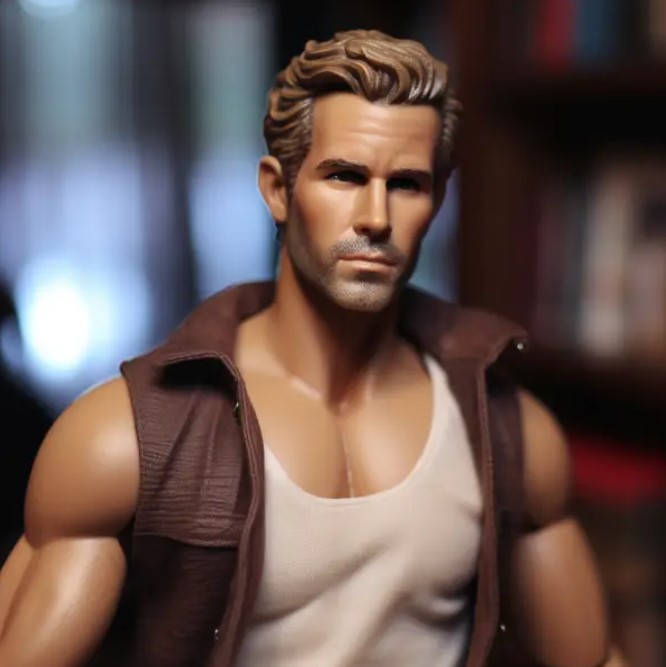 Judging by the style and facial features of the AI image, Barbie Reynolds looks just as good as his real-life counterpart. There is an unmistakable resemblance between the two, and Barbie Reynolds might just be Ryan's long-lost twin.
Beyoncé
Barbie Bey looks astonishing. The hair, clothes, and jewelry are so spot on. We all know that Queen B loves her statement jewelry, she is a statement and a moment in herself. AI definitely did not hold back in this case and let it shine.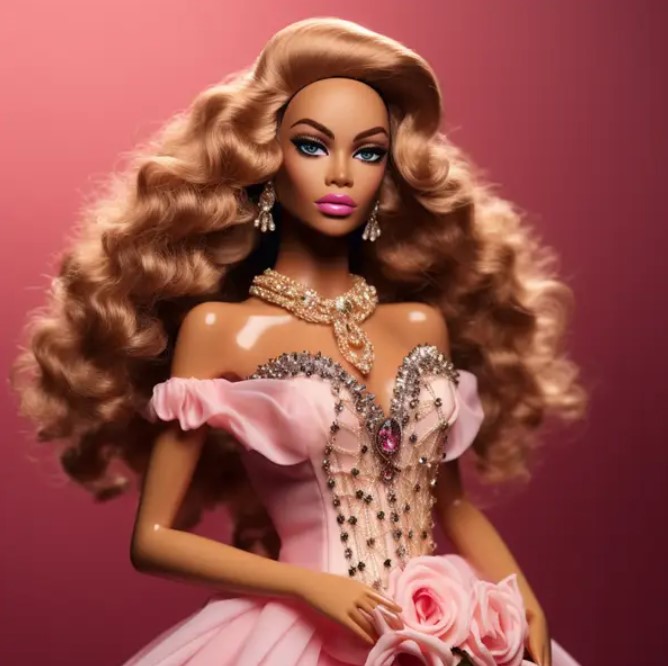 Beyoncé is certainly a Barbie queen, and her Barbie pose undoubtfully captures how fierce she is. However, Barbie Bey could never fully capture Beyoncé's iconic face. Every other aspect shows "I am Beyoncé," but how much of a resemblance does Barbie B truly have?
Kim Kardashian
Kim and Barbie have a lot of things in common. They are both beautiful, fashion elite, and successful in their respective worlds. There is no doubt that Barbie K as shown here is all dolled up in the same way Kim K would have been in real life.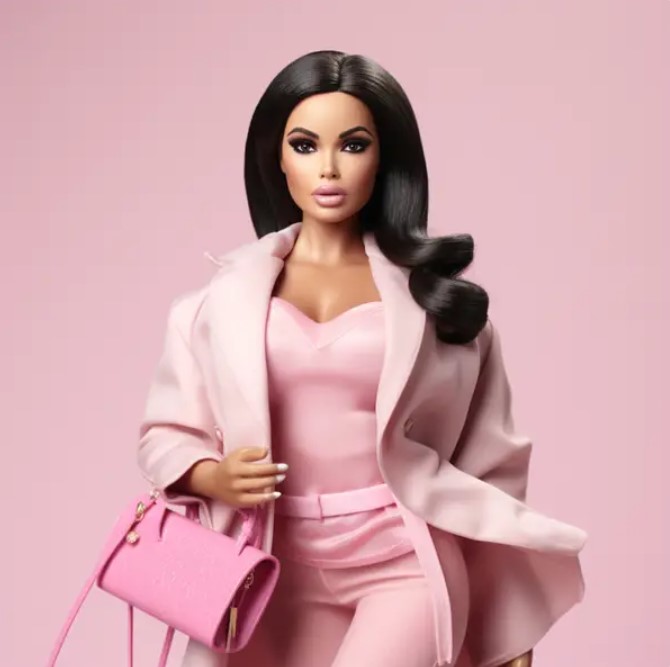 Even the pose is exactly how Kim would have done it. Whether or not you believe that there is some resemblance between the two Barbie K definitely embodies Kim K's vibe. 
Dwayne Johnson
Barbie "The Rock" Johnson is almost an exact replica of Dwayne Johnson, and no one can deny that. Well, except for the hair, every other thing bears a striking resemblance.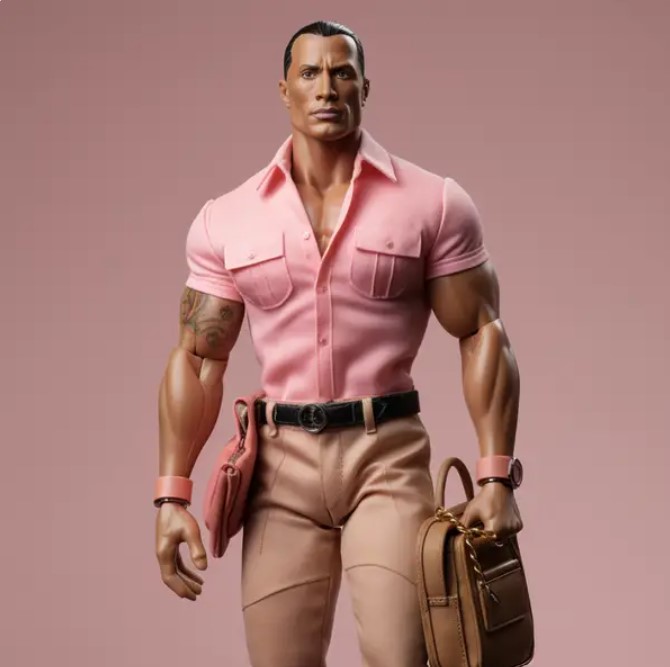 Dwayne's facial features, how he bodies his outfits perfectly, everything was executed to perfection by Barbie Johnson, except, once again, the hair. The AI got another transformation right.
Adele
Talented, beautiful, and elegant. Adele is all of that and more. You can close your eyes and see Adele's image of Barbie, Barbelle, holding a microphone and singing the hit song "Hello." The pose can tell you how well she would pull it off.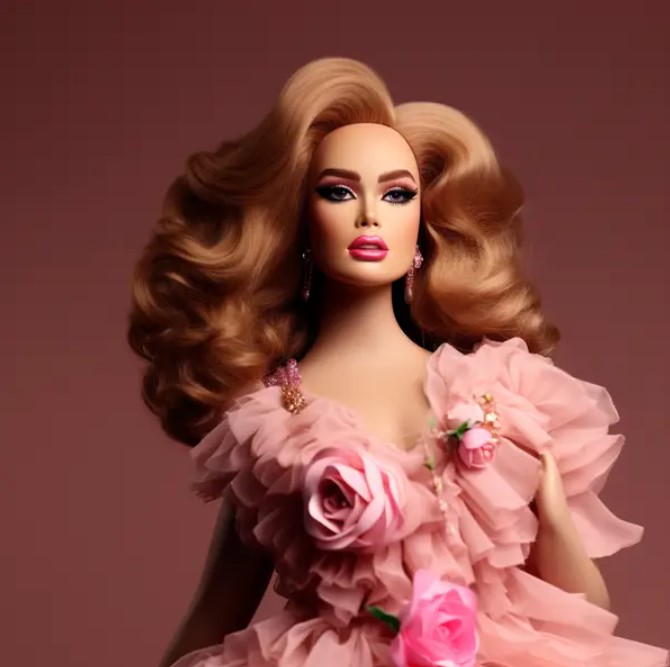 Barbelle might not look like Adele as much as Barbie Chalamet or Ken Styles look like their real-life counterparts, but we can't deny the similarities.
Idris Elba
This AI-generated image can be referred to as Idris Elba, it has Elba down to a T. Face, hair, facial expression, pose, and clothes, Barbie Elba, nailed the whole look, even down to the tiny pocket square.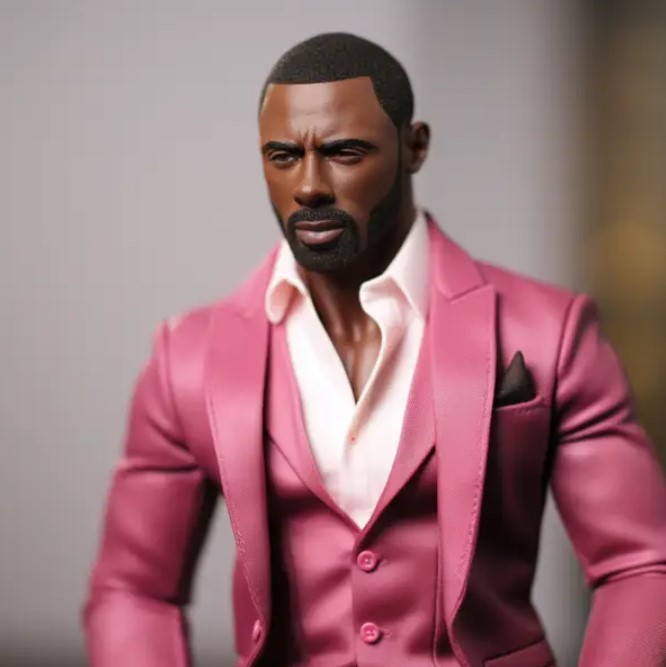 Barbie Elba could walk past you on the streets, and you'd be none the wiser. So yes, this is a very striking resemblance. Just like Margot Robbie, they could also pass as identical twins.
Michelle Yeoh
Every single time the beautiful Michelle Yeoh has graced our screen, she has portrayed nothing more than her graceful and superbly dressed self. She is always looking elegant, and Barbie Yeoh, her Barbie image, is not lowering the bar.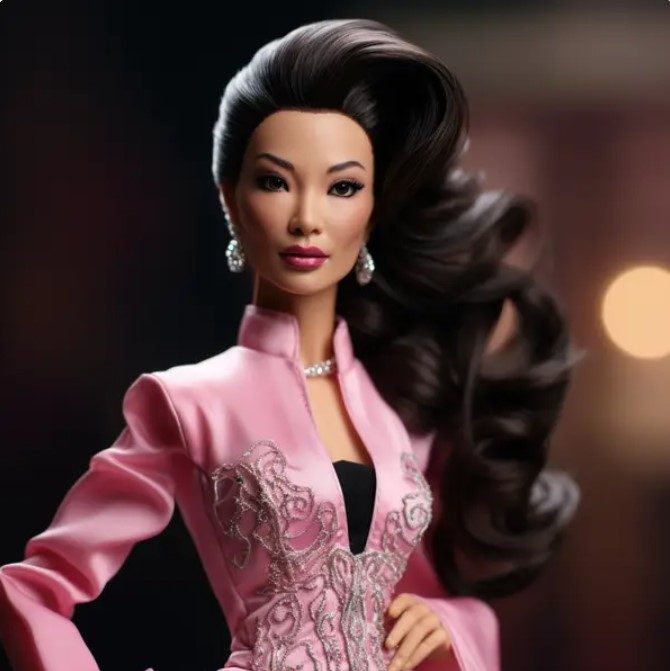 The Barbie modification of Michelle also has an uncanny resemblance to the Malaysian actress.
Chris Hemsworth
Here is another superhero; although Thor's costume does not cover everything but still,  not everyone can pull it off. Barbie Hemsworth of Asgard does not look short of what a thunder god should look like.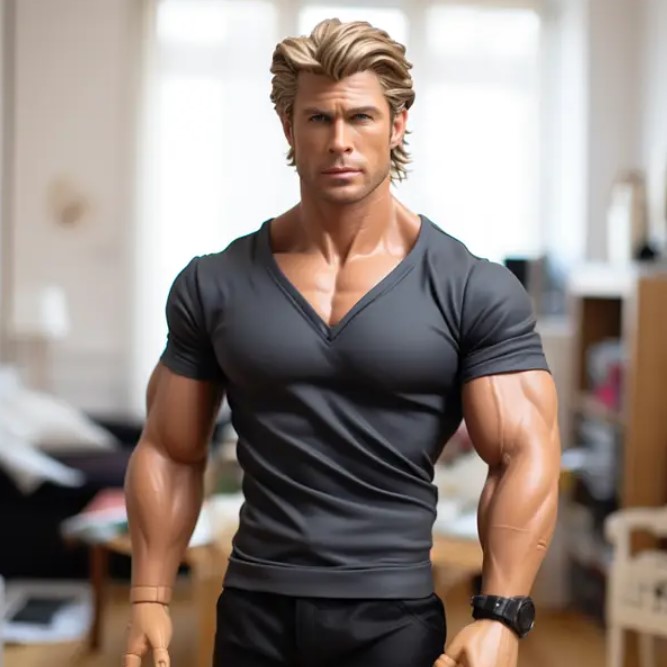 They look so alike, even if Loki could not tell them apart. We are grateful that this AI has provided us with a hammer-wielding Barbie. This is another resemblance that is so glaring that they could be identical twins.
Taylor Swift
Taylor Swift is our world's tall, beautiful, and stylish Barbie. Her simple yet classy style gives Barbie vibes exactly how it is portrayed in Barbie Swift. Taylor never misses her looks, and neither does Barbie.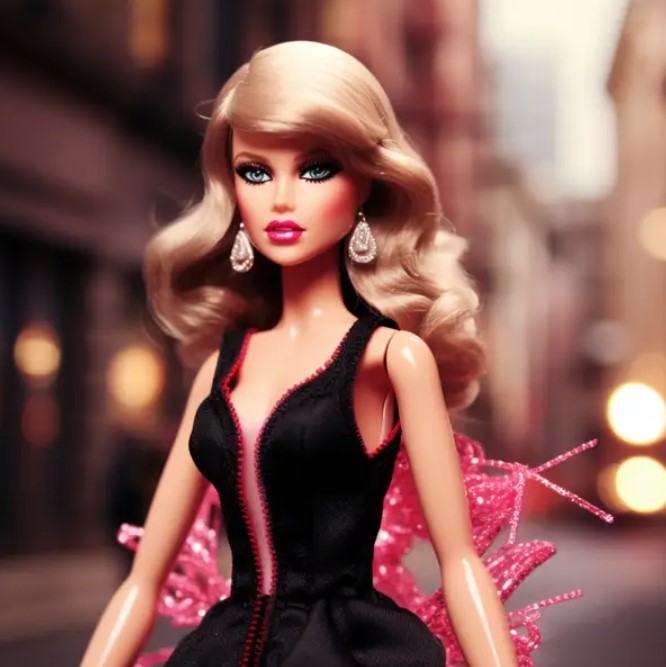 In terms of resemblance, Barbie Swift looks a little like Taylor Swift. Not precisely a striking resemblance, but it is still there.
Harry Styles
Harry Styles is not only known for his singing voice but also for his unique fashion and style. He can wear just about anything and look extremely good in it, just like Barbie and Ken.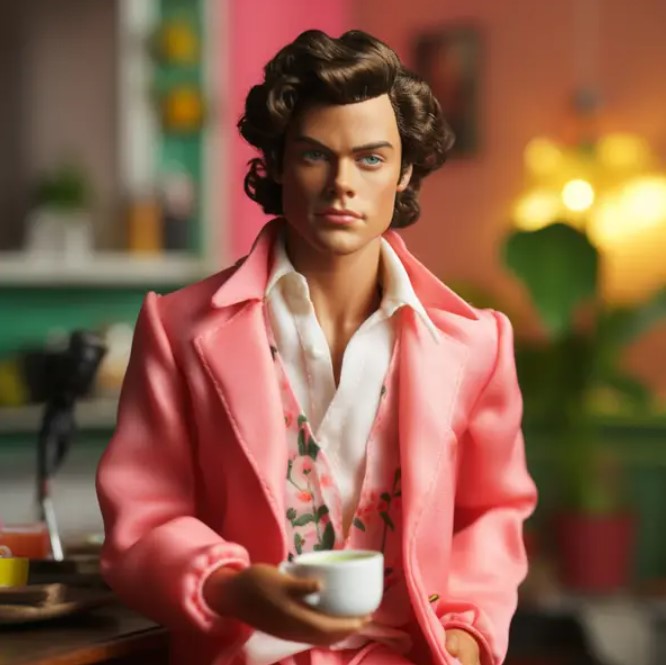 This image, however, shows a stunning Barbie Harry or more accurately a Ken Styles in style. They both look very much alike, and Ken Styles looks every bit as good as Harry Styles does. It is giving major 'Ken-ergy.'
Elton John
If this picture were lifted off Elton John's Instagram page, we wouldn't be surprised. In fact, we can almost assume that Elton exclusively posed for this picture just for AI to use.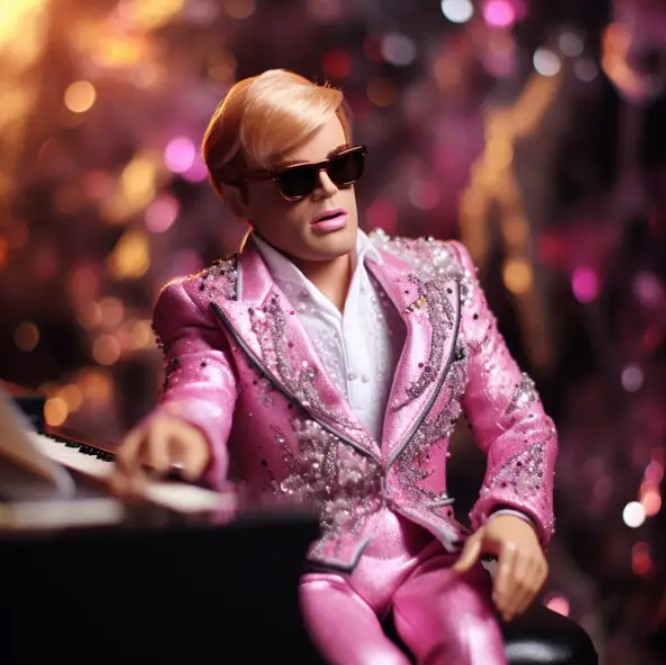 Every single detail in this picture, screams Elton John. All Barbie Elton needs is to start dancing and singing his tunes; which if he did we wouldn't be surprised with how much they resemble each other.
Rihanna
Rihanna could easily pass as a human Barbie any day and any time of the week. Even this AI knows it. Rihanna is known not only for her musical prowess but also as a beautiful fashion icon which is basically what Barbie is about.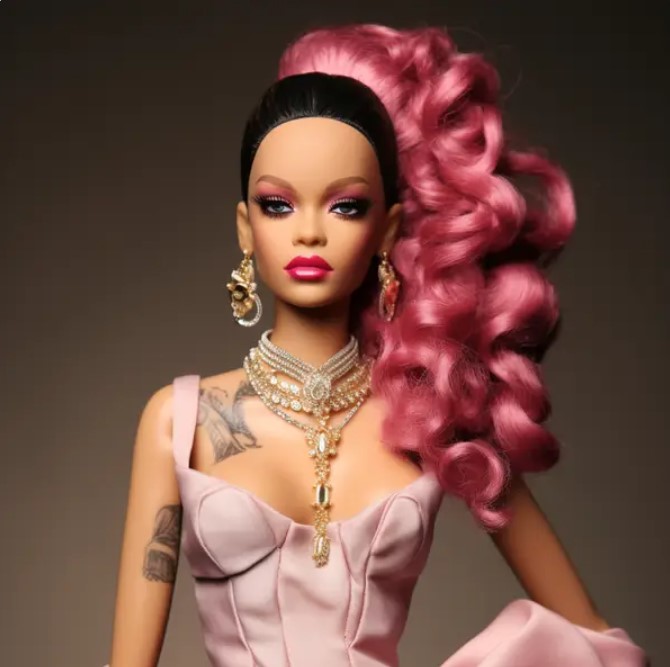 Barbie Rihanna looks so good, and she does look similar to the real Rihanna, face and all.
Priyanka Chopra
Barbie is a pageant queen, the doll has bagged pageantry awards, and Priyanka can be likened to Barbie in her pageantry queendom. Barbie Priyanka, in the image below, is doing her image justice.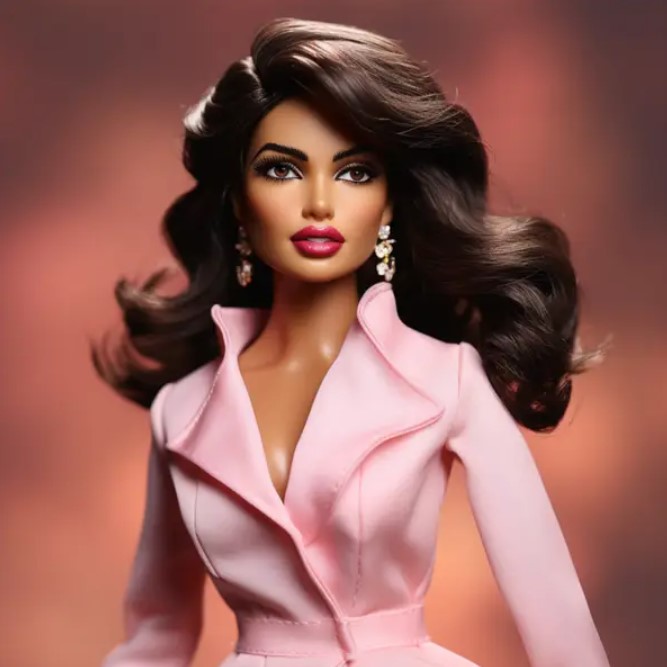 Although the similarities between the two Priyankas are not exactly glaring, we can still see them. The style and its simplicity are pretty spot on.
Gigi Hadid
Supermodel Gigi Hadid is the epitome of beauty. We don't have to mention her obviously amazing fashion sense. She bodies everything ideally just like Barbie would, from the runway of fashion shows to her street style.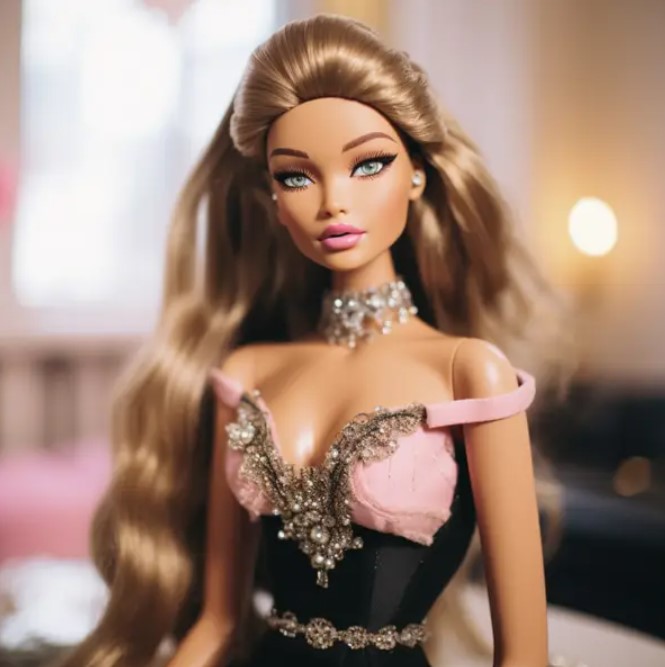 Barbie Gigi is putting all that out for us to see; she also looks like a runway model. In terms of similarities, Barbie Gigi looks almost precisely like Gigi Hadid. The AI got another one correctly.
Tom Holland
If our beloved Spider-Man can look good in his head-to-toe-covered outfit, he would definitely look good in anything else, and yes, that makes him a certified male Barbie.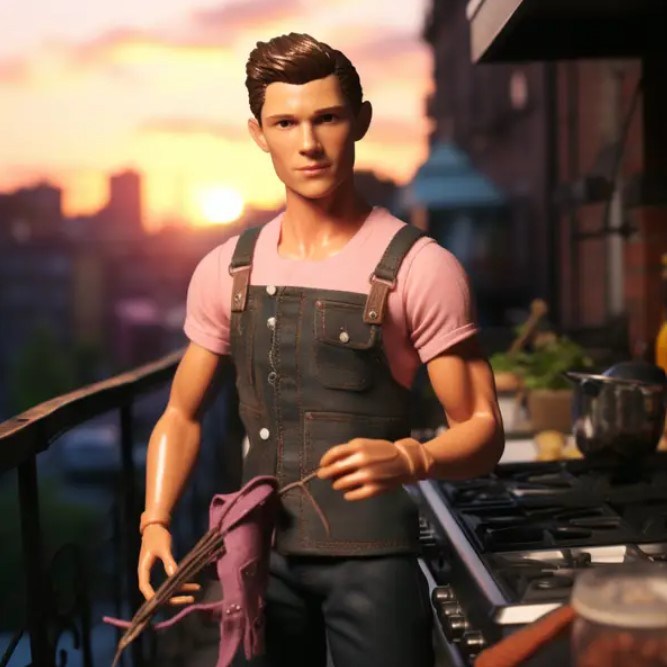 Just take a look at Barbie Holland, he is draped in what looks like dungarees, and he is pulling it off perfectly. And what's more, Barbie Holland looks almost exactly like Tom; another uncanny similarity.
Zendaya
No one can deny the fact Zendaya is a real-life Barbie. Her looks, style and the way she exudes confidence in everything she does screams Barbie queen.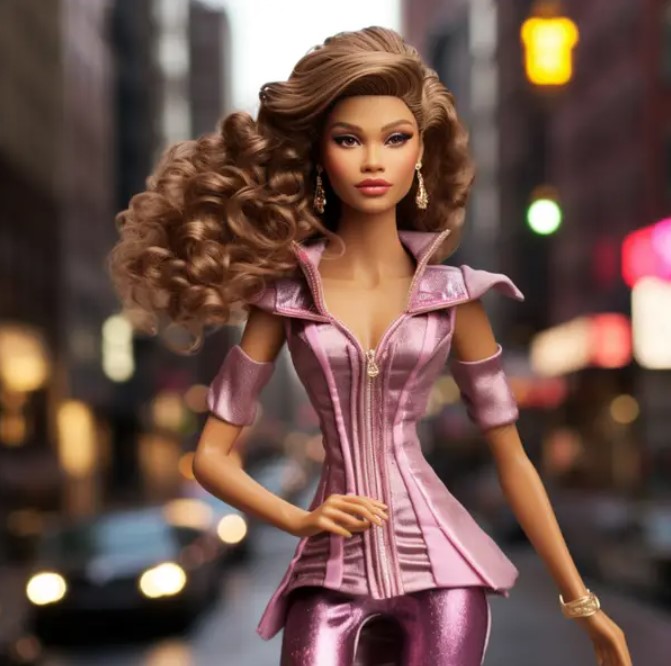 Barbie Zendaya struck the perfect pose; you can imagine Zendaya doing the same thing. That's not the only thing Barbie Zendaya got right; the hair and style are so on point. The doll does have the name Zendaya written all over it.
Timothée Chalamet
Timothée is a very good-looking actor, and he has a good sense of fashion too. His red carpet-outfits have never failed to look amazing. He knows how to dish out those striking ensembles. The AI that generated these Barbie images got this fact right.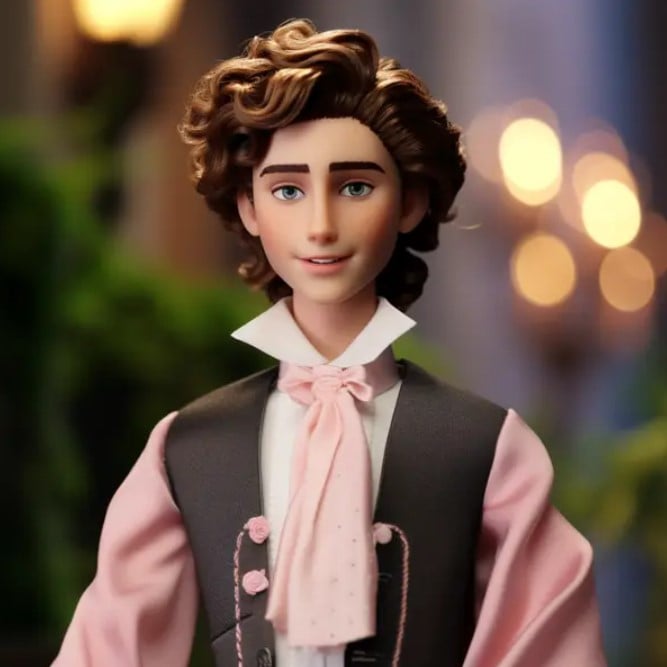 Barbie Chalamet looks almost precisely like Timothée. The resemblance is quite uncanny. The outfit Barbie Chalamet is wearing is definitely something Timothée can wear and pull off with precision.
Chris Evans
Barbie Evans in this Captain America outfit is one of the cutest images we've seen. This is a perfect combination of Captain America and Barbie, and his superhero name would be Captain Barbie of America.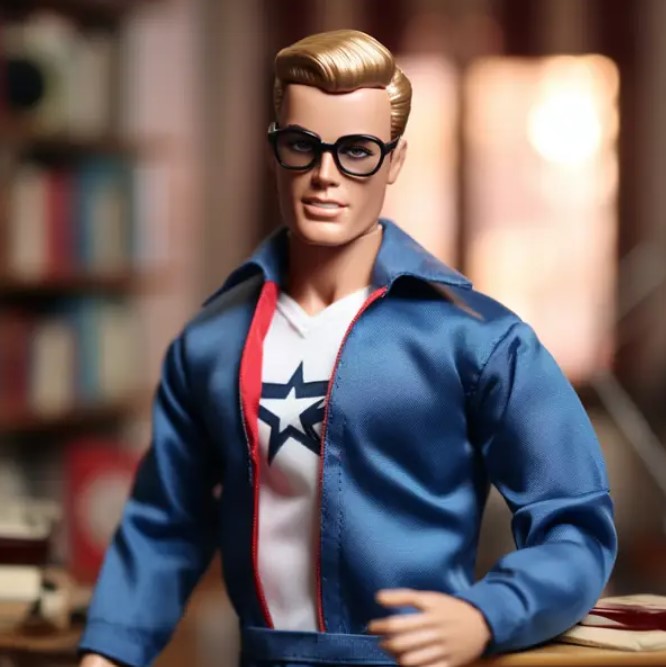 The little glasses also took the image to a whole new level of "cute details." However, Captain Barbie of America looks nothing like Chris Evans. They can't even pass off as brothers; they still look good though.
Dua Lipa
Beautiful and talented Dua Lipa, with her impeccable good looks and style, is definitely another Barbie girl.  Dua Lipa's style is not the average style we see every day. She gives us something unique and refreshing every time we see her, another characteristic of Barbie.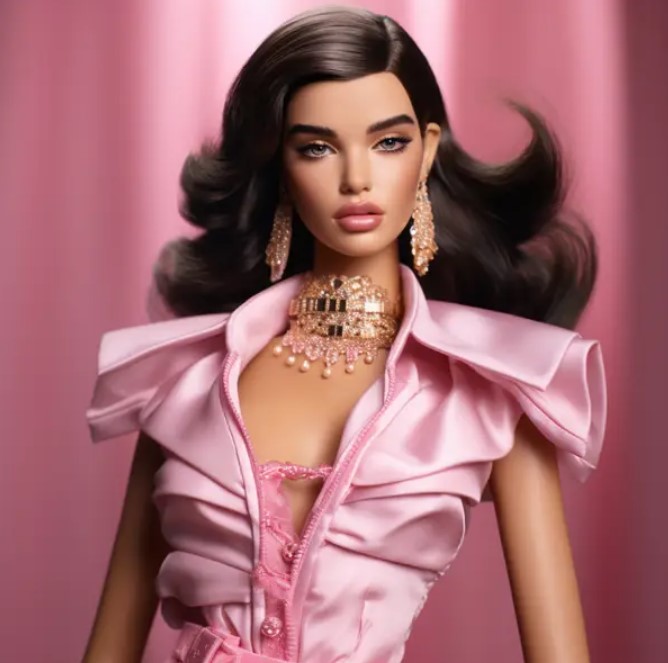 Barbie Lipa is also giving the same energy, and she also looks like Dua Lipa too. The hair, pose, and facial expression reveals an almost perfect similarity.
Ariana Grande
Ariana is an embodiment of talent, beauty, and impeccable fashion sense. She even has her own signature ponytail that a Barbie girl can wear any day and anytime.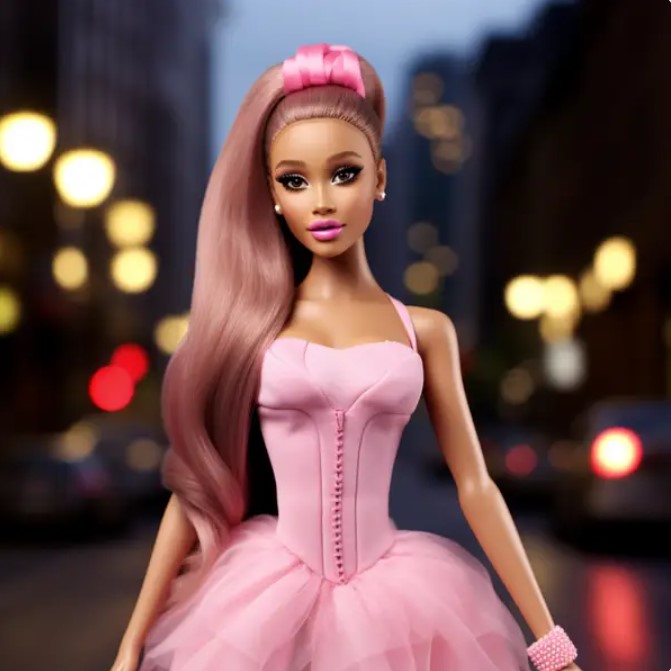 Barbie Grande looks just like Ariana. She has the same signature hairstyle, and it can't look better than it already does. The dress, too, has Ariana written all over it. All Barbie Grande needs is a microphone, and she is good to go.
Selena Gomez
Selena started acting as a child and grew into a beautiful, confident, and hardworking woman. She is one celebrity that never hides her true self, and that is definitely a Barbie trait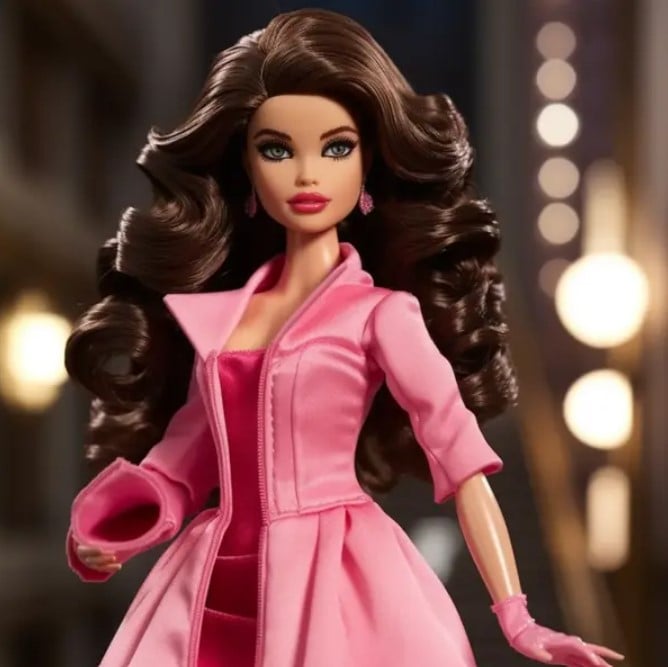 Although Barbie Gomez does not look anything like Selena in this AI-generated photo, we can still say loud and clear that Selena is a Barbie girl.
Issa Rae
Issa Rae played the role of President Barbie in the newly released Barbie film. She executed the part amazingly well. Barbie Rae also executed this look quite well. She bodied the Barbie boss look just like Issa constantly does.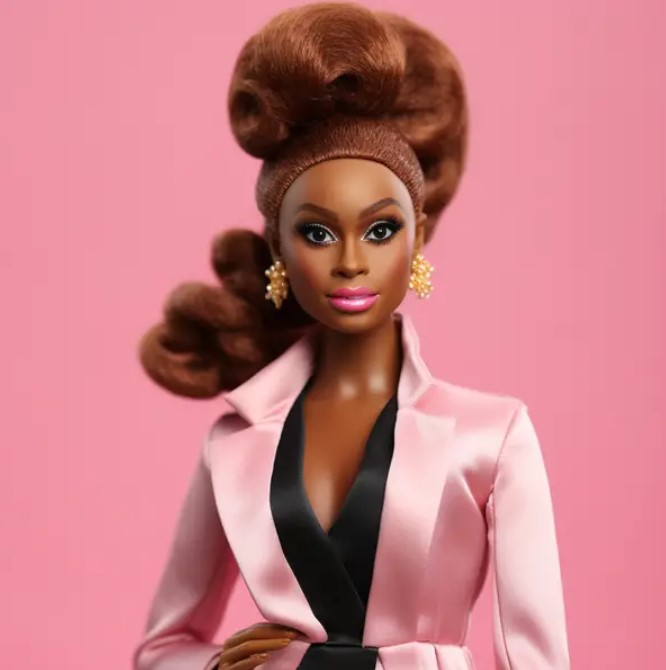 Between both Barbies, we'd say they look a little bit similar. We see the resemblance, but it's not exactly glaring like some other images.
Keke Palmer
Keke Palmer is a black Barbie through and through. In the aspect of looking beautiful, dressing up nicely, letting her confidence show, and making people around her laugh and feel good, she is a Barbie girl.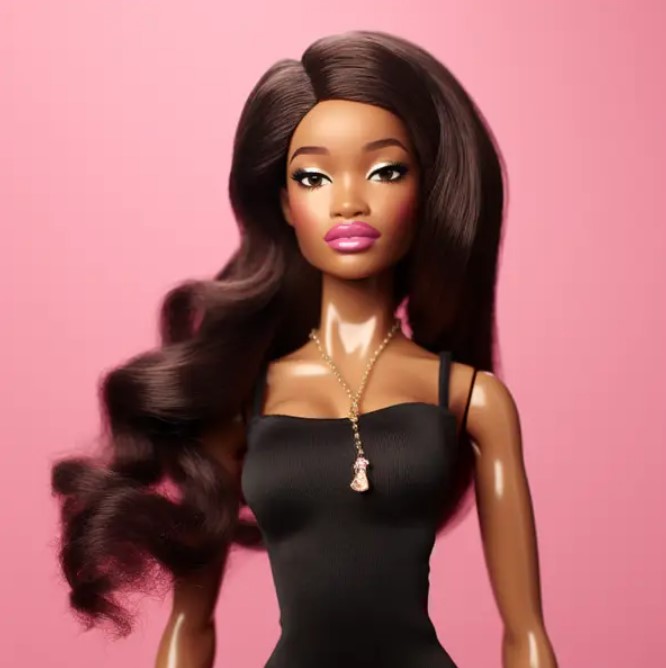 Barbie Palmer looks like she would do the exact thing. Both the doll and real-life Keke look extremely good, and they also share some similarities.
Lana Condor
If Lana Condor does not give you Barbie girl vibes in the roles she plays in movies, then we don't know who else can. Barbie Lana here does look a bit like real-life Lana Condor.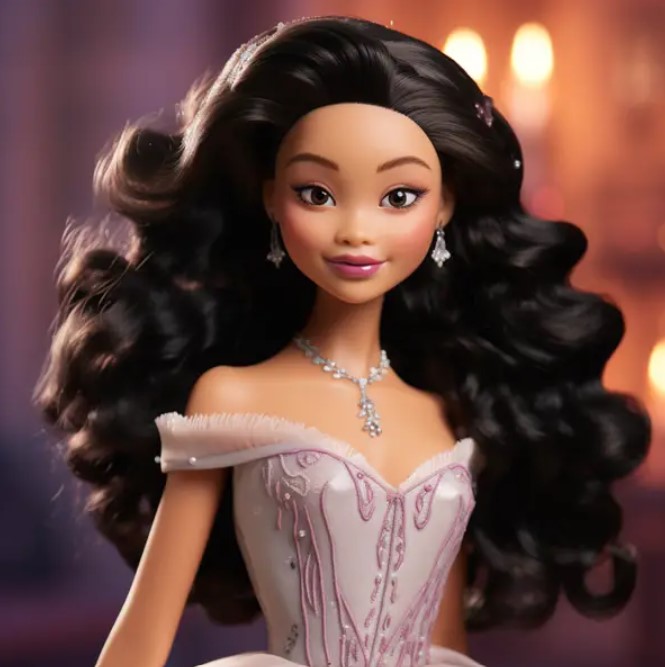 She is definitely not a hundred percent similar to the beautiful actress, but we can still see a bit of Lana Condor in her appearance.
JungKook
The multi-talented K-pop idol definitely fits into the male Barbie category. He was dubbed the most handsome man in the world, and it was not surprising. He has all that it takes to be in this Barbie category. He has an incredible fashion sense and will look good in anything he deems fit to wear, just like Barbie Kookie looks fantastic in his outfit.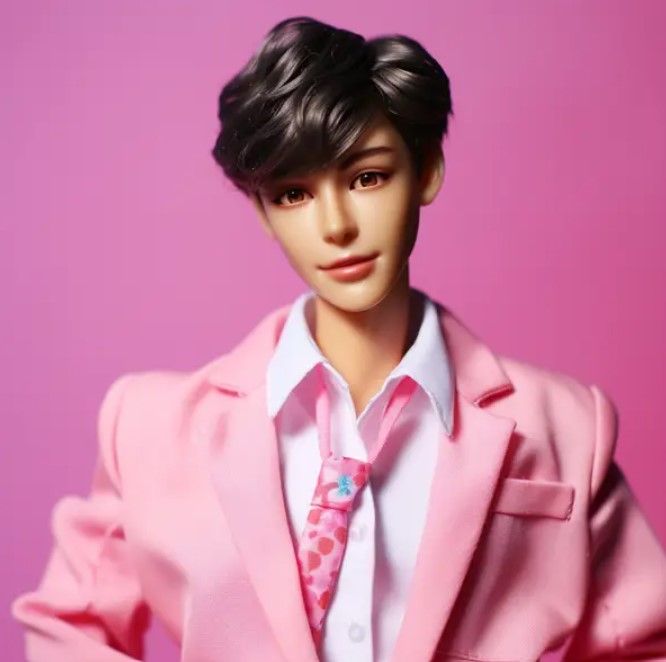 Barbie Kookie, however, does not have the tiniest form of resemblance to BTS's Jungkook, but he still looks good either way.
Billie Eilish
Barbie can pull off any type of outfit, from princess outfits to Emo or Goth outfits. Barbie does not conform to a specific kind of style or look, and Barbie Eilish, in this image, is giving us proof. Who does this unique style better than Billie Eilish?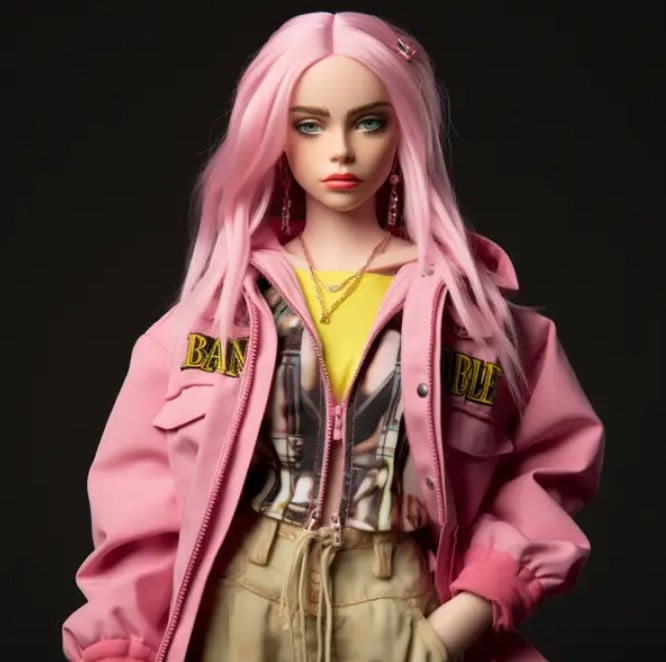 Well Barbie Eilish can give Billie a run for her money. Yes, this right here is another striking resemblance between a celebrity and her Barbie counterpart.