A Husband Builds $43,000 Tropical Oasis in His Backyard for Wife's Year-Round Getaways
Originally Published on
savvydime.com
and repurposed with permissions
Vacations abroad are a luxury most people can't afford. For families with busy schedules, it can be a real struggle to book time off together, which is why some people prefer to stay at home. Luckily, some heroes out there make sure to pamper their loved ones.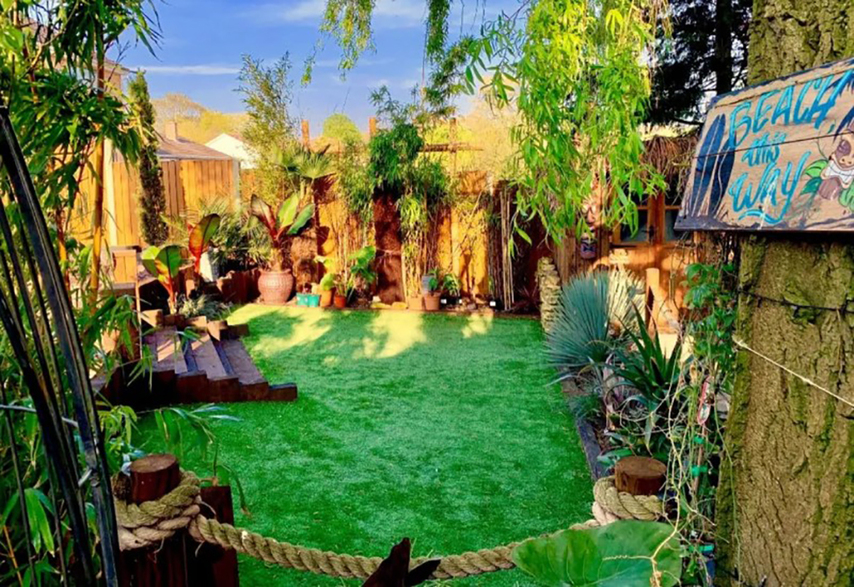 Read on to find out what this husband did for his wife.
No Time To Relax
Chris and Sharon live in Northamptonshire, in the UK. They are very hard-working people and are owners of their own businesses. They are also the proud owners of an elderly dog with disabilities. Unfortunately, their hectic lives make it difficult for them to book time off together.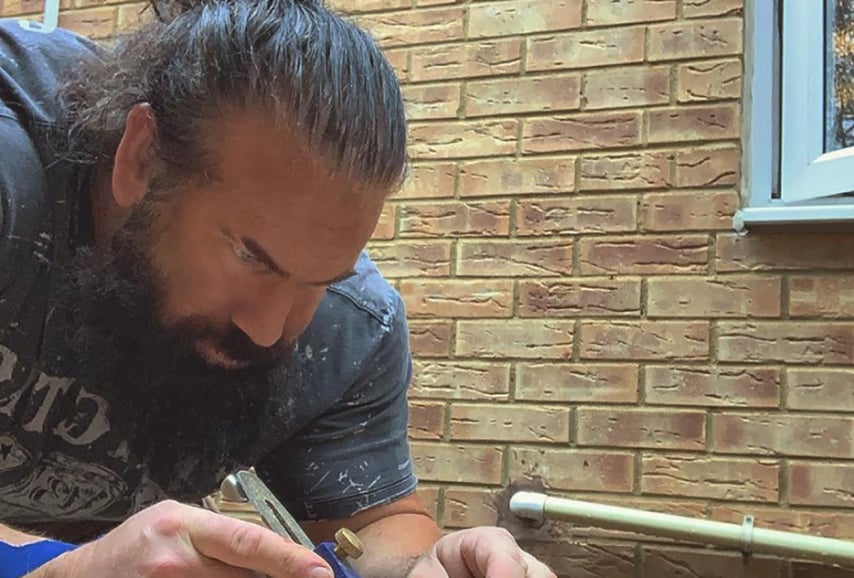 Chris decided to use his skills to treat his wife to a vacation retreat—but instead of booking an expensive resort, he decided to build it himself. It just so happens that Chris is a talented construction worker with many genius ideas.
One Brick At A Time
Although Chris didn't have any experience with landscaping, he was willing to learn as he developed his fantastical project. The tiki garden was built to be a place of relaxation far from the hustle and bustle of the couple's hectic lives.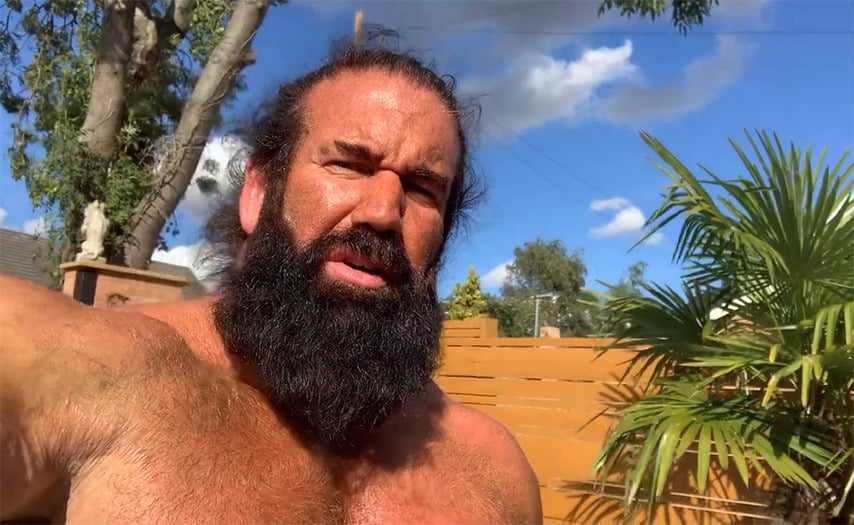 It had been six years since Chris and Sharon had taken a holiday. They felt as though they never had the time to vacation, with their schedules being what they were. So in 2017, Chris came up with a plan: to bring the holiday resort to them.
Two Big Vacation Lovers
Chris and Sharon loved going on regular vacations to exotic destinations every year, but when they started their own businesses, they could no longer take as much time off. They both love running their business, but the workload dramatically restricts their movement.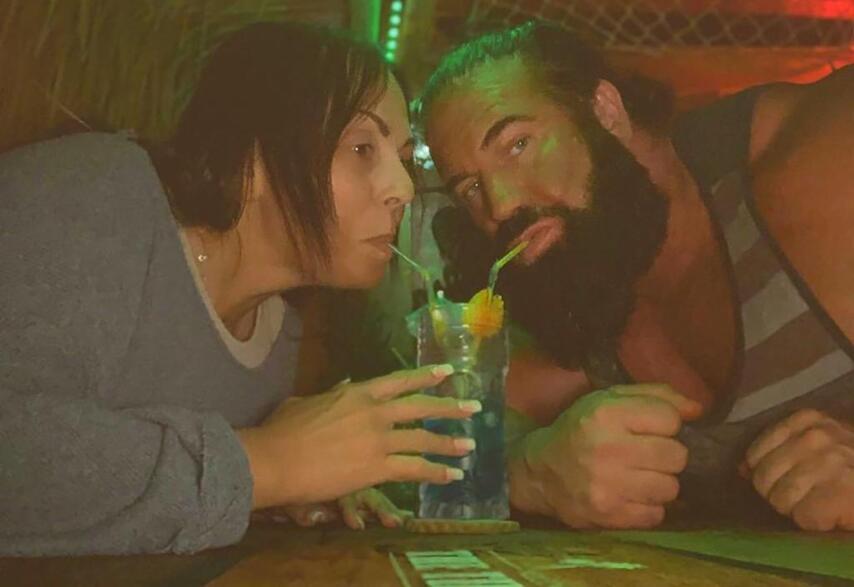 Realizing that time off is essential, but with no time to travel the globe like when they were younger, Chris decided to do something to make the most out of the space in their huge backyard—and so the project began.
Their Dog Dice
Not only are their jobs very demanding, but there is also another impediment to their vacation aspirations: Their pet, Dice, an adorable nine-year-old American Bulldog, has earned a reputation as being the baby of the family.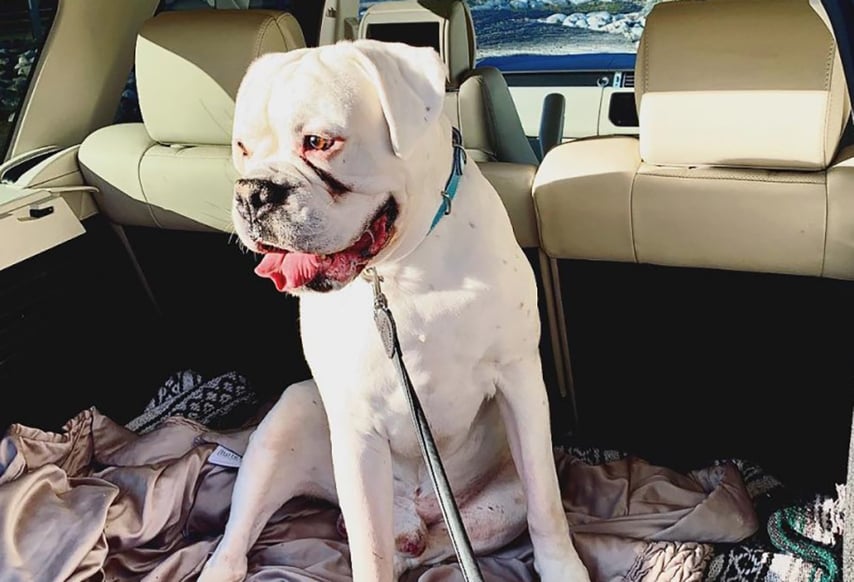 Dice suffers from a type of epilepsy, so he needs special care. That's why it isn't possible to leave him behind even for a few days. They would be worried about being apart from him for a long time. It just wasn't possible for them to leave their baby behind.
Time Off Project
Without a time limit, Chris could work on his backyard project whenever he had time off, even if it meant a few hours a day. He had drawn up many plans and didn't expect it to be easy, but he wanted to impress his wife.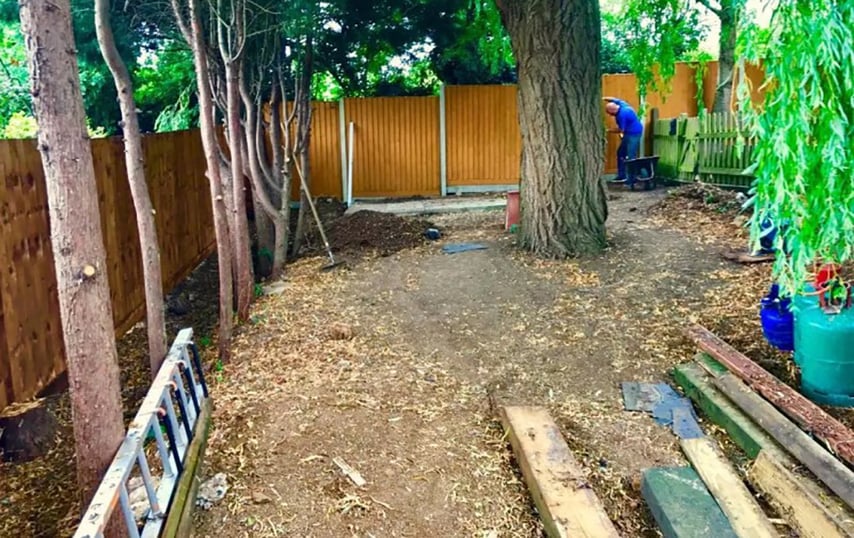 For two years, he worked on his ambitious project through rain, snow, and sunshine. It didn't matter if the weather was bad—he was dedicated. The more he worked, the sooner he knew that it would be ready. 
First Thing First
The first thing Chris had to do in the backyard was take the grass out. It wasn't easy, but once that was done, the real magic could happen. He wanted to mimic the tiki bars they had visited years ago, so they could escape their real lives every now and then without actually leaving their home.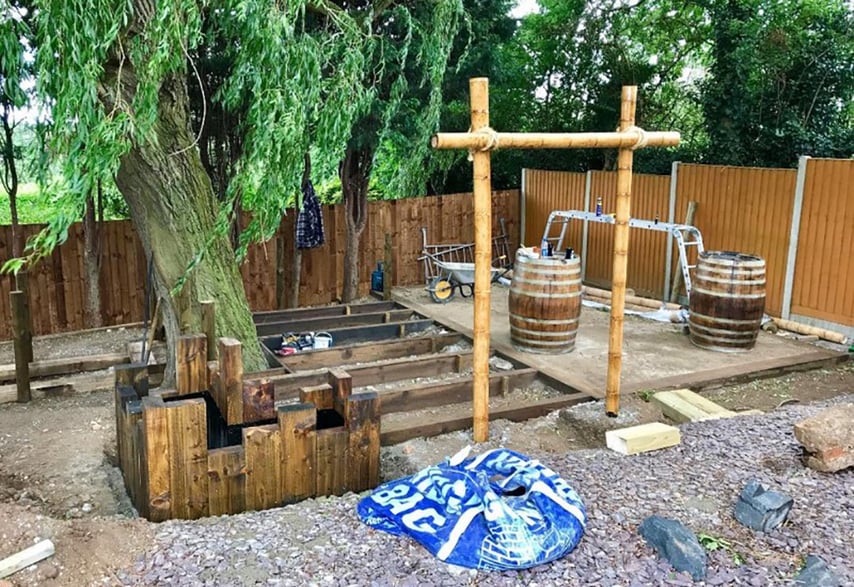 Sharon also runs the business, so she doesn't have much free time to spare. Even when she's not in the office, she needs to be looking after everything her job entails.
A Lot Of Research Went In
It took a lot of research to determine what plants would be ideal for the garden. Because the couple lives in the UK, it would be challenging to keep tropical plants healthy. He wanted his garden to look lush since it meant being able to escape from reality.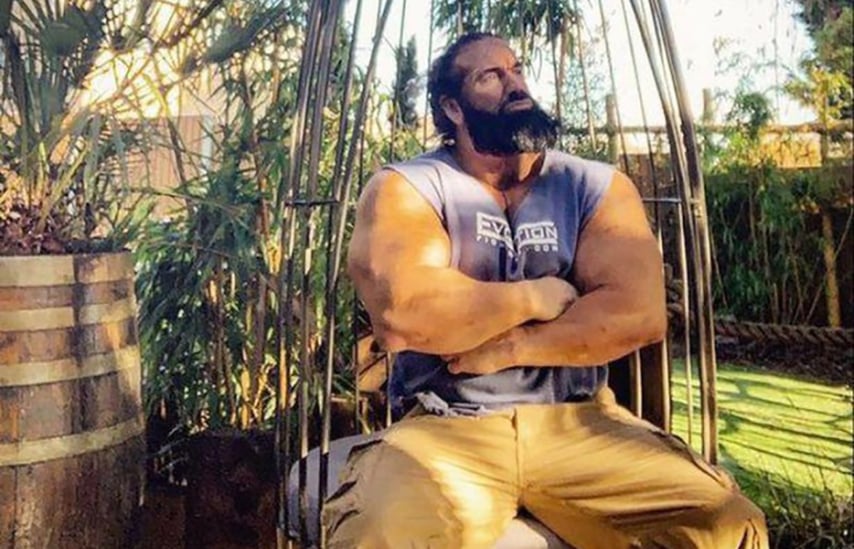 That's when the internet came into play—by reading gardening and landscaping blogs, watching Youtube tutorials, and going through hundreds of reviews, Chris began compiling a complete checklist of things to make his dream a reality. 
A One-Man Job
Chris didn't hire anyone to help him with the project; it was a one-man show out there in the backyard. Because he mostly worked in his time off, it would be difficult even to attempt to hire someone.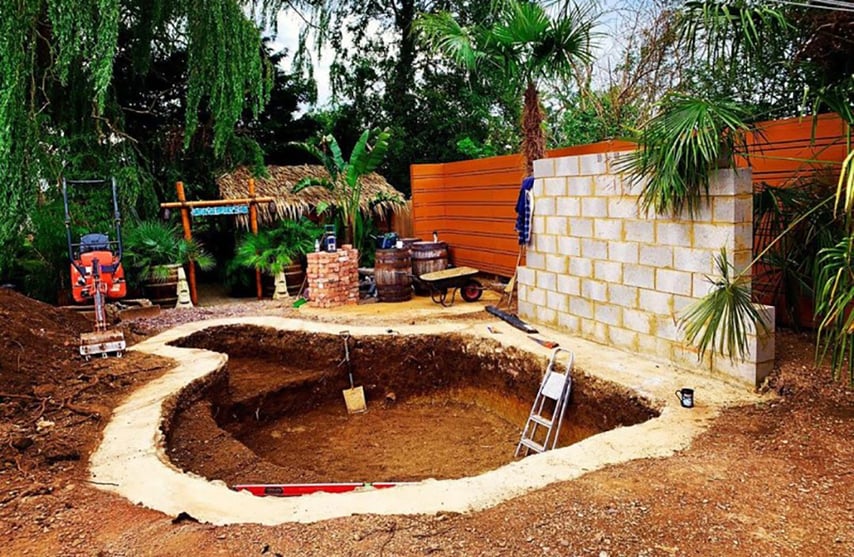 He had to collect many materials and learn new skills, but he was willing to do it. The tiki garden had become his passion project, where he could unwind from a hard day at work by working on something personal, dedicated to the love of his life.
A Magical Island In The Making
Because Chris is a builder, he knows how to make a sturdy foundation, work with different materials, and above all, build it to last a lifetime. This amenity would be constructed durably, so they wouldn't have to worry about maintenance time or the weather destroying it.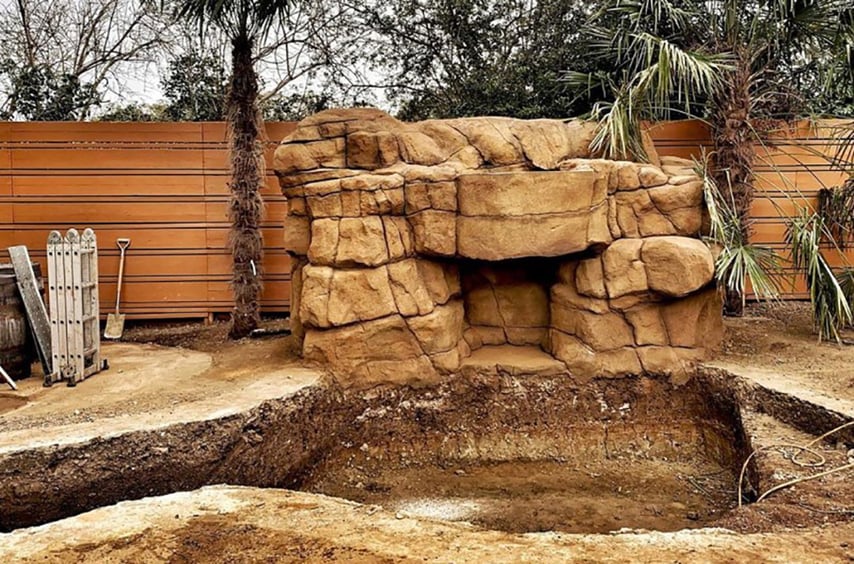 When Chris started the project, he didn't have much of a plan; he did all of the work so he could give his wife a place to unwind and relax. He didn't know that he would enjoy the process so much.
An Amazing Private Island
When the project was finally finished, the couple couldn't believe their eyes! All of their hours of hard work paid off. After two years and an investment of around $43,000, they managed to create a getaway worth of the most luxurious private islands.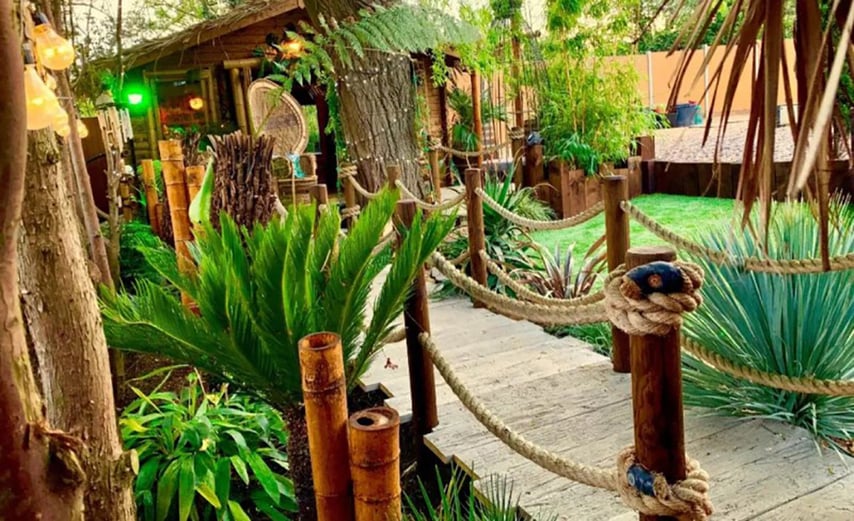 In their newly renovated backyard, the couple could now relax on their time off, as well as host the most magical parties with their close friends and family. The tropical tiki bar is definitely an accomplishment to be shared.
The Tiki Bar
One of the main amenities Chris worked on was the Tiki bar. It was important that it resembled a tropical bar on a remote island. Nothing less than perfection would impress Sharon—and so, he outdid himself! Every detail was carefully designed and thought out.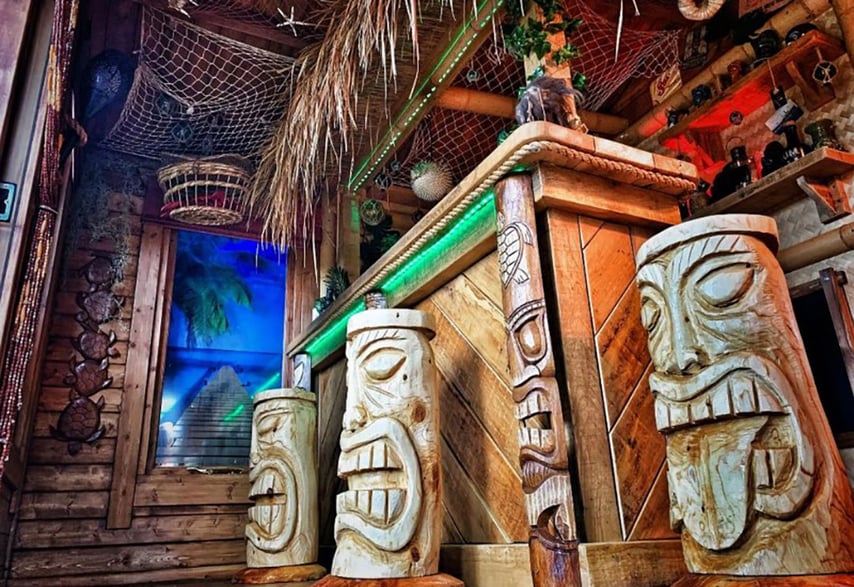 He even decorated the place with wooden tiki heads, turtles, fish nets, and plenty of shells. He even managed to make a fake window with a picture making it seem that it's overlooking the Caribbean.
A Special Place To Escape To
The couple's new backyard would finally be a place of peace, rest, and fun. It was vital for them to have a place where they could share good times with their loved ones. Because the UK has notoriously shifting weather, here they could sit back and enjoy the warmth.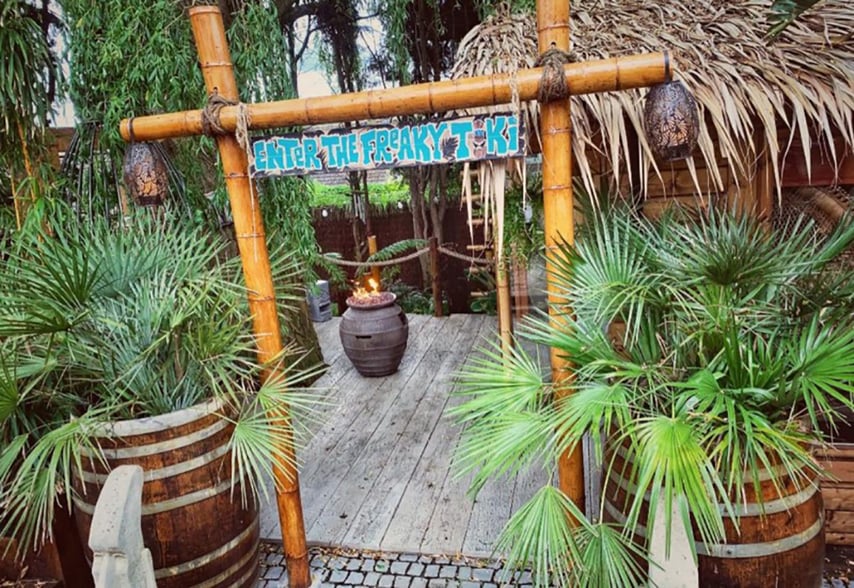 Now, the personal retreat is there whenever they need a little break from reality. And even though the investment was unexpectedly steep, it was well worth it in the end. Enter the Freaky Tiki!
Worth Every Second, And Every Penny
Two years is a long time, but the result is inspiring. It was well worth it in the end. Chris and Sharon can now enjoy tropical getaways whenever they want without having to worry about dog-sitters, air travel, or missing work.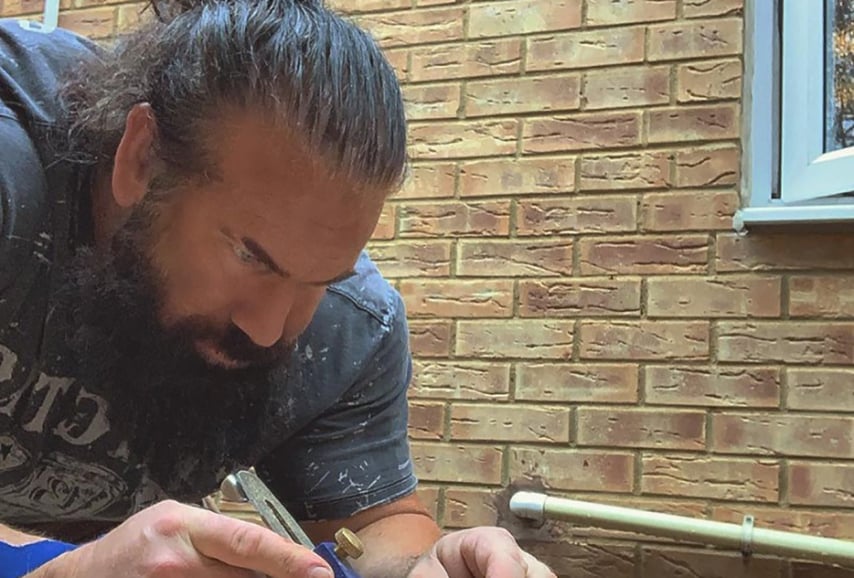 Thanks to Chris's building skills, he was able to create this huge project all by himself, helping him save lots of money compared to if he had hired a landscape expert. It would also not have the personal touches he included that make the place extra special. 
Where Did The Amazing Idea Come From?
But how did Chris get the idea of building such an ambitious project? Well, after renovating a few areas of the house he had lived in with Sharon for fifteen years, Chris was inspired to do something different with the backyard.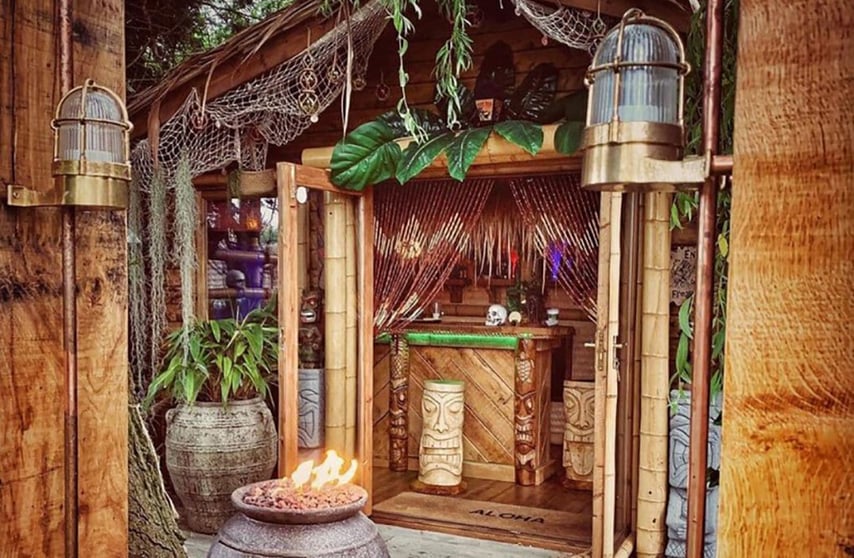 When brainstorming ideas, Chris noticed that the Willow tree in their backyard gave the garden a tropical vibe. And from there, his imagination started creating the rest! He was very inspired to create a special place just from that single tree.
Picking The Right Plants
Chris had only ever taken care of indoor succulents and cacti—never tropical plants. So it took a lot of research to find the right plants that would both look tropical enough and survive the chilly British weather.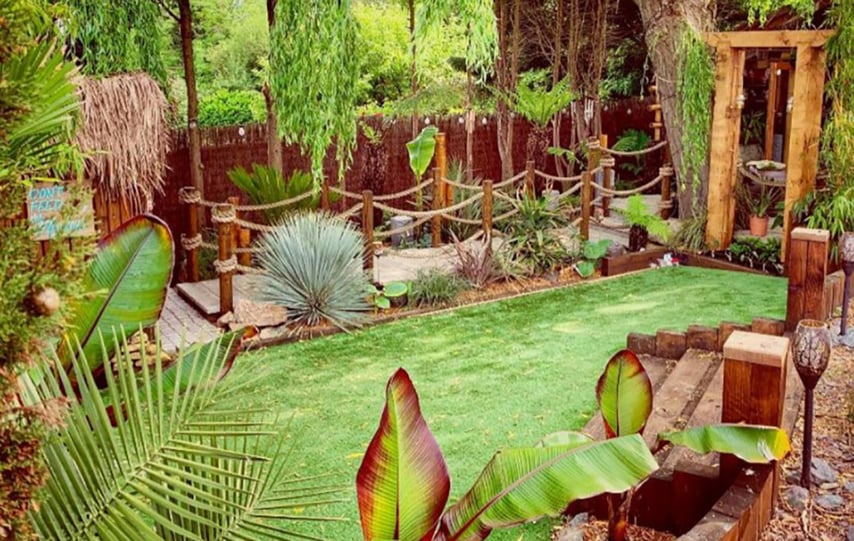 Evidently, he had a clear vision of what he wanted the tiki garden to look like, which helped when he was looking for the specific plants he needed. He knew taking care of plants would be a big task, but he was willing to find the perfect match for his backyard.
A Magical Scene
Chris wanted to accentuate the willow tree's tropical look, so he mainly bought plants that had lush green leaves. He also got bamboo trees to create natural divisions; instead of building walls, the bamboo would give the backyard privacy.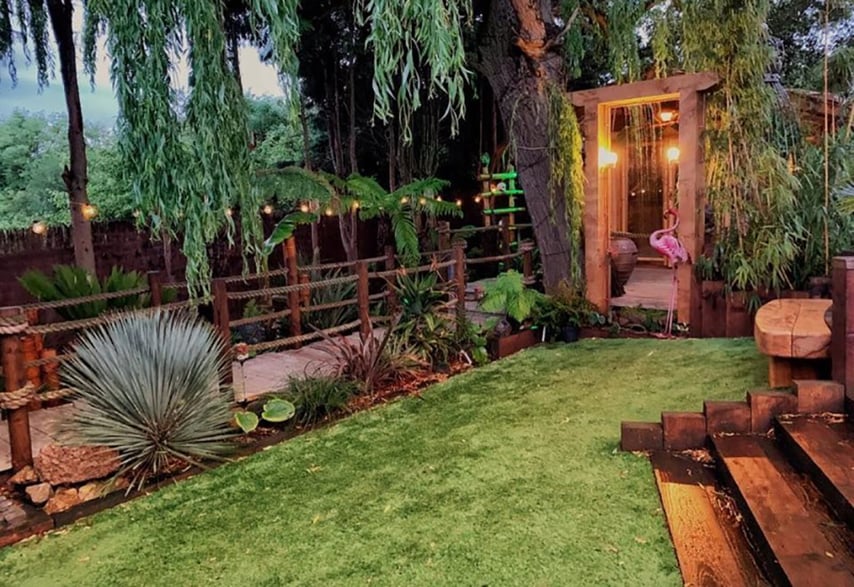 He also planted new grass, where his dog Dice could run around and play. When all of the plants were set in place, the backyard became unrecognizable. It was beginning to look more like a tropical forest than a backyard in the UK!
Hard Work Pays Off
Chris knew the project would end up looking amazing. After all, he was dedicating every free moment he had—either in the planning stage, researching, or building. But what he didn't expect was that he would enjoy the process so much.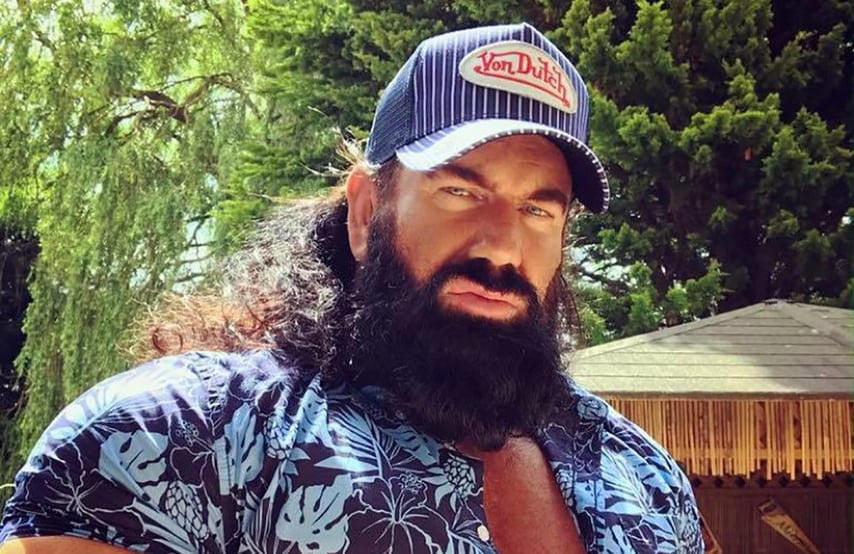 He was so fascinated reading internet blogs and tutorials that he quickly became an expert in tropical house plants. As someone who is very detail oriented, it helped him to stay focused on the big picture while also paying attention to the specifics. 
An Ongoing Project
Even though the structural part is completely finished, the garden will be an ongoing project. Chris claims that he has become "addicted to gardening" ever since he started—a takeaway he wasn't expecting as he had never really cared for plants before.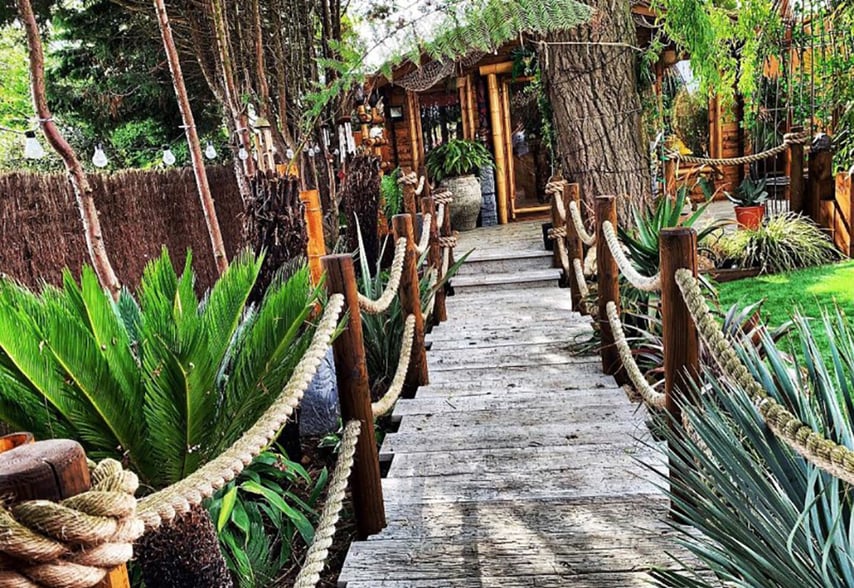 Because caring for tropical plants can be a demanding task, he knows that there is always something that has to be done. Just like pets, plants require a lot of attention. But since he'll be spending so much time in the garden, there's plenty of time for watering!
A Place For Relaxation
The tiki garden is now Chris and Sharon's favorite place to relax and unwind from their stressful day jobs. They host tropical parties with their friends and birthday parties with family members. But even though it's technically finished, they are always finding ways to improve it.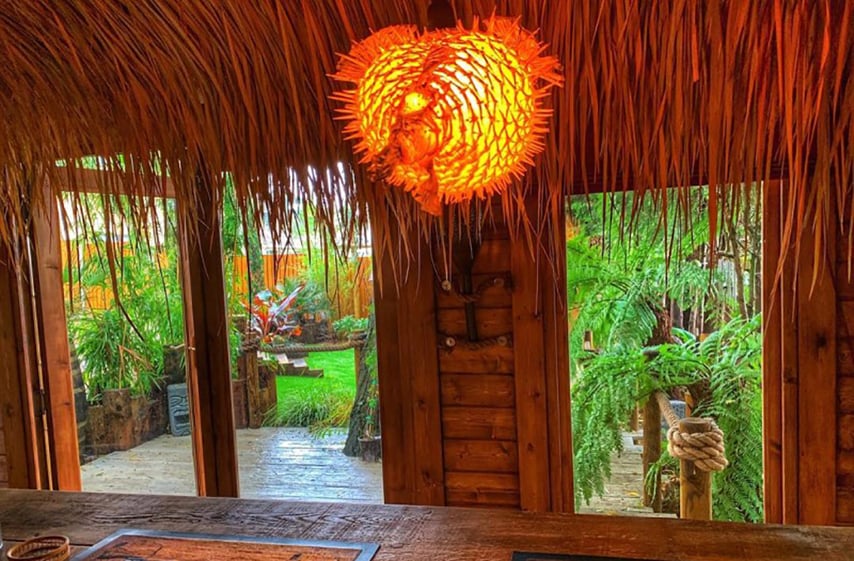 Chris doesn't only tend to the plants but also works on repairs and has even redone areas that need a touch-up. Whenever he gets an idea of how to improve their already fantastic backyard paradise, he jumps right at it. 
An Inspiration For Others
Chris and Sharon's backyard renovations have helped inspire their close relatives, as well as strangers on the internet, to remake their backyards into their own style or needs. The couple loves giving tips on how to pursue a dream backyard.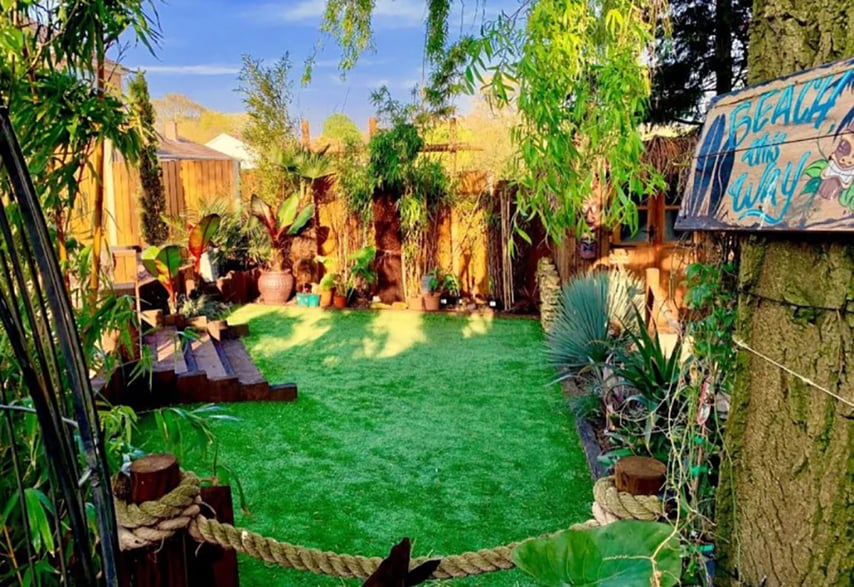 It would be such a dream to be able to walk into your own backyard and take a mini vacation away from the hustle and bustle of the world. It shows that if you have a dream and the tenacity to make it happen, anyone can pull off miracles!