Rescue Mission For Disappeared Dog Walker And Three Canine Companions Ends On A Happy Note
Taking her furry friends out for a stroll in the great outdoors was a regular activity Annette Poitras did. But when she took three lucky pups on a walk through the stunning Canadian woods one fateful November day, she didn't know the weather would take a turn for the worse.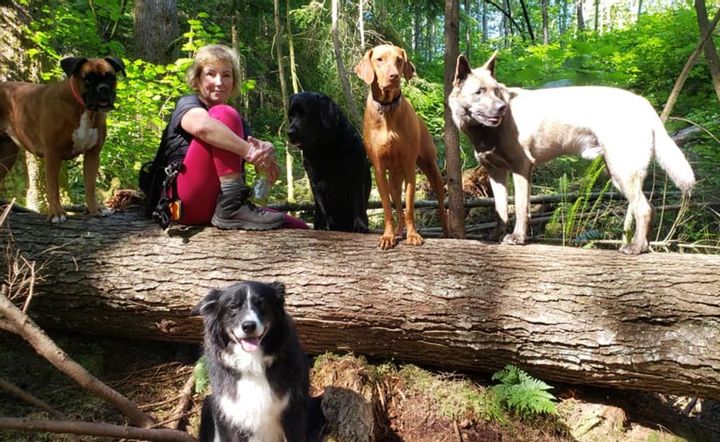 Her husband, Marcel, quickly sprang into action when she failed to return home that night. He contacted the authorities, and a rescue operation was immediately set up. Two days later, the rescuers discovered something that left them stunned. Read on and find out what happened to Annette, her dogs, and their harrowing adventure in the wilderness.
A Day Like Any Other
Meet Annette Poitras, a 56-year-old dynamo who's not afraid to go the extra mile – or in her case, the extra trail – when it comes to walking her beloved dogs. Her dog-walking prowess and encyclopedic knowledge of nearby hiking trails made her a force to be reckoned with.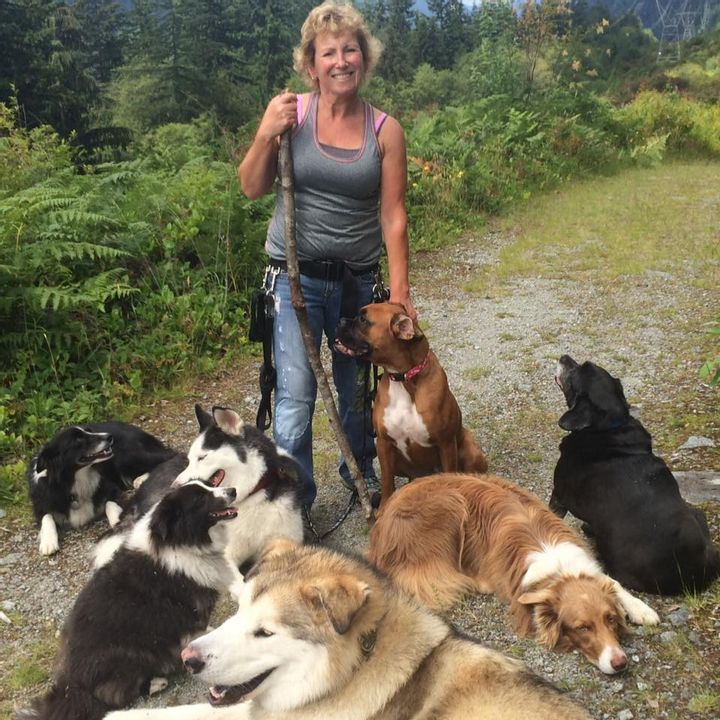 One of her favorite spots was Eagle Mountain, a majestic peak located in the stunning wilderness of Coquitlam, British Columbia. Typically, Annette would head to the mountain with her three furry companions every Monday to explore familiar paths. But, little did she know that this particular Monday would be anything but ordinary.
The Long Walk
Rain or shine, Annette would grab the leash of her loyal Collie, Chloe, and lead two other furry friends, Bubba the Puggle and Roxy the Boxer, on a brisk walk through the stunning scenery of her town. It was a routine that had become so familiar to Annette that she could have done it blindfolded.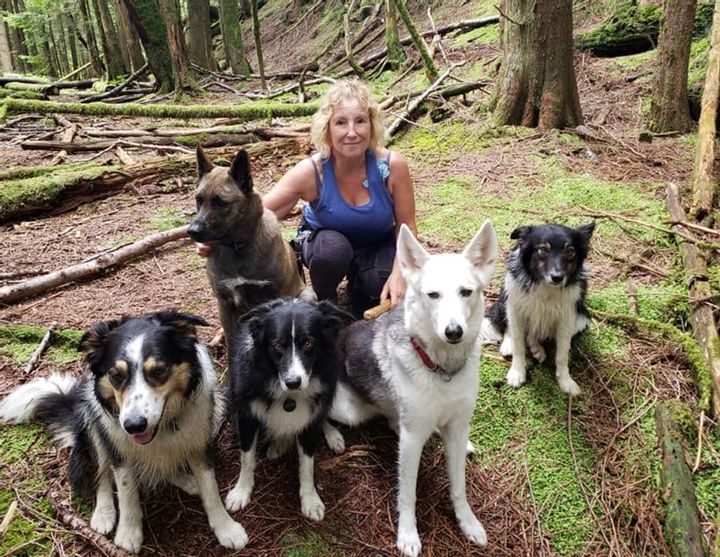 But something was different on this particular day. When she said her usual goodbye to her husband, Marcel, she did not tell her husband the route she intended to take. Marcel didn't think much of it at first, but Marcel's concern grew when Annette had been gone for hours when it only took her sixty minutes to walk the dogs. 
Stormy Weather
For Marcel, time seemed to drag on with agonizing slowness. Annette's absence made Marcel worry with each passing minute. Where was his beloved wife, and why wasn't she home yet? Then, to make matters worse, the heavens opened up and unleashed a furious storm upon the town.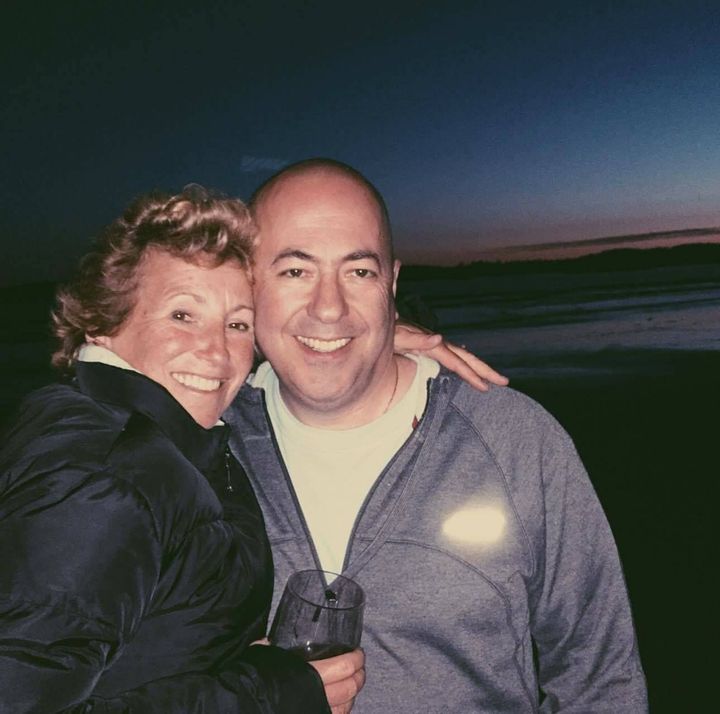 A powerful weather system known as the Pineapple Express was wreaking havoc. With darkness descending and the rain pelting down, he knew his wife was in grave danger. What had happened to Annette in the wilds, and would she make it home safely?
Asking For Help From Authorities
As Marcel was starting to lose hope, a glimmer of relief shone through the darkness. He went to the spot where Annette normally walked the dogs and saw her van parked. He felt a flicker of calm. However, his relief was short-lived when he saw the van was empty.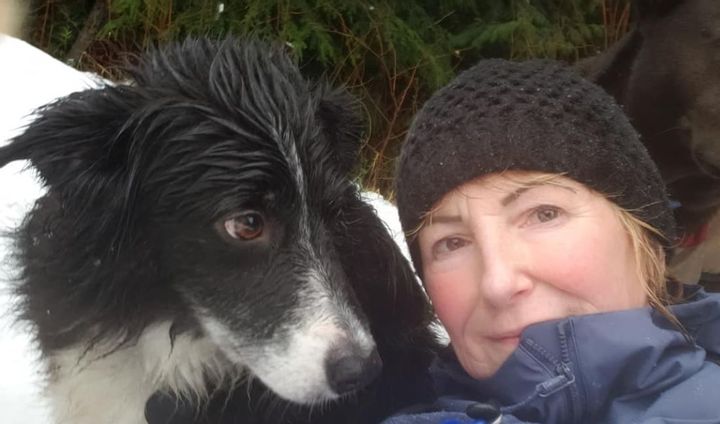 Without a moment's hesitation, Marcel alerted the authorities. He knew something was seriously wrong–he felt his wife was in grave danger. With a heavy heart, he reported that Annette was missing, and he prayed that they would find her safe and sound.
The Mission To Find Annette
As soon as the authorities received Marcel's distress call, they sprang into action. The Coquitlam Search and Rescue team, together with the Royal Mounted Police, swiftly organized a search party. Marcel did his best to assist them by offering up any information he knew about Annette's habits.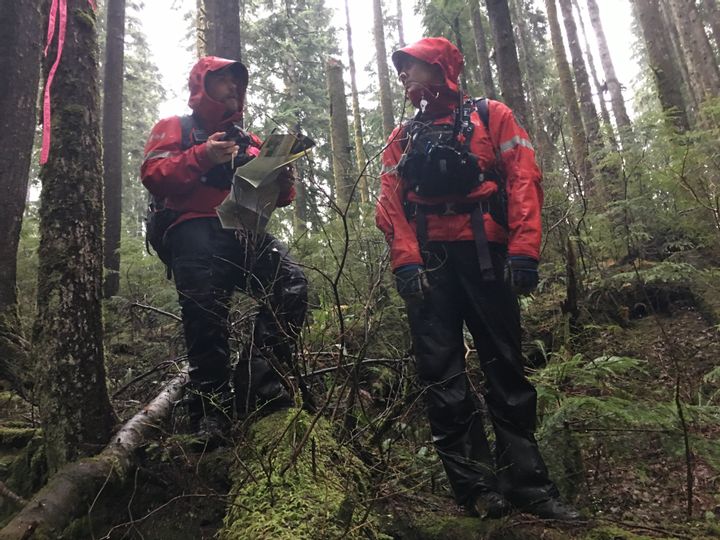 But as they plunged deeper into the unforgiving forest, they knew finding her would be impossible. Despite sifting through leaves and branches, the search party came up empty-handed. Plus, the storm was relentless. The wind howled, and the rain battered down, making the search all the more challenging. 
No Time To Waste
The SAR team set up a command center on the windswept Westwood Plateau. The clock was ticking, and they knew they had to move fast to locate Annette and her faithful companions before nightfall. So they began by using a technique called a "sound sweep."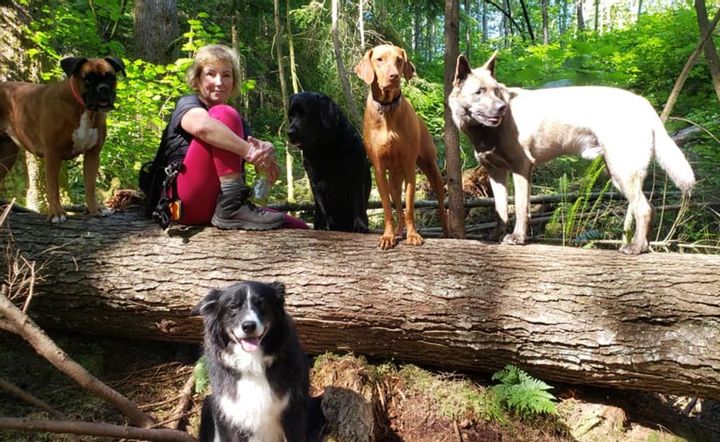 The team blasted whistles and made as much noise as possible in the hopes of catching Annette's attention. They even enlisted the help of the Royal Canadian Mounted Police's highly-trained search dogs, hoping their powerful noses could lead them straight to Annette's scent.
The Second Day Of The Search
As the second day of the search began, the SAR crew called in over 100 additional rescuers, all ready and willing to brave the treacherous forest in search of the missing dog walker and her faithful companions. But, unfortunately, the weather continued to be relentless as it beat down on the exhausted rescuers.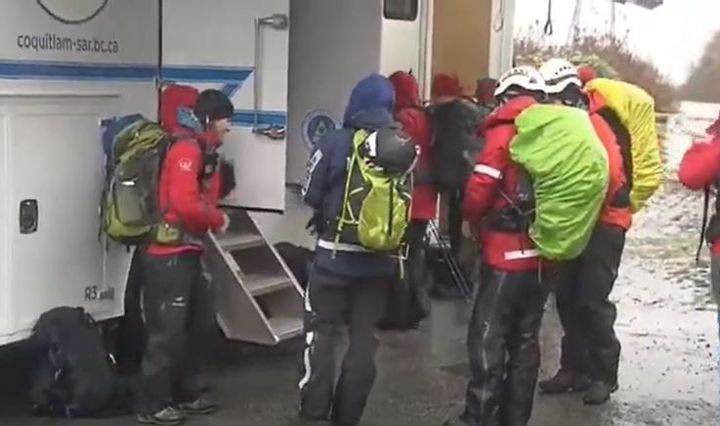 Annette's life was literally in their hands. They were willing to do whatever it took to bring her home safe and sound. Helicopters now joined the search. They made sure every inch of the forest was scoured. Their eyes looked for any sign of the missing dog walker and her beloved dogs.
Going All In
The SAR team was relentless in their search for Annette. Using more than 100 rescuers, helicopters, and search dogs, they scoured every inch of Eagle Mountain. They followed both known and unknown trails.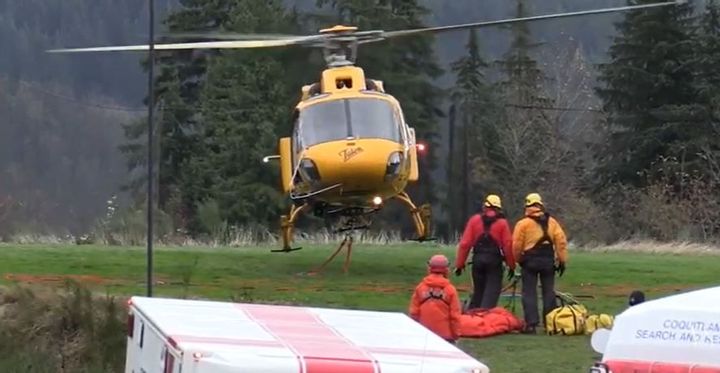 The team was taking a multi-pronged approach as it used both ground and air searches. A police helicopter equipped with thermal imaging technology was also scanning the area to detect any signs of body heat from Annette or her dogs.
Giving Up Was Not An Option
The search for Annette and the dogs seemed to hit a dead-end, as the helicopters couldn't detect any signs of them. The weather was also not cooperating with the search party. And to make matters worse, the forest canopy was too dense to scan effectively.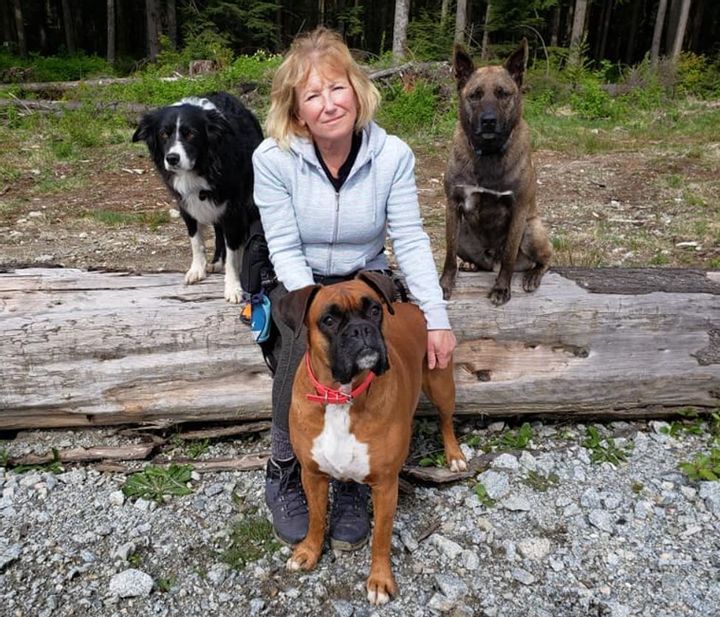 It seemed like the forces of nature had conspired against the rescue mission. However, the SAR crew's spirits remained unbroken. They refused to give up hope and were willing to go to any length to find Annette and her furry companions. 
Suspending The Search
As day two came to a close, the search and rescue crew was forced to call it quits due to the worsening weather conditions. The terrain was treacherous, and the rescuers' safety was at risk. Hopelessness began to set in as they suspended the search until the following morning.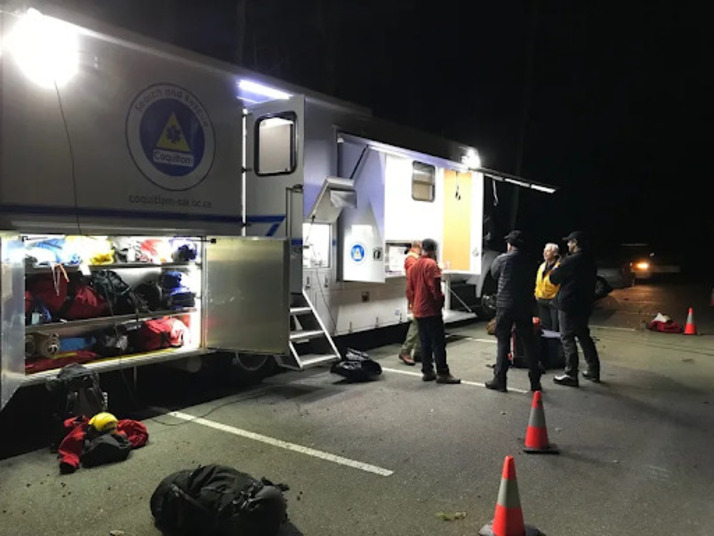 The frigid temperature – combined with the relentless rain – made it hard to imagine that Annette and her furry companions would survive another night in the wild. However, when it seemed all was lost, a glimmer of hope appeared on the horizon. Little did they know it would change the course of the rescue mission.
The Tip That Gave Everyone Hope
The mood was somber among the search party. The weather had been unforgiving, and every passing moment added to their worry. But then, a glimmer of hope appeared. The search team received valuable information that narrowed down their search. The advice came from an unlikely source, a man named Marc Herr.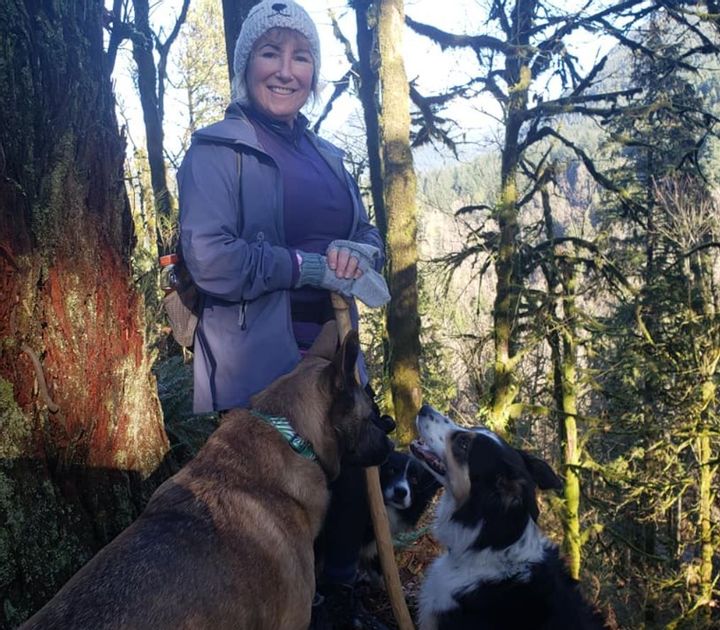 Marc had been driving through the mountainous terrain on the day Annette went missing. As he pulled over for a quick smoke, he noticed a woman walking her dogs. At the time, he didn't think much of it. But when he heard about Annette's disappearance, he realized the significance of what he had seen.
Marc Was Watching The News
The news can often be a gloomy affair, but it pays to keep your ear to the ground every now and then. This was certainly the case for Herr, who stumbled upon a life-changing story while tuning into his favorite channel on Tuesday. For Marc Herr, it was through the news that he learned of Annette's disappearance.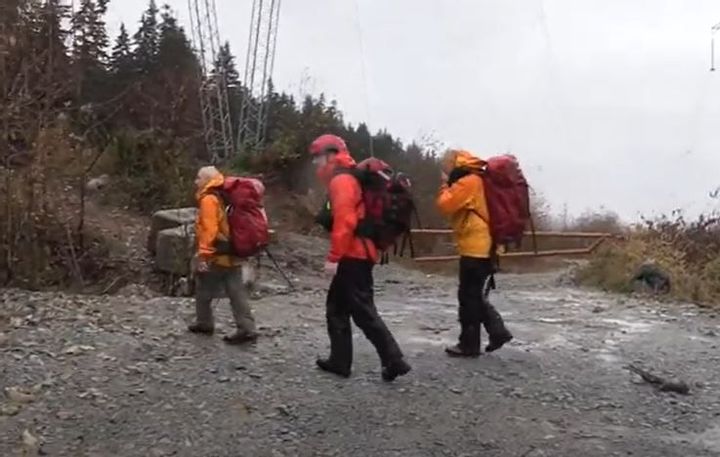 He suddenly remembered seeing her walking her dogs while he was driving through the mountains. She was no longer just a stranger he had passed by, she was clearly a person in danger, and he had to help. So Herr contacted the authorities and shared what he knew about Annette.
Narrowing The Search
Besides Marc's tip, Annette's husband revealed that she was never without her trusty cell phone when she went for a walk. With the help of cutting-edge technology and the Royal Mounted Police, they traced the device's signal to a mobile tower on Burke Mountain. As a result, the investigators now had a better idea of where to focus their search efforts.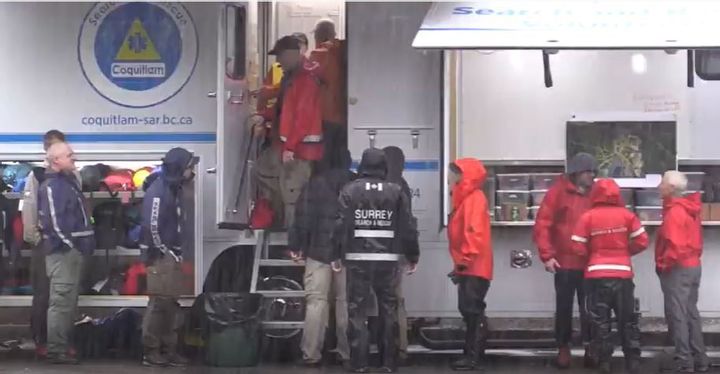 Still, the terrain was vast and unforgiving, but they felt a renewed sense of purpose. They knew they were getting closer to finding Annette and her loyal companions. Finally, after what seemed like an eternity, their perseverance paid off.
The Third Day Of The Search
With each passing day, the search for Annette and her loyal dogs grew more desperate. Two days had already gone by, and despite the valiant efforts of over 300 searchers and rescue personnel, they were no closer to finding any sign of the missing group.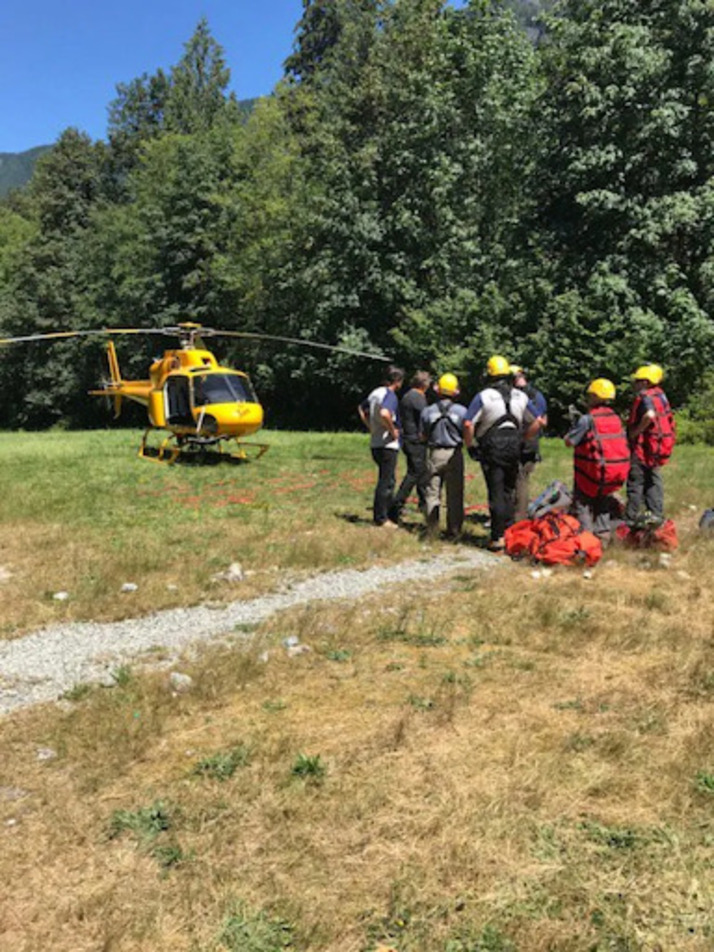 But on the third day, a beacon of hope emerged. As the searchers geared up for another grueling day, they received reinforcements in the form of a new helicopter and two more SAR dogs. Then, in the distance, they heard a faint response. Was Annette calling out for help, or perhaps one of her beloved dogs barking?
Yelling For Help
The tension in the air was palpable as the search and rescue team pressed on through the rugged wilderness. Then, it happened. A faint sound reached their ears, and their hearts leaped with hope. It was a call for help and the unmistakable sound of barking dogs in the distance.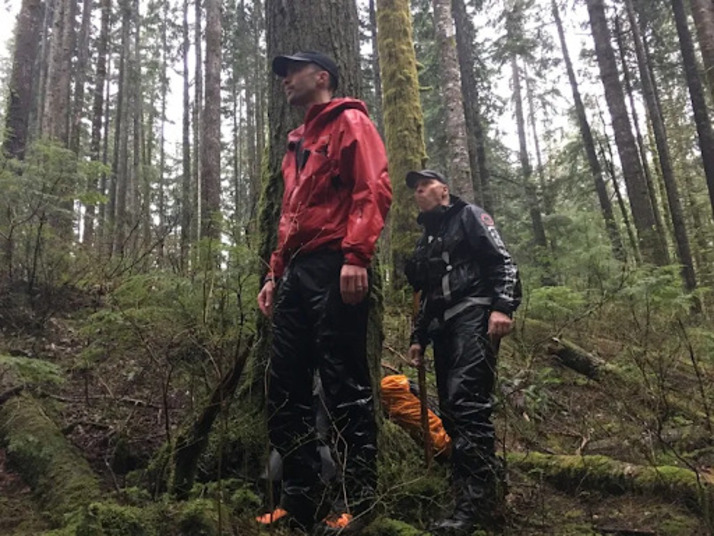 The volunteers sprang into action and rushed to the scene. But even as they closed in on the source of the sounds, the team couldn't be sure what to expect. Annette had been missing for days, and the rugged terrain could have taken a serious toll on her.
What Happened To Annette?
As we reflect on the incredible efforts of the search and rescue team, it's important to remember how this harrowing ordeal began. It was just another Monday for Annette as she set out on her usual dog walk with her faithful companions Chloe, Roxy, and Bubba. But what should have been a routine outing quickly turned into a nightmare.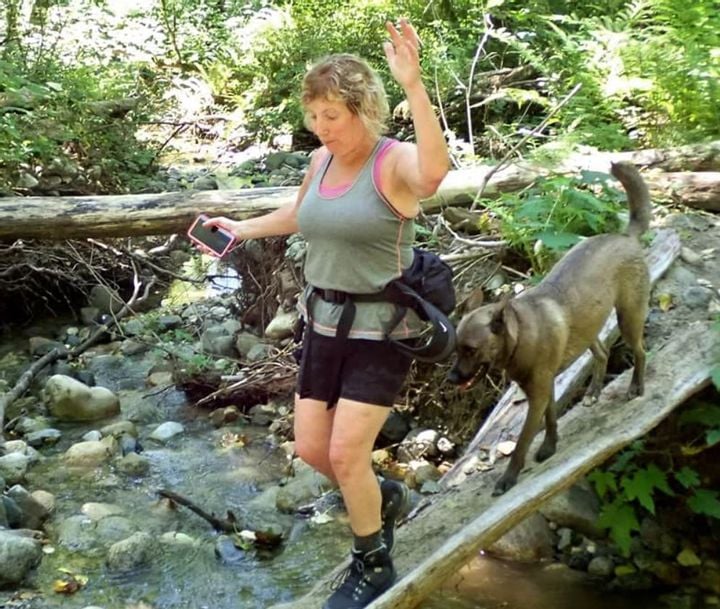 As the skies darkened and the wind began to howl, Annette found herself struggling to keep her footing on the treacherous terrain. However, in a split second, everything changed. She tripped on a log and hit her head with such force that she was knocked unconscious. 
Time Passed Her By
As Annette slowly opened her eyes, she was struck by a wave of confusion and disorientation. How long had she been unconscious? And where was her phone? Her gloves? As she struggled to get her bearings, Annette realized she had spent the entire night in the wilderness.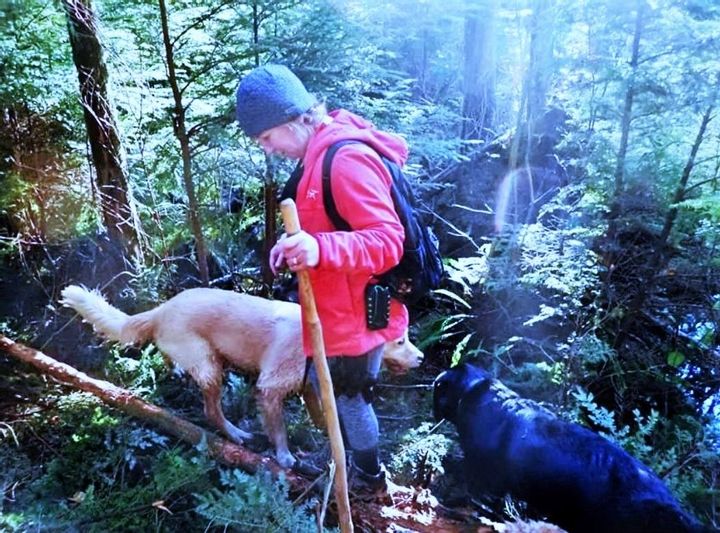 But even amid this chaos and uncertainty, her first thought was for her beloved dogs. She saw one of the dogs was missing. Despite the pain and discomfort, she felt all over her body, Annette knew she couldn't leave until she found the dog.
A Rescue Mission To Find The Dog
As Annette stumbled through the wilderness, she knew that the situation was becoming increasingly dire. She had found her missing dog, but the weather had taken a turn for the worse. She was also quickly running out of energy and supplies.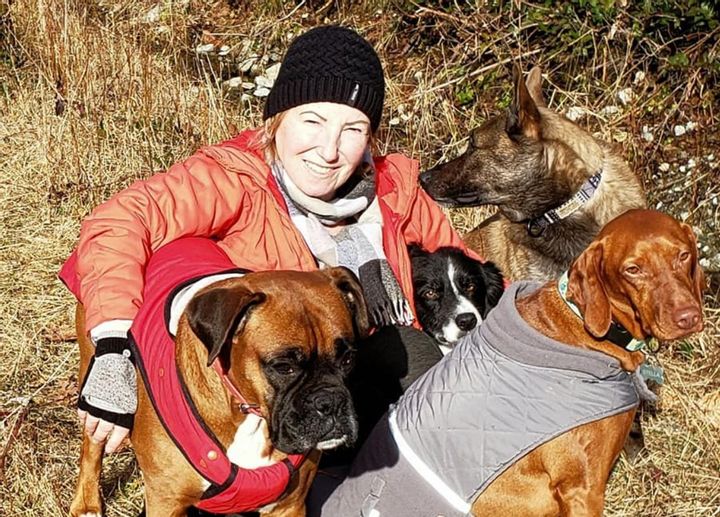 With nothing to sustain her except her willpower and determination, Annette struggled to keep moving forward. The dogs whined and whimpered in distress. But with each passing moment, it became clear that they needed to rely on each other to survive.
She Saw The Helicopters
As Annette battled through the cold and rainy nights on Eagle Mountain, the search and rescue team scoured the area tirelessly for any sign of her. During her first night lost in the woods, she saw the helicopters soaring high above.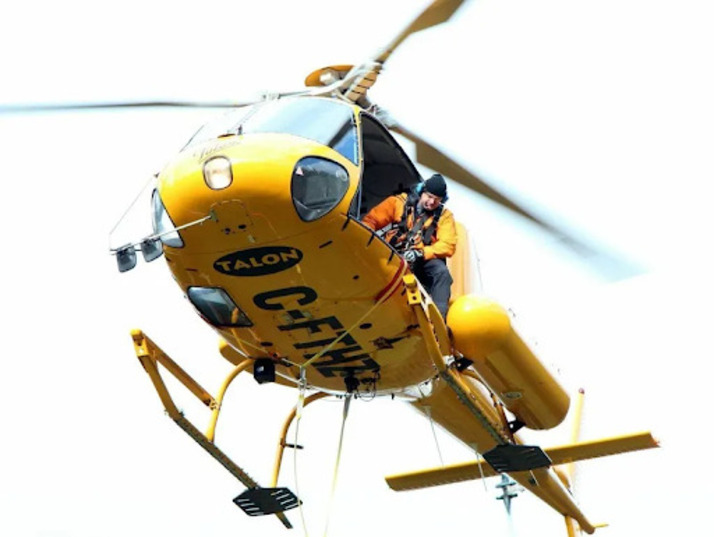 Annette tried to get the rescuers' attention by waving her jacket frantically. But, unfortunately, the thick foliage concealed her from sight. The unforgiving terrain also made it difficult for the rescuers to spot her since the dense bushes and trees halted their efforts to locate her through heat detection technology.
About To Give Up
Annette's survival story in the Canadian wilderness had reached its tipping point. After being lost for three days, with no supplies and a serious head injury, Annette was on the brink of giving up. But then, a hero emerged from the pack–Roxy.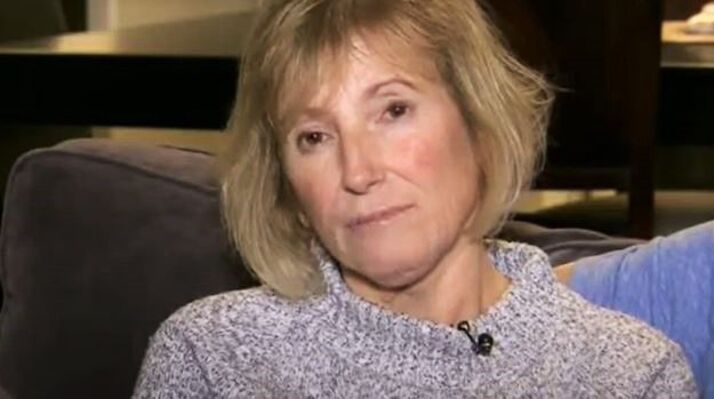 The loyal dog's barking caught the attention of the searchers, finally leading them to Annette's location. She was barely hanging on, but her spirit had not been broken. According to Annette, she would not have made it if it weren't for Roxy's efforts.
Last Ditch Effort
Let's return to the nail-biting discovery that unfolded during the rescue mission. After several days of searching, the SAR team finally received a response from Annette and her dogs. With renewed hope, they narrowed the search area, and that's when they stumbled upon a shocking scene.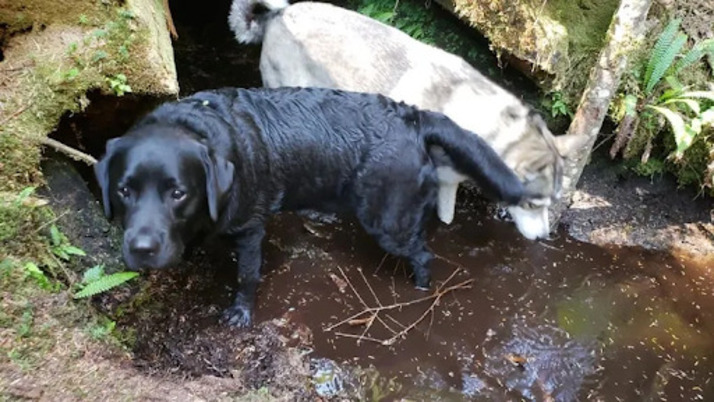 Annette and her dogs were found in a swampy basin that wasn't only far north of her intended route but also strictly off-limits to hikers and dog walkers. The rescuers couldn't believe what they saw as they spotted the group sprawled in a ditch. 
The Dogs Helped Her Survive
Annette's furry companions turned out to be more than just pets. In fact, one of them saved her life by teaching her a valuable survival trick. As Annette struggled to stay warm and dry in the relentless rain, one of her dogs was busy digging a hole to sleep in.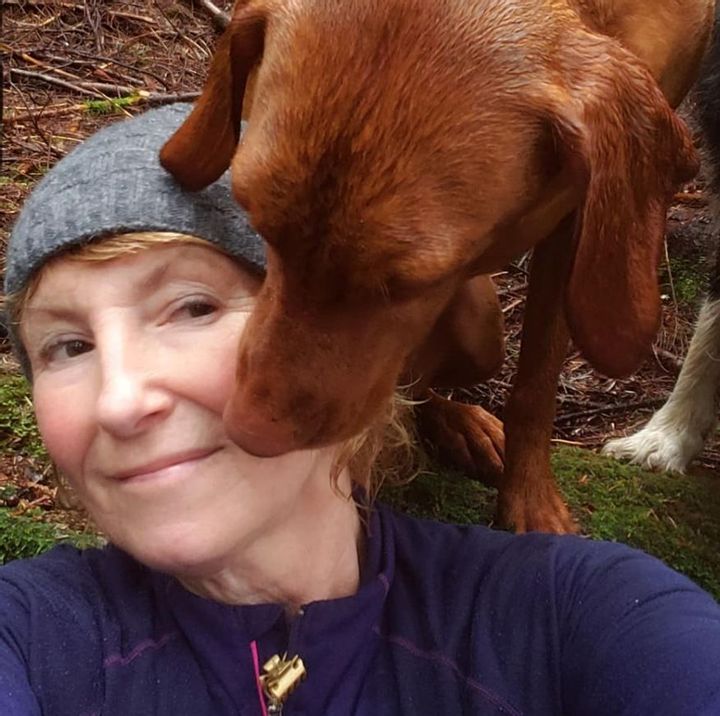 Annette took note of this and followed suit. By clearing away the undergrowth and creating a little well for herself, she stayed dry and sheltered from the elements. It's amazing how much we can learn from our four-legged friends!
All For One, One For All
As Annette and her loyal companions braved the elements of Eagle Mountain, they formed an unbreakable bond. They became a tight-knit team, working together to ensure their survival. And Annette's love for her dogs knew no bounds, as she even sacrificed her warmth to keep them safe.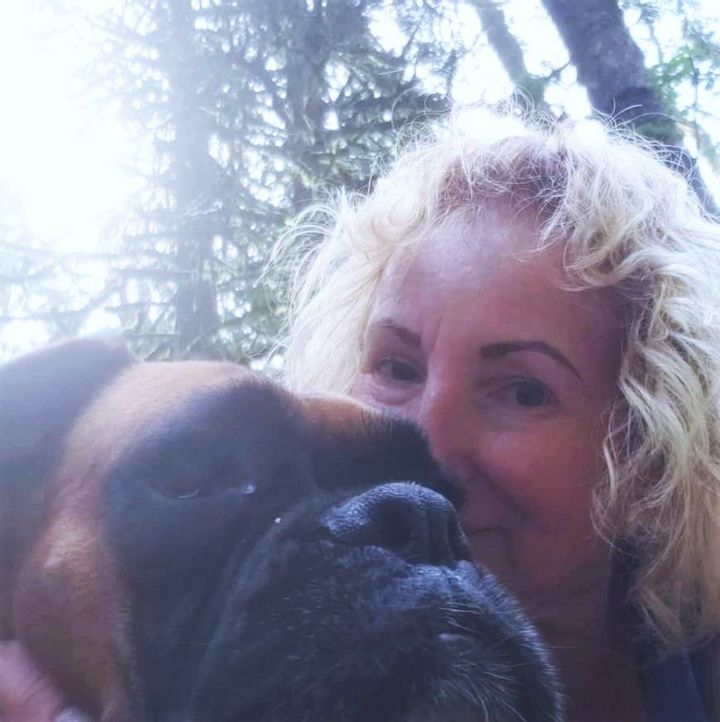 Marcel recounted how, amid a downpour, Annette selflessly gave her rain jacket to Roxy the Boxer, who was shivering in the cold. It's heartwarming to see the lengths Annette was willing to go to ensure the safety and comfort of her furry companions. 
The Dogs Took Care Of Each Other, And Annette
The dogs proved to be Annette's protectors as they stayed close and kept watch over her. It seemed the animals assigned themselves specific tasks to help all of them get through the ordeal. According to Annette, one of them was busy cuddling while another was on guard.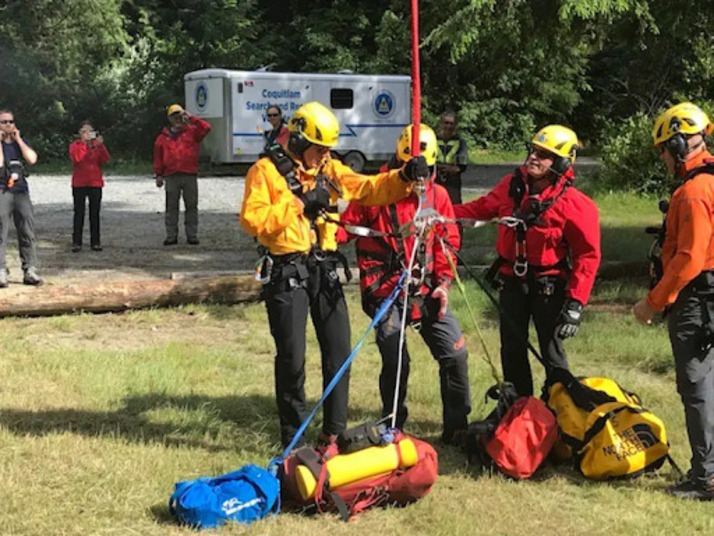 Meanwhile, another dog was looking for food. It was a display of teamwork and loyalty that was truly remarkable. However, as much as they had survived together, it was time for the search and rescue team to lend a hand and bring them back to safety.
Giving Necessary First Aid
The rescuers were relieved Annette was actively communicating with them when they found her. However, the injuries she sustained from her fall caused her to have difficulty moving and walking her dogs.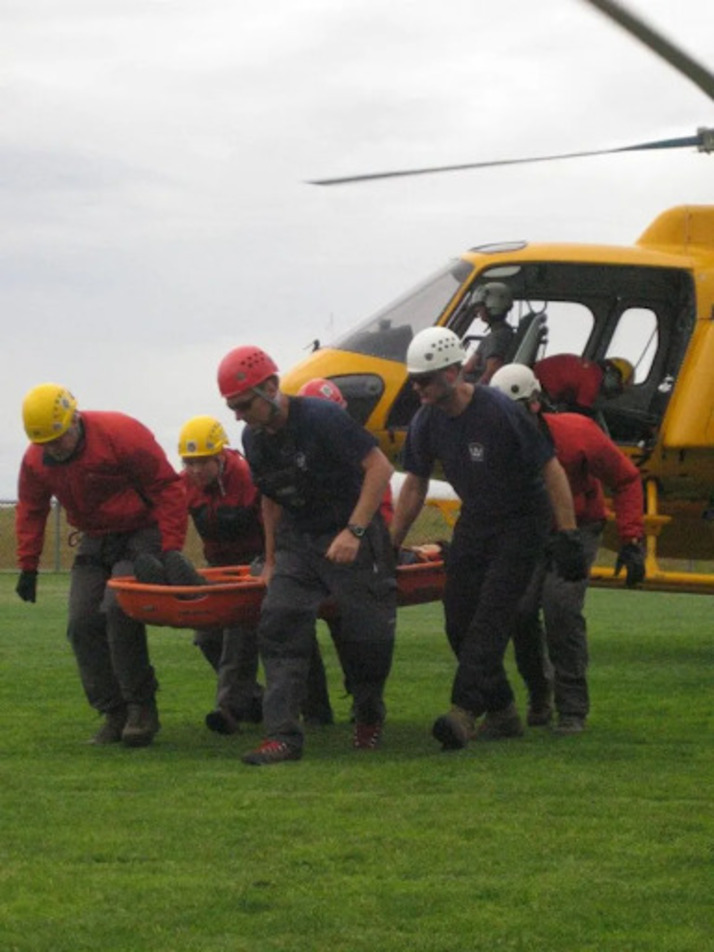 Her situation meant that getting her safely out of the area would be difficult as they couldn't risk aggravating her injuries further. Essentially, the rescue team couldn't do much except wait for the rescue helicopters to arrive. In the meantime, the SAR team provided her with dry clothes and administered first aid.
Ain't No Wind Strong Enough
It was on Wednesday when the chopper finally began its life-saving mission. As word spread, well-wishers and media personnel alike flocked to the scene. Amidst the hustle and bustle, Annette's husband, Marcel, arrived just in time to witness his wife's miraculous rescue.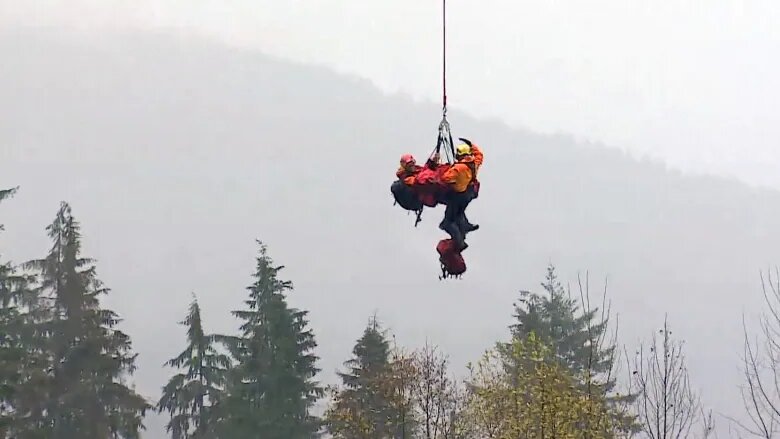 Marcel was with his trusted brothers, Gerry and Andre, as they saw the chopper set course for the rescue site. However, Mother Nature unleashed her wrath in the form of howling winds and rain. After an agonizing 20-minute wait, Annette appeared dangling precariously from the rope below the helicopter. But what about the dogs?
Daring Dog Rescue
After successfully rescuing Annette, two more helicopter trips were launched to save the brave canines who had played a pivotal role in her survival. The rescue team was relieved to find Bubba the Puggle waiting for them. Next up was Chloe the Border Collie and Roxy the Boxer, who were found huddled together.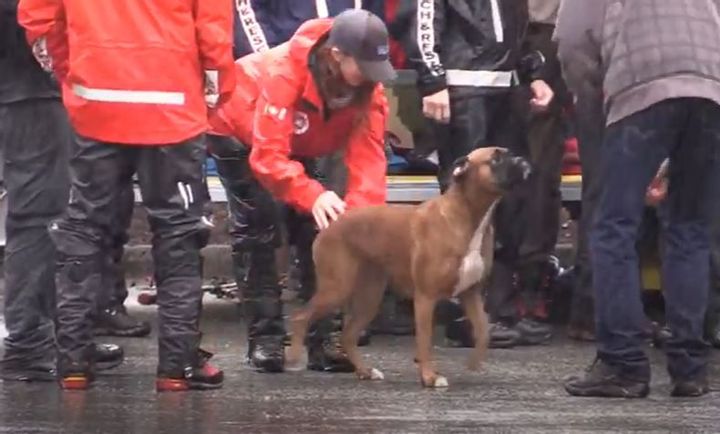 The team breathed a collective sigh of relief. It was remarkable that Annette and her furry companions emerged from the ordeal with only minor injuries considering that they were lost in the woods for more than two days while weathering an intense storm.
Happy Dog Owners
The dogs were finally reunited with their tearful and grateful owners in a heartwarming reunion. Janet Kilberg, one of the dog owners, expressed her heartfelt gratitude to Annette and the entire rescue team for their unwavering dedication to keeping the dogs alive. She told CTV Vancouver that Annette was her good friend.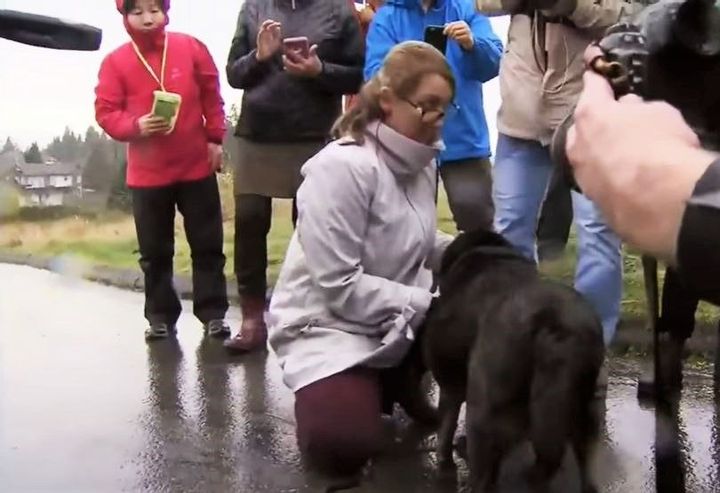 The owner of Bubba, Tina Presley, praised Annette and described her as a dog whisperer because of the compassion she had for animals. Tina gushed that Annette was a "true hero" because of all the things she did to keep their dogs alive. 
Marcel Did Not Lose Hope
Amidst the chaos and uncertainty, Marcel remained a pillar of strength. He had unwavering faith in his wife's survival. According to his interview with the Vancouver Sun, he believed his wife Annette was a "tough cookie."  Despite the overwhelming odds stacked against them, Marcel never lost hope.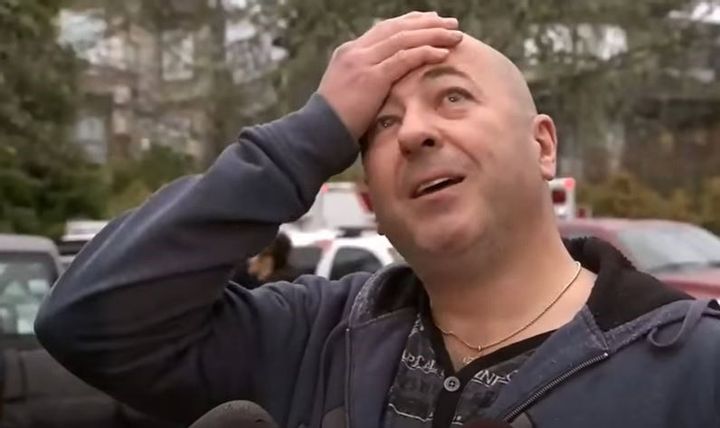 He clung to the belief that Annette would one day return home safely. As fate would have it, his trust was rewarded when Annette was rescued from the jaws of danger. He shared with CBC News,  "I knew she was coming home today. Even though things were tough, I just had this feeling that everything was going to be okay."
The Amazing Rescue Team
Thanks to the heroic efforts of the search and rescue team, Annette was finally able to express her gratitude and share her overwhelming joy with the world. Annette spoke from the heart as she thanked the 300 searchers and rescue personnel who had worked tirelessly to bring her back to safety.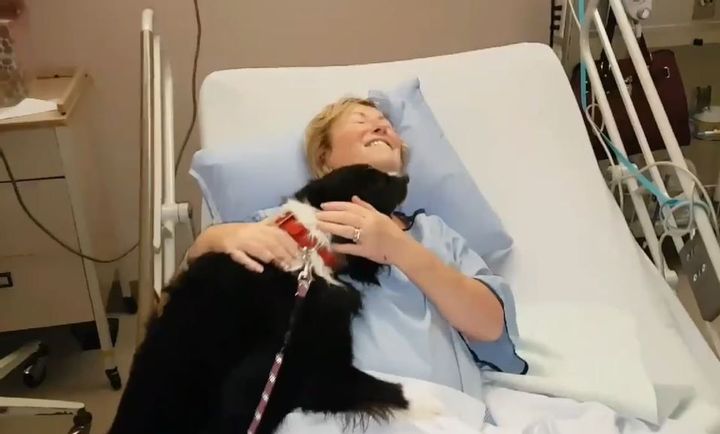 She told CBC News she was "…so glad to be alive. I'm just so happy." For Annette, the gratitude she felt towards these everyday heroes was immeasurable. This joyful ending would never have been possible without their unwavering dedication and selfless sacrifice.
The Experience Traumatized Annette
For Annette, the trauma of that fateful day in November still haunts her. Every day she goes to the mountains, but there's one spot she avoids like the plague–the place where she fell. She told Tri-City News, "It gives me shivers. I don't want to relive it."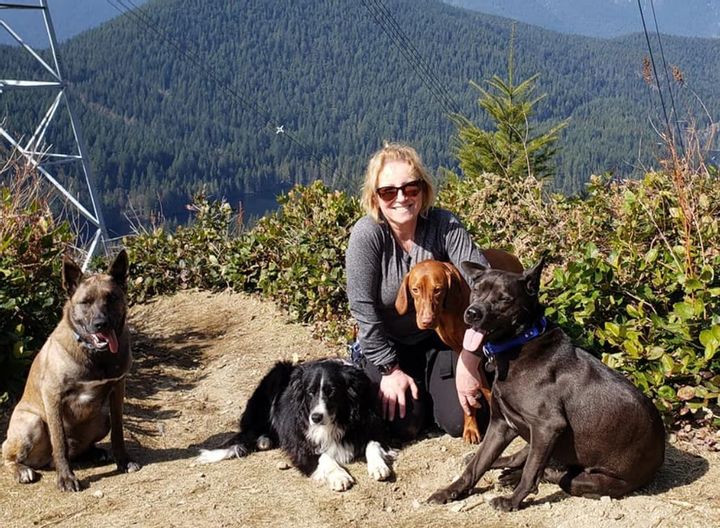 Eventually, Annette found the strength to share her story with the support of her loving husband and the talented author Anne Bruinn. She wrote a compelling 130-page account of the harrowing events that nearly took her life entitled, Three Dog Nights: The Search and Rescue of Annette Poitras. Portions of the book's profits were donated to Coquitlam Search and Rescue.
Becoming A Local Celebrity
Annette's incredible story of survival and bravery spread like wildfire, and she quickly became a beloved figure in her community. Now known as "The Dog Walker," Annette can hardly go anywhere without being stopped by someone who wants to show their support and admiration for her.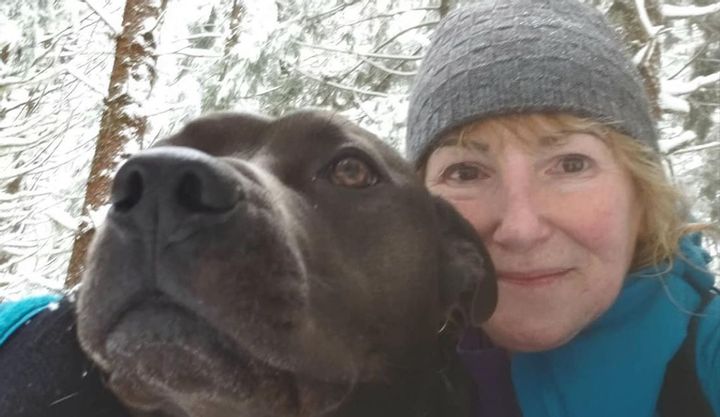 Whether she's out running errands or taking her dogs for a walk, people approach her with open arms, eager to offer hugs and words of encouragement. It's a testament to the impact that Annette's story has had on people's lives and the incredible strength and resilience she demonstrated during her ordeal.
Lesson Learned
Annette hopes to use her story to encourage others to be well-equipped and well-prepared when they venture into the great outdoors. After all, she knows firsthand how quickly things can take a turn for the worst. Annette told Tri-City News, "Nobody thinks something like this can happen to them until it does."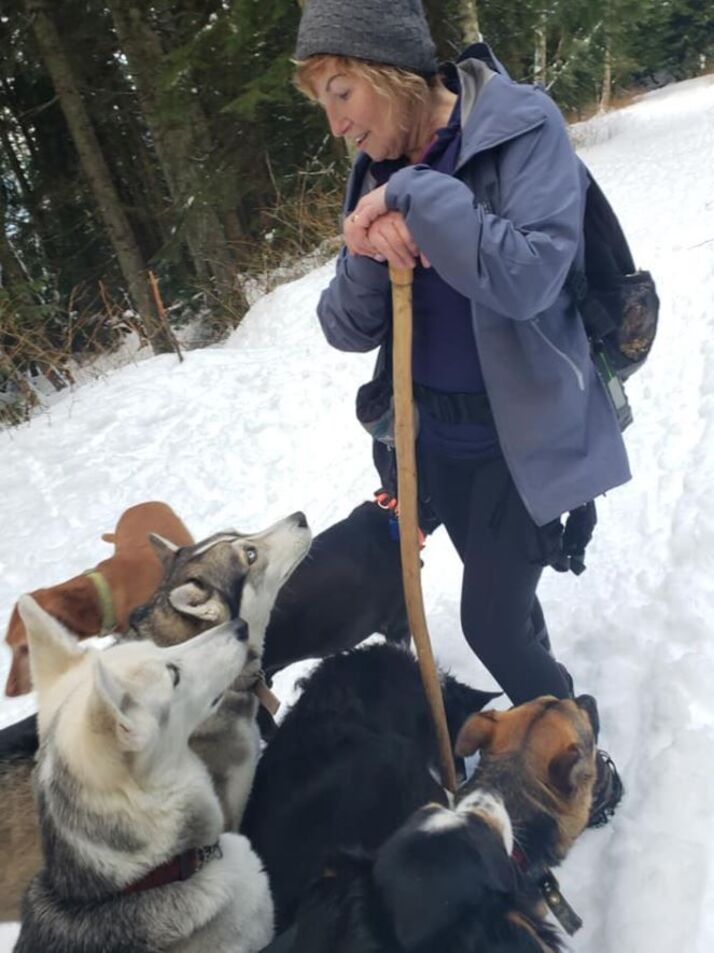 She wants everyone to learn from her experience and be prepared for any situation during a hike. Her story serves as a powerful reminder that even the most experienced outdoors enthusiasts can fall victim to unexpected weather conditions and accidents. Plus, being prepared is the key to survival.