Beautifully Abandoned: Some of the Most Stunning Abandoned Places from Around the World
There are countless locations around the globe that have been abandoned over time. These lost locations and possessions include amusement parks, houses, and all sorts of vehicles that make you wonder what happened to them all.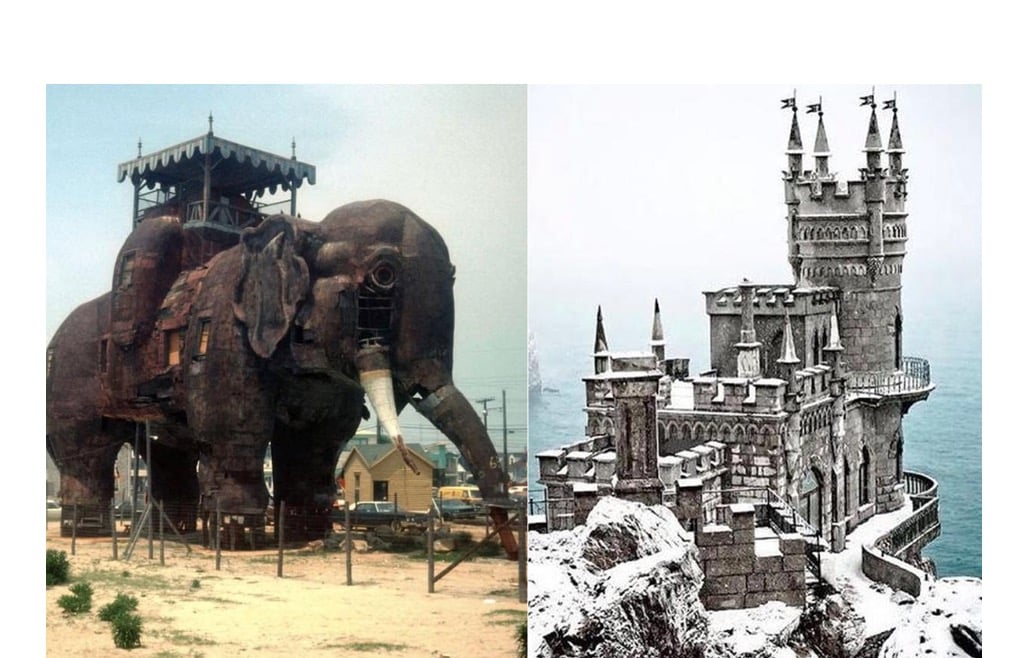 With every abandoned spot, there is an endless amount of history and intrigue left behind as structures and monuments fall into ruin. However, there is also an eerie type of beauty to these forgotten places. Let's explore some of these fascinating abandoned structures.
Impressive Autumn Scenery in Germany
What an incredible photo, right? When the sun shines on this 19th-century bridge in Germany, it casts a ring of light across the lake below, creating a stunning reflection. It's especially lovely in the autumn, but it's also a magnificent sight year-round.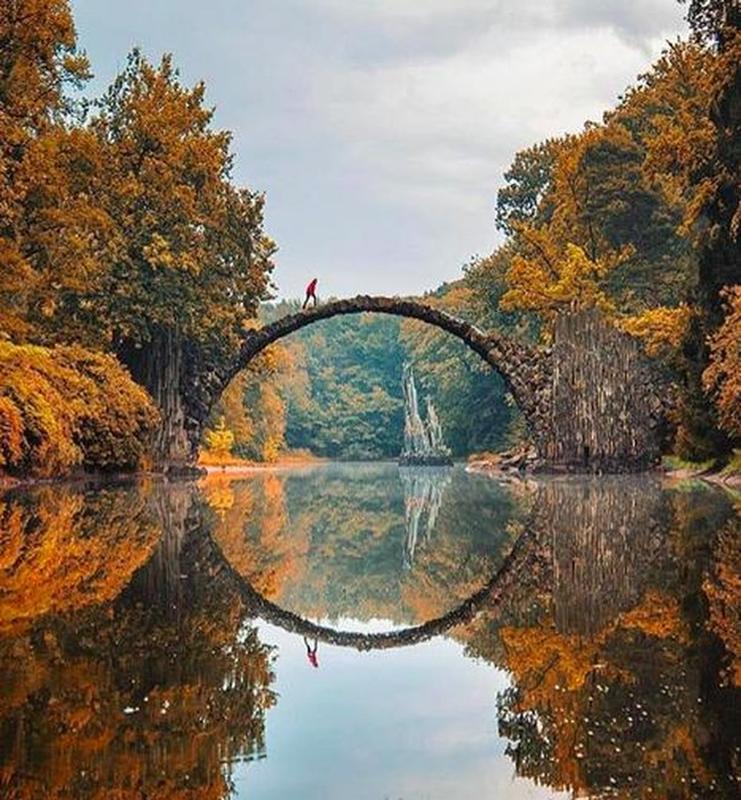 Picture yourself paddling beside your beloved in a tiny boat or canoe in this romantic setting. This place would make a stunning painting or puzzle, to name just a couple of ideas. It resembles a Thomas Kincaid puzzle; however, completing it would require turning it 90 degrees.
This Abandoned Victorian Home in San Francisco
This charming but abandoned Victorian home is pinned between two modern-style buildings. You can just imagine a novelist or an artist staying here and staring out the window while they work. They would likely have observed passers-by while sipping coffee or tea in the mornings or afternoons.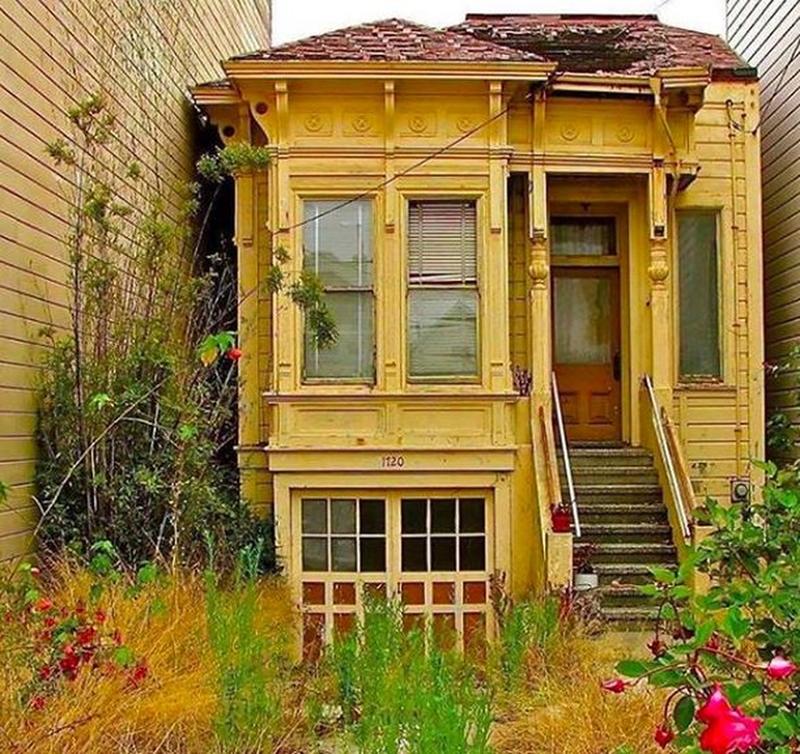 It is likely that on weekends, they would walk outside and take care of the small yard and the beautiful flowers that grow throughout the spring and summer. For some reason, the opening music for the movie Up comes to mind!
The Old Helensburgh Railway Tunnel in Australia
Seven tunnels were constructed between Waterfall and Otford in the 1880s to offer a route across the mountainous terrain. A new double road was built at another site, and this one was closed in 1920 when a single lane was no longer sufficient for the steam engines.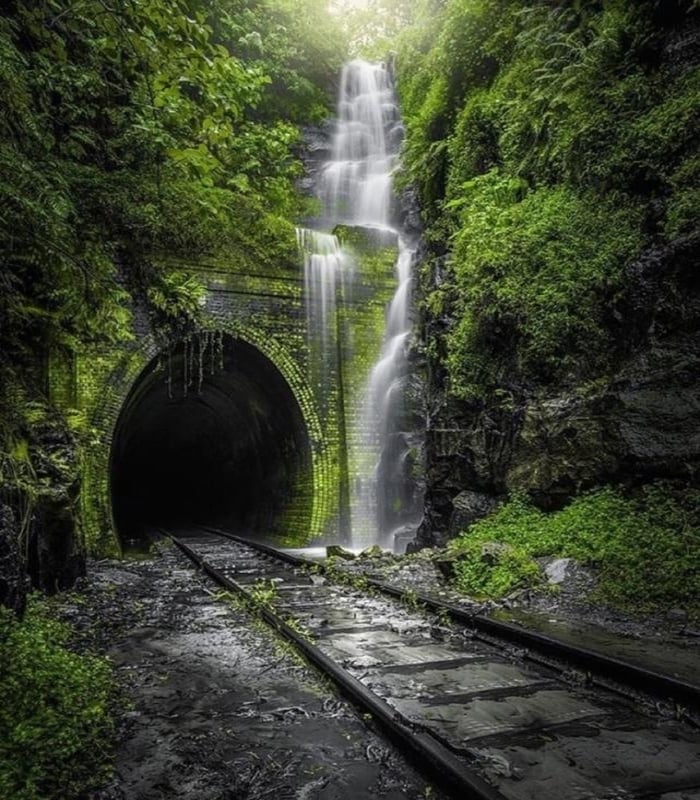 Legends abound about this and other tunnels in the area, adding to the mystique and aesthetic appeal. Visitors were permitted access to the tunnel until it was vandalized. They were told to bring their flashlights and muck boots because it was expected to be a muddy experience. The glow worms brighten up the area in the dark.
Christ of the Abyss at San Fruttuoso, Italy
You can find extraordinary things deep in the ocean. This unique bronze figure is one of three sculpted and set in the sea, and it depicts Christ delivering a peace benediction while looking up toward the heavens. The first statue was erected in 1954 in Italy.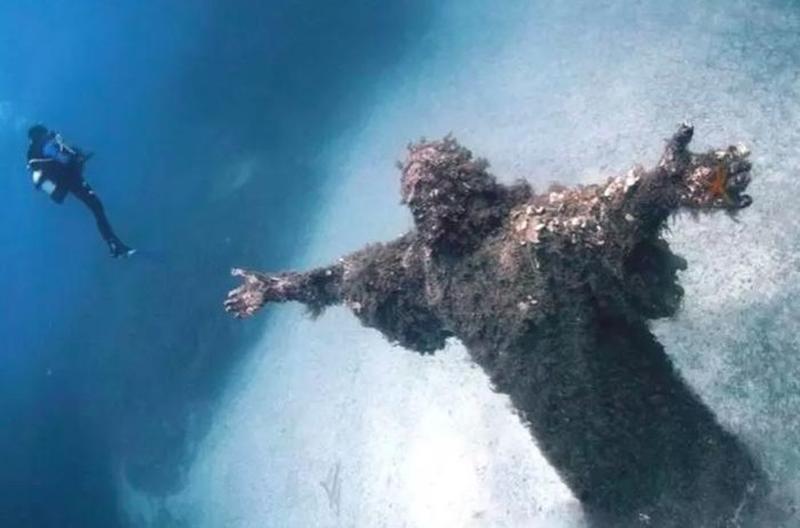 It is located near the spot where Dario Gonzatti, the first Italian to utilize scuba equipment, died in 1947. A considerable amount of corrosion and crustaceans necessitated its removal and restoration in 2003. It was returned to the water in July 2004 after a lengthy restoration process.
Virginia's Abandoned Selma Estate
In the past, the Selma estate was a vibrant social hub. Due to the unfortunate deaths of the original owners, the property has passed through many different hands. The original mansion was once destroyed by fire, but it was renovated and brought back to life by a new owner.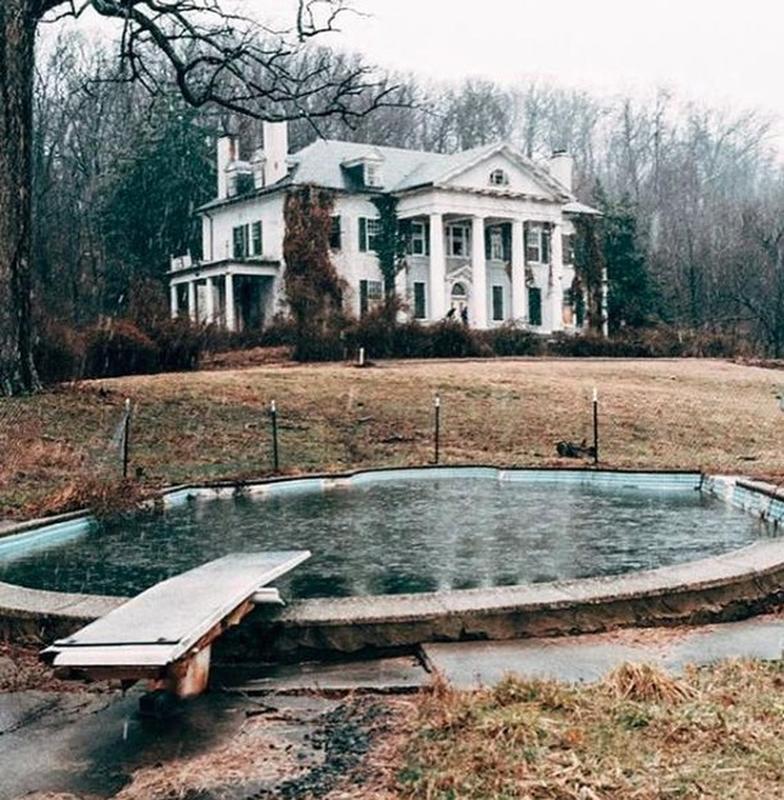 When it was finally abandoned for good, nature took over the house. It now features damaged flooring, mold-infested walls, and even birds nesting in it. Not only did the last owners leave the house, but they also abandoned a grand piano inside. Thankfully, a new owner began repairs in 2016.
An Abandoned Store in Fukushima
Following a devastating earthquake and tsunami, this store is just one of many businesses and residences that have been left in ruins. More than 300,000 people were forced to flee their homes after the infamous natural disaster struck the region in March 2011.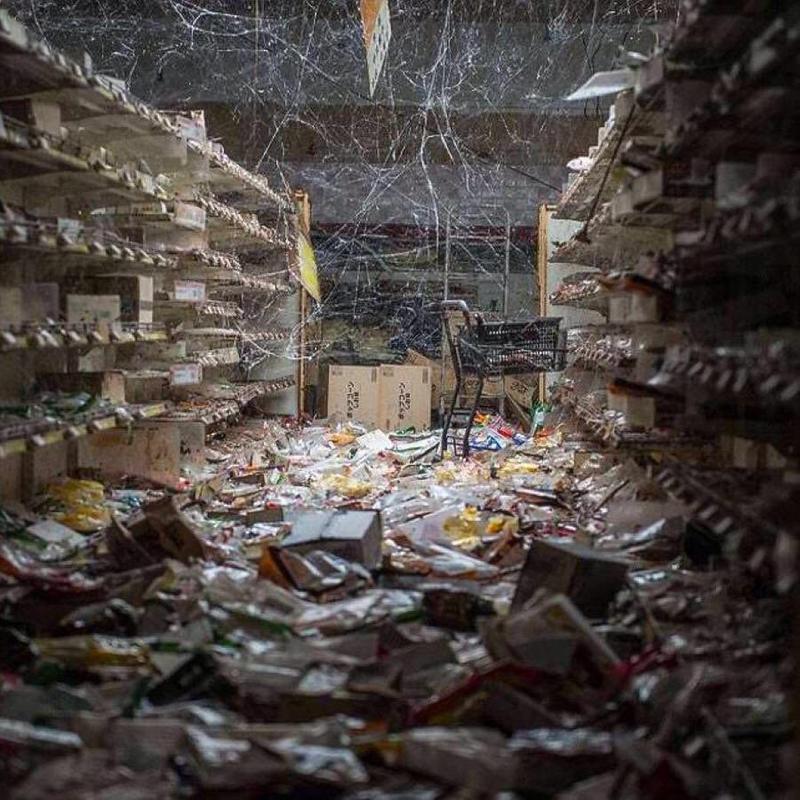 Nuclear reactors were damaged in the earthquake that led to the evacuation of the entire city of Fukushima. The city has become a ghost town in the aftermath of the nuclear disaster. The people had to evacuate quickly, leaving their lives behind, seeking temporary shelter, and preparing to start anew.
A Hauntingly Beautiful Cottage in Stradbally, Ireland
This stunning cottage can be found near Stradbally, Ireland. It was presumably built in the 19th or 20th century, and it is surrounded by a beautiful yellow forest. Those gorgeous blue shingles are a one-of-a-kind sight. It's a beautiful spot to visit if you want to get away from it all.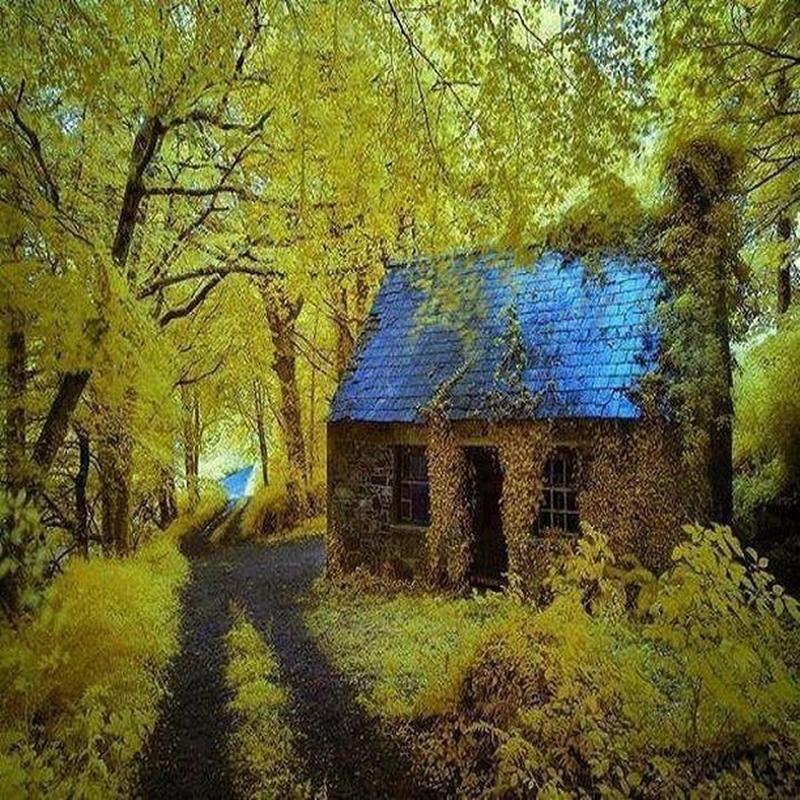 Even if you yearn to live like a hermit, this cottage is not a viable option for a permanent residence. After a while, the forest's echoes would get a little unnerving. If you're just planning a little weekend break, this could be an intriguing locale to add a sense of mystery to your adventure.
Michigan Central Station in Detroit
Though construction concluded in 1913, this station was already in use before it was finished. When World War I began, more than 200 trains were departing each day from the railway station. After World War II, it was utilized mainly by the armed forces, and its popularity dwindled as people began to rely on vehicles.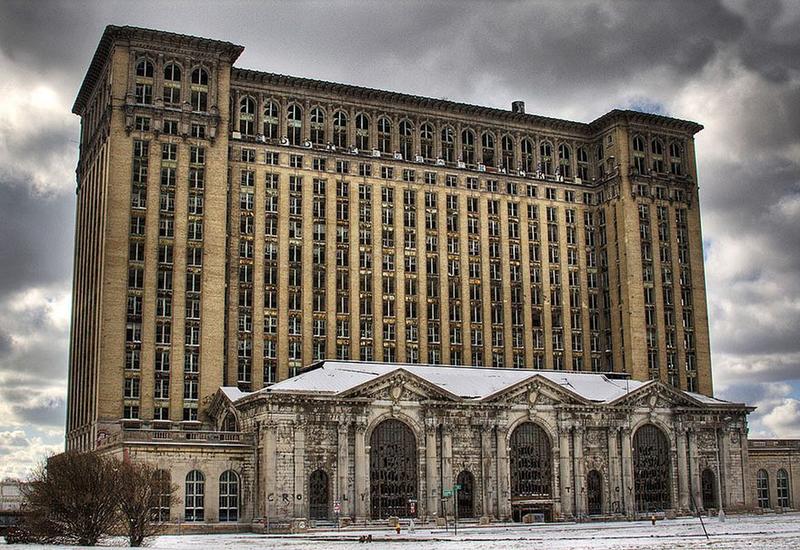 It closed in 1988, and since then, local officials have been in discussions regarding how to best utilize the structure. Ford Motor Company bought the building in 2018 after the previous owners made minor improvements. The company has significant plans for the establishment, including developing autonomous vehicles.
A VW Bug in an Underwater Museum in Cancun, Mexico
There is an underwater museum in Cancun where you may see this waterlogged Bug. This is an excellent spot to check out if you enjoy scuba diving or snorkeling. As an alternative to diving and snorkeling, glass-bottom boats are available for individuals who would rather stay dry.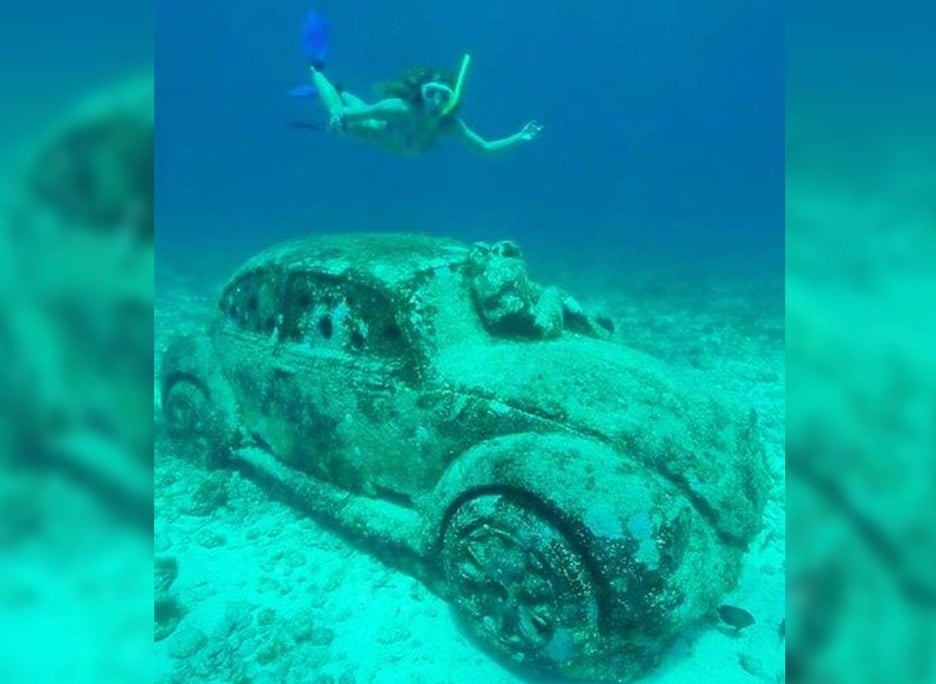 Seeing all those underwater sculptures would be a truly breathtaking experience. Over 500 sculptures are on display. This unique sculpture is a full-size copy of the classic Volkswagen Beetle, and it now harbors marine life and provides entertainment for divers.
This Abandoned Yellow House in Nova Scotia
This photo of an abandoned yellow house looks like it belongs in an old Alfred Hitchcock thriller like The Birds. You'd have to be a big fan of yellow to live there, with the dandelions and the home both being bedecked in that oh-so-bright hue.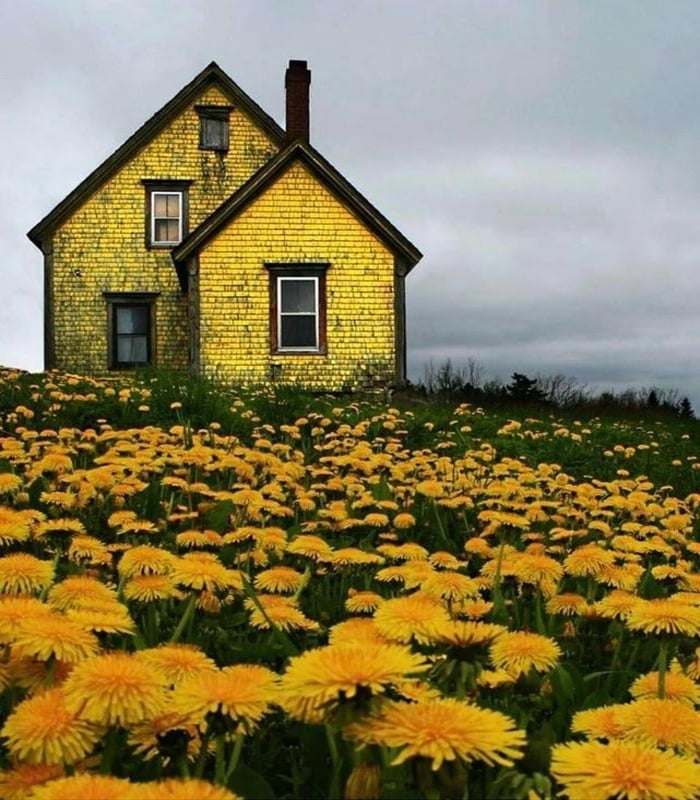 The local economy was likely to blame for the abandonment of this house. Several towns in Nova Scotia lacked the capacity to grow, and as a result, when the children grew up and moved away in search of a better life, there was no one to take over the homes that their parents left behind.
The Swallow's Nest Castle in Ukraine
The Swallow's Nest, a stunning "ice" fortress located in southern Ukraine, overlooks the Cape Ai-Todor of the Black Sea. It resembles the ice palace from Frozen. In reality, the castle is perched on the top of the Aurora Cliff.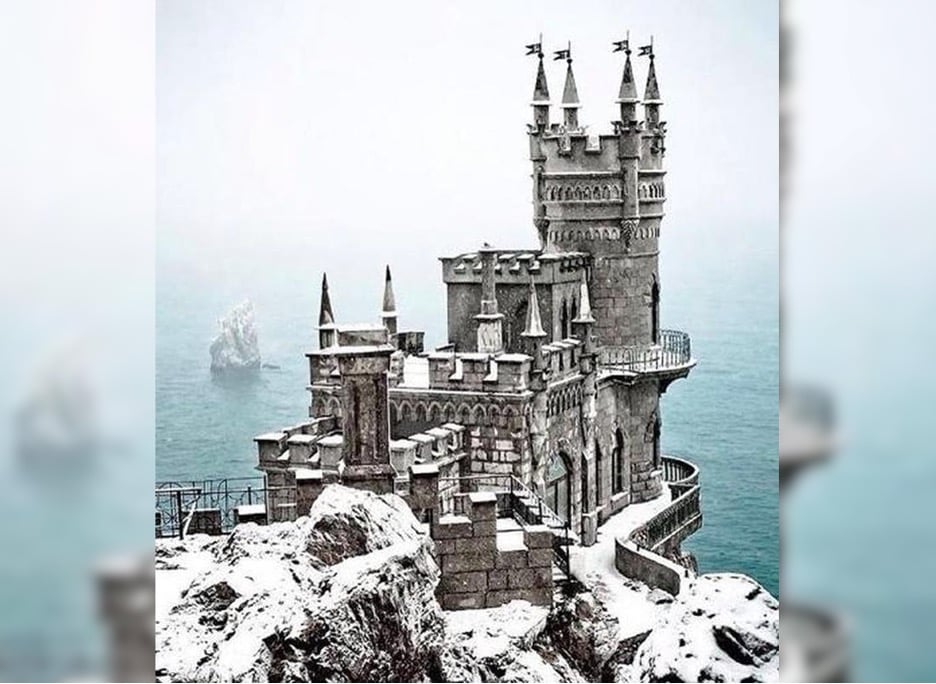 Though it appears to be sturdy, it would still be a little nerve-wracking to be inside of it. When it was erected in 1911, it was owned by an oil magnate. Before that, in 1895, a wooden cottage known as "The Castle of Love" stood there.
This Police Motorcycle Graveyard (Harley-Davidson)
Peruvian police once owned these Harley-Davidsons while they were stationed in Lima. They were removed from the market due to operational or maintenance issues. Since local Harley dealers and parts suppliers were unavailable, many of these motorcycles were bought in bulk by enthusiasts desperate to get their hands on spare parts.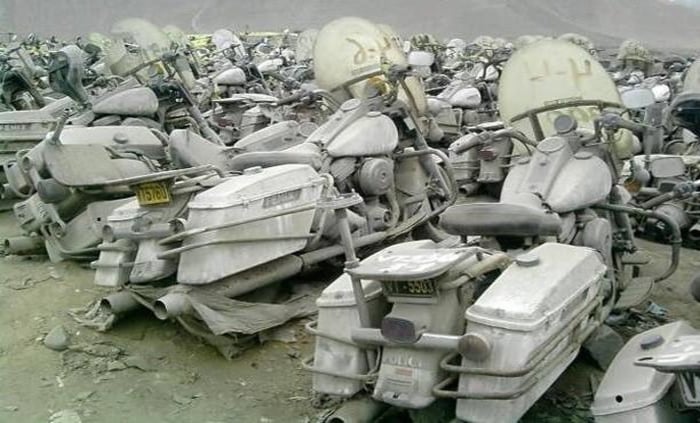 Of course, they were in such disrepair that it took many of these wrecks to make one good bike. Still, the deal could work out. People who bought them and made a good one might sell it for $12,000.
The Remains of the Abandoned Six Flags in New Orleans, USA
After Hurricane Katrina struck New Orleans on August 25, 2005, this Six Flags amusement park remained closed as a sad memory of that terrible day. No one in America, or probably the entire world, will ever forget the horrific events of that storm and the days that followed.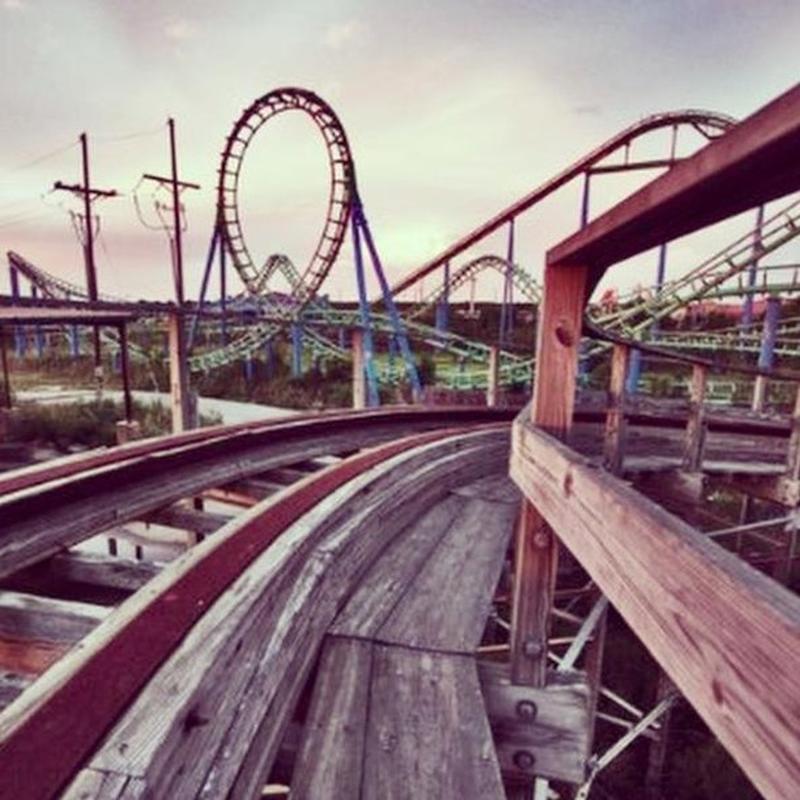 In the wake of Hurricane Katrina, many parts of New Orleans were abandoned. Since then, there have been numerous discussions about what to do with the Six Flags, but every plan to rebuild it has failed.
A Fishing House on a German Lake
This abandoned fishing cabin in Berchtesgaden National Park, Germany, is located in a magnificent alpine location. It was constructed on the shores of Obersee Lake. Unfortunately, it was left empty and alone. There is no record of who owns the property.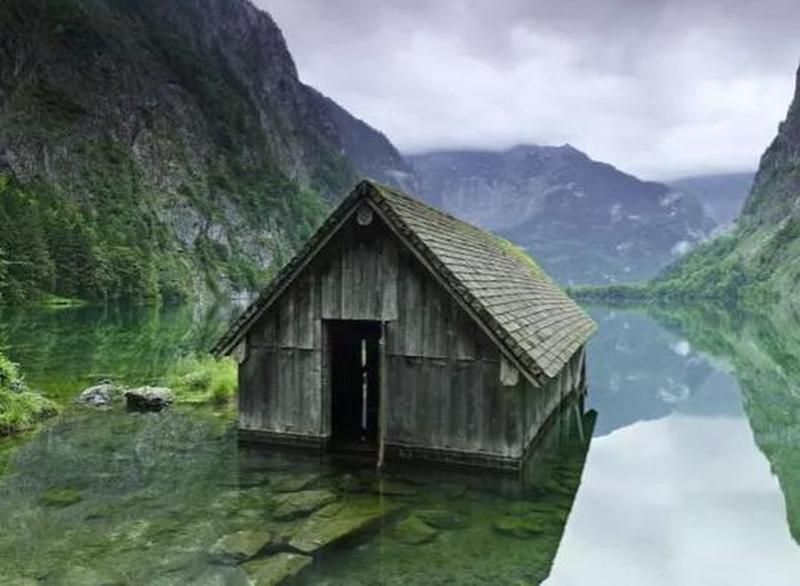 Most likely, it was once a popular fishing spot for locals who wanted to go away and enjoy the peace and quiet of the highlands, only interrupted by the occasional echo of nearby wildlife as they fished for the elusive "big one."
An Abandoned Space Shuttle at the Baikonur Cosmodrome
This shuttle can be found at a covert, Russian-built location in Kazakhstan. During the Cold War, the West was unaware of this place. Yuri Gagarin, the first cosmonaut, was launched in April 1961 from Baikonur Cosmodrome. Only once did the "Buron" take to the skies in November of 1988.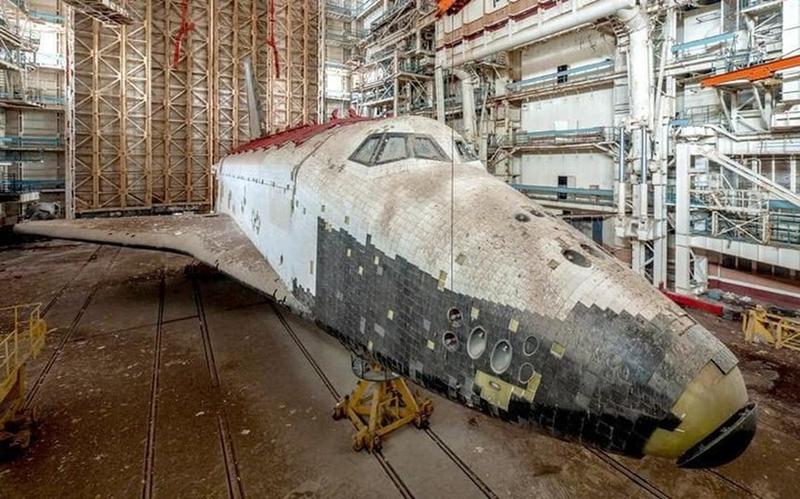 Before the launch date, the cosmonauts performed 24 test runs on Earth, with 15 of those being automated. It was designed to carry six passengers or more but was "iced" in 1991 when the Communist regime was toppled. The country was divided into multiple republics, and this space shuttle was forgotten.
A Deserted Church Blanketed by the Ash of Mount Sinabung
More and more houses and buildings around Mount Sinabung in Karo, Indonesia, have been abandoned during the past few years, including this church. When a new eruption occurred in June 2015, it caused the evacuation of thousands of people. Mount Sinabung's surrounding slopes have proven to be dangerous for residents.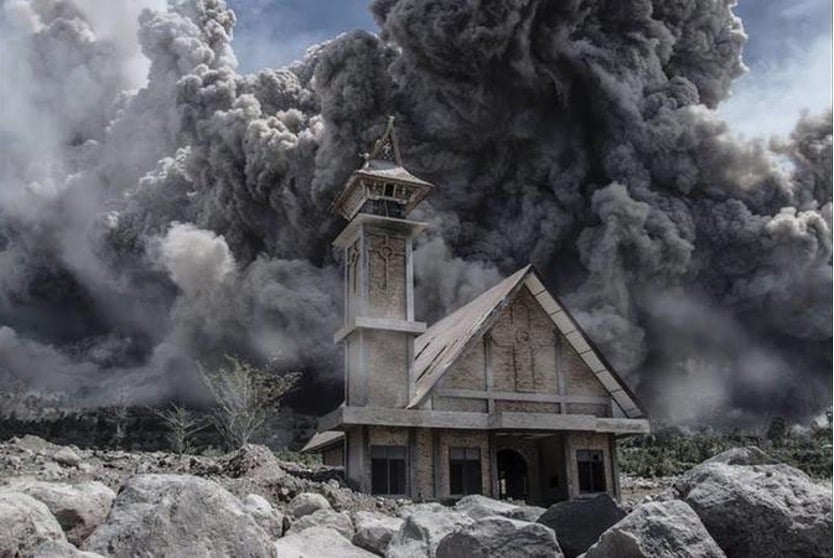 Villagers have been forced to leave everything behind – including their houses and means of sustenance – and seek sanctuary in refugee camps. Despite the dangers and eruptions, many will return to their community with a strong desire to rebuild their lives.
A Russian Shipwreck in the Red Sea
The "Russian Wreck" was one of countless disasters that occurred in the Red Sea, but this specific shipwreck appears to be one of the most famous. It was discovered in 1988, and it was initially thought to be a fishing vessel called the Khanka.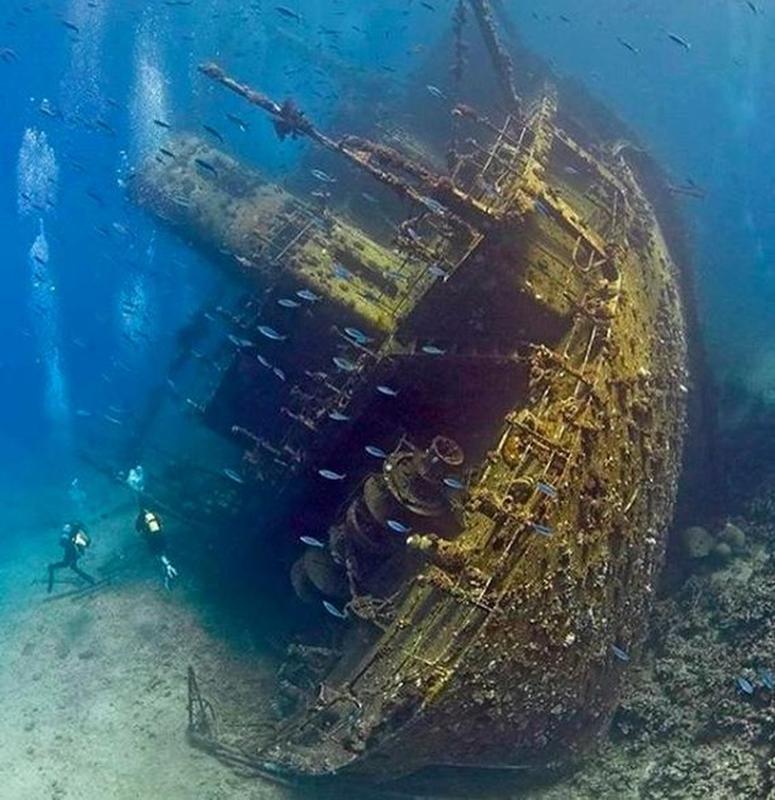 It is widely assumed that the Russians employed fishing vessels in order to perform covert surveillance and communication. It was found to have an abundance of communication gear, including electronic devices and batteries, indicating that it was likely utilized as a spy vessel.
An Abandoned Farm House in Ontario, Canada
This photograph of an ancient, abandoned farmhouse is a complete mystery. It's strange to see wonderfully green grass in the middle of a forest of rotting trees in Canada. However, who would take meticulous care of their lawn while completely neglecting their home?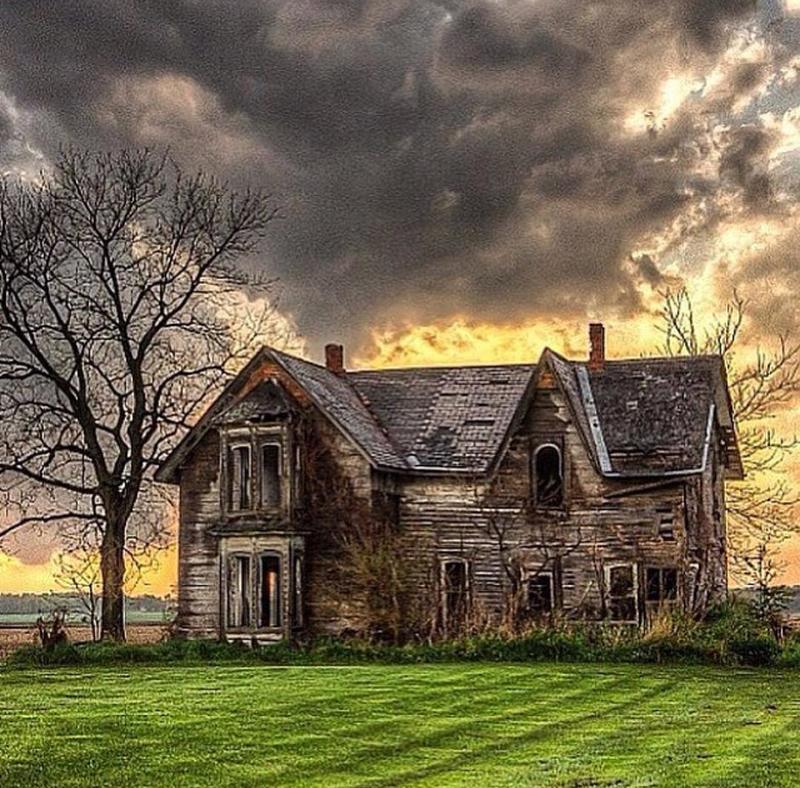 The neglect of the house has caused it to fall into ruin. Although there are many unanswered concerns, it is an intriguing portrait to frame and exhibit in your home or art gallery. The storm lurking over its shoulder adds an extra hint of mystery to the house.
Pittsburgh's Abandoned Railroad Bridge
You can find abandoned railroad bridges like this all over Pennsylvania. Due to the widespread adoption of vehicles as a mode of transportation, many of these structures were abandoned. Traveling by rail went from being the norm to a rare occurrence.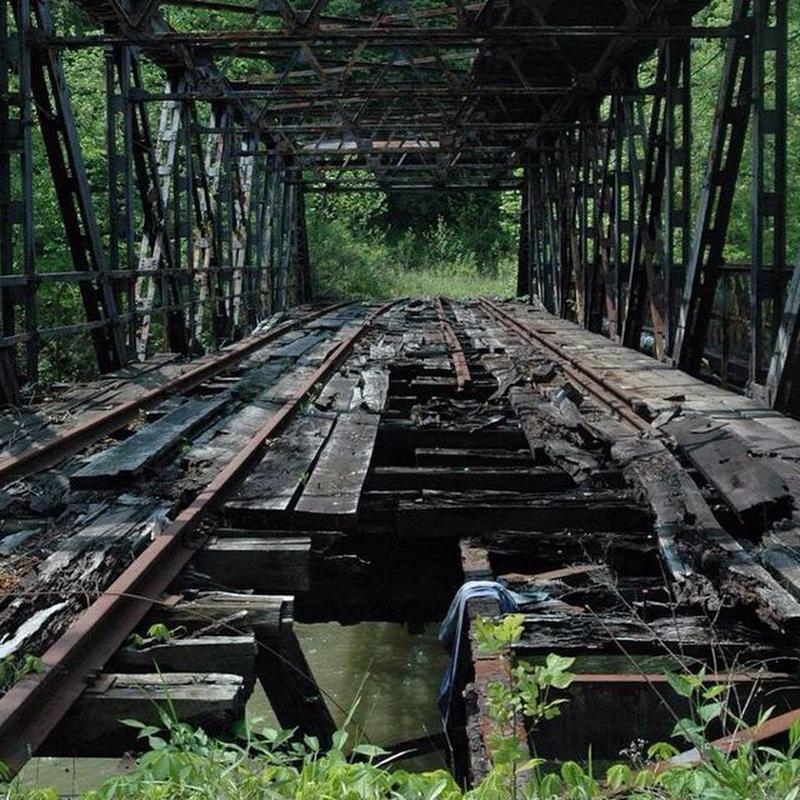 Many of these train bridges were abandoned in favor of new means of transportation, and with no funds going into maintaining them, they withered away and became useless. Some were also damaged, and repairing them would have been prohibitively expensive.
IM Cooling Tower – Belgium's Old Power Station
This coal-fired power plant was one of the biggest in Belgium when it was built in 1921. By 1977, it had become Charleroi's primary source of energy. It was able to chill 480,000 gallons of water every minute.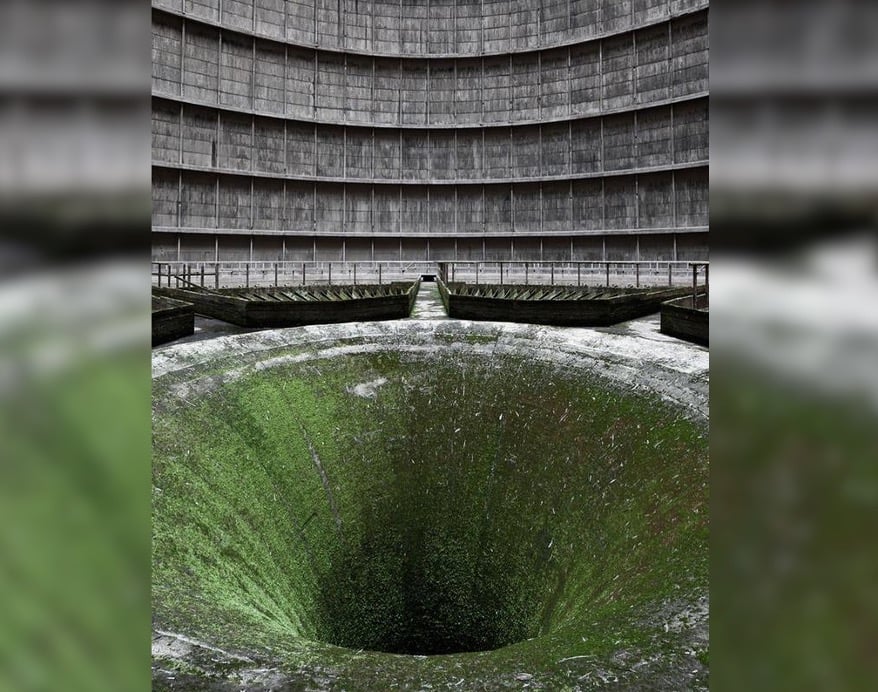 People eventually found that the facility was responsible for 10% of Belgium's total carbon dioxide emissions. Protests by Greenpeace led to the plant's closure in 2007. Since then, security guards have been put in place due to metal thieves stealing from the site.
Abandoned Castle in Ireland built in 1586
McDermott's castle is located in Roscommon, Ireland, on an island in Lough Key's southeast corner. Since the 12th century, the island has been home to the castle shown in the image below. In 1184, a lightning bolt started a fire, and few people survived.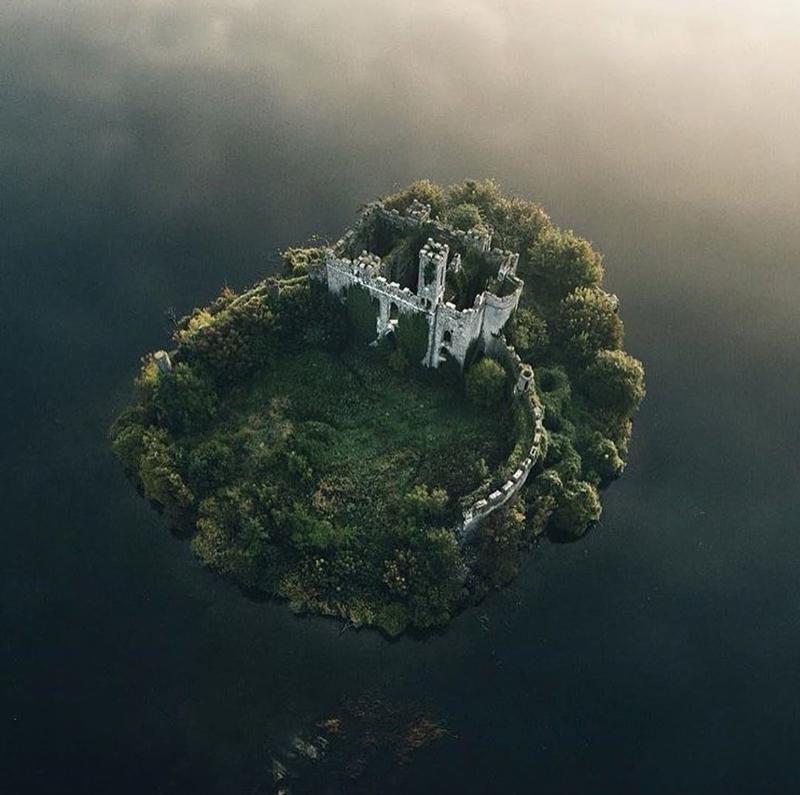 King Conchobar mac Diarmata and a small group of his followers made it. Another fortress was built, but the McDermotts lost the island and abandoned it in 1586. In 2014, the castle and island were featured in a television show called Moone Boy.
Milnerton, South Africa – Home to an Abandoned Bug
Why would someone discard such a precious car? We can only assume that the "Love Bug" did not deliver what they expected. Or maybe the owner was acting on a dare and drove it onto the beach, where it got stranded in the sand.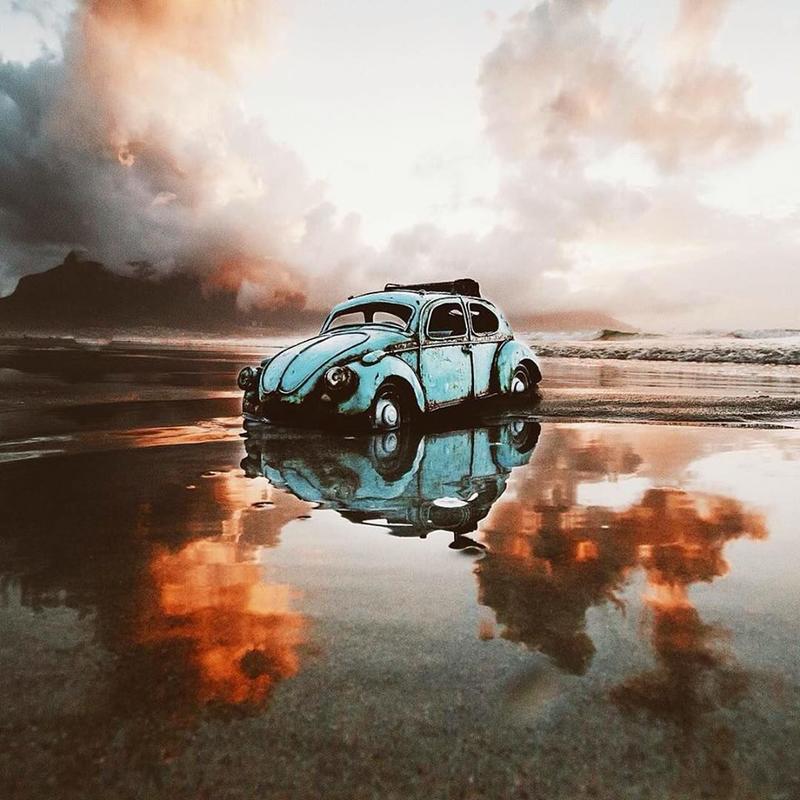 Look at the background, and you'll notice a blazing fire or a bubbling volcano. It looks like the former owners had to flee for their lives, so they left the bug when they panicked and became stuck in the sand.
Pencho Semov's Abandoned Home in Bulgaria
Pencho Semov, Bulgaria's first billionaire, was known as the "Bulgarian Rockefeller." He grew up in a village near Gabrovo, Bulgaria, and made his way up the economic ladder by trading, banking, and other means. Two years before his death, he drafted a will specifying that his mansion would be converted into a retirement home.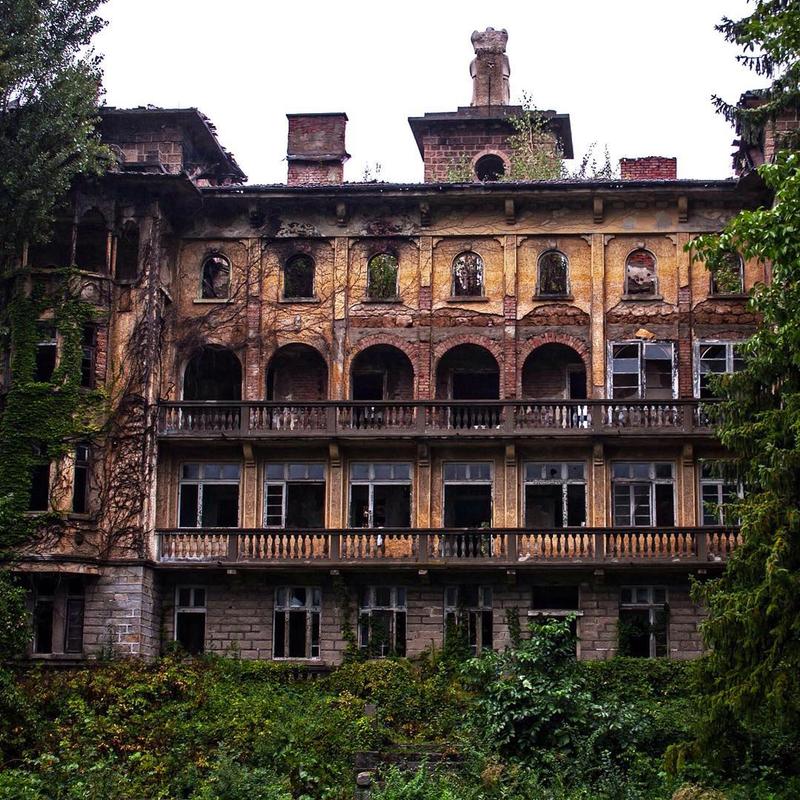 Semov also stipulated that two other buildings he owned must be converted to girls' boarding schools. One was to be free for the poor, and the other should come with a nominal fee for the wealthy. Sadly, when he died in 1945, his desires were not carried out.
A Partially Sunken Ship in Roatan, Honduras
Many people believe that the Dixon Cove Wreck in the 1970s was partly caused by a hurricane that forced the ship into the channel and left it trapped. Trying to salvage the vessel, the crew unloaded the cargo, which pillagers later recovered.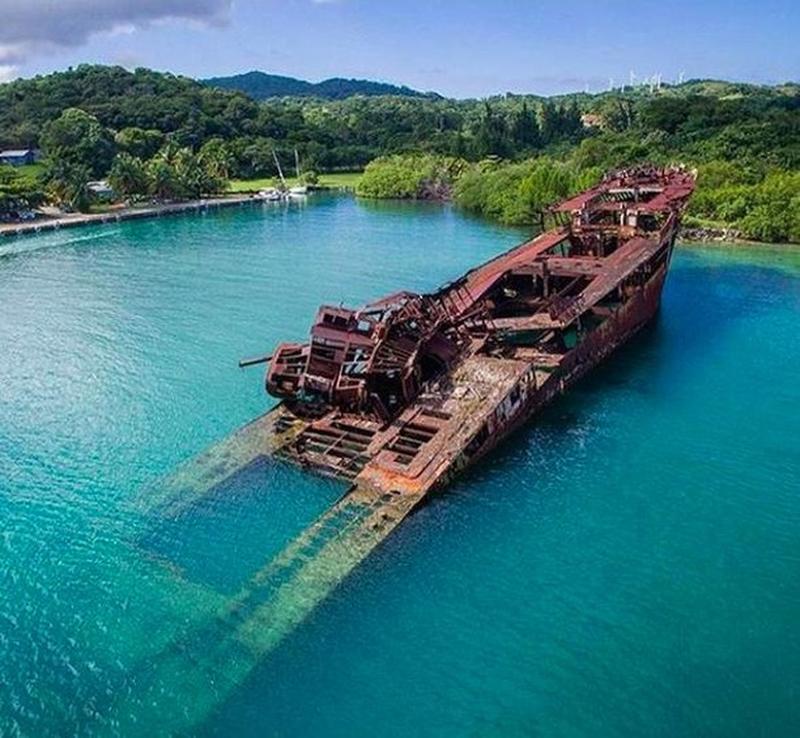 Other stories from locals suggest that the ship was abandoned along with another vessel that also sank in the same area. Some people believe both ships were involved in the Nicaraguan Revolution. With all these stories floating around, it seems the truth is less likely to surface than the ships!
Lucy the Elephant Hotel in New Jersey
This strange building was initially known as Elephant Bazaar – a six-story structure styled like an elephant and first constructed in 1881. The howdah (the elephant's seat) featured a set of spiral stairs leading up to it. The structure was utilized as a tavern, and Lucy had to deal with numerous tragedies, including a fire.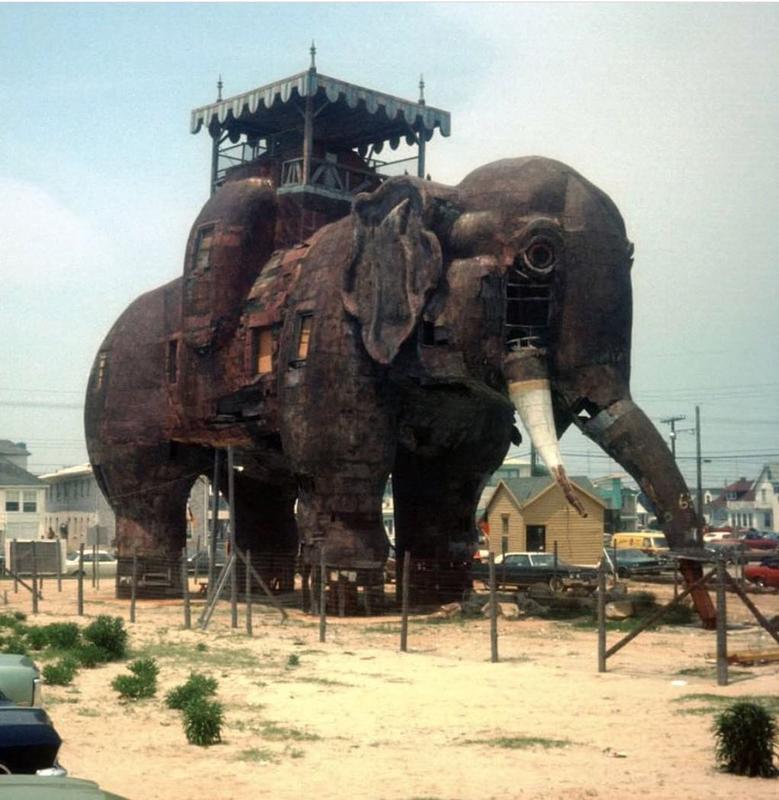 After decades of neglect, the city deemed it unsafe and planned to demolish it in 1960. When a new developer wanted Lucy gone, a committee was created to save her. She is now completely restored and functional again.
This Abandoned Roller Coaster in Nara Dreamland, Japan
This is one of several abandoned roller coasters in Japan. Despite the fact that this abandoned theme park was meant to be demolished, you can still see the antique coaster glowing in the distance. This rusted roller coaster has earned the moniker "Screw Coaster" – an entirely appropriate name given its appearance.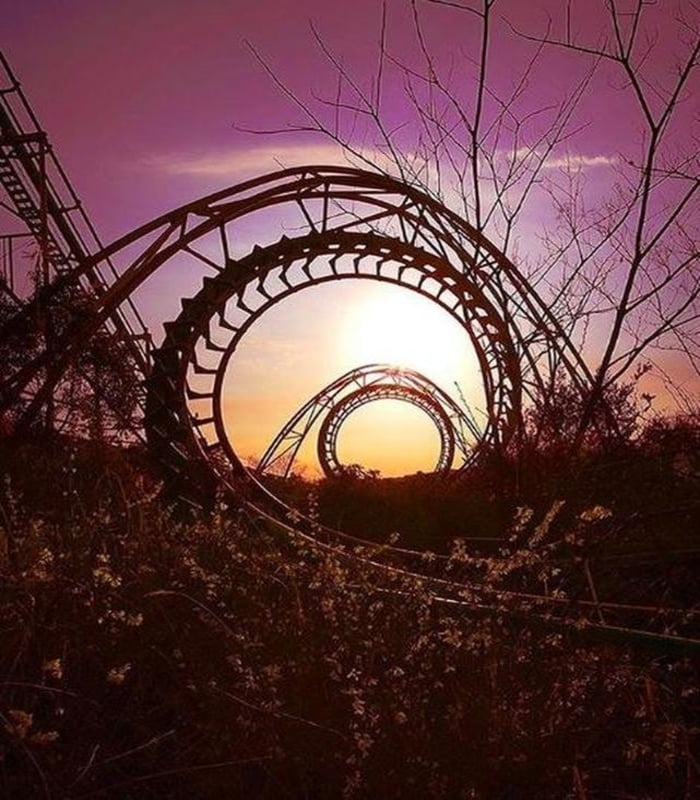 Nara Dreamland attempted to be the next Disneyland. However, due to a lack of funding, the park chose fewer fascinating characters than Disneyland when creating their park. Aska, a wooden roller coaster in Nara Dreamland, is another famous abandoned structure on the site. It's a terrific place to obtain a bird's-eye view of the park.
This Abandoned Hotel in Colombia
This was once a magnificent hotel encircled by the breathtaking Colombian mountains. Anyone who stayed there would tell you it was an excellent and stately place. This beautiful spot, perched precariously above a thundering waterfall, was ideal for a relaxing getaway.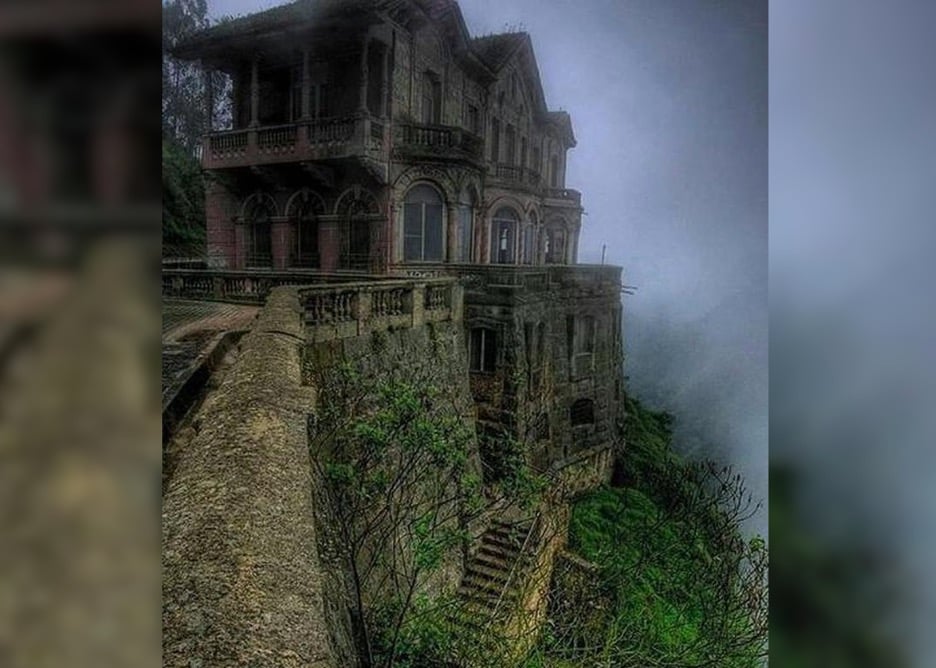 However, the Bogota River became contaminated with industrial garbage, bringing all of this to an unfortunate end. When it came to dealing with this type of situation, the appropriate authorities made few attempts at coming up with a viable solution. A lack of customers eventually forced the hotel to shut down for good.
Abandoned Military Vehicles at the Chatillon Car Graveyard in Belgium
Chatillon is a small town in Southern Belgium. In the past, these vehicles belonged to soldiers from the United States. It was too expensive to bring all of the soldiers' automobiles back with them when the war ended, so they had to leave them behind when they went home.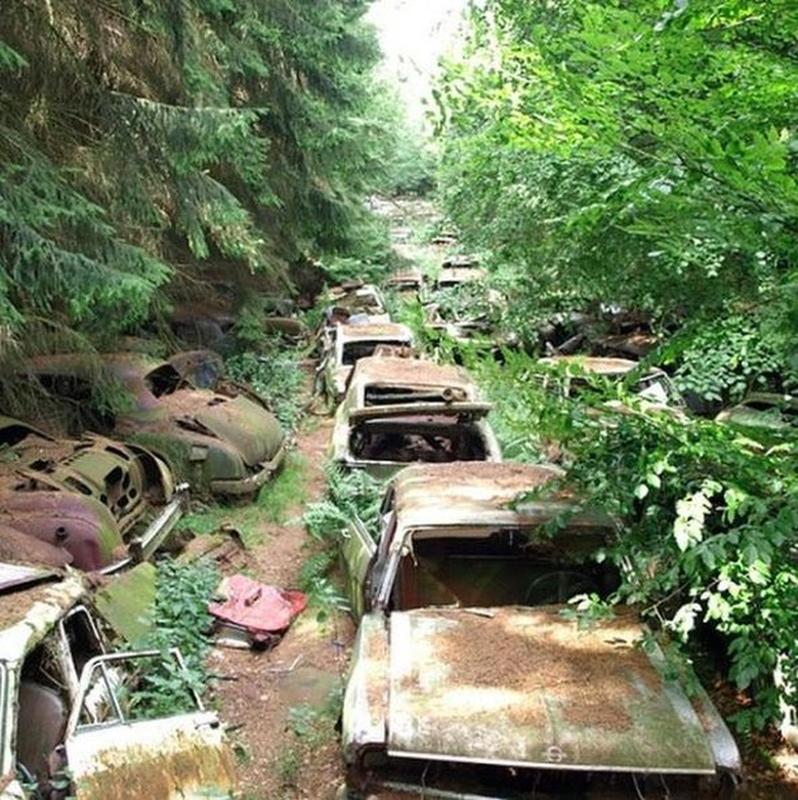 The commanding officers decided to abandon them in the country and parked them all on a secluded hill. It was up to each soldier to decide if they wanted their car delivered home at their expense. Clearly, few of them chose to keep their vehicles.
Shipwrecks off Moreton Island, Queensland, Australia
Rusted antique boats rest in the beautiful blue-green waters that surround this beautiful island. As it turns out, these wrecks were deliberately sunk off the coast of Moreton Island to provide a secure haven for smaller boats.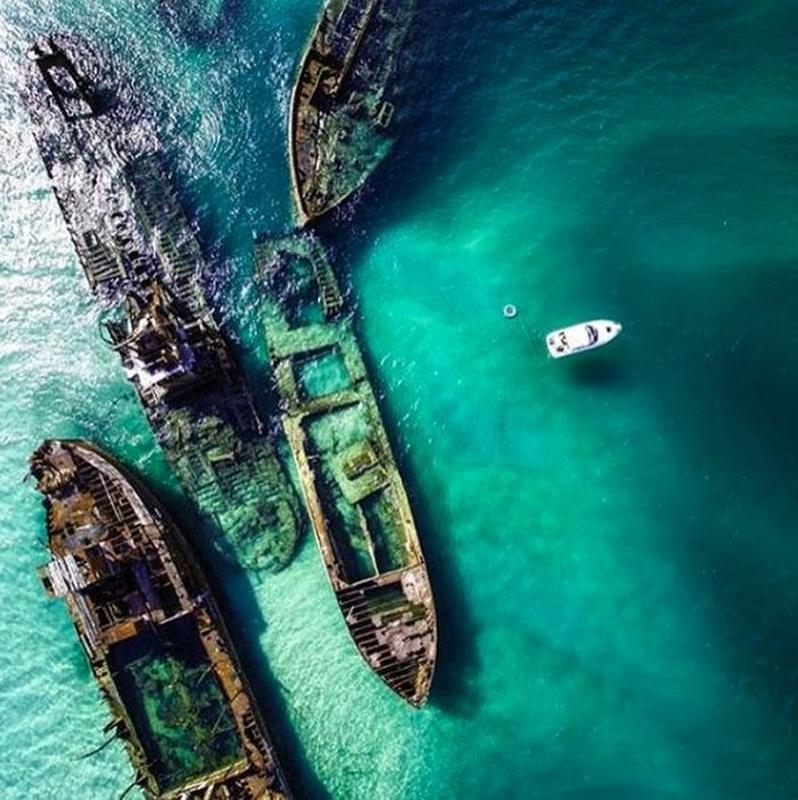 This is why they are arranged the way they are. These historic vessels were decommissioned steam dredges and barges from 1963. They put these historic wrecks into the water at the request of a party of boat owners, creating a harbor that shelters them during rough weather.
Towards the outskirts of Kazan City, a TU-144 supersonic passenger jet has been abandoned in the yard. This is just one of many sites and objects that have been abandoned or demolished worldwide for various reasons.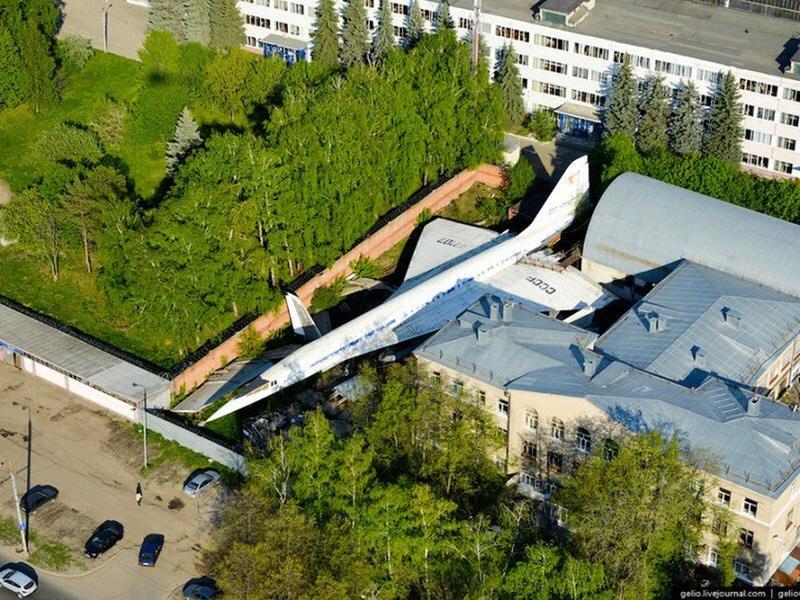 Why would anyone want to keep a TU-144 supersonic passenger airplane in their backyard where it can never serve its purpose? Somebody seems to have been working hard to conceal it. However, neighbors and passers-by noticed it. After that, photographers and videographers, some using drones, started turning up. You really can find the strangest things in people's backyards.
Abandoned Dome Houses in Southwest Florida
Bob Lee, a former oil producer from Cape Romano, Florida, constructed these odd houses in 1980. They were a sight to behold before hurricanes ravaged them soon after they were first built.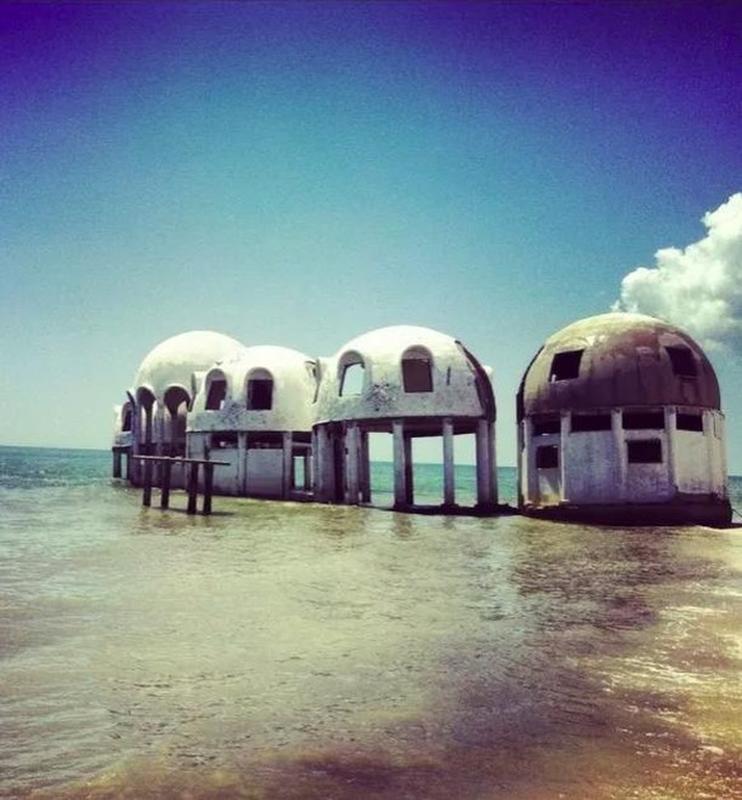 The solar-powered and self-sustaining nature of them was a bonus. They were purchased by John Tosto in 2005, just in time for Hurricane Wilma, which wreaked havoc on the domes and a portion of the coastline. Since the sea has taken over, they are no longer fit to serve as homes.
The Oldest British Warship Lies in the Great Lakes in Ontario
The HMS Ontario sank in the Great Lakes in 1780. It was rediscovered in 2008 between Niagara and Rochester, New York. The ship was found to be largely intact, and it now holds the distinction of being the oldest British warship ever discovered.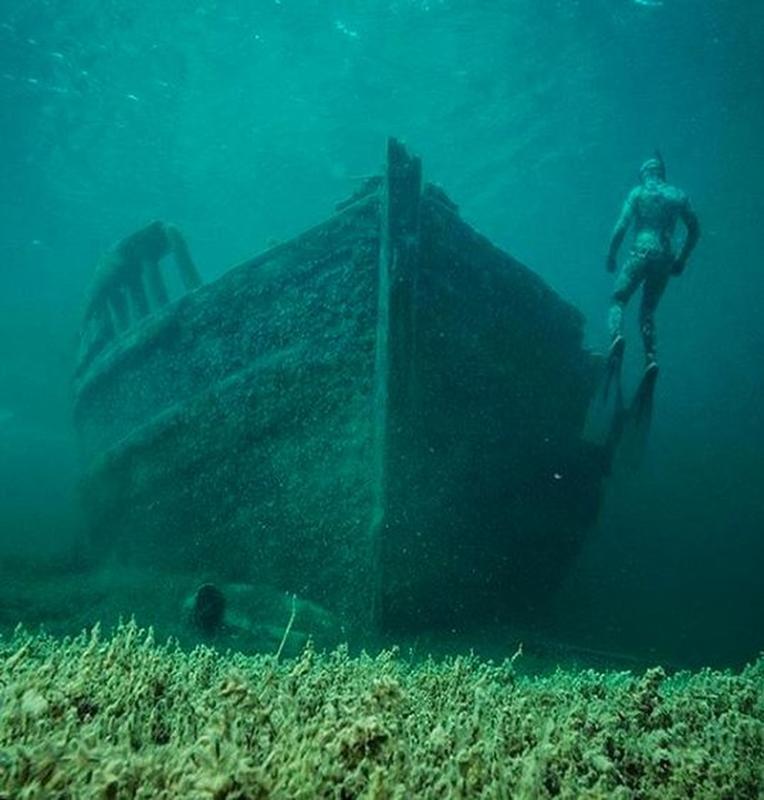 The ship sank during a storm, killing roughly 130 sailors. Jim Kennard and Dan Scoville joined forces to look for lost ships 35 years ago, and eventually, they hunted this one down. It only took three years of dedicated searching for them to discover the HMS Ontario.
This Ferris Wheel at an Abandoned Theme Park in Japan
At the now-defunct Kejonuma Leisure Land, which first opened in 1979, this massive Ferris Wheel and dozens of other attractions were enjoyed by guests from all over. More than 200,000 people a year came to spend time in the park.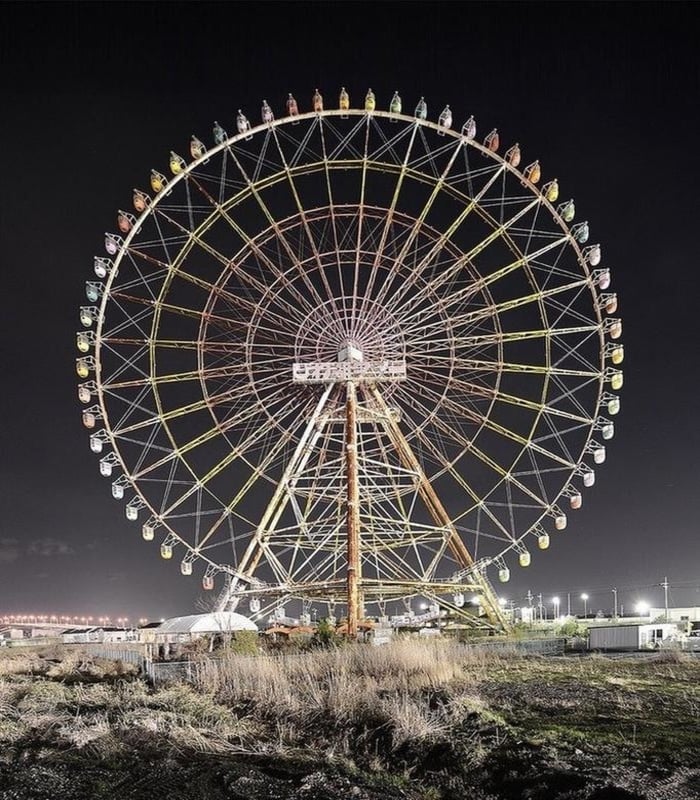 Kejonuma Leisure Land offered various lodging options, including campsites and modest cottages for those who didn't need luxury. There was a hotel nearby for those who weren't so keen on the outdoors. This park's owner closed down the property to the public in 2000.
The Magnificent S.S. America Wreck in the Canary Islands
The S.S. America launched in 1940 and was primarily a passenger ship that went by various names until its accident in 1994. Two Nazi spies were on-board the ship in 1941 when the Navy was using it. As members of the Duquesne Spy Ring, they and 31 other spies were later convicted by the FBI.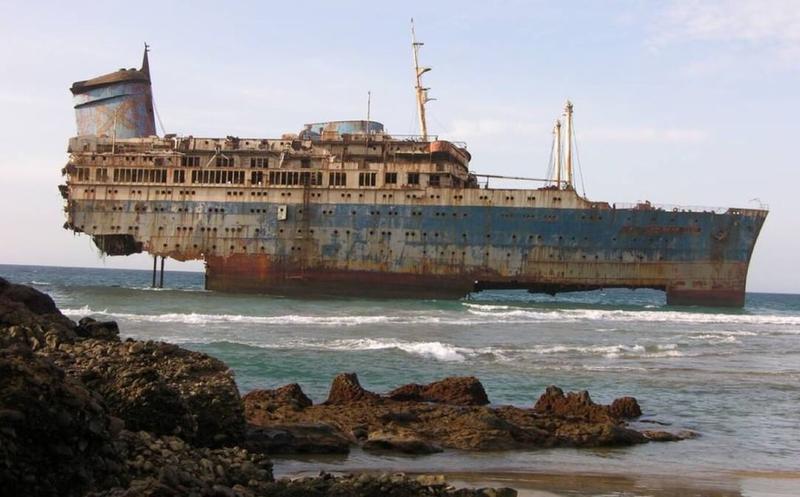 At the time, it was the most significant espionage conviction ever made in American history. The ship carried on for decades after this incident. However, in 1994, at the start of what was planned to be a 100-day expedition, the ship was caught up in a storm and ran aground just off the coast of the Canary Islands.
A Church in Iceland
Young Icelandic couples flock to Búðakirkja, Iceland's most popular wedding venue, for its stunning interior. As far as churches go, there aren't many black and white ones. Found in Bir, Iceland, this chapel is situated adjacent to a beach and lava field, with a volcano in the distance.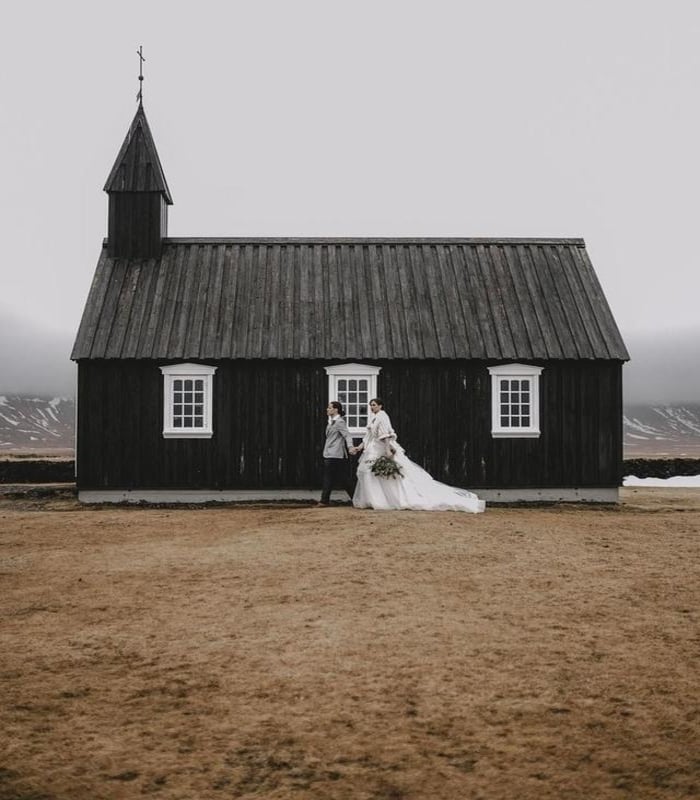 This church was erected in 1703, then demolished and rebuilt in 1987 after a campaign was launched to support its return. The first church's bell and chalice, as well as an old graveyard, are still standing.
Abandoned Gentzrode in Neuruppin, Brandenburg, Germany
Gentzrode may have been cursed because numerous well-thought-out ideas for this location fell apart. After moving to the estate, Carl von Diebitch's son, Ludwig, planned a castle-like residence, complete with exquisite planted gardens and a family tomb. Although finished in 1876-1877, it cost significantly more than he intended.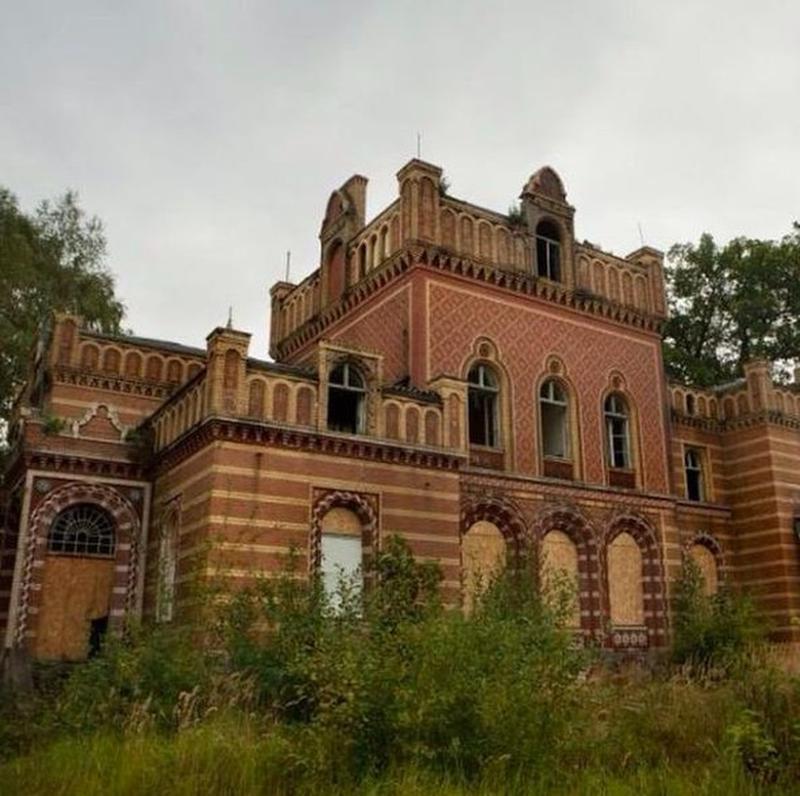 It then went through a series of owners, some of whom had it for less than a year. Poor soil quality thwarted one of the owners' plans to grow sugar beets. While under Nazi control, it plummeted into ruins.
A Crumbling Castle in Italy
In Italy, there are numerous deserted castles to discover. You can even purchase fully-restored castles or hunt for a bargain and restore it to its former glory. It is common to see a variety of decorations when exploring these abandoned palaces.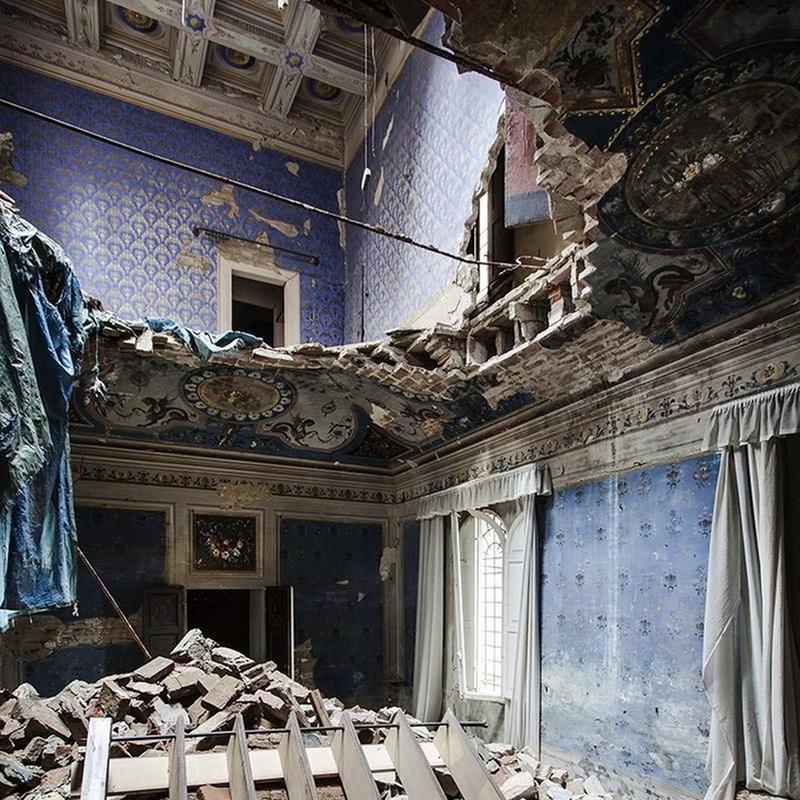 Art covers the ceilings and walls of many Italian castles. The layouts and rooms of every castle are distinct, making each one unique. You can find winding stairs, balconies, and even secret passageways in several of them.
Wheatfields Surround This Abandoned Oregon House
Numerous homes have been abandoned since Boyd, Oregon, was de-incorporated in 1955. Until recently, Boyd was a bustling community. In addition to poor wheat prices, the Great Depression significantly impacted the town's downfall.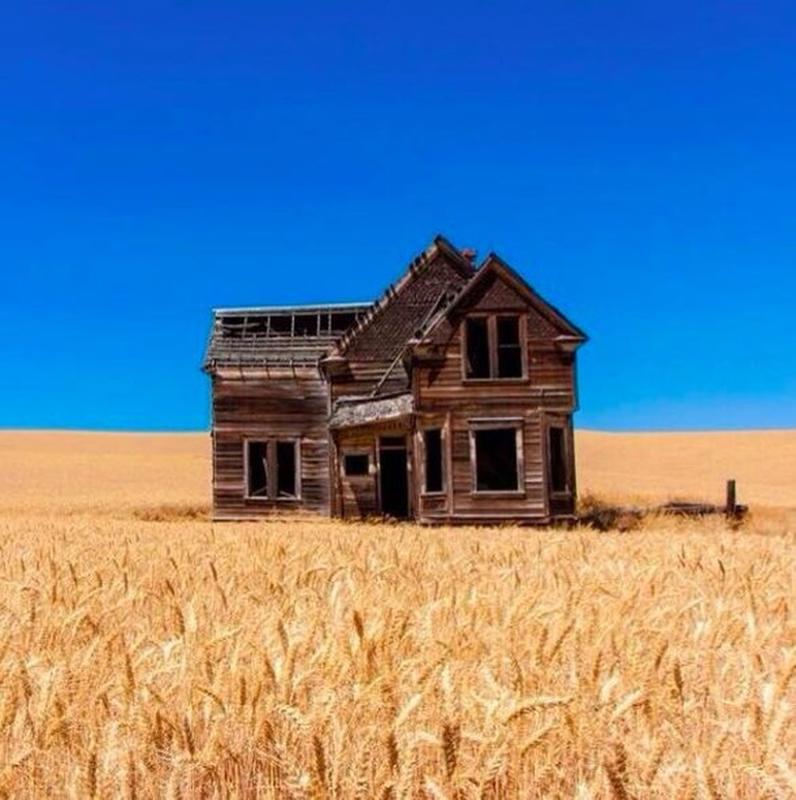 Without a steady stream of customers, local businesses had little hope for survival. There are old decaying outhouses among the deserted homes and businesses. However, a dilapidated wooden grain elevator is still producing grain.
An Abandoned Mining Settlement on Lake Superior's Silver Islet, Ontario, Canada
In 1845, a considerable amount of silver was found in this small village, but mining the silver was nearly impossible due to Lake Superior's varying weather conditions and turbulence. For decades, the miners battled storms, tidal waves, and ice surges to no avail.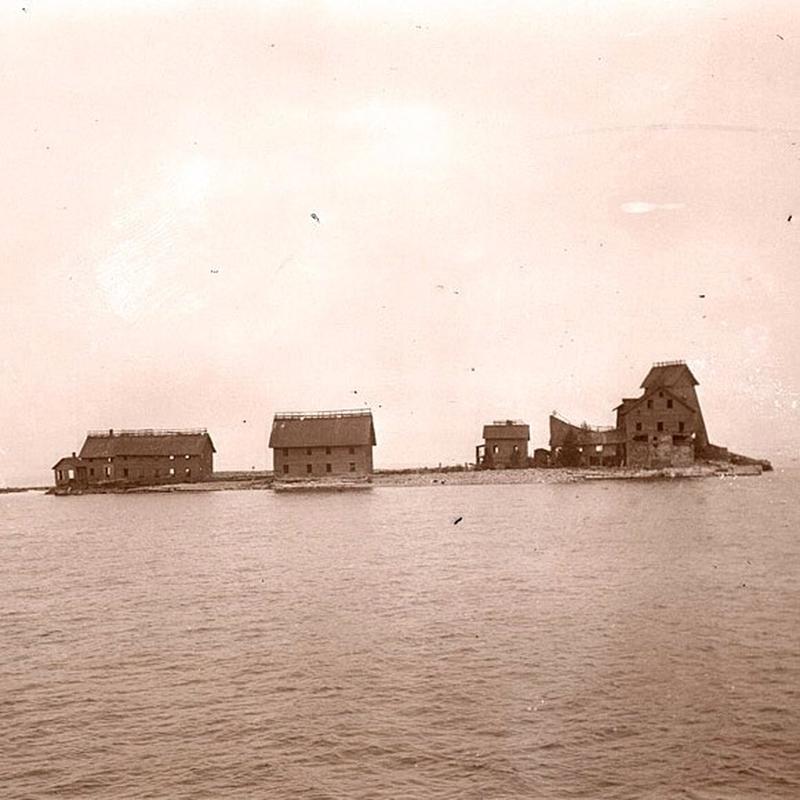 They ultimately succeeded in recovering $3 million worth of silver by erecting a barrier of rock and concrete. All activities halted in 1883 due to a shortage of funding for fuel to keep the furnaces and water-filled shafts running. This picture was taken in 1911.
Bennett College (Formerly Halcyon Hall) in Millbrook, New York
When it was first built in 1890, Halcyon Hall was a five-story, two hundred-room luxury hotel catering to the privileged. Unfortunately, the hotel's performance fell short of expectations, and it was forced to close in 1901.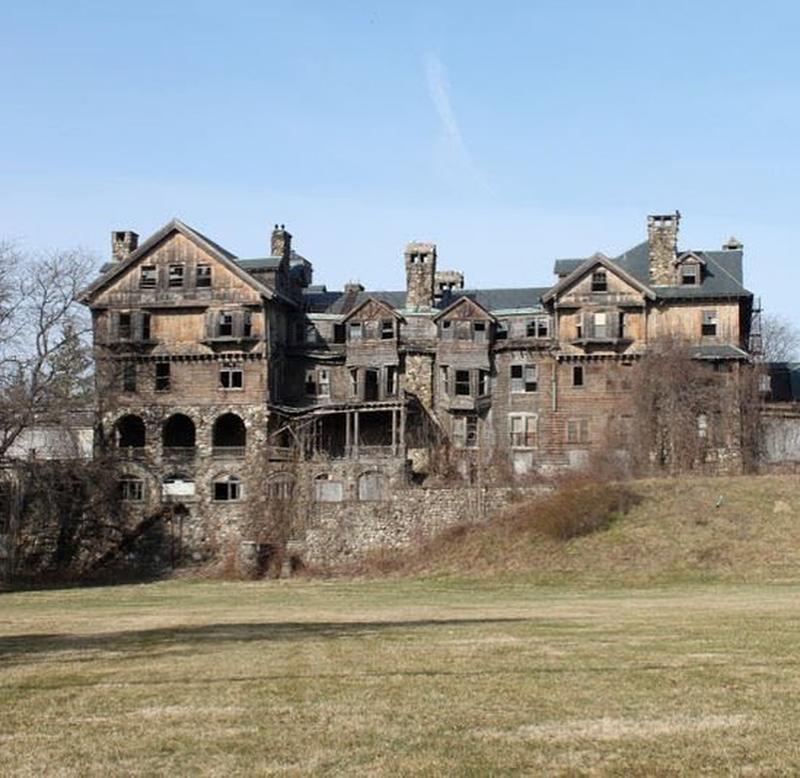 In 1907, a New York teacher transferred her girl's school there, turning it into Bennett College. As the number of coed colleges increased in the 1970s, it began to accrue debt and, as a result, went bankrupt in 1977, forcing its closure. Bennett College was demolished in 2014, despite being on the National Register of Historic Places.
An Abandoned Home in Nebraska, USA
A photographer captured this image during a lightning storm in 2015. When he snapped the picture, he managed to capture an act of nature at just the right moment. The photographer had no idea how intense the lightning was going to get while he was sitting in his car taking these shots.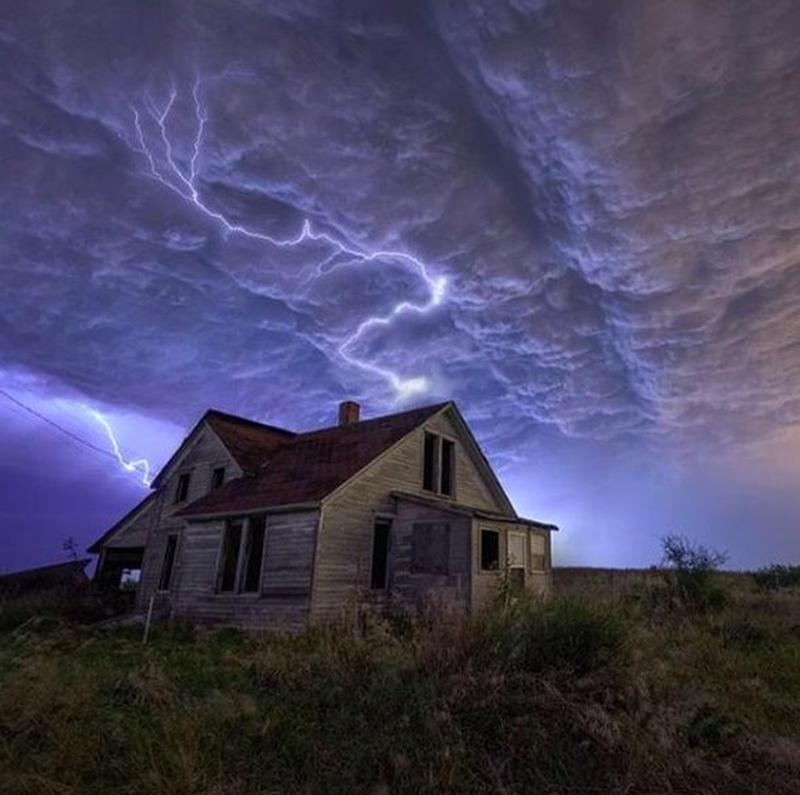 There are no trees in sight, which raises the intriguing question of where the lightning might strike if it does come down in this area. Because of the dramatic sky in the background, it's easy to forget that there's an abandoned house right there.