40+ Funniest Pregnancy Announcements That'll Make You LOL
Raising a little one? Wave goodbye to peaceful, stress-free days and say hello to sleepless nights and diaper changes! But just like with anything in life, tackling parenthood with humor is the best way forward. So when it comes to announcing your pregnancy news to family and friends – don't just settle for the boring 'We're having a baby!'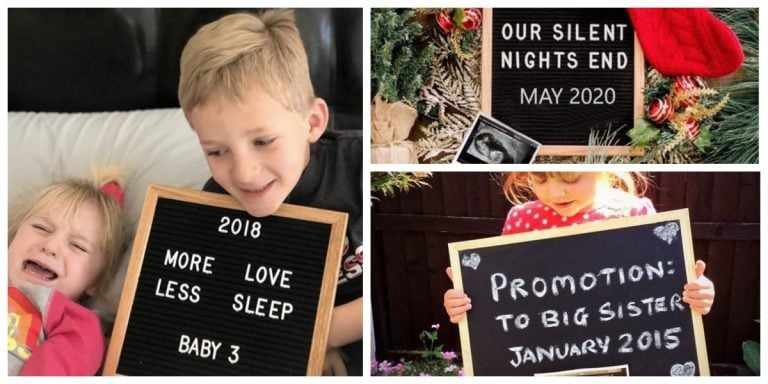 Let's take some inspiration from these clever parents who shared their news in incredibly creative ways. Get ready for some belly laughs (and hopefully no tears!) as we dive into this collection of unconventional pregnancy announcements!
Ready, Set, Baby!
In the early 2000s, an exciting new gaming console was born and everyone wanted a piece of the action! People were running around in their living rooms as if they were on a real-life tennis court or golf course.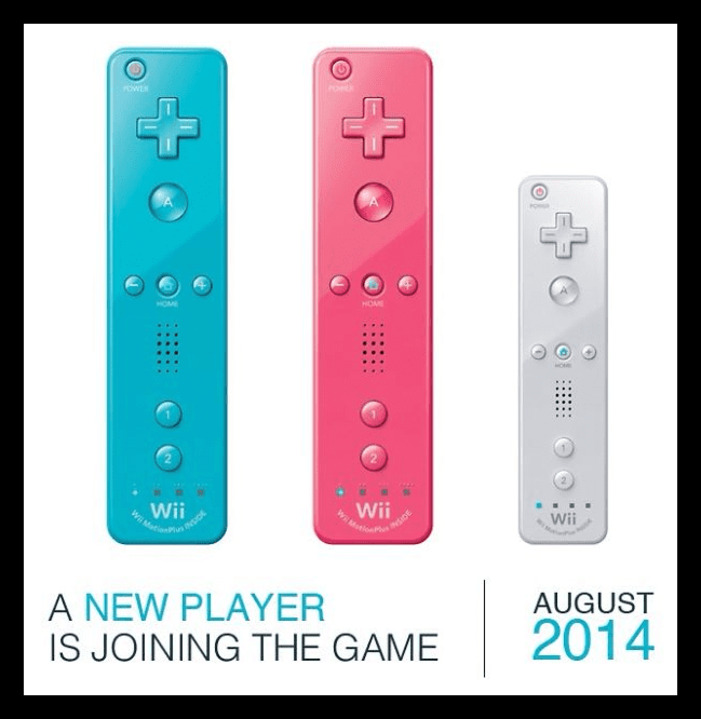 It was total virtual reality fun – but with one minor problem: you needed to have as many joysticks as there were people in your family. But it looks like someone's about to join the game – so it's time to grab another controller and get ready for some team play. With this newest member of the crew, it looks like game time will be taken up a notch!
Magically Delicious Muffins of Marriage: The Recipe for a Joyful Union!
Need a way to guarantee perfect, delicious muffins of joy? We've got just the recipe for you! Here's what you need to build your perfect marriage: 2 cups of all-purpose love, 3 teaspoons of admiration, a half teaspoon of boundaries, 3/4 cup of respect, an egg, a cup of milky devotion and 1/4 cup oil.
Preheat mommy's oven to 37 degrees Celsius and get ready to enjoy the delicious smell of baby shampoo! The timer goes off and everyone's filled with excitement – who isn't thrilled about this new addition to the family?
Introducing the Super-Family of Nashville City: Meet the Dohertys!
James and Alisha Doherty are just your average Nashville couple- or so it seems. But little did the people know that these two have been hiding their true superhero identities for years, secretly prowling around to save the day. Not until now have they revealed themselves – with a baby photoshoot on point!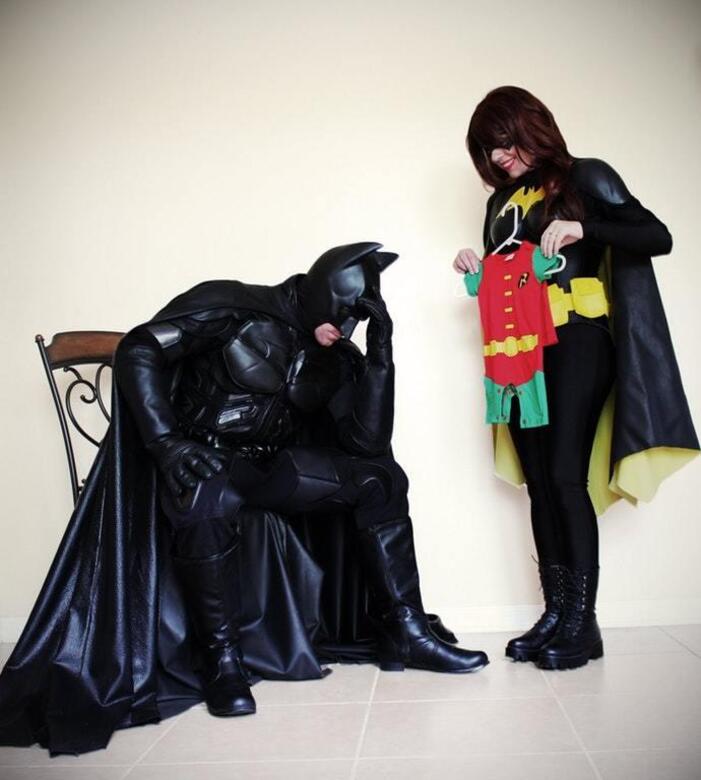 The Dohertys announced that they were expecting a mini-member to join their squad, and showed up in full mask and cape mode to share this exciting news. Now there would be three members fighting crime in style in Nashville City.
Unifying the Galactic Forces - Find the Chosen One with Daddy!
Ready to embark on an out-of-this-world adventure? Join daddy as he zips through galaxies and traverses deep space to find the much prophesied Chosen One. It is said that this most powerful Jedi will bring balance amongst three children, so it's in your hands to ensure a harmonious relationship!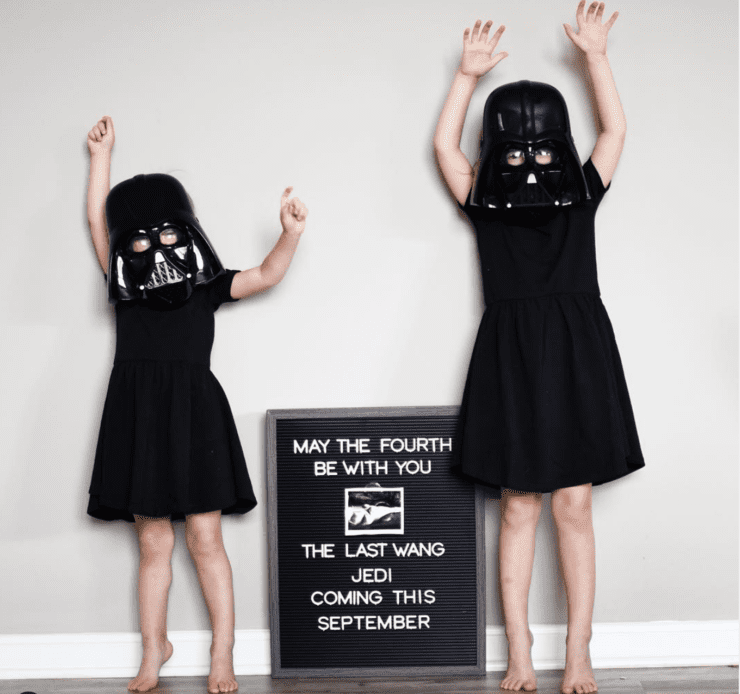 That might take some effort, but don't worry – all you need for successful navigation are your lightsabers. They'll help you keep both sides of "the force" in check, and with their help your family will be united by a vast energy field filled with love! So what are you waiting for? Let's go explore!
All the Glitz and Glam Gone - The Life of an Older Sister
Those poor kids – their decision-making power crushed by the iron fist of parental authority. We can practically hear them moaning, "Ugh! Another sibling? Noooooooo!" The eldest appears to have resigned herself to her fate. After all, she'd gone through this twice already.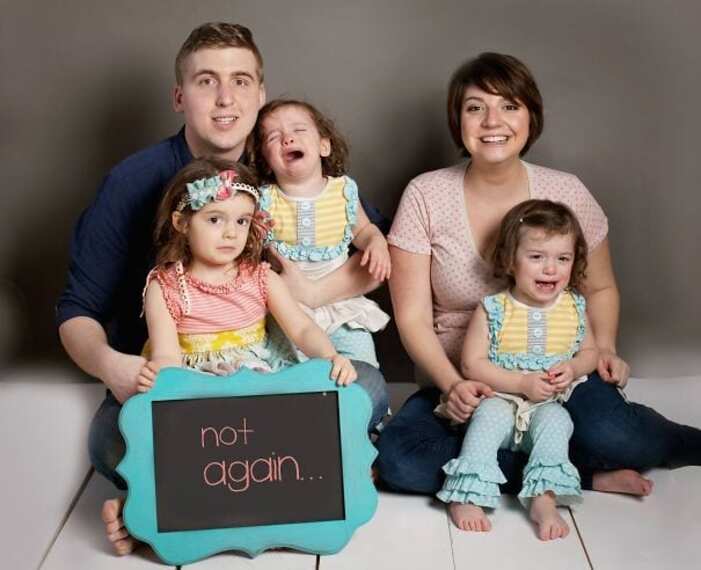 But it's a whole different ball game for the younger ones – having to share their parents' love (and pocket money!) with a newcomer was not in their plans at all! Nonetheless, much like any other battle against fate, their weeping won't make any difference here. That bundle of joy is expected in two months' time – no matter how much they protest against it.
Mario and Luigi- A New Baby Joins the Game of Life!
This couple had to break some news that would make their friends and family jump with joy. With a list of ideas ready, dad knew he had hit the nail on the head when he noticed his son getting excited over a Mario game. As little Mario jumped up with glee at the sight of his virtual hero successfully landing near the flag, they all realized who they could add to this happy family- Luigi!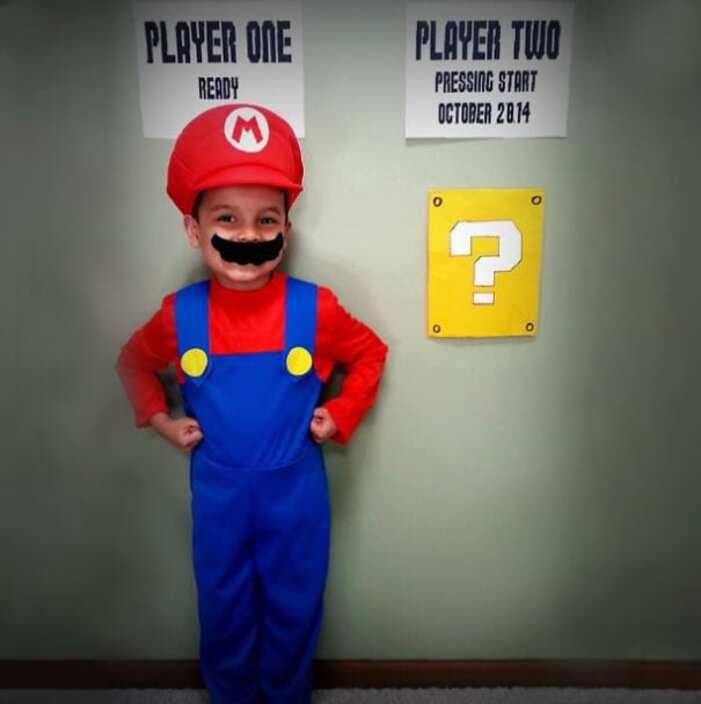 Dressing up Mario in red and blue, while explaining to him who number two would be was no mean feat. But as soon as he understood what was happening, it looked like little Mario couldn't contain his happiness anymore.
'Ice, Ice Baby' - We've Got a Secret to Share!
It's one of the hottest songs from the 90s and it was a hit before its time. Vanilla Ice rocketed to fame with his song Ice, Ice Baby, though he did get himself into a bit of trouble as Queen accused him of lifting part of their song Under Pressure.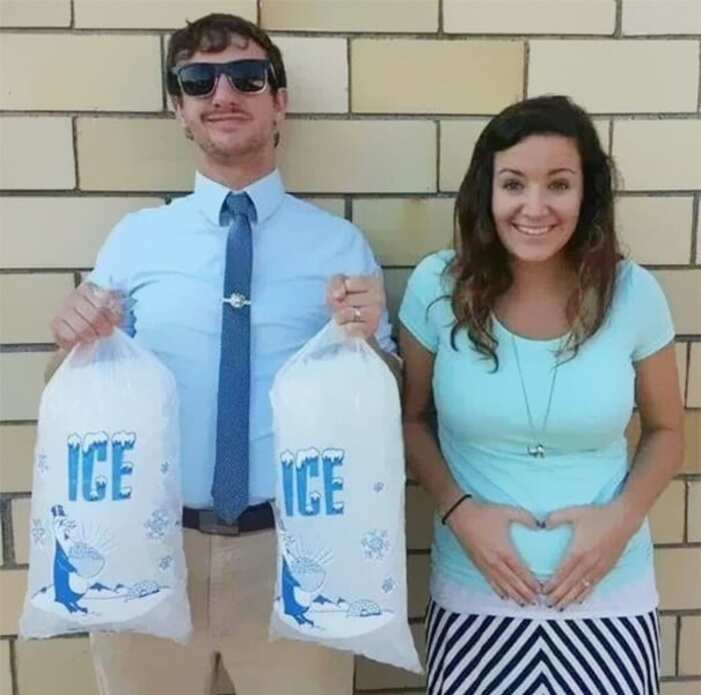 Initially denying it, Vanilla soon admitted to what he had done – but we can all agree that the chorus makes for an earworm-worthy listen! For anyone unfamiliar with the track, just search it on Spotify or Youtube – a perfect track for the next generation. Can you spot the next gen in this pic?
Cruising to Parenthood - A Journey of Love!
A new ride was waiting to be taken, and they were ready. He in the driver's seat, his beloved wife sitting beside him with precious cargo on board – their first child. They shared a common passion for race-car driving and so it made perfect sense that they announced their big news using road signs!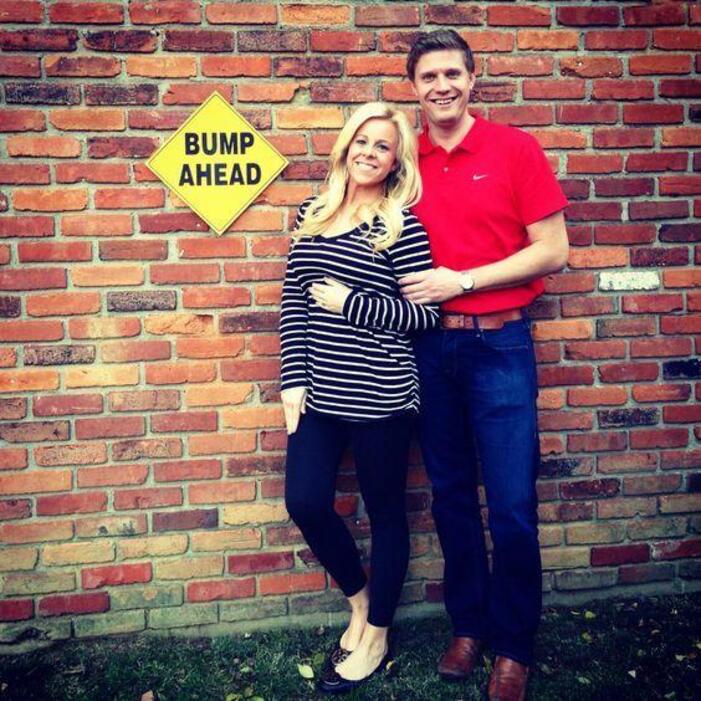 Off they journeyed towards parenthood – no speed limit was set by them as these two die-hard optimists wanted to enjoy every moment of this beautiful voyage together. So here's wishing them all the best as they hit the accelerator into an unknown future – safe driving guys!
A Wrong Turn – Mom's Surprising Poke Adventures!
Mom and Dad had made a wrong turn – mom was now growing a Pokeball! What could be inside? Among the 18 characters, everyone was betting on Psychic Exeggcute. When this Pokemon eventually breaks out of the Pokeball, it'll surely involve lots of tears.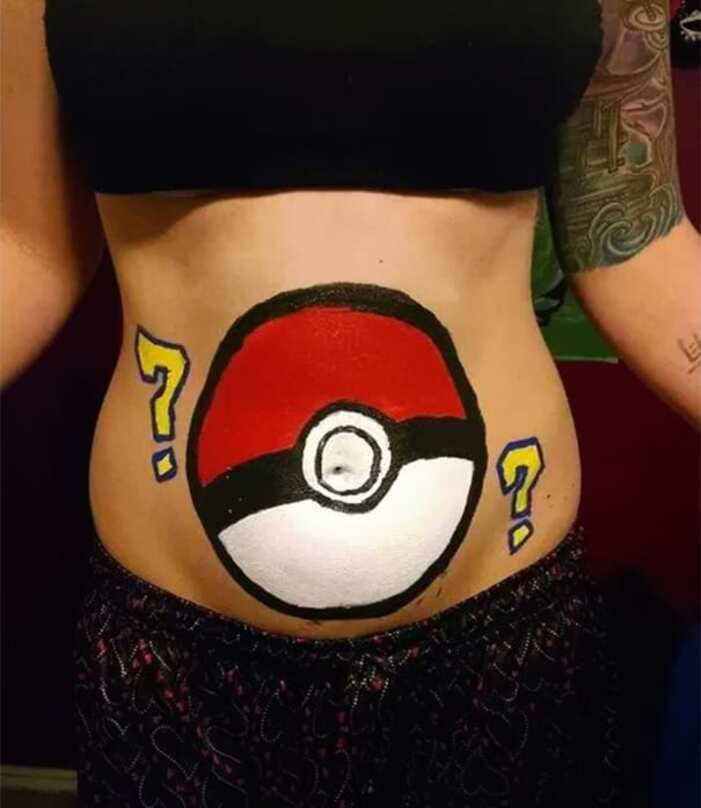 But not to worry, there are ways to manage it – pacifying it with Razz Berries and lullabies should do the trick! Mom and Dad can even take turns caring for their new addition; after all, training Pokémon can be quite demanding when you're not an expert like Ash Ketchum. So let's hope she's racking up XP points for this Poke-Adventure!
Surprising Change of Plans for Couple on Road Trip!
As the couple drove home, they sensed something was amiss and stopped at a gas station to fill their tires. However, what happened next was not expected! Dad plugged in the air hose and without checking the pressure gauge – heard an explosion and found himself rocking something heavy – a surprise baby!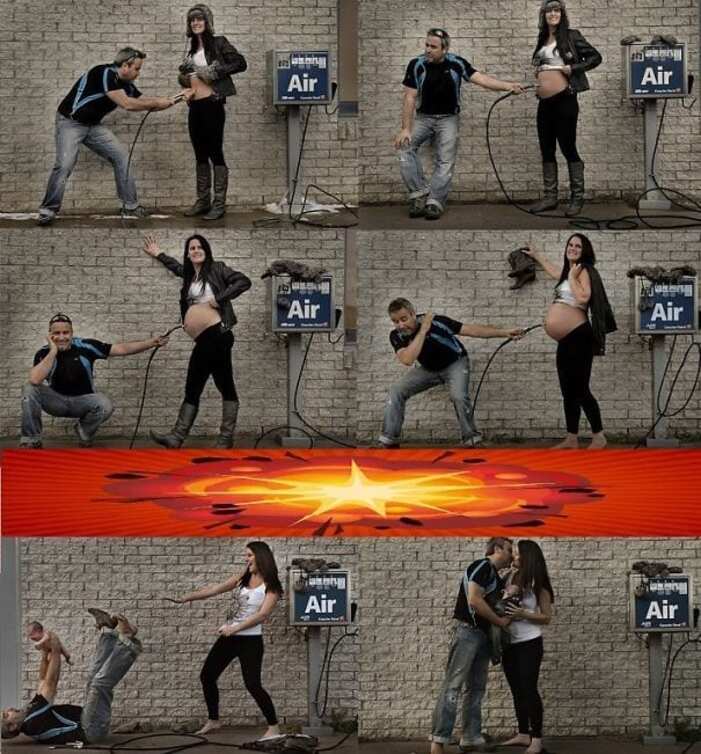 While Mommy couldn't believe it either, she was glad things turned out this way. In no time they resumed their drive home but with a slight change in plans; dad was preoccupied with his new bundle of joy, so mom took the wheel. Who would have thought that filling up your tires could result in such a big surprise?
Daddy Kicks Out Troublemaker Tenant: Take a Look at This Picture to See How it Happened!
It was time to say goodbye, and Daddy was not backing down! With Mommy by his side, he served up the news with a bit of extra oomph. They had an eviction notice ready in case the tenant refused, complete with an adorable picture of the new occupant.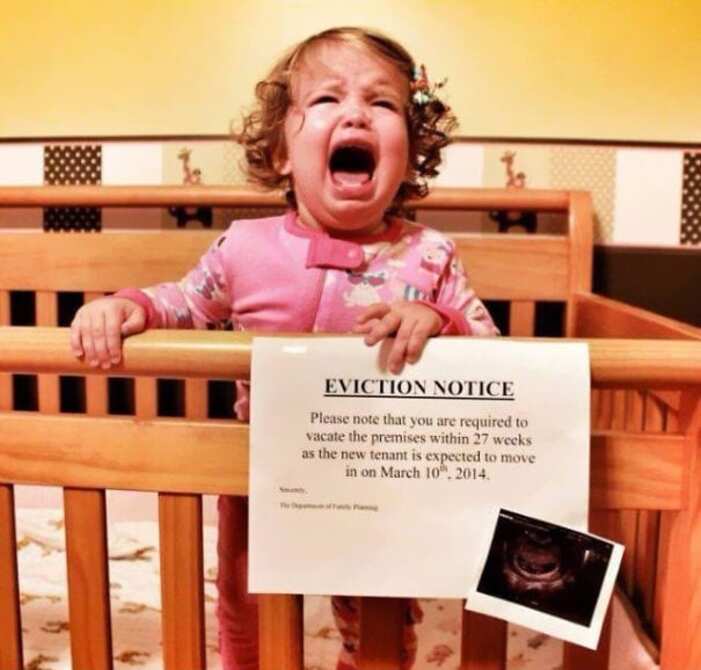 Who knew taking back control could look so precious? By serving up this meaningful message, Daddy made sure that everyone understood that you can't run a successful business or rental space on kindness alone.
Guarding the Baby - The Royal Decree by the Sibling Sentinels
The siblings had it all figured out. After sniffing mommy, they soon realized that she was pregnant and were determined to make sure she didn't overstress. Taking matters into their own hands, they declared a royal decree to look after her and the baby – no matter what.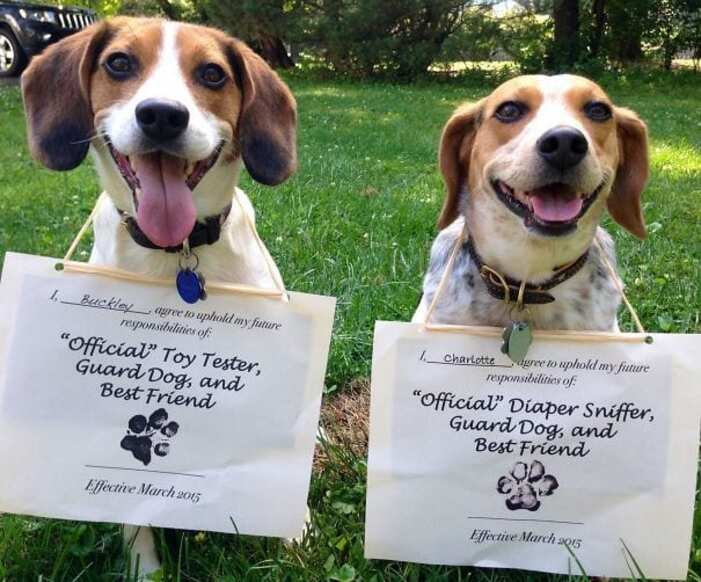 They stepped up as brave sentinels, testing toys for safety and keeping any secrets whispered by their baby brother (even if it was just nonsense). Mommy couldn't have been prouder of them!
Double the Trouble, Double the Fun!
Are you ready for an extra dose of parenthood? Twins are on their way and it's double the trouble and twice the fun! Sure, it might not be cost-efficient but mommy and daddy can certainly take shifts in bearing the load.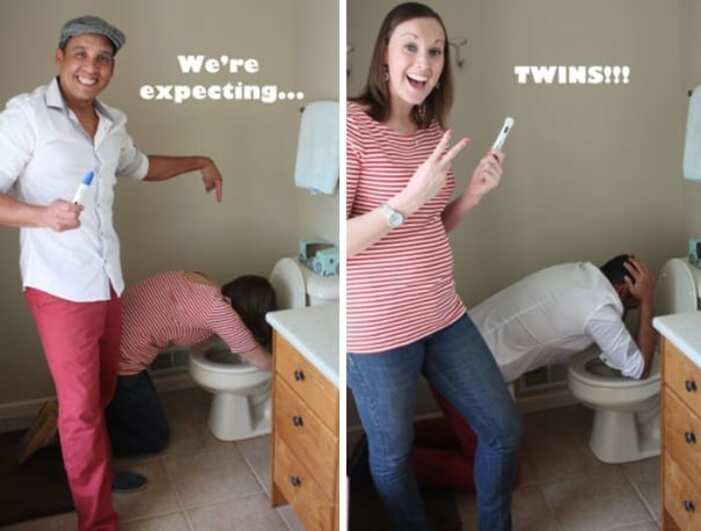 With the perfect teamwork of two loving parents, raising two sweet twins is definitely achievable. Sure, there may be some extra load in terms of finances or time management but hey – lucky them, they have each other to divide the work.
A New Addition to the Fur-Family!
With two adorable four-legged little ones by their side, these parents often find themselves in a messy predicament – cleaning up after their furry friends and returning scattered toys to where they belong. From tin soldiers to stuffed animals, it's all part of the everyday chaos.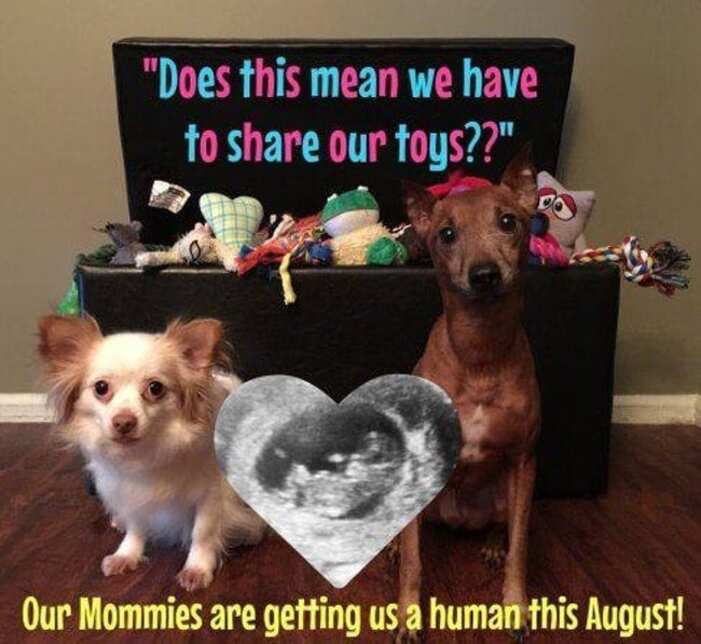 But wait! These wonderful folks have decided that it's time to add one more special family member! As they peek cautiously into the camera lens, you can almost hear the dogs asking "What is this human baby and how soon will we get more toys?"
Pumpkins and Pregnancies - Oh My!
What do pumpkins have to do with parenthood? Well, if you find yourself in a situation where a positive pregnancy test suddenly turns your world upside down, carving a pumpkin might be just the thing you need.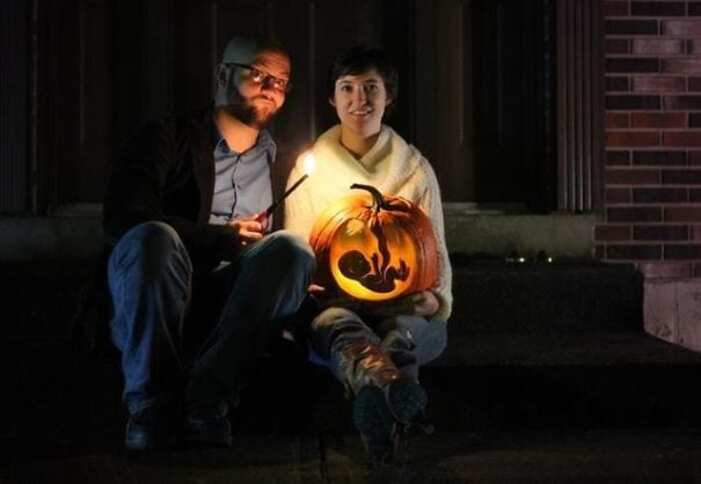 Picture this – you start envisioning yourself working for 10 hours a day for six days to pay off the mortgage and your kid's education fees. Scary, isn't it? That's why this family carved out a bright orange pumpkin to break the news – who knows, maybe it'll scare away all those parenting worries!
Fourth Time's the Charm: Making Marriage Work - with Brutal Honesty!
A healthy relationship takes hard work, but perhaps there is no better lesson for couples than the power of honest communication. After all, people change and it can be difficult to grow together without giving each other's solemn yet respectful feedback.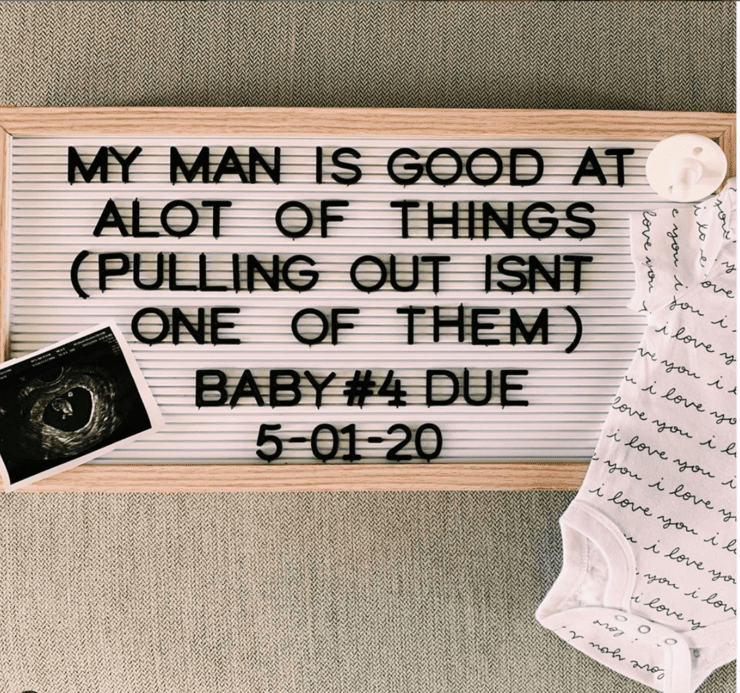 After being married for several years and having three children, this family announced their next bundle of joy with a hilarious pregnancy announcement – since it's our fourth baby, it's high time we consider other forms of family planning!
Netflix & Chill: From Watch Parties to Lifetime Partnerships
Who would've thought that a simple phrase like "Netflix and Chill" would undergo such transformation? Back in 2009, it simply meant taking it easy with some binge-watching. Cut to now and it's almost synonymous with "Do you want to come up for a drink?".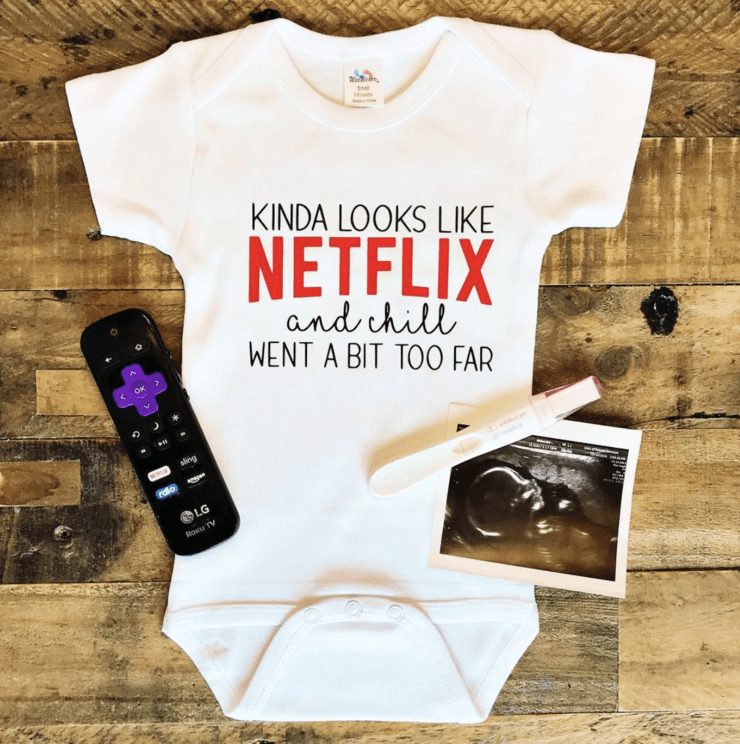 But hey, sometimes those watch parties do turn into something special. Couples chill on the couch together watching their favorite chick flick and end up spending their lives together!
Introducing the 7th Generation Luca!
It may have been a mystery for many – what was it and how does it work? But if you saw Intel's logo, then you knew something special was inside your hardware. That's right, an ultra-fast artificial brain.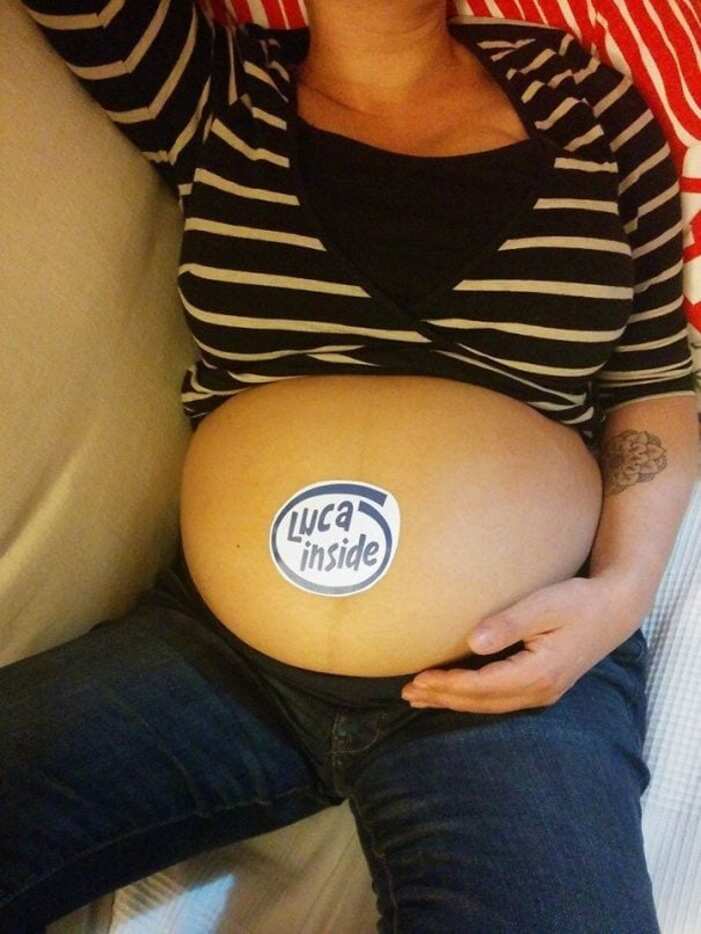 Well, here's one mommy who made the most original pregnancy announcement ever! She proudly declared that she and her husband had co-created a baby Luca. No doubt about it – this absolutely tops all other pregnancy announcements out there!
Momma's Got a Bun in the Oven, Time to Binge Along!
As a woman plans for her pregnancy, it's inevitable that she'll face some weight gain. But that doesn't make it any easier to fit in her clothes or shoes during that last trimester. So what did her little bundle of joy decide to do? Ask everyone else to binge along with her, of course!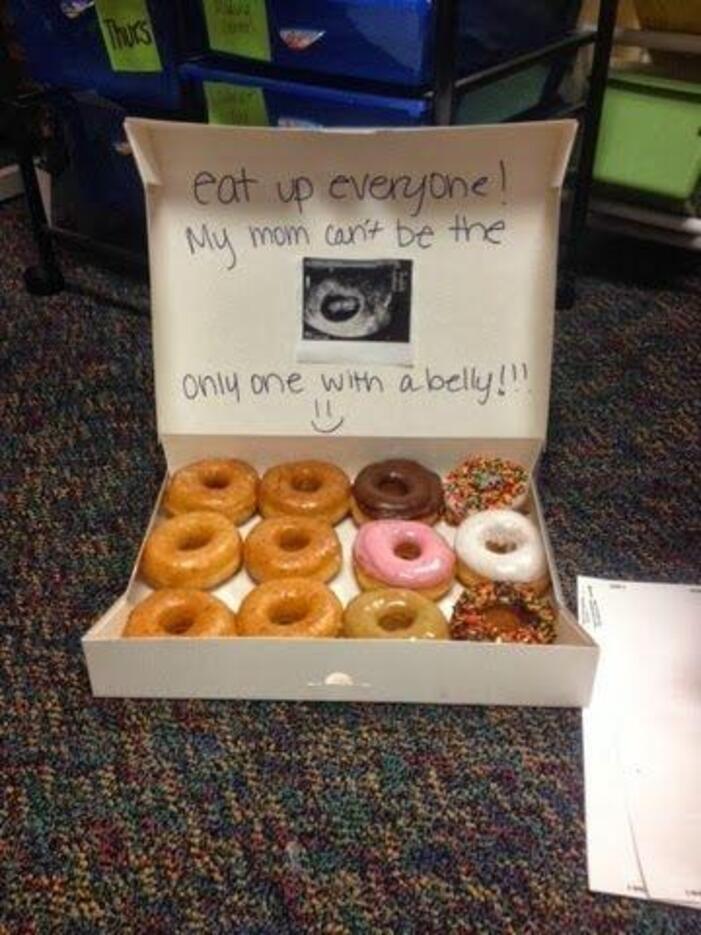 We certainly can appreciate the sentiment here, and maybe even treat ourselves to a couple of doughnuts in honor of this new addition to their family. And when the time comes and mom is ready to lose those extra pounds again – we'll be joining them too!
Treating Her Pregnancy Cravings!
Her family was concerned about asking her if she was pregnant, so they turned to her husband for confirmation. But she refused to accept their mincing words and had a hilarious response instead.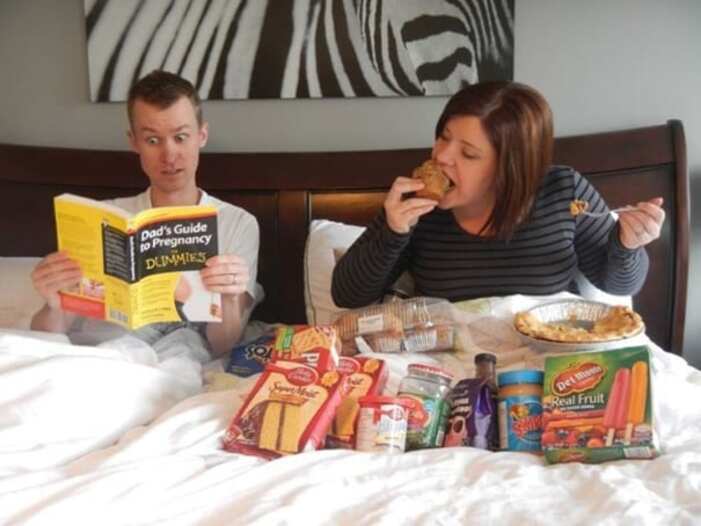 While most products come with instructions, she informed her husband that this one did not – as long as his wife had cravings he'd better get hopping and make sure they were fulfilled! Carbohydrates, cake mixes or popsicles – nothing was off limits!
A Surprise Third Baby - Daddy's Looks Tired Already
Amidst the usual hustle and bustle of the household, something quite unexpected happened – dad was feeling unwell! With no signs of a flu or heat, mom decided to take a pregnancy test.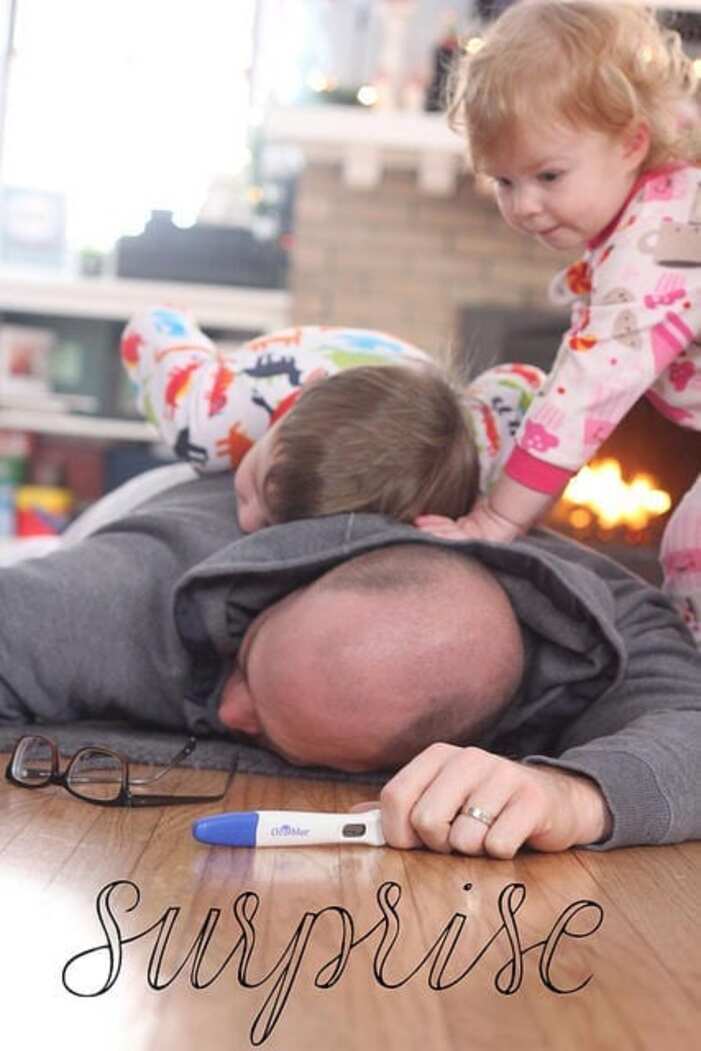 After a few minutes waiting in anxious anticipation, the scream confirmed it all – she was pregnant with baby number three. While dad had mixed feelings about this surprise bundle of joy, he still accepted it with open arms. Thankfully his nausea subsided so he could get used to the idea in no time!
Naughty or Nice? A Holiday Story
Mom set the delicious roast chicken on the table, and as she went over to arrange the festive centerpiece, the cheerful crackles of a roaring fire could be heard in the background. The star of Bethlehem shone brightly from atop the tree, while colorful tinsel and cheery wreaths hung from every corner. Atop it all was a precious angel in white robes – overseeing it all!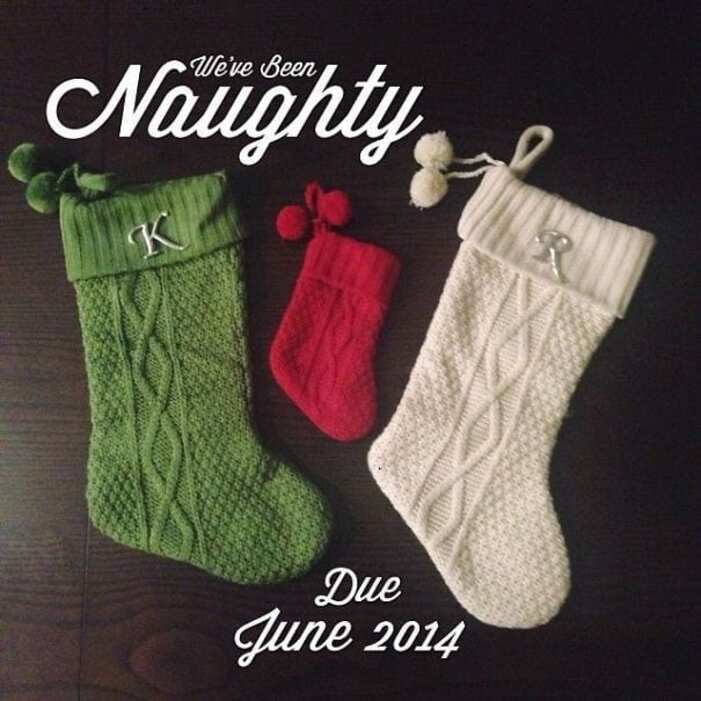 In case something had been overlooked, Daddy made sure to hang three mismatched socks by the fireplace. Mommy cast him a mischievous glance as she set out plates – after all, someone had been naughty but nice this year!
Chemistry of Love: A Story of Two Nerds
Once upon a time, on the campus of a faraway land, a very special couple would meet and spark an instant connection. What was it that drew them together? Their shared love for all things Chemistry!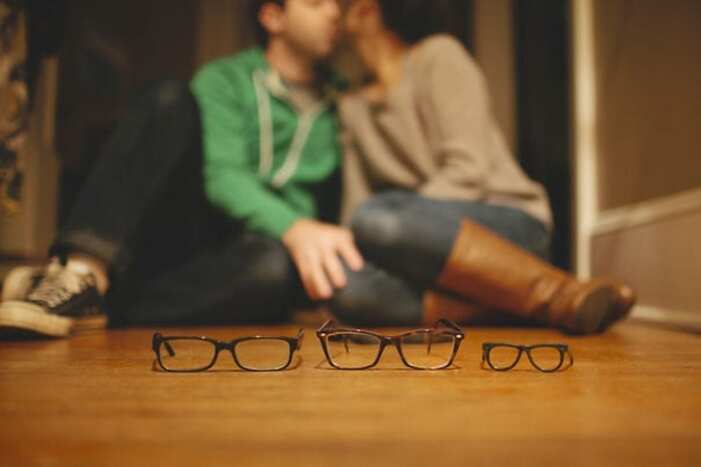 As fate would have it, this wasn't just any regular fling; they were meant to be together forever. Time flew by and soon enough they welcomed their bundle into the world. And since their son was sure to inherit his parents' nerdy genes, what better way to announce his arrival than with a pair of eyeglasses!
The Gardners' Wish Comes True Fourfold!
For years the Gardner family had tried every sort of remedy to have a child – from local faith healers to amulets, to medical options, you name it they had done it. And boy did all that effort pay off – four times over, in fact.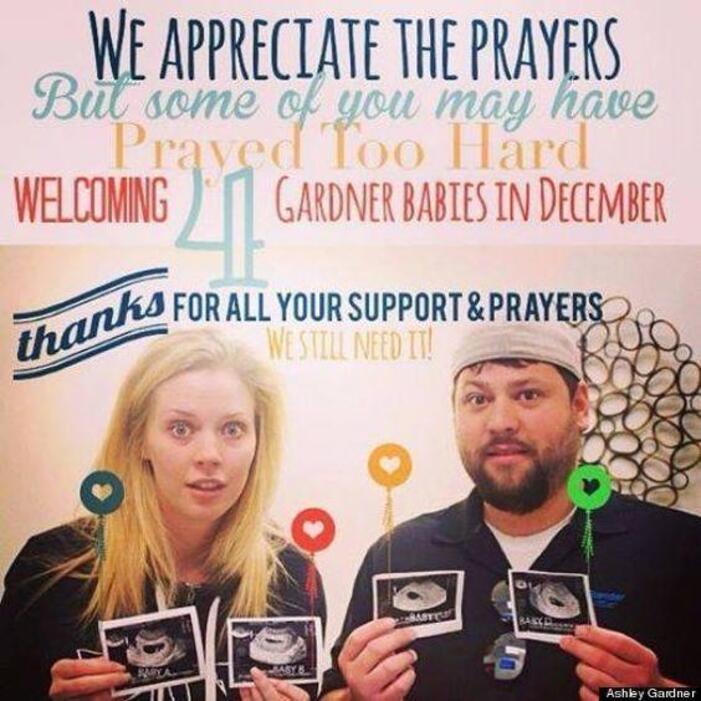 Lo and behold, their prayers were answered – with four bundles of joy arriving all in one delivery! Surrounded by a shower of love and support from family, the Gardner family can now face parenthood with quadruple the fun!
Grandma and Grandpa Get the Exciting News!
When this family announced their exciting news, they weren't sure how grandma and grandpa would take it. It turns out, they were overjoyed! And what came next? Hugs all around and plenty of pregnancy advice on how to prepare.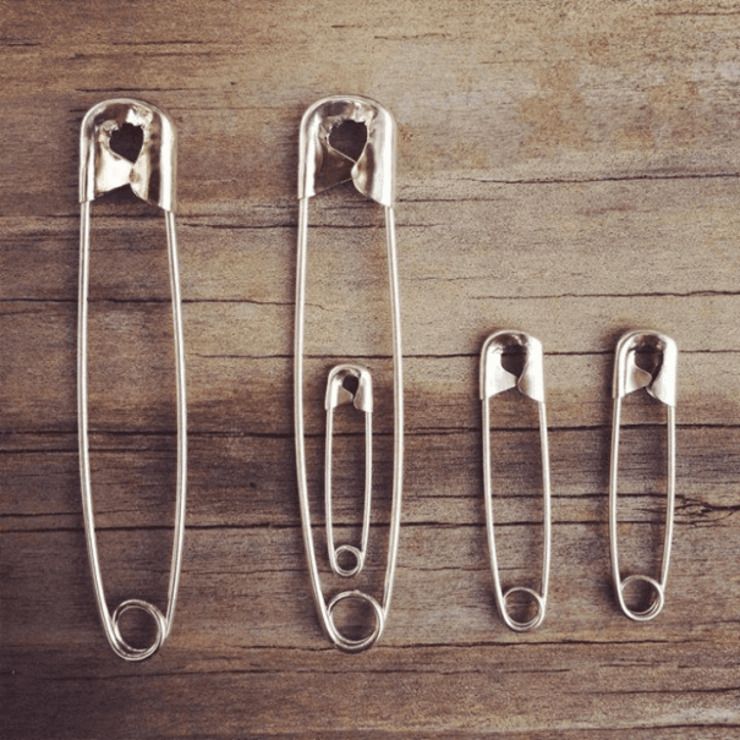 As the couple gets ready for their little one's arrival, there's so much to think about – from whether it'll be a boy or girl to baby's new name. Every pregnancy brings a special journey that no one has ever experienced before!
The Happy Little Accident: Thanks Bob Ross!
Tuning into Bob Ross's shows was an escape from reality, a painting meditation of sorts. As the brush strokes and color scheme changed, so did our emotions. His simple yet wise words never failed to leave us awe-struck.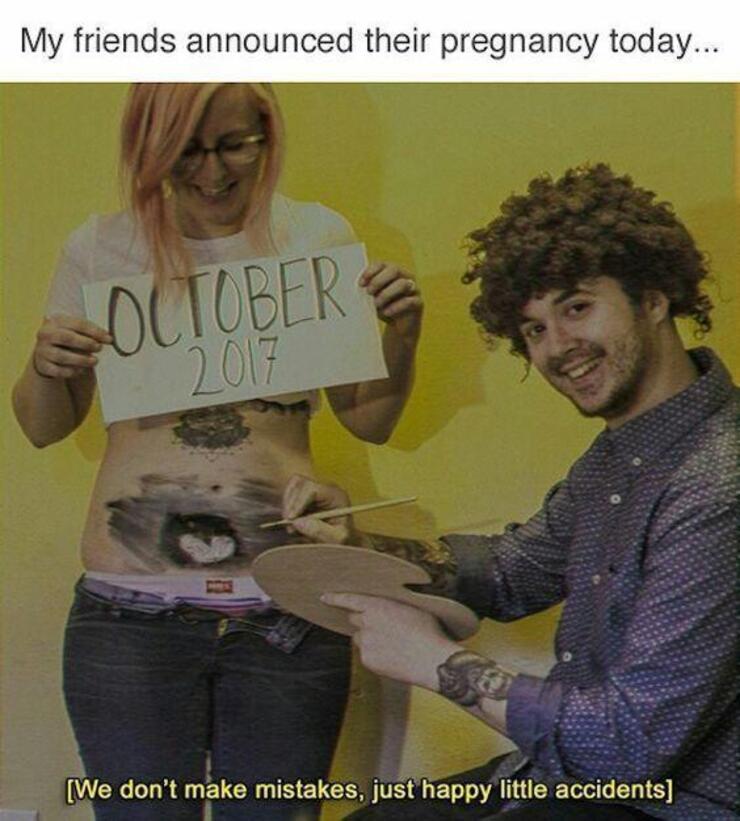 So when this couple decided to make their life-changing announcement based on one of Bob Ross' quotes, it was no surprise. Though sleepless nights will now become part of their lives, we're sure that the optimism given by Bob's paintings will help them get through anything! We wish them all the best in their endeavors, God bless!
Caught In The Wee: Mom's Reaction To Surprise Baby Number Two!
Mommy had to rush to the potty more often, and it left the little one stumped. After all, she couldn't quite understand why her mom was using the toilet so frequently. Little did this kid know, mommy had a surprise – baby number two!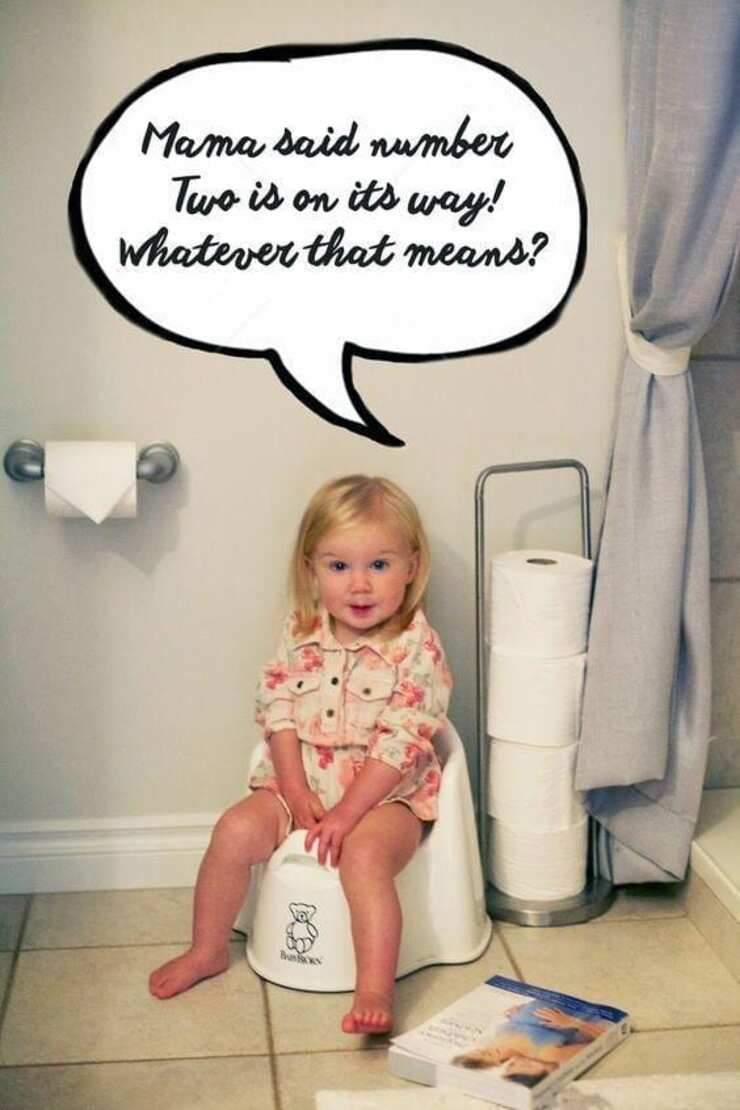 The growing weight of it caused mommy no end of embarrassment as it pushed down on her bladder. But with patience and understanding from this child, Mommy was able to make it through each wee break without any fuss.
Baby Not Yours? No Problem!
One ordinary day, you meet the love of your life. She's got looks and smarts – a real catch. After declaring your undying devotion, it's time to tie the knot and start a family! But there's one teensy problem: she can't have babies with YOU.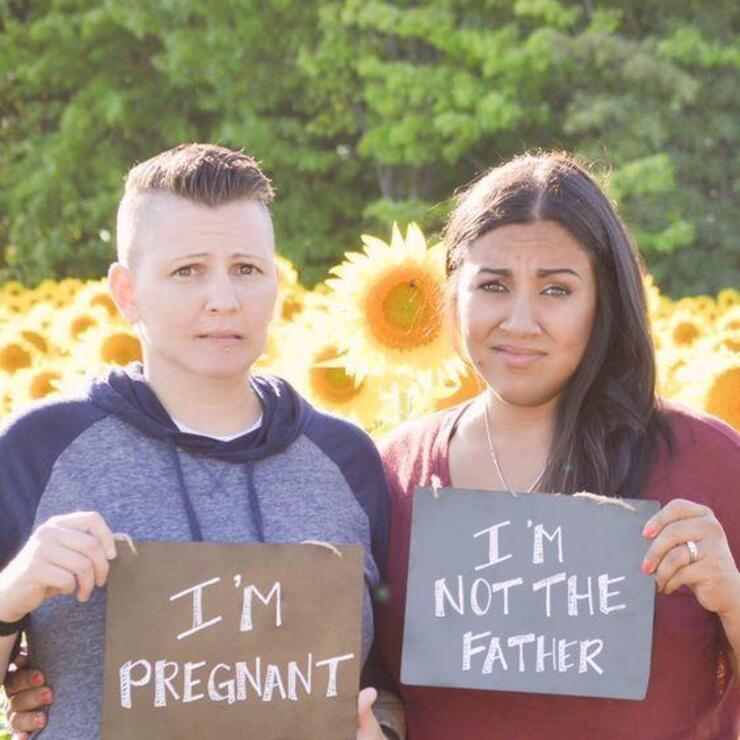 Don't worry – no need to call Maury Povich just yet! These two put their heads together and decided that having someone else father the child. Talk about commitment! So raise a glass (or two!) to these two lovebirds who showed us all that starting a family is worth any challenge!
Celebrating the Holidays - and the Coming of a New Bundle of Joy!
The family was already celebrating even before the holiday season rolled around. After all, they knew that soon a baby would be making its grand entrance into their home. As if it were planned, a stork with mail arrived like clockwork to deliver the good news!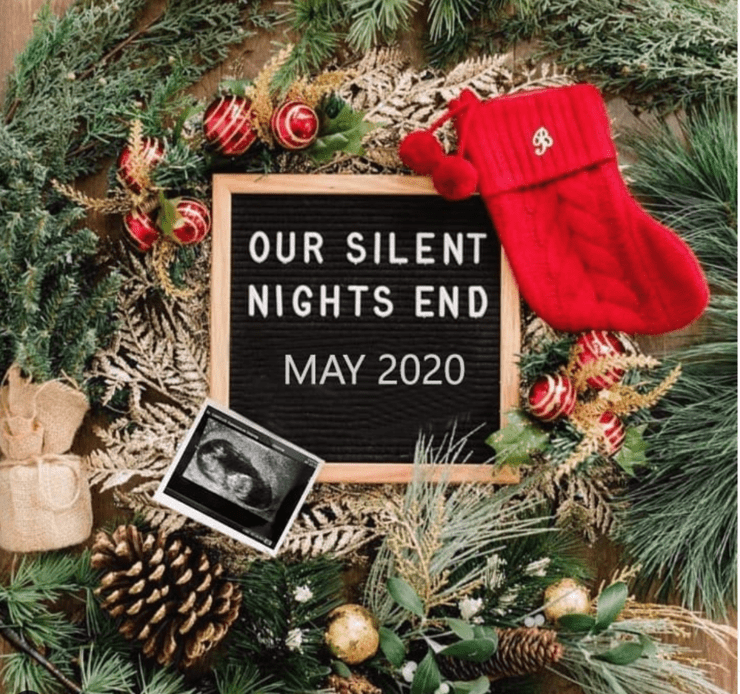 Mommy and Daddy had every reason to smile and dance because now there would be one more tiny sock hanging by the fireplace next year. Who knows what the future holds? But one thing is certain – this family is ready for any surprises that lie ahead!
Introducing the Ultimate Sidekick!
Every superhero needs one; now, so does your little hero! Parents, we've got the perfect solution to support your little crime fighter and make his adventures even more exciting. Say hello to his new side-kick – guaranteed to help him explore new lands, conquer magical kingdoms, and rid the streets of evil villains!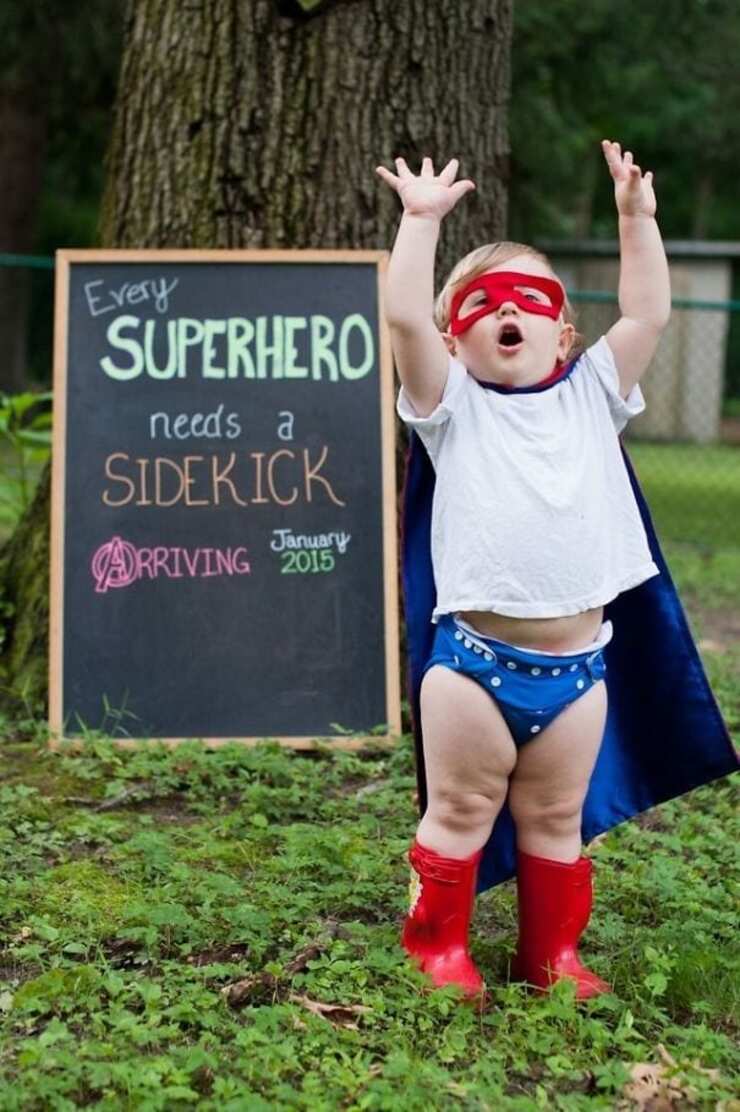 Whether they're scouring the backyard or fighting off dragons in distant realms, having a trusty companion by their side will provide them with strength and courage like never before. It's time for your child's wildest dreams to come true with a lifetime of captivating adventures awaiting them!
Breaking Berkel
He may have been a troublemaker and she, popular and smart, but together they were the ultimate power couple! Having reached their wits' end, the two took an extraordinary turn towards a life of crime – only this time it was of a different kind.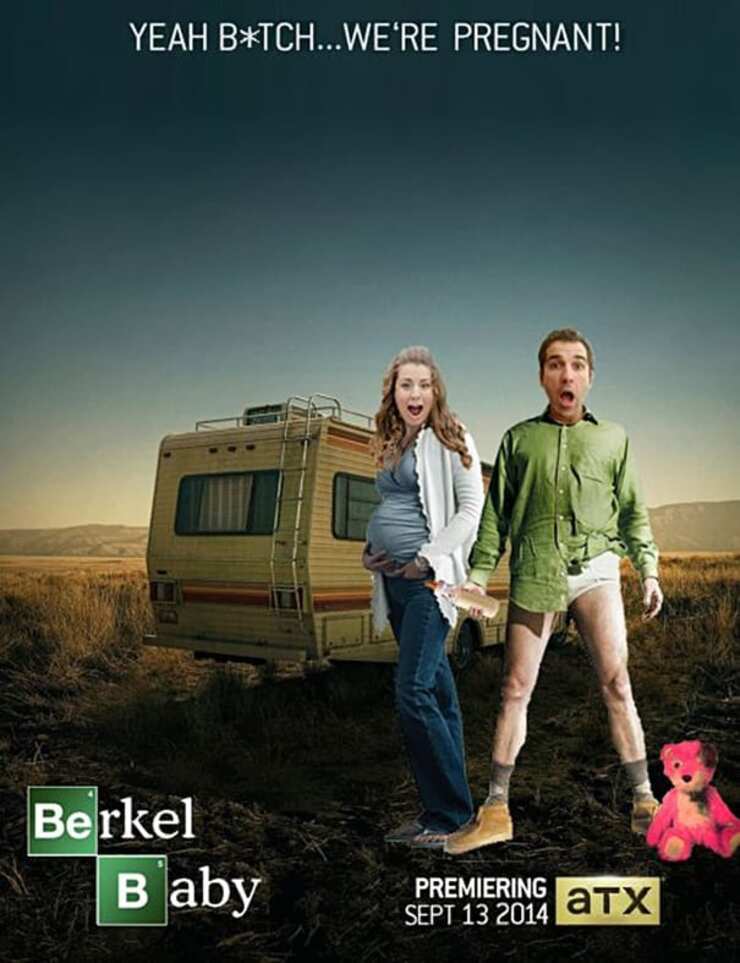 Breaking bad one baby at a time! Yup, you guessed it right; pregnancy announcement was the show that had everyone totally hooked. So pop your popcorn already and fasten your seat belts cuz we're going full speed ahead with Breaking Berkel!
Becoming Parents - Taking Time to Let the Paint Dry!
Long-term couples know that relationship foundations are built on mutual respect, good communication, and unconditional love. So why not say the same applies to their pregnancy journey? Yes, expecting a baby can be compared to forming a relationship – it's still under construction!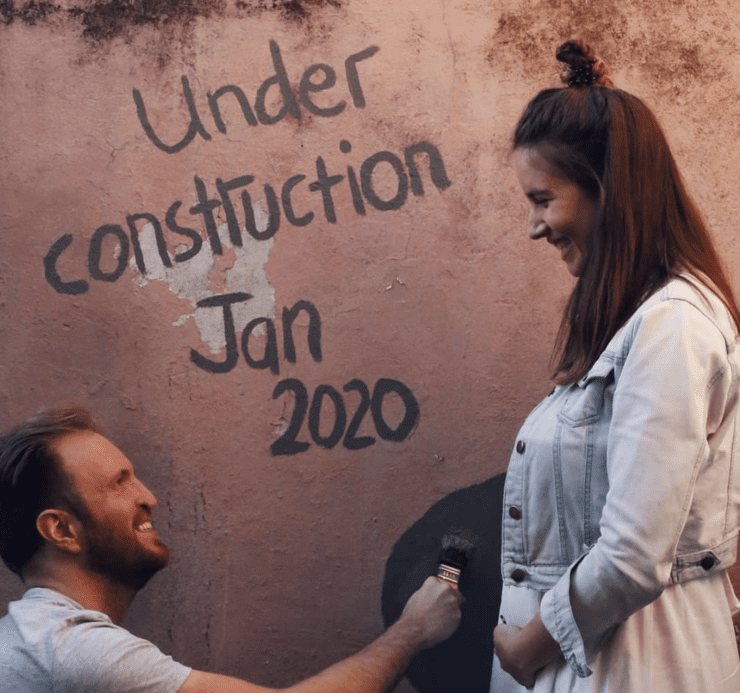 Eventually the seed will sprout and grow into something beautiful. Until then, we suggest giving it some time – just like paint needs time to dry before you can admire your creative work in the nursery room. In short, let's not rush this process; give your little bundle of joy (and relationship) some space to bloom naturally!
When the News of a New Baby Spreads
When it comes to news that a family will be expecting a new member, it's not always met with glorious cheers. Those closest to the celebrants know just how hard it can be – less bed space and even less attention!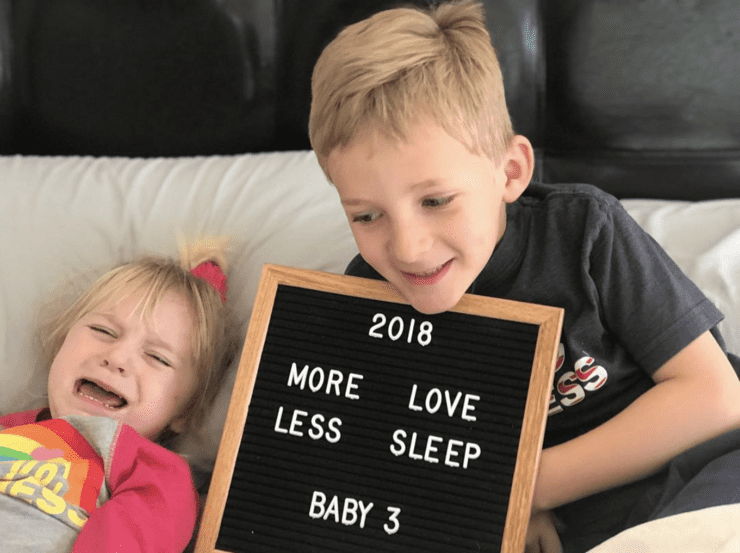 This soon-to-be big sister wasn't particularly fond of this idea – she had her ABCs to learn and scrunchies weren't meant to be shared! Luckily she's growing up in a loving home so at least there was an abundance of hugs and cuddles when things got tough.
Our Alpha Dog Learns to Care for Baby!
Everyone in the family wanted to know how they could best care for mom's soon-to-be bundle of joy. Dad went out and bought every book on pregnancy he could get his hands on, filling up every desk at home with piles of reading material.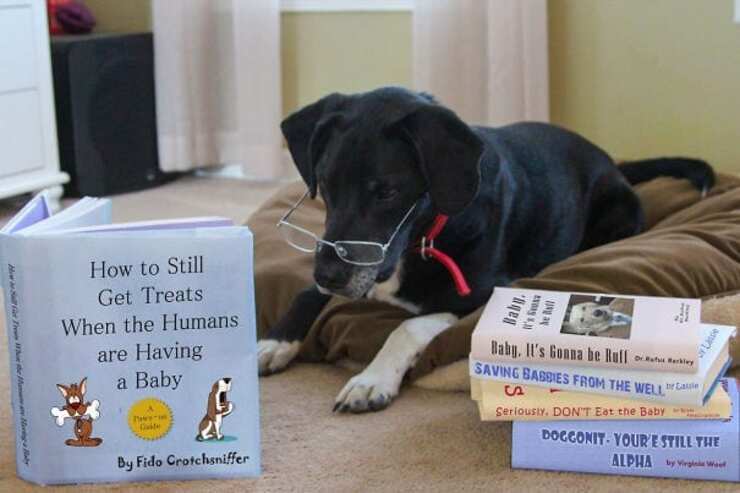 But what about the resident pup in the house? He wasn't about to let any new competition take away his rightful place as Alpha Dog—so he decided to learn how to take care of the baby himself! Soon enough, our four-legged friend was happily handing out nappies and getting treats like an old pro.
Taking on the World One Baby Step at a Time!
For months, her changes in mood had been giving her parents serious pause for thought. She had suddenly become less chatty in the morning and was spending more time than usual in front of the toilet bowl – worrying developments indeed.
So they decided to visit their doctor's office to find out what was causing her strange behavior. Snapping into action, after a few tests it became clear that Mommy's body had been making way for a new bundle of joy! They were getting ready to take on the world together, one baby step at a time!
Daddy's Reaction to Baby News is Always the Same!
Moms can always tell when they have a baby on board. Without needing any tests, they know it straight away – missed period, nausea and frequent trips to the bathroom. But still, they take tests just to confirm what they already know deep down.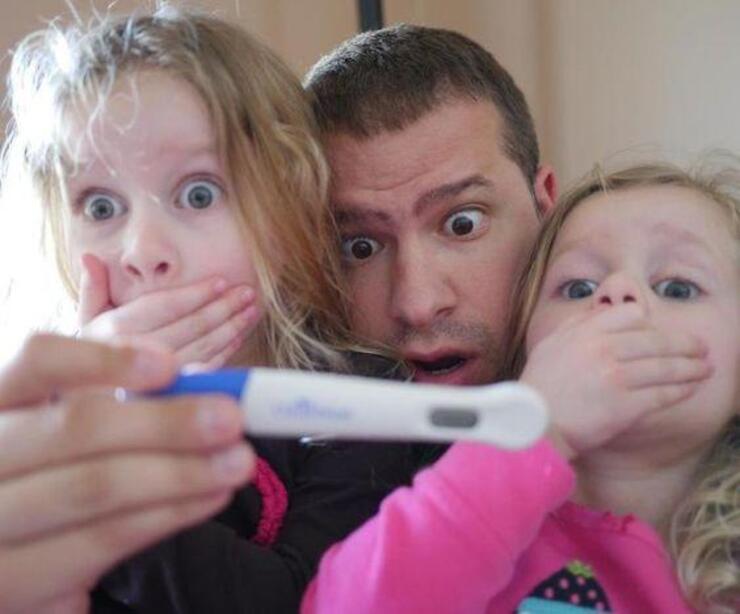 The question remains though; what did Dad look like when Mom told Him she was pregnant? We bet he looked exactly like the first time around! It doesn't matter how many pregnancies Mom goes through- she experiences the same thrill of excitement with each one!
Upgrade Alert: Your Child Gets Promoted to Big Sister Status!
Is your little one dreading the news of a new baby in the house? Fear not! Just tell her that she's earned plenty of credits and is getting an upgrade to become a big sister.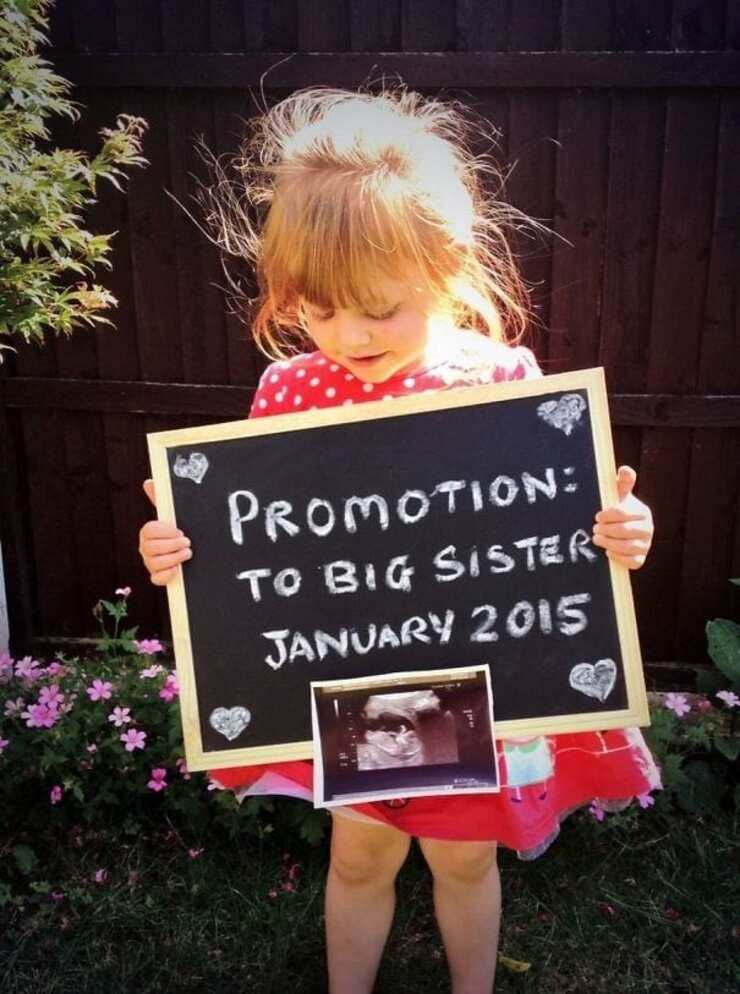 She'll feel secure knowing that despite all the attention given to the "newbie," she has her very own special place in the family. Plus, she gets twice as much love now! Help your kid make room for her new promotion — turn them into a proud big sister with these simple words.
A Kinder Joy of Surprises - Let the Fun Begin!
It's time to gear up for a delicious surprise that comes with a handy toy sidekick. Treat yourself to two creamy layers – cocoa and milk, with two chocolate-covered wafer balls that feel like pure delight.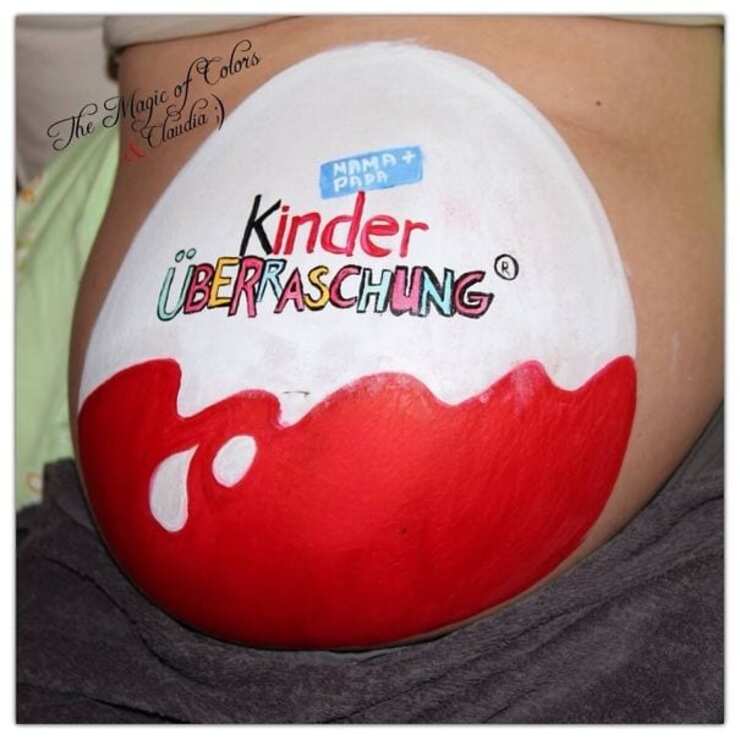 Half the space is filled with delicious Kinder Joy candy, while the other half holds your own little surprise! And guess what Mommy's rooting for? So hop onto the joy train now while pondering which delightful surprise will come next!
Ready or Not, Here Your Baby Comes!
Waiting for a baby to arrive can seem like an eternity. It's like waiting for a web page to load or for the slowest system restart ever! As a mom-to-be, you know this wait is essential for your little one's development. But in those first few trimesters it starts to feel really laggy – until you finally start feeling those kicks and hearing their heartbeat.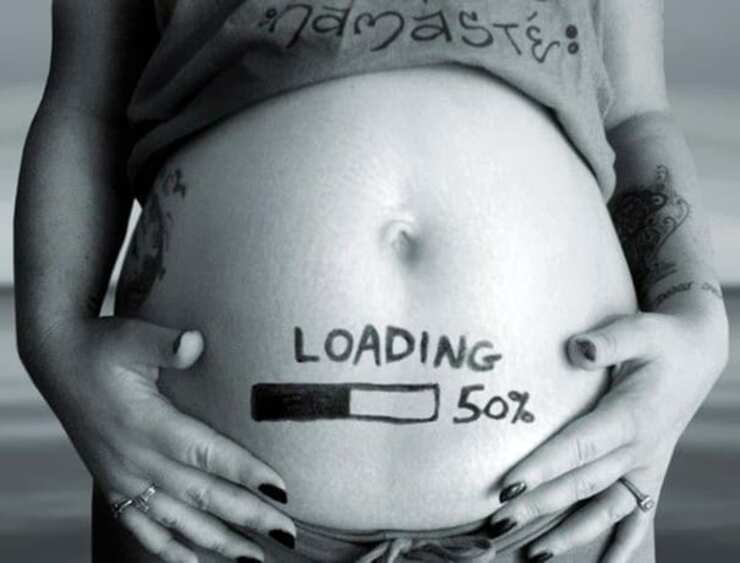 That's when it really hits that there's a growing human inside of you! And all that waiting builds your patience and prepares you for motherhood – because now it's no longer just about taking care of yourself! And before long, they'll be ready to make their grand entrance into the world!
Love, Tandems & Babies - A Kaleidoscope of Family Bliss
When Tiffany and Jon first met five years ago, there was an instant connection. Not only were they spiritually aware, they also shared a passion for cycling – but their love for S'mores was what really brought them together.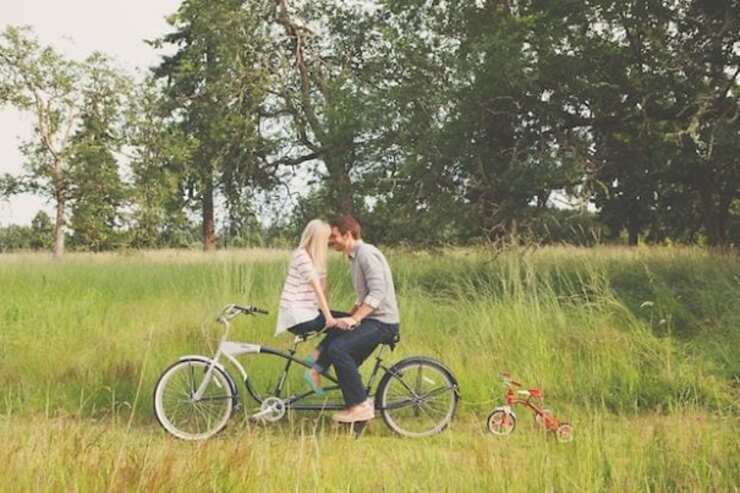 After they decided to take the plunge and tie the knot, they got another surprise – they were expecting! To commemorate this joyous occasion, renowned photographer Laura Foote was called upon to document their baby shower announcement shoot. So how did these two manage? Riding a tandem bike seemed the perfect solution.
Life After a Baby: Pooch Reaches New Heights of Cuddles!
When the stork arrives, life at home is turned upside down! Mommy's cooking skills are replaced with Daddy trying to figure out how to work the kitchen, and even pooch is worrying if he'll just get tossed out of bed. But don't be discouraged, doggo – you've just been promoted to cuddle buddy!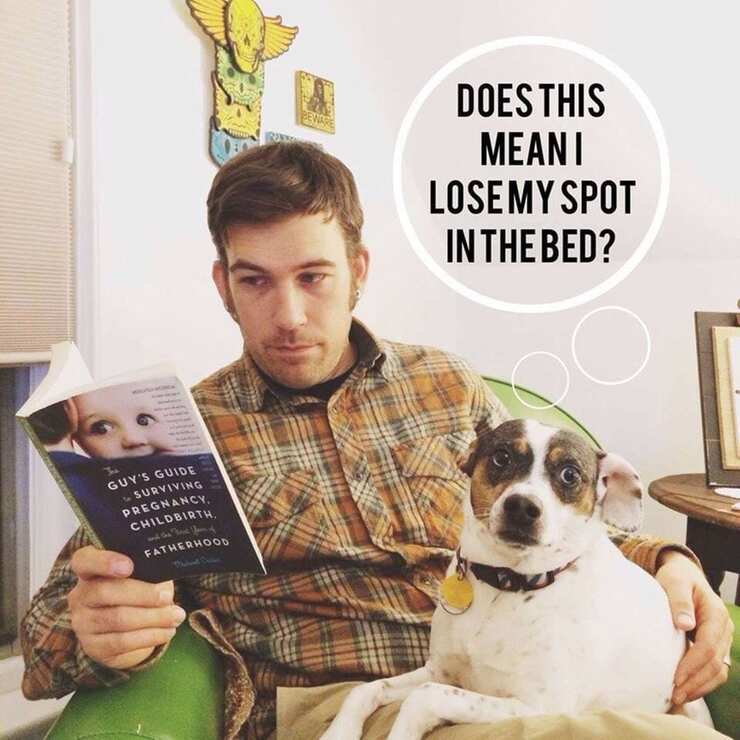 Sure there'll be messes scattered over furniture and wet upholstery to deal with, but that's just part of the bargain when welcoming a new bundle of joy. So grab your pup-sized blanket and snuggle up with that special little one for quality bonding time until they're ready for their own big-kid bed.