Unforgettable and Iconic Wedding Dresses From Beloved Movies
A woman's wedding day is singlehandedly the most important and happiest moment of her life. Lots of money, time, energy, and effort is spent on making it the perfect day. Having a stunning wedding dress is a crucial part of getting married and is what little girls dream about.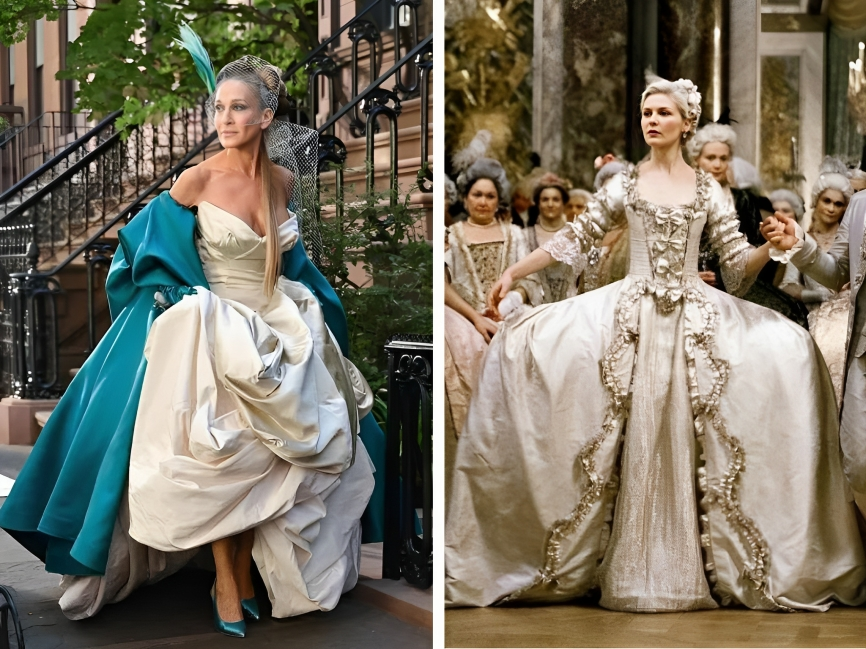 Choosing a wedding gown is so much fun and takes lots of careful consideration. In these 30 movies, we've seen some iconic and gorgeous dresses that could never be forgotten. They are dresses we wish we could wear on our big day!
'The Age of Adaline'
In the drama film The Age of Adaline, Blake Lively's Adaline is seen walking down the aisle in this gorgeous wedding dress designed by Angus Strathie. It gives off vintage and modest vibes and is still a stunning piece of work.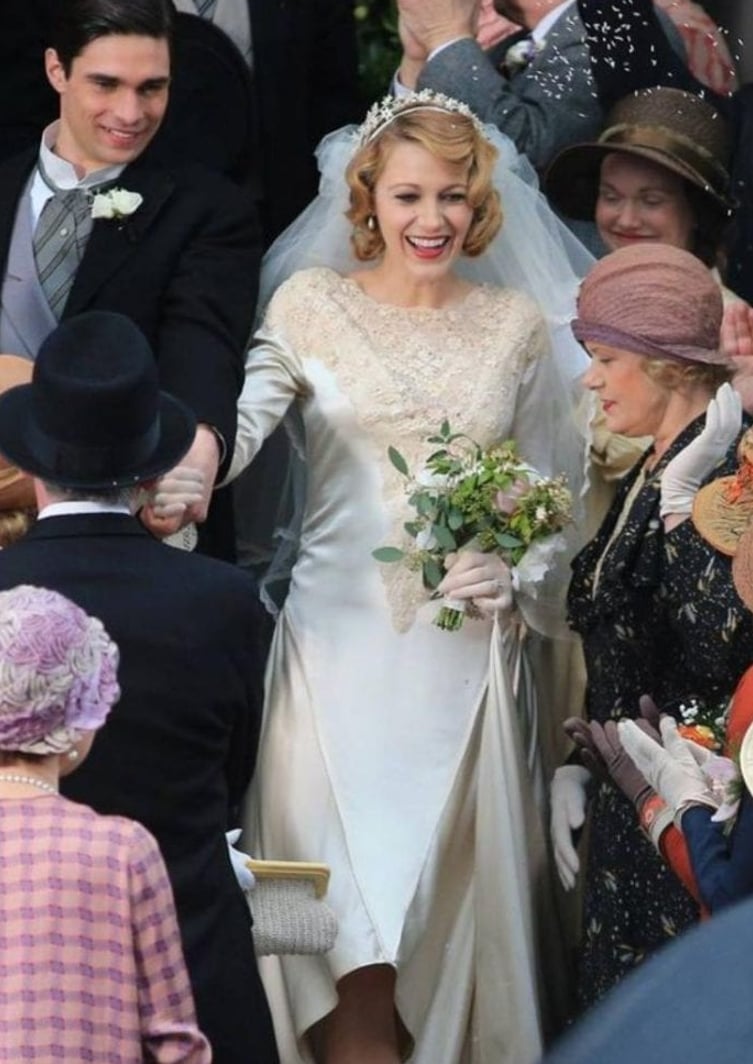 Strathie also designed the wedding dress that Nicole Kidman wore in the period piece Moulin Rouge. The designer won an award for Best Costume Design and he definitely deserved it!
'The Father of the Bride'
In the famous movie The Father of the Bride, Stanley Banks (Spencer Tracy) reluctantly gives his daughter Katherine's (Elizabeth Taylor) hand out in marriage, she walks down the aisle in a classic wedding dress.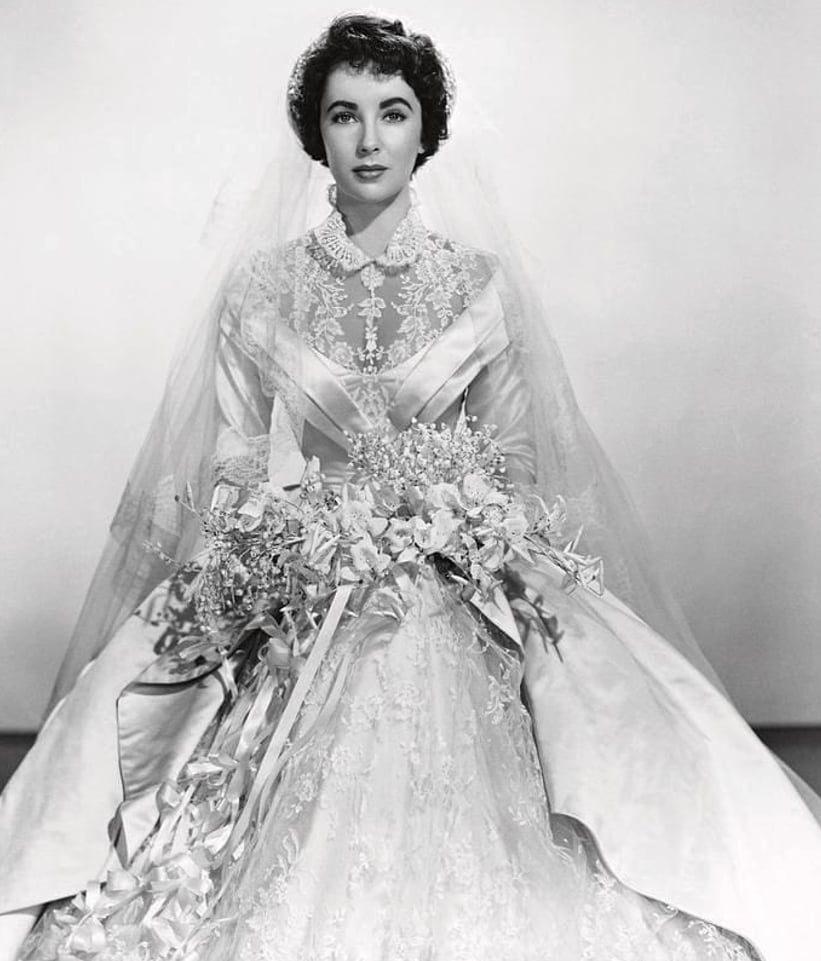 Designed by Helen Rose, the dress is timeless. Rose also designed a replica of the same gown in 1956 for Grace Kelly's wedding. The lace and satin wedding gown (popular in the '90s) is the perfect blend of silk, with a high-collar, buttons, and decorative skirt.
'The Sound of Music'
Maria von Trapp (Julie Andrews) wears a beautiful wedding dress in the 1956 iconic movie The Sound of Music. It's a sophisticated and classy gown that dons an A-line satin skirt, modest V-neck, and buttons up the bodice.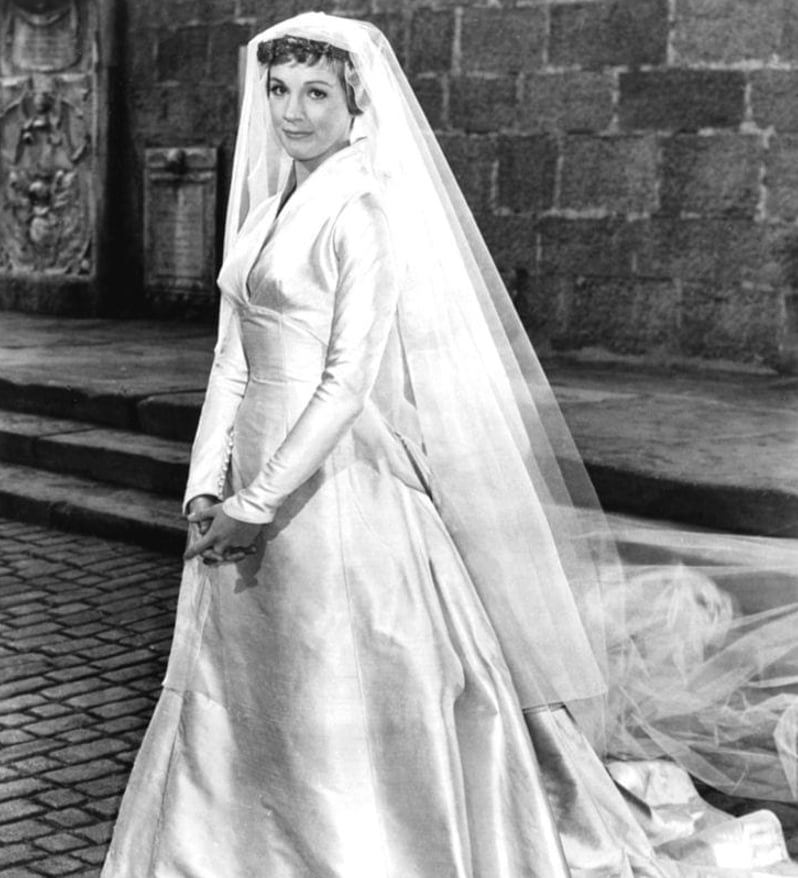 It was sold at around $23k at an auction that took place at Julien's Auction House in Beverly Hills in 2013. Despite the fact that the dress was not in the best condition, it still got lots of attention.
'Princess Diaries 2'
Anne Hathaway as Mia Thermopolis in Princess Diaries 2 is a sight to behold. She dazzled everybody on her wedding day which came at the end of the film. Designed by Gary Jones, the dress perfectly fits Hathaway.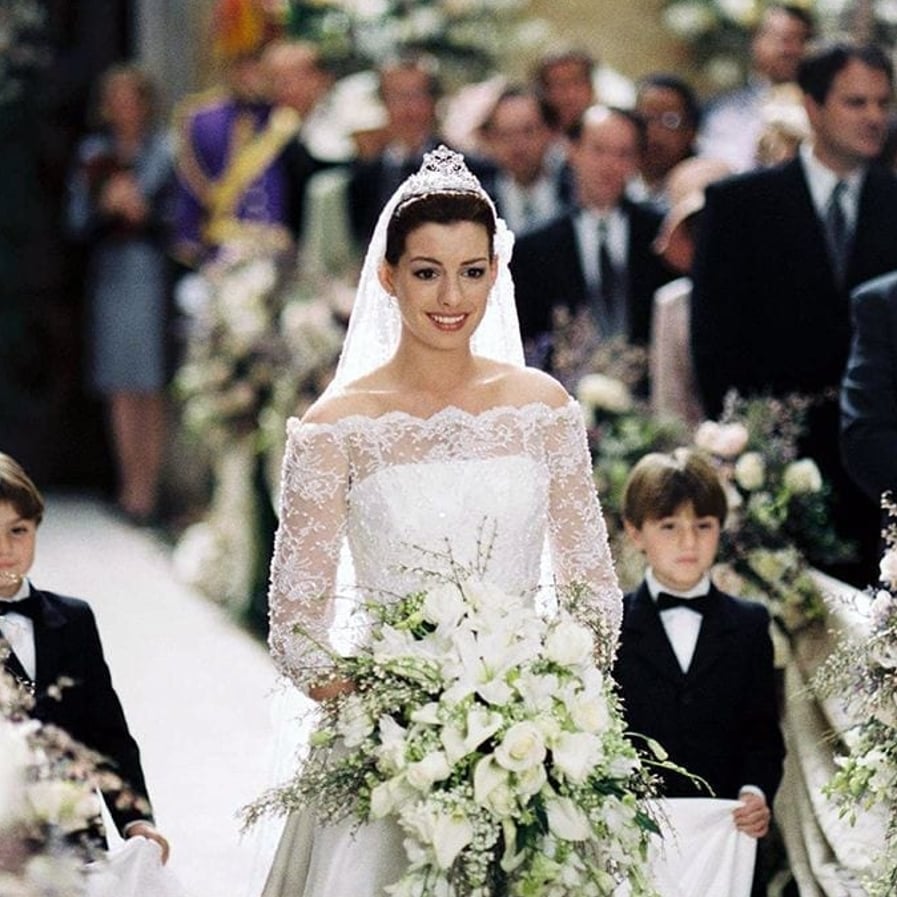 Jones was the designer behind the wardrobes for the whole movie. Mia's dress is an lace-sleeved, off-the-shoulder regal gown, complete with an A-line silhouette and a long train. It's only what a future queen should get!
'Harry Potter and the Deathly Hallows'
French designer Jany Temime's design skills were gorgeously exhibited with Fleur Delacour's (Clemence Poesy) dress in Harry Potter and the Deathly Hallows. She marries Bill Weasley (Domhnall Gleeson) and looks stunning.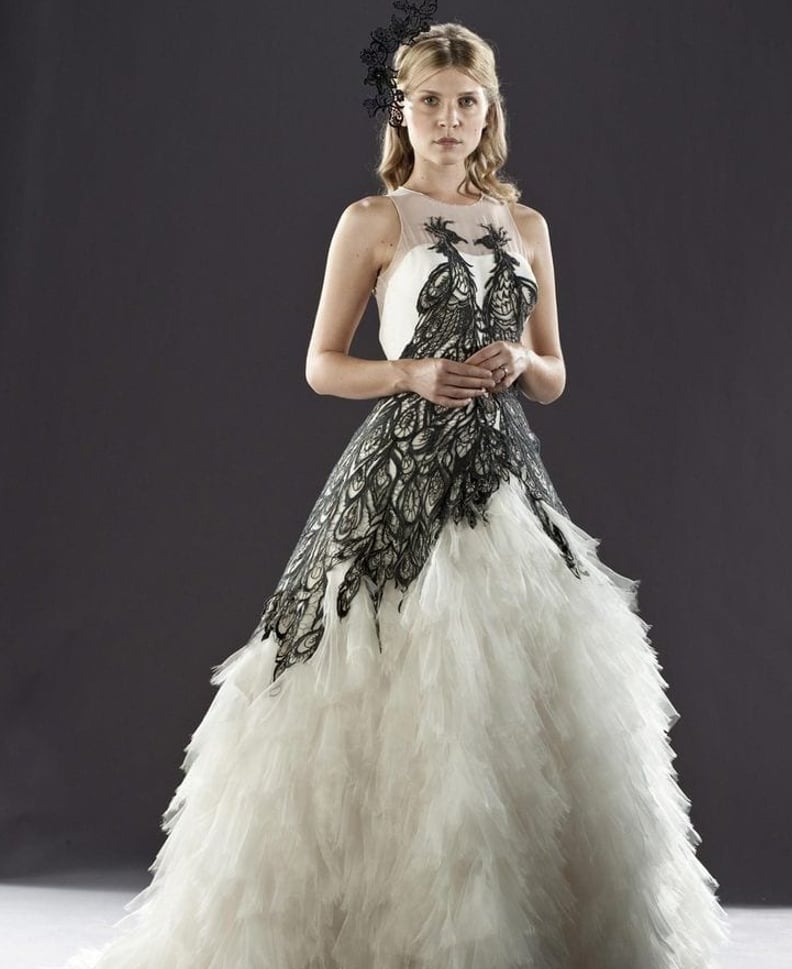 The dress is very intricate, with a black headpiece perfectly complimenting the dress. It was made out of organza and two phoenixes appear at the top of the dress in the shape of a heart. The phoenix represents infinity and the designer chose it because it represented infinite love.
'The Wedding Planner'
Jennifer Lopez's character of Mary Fiore in the hilarious comedy movie The Wedding Planner wears a simple taffeta dress with a veiled cap for her wedding to Massimo (Justin Chambers). In 2019, Meghan Markle donned a similar gown when she married Prince Harry.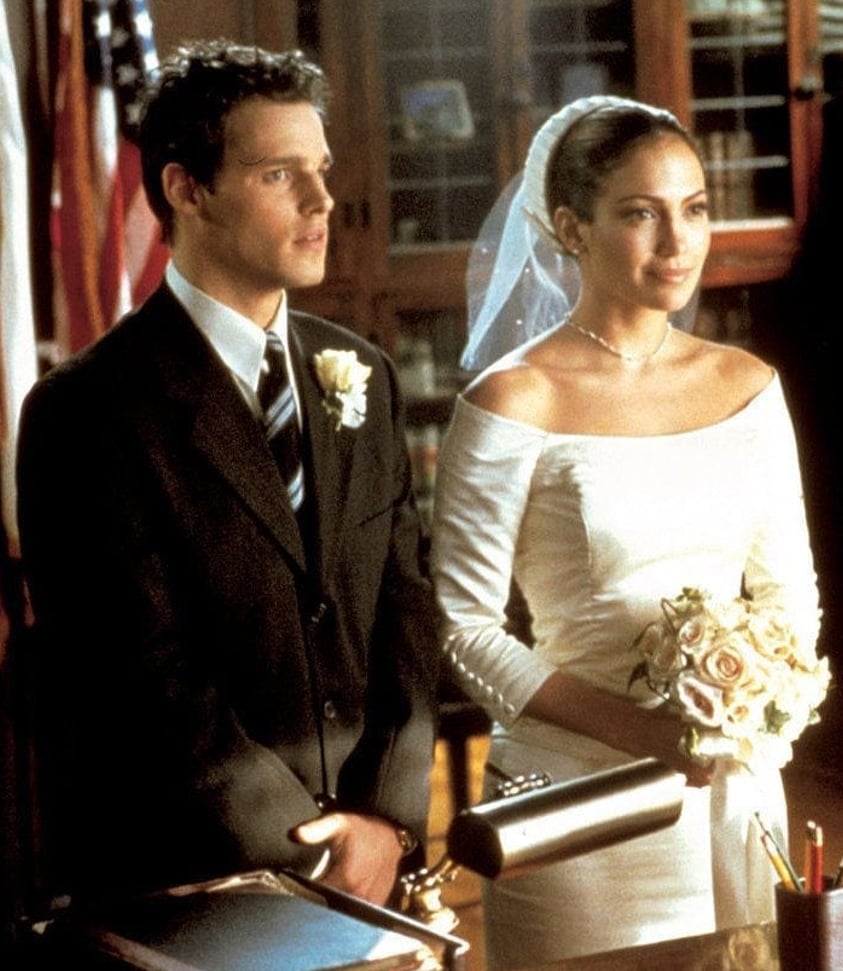 Designed by Pamela Withers, Fiore's dress is essentially just a pencil skirt with a boat neck top. Additionally, the dress was completed with a veiled pillbox cap.
'Steel Magnolias'
For her big day, Julia Roberts' character Shelby in Steel Magnolias chose to wear a pale pink ball gown. The dress was designed by costume designer Julia Weiss.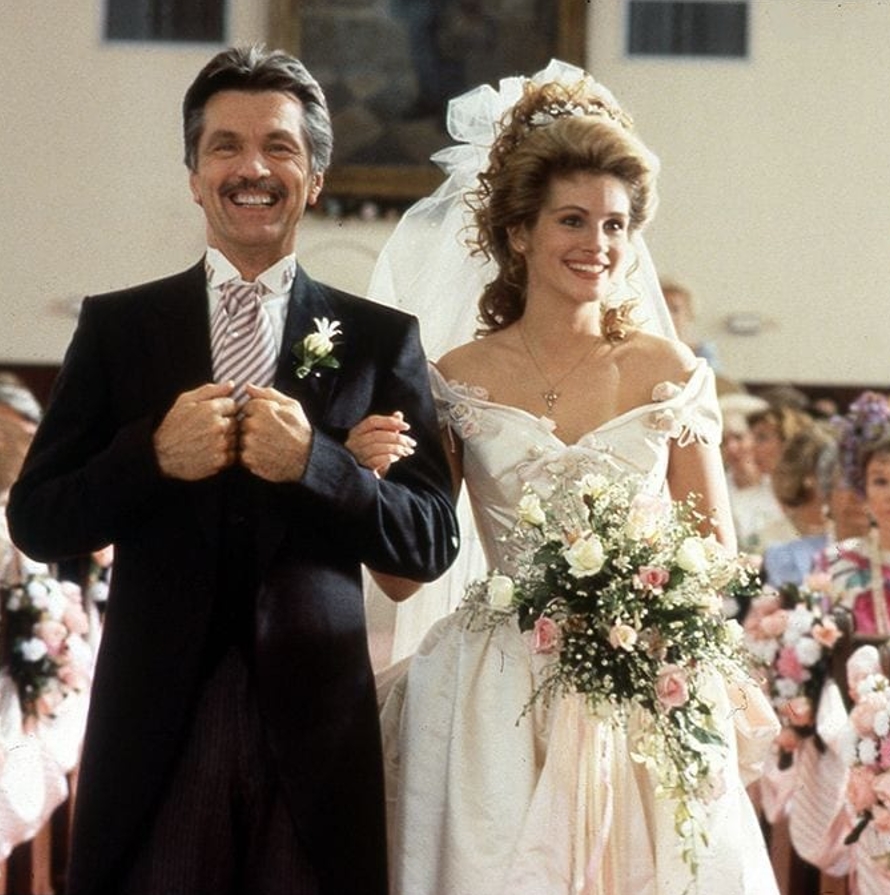 The off-the-shoulder dress had a pink sash on the skirt and pink flowers on the bodice. It also had lots of bows and the veil finished off this stunning dress – perfect for Shelby!
'How To Marry A Millionaire'
Lauren Bacall's Schatze wears a wedding dress in How To Marry A Millionaire that was designed by William TraVilla (aka TraVilla). TraVilla designed the same dress worn by Marilyn Monroe in Gentlemen Prefer Blondes.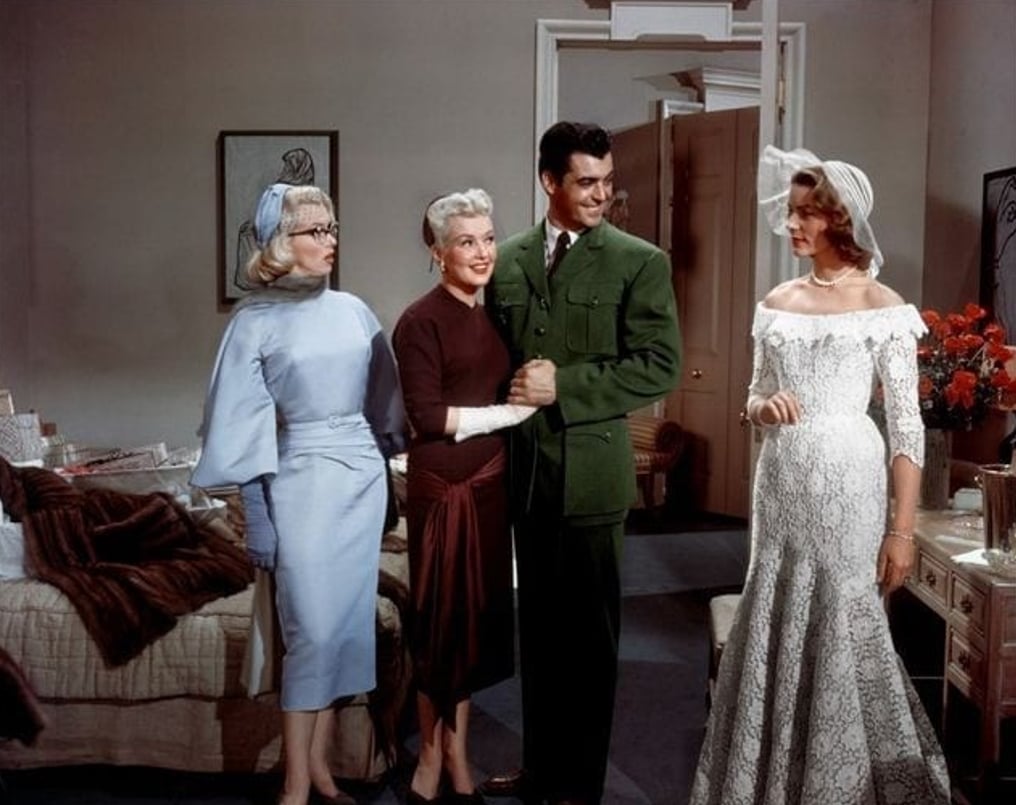 Schatze's dress is an off-the-shoulder fit and boasts an ornate lace, boat-neck gown finish. Lastly, the look must be completed with a white sun hat. As with other iconic wedding dresses mentioned on this list, the dress was sold at a 2011 auction.
'The Princess Bride'
Even though Buttercup (Robin Wright) may not have been happy about marrying Prince Humperdinck (Chris Sarandon) in The Princess Bride, she looked absolutely amazing in that dress.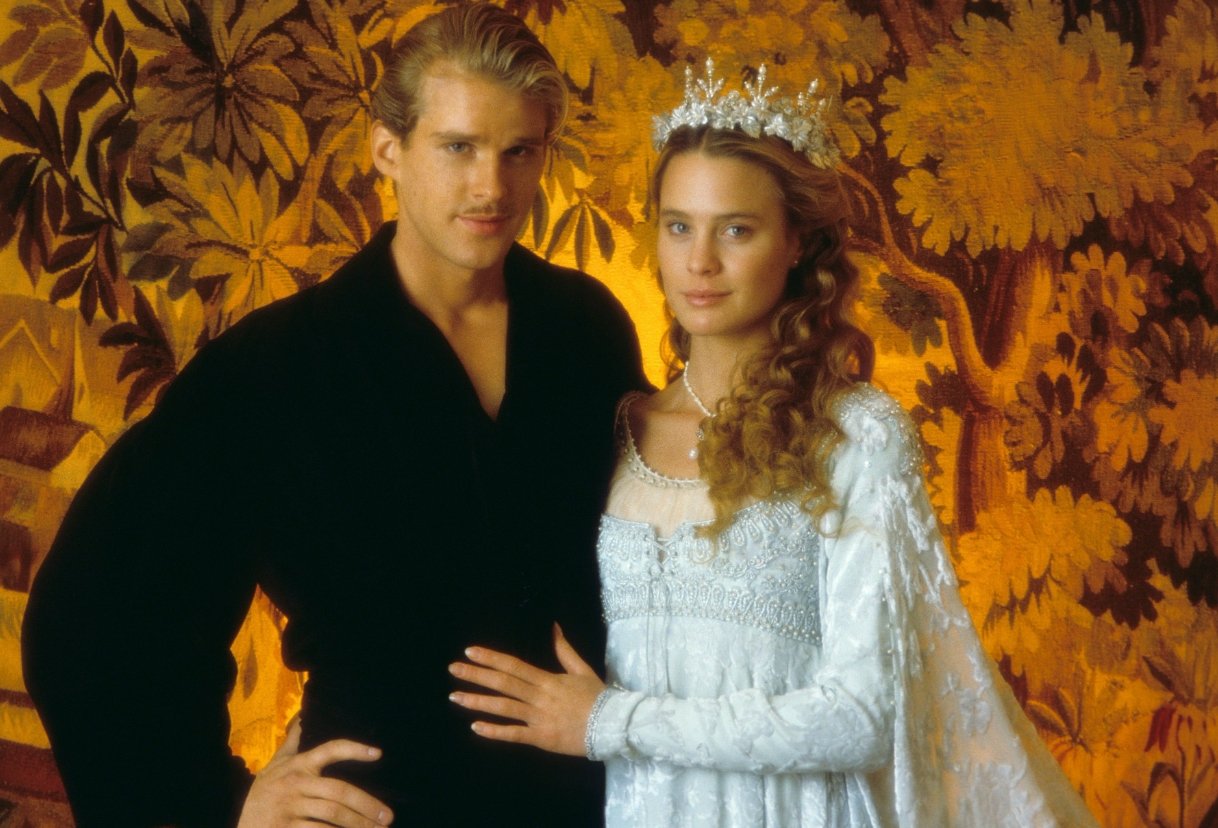 Not to mention, Buttercup's crown was also stunning. Her Renaissance-era royal wedding gown was designed by the costume designer Phyllis Dalton. To complete the look, it was adorned with beads and an embroidered finish.
'Bride Wars'
Despite it being a tough road getting to the altar for the battling brides, Kate Hudson's Liv ended up walking down the aisle. Even though Anne Hathaway wasn't able to walk down the aisle, too, she still looked stunning.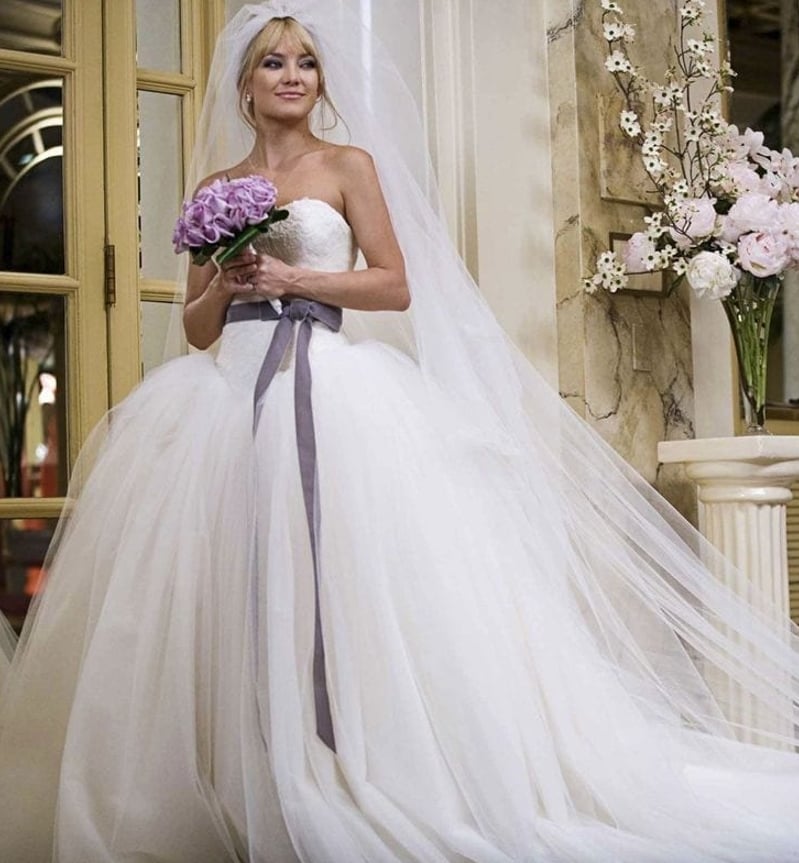 Vera Wang designed both the wedding dresses. Hudson wore a strapless dress made of tulle and Hathaway went for a modern mermaid cut. Both gowns were designed with each of the bride's characters in mind.
'Downton Abbey'
Out of all the Downtown Abbey residents, the story wouldn't be complete without Lady Edith (Laura Carmichael). Even though she always had the rep of being "Poor Edith" by her parents, she proved everyone wrong on her special day.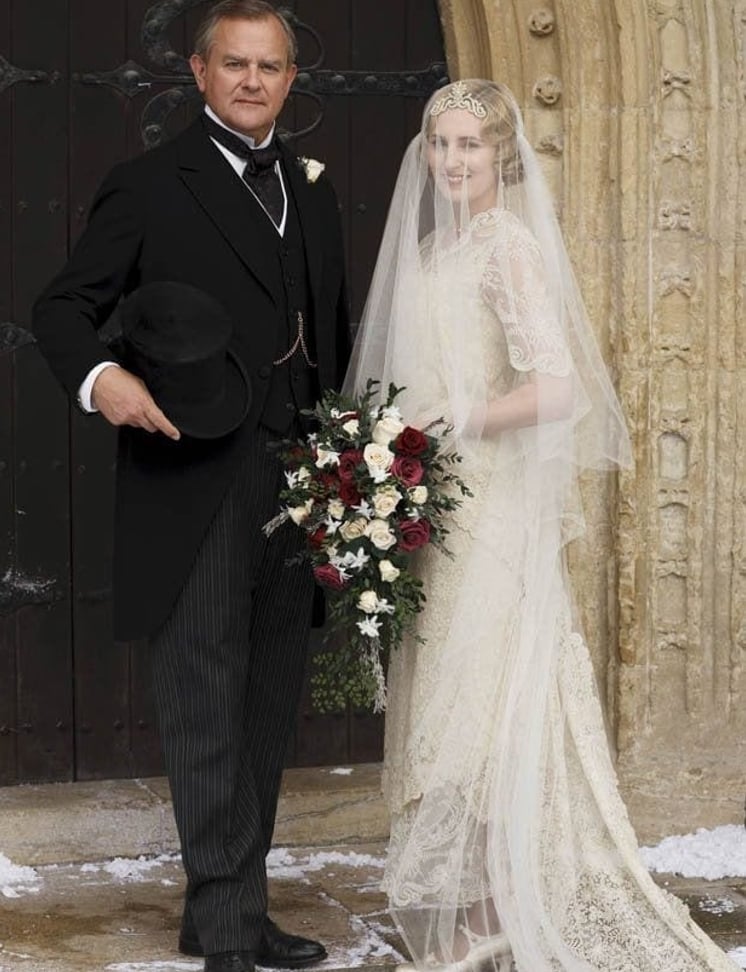 Luckily, she eventually got her happily ever after. She tied the knot to Bertie Pelham (Harry Hadden-Paton). Her gorgeous short-sleeved gown was exquisite and simple, and she looked very elegant as she walked down the aisle.
'Fifty Shades Darker'
Dakota Johnson's Ana didn't disappoint anybody when she showed up on her wedding day to marry Christian (Jamie Dornan). Costume designer Monique Lhullier designed this fantastic wedding dress and Ana was a stunning vision.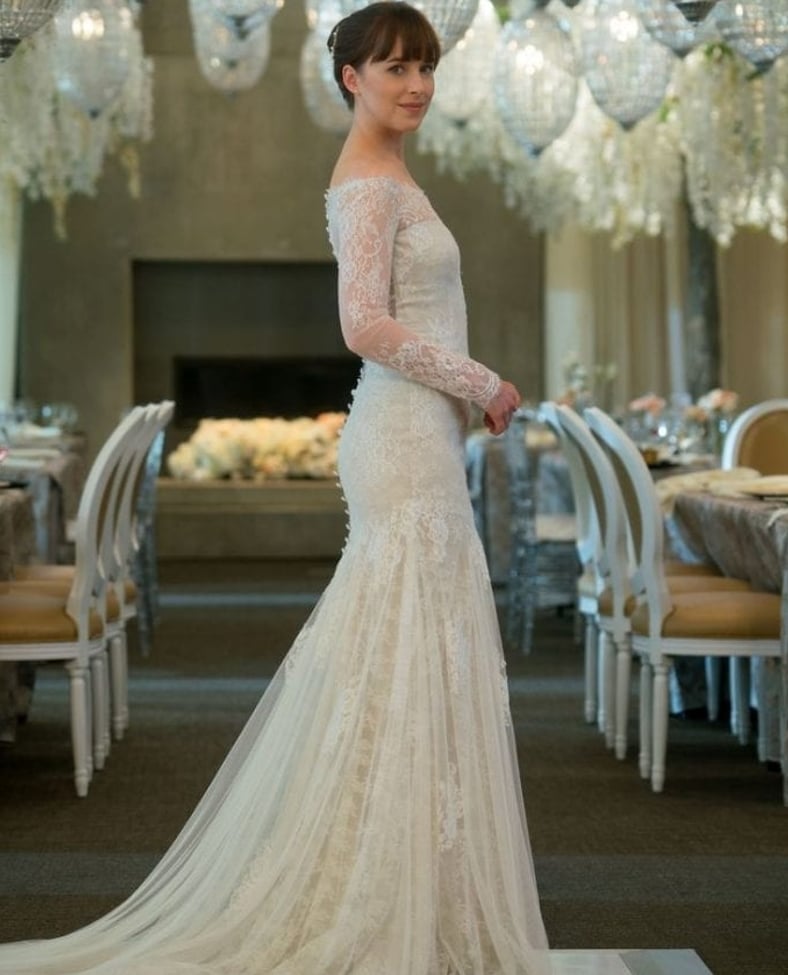 The gown had a fitted lace-adorned and off-the-shoulder detail with buttons going down the back. It also was a mermaid cut and made completely out of lace, created specifically with Ana's personality and character in mind.
'My Big Fat Greek Wedding'
In the 2002 romance movie, My Big Fat Greek Wedding, Nia Vardalos' marriage to Ian Muller (John Corbett) is beyond spectacular. Michael Clancy designed the stunning dress that Vardalos' character wears.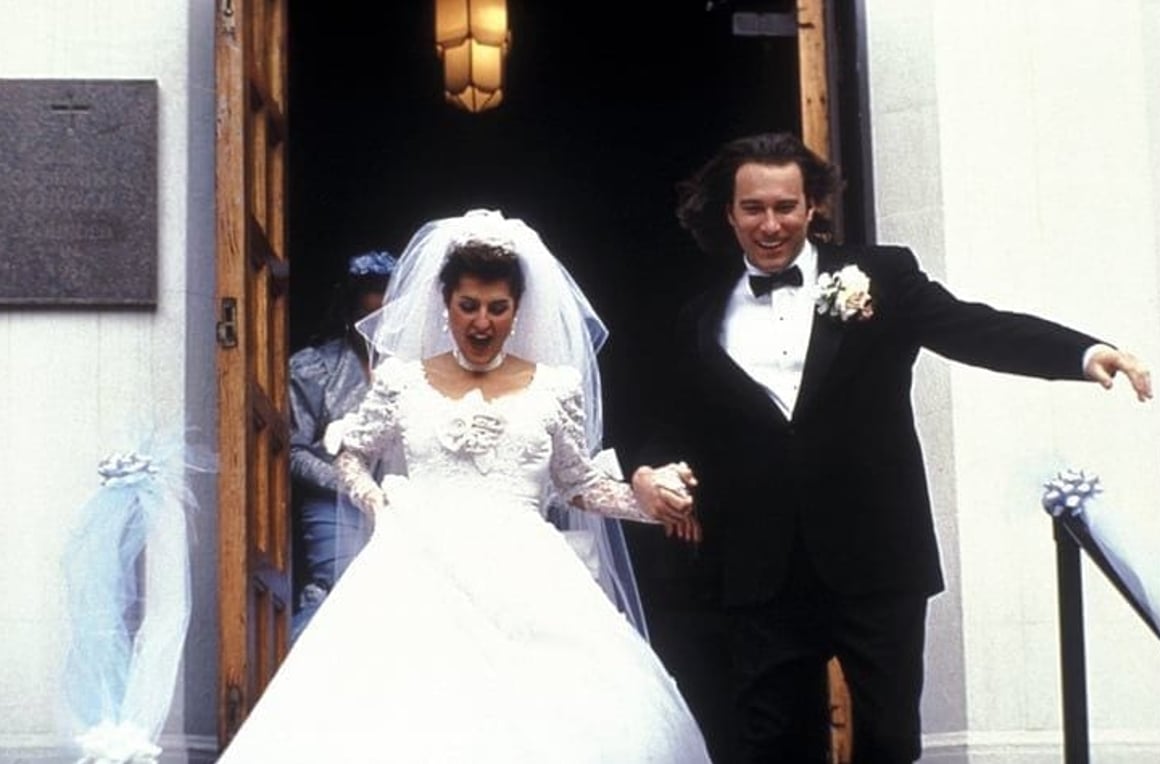 The traditional dress is styled with a V-neck, long-sleeves, and a full skirt. The gown's bodice was adorned with faux pearls and an attached floral train.
'The Hunger Games'
Katniss (Jennifer Lawrence) dazzles in this futuristic wedding gown from The Hunger Games. In the movie, the dress is designed by Lenny, but it was actually designed by Trisha Biggar.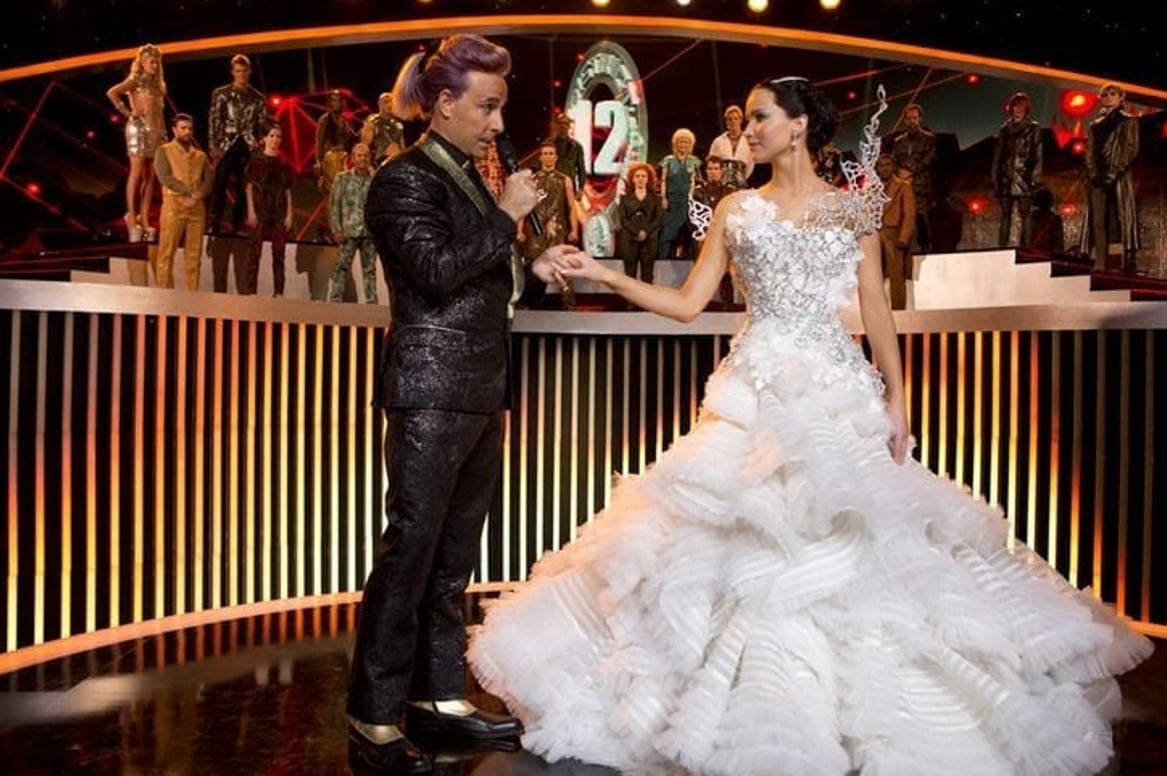 The design of the dress is far from simple, as it has complicated embroidery. There is an tiered organza corset under a metal cage and a chiffon ruffle skirt. To top it all off, the bodice is intricately designed. Jennifer stunned everyone.
'Moulin Rouge'
Nicole Kidman's Satine dazzled in this wedding dress from Moulin Rouge. Plus, it could be one of the most depressing weddings ever put to screen, but the dress will put a smile on your face.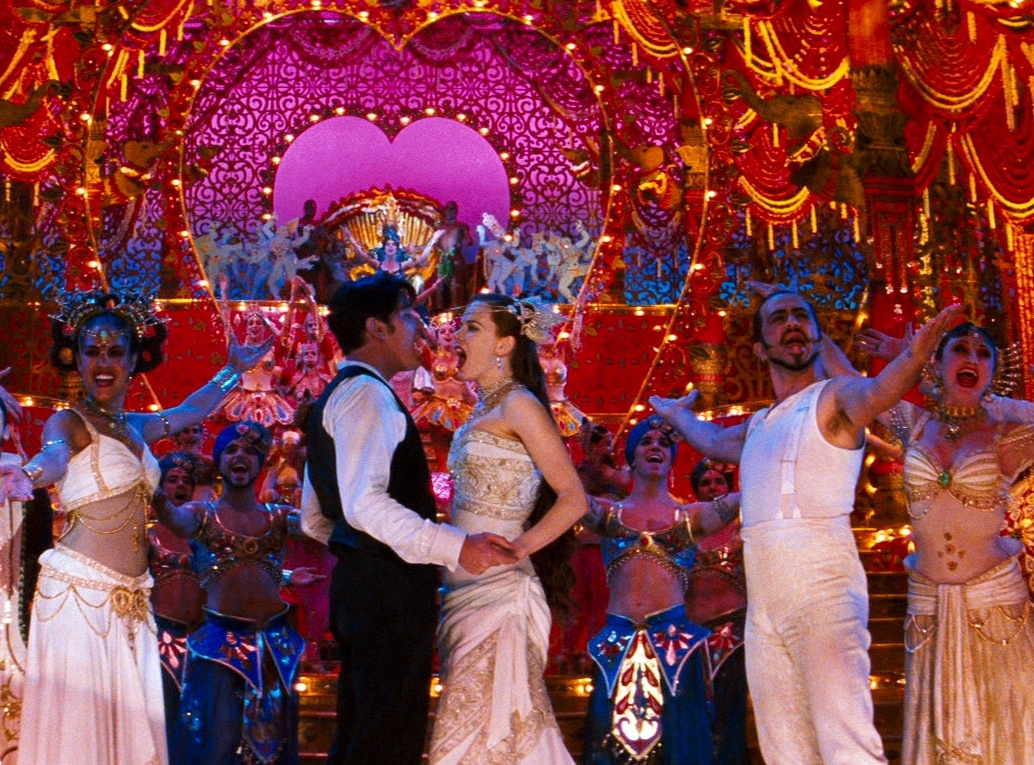 Catherine Martin was the brilliant mind behind the gown's design and worked with Angus Stathis to create this Hindi-influenced dress. Adorned with silver metallic embroidery, the dress earned the design team an Academy Award for Best Costume Design in 2002.
'Downton Abbey' (Again)
Lady Mary's second wedding needed to be a bit more exciting, as she was marrying Henry Talbot. Anna Mary Scott Robbins, the costume designer, made sure Mary's look was memorable. The dress she designed was elegant and regal.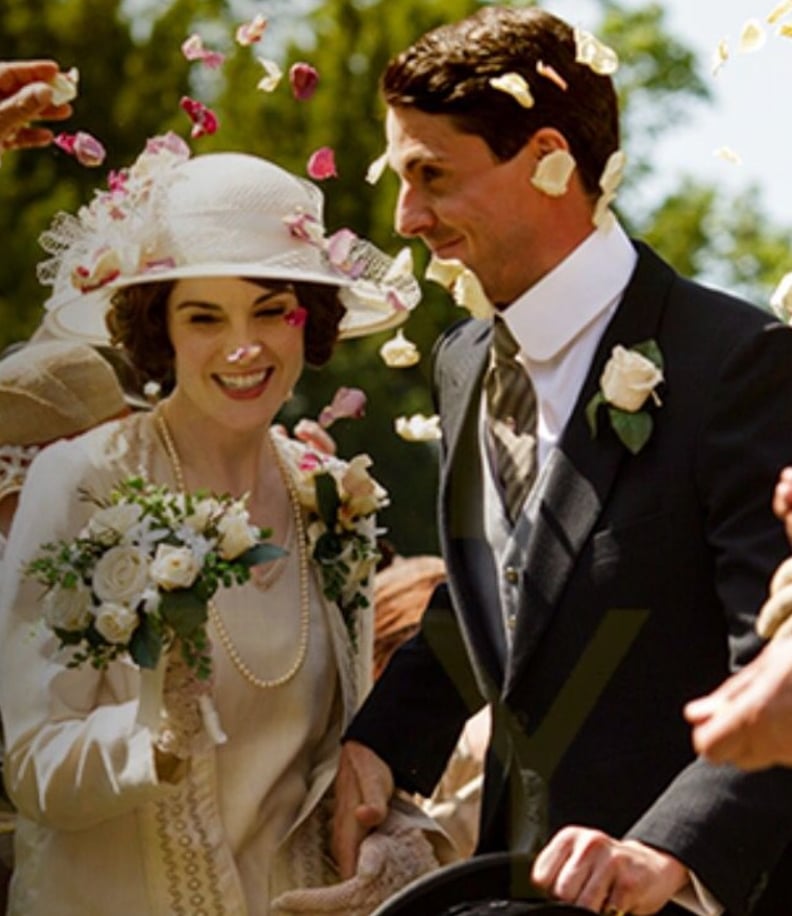 Instead of using a veil, Anna Mary had Lady Mary wear a hat. Indeed, it's a timeless look and Mary looked stunning while walking down the aisle.
'Cinderella'
Lily James' take on the classic character of Cinderella is incredible. The dress Cinderella wore on her special day of marrying Prince Charming was simplistic.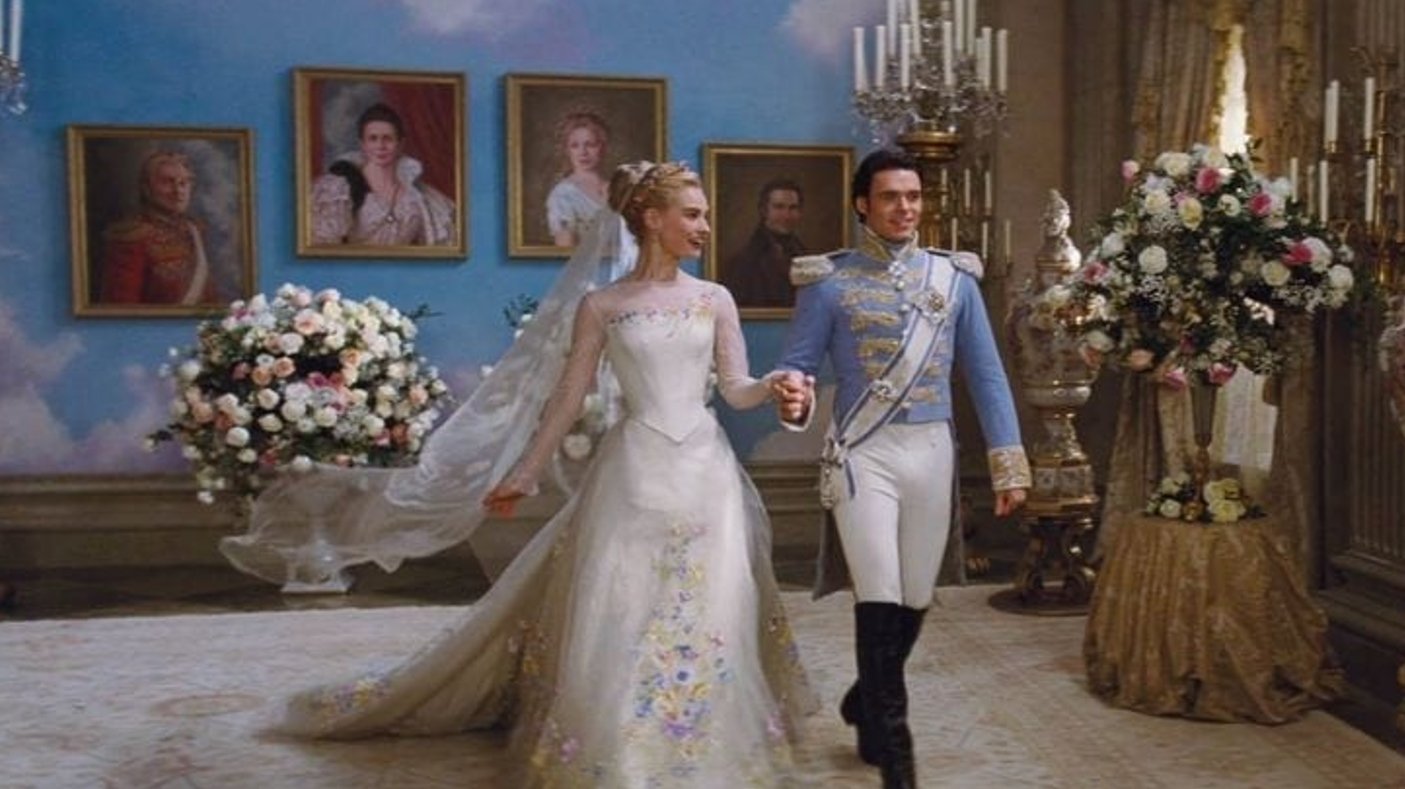 The dress had transparent sleeves and floral details embroidered at the end of the beautiful skirt. Designed by Sandy Powell, the dress drew inspiration from the 19th century and the 1950s. The skirt was designed with a dozen layers of delicate fabric.
'Funny Girl'
Fanny Brice (Barbara Streisand) wore a wedding dress that wasn't for an actual wedding, but for a song's performance. The song "His Love Makes Me Beautiful" makes us teary.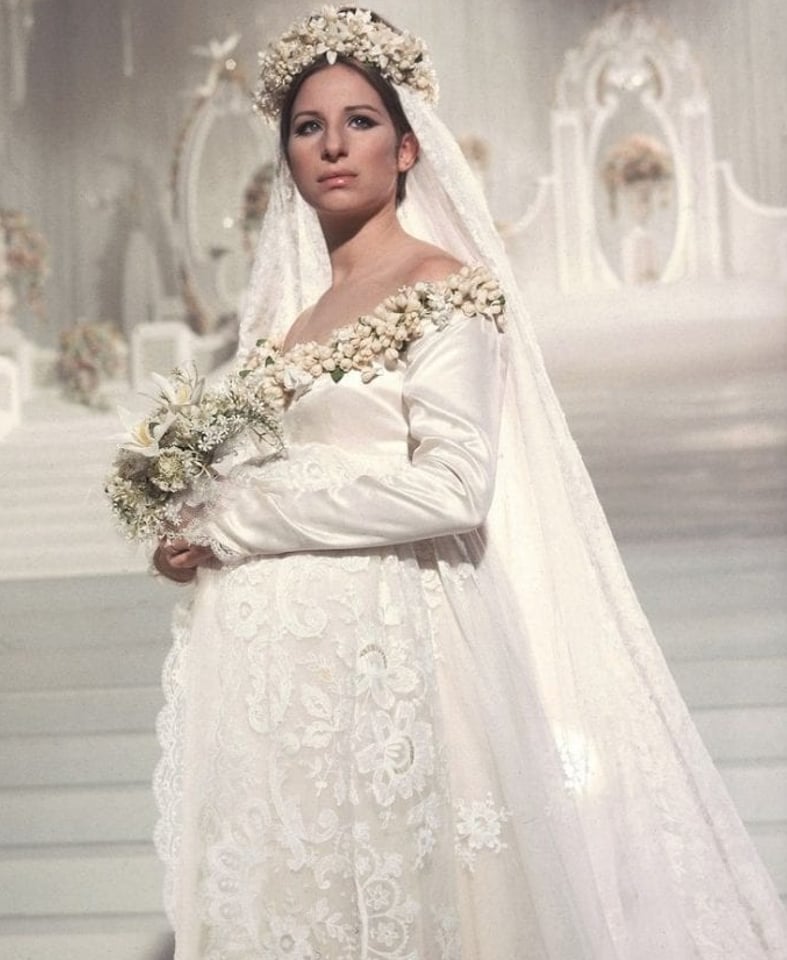 Costume designer Irene Sharaff designed the dress for the movie that came out in 1968. Streisand looks beyond gorgeous and looks stunning.
'Gone With The Wind'
Scarlett O'Hara's performance as Vivienne Leigh is unforgettable (and so is her wedding dress). The dress was actually borrowed since the wedding was rushed and it didn't fit her quite right. Regardless, she pulls it off so well.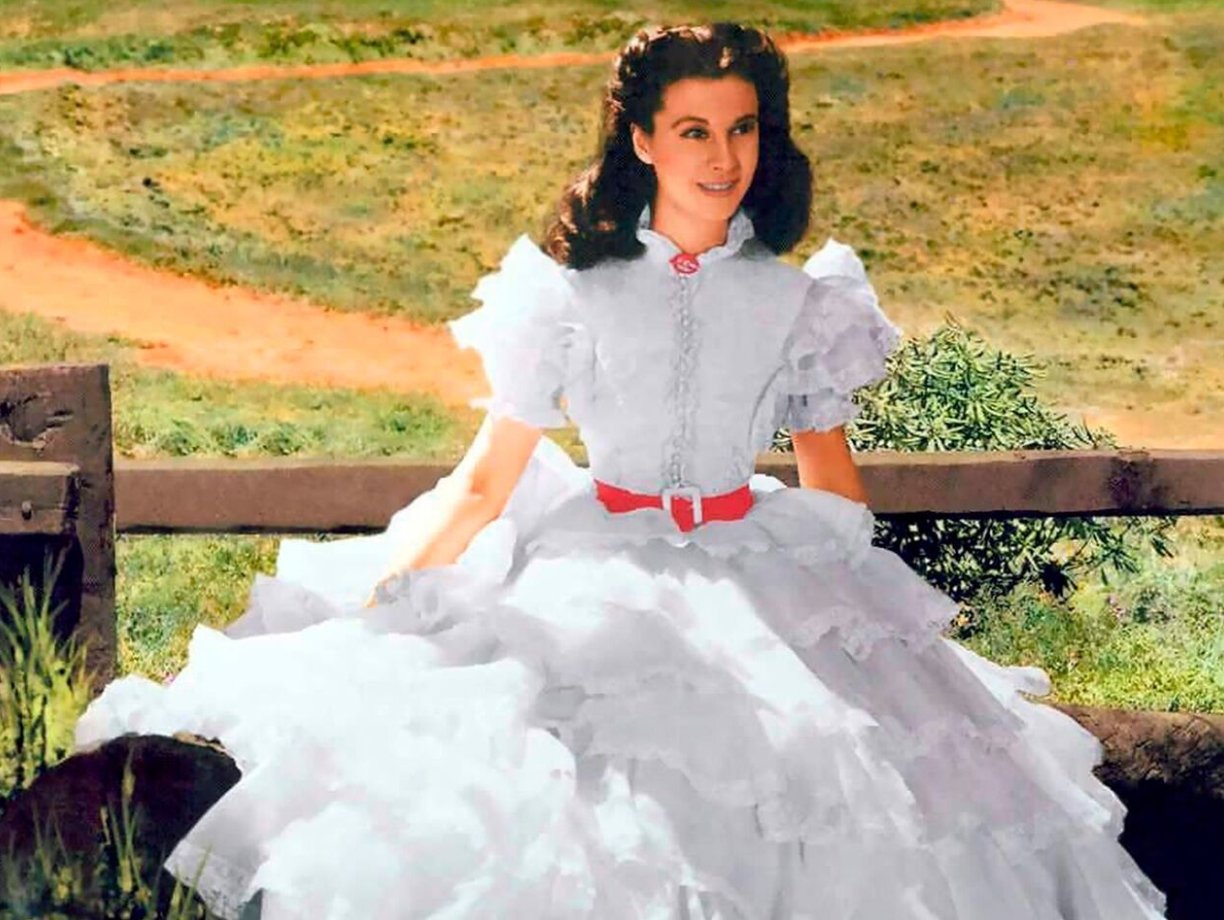 Designed by Walter Plunkett, it was made to fit Barbara O'Neill (Ellen), who played Scarlett's mother to ensure that it appeared as worn. The dress had huge sleeves and a heavy satin skirt was created to fit into the movie's time frame.
'Ever After'
In the film Ever After, Drew Barrymore's Danielle De Barbarac looks gorgeous in the dress designed by Jenny Beavan. In fact, it's so iconic that it's earned the name of 'the breathe dress' and had to be put on our list.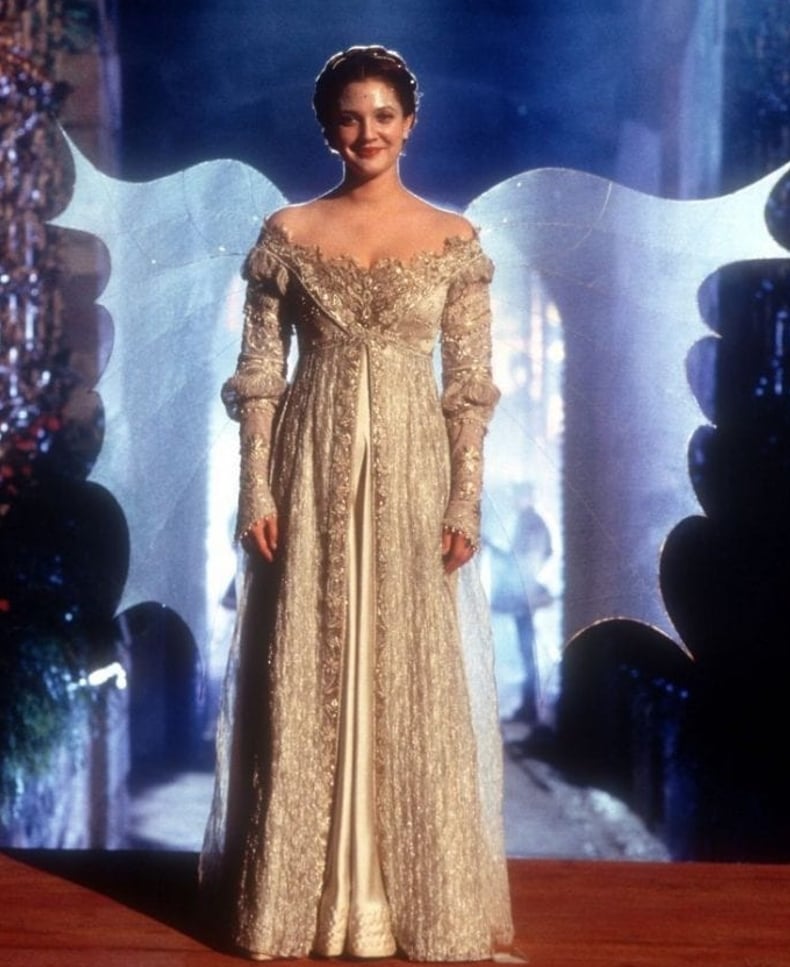 The gown is elegant and simple and calls back to the medieval times. And, the fairy wings were a perfect addition. The gown was handmade and took nine months to design before it appeared in the movie.
'Ghosts of Girlfriend's Past'
Jenny Perotti (Jennifer Garner) finally walks down the aisle towards Connor Mead (Matthew McConaughey) despite the odds. Designer Denise Wingate created the costumes for the film and did an amazing job.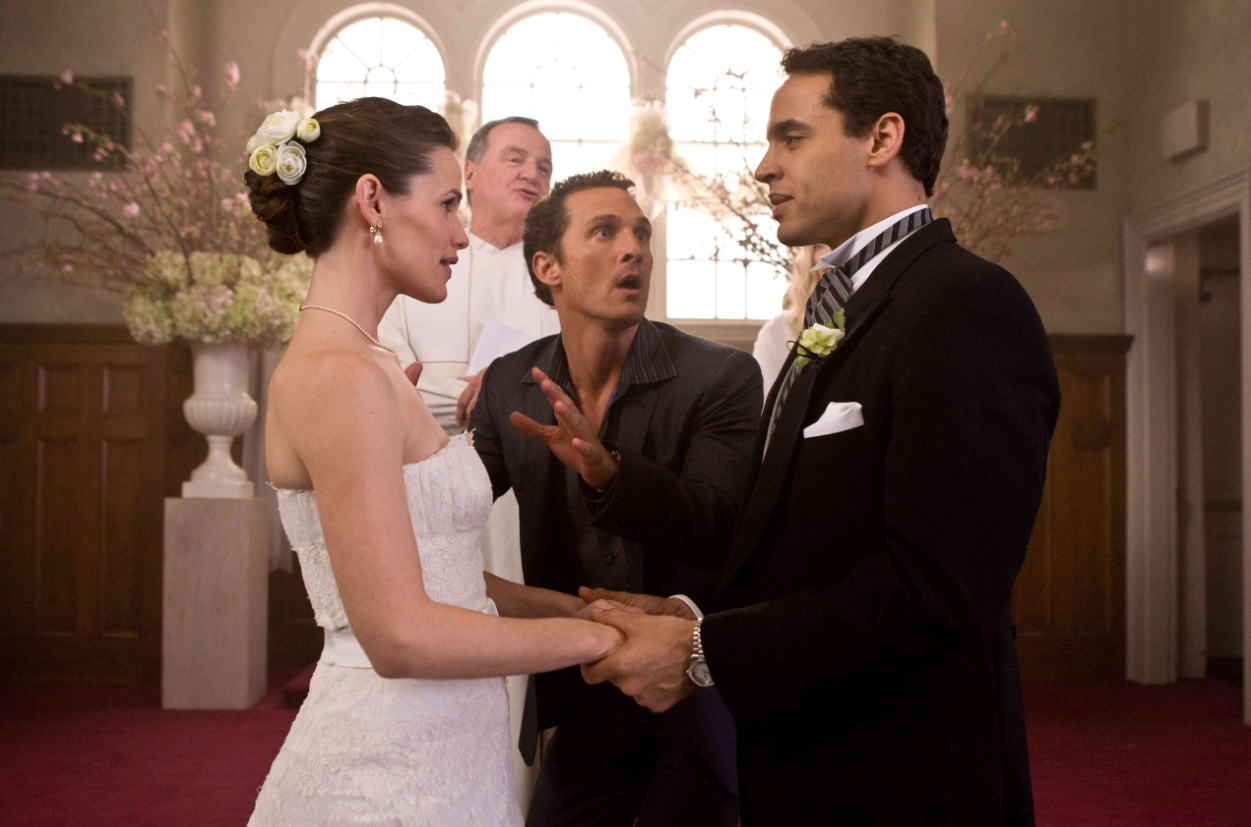 Wingate collaborated with Manuel Mota, a Spanish designer, and the pair created a dress that was simple yet elegant. It still made a statement and didn't need to be over the top.
'Downton Abbey'
In the movie Downton Abbey, Lady Mary married Dan Stevens' Matthew Crawley. Her wedding dress was exquisitely designed by Caroline McCall.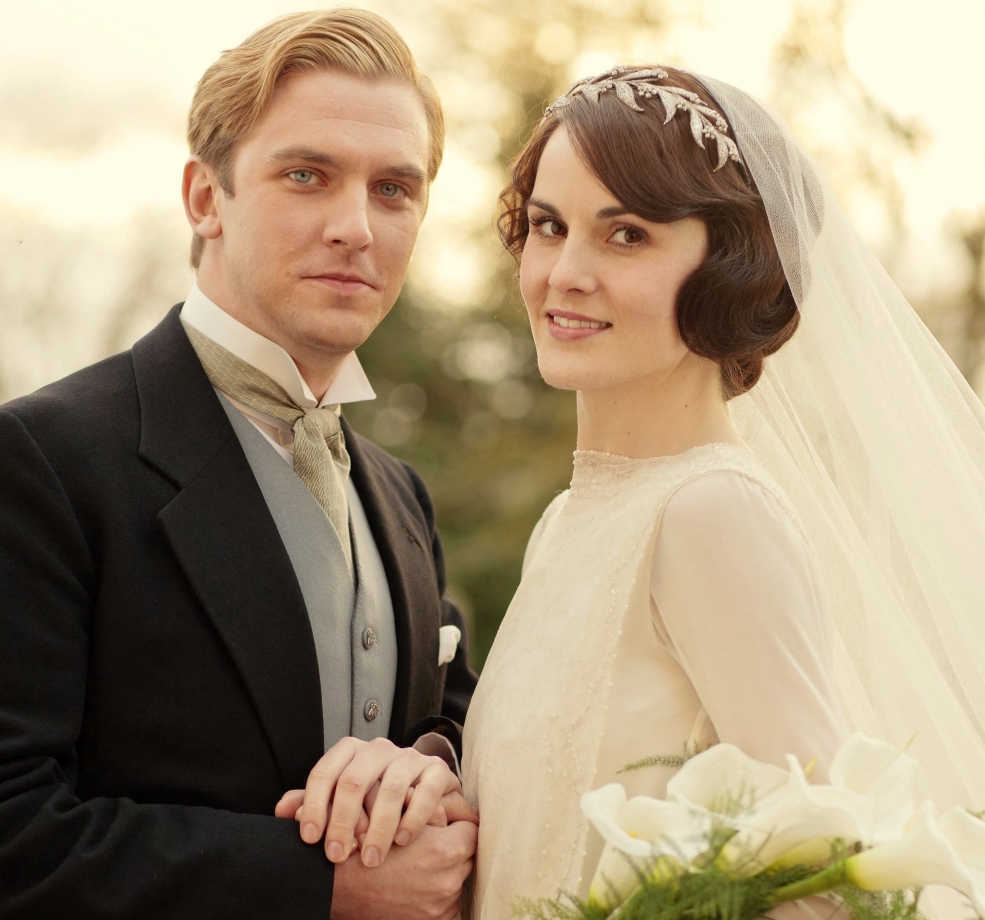 Designed with Swarovski, the long-sleeved cream gown was adorned with crystals and rice pearls. For the cherry on top, a $200,000 45-carat floral diamond was added to the dress.
'The Proposal'
The Proposal features the wonderful relationship between Margaret Tate (Sandra Bullock) and Andrew Paxton (Ryan Reynolds). It felt like these two would never get together, but we're so glad they did.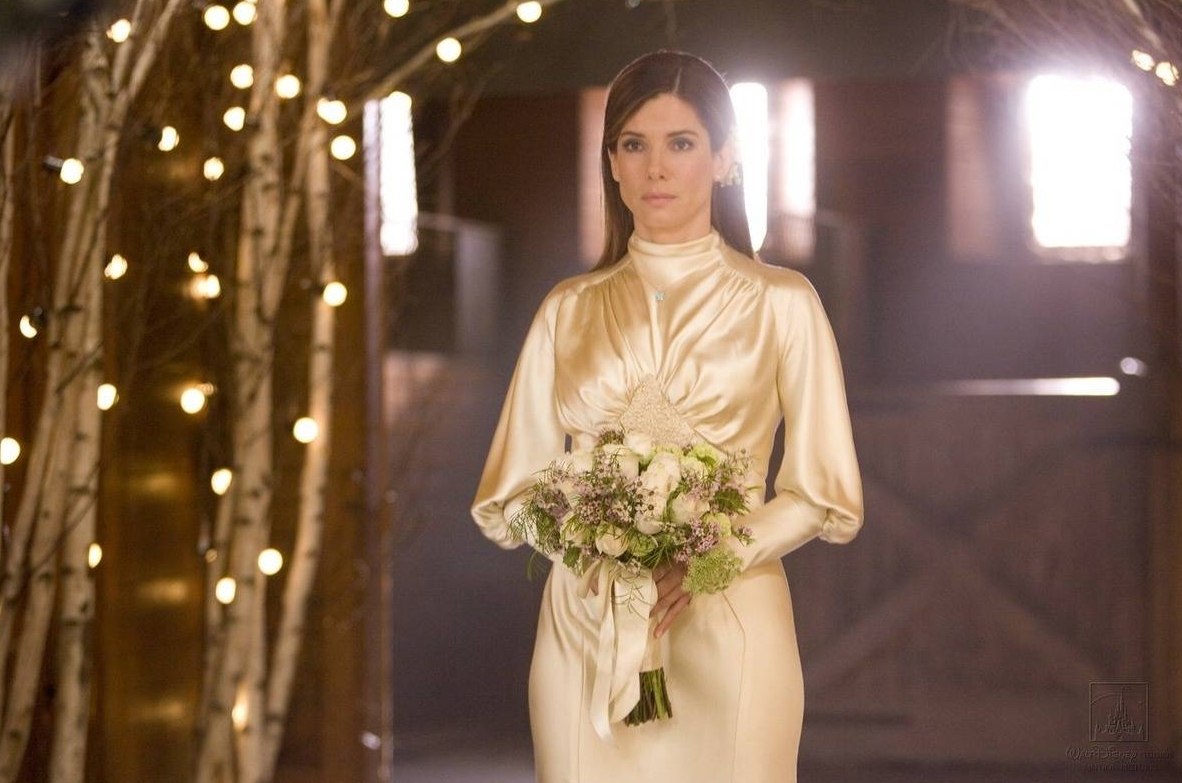 Margaret married Andrew in a gorgeous satin ivory vintage wedding dress. Despite its unusual cut, Bullock pulled it off perfectly.
'Gossip Girl'
Many ceremonies took place in the show Gossip Girl and all the dresses are unforgettable. However, one dress takes first place and that's the one of Lily on the day she married Matt Bass.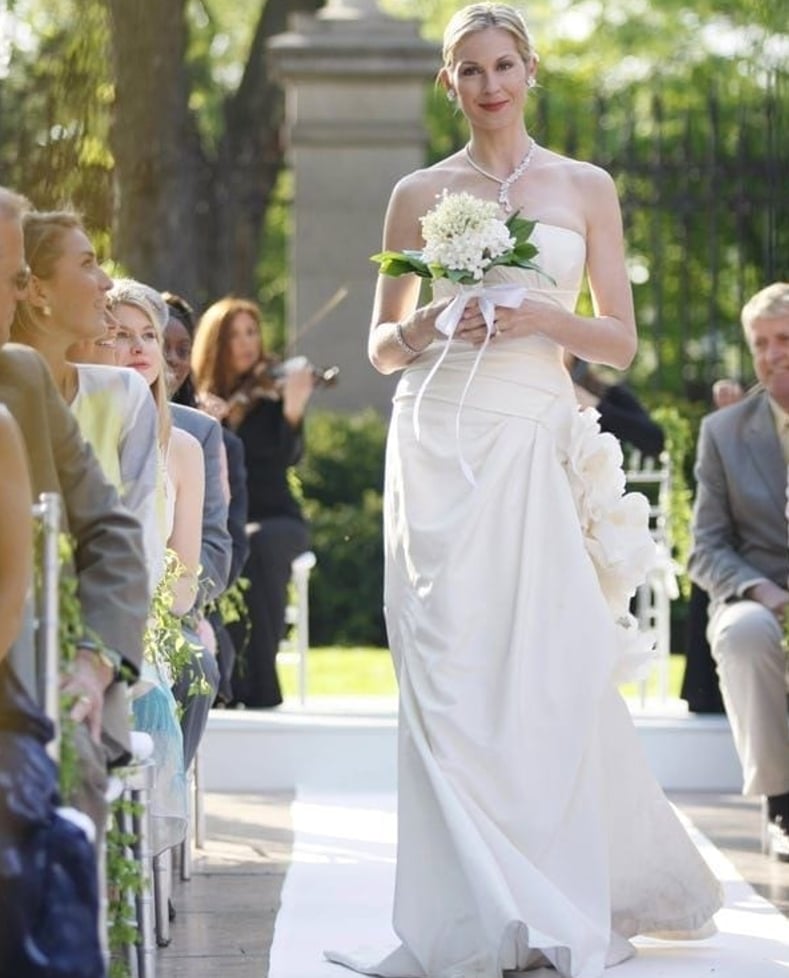 She was glowing as she walked down the aisle in a gown designed by the iconic designer Vera Wang. It's a simple sleeveless dress that makes us wish we were walking down the aisle right now.
'Monster In Law'
On her wedding day, Charlotte "Charlie" Cantilini may have woken up next to her mother-in-law in a white wedding dress, but the dress obviously looked amazing on her. Paired with gloves, her sleeveless gown was the perfect choice.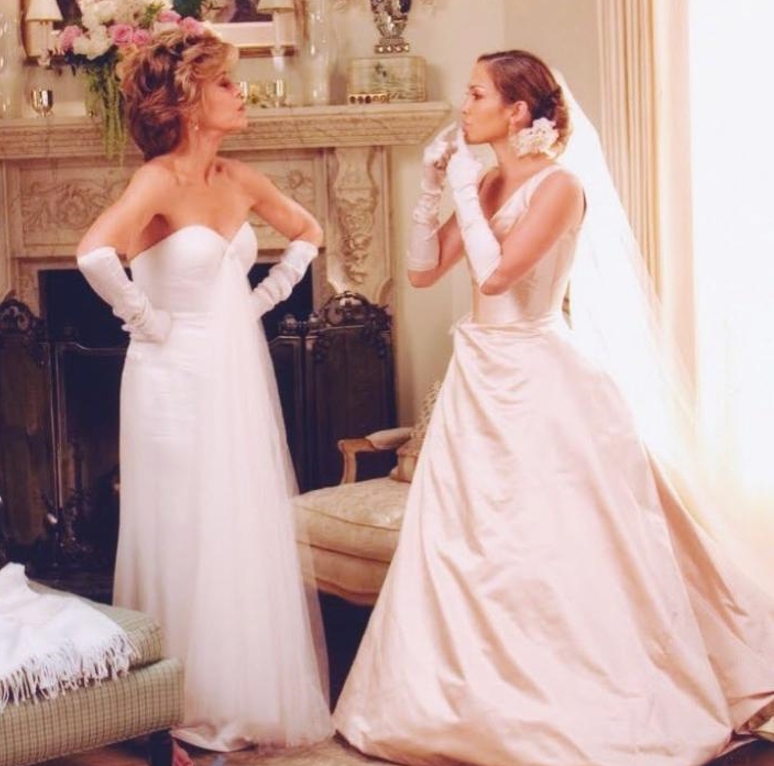 SaeYoung Vu Couture designed the wedding attire for the movie and Charlie's dress was beautiful. Jennifer Lopez knows how to flaunt a wedding dress.
'Runaway Bride'
After Maggie Carpenter (Julia Roberts) walked down the aisle thrice, she took our breath away with the last scene. She definitely saved the best gown for last, in a dress designed by Amsale Abera.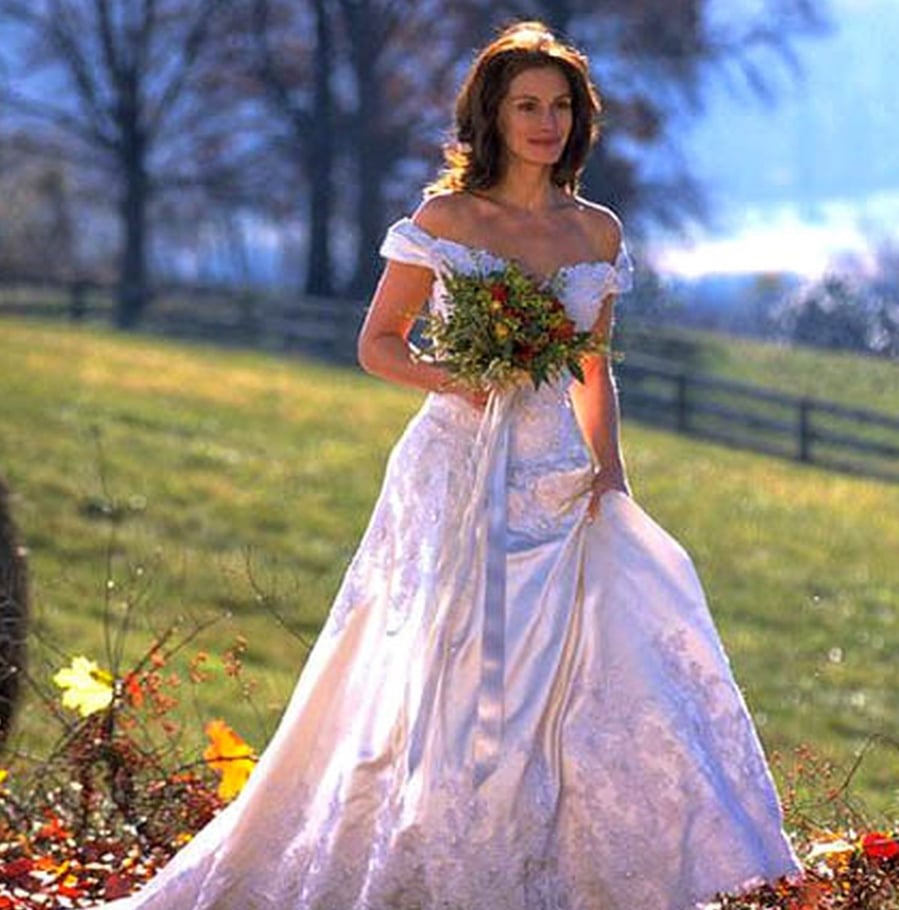 The off-the-shoulder, embroidered lace gown is timeless, and – with a long court train to accompany it – the dress was absolutely breathtaking on Roberts.
'Funny Face'
Audrey Hepburn can pull off any look, so her role as Jo Stockton in the comedy film Funny Face is no different.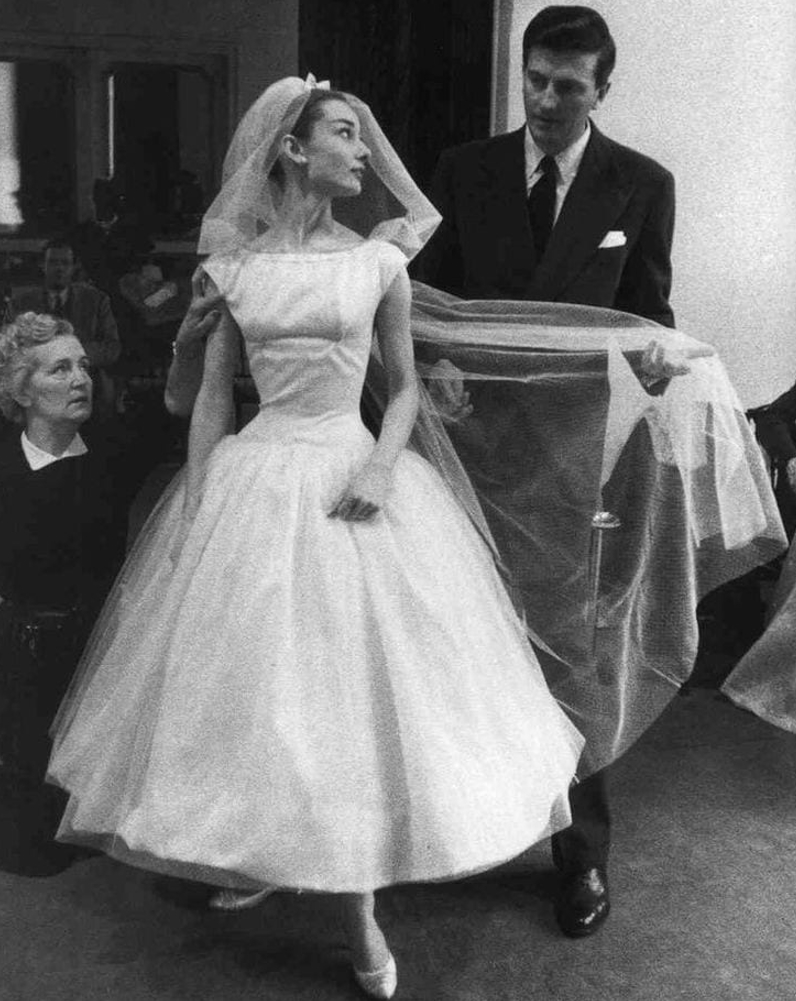 She dons a satin tea-length retro wedding dress with a dropped waist. It's undoubtedly the most stylish and beautiful dress for a fashion icon such as Hepburn to wear – and was also one of her iconic looks.
'Gentlemen Prefer Blondes'
Lorelei Lee (Marilyn Monroe) and Dorothy Shaw (Jane Russell) looked absolutely stunning as they walked down the aisle in the same A-line-laced wedding dresses. TraVilla was the brilliant mind behind the tea-length gown in Gentlemen Prefer Blondes.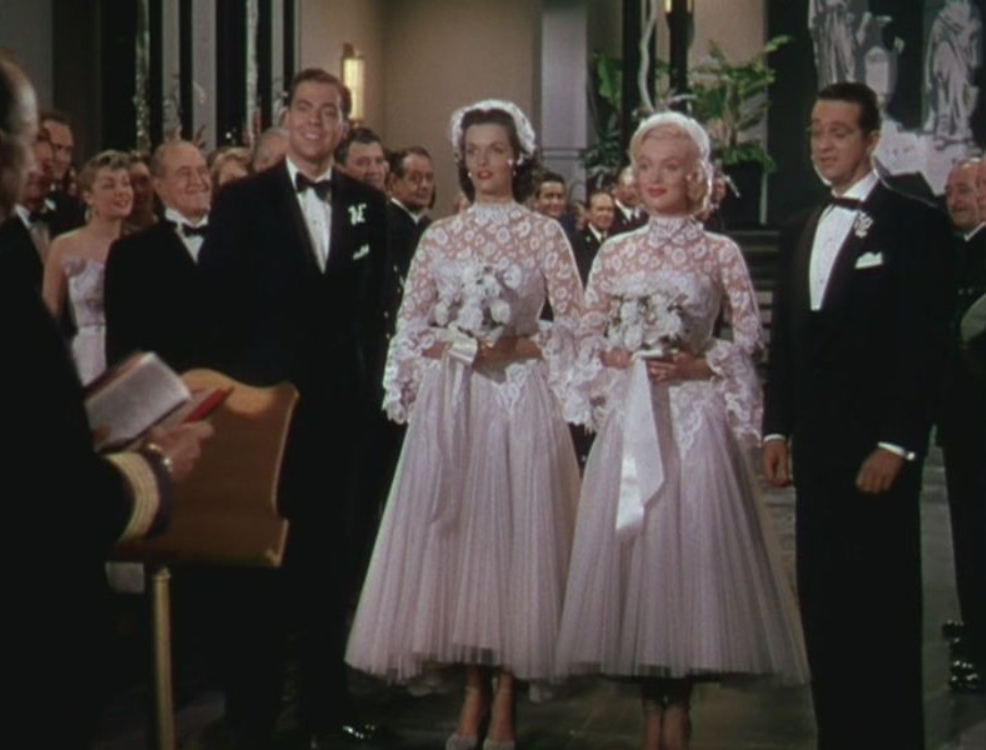 The gowns don high-necks, bell sleeves, and veiled hats and were tailored perfectly to show off the actresses' curves.
'Sweet Home Alabama'
Melanie (Reese Witherspoon) wears a wedding gown that is absolutely iconic. She wears it on the day she is supposed to marry Patrick Dempsey's Andrew Hennings. Unfortunately, the marriage ends up not happening. Spoiler alert!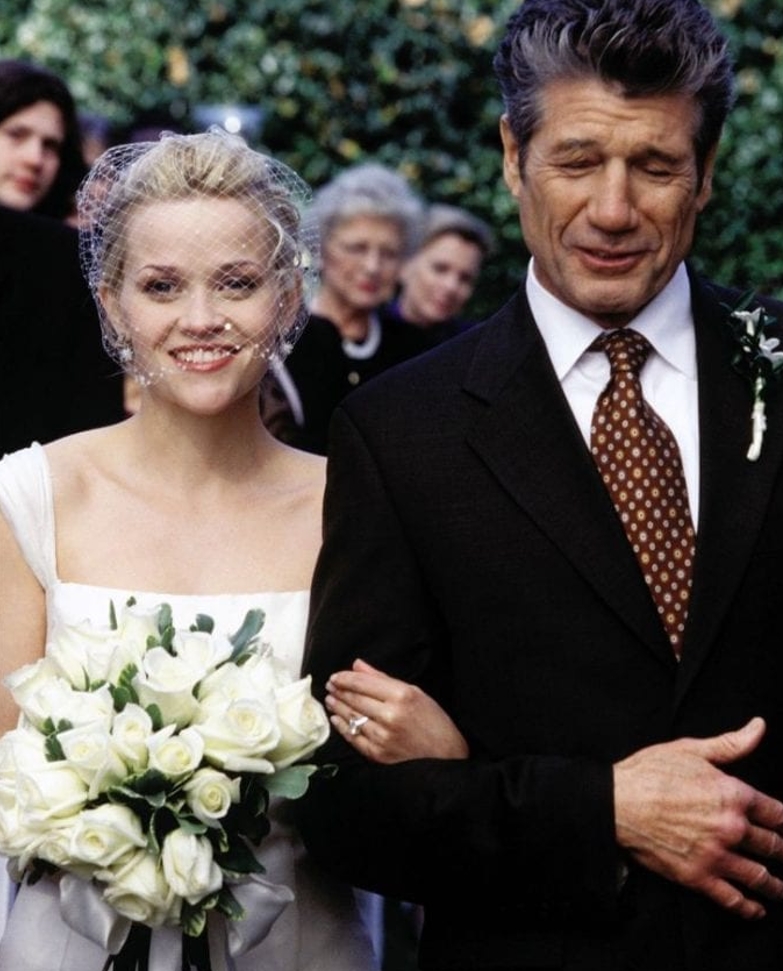 Witherspoon looks gorgeous in a simple and sophisticated Southern Belle gown. It's sleeveless and topped off with a white bridal lace fishnet designd by Sophia Derakoff.
'And Just Like That'
While this pick is not from a movie, the dress that Sarah Jessica Parker's Carrie Bradshaw wears in And Just Like That (the Sex and the City reboot) had to be mentioned!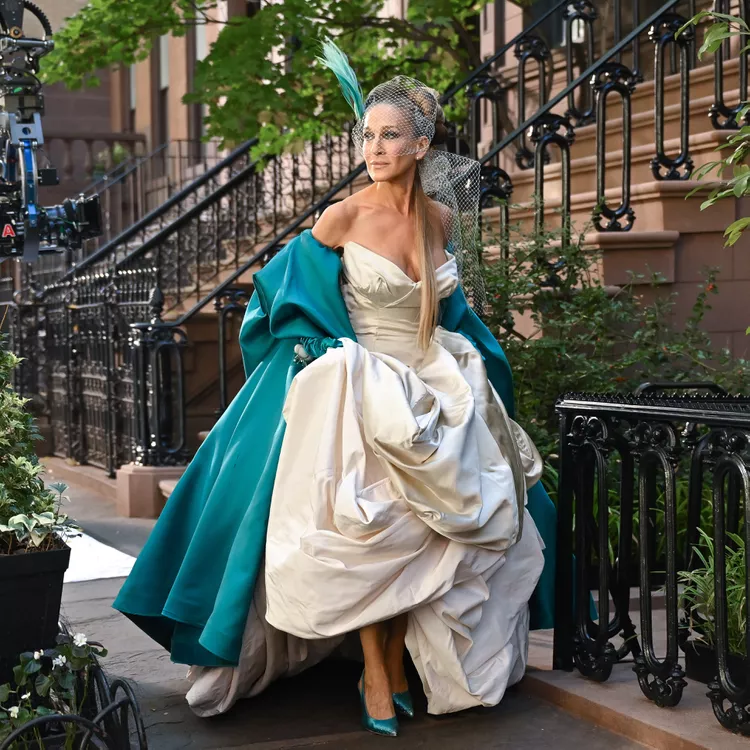 Bradshaw's iconic Vivienne Westwood strapless wedding dress was beyond stunning. It's a timeless look with a flair of color, paired with teal gloves, a teal cape, teal heels, and a birdcage veil.
'Love Actually'
This classic Christmas movie features a gorgeous wedding dress worn by Keira Knightley's character, Juliet.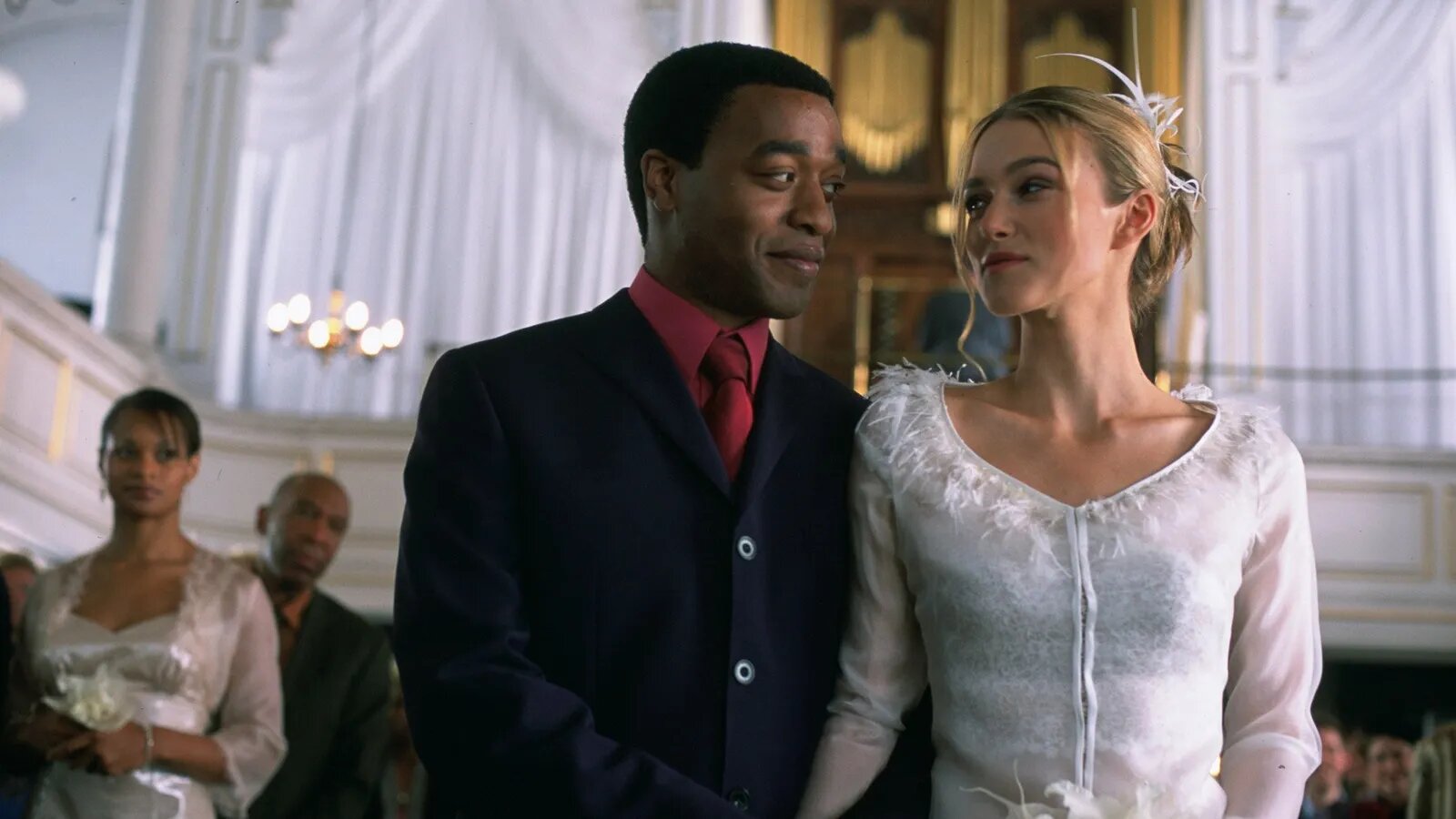 The beautifully made white A-line dress was made by designer Johanna Justin. It also features a crop top beneath.
'Crazy Rich Asians'
We were immediately blown away by this incredibly elaborate dress. Araminta Lee (Sonoya Mizuno) looks gorgeous as she walks down the aisle.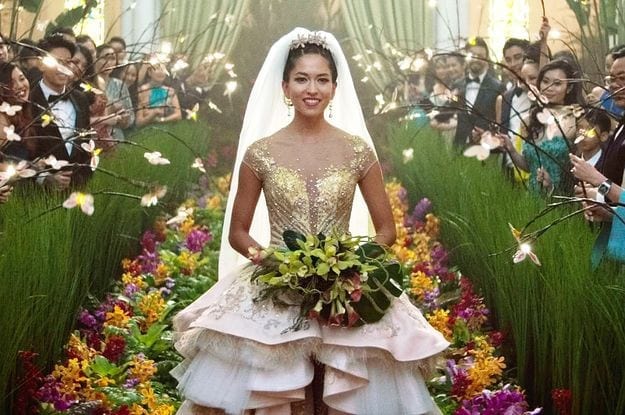 Sporting a jumpsuit, this veers from traditional wedding dress norms. The skirt is attached to the corset, and the added crystals make it even more jaw-dropping.
'Marie Antoinette'
In Sofia Coppola's film Marie Antoinette, Kirsten Dunst plays the iconic Marie Antoinette herself.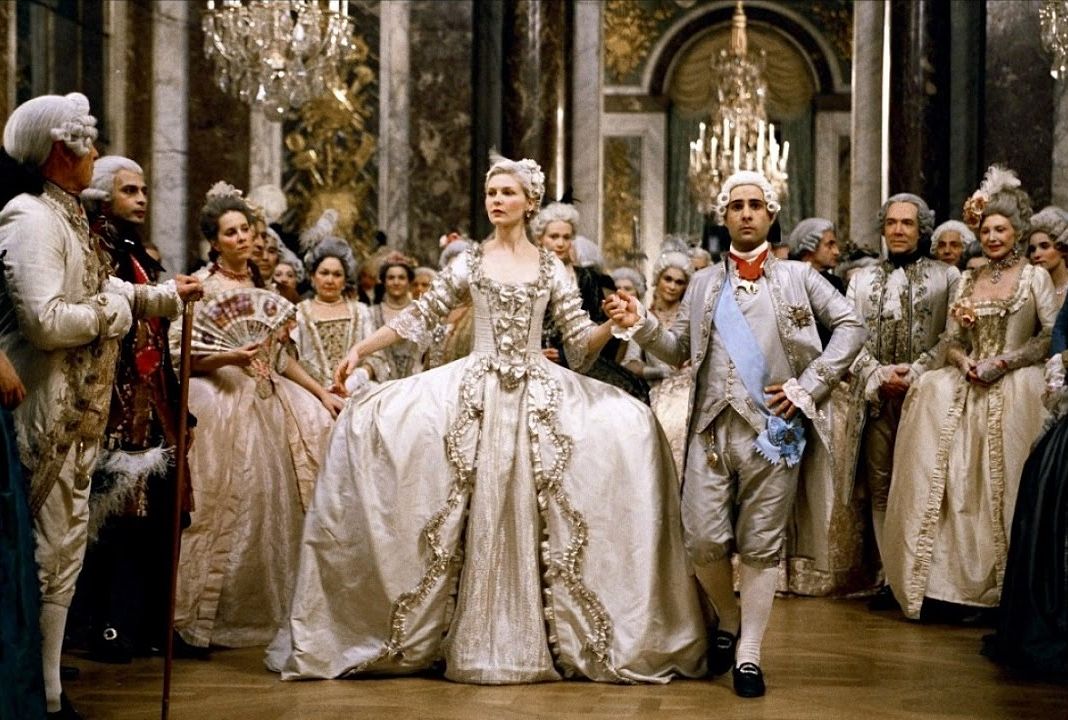 Her dazzling wedding dress featured large panniers (described as hip pads these days). A historical fact is that the back of the dress couldn't even be closed fully, so a bit of her corsetry and chemise were revealed!
'Mamma Mia'
Amanda Seyfried's Sophie looked nothing short of a Greek goddess in her magnificent gown designed by Ann Roth. The 2008 movie is a classic and can be watched over and over again.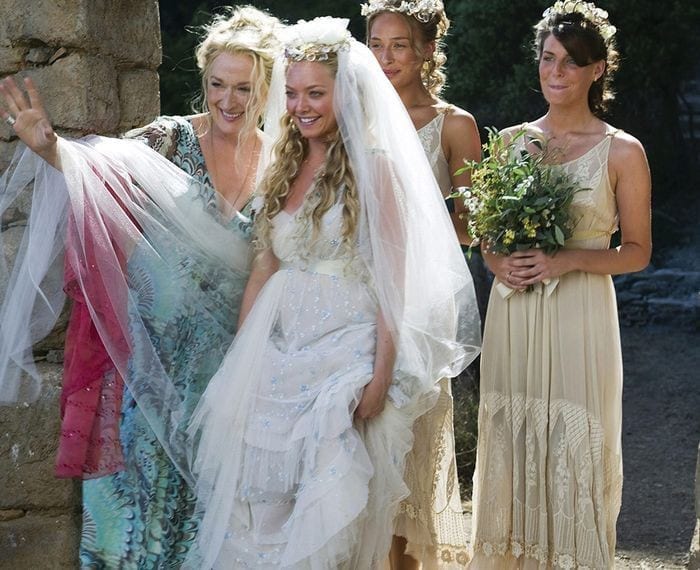 The sleeveless tiered gown featured a high empire waist and it looks stunning on Seyfried.
'Twilight Saga: Breaking Dawn'
Having a wedding at the end of a movie is the best ending ever. So, Edward and Bella's marriage at the end of Twilight Saga: Breaking Dawn was simply perfect.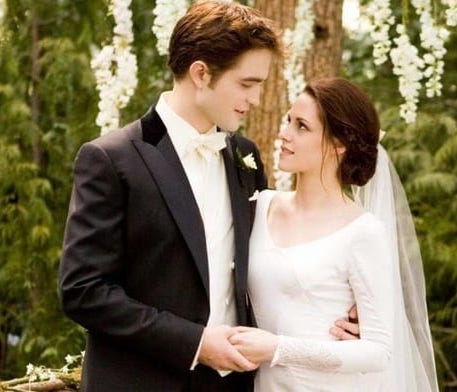 Bella's dress is classic and simplistic, lined with buttons and beautiful lace details. Her hair was pulled back into a bun to show off her delicate neckline.
'Romeo + Juliet'
This tale about two star-crossed lovers never gets old and was brought to the silver screen in 1996. Claire Danes as Juliet looked nothing short of elegant and stunning.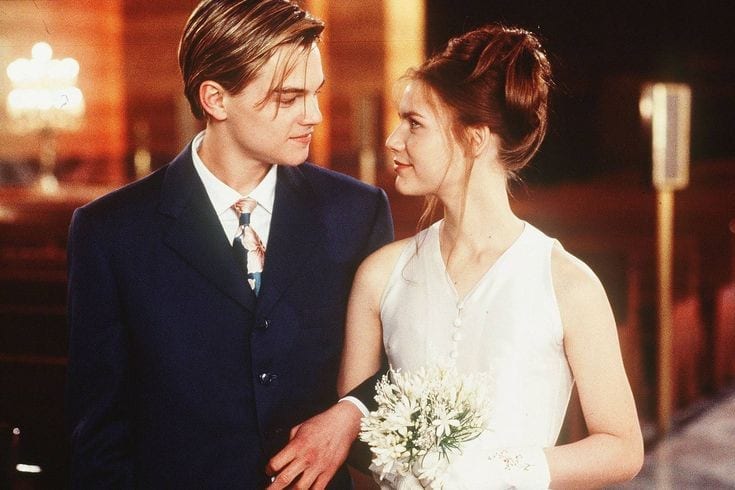 The simple dress was designed by Catherine Martin, and the addition of the gloves further complimented the gown as a whole.
'The Notebook'
Even though Allie (Rachel McAdams) and Noah's romance didn't turn out as we had hoped in The Notebook, this list wouldn't be complete without mentioning Allie's wedding dress.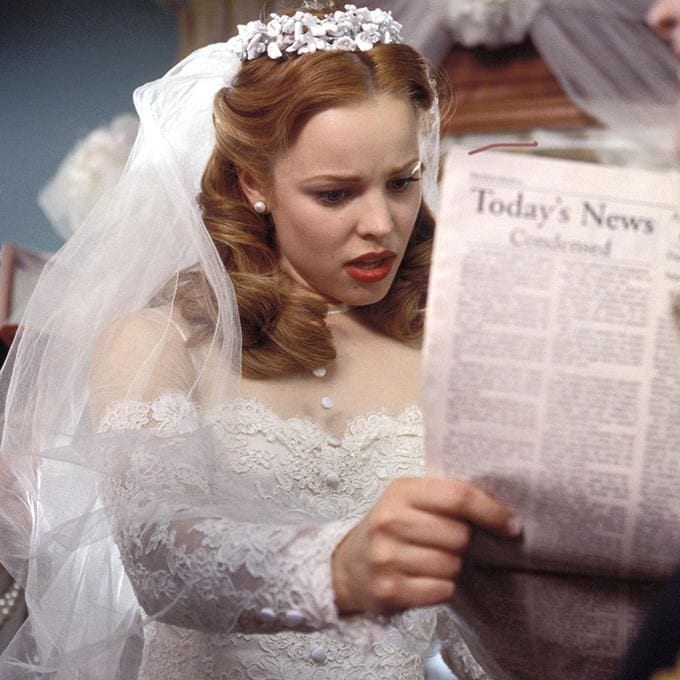 Designed by Karyn Wagner, Allie's gown featured lace – and was combined with styles from the 1940s and 1950s. It's a memorable off-the-shoulder dress that remains as timeless as the movie itself.
'27 Dresses'
Jane Nichols is a bridesmaid for 27 weddings in the comedy film 27 Dresses. She only deserves the best gown on her wedding day.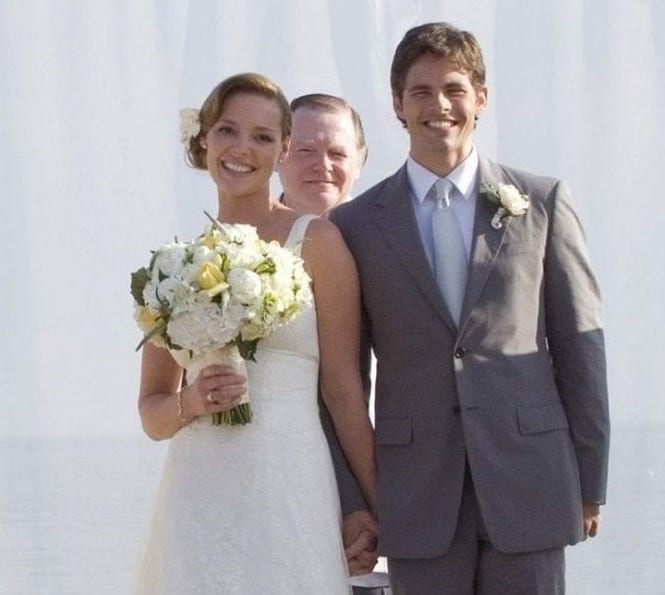 Jane is wearing a sleeveless V-neck gown and looks as happy as ever walking down the aisle. Catherine Marie created a stunning and classic dress.
'The Vow'
We absolutely adore this sweet pink satin gown worn by Paige (Rachel McAdams) in The Vow.
Betsey Johnson designed a beautiful short-length dress that perfectly suited Paige. It's refreshing to see a different take on a wedding gown!
'Shotgun Wedding'
Jennifer Lopez wore this stunning gown as Darcy in the movie 'Shotgun Wedding' and it is absolutely spectacular. This dress could quite possibly make anyone believe in love again. The wedding dress is particularly intriguing because of the tulle design.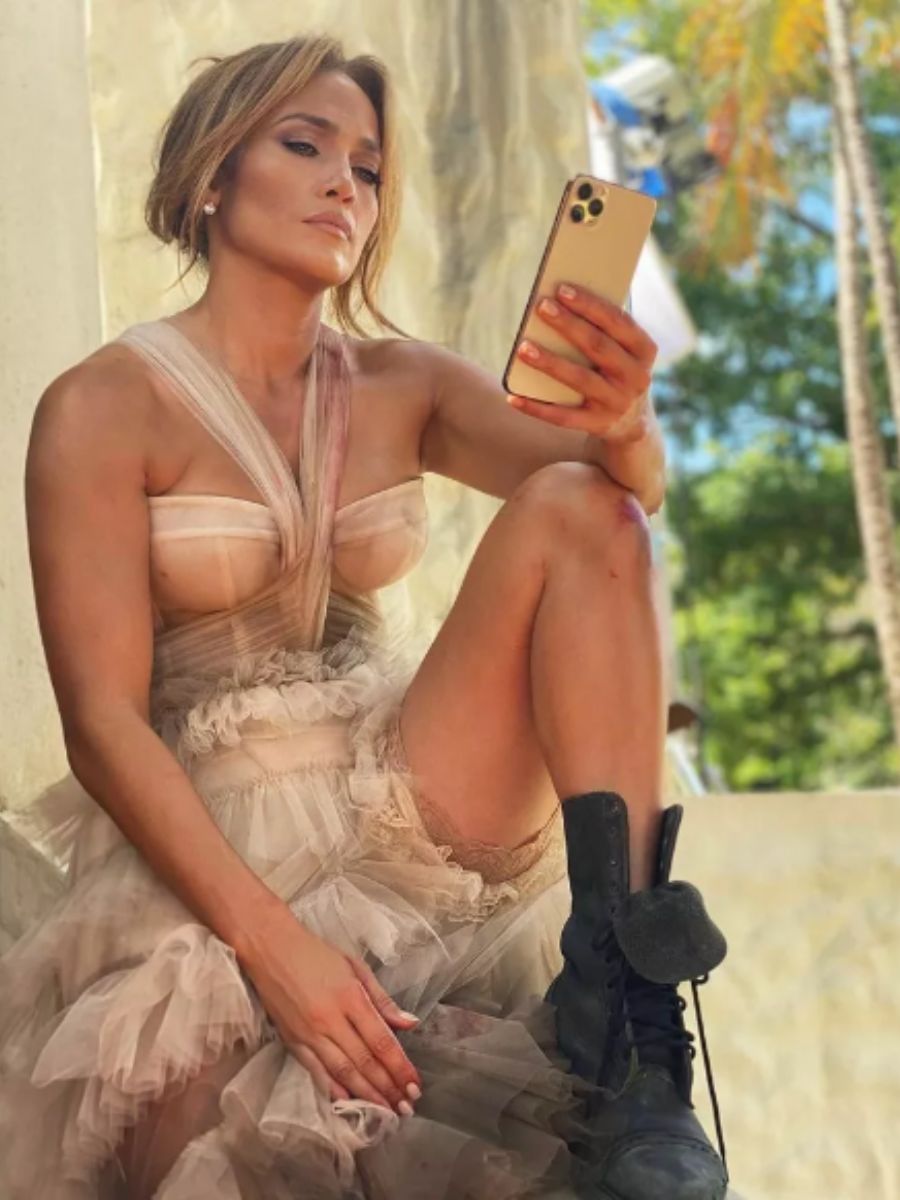 It breaks barriers, straying away from the traditional white gowns. In this 2022 action-comedy, she even fought pirates while wearing it, proving that it's a dress both stunning and functional, all you could hope for in a dress. The gown was created and designed by Galia Lahav.
'The Hunger Games: Catching Fire'
Another Jennifer has made it onto this iconic wedding dress list and with good reason. Jennifer Lawrence's would-be wedding dress as Katniss Everdeen in 'The Hunger Games: Catching Fire' is something to truly fawn over.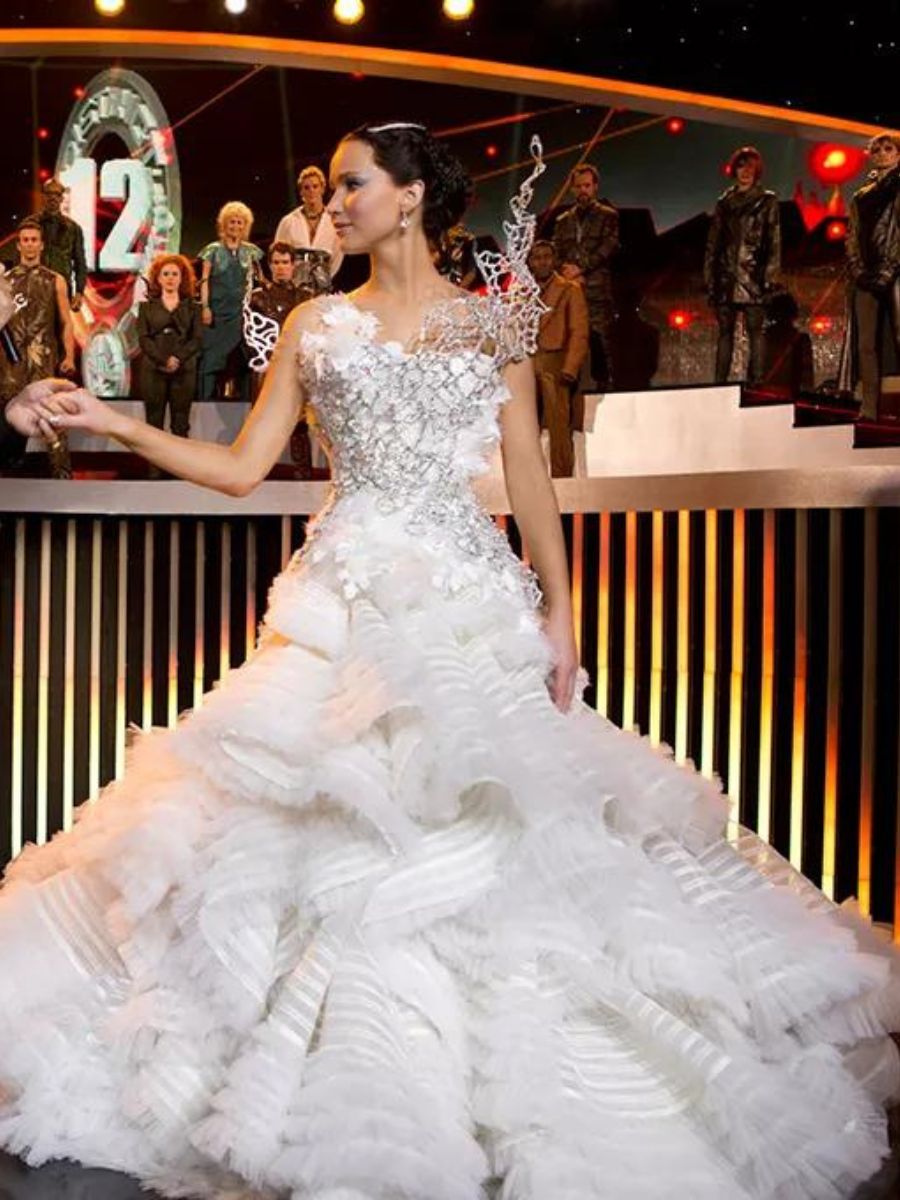 The complex Tex Saverio design was hand-crafted from organza layers and thousands of sliver flames and Swarovski crystals. This dress encapsulated the ultimate fantasy-filled evening that we can't get out of our heads.
'Mr. and Mrs. Smith'
The 2005 movie Mr. and Mrs. Smith is action-packed, thrilling, suspenseful, sleek, and unapologetically heartless. The two main characters who are also a couple are nothing short of wildly unpredictable with a quite unconventional marriage. We'd expect nothing less from…ASSASINS!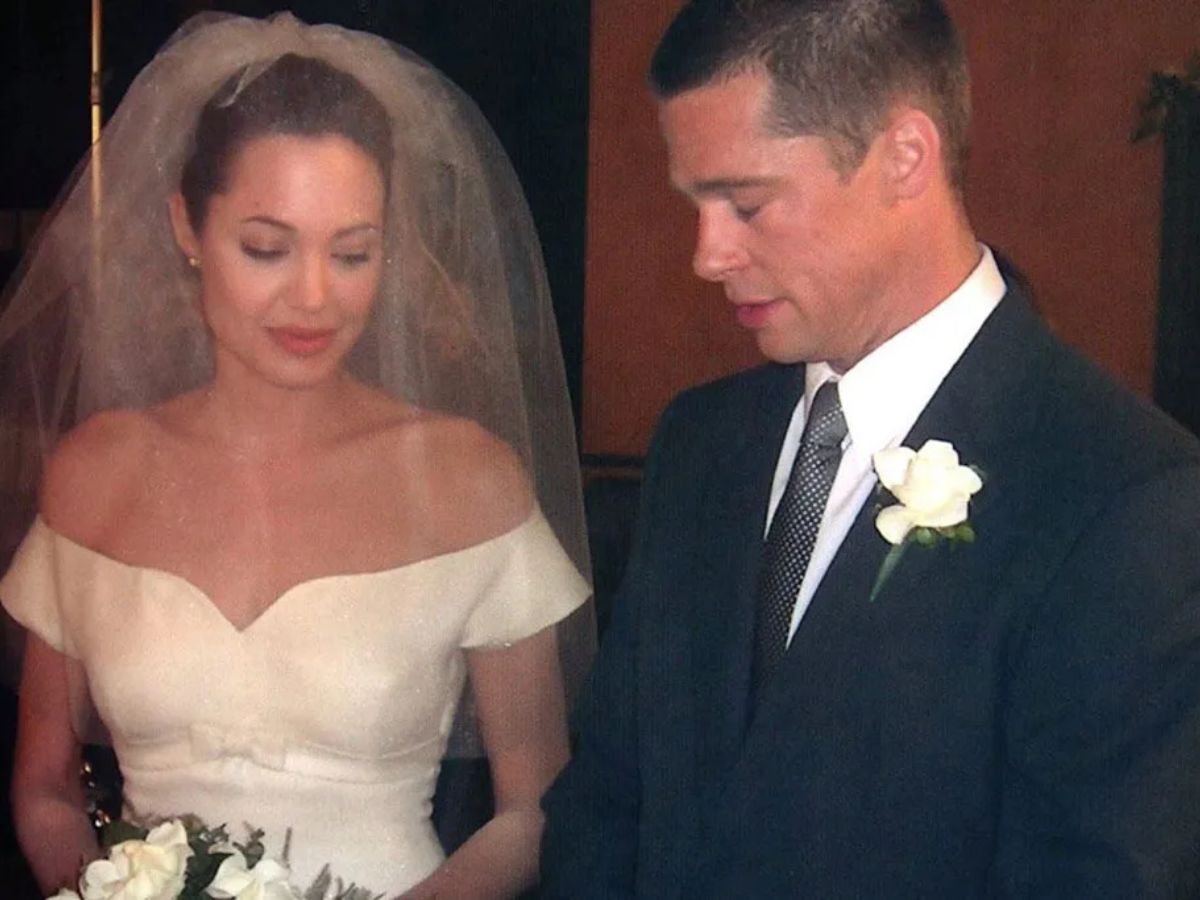 Jane Smith's chic 60s-inspired minidress is nothing short of an effortless cool girl which fits her character to a T, not to mention the essence of Angelina Jolie who plays her. It is the perfect under-the-radar dress, yet still unequivocally eye-catching. We are suckers for a bold neckline.
'Star Wars: Episode II - Attack of the Clones'
In 2002's Star Wars: Episode II – Attack of the Clones, Padmé played by Natalie Portman wears the most romantic 1920s-inspired bridal gown. Star Wars is a phenomenon in its own right as the cult classic other movie universes strive to be.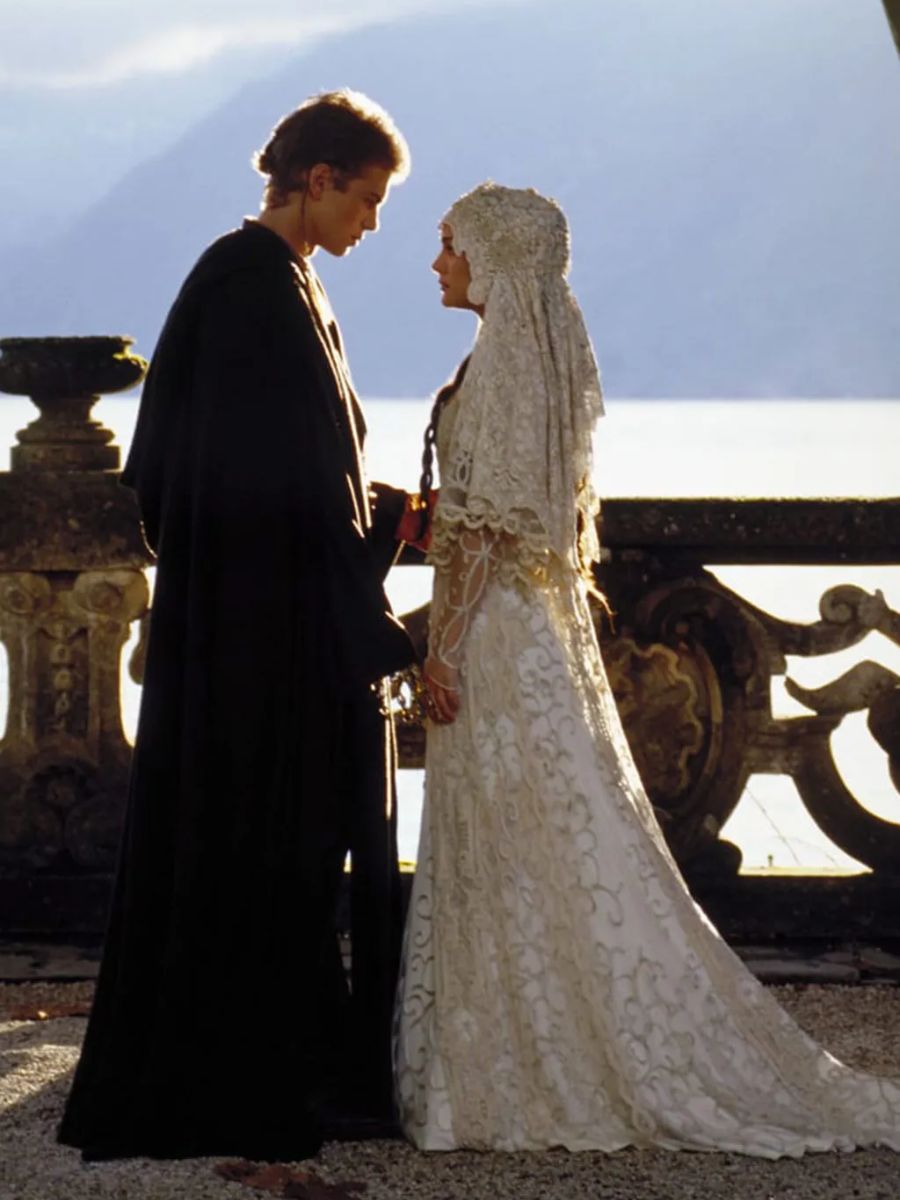 Whether this dress aligns with your taste or not there is no denying the craftmanship and intricacy that went into this design and production. This merging of antique style and layering is what makes it so jaw-dropping.
'Emma, Emma'
Gwyneth Paltrow's character Emma wears the queen of all Regency-style gowns for her wedding in the 1996 movie Emma, Emma. This dress features a Juliet sleeve, also known as puff sleeves. This style of sleeve was named after Shakespeare's heroine in "Romeo and Juliet" which definitely fits the era.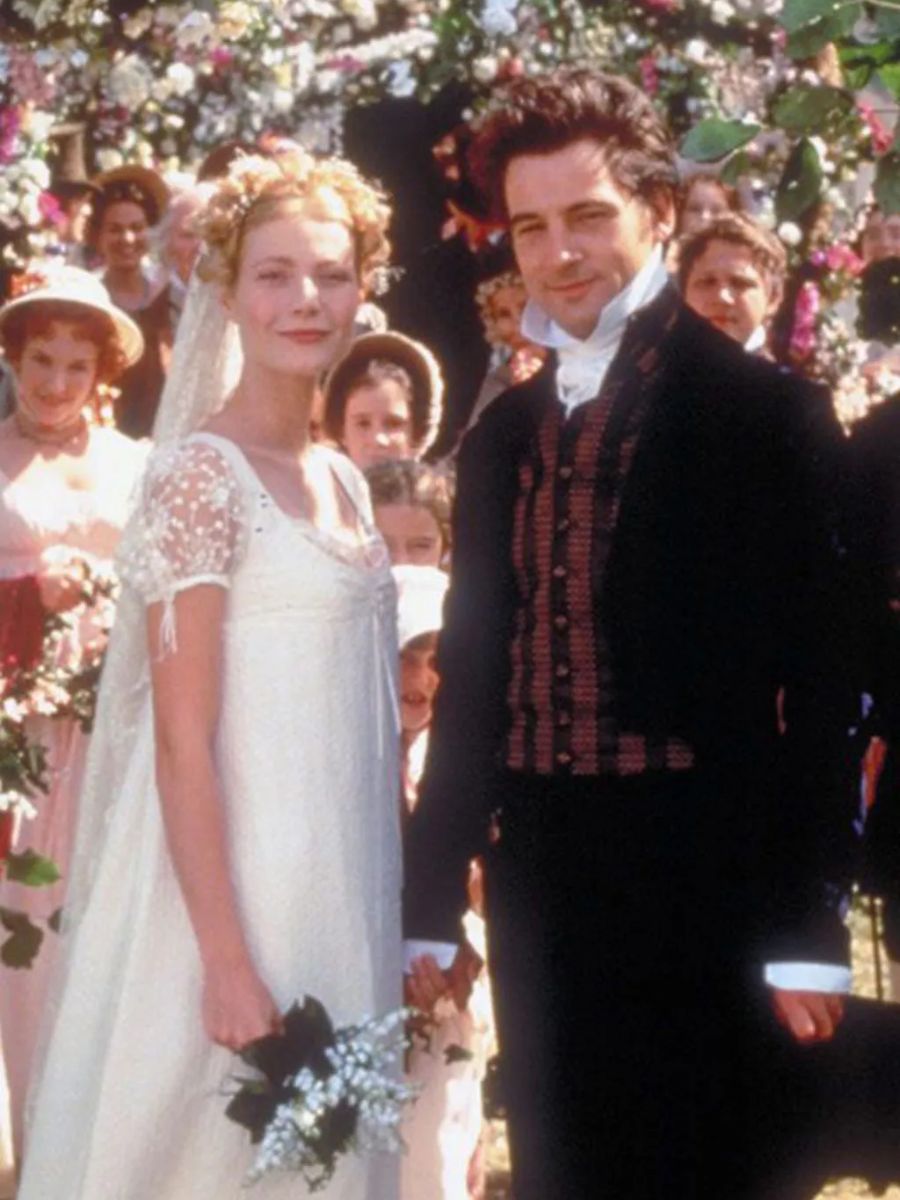 The sleeves are short and sheer with elegant appliqué balancing out the straight cut of the dress's silhouette. Many things eventually come back into style, but this dress never left. It's just as timeless and on point today as it was then.
'27 Dresses'
You can't have any wedding countdown without one of the most iconic wedding dress movies of all time, '27 Dresses!' There is no one who wore more wedding-affiliated dresses than Katherine Heigl's character, Jane.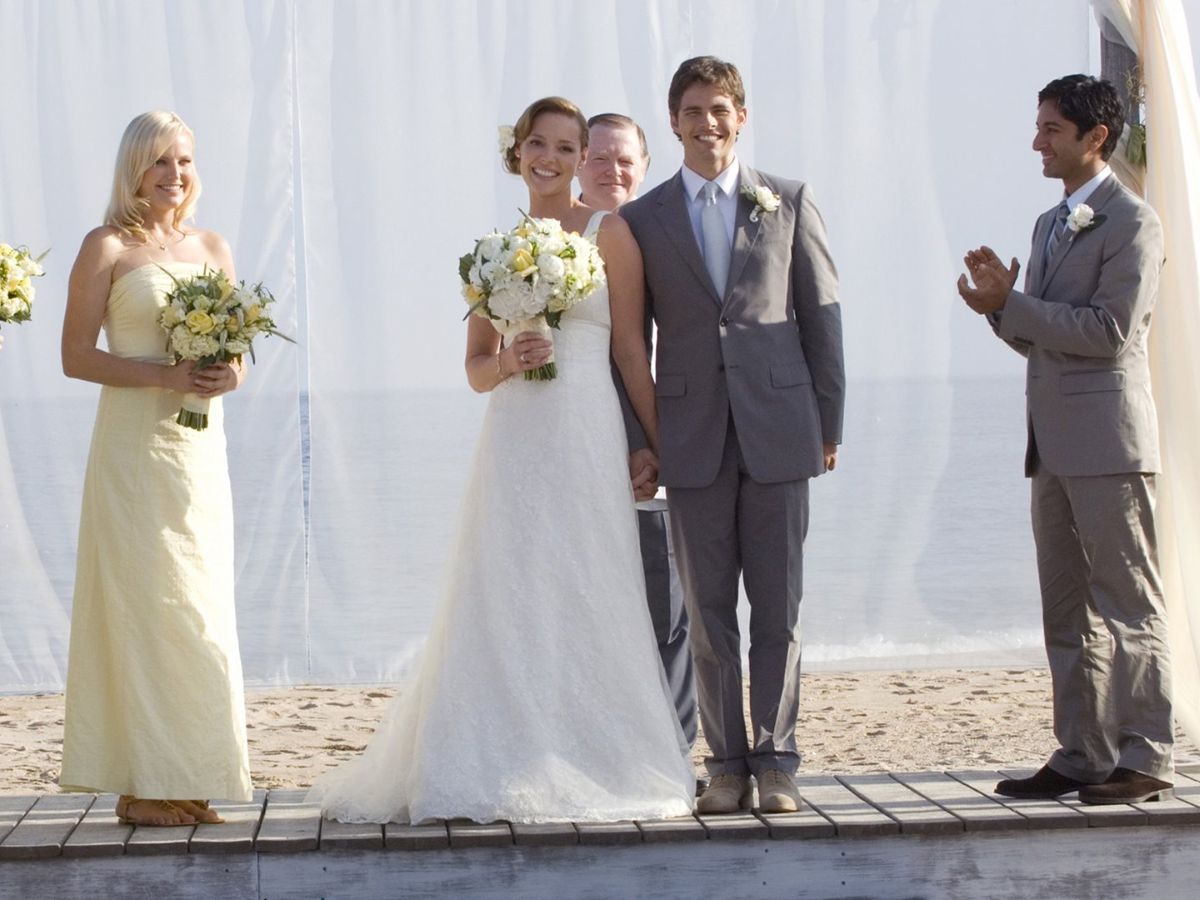 After being a bridesmaid for so many weddings you can't help but label her an expert. Her choice of dress is as sophisticated as it is simple and we would expect nothing less for someone who is a wedding expert by now. When your dress is as versatile as it is elegant and comfortable you know you've met your match.
'Gossip Girl'
Don't come for us, we know "Gossip Girl" isn't really a movie but it should be. The fashion in this iconic show spans over 6 seasons from 2007 to 2012 and fashion was undoubtedly the main character. This show set some of the most emulated trends and gave us some of the most memorable fashion statements.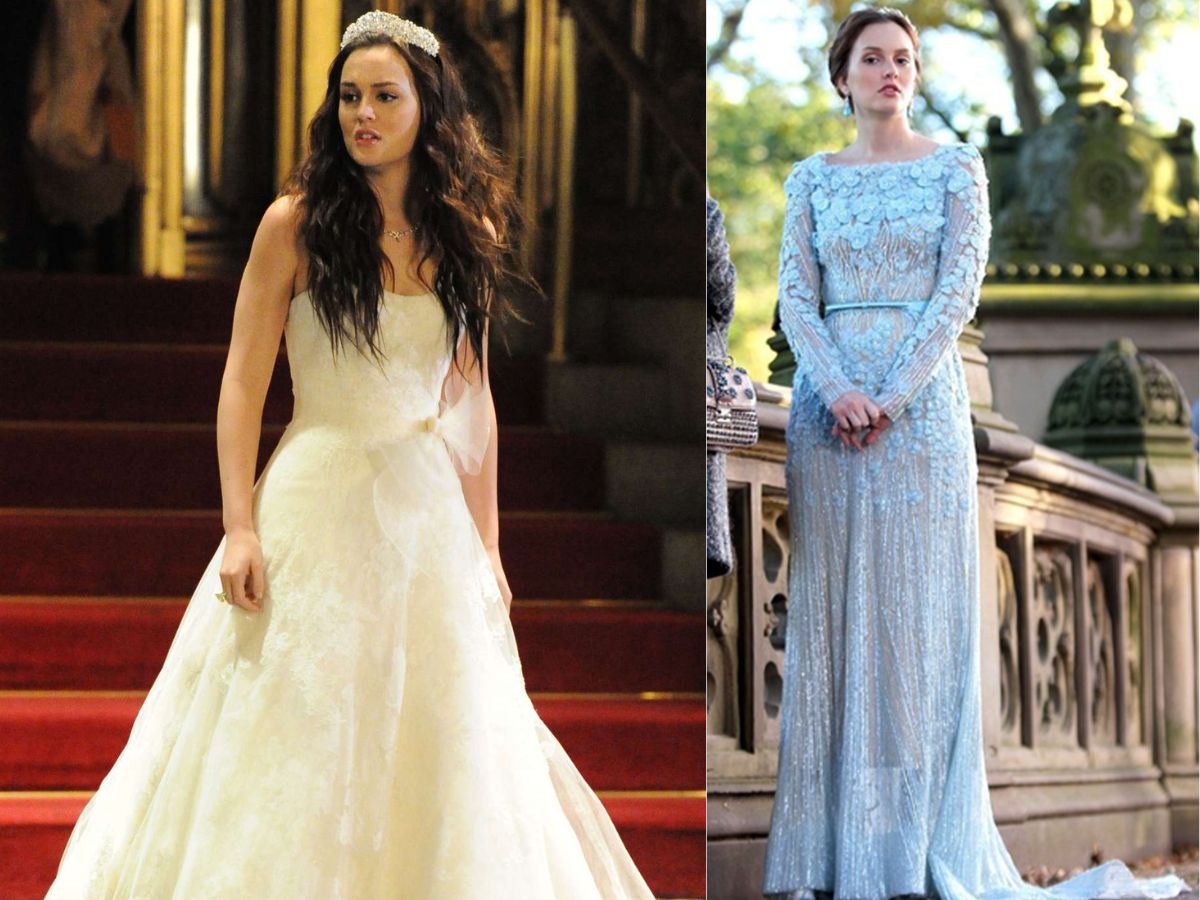 If you don't like Leighton Meester's Blair Waldorf, chances are you probably wish you were her or at least had her closet. She is such a princess, pun intended, that she had two different yet equally gorgeous wedding gowns. These stunning looks channel what everyone loves about fashion, innovation, creativity, and bridging the past and present together. These gowns are so memorable that we are still dreaming about them.
'The Wolf of Wall Street'
If it's a Martin Scorsese film you already know it's a winner and his 2013 film 'The Wolf of Wall Street' is one for the books. Leonardo DiCaprio and Margot Robbie together all in one film is perhaps one of the best gifts of all, but Margot's character Naomi's wedding dress does not fall behind.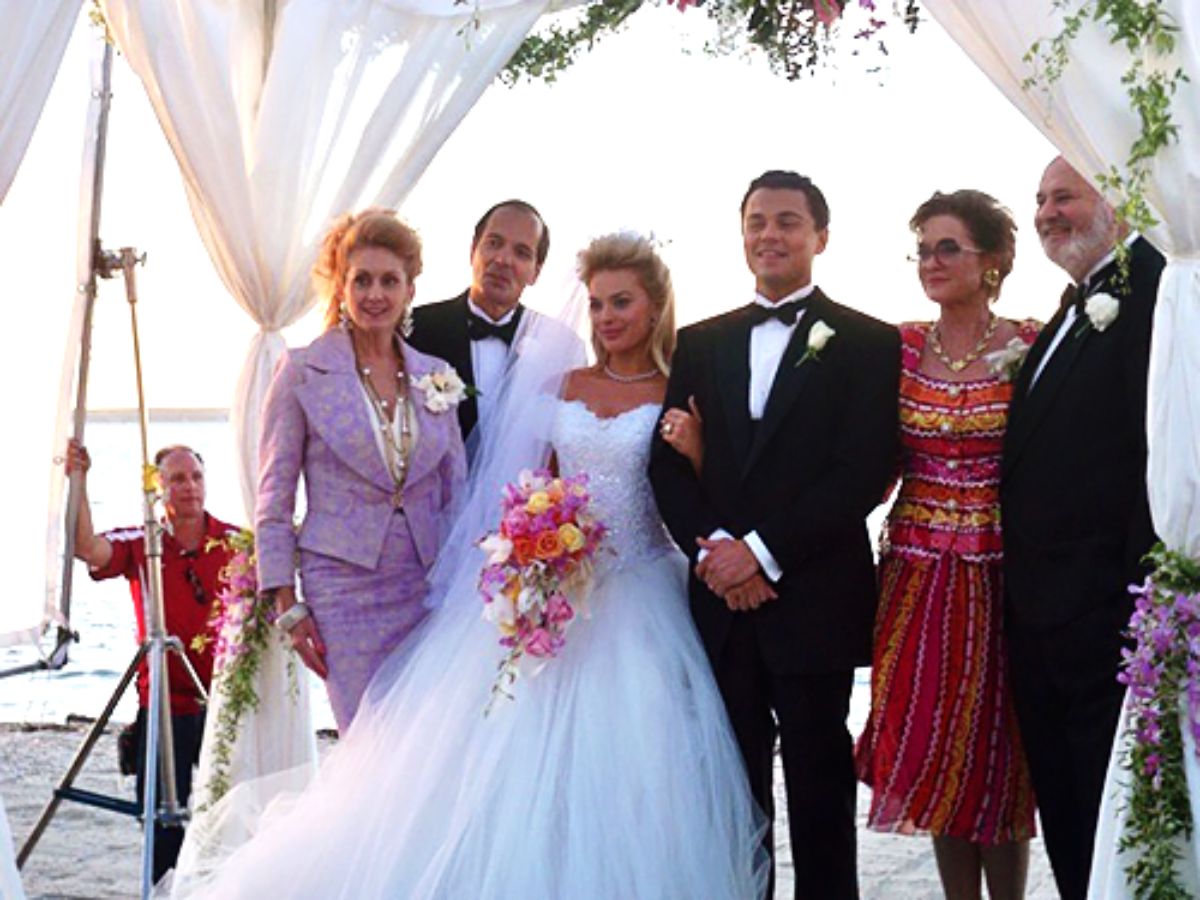 From money, to scandal to love and deceit it's a film you won't soon forget and the wedding dress takes the cake. Even if the marriage isn't that great, the dress sure can be a beauty.
Rachel McAdams strikes again in perhaps the boldest wedding dress on this list with her character, Mary's hot red wedding dress in the 2013 film 'About Time.'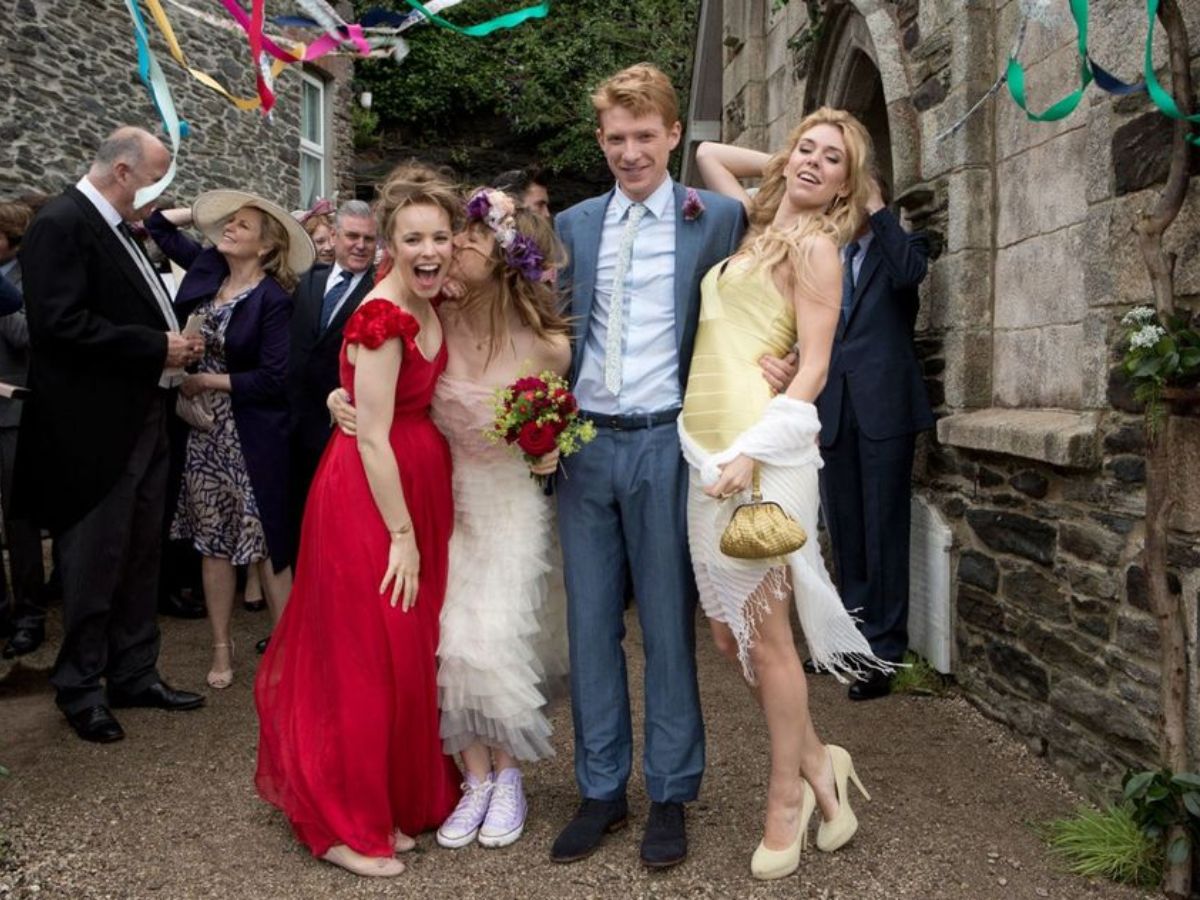 Her character marries Tim in perhaps the most daring look yet, but it's how unconventional and modern it is that makes it so great. A variation of the puff sleeve makes an appearance here too and it has us thinking that it's here to stay.
'The Godfather'
Some marriages aren't built to last but wedding dresses are. This is the case for Don Corleone's youngest son in the pop culture classic, 'The Godfather.'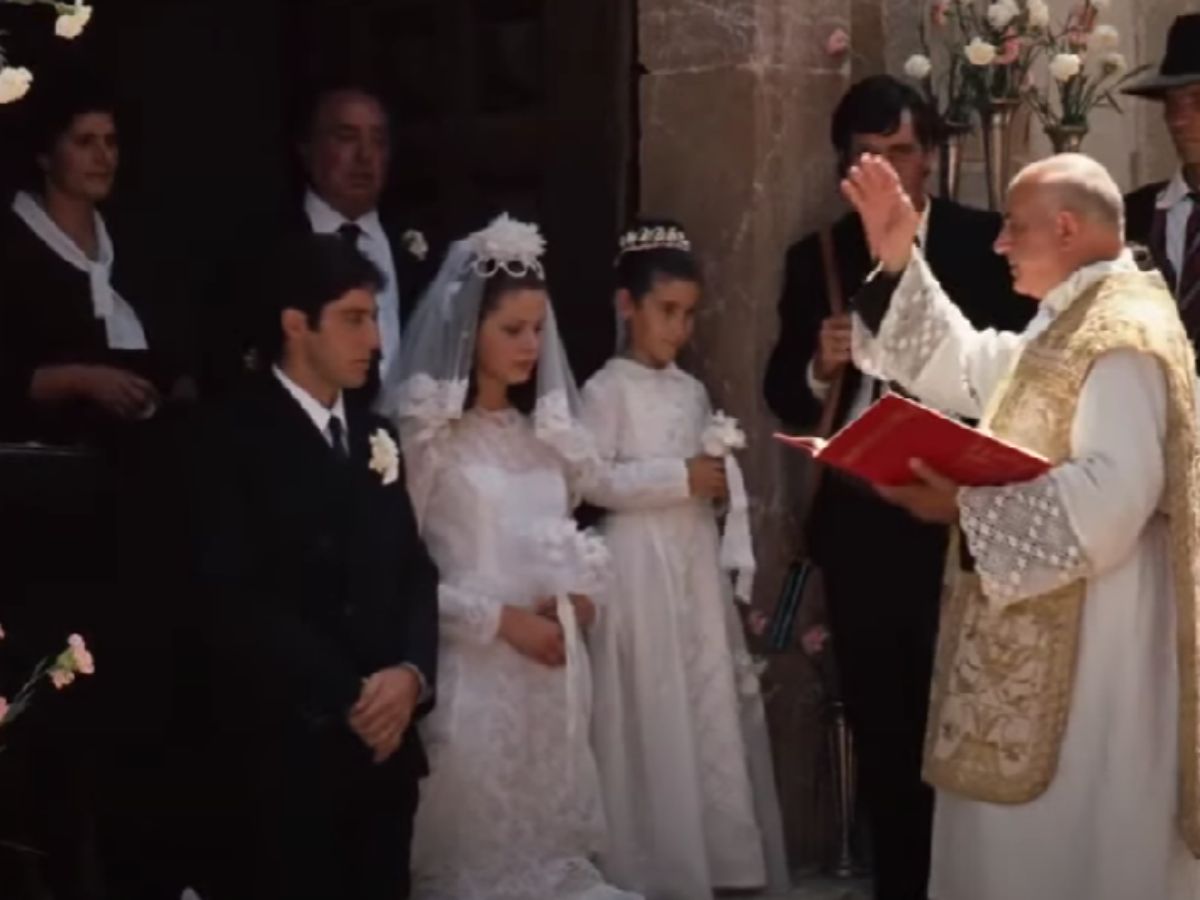 Apollonia Vitelli with a high-neck lace gown may be more on the traditional side but it is super flattering. The corset cut out is one of the most emulated even today.
Four Weddings and a Funeral
Just because something is iconic doesn't always mean that it's memorable for the right reasons. Four Weddings and a Funeral's Carrie's gown is possibly the best-worst wedding gown on this countdown.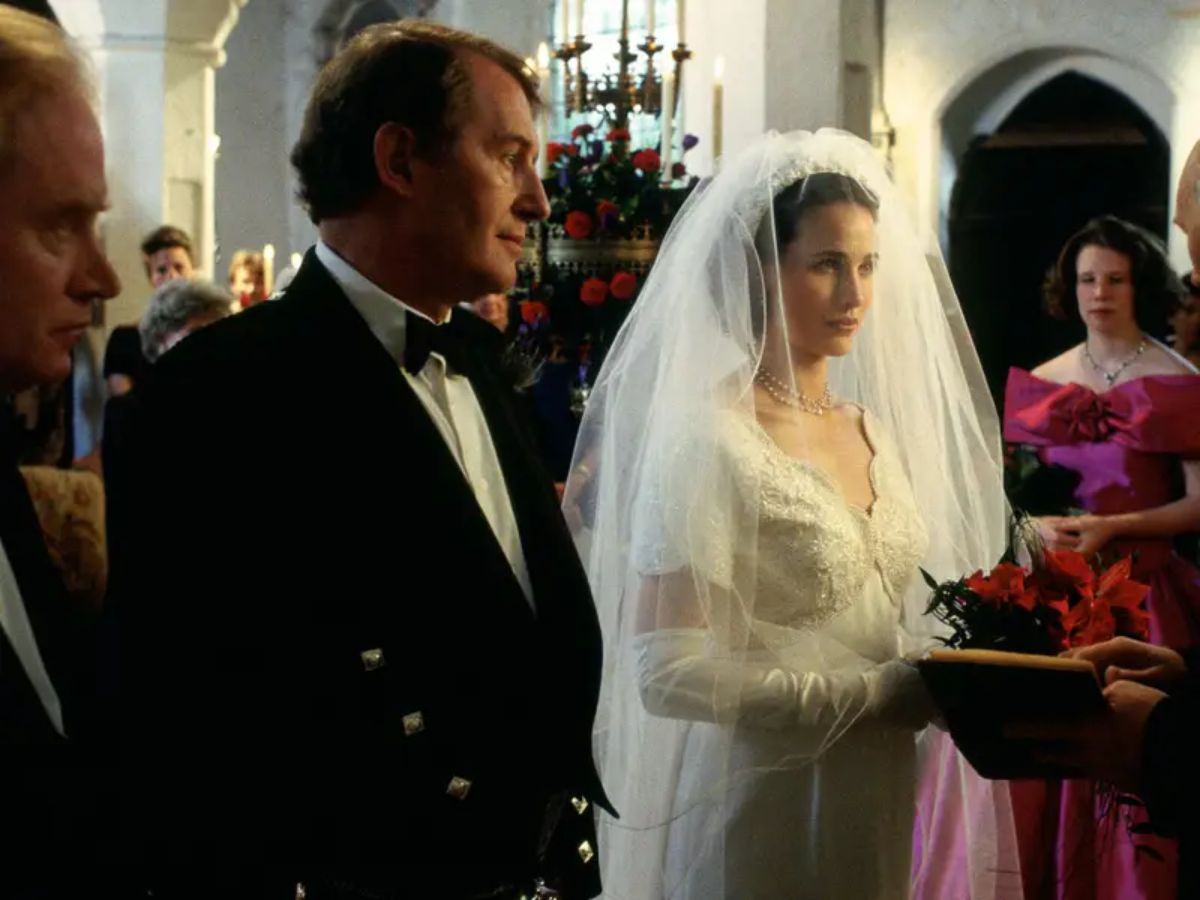 With a straight skirt and a lace top, this look may just be a little too outdated for comfort. The gloves and headpiece seem out of place with the whole look although as individual items they have potential.
'Kill Bill Vol. 2'
If Uma Thurman is wearing it then we want a piece of it. Her Kill Bill Vol. 2's character has a wedding dress that people should be prepared to kill over.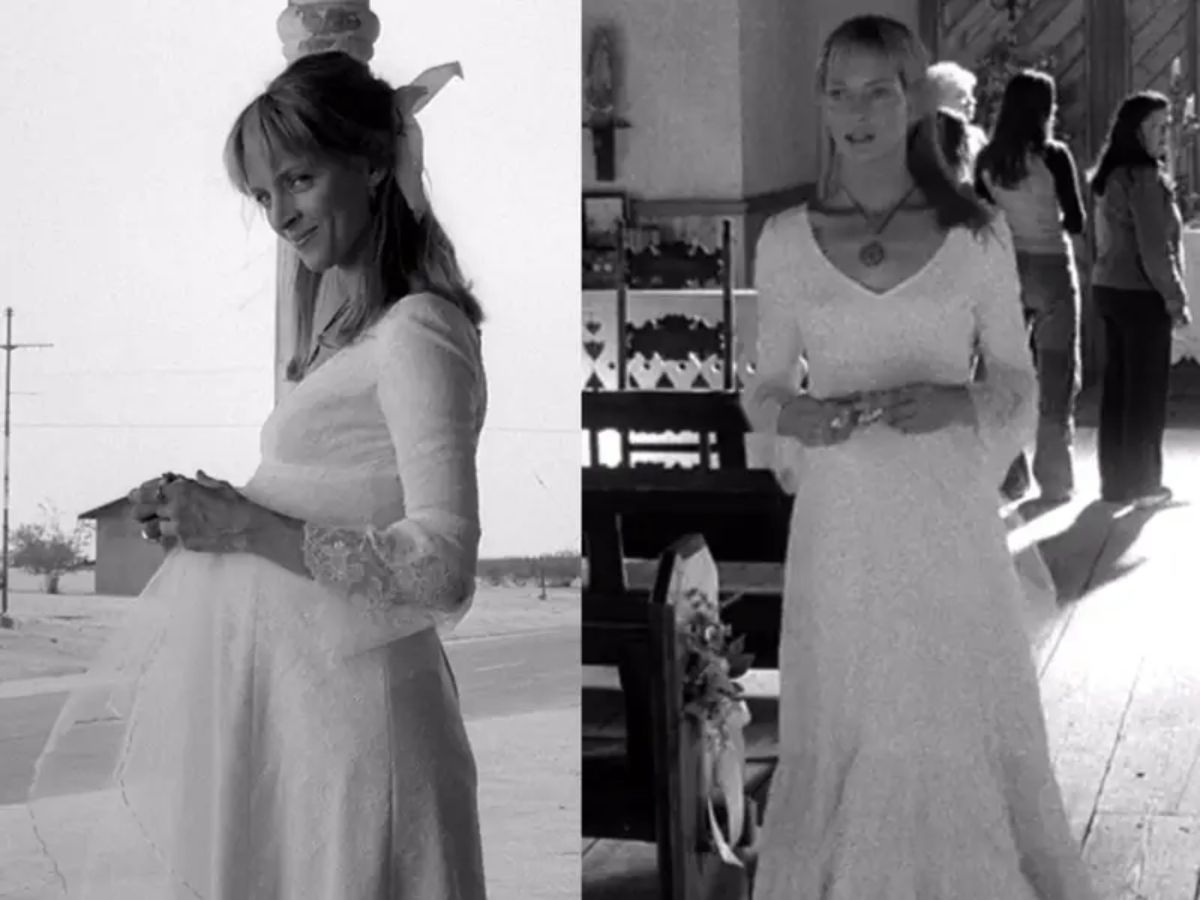 For all the right reasons this movie moment is understated yet feminine and demands presence. It is easy to move around in and is a prime choice for being on the go and not wanting to commit. The simple sandals and accents is what gives the look a more bohemian vibe to die for.