Memorable And Bold Grammy Outfits From 1977-2023
The Grammys is an award show we look forward to every year to celebrate the incredible music made throughout the year. But, we also look forward to seeing the red-carpet looks that celebrities step out in.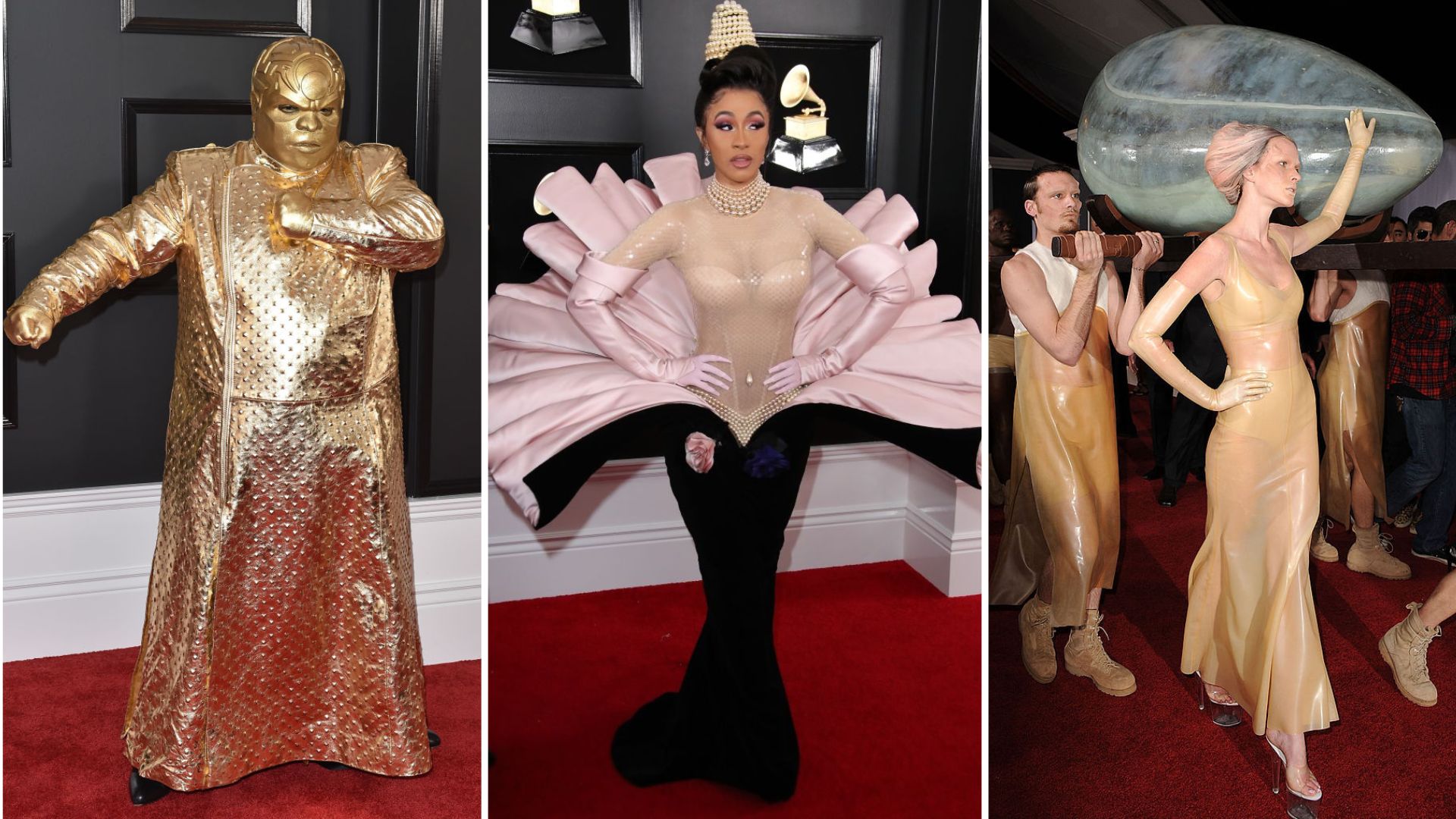 From the iconic looks of Beyonce and Jennifer Lopez to the outrageous ensembles of Lady Gaga and Madonna; these style choices will not leave our minds. 
Seeing Double With Sia and Maddie Ziegler
In 2015, Sia and her sidekick Maddie Ziegler showed up to the red carpet of the Grammys in matching wigs that just could not be missed. Maddie is a dancer that had already appeared in more than one of Sia's music videos so it was no surprise that they showed up together.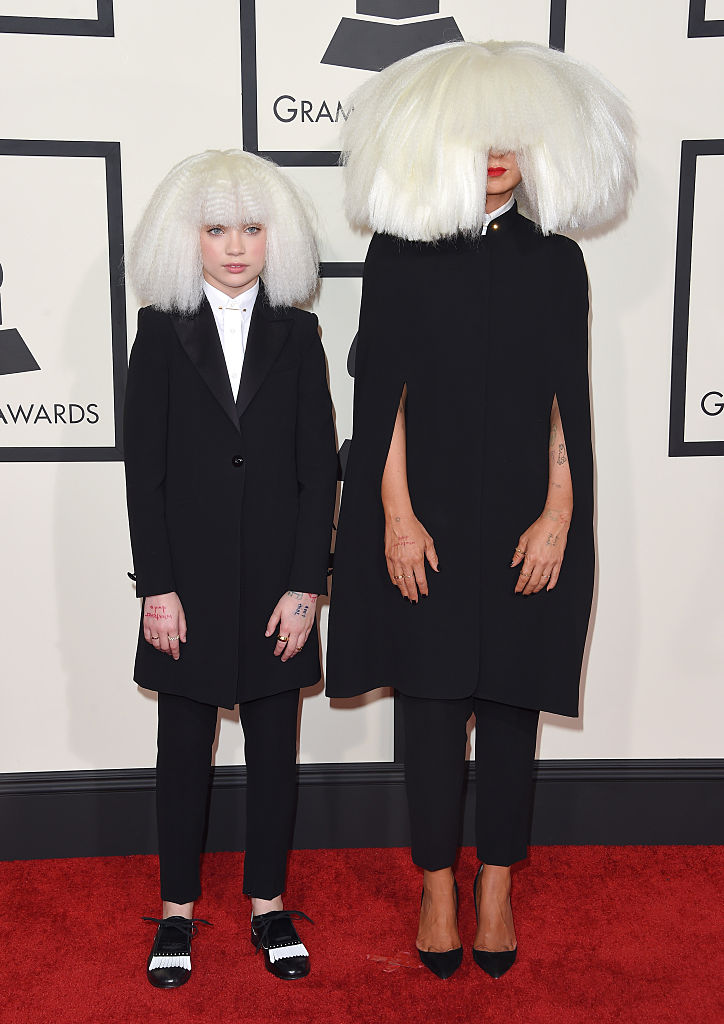 However, the custom Armani suits and the statement wigs still caught our eye and made a real statement. 
Cyndi Lauper is Feeling Tropical
One of our favorite Grammy looks came from Cyndi Lauper back in 1984. Artists like Lady Gaga and Cardi B are well known now for their bold fashion statements but before them came Cyndi in this tropical look.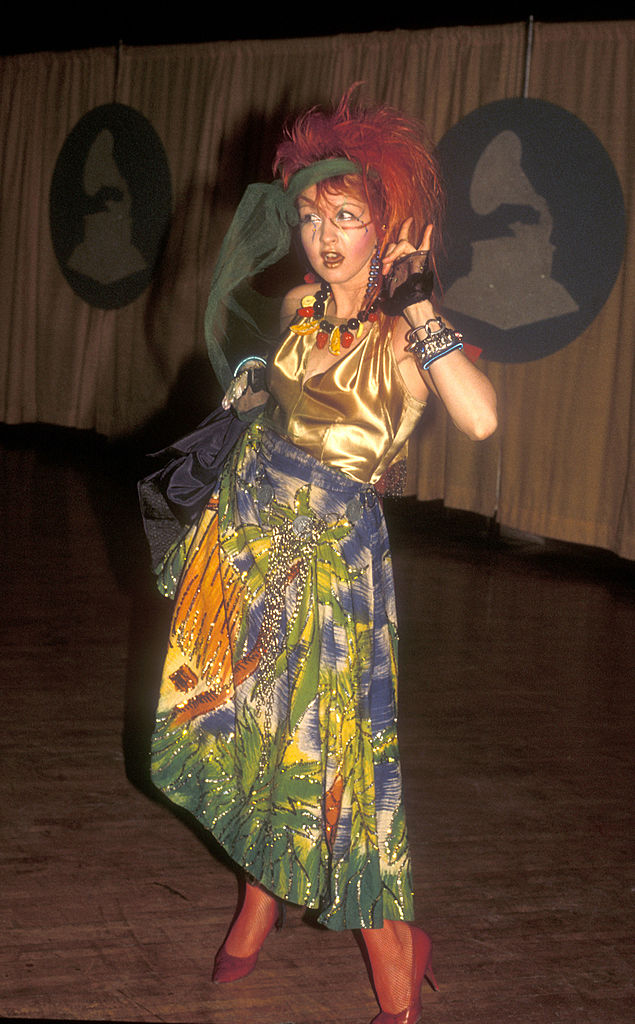 The Grammys have always been an event where celebrities can step out and really show off their personal style and Cyndi sure didn't hold back. From the red fishnets to the fruit necklace and wild hair, this look just screams "The 80s"!
CeeLo Green (More Like CeeLo Gold)
CeeLo Green showed up to the 2017 Grammys with a look that no one could have expected. Typically, we see the ladies being more adventurous with their style on the red carpet but CeeLo decided to shock us all with this gold look.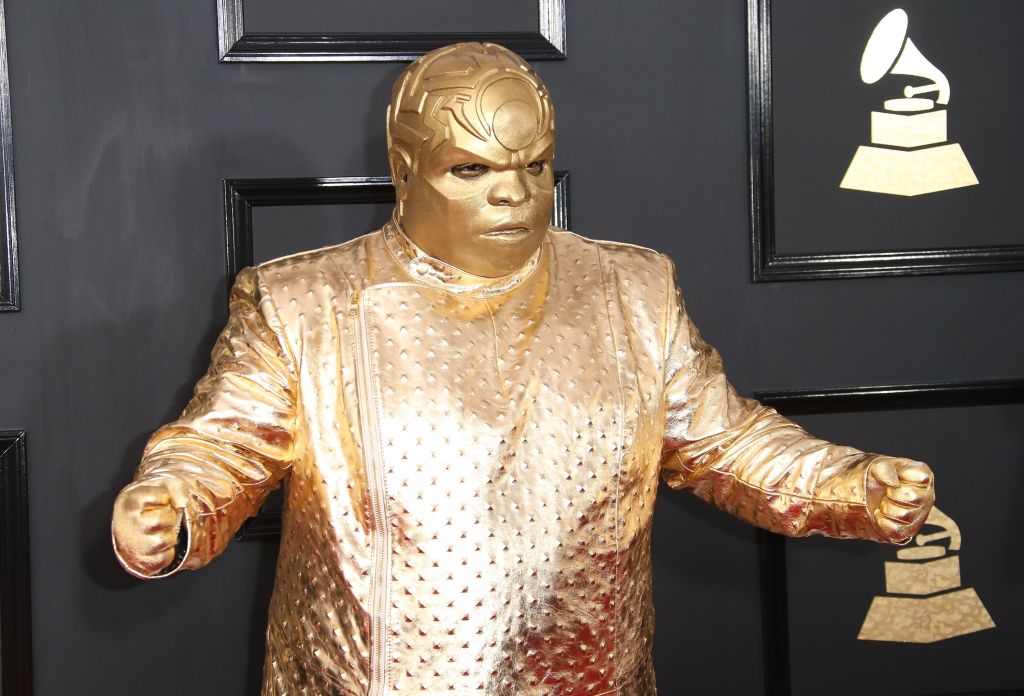 In fact, if we didn't know any better we would think this was a statue placed on the red carpet instead of an actual person. We can't be sure what exactly inspired this bold look –  maybe the gold Grammy award itself?
Cher: The Angel and Icon
Cher has had more iconic looks than we could count on our two hands, but her 1974 Grammys red carpet outfit sure left a lasting impact on fashion. In fact, Kim Kardashian herself has recreated this look which left its mark on fashion history.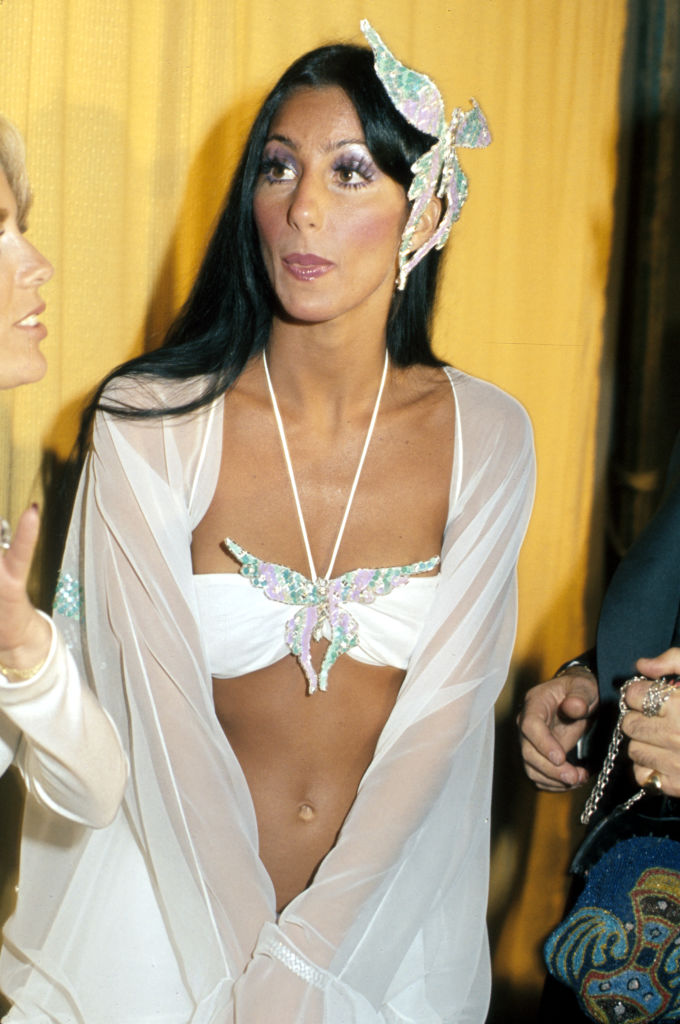 The butterfly accessories and flowing white sheer shawl give an angelic appearance as was common for Cher in this time period. She continues to influence fashion even to this day!
Classic Dolly All Dressed in Pink
Dolly Parton is never one to shy away from the color pink or big hair. She's known for her country fashion and sequined looks. The 1977 Grammys were no different.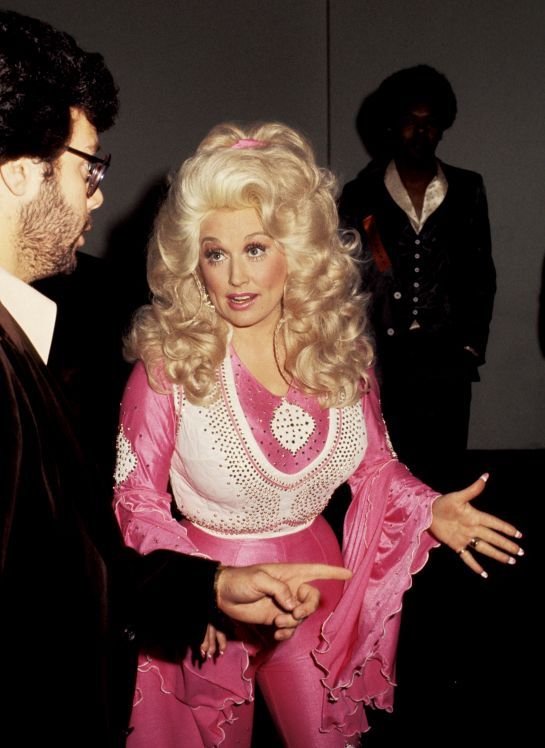 Signature looks like this bring so much fun to the awards shows and we love that she still rocks styles just like this today. 
Michael Jackson's Signature Look Was Inspired By This Grammys Outfit
Michael Jackson wore more than one truly iconic look to the Grammys over the years as well as other awards shows and on stage. But this outfit from 1984 was especially noteworthy as it inspired what would later become his iconic look.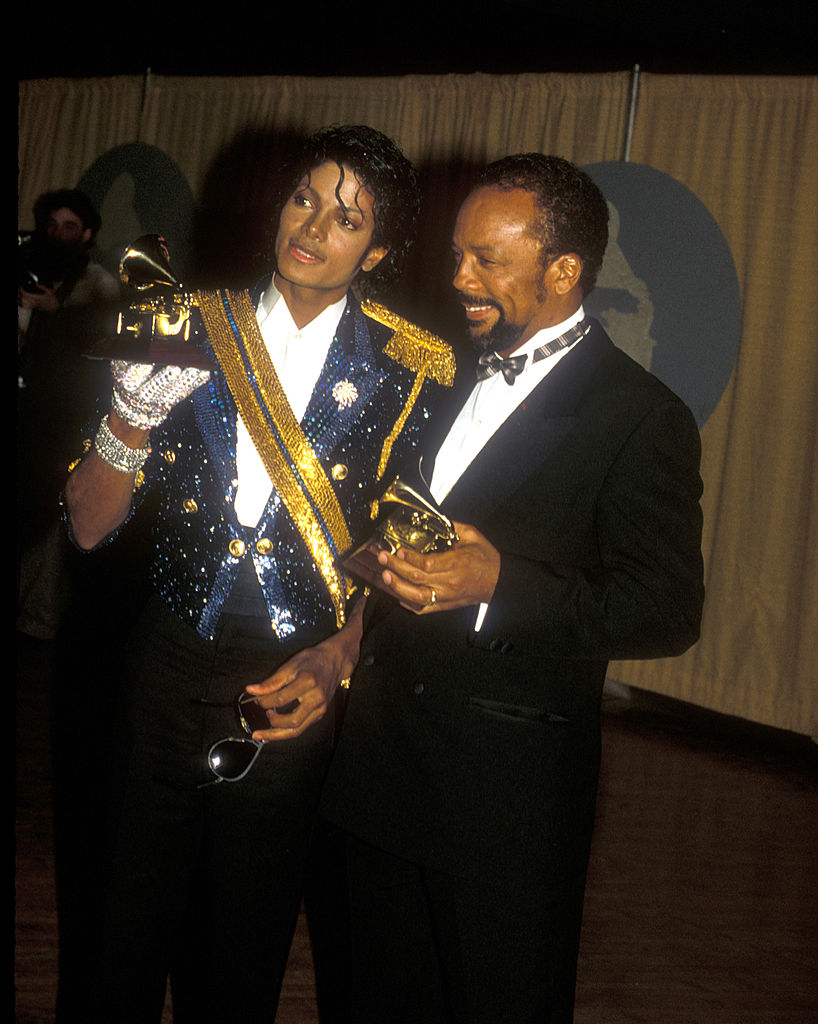 He wore one singular bedazzled white glove and as we all know, this became one of his biggest calling cards in fashion which we saw in many of his performance costumes. 
Grace Jones' Avant-Garde Look
At the 25th Grammys anniversary in 1983, Grace Jones stunned everybody with her avant-garde fashion. The singer pretty much shut down the entire red carpet in style!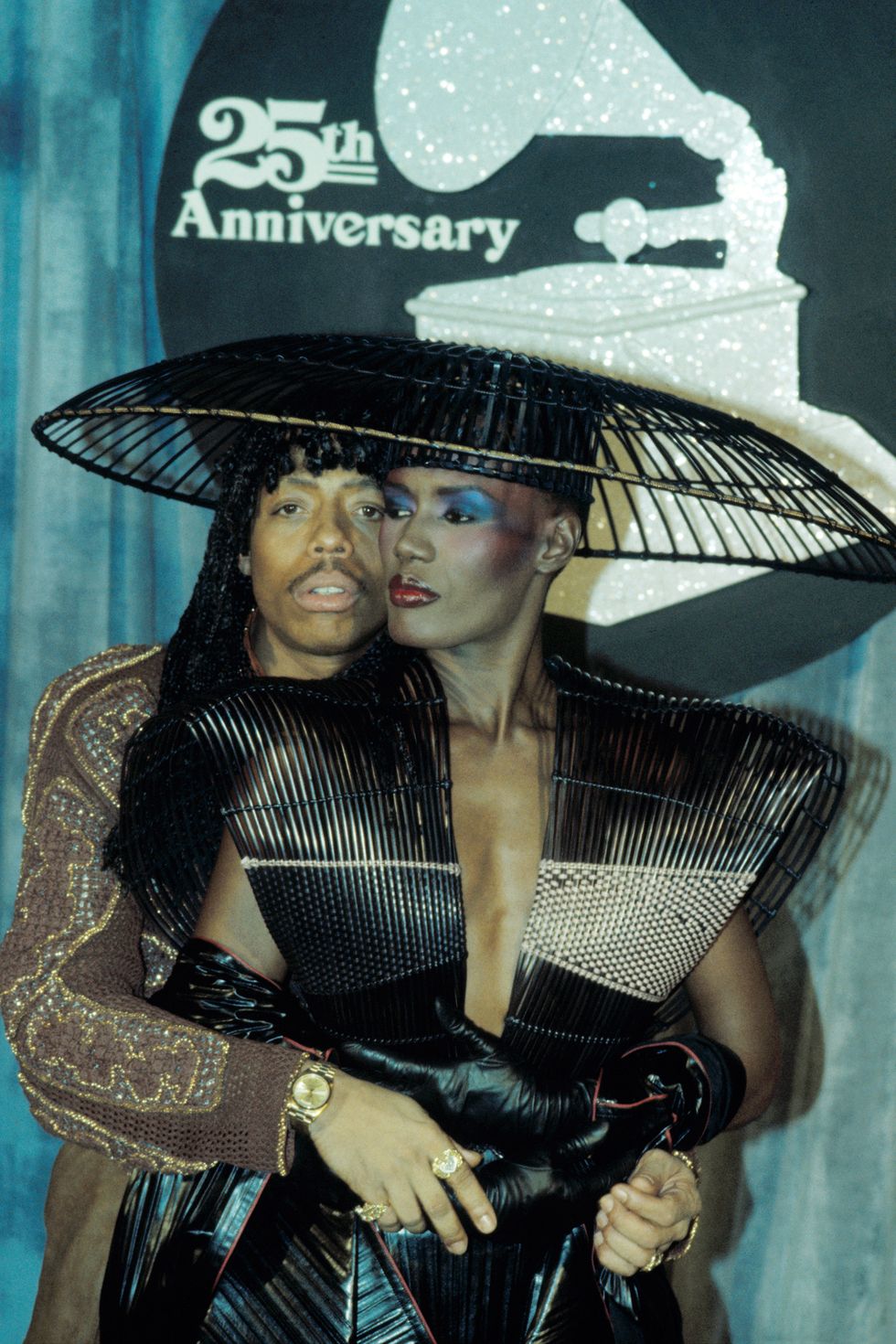 Even Rick James was able to get in on some of the fun, too. He posed under Jones' massive wide-brimmed hat. Paired with the hat was a revealing matching black leather ensemble which must have made the entire crowd go gaga over her. Her whole look screamed sophisticated yet out there at the same time. 
Prince's Defying Of Gender Norms
Prince was well-known for pushing against gender norms in fashion. Leave it to the icon to make what could have been a plain outfit, fashionable and appealing. His 1988 Grammys look certainly verified the fact that he was always dressed to impress.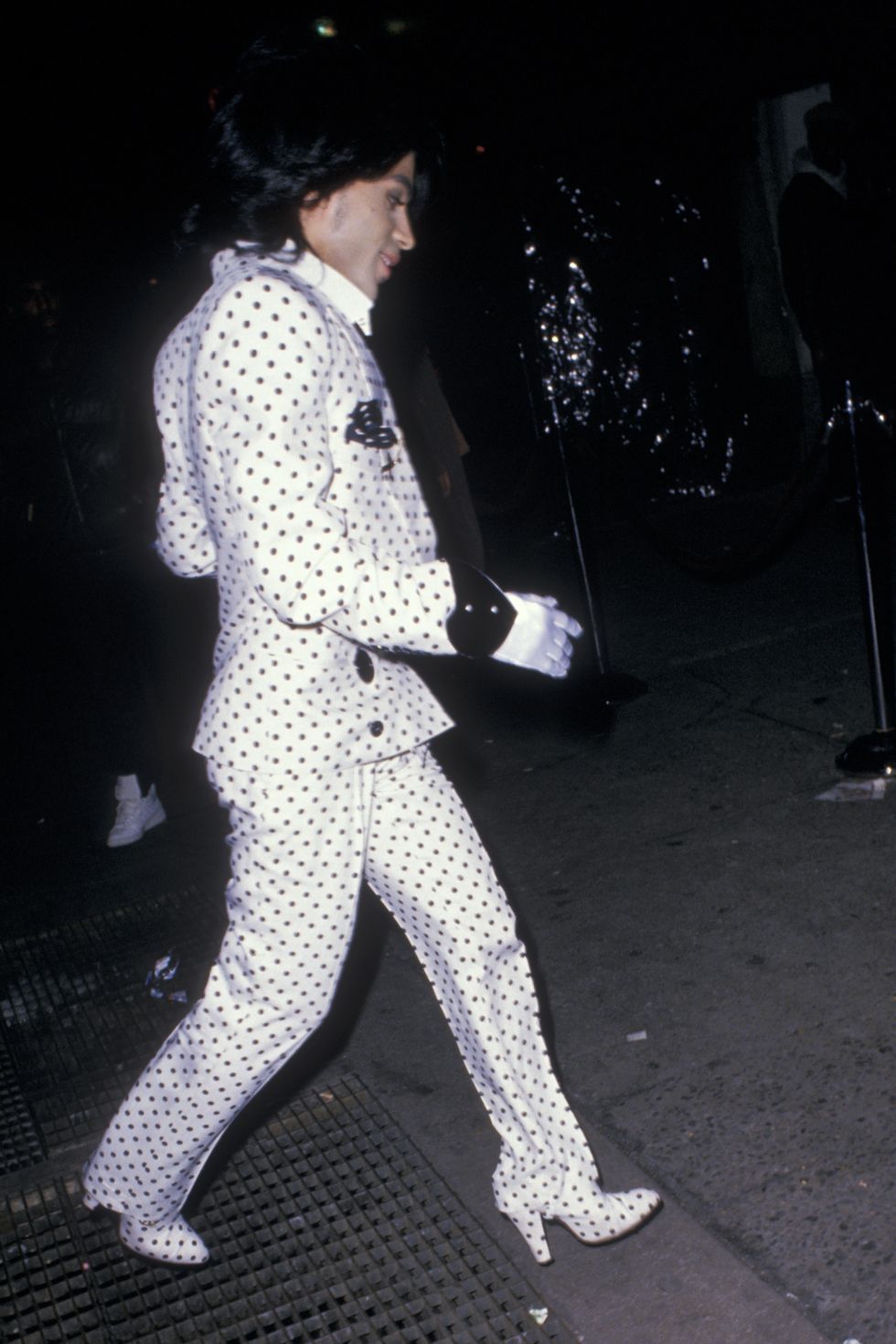 Donning a black and white polka dot suit with matching high heels, Prince knew exactly what he was doing. Instead of a simple black shirt and white tailored pants, he spiced up the look and succeeded while doing so!
Paula Abdul Went For The Gold
Paula Abdul served up a true late 1980s, early 1990s look in this photo taken at the 1990 Grammys. The outfit channels '80s prom meets New Year's Eve glitz and glamor and she nailed it completely.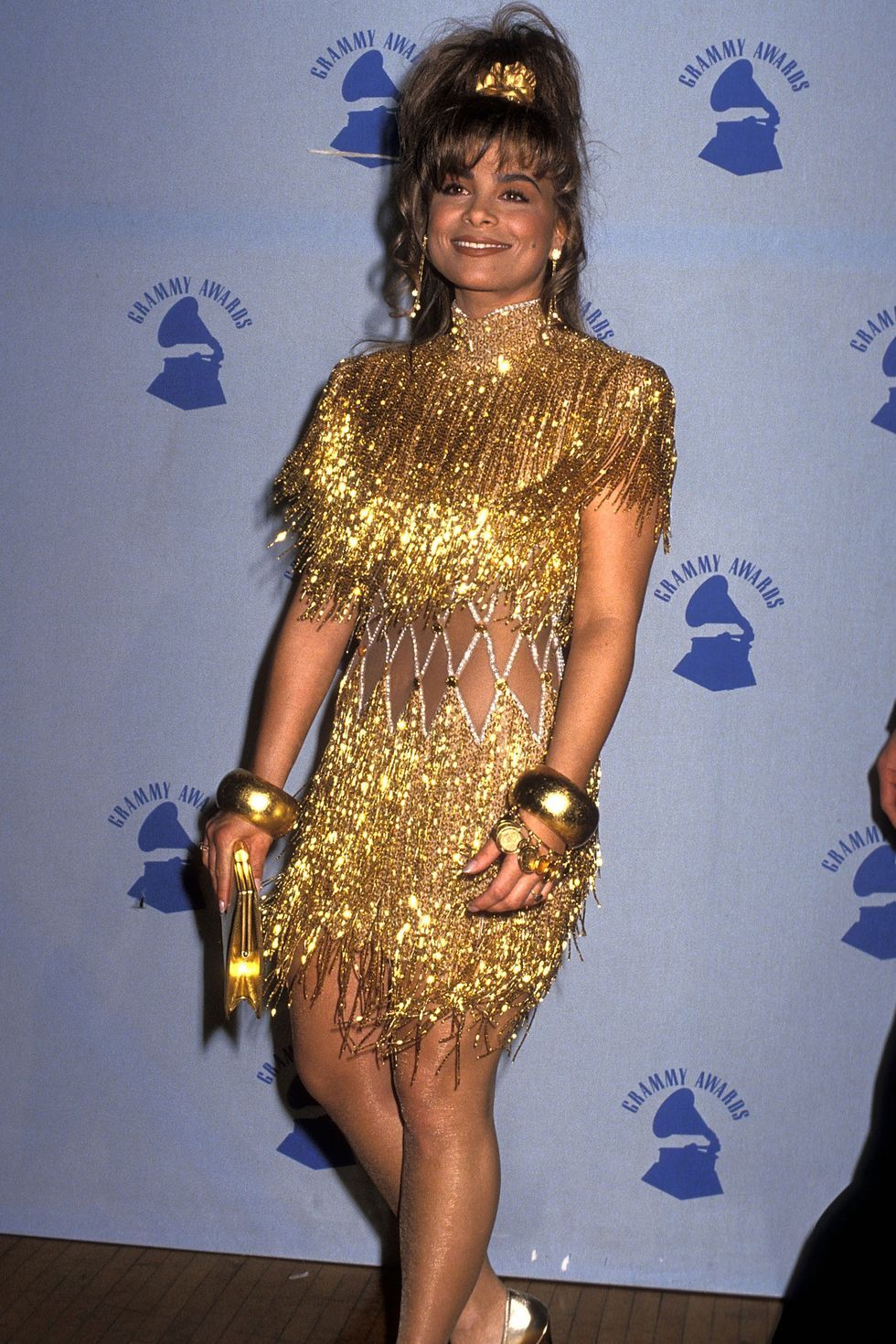 Abdul certainly brought some shimmer to the evening. She wore a gold fringe flapper dress with a matching high ponytail scrunchie, bangles, and a metallic clutch. Naturally, we would only expect the best fashion from the scene-stealer and legendary performer. She received her first Grammy nomination that year. 
Selena Kept It Classy In 1994
That same night, Selena won in the Best Mexican/Mexican-American album category for her Selena Live album. It went down as one of the most notable and celebrated moments in the music career of the American Tejano queen.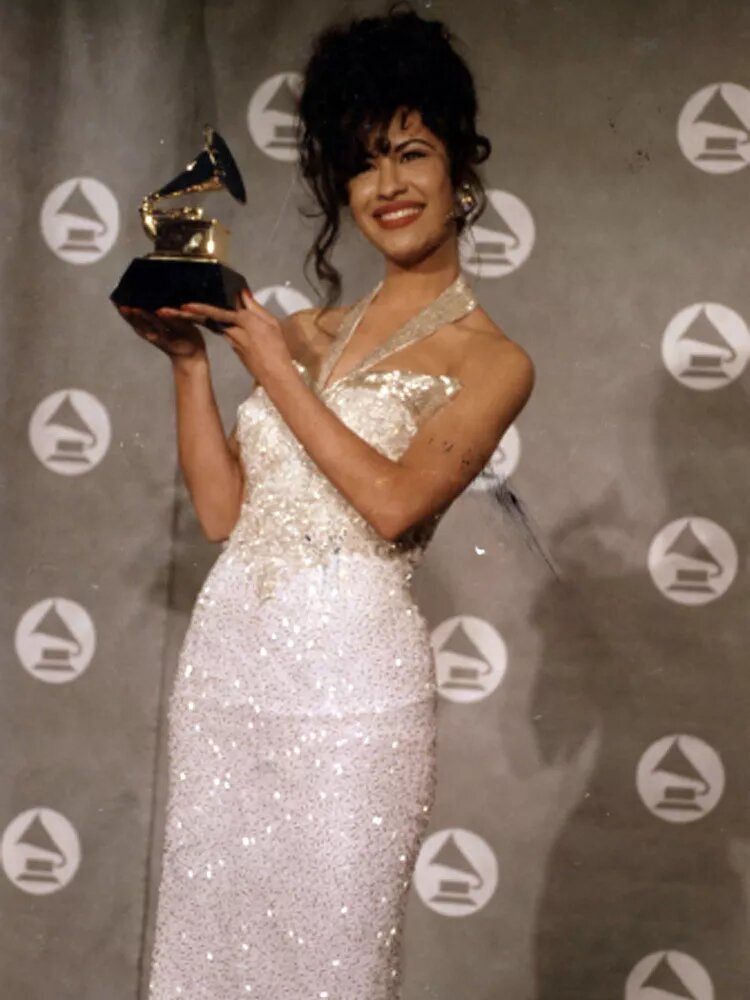 Selena beautifully graced the stage wearing a white Lillie Rubin dress embellished with sequins and a classic silver halter strap. She definitely earned all of the accolades that night and did so graciously. Forever will Selena remain a legend in the world of Latin music. 
TLC's Iconic Fashion Moment
The year 1996 was full of many trends: Adidas track pants, backpack purses, and the preppy look. On the same note, the 1996 Grammys saw lots of creative and wild looks. But, that night, the legendary girl group, TLC, made fashion history.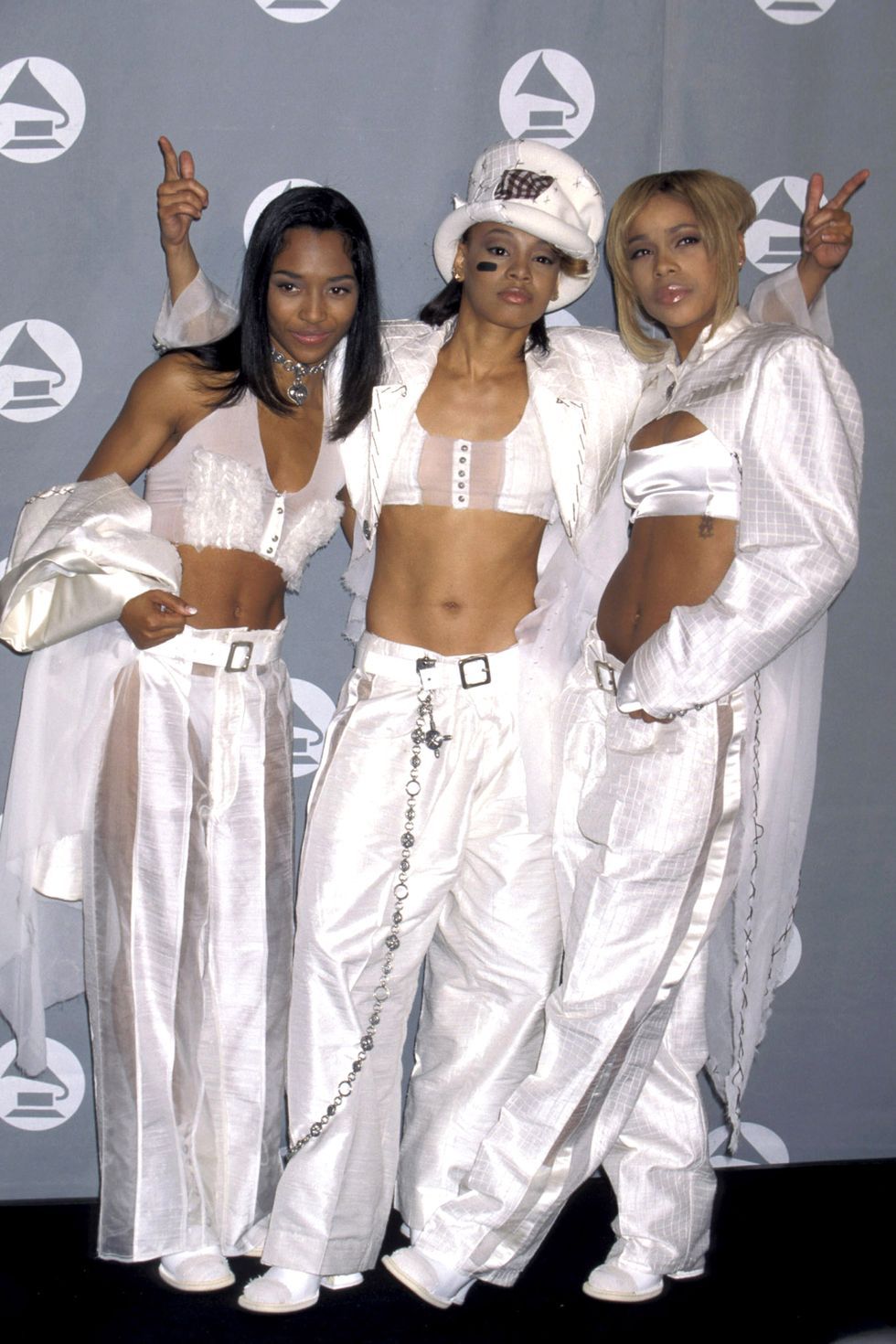 At their first-ever Grammy appearance, the trio donned matching silky white outfits and performed the massively successful hit song "Waterfalls." TLC not only swept the show with their riveting and magnetic performance but also by winning four awards.
Britney Spears: An Angel In White
In 2000, Britney Spears' classy outfit at the Grammy Awards was inspired by none other than Marilyn Monroe. Spears looked simply exquisite in the all-white Randolph Duke halter gown and Oscar de la Renta stole. Her sleek, straight hair definitely made her entire look an unforgettable Y2K moment.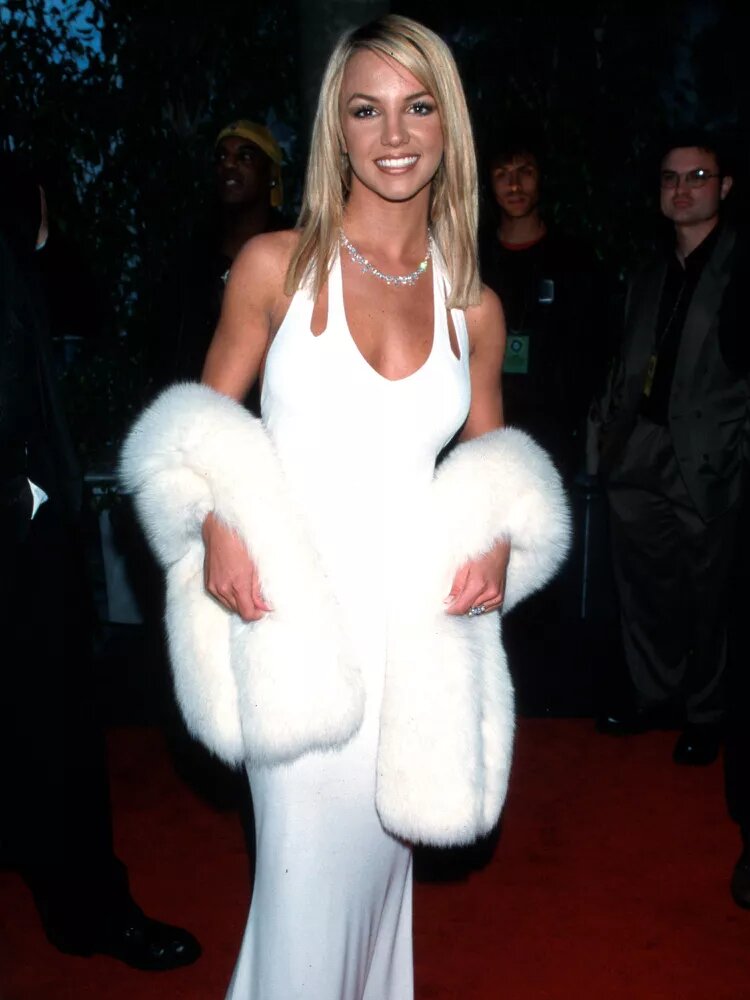 That year, Spears was nominated for Best New Artist and Best Female Vocal Pop Performance. Could it be possible that her Grammy performance that year was the greatest of all time? 
Sheryl Crow's Bright Yellow Dress
At the 2005 Grammy Awards, abs were what everybody was talking about. Sheryl Crow rocked a toned physique while wearing a gorgeous cutout yellow Robert Cavalli gown that's slightly form-fitting. The dress's halter neckline and 3D gold embellishments lent an airy balance with the rest of the gown. Truly, it was a bold and unexpected outfit.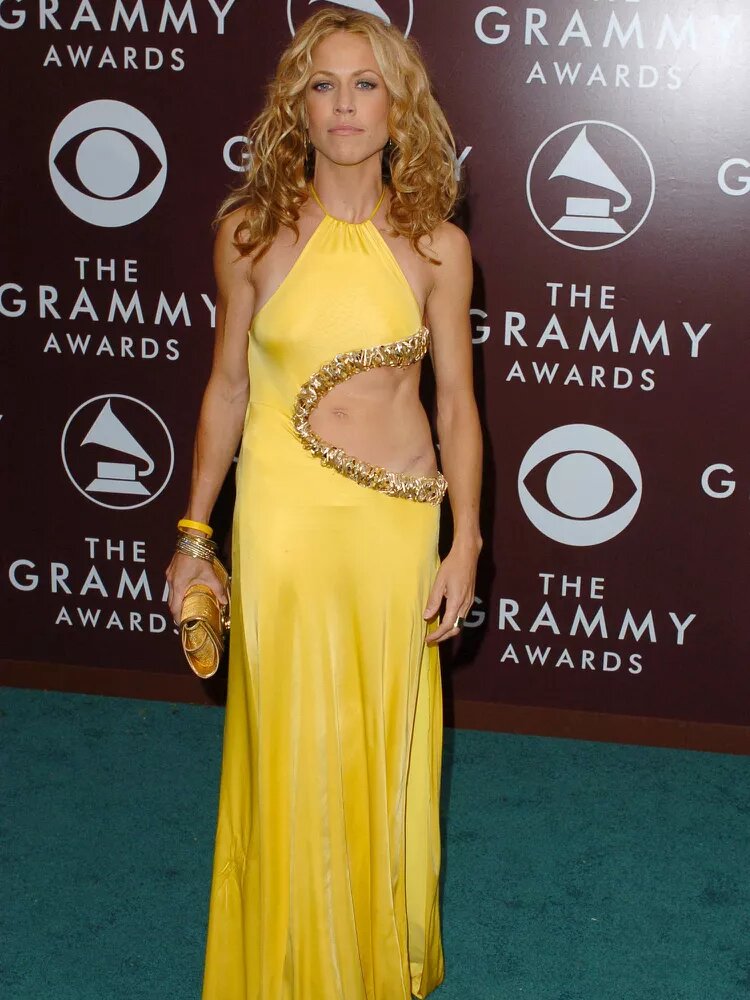 Crow was also nominated for "The First Cut Is the Deepest." That evening, she also presented the award for the record of the year. 
Fergie Stuns In This Orange Lace Dress
Nominated as one of the collaborators on "All of the Lights," which would take home two Grammys in 2012, Fergie stunned everyone in a Jean-Paul Gaultier orange lace dress. It had ruffle sleeves and a small train.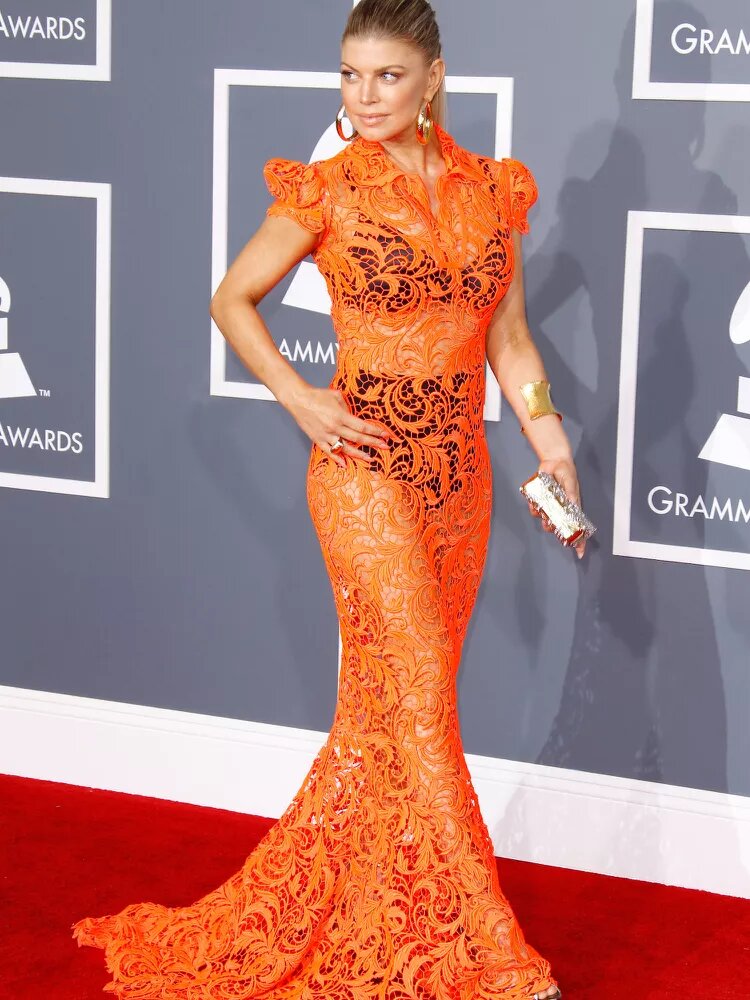 In addition, the dress was see-through and showed Fergie's dark undergarments. This look definitely felt like one that was tailor-made for the red carpet. Fergie was certainly one for making statements and she must have wowed Hollywood during that star-studded night. 
Kylie Jenner Is Pretty In Pink
Whether you stay up to date with Kylie Jenner and her famous family or not, there's no denying that the star and beauty guru's baby pink Balmain jumpsuit was a highlight of the 2019 Grammys. That year, pink was a popular theme at the awards show and Jenner definitely fit the bill.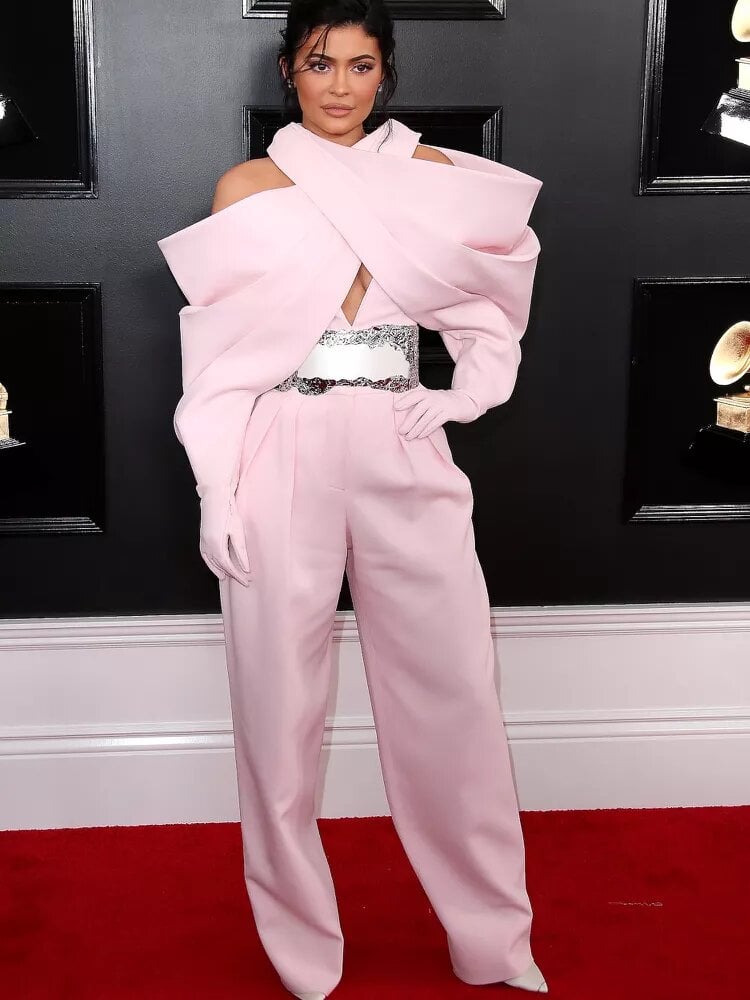 Her outfit made noticeable waves as the most un-Kylie-like thing she has ever worn. That night, she walked the red carpet with her then-boyfriend, Travis Scott. The couple was the hot item that everybody was gossiping about. 
2022 Was H.E.R.'s Year
The American R&B singer-songwriter, H.E.R., rocked a radiant and flowing yellow jumpsuit at the 2022 Grammys. The jumpsuit was embellished with phoenix embroidery and floor-length sleeves, complete with orange-tinted sunglasses. It looked like she stepped right out of the '70s!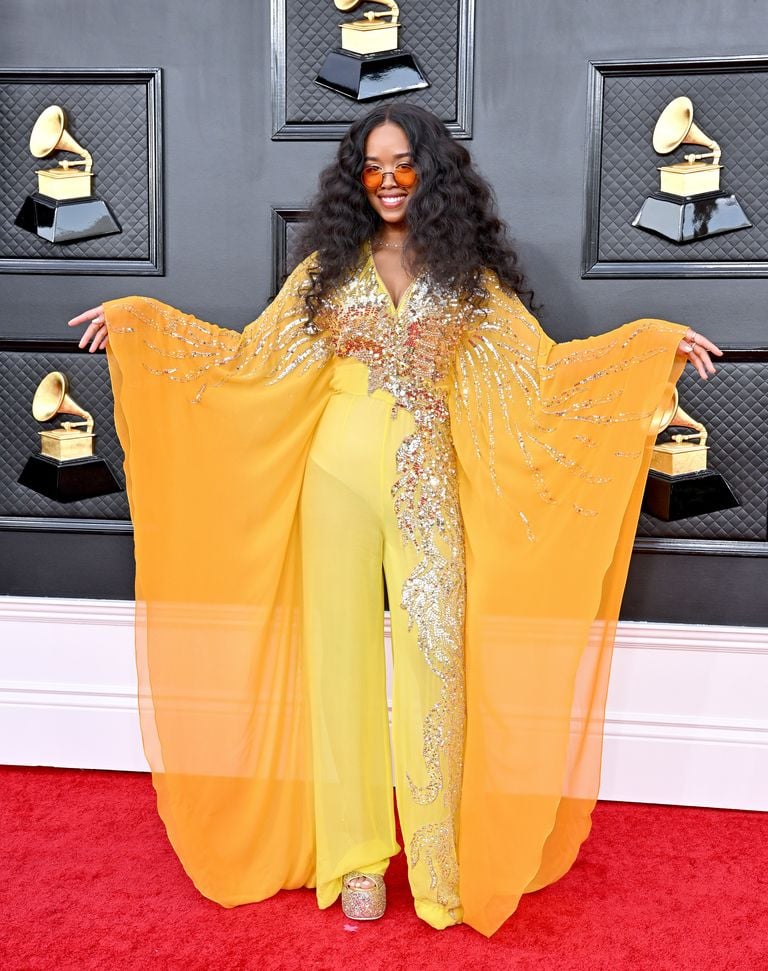 H.E.R. cemented herself as a force to be reckoned with and was nominated for eight awards. She also won Best Traditional R&B Performance for "Fight For You." That same night, she performed alongside Lenny Kravitz and Travis Barker. 
Lil Nas X Suits Up
Lil Nas X is known for pulling stunts before he even hits the red carpet. Before showing up at the 2022 Grammys, he tweeted that he had already "arrived." Nevertheless, it's only fitting that his outfit would also be somewhat of a spectacle.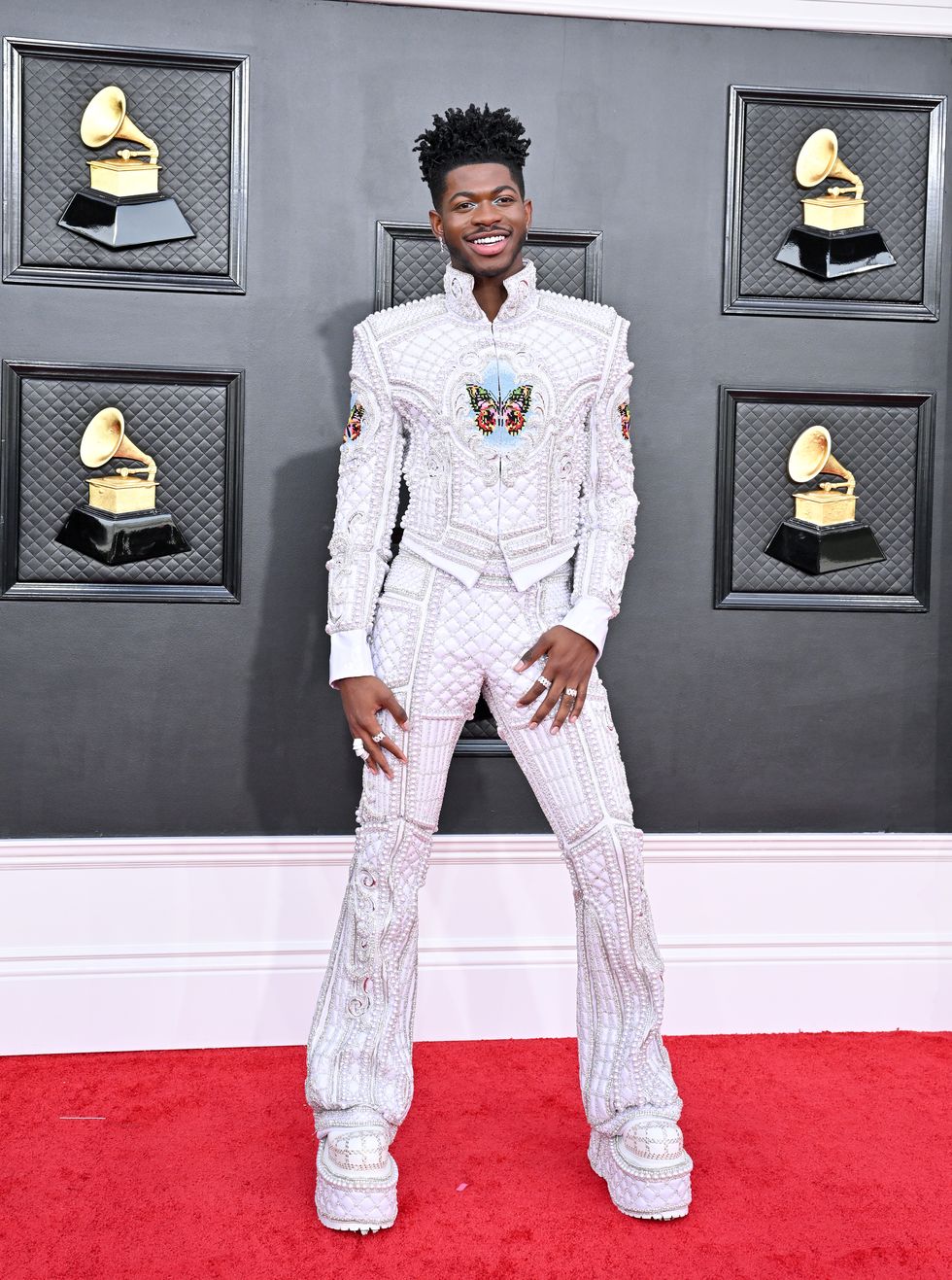 Wearing a light gray, armor-like Balmain suit embellished with pearls and butterfly graphics, Lil Nas X also had on matching platform boots. In true fashion, he towered over his performers with his sky-high platforms. To top it off, he wore blue eyeshadow and sported high hair. 
Olivia Rodrigo's All-Black Dress
For her second Grammys appearance, pop sensation Olivia Rodrigo must have turned heads on the red carpet at the 2023 awards show. Donning a sheer black slip maxidress with spaghetti straps from Miu Miu, the look is elegant and simple. Rodrigo accessorized by wearing a black pendant necklace, bean silver stud earrings, and a few matching rings.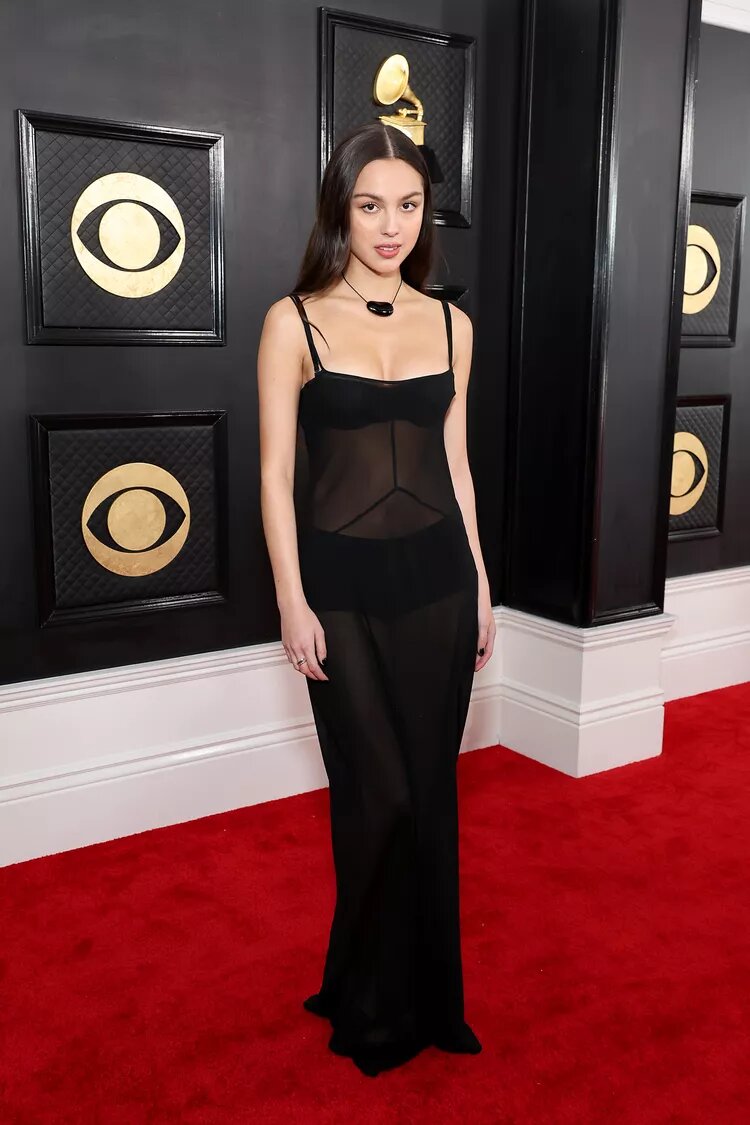 Last year, Rodrigo took home the awards for Best New Artist, Best Pop Solo Performance for "Driver's License," and Best Pop Vocal Album for Sour.
Red Velvet Galore For Adele
At the 2023 Grammys, Adele stuns in a red velvet Louis Vitton custom-made dress. She looked nothing short of flawless as she accepted her Best Pop Solo Performance Grammy for "Easy on Me."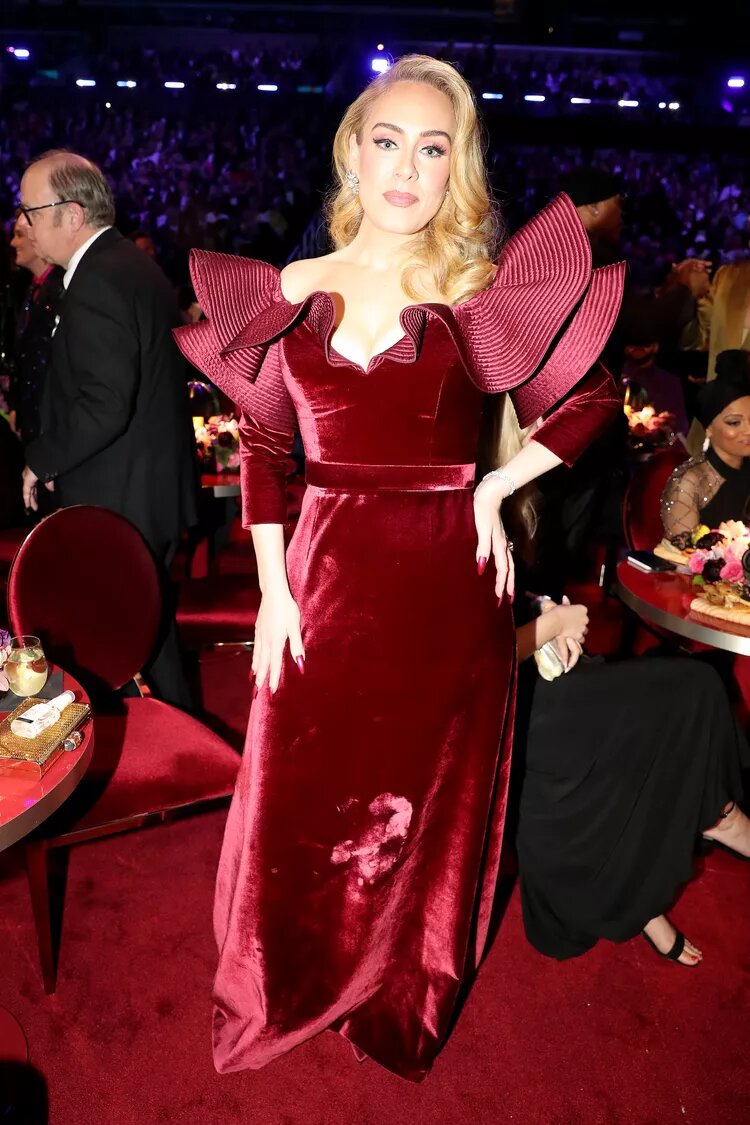 The 16-time Grammy winner made a new best friend that night – The Rock! She started her acceptance speech with a big hug and kiss from Johnson and then moved on to thank her fans and family. Adele teared up with glee during the entire acceptance process. 
J-Lo's Rhinestone-Covered Gucci Dress
Jennifer Lopez arrived in sparkly style at the 2023 Grammys and was undoubtedly one of the fashion highlights of the evening. J-Lo's gorgeous and plunging dark-blue Gucci dress was adorned with rhinestones. The ruffly dress with a thigh-high slit was complimented perfectly by sparkling Bulgari jewelry.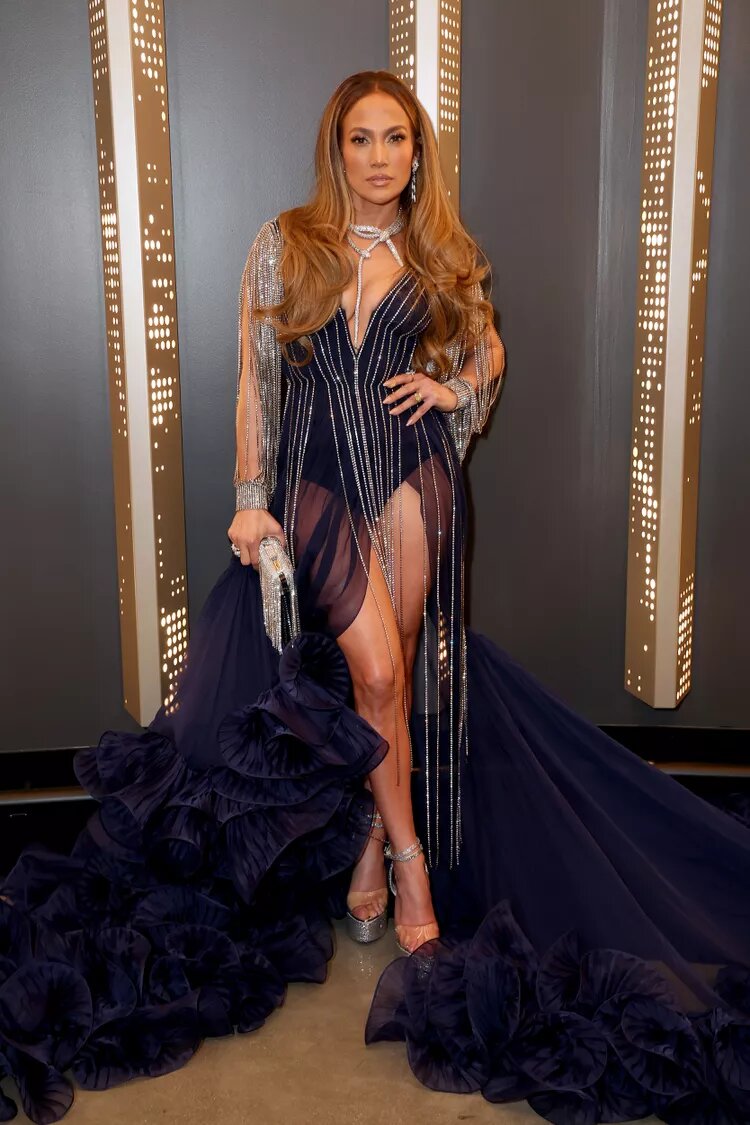 The star presented the award for Best Pop Vocal Album (which Harry Styles took home). After she was finished with her stage duties and got back into her seat, her husband, Ben Affleck, gave her a sweet kiss. 
Kim Petras Channeled A Goth Bride
The 2023 Grammys witnessed Kim Petras' goth-bride-inspired, vintage Victor Costa look. It was completed with a red veil and matching gown. Petras appeared on the red carpet alongside her fellow "Unholy" singer Sam Smith, who donned a floor-length red gown with matching gloves.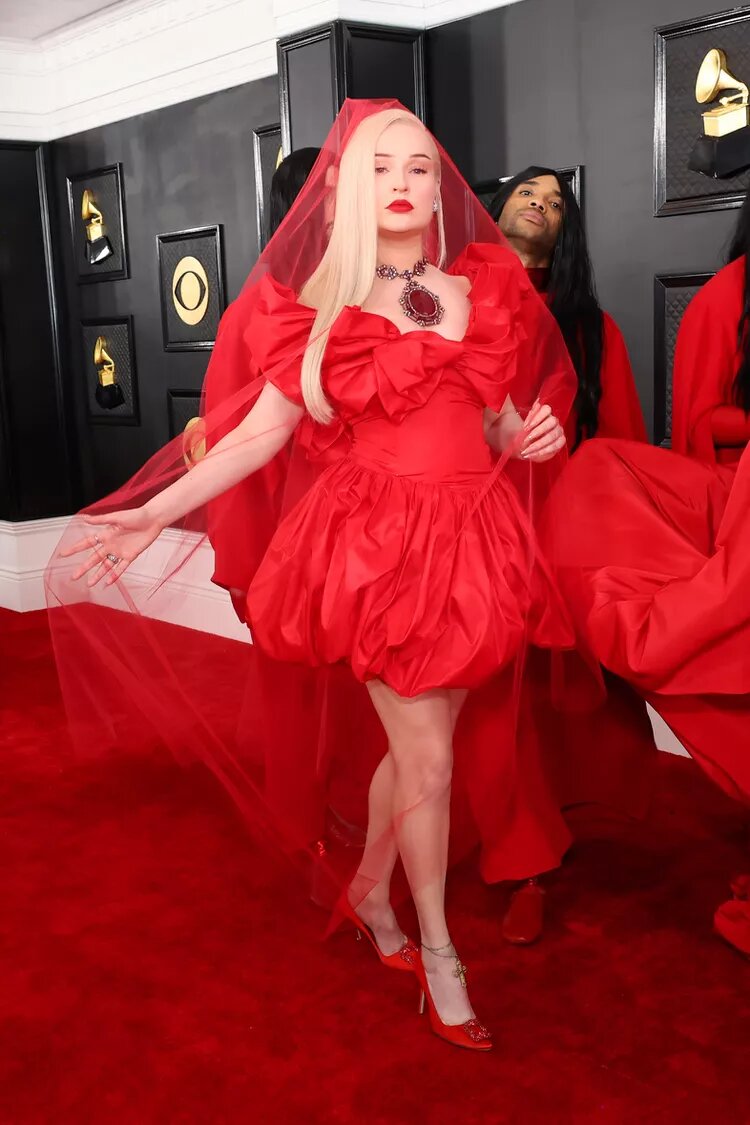 Petras wore a bright, sheer red veil that effortlessly cascaded from her platinum blonde hair. The whole look was completed by the blood-red pendant that hung from her neck. "Unholy" won Best Pop Duo/Group Performance, making it Petras' first-ever Grammy win. 
Mary J. Blige In Animal Print Head to Toe
In 1996, Mary J. Blige won her very first Grammy which would set the stage for her career filled with awards and recognition. She wore this iconic leopard print outfit that would inform fashion for years.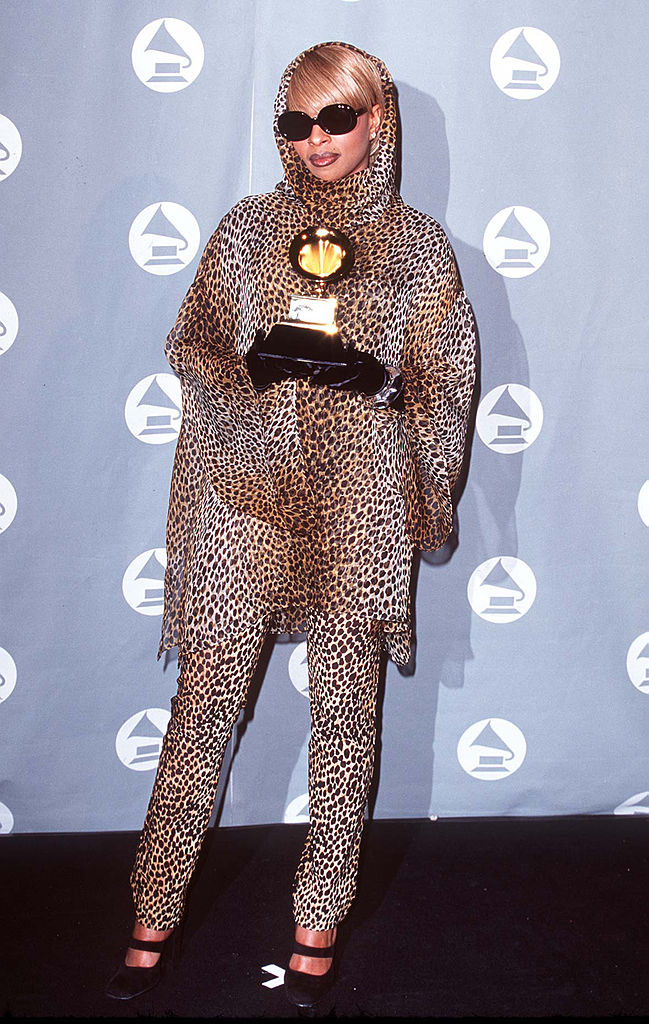 Not to mention the sunglasses and leather gloves that complete this iconic look. She has attended and won many Grammys since but we have to give it up to her very first win at the 38th Annual Grammy Awards show.
Jennifer Lopez and the Dress That Inspired Google Image Search
This plunging dress quite literally broke the internet. When J-Lo showed up at the 2000s Grammy Awards, so many people were searching Google to see her in this iconic look that Google was actually inspired to create the Google Image Search so people could find exactly what they were looking for.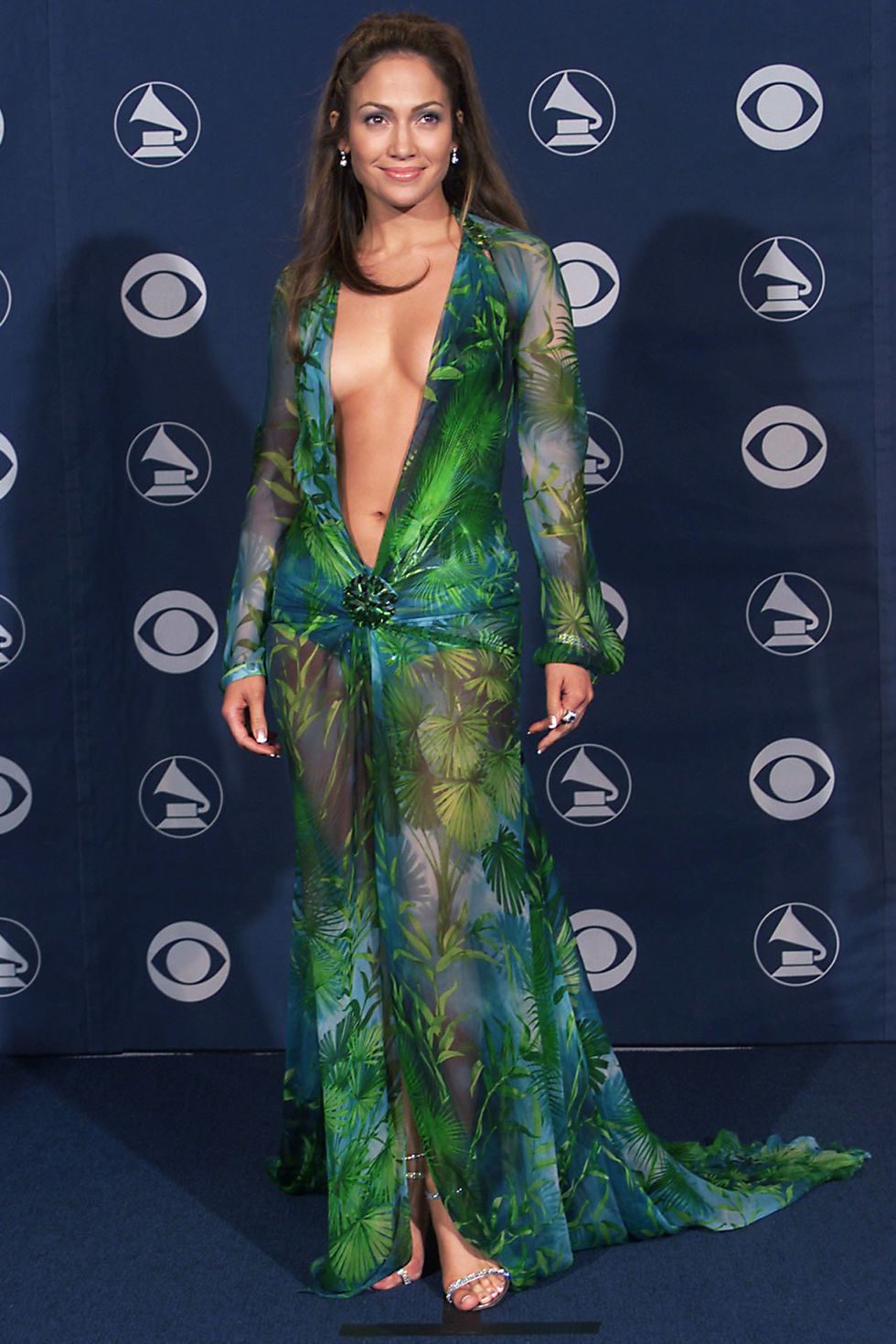 At the time, wearing a gown that showed her belly button and was held together with nothing but fashion tape was incredibly bold and daring. People had never seen anything like it. It remains one of the most prolific looks ever seen at any award show.
Gaga Goes to Space
You can't talk about Grammy's fashion without bringing up the icon herself: Lady Gaga. She has shown up in many wild and wacky looks but this futuristic alien-inspired outfit in 2010 is certainly one of the most notable.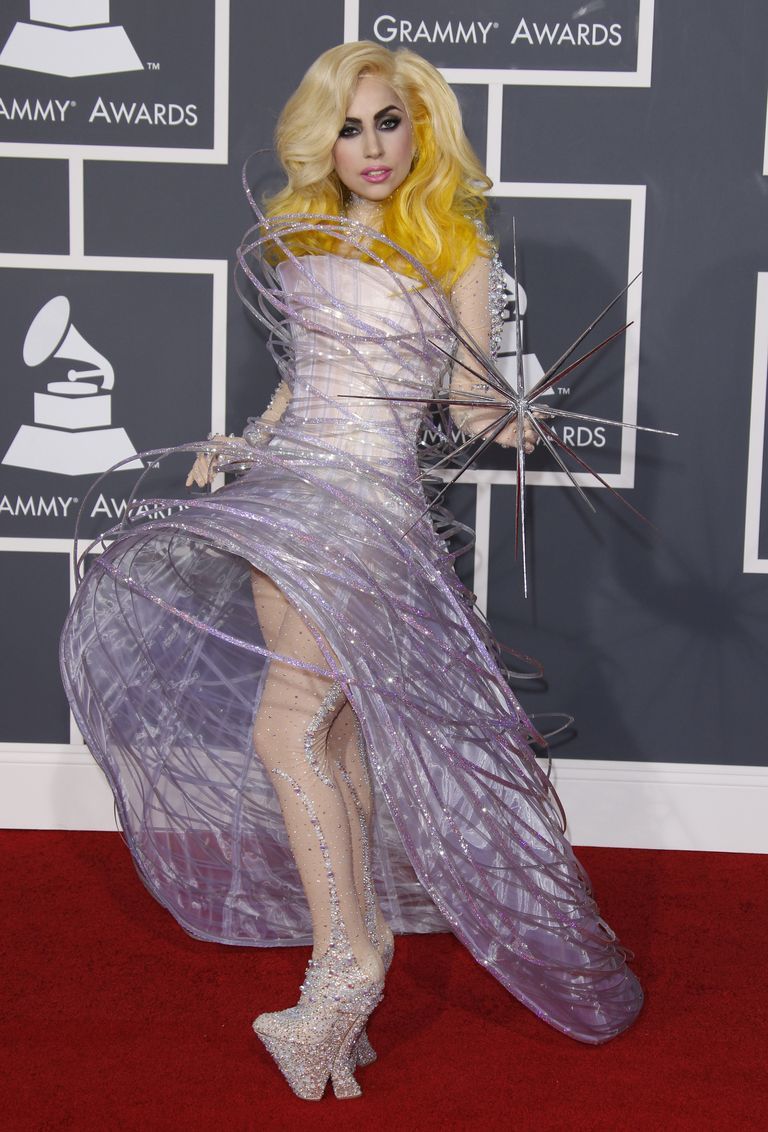 This was the same year she wore her most controversial look; the meat dress. However, almost nothing could compare to the entrance she made to the 2011 Grammys where she showed up in an egg…
Lady Gaga and the Egg Entrance
We are constantly amazed and at times disturbed by the fashion choices of the elite. Perhaps we just simply don't have the eye for fashion that others have. One of the most confusing statements that Lady Gaga ever made was showing up to the 2011 Grammys in an egg.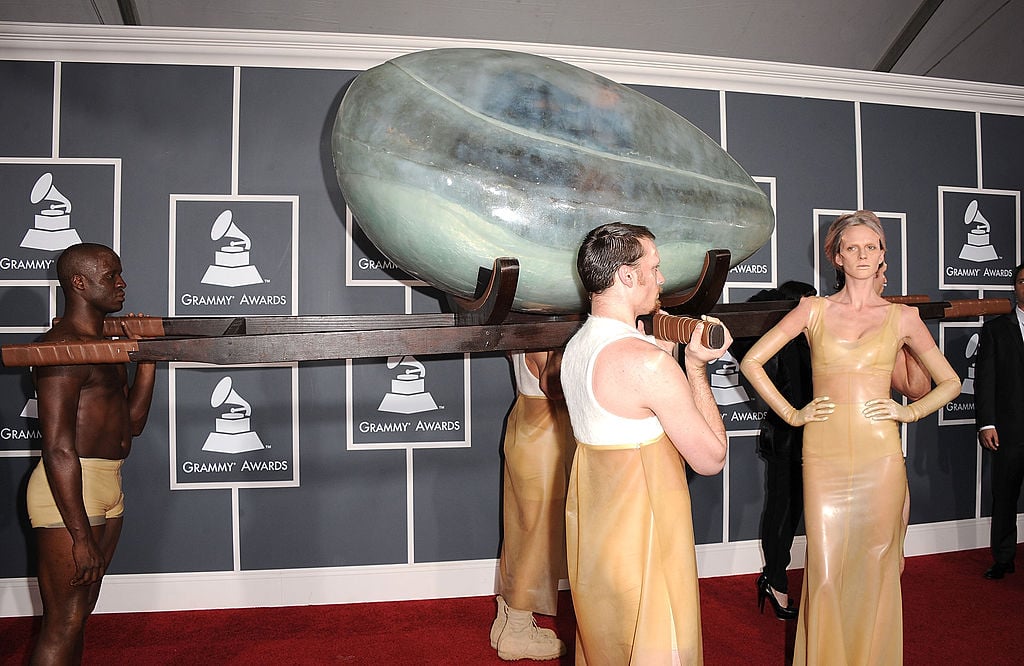 Say what you will about the artist, but she sure does know how to make an entrance. And if this weren't enough, Gaga hatched from the egg during her live performance. We're not sure if this is more iconic or outrageous but it belongs on this list nonetheless. 
Harry Styles in Style
Harry Styles won best album at the 2023 Grammys and showed up in an outfit oh so fitting of the artist. Outside of being the heartthrob of his generation, Styles has become well-known for playing with his personal style in new and inventive ways.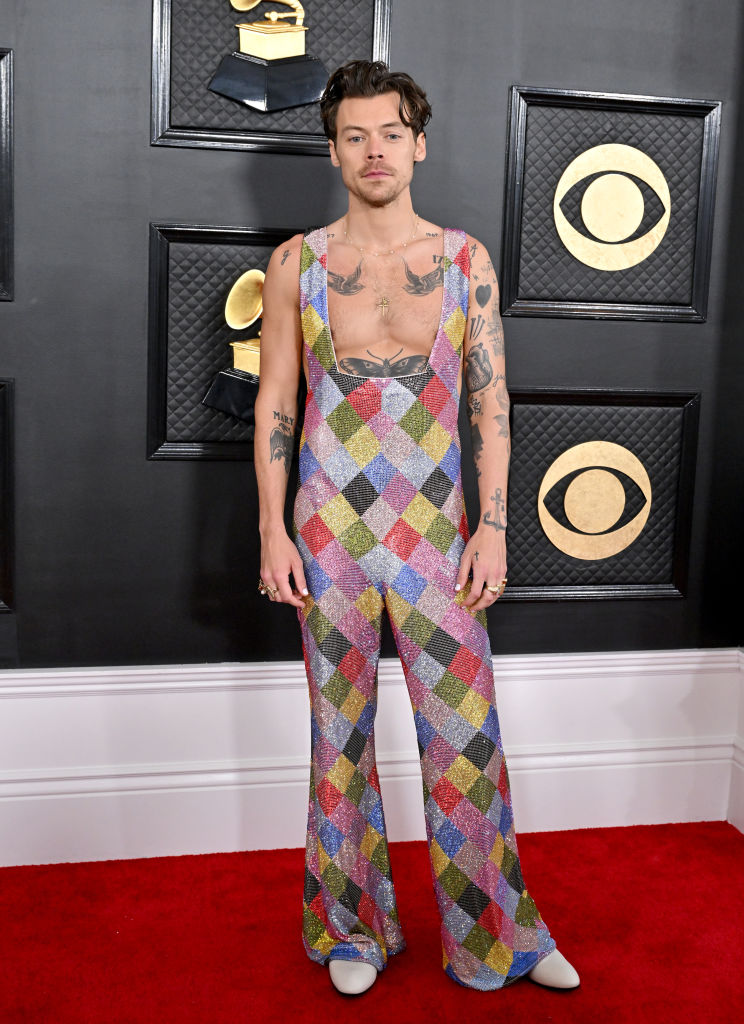 The man looked like a disco ball in his on-stage performance but he also showed up in this colorful jumpsuit for the red carpet. His impressive and daring style has inspired many to step out of their comfort zone!
Megan Fox and Machine Gun Kelly Coordinate (Sort of)
Megan Fox and Machine Gun Kelly showed up to the 2023 Grammy awards in (somewhat) coordinated outfits. Megan adorned a stunning white dress with jeweled details and MGK had a unique silver suit.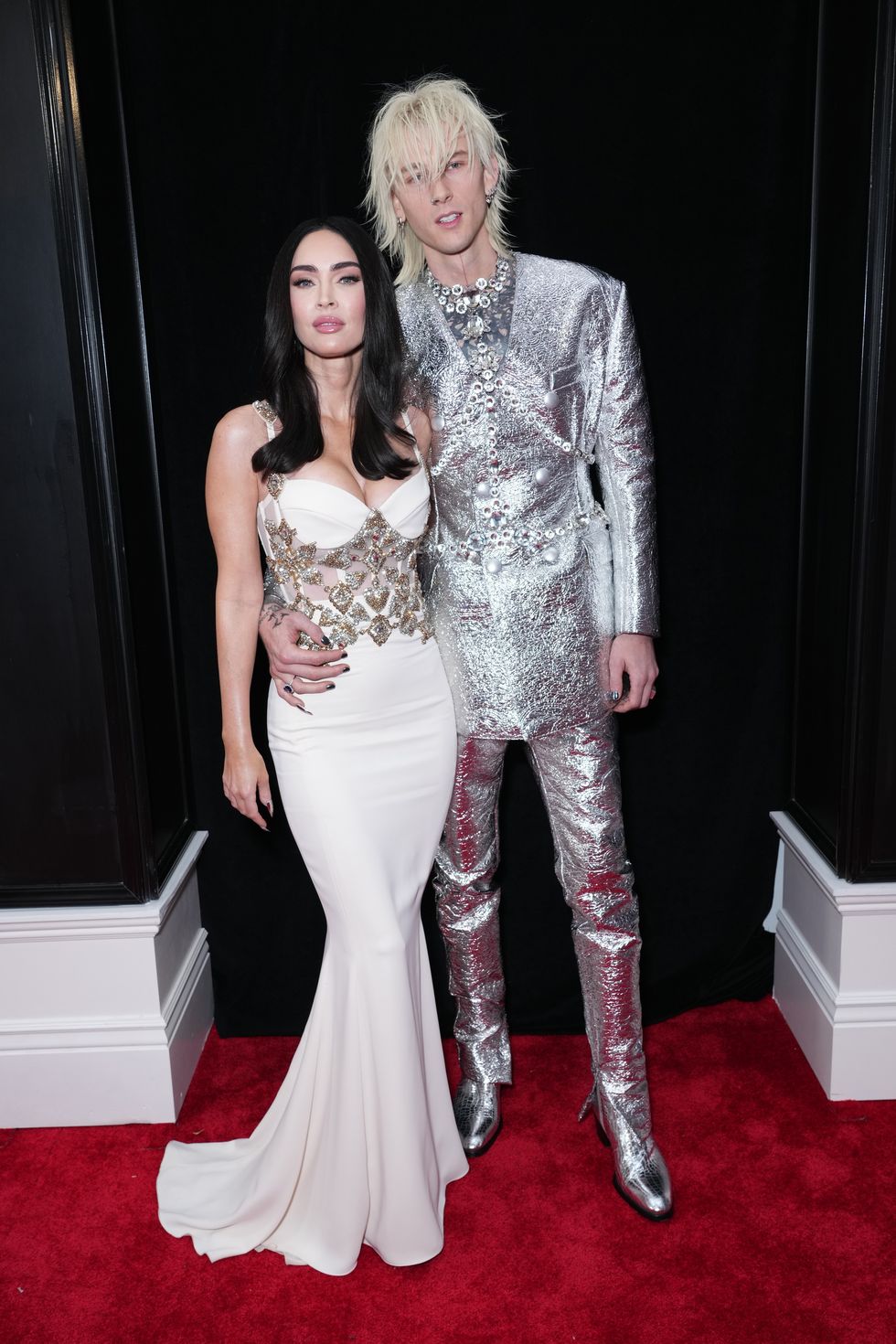 Honestly, he might as well be wrapped in foil and we wouldn't even know the difference. But, that's also why we're not fashion critics!
Pharrell's Hat That Inspired 100s of Memes Around the Internet
The ever-talented singer and songwriter, Pharrell made a bold fashion statement at the 2014 Grammys which sparked internet chatter everywhere.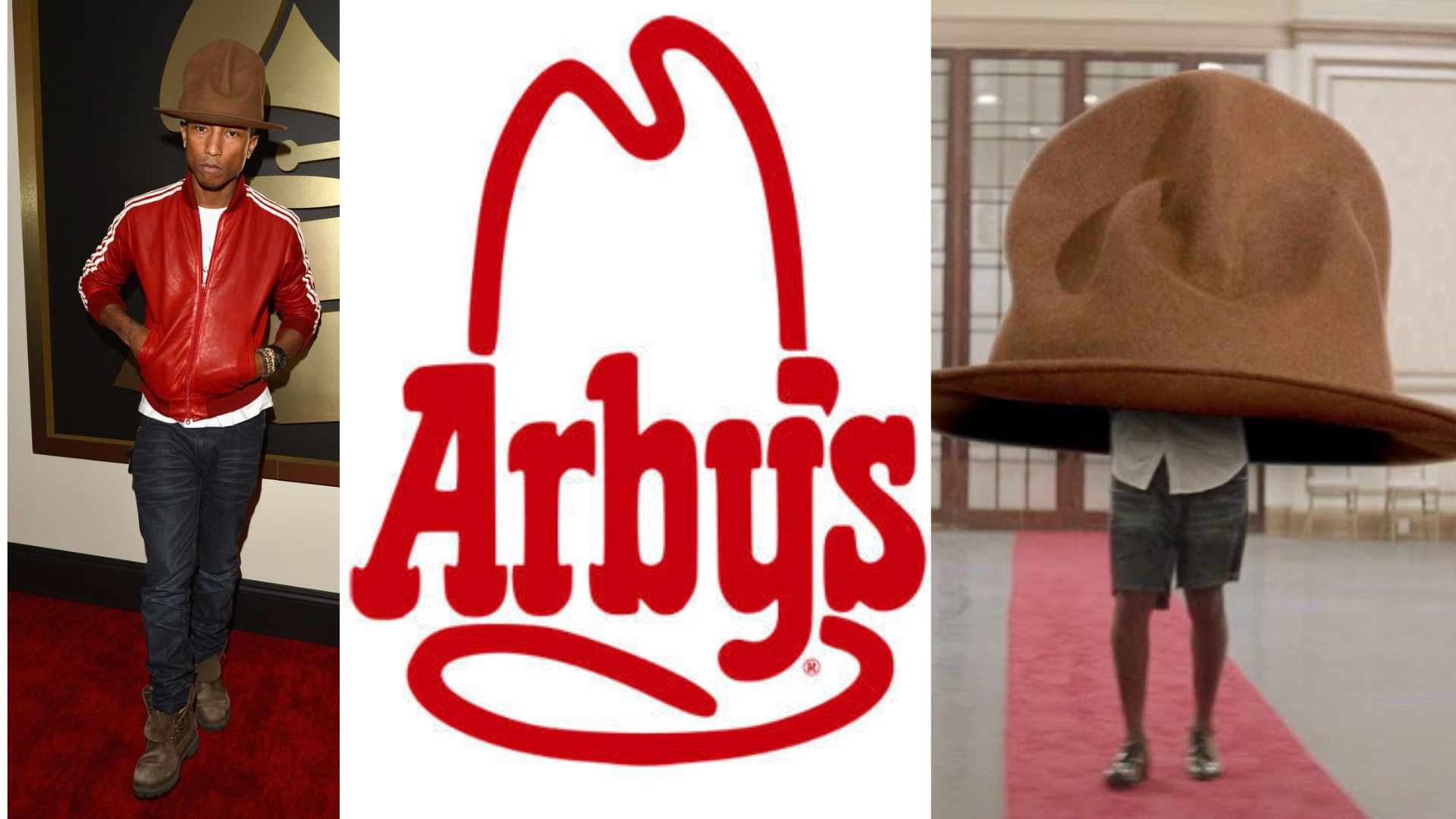 The man has always been somewhat known for hit hats but this accessory really got people going in the world of internet memes. People couldn't stop talking about it!
Cardi B's Oyster Dress Stole the Show in 2019
Cardi B wore perhaps the most memorable look of the 2019 Grammys. People were very split on whether they liked or disliked the look but it was certainly the most talked about outfit of that awards season.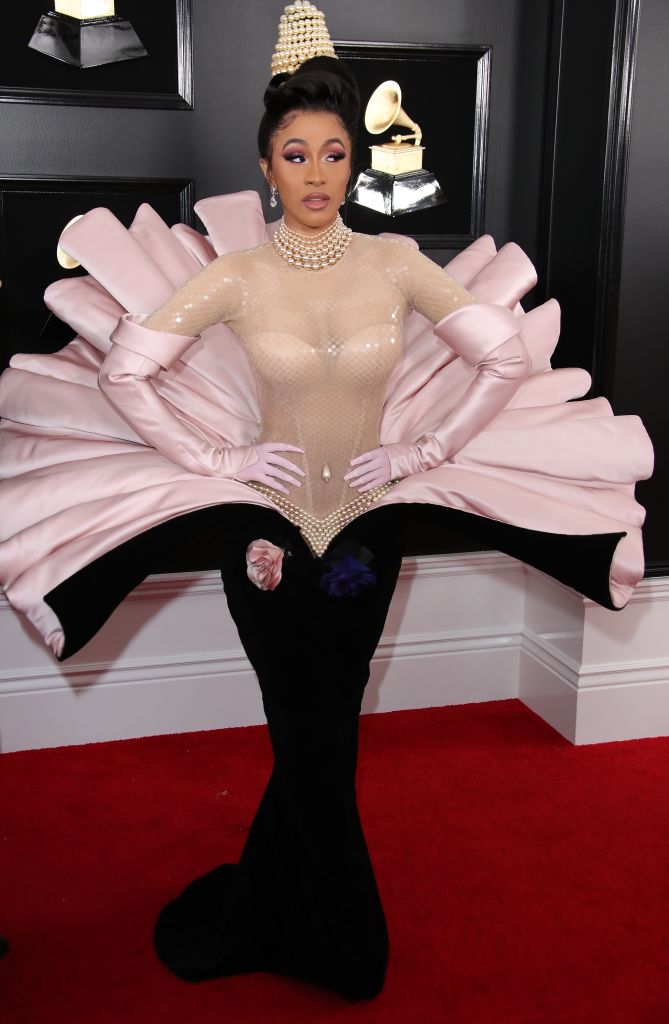 She took everyone by surprise with this nautical-themed outfit. We just have to wonder how she was able to sit down with that shell!
Rihanna is Pretty in Pink
Rihanna showed up making a statement in this huge pink dress to the 2015 Grammys, bringing new meaning to the phrase "go big or go home". The singer and businesswoman looked stunning in this poofy pink dress but that didn't stop the internet from creating tons of memes about it.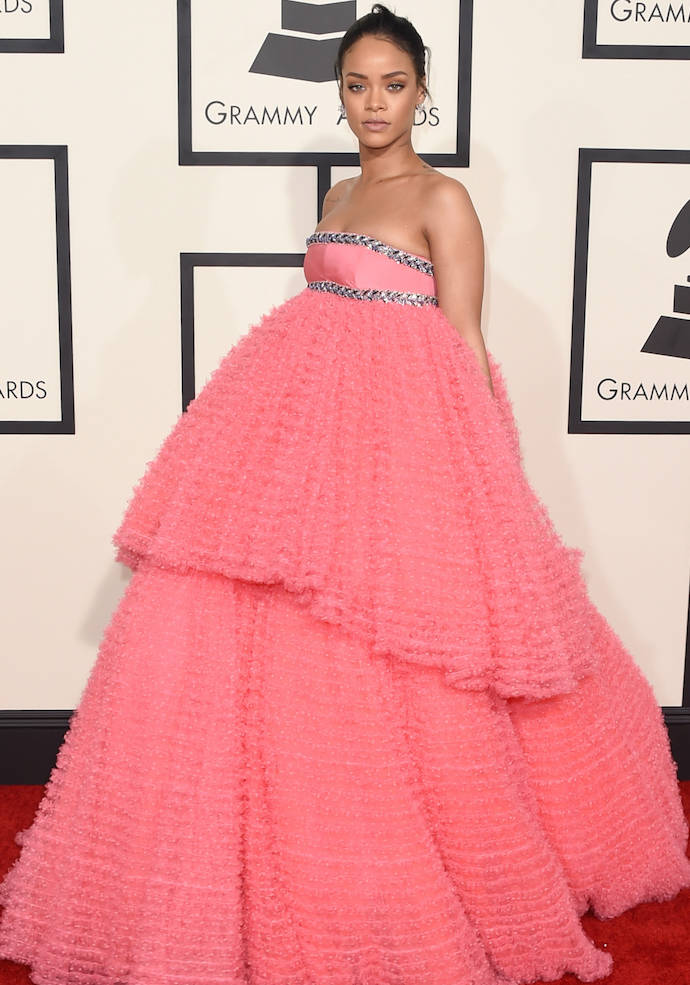 Many compared the dress to a loofa or umbrella. Regardless of the internet getting their hands on the thing, she looked beautiful.
Taylor Swift and Selena Gomez are Each Other's Dates
2016 was a huge year for pop music and two icons of the year were Taylor Sqwift and Selena Gomez. The gal pals decided to be each other's dates to the award ceremony and rocked memorable and colorful looks that will not soon be forgotten.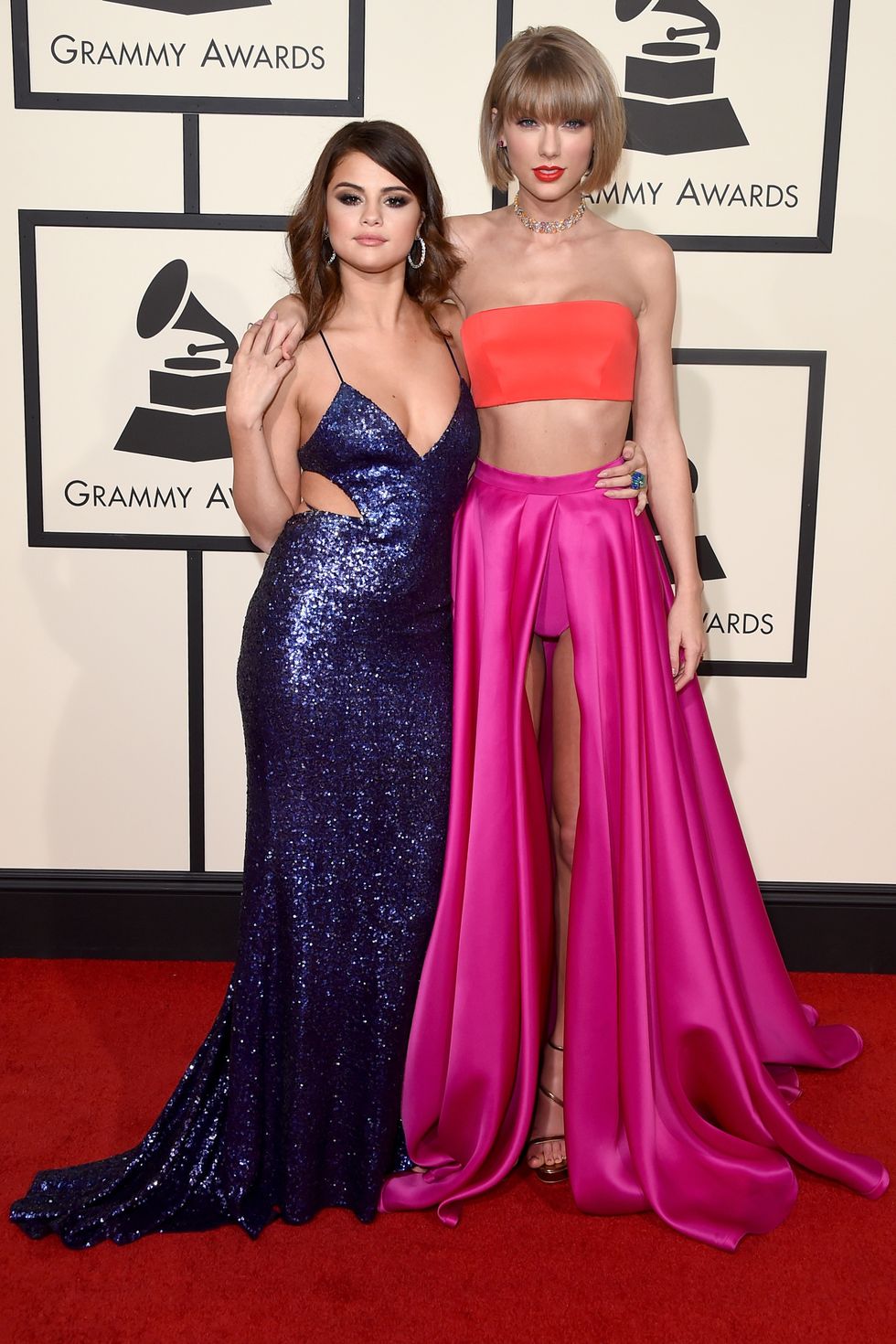 Selena wore a navy sparkly dress with cutouts while Taylor adored a bright orange and pink two-piece set that stands out from her previous looks. 
Red Hot Chilli Peppers Are Very Rock and Roll
Rockstars don't wear shirts. At least, that was the philosophy of the Red Hot Chilli Peppers at the 1993 Grammys. These studs were riding a high after their Grammy wins (clearly).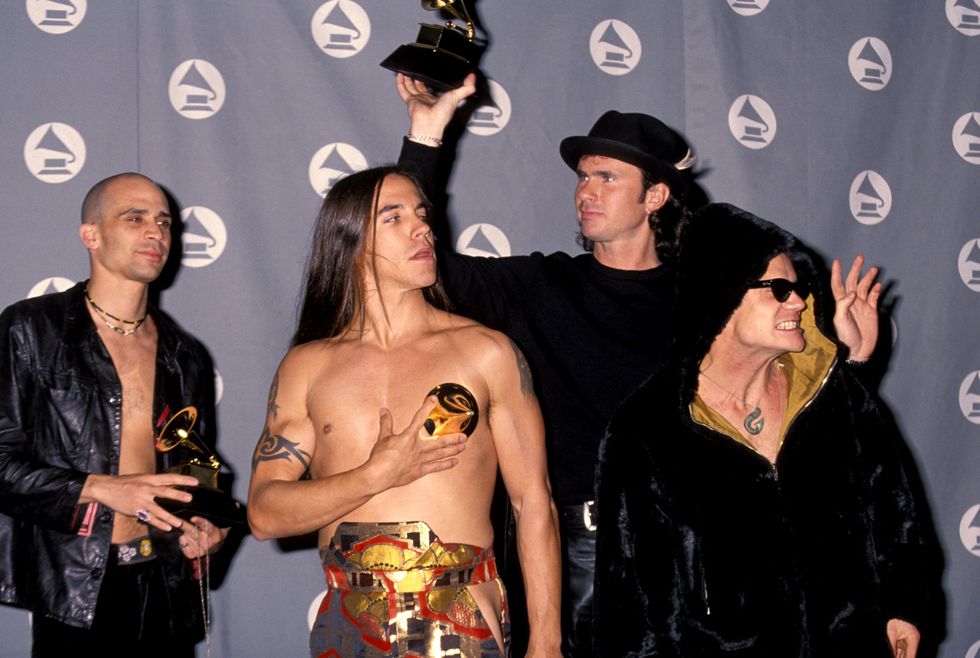 I guess when you win multiple Grammys shirts become optional. The feathered hat, choker necklaces, and fur coat are all very "rock and roll".
Celine Dion Shocks Everyone
In 1993 Celine Dion wore a dress that later became very popular at award shows and in fashion in general over the ensuing years. The dress might not look all that assuming from the front but as soon as she turned around…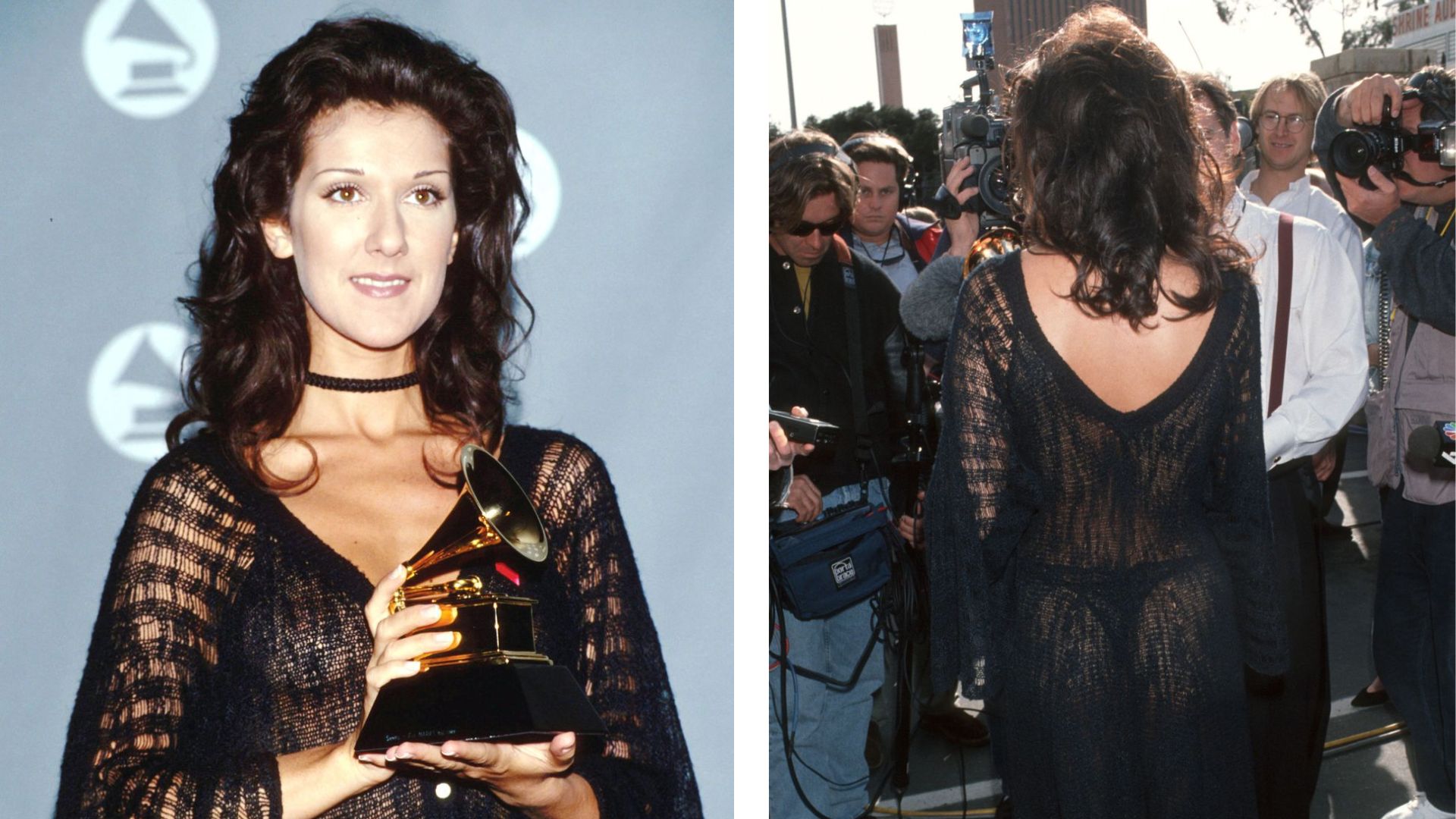 This style of dress became known as a naked dress and many other actresses wore them to Grammy Awards Shows after she did: Beyonce and Jennifer Lopex to name a few. 
Ariana Grande is a Disney Princess
Many of the looks that came to the Grammys in the 90s and early 2000s became very iconic but more recent looks have stirred up talk in the fashion community as well. One such look was Ariana Grande's huge ballgown in 2020.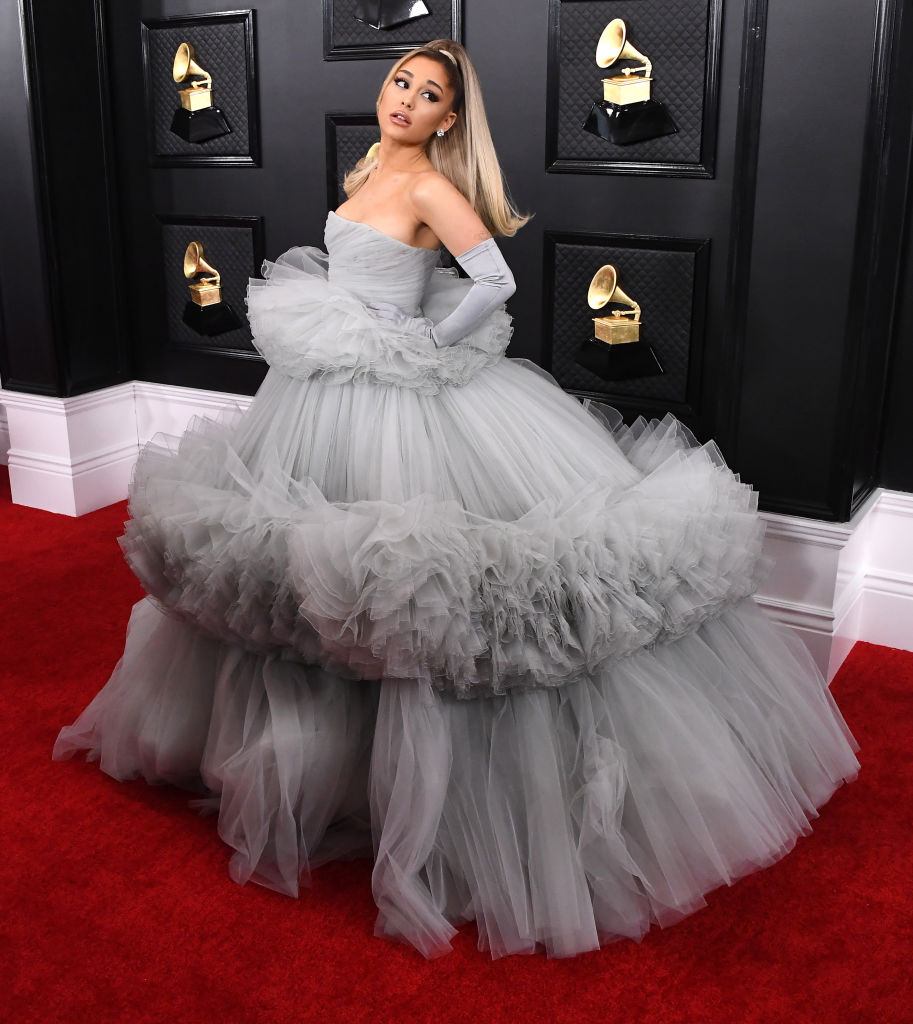 The pop star looked like something out of a Disney movie in this incredible Giambattista Valli gown. If she was going for the largest dress at the party, we're sure she went home with the gold!
Lizzo is the Fashion Queen of the 2023 Grammys
Lizzo was coined the "Fashion Queen" of the most recent Grammys for the multiple outstanding looks she rocked at the show. The artist broke out with multiple Grammy wins this year and even happened to match with Beyonce in one of her silver puffy-sleeved dresses.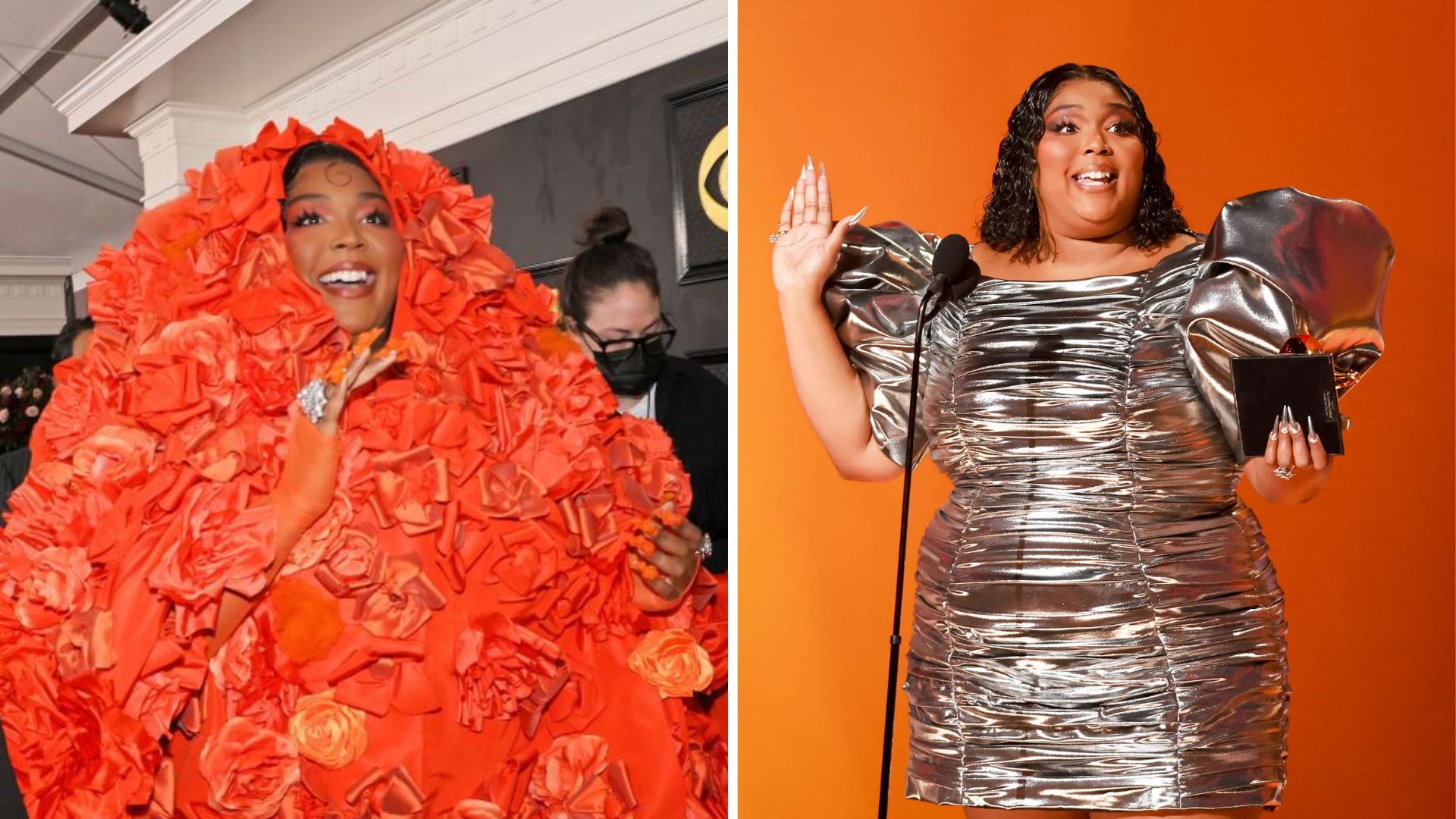 Her red carpet look was larger than life. She looked like something out of the botanical gardens! She was certainly there to make a statement and she did so.
Shania Twain is Cruella
We're not sure if Shania Twain wanted to emulate Cruella De Ville or if it just happened by accident. Her hat is even bigger than Pharrell's hat that sparked memes across the internet.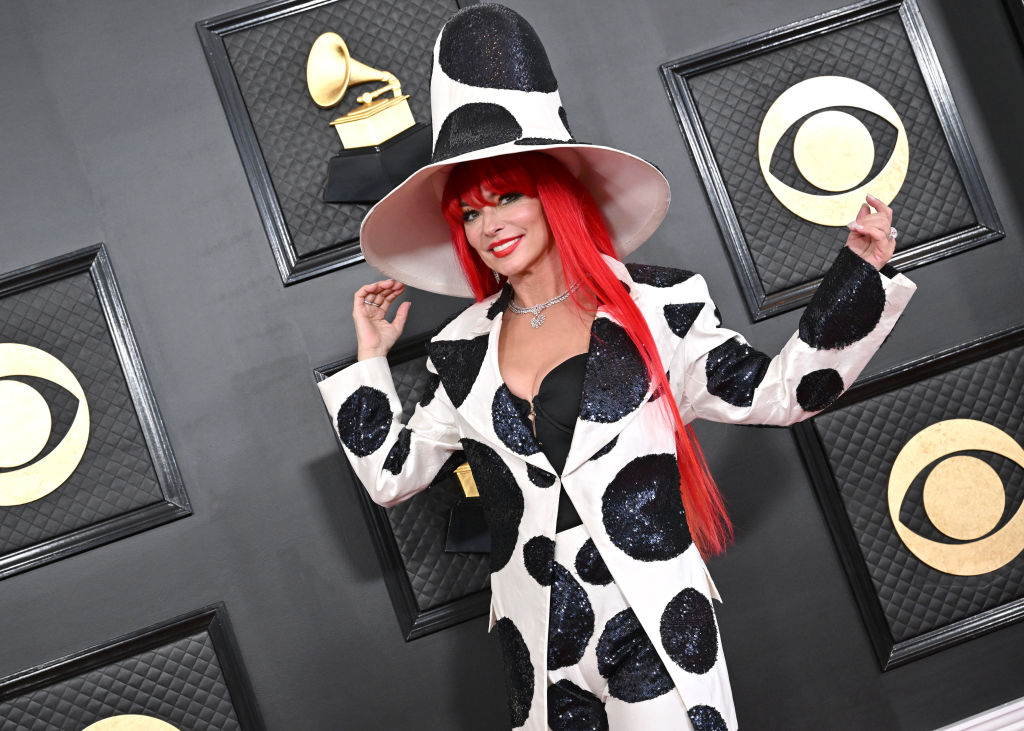 The red wig and black and white polka dots are so reminiscent of 101 Dalmations that we have to assume she pulled some inspiration. Regardless, that red hair was difficult to miss and she sure stood out in the crowd.
Lenny Kravitz Makes the Crowd Do a Double Take
The legendary singer arrived at the 2022 Grammys with a look that could not be ignored. People could not stop talking about the chain shirt that he paired with tight leather pants.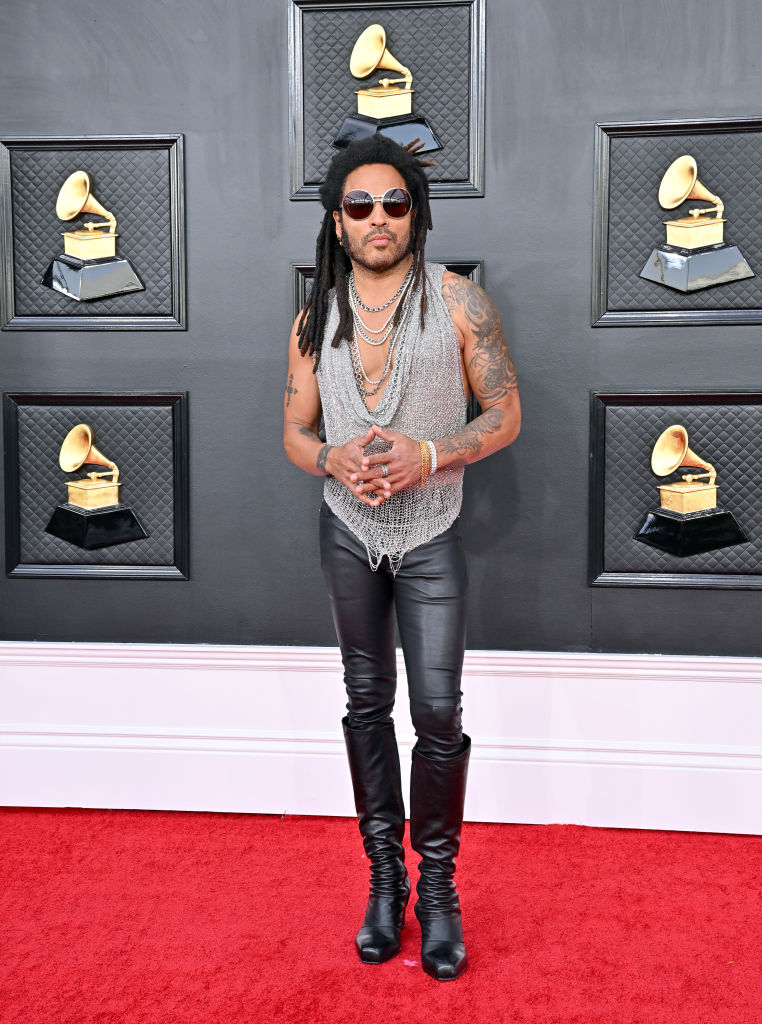 For some reason, his glasses are reminding us of A Bug's Life, but that might just be us.
Billy Porter Kicks It Up a Notch
Pilly Porter is known for his daring fashion looks and always manages to stun us with his ingenuity. Even so, this blue sparkly look stunned everyone in 2020.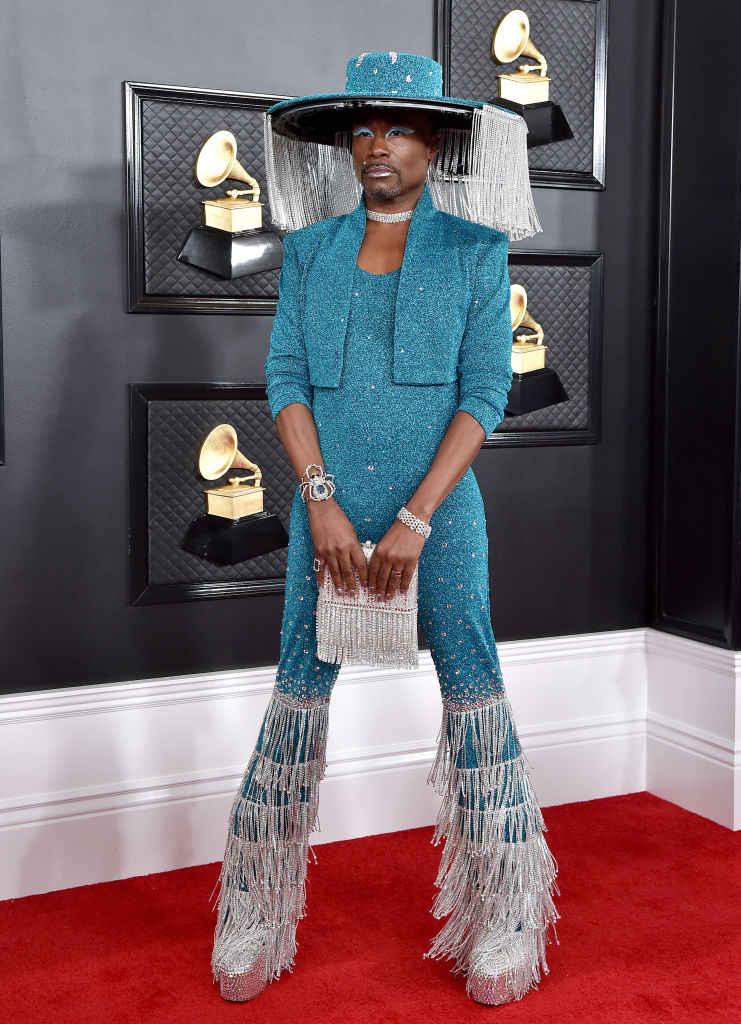 He certainly stole the show in a major way because who could look away from such a stunning and bright ensemble? The hat really took our breath away.
Madonna Being Madonna
You can't really talk about fashion in the music industry without talking about the iconic Madonna. She set the stage for lots of different kinds of styles throughout the years and inspired many artists to this day.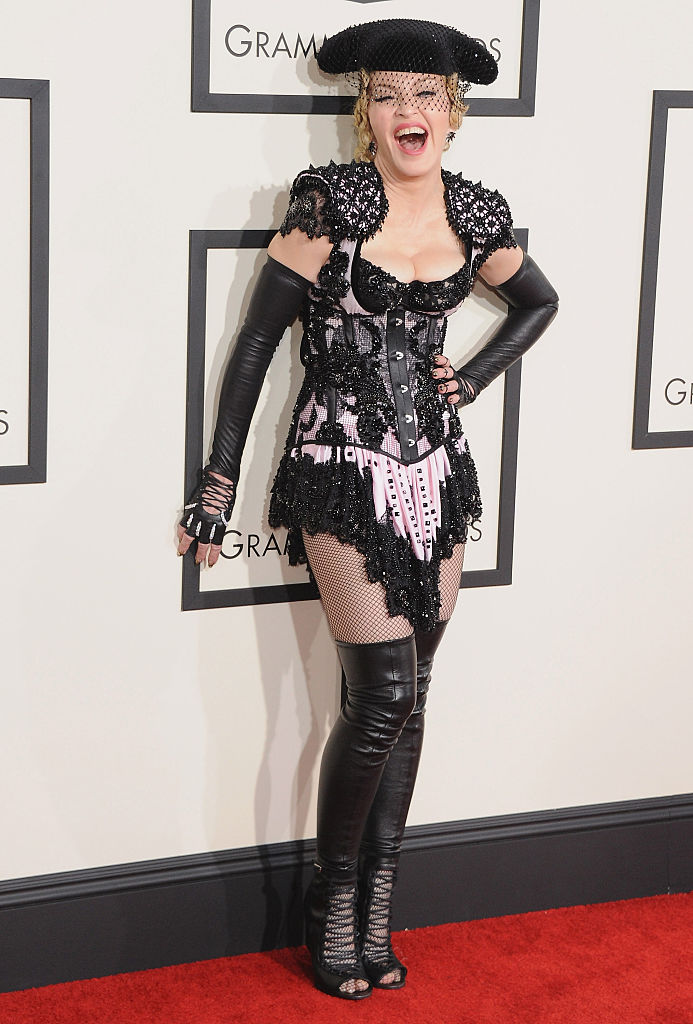 This 2015 fishnet look was a notable outfit that inspired both intrigue and outrage. In typical Madonna fashion, she did turn around and give the cameras quite a show.
Nicki Minaj With the Pope
Nicki Minaj showed up to the 2012 Grammys in one of the most surprising ensembles we've ever seen on the red carpet. She was dressed by Versace and brought a very interesting accessory.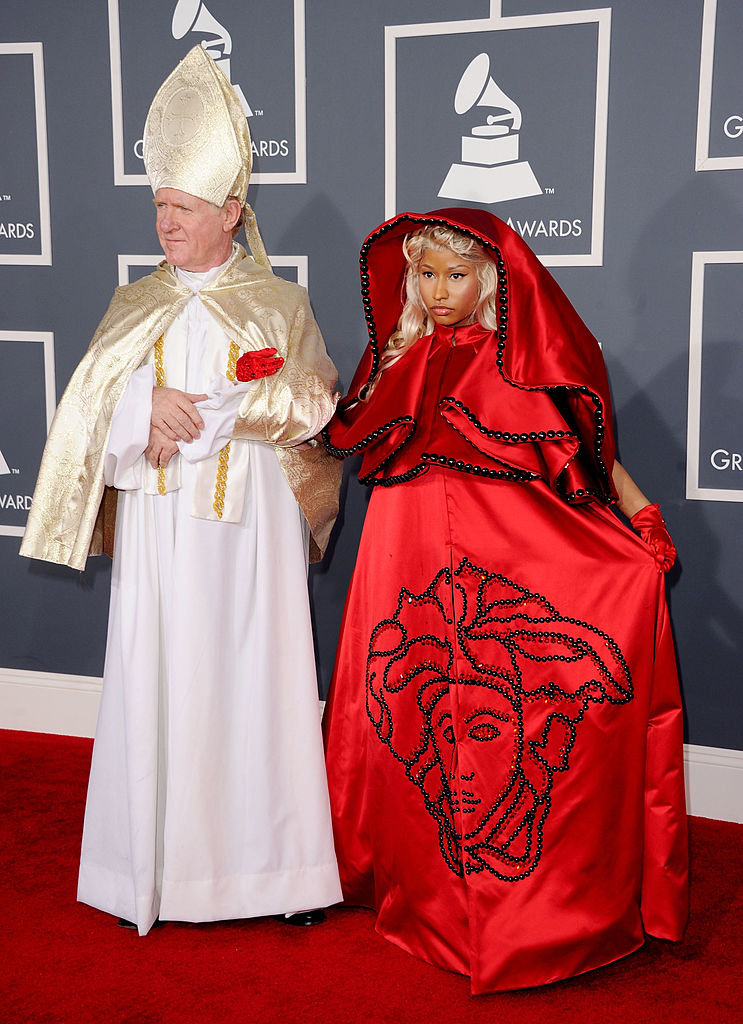 That accessory was a man dressed in full Pope attire. She was dressing in accordance with the "Roman Holiday" theme of her album. The religious pair were called both outrageous and memorable. 
Billie Eilish is Unique as Ever
In 2020, Billie Eilish wore an outfit that only she could rock. The young artist has quickly made a name for herself in music and in fashion with her completely unique voice and style.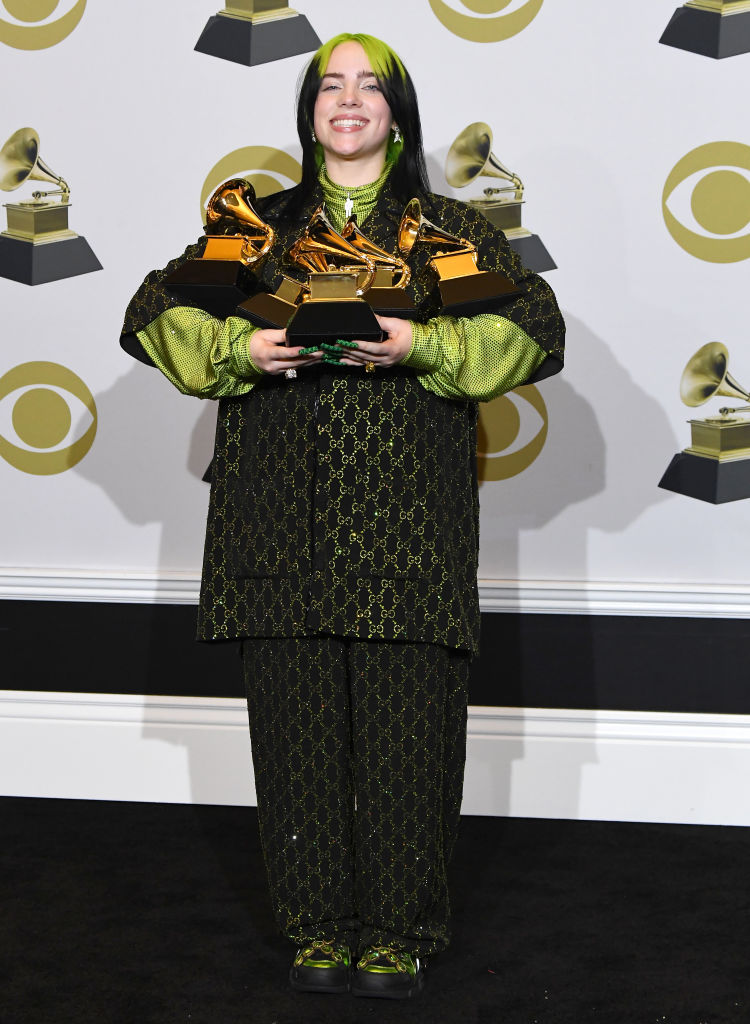 She matched her outfit to her black and neon green hair, complete with a covid mask. This Gucci suit was custom-made for the artist and will not soon be forgotten!
Doja Cat is Party in the Front and Party in the Back
Doja Cat has gained popularity for her unique and ever-changing style. Most recently, she is well-known for shaving her head and eyebrows. But in 2021, she stepped out at the Grammys with this completely unique costume.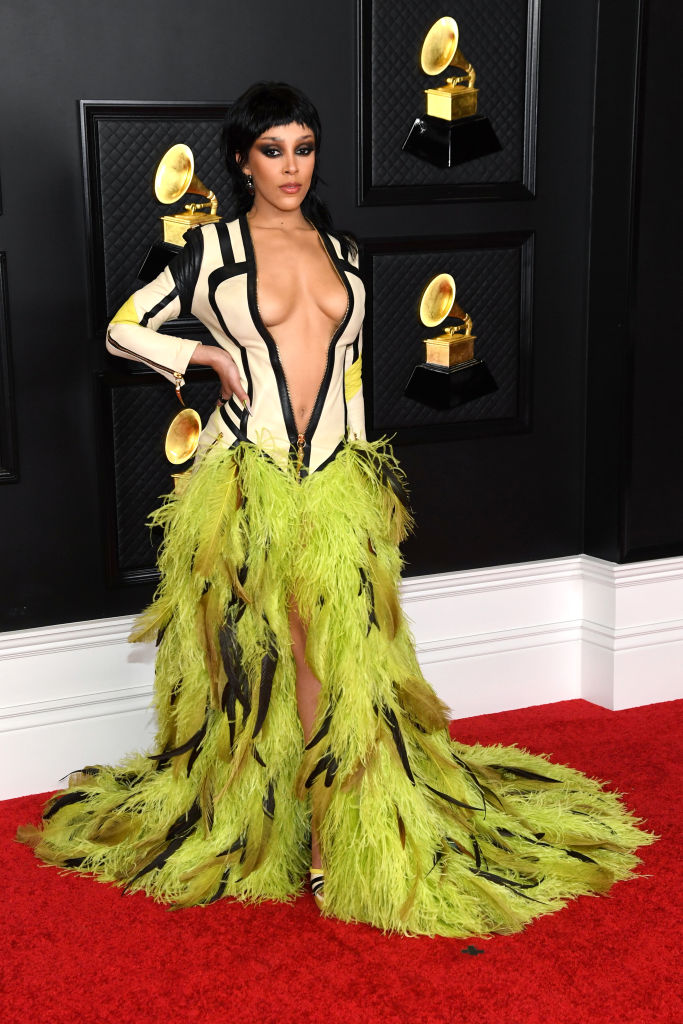 The plunging neckline is reminiscent of J-Lo's internet-breaking green gown. She paired it with a daring mullet-style haircut that raised eyebrows from everyone across the internet. Who knew mullets would be "chic"?
Harry Styles Pushes Boundaries
Harry Styles has worn lots of boundary-pushing outfits that have sparked conversation on the internet over the years. His 2021 Grammy look was one such occasion.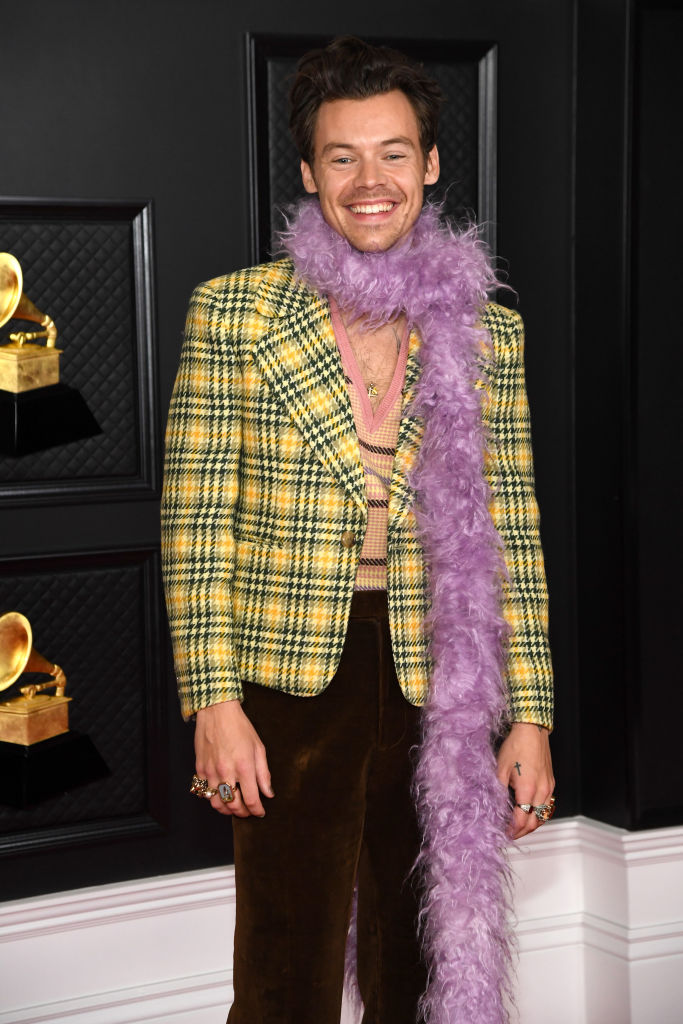 This look was iconic because it sparked what has now become one of his signatures: a feathered boa. Many of his fans show up to concerts with different colored boas and it all started right here on the Grammy red carpet. 
Katy Perry is a Cupcake
Katy Perry arrived in this dress on the 2019 Grammy red carpet and certainly stood out. The pop star has become pretty well known for her colorful and daring looks over the years.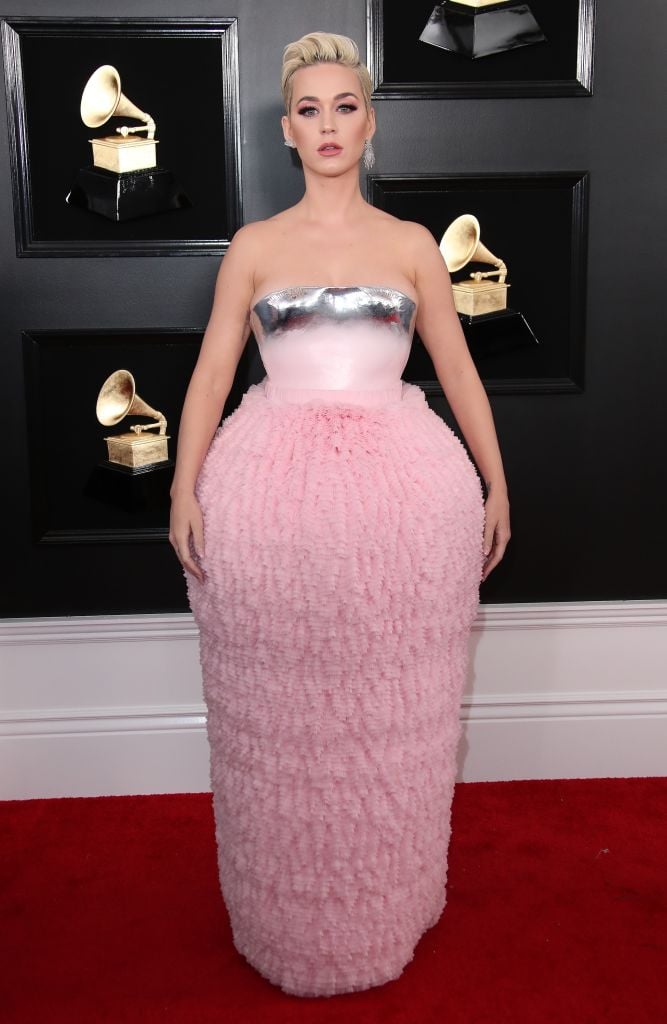 One of her most confusing outfits was when she dressed as a hamburger at the Met Gala. Perhaps she enjoys food-themed outfits because headlines compared her to a cupcake after she wore this look.
Beyonce Breaks Records
Beyonce has attended the Grammys many times over the years and has worn beautiful looks that deserve tons of recognition. This was her most recent look in which she broke an unbelievable record.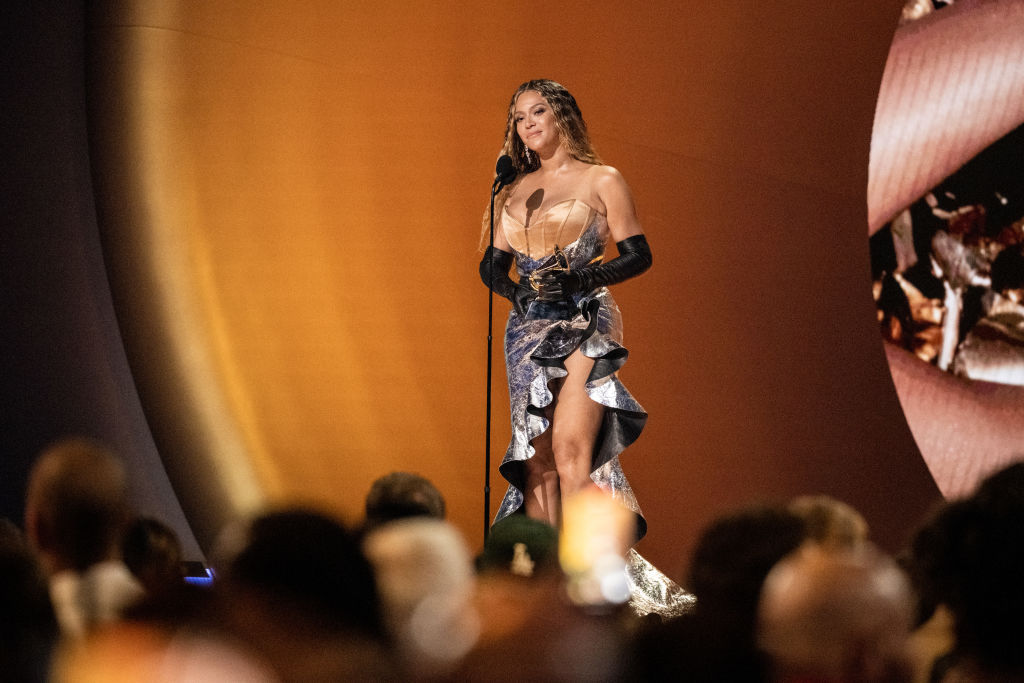 At the 2023 Grammys, she became the person to win the most Grammys ever. That's quite an accomplishment and well-deserved. Of course, she was a vision on stage!