Clever and Affordable Tricks to Organize Your $1 Store Finds
Originally Published on
savvydime.com
and repurposed with permissions
It can cost you as little as $1 to clean your space. The dollar store has tons of organization tools to help you keep your space clean and tidy, No more miscellaneous batteries rolling around in junk drawers or cords tangled across the floor. Your home is your space and we want to help you keep it organized. Check out these organization hacks that will cost you as little as one dollar.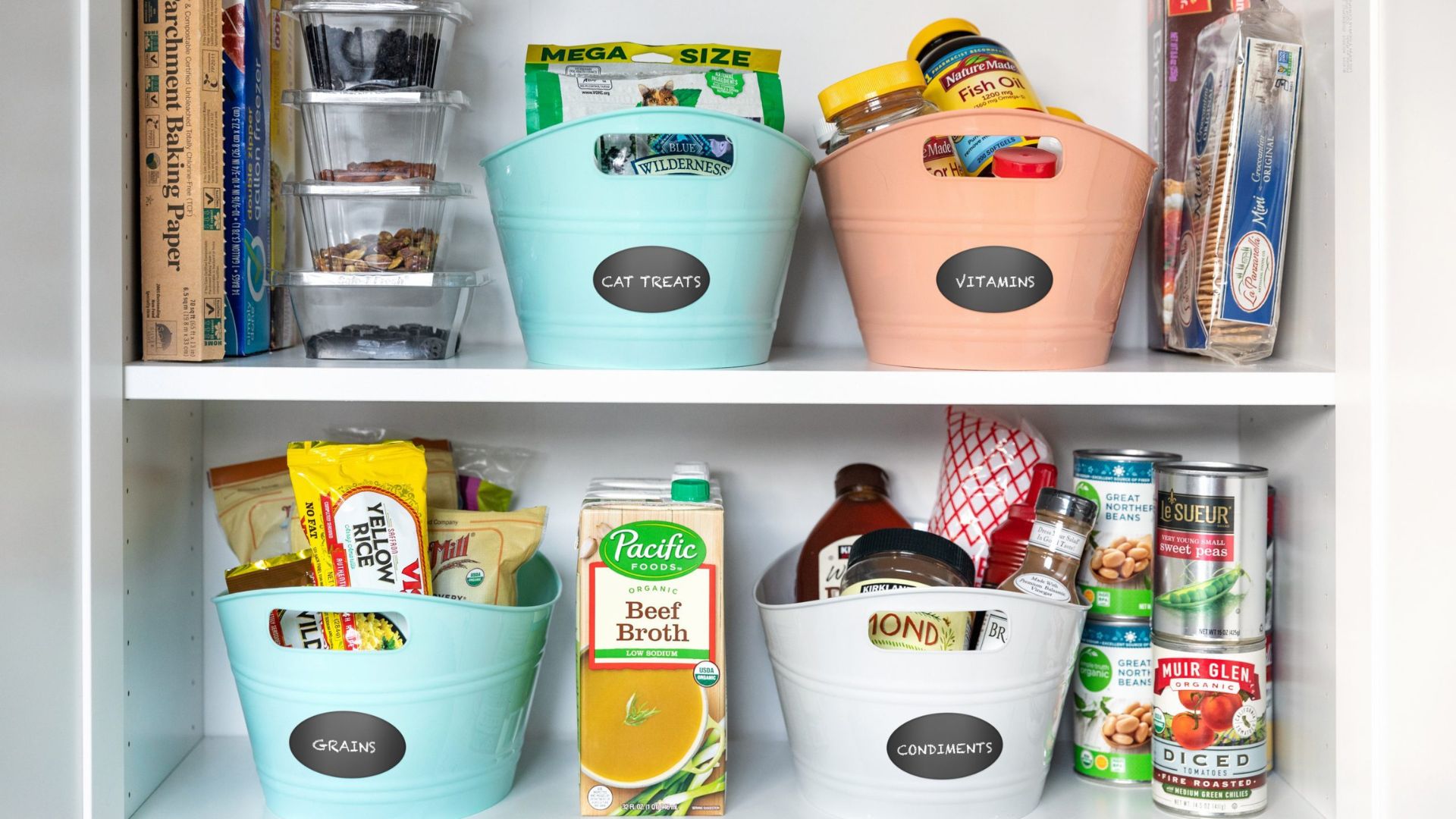 Use curtain rings to hang items in your bathroom
If your bathroom counter becomes overrun with your face, hair, and teeth products, you might find this hack useful. Buy some curtain rings with clips from the dollar store and put them on the towel rack in your bathroom.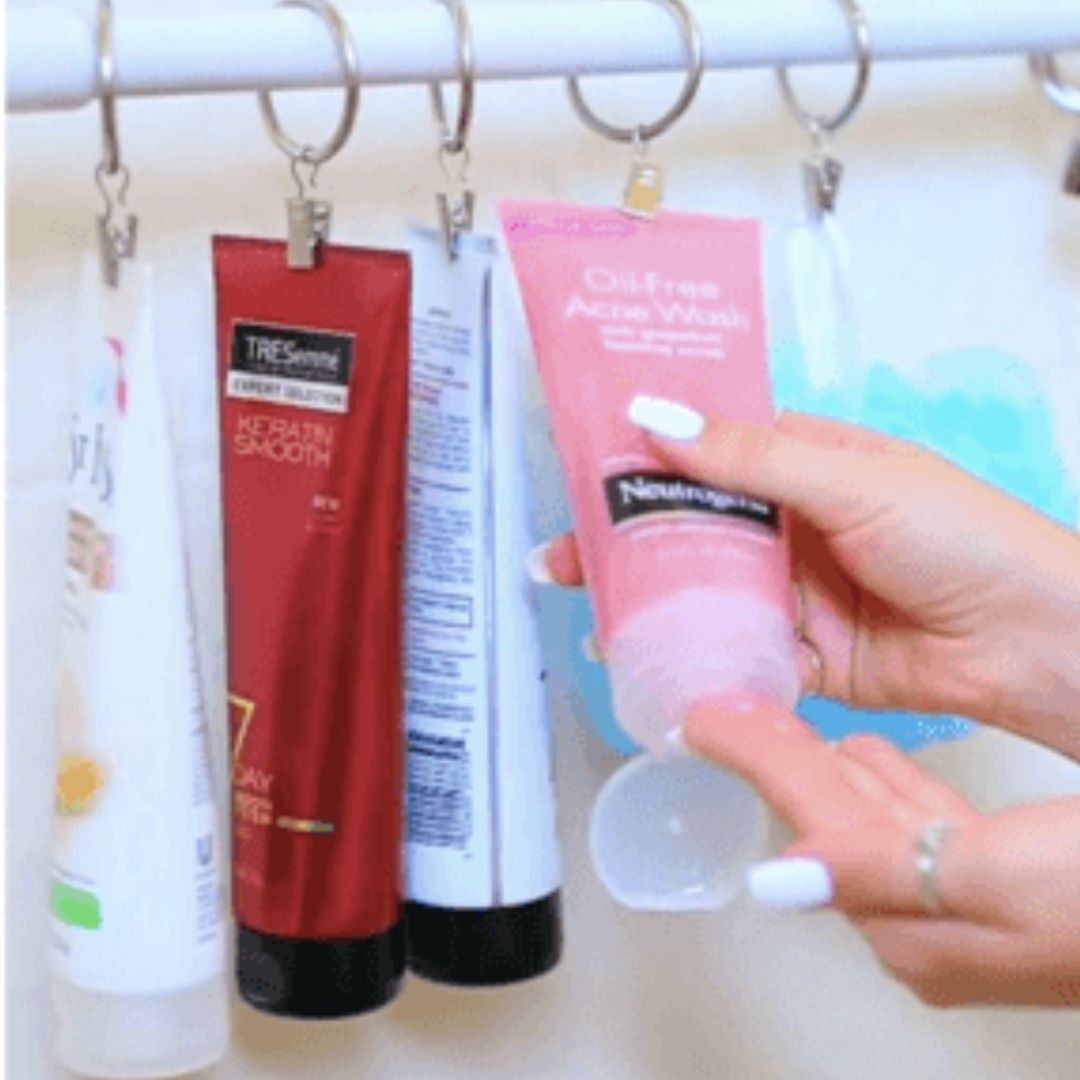 You can hang some of your products from the clips and save on counter space. If you have products that can't be hung, like a toothbrush, for example, use a hanging mesh shoe storage to put your items in. Keep your products in one place and keep that counter space clean.
Use command hooks to organize pot lids
Command hooks are kind of the holy grail of organizing and they're stronger than they look. They can be used to hang many of your items. One of the spaces that often gets overlooked when organizing is the kitchen cabinets/drawers.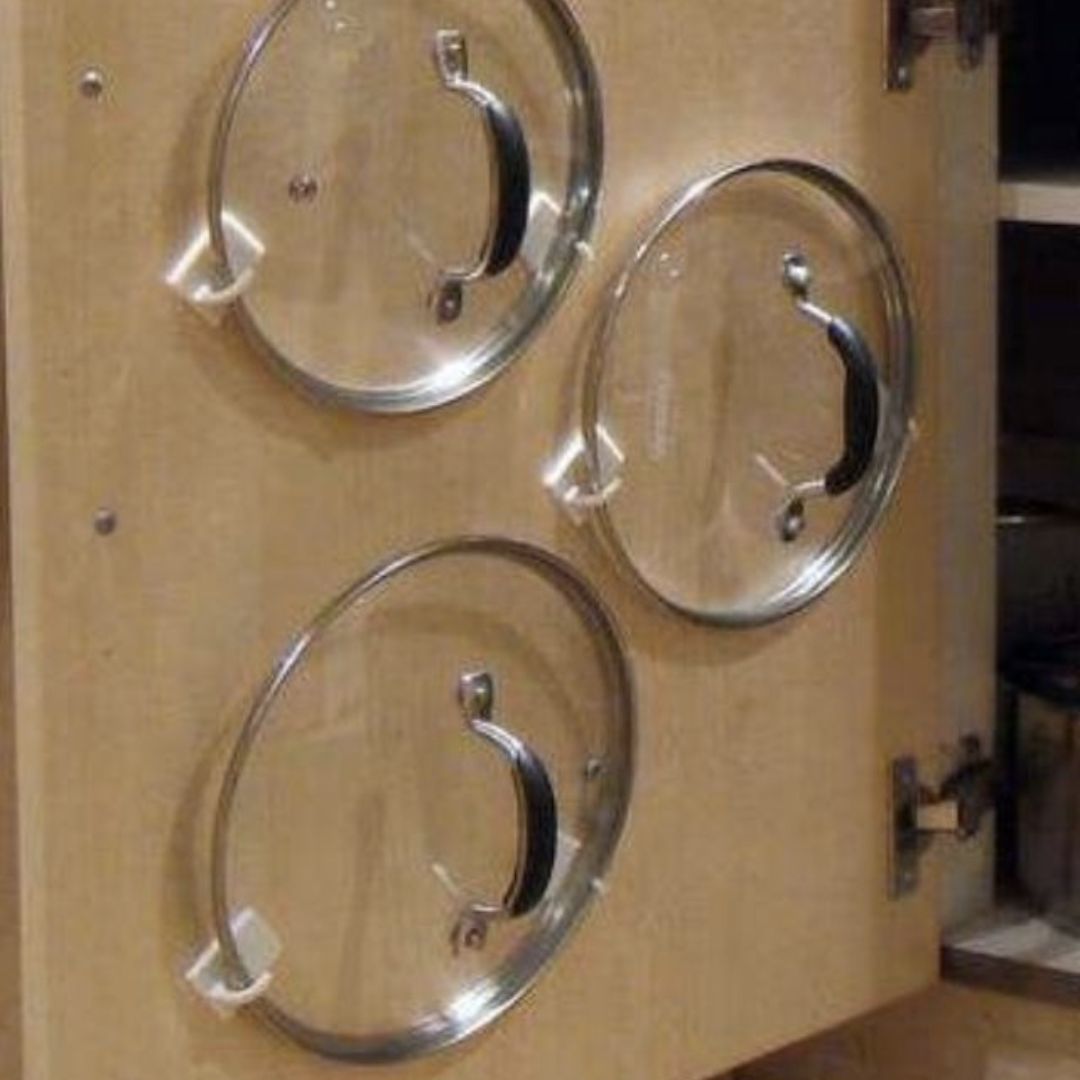 One way to make use of command hooks is to stick them on the inside of kitchen cabinet doors to hold your pot and pan lids. No more shifting around your pots and pans to find the lid that fits the right pot. They'll all be displayed just inside the door, ready for you to use.
Use mason jars to organize kitchen utensils
We've all spent time rummaging through our drawers trying to find the spatula or whisk. Purchase a couple $1 mason jars and make them the new homes for your cooking utensils.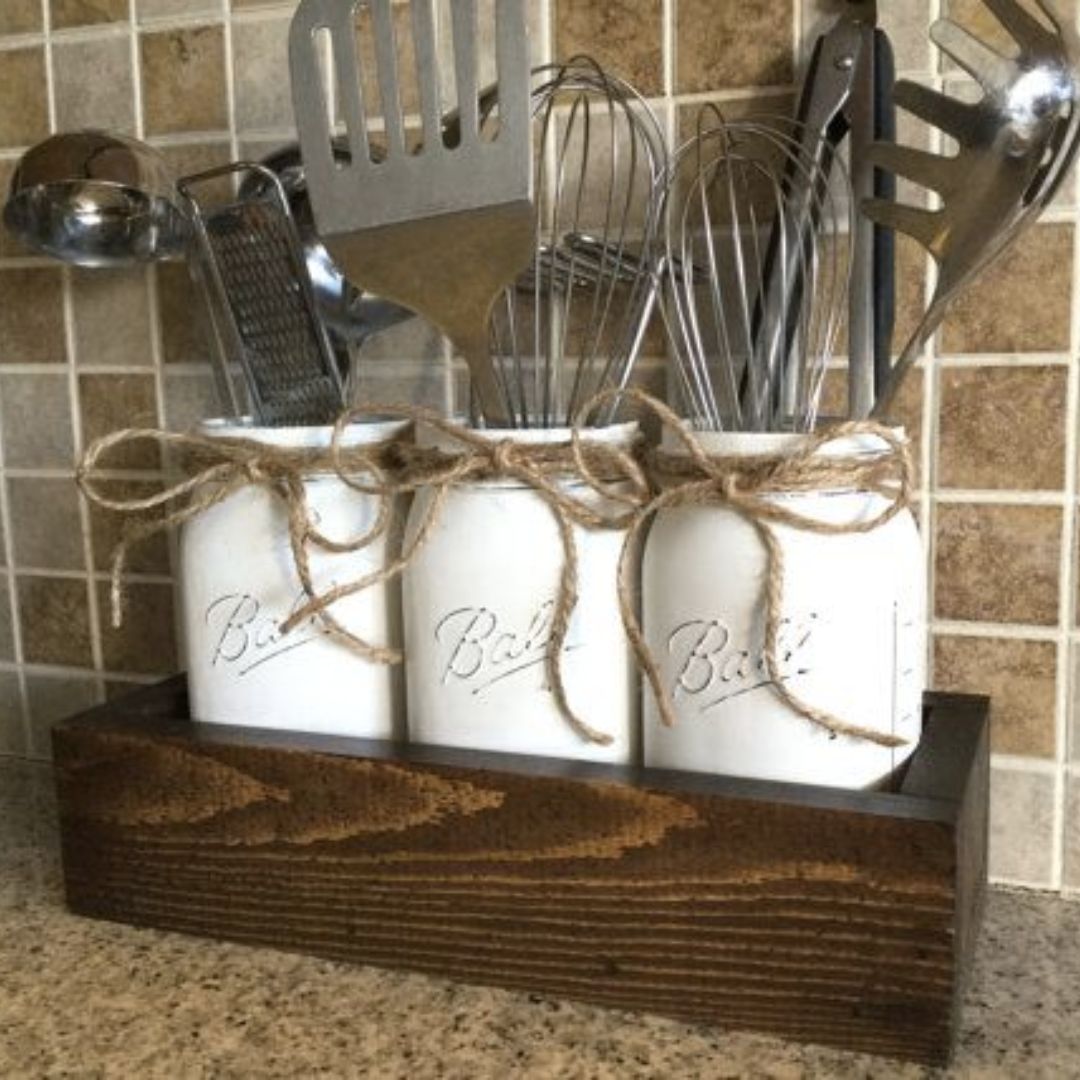 You can turn this into a DIY project as well. Paint or decorate the mason jars to fit your kitchen's aesthetic, and label them if you want. Now you have a more efficient way of finding your spatulas. Use that open drawer space for something else.
Use binder clips to organize your freezer
Freezers can quickly become overrun with ice cream, frozen meals, etc. If you have a wire rack in your freezer, then this hack is sure to save you space. Use binder clips to hang bagged items in your freezer.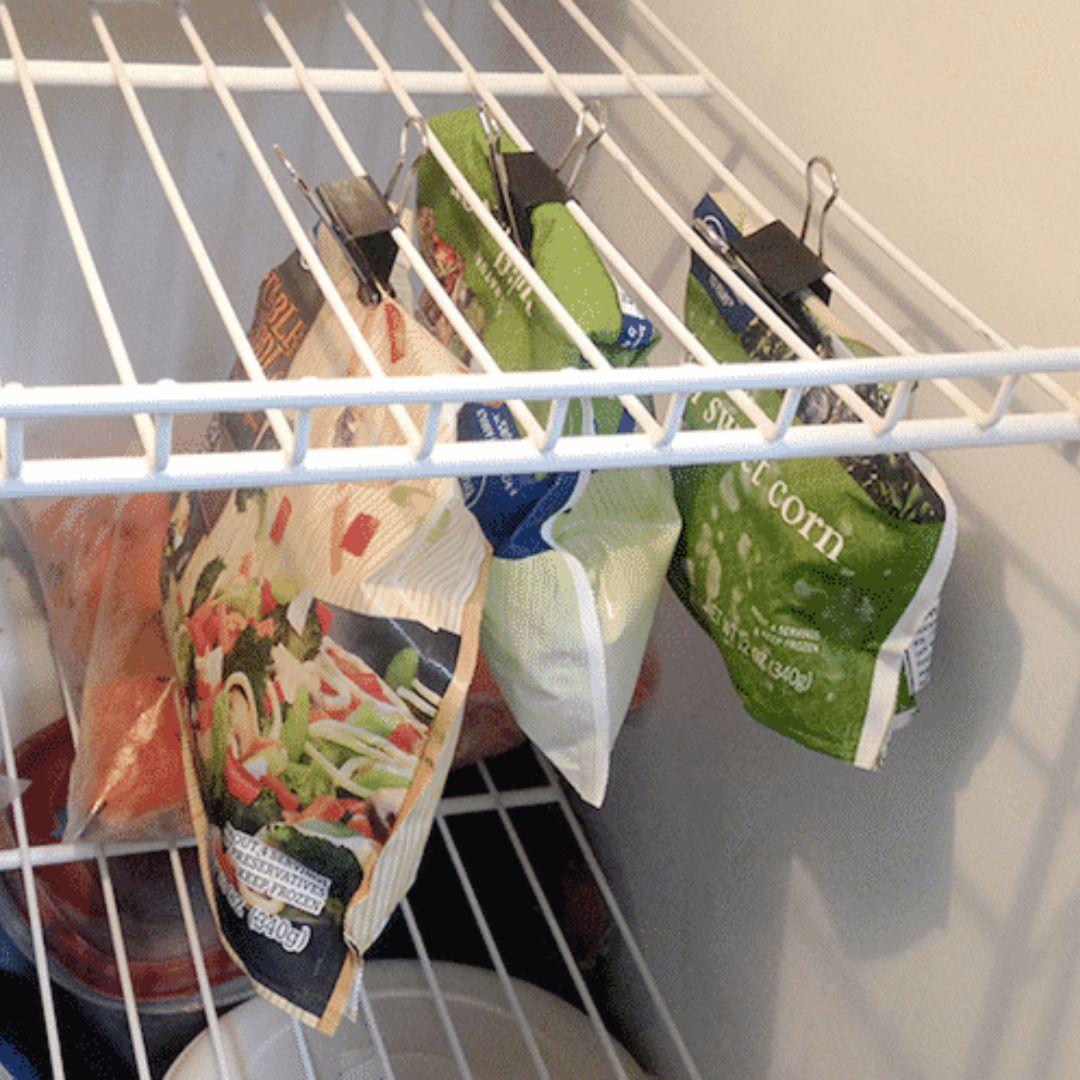 The frozen vegetables, fruits, and meat can hang from the clips. This will save you space and make things easier to find. Another way to keep the freezer organized is to flip file organizers on their sides and use them as fridge/freezer shelves.
Use an over the door shoe organizer as a snack rack
If you're looking to save some space in your pantry and need a cost efficient way to organize your snacks, check out this shoe rack hack. Hang the over-the-door shoe organizer on the inside of your pantry door and fill the slots with individually packaged snacks.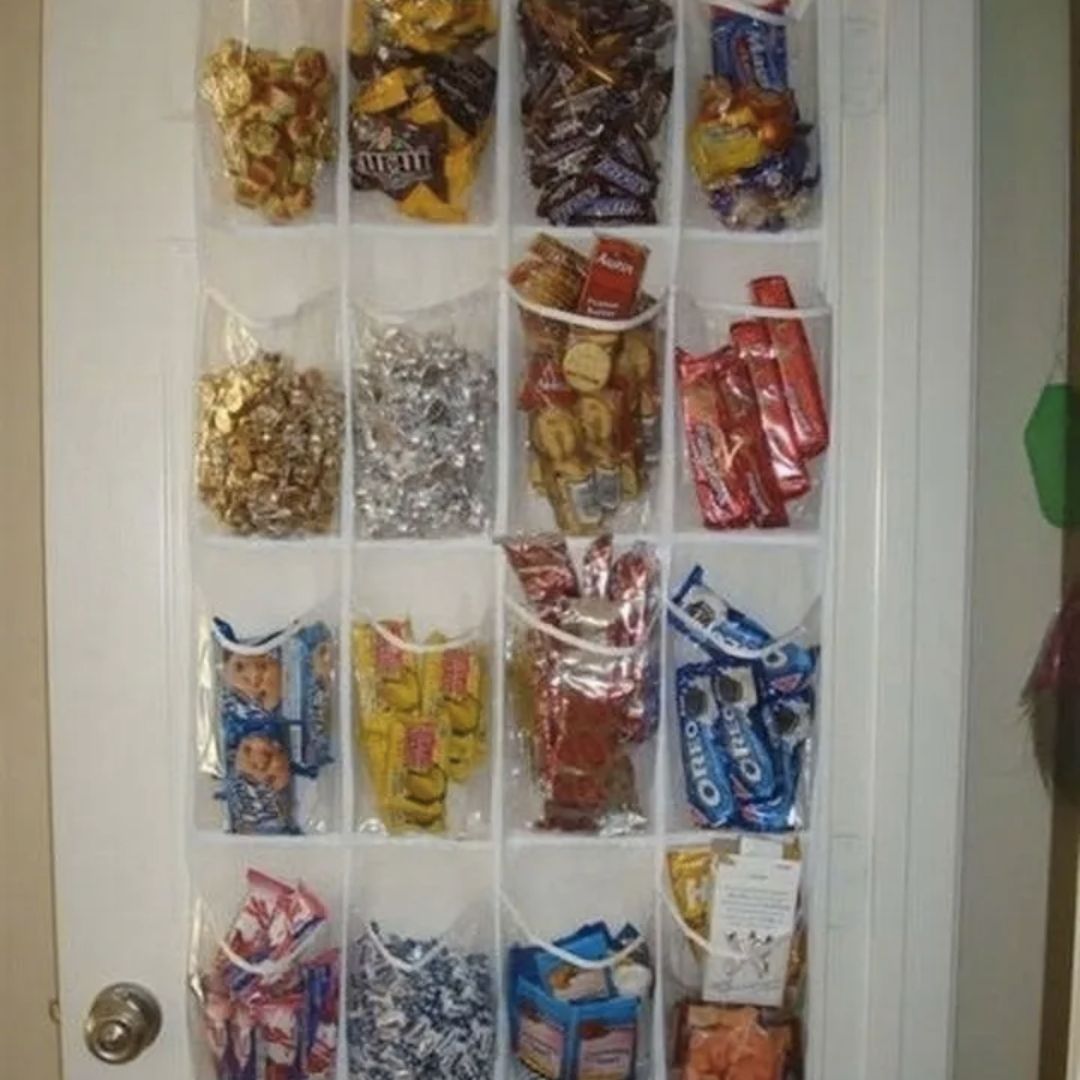 This will save you some space on your shelves because you can throw away the bulky boxes that these snacks often come in. Bags of chips, crackers, candies, trail mix, etc. will fit right into the shoe slots.
Use decorative boxes to organize cords
This hack is actually more useful to hide a mess rather than clean one. But it will make your T.V. or computer space look more organized. No one likes to see a bunch of tangled cords hanging out. It's an eyesore!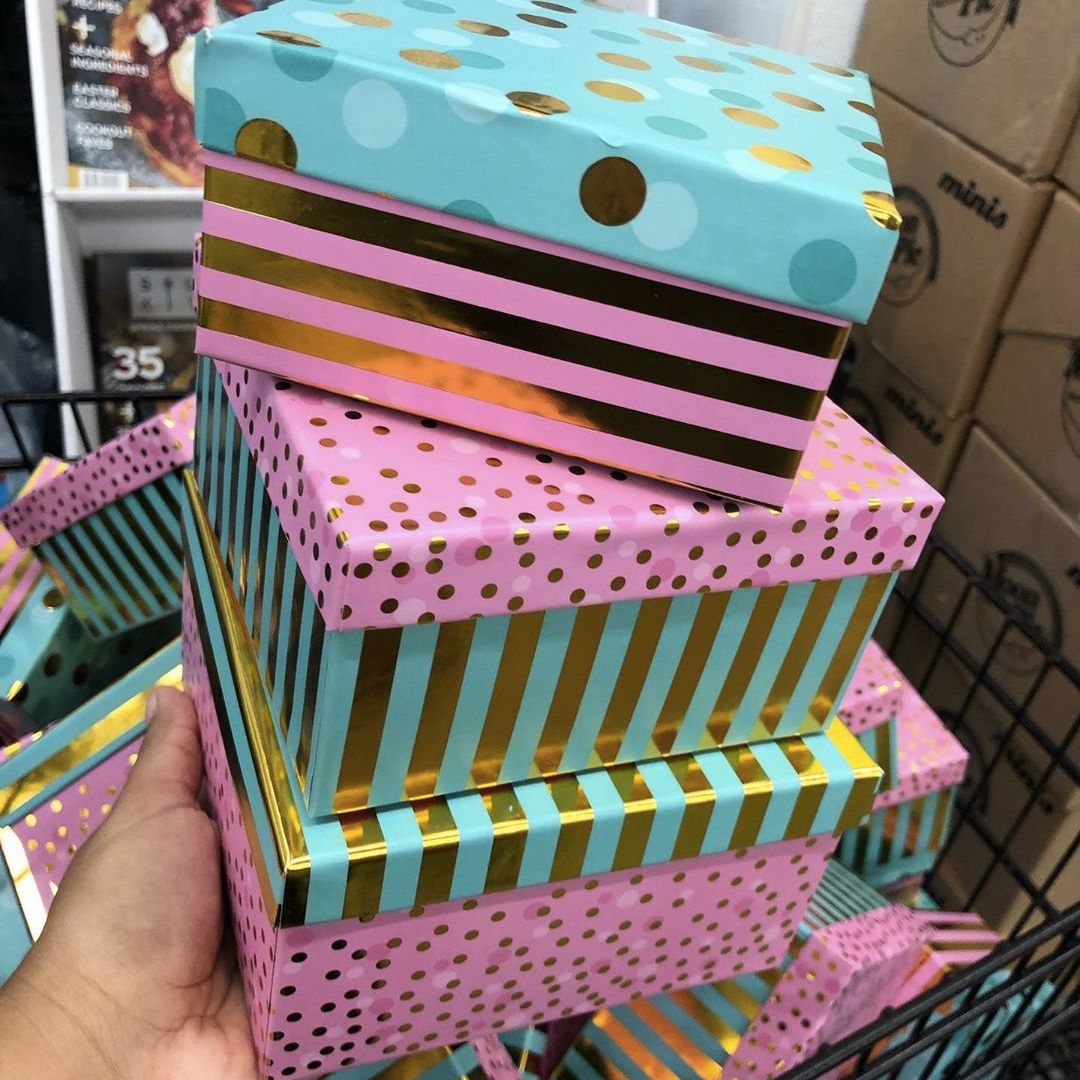 The dollar store has tons of different decorative boxes you can choose from. Get a box and put it near your T.V. set (or wherever you want to hide cables and cords). Cut a hole in the back of the box to filter the cords through. This way, all the excess cords will sit in the box and no one will be the wiser.
Use binder clips as wire holders
You have phone chargers, computer chargers, watch chargers, and probably a hundred other cords hanging around. A great way to organize some of these cables is to use binder clips at the edge of your desk.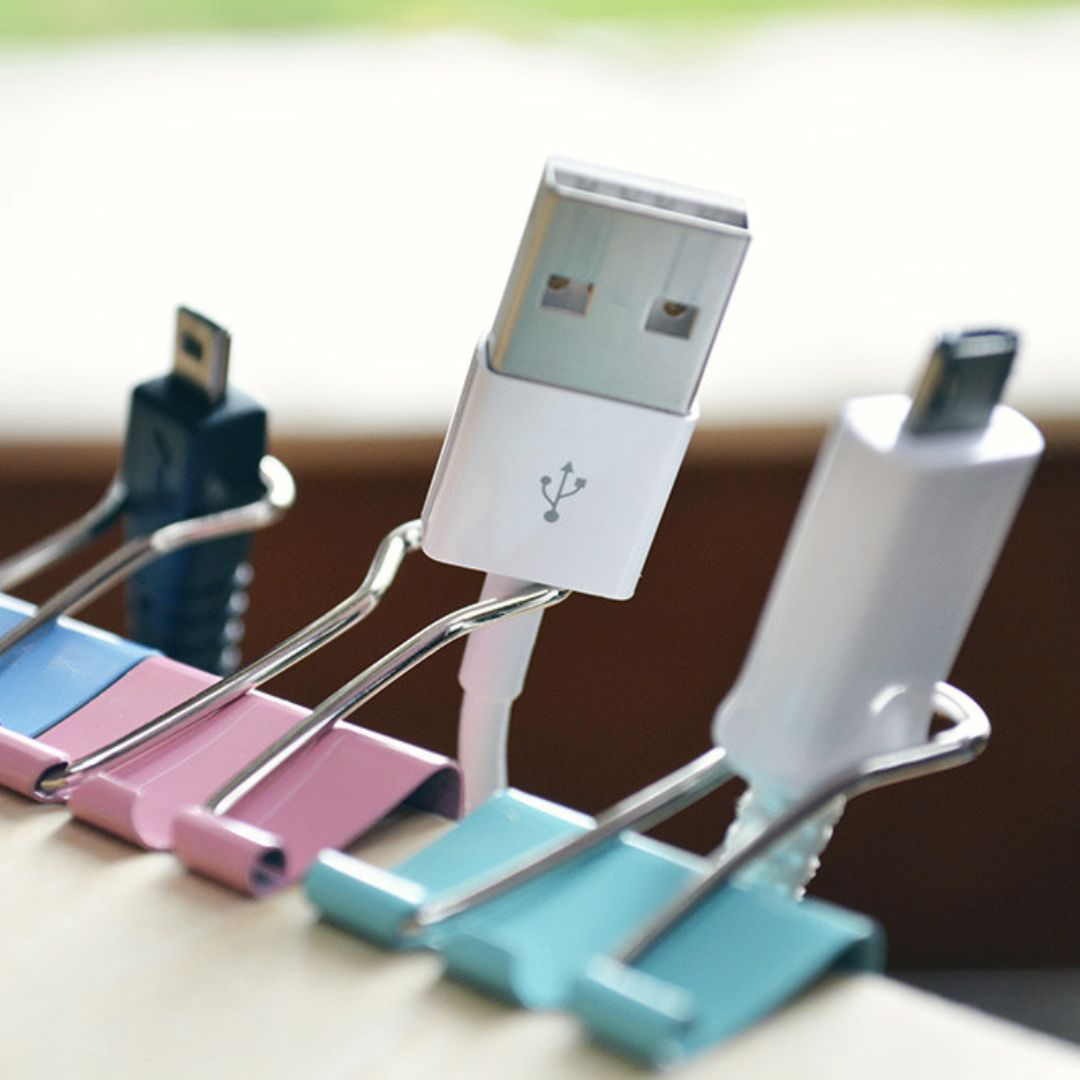 Clip the binder clips to the edge of your desk and feed the chargers through the silver hooks. When you're not using them, the cords will stay put and be accessible to you when you need them. This will look much cleaner than having them sprawled across the floor like they probably are right now.
Use an ice tray to organize small tools
All those little bolts, screws, nails, and hooks need a home, too. Most likely, you have them rolling around in a junk drawer somewhere in your house (I know I do). An inexpensive way to keep these guys organized is with an ice tray.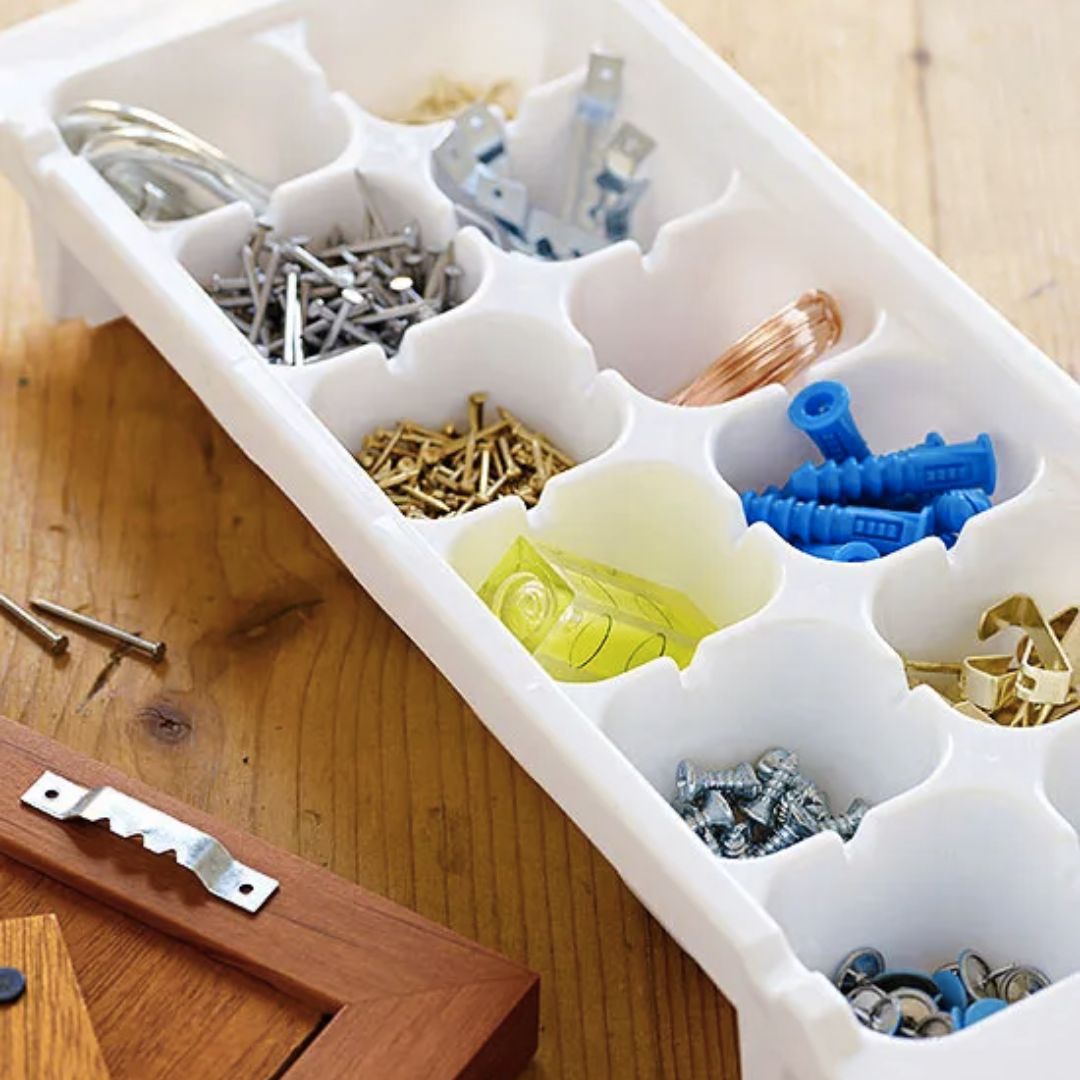 Organize your little tools into an ice tray from the dollar store and keep them tucked away for when you need them. The small trays are great for keeping little things together in one place so you aren't searching for them when the time comes that you actually need to use them.
Make a jewelry hanger out of a picture frame
There are lots of do-it-yourself ways to organize your jewelry. One easy fix only requires 2 items from the dollar store: a picture frame and small hooks. Pick out a fun frame and take out the back, glass, and all.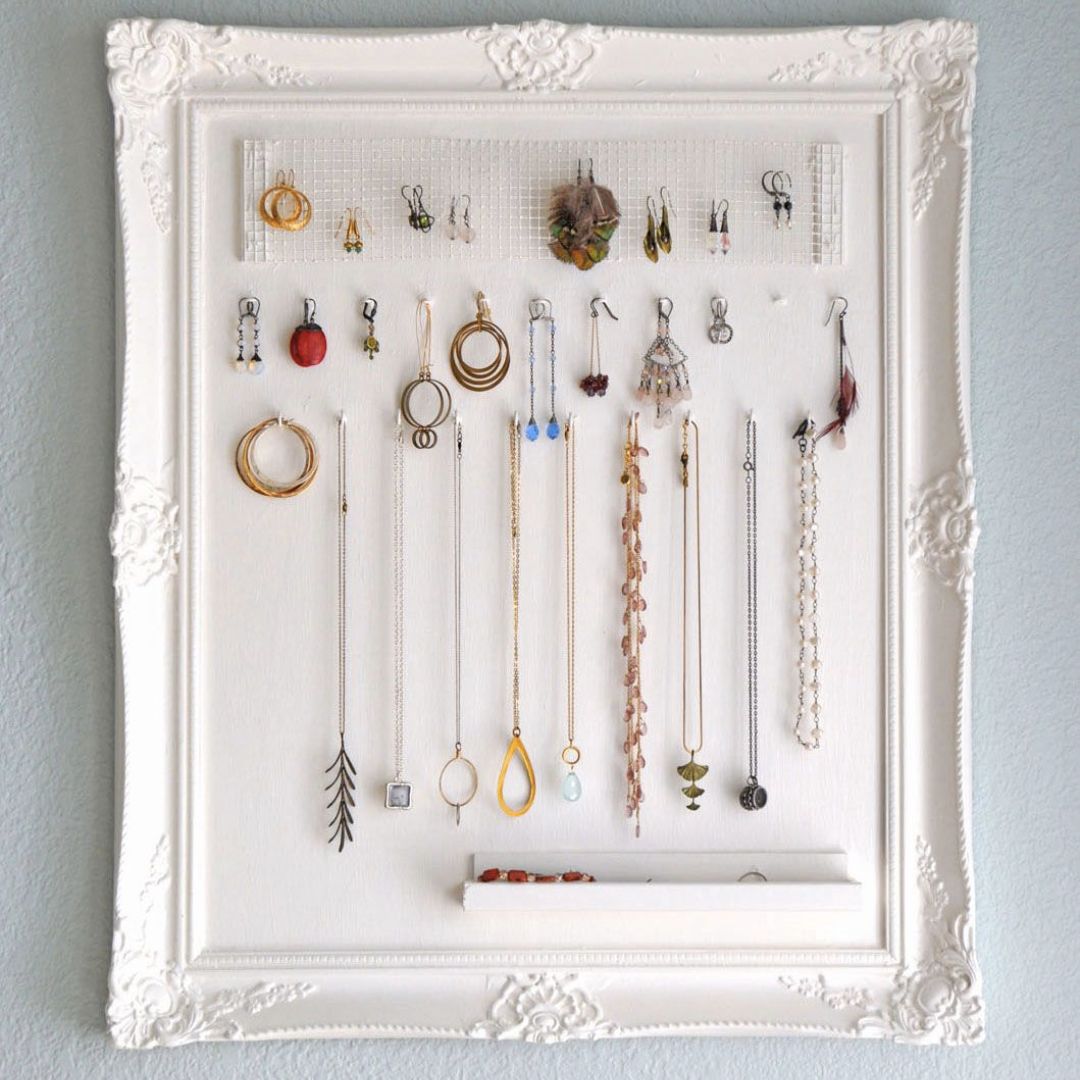 Attach the small hooks to the top of the empty frame and simply hang your jewelry from them. Hang the frame on the wall and you've made your own DIY jewelry hanger. No more tangled necklaces and bracelets to pick through!
Cheap Spice Rack
If you like to cook you probably have tons of spices rolling around in a drawer or disorganized in a cabinet in your kitchen. You can buy a few $1 wire racks from the dollar store to get your spices organized in no time.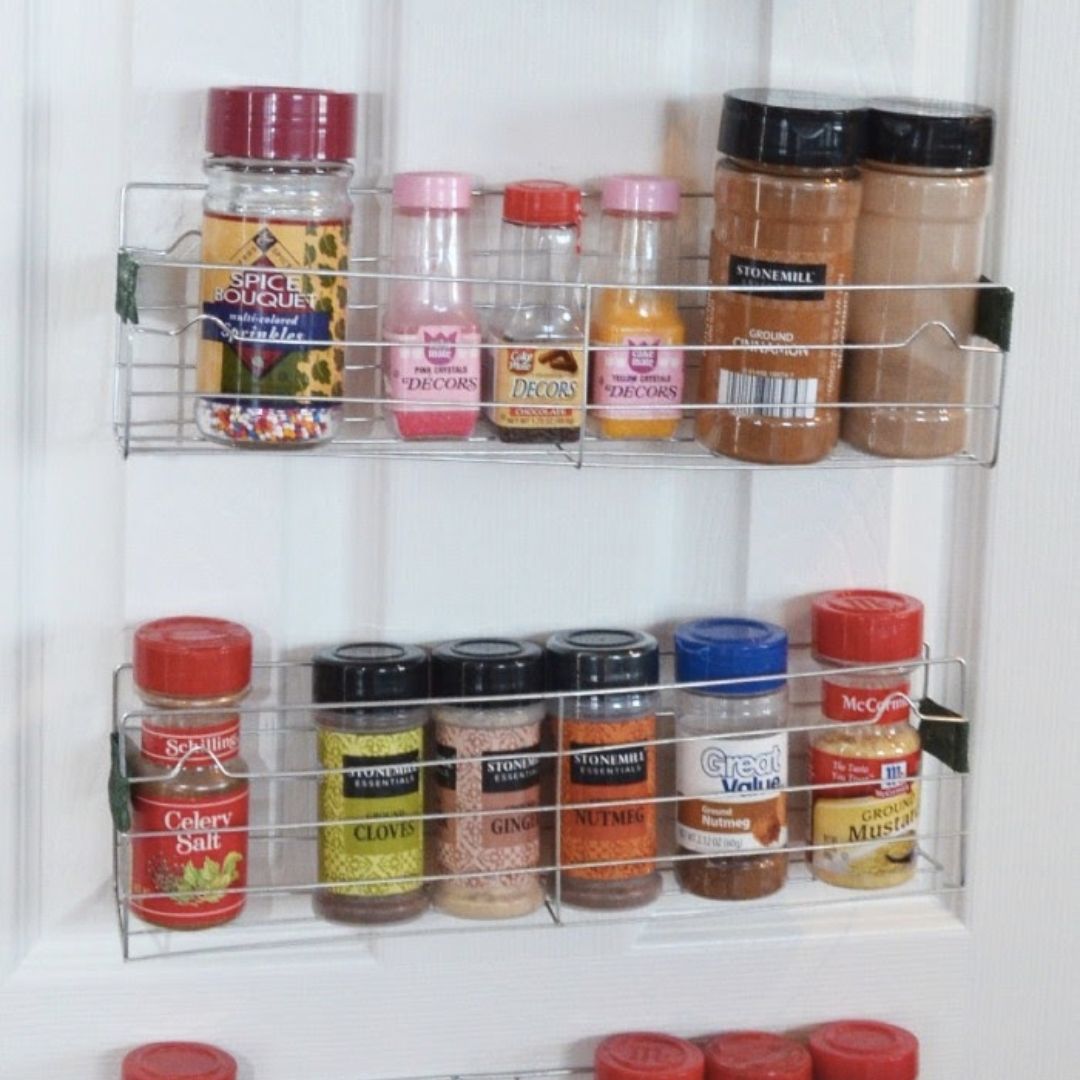 Attach the rack to the inside of your pantry door or a cabinet door and line up your spices. This is a cheap storage solution for your spices and condiments. Since they're lined up, they'll be easy to access when you want to use them as well.
Use drawer organizers
This is probably one of the best hacks to organize your space. The dollar store has tons of different boxes and containers that you can fit into your drawers at home to organize in any room of the house.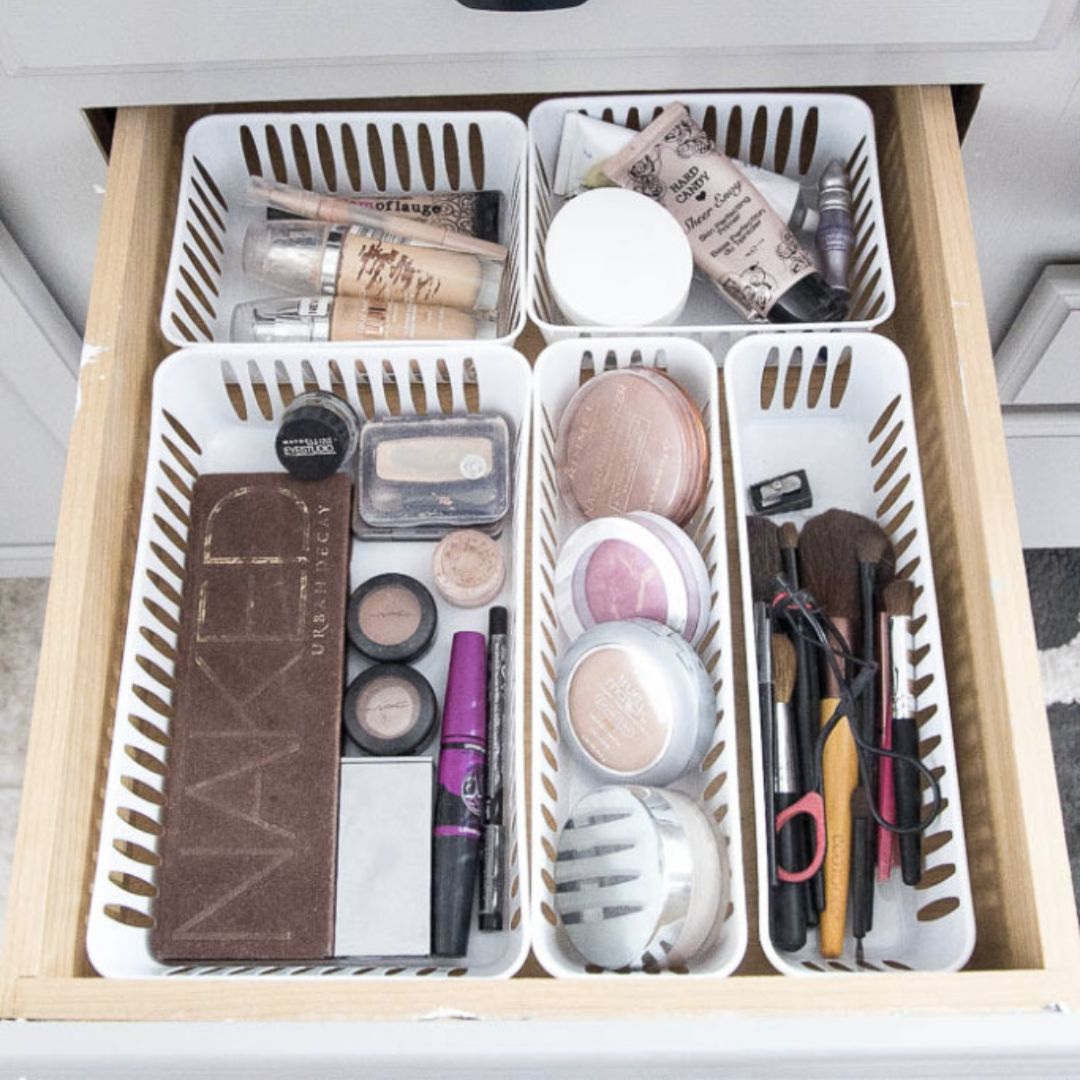 Use plastic drawer organizers for your kitchen utensils, makeup, cleaning supplies, desk items, and almost anything else you can think of. Rather than having all your items rolling around in a drawer, these containers will make sure everything has its place and will be easily accessible when you need to reach for it.